Biscoff Chocolate Chip Cookies are made with Biscoff spread and crumbled Biscoff cookies for a delicious twist on the classic chocolate chip cookie recipe. The cookie butter adds so much flavor to these soft and chewy cookies.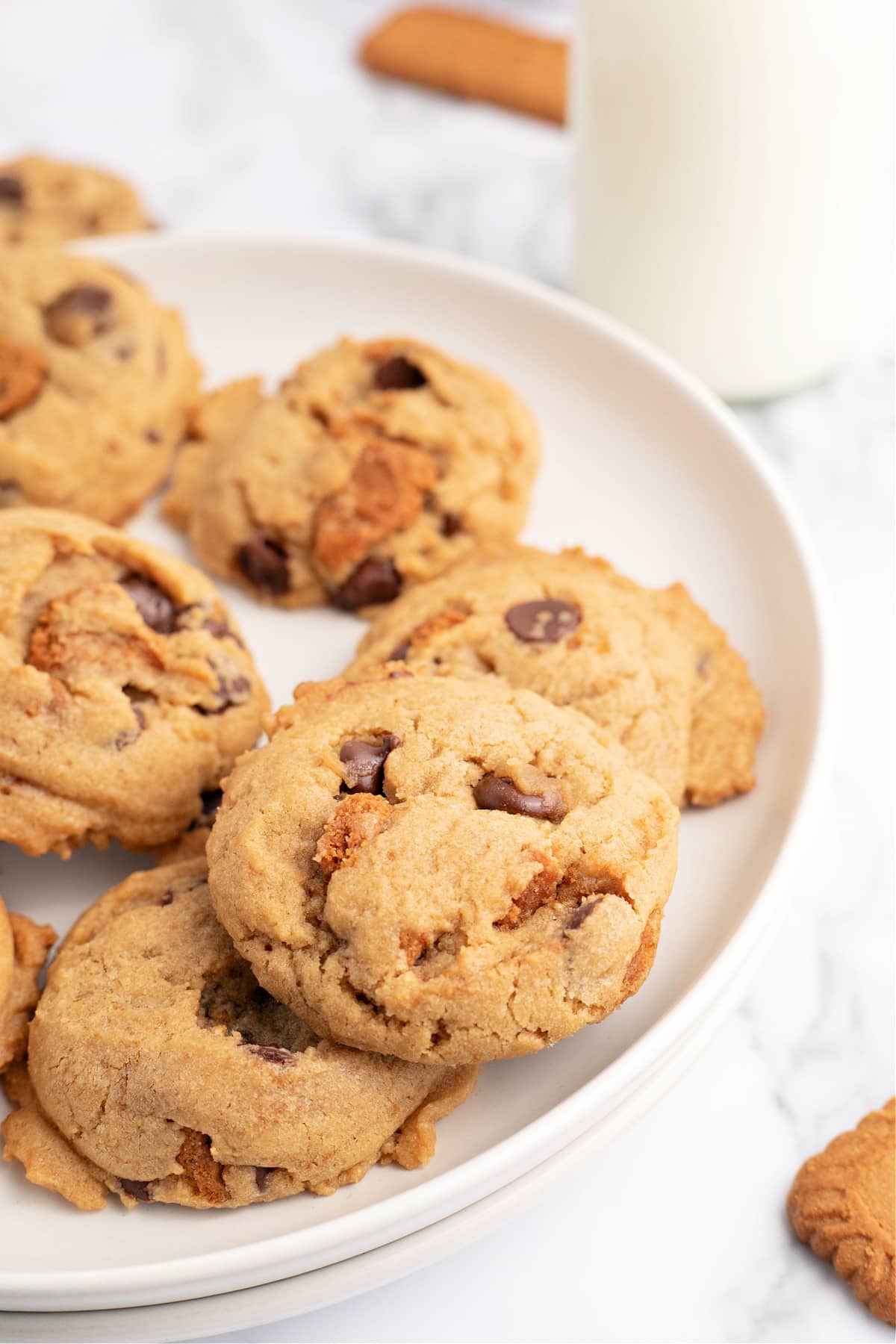 Biscoff Chocolate Chip Cookies
Traditional chocolate chip cookies are taken up to the next level with the addition of Biscoff cookie butter and crumbled Biscoff cookies. The Biscoff spread adds a rich caramel flavor, and the consistency of the cookies is absolutely perfect.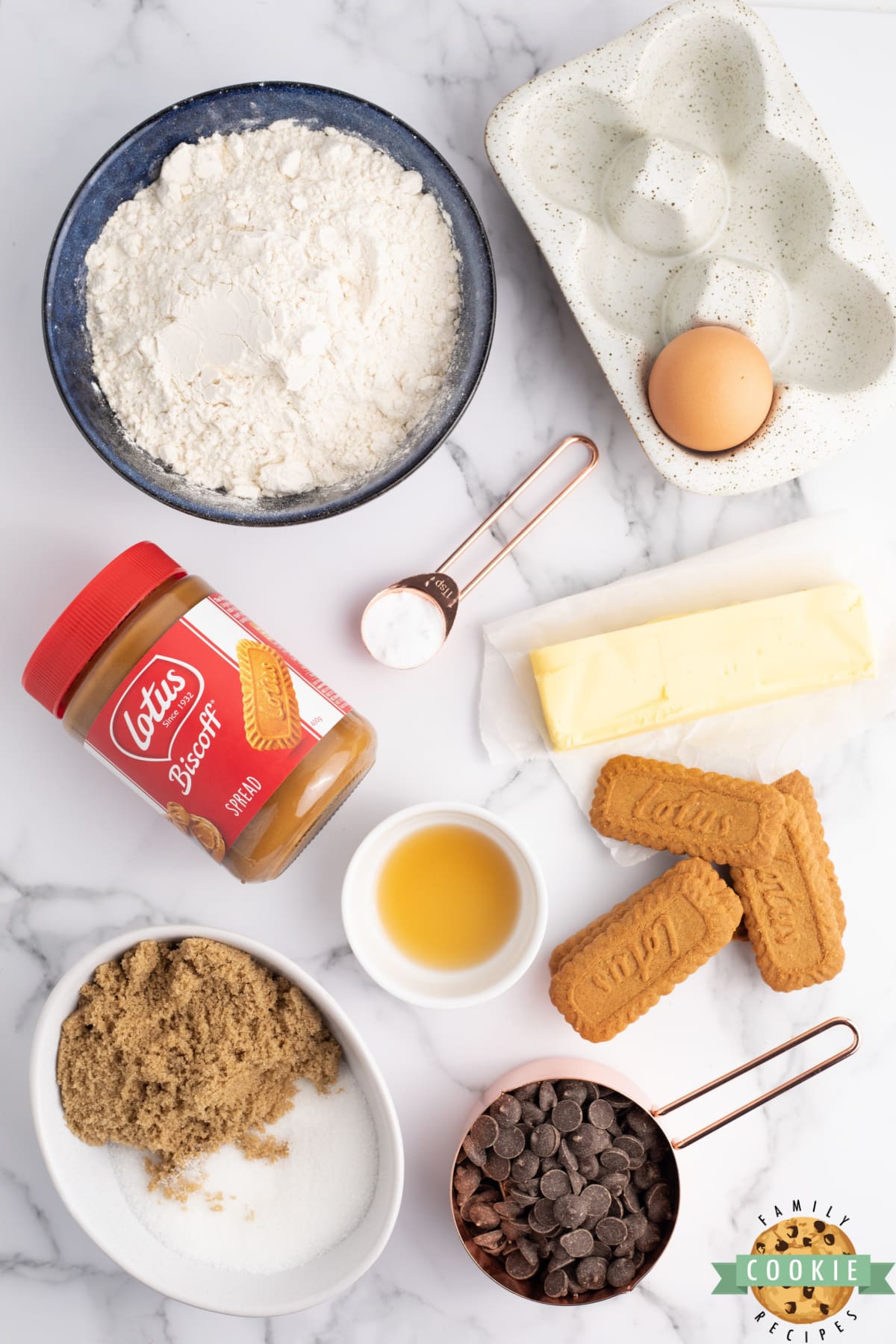 Ingredients in Biscoff Chocolate Chip Cookies
Butter – You will need 1 stick of butter. Make sure the butter is softened to room temperature before adding to the recipe. For best results, make sure to use real butter.
Sugars – You'll need 1/2 cup of granulated sugar and 1/2 cup of brown sugar. Make sure the brown sugar is fresh and soft.
Biscoff spread – This is the ingredient that makes these cookies unique. Biscoff spread is a type of cookie butter that can be found near the peanut butter at the grocery store. If you are lucky enough to live near a Trader Joes, you can use their cookie butter.
Egg – The recipe calls for 1 large egg to bind everything together.
Vanilla extract – The higher the quality of the vanilla, the better!
Flour – All purpose flour works best in these cookies. Cake flour also works well.
Baking soda – This is the leavening agent in the cookies so make sure your baking soda isn't old or expired.
Chocolate chips – You will need a cup of semi-sweet chocolate chips. I often use mini chocolate chips in cookies, and I usually add a few more than what the recipe calls for.
Biscoff cookies – The recipe calls for 8 Biscoff cookies, crumbled up into pieces. I love the crunch that the cookie pieces add to the cookies! I like to break them up with a rolling pin or meat mallet. If you can't find Biscoff cookies, you can use gingersnaps as a fairly comparable replacement.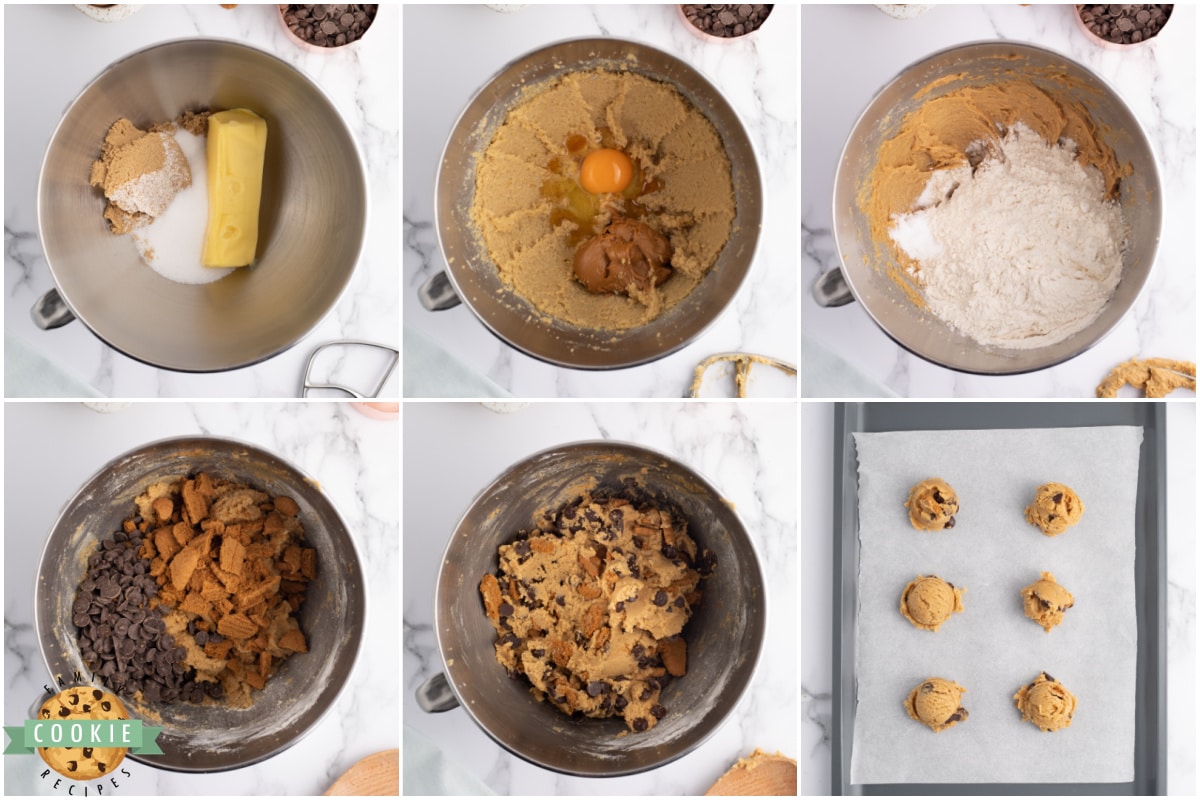 How to make Biscoff Chocolate Chip Cookies
Beat together the softened butter, brown sugar and granulated sugar until pale and creamy using a stand mixer with flat beater attachment or electric hand held beaters. Make sure to beat at least 2-3 minutes.
Add the Biscoff spread, egg and vanilla extract and beat until well combined, scraping the sides of the bowl as necessary.
Add the flour and baking soda and mix until just combined. Stir through the chocolate chips and chopped Biscoff cookies. Transfer to the fridge to chill for at least 30 minutes.
Once the dough has chilled, preheat oven to 325°F. Line 2 baking sheets with parchment paper.
Use a cookie scoop (1 tablespoon) to scoop spoonfuls of dough and place on the baking sheets. Bake for 10-12 minutes, or until lightly golden. Allow to cool on baking sheets completely before serving.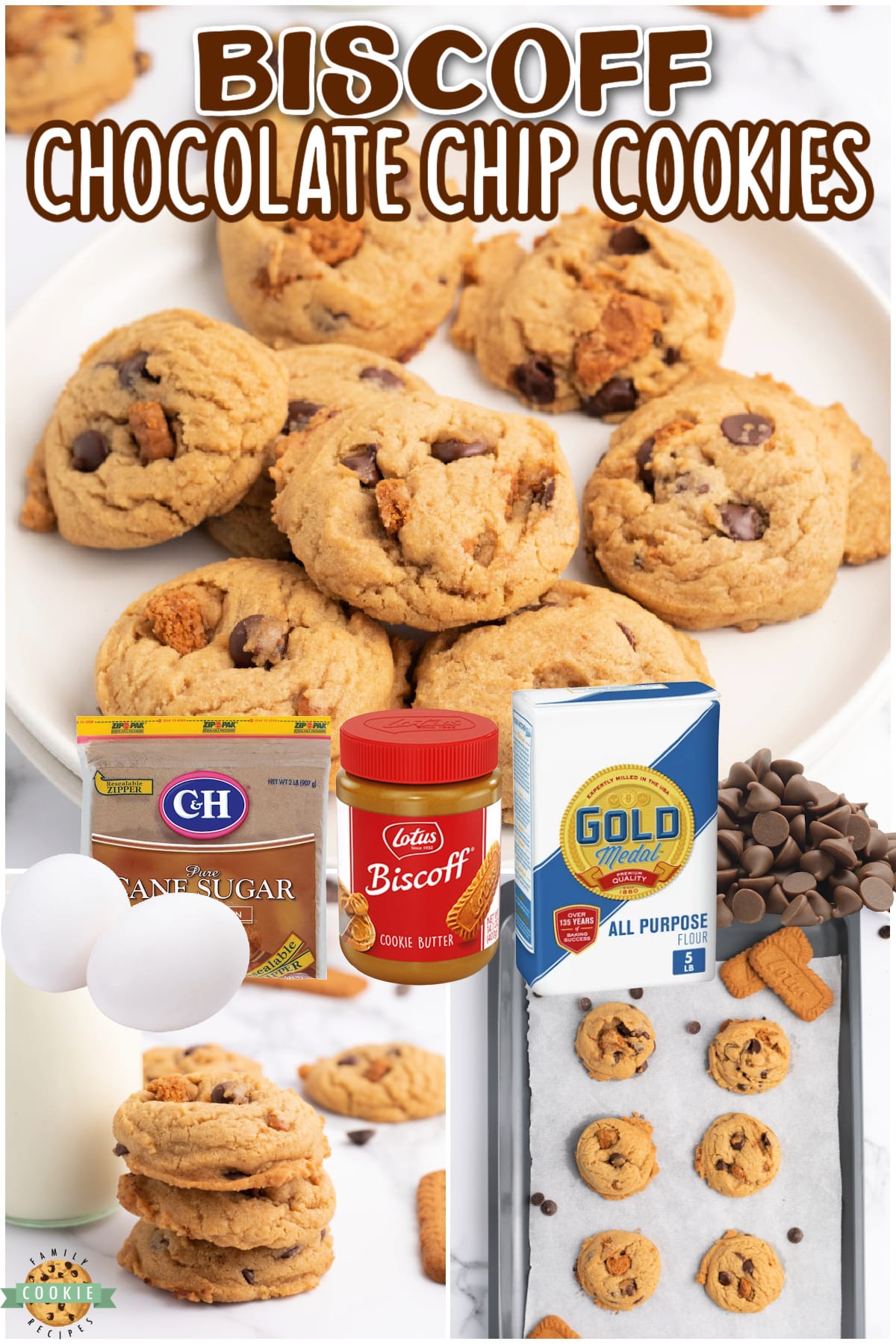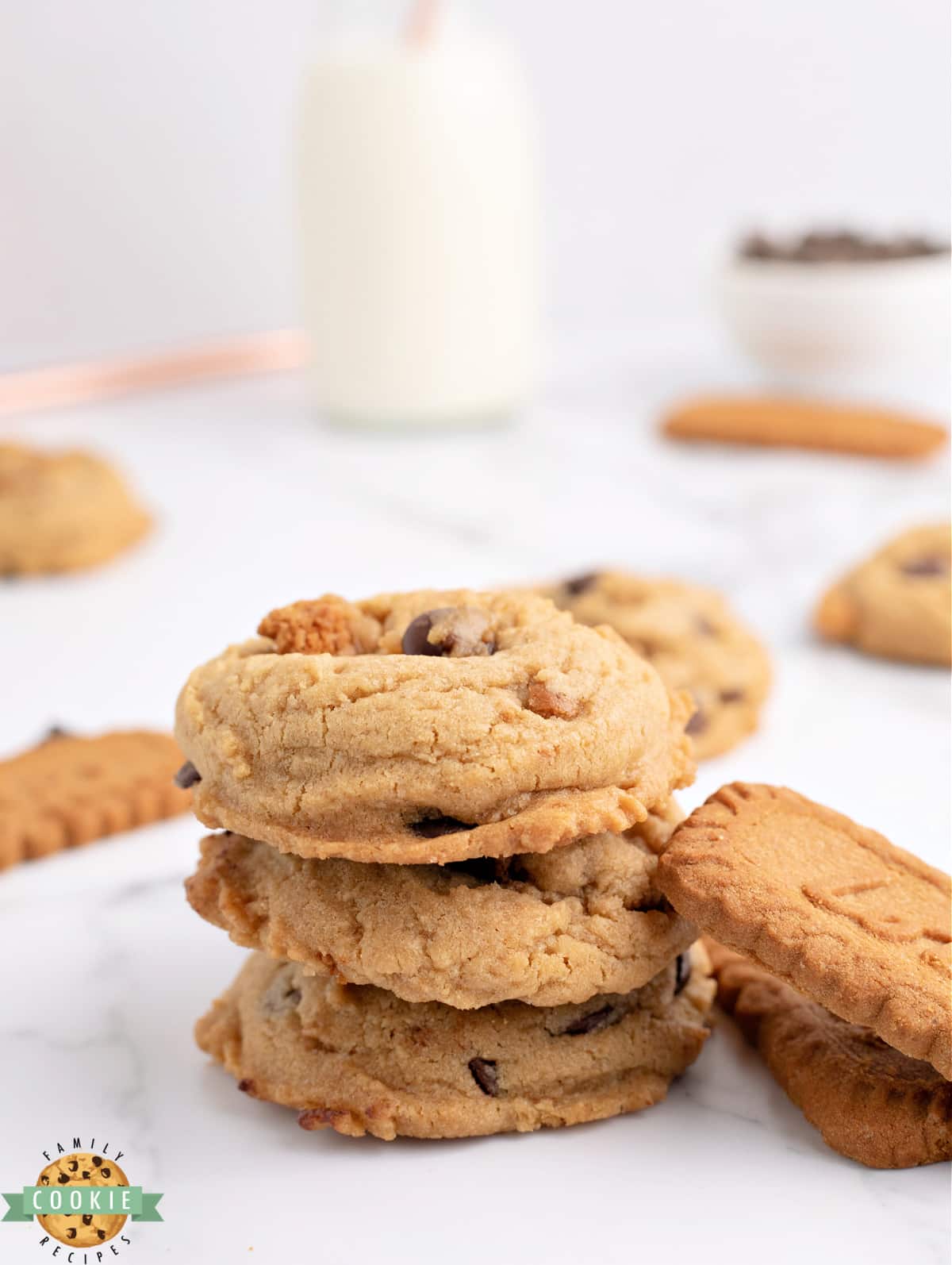 SUBSTITUTES FOR BISCOFF SPREAD
Biscoff spread is found at most grocery stores near the peanut butter. If you don't have any Biscoff spread, you can swap in Speculoos Cookie Butter or Trader Joes Cookie Butter. You could also swap in any type of nut butter if you want to change up the flavor (peanut butter, almond butter, Nutella, etc).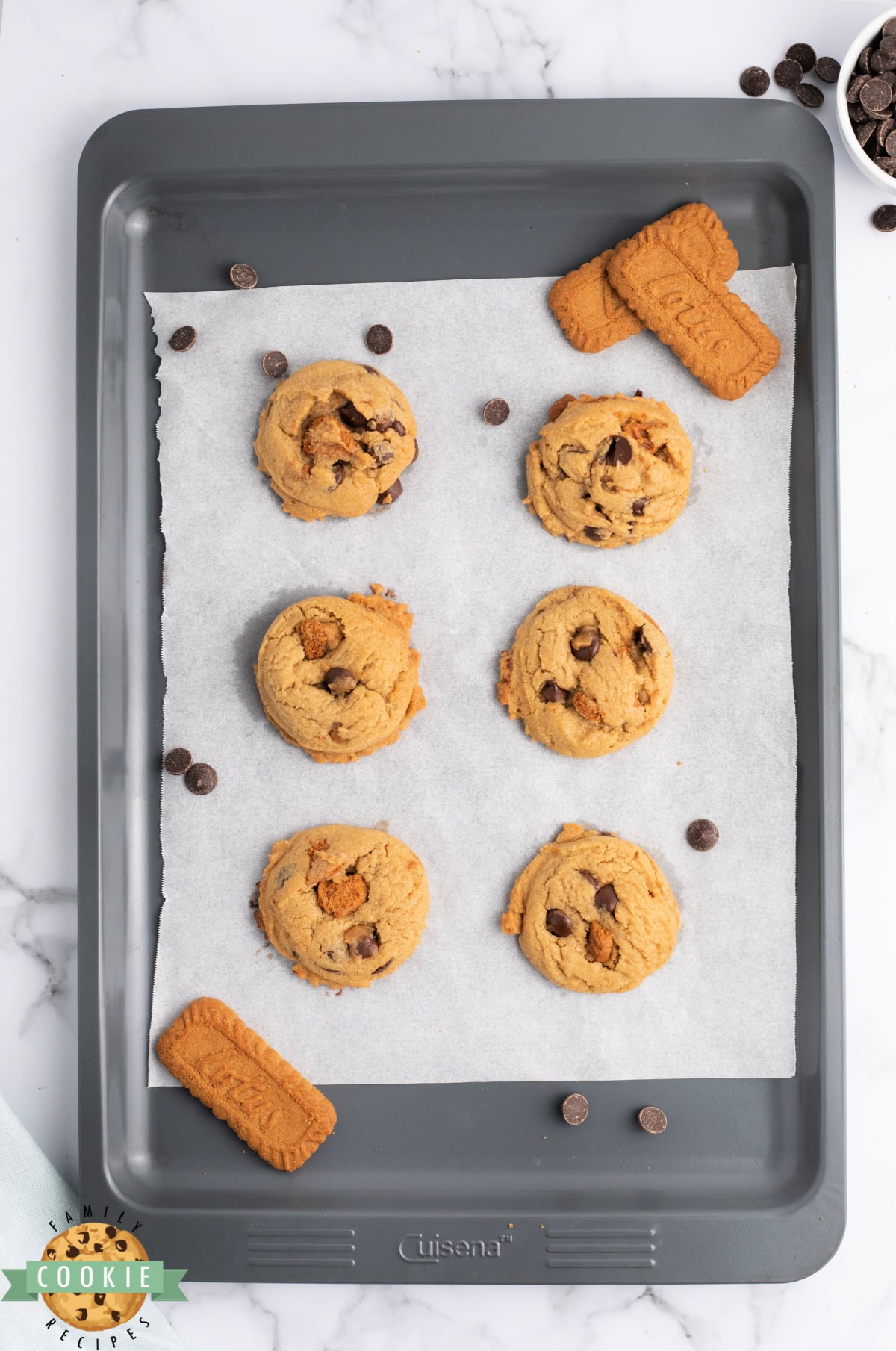 HOW DO YOU SOFTEN BUTTER?
I like to soften butter by using the defrost function on my microwave. If you need the full 1/2 cup cube of butter, you can leave it in the paper wrapper, otherwise, place the amount of butter you need in a glass or porcelain bowl. I use the lowest defrost setting on my microwave and just let it run for 20 seconds. Check the butter and see how soft it is by pressing it with a rubber scraper. If it is still not soft to the touch, meaning it doesn't indent when you press into it, let it warm for another 5-10 seconds. Watch it closely! Butter softens very quickly.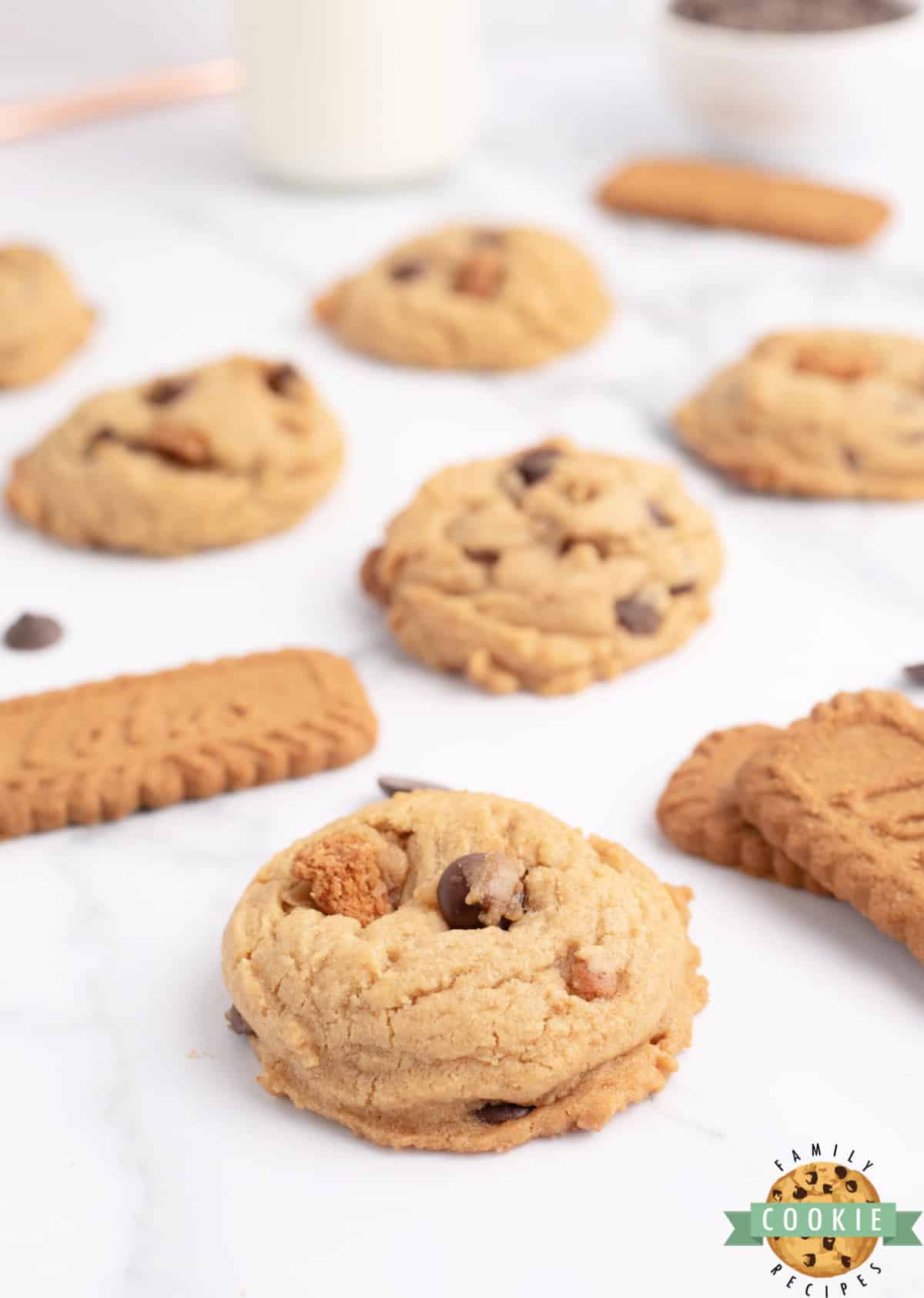 TIPS FOR MAKING THE BEST CHOCOLATE CHIP COOKIES
Make sure that you have enough flour in the dough. If the dough is too sticky, you may need to add a little bit of flour.
Do not melt the butter! The butter needs to be softened (at room temperature), but using melted butter will ruin the cookies.
Spend a little extra time when you mix the butter and sugars. Creaming them together for 2-3 minutes will improve the consistency of your cookies.
Preheat the oven. This will help your cookies turn out right every time!
Use a cookie scoop! If you want all your cookies to be perfectly shaped and have them all be the same size, a cookie scoop is the way to go.
Use parchment paper or a silicone baking mat. Doing this will make it really easy to remove the cookies from your cookie sheet so that you don't have to scrape them off the pan – they will just slide right off in perfect shape!
Don't overbake the cookies – when I take mine out of the oven, they still look slightly underbaked but they will continue to bake on the cookie sheet for a couple more minutes so that's ok!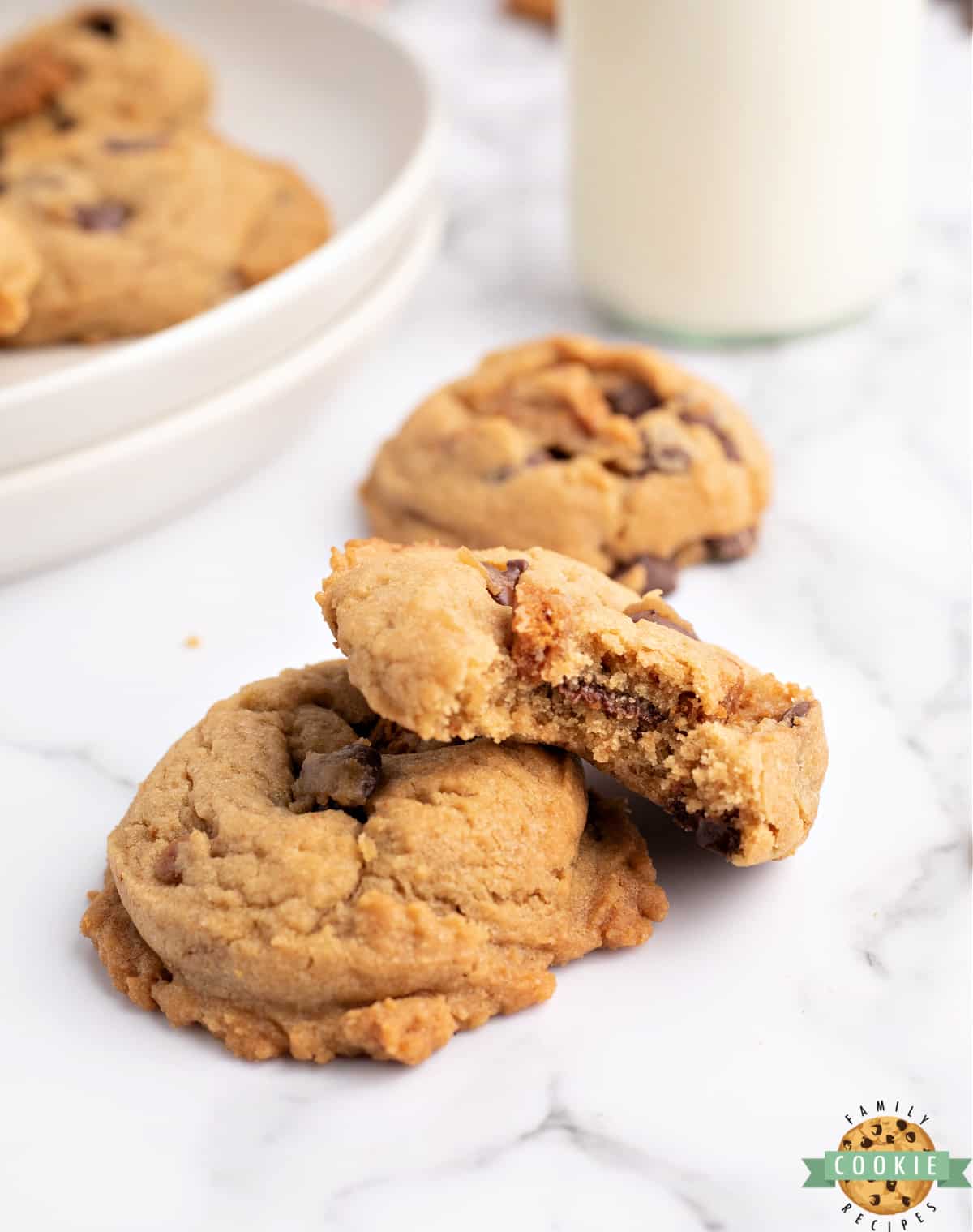 LOVE CHOCOLATE CHIP COOKIES? SO DO WE! HERE ARE SOME OF OUR FAVORITE CHOCOLATE CHIP COOKIE RECIPES!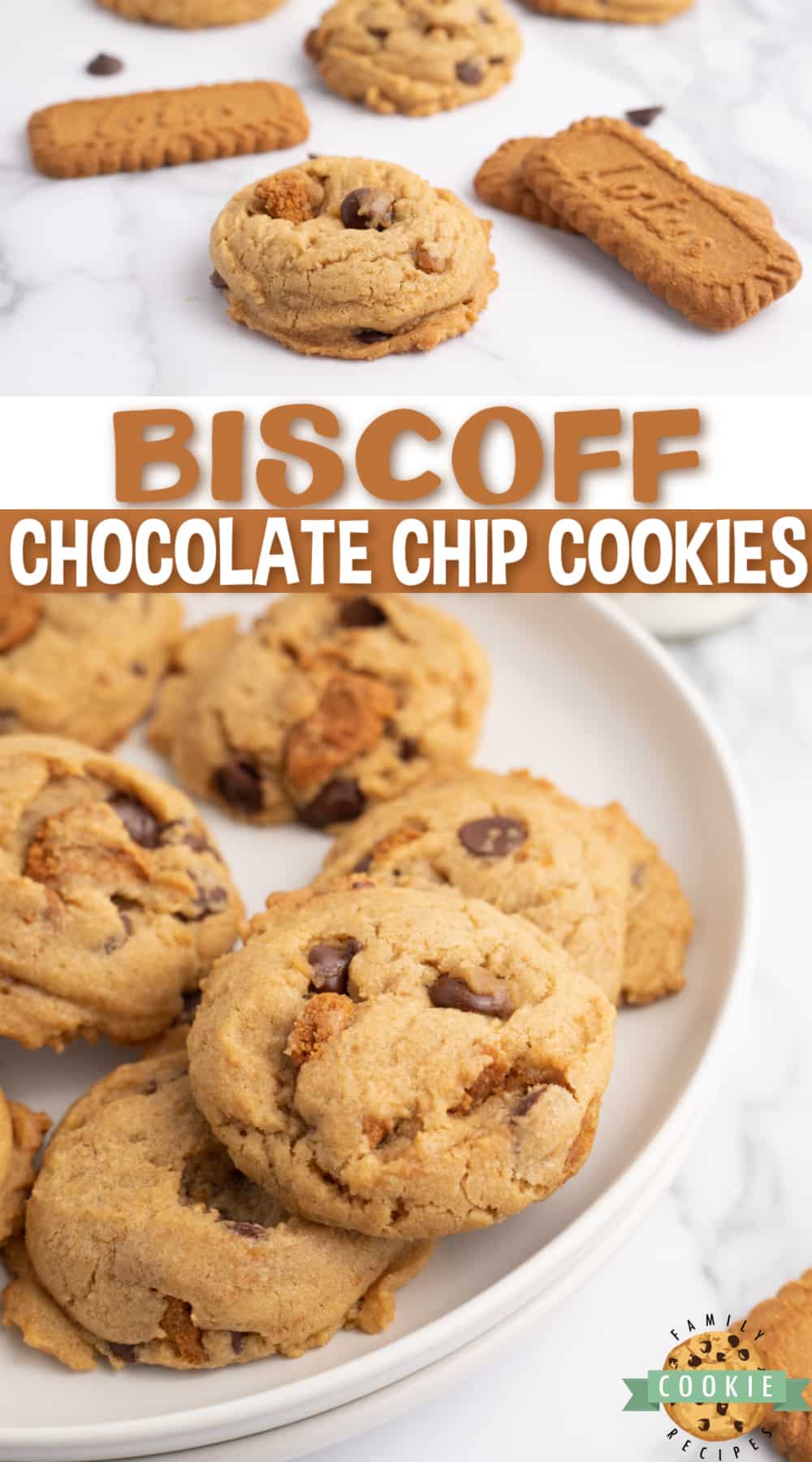 Biscoff Chocolate Chip Cookies are made with Biscoff spread and crumbled Biscoff cookies for a delicious twist on the classic chocolate chip cookie recipe. The cookie butter adds so much flavor to these soft and chewy cookies.



This picture is from about 6 years ago, I just barely found it and I absolutely love it. When we lived near Tacoma, we had a summer tradition of taking the ferry on a 20-minute ride to a nearby island where we would spend the day swimming in a small lake there. My kids absolutely loved the ferry ride. Most people would stay in their cars for the ride over, but we always went up to the top so we could look out at the water. Summers in Western Washington are amazing. Warm, sunny, but almost never hotter than about 80-85°. I don't think we even realized how awesome it was to be so close to the water and to have such perfect summer weather during the 7 years that we lived there. And I can't believe how young my kids look either!