Cream Cheese Chocolate Chip Cookies are so soft, chewy and don't require any eggs. One of my favorite chocolate chip cookie recipes!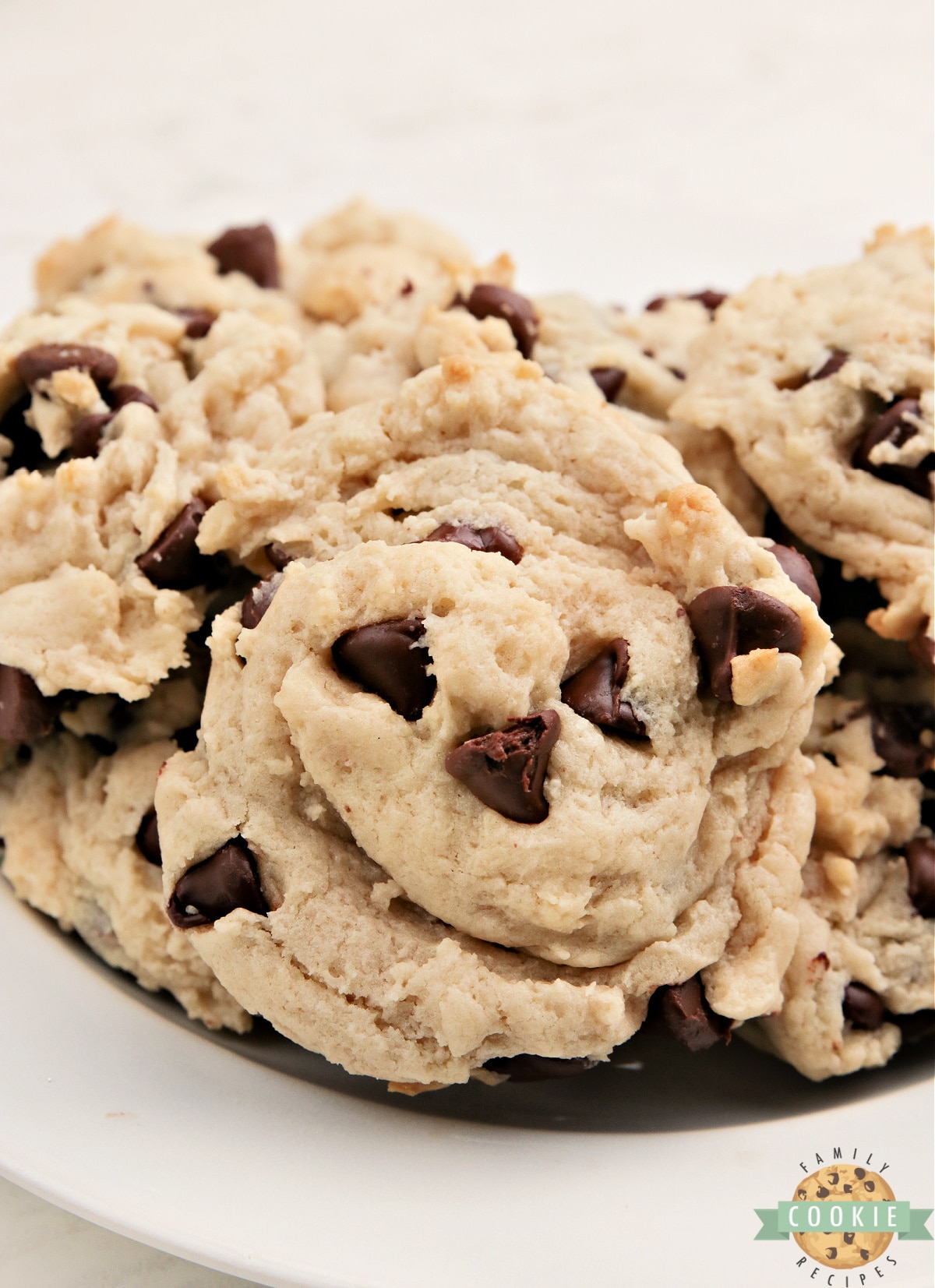 It's no secret that I love chocolate chip cookies. I have spent years and years trying to find the absolute best chocolate chip cookie recipe, and have found so many really good ones that I love for different reasons. I still think these Bakery Style Chocolate Chip cookies are my current favorite, but this recipe is absolutely amazing if you need to make chocolate chip cookies without eggs.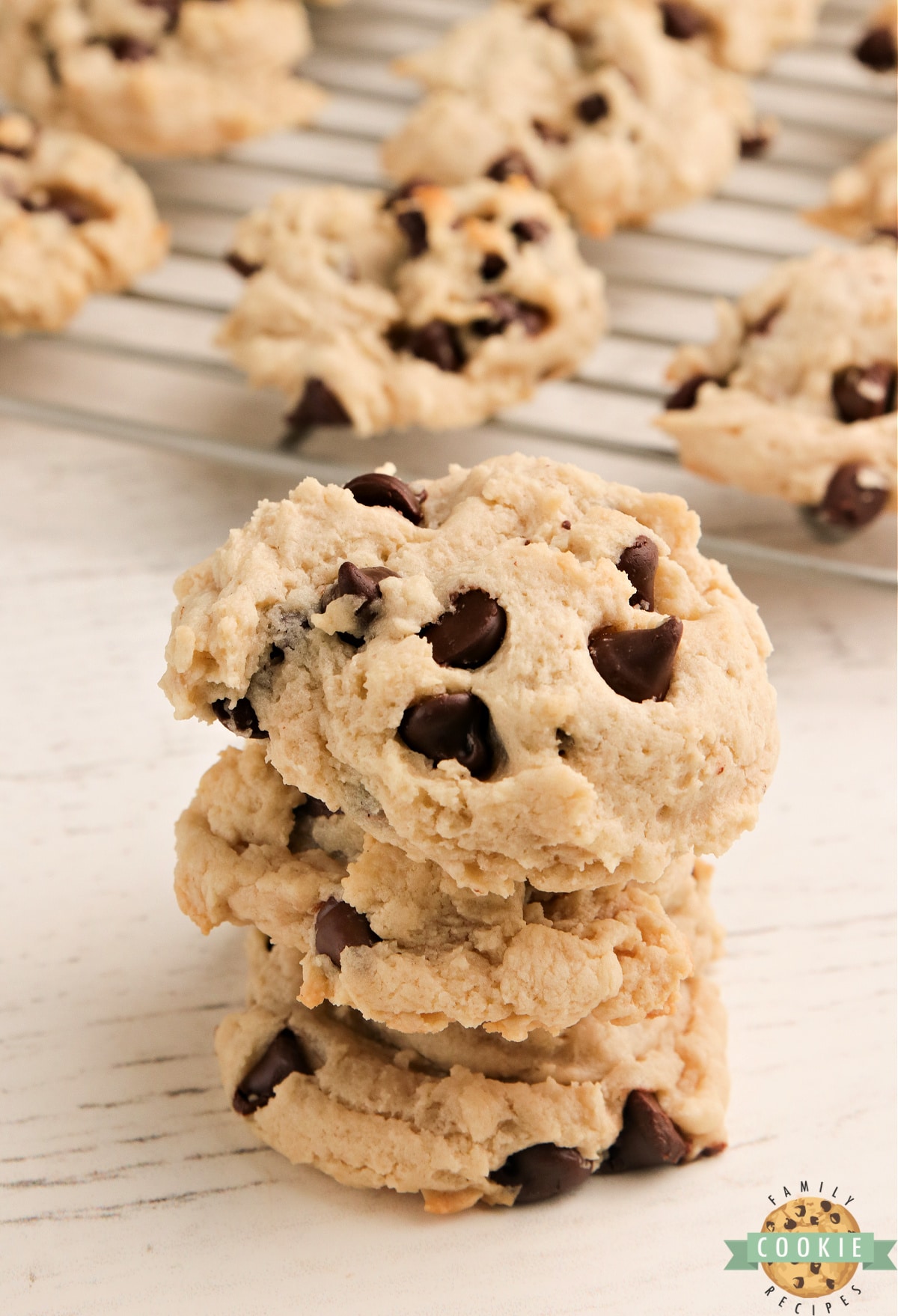 What are Cream Cheese Chocolate Chip Cookies?
Cream Cheese Chocolate Chip Cookies are made with butter, sugar, brown sugar and a few other ingredients that are traditionally found in chocolate chip cookies. The main difference is that one of the ingredients is a brick of cream cheese. This takes the place of some of the butter and the eggs and the cookies are so soft and sweet because of it!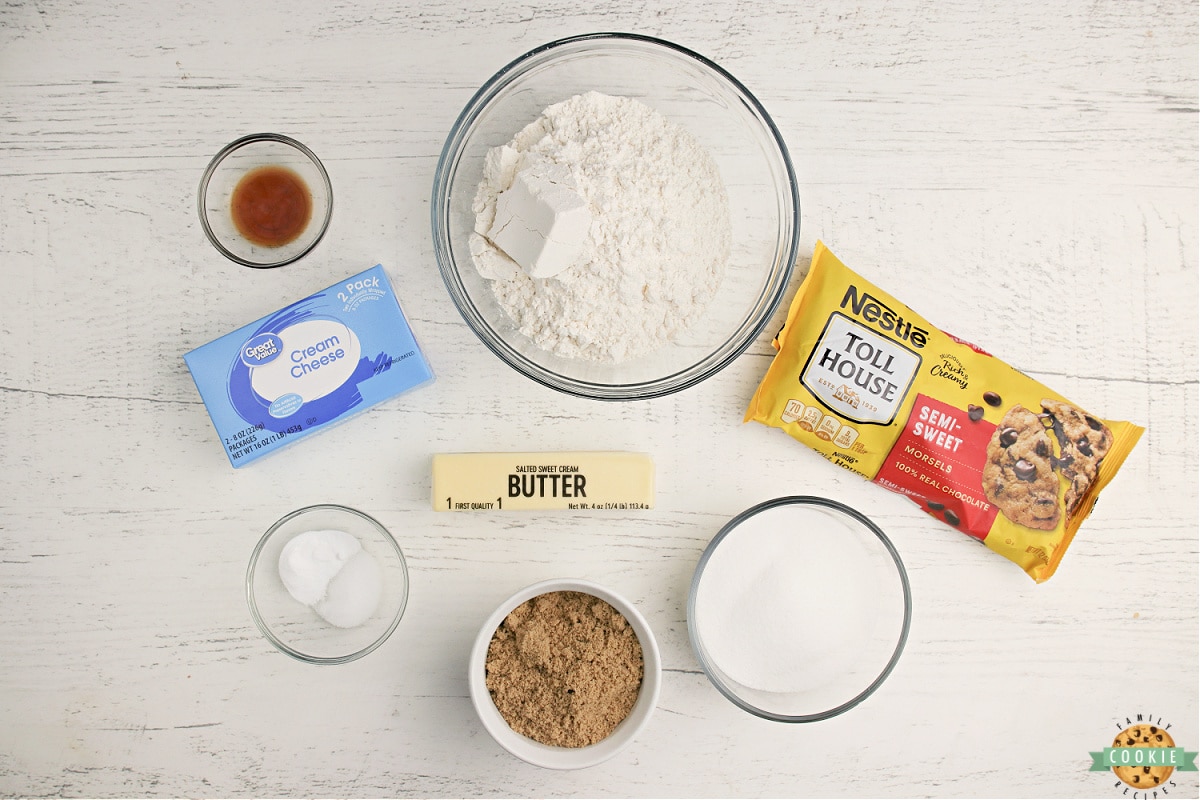 Ingredients in Cream Cheese Chocolate Chip Cookies
Butter – You will need 1/2 cup (1 stick) of butter, softened to room temperature. Real butter definitely works best!
Cream cheese – One brick of cream cheese (8 ounces) is needed for the cookies. Regular cream cheese seems to work best, but you can use a low-fat or non-fat variety if preferred.
Sugar – You will need 1 cup of granulated sugar for the cookie recipe.
Brown Sugar – For best results, make sure your brown sugar is fresh.
Vanilla extract – One teaspoon of vanilla extract adds a delicious flavor to the cookies. The higher the quality of the vanilla, the better.
Flour – All-purpose flour works best in the recipe, but you can use a gluten-free substitute if needed.
Salt – Just a half teaspoon of salt helps to bring out all of the other flavors in the cookies.
Baking soda – One teaspoon of baking soda acts as the leavening agent in the cookies, so make sure that your baking soda isn't expired.
Semi-sweet chocolate chips – The recipe calls for a 12-ounce bag of chocolate chips, but feel free to add more if you'd like. You can use milk chocolate chips instead if you prefer.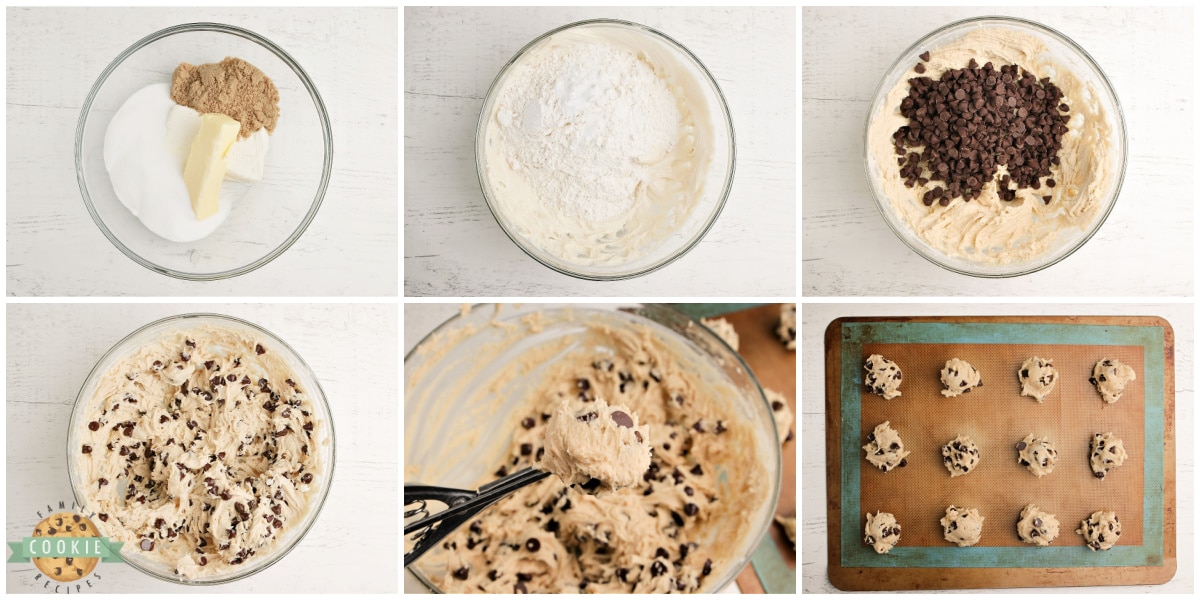 How to make Cream Cheese Chocolate Chip Cookies
Preheat oven to 350°.
In a large bowl, beat the cream cheese, butter, sugar and brown sugar together for about 3-4 minutes with an electric mixer.
Add the vanilla and beat for another minute.
Add the flour, salt and baking soda and mix just until combined. Stir in the chocolate chips.
Use a cookie scoop to scoop the dough onto a greased cookie sheet or one that has been lined with parchment paper or a silicone baking mat. The dough is a little bit stickier than normal cookie dough, so you won't want to use your hands!
Bake for 10 minutes and let the cookies cool for a few minutes on the cookie sheets before transferring to wire racks to cool completely.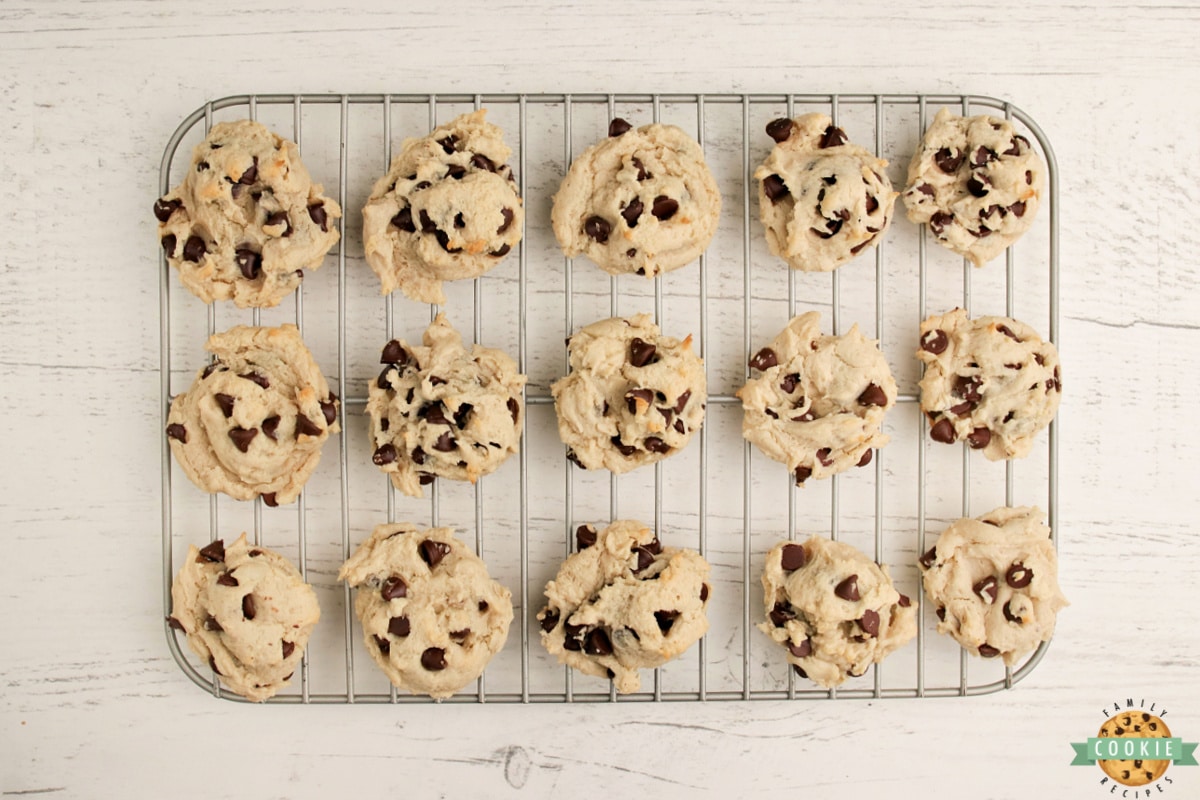 TIPS FOR MAKING THE BEST CHOCOLATE CHIP COOKIES
Make sure that you have enough flour in the dough. If the dough is too sticky, you may need to add a little bit of flour. 
Do not melt the butter! The butter needs to be softened (at room temperature), but using melted butter will ruin the cookies.
Spend a little extra time when you mix the butter and sugars. Creaming them together for 2-3 minutes will improve the consistency of your cookies.
Preheat the oven. This will help your cookies turn out right every time!
Use a cookie scoop! If you want all your cookies to be perfectly shaped and have them all be the same size, a cookie scoop is the way to go.
Use parchment paper or a silicone baking mat. Doing this will make it really easy to remove the cookies from your cookie sheet so that you don't have to scrape them off the pan – they will just slide right off in perfect shape!
Don't overbake the cookies – when I take mine out of the oven, they still look slightly underbaked but they will continue to bake on the cookie sheet for a couple more minutes so that's ok!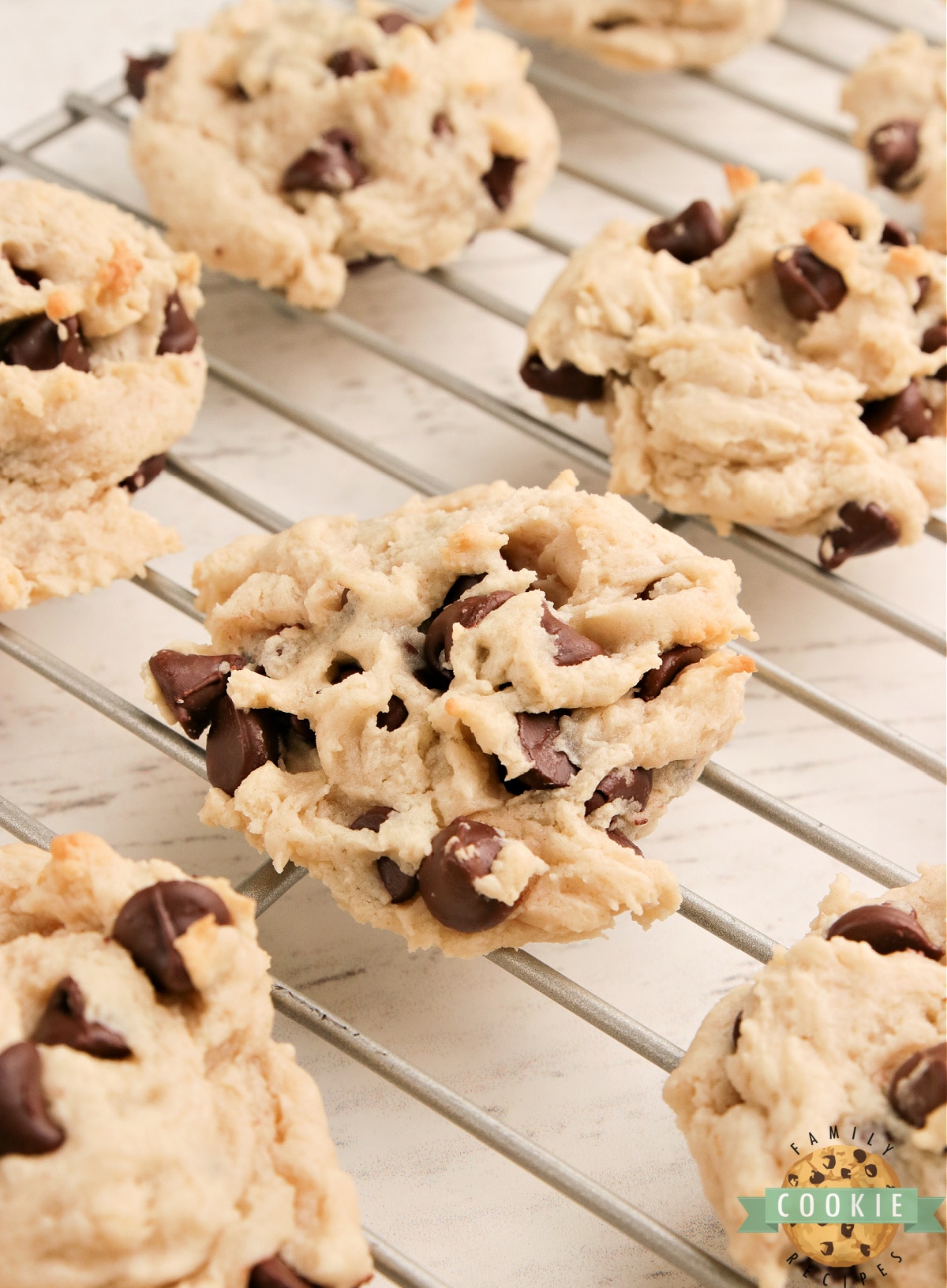 HOW DO YOU SOFTEN BUTTER?
I like to soften butter by using the defrost function on my microwave. If you need the full 1/2 cup cube of butter, you can leave it in the paper wrapper, otherwise, place the amount of butter you need in a glass or porcelain bowl. I use the lowest defrost setting on my microwave and just let it run for 20 seconds. Check the butter and see how soft it is by pressing it with a rubber scraper. If it is still not soft to the touch, meaning it doesn't indent when you press into it, let it warm for another 5-10 seconds. Watch it closely! Butter softens very quickly.
HOW TO SOFTEN CREAM CHEESE
Cream cheese is easy to soften – you can set it out at room temperature or soften it more quickly in the microwave.
-To soften at room temperature more quickly, just set the cream cheese on a plate and cut into smaller pieces. The cream cheese should reach room temperature in about 15-20 minutes with this method.
-To soften the cream cheese in the microwave, remove the foil packaging and set the cream cheese in a small bowl or on a plate. Microwave for about 10-15 seconds. If the cream cheese is still cold and hard, continue to microwave for about 5 seconds at a time until the cream cheese is soft throughout. Just make sure not to microwave it too long or it will start to melt!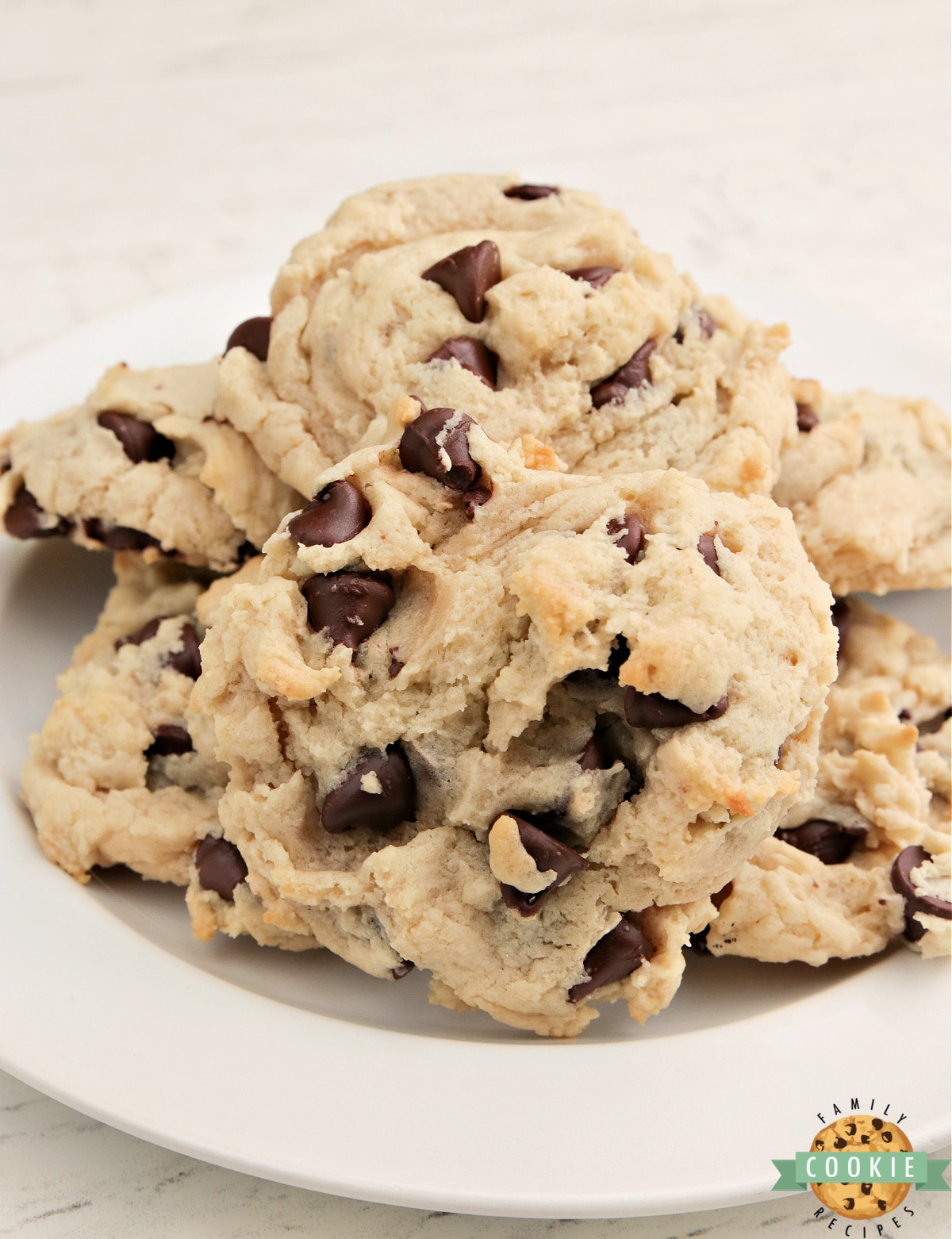 HOW LONG ARE CREAM CHEESE CHOCOLATE CHIP COOKIES GOOD FOR?
These chocolate chip cookies will be good for about 3-4 days if kept stored in an airtight container at room temperature.
LOVE CHOCOLATE CHIP COOKIES? SO DO WE! HERE ARE SOME OF OUR FAVORITE CHOCOLATE CHIP COOKIE RECIPES!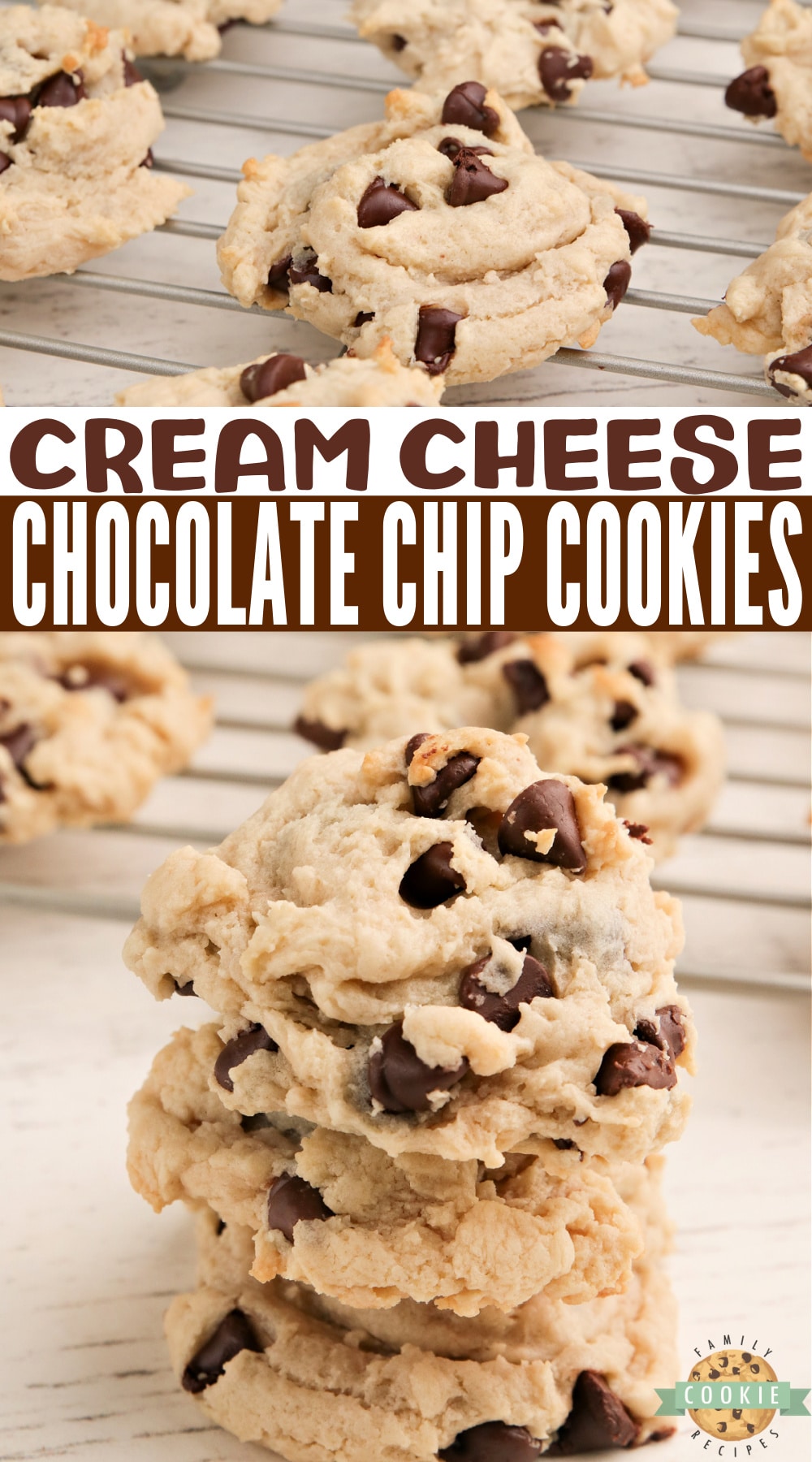 Cream Cheese Chocolate Chip Cookies are so soft, chewy and don't require any eggs. One of my favorite chocolate chip cookie recipes!



My little guy just graduated from elementary school and will be turning 11 next week. This poor kid is the only boy in a family with 4 sisters. I really love this boy and am so grateful for him. He's so smart and sensitive and is way more snuggly than all of my girls! It's hard to watch time go by so fast and see him growing up, but it's also so exciting to see all of the things he is learning and to be able to watch him turn into an awesome young man. So proud of him!