Dirt Cake Cookies are double chocolate cookies topped with Oreos, chocolate buttercream & gummy worms! Fun, chocolatey mud cookies perfect for Birthdays or anytime!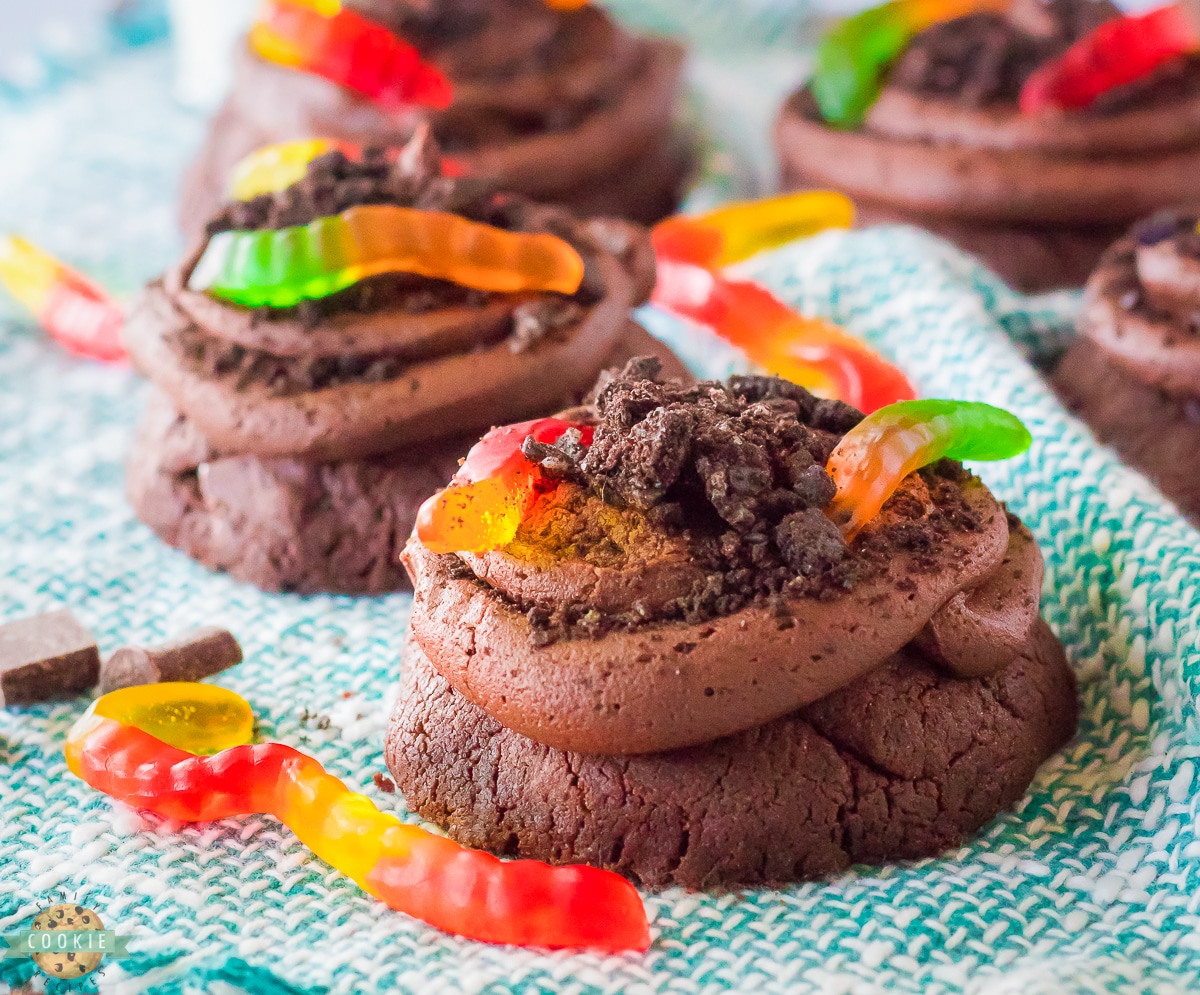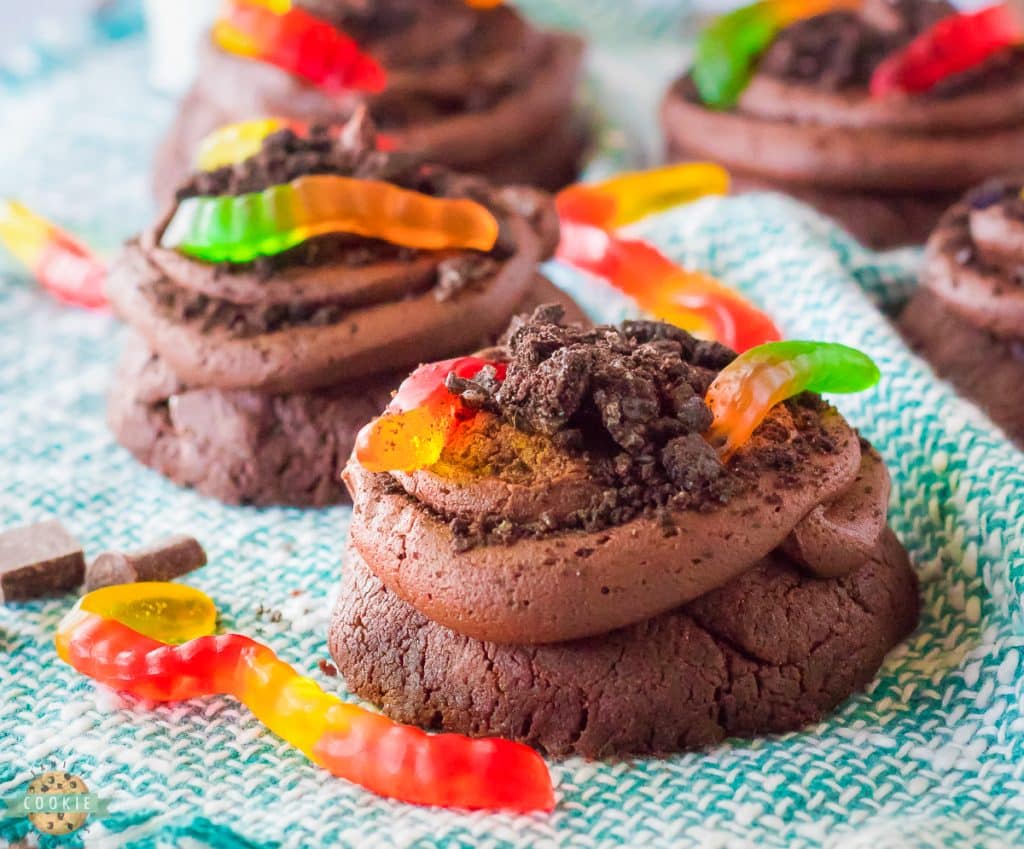 When you make these dirt cake cookie crumble, we take what we all love above a classic dirt cake, but in cookie form. These oreo cookie crumble are rich, fudgy cookies with fun and festive toppings.
Crumbl Dirt Cake Cookies
This recipe is inspired by the famous Crumbl brand cookies, these dirt cake cookies are our fun variation. Now you can avoid the drive, long lines, and high prices by making the cookies at home. The best part? When you make them at home you can add as much chocolate, cookie crumbs, or gummy worms as you want! These are a fun dessert to get your kids involved in on the baking fun, they can sample the yummy ingredients along the way and create a entertaining treat!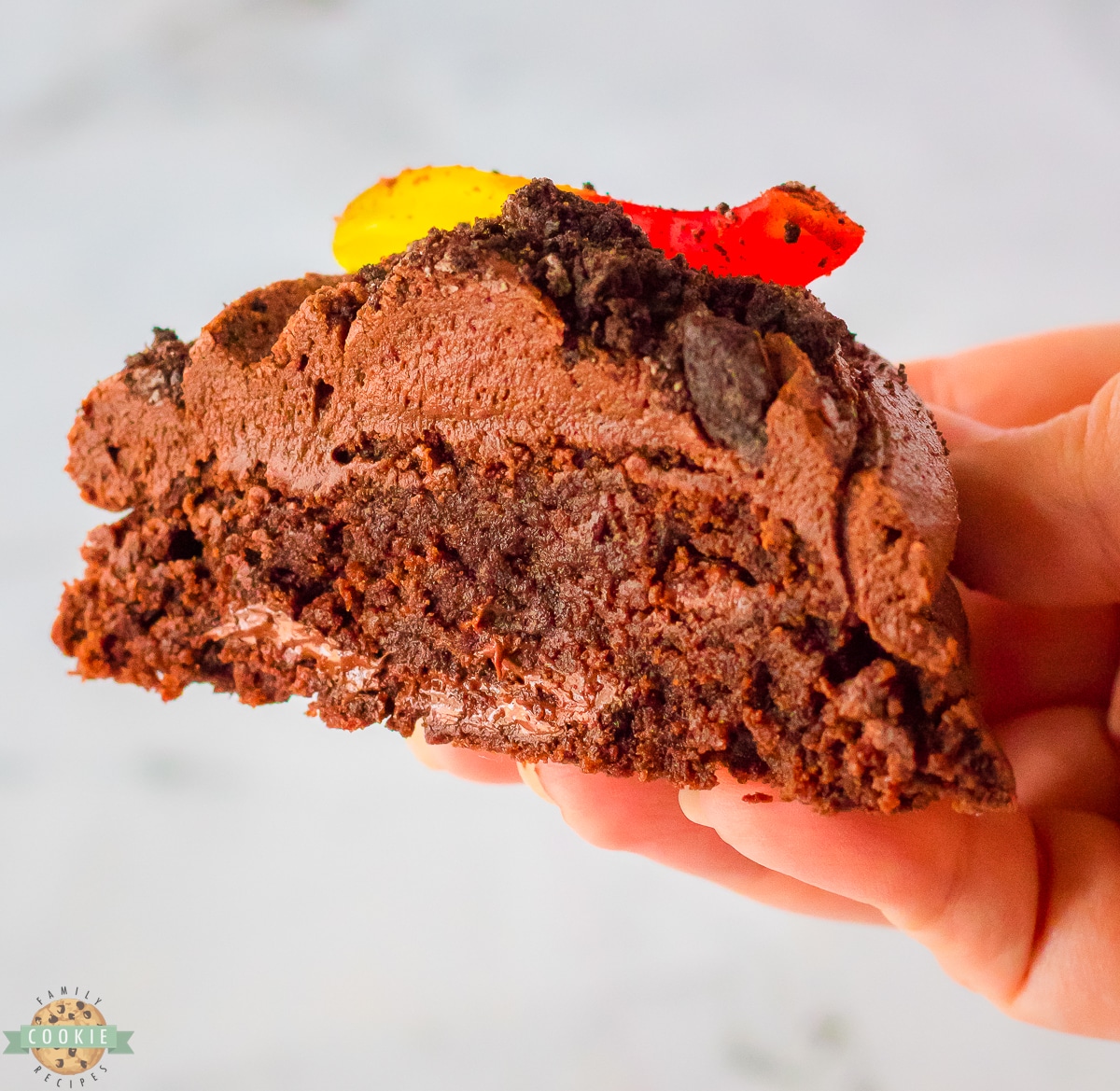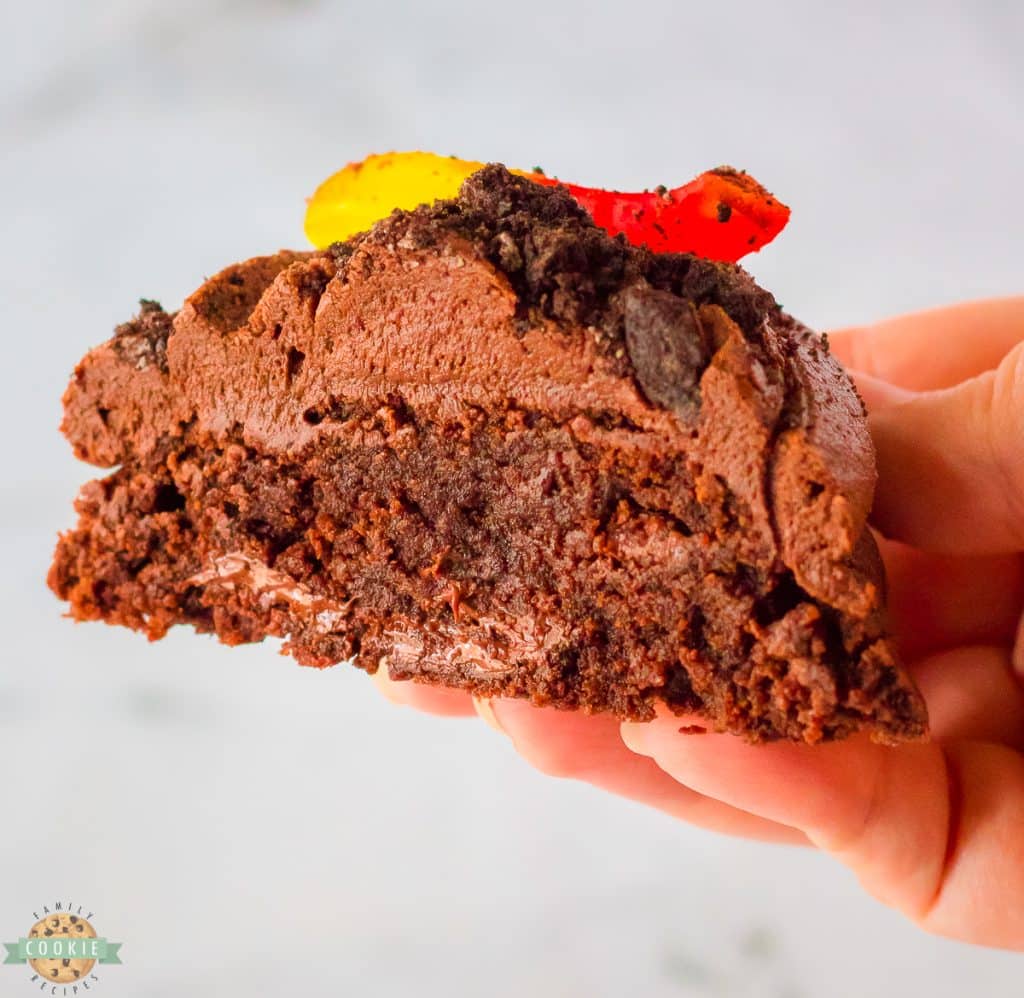 Why we think you will LOVE this Dirt Cookie Recipe!
If you have not already been convinced to give this recipe a try, here are our top reasons why we think you will thoroughly enjoy them.
They are perfect for a themed party! Have a garden-themed party? Halloween or construction theme? There are so many opportunities to bring out these fun cookies, of course, the kids don't mind if there is no occasion at all either.
These cookies are huge. One batch makes cookies that could easily fit in an adult's palm, but in the hands of a child, these cookies could easily be seen as special and gigantic. Note that the cookies could be smaller if truly desired.
They are completely homemade. Made with a homemade double chocolate cookie base and topped off with a chocolate buttercream frosting, these cookies are made from scratch, which only means that they taste even better because nothing is better than homemade, right?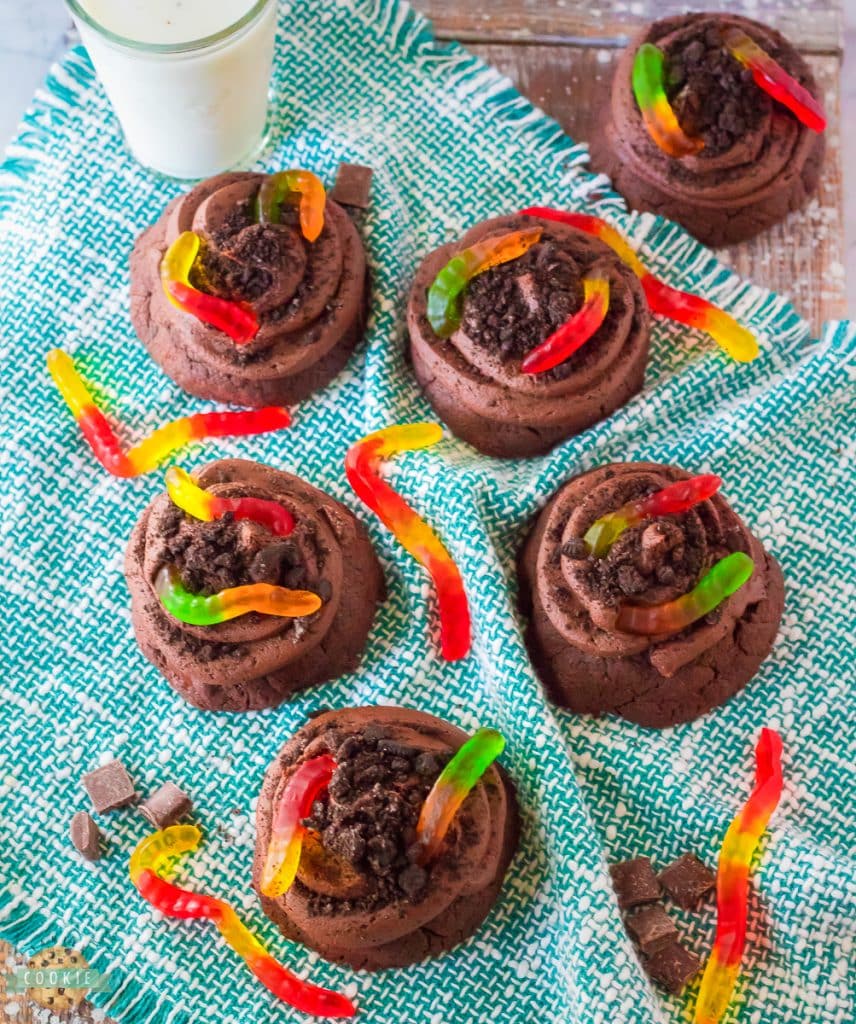 Dirt Cake Cookies Ingredients
For the cookies, you will need:
Cocoa powder: You will need ½ cup of unsweetened cocoa powder to make the cookies nice and chocolatey.
Sugar: Adding in 1 cup of white granulated sugar will make the cookies chewy and sweet.
Butter: Use ½ cup of melted butter to add richness to every bite.
Oil: You will need 3 tablespoons of vegetable oil for additional fats in these cookies to keep them moist.
Egg: 1 egg is all that you need to help bind the dough together perfectly.
Vanilla: Use 2 teaspoons of vanilla extract for flavor enhancement.
Flour: The base of the cookie dough is 1 ⅓ cups of all-purpose flour.
Baking powder: Adding ½ teaspoon of baking powder will get the cookies to puff up and leaven nicely as they bake.
Salt: Use ½ teaspoon of salt to make the flavors in these cookies even stronger.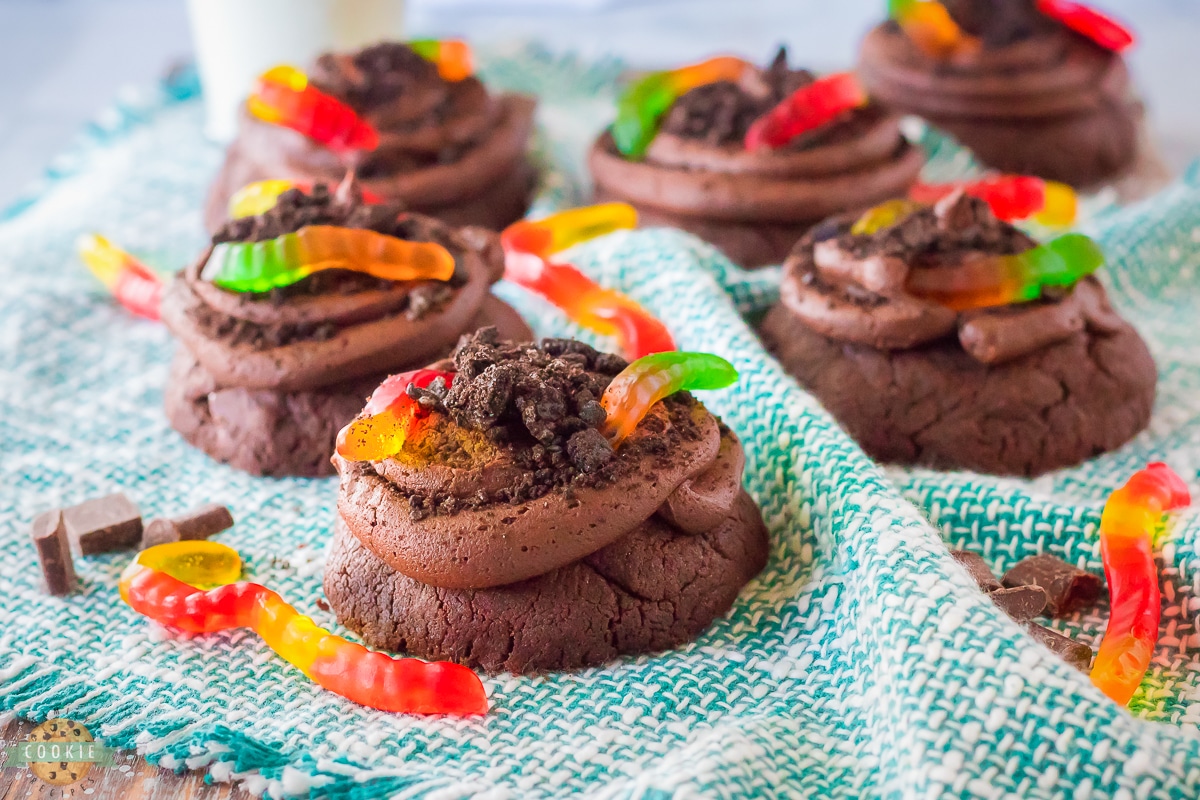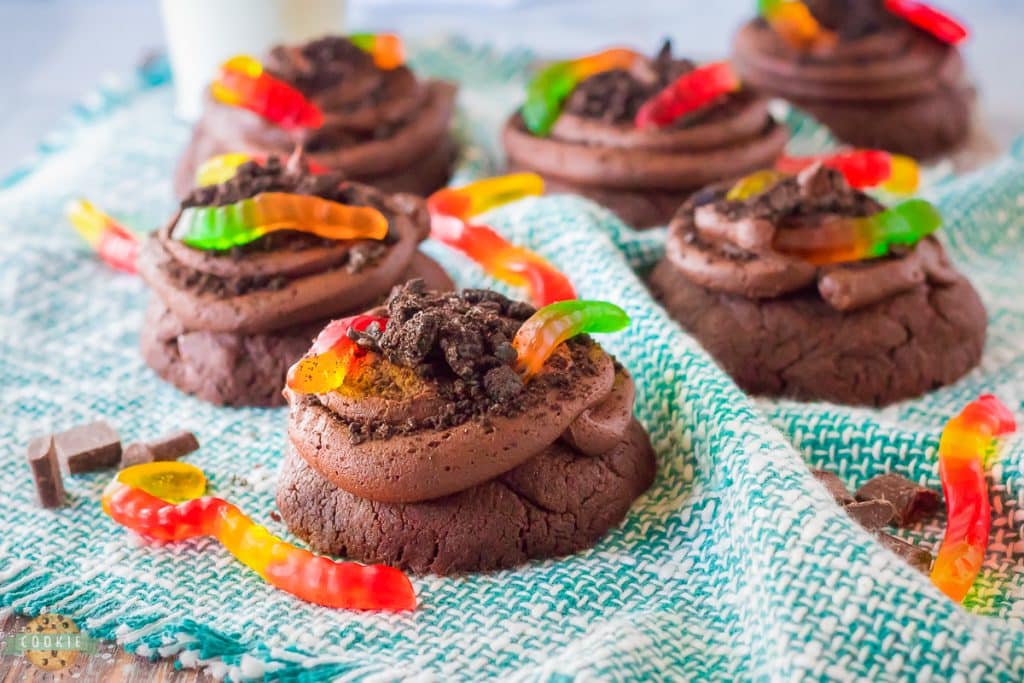 Chocolate chunks: You will want ½ cup of chocolate chunks so that there is plenty of chocolate in every cookie but you can swap out the chocolate chunks for chocolate chips if you like.
For the chocolate buttercream, you will need:
Butter: You will need ½ cup of softened butter for the frosting to be rich and creamy.
Powdered sugar: 4 cups of powdered sugar is needed to make the frosting smooth and sweet.
Cocoa powder: Add in ½ cup of cocoa powder to make the frosting rich and chocolatey in taste.
Vanilla extract: You will need 1 teaspoon of vanilla extract to make the frosting taste even better.
Milk: To get the right consistency, you will need 4 tablespoons of milk.
Gummy worms: What is dirt without some worms? Use your favorite package of gummy worms to make these cookies truly perfect.
Oreos: You will need 10 Oreo cookies or any chocolatey cookie that will work for this, but they will need to be turned into crumbs to act as our edible "dirt."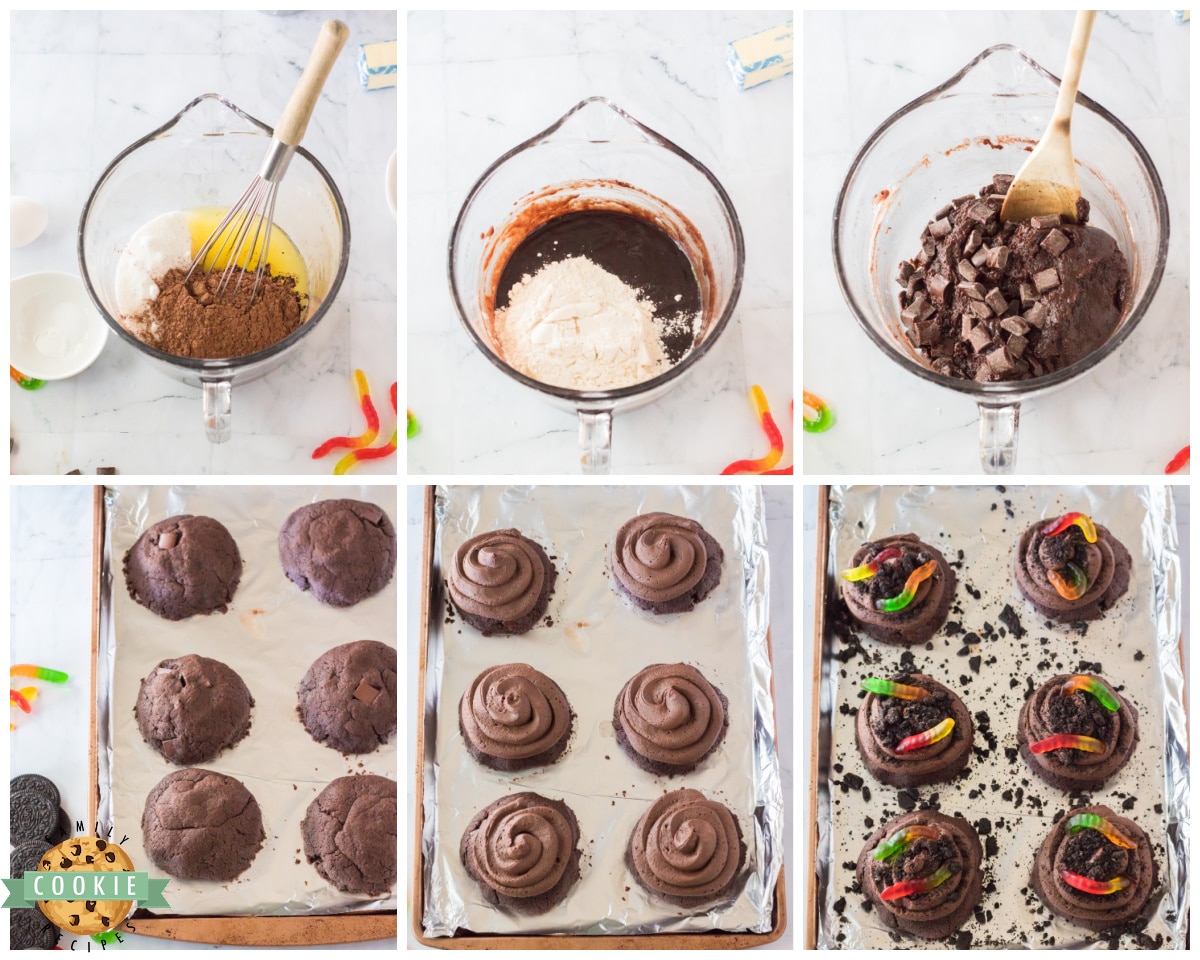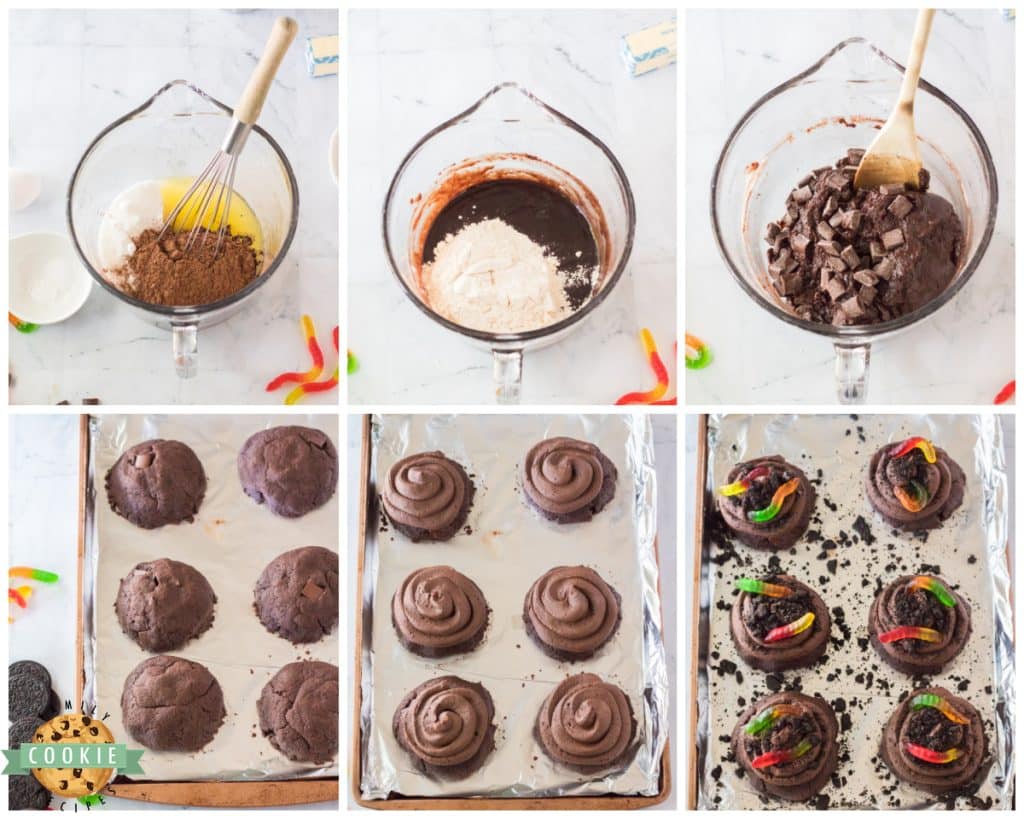 How to Make Dirt Cake Cookies
Prep
Preheat your oven to 350 degrees F.
Then, line a cookie sheet with parchment paper or a silicon mat and set it aside.
Cookie Dough
In a large bowl, combine the cocoa powder, sugar, butter, and vegetable oil and stir until well mixed.
Then, mix in the eggs and vanilla extract until well combined.
Next, stir in the flour, baking powder, and salt until a thick dough forms.
Lastly, stir in the chocolate chunks until just combined.
Shape Dough
Proceed to divide the cookie dough into 6 equal sized portions and roll them into balls and place them onto the prepared baking sheet.
Then, set the baking sheet in the fridge to chill for at least 30 minutes.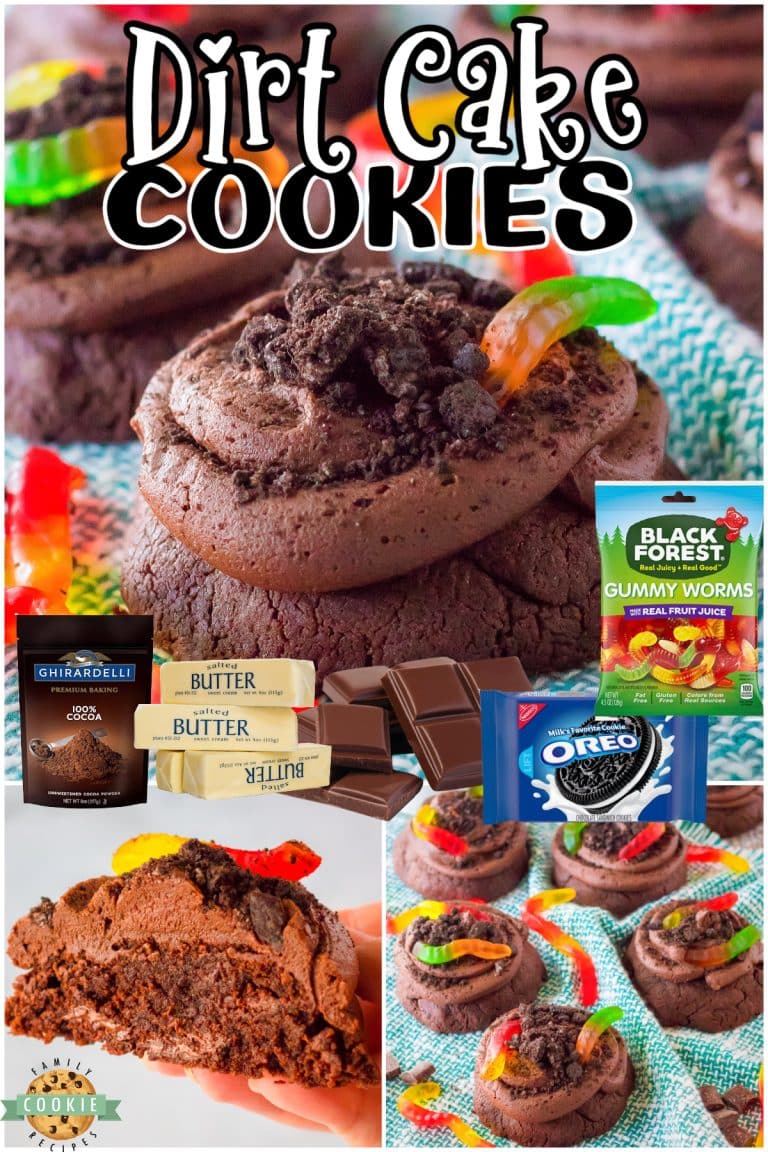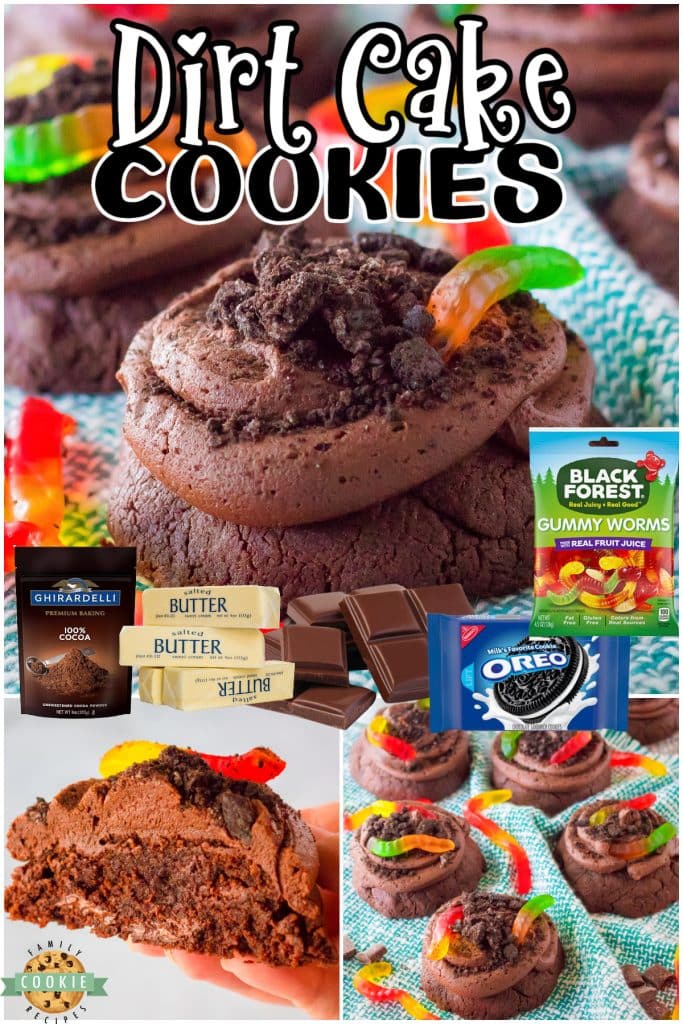 Bake
Bake in the oven for 12 minutes. The cookies should be just baked so that they are no longer glossy but are still soft.
Let the cookies cool on a wire rack.
Prepare Frosting
In a large bowl, whip the butter until fluffy using an electric mixer.
Next, add in the powdered sugar and cocoa powder and mix on low speed until it blends together fully.
Then, add the vanilla extract and milk and whip together until light and fluffy.
Assemble
Start by placing the frosting into to piping bag with the corner snipped off.
Proceed to pipe the frosting onto each cookie in a nice swirl pattern.
Then, crush up the Oreo cookies in another baggie or food processor to create the "dirt" for the cookies.
After that, sprinkle the cookie crumbs on top of the frosting.
Next, top each cookie with a gummy worm or two, you can add as many or as few as you want.
Serve immediately and enjoy!
How long are dirt cake cookies good for?
Keep these cookies stored in an airtight container at room temp or in the fridge for up to 3-5 days. These cookies will taste best when eaten sooner rather than later, so we recommend eating them within 24 hours for the best tasting results.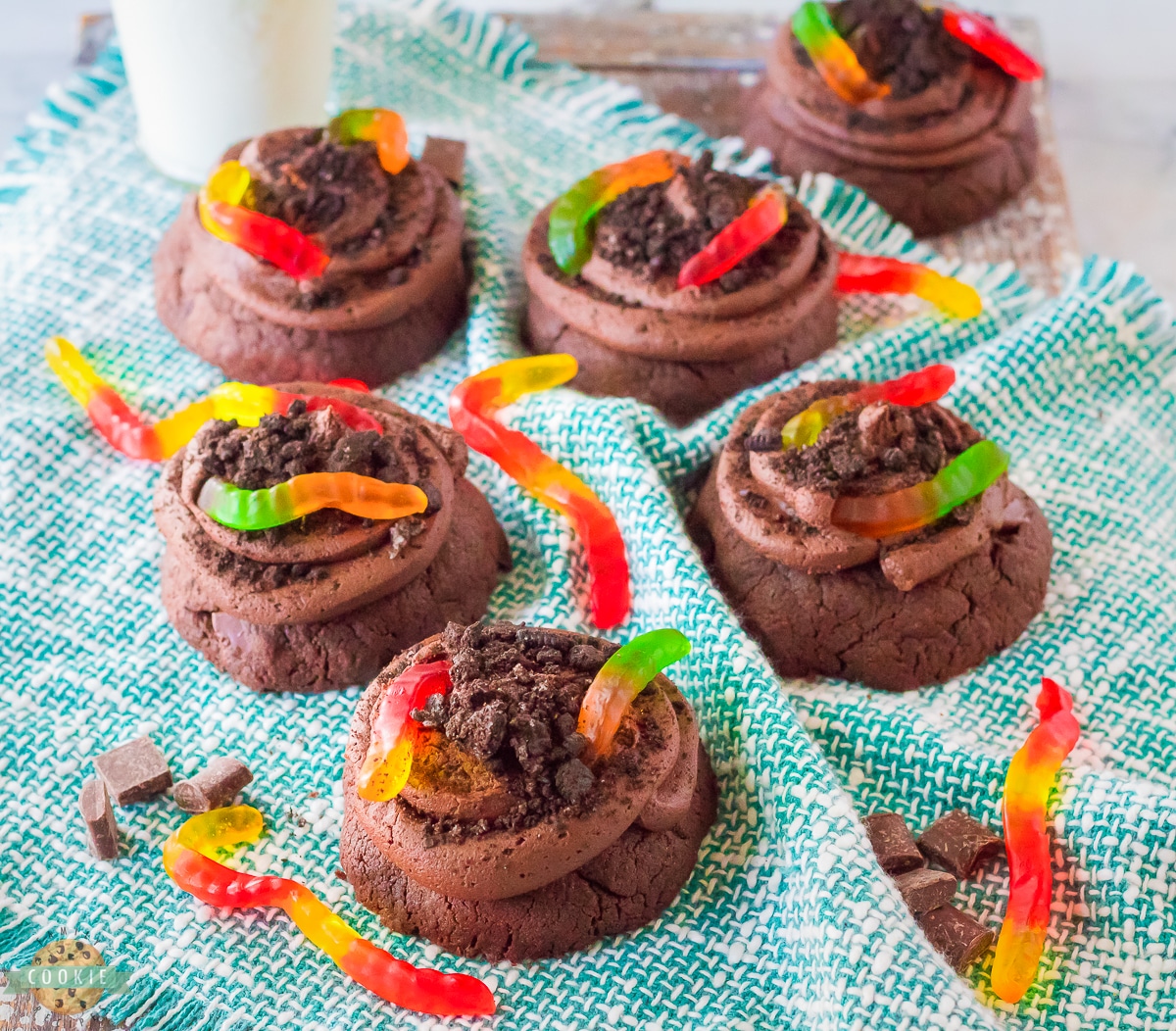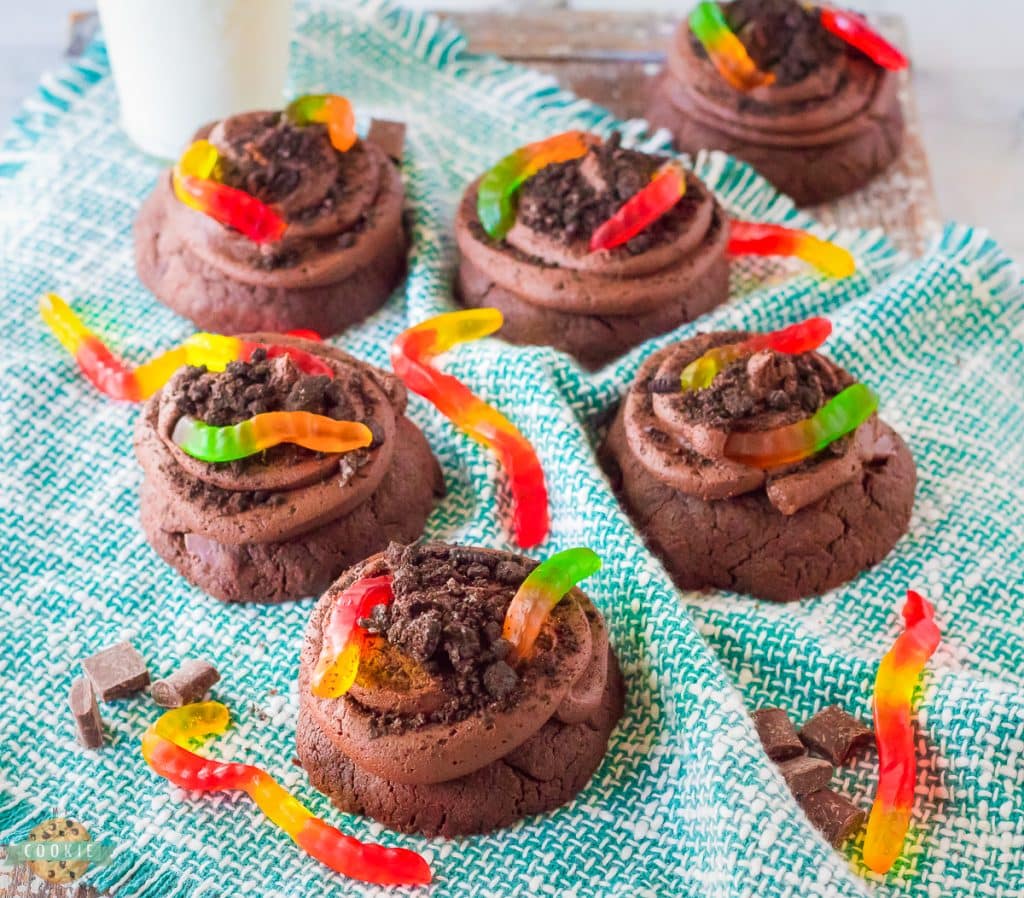 Do I have to chill the cookie dough?
When recipes request that you chill your cookie dough it is usually for a good reason. That reason is that the flavor gets a bit more time to develop and the cookies taste even more incredible. But the biggest reason is because of the butter/fats in the dough. By chilling the dough we allow the fats to solidify which means your cookies will not spread out as much while baking, so the texture turns out perfectly. This is especially important on warmer days or when your butter is warm or softened.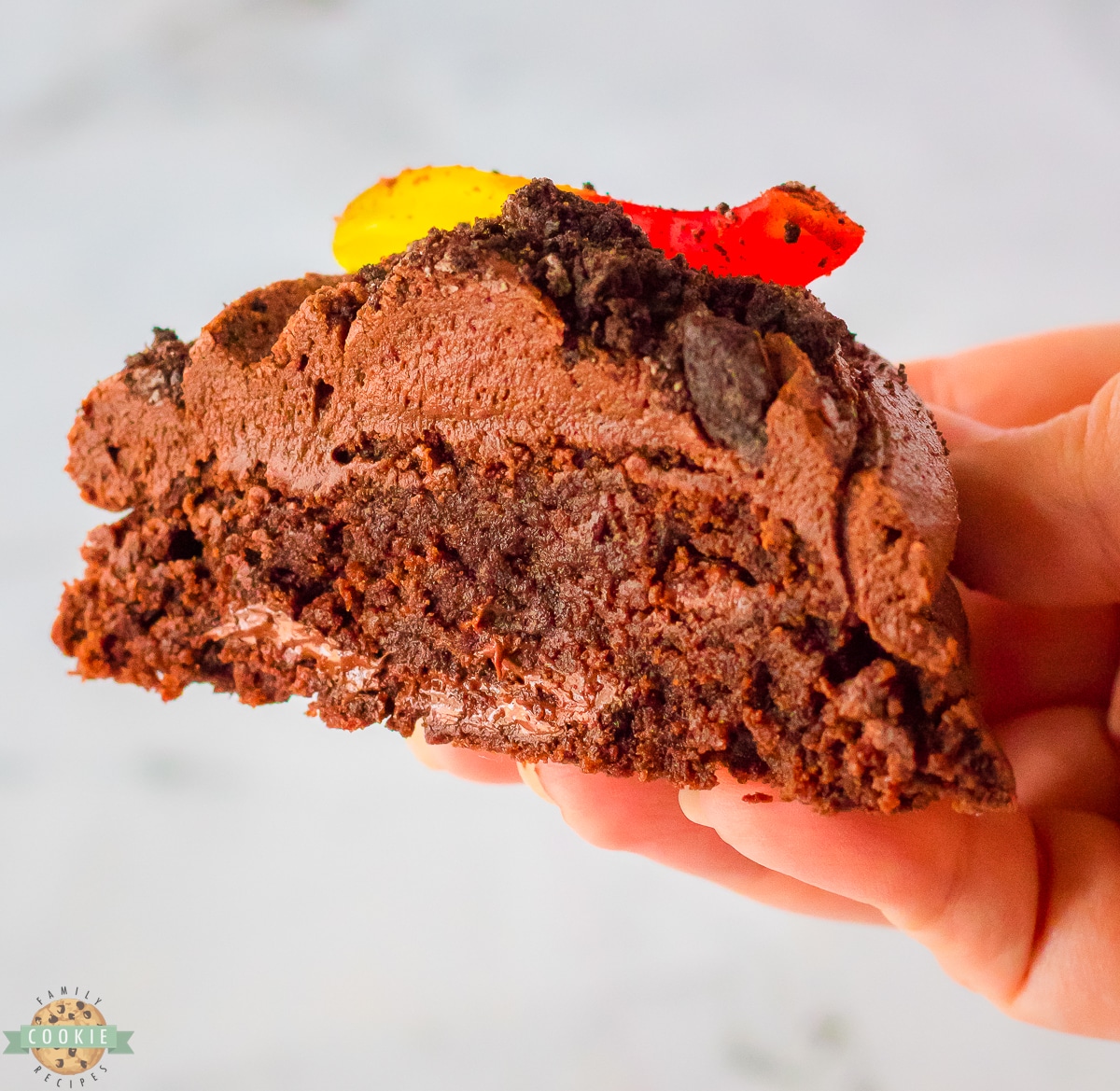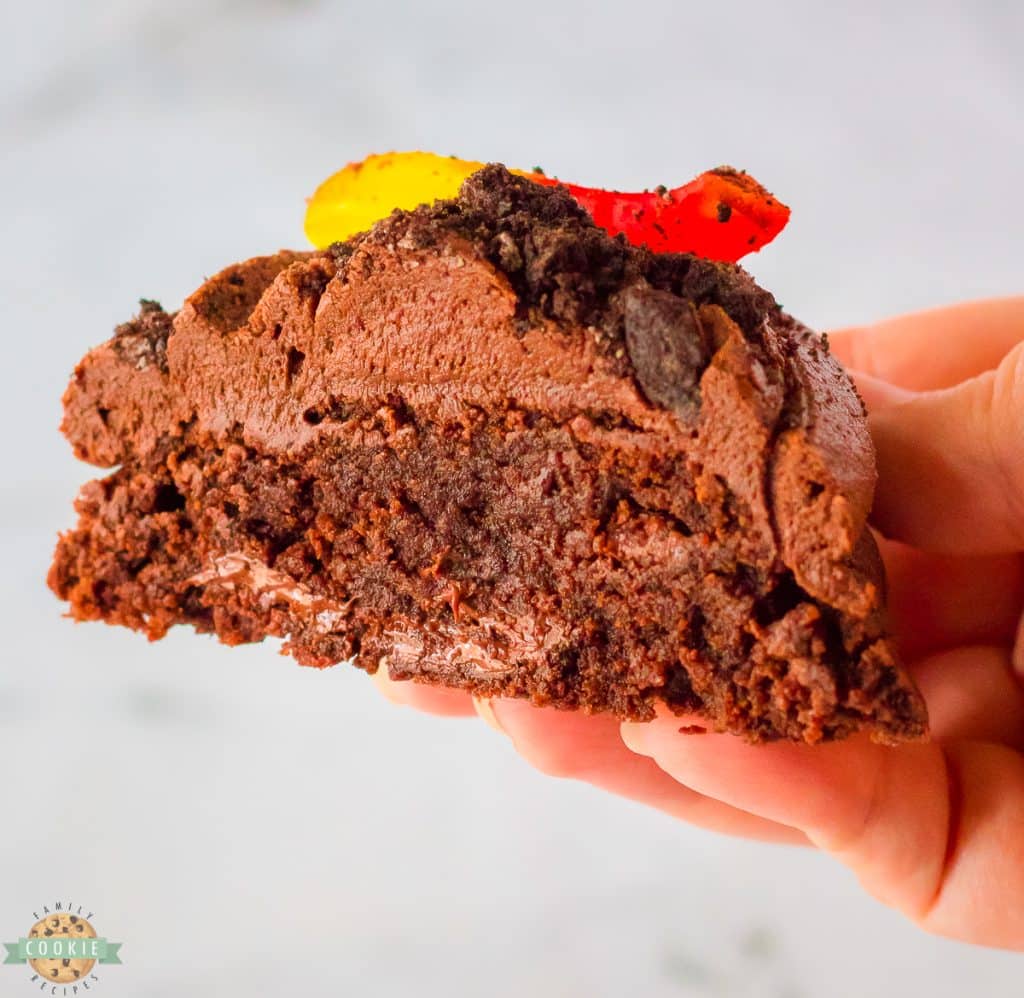 Can I freeze frosted cookies?
Yes, you can freeze these cookies. They will last up to 3 months if store properly. To freeze them, place your frosted cookies onto a baking sheet and freeze for about 2 hours until the frosting is solid. Then transfer to an airtight container with a piece of parchment paper or wax paper between the cookies to prevent sticking. You can also put them each in individual ziplocked bags after the initial freezing process, for quick access to a sweet treat.


This is my cute family on a boat cruise in Mexico! We ended up seeing whales, stingrays & lots of amazing beaches we hope to someday explore!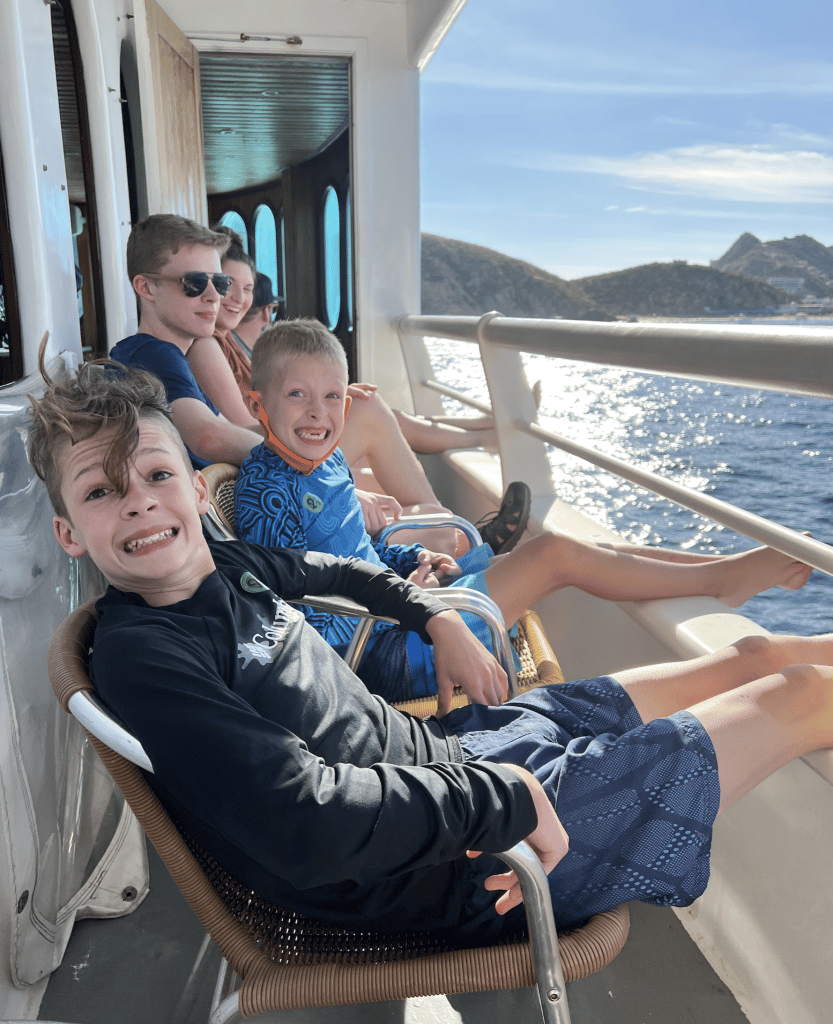 Dirt Cake Cookies are made with crumbled Oreo cookies, chocolate frosting, a thick chocolate cookie with gummy worms on top, every bite is flavorful and fun! These incredible mud cookies are a wonderful homemade dessert that your family and friends will love.