Honey Butter Bear Cookies are super cute & absolutely delicious! Teddy bear honey cookies made with honey, butter, and a few other common ingredients for a fun & tasty cookie!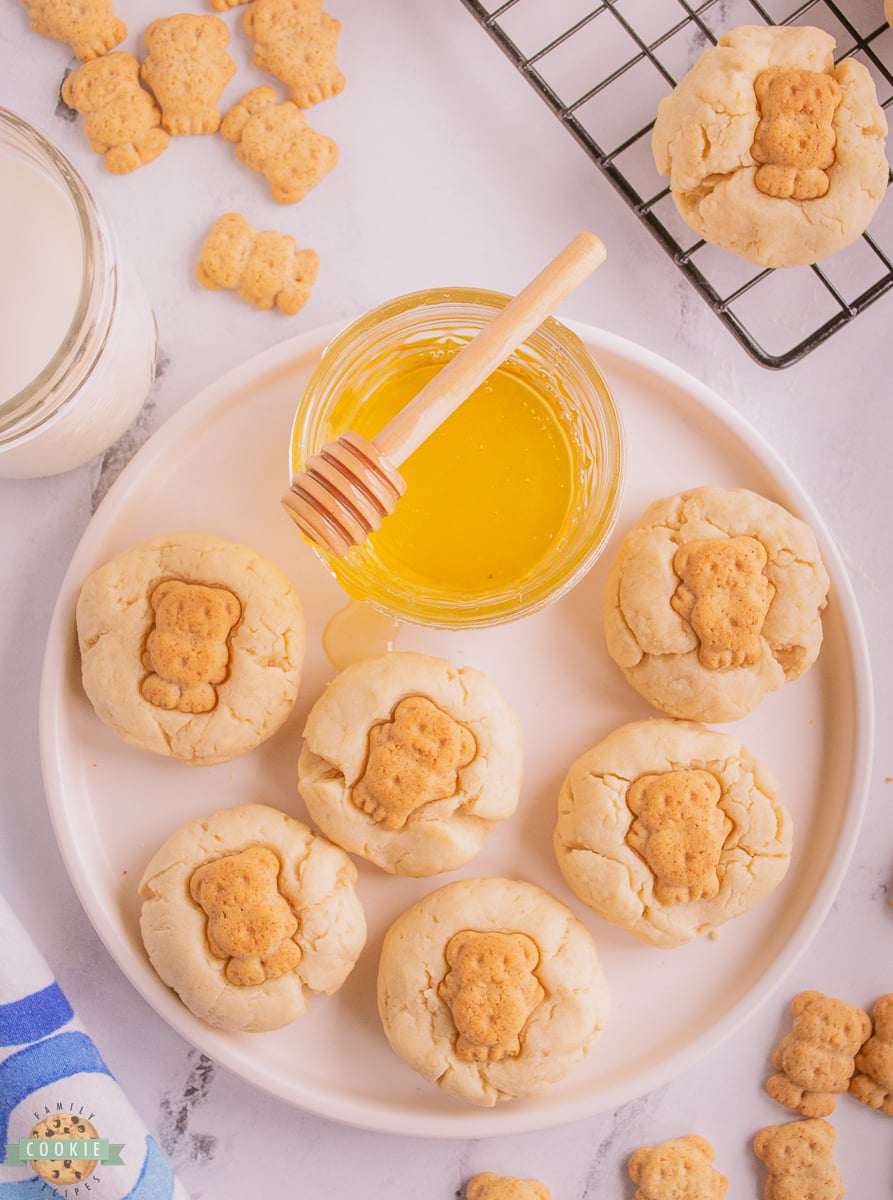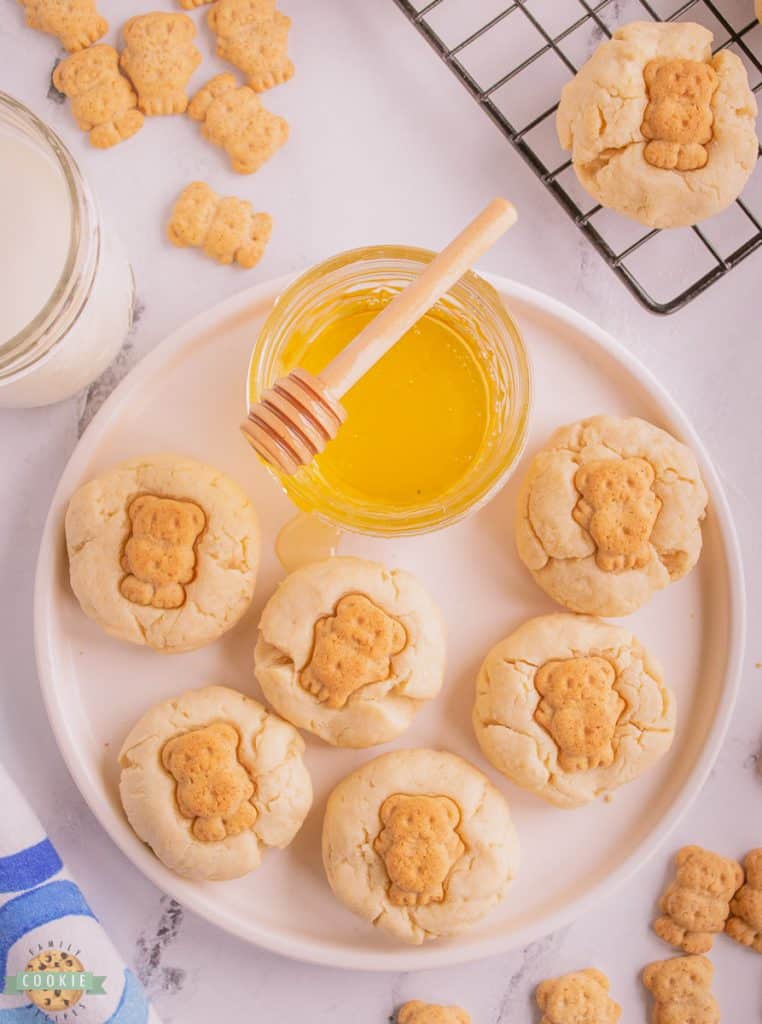 This teddy graham cookie recipe is perfect for every occasion from baby showers to themed parties, these cookies are always in season. Making these honey bear cookies is so simple, you can have a sweet treat in under 30 minutes!
Teddy Graham Cookies
If you are a cookie lover like myself, then you are going to love these cookies! We put cookies, on TOP cookies! I know, so exciting that you will no doubt want to make a batch soon and who could blame you. From the easy-to-make cookie dough to the simple topping, this cookie is a winning recipe worth sharing. Surprise your family by whipping up a batch and serving this simple sweet cookie as an after dinner treat tonight!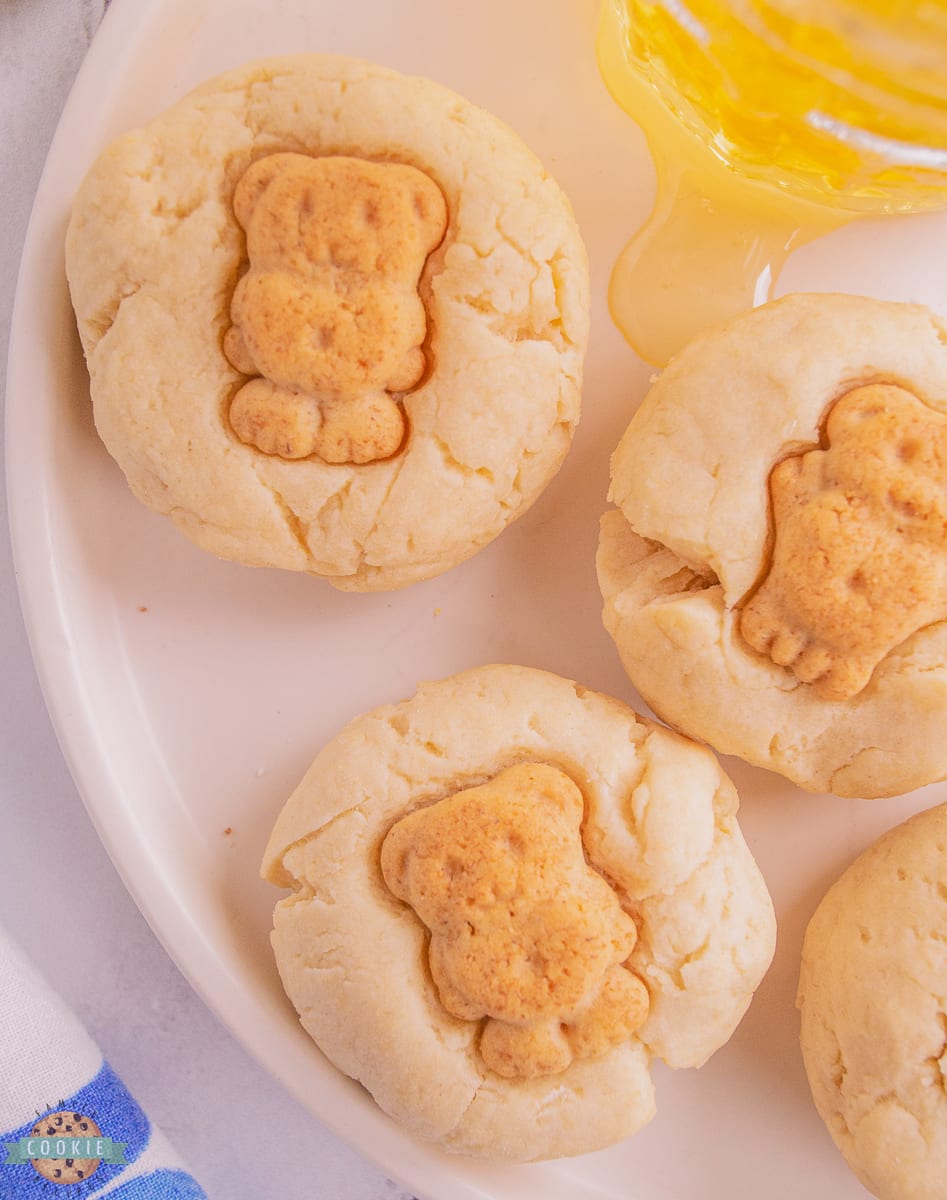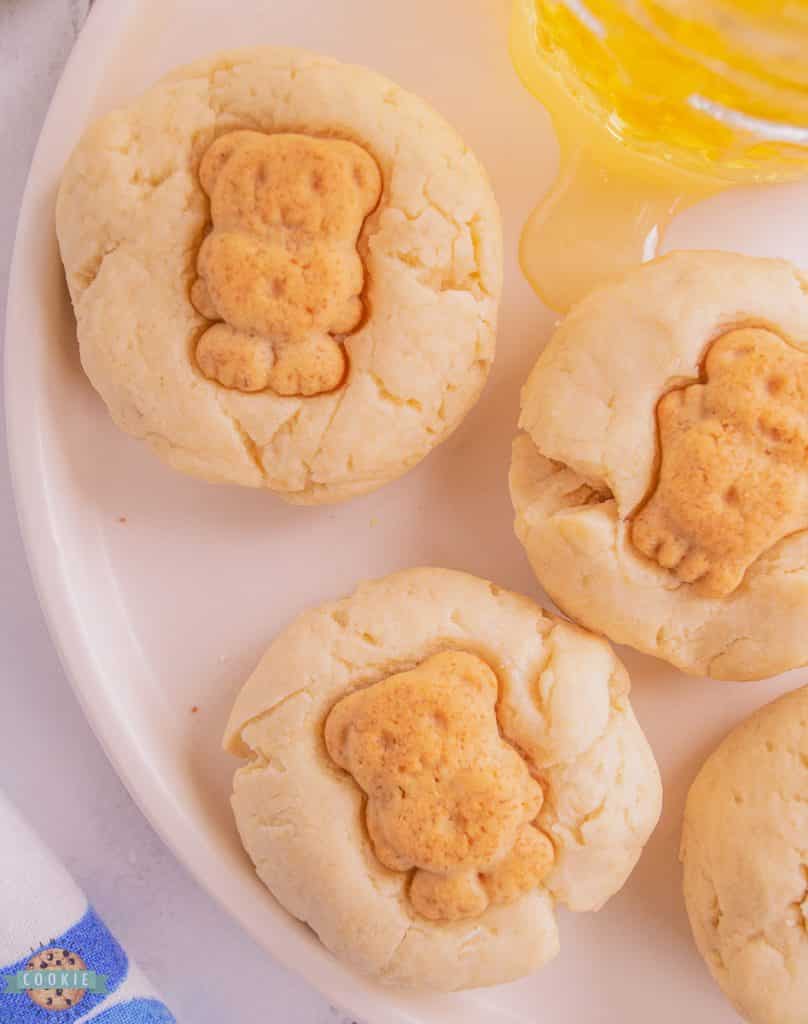 Why we think you will LOVE this recipe
In case you need more convincing to try these wonderful cookies, here are a few reasons why we think you will enjoy them.
Minimal ingredients. You only need a few simple ingredients to make these cookies. Even better news, most of them are probably in your pantry or fridge already.
They are perfect for themed events. Everything from a woodland theme, PNW themed baby shower or a honey bee bridal party to a camping event, will be perfect for presenting these cookies to everyone.
No chilling is required. This dough is made in just a few minutes before being rolled and baked, so if you're craving a cookie right now you're in luck! Just a few minutes of effort and patience and you can have a fresh warm batch from the oven.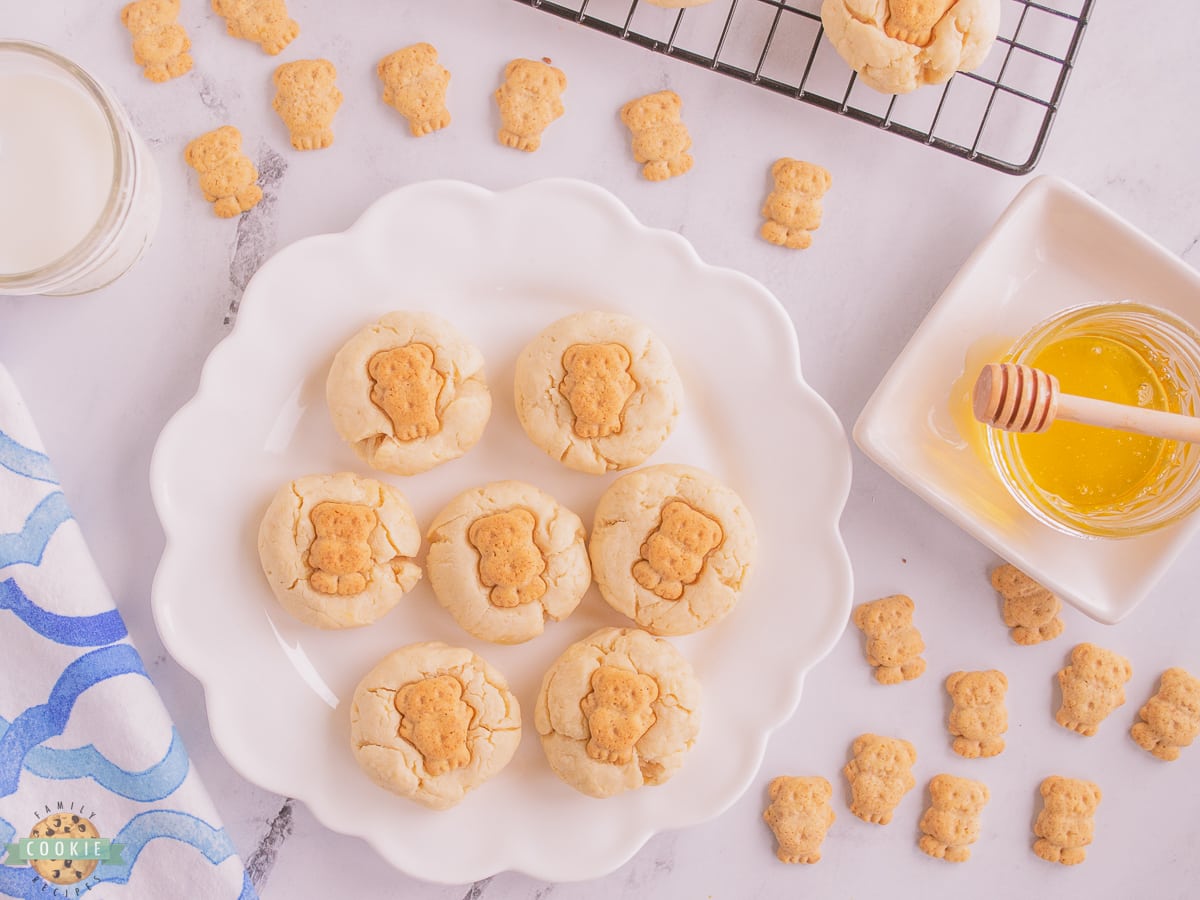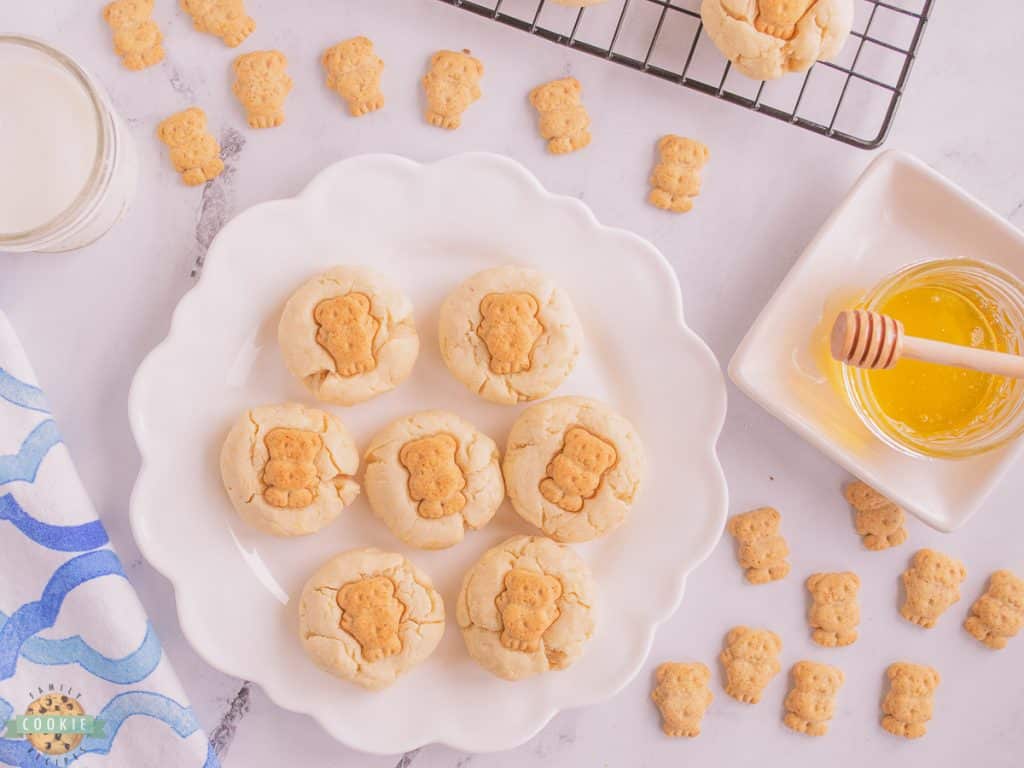 Ingredients
Butter: You will need ½ cup of softened butter (one stick) to make the cookies rich and delicious.
Honey: Adding in ½ cup of honey will give us a great flavor and natural sweetener in every bite.
Vanilla: To enhance the flavors in the cookies, you will need 1 teaspoon of pure vanilla extract.
Egg: Use 1 large egg to act as the binder for the cookie dough.
Flour: For the base of the cookie dough, use 2 cups of all-purpose flour.
Baking powder: Using 1 teaspoon of baking powder will leaven the cookies so that they puff up nicely as they bake.
Salt: Make the flavors in the cookies taste even better by adding in just ½ teaspoon of salt.
Honey Teddy Graham cookies: You will need 20 of these teddy cookies so that there is one for every cookie. This recipe works best when you use Nabisco Teddy Grahams instead of generic brand Teddy Grahams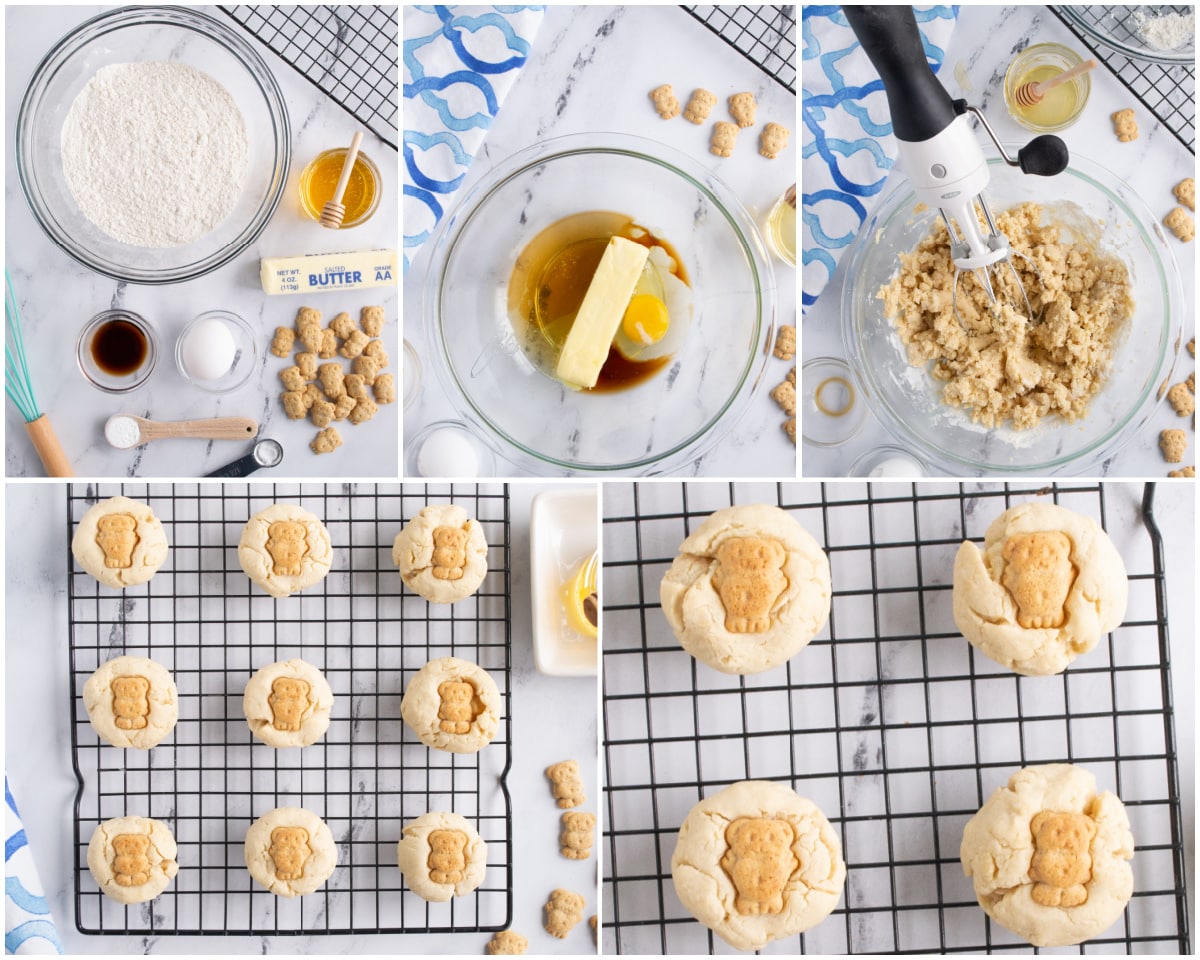 How to Make Honey Bear Cookies
Prep
Preheat your oven to 350 degrees F. Then, line a baking sheet or two with parchment paper and set them aside for later use.
Make dough
In a large mixing bowl, using an electric mixer, cream together the honey, butter, vanilla extract, and eggs.
Next, in a separate small bowl, whisk together the flour, baking powder, and salt.
Then, add the flour mixture to the wet butter mixture and then stir well to combine.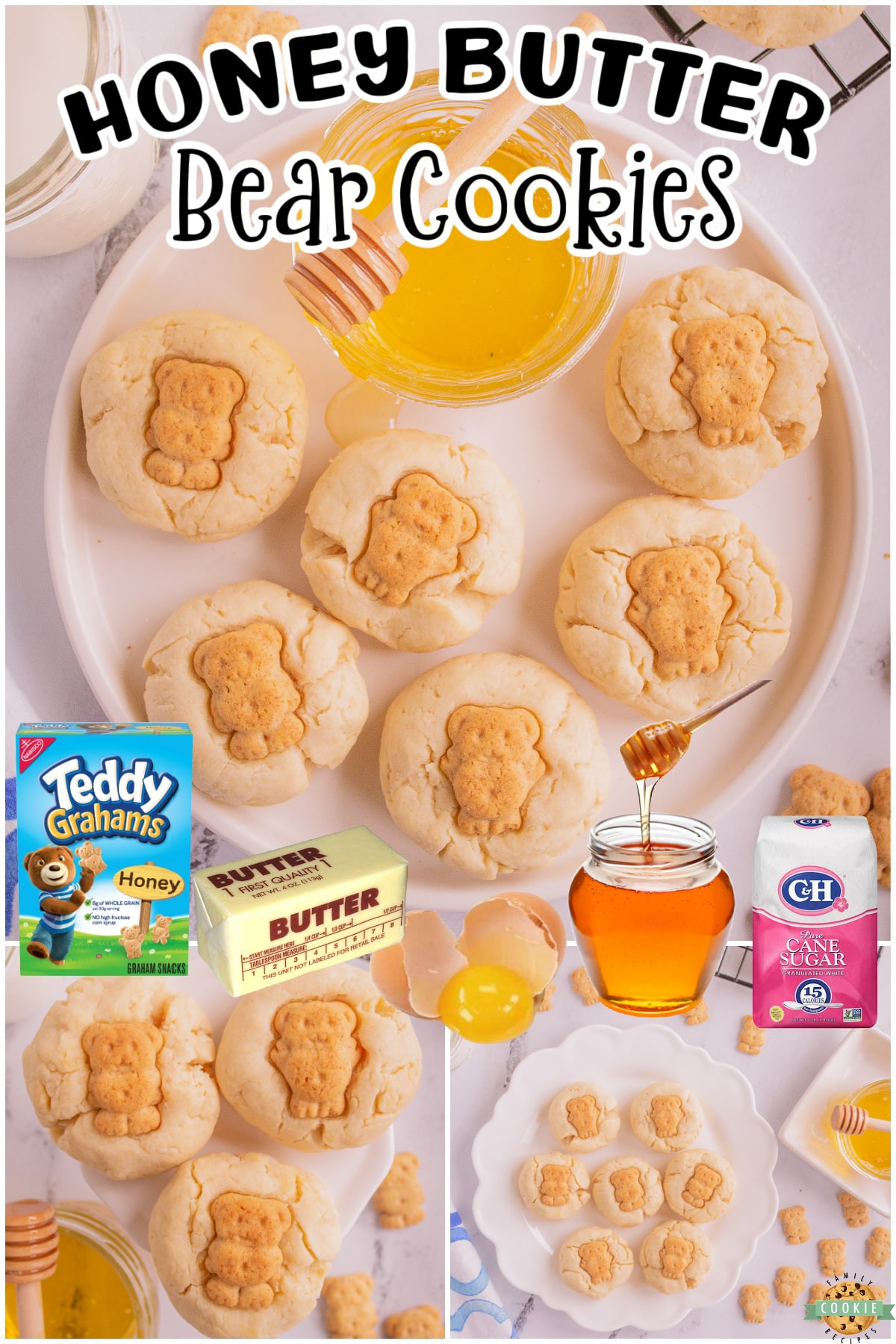 Assemble
Proceed to roll your cookie dough into 1-inch-sized balls and place them evenly spaced on your lined baking sheets.
After that, press a single teddy graham cookie into the center of each cookie.
Bake
Place the cookies into the preheated oven and bake for 10 minutes, until the edges look set.
Then, remove the cookies from the oven and let them cool completely before serving. Enjoy!
Are honey cookies healthy?
These cookies actually are a little healthier than your usual sugar cookies because honey is a natural sugar. The teddy-shaped cookies on top are not healthy but they are not that unhealthy either, and since there is only one on every cookie it's not that bad.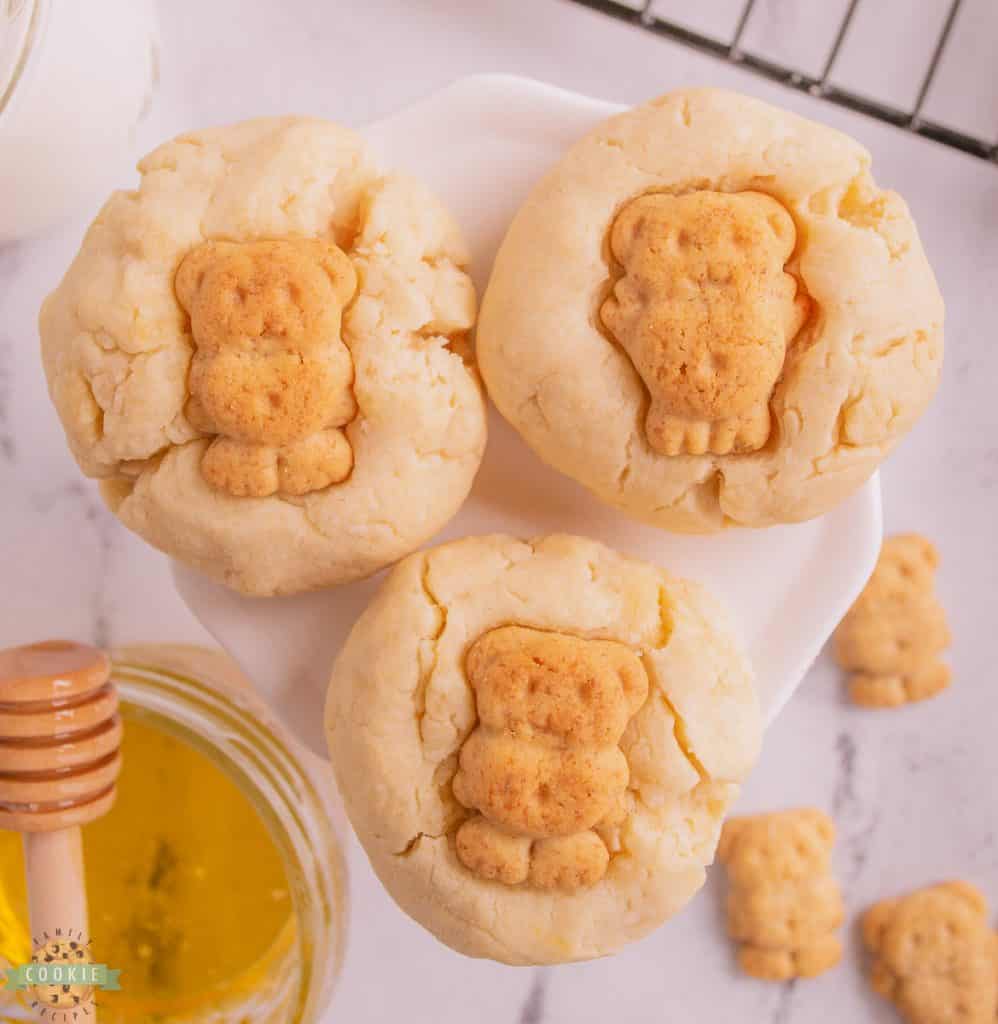 How long are honey butter cookies good for?
These cookies can be kept stored in an airtight container at room temperature for up to 3 days or they can be stored in the fridge for up to 5 days. This should give you plenty of time to use them up before they go bad.
How to Make Better cookies
Spend a little extra time when you mix the butter and sugars. Creaming them together for 2-3 minutes will improve the consistency of your cookies.
Preheat the oven. This will help your cookies turn out right every time!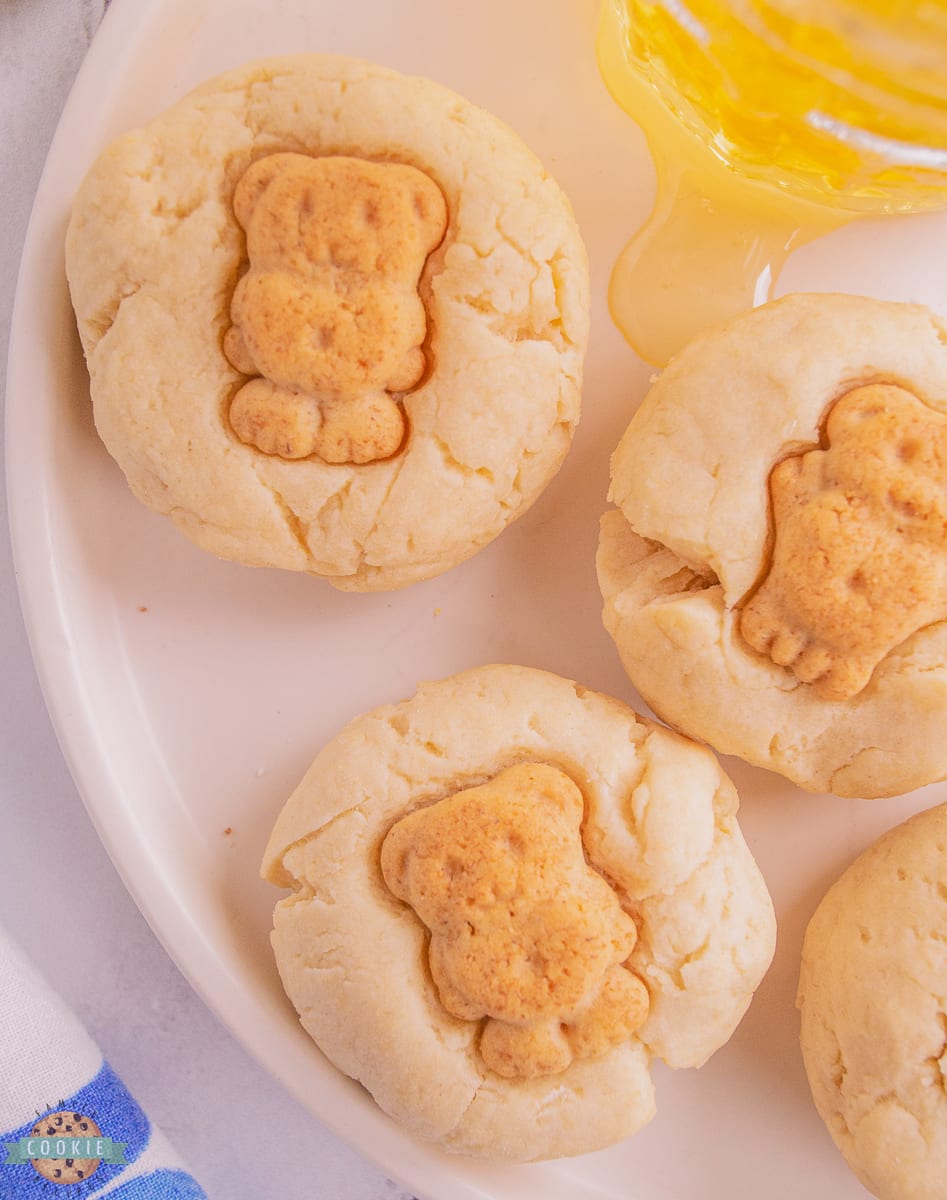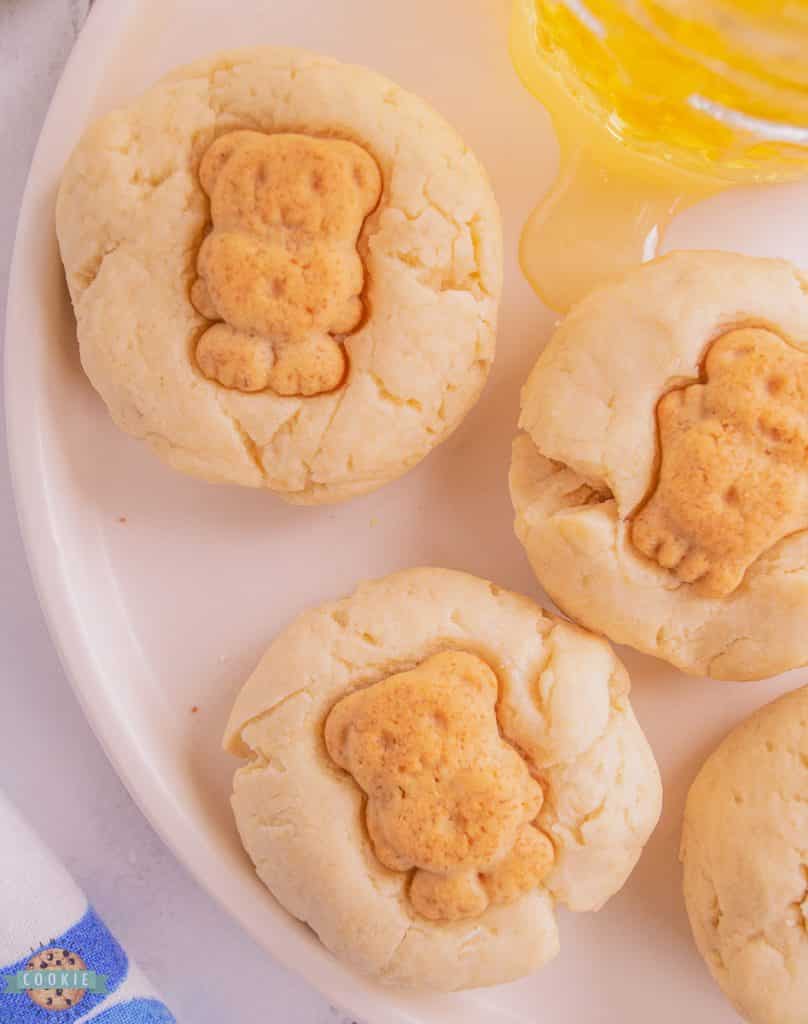 Use a cookie scoop! If you want all your cookies to be perfectly shaped and have them all be the same size, a cookie scoop is the way to go.
Use parchment paper or a silicone baking mat. Doing this will make it really easy to remove the cookies from your cookie sheet so that you don't have to scrape them off the pan – they will just slide right off in perfect shape!
Make sure not to overbake your cookies.  They may not even look totally done on the tops, but if the bottoms start to brown, I take mine out and they are perfect!


Every once in awhile I take my good camera out to the fields or courts or gymnastics arena and take some action shots of my kids playing sports. It's challenging, but really fun! Here's a shot I got from a 7-on-7 football tournament my son played in. Hair flying, muscles tensed & look of concentration on his face- I love it all!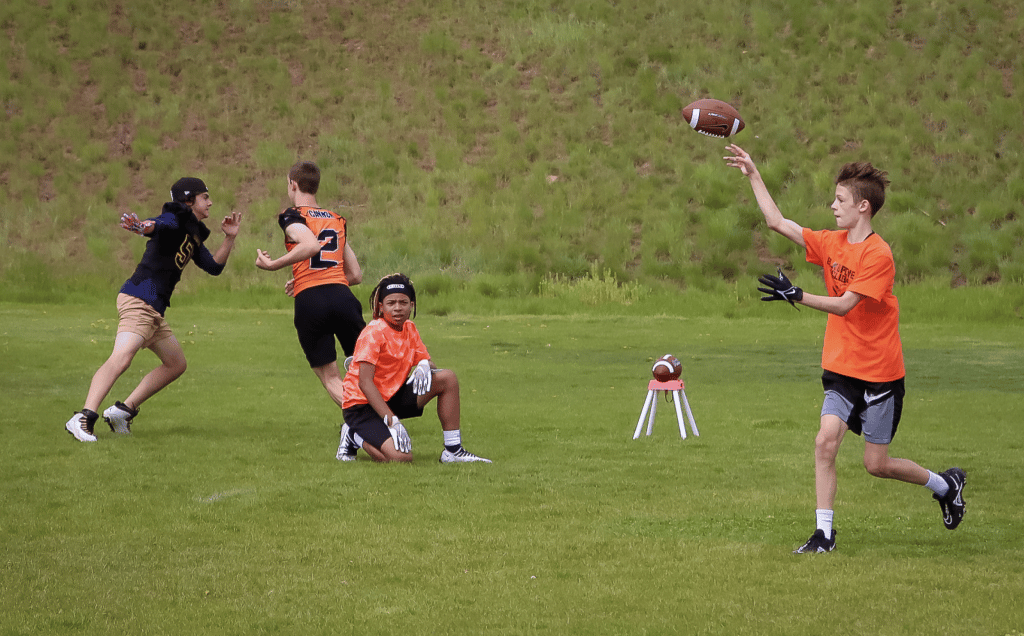 Here are some more easy cookie recipes you are sure to enjoy!
Honey Butter Bear Cookies are so adorable, sweet and simply delightful! These teddy bear honey cookies call for only a few ingredients and are made without processed refined sugar, you can feel good about enjoying them.