Potato Chip Cookies are the perfect combination of salty & sweet! Unique cookies made with butterscotch chips, potato chips, butter & brown sugar for incredible flavor!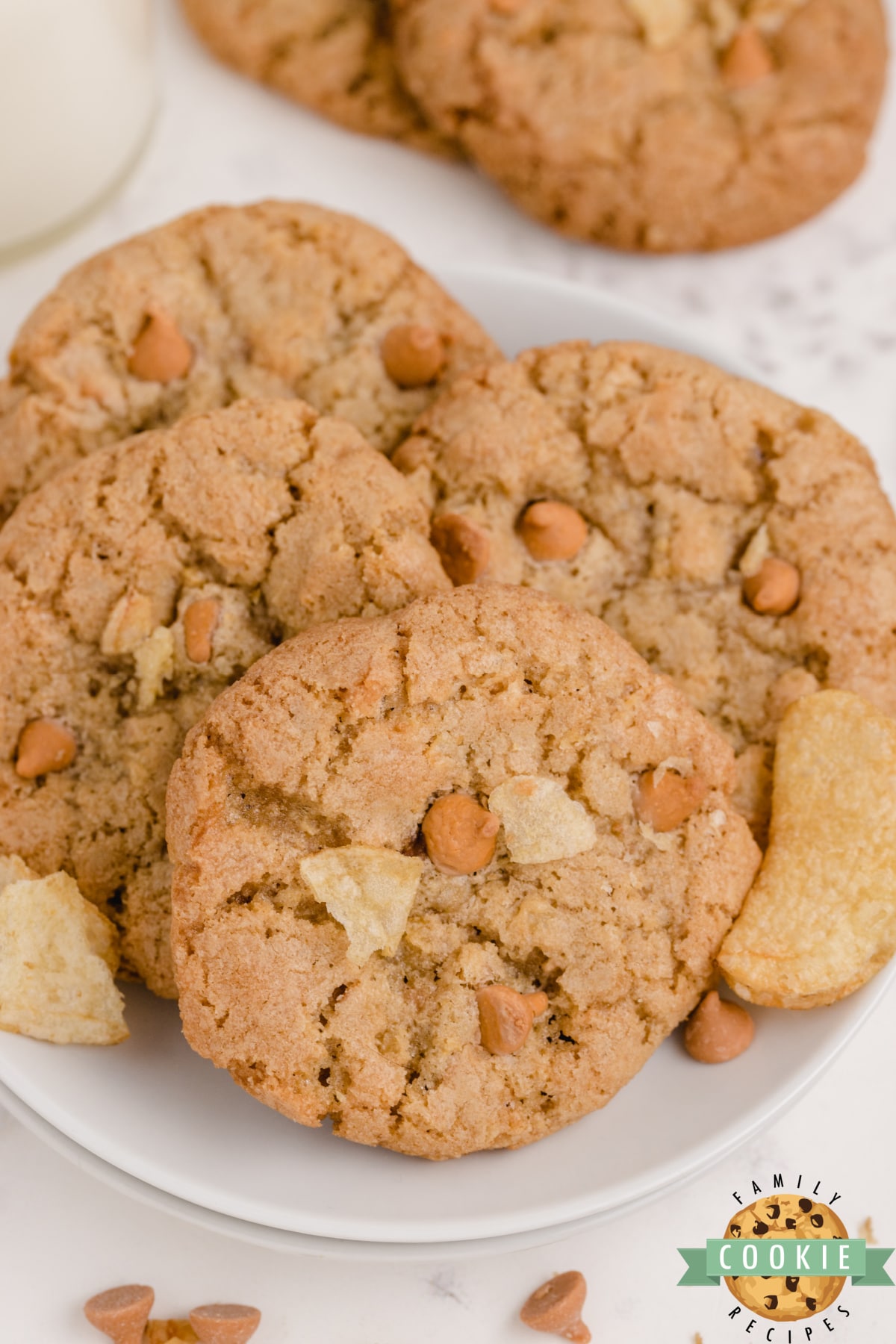 Potato Chip Cookies are so unique! I admit I was a little skeptical about making these cookies since it just sounds a little bit strange to be putting potato chips in a cookie, but they are actually really amazing!
I kept putting off making these cookies, because I really like my basic chocolate chip cookies or peanut butter cookies and I didn't want to waste cookie making effort on a recipe that wouldn't be quite as good. I was very pleasantly surprised that these cookies are actually really incredible!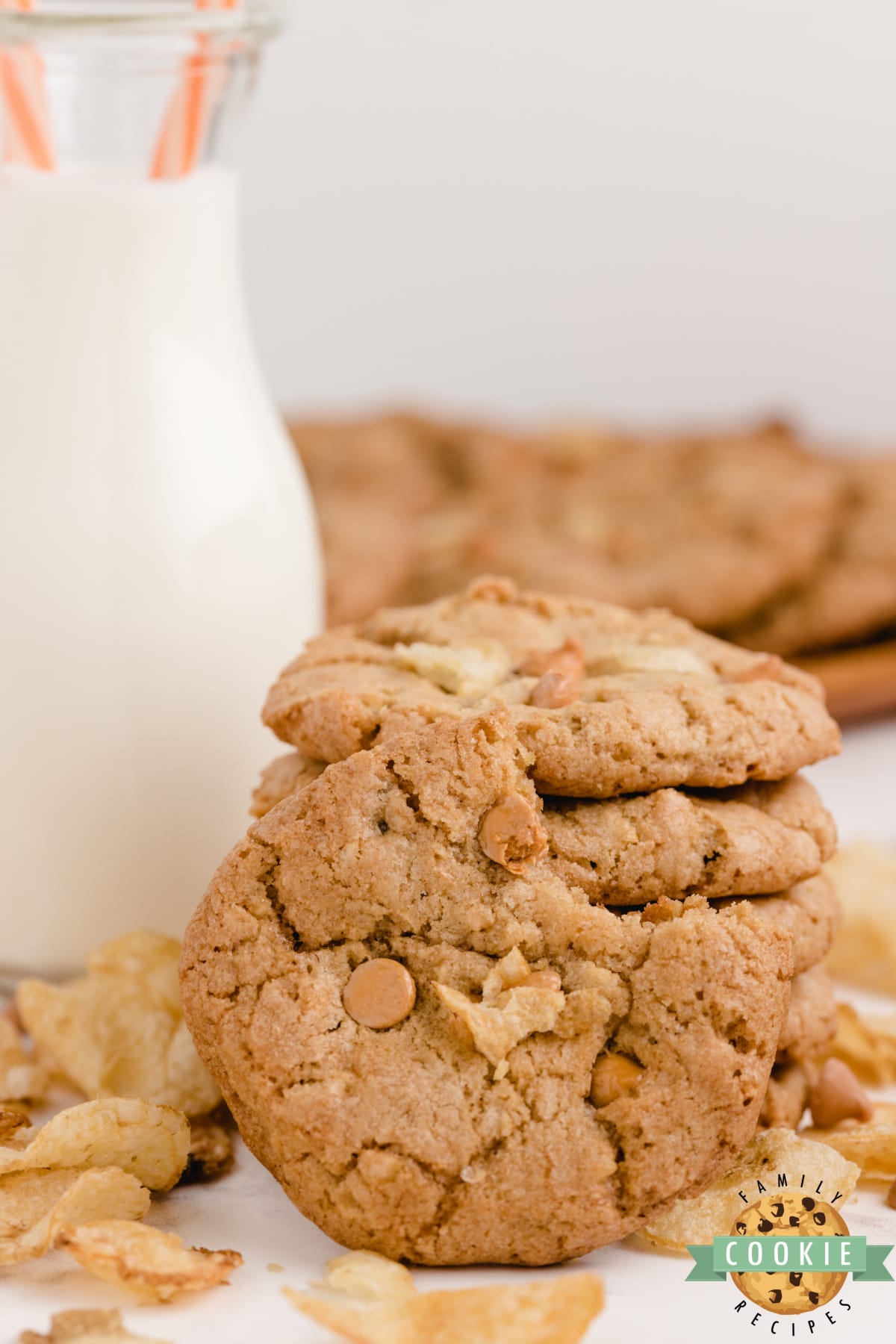 TIPS FOR MAKING THE BEST POTATOE CHIP COOKIES
Three kitchen items really help you make the best cookies ever! I actually use these items in nearly every cookie recipe I make, as well as several other types of recipes, so they're quite versatile.
Make sure they don't stick
First, I line my cookie sheets with a piece of parchment paper or a silicone baking mat to make sure they don't stick! They're sold in sizes that fit a 12×16 cookie sheet perfectly and enable to cookies to bake well without sticking- and no mess from spraying oil on the cookie sheets!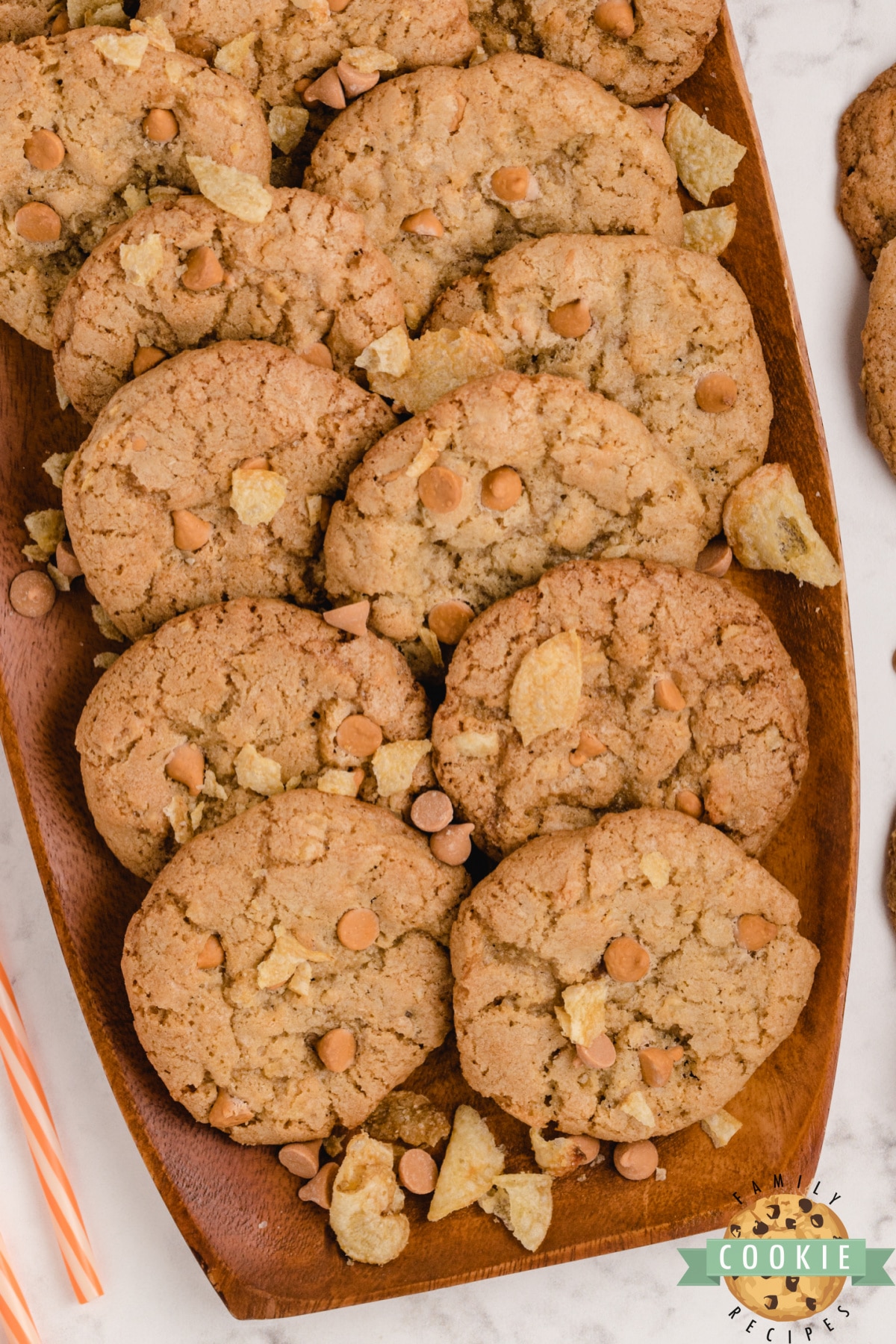 Use An Electric Mixer for Uniform Mixing
The second item is a KitchenAid mixer. I love mine! I have a Bosch as well but I find I use my KitchenAid for cookies. There is a cookie paddle that comes with every mixer that you attach to the top of the mixer. They're easy to use and help you mix the ingredients uniformly. Add this to your wish list because it's one of my all-time used small appliances ever!
Use A Cookie Scoop!
The third item is a cookie scoop! Years and years ago I used to use 2 spoons to measure and scrape cookie dough onto the pans. It wasn't a perfect process and I often ended up with oblong cookies in various sizes. A friend of mine brought cookies to a party and I noticed each and every one of her cookies looked PERFECT. Her secret? A cookie scoop! They come in three sizes- 1/2 tablespoon, 1.5 tablespoon and 3 tablespoon scoops.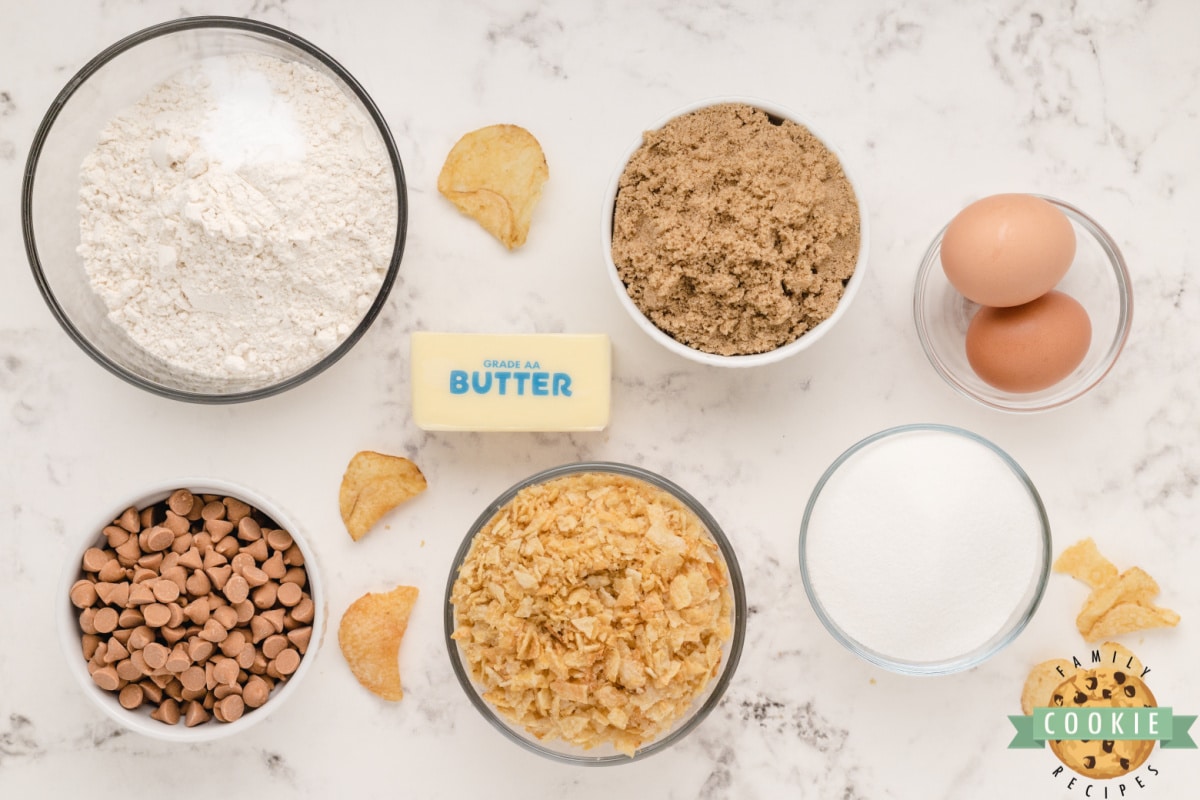 INGREDIENTS IN BUTTERSCOTCH POTATO CHIP COOKIES
Butter – You will need 1 cup (2 sticks) of butter, softened to room temperature. Real butter definitely works best!
Brown Sugar – For best results, make sure your brown sugar is fresh.
Sugar – You will need 1 cup of granulated sugar to add the rest of the sweetness to the cookies.
Eggs – 2 large eggs are needed for the recipe.
Flour – All-purpose flour works best in the recipe, but you can use a gluten-free substitute if needed.
Baking soda – One teaspoon of baking soda acts as the leavening agent in the cookies, so make sure that your baking soda isn't expired.
Potato Chips – You will need 2 cups of crushed potato chips. Regular Lays chips. You can just crush them with your fingers or a rolling pin. You don't want to crush them too much, because you want decent sized pieces in the cookies.
Butterscotch Chips – Use about 1/2-1 cup of butterscotch chips. I usually only use 1/2 cup because they are so sweet, but if you really like sweet, add the whole cup!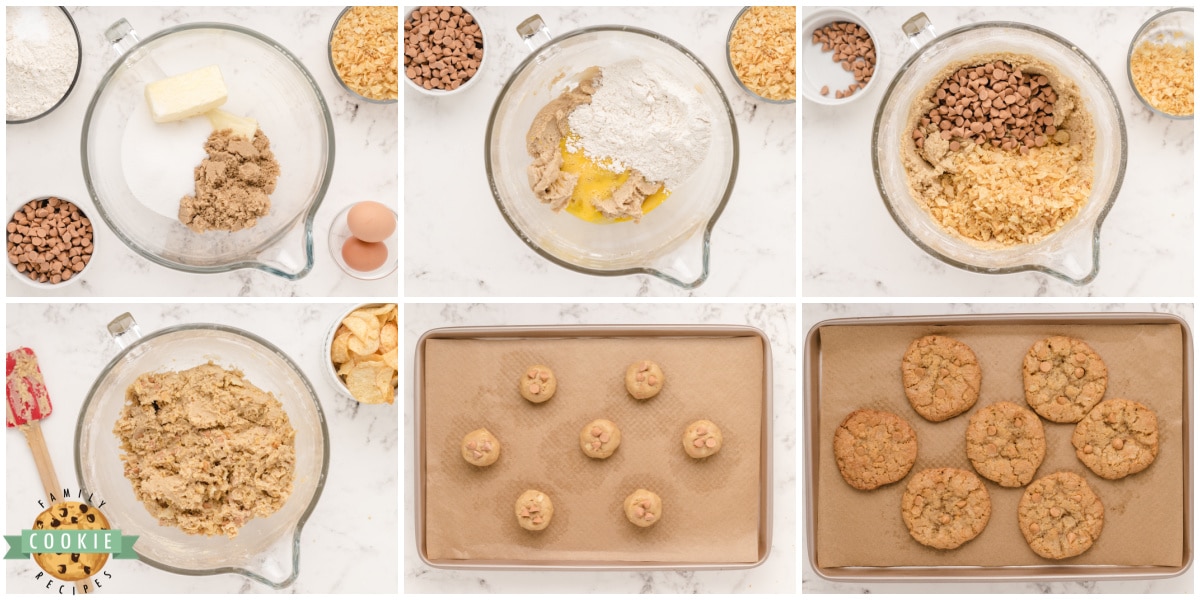 How to make a Potato Chip Cookie Recipe
Preheat the oven to 350°.
Cream together butter and sugars for at least 2-3 minutes.
Add the eggs and beat for another 1-2 minutes.
Add the flour and baking soda and mix well.
Stir in the potato chips and butterscotch chips until evenly distributed throughout the dough.
Use a cookie scoop to scoop out tablespoonfuls of dough. Roll into 1-inch balls and place on a greased cookie sheet. Bake for about 10 minutes or until the cookies are a light golden brown.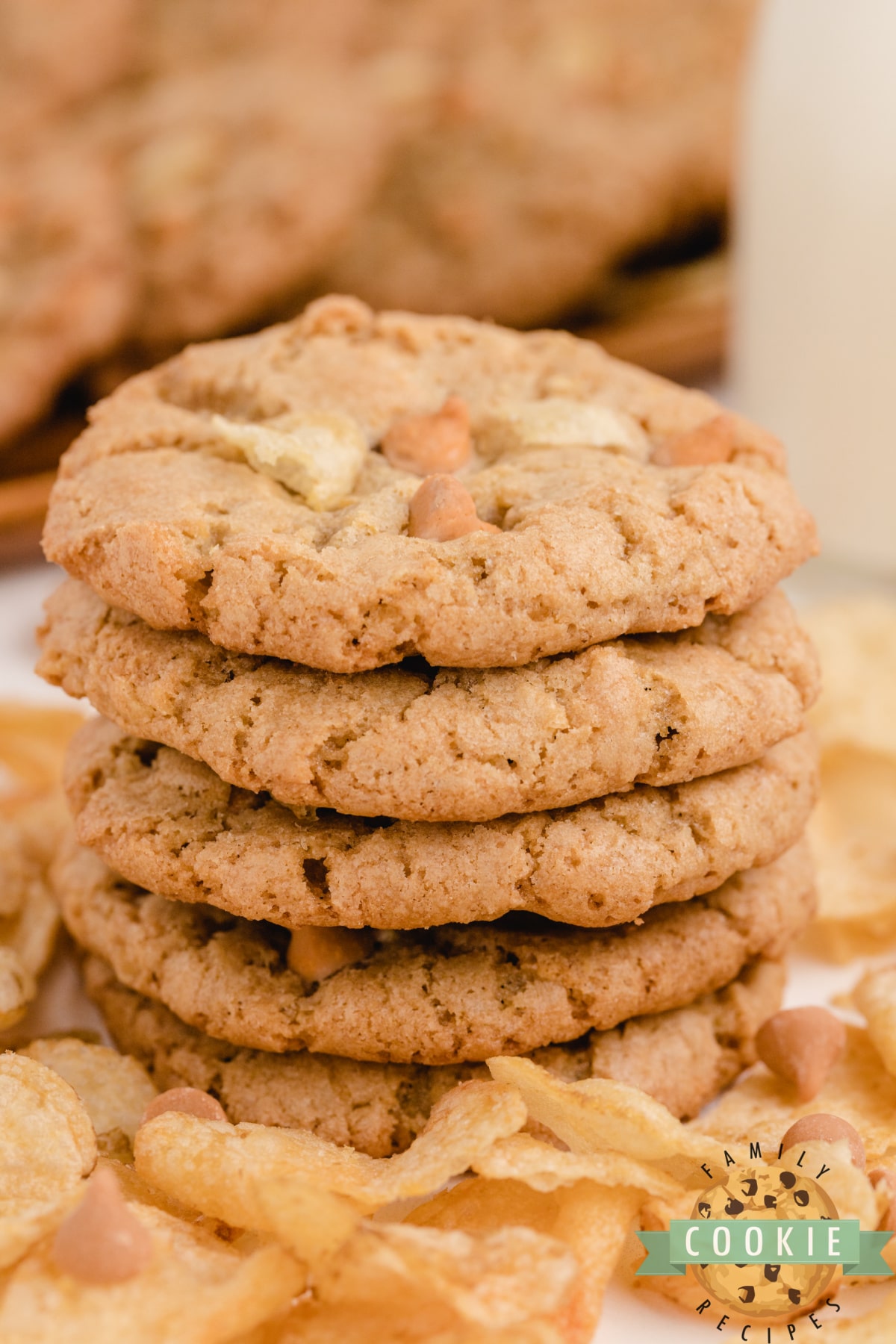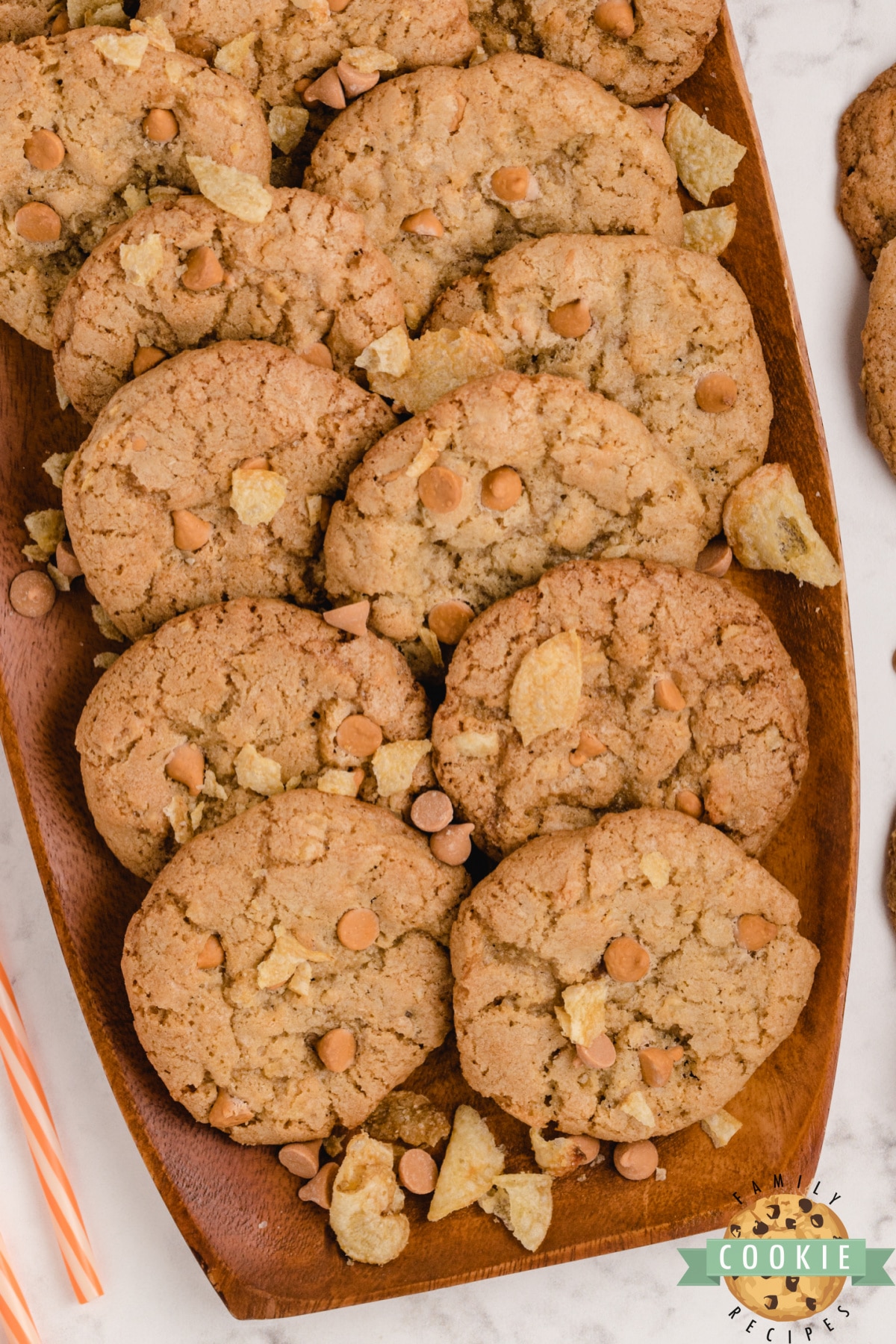 How to make perfect Potato Chip Cookies every time
There are a few tricks that I've picked up over the years to help me create consistently perfect cookies every time.
Do Not Use Dark Cookie Sheets
I have found that dark cookie sheets make it difficult to evenly bake cookies. Usually the bottoms will get really dark, but the rest of the cookie isn't necessarily cooked through. I love these AirBake cookie sheets – I couldn't believe how well my cookies turned out when I started using them!
Soften Butter, but Don't Melt it
Don't melt your butter! There are a very few cookie recipes that call for melted butter, but most of the time, melting the butter will ruin your cookies. If you are planning in advance, you can just leave your butter sitting on the counter for a couple of hours before you make your cookies. If you're like me, and usually make cookies on a last-minute whim/craving, you can use the microwave. You just have to be very careful to only microwave the butter for a few seconds at a time to make sure it doesn't start melting. I have found that in my microwave, it is easier to use the defrost setting when I soften butter – it takes a little longer but it helps me to avoid melting it.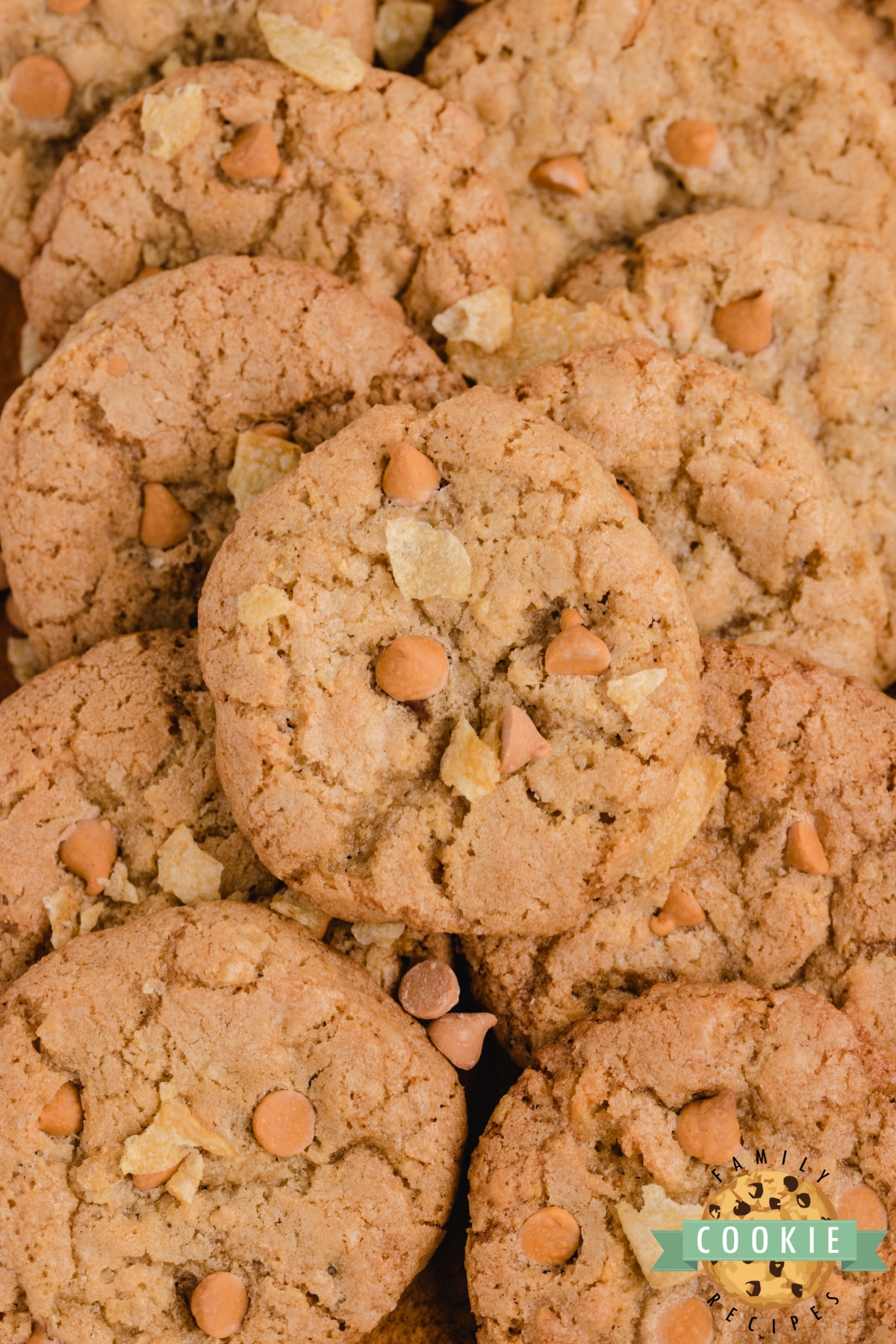 Cream the Butter and Sugars Together for 3 Minutes
Make sure that you cream the butter and sugars together first and try creaming them together longer than you usually do. Ideally, you should mix the butter and sugars together for at least 2-3 minutes with an electric mixer or stand mixer.
Under Bake Cookies
Don't over bake your cookies! I actually prefer my cookies a little less done and usually pull them out of the oven just as the very edges barely begin to turn brown. If you leave them on the cookie sheets for a few minutes after baking, they continue to bake a little bit too.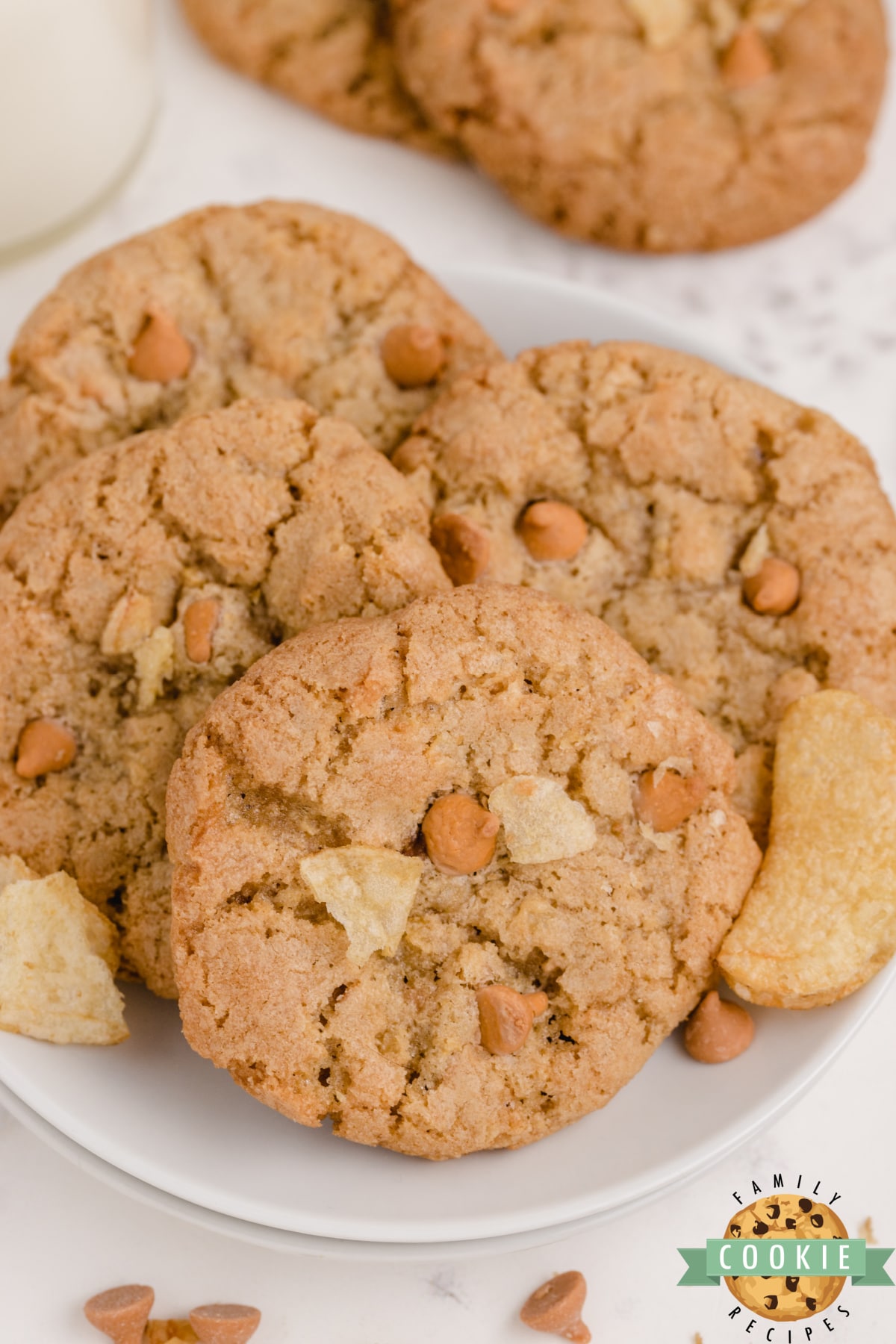 HOW DO YOU SOFTEN BUTTER?
I like to soften butter by using the defrost function on my microwave. If you need the full 1/2 cup cube of butter, you can leave it in the paper wrapper, otherwise, place the amount of butter you need in a glass or porcelain bowl. I use the lowest defrost setting on my microwave and just let it run for 20 seconds. Check the butter and see how soft it is by pressing it with a rubber scraper. If it is still not soft to the touch, meaning it doesn't indent when you press into it, let it warm for another 5-10 seconds. Watch it closely! Butter softens very quickly.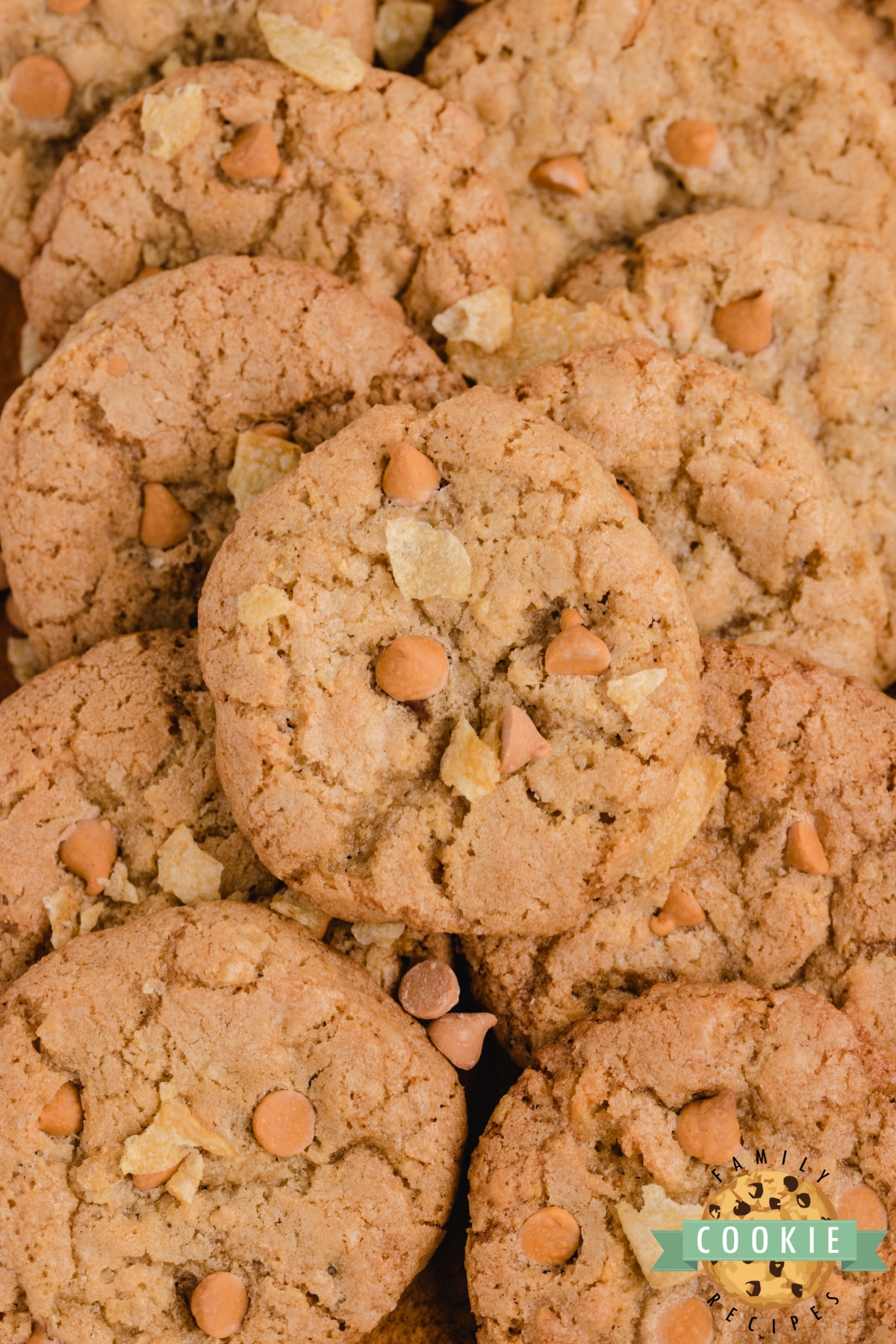 After you try these Potato Chip Cookies try a few of our other favorite cookie recipes: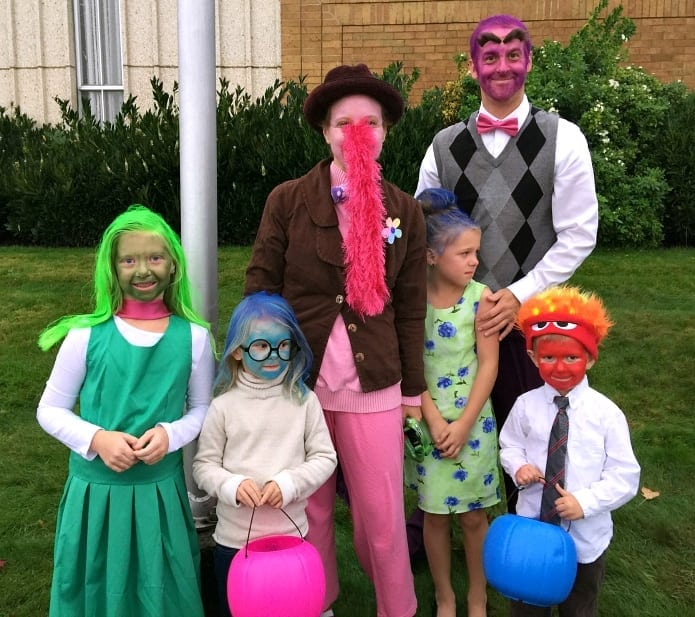 This photo is from quite a few years ago. I have always wanted to do a family-themed costume for Halloween but always had a hard time talking everyone into it. I finally got everyone to agree on doing an Inside Out theme and I think it turned out pretty well! Our "Joy" decided at the last minute that she wanted a different costume so she wasn't very joyful when we made her stick to the original plan, and I'm not sure how I got stuck with being Bing Bong (the elephant) but I think it all turned out pretty well! That was a lot of work though! We haven't done a family theme since – kudos to those of you that can manage to coordinate and execute one every single year!