Cornflake Marshmallow Cookies are an incredible chewy, crunchy and gooey treat! This amazing cornflake marshmallow cookie recipe is packed with fantastic flavors, from the soft marshmallows to the yummy chocolate chips, these cookies are over the top delicious!
These marshmallow cornflake cookies have chewy centers with crisp edges, making them a delightful treat for all to enjoy. Making these chocolate chip marshmallow cookies is so simple, with basic ingredients most likely in your kitchen you can whip up a batch quickly when the mood strikes.
Copycat Milk Bar Cornflake Marshmallow Cookies
I was planning a trip to NYC and my must visit wish list consisted mostly of dining establishments. One of them being Momofuku Milk Bar, I desperately needed to try their cookies from the source. After much research about what cookie flavors were the most unique and loved, this cornflake marshmallow cookie was at the top of the list! Once I tasted this cookie I knew I needed to recreate it so I could enjoy it at home any time I wanted. These sensational cornflake marshmallow cookies became my Everest. I tried a few different versions before I found the perfect recipe that created the most amazing cookies!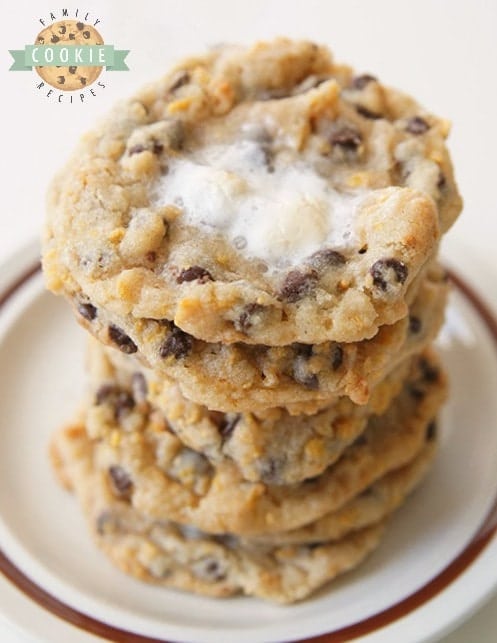 WHY WE THINK YOU SHOULD TRY THIS RECIPE TODAY
If you needed more convincing to give these incredible cookies a try, here are our top three reasons why you should whip up a batch today.
Amazing flavor and texture. The combination of flavors and textures in this cookie is one you will not forget. The gooey marshmallow combined with the crunchy corn flakes makes for an incredibly delicious treat.
Versatile and fun. I love this recipe because you can create fun new variations every time you make it. You can add chopped nuts, or swap out the chocolate chips for butterscotch chips, or white chocolate chips. It is a delicious cookie recipe no matter how you make it.
Simple to make. This recipe is SO easy to make, it is a simple chocolate chip cookie recipe that is amped up with the marshmallow and cornflake addition.
Cornflake Chocolate Chip Cookies Ingredients
Butter: For this recipe you will need 1 cup (2 sticks) of butter, at room temperature.
Sugar: To give these cookies a nice chewy texture, add in 1 1/4 cup of granulated sugar.
Brown sugar: Use 2⁄3 cup of packed brown sugar for a wonderful depth of flavor.
Egg: Add in 1 egg to help bind the dough together well.
Vanilla extract: To help enhance all the amazing flavors, use 1/2 teaspoon of vanilla extract.
Flour: The base of this cookie is 2 cups of flour.
Baking powder: You need 1/2 teaspoon of baking powder to help the cookies rise as they bake.
Baking soda: Adding in 1/4 teaspoon of baking soda will help create a great texture.
Salt: Use 1 1/2 teaspoons of salt to balance all the flavors in this tasty treat.
Cornflake crunch: You will need 3 cups of cornflake crunch for these cookies, see the additional recipe below for these.
Chocolate chips: For amazing flavor and yummy goodness, you need 1 cup of mini chocolate chips.
Marshmallows: To create a delicious cookie, add in 1 cup of mini marshmallows.
Cornflake Crunch Ingredients
Corn flakes: You will need 5 cups of corn flake cereal, any brand will do.
Milk powder: To give these clusters amazing flavor, use 1/2 cup of milk powder.
Sugar: For just the right amount of sweetness, add in 3 tablespoons of sugar.
Salt: Add 1 teaspoon of salt to balance the flavors well.
Butter: You need 9 tablespoons of butter, melted, to bind the cornflakes together.
How to make Marshmallow Cornflake Chocolate Chip Cookies
Cornflake Crunch
Begin by preheating the oven to 275° F.
Then, pour the cornflakes in a ziplocked bag and crush them with a rolling pin or cylinder shaped item. Transfer them to a medium size bowl and then add in the milk powder, sugar, and salt, stir to mix. Next, add the melted butter and toss to combine. As you toss, the butter will act as glue, binding the dry ingredients to the cereal and creating small clusters.
After that, spread the clusters on a parchment lined sheet pan and bake for 20 minutes, at which point they should look toasted, smell buttery, and crunch gently when cooled slightly and chewy.
Cookie dough
Combine the butter and both types of sugar in the bowl of a stand mixer fitted with a paddle attachment, and cream together on medium-high for 2 to 3 minutes. Scrape down the sides of the bowl, then add the egg and vanilla extract and beat for 7 to 8 minutes. You can accomplish this using an electric handheld mixer as well.
Then, reduce the mixer speed to low and add in the flour, baking powder, baking soda, and salt. Mix just until the dough comes together (no longer than 1 minute).
Next, on low speed, add in the corn flake crunch and mini chocolate chips until they are incorporated.
After that, divide the cookie dough into 1/4 cup balls, stuff 2 mini marshmallows in the center of the dough and place on a parchment-lined baking sheet. Refrigerate the dough for at least 1 hour, or place in freezer for 30-45 minutes. (This step is critical, they must be chilled!)
Bake
Start preheating the oven to 365° F.
Re-arrange the chilled dough a minimum of 4 inches apart on the parchment paper and bake for 11-16 minutes (check the cookies at 11 minutes). The cookies will puff, crackle, and spread.
Cool the cookies completely on the sheet pans before transferring to a rack to cool completely.
Serve and enjoy!
Tips for making the best cookies!
Just a couple things I figured out when testing out this amazing cookie recipe, use my trial and error to your benefit!
I adjusted the original amounts, increasing the flour by 1/2 cup (the increase is noted in our recipe), and also added marshmallows per-cookie rather than mixing them in the dough. I found that by stuffing the marshmallows, they didn't dissolve as easily, and held their shape better. If you'd prefer, incorporate them after you add the cornflake crunch & chocolate chips- you may have better luck than me! 🙂
I am a Silpat fan, but I heard that they are persnickety with this recipe and cause the cookies to spread too much. By round four, I ditched the mats and went with parchment paper: ding ding ding ding! Winner! Ahem, use silicone mats at your own risk.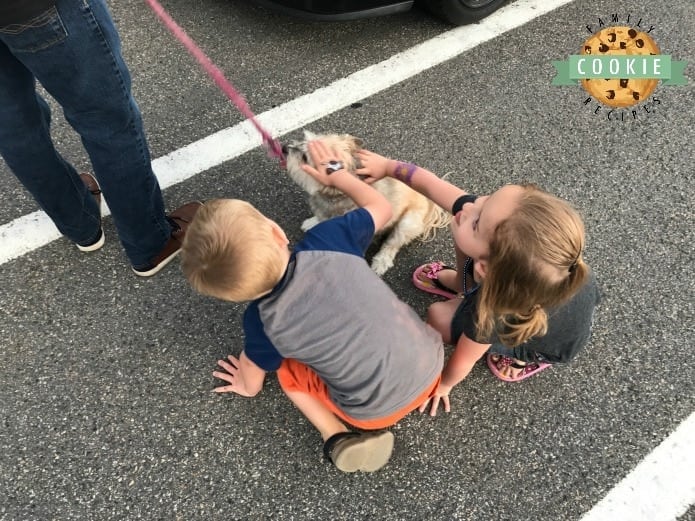 One tidbit you should know about our family is that my kids (all except for my oldest, really) absolutely, 100%, without-a-doubt would offer to go without allowance and cookies and any other fun thing you can image IF we would let them get a dog. Yep. I'm the mean mom who isn't caving under pressure to get a 4 legged furry friend. What this means is that if ANYONE walking a dog comes within 100 yards of my kids WILL get ambushed while my kids anxiously await the answer to their cute little, "CAN WE PET YOUR DOG?" request. Yes, I've trained them to ask, and they do a fantastic job of it. And most people are happy to comply, which I'm thankful for because I'm COMMITTED. Ha!
HOW LONG ARE MARSHMALLOW COOKIES GOOD FOR?
You can keep these cookies in an airtight container at room temperature for up to 1 week. For easier storage wait until the cookies have cooled completely and use parchment paper between cookie layers to make sure they don't stick together.
CAN I FREEZE CHOCOLATE CHIP MARSHMALLOW COOKIES?
Yes, you can freeze these cookies in an airtight container for up to 3 months. You can make the cookie dough and freeze that in pre-rolled balls or create a log to cut up later.
If you loved these cookies, try more amazing recipes here!
Cornflake Marshmallow Cookies are an amazing soft, crunchy and tasty treat! This sensational cornflake marshmallow cookie recipe is loaded with delicious flavors, from the marshmallows to the chocolate chips, these cookies are absolutely heavenly!