Strawberry Lemonade Cake Mix Cookies made with a lemon cake mix and freeze dried strawberries. Only 5 ingredients to make these soft crinkle cookies that are the perfect balance of tart and sweet.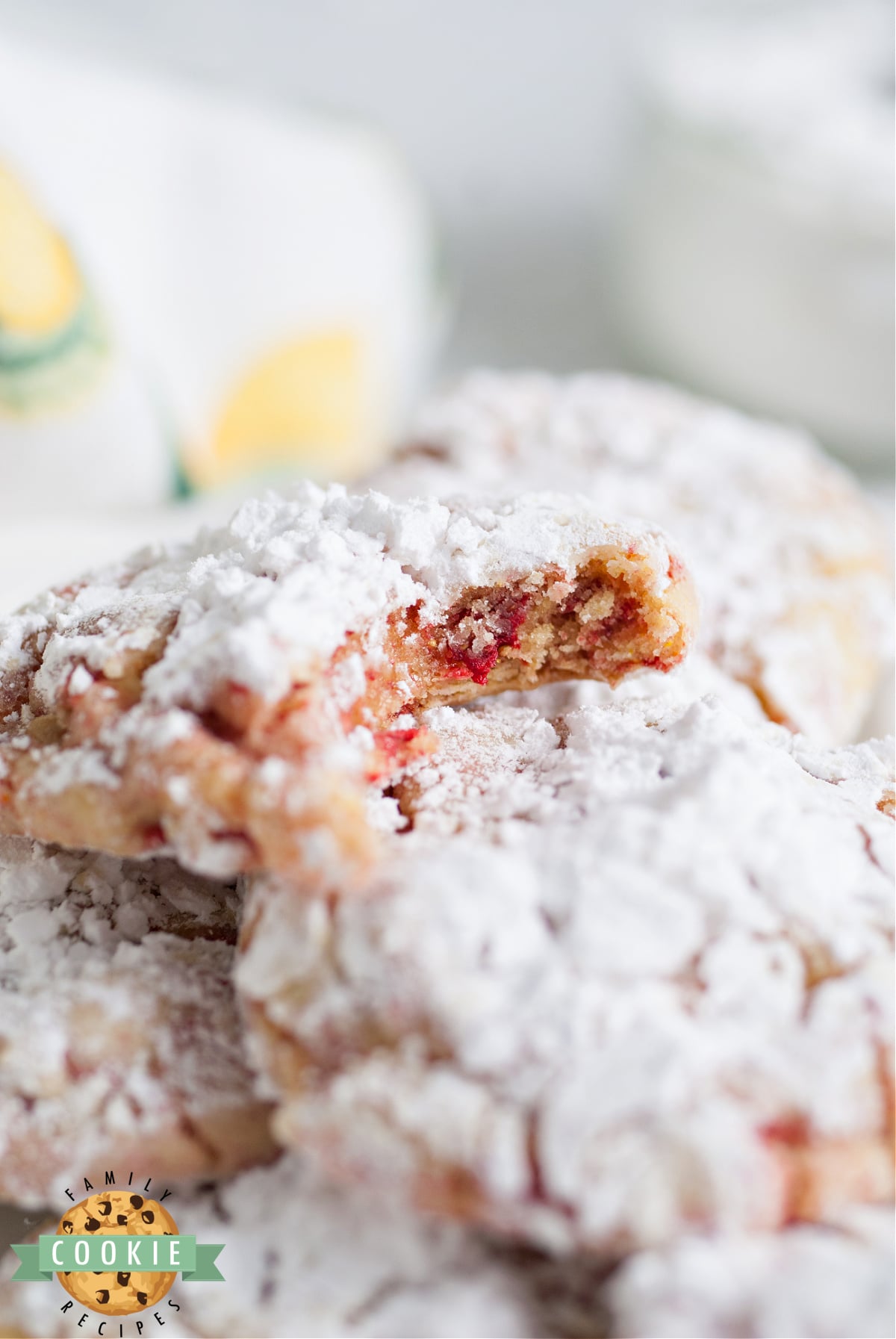 We love cookies made with a cake mix because they are just so easy to make! They are so versatile because you can change out the flavor of cake mix and come up with all kinds of different cookies. Just add a couple of ingredients and your cookie dough is ready to bake in just a few minutes.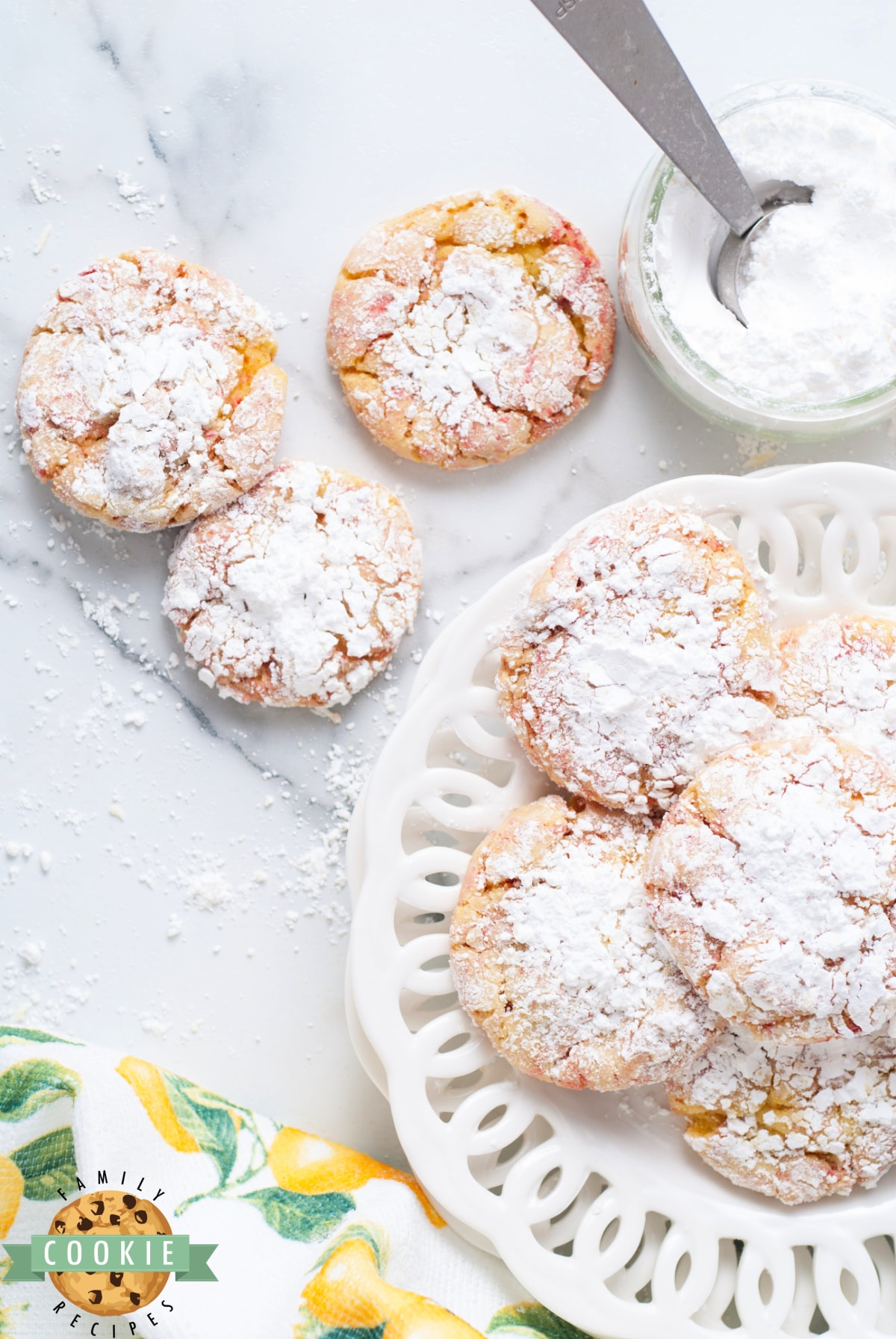 Strawberry Lemonade Cake Mix Crinkle Cookies
These crinkle cookies are made with a lemon cake mix and crushed, freeze-dried strawberries. Add some eggs and oil and shape the cookies into balls. Coat the balls in powdered sugar and bake. That's it! You can swap out the strawberries with raspberries or blueberries if you want – those flavors are delicious as well!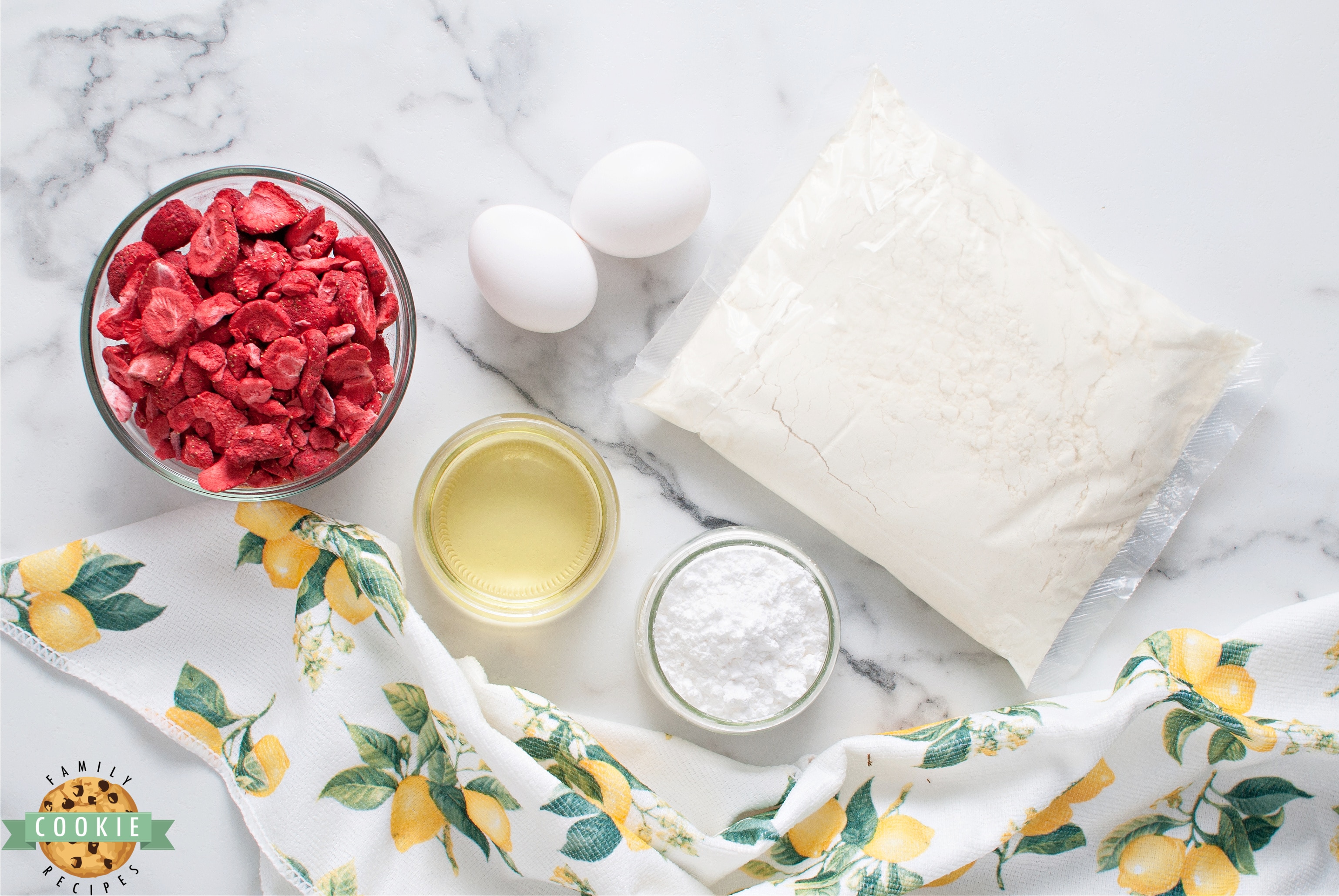 Ingredients in Strawberry Lemonade Cake Mix Cookies
Lemon cake mix – A box of lemon cake mix provides the base for the cookies.
Freeze dried strawberries – Just an ounce of freeze dried strawberries adds the strawberry flavor to the cookies. You can easily swap these out with freeze dried raspberries if you want to change up the flavor a little bit.
Eggs – Two large eggs bind everything together.
Oil – You will need a half cup of oil in the cookie dough. You can use vegetable oil or canola oil or even coconut oil. I've even swapped in a half cup of melted butter and that works great too!
Powdered sugar – You will need about a half cup of powdered sugar to coat the cookies in. You can leave this step out if you'd like, but it really does add the perfect texture and flavor.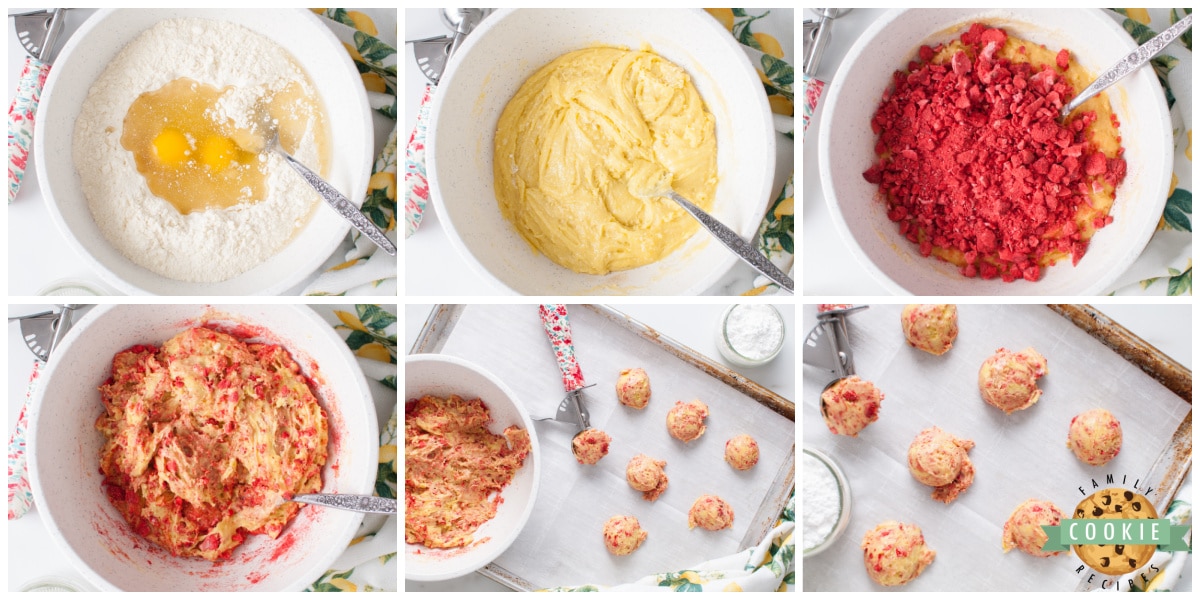 How to make Strawberry Lemonade Cake Mix Cookies
Preheat your oven to 350°.
Line two cookie sheets with parchment paper or silicone baking mats.
In a large bowl mix together the cake mix, oil, and eggs.
In a separate bowl, crush the freeze dried strawberries. You want to have some chunks and some will become a powder.
Carefully fold the crushed strawberries into the cookie dough, don't overmix or the dough will become completely pink.
Using a cookie scoop or a spoon, scoop all of the dough into approx 1.5"-2" balls.
Place the powdered sugar into a bowl. Roll each of the dough balls in the powdered sugar. Try to get as much powdered sugar onto the ball as possible.
Place each of the powdered balls onto your prepared cookie sheets, leaving a couple inches between each.
Place the cookies in the preheated oven, and bake them for 8-10 minutes rotating the pans halfway through.
Remove the cookies when they are done baking and let cool on the trays.
Serve or store in an airtight container once completely cooled.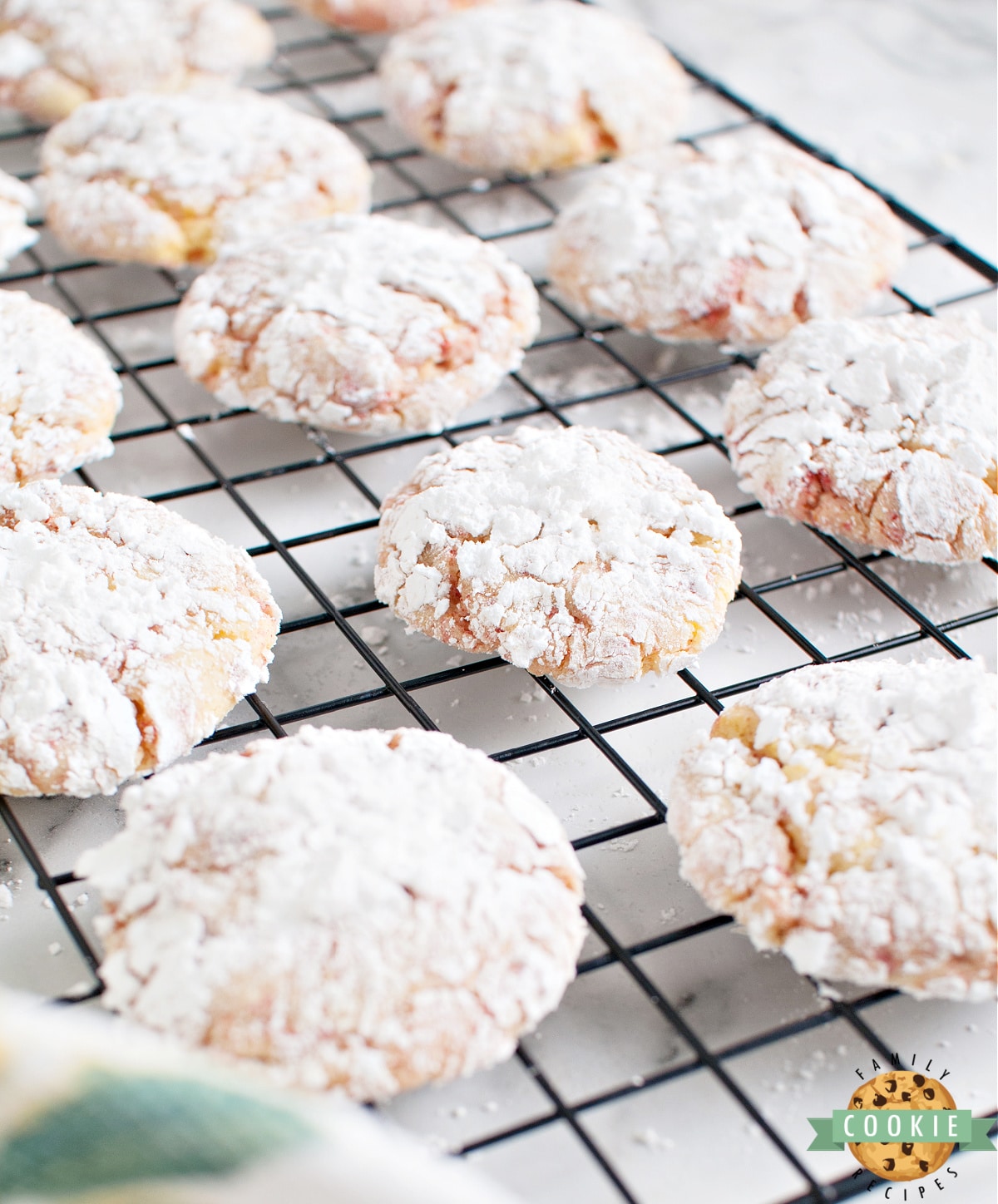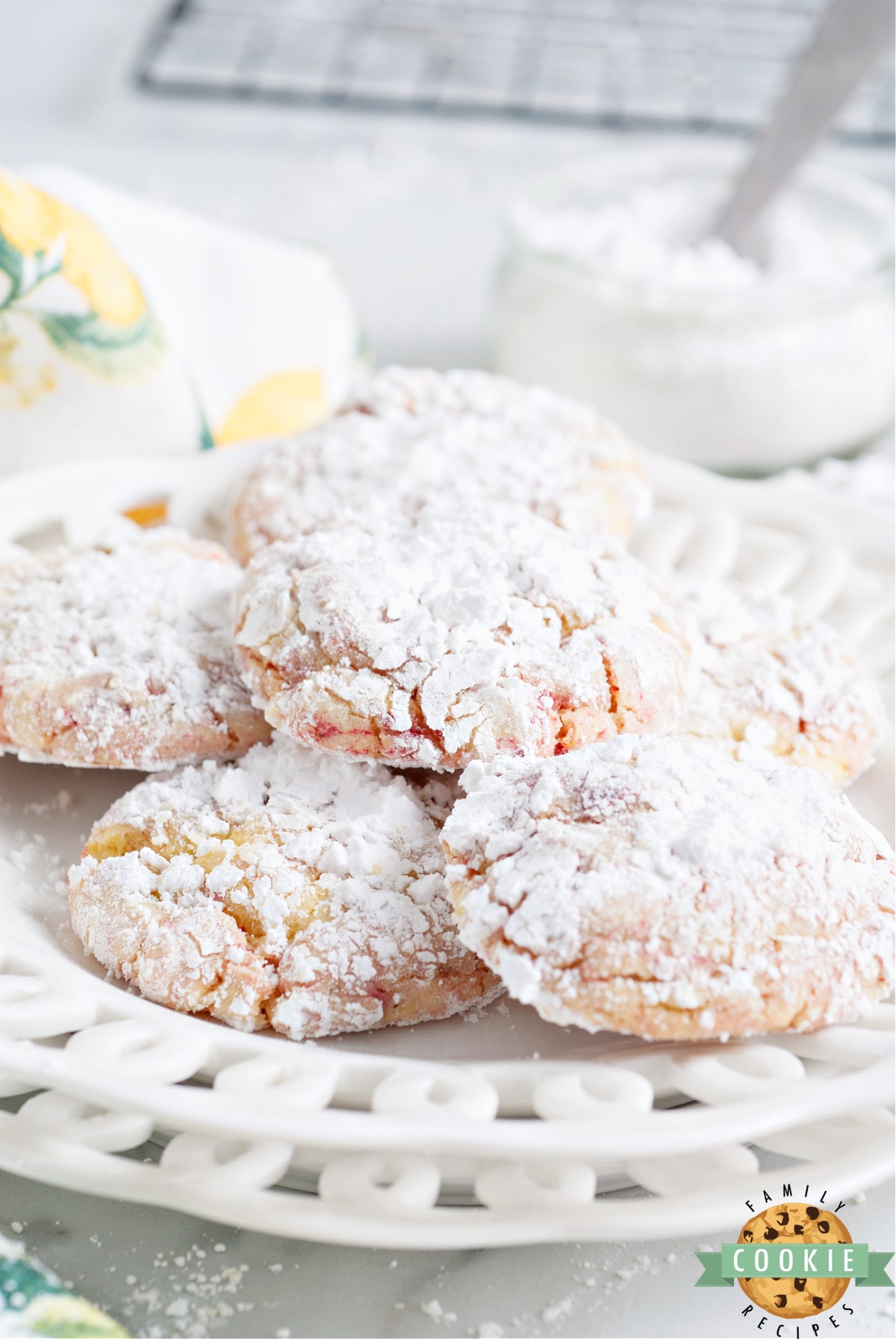 HOW LONG ARE CRINKLE COOKIES GOOD FOR?
You can keep these cooled cookies in an airtight container at room temperature for up to 3 or 4 days. A trick my mother in law taught me is to put a piece of bread in the cookie container, the cookies absorb the moisture from the bread and stay soft for a couple days longer.
CAN I FREEZE COOKIES MADE WITH A CAKE MIX?
Yes, these cookies freeze wonderfully. Simply place the cookies into an airtight container and freeze for up to three months. Let the cookies thaw on the counter before eating so that they are softer enough to bite into. This only takes a few minutes for a single cookie or two.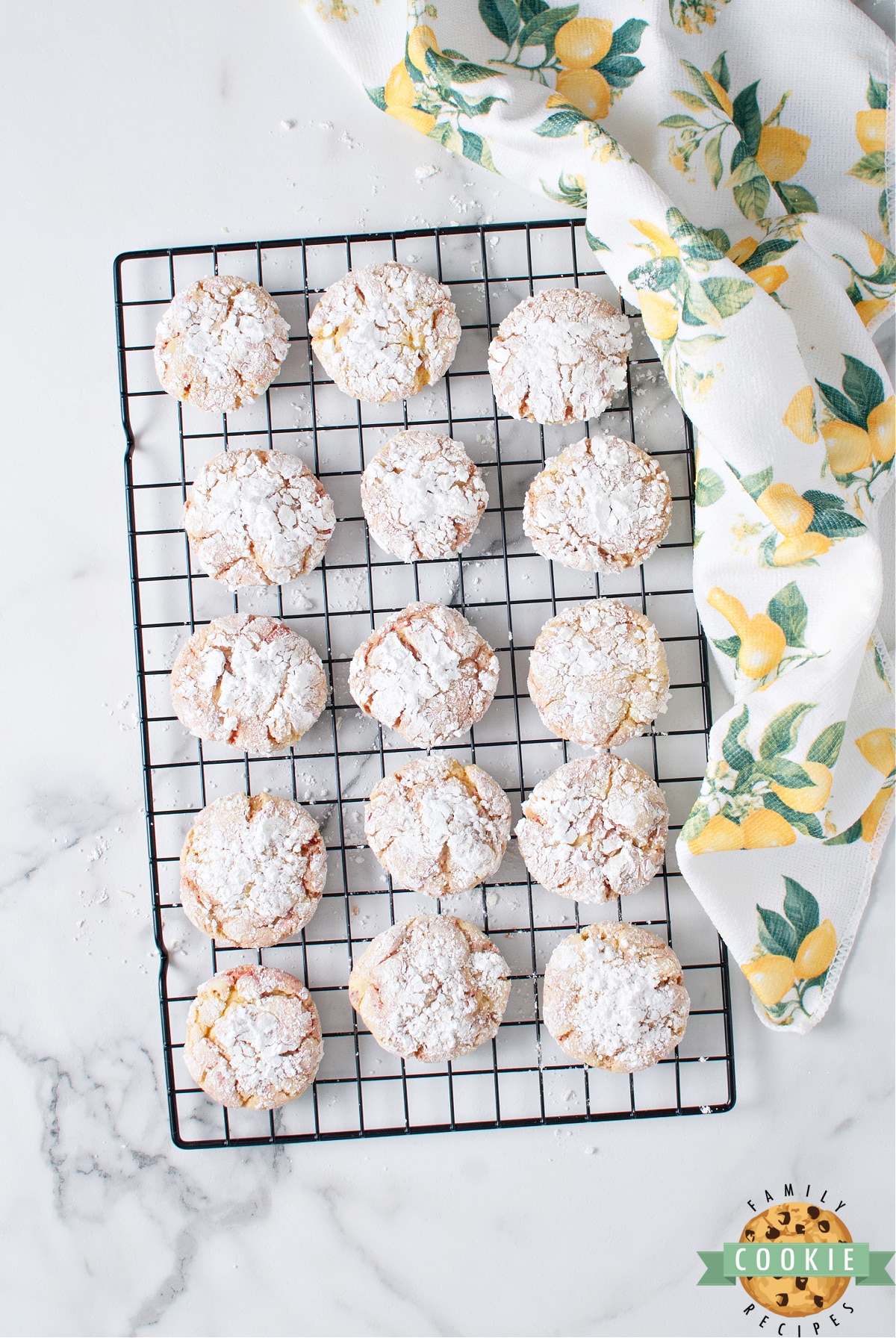 HOW DO YOU MAKE PERFECT CAKE MIX CRINKLE COOKIES?
Making Cake Mix cookies is easy! Here are a few tips to getting perfect cookies every time!
Preheat the oven. This will help your cookies turn out right every time!
Use a cookie scoop! If you want all your cookies to be perfectly shaped and have them all be the same size, a cookie scoop is the way to go.
Use parchment paper or a silicone baking mat. Doing this will make it really easy to remove the cookies from your cookie sheet so that you don't have to scrape them off the pan – they will just slide right off in perfect shape! Do not grease the parchment!
Don't over bake the cookies – when I take mine out of the oven, they still look slightly under baked but they will continue to bake on the cookie sheet for a couple more minutes so that's ok!
Be careful not to over mix, over mixing will cause the strawberries to dye the whole dough pink… which is totally fine but it won't have the same yellow/pink mix as you see in the pictures.
Pro-tip – REALLY pack the powdered sugar on each dough ball, you can even leave a little mound on top!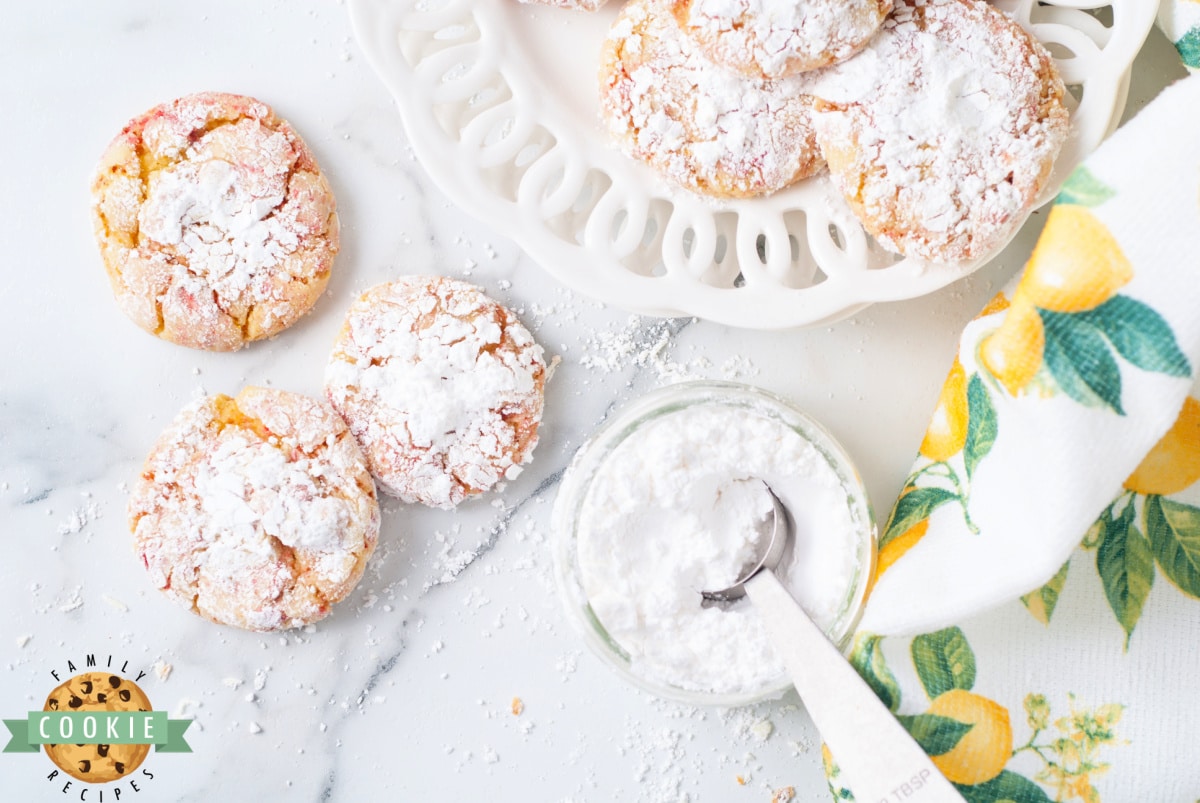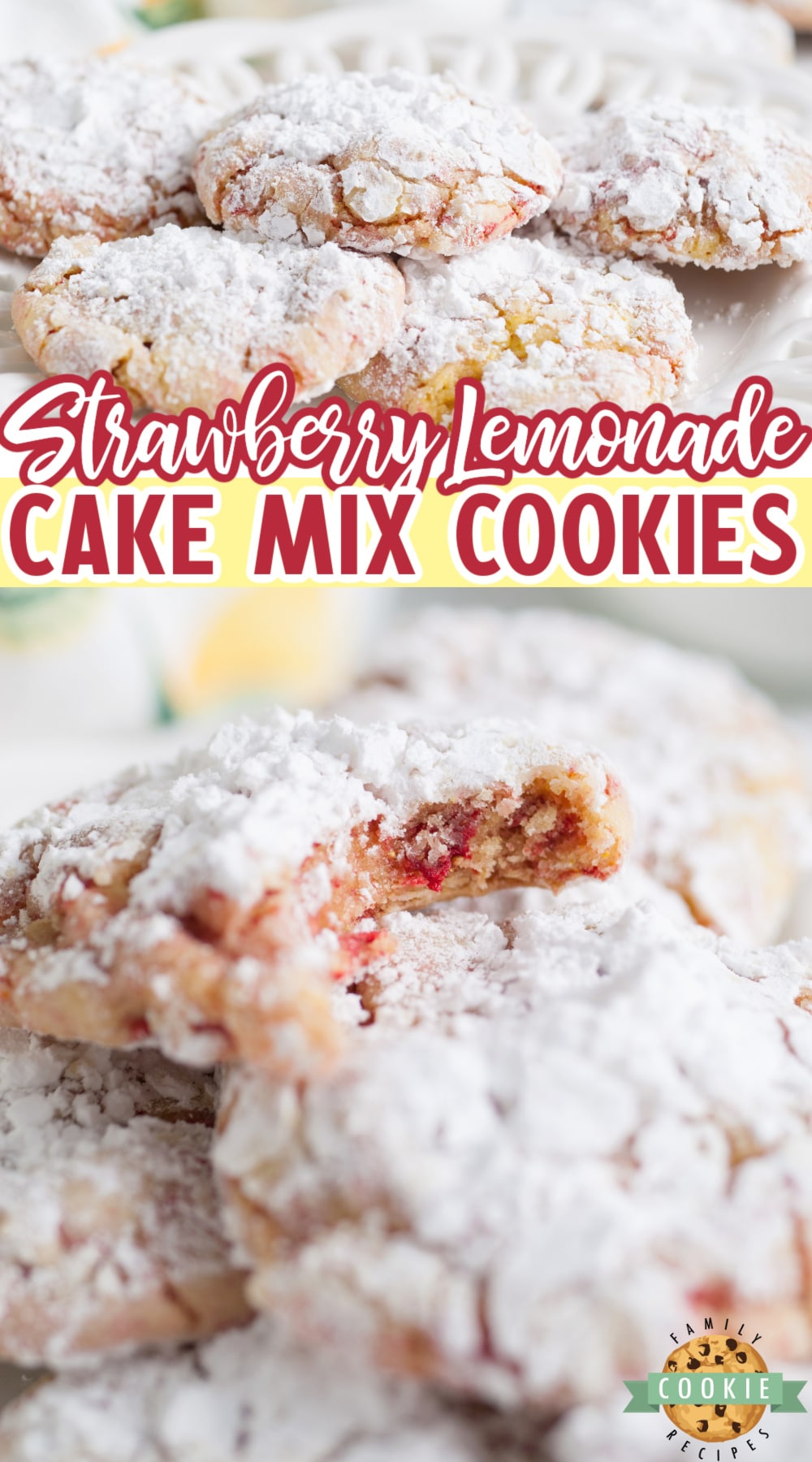 Strawberry Lemonade Cake Mix Cookies made with a lemon cake mix and freeze dried strawberries. Only 5 ingredients to make these soft crinkle cookies that are the perfect balance of tart and sweet.



This picture just popped up in my memories on my phone…it's from 14 years ago! These two girls are now 15 and 17 and it's hard to even remember what life was like that long ago. Life was definitely a little bit simpler when I just had two kids that were pretty easily entertained during the summer with a pool. Now I've got 5 kids that are all involved in activities, sports, friends, camps, and a million other things. Summer is very different these days! Occasionally I wish I could go back to a much simpler time, but I really do love staying busy. Most of the time!