Pink donut cookies are cute sugar cookies frosted with pink glaze to look just like Sprinkled Pink Donuts! Cute donut cookies perfect for bridal showers, baby showers or any type of party!
Making these donut sugar cookies is a fun experience from making the dough all the way up to taking that first bite. These glazed donut cookies are so simple and easy to prepare but they look incredible and taste as good as they look.
What are pink donut cookies?
While these cookies are in fact not a donut, they do look like one! Rolled and cut sugar cookie dough is used to create the fun donut shapes and once baked they're given an incredibly easy powdered sugar glaze over the top. If desired, add sprinkles and watch as they go from impressive to irresistible in the blink of an eye.
Donut cookie ingredients
-Butter: To create a rich-tasting cookie we will need 1 cup of room temperature butter (this is two sticks).
-Sugar: We need ¾ cup of granulated sugar to help give our cookies sweetness and the crisp edges we're looking for.
-Egg: To help bind the cookies together we need 1 egg at room temperature. You can warm an egg quickly by placing them in a bowl of warm water.
-Flour: The base of our cookie dough is 3 cups of all-purpose flour.
-Vanilla: We need 1 tablespoon of vanilla extract to help make our cookies taste incredible.
-Baking powder: The leavening agent in these cookies is a teaspoon of baking powder. This will help them to puff up a bit as they cook, giving us a great texture.
-Salt: To help enhance the flavors in the cookies, we will use just a pinch of salt.
For the pink glaze:
-Powdered sugar: The base of our icing is 2 cups of powdered sugar This will keep it sweet and smooth.
-Milk: We need 4-5 tablespoons of milk to help thin down the powdered sugar into a good consistency but the actual amount needed will vary depending on preference.
-Food coloring: You can choose red or pink food coloring. Use just enough to get the color desired.
-Sprinkles:  If desired, grab 5-6 tablespoons of sprinkles for decorating the cookies after they've been glazed.
How to make donut cookies
Whisk the butter and sugar until light and creamy in a large mixing bowl. Add in the egg and continue to whisk.
Add in the flour, baking powder, vanilla, and salt.
Mix the dough until it comes together and then place it in the fridge to chill for at least 15 minutes.
Preheat your oven to 350 degrees F and line a baking sheet with parchment paper. Set aside.
Roll out the dough until it's about ¼ inch thick and uses a donut cookie cutter or two circle cutters to cut out the donut shapes. Re-roll the dough and cut new shapes as needed.
Bake the cookies in the oven at 350 degrees F for 10 minutes.
Let the cookies cool on the baking sheet for 5-10 minutes before transferring them to a wire cooling rack.
In a bowl, whisk together the pink glaze ingredients, adding one drop of food coloring at a time until the perfect color hue has been reached.
Spoon the glaze over the cookies and top with sprinkles.
Allow the cookies to cool and set. Enjoy!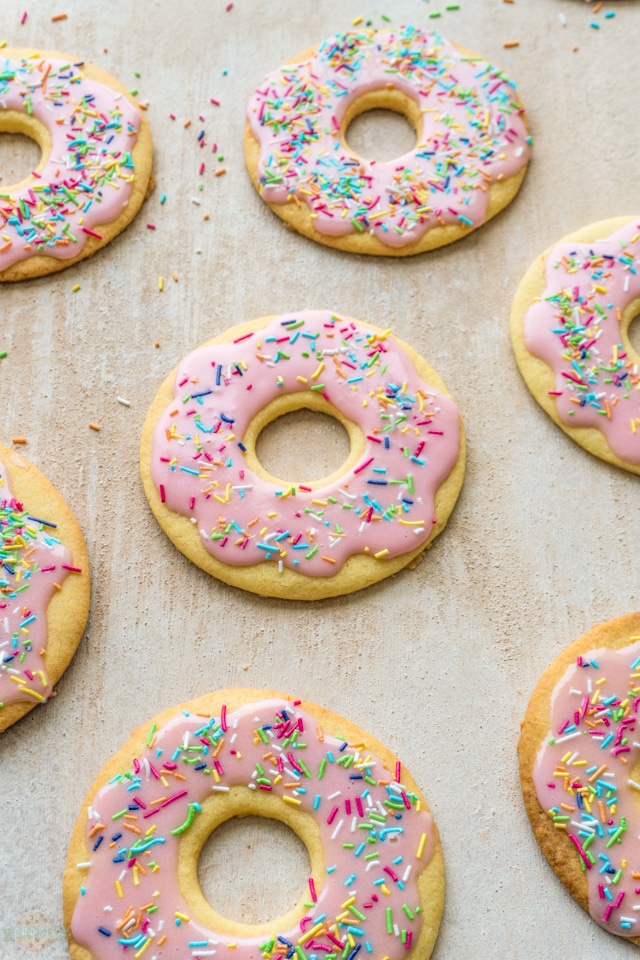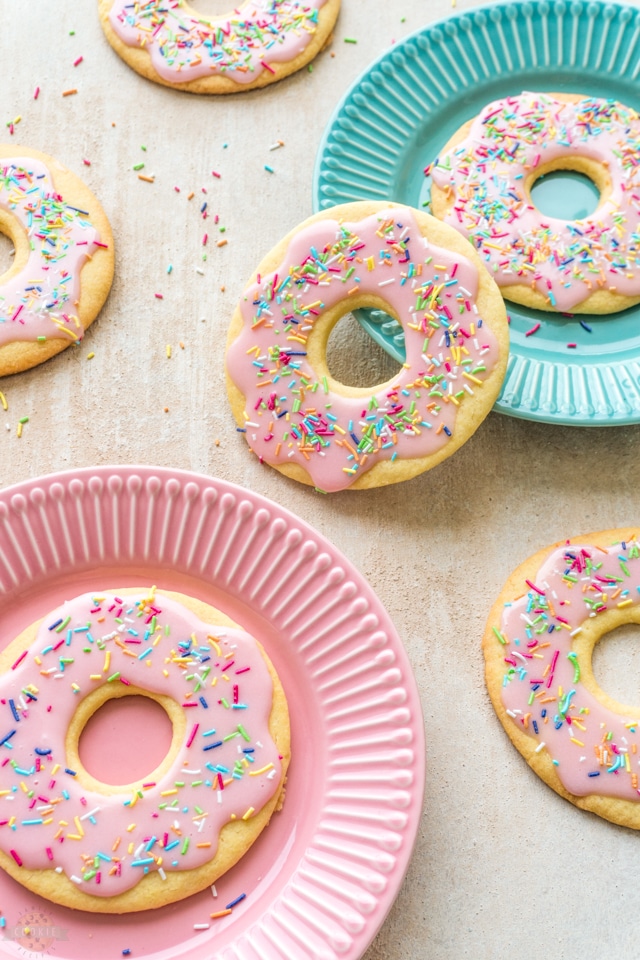 How do I keep my cookies from spreading?
Keeping your dough nice and chilled before baking plays a great role in how much it does or does not spread during baking. A chilled dough means colder butter, which in turn keeps the cookies from spreading too much. The warmer the dough, the more melted the butter is and the faster and thinner the cookies will become during baking. Make sure not to skip my "chill the dough" step in the recipe card as this will help to prevent spreading. You can chill longer if needed or desired (up to 2 days).
How long are glazed sugar cookies good for?
These cookies if cooled and stored in an airtight container can last up to a week or two at room temperature. I recommend eating them sooner rather than later as the flavors and textures are always best when fresh.
More Glazed Cookie Recipes


With 5 kids, life can be pretty crazy, so I've learned you have to celebrate the small successes. Like this day, for instance! 3 of the 5 kids in for a dental checkup and hello, no cavities! WAHOO!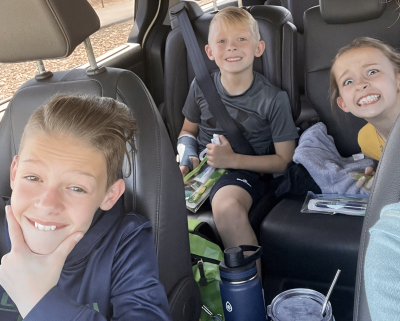 It's hilarious, my tween son is losing teeth like crazy. I mean, he's lost 5 teeth in the past 6 weeks or so. Ha! I keep teasing him that he's teething…but he kind of is! Thank heavens our tooth fairy retired, or else she'd have to take out a second mortgage to keep up with it all!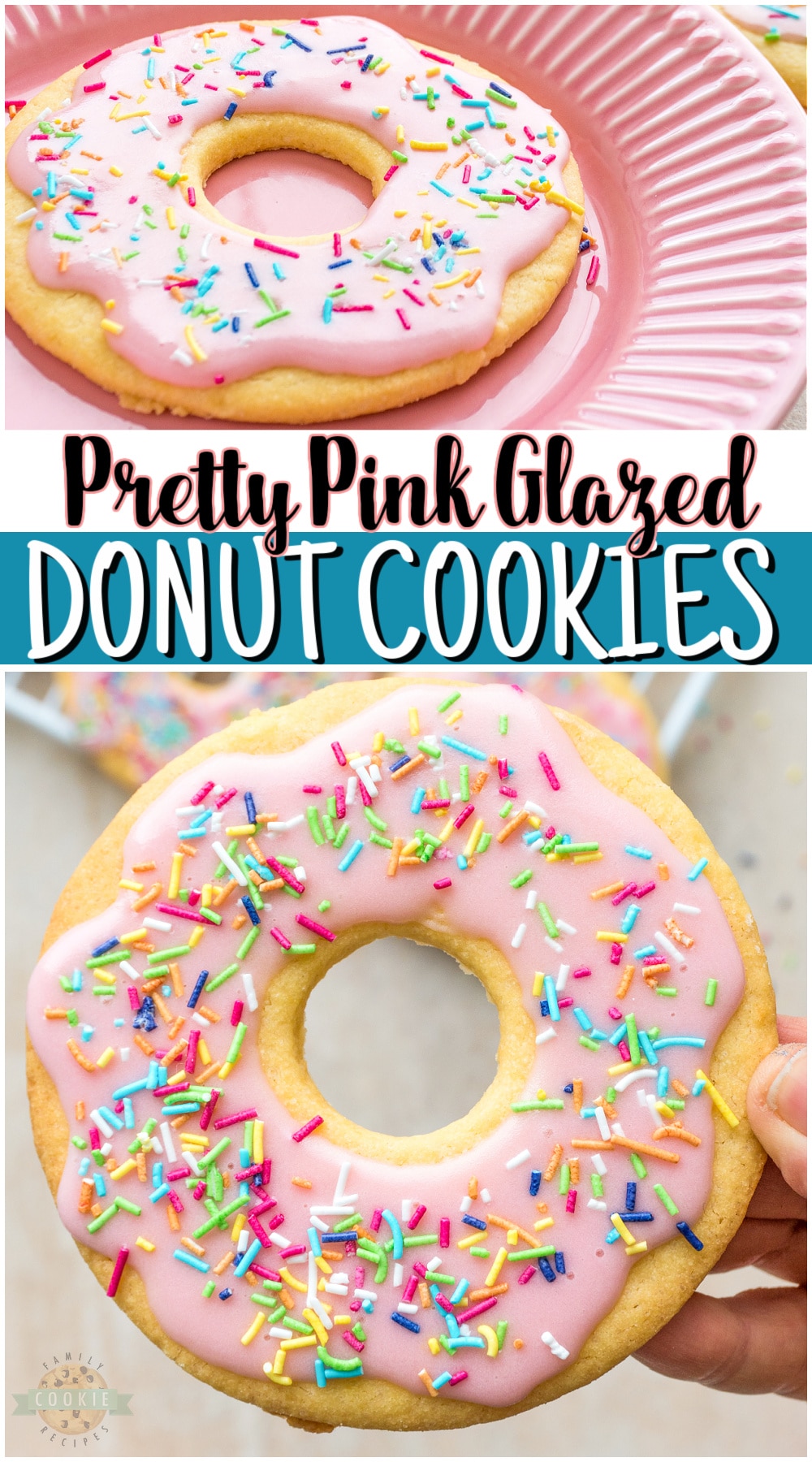 Pink donut cookies are cute sugar cookies frosted with pink glaze to look just like Sprinkled Pink Donuts! Cute donut cookies perfect for birthday parties, bridal showers, baby showers or any type of party!