Neapolitan cookies are soft & chewy cookies that combine strawberry, chocolate & vanilla flavors! Just like the classic ice cream flavor, Neapolitan makes for a fun & tasty cookie recipe!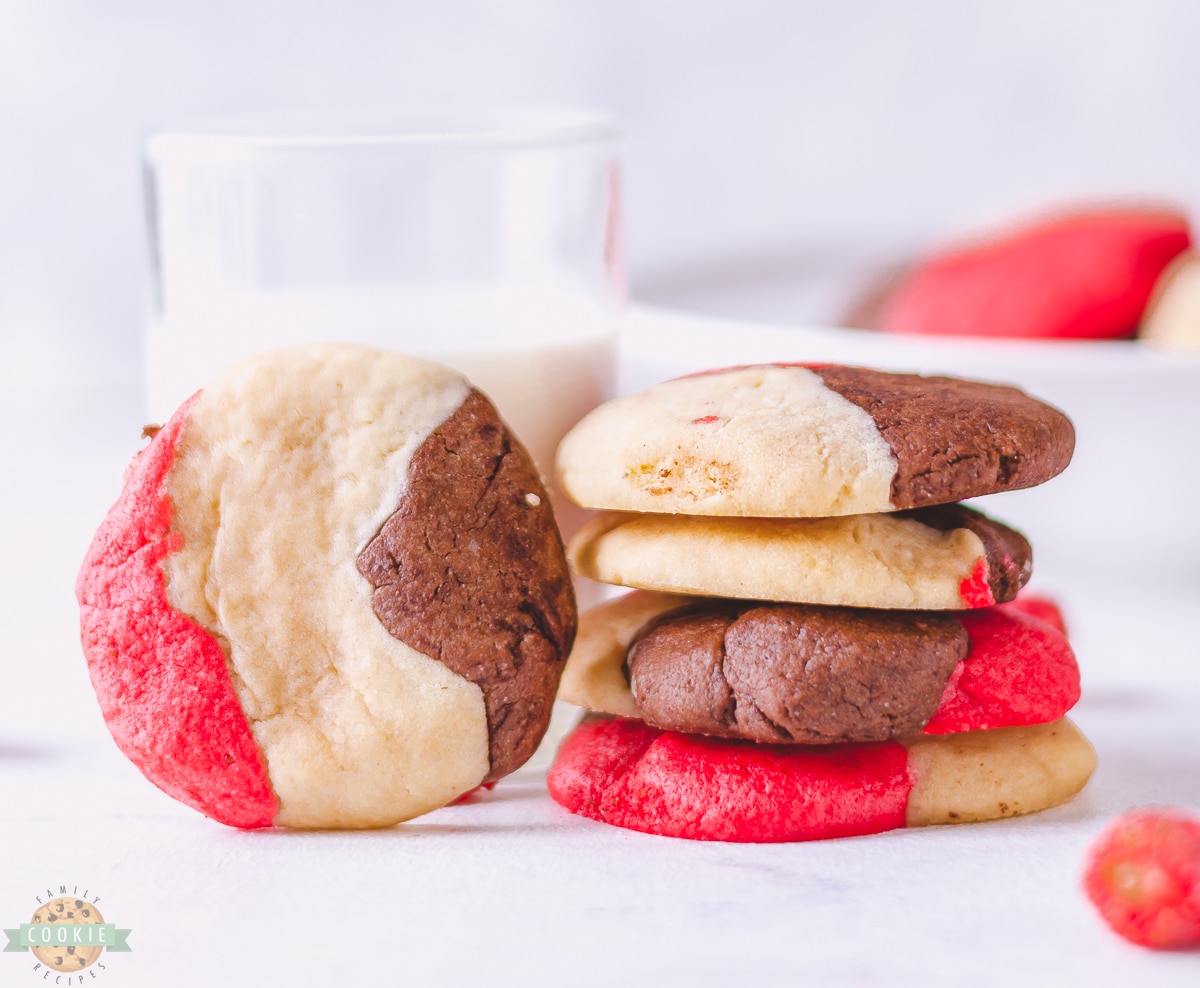 When you hear Neapolitan your mind instantly thinks of the ice cream but today we're making them Neapolitan sugar cookies which are far less likely to melt. Every cookie is perfect for holding at room temperature too so take them to share with friends or leave them in your cookie jar for a few days to snack on.
What are Neopolitan cookies?
They're a cookie recipe made to encompass three different colors and flavors in every soft and chewy cookie. Made with white vanilla, pink strawberry, and brown cocoa flavors these cookies almost look too good to eat.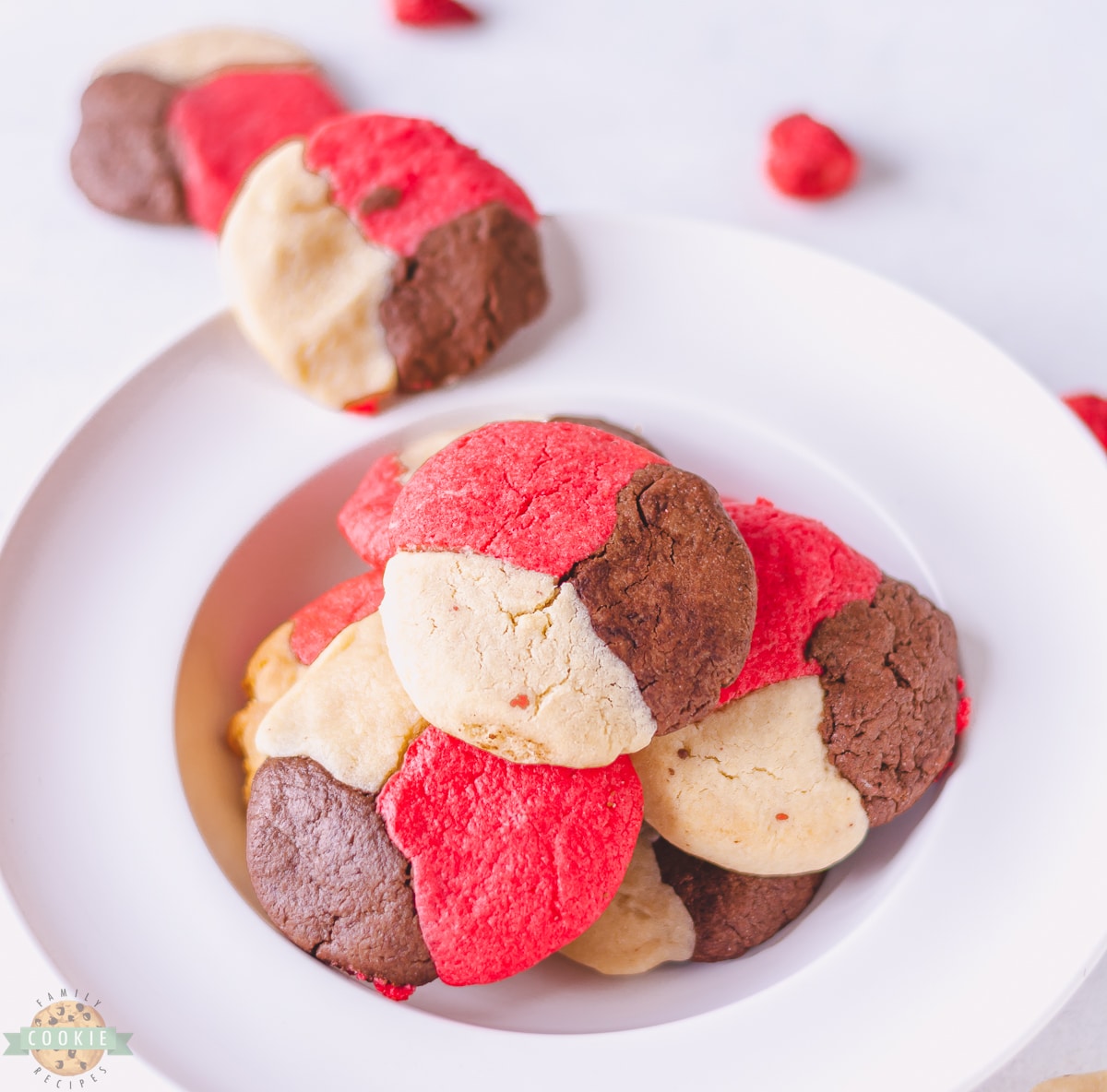 Neapolitan Cookies Ingredients
-Flour: You will need 2 ½ cups of all-purpose flour for this recipe.
-Baking soda: Use ¾ teaspoons of baking soda to help the cookies puff up and rise as they bake.
-Freeze dried strawberries: To give us great taste use ½ cup of blended freeze-dried strawberries. You can often find these in camping sections of larger stores, online at retailers like Amazon, or in health food/ produce sections of grocery stores.
-Butter: Use 1 cup (2 sticks) of salted butter for a rich-tasting cookie that melts in your mouth.
-Sugar: For a sweet-tasting cookie we need to use 1 ¾ cups of granulated sugar.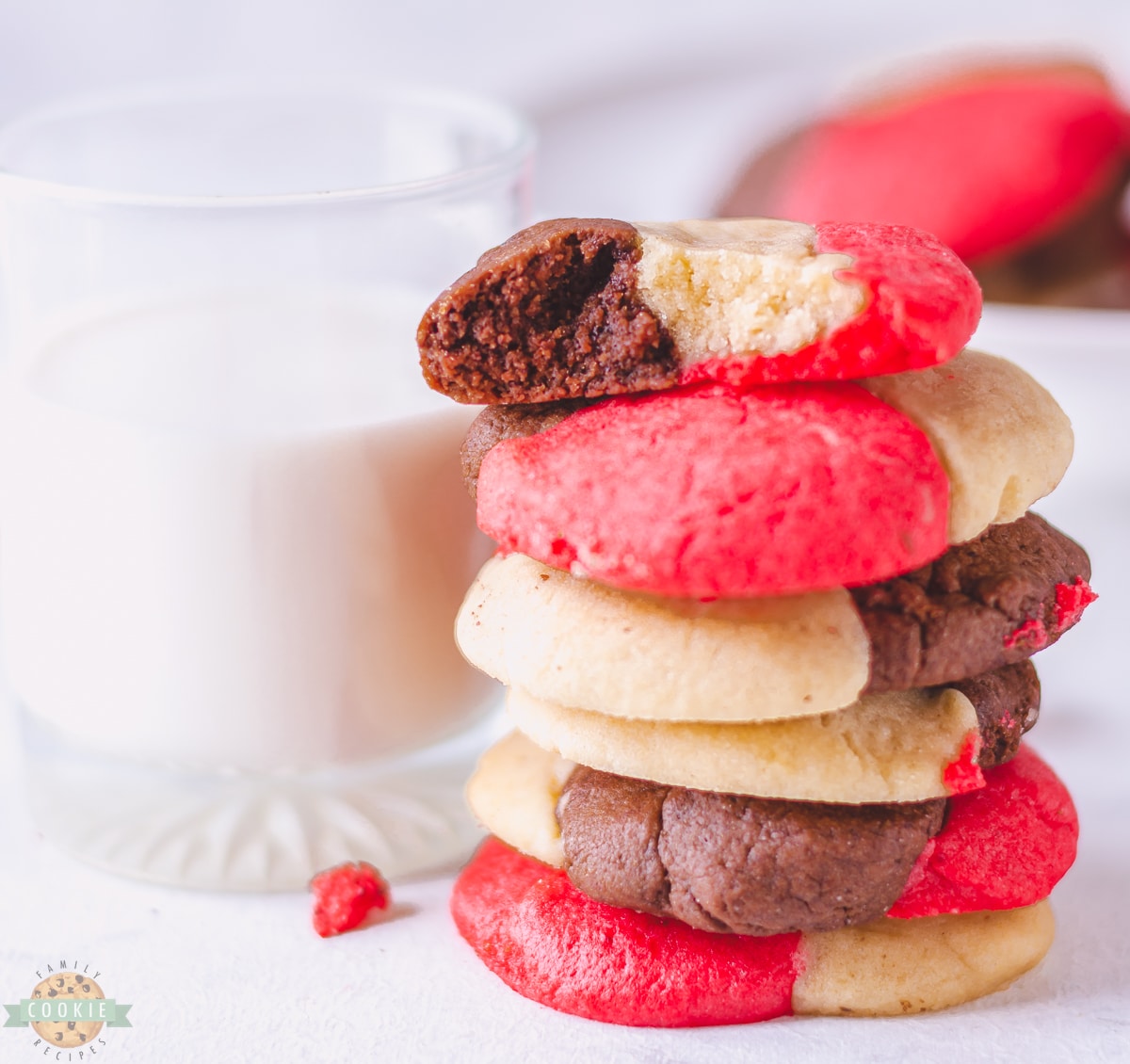 -Egg: Use 1 large egg to help bind together the cookie dough well.
-Vanilla: Add in 2 teaspoons of vanilla extract for a nice flavor. High-quality vanilla will have a stronger flavor, but use what you have on hand.
-Cocoa powder + chocolate chips: 4 tablespoons of cocoa powder and 1/4 cup mini chocolate chips will give us a rich chocolate-tasting dough.
-Food coloring: You will need about 1 drop of red or pink food coloring (preferably gel) to help color the strawberry dough. This is optional.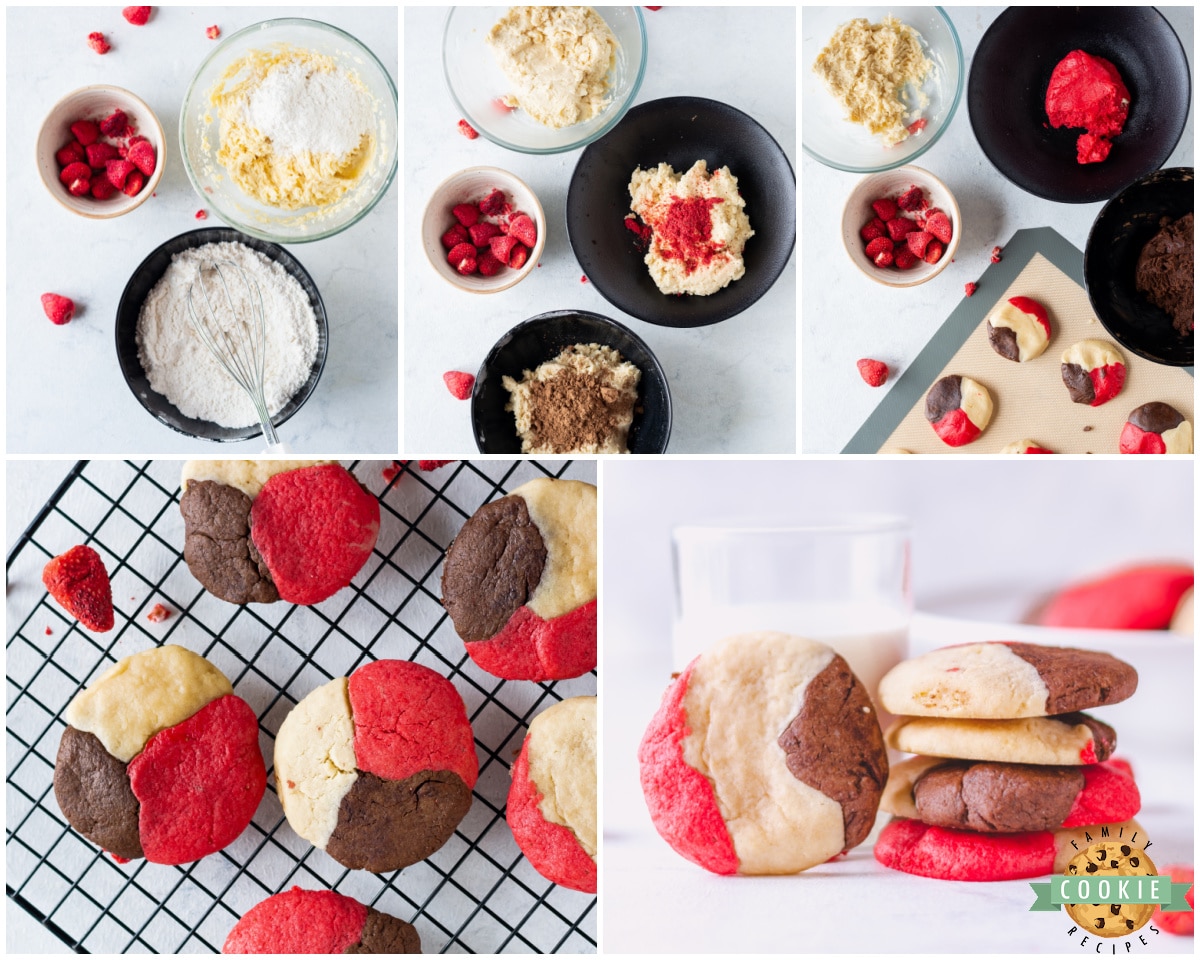 How to make Neapolitan cookies
Preheat your oven to 350 degrees F and line a baking sheet with parchment paper.
In a medium-sized bowl, mix together the flour, baking soda and keep them aside.
Take a large bowl and beat the butter along with the sugar until it's light and creamy. Then add in the egg and vanilla, beat again.
Add the flour mixture to the butter mixture and mix to combine.
Take the dough and divide it into 3 parts. Kep one part as-is and in another part add in 2 drops of pink food coloring and the powdered strawberry. Make the freeze dries strawberries into a powder using a food processor. Mix well.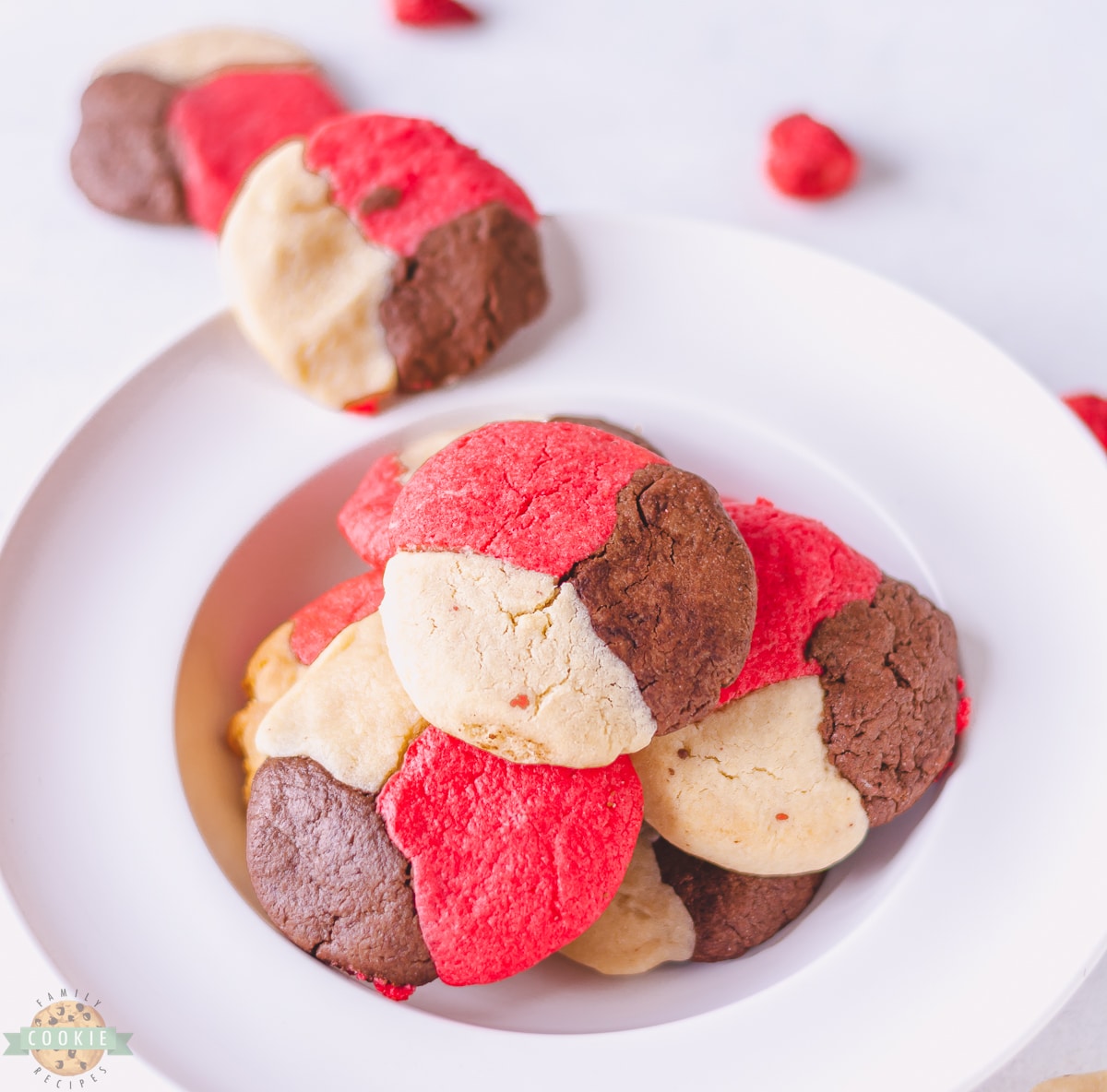 In the last part, add your cocoa powder and mix well.
For making the cookies, take a small portion from each dough and then press them gently together, making sure to keep the distinct colors intact.
Flatten the dough ball with the palm of your hand.
Place them on the prepared baking sheet and bake in the oven for 10-12 minutes.
Let the cookies cool down completely before transferring them to an airtight jar. These cookies are good for up to 2 days. Enjoy!
Can I make Neapolitan cookies in advance?
Yes, you can make the dough for these cookies and keep it well covered in the fridge for up to 2 days in advance. Then just use as directed. Allow the dough to sit on the counter a few minutes prior to rolling out into balls or dividing simply to make it easier as the colder dough will be harder to mix around.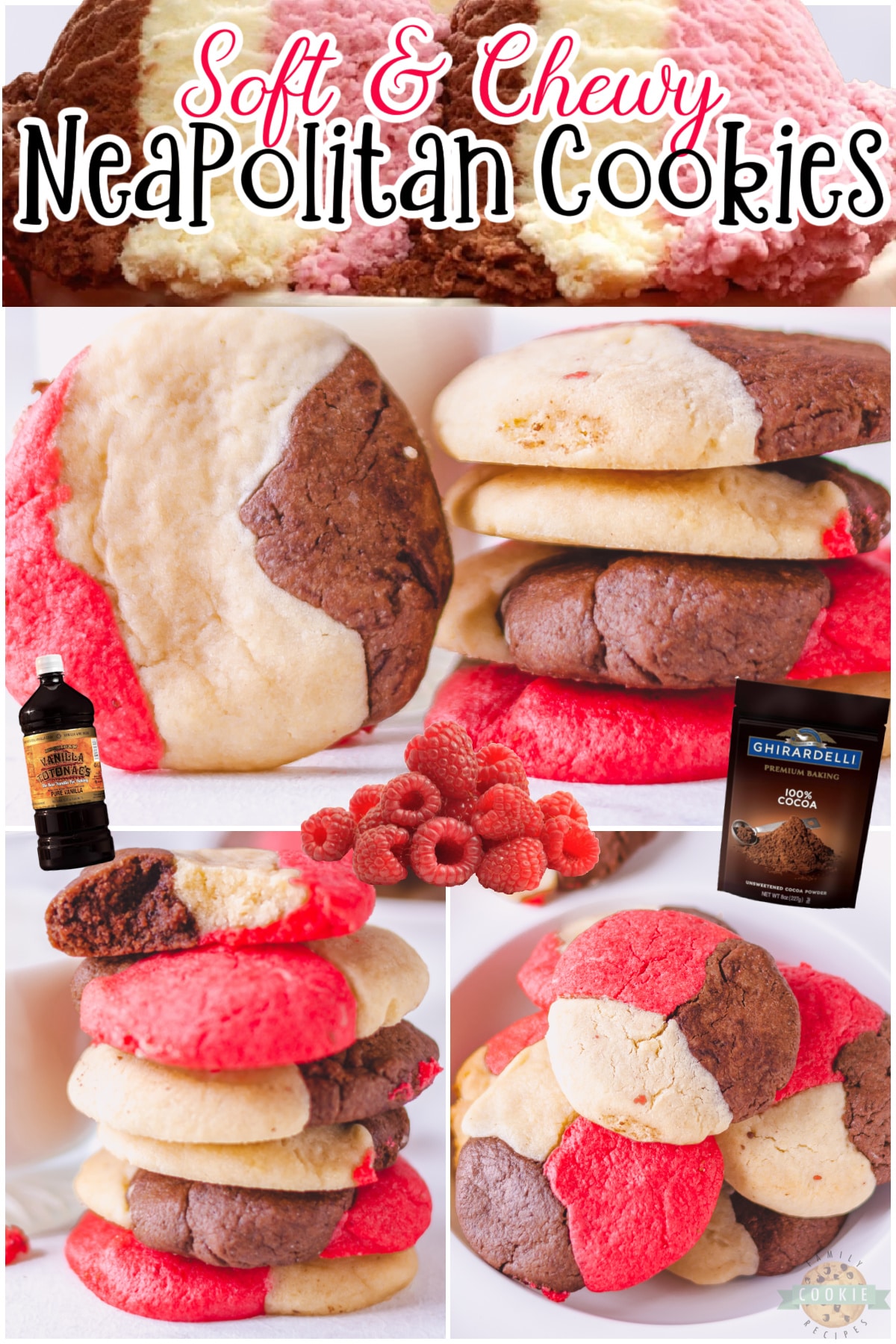 Can I freeze Neapolitan cookies?
Yes, after these cookies have cooled completely you can place them in an airtight container in the freezer for up to 3 months. Thaw and enjoy whenever you're ready!
More strawberry, chocolate, and vanilla cookie recipes: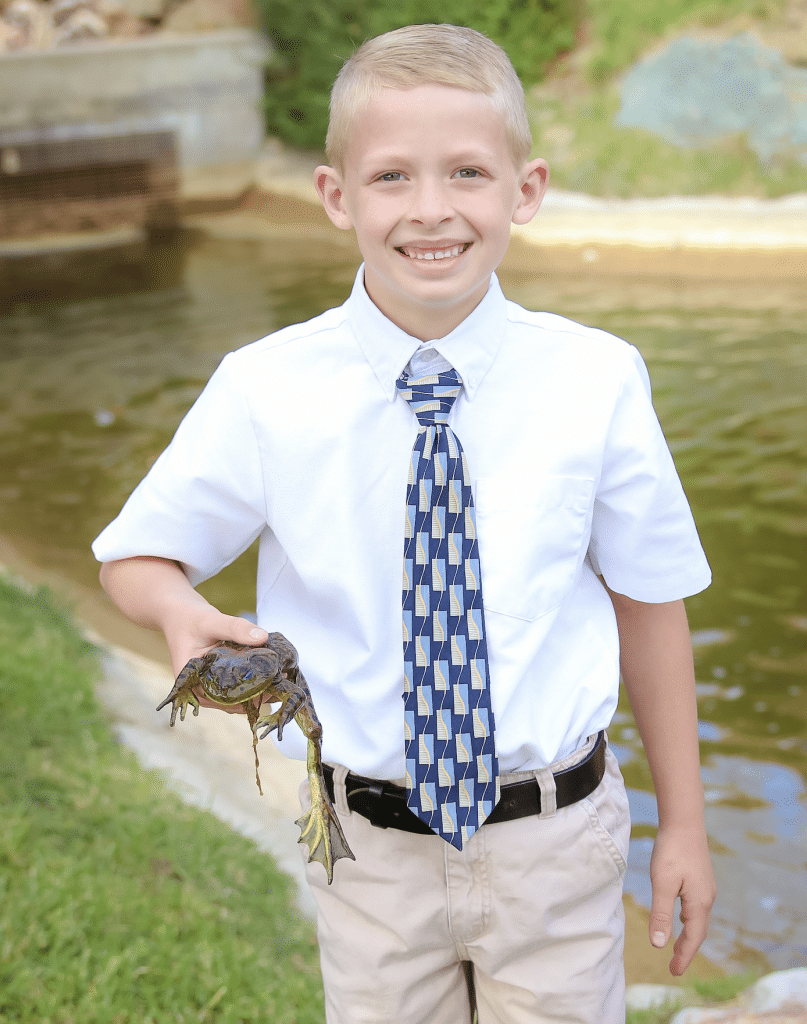 These Neapolitan cookies are the perfect recipe for when you don't know what flavor to choose because it lets you have three at once! It's a perfect blend of the classics in every cookie.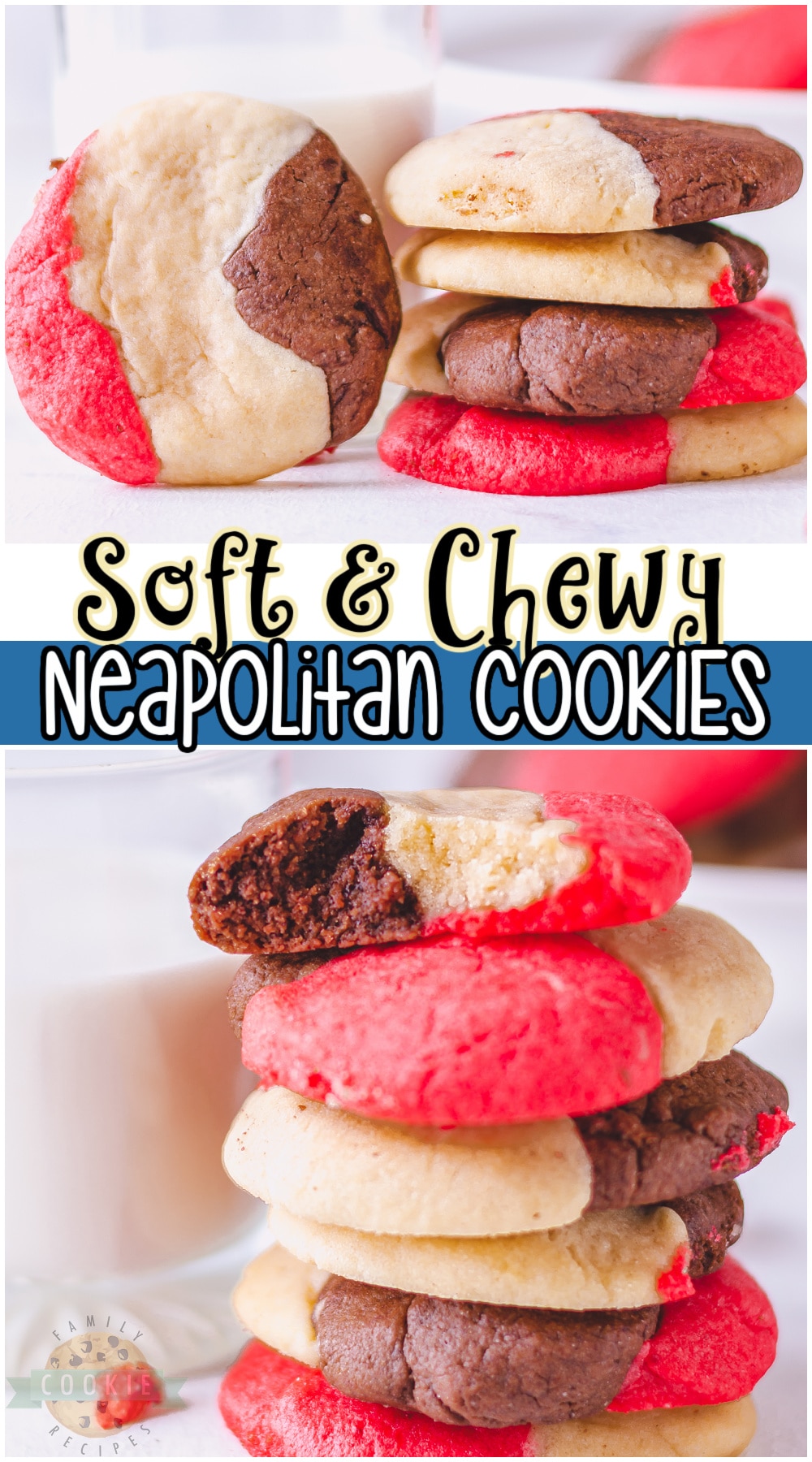 Neapolitan cookies are soft & chewy cookies that combine strawberry, chocolate & vanilla flavors! Just like the classic ice cream flavor, Neapolitan makes for a fun & tasty cookie recipe!