Cheesecake Stuffed Funfetti Cookies are two epic desserts in one: tangy, creamy cheesecake stuffed in soft, sweet cookie dough studded with sprinkles! Funfetti cookies are an indulgent treat made with premade cheesecake & cookie dough.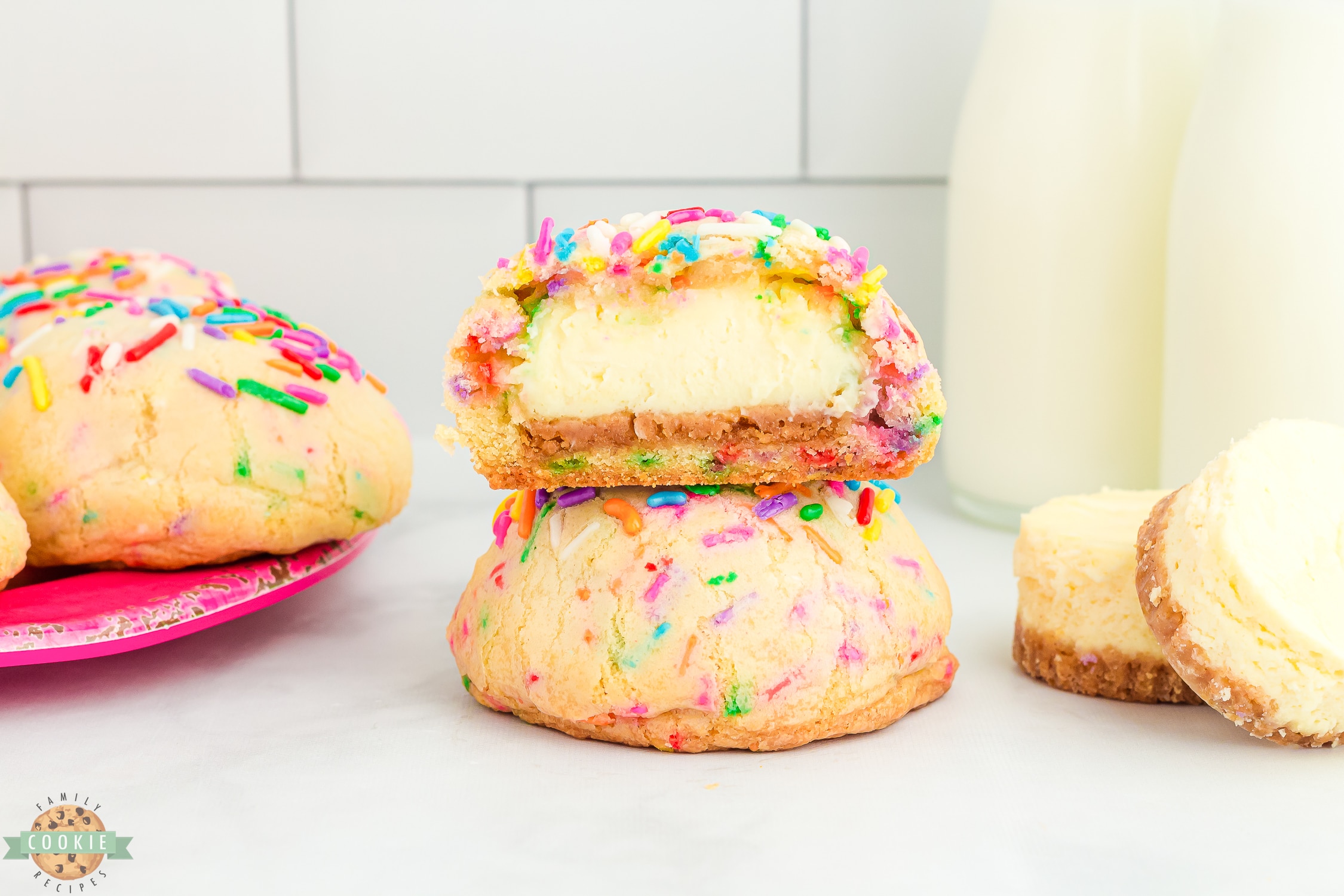 It's no secret we love cookies, but these cheesecake cookies are a new family favorite. Make this unique cheesecake cookie recipe to create a soft and delicious dessert like no other!
What are Funfetti Cookies stuffed with Cheesecake?
These are some of the best stuffed cookies that you will ever make. They are made to be soft, thick and rich, every bite is simply heavenly. If you love chunky cookies, then you are going to LOVE these! The sprinkles in the dough give the classic look of Funfetti cookies, while the cheese cake center satisfies another craving. The cookie texture combine with the smooth cheesecake is absolutely divine. Give this amazing cookie recipe a try and see for yourself how delicious they are!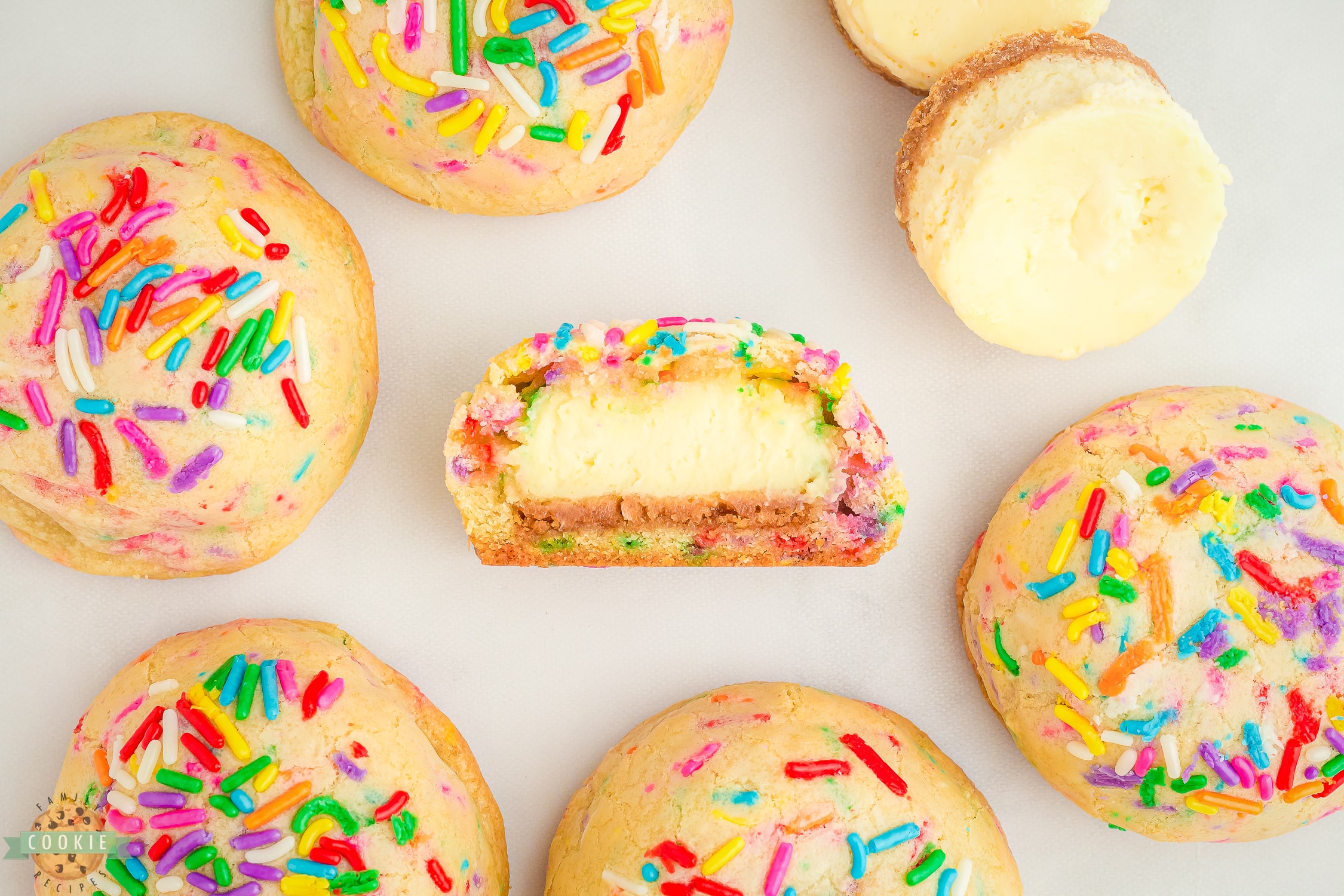 Funfetti Cheesecake Stuffed Cookie Ingredients
Cheesecake: You will need one 10" round pre-packaged plain cheesecake to simplify the process of stuffing these cookies.
Flour: The base of this cookie dough is 3 cups (420 grams) of all-purpose flour.
Cornstarch: Adding in 2 teaspoons of cornstarch to this dough helps create a crumbly and tender texture.
Baking soda: To help these cookies rise as they bake, use 1 teaspoon of baking soda.
Salt: To help balance the flavors in this cookie dough, add ½ teaspoon of salt.
Butter: You need ¾ cup (170 grams) of unsalted butter, slightly melted (cold butter from fridge put in microwave on high for 35 seconds) to make the cookies nice and rich in taste.
Sugar: Adding 1 cup (200 grams) of granulated sugar creates wonderful, soft, chewy cookies.
Brown sugar: To give the dough a great depth of flavor, use ¼ cup (50 grams) of light brown sugar, packed.
Eggs: Use 2 large eggs, room temperature, to help bind the dough together and give it amazing texture.
Vanilla extract: Enhance all the amazing flavors by adding in 2 teaspoons of vanilla extract.
Sprinkles: Add in 1 cup of rainbow Jimmies sprinkles to create the confetti in this cookie dough.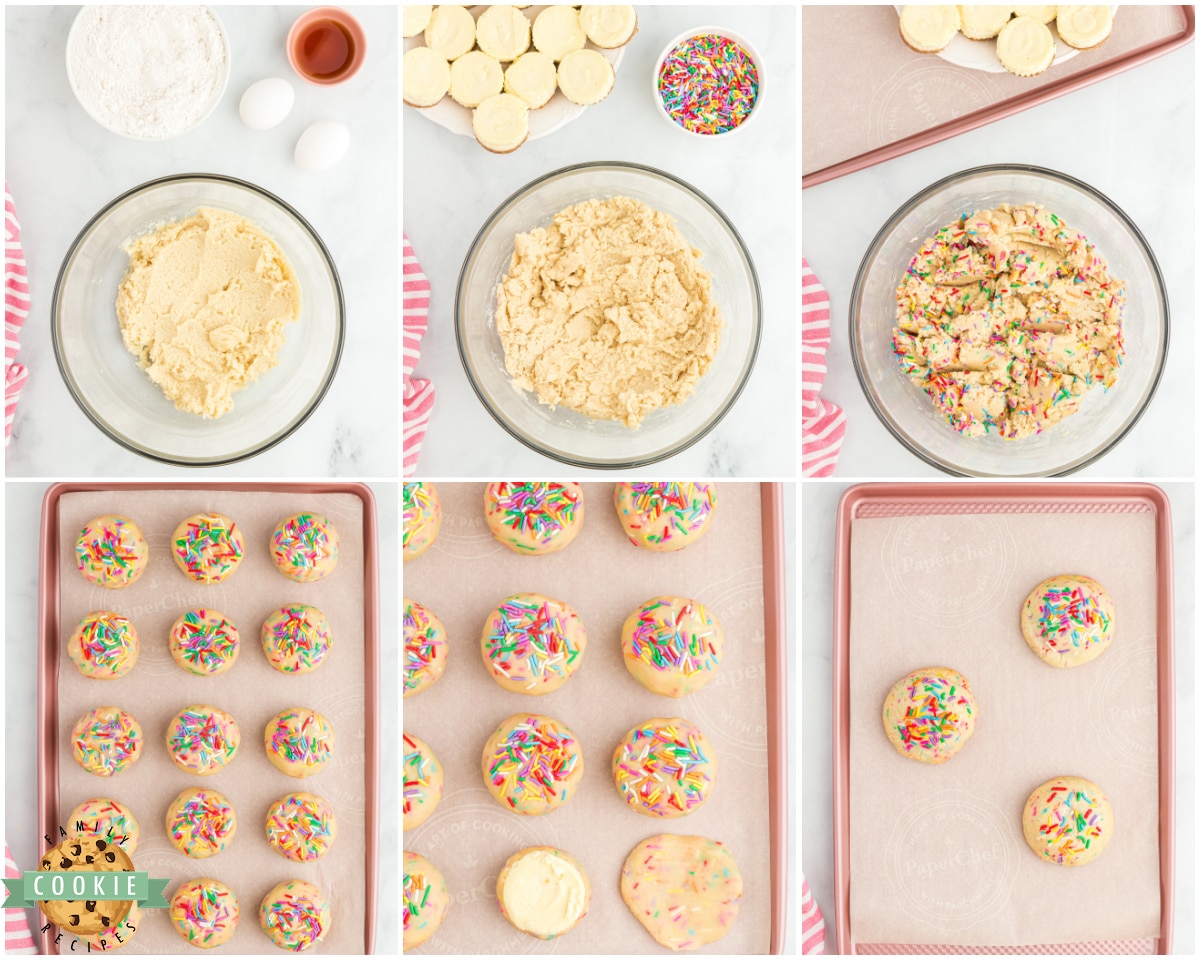 How to make Cheesecake Stuffed Confetti Cookies
Don't let the directions overwhelm you! I gave a lot of detail to make sure your cookies come out fantastic.
Cheesecake filling
Using a 2" circle cookie cutter, sprayed lightly with non-stick cooking spray, cut out [15] 2" round pieces of cheesecake. These cheesecake bites should be 2" in diameter and no more than 1" tall. Anything larger than that won't fit inside the cookies. Once you've cut out all 15 pieces, place these cheesecake bites on a small baking sheet and place them into the freezer.
Cookie dough
Next, in a medium bowl, whisk together the flour, corn starch, baking soda and salt. Set the dry mixture aside for now.
In a separate large bowl, beat together the butter, granulated sugar, and light brown sugar on high until well combined (about 2 minutes). Use a spatula to scrape down the sides of the bowl.
Beat the eggs and vanilla extract (on high) into the butter mixture, until light and a bit fluffy (about 1 minute). Use a spatula to scrape down the sides of the bowl again.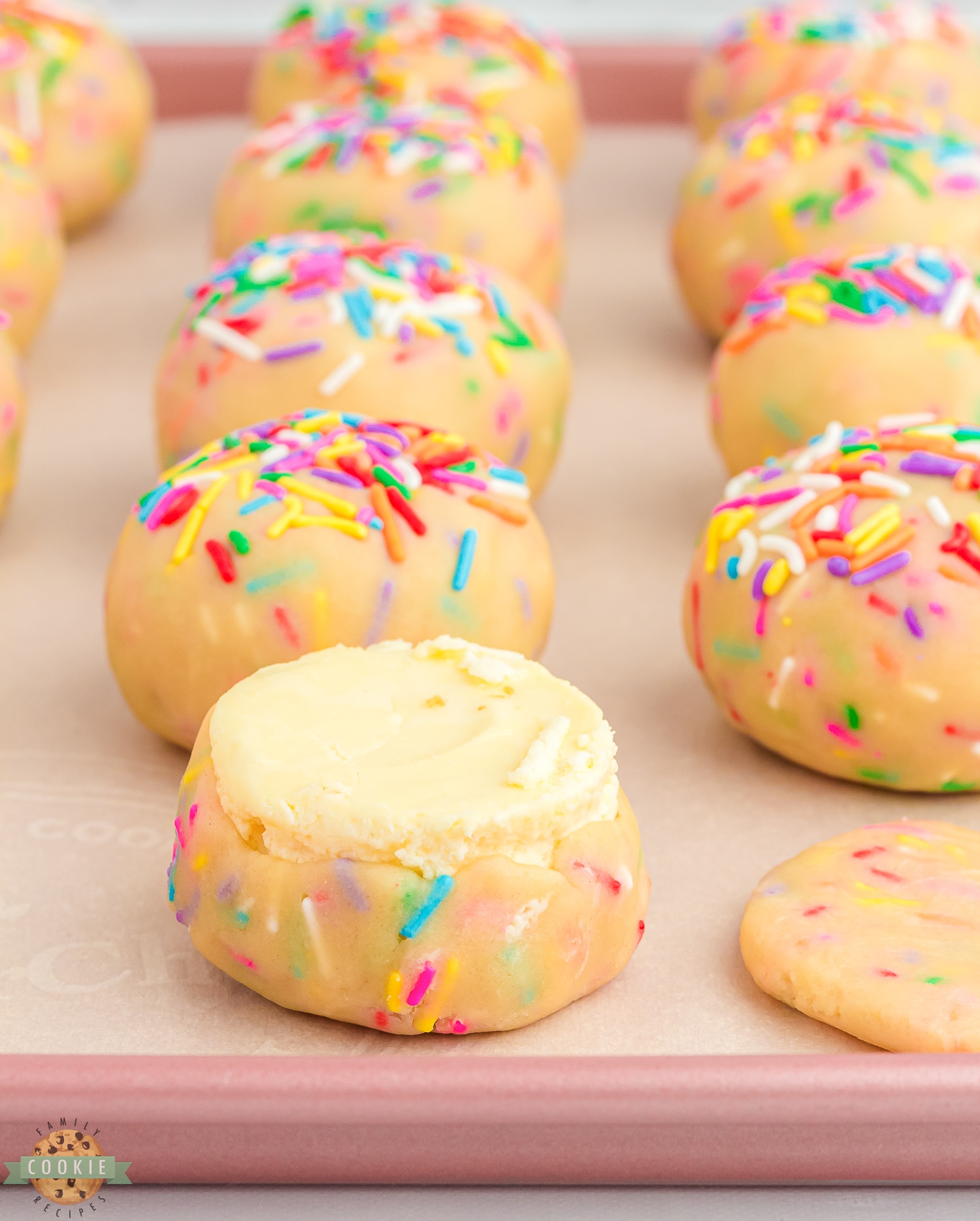 Proceed to add the flour mixture into the wet mixture and beat on low, just until combined (until you no longer see streaks of white flour). Use a spatula to scrap down the sides of the bowl to make sure all ingredients are combined properly. Be careful to not overmix the cookie dough or your cookies will be dry after baking.
After that, use a spatula to stir in ¾ cup of the sprinkles. Be sure to use a spatula for this step and not the electric beaters. Set the remaining ¼ cup of the sprinkles aside for now.
Stuff cookies
Now, line a large baking sheet with parchment paper or a silicon mat.
Then, using a 2-tablespoon sized cookie scoop, scoop balls of cookie dough onto the parchment lined baking sheet. These cookie dough balls will be about 35 grams each and there should be 30 balls of cookie dough.
Proceed to use your hands to roll a cookie dough scoop into a ball then flatten that cookie dough ball. If the cookie dough is sticking to your hands, you can spray your hands lightly with non-stick baking spray. Don't roll and flatten all the cookie dough scoops at once, just work on one cookie at a time.
Continue to place a frozen cheesecake bite on top of that flattened cookie dough ball. Use your hands to shape the flattened cookie dough ball around the bottom half of the frozen cheesecake bite. You'll end up with a half-wrapped cheesecake bite. Only remove one cheesecake bite from the freezer at a time. We want these cheesecake bites to remain frozen until right before you wrap it in a cookie dough ball.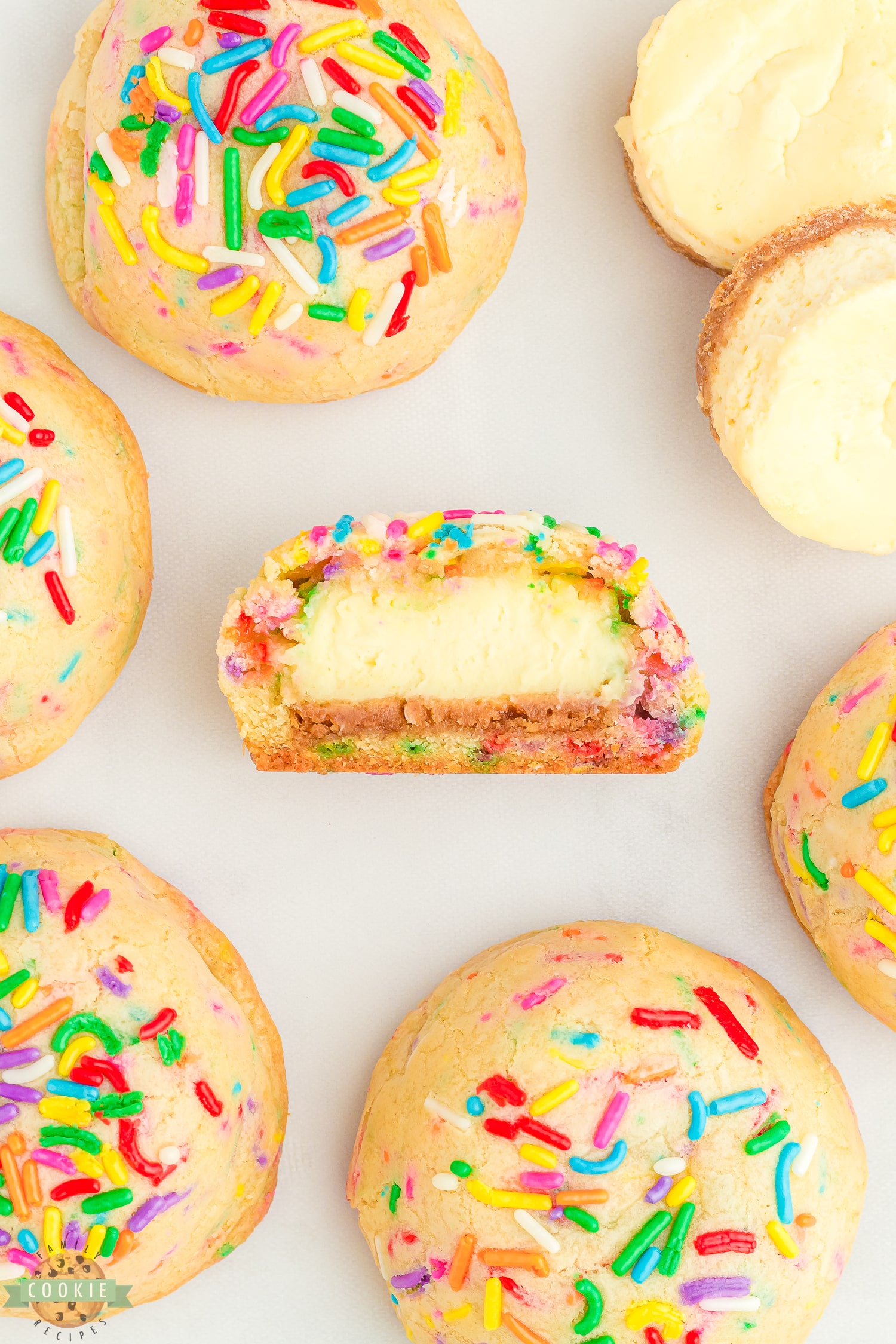 Flatten a second cookie dough ball and place this over the cookie dough wrapped cheesecake bite. It's important to wrap the two dough balls around the cheesecake bites one at a time so you're able to get the dough wrapped tightly around the cheesecake. Use your hands to form the top flattened cookie dough ball around the wrapped cheesecake bite to form one large stuffed cookie (be sure to keep the cheesecake facing up and the crust at the bottom of the cookie). Be sure to properly seal the two cookie dough pieces together around the cheesecake by rolling gently with your hands. The large raw cookies should be nice round balls. Repeat these steps with the rest of the cheesecake bites and cookies – working on one at a time.
Decorate & freeze
Once all the dough balls are completed, place the remaining ¼ cup sprinkles on the baking sheet and press the tops of the raw cookies lightly into the sprinkles.
You'll have a total of 15 large stuffed cookies on the baking tray. The cookies can be close together for this step but not touching or they'll stick together once in the freezer.
Place the tray of unbaked cookies in freezer for 15 minutes. Freezing the cookies before baking helps to prevent the cookies from spreading too much during baking. If the cookies spread too much during baking, it could expose the cheesecake bite in the middle.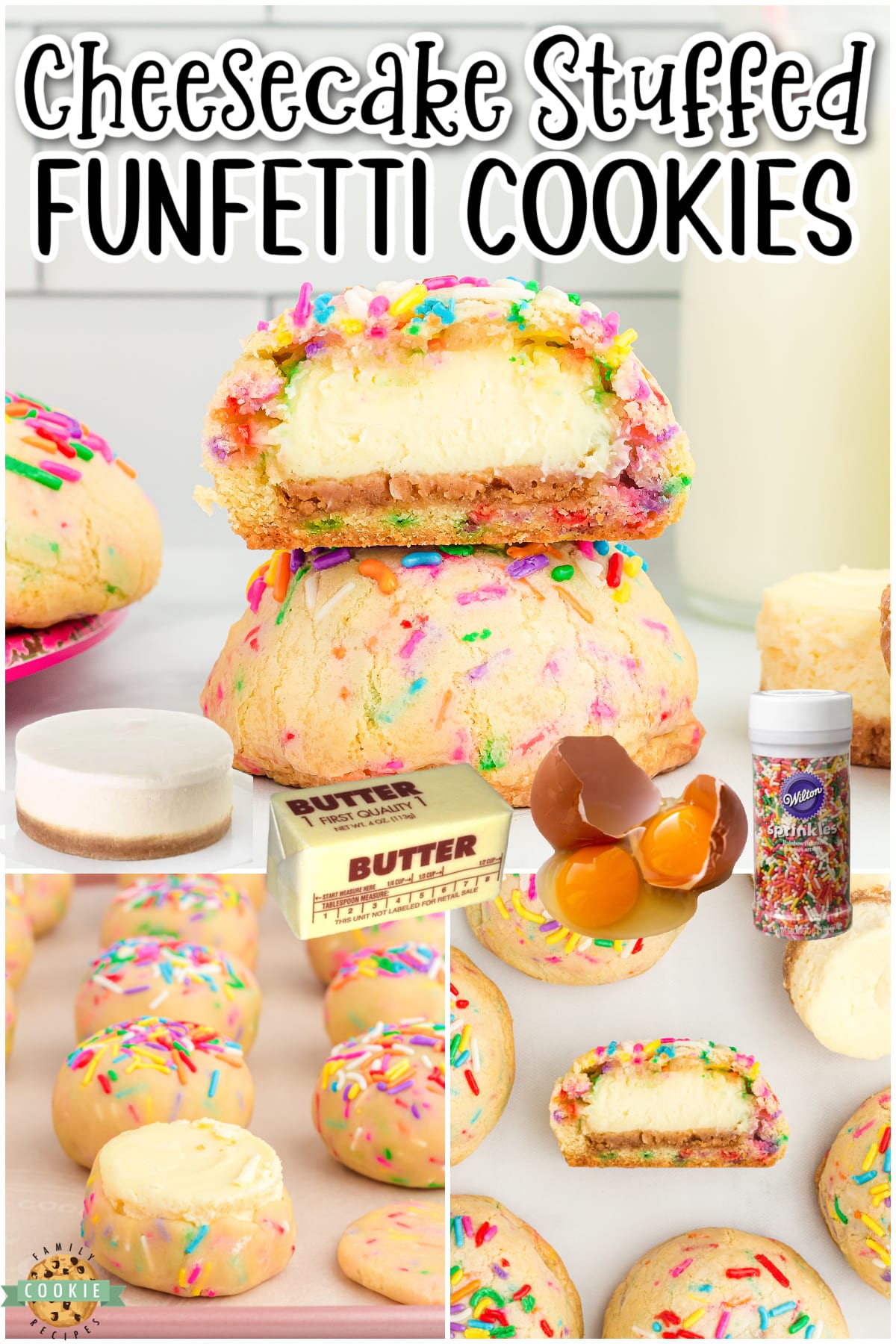 Bake
Get the oven preheating to 350 degrees F.
Then, line a second baking sheet with parchment paper, take some cookies out of the freezer then place those cookies on the baking sheet. Cookies should be at least 3 inches from each other on the baking sheet to allow a little space for spreading. It is important to only bake one tray of cookies at a time to ensure an even baking temperature for all cookies. Leave the rest of the cookies in the freezer until you are ready to bake them.
Place one tray of cookies into the oven to bake for 16-17 minutes. The baked cookies will look slightly undercooked, but they'll continue to bake on the hot tray after you remove them from the oven. Do not over bake or the cookies will be dry and crispy on the sides.
Let cookies cool for 10 minutes on the hot baking tray before removing to wire rack to cool completely. Repeat the baking for the second tray of cookies.
Serve slightly warm and enjoy!
Tips for making amazing cheesecake stuffed cookies:
The cheesecake must be a plain cheesecake – no added toppings or fillings – just the basic cheesecake with a graham cracker crust.
It is important to measure out the flour accurately. Too much or too little flour will affect how the cookies turn out. To accurately measure the flour, either use a food scale to measure out the grams exactly or use the spoon and scoop method. The spoon and scoop method means you put the measuring cup on the counter then use a spoon to scoop flour directly out of the bag and lightly place it into the cup. If you use the measuring cup to scoop flour directly from the bag, you'll likely end up with 25% more flour than you actually need because the flour gets packed down into the cup.
Use the jimmies style of sprinkles (skinny oval shape) not nonpareils (small round balls) since the nonpareils style are too hard and the color tends to bleed into the batter.
If the cookie dough isn't forming well around the cheesecake bite and there seems to be a lot of air/empty space in the middle of the cookie dough ball. What went wrong? It's important to form the bottom flattened cookie dough ball around the cheesecake bite first before adding the second flattened cookie dough ball. You want the cookie dough to be formed tightly around the cheesecake bite.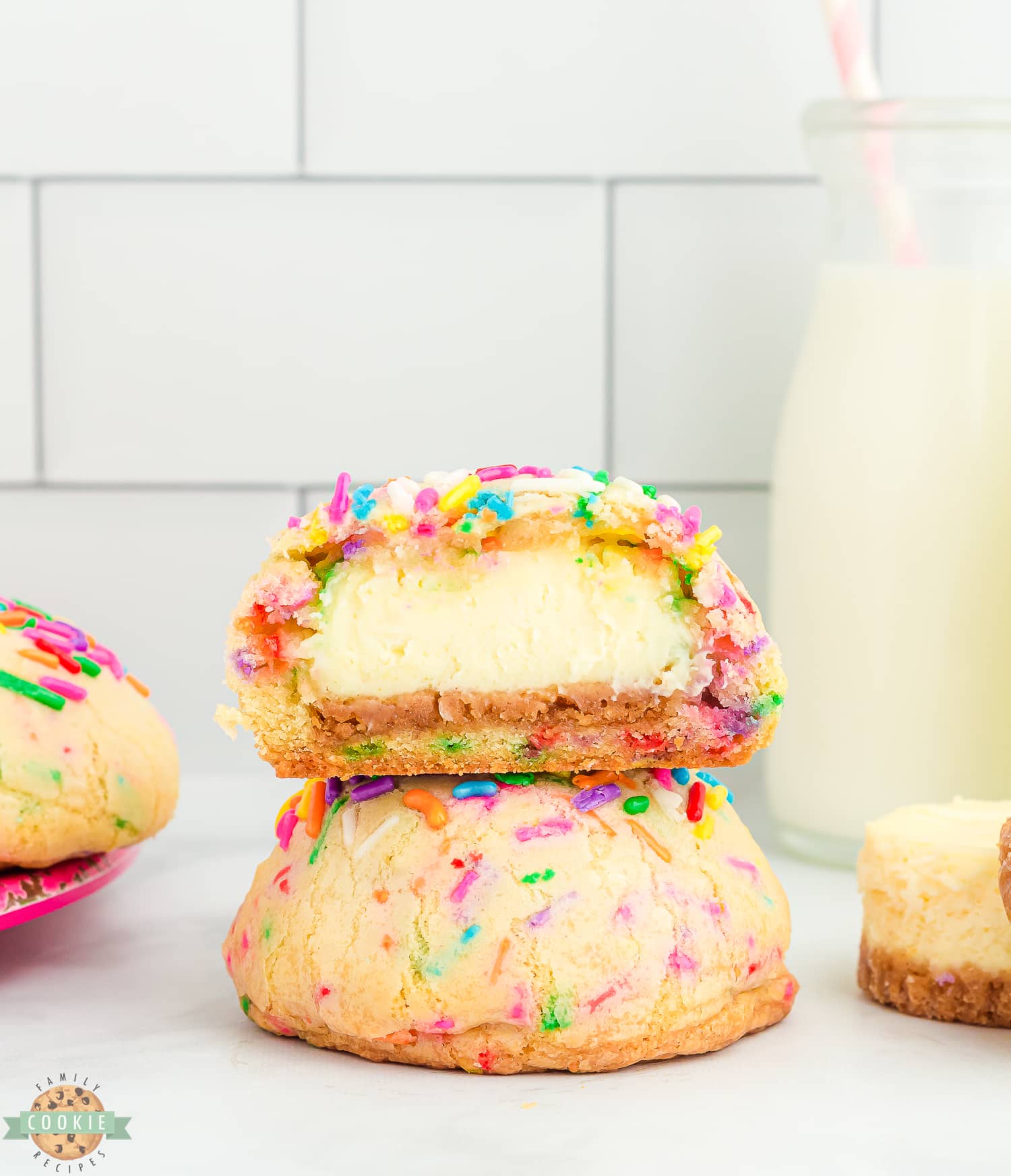 Can I use a no-bake cheesecake for this recipe?
No, a no-bake cheesecake would melt right out of these cookies. You must use a traditional plain baked cheesecake.
Can I store these Cheesecake Cookies at room temperature?
No, just like a regular cheesecake, these cookies must stay refrigerated.
Can I freeze these Cheesecake Stuffed Funfetti Cookies?
Yes, these cookies can be frozen for up to two months if sealed properly in a food-safe storage bag. Let the cookies thaw in the fridge overnight before serving.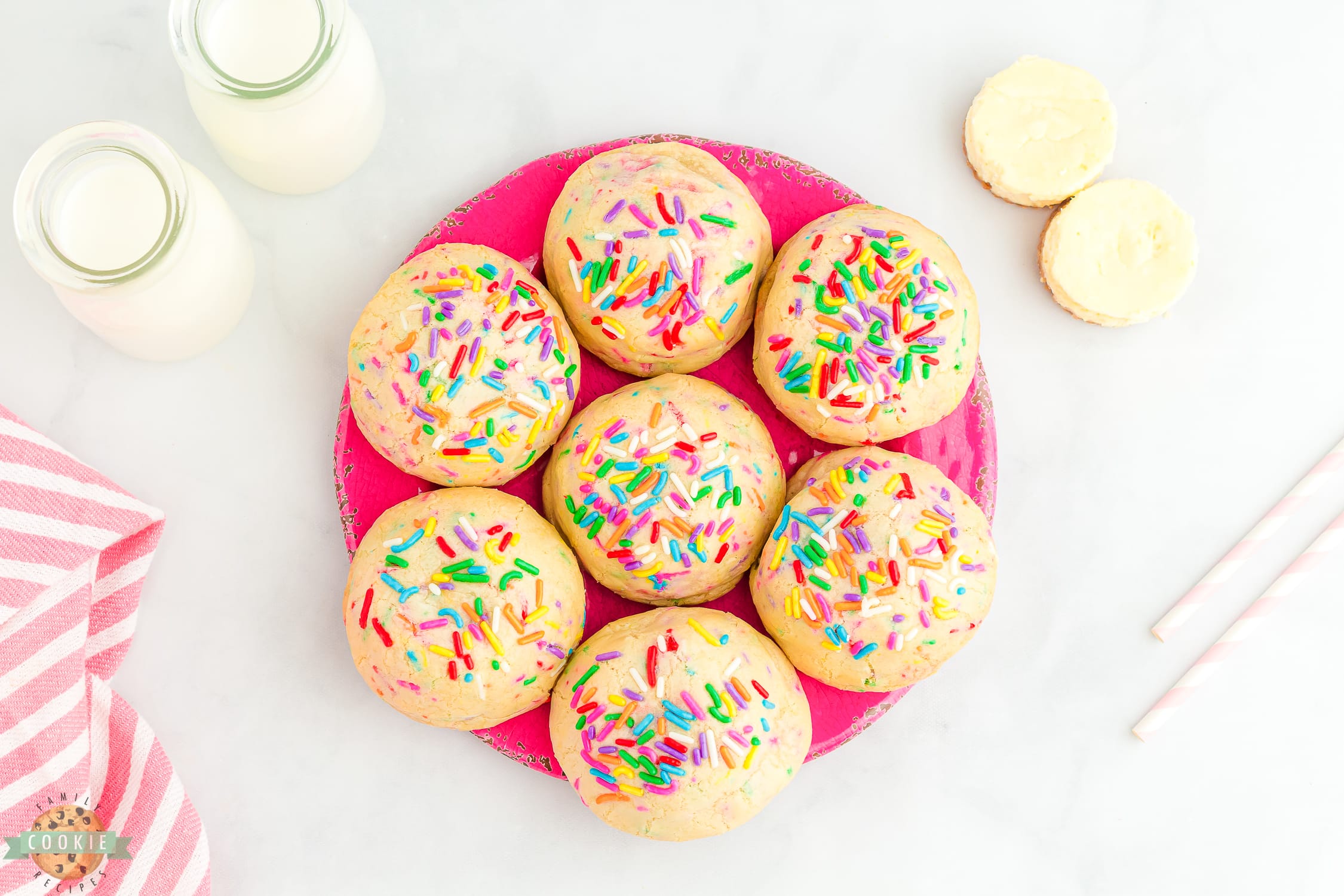 How long are cheesecake stuffed cookies good for?
You will want to store these cookies in a sealed, food safe container and in the fridge and they will last up to 5 days. You can also freeze these cookies for up to 2 months if you'd like.
The cookie dough turned out crumbly. What went wrong?
It sounds like too much flour was used. Read above about how to properly measure flour.


This is my oldest! How did this happen?! Once, a long time ago he was a 6 lb 4 oz little guy who stole my heart immediately… he still has my heart but now he's over 6 feet and is currently living in another country! I miss him.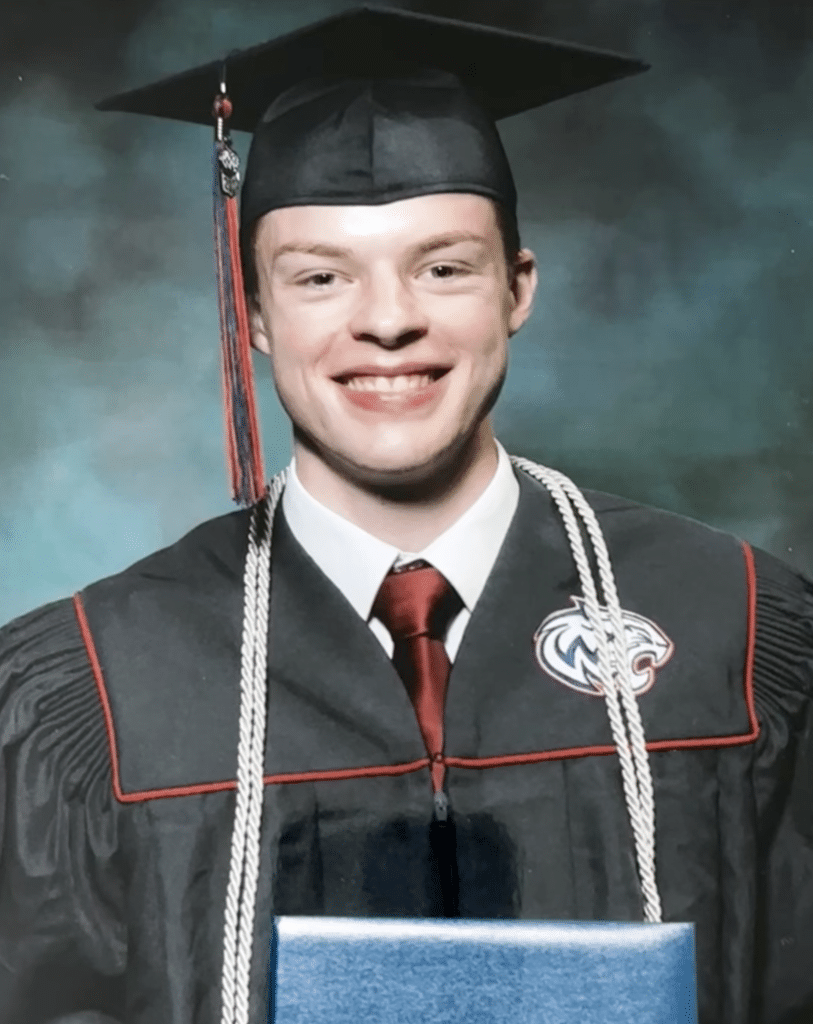 Love cheesecake as much as we do? Give these recipes at try:
Cheesecake Stuffed Funfetti Cookies are a combination of two amazing desserts in one: cheesecake encased in cookie dough! Funfetti cookies are a delicious treat that is made with premade cheese cake and a homemade Funfetti cookie dough.