Halloween Cat Cookies are super cute & easy to make for Halloween! Festive Scaredy Cat Halloween cookies made with a packaged cookie mix, frosting & candy!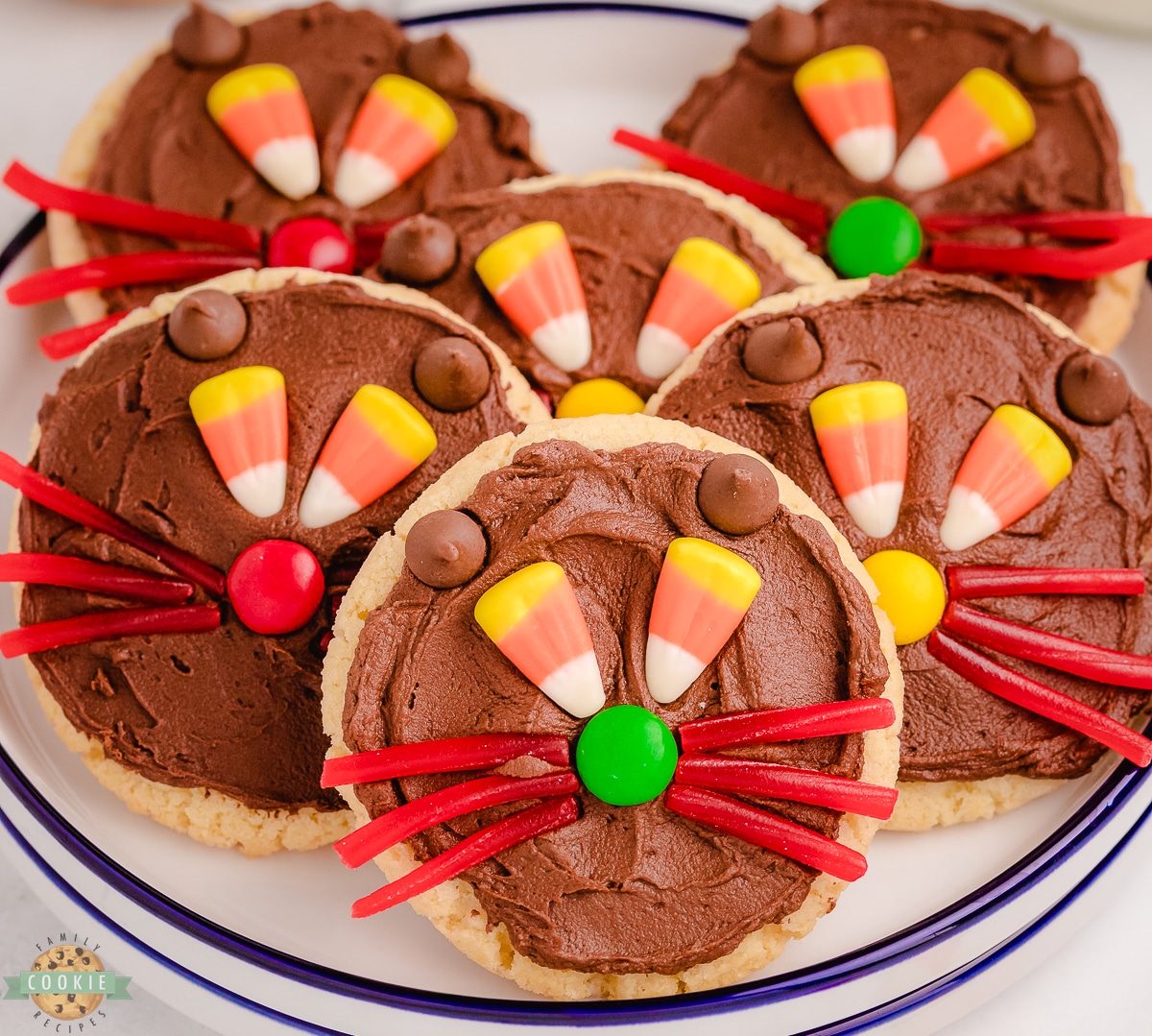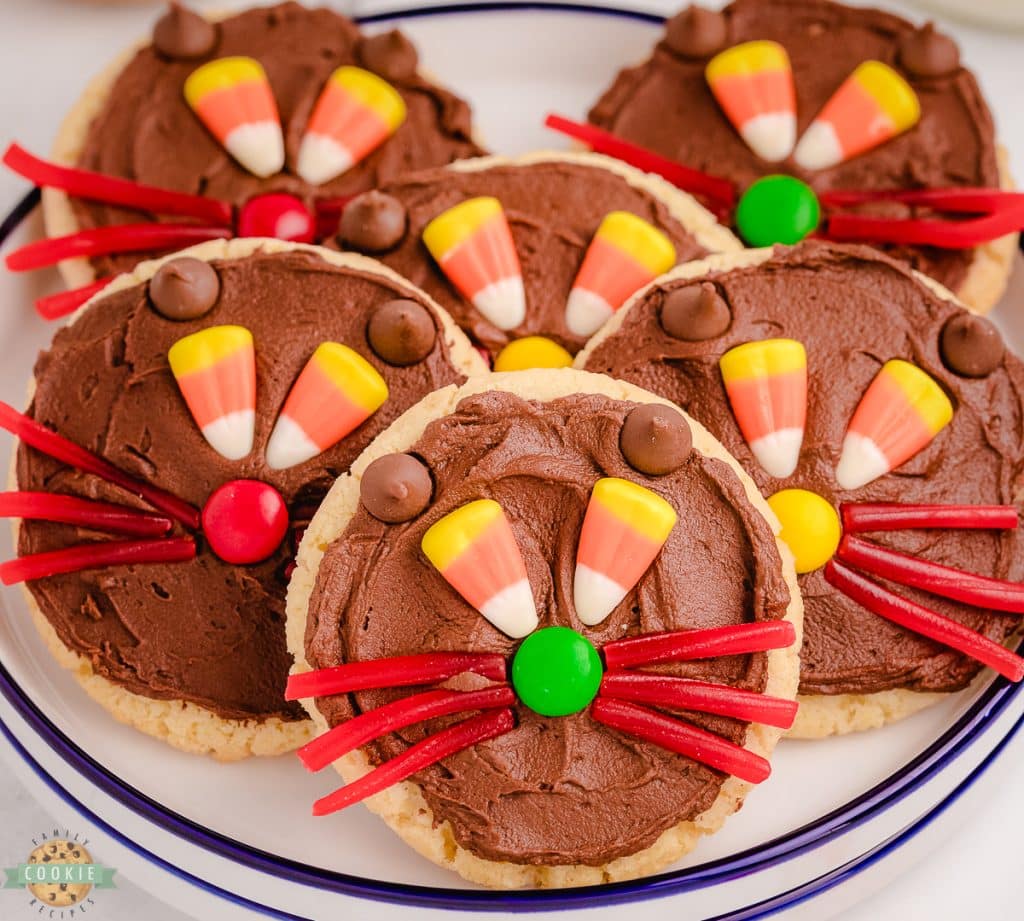 Making these cat cookies is simple, they are easy to assemble and so delicious too. These Halloween sugar cookies are a great treat for family and friend parties, get the kids in on the fun of making them and enjoy!
Festive Halloween Cookies
While these are not scary cat cookies, they certainly are cute! Black cats are a tradition around the Halloween season, so we had to incorporate them into something tasty around here. With this easy cookie recipe, we get to enjoy the festive features and our favorite candies on a chocolate frosted cookie. Although this recipe is amazing, you are welcome to go the fast route with store-bought chocolate icing. They are fun and just the right amount of Halloween for me, my kids loved helping too!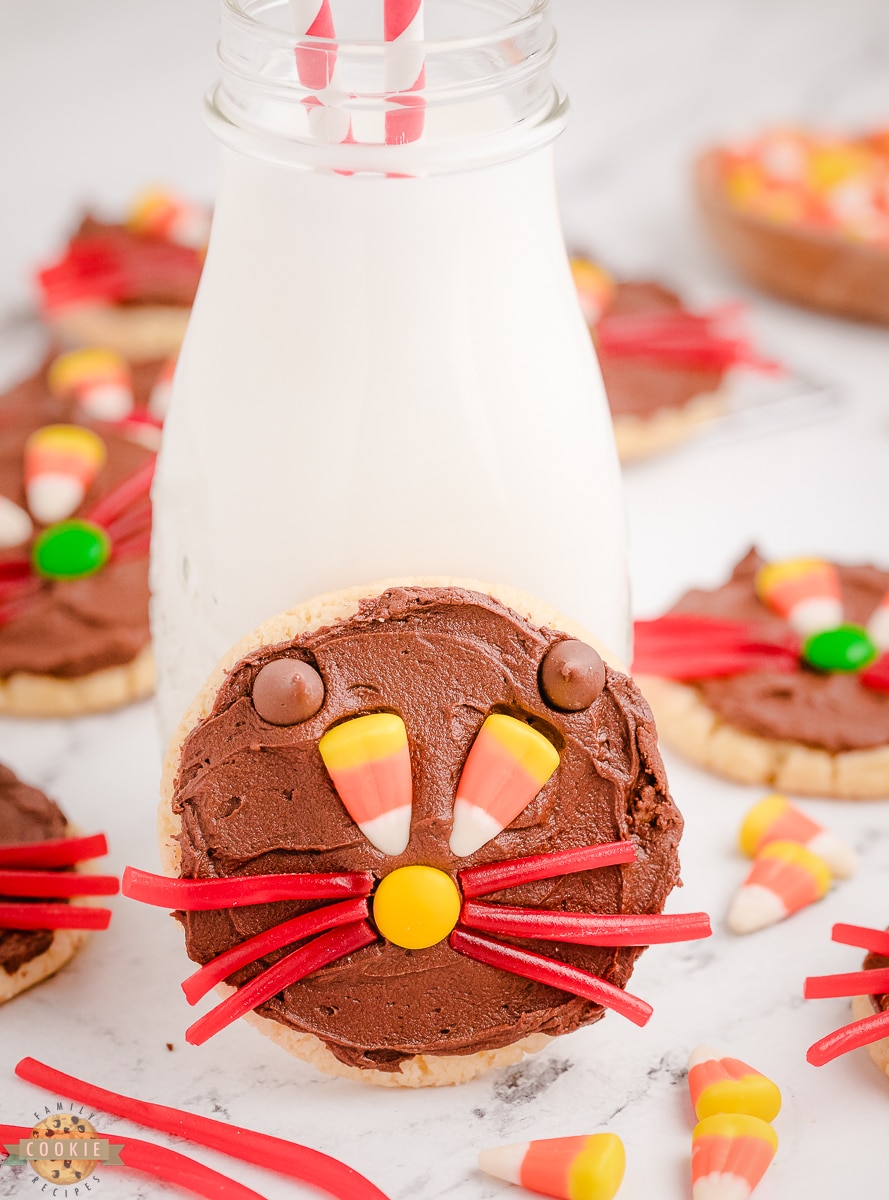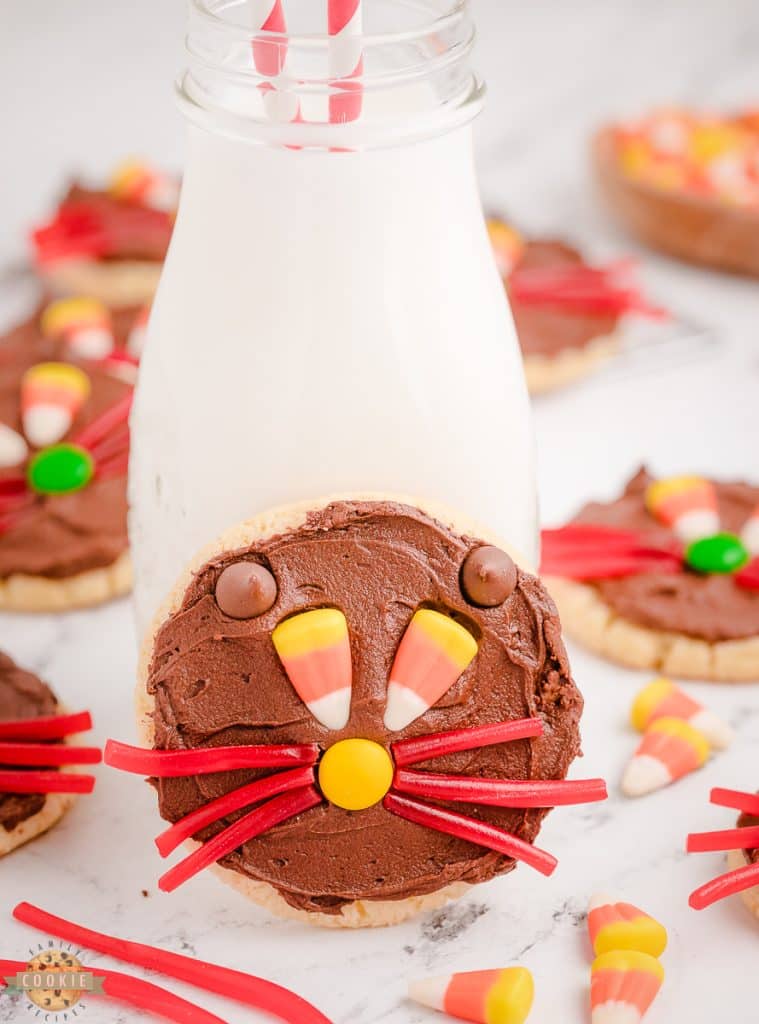 Why we think you will adore this festive cookie recipe
If you were not already convinced to make these cute cookies, here are a few more reasons to do so!
SUPER CUTE! I mean they're cat cookies, what's not to love?!
Easy to follow steps. Making and assembling this recipe is pretty easy, so you can totally grab the kids and have them help with some of the steps. Just make sure to count out the candies, or else some of your cats may be missing crucial features.
Semi-homemade and totally tasty. This recipe uses a cookie mix as the base, but we add a homemade frosting over the top, and together they both taste so incredible.
This recipe can be doubled (or tripled). You can easily double this recipe so that there are plenty to share with friends or family at a Halloween (or cat) themed party.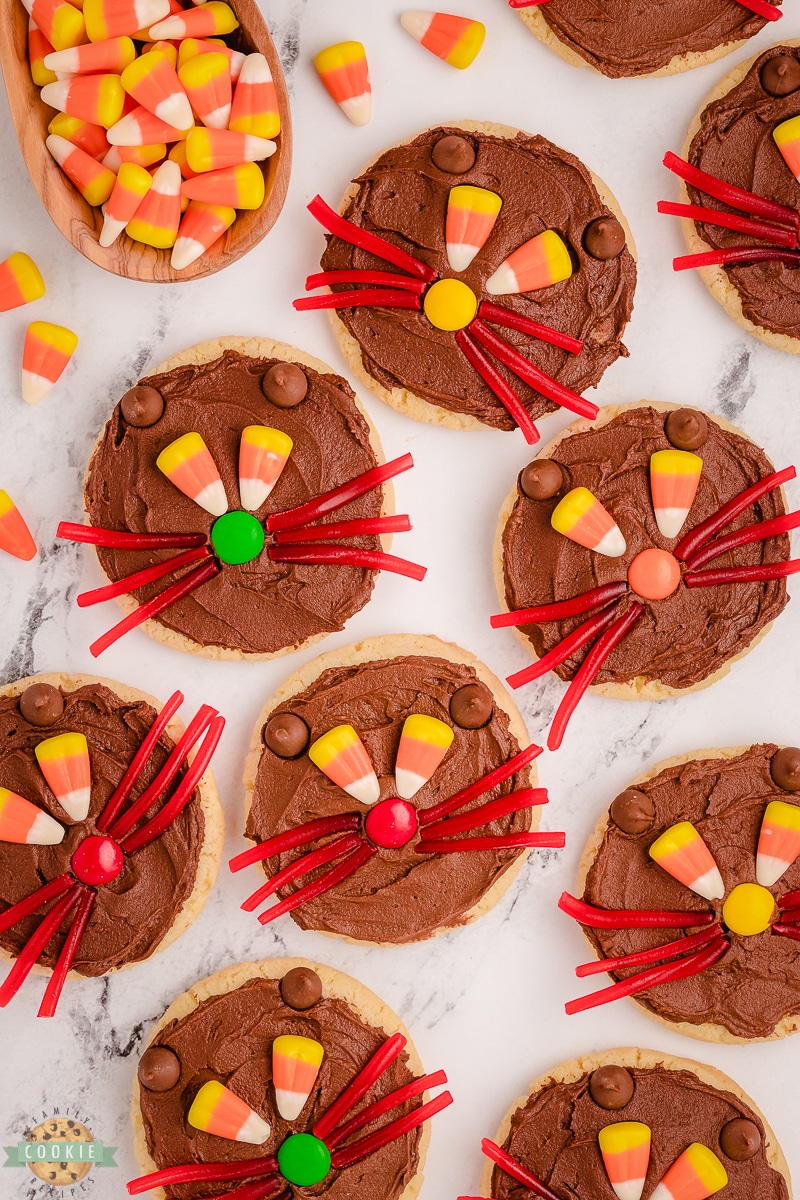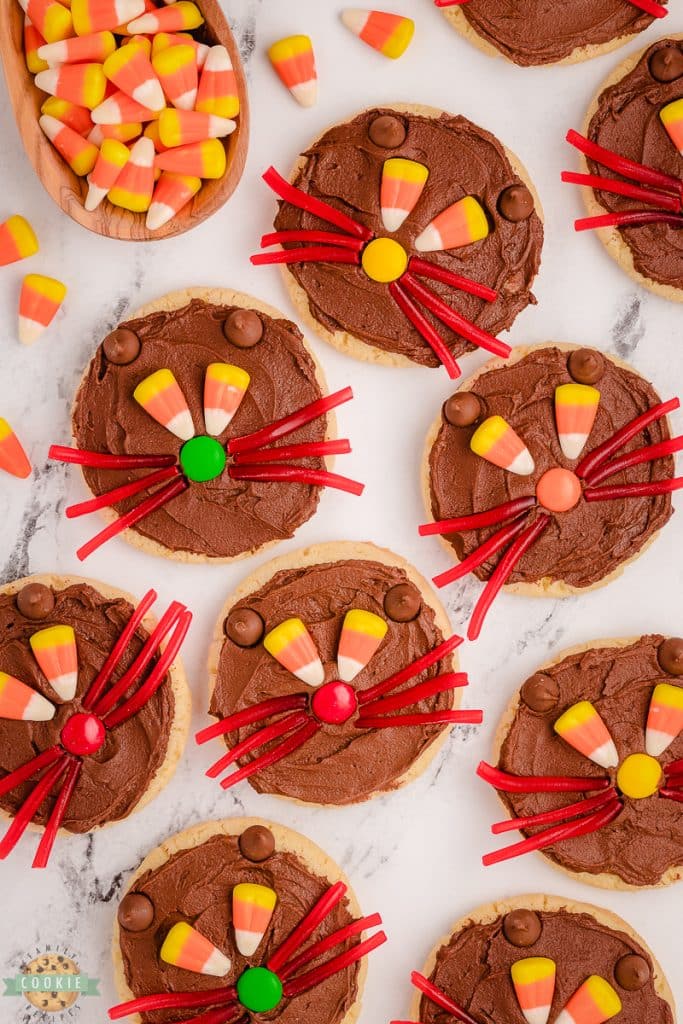 Halloween Cat Cookie Ingredients
Sugar cookie mix: For the sweet cookie base, you will need 1 14-ounce package of your favorite sugar cookie mix. Using a packaged cookie mix helps quicken up this recipe and provide a great structure for this fun treat.
Butter: Adding in ½ cup (1 stick) of butter, softened, gives the cookie a nice rich taste.
Egg: Use 1 egg to give this cookie amazing taste and texture.
Chocolate Buttercream Frosting Ingredients
Butter: You will need ½ cup (one stick) of softened butter to make the frosting smooth and rich.
Shortening: Adding in ¼ cup of shortening will give it a nice creamy texture.
Semi-sweet chocolate chips: Use ½ cup of melted semi-sweet chocolate chips to make these frosting extra chocolatey.
Cocoa powder: Add in another ½ cup of unsweetened cocoa powder for more chocolate taste and brown color for the cat cookies.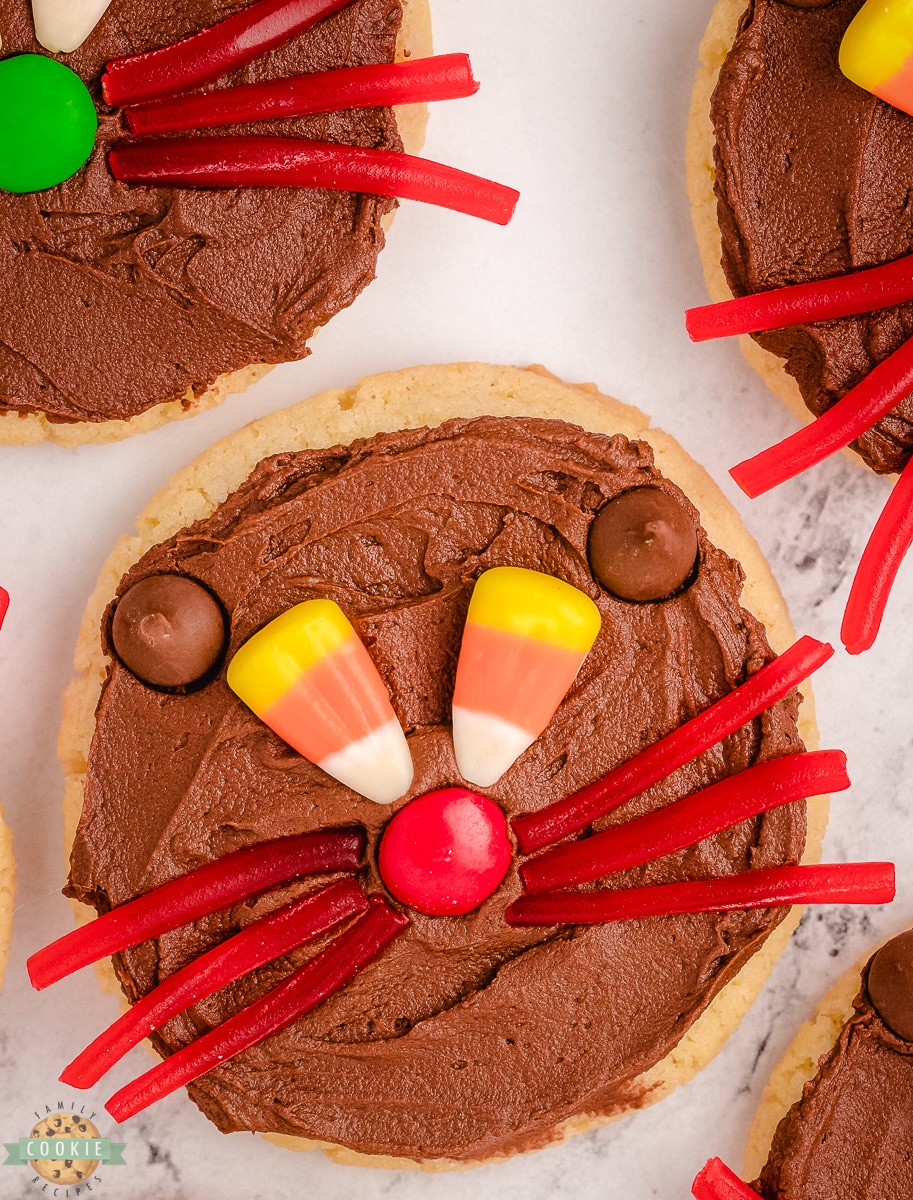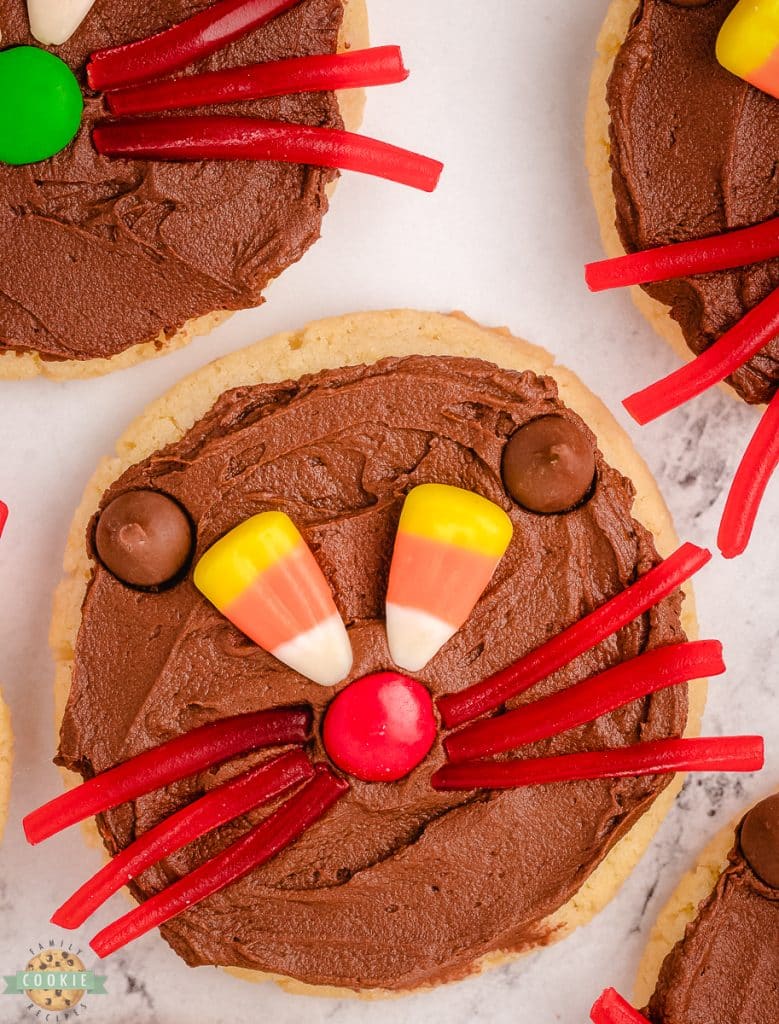 Powdered sugar: The base of the frosting is 2 cups of powdered sugar which makes it smooth and sweet.
Milk: You will need 3 tablespoons of milk to get the buttercream to the perfect consistency.
Vanilla extract: Adding in 1 teaspoon of vanilla extract helps flavor the frosting wonderfully.
Cat decorations
Chocolate chips: You will need 48 large chocolate chips for these cookies (regular sized chocolate chips works best). These will make great pointy ears for the kitties.
Candy corns– Using 48 candy corn candies will create the eyes for all of our cats.
Candy-coated chocolates: You will need 24 of these candies. You can use name brand or off-brand candies, we just used M&Ms and flipped them over, so the M wasn't showing.
Licorice: For the cat whiskers, you will want to use a licorice that pulls apart (like Twizzlers). Cut them into 1 inch long segments and separate them all so that there are plenty to go around.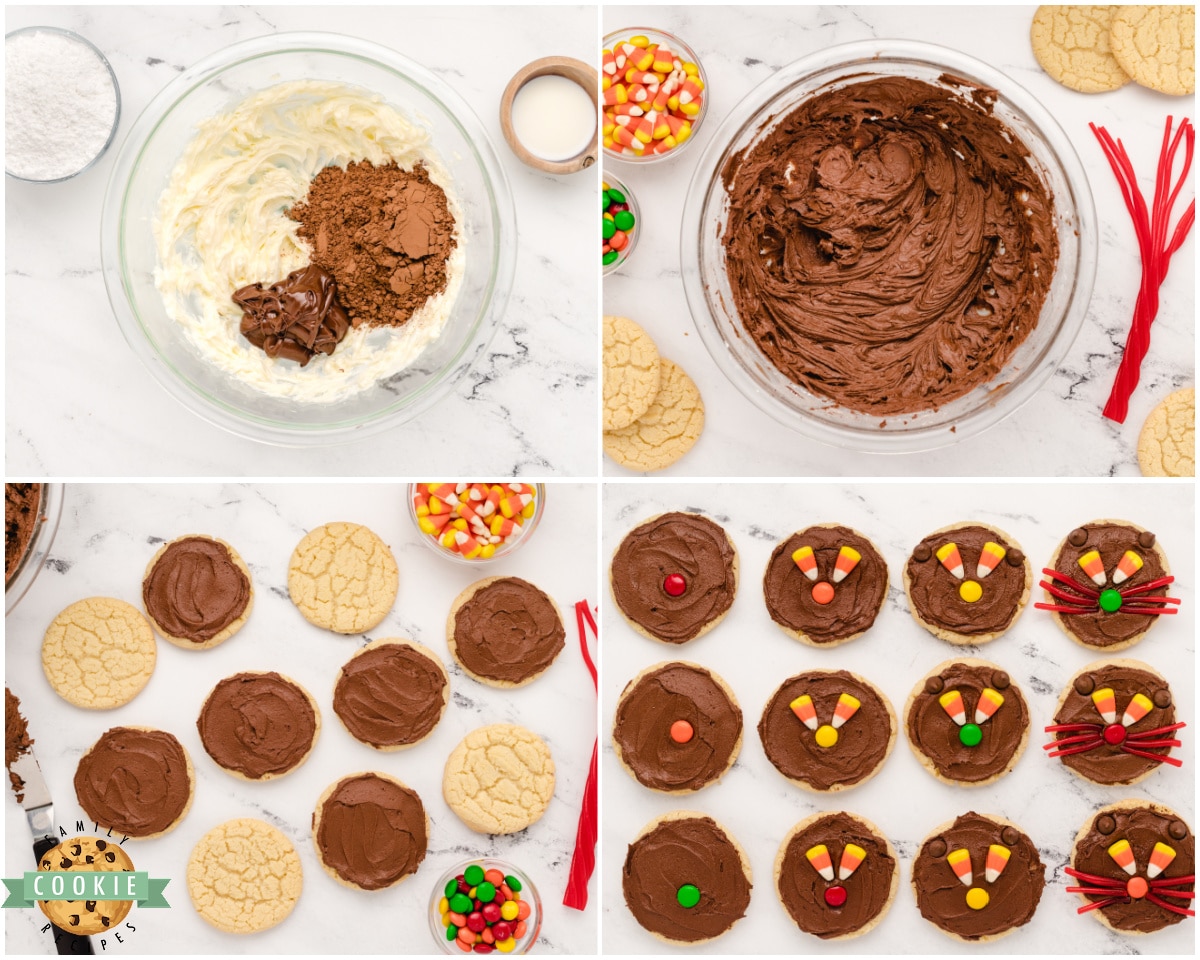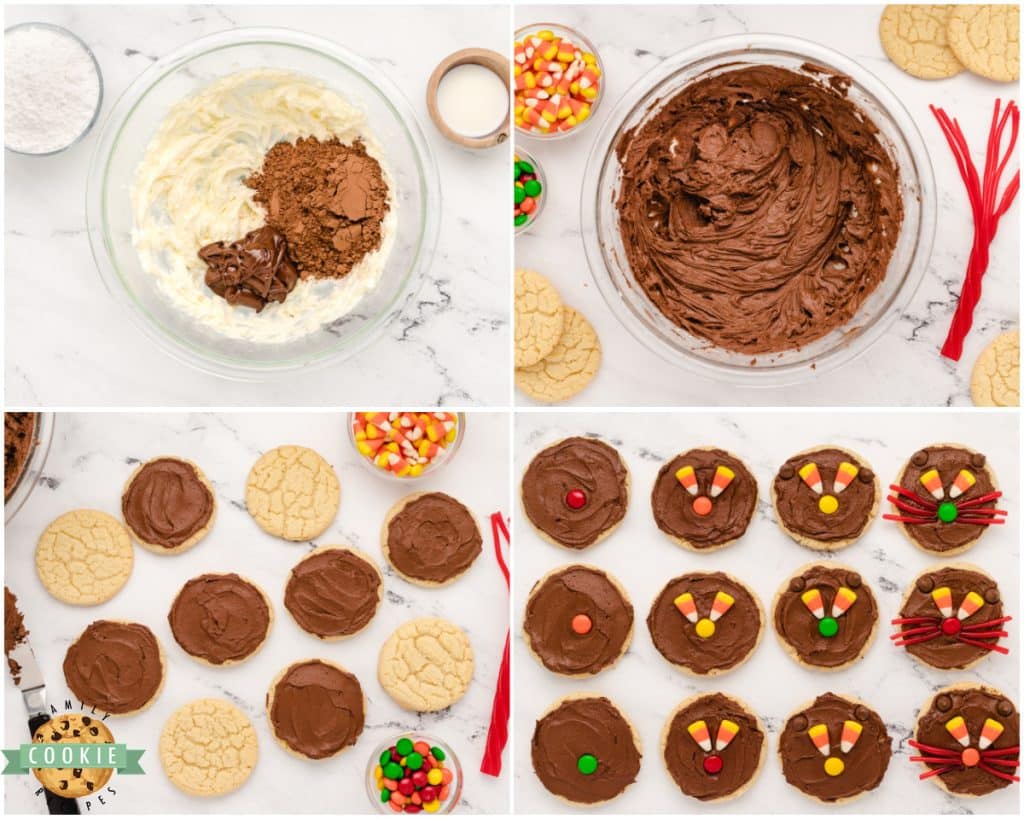 How to make Halloween Cat Cookies
Prep
Start by preheating the oven to 350°F. Then, line a cookie sheet with parchment paper or a silicon mat and set it aside.
Cookie dough
Next, in medium size bowl, stir together the dry cookie mix, softened butter and egg until well blended.
Then, place rounded tablespoons of cookie dough 2-inches apart onto the parchment lined cookie sheet.
Proceed to bake in the preheated oven for 11-13 minutes. Be sure to let the cookies cool completely before creating the cat face.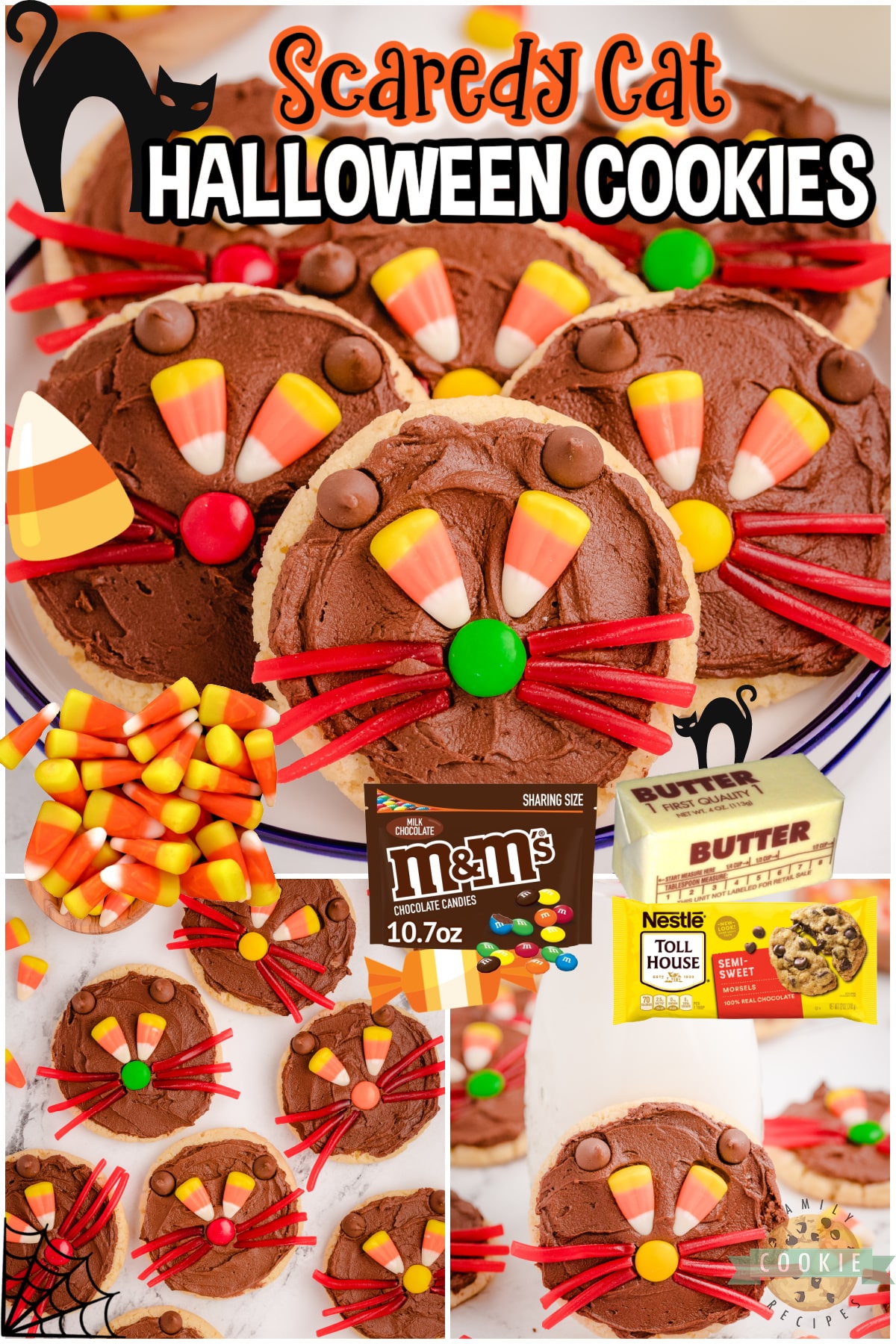 Frosting
To make chocolate buttercream frosting, use an electric handheld mixer to beat together the butter and shortening until smooth.
After that, in a small bowl, melt the chocolate chips in the microwave for 30 seconds, stir and heat for another 10 second intervals until fully melted. Then, add in the melted chocolate chips and cocoa powder, to the butter mixture, mixing all ingredients until smooth.
Next, alternate mixing in the powdered sugar and the milk until you have reached your desired frosting consistency. Then add in the vanilla extract and mix once more.
Assemble
Proceed to spread 1-2 tablespoons of chocolate buttercream frosting over each cookie. Then, arrange the candy decorations to make a cat face, candy corns for the eyes, chocolate chips for the ears, round chocolate candy for the nose and pull-apart licorice ropes for the whiskers.
Serve immediately and enjoy!
HOW LONG ARE FROSTED COOKIES GOOD FOR?
Store cookies in an airtight container for up to 5 days. For the best tasting results, I recommend eating them within 2 or 3 days because the candy will become stale as time progresses.
HOW TO MELT CHOCOLATE
Place your chocolate in a microwave safe bowl and microwave in 30 second intervals, stirring well between each until smooth. It should only take about 1-2 minutes. Be careful not to overcook the chocolate because it will seize, and at that point, there's no going back to fix it; you just need to start all over.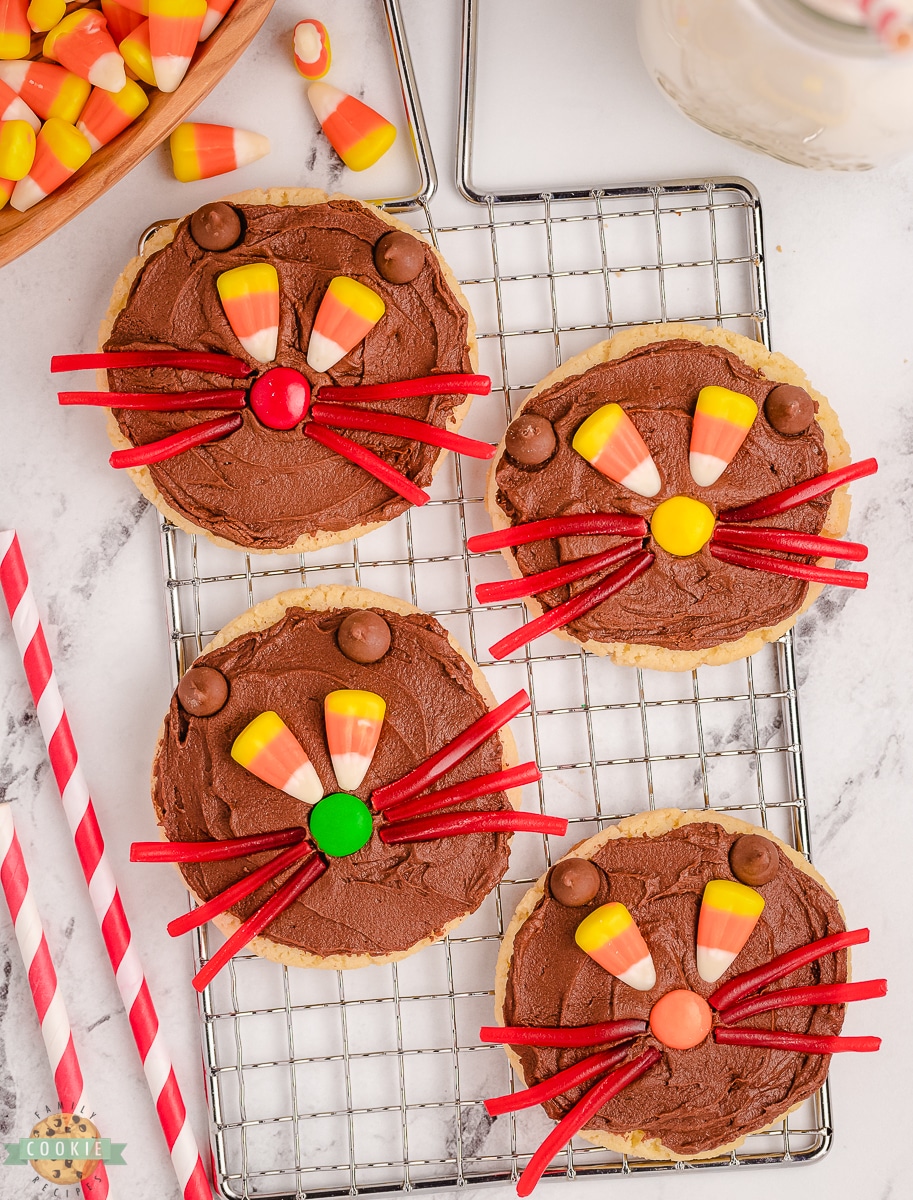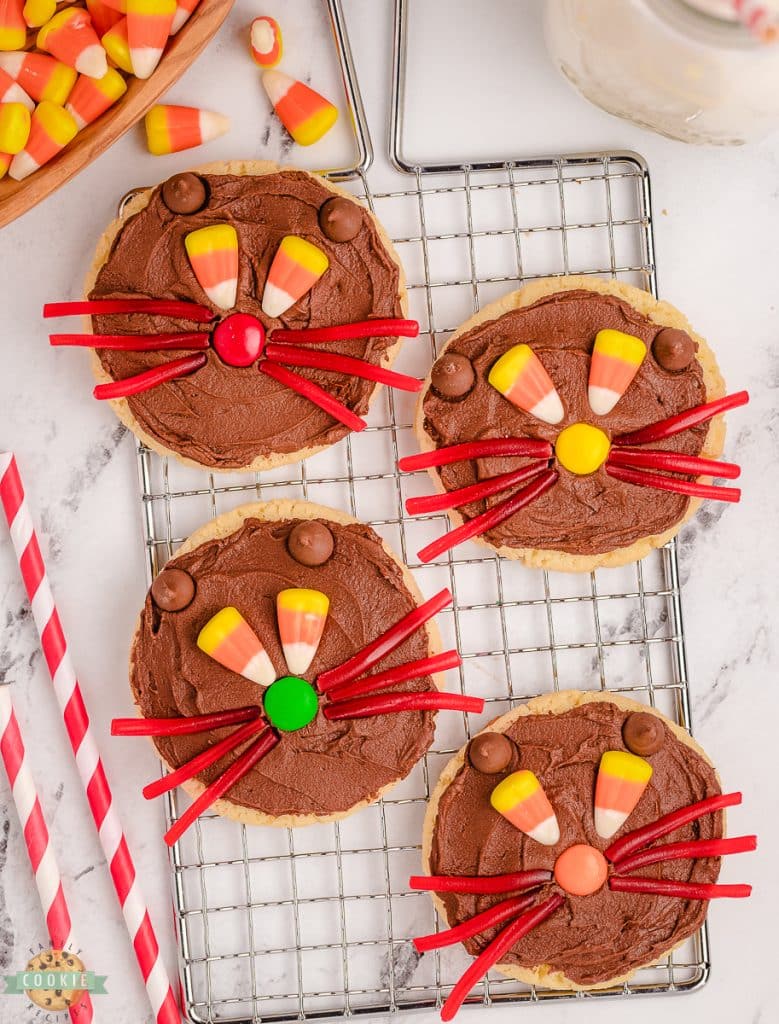 HOW DO YOU SOFTEN BUTTER?
I like to soften butter by using the defrost function on my microwave. If you need the full 1/2 cup cube of butter, you can leave it in the paper wrapper, otherwise, place the amount of butter you need in a glass or porcelain bowl. I use the lowest defrost setting on my microwave and just let it run for 20 seconds. Check the butter and see how soft it is by pressing it with a rubber scraper. If it is still not soft to the touch, meaning it doesn't indent when you press into it, let it warm for another 5-10 seconds. Watch it closely! Butter softens very quickly.


I love, love, love that my kids get to see and form relationships with their cousins! I don't even remember what game they were playing, but they were completely entertained and enjoying one another's company for a while. Cousins are the best friends!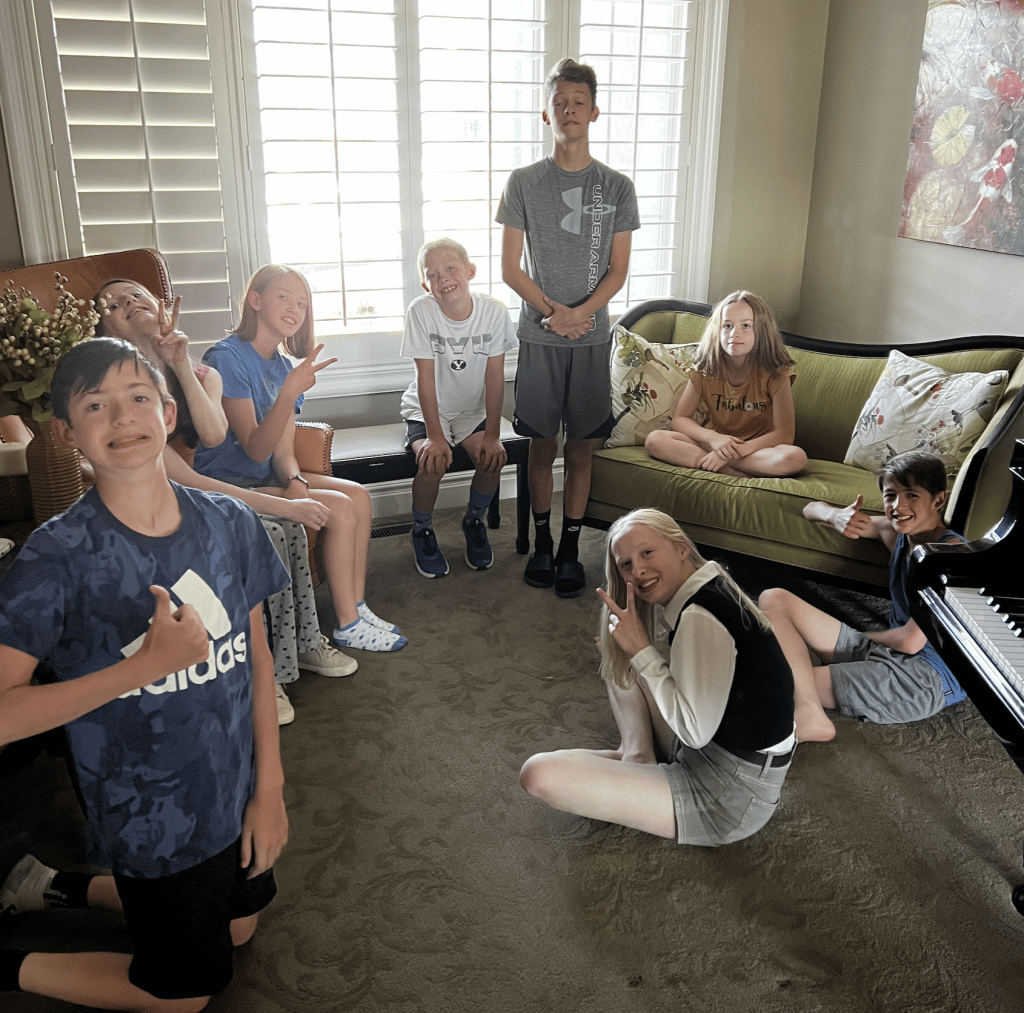 Check out more Halloween recipes here that you will love!
Halloween Cat Cookies are a festive cookie that is so fun to make and delicious too! These cat Halloween cookies are made simply using a packaged cookie mix, a delightful buttercream frosting and sweet candy pieces.