Linzer Cookies have a rich, buttery flavor and festive appearance, they are sure to be a hit with anyone who tries them. The combination of the soft, rich cookie and the sweet jam filling make these Linzer tart cookie a delicious and indulgent treat!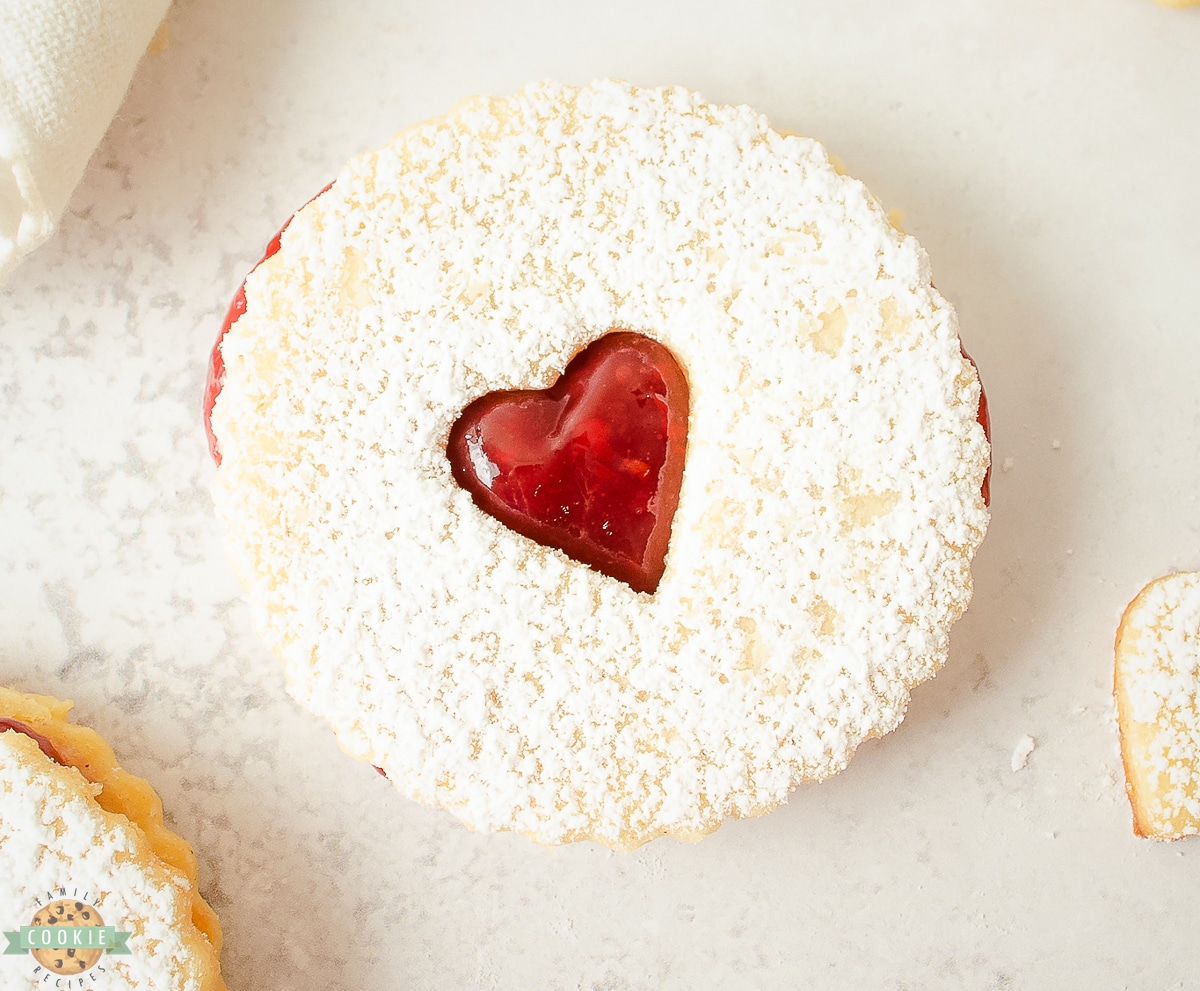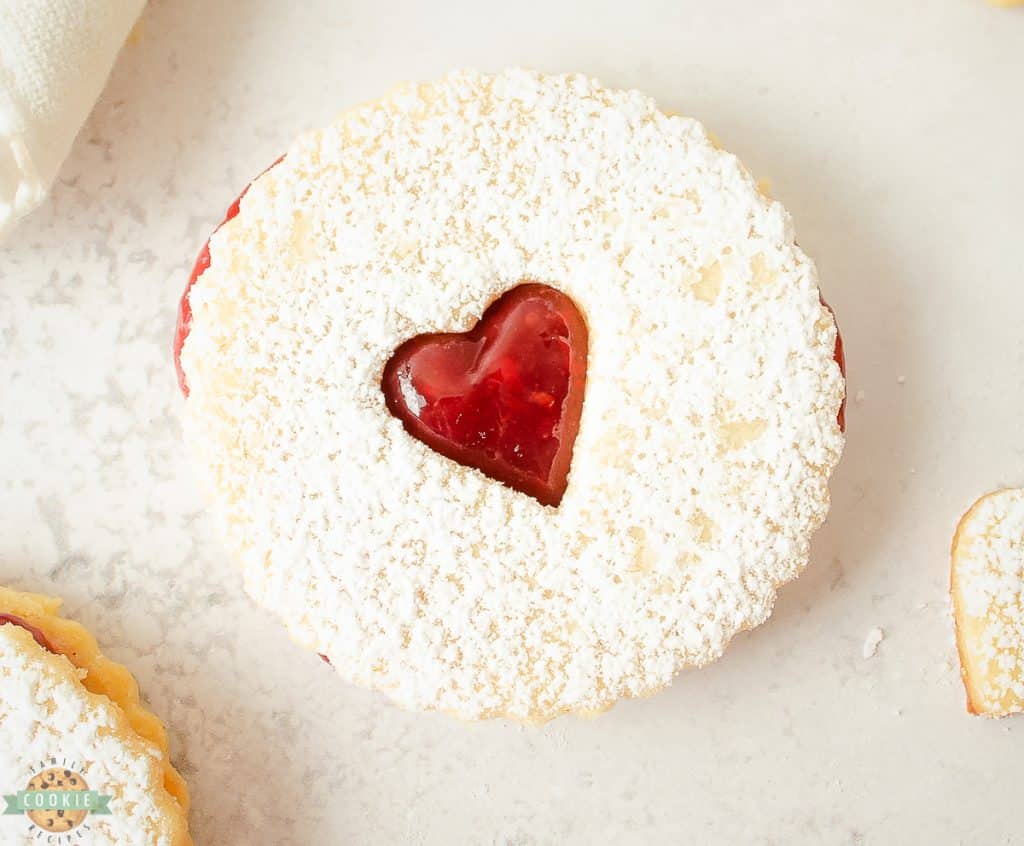 These raspberry shortbread cookies are a classic and elegant treat that are perfect for any occasion. This Linzer cookie recipe is easy to make and can be customized with different shapes and flavors of jam. Whether you are looking for a festive holiday treat or a beautiful dessert for a special occasion, these cookies are sure to impress!
What Are Linzer Cookies?
Linzer cookies are a traditional Austrian dessert that is enjoyed all around the world. The name "Linzer" comes from the city of Linz in Austria, where this cookie originated in the 17th century. Linzer cookies are known for their distinctive shape, which is round with a scalloped edge and a small cutout in the center. The cutout is usually in the shape of a heart or a star.
Over time, variations of the Linzer cookie recipe have emerged, with some having a flavored cookie dough, and others using different types of jam or fillings. However, the basic shape and concept of the Linzer cookie have remained the same.
These sweet treats are often served as a festive dessert or given as gifts to friends and family during the holiday season. Whether enjoyed as a classic raspberry-filled cookie or with a twist, Linzer cookies continue to be a beloved treat for all ages. Give them a try today and see for yourself just how delightful they are!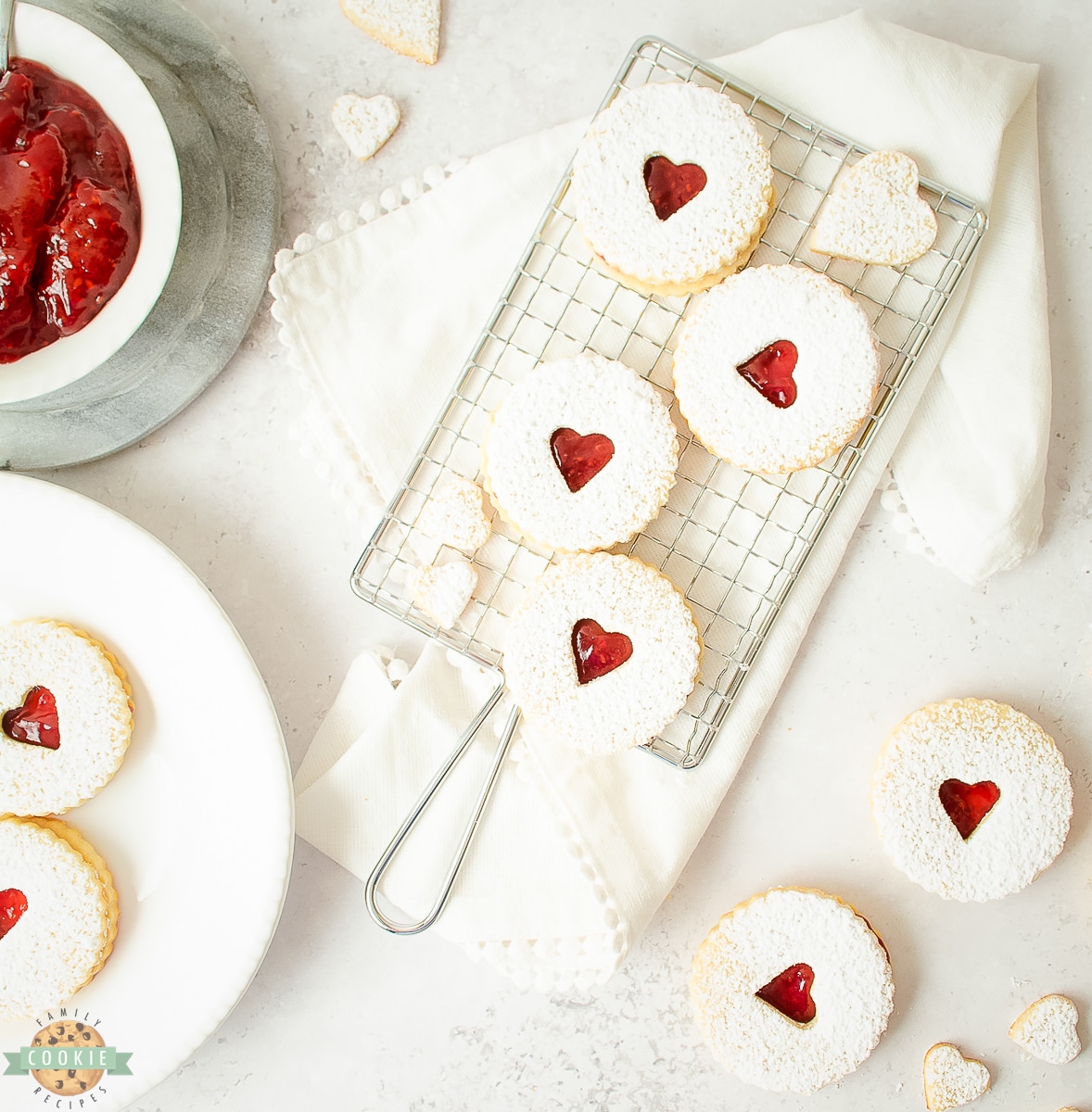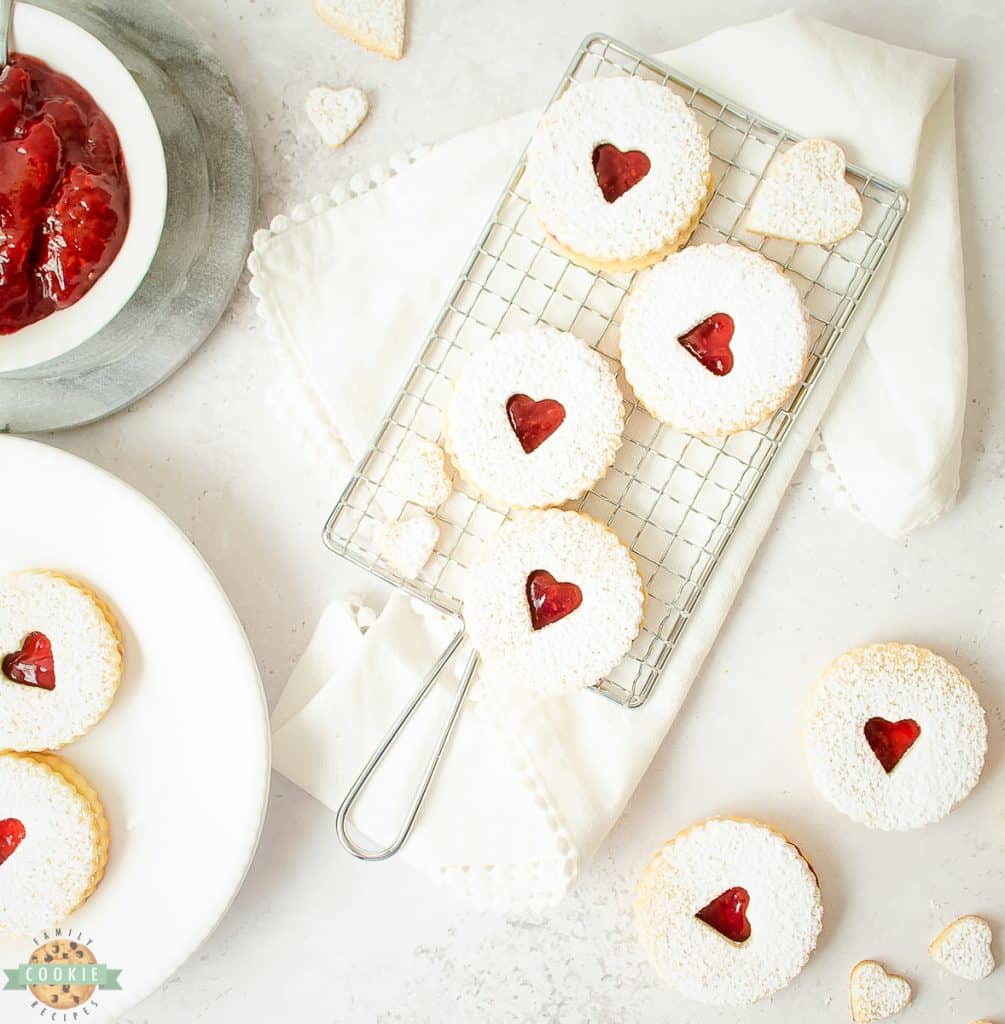 Why you'll LOVE this Simple Cookie Recipe
Easy to Make: This recipe is simple and straightforward, with easy-to-follow instructions that anyone can follow. The dough comes together quickly and easily, and can be made ahead of time and stored in the refrigerator or freezer until you are ready to bake. This makes them a great choice for busy bakers who want to whip up a batch of delicious cookies without spending hours in the kitchen.
Versatile: Linzer cookies are incredibly versatile and can be customized to suit your tastes. You can use different types of jam or preserves to fill the cookies, or experiment with different shapes and sizes. They are also a great choice for holiday baking, as they can be cut into festive shapes and decorated with icing or sprinkles.
Delicious: There's no denying that these cookies are absolutely delicious. The combination of buttery cookie and raspberry jam is a classic flavor pairing that is sure to please, and the rich, crumbly texture of the cookies is irresistible. Whether you are serving them as a special treat for guests or enjoying them with a cup of tea or coffee, these cookies are sure to be a hit.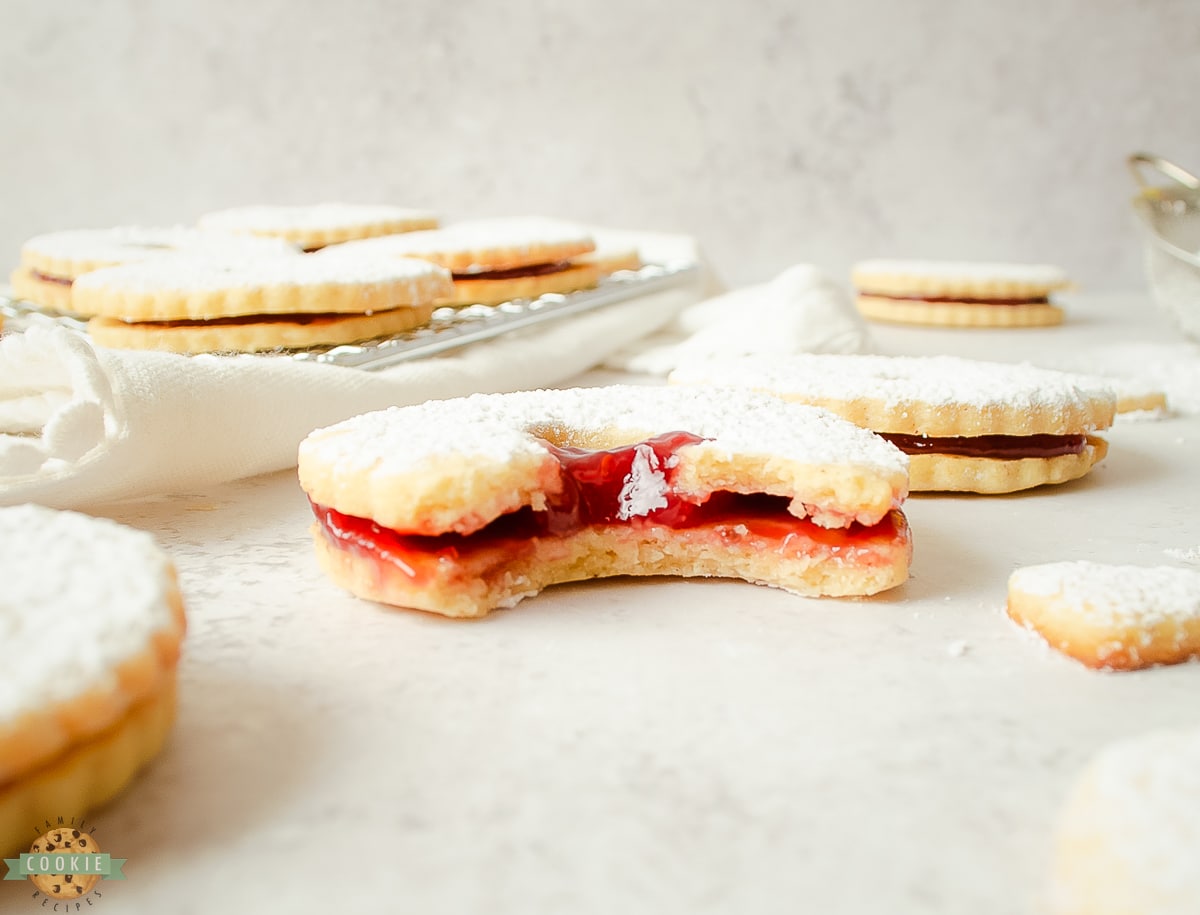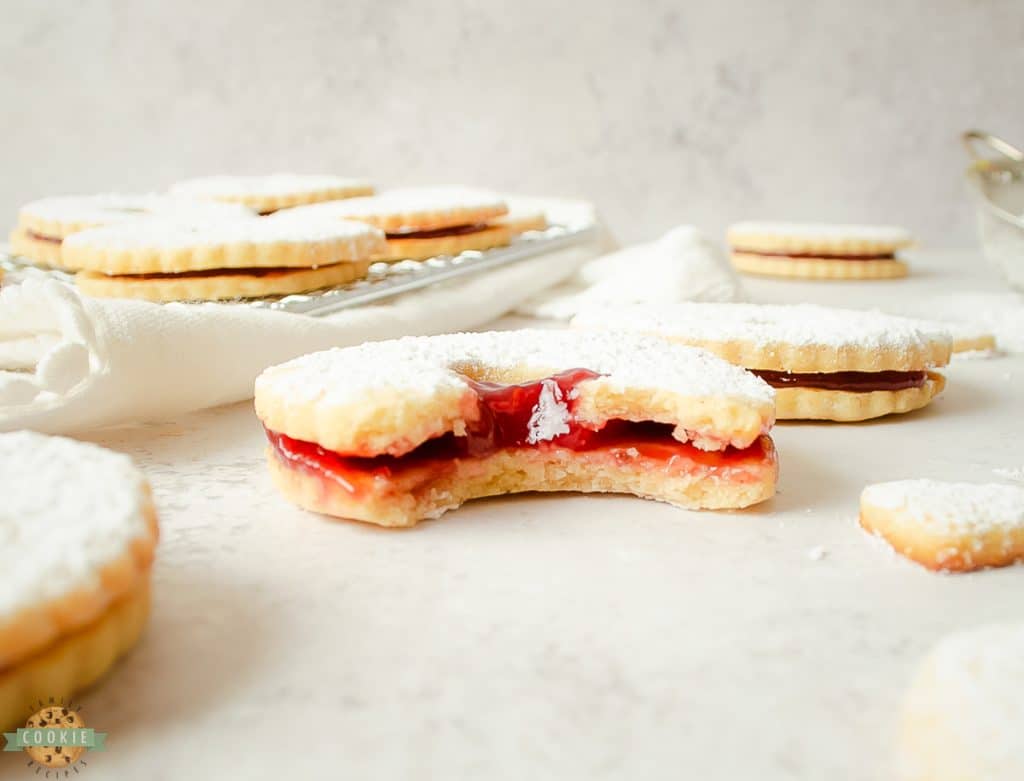 Linzer Cookies Ingredients
Flours: You will need a little more than 1 ¼ cups of all-purpose flour for the recipe and dusting, as well as ¾ cups of almond flour to give these cookies the perfect texture.
Salt: Use ½ teaspoon of fine sea salt for enhancing the flavors in the cookies.
Cinnamon: By adding in ½ teaspoons of ground cinnamon it gives the cookies a nice warmth of spice in every bite.
Butter: You need ¾ cups of unsalted butter, room temperature, this is equal to 12 tablespoons.
Sugar: ½ cup of granulated sugar is needed to make the cookies perfectly sweet and chewy.
Egg: Use 1 egg to bind the dough ingredients together well.
Vanilla extract: Add in 1 teaspoon of vanilla extract to make these treats taste even better. High-quality vanilla will add an even stronger flavor.
Jam: Using ½ cup of raspberry jam as the filling in the cookies gives them a great pop of color and even more amazing flavor.
Powdered sugar: For a beautiful appearance, use a little sifted powdered sugar over the top of the cookies before serving.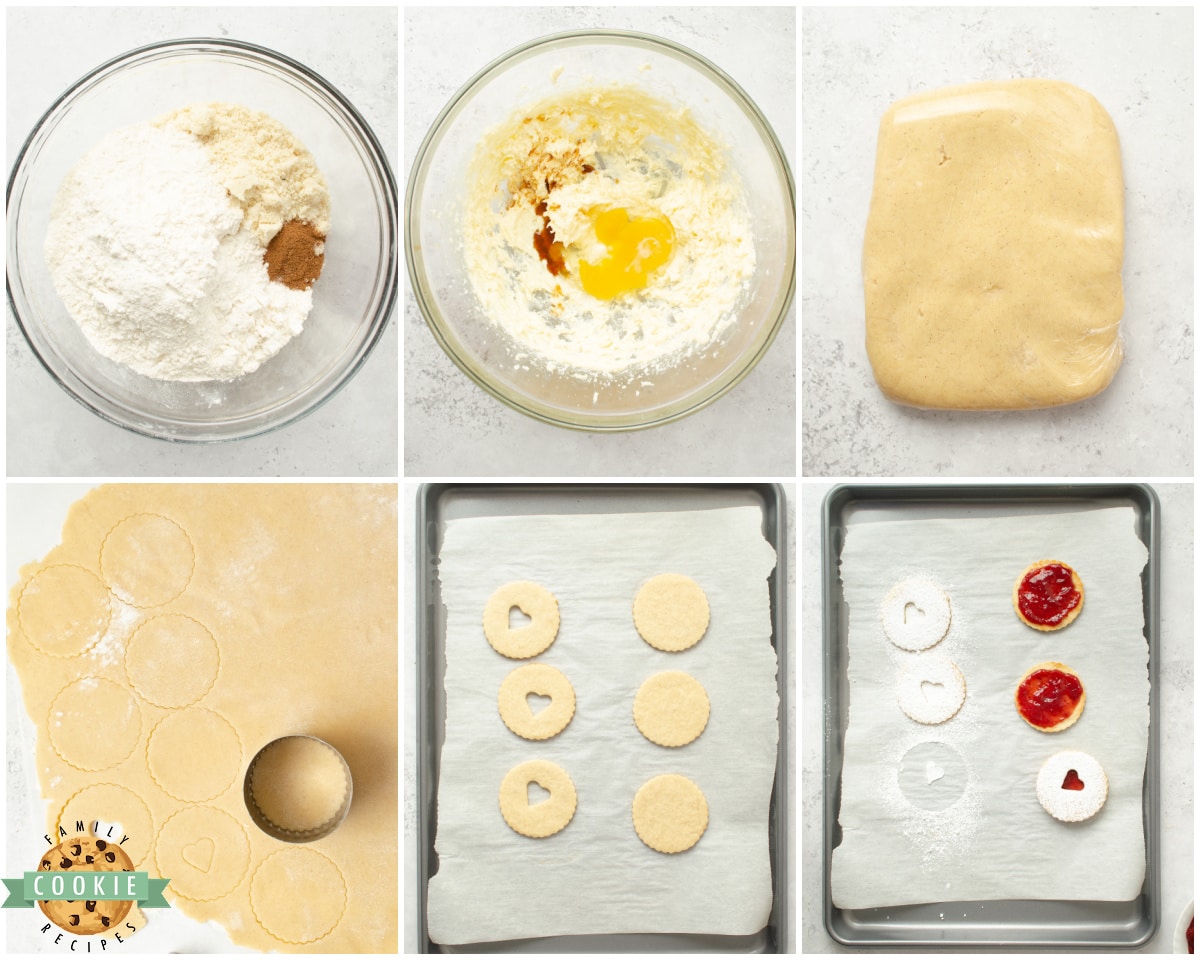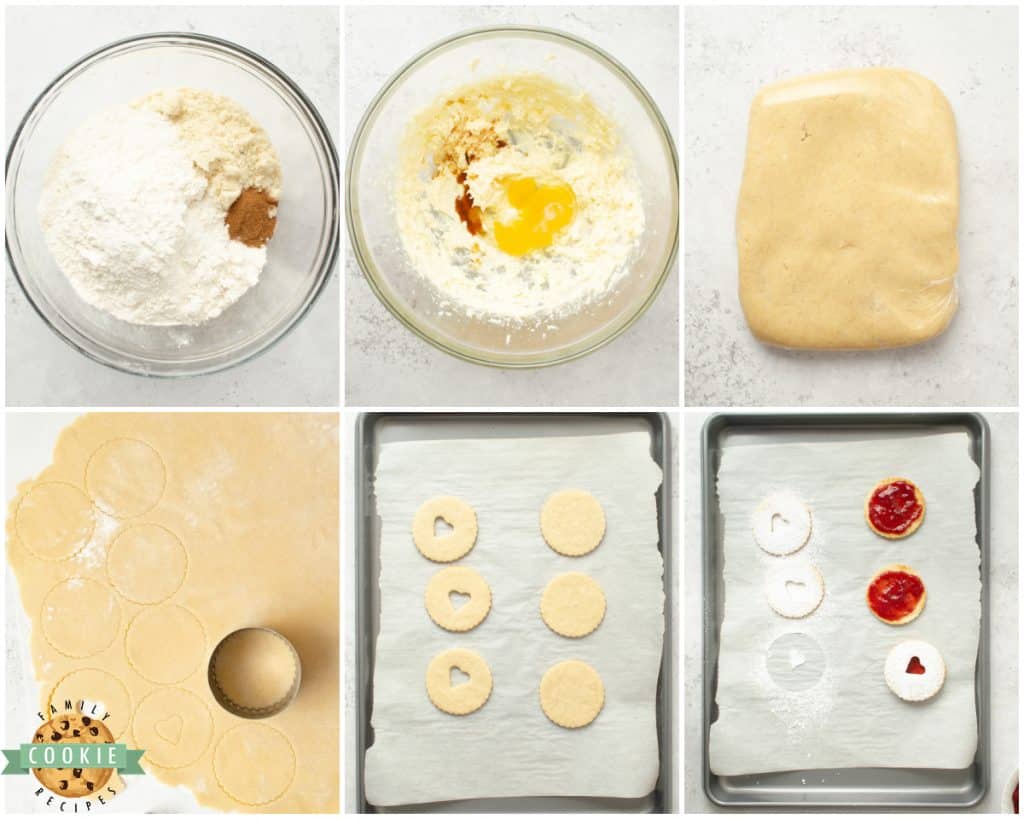 How to make Linzer Cookies
Cookie dough
In a small bowl, whisk together both types of flour, salt, and cinnamon until combined, and then set it aside.
Next, in the bowl of a stand mixer that was fitted with a paddle attachment, or in a mixing bowl with a hand mixer, cream the softened butter and sugar, on medium speed, until light and fluffy. This usually takes about 3 to 5 minutes.
Then, add in the egg and vanilla extract and mix again until combined.
Using a rubber spatula, fold in the dry flour mixture into the butter mixture and stir to incorporate. The dough will look dry at first, but as you mix, it will hydrate and look more uniform.
Chill
Proceed to spread the dough out onto a piece of plastic wrap and press it out into a flat disc. Wrap it in the plastic wrap until well covered.
Then place the dough into the fridge and let it chill for 1-2 hours or until firm.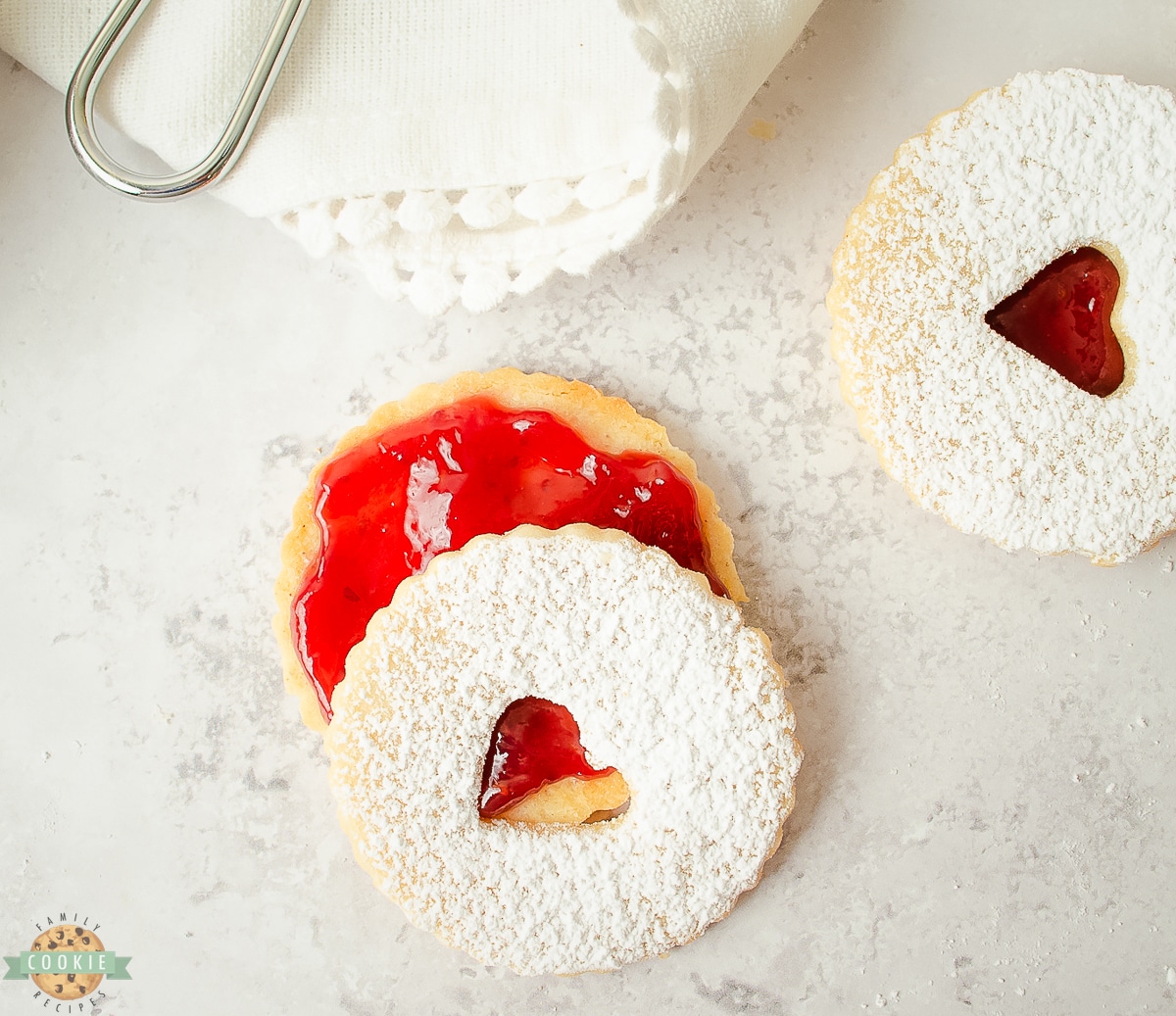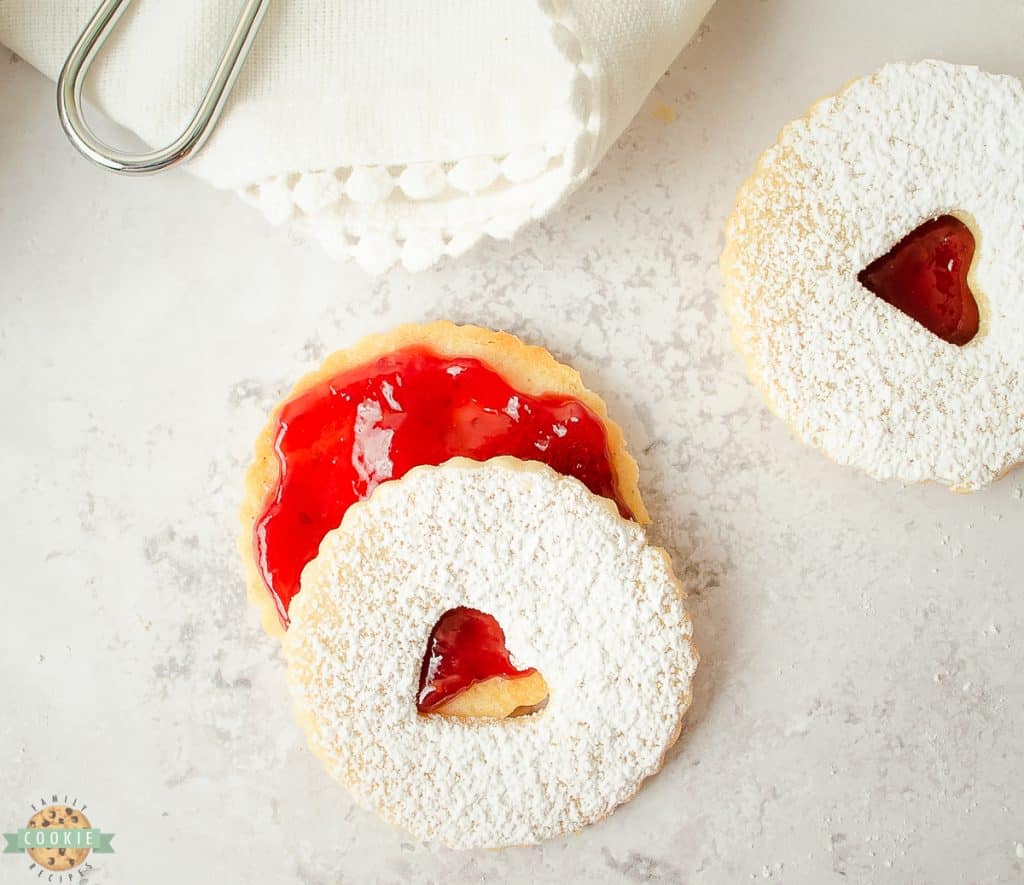 Prep
When you are ready to bake the cookies, prepare two baking sheets by lining them with parchment paper and then set them aside.
Start to preheat the oven to 350 degrees F.
Shape
Next, roll out the dough onto a floured surface until it is 1/8 of an inch thick.
Use a 2.75-inch round cookie cutter to cut out the cookie shapes.
After that, use a small heart-shaped cookie cutter or another small cookie cutter shape, to cut holes out of the center of half of the cookies. Each cookie will have a top and bottom, the top cookie will have the center cut out.
Continue to gently transfer the cookies to the baking sheets and keep them spaced at least 1 inch apart from each other.
Reroll and cookie dough scraps and cut more cookies, making sure to get half of the cookies to have their centers removed, as before. If the dough is too warm to handle, place it into the fridge to firm up again.
Bake
Place the cookies in the preheated oven and bake for 8-10 minutes or until the edges are just beginning to brown and the middle of the cookies look set and no longer shiny. These cookies are thin so they can burn quickly, so be sure to watch them closely.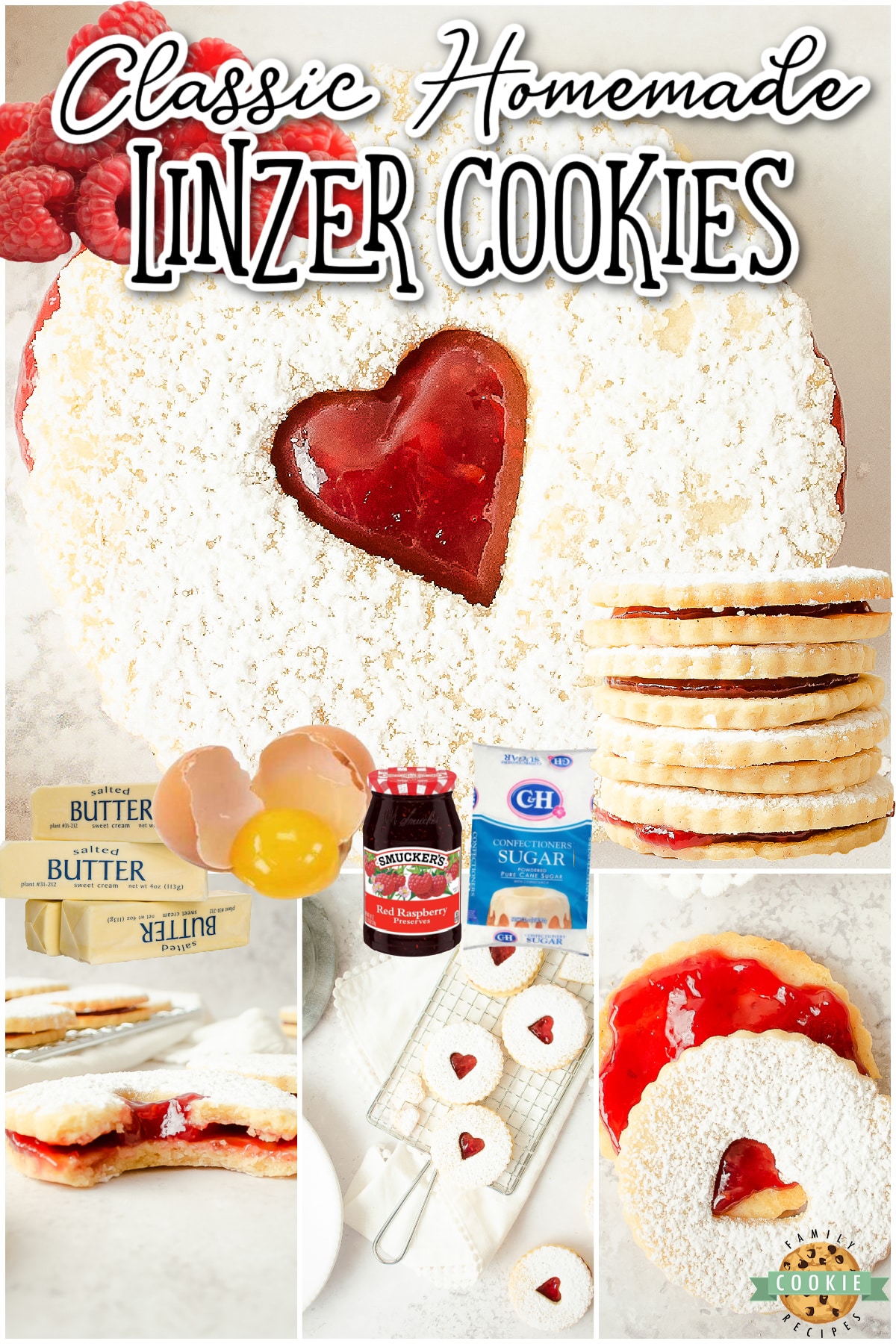 Assemble
Allow the cookies to cool on the baking sheet for about 5 minutes or until they are firm enough to be transported to a wire rack to continue cooling.
Then, place all of the cookies with their center holes removed onto a baking sheet or another easily cleanable surface.
Dust the tops of these cookies with powdered sugar by running it through a fine-mesh sieve.
Spread about ½ a teaspoon of jam onto the bottom side of the cookies that do not have holes cut from them.
Proceed to sandwich the cookies together with the powdered sugar-coated top pieces.
Serve immediately and enjoy these beautiful and tasty treats!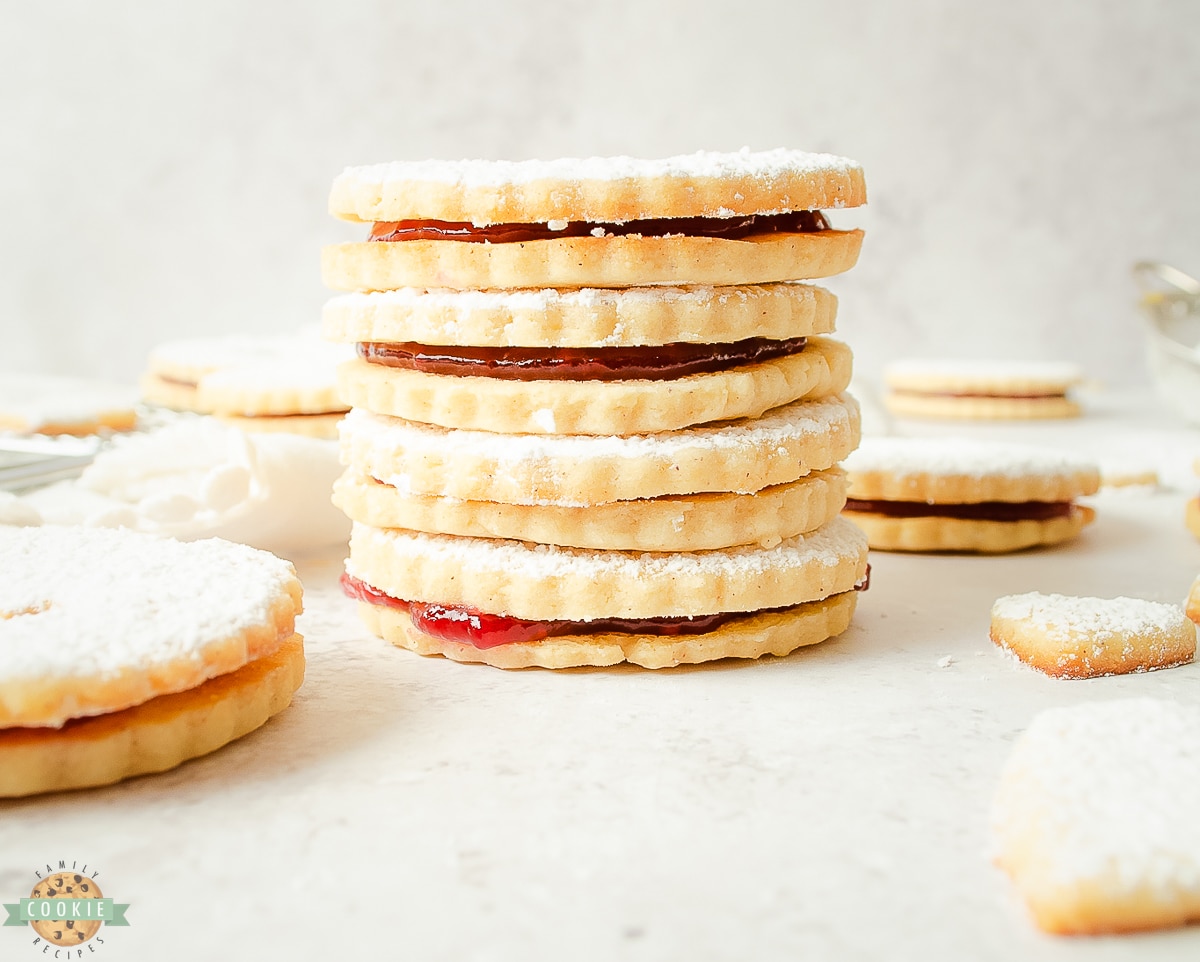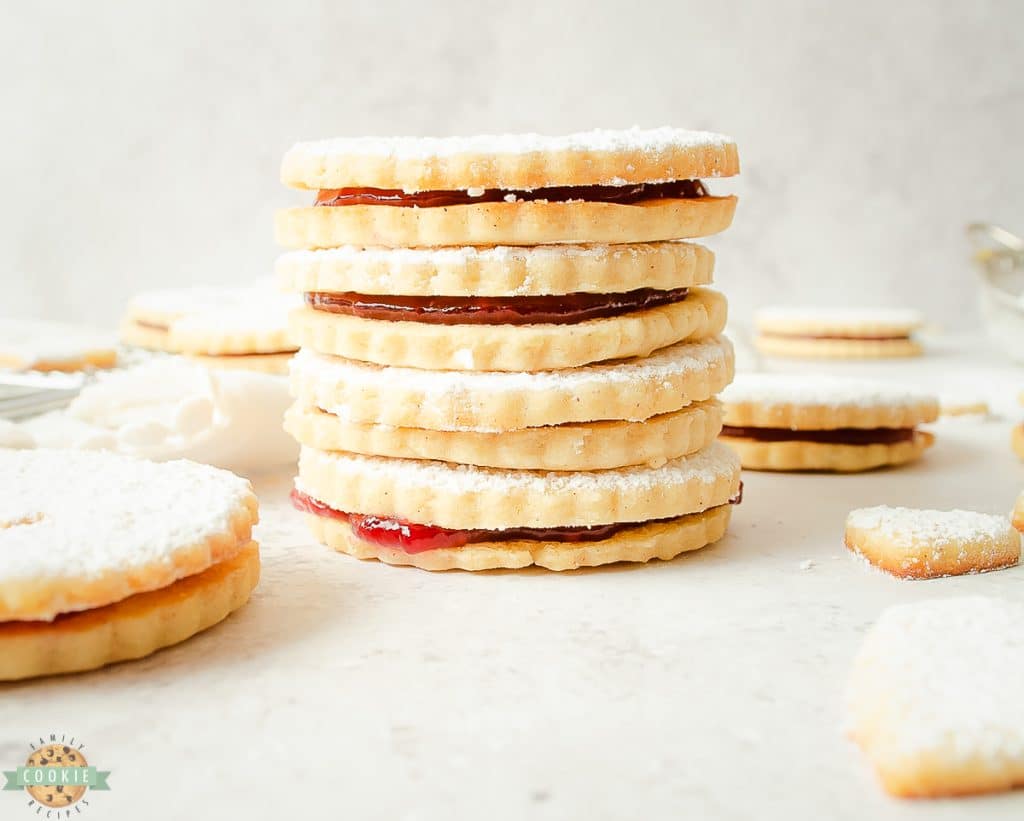 Variations of Linzer Cookies
While the traditional recipe for Linzer cookies is delicious, there are many variations that can be made to create unique and flavorful cookies. Here are a few examples:
Chocolate Linzer Cookies: For those who love chocolate, adding cocoa powder to the dough can create a rich and decadent cookie. The chocolate dough can be paired with any fruit jam, but raspberry or cherry jam are particularly delicious.
Hazelnut Linzer Cookies: For a delightful taste, hazelnuts can be used to create a nutty and flavorful cookie. Hazelnut Linzer cookies pair well with apricot or peach jam.
Spiced Linzer Cookies: Adding warm spices like ginger, nutmeg, and cloves to the dough can create a cozy and comforting cookie. Spiced Linzer cookies are perfect for the holiday season and can be paired with any fruit jam.
Lemon Linzer Cookies: For a bright and citrusy twist on the classic, lemon zest can be added to the dough. Lemon Linzer cookies pair well with strawberry or blueberry jam.
How long are Linzer Cookies good for?
Linzer cookies taste the best the day they are made, but they can be stored at room temperature in an airtight container for 3-4 days. The cookies will get softer over time as they absorb some of the moisture from the jam.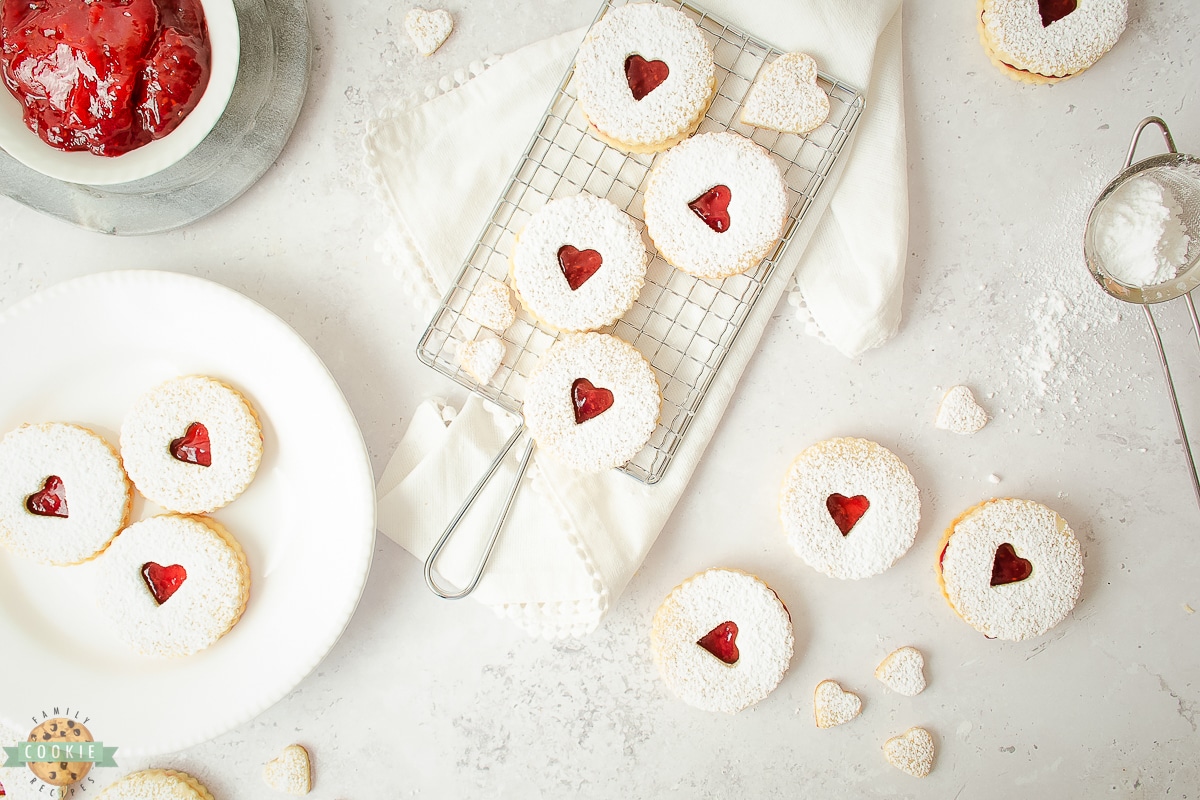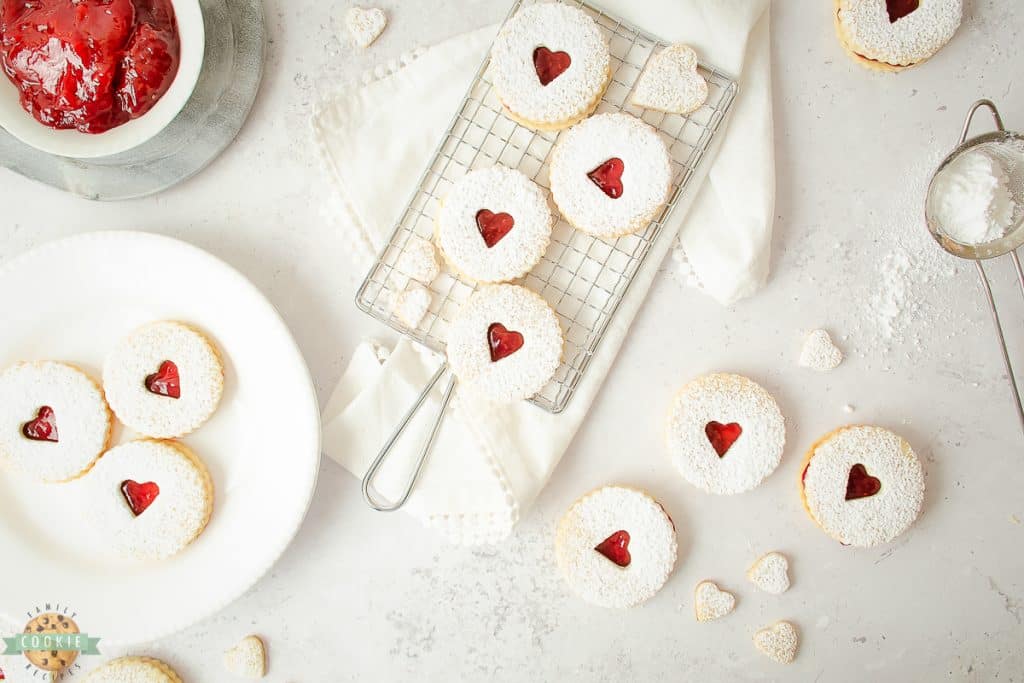 How can I make these cookies ahead of time?
The dough can be made ahead and stored tightly wrapped in the fridge for about 5 days or in the freezer for about 2 months.
If you are storing it in the freezer, place the wrapped dough inside of a freezer ziplocked bag to prevent freezer burn. You can also store the cookies unfilled at room temperature for about 2 days and fill them before you are ready to eat them. This prevents them from getting too soft.
Common Mistakes and Solutions for Linzer Cookies
One common mistake when making Linzer cookies is overbaking them, which can cause them to become dry and hard. To avoid this, be sure to keep a close eye on your cookies while they are in the oven, and remove them as soon as they start to turn golden brown around the edges.
Another mistake is not chilling the dough for long enough before cutting it into shapes. This can cause the dough to become too soft and difficult to work with. To avoid this, chill the dough for at least an hour before rolling it out and cutting it into shapes.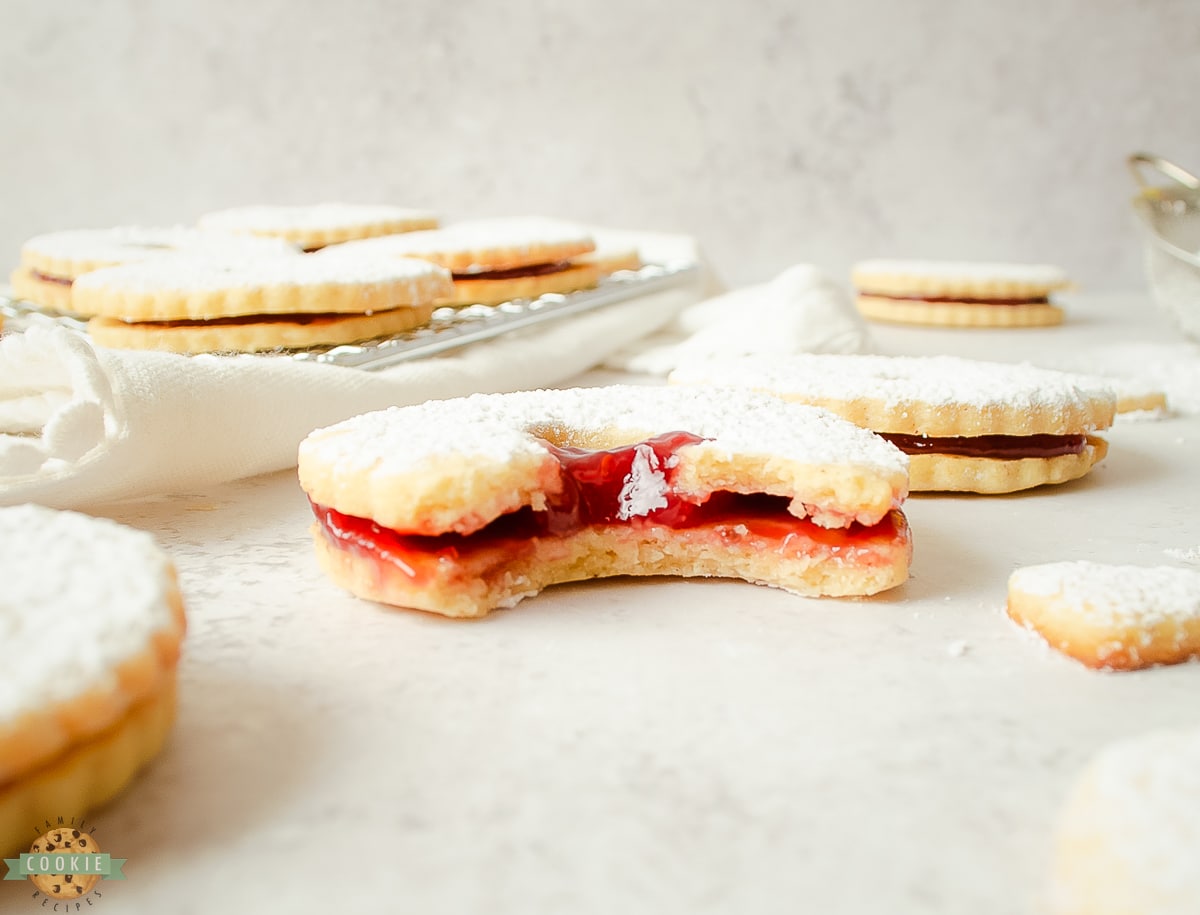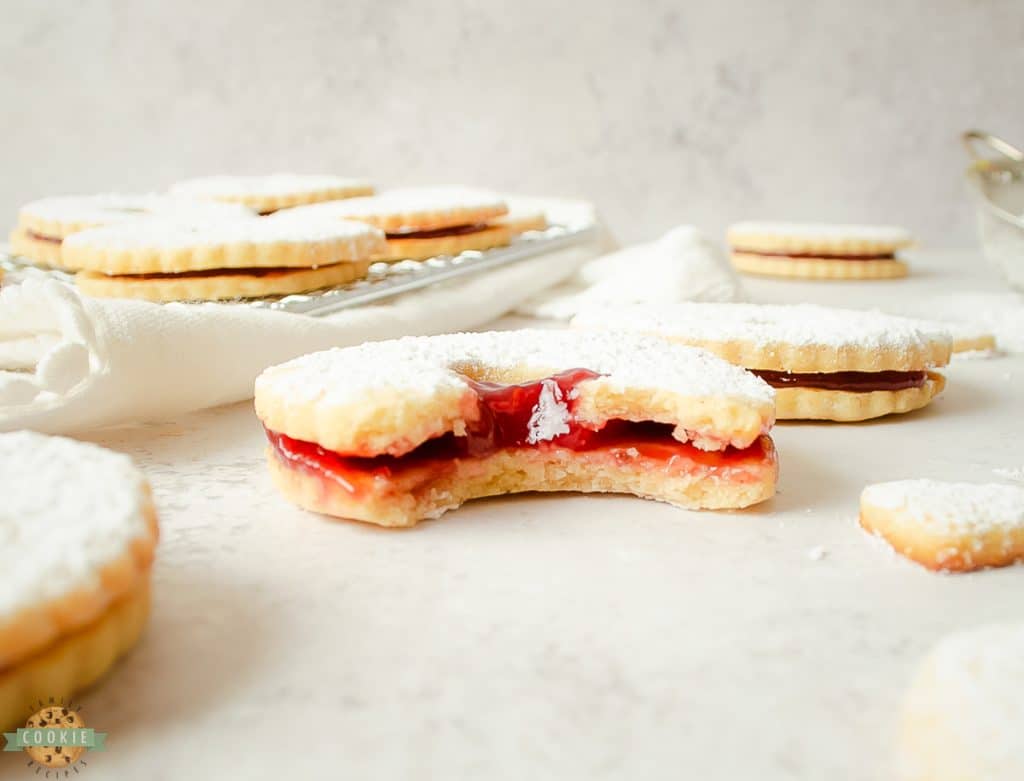 Can I use a different cookie cutter?
Yes! You can try out different shapes for the overall cookie and the cutouts. You can also change the size of the cookies pretty easily. There are also cookie cutters made specifically for Linzer cookies that have the middle cut out attached to the outside ring. This ensures that the cutout is centered every time.
Make sure if you change the shape and size of the cookies that you monitor them closely as they are baking because the bake time will change. I also enjoy baking up the little heart cutouts as a decoration for a cookie platter or a chef's snack no one needs to know about!
What are the best Linzer cookie cutters?
The best Linzer cookie cutters are those that are made of sturdy materials, such as stainless steel. They should also have a sharp edge to ensure that they cut through the dough cleanly. Look for cutters that come in a variety of sizes and shapes, so that you can create a variety of Linzer cookies.


Here is Scout, happily modeling a hat my son made in a class at school! Such a good pupper!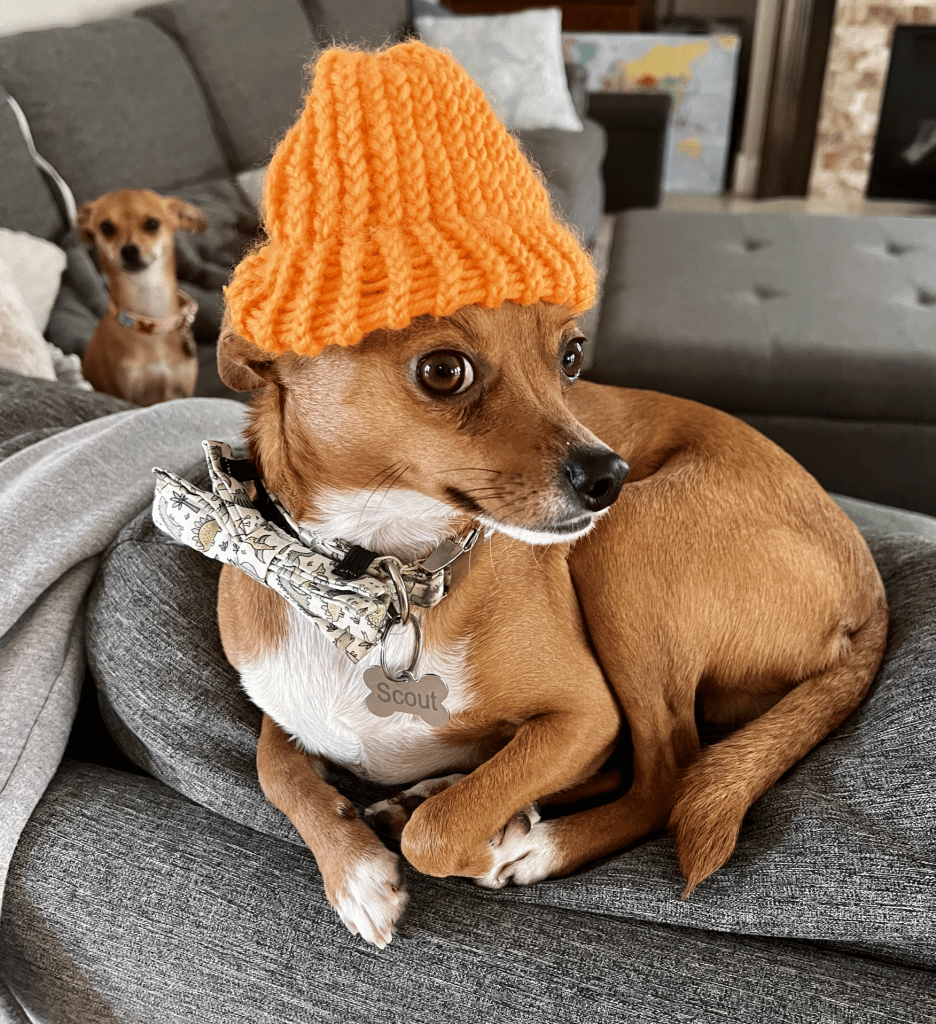 Linzer Cookies are a fantastic holiday treat that should to be at every Christmas cookie exchange. This linzer cookie recipe is made with a lovely shortbread cookie dough and a smooth jam filing.