Sweetheart Valentine Thumbprint Cookies a perfect sweet treat to bake for the ones you love the most! These Valentine cookies are tender, buttery and filled with a sweet berry jam in the shape of a heart.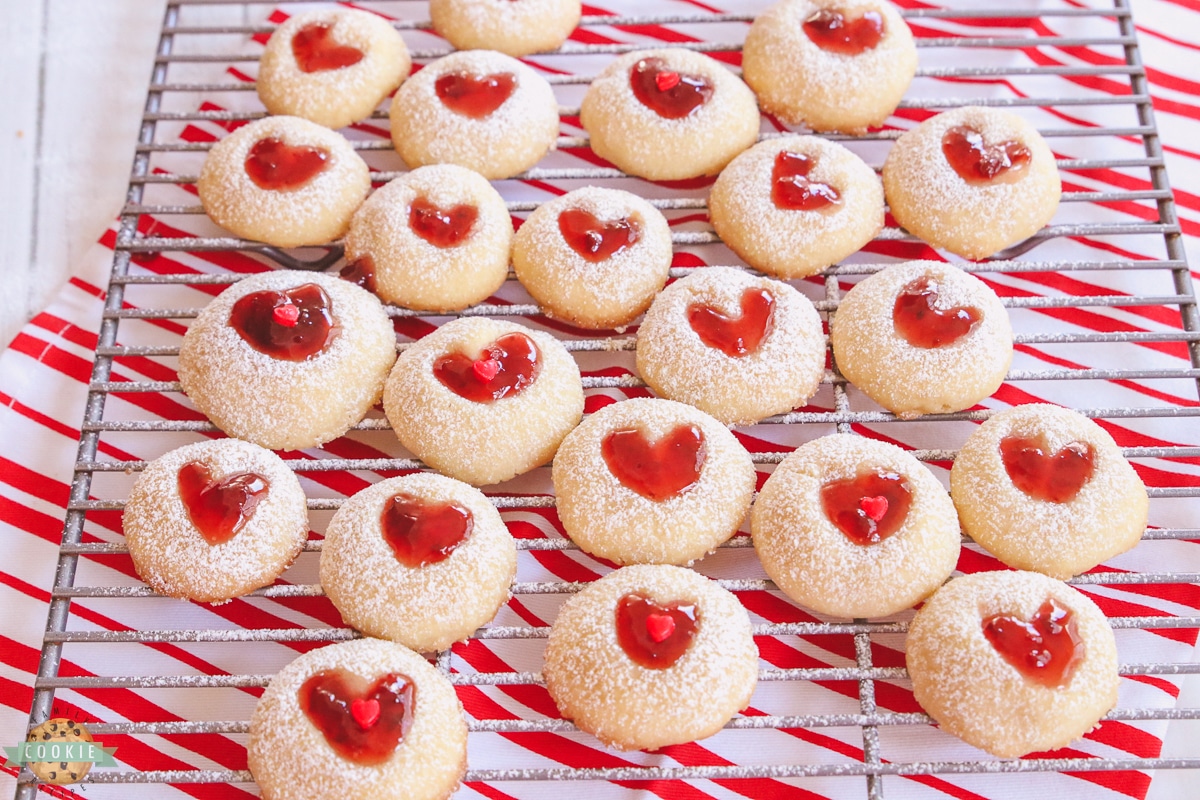 You are going to love this thumbprint cookie recipe because it is so simple to make, it only calls for 6 basic ingredients! These raspberry thumbprint cookies taste phenomenal and are a festive touch to any party or event.
What are heart thumbprint cookies?
Jam thumbprint cookies are usually seen around the Christmas holiday season, but these Valentine's Day thumbprint cookies will have you enjoying these long after the tree has been put away. They are a simple and easy twist on a holiday classic.
While thumbprint cookies are usually round cookies with the centers pressed out. These cookies are made in the same fashion, only instead of giving the cookies a round-pressed center, we give them a heart. This means that every round cookie has a jam-filled heart center that will have you falling head over heels. The best part? It is super easy to do!
Sweetheart Valentine Thumbprint Cookie Ingredients
Butter: You will need 1 ½ sticks of unsalted butter at room temperature, this is ¾ cups of butter.
Sugar: Use ½ cup of powdered sugar to make the cookie dough sweet. We also use additional powdered sugar for dusting on the cookies later, if desired.
Vanilla extract: You need ¼ teaspoon of pure vanilla extract to help enhance the flavors in these cookies.
Salt: Adding in ½ teaspoon of salt will help to boost the flavors in the cookie dough.
Flour: Use 1 ½ cups of all-purpose flour for the base of this cookie recipe.
Jam: You will need about ¾ cups of jam to fill these cookies with. I recommend red or pink-colored jams like raspberry or strawberry, but whatever your favorite is will be delicious.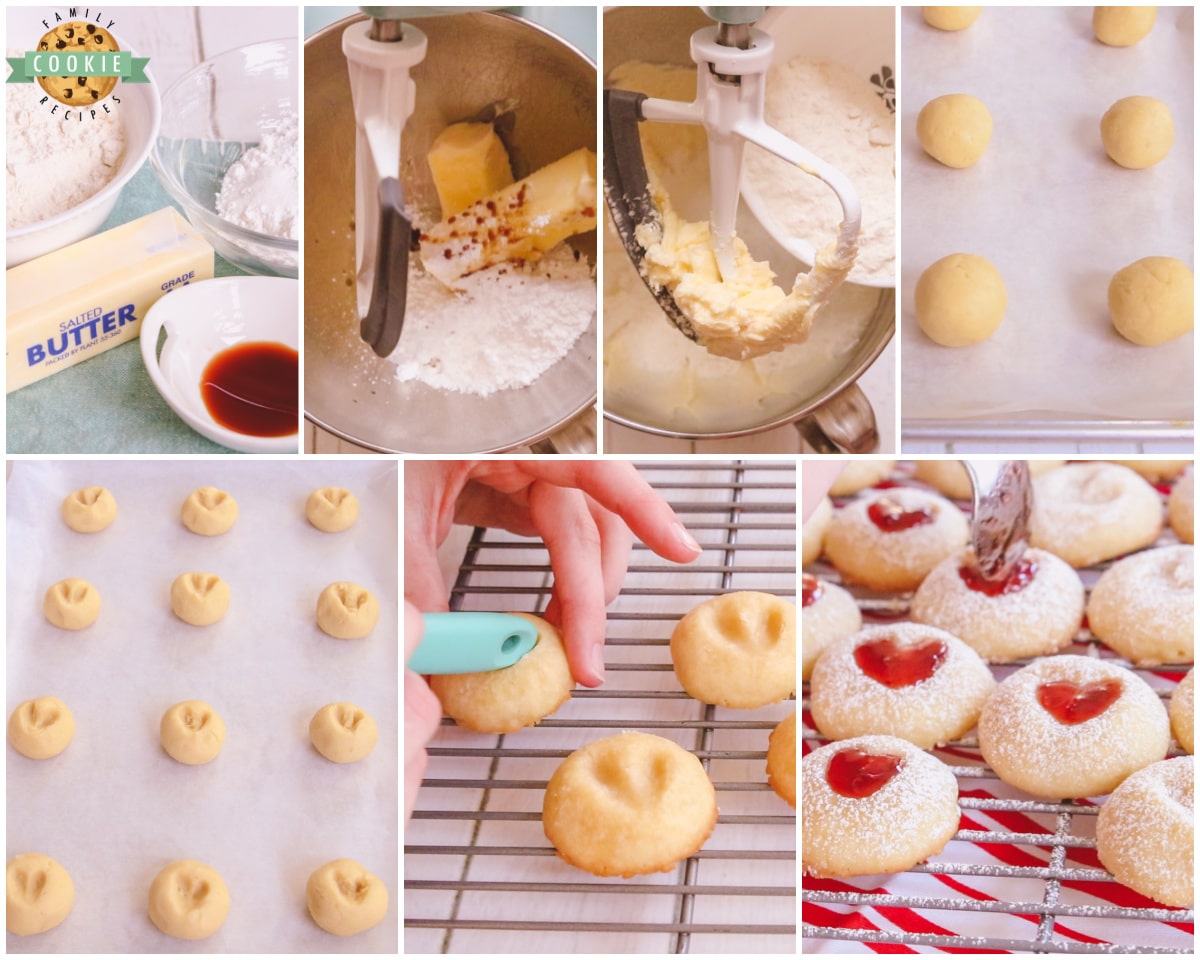 How to make Valentine Thumbprint Cookies
Prep
Get started by preheating the oven to 350 degrees F.
Then, line a baking sheet with parchment paper or a silicon mat and set it aside. If you do not have parchment paper, spray the baking sheet with non-stick cooking spray.
Cookie dough
Next, in a medium size mixing bowl, stir together the butter, powdered sugar, vanilla extract, and salt until thoroughly combined. This will take about 1 minute with an electric mixer or 2-3 minutes by hand.
After that, add in the flour and mix again until the dough forms.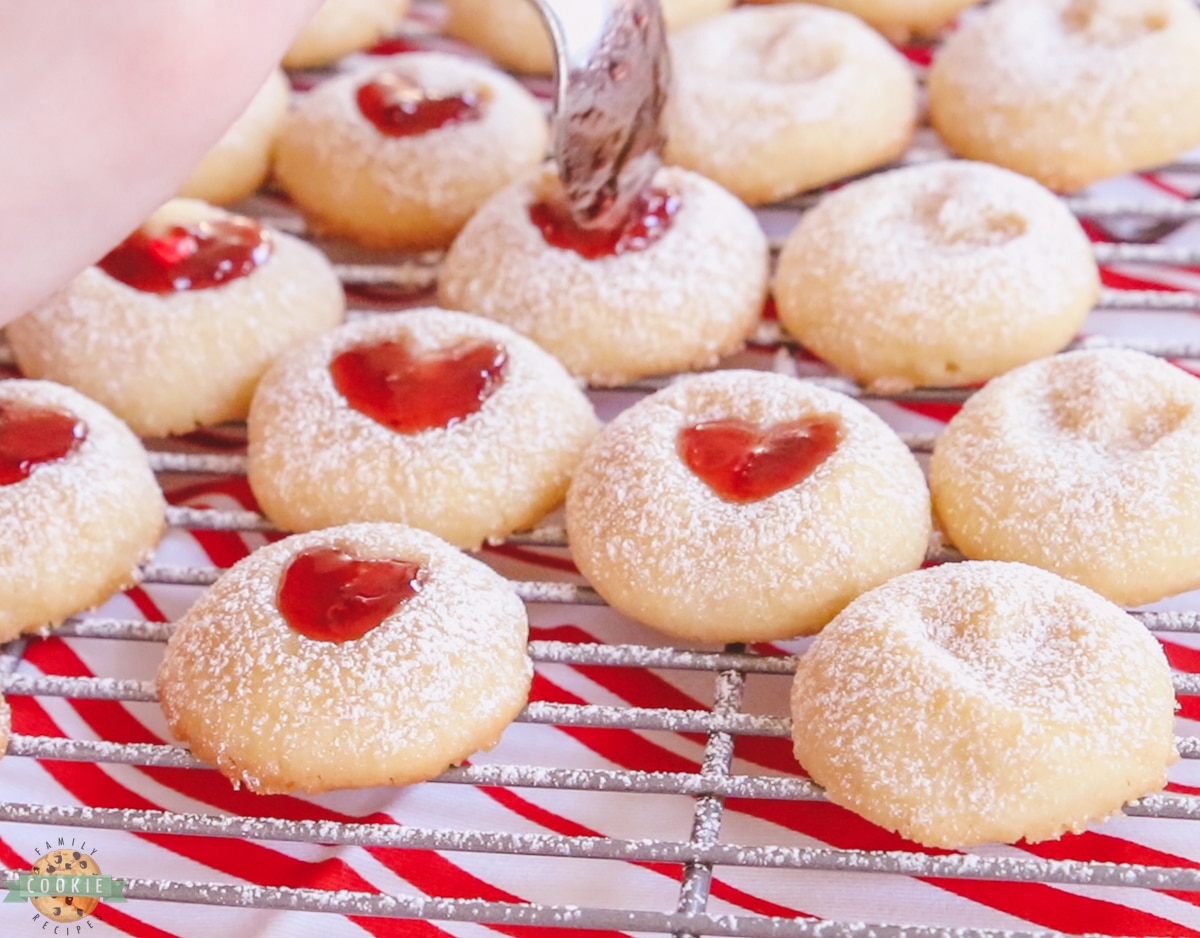 Heart Thumbprints
Next, roll the dough into level-size tablespoon balls of dough.
Place them on the prepared baking sheet, arrange the dough balls 1 inch apart to give them room to spread out.
After that, use the end of the handle on a rubber spatula to press two deep indentations into the center of each cookie dough ball in the form of a V. As they bake, it will puff up and look more like a heart.
Bake
Stick the cookies in the preheated oven and bake for 17-20 minutes or until the bottoms are golden in color.
Let cool for 5 minutes on the baking sheet before transferring to a wire rack and letting cool completely.
Before the cookies have cooled completely, use the handle or the rubber spatula to re-define the hearts by pressing the handle into the indents gently.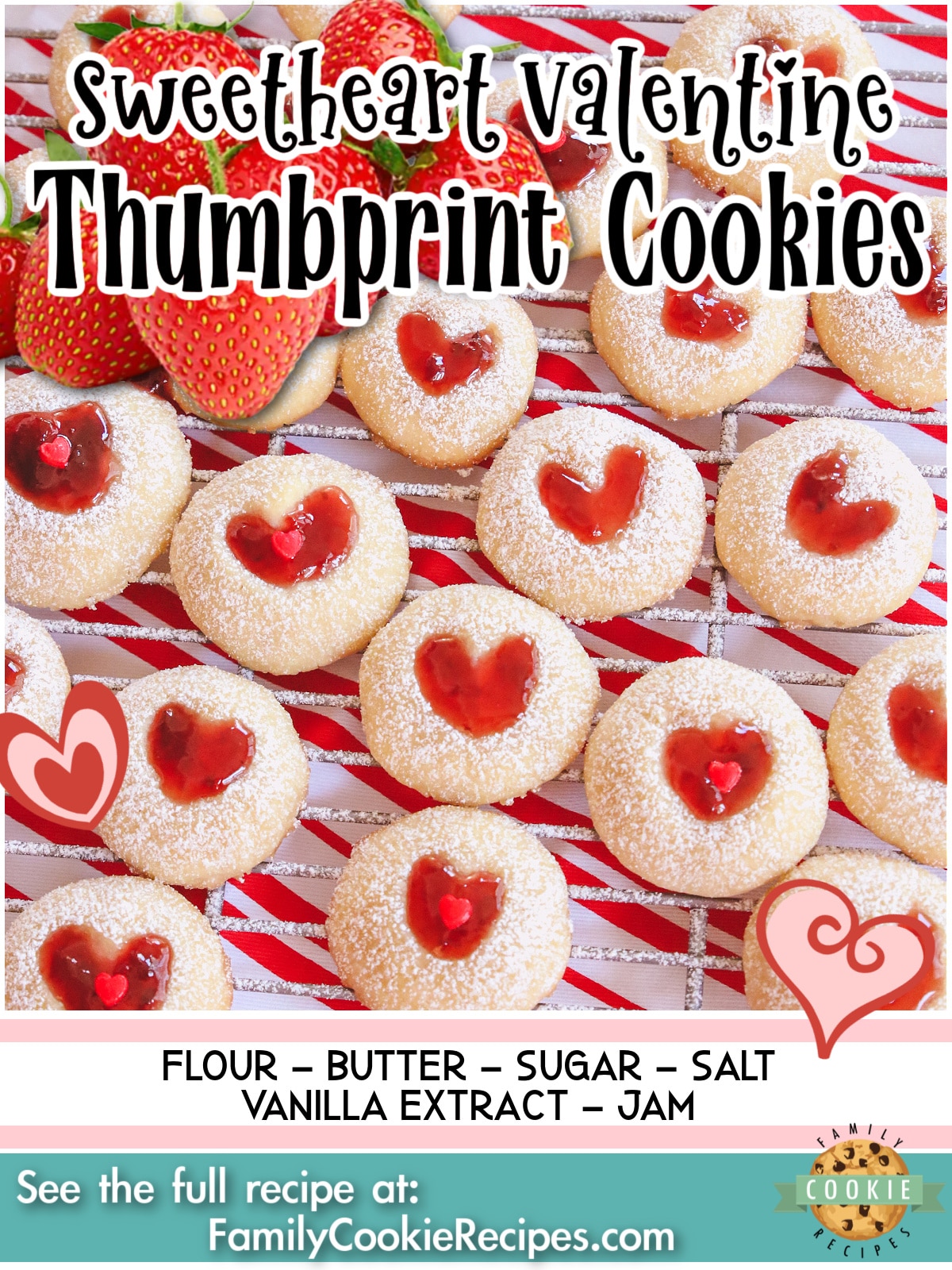 Assemble
In a small bowl, start by heating your chosen jam in the microwave for 30 seconds.
Then, spoon the jam into the heart-shaped indents. This is roughly ½ teaspoon of jam per cookie.
Let the jam set and cool completely before serving the cookies. Serve and enjoy!
How long are heart thumbprint cookies good for?
These cookies can be kept stored in an airtight container at room temperature for up to 5 days. You can also choose to freeze them for up to a month. Make sure that the jam has been set before storing the cookies to help prevent the cookies from sticking together.
What jam is best for thumbprint cookies?
You can use any jam, jelly, or preserves for these cookies but I recommend sticking with the smoother and less chunky options when possible as it is less messy. Some great jam flavor options include blackberry, raspberry, strawberry, apple, blueberry, and apricot.
A tip for applying the jam is to place it into a Ziploc baggie or frosting bag with the corner snipped and piping it into the hearts instead of spooning it in.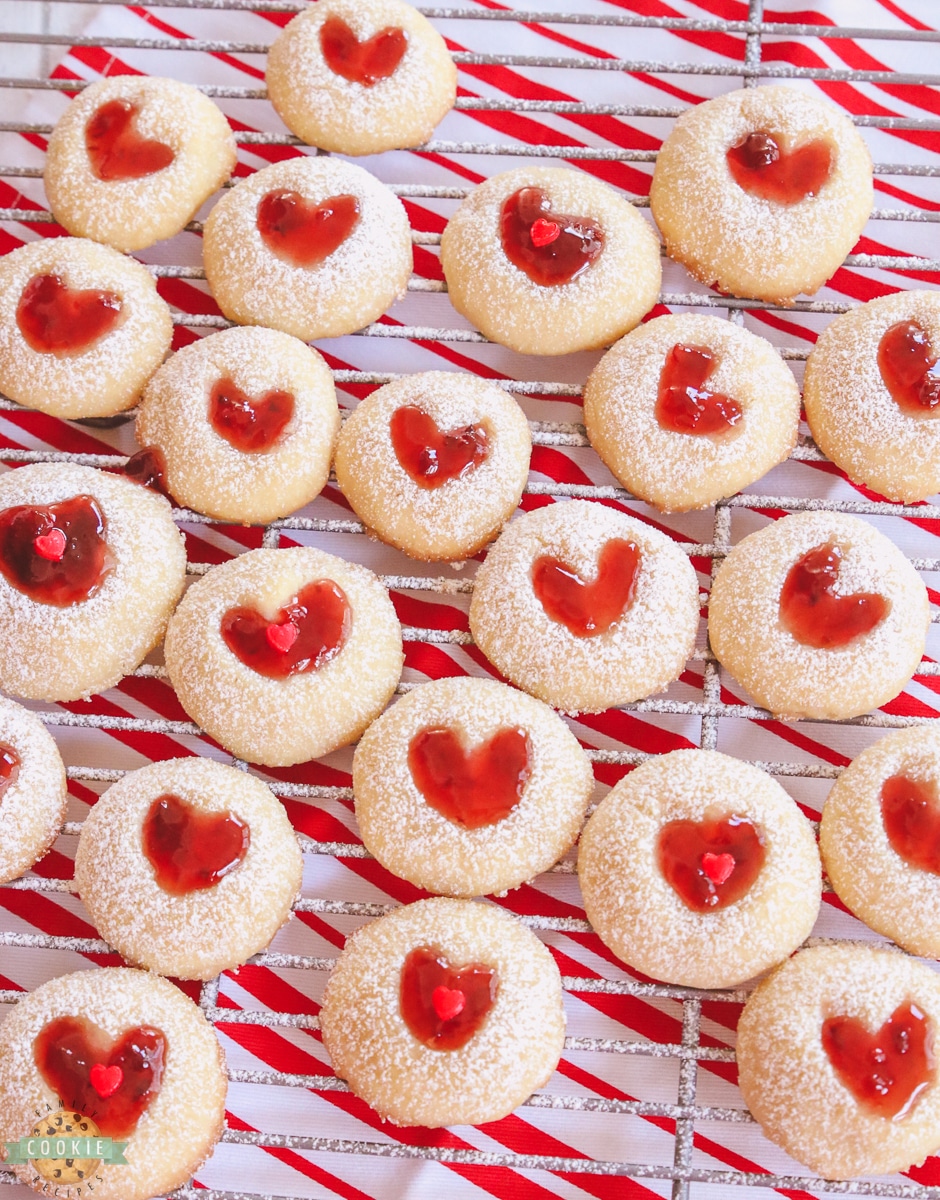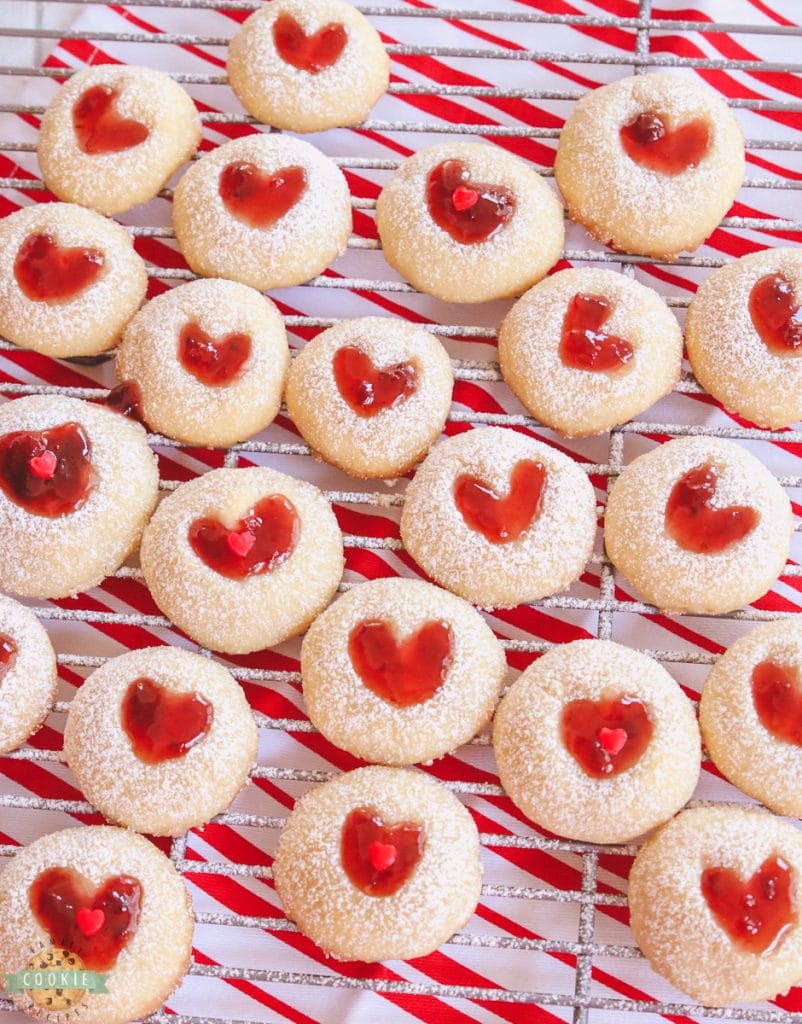 Why are my cookies flat?
The first culprit behind flat cookies is there the butter could have been too soft or even melted. This will make the cookies spread and have a flat appearance. You could consider adding an extra tablespoon of flour to the dough to absorb some of the butter issues. Also, if you placed your cookie dough on a hot cookie sheet that could be the issue too.
Here are more great Valentine's Day Recipes to enjoy this season!

This is my youngest and let me tell you, this was almost a daily occurance! All my kids LOVE to be outside and I try to accommodate as much as possible, living in a snowy climate. Thank heavens for summer! I had to take a picture this time because this happened in record time! He was clean one minute and the next I look at him and think, "how on earth did that happen SO dang fast?" Ha! Sigh. Aren't kids great?! We hosed him off and he's back at it!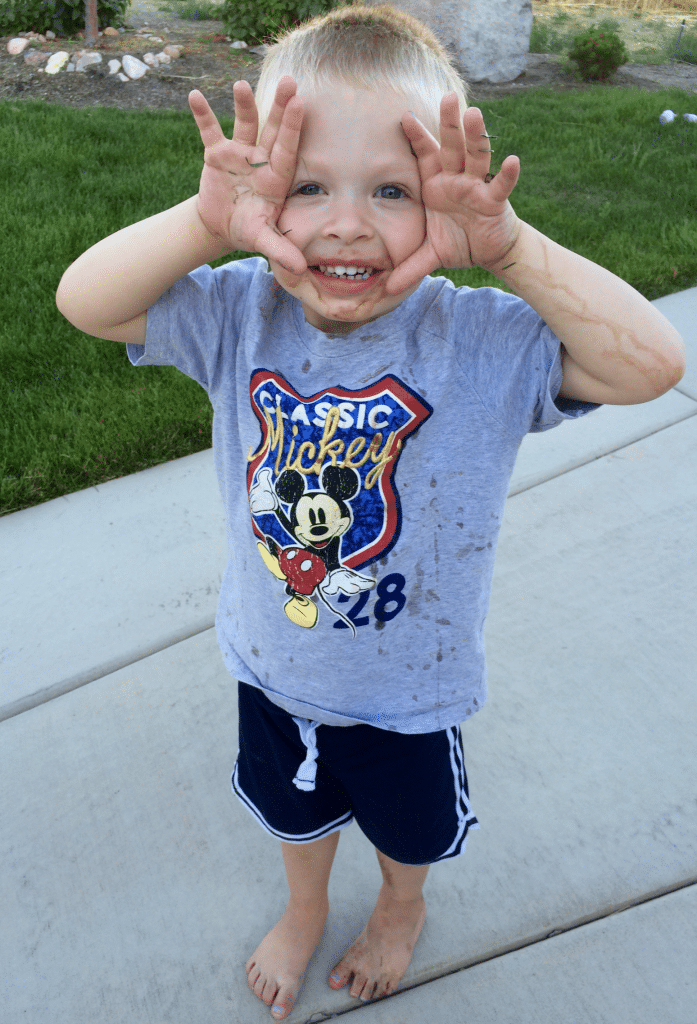 Looking for more great thumbprint cookie recipes? Check out these sweet suggestions!
Sweetheart Valentine Thumbprint Cookies make a fantastic and festive treat to serve to your loved ones on this special holiday! These Valentine cookies are soft, sweet and filled with jam in the shape of a heart.