Valentine Heart Cookies are buttery shortbread cookies dipped in chocolate and topped with Valentine's sprinkles! Simple, classic Valentine's cookies that everyone loves!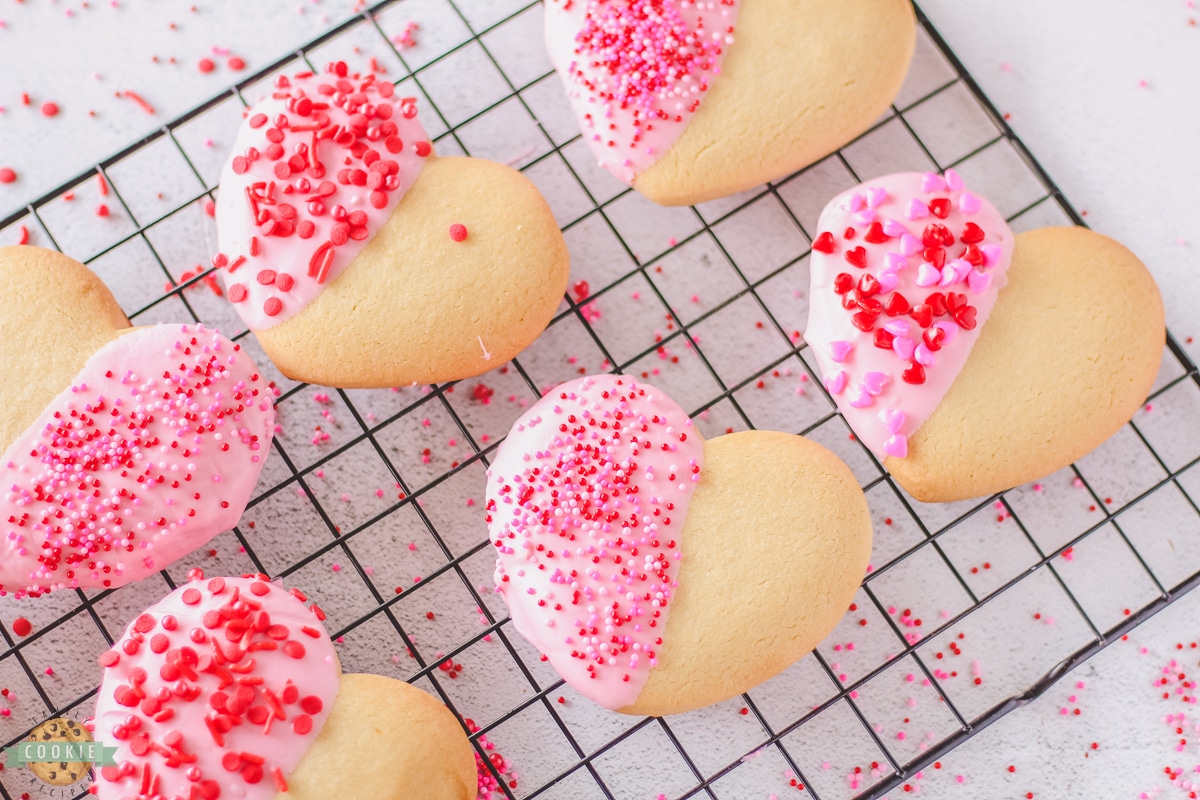 You are going to love these chocolate-dipped shortbread hearts. They are the perfect cross between easy cookie decorating and fancy-looking cookies without the added effort of piping intricate designs. This is great for those of us without any cookie decorator skills. These shortbread valentine hearts are sure to put a little sparkle in your holiday plans.
Valentine Heart Cookies
Valentine's day is a day for love, sweets, and of course, chocolate! Which is why this easy valentines day cookie recipe makes sense- they are dipped in pink chocolate! This is a great cookie recipe to be creative with, you can change up the color of the frosting and use all the sprinkles your heart desires. You are going to fall head over heels for these romantic cookies.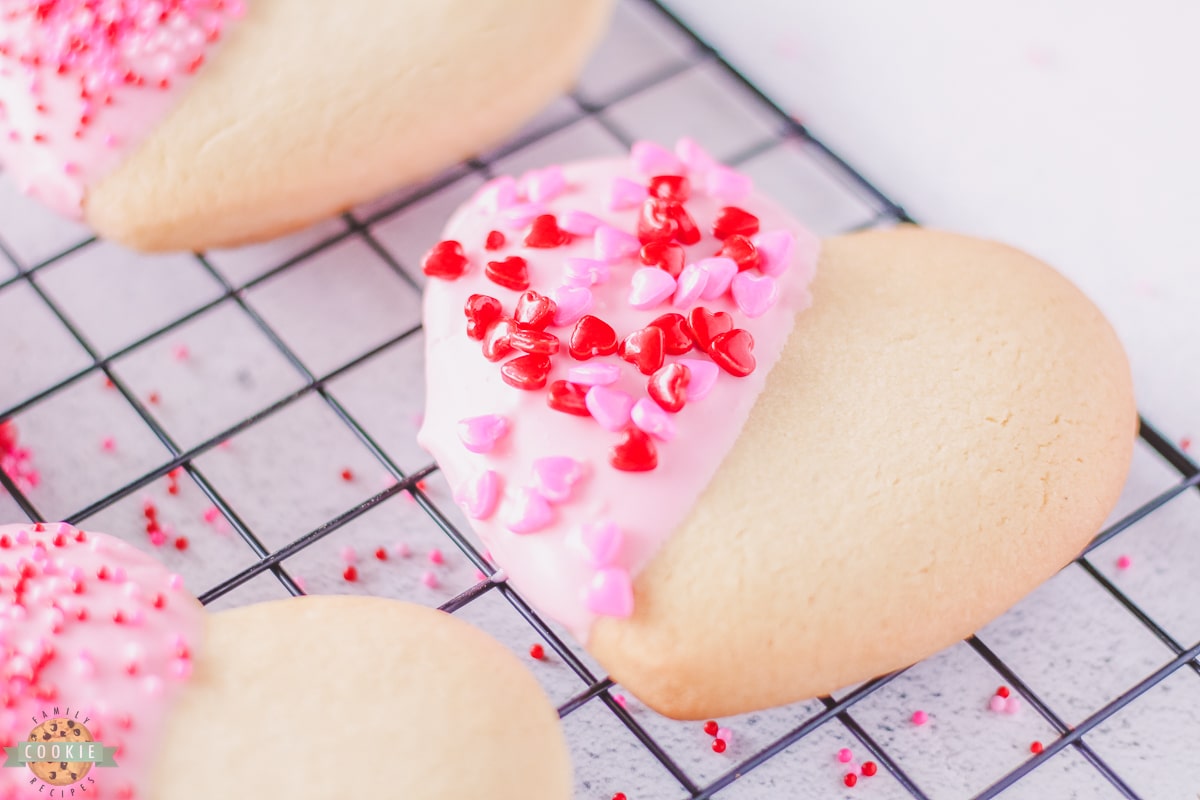 Easy Heart cookies Ingredients
-Butter: You will need 1 cup of butter (two sticks) for rich-tasting cookie dough.
-Powdered sugar: By adding in 1 ½ cups of powdered sugar we can sweeten the cookie dough without changing up the texture.
-Egg: Use 1 egg to help bind the dough together well.
-Flour: You will need 2 ½ cups of all-purpose flour for the base of the dough.
-Extracts: Use ½ teaspoon of almond extract and 1 teaspoon of vanilla extract for a wonderfully flavored cookie.
-Cream of tartar: By adding in 1 teaspoon of cream for tartar we can give these cookies a nice flavor and consistency.
-Baking soda: Use 1 teaspoon of baking soda to help leaven the cookies so that they rise properly.
-Melting chocolate: Use a bag of pink melting chocolate discs so that the chocolate is already colored for you. You can pick these up at Walmart, Amazon, or local craft stores.
-Sprinkles: For an added festive touch use some festive valentine sprinkles to decorate the cookies with.
-Cookie cutter: You will need to use a heart-shaped cookie cutter for these cookies.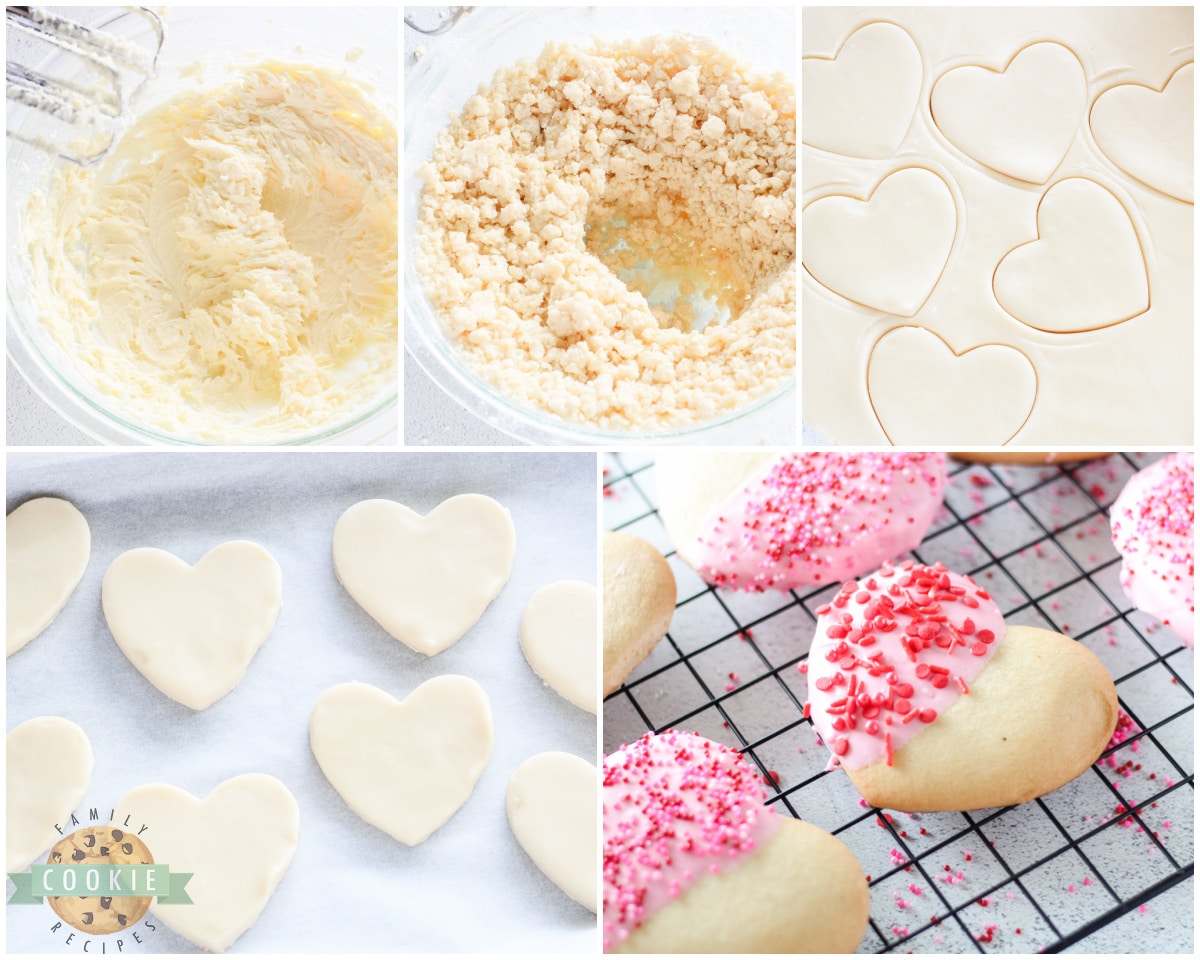 Step by step on how to make Valentine Heart Cookies
Make the dough
Start by grabbing a large mixing bowl. Then you will beat together the butter, egg, powdered sugar, vanilla, and almond extracts until well blended.
Next you will add in and blend together the flour, baking soda, and cream of tartar.
Go ahead and knead the dough together with your hands to help get the dough well incorporated so that it is not shaggy.
Chill and cut the dough
Once the dough is made, cover the bowl in plastic wrap and place it into the fridge for 30 minutes.
Once it has had time to cool knead the dough and roll it out until it is about ¼ of an inch thick.
Now it is time for the fun part! Using your heart-shaped cookie cutter, cut heart shapes out of the dough and place on a greased baking sheet.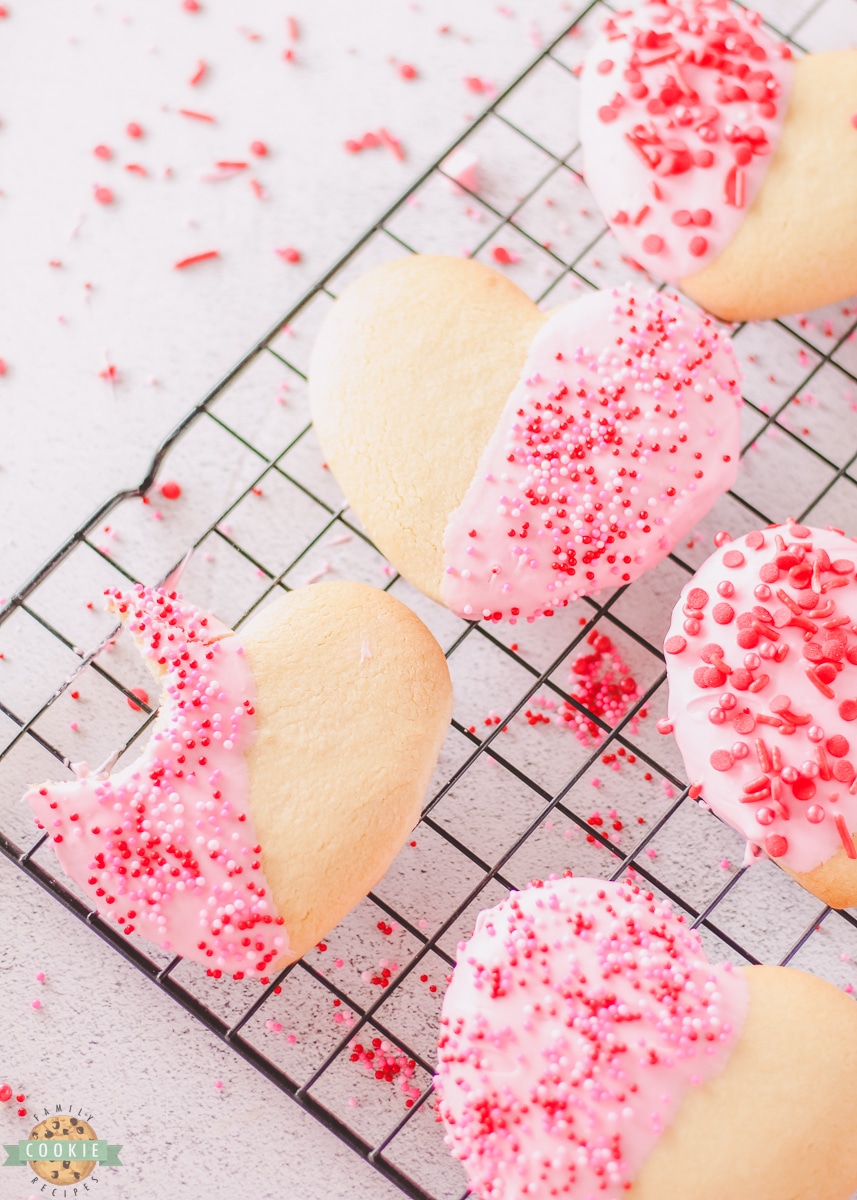 Baking time
Bake in the oven at 375 degrees F for 8 minutes or until the edges are slightly golden in color.
When done, let the cookies cool for 10-15 minutes.
Decorating fun
In a separate bowl, microwave your chocolate melting discs for 1 minute. Stir and then microwave again in 20-second intervals, stirring well between each until smooth.
Then proceed to dip half of your cookie into the melted pink chocolate. Or you can drizzle the chocolate over the top, really you can use your imagination for how you want your cookies to look.
Sprinkle with your valentine sprinkles and place on a piece of parchment paper until the chocolate has set. Enjoy!
How long are these chocolate dipped cookies good for?
These cookies can be kept stored in an airtight container in the fridge or at room temperature for up to a week. For the best results, I recommend eating within 3 or 4 days.
Can I freeze Valentine cookies?
Yes, you can freeze these cookies after they have been set. simply place them into an airtight container with a layer of parchment paper between the cookies to prevent sticking. When ready to eat place a few on the counter and wait for them to come to room temp. Please note that the chocolate may sweat coming from freezer to room temp so fast but this is harmless and completely normal.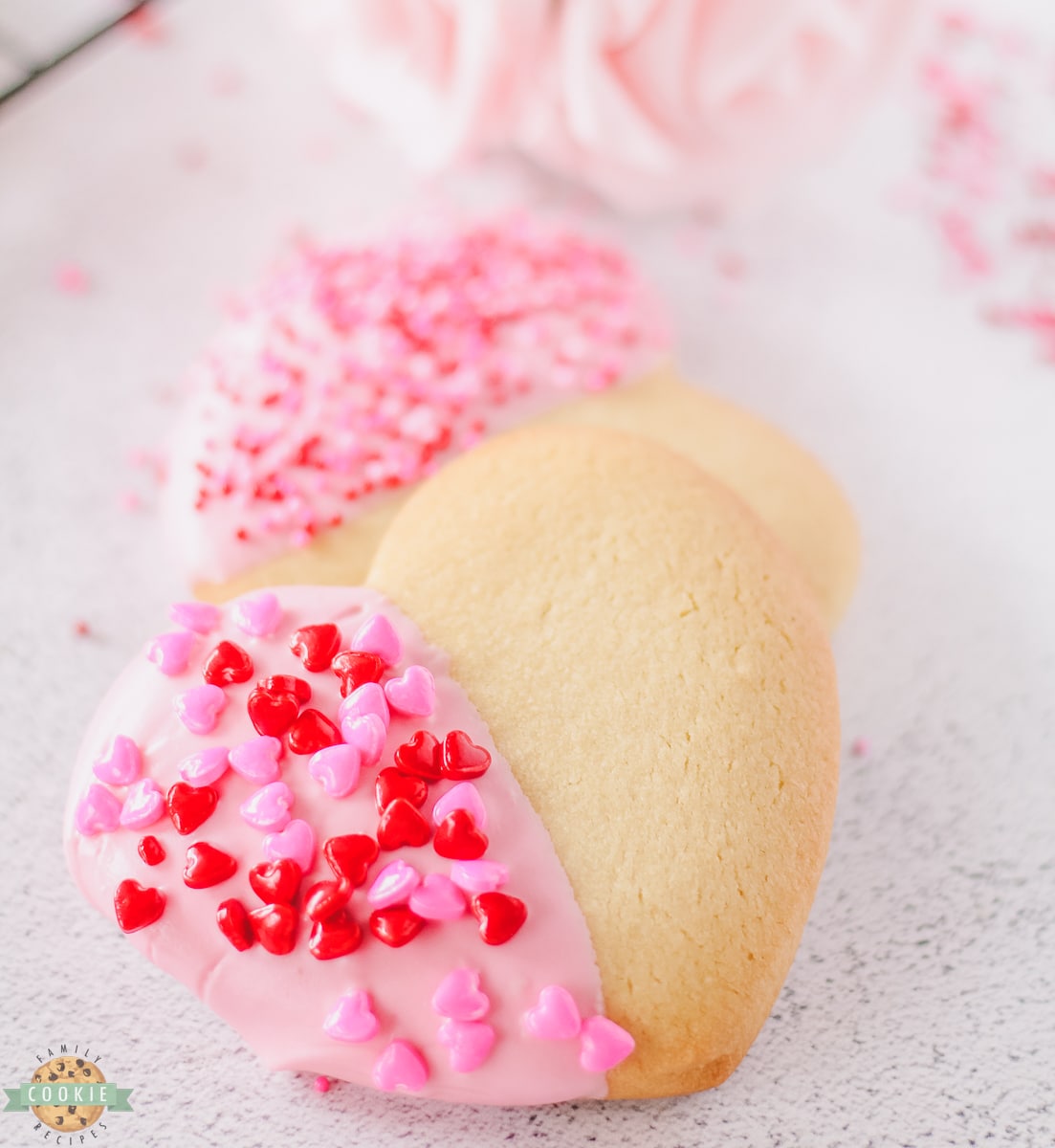 What Can I use if I don't have chocolate melting discs?
If you find yourself without or you cannot find chocolate melting discs you can use chocolate chips as a substitute. You will want to add a little vegetable oil for every 1 cup of chocolate chips to ensure it melts properly and give you a nice smooth texture.

A couple years ago we decided to forego classic Christmas cards in favor of a new approach. We made a holiday video that showcased our family! It was actually a really fun process that we replicated again this year. It's a new tradition and I love it! Here's a screenshot from one of our videos; I can't stop laughing!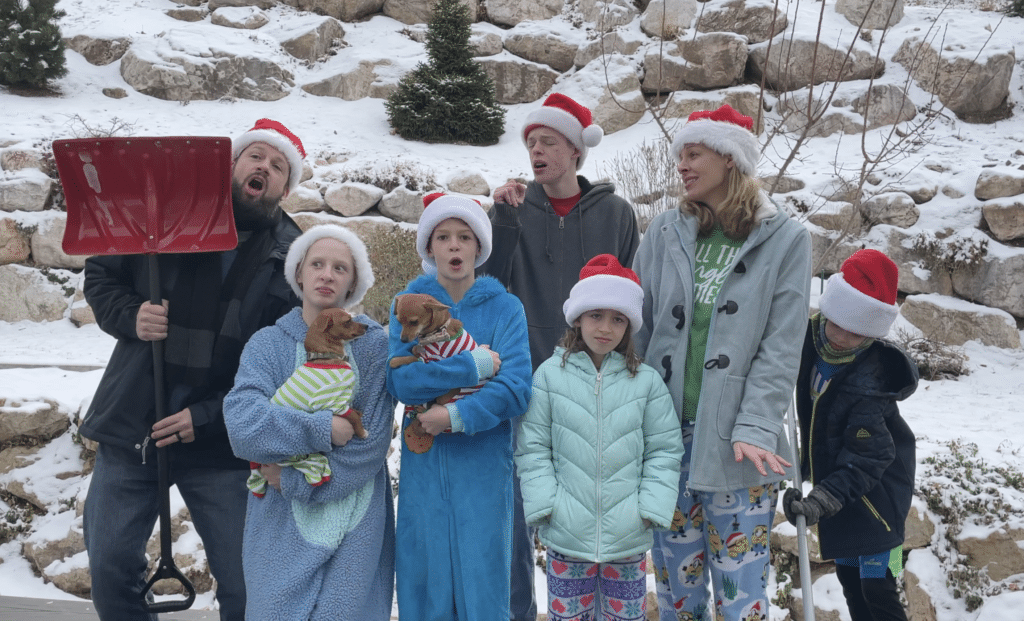 Want more fun? Check out these other cookie recipes that are perfect for Valentine's Day!
You are going to love this shortbread hearts recipe. It is perfect for Valentine's day and super easy to make too. Dipped in pink chocolate and coated in festive sprinkles these cookies are fun and beautiful.