Iced Gnome Cookies made EASY and are ADORABLE! Made with a buttery shortbread & iced to perfection, these magical little gnomes almost come to life!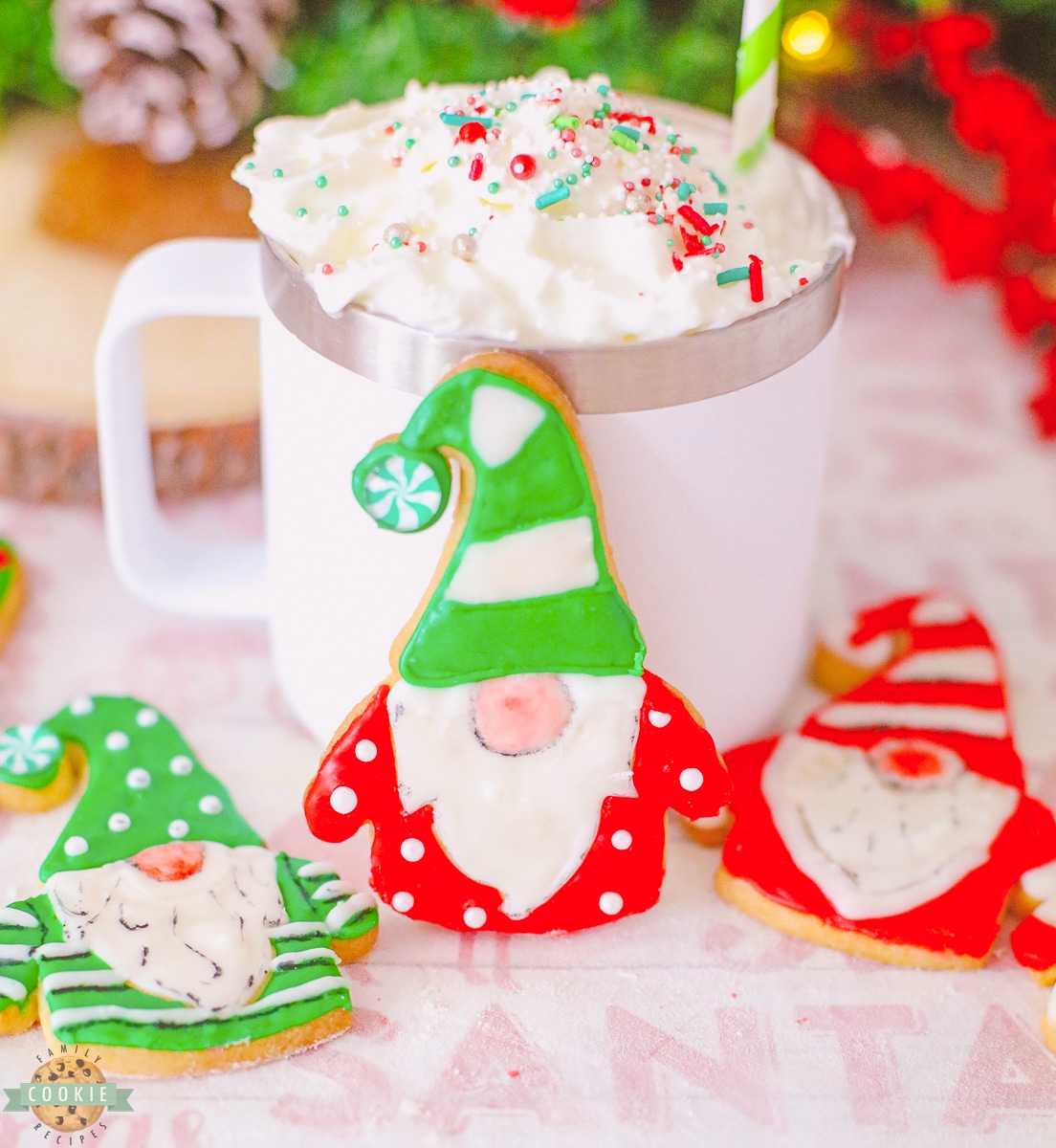 These cookies are surprisingly easy to make and the results are always super cute. Frosted with bright and vibrant colors they almost take on a personality of their own. Decorated gnomes cookies are whimsical cookies everyone can enjoy. Get your kids in on the decorating and let it become a family event!
What Are Gnome Cookies?
Gnome cookies are an edible version of that short statue many keep in their yards and gardens. With bright red hats, white fluffy beards, and magical essence, these cookies are a fun way to bring the garden gnomes indoors. From the soft shortbread cookie dough to the royal icing on top, these cookies are completely homemade and completely easy to assemble. While they do require some time to assemble and decorate, it's a labor of love watching these little fellas come to life.
Note that you will need a gnome-shaped cookie cutter to get the best shape. In a pinch, you can cut the dough into triangles and use the point as the hat while the base can be rounded down to be more facelike.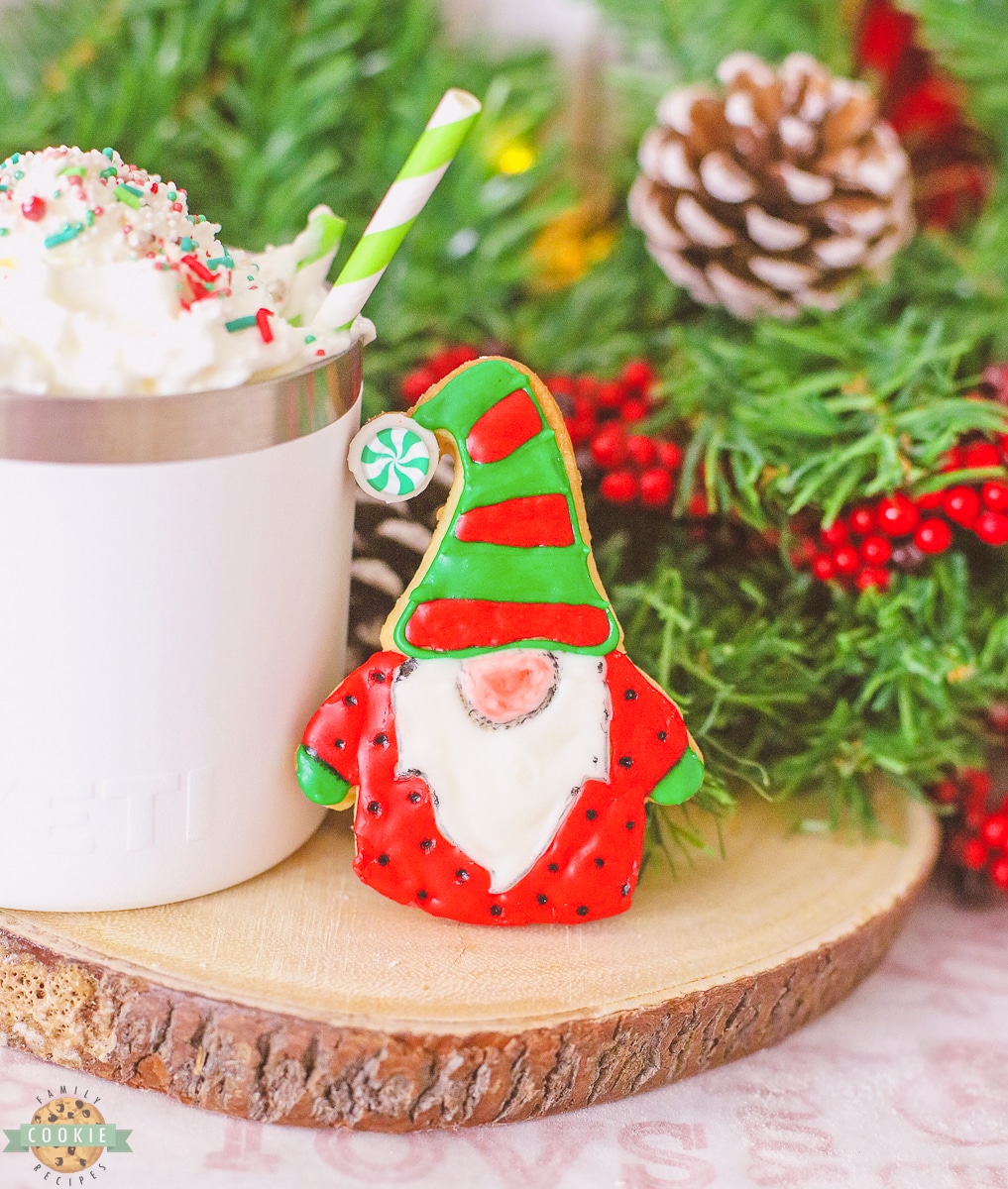 Gnome cookie ingredients
For the cookies, you will need
-Butter: You will need 1 cup of softened butter to make these cookies nice and rich.
-Sugar: Use 1 cup of granulated sugar to get these cookies nice and sweet.
-Egg: To help bind the dough together well you will need the assistance of one egg.
-Flour: You will need 2 ½ cups of all-purpose flour for the base of this dough.
-Vanilla: Use 2 teaspoons of vanilla extract to help make the cookie taste even better.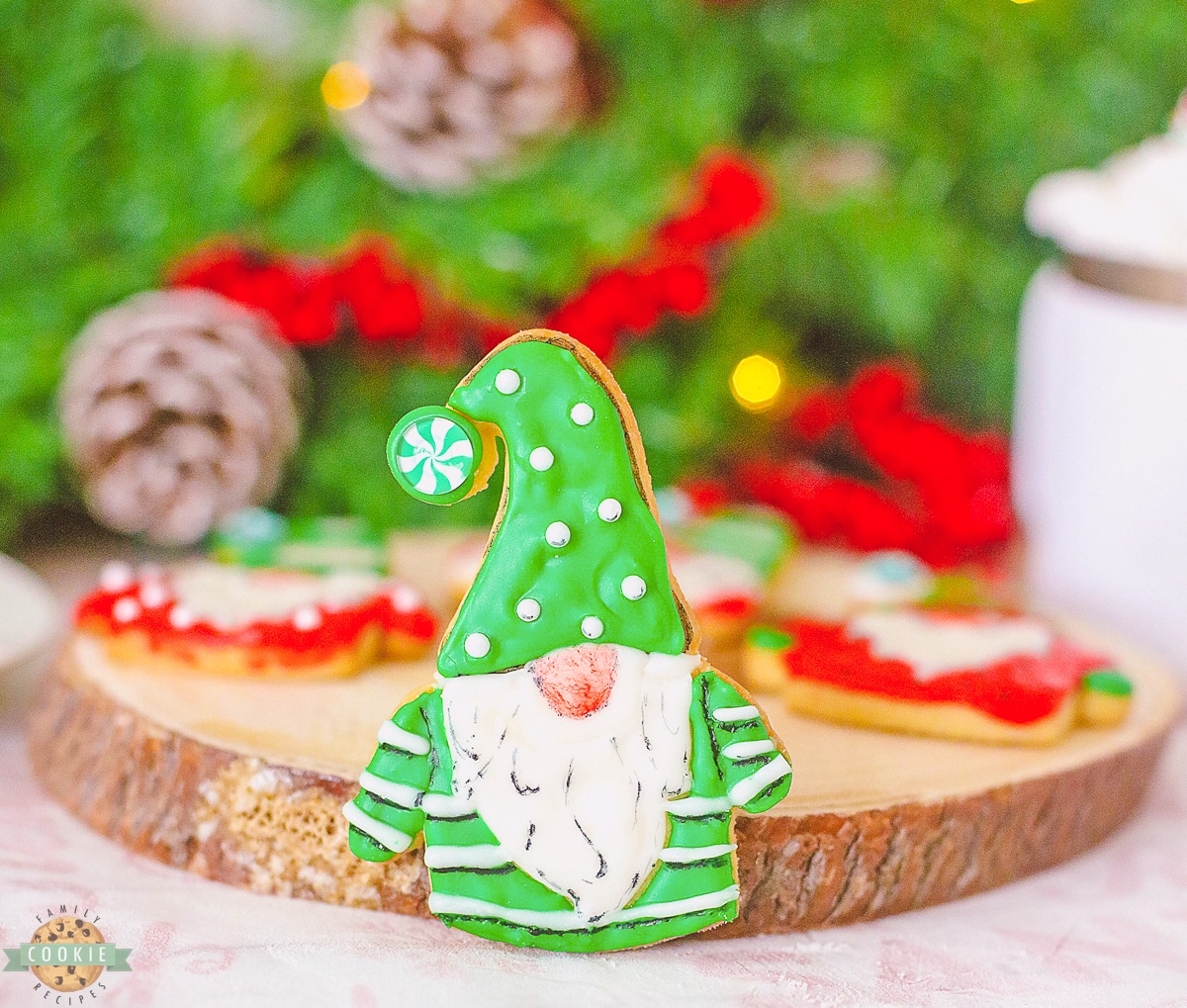 For the icing you will need:
-Powdered sugar: Use 2 cups of powdered sugar to create a smooth and sweet icing.
-Meringue powder: Adding in 3 tablespoons of meringue powder will help you to get a nice consistency with the icing so that it holds up well when set.
-Milk: Use 1/4 cup of milk to get your icing to the perfect usable consistency.
-Food coloring: You will want to use red and green food coloring gel to get the icing to be nice and vibrant without watering it down.
–Cookie marker: Using an edible black cookie marker will help you to draw faces and designs onto your cookies after the icing has been set so that each cookie can have its own unique personality.
–Cookie paint brush: You will also need a cookie paint brush to help achieve coloring on their faces, like creating rosy cheeks.
-Candy: For added decoration, you may wish to use white sugar pearls and candy peppermints.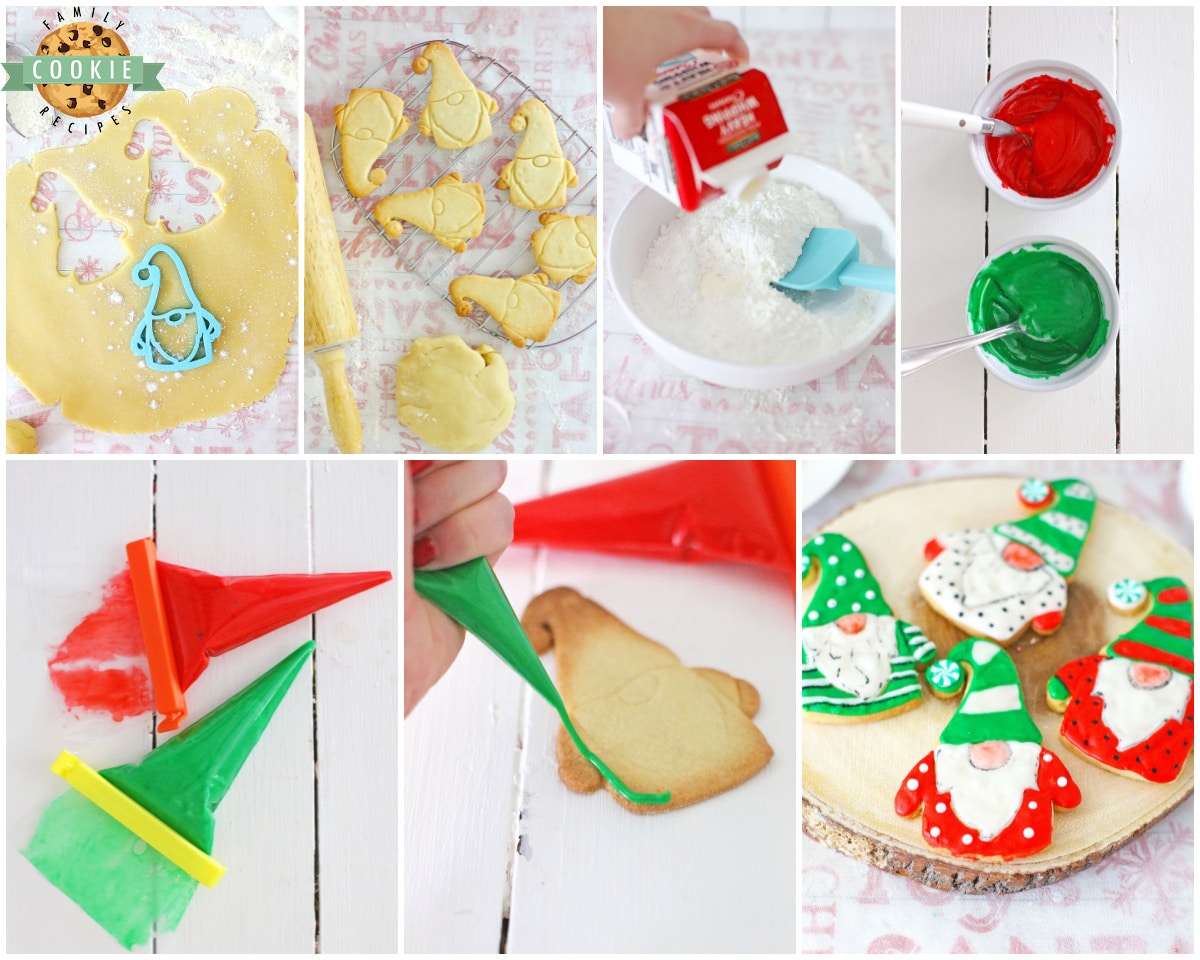 You'll need gnome cookie cutters to make these cookies. I like the ones that also make indents for the hat, nose & beard, like these cookie cutters. You can find them at most craft stores like Michael's or Joann's. I actually just picked up the perfect one at Cost Plus World Market! Keep an eye out as they have them many places now!
How to make iced gnome cookies
Make cookie dough
Beat together the butter and sugar in a large bowl until creamy, light, and fluffy.
Add in the egg and vanilla and stir well again to mix.
Add in the flour, a little at a time, mixing well between additions.
Bake
Roll out the dough onto a floured surface and roll it until it's 1/4 of an inch thick.
Use a gnome-shaped cookie cutter to cut out the cookie shapes.
Place the cutout cookies on a parchment-lined baking sheet and bake at 350 degrees F for 15-18 minutes.
Remove the pan from the oven and allow the cookies to cool on a wire rack.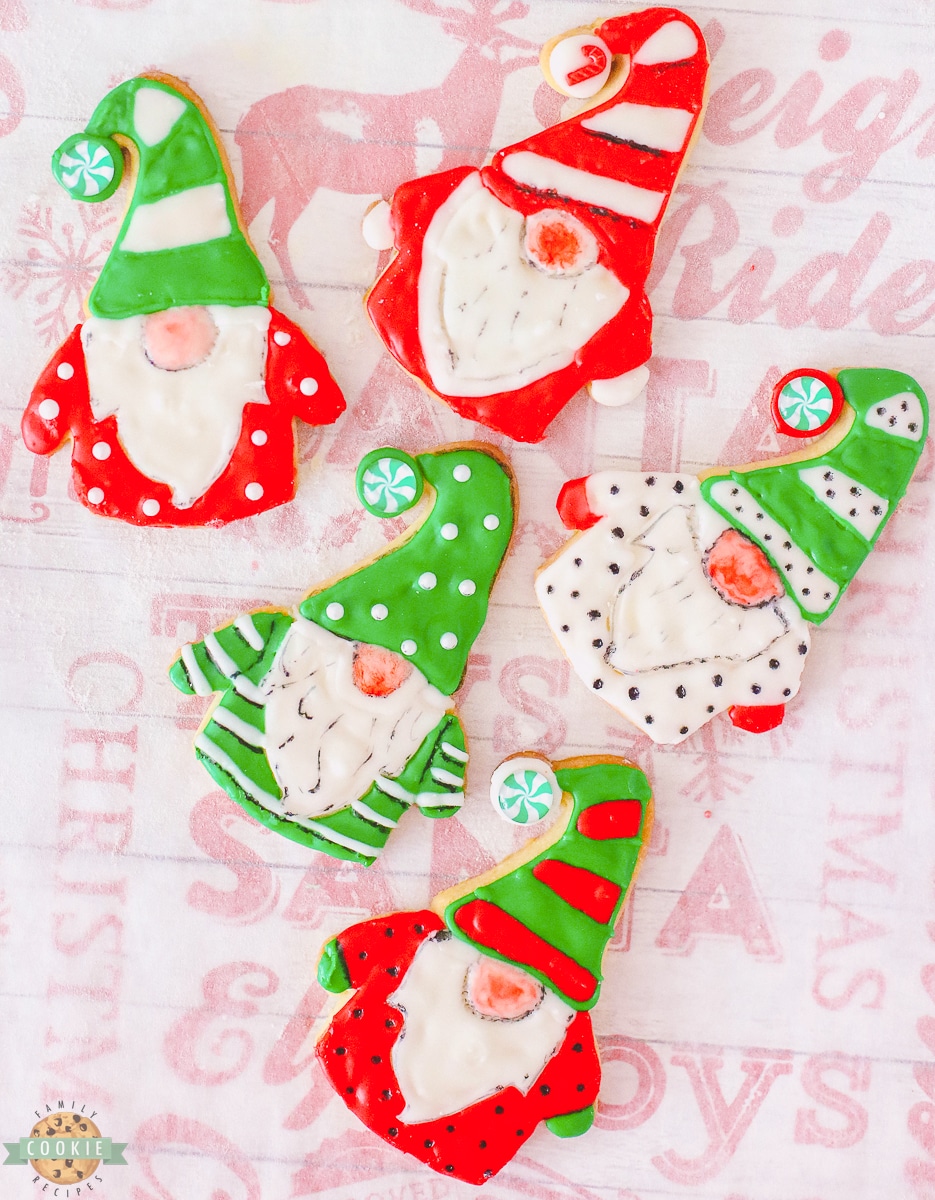 Make the icing for decorating
When the cookies have cooled, make the icing.
Mix together 2 cups of powdered sugar and 1/4 cups of milk in a bowl with 3 tablespoons of meringue powder. Set aside.
You will need 3 piping bags. Divide the icing into three small bowls and color one bowl red, one green, and leave the remaining one white.
Fill each piping bag with color and set it aside.
Decorate the cookies
Take a gnome cookie and fill in the base of his hat with green icing.
Next fill in his shirt sleeves, being careful to trace along with his beard (that section will be white).
Fill in the beard with white icing and let that section dry before moving on to his nose.
Place a peppermint swirl candy on the tip of his hat and then place small white sugar pearls on his hat like polka dots.
Next, take the white icing and add stripes to his shirt and sleeves.
Fill in his nose area with white frosting.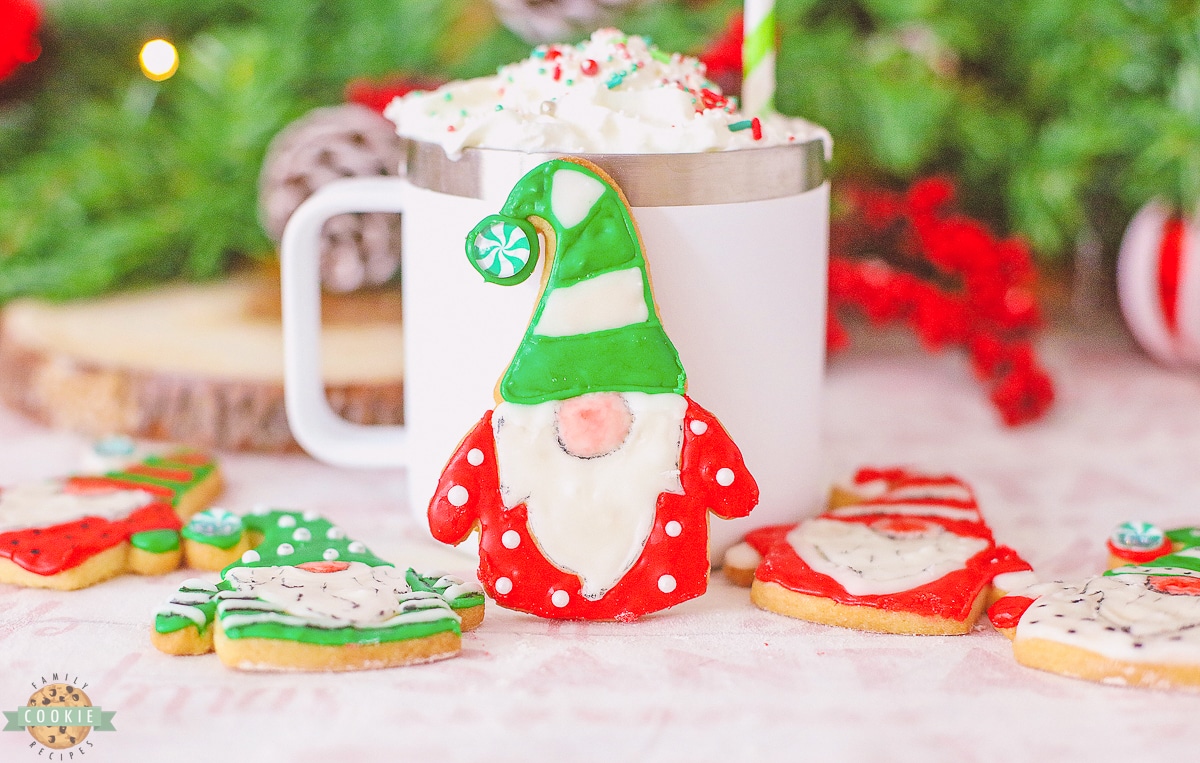 Add finishing touches
Take your paintbrush and dip it in water and then in the red icing. Brush the red icing onto the face to give his nose some nice pink shading.
Let it dry for 10-15 minutes.
After it's dried, go back and use a black edible food marker to draw under the white stripes on his shirt, beard, and around the nose.
Repeat this process in different colors and designs for each cookie until finished.
When finished, allow to set and dry before serving. Enjoy!
How long are iced sugar cookies good for?
These cookies will last about 3 or 4 days if stored in an airtight container at room temperature. While they may last up to a week, you want to eat them soon for the best and freshest taste.
What does meringue powder do to royal icing?
Traditional royal icing recipes actually contain raw egg whites, which for safety reasons we do not wish to consume. Meringue powder is a safer version of egg white and helps to take the place of the rawness while still giving us the same great texture that we've come to know and love.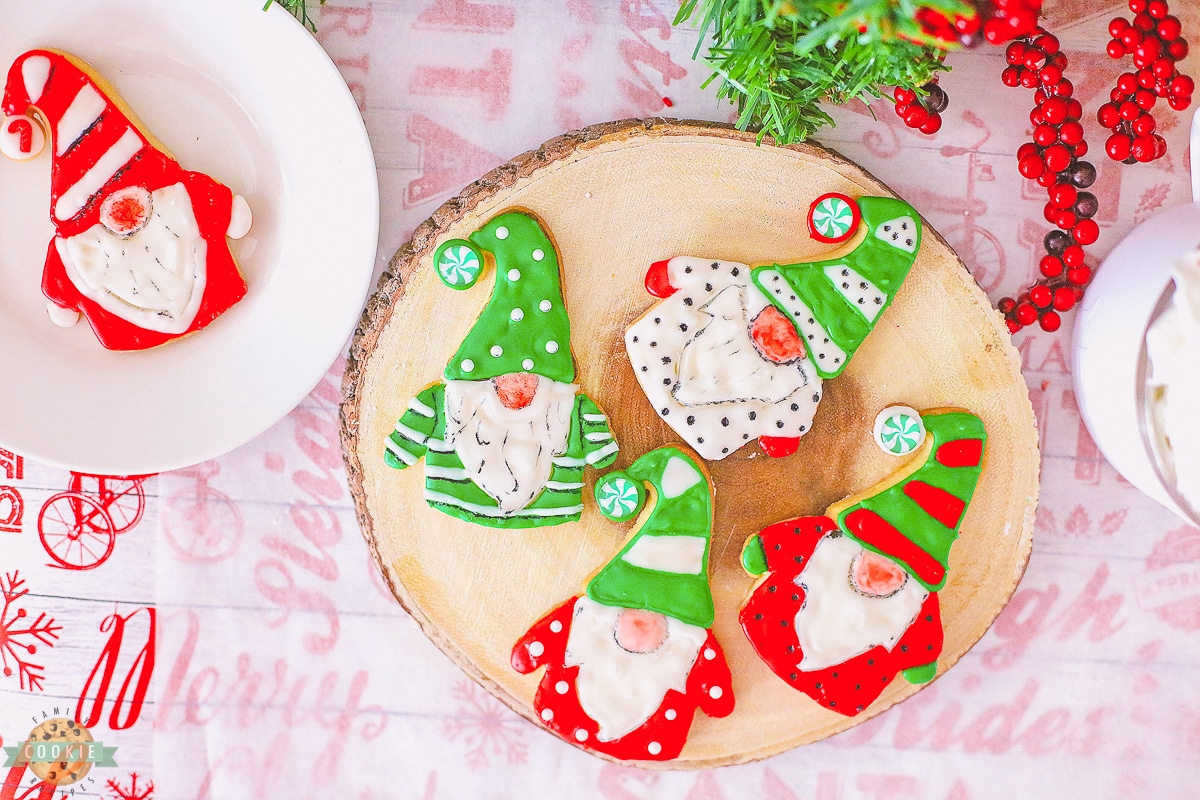 Check out these other fun iced cookie recipes

I love looking back at old pictures and remembering fun moments! The kids found this salamander in the backyard and oh heavens, it was the BEST thing ever! They ran around and showed it to all their friends, they played with it, and even made it a house. Yes, it was a sad day when cute Sammy the Salamander opted to vacation the house and move back to his own dwelling, wherever that was. But in the meantime, he was SO MUCH FUN.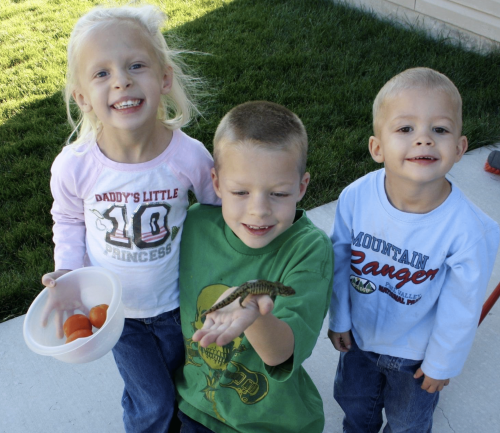 With this iced gnome cookies recipe on hand, you'll always have a fun and whimsical recipe at the ready. Whip them up for the season, holidays, and more and they're sure to be a hit every time.