Vanilla Glazed Spiced Apple Cookies made with lots of spices, fresh apples and walnuts. Soft and chewy cookie recipe that is topped with a simple vanilla glaze.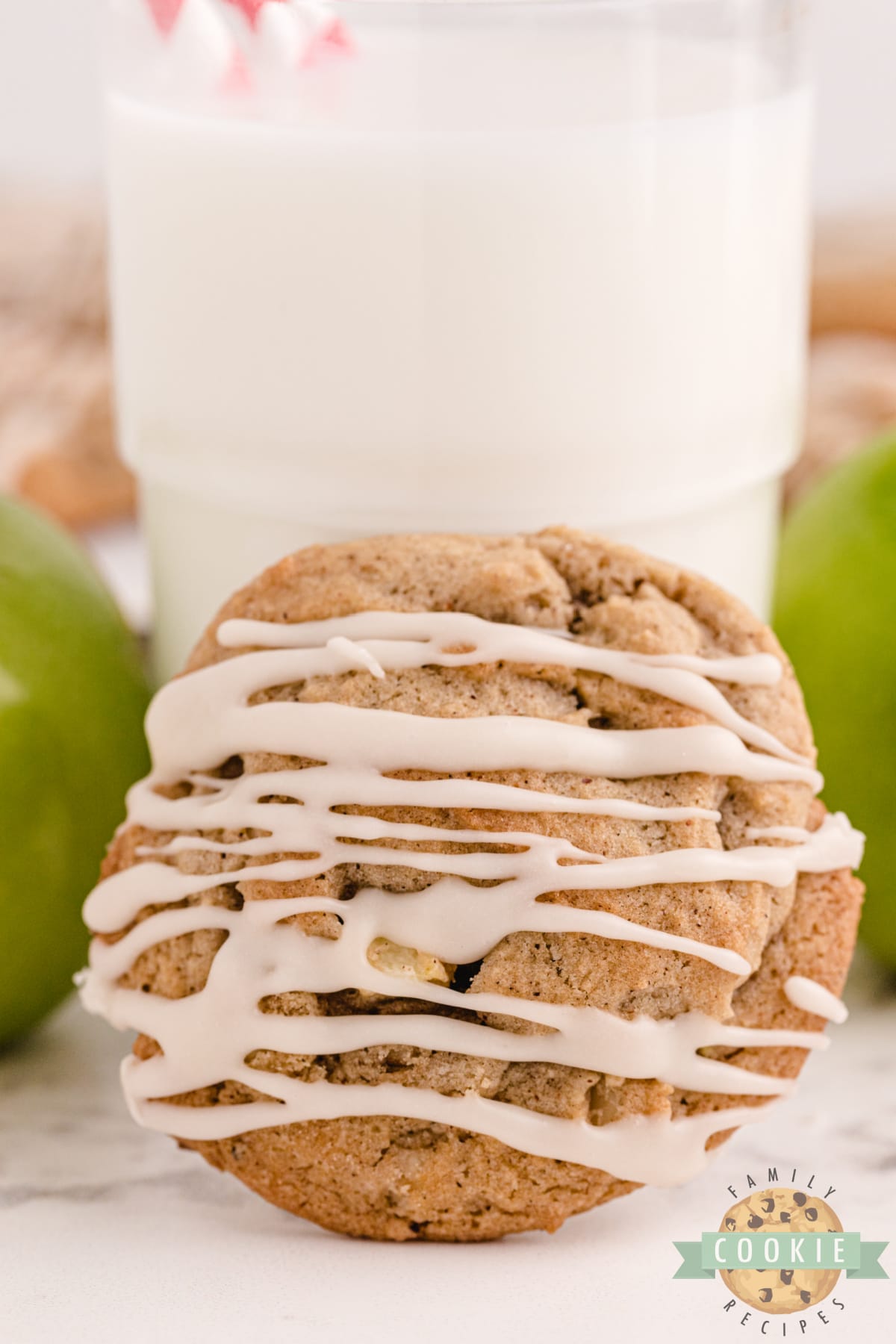 Apple cookies are not necessarily very common, but some of my favorite cookie recipes have apples in them! Butterscotch Apple Cookies, Caramel Apple Oatmeal Cookies and Apple Pumpkin Oatmeal Cookies and are all some of the most amazing cookie recipes I have ever tried.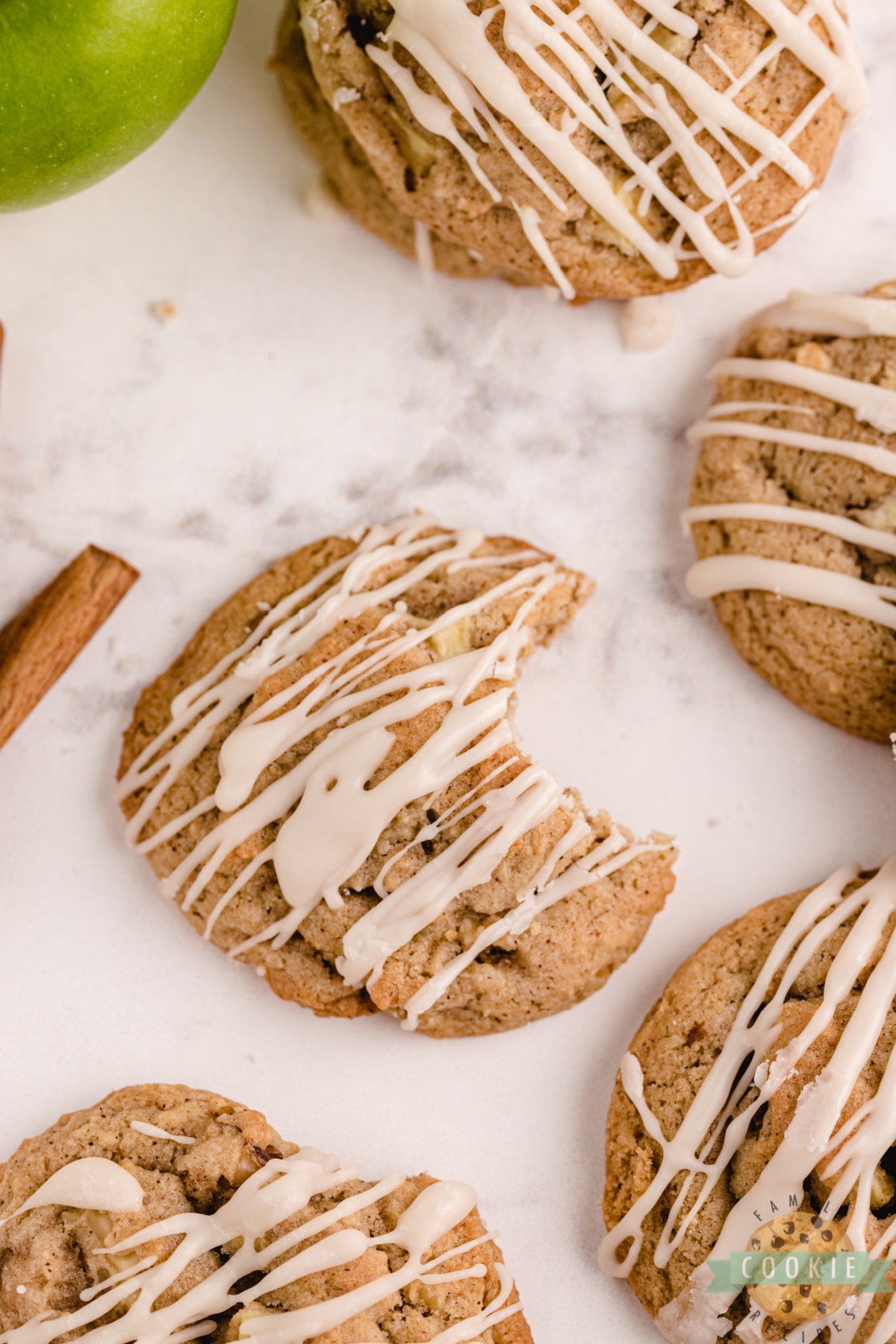 HOW TO MAKE THE BEST APPLE COOKIES:
After making many cookie recipes over many years, I have picked up several important tips for making the absolute BEST Apple Cookies!
Make sure that you have enough flour in the dough. If the dough is too sticky, you may need to add a little bit of flour.
Spend a little extra time when you mix the shortening and sugars. Creaming them together for 2-3 minutes will improve the consistency of your cookies.
Preheat the oven. This will help your cookies turn out right every time!
Use a cookie scoop! If you want all your cookies to be perfectly shaped and have them all be the same size, a cookie scoop is the way to go.
Use parchment paper or a silicone baking mat. Doing this will make it really easy to remove the cookies from your cookie sheet so that you don't have to scrape them off the pan – they will just slide right off in perfect shape!
Don't over bake the cookies – when I take mine out of the oven, they still look slightly under baked but they will continue to bake on the cookie sheet for a couple more minutes so that's ok!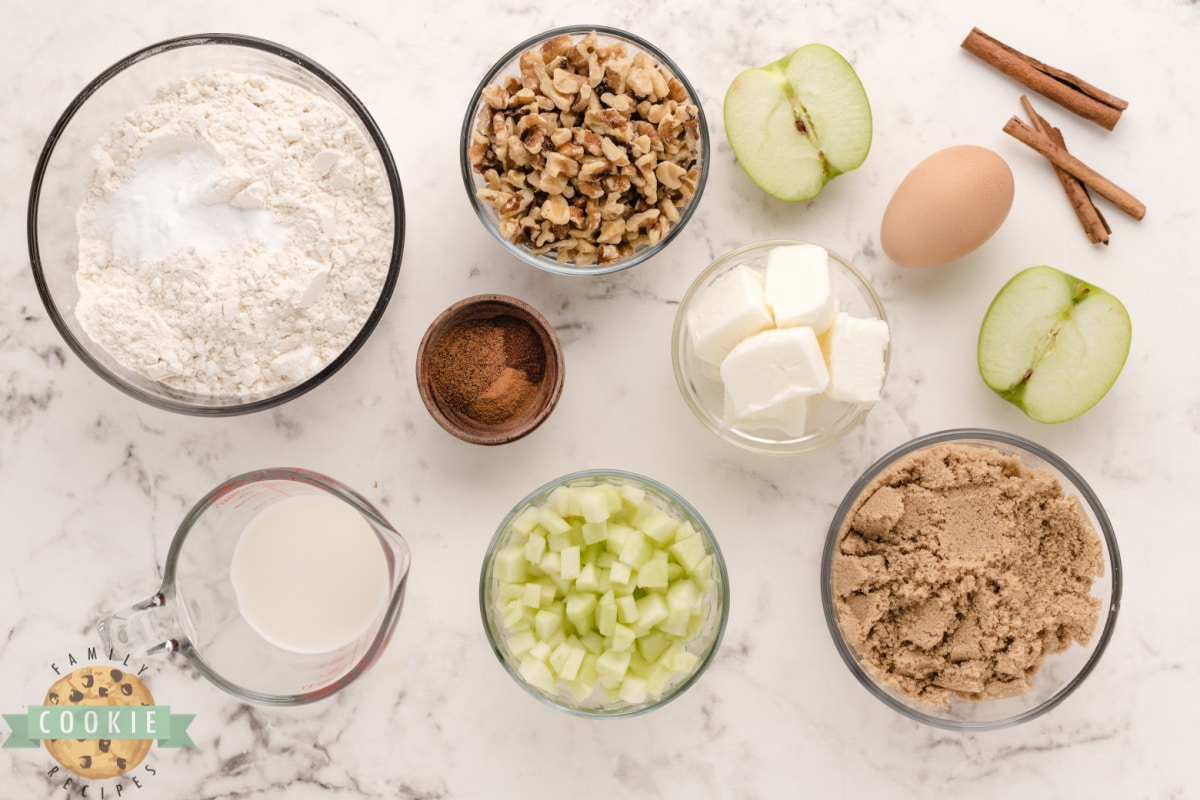 Ingredients in Vanilla Glazed Spiced Apple Cookies
Shortening – I like to use the Crisco sticks because they are easier to deal with. You can use regular shortening or the butter flavored kind. You can swap out the shortening with butter, but the cookies won't be quite as soft or thick.
Brown sugar – This recipe only calls for brown sugar as a sweetener and so you won't need any regular sugar. Make sure your brown sugar is fresh and soft for best results. I use light brown sugar.
Egg – Use 1 large egg to help bind the dough together well.
Milk – This helps to thin out the dough a little bit. You can use any type of milk you'd like!
Flour – You will need 2 cups of all-purpose flour for the base of this cookie dough.
Baking soda – Use 1 teaspoon of baking soda to help the cookies puff up nicely as they bake.
Nutmeg, cinnamon and ground cloves – All of these spices give these cookies the most amazing flavor!
Apple – You'll need 1 cup of finely diced apples. If you don't want the texture of the diced apples, you can grate them instead.
Walnuts – Adding a cup of chopped walnuts adds the perfect amount of crunch and flavor to these cookies. If you don't like nuts, you can definitely leave them out and the cookies are still absolutely delicious!
Vanilla Glaze (optional, but not really!)
Powdered Sugar – Use 1 1/2 cups of powdered sugar for the base of the sweet glaze on top of these cookies.
Butter – You just need 1 Tbsp of butter to make the glaze. Make sure to melt it before adding to the glaze.
Vanilla – Add a teaspoon of vanilla to the glaze for that delicious vanilla flavor that pairs so well with the apple cookies.
Milk – You'll need 2-4 tsp of milk to thin out the glaze enough to drizzle it. You can use any type of milk you have on hand.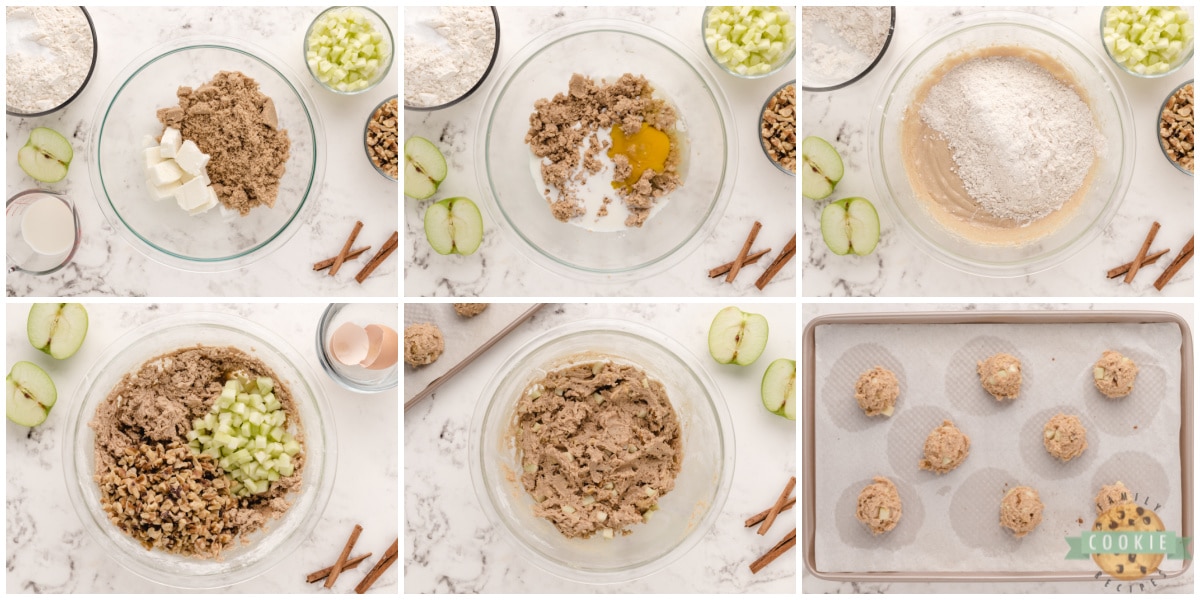 How to make Vanilla Glazed Spiced Apple Cookies
Preheat oven to 400°.
In a large bowl, cream shortening and brown sugar for 2-3 minutes. Beat in egg and milk and beat for another 2-3 minutes.
In a separate bowl, combine the flour, baking soda, nutmeg, cinnamon and cloves. Stir this mixture into the creamed mixture and mix until combined. Stir in the walnuts and apples.
Drop by rounded tablespoonfuls onto prepared cookie sheets (greased or lined). (I use a cookie scoop for this). Bake for 8-10 minutes or just until edges start to brown. Move to wire racks to cool.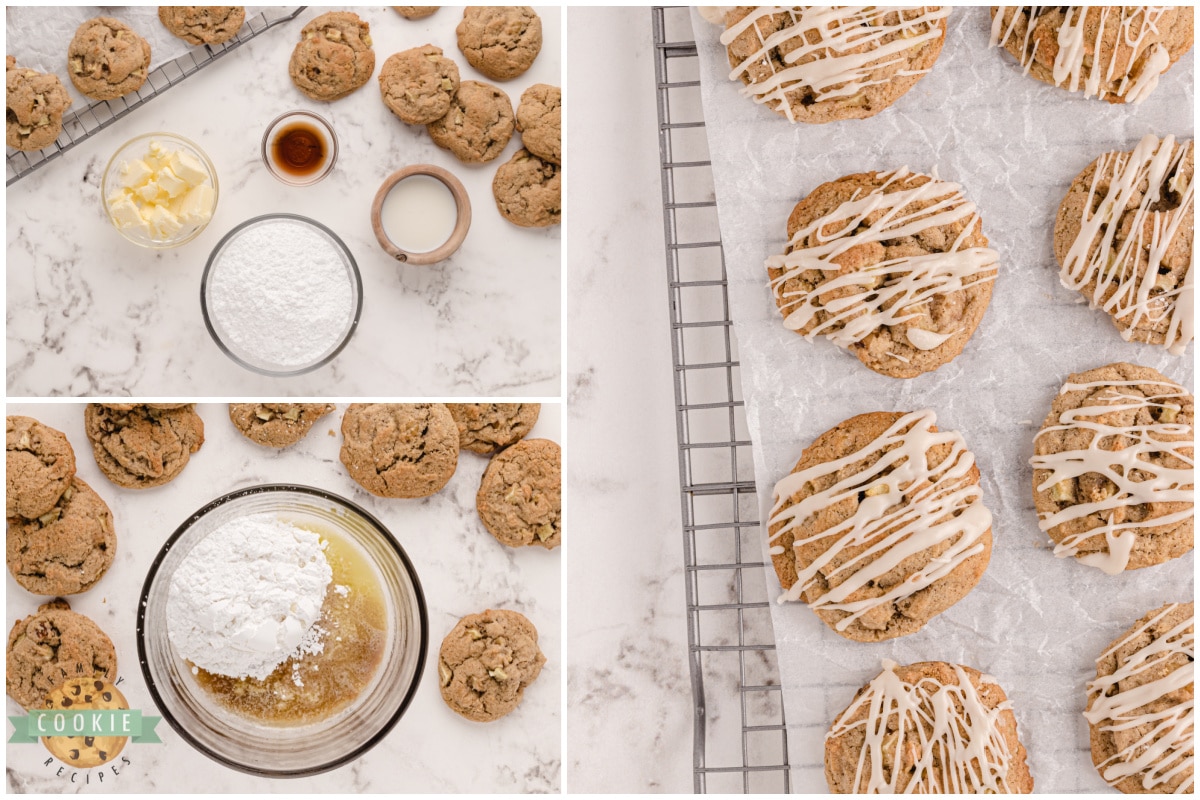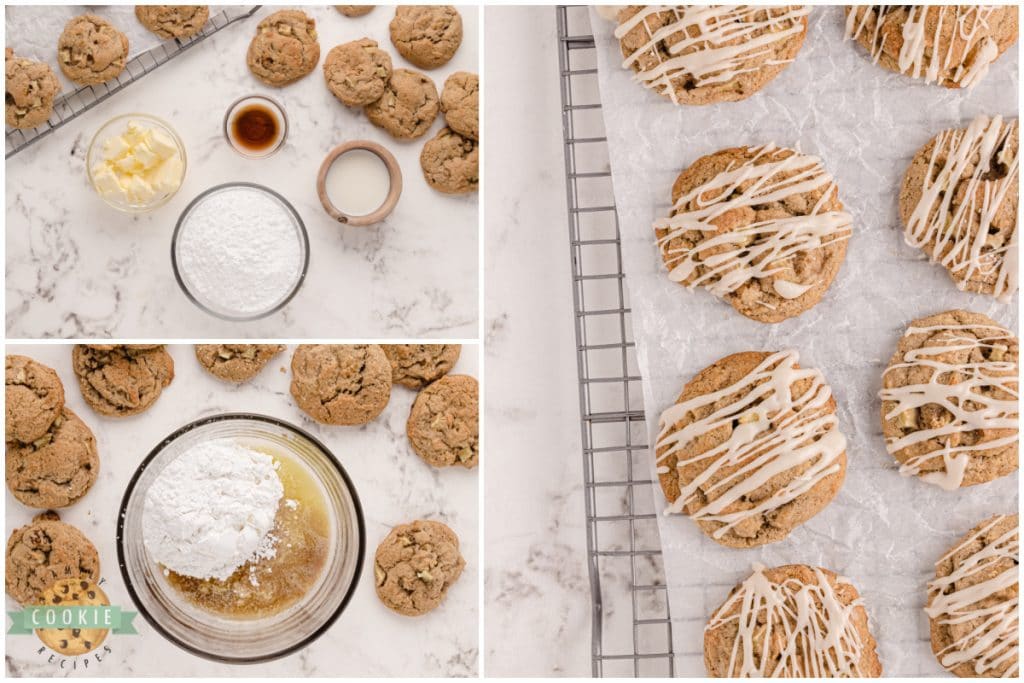 In a small bowl, whisk together the glaze ingredients, starting with 2 tsp of milk and adding more to get it to glaze consistency. Drizzle over warm cookies (not too hot!)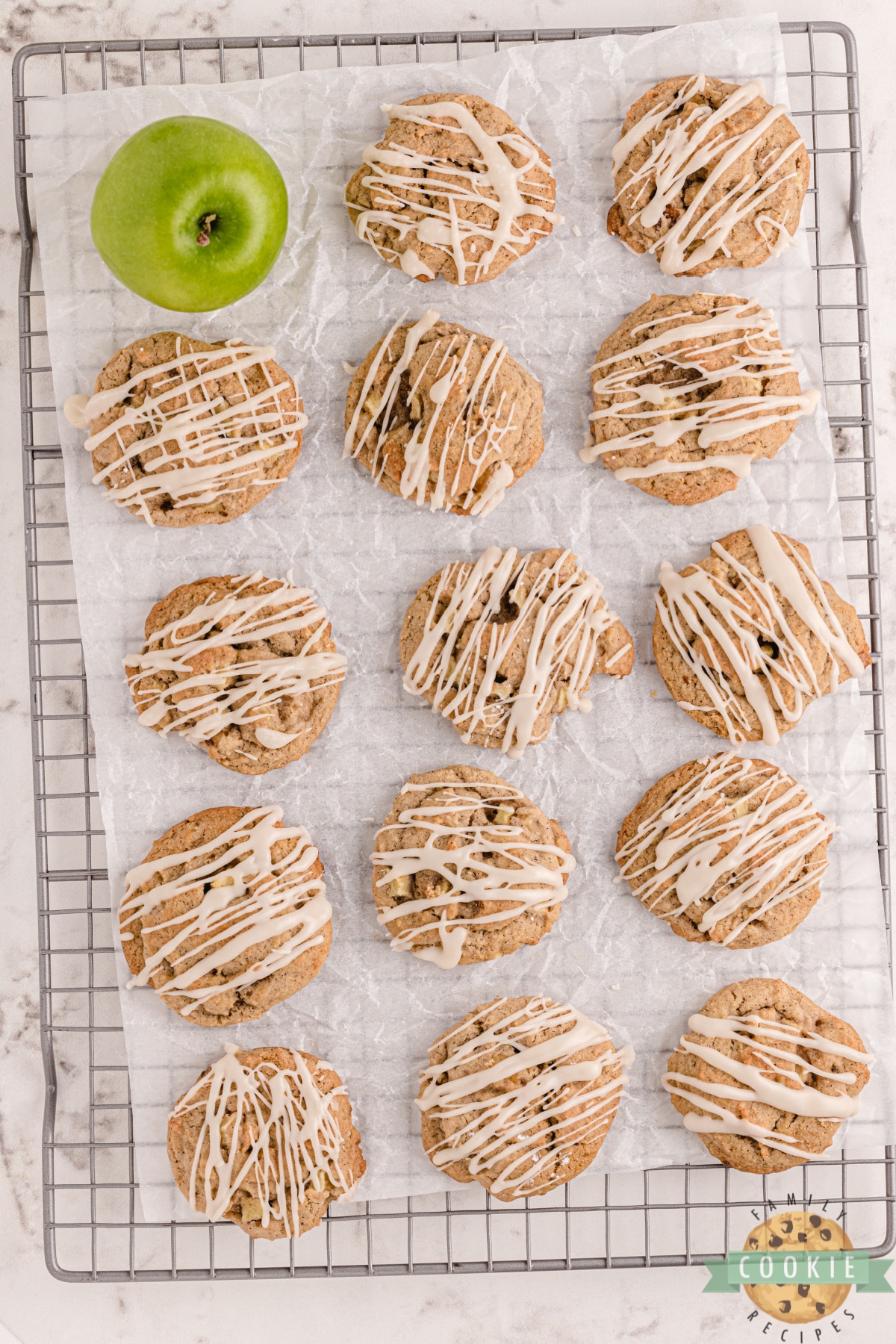 WHAT KIND OF APPLES SHOULD I USE?
For this recipe, I used Granny Smith apples, but you can use any good baking variety apples. For example, Honeycrisp or Fuji apples work well too. Just make sure to use baking variety apples as they hold up better than the normal everyday eating apples do.
HOW LONG ARE APPLE COOKIES GOOD FOR?
These cookies can last about 4 or 5 days if stored in an airtight container at room temperature. You could keep them stored in the fridge but the nuts may become chewier and the cookies may become softer in texture.
CAN I FREEZE THESE COOKIES?
Freezing these cookies is an option for keeping them stored for much longer periods of time. You can get your cookies to last in an airtight container in the freezer for up to 3 months if desired. I recommend not adding the glaze until you're closer to serving them though as the glaze will make the cookies harder to store without sticking and the glaze may sweat as the cookies thaw later.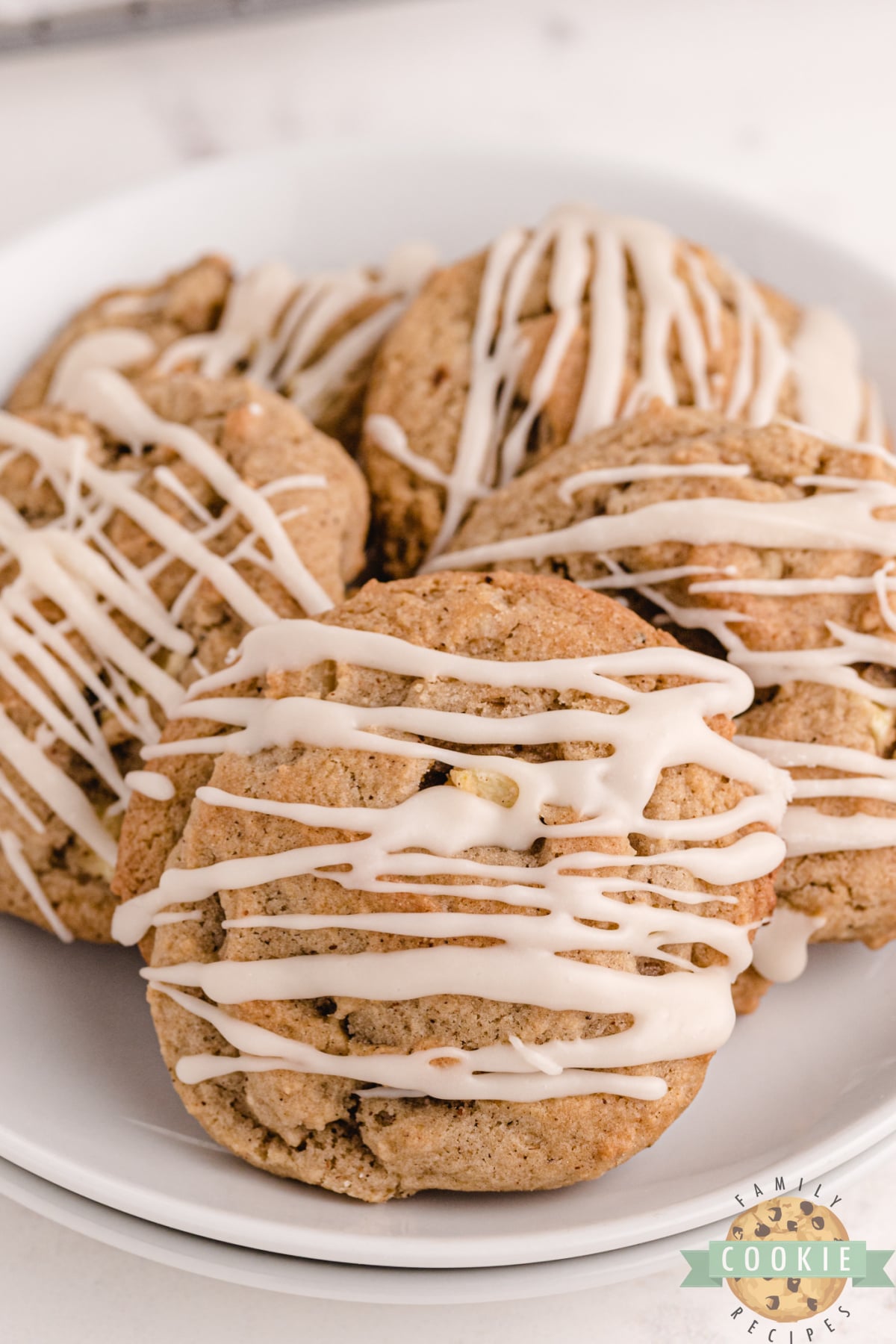 WHY DO MY COOKIES BURN ON THE BOTTOM BUT AREN'T DONE IN THE MIDDLE?
If your cookies are always burning on the bottom, it is probably a cookie sheet issue! If you are using really dark cookie sheets, the bottoms of your baked goods will tend to burn before they are actually cooked all the way through. If you use a lot of cooking spray, the same result can happen. I prefer to use lighter colored non-stick pans so that I don't have to use cooking spray at all. As mentioned above, I have been converted to silicone baking mats over the last couple of years and I love how easy it is for cookies to come off the tray – no sticking ever!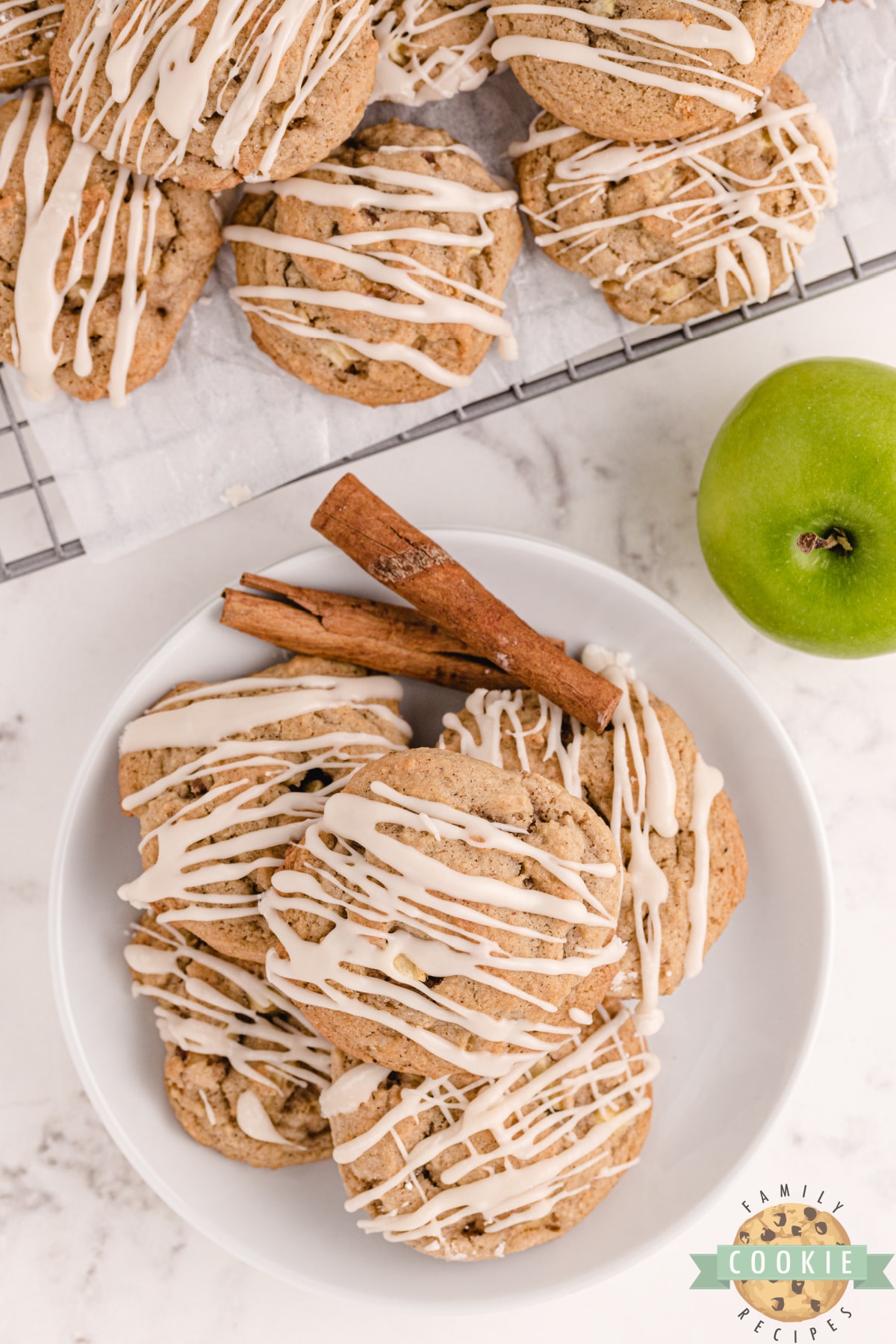 CHECK OUT THESE OTHER GREAT APPLE COOKIE RECIPES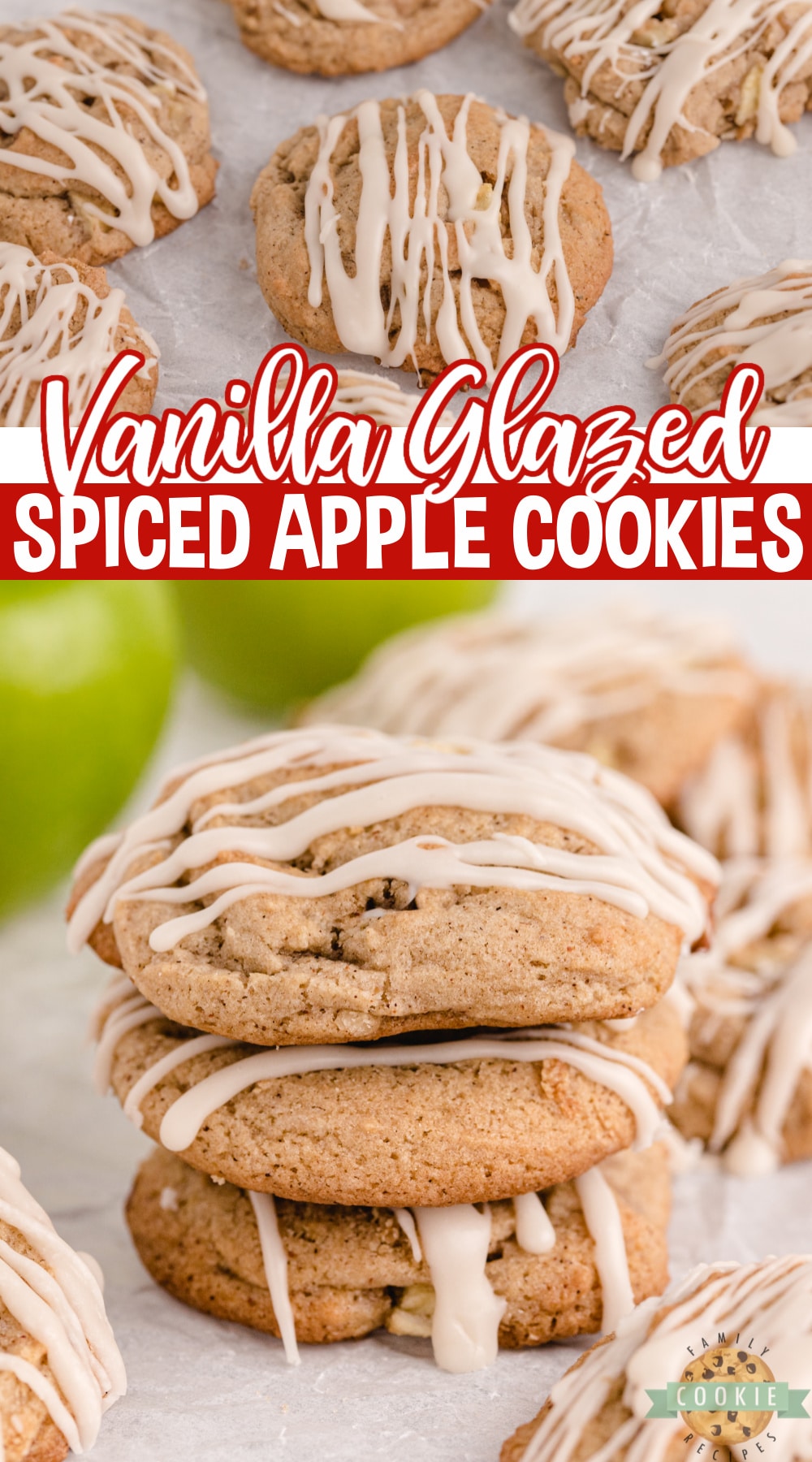 Vanilla Glazed Spiced Apple Cookies made with lots of spices, fresh apples and walnuts. Soft and chewy cookie recipe that is topped with a simple vanilla glaze.



One of favorite things that we did on our family trip to Kauai was to go kayaking. We were going to go on a tour and then decided just to rent some kayaks and explore on our own. We ended up going several miles – I was amazed at how much endurance all the kids had to keep rowing! We saw a lot of turtles and ended up at the beach which was a great way to wrap up the experience. It really is so fun now that my kids have gotten older – when they were all really little, adventures like this would have been impossible!