Cinnamon roll cookies are your favorite breakfast pastry turned into a delicious cookie. Soft, buttery sweet cookies with lovely cinnamon flavor, topped with a simple vanilla icing.  
With every bite, you get an iced cinnamon cookie explosion of flavors that are sure to hit all the right spots. These soft cinnamon roll cookies are so perfect you won't want to share (and no one will blame you). This is a recipe you'll keep hoarded away in a drawer for generations to come, only to bring it out on special occasions.
What are cinnamon roll cookies?
They're a wonderful combination of soft cookie and iced cinnamon rolls. These cookies are made into a soft dough that is rolled and filled with a sweet cinnamon mixture just like if you were to make real cinnamon rolls. Sliced and baked these cookies aren't done yet because top them with a simple powdered sugar icing that makes them completely irresistible.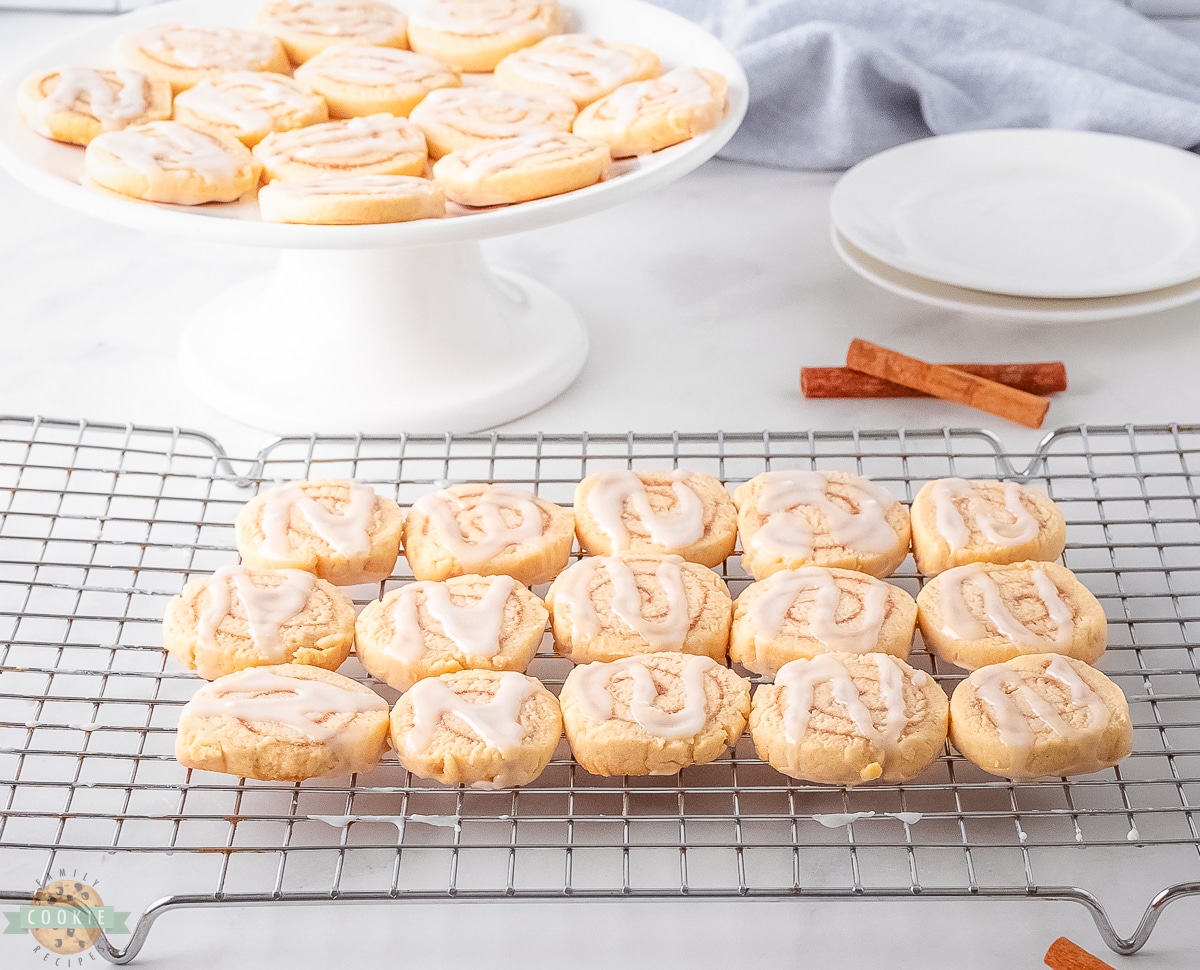 Cinnamon roll cookies Ingredients:
For the cookie dough you will need:
-Flour: You will need 3 cups of all-purpose flour for the base of the cookie dough.
-Baking powder: 1 teaspoon of baking powder will help to make the cookies puff up and become soft and fluffy.
-Salt: Use 1 teaspoon of salt to help enhance the flavors in these cookies.
-Cinnamon: Adding a teaspoon of cinnamon into the dough will really help to flavor them well.
-Butter: You will need 1 cup (two sticks) of softened butter to make these cookies rich and tasty.
-Sugar: Use 1 cup of sugar to make the cookies sweet.
-Egg: One egg is all you need to help bind the dough together well.
-Milk: Add 1 tablespoon of milk to get the dough to the right consistency.
-Vanilla: A teaspoon of vanilla will help to flavor the dough.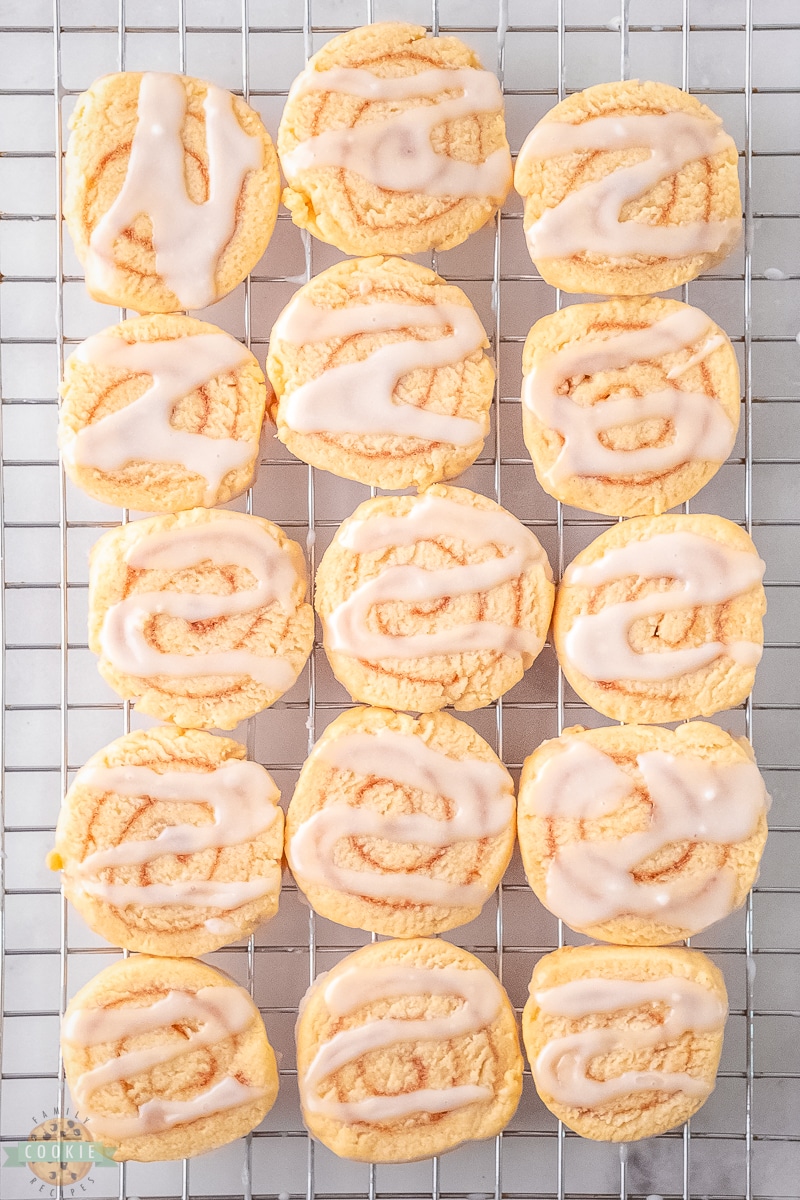 For the filling you will need:
-Butter: Use 2 tablespoons of melted butter to make the filling bind together for easier spreading.
-Brown sugar: 1/4 cup of packed brown sugar will make the filling sweet and give it a depth of flavor.
-Cinnamon: Use 2 teaspoons of cinnamon to make the filling really packed with flavor.
For the Icing you will needs:
-Powdered sugar: You will need 1 ½ cups of powdered sugar for the icing to be smooth and sweet.
-Milk: Get the icing to the perfect consistency for drizzling with 2 tablespoons of milk.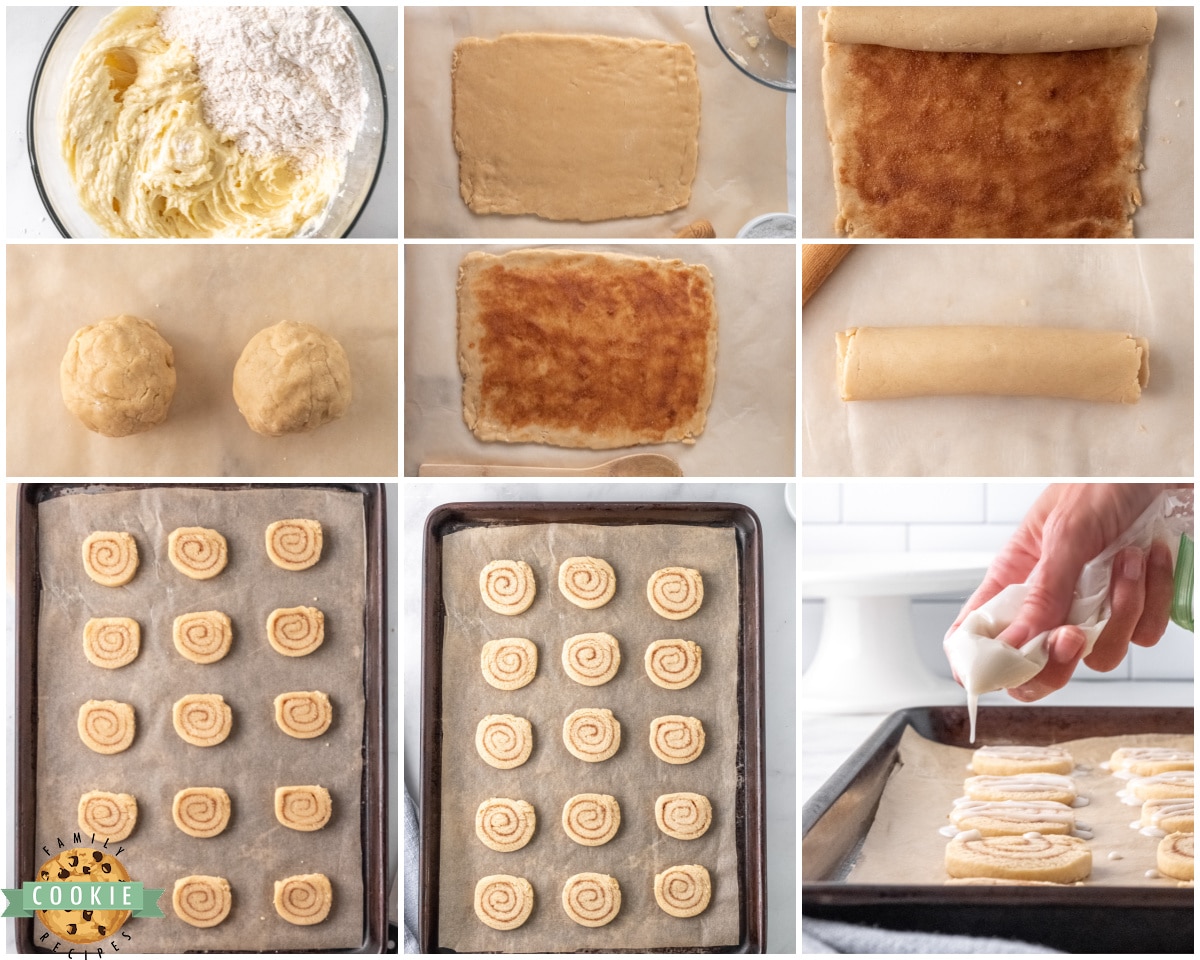 How to make cinnamon roll cookies
Preheat your oven to 350 degrees F and line baking sheets with parchment paper.
Mix together flour, cinnamon, baking powder, and salt in a medium-sized mixing bowl.
In a large bowl, cream together the butter and sugar until fluffy.
Add in the egg, milk, and vanilla and beat again until combined.
Gradually add in the flour mixture until completely incorporated.
Divide the dough in half and form 2 balls of dough. Wrap each one in parchment paper and place in the fridge for 20 minutes.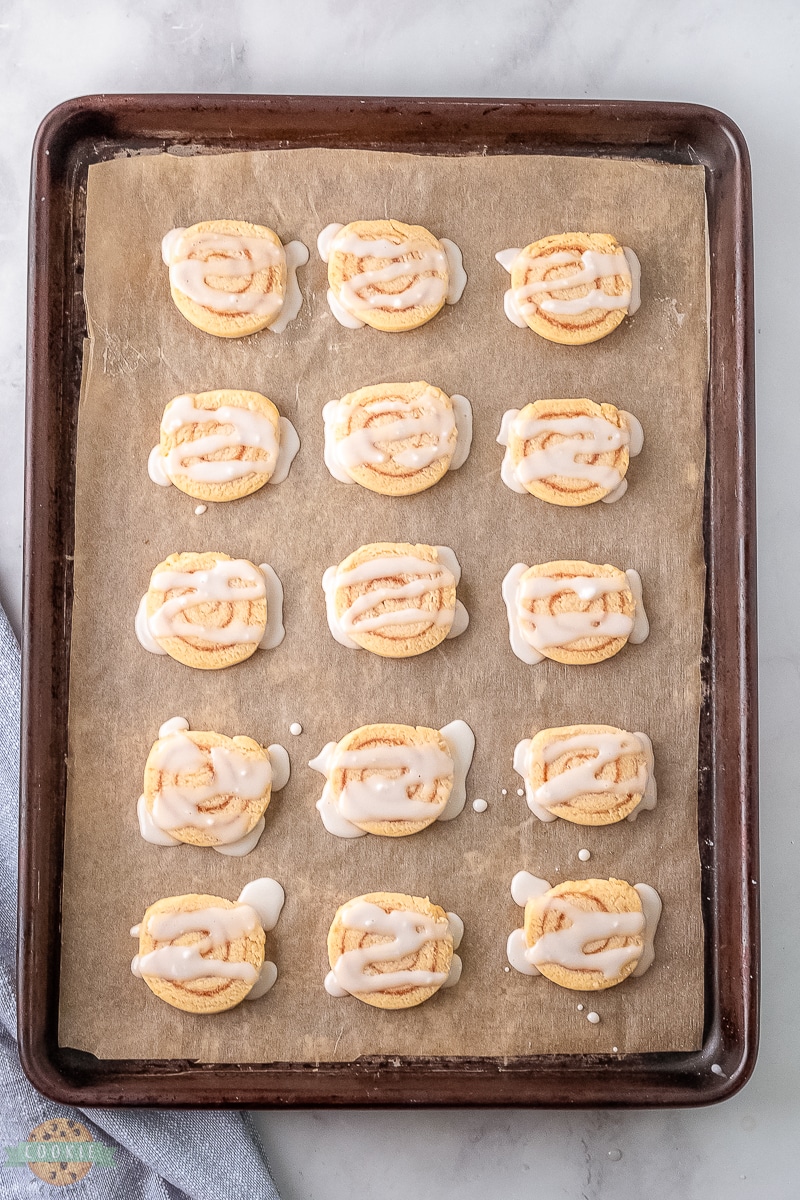 On parchment paper, roll out the cookie dough into a rectangle approximately 8 inches x 11 inches big and ¼ inches thick.
In a small bowl mix together the filling ingredients and combine well.
Spread the sugar mixture over the dough with a butter knife or the backside of a wooden spoon.
Using parchment paper, fold the edge of the dough over the other end of the dough and roll into a tight log.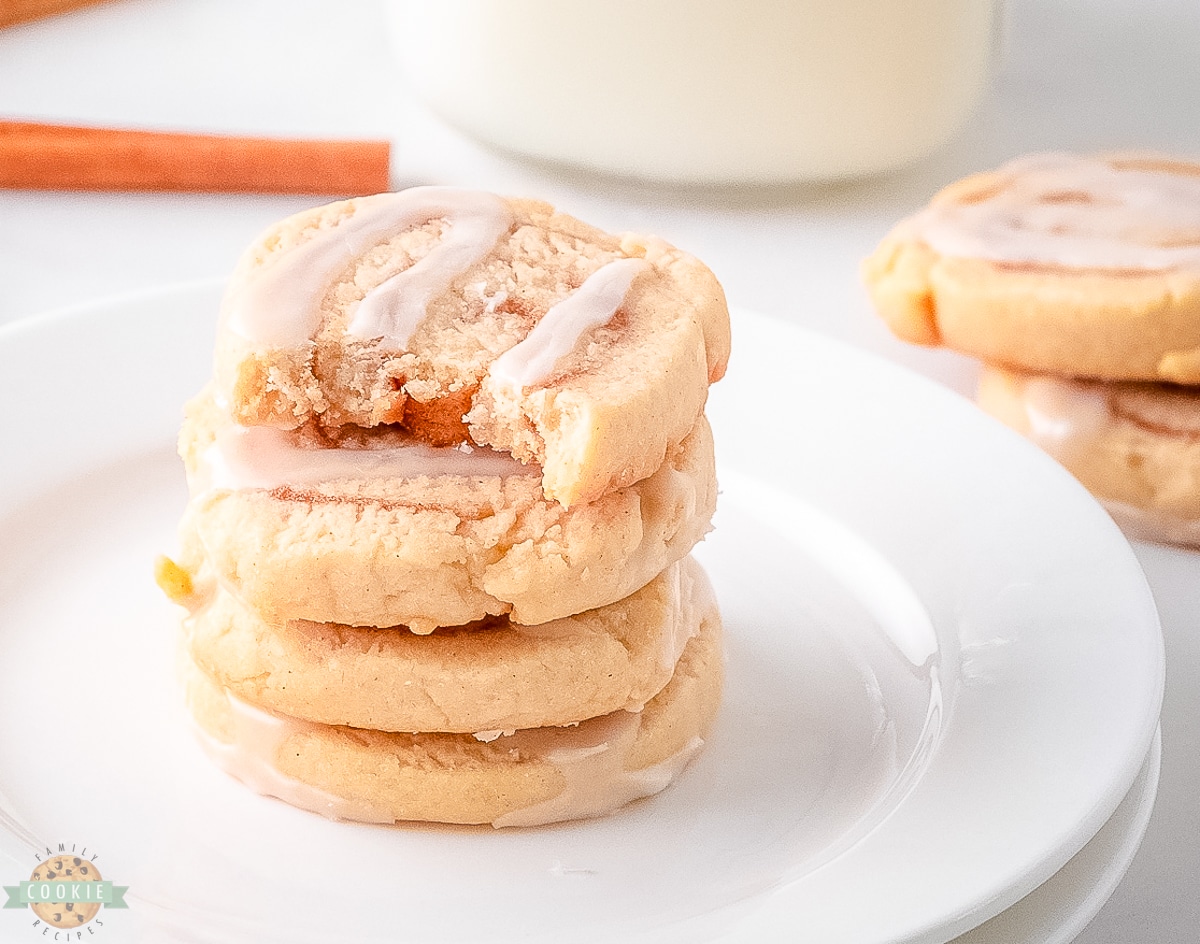 Slice into ½ inches thick pieces and place onto a parchment paper-lined baking sheet. Make sure that they are spaced at least 1 inch apart.
Bake in the oven for 12 minutes and let cool for 2-3 minutes on the baking sheet.
In a small bowl, mix together the icing ingredients and then drizzle the icing over the top of the cookies.
Enjoy!
Do I have to chill the dough?
Yes, chilling the dough is a pretty important step for getting the dough to work with you and to be easier to control and roll out. Using warmer dough will stick to the counter, roller, and not hold up well so keeping the dough chilled is best. Also, make sure to keep the second dough in the fridge while you roll out and work with the first one so that it's chilled when you get to work with it.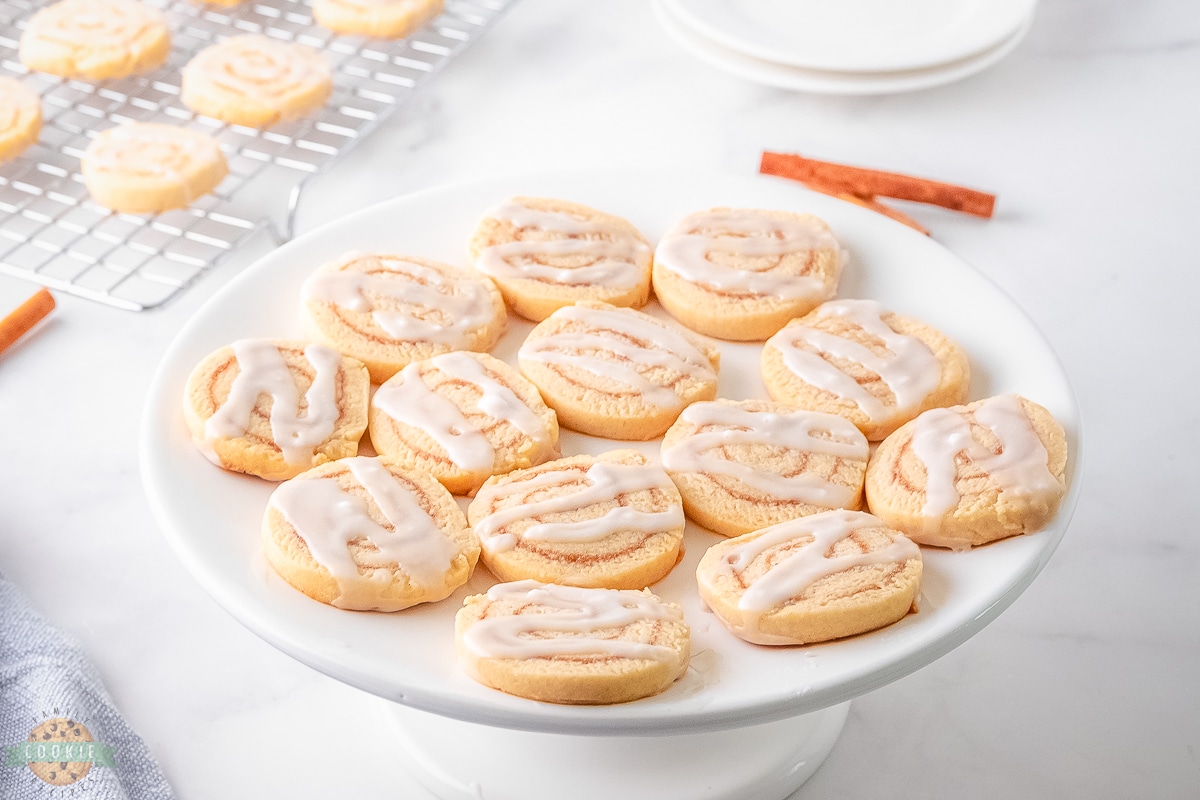 How to drizzle icing over cookies
You can use a spoon to ladle the icing over the top of the cookies or place the icing into a baggie with the corner snipped off and pipe it over the tops.
More cinnamon flavored cookies to check out
You're going to love these cinnamon roll cookies. Every bite is a wonderful explosion of flavors blending together your breakfast pastry and cookies into one harmonious treat.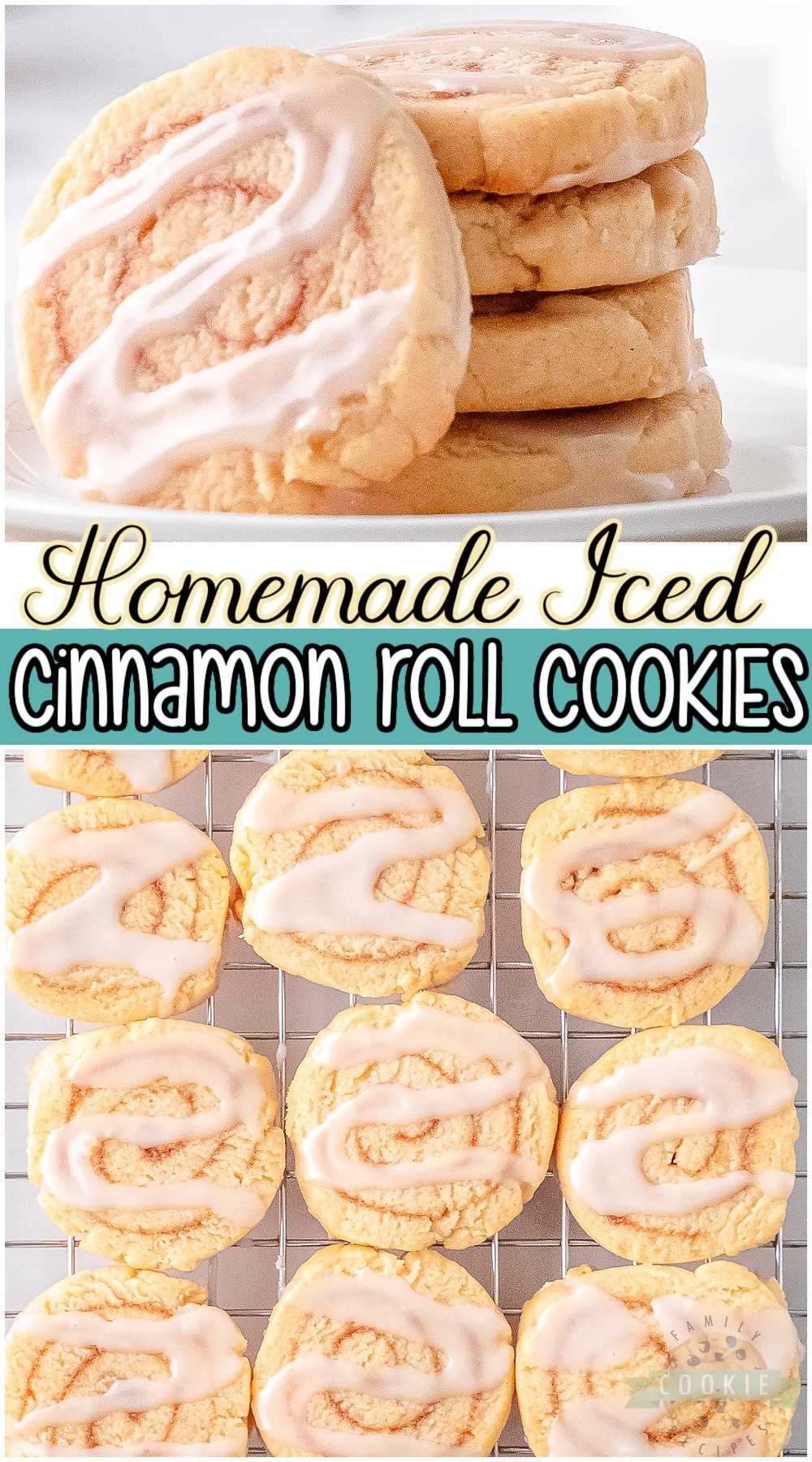 Cinnamon roll cookies are your favorite breakfast pastry turned into a delicious cookie. Soft, buttery sweet cookies with lovely cinnamon flavor, topped with a simple vanilla icing.