Cranberry Pistachio Snowball Cookies made with dried cranberries & pistachios rolled twice in powdered sugar! Perfect holiday Snowball Cookies for cookie trays & gift exchanges.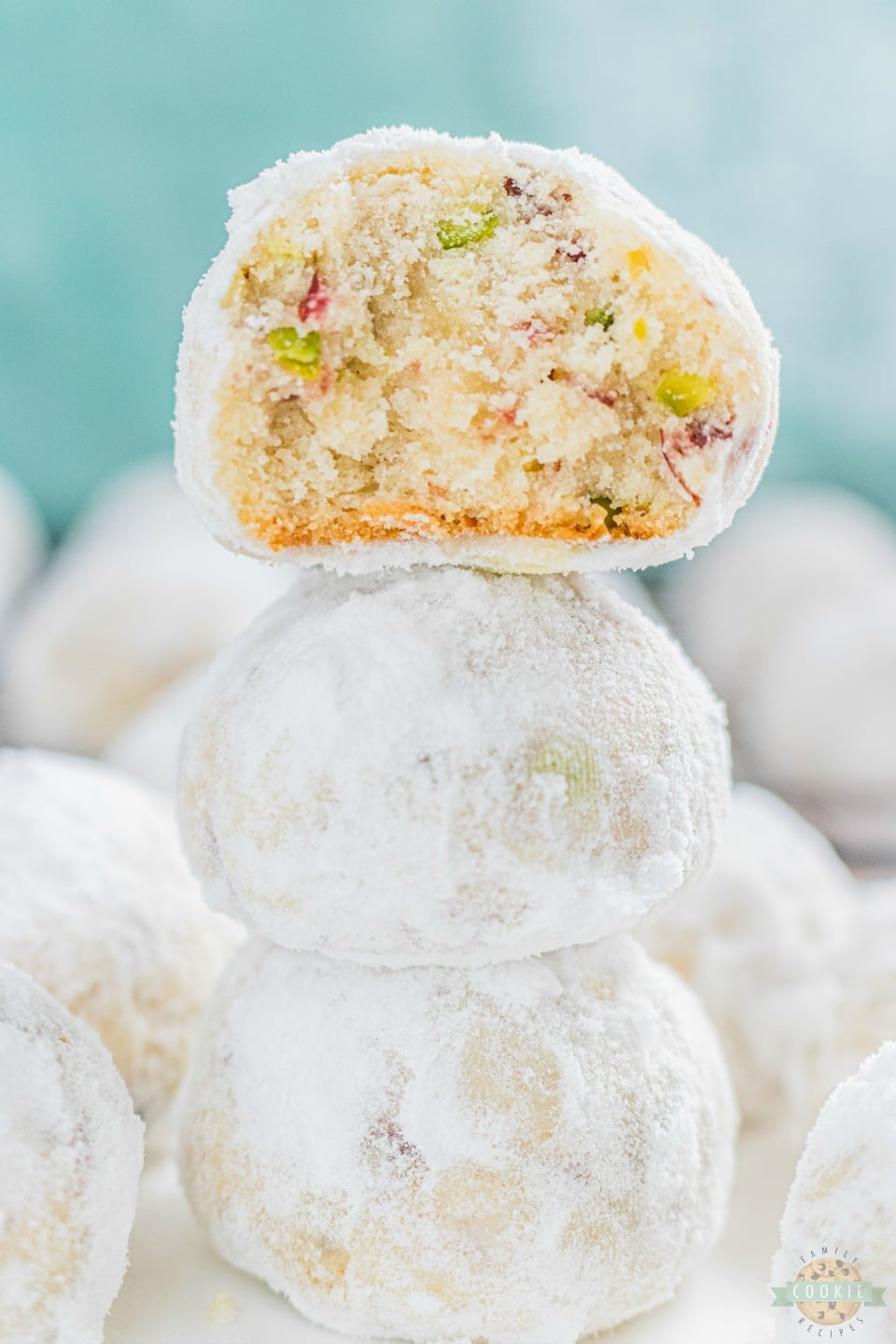 This unique cookie recipe is new favorite of ours! It's so simple to make and it has so much flavor packed into every bite that it's hard to stop eating. With every batch making about 2 dozen cookies, there's plenty to share with friends and family!
What are cranberry pistachio snowballs?
These small round shortbread cookies contain scattered (chopped) pistachios and dried cranberries in them. Then they're baked and rolled TWICE in powdered sugar for an awesome powdery white appearance that mimics the classic winter snowball. (This is also how they get their name!)
Cranberry Pistachio Snowball Ingredients
-Confectioners Sugar: We're going to need 1 ½ cups of powdered sugar but it's going to be divided between the cookie dough batter and the two coats of sugar at the end.
-Butter: Using ¾ cup of softened butter will get us a rich and buttery cookie that practically melts in your mouth.
-Vanilla Extract: We need 1 teaspoon of vanilla extract to give us a good base. I recommend the high quality stuff as there is a difference, but use what you have on hand.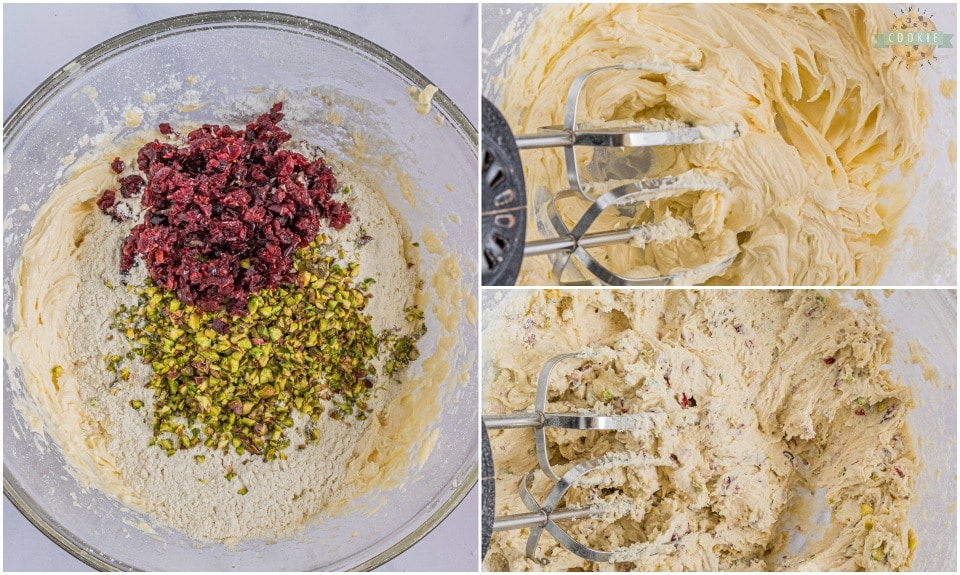 -Flour: Using 2 cups of all-purpose flour will give us the doughy base for our cookie dough batter.
-Salt: This will help to enhance the other flavors, so make sure you add the ½ tsp of salt that we need.
-Pistachios: ¼ cup of finely chopped pistachios will give us a subtle crunch, color, and savory aspect to these delicious cookies.
-Dried Cranberries: Adding a sweet and sour note are the dried cranberries. We will need ¼ cup of finely chopped cranberries for the perfect cran to cookie ratio.
How to Make Cranberry Pistachio Snowballs
Mix together the butter, vanilla, and 1/2 cup of confectioners sugar in a large bowl with an electric mixer until smooth and creamy.
Add in the flour and salt, mixing together on low speed until combined.
Add in the finely chopped pistachios and cranberries, and mix again to combine.
Cover and chill the batter in the fridge for at least 2 hours.
Preheat your oven to 350F degrees.
Line a large baking tray with parchment paper and then lightly spray it with nonstick cooking spray.
Form the dough into small 1 inch sized balls and place them on the baking sheet at least 1 inch apart.
Bake in the oven for 10-15 minutes until the bottoms are lightly golden brown.
Cool the cookies on a wire rack for 5 minutes before rolling in the remaining 1 cup of confectioners sugar.
Then return the cookies to the cooling rack and cool completely before rolling in the sugar again. Enjoy!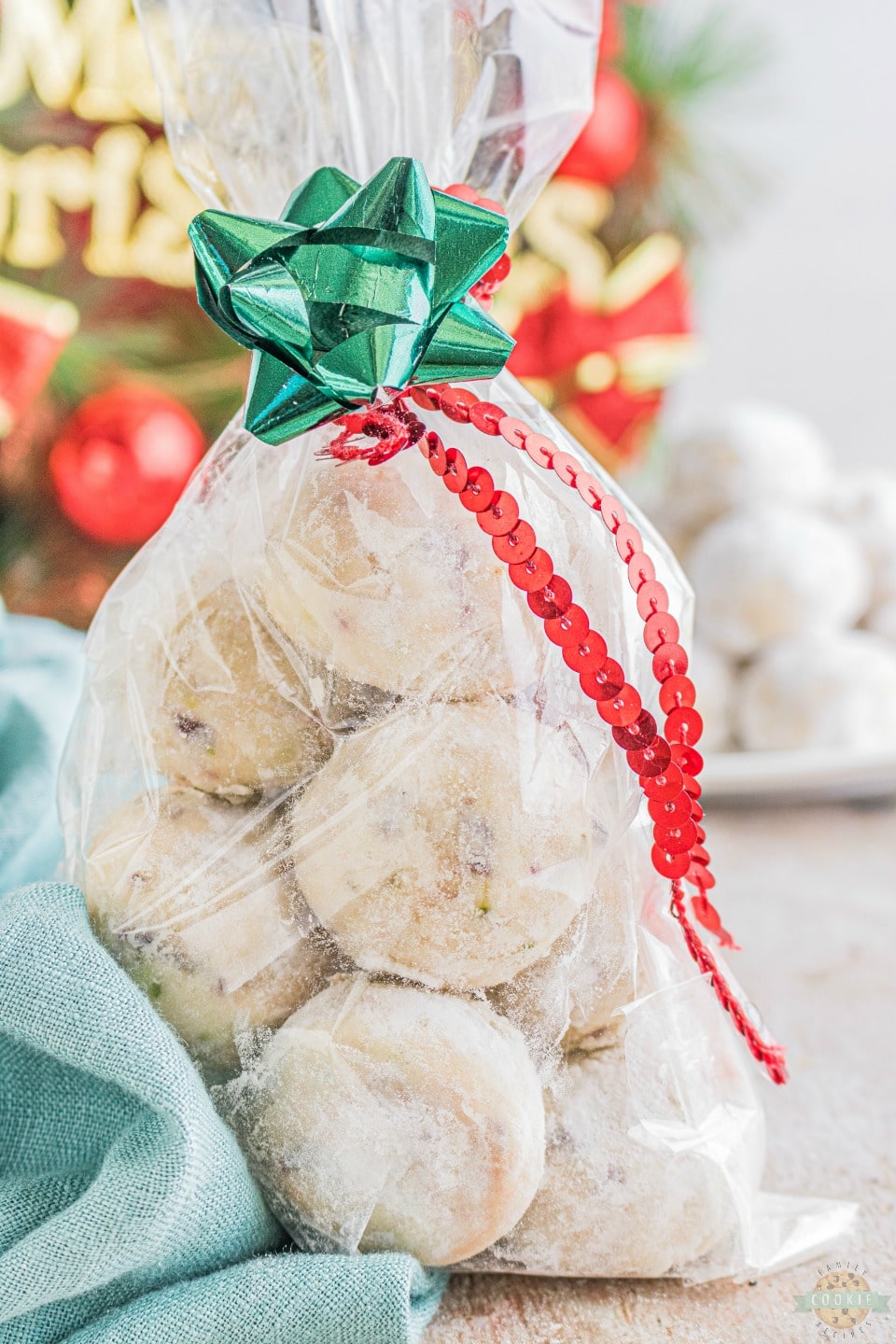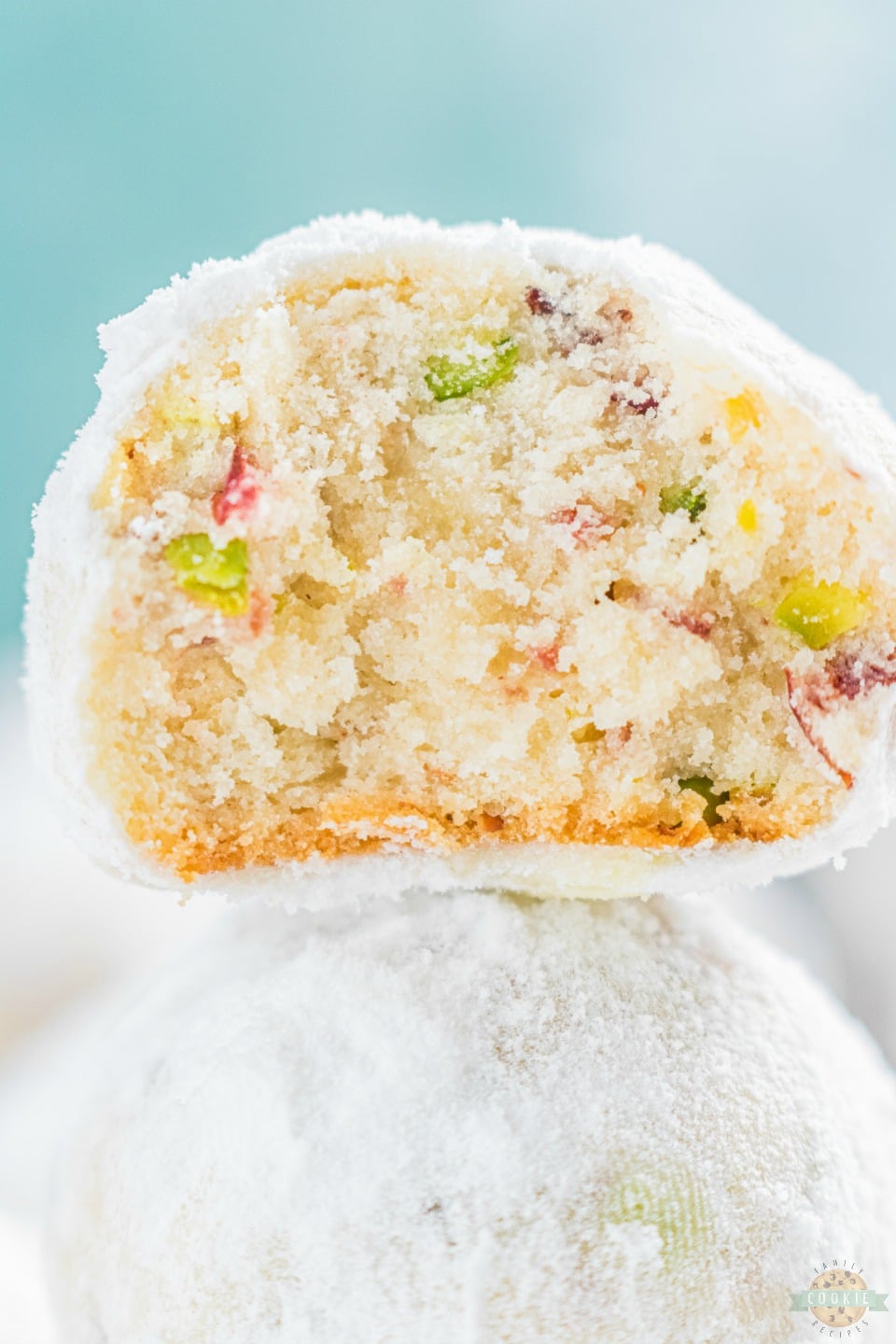 Why are my snowball cookies flat?
If your cookies fell flat the most common reasons for this to occur would be if you used melted butter or didn't chill the dough long enough. While we do want softened butter in the dough, melted butter is too soft and won't hold up as well. In the hot oven a warm dough will "melt" and fall flat instead of staying shaped as we want it to.
Can snowball cookies be frozen?
Yes, these cookies do great when frozen. Simply let them cool completely and then place in an airtight container for up to 3 months. You can toss them in another coating of powdered sugar after they've thawed so that they look fresh again.
How to store snowball cookies
Keep your snowball cookies stored in an airtight container at room temperature for up to a week. Any longer than that and the cookies will grow stale.


Teenagers are so funny. I mean, don't get me wrong, there are times of monumental attitude & frustration, but I also laugh way more than I have in a long time. My daughter is into photography lately and likes to take these angsty self portraits. Don't tell her I said this, but her life really isn't all that dramatic.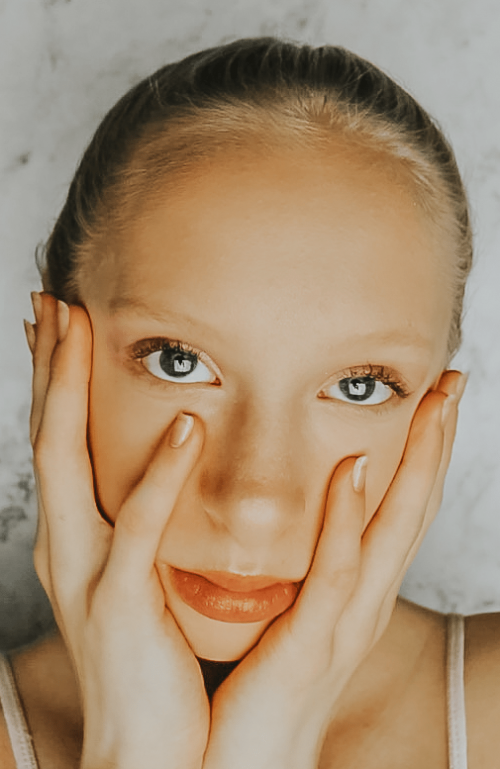 But nonetheless, the pictures are fun. She showed me her recent photo session and I about had a heart attack. Where did my little girl go?!
More Easy Cookie Recipes Worth Trying Soon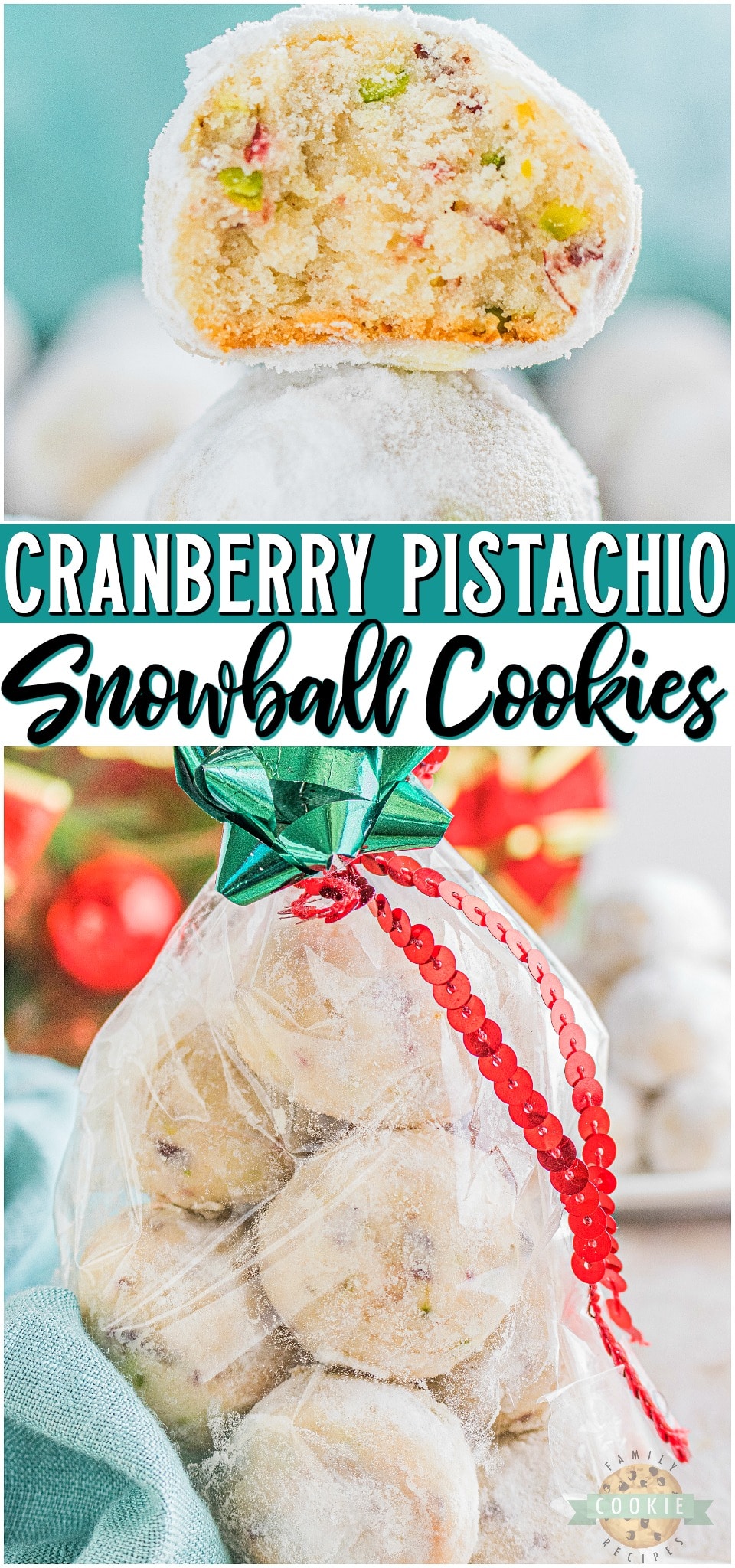 Cranberry Pistachio Snowball Cookies made with dried cranberries & pistachios rolled twice in powdered sugar! Perfect holiday Snowball Cookies for cookie trays & gift exchanges.