Frosted Eggnog Cookies made with classic ingredients, including holiday eggnog! Perfectly sweet with a bit of spice, these Christmas cookies are frosted with an eggnog buttercream that everyone loves!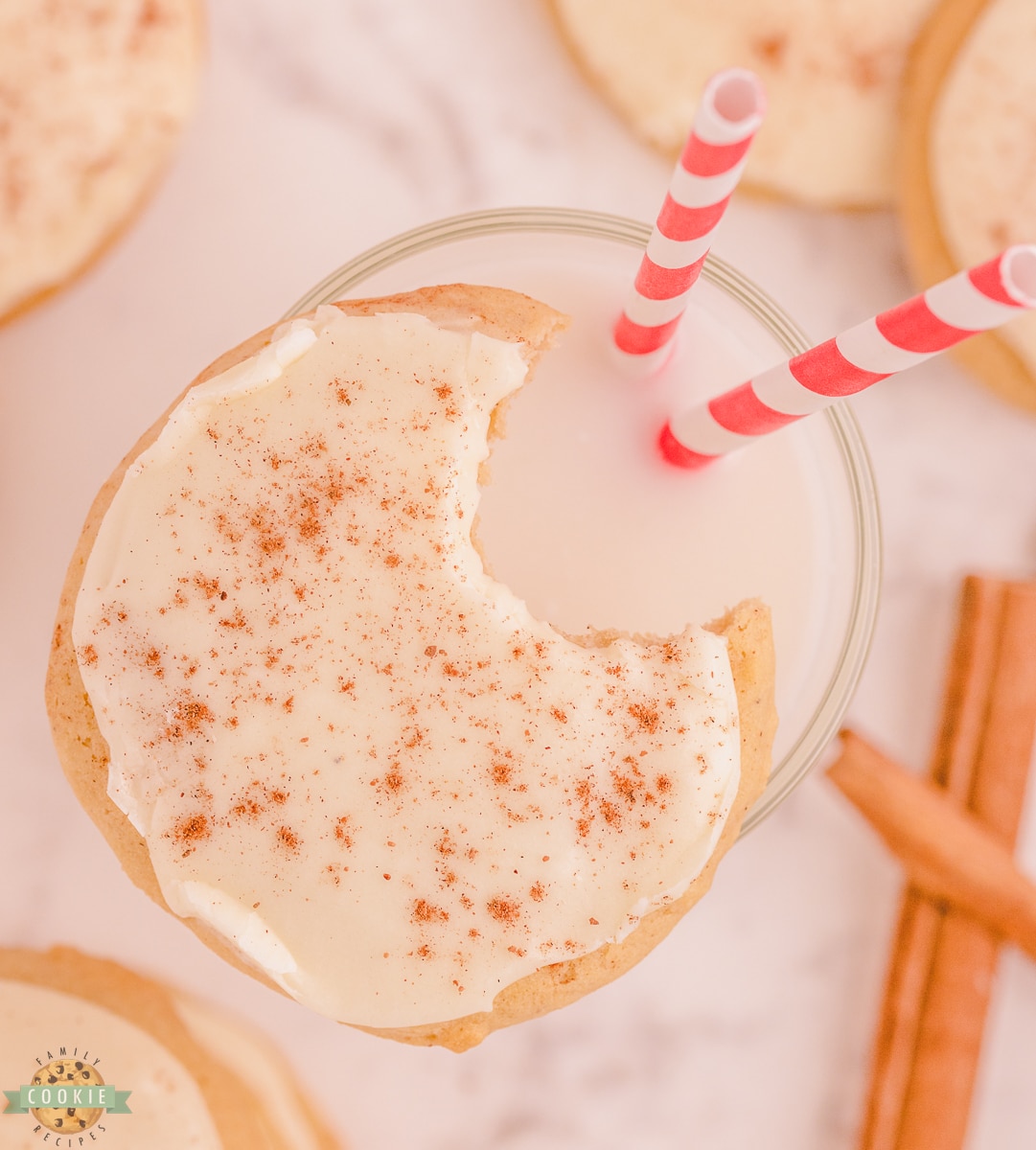 These eggnog cookies with eggnog icing are super easy to make and only require a few steps. None of them are chilling the dough- which is perfect for those of us with low patience and a strong desire to eat a cookie soon. This frosted eggnog cookie recipe is one you'll want to keep on hand every year because it's sure to become a fast favorite in your home.
The BEST Eggnog Cookies
The best tasting eggnog cookies can be made right here in your house. Made with real eggnog in both the cookie dough and in the frosting and then given an addition of ground nutmeg, these spiced eggnog cookies are packed with great taste you can approve of. Soft cookies and creamy frosting have never tasted so good!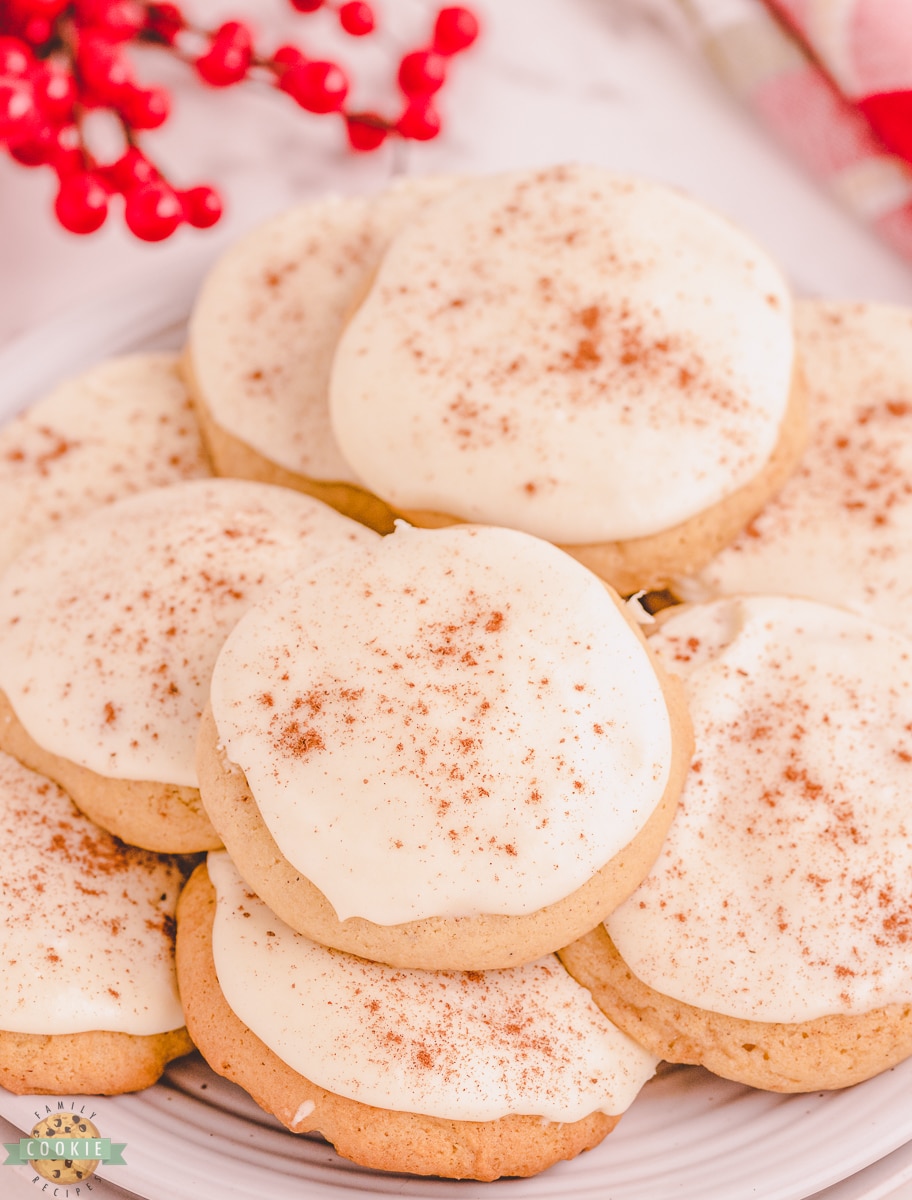 Frosted Eggnog Cookie Ingredients
For the cookies, you will need:
-Butter: You will need 1 stick (1/2 cup) of softened unsalted butter for the cookie dough.
-Sugars: You will need 1/2 cup each of granulated sugar and brown sugar to give these cookies a nice sweetness and depth of flavor.
-Egg: To help make the cookie dough taste even richer use one egg. This will also help to bind the dough so that the cookies don't crumble apart.
-Vanilla: Used as a flavor enhancer you will need 1 teaspoon of vanilla extract
-Eggnog: Use ½ cup of your favorite eggnog to make the dough taste perfect.
-Flour: The base of the cookie dough is 2 ½ cups of all-purpose flour.
-Baking soda: You will need 1 teaspoon of baking soda to make these cookies puff up nicely as they bake.
-Salt: This is a natural flavor enhancer, you will need ½ teaspoon of salt.
-Spices: Use 1/4 teaspoon each of ground nutmeg and ground cinnamon to make the cookies perfectly spiced so that there is warmth in every bite.
For the frosting you will need:
-Butter: Use 1/4 cup of softened unsalted butter to make the frosting on these cookies taste richer.
-Powdered sugar: You will need 3 cups of powdered sugar to make the frosting taste smooth and sweet.
-Eggnog: Add in 1/3 cup of your favorite eggnog to make the frosting creamy and flavorful.
-Vanilla: You just need 1/2 teaspoon of vanilla extract to make the frosting taste perfect.
-Toppings: Use 1/4 tsp nutmeg and 1/4 tsp ground cinnamon to garnish the tops of the cookies so that they look festive and fun.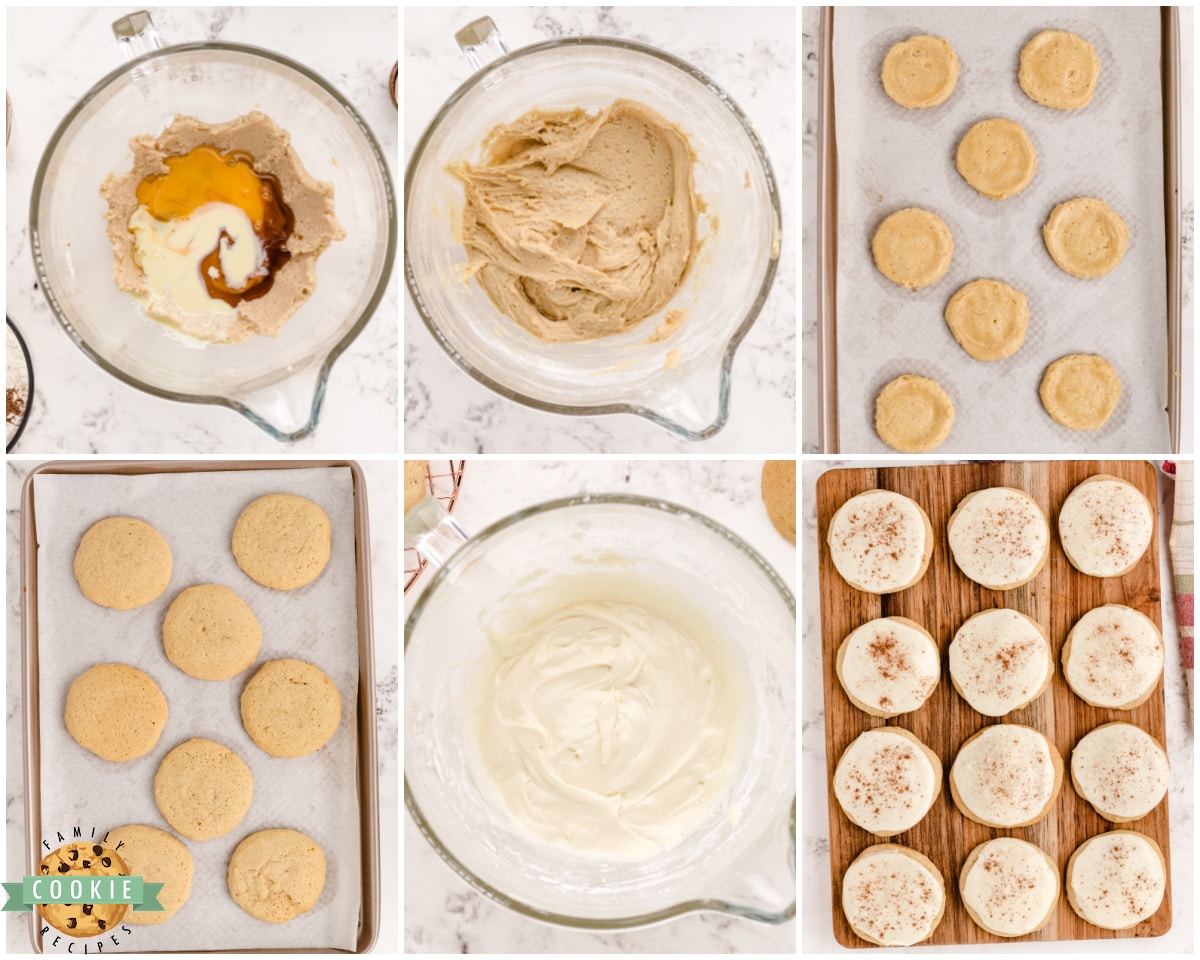 How to Make Frosted Eggnog Cookies
Preheat the oven to 350 degrees F and line a baking sheet with parchment paper.
Make Dough
In a large mixing bowl or in the bowl of your stand mixer, cream together the butter and sugars.
Add in the egg, vanilla, and eggnog and continue mixing until the mixture looks soft and creamy.
In another bowl, whisk together the flour, baking soda, salt, cinnamon, and nutmeg until well combined.
Add the flour mixture to the butter mixture and then mix until a soft dough forms.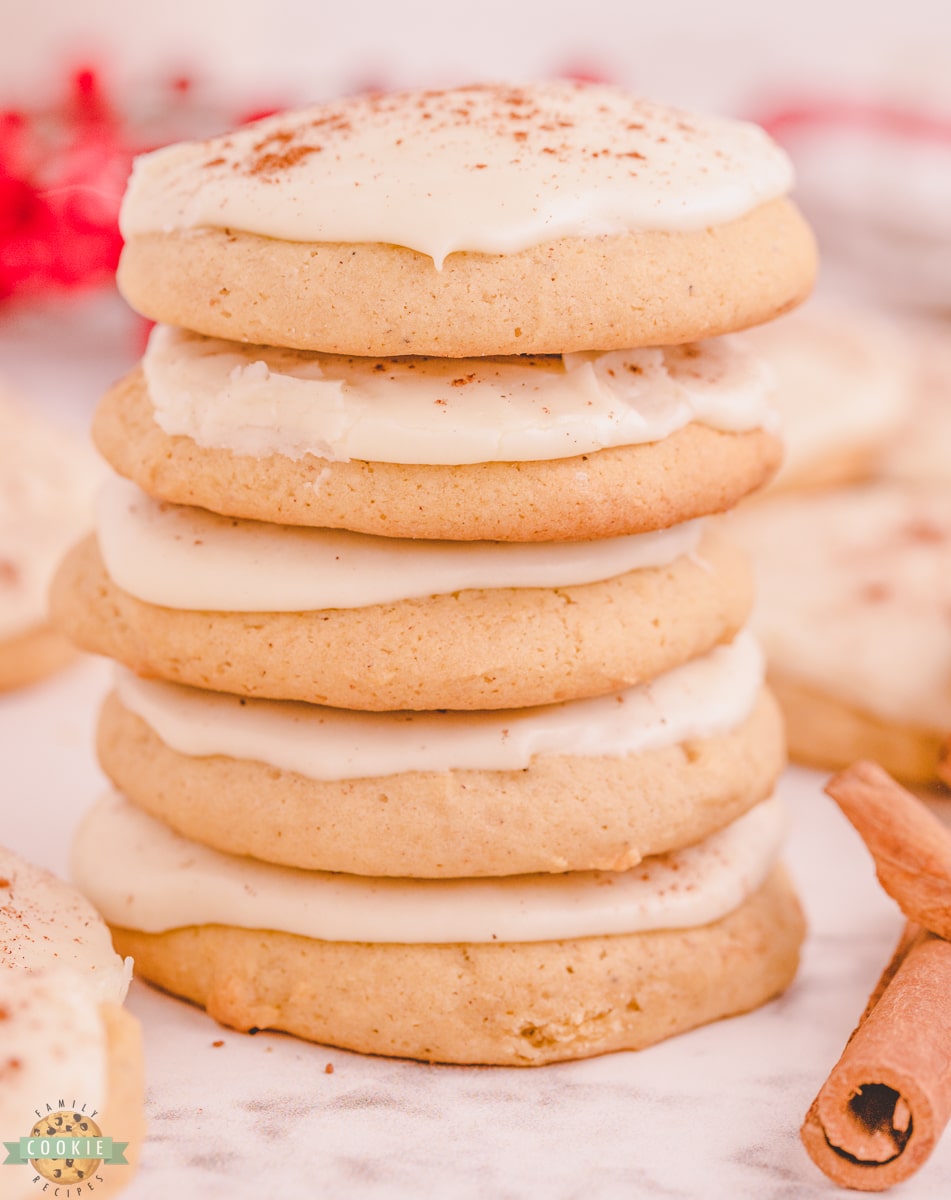 Bake
Use a cookie scoop or spoon to drop the cookies onto the baking sheet. Use the back of a drinking cup and press onto the dough mounds until they are 1.4 of an inch thick. If the cup sticks, grease it with cooking spray.
Bake the cookies for 8-10 minutes or until golden brown around the edges.
Place the cookies onto a rack to cool completely.
Make Frosting
While the cookies are cooling, prepare the frosting by mixing together the butter, powdered sugar, eggnog, and vanilla in a mixing bowl with an electric mixer until soft and creamy.
Spread over the top of your cooled cookies.
Top with a sprinkle of nutmeg and cinnamon. Enjoy!
How long are eggnog cookies with frosting good for?
These cookies are good for about 3 to 4 days if kept stored in an airtight container at room temperature or in the fridge. These cookies are best when served within a day or two.
Can I freeze frosted eggnog cookies?
These cookies are great for freezing for later but I recommend waiting to frost them until after the cookies have thawed. If you frost the cookies before freezing the storage becomes harder with layers of baking paper to prevent sticking and the icing may melt or sweat as they thaw, looking less appetizing in the process.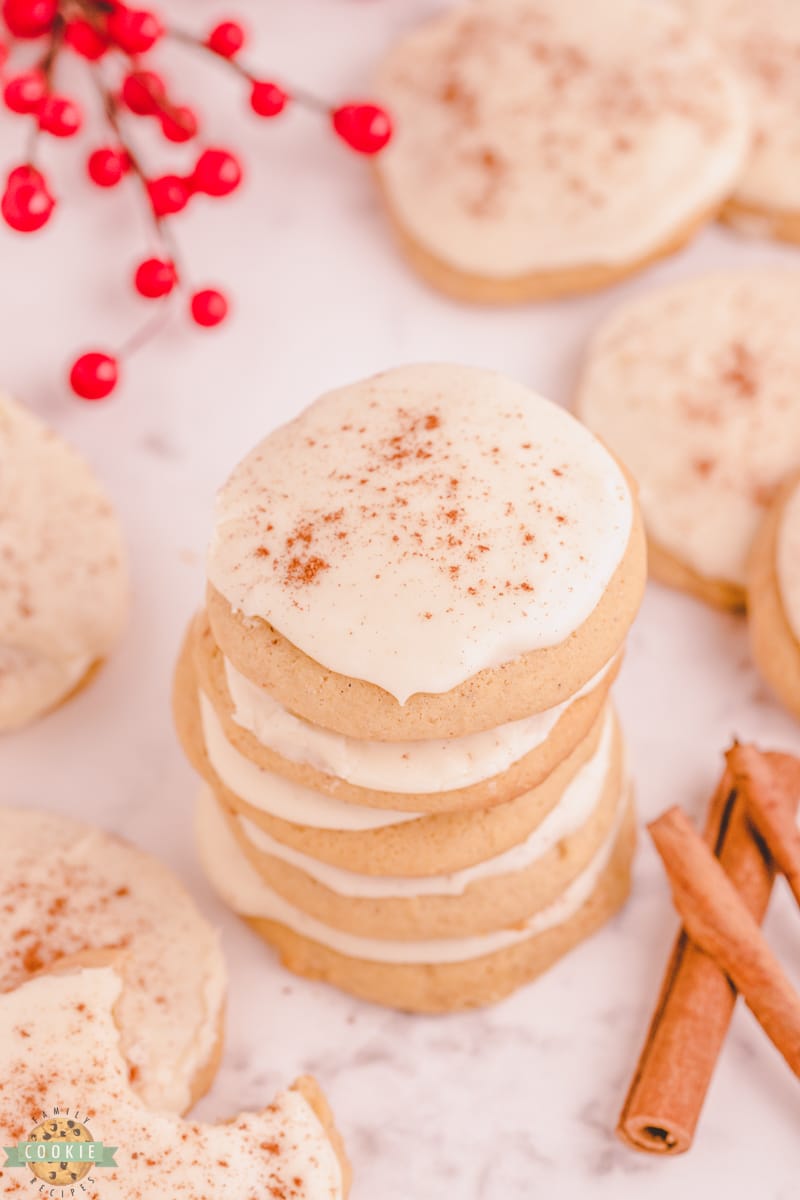 Can I use flavored eggnogs?
There are a lot of flavored eggnogs out there including pumpkin, pecan pie, and peppermint. If you want to try these cookies with any of them, go right ahead. It makes sense to only choose this if you like the drink first, so use your favorite flavored or nonflavored eggnogs and let me know how tasty the results are!
Don't forget to check out these other great Christmas cookie recipes!

Sometimes when you're the youngest of 5 kids, it's easy to get a little lost in the mix of life. But this kid, there is no way, no how he's ever getting lost! He is so energetic and lively, we always seem to know where he is and what he's doing. He just played his second season of rec center flag football and he had a great season! He was the QB and just had so much fun!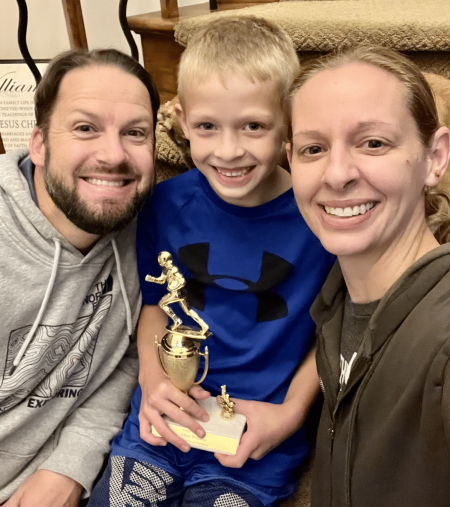 These frosted eggnog cookies are sure to be a treat worth making year after year in your own home. Packed with great spiced eggnog flavors in every soft and creamy bite, these cookies are always a huge hit around the holidays!