Peppermint Bark Cookies are the ultimate Christmas cookies, a sensational holiday dessert! These peppermint cookies are bakery-style chocolate cookies topped with peppermint buttercream & homemade peppermint bark!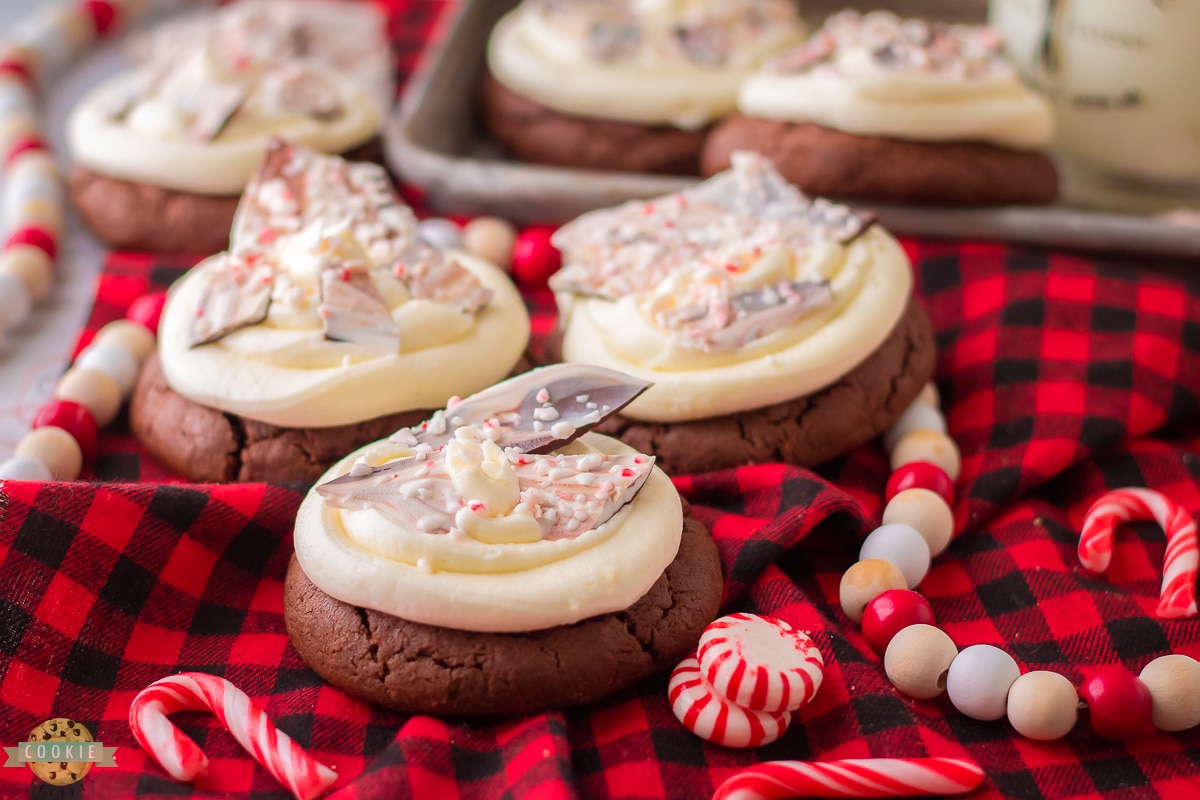 This peppermint bark cookies recipe is a perfect treat to bring to your next holiday cookie exchange, everyone who tries them will love them! Every bite of these chocolate peppermint bark cookies will have you coming back for more, they are simply divine.
What are peppermint bark cookies?
These are the best chocolate cookies, thick, soft, rich, and just a little chewy, everything that makes the perfect cookie. The buttercream is luscious and flavored with peppermint. The homemade peppermint bark is thin, and the perfect blend of semisweet and white chocolate with crushed peppermints really sets these cookies apart. These cookies are the epitome of a holiday treat, this is one recipe you will want to make over and over!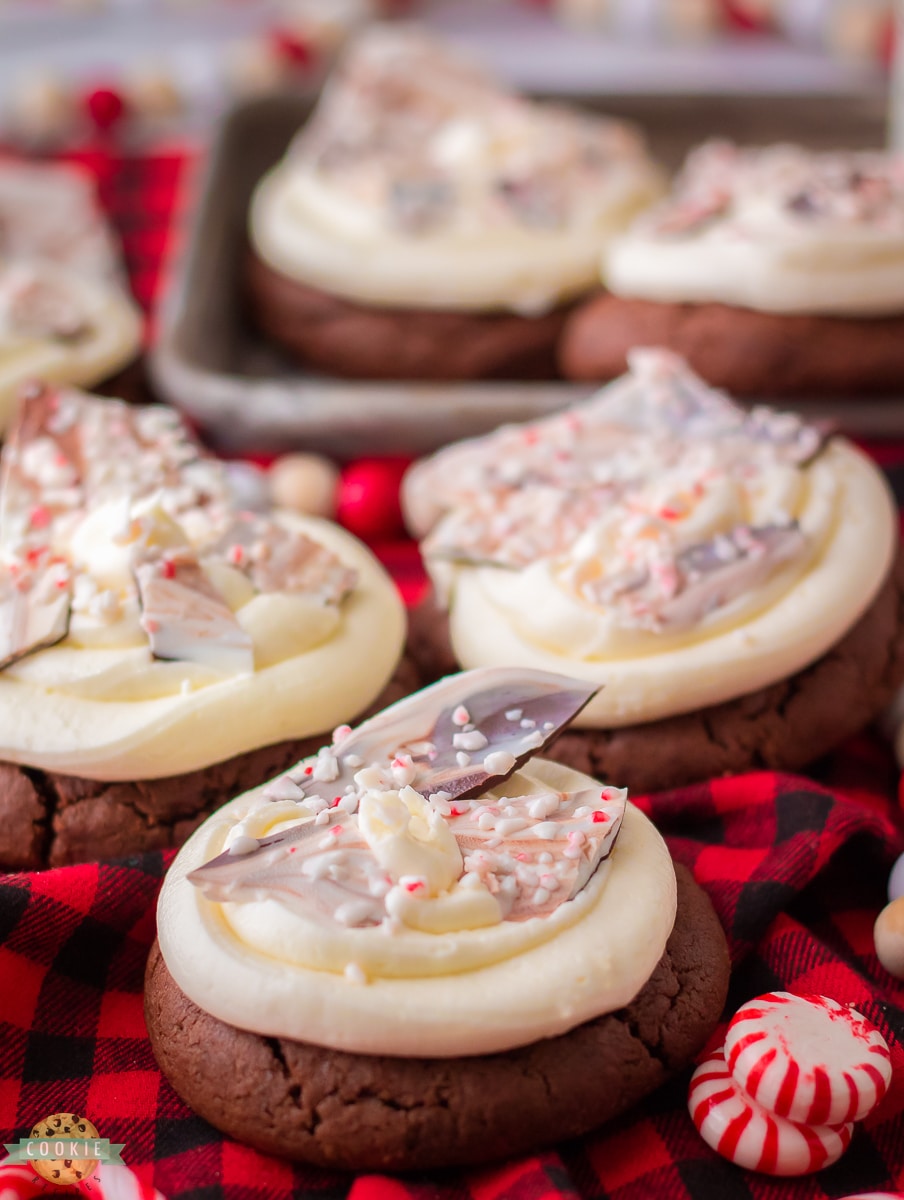 Why we think you will love this amazing cookie recipe
Not that you need to be convinced to try this recipe, but in case you were on the fence…here are some reasons to make these cookies today!
Simple ingredients. We use a lot of basic pantry staple ingredients for this recipe, so it should not be too much work to track down everything you will need.
Easy steps. This cookie recipe doesn't take much more effort than usual. The process will be like making chocolate cookies, making frosting, melting chocolate, and then just assembling them all together.
Peppermint and chocolate are a perfect pairing. Winter is best for refreshing peppermint, and rich chocolate flavors, and combining the two has been one of the best flavor duos in history. From peppermint hot chocolate to baked goods and sweets this is a winter favorite that everyone can enjoy.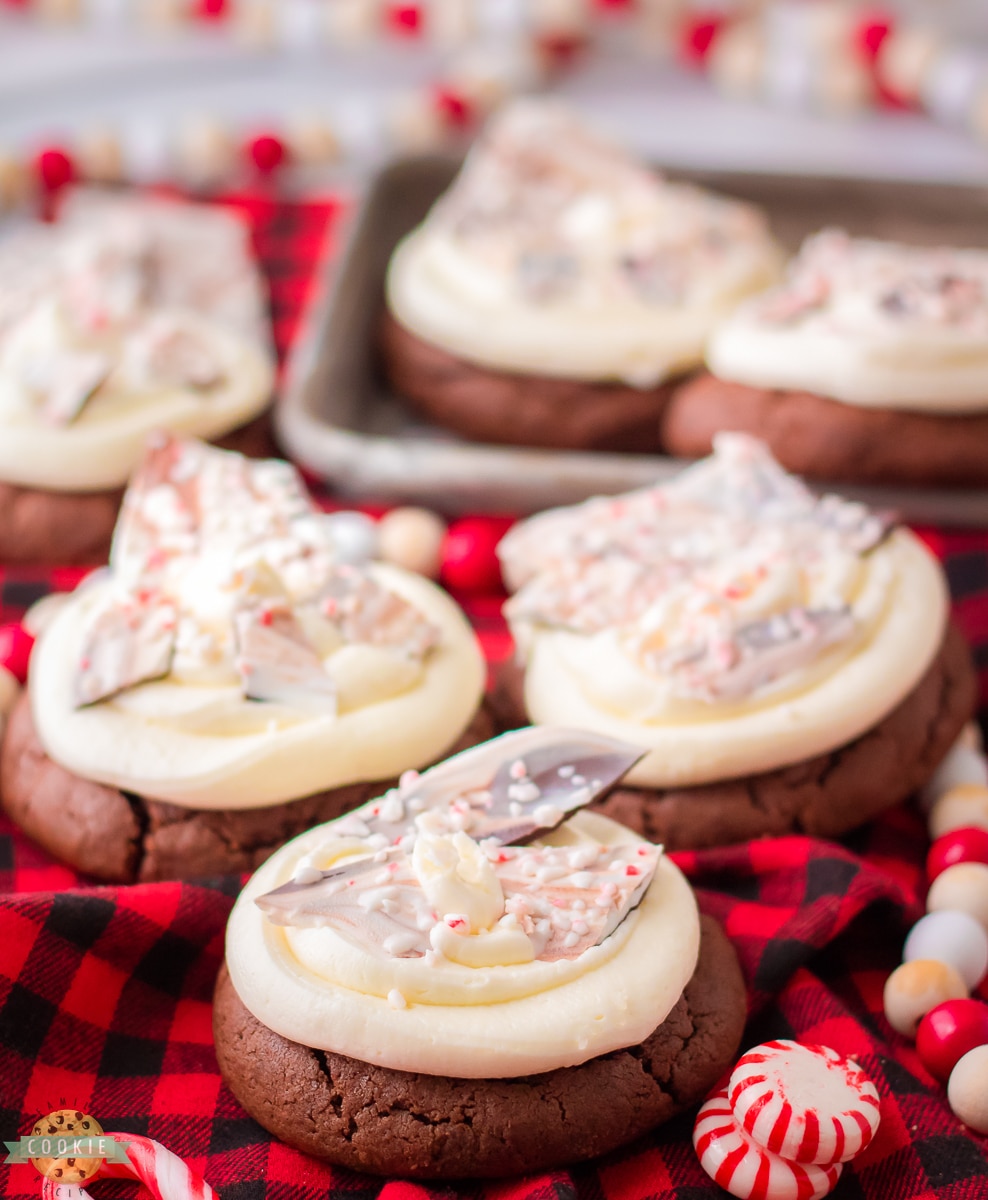 Peppermint Bark Cookie Ingredients
Cookies
Butter– You will need ½ cup of butter (one stick) to make the cookies rich and moist.
Sugars– Use ¾ cups of brown sugar and 2 tablespoons of granulated white sugar to sweeten the cookies perfectly.
Egg– You will need 1 large egg to bind the dough together well.
Vanilla extract– Adding in 2 teaspoons of vanilla extract will make the dough taste even better.
Flour– Use 1 ¼ cups of all purpose flour for the base of this cookie recipe.
Cocoa powder– You will need ½ cup of unsweetened cocoa powder. I use regular cocoa powder, but Dutch processed cocoa will work well too.
Baking soda– To get the cookies to puff up nicely as they bake, use ½ teaspoon of baking soda.
Salt– For flavor enhancement, you will need ¼ teaspoon of salt.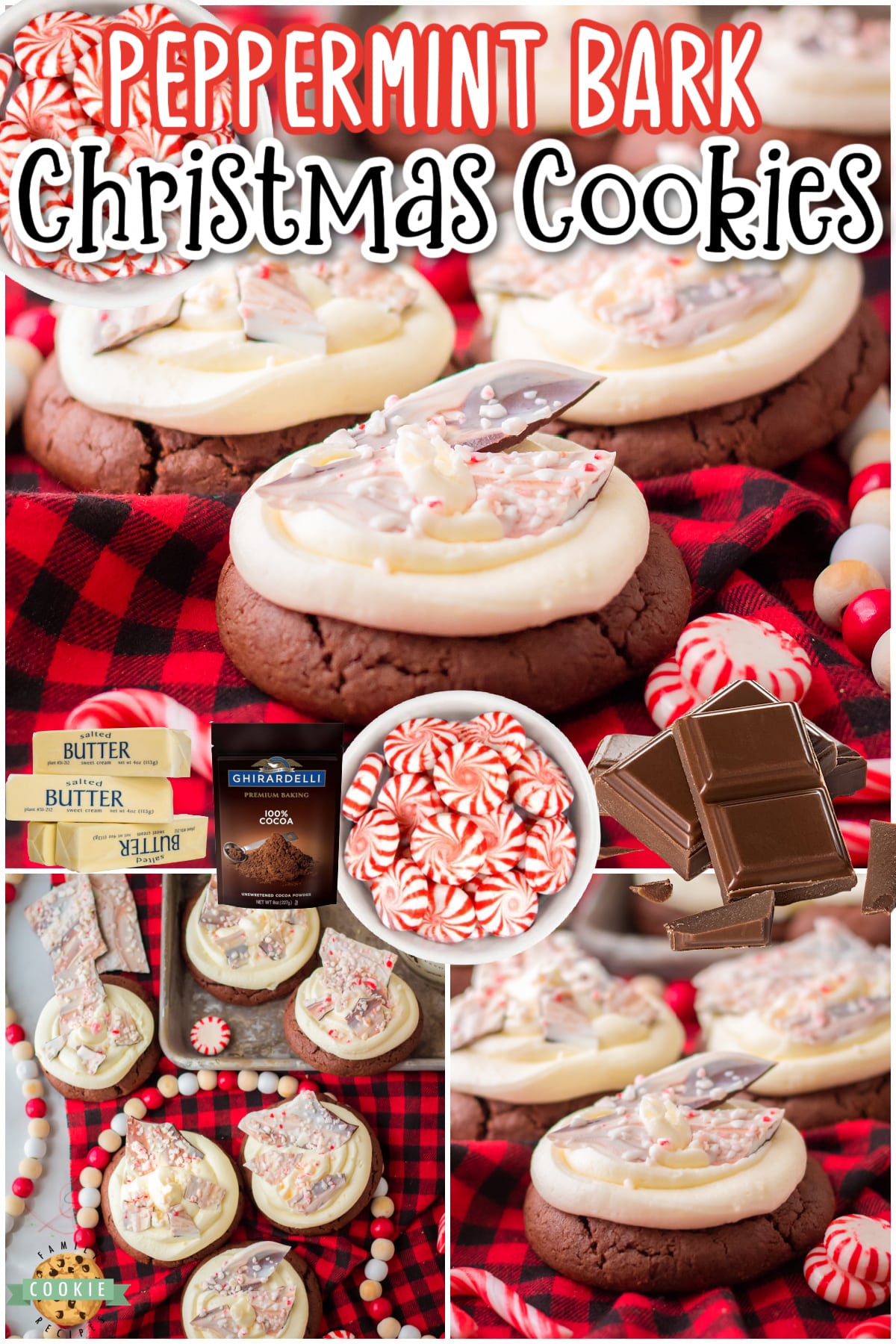 Peppermint bark topping
Chocolate chips- You will need ½ cup of semi-sweet chocolate chips to give us more rich chocolate in every cookie.
White chocolate- Use ½ cup of white chocolate chips or almond bark for that classic white chocolate of peppermint bark.
Peppermints– You only need 1 tablespoon of crushed peppermints. You can crush peppermints, or you can find pre-crushed peppermints in the baking section around the holidays.
Buttercream frosting
Butter– You will want ½ cup of softened butter for a rich flavorful taste in the frosting.
Powdered sugar– Use 4 cups of powdered sugar for a sweet and smooth base of this frosting.
Milk– Adding 3-4 tablespoons of milk will help get the frosting to the perfect consistency.
Extracts– To make the frosting really flavorful, you will need 1 teaspoon of vanilla extract and ¾ teaspoons of peppermint extract.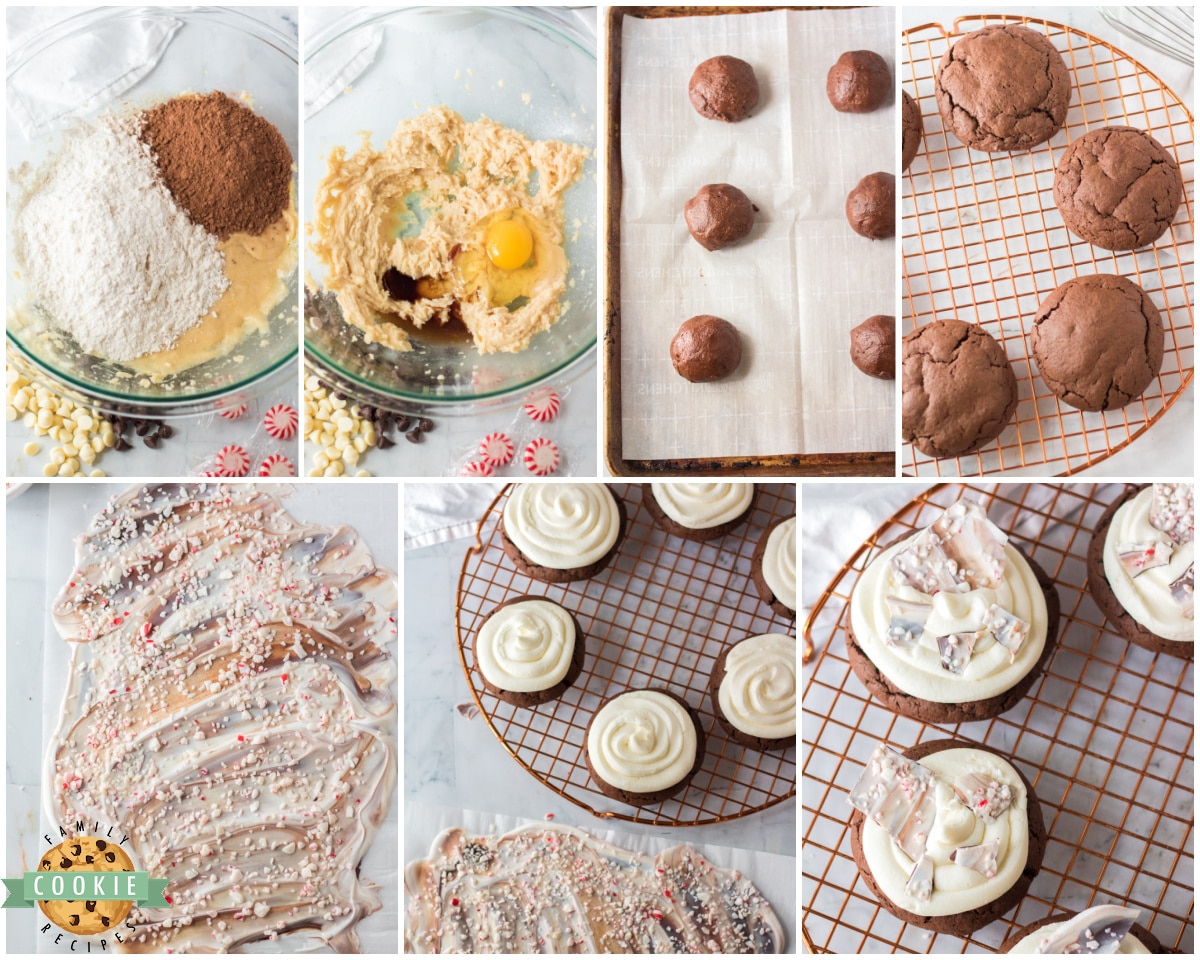 How to Make Peppermint Bark Cookies
Cookie Dough
In a large mixing bowl, beat the butter and sugars, with a whisk or electric handheld mixer, until light and fluffy.
Then, add in the egg and vanilla extract, mix until combined.
Next, stir in the flour, baking soda, cocoa powder, and salt until the mixture forms a dough.
Proceed to place the dough in the refrigerator and chill for 30 minutes before proceeding with the baking.
Prep
About 20 minutes into the dough chilling process, start preheating the oven to 350 degrees F. Then, line a baking sheet with parchment paper or silicon mat and set it aside.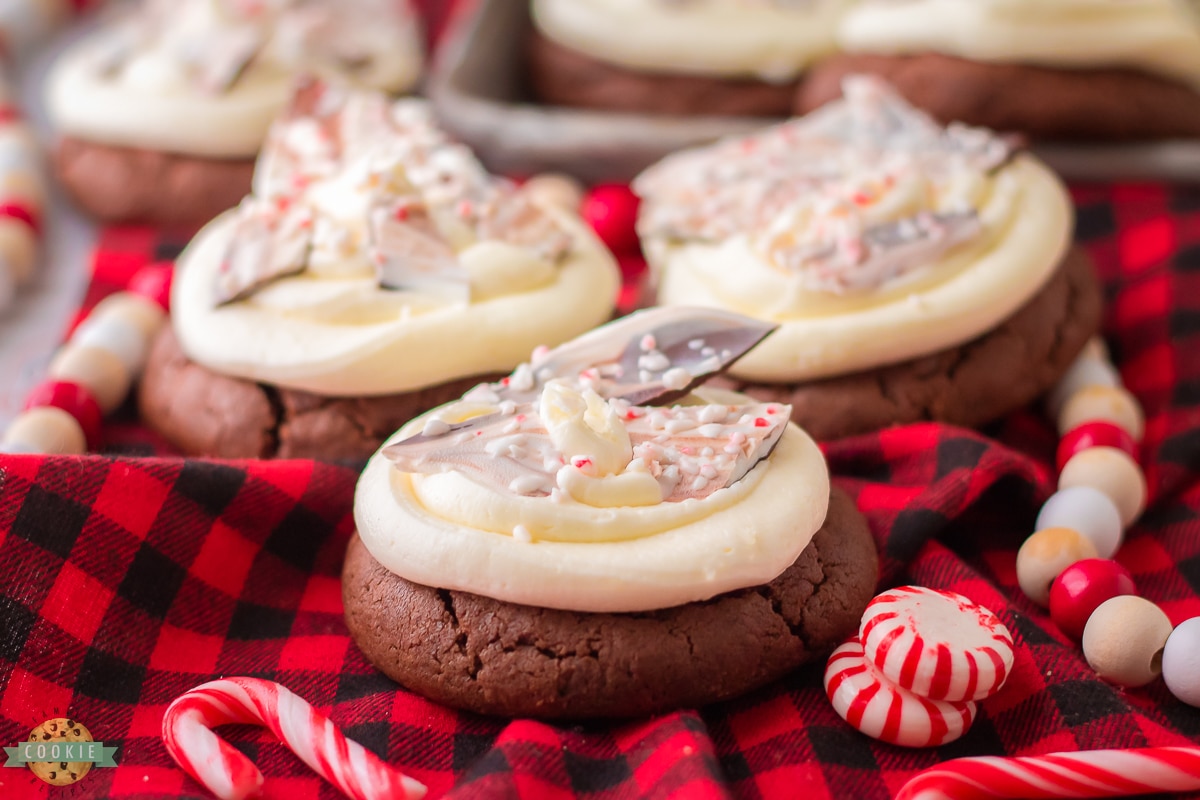 Bake
After the dough is done chilling, separate the dough into 6 balls of dough and place them onto your prepared baking sheet.
Bake in the preheated oven for 10-12 minutes. Let the cookies cool on the baking sheet for about 10 minutes before transferring to a wire cooling rack to cool completely.
Peppermint Bark
In a microwave safe bowl, melt your semisweet chocolate chips in the microwave in 30 second intervals, stirring until melted and smooth. Repeat the process with the white chocolate in a separate bowl.
Next, thinly spread the semisweet chocolate out onto a piece of parchment paper and then spread melted white chocolate over the top of that.
Sprinkle the top with crushed peppermint candies and set aside to set.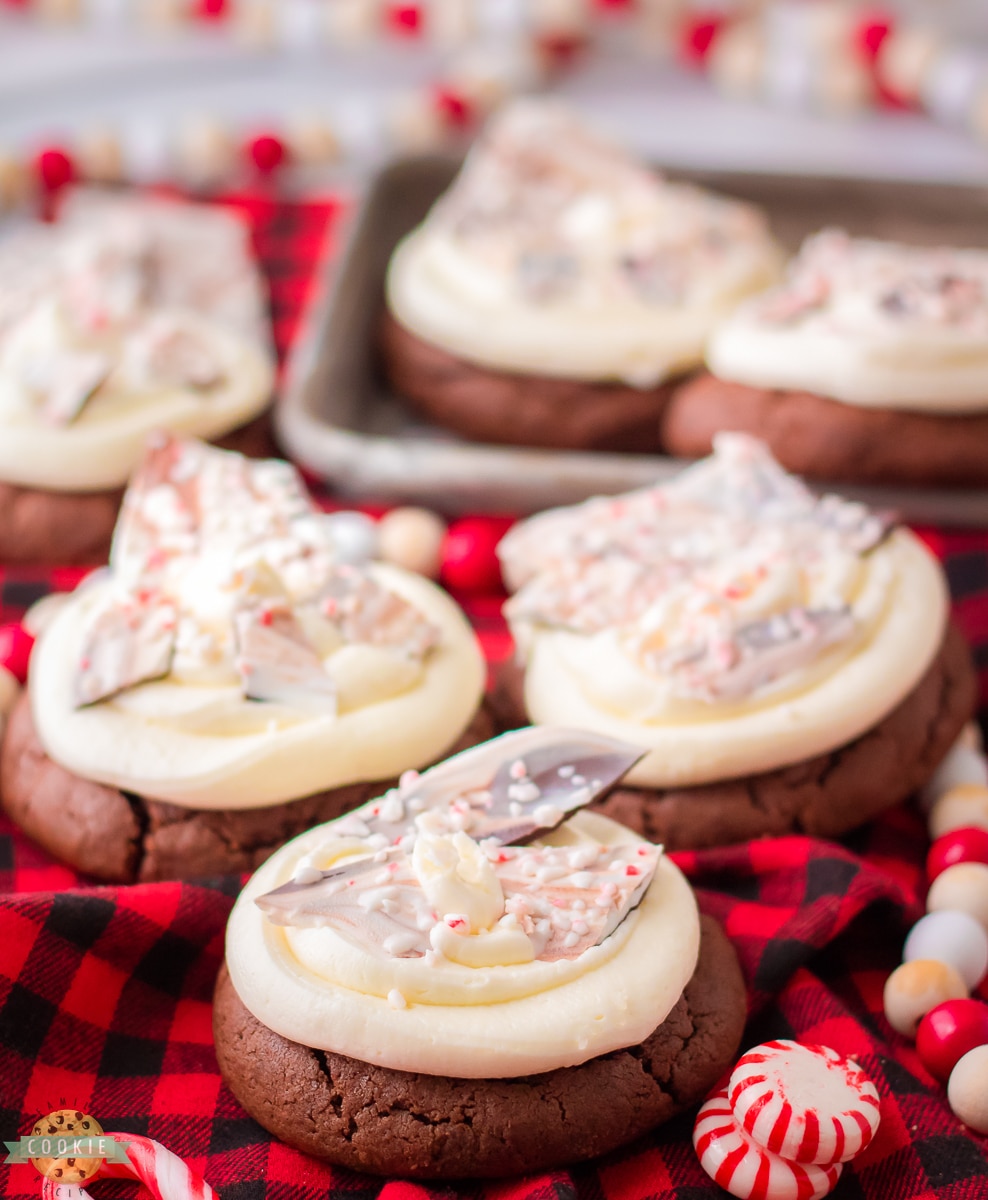 Buttercream frosting
In a large bowl, whip the butter with an electric mixer.
Then, add in the powdered sugar, vanilla extract, and peppermint extract. Whip again to combine.
Lastly, add the milk and beat again until the frosting is light and fluffy.
Assemble
Transfer the buttercream frosting to a ziplocked bag with the corner snipped off or a piping bag with a round tip. Proceed to pipe the buttercream in a swirl pattern on top of each of the cookies.
Next, break the peppermint bark into pieces and place them on top of the cookies.
Serve and enjoy!
How long are peppermint bark cookies good for?
You can keep these cookies stored in an airtight container at room temperature for up to 3 days or for a slightly longer storage solution, you can place them in an airtight container in the fridge for up to 5 days.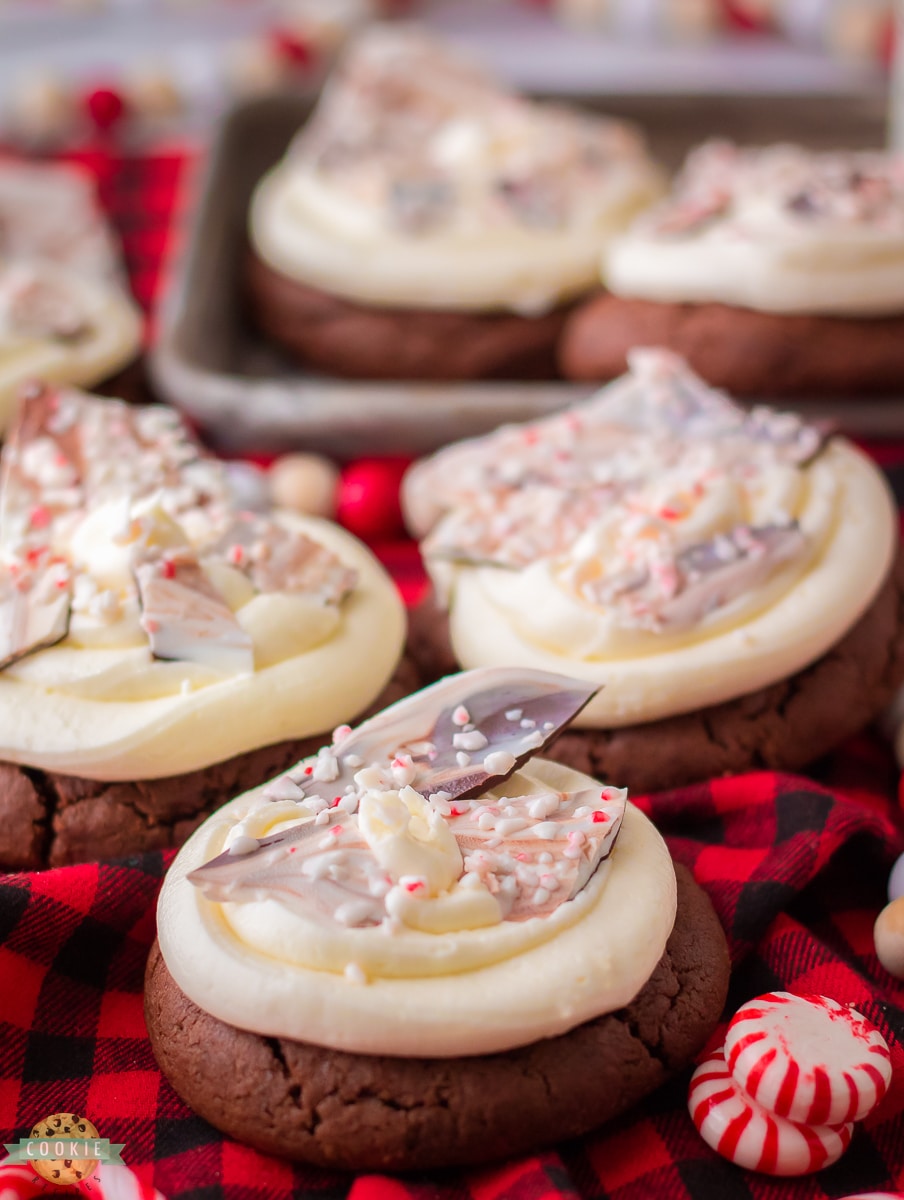 Cookie Variations
For more chocolate, you can add in some chocolate chunks or white chocolate chips to the cookie dough. Stir them in just before chilling the dough.
If you would like smaller cookies, divide the dough into 12 equal sized balls of dough instead of 6. Note that the baking time may be lessened by a few minutes so make sure to keep an eye on them. You will know that the cookies are finished when the edges look set and the tops are no longer glossy. Cookies may appear puffy, but they will set as they rest on the baking sheet.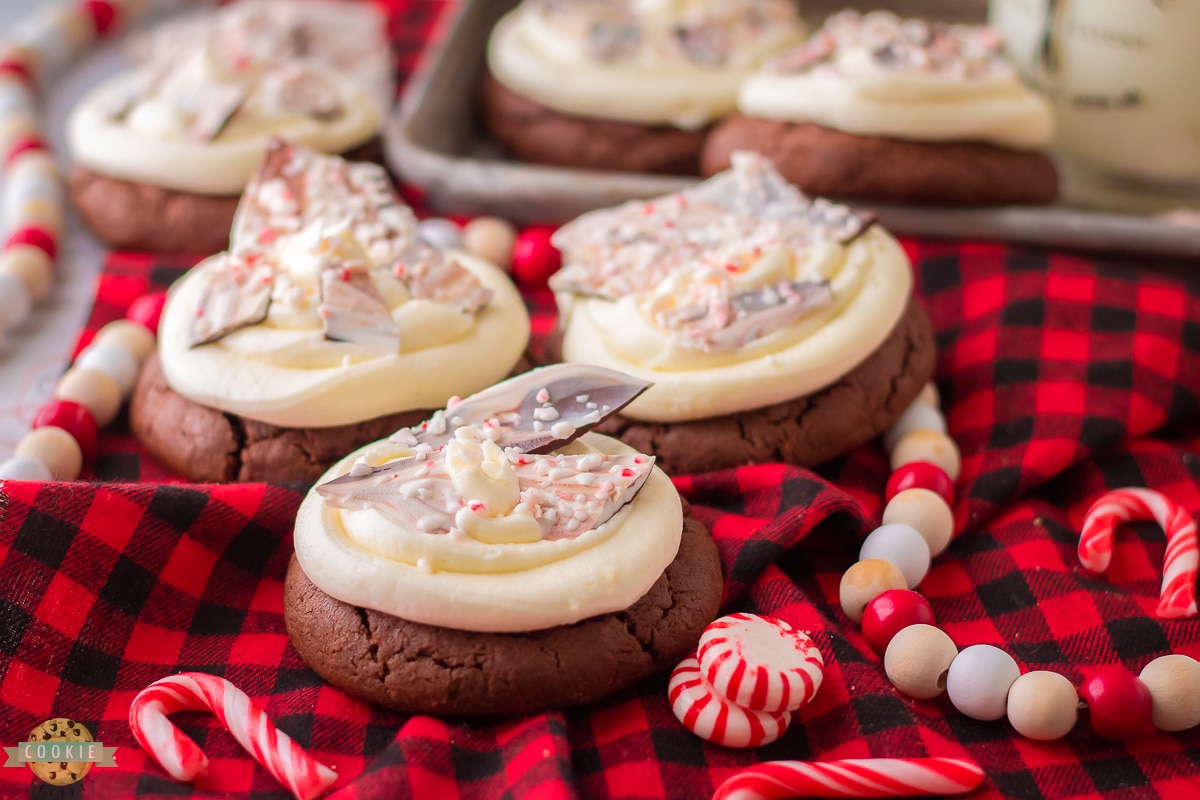 Can I freeze frosted cookies?
Yes, you can freeze these cookies. They will last up to 3 months if store properly. To freeze them, place your frosted cookies onto a baking sheet and freeze for about 2 hours until the frosting is solid. Then transfer to an airtight container with a piece of parchment paper or wax paper between the cookies to prevent sticking. You can also put them each in individual ziplocked bags after the initial freezing process, for quick access to a sweet treat.


Anyone with 2 pups has likely experienced this scenario below. Ha! Anyone else? It's a common occurrence with us when we walk these two crazies. But really, who's walking who?!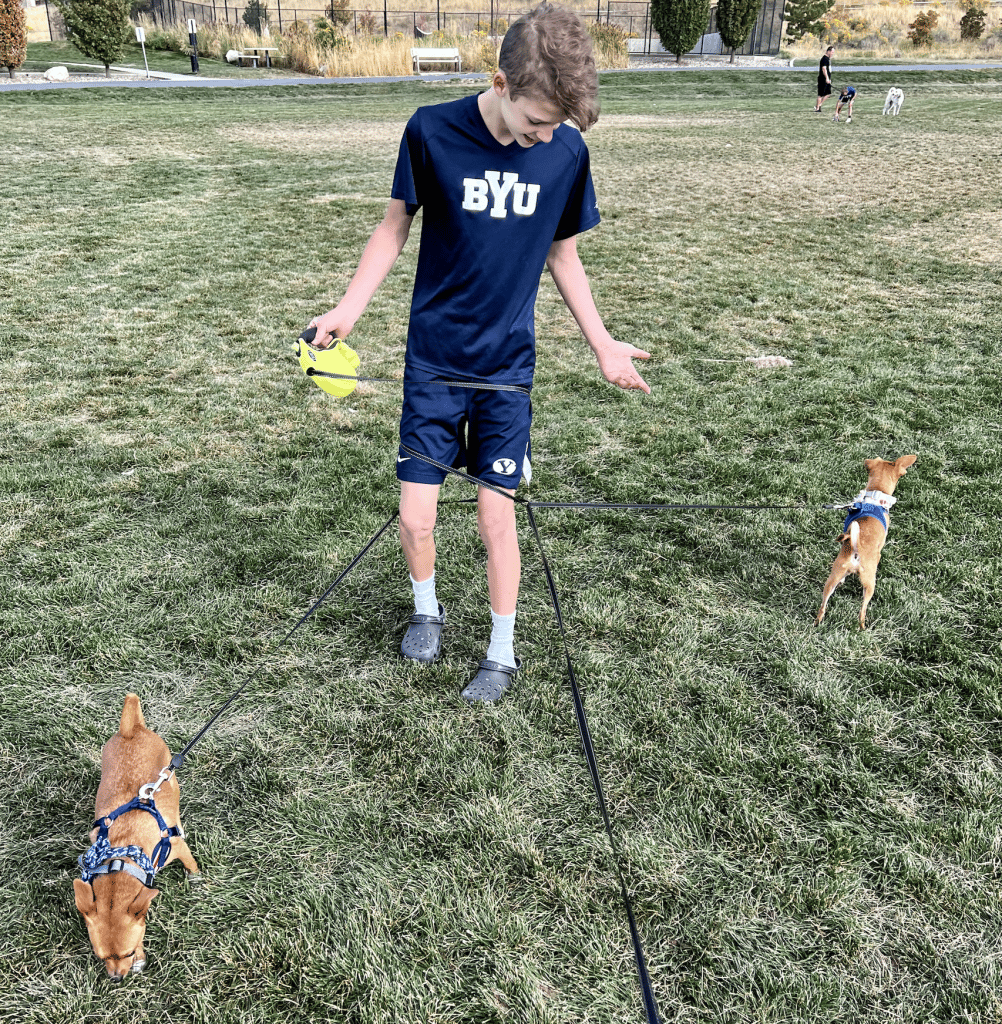 Peppermint Bark Cookies are a sensational Christmas cookie, they are a show stopper treat and great for the holidays. These festive cookies are a soft, rich chocolate cookies, with a smooth peppermint buttercream and homemade peppermint bark.