Cherry Shortbread Cookies made with buttery shortbread and a sweet cherry inside! Tender, sweet cookies with lovely cherry almond flavors!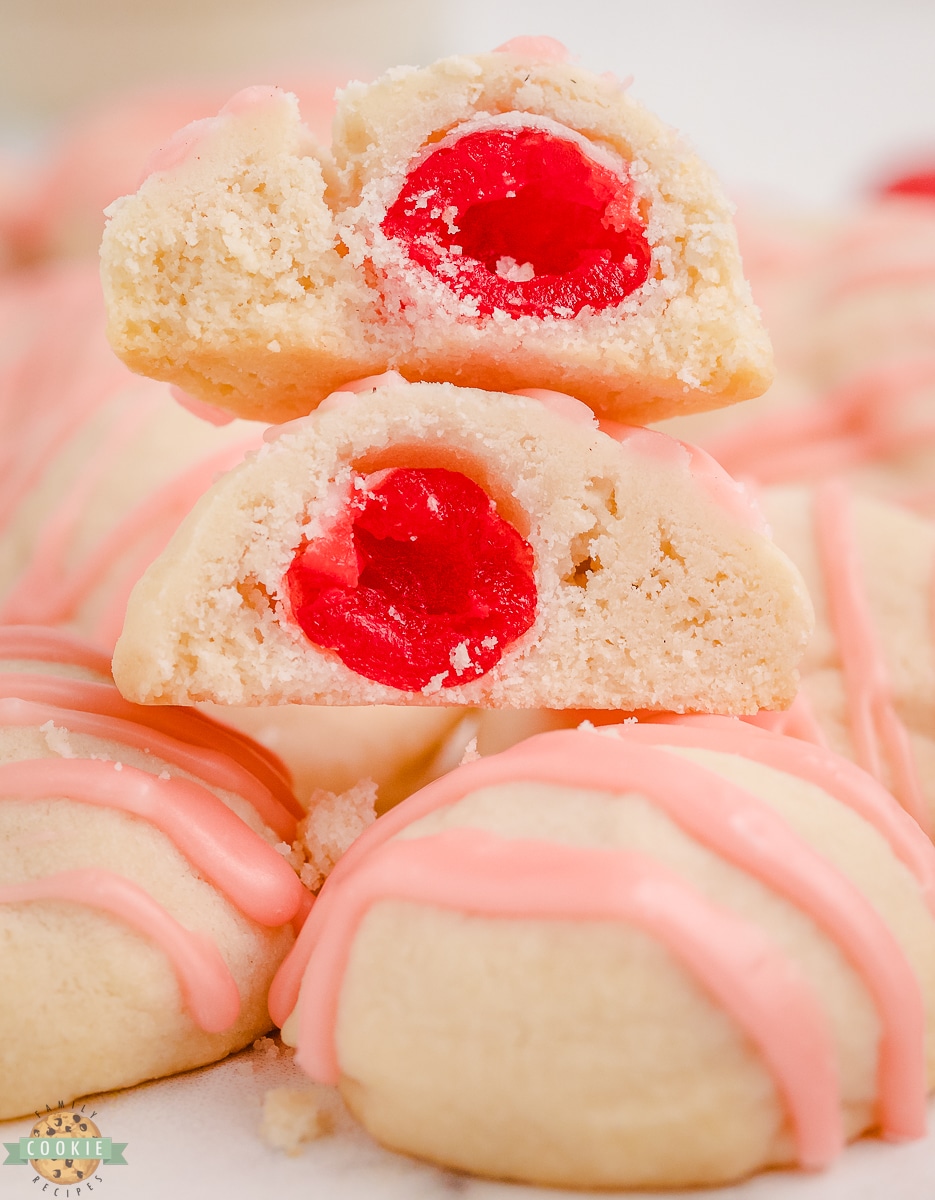 Making this maraschino cherry shortbread cookie recipe is so easy, with just a few simple ingredients you will be enjoying these in no time! These cherry bomb cookies are not only delicious but beautiful too!
Cherry Shortbread Cookies
Maraschino cherry cookies are a unique treat to add to your list of cookies to try this year. With only a few basic ingredients, this cookie recipe is very minimal and easy to follow. These cherry surprise cookies are perfect for so many occasions, a yummy treat for Santa, a surprise for your special Valentine, or even a baby shower too.
With a lovely dessert like this, it is perfect for people who are not a huge fan of chocolate. They are a delicate cookie with the sweet red surprise inside the buttery soft cookie outside. The best part about making these cookies is serving them up without telling people about the center surprise, sit back and watch the reactions and enjoy!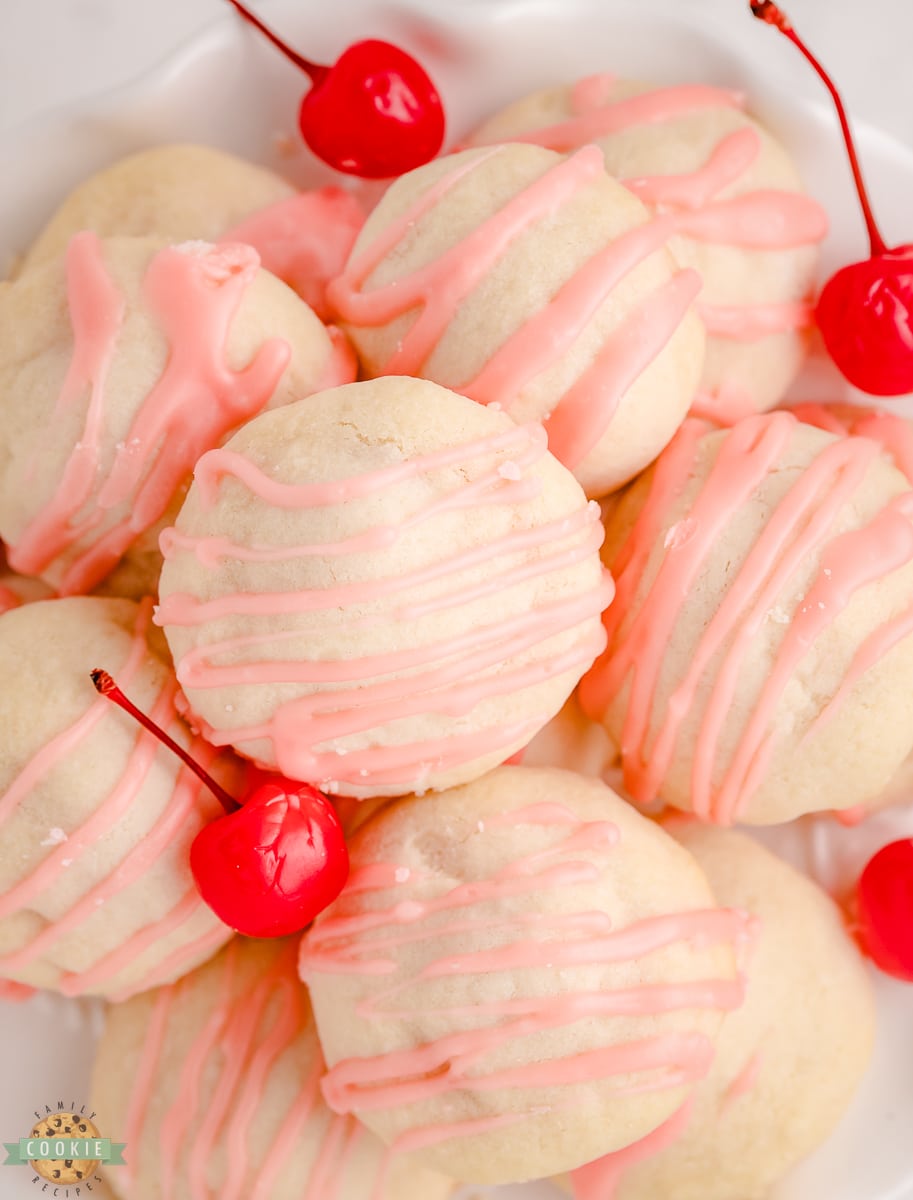 Hidden Cherry Shortbread Cookie Ingredients
-Butter: You will need 1 cup butter, softened [2 sticks] to help give the cookies a nice rich texture.
-Powder sugar: Using ½ cup powdered sugar will create just the right amount of sweetness to this cookie.
-Cornstarch: Adding ¼ cup cornstarch will give a nice thickness to this sweet treat.
-Flour: You need 1 ½ cups all-purpose flour for the base of this cookie recipe.
-Almond extract: Use just 1 tsp almond extract for a lovely flavor enhancer to this dessert.
-Cherries: You will need 1 jar maraschino cherries, plus 1 tbsp of liquid from the jar.
Cherry Icing ingredients
-Powder sugar: For just the right amount of sweetness you need ½ cup powdered sugar.
-Butter: You need 1 tbsp butter [melted] to make a nice creamy topping.
-Cherry juice: Adding in 1 tbsp maraschino cherry juice will give a bit more yummy flavor to this cookie.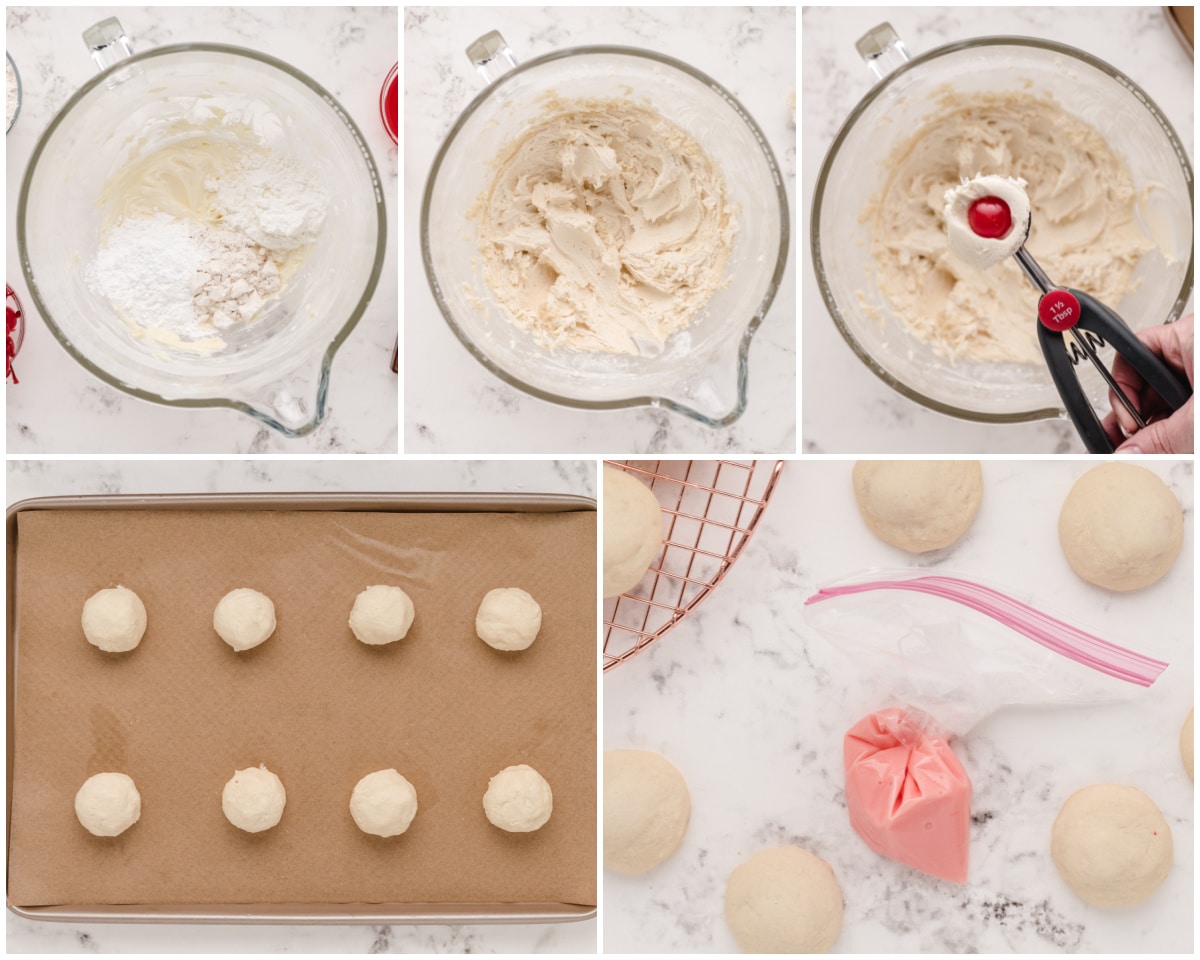 How to make Hidden Cherry Shortbread Cookies
Prep
Preheat oven to 350 degrees.
Line a baking sheet with parchment paper or spray with non-stick cooking spray.
Cookie dough
Start by softening your butter in a microwave safe bowl in the microwave, this typically takes 15-20 seconds.
Then, move the butter to a large mixing bowl and whip it with a whisk for about 5 minutes. You can also use a Kitchen Aid mixer or a handheld electric mixer for this step too. The butter is whipped adequately when it looks more like whipped cream.
Next, lay about 20-25 maraschino cherries out on a napkin to dry. I gently pressed another napkin on top to absorb additional moisture.
After the butter is whipped well, add the sugar, almond extract, cornstarch and the flour and whisk well to combine. Continue to mix on high for 3-4 additional minutes.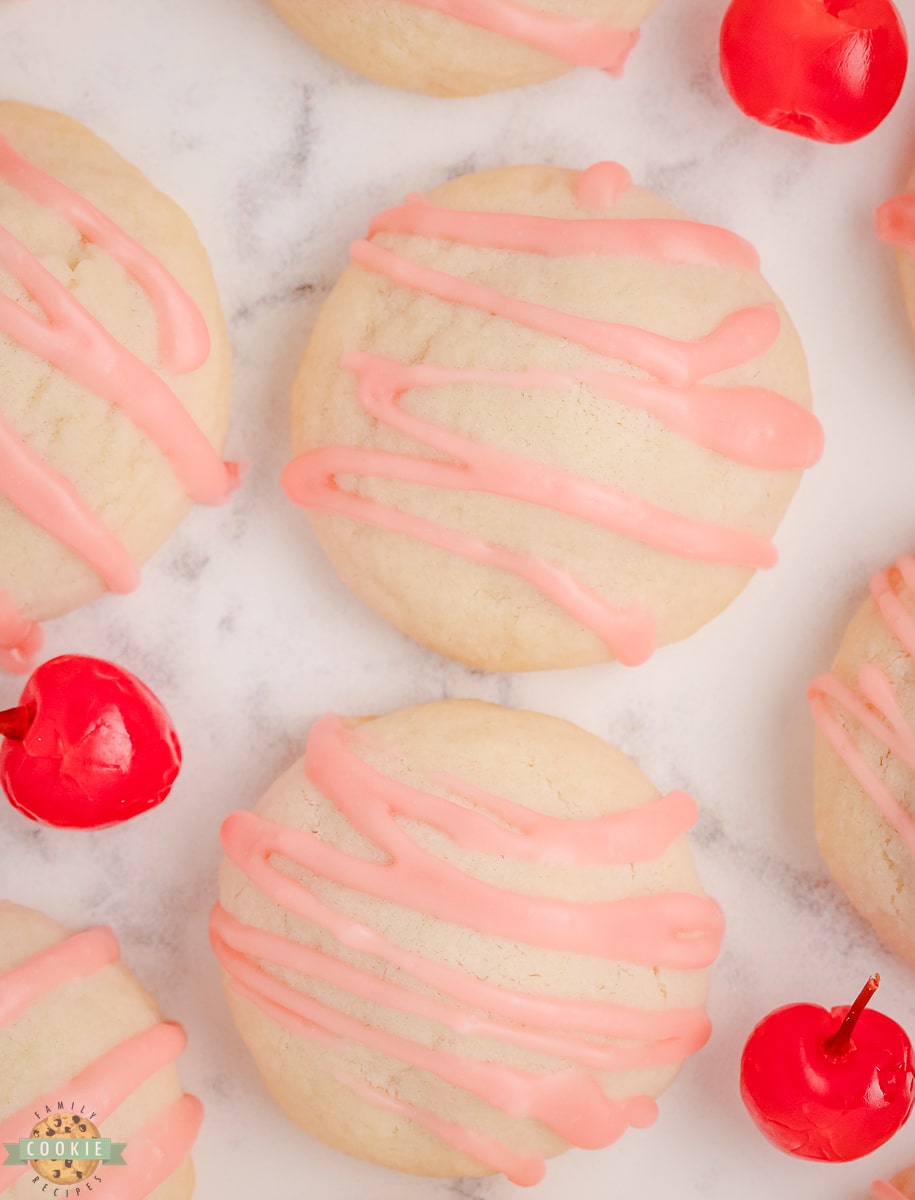 Assemble
If you have a 1 TBSP cookie scoop, using it makes this process very easy. Shortbread dough is very soft and buttery, so it is actually pretty difficult to shape by itself.
Using your cookie scoop, scoop out the dough and level it off using the side of the bowl.
Then, stick your thumb into the center of the scoop of leveled dough.
After that, put a cherry inside the thumbprint and gently press down.
Using the dough that has collected on the sides, cover the top of the cherry.
Push the lever to eject the cookie out of the scoop and into your hand, round out the cookie dough into balls.
Place each ball of dough onto your prepared baking sheet about 1-2″ apart.
Repeat process until all cookie dough is used.
Bake
Put the cookies in the preheated oven and bake for 12-14 minutes, until the bottom of the cookies begin to lightly brown.
Once baking is complete, remove from the oven and let them sit for a few minutes to cool down on the pan. Shortbread cookies are soft and fragile even after baking, so if you try to move them too soon, they might crack or fall apart.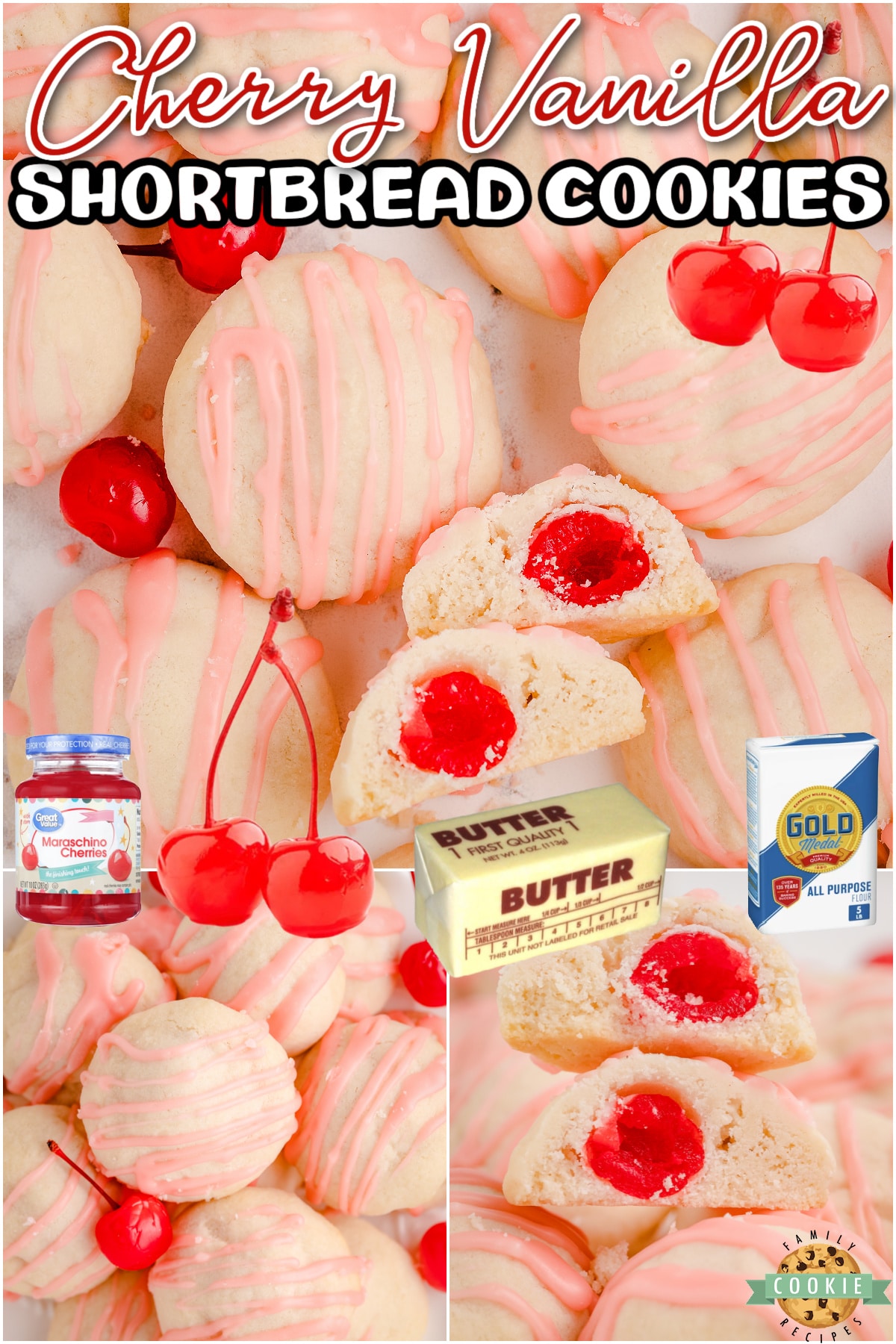 How to make Cherry Icing
In a small bowl, whisk together the powdered sugar, melted butter, and the maraschino cherry juice.
Then, put a plastic baggie over the top of a cup and scrape the icing into the baggie.
Proceed to cut a small piece off the corner from the baggie and drizzle over the top of each cookie.
Serve and enjoy!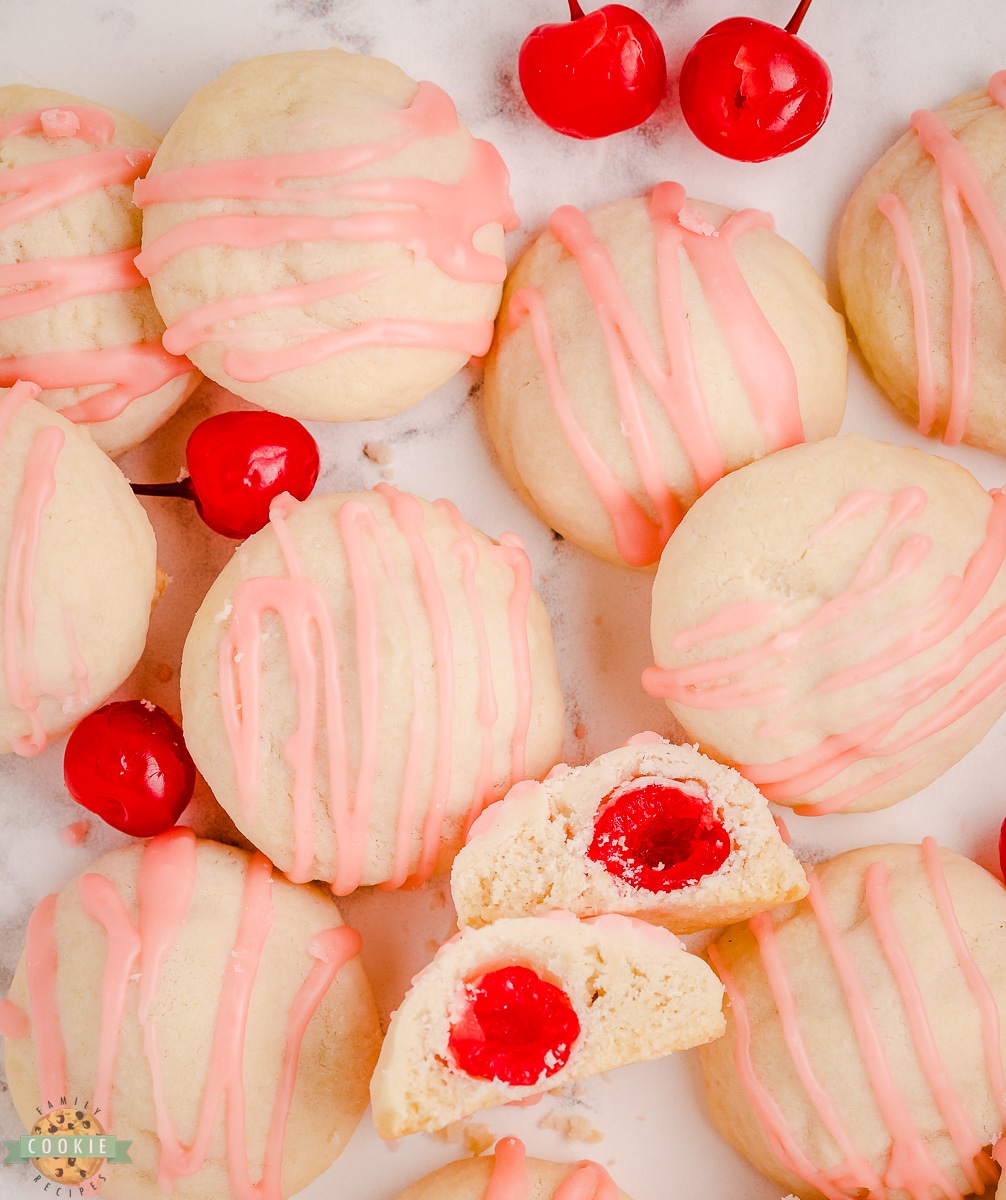 How to make the cookies without cherries stuffed inside
If you do not want to add the cherry surprise center that is ok too! Follow all the same instructions until you get to the cherry center and jump to the instructions below.
Once the cookie dough is completely mixed, drop the cookie dough onto a piece of plastic wrap or wax paper.
Using the plastic wrap, gently form the dough into a cookie log if you will. The dough will shape easily- I like mine at about a 1.5″ thick.
Then, place the cookie log into the freezer for 5-10 minutes. You do not want it frozen solid, you just want it cold enough so that you can slice.
After it is chilled, unwrap the cookie log and use a sharp, thin knife to slice the dough into rounds.
Proceed to place them out on a cookie sheet and bake for 12-14 minutes.
What if I want the cherry bomb but not hidden inside?
Great question! Instead of rolling the dough around the cherry, you can simply roll it into a ball and place it on the cookie sheet. Using your thumb, create an indent in the middle and place the cherry inside. Bake as directed.
How do I store Hidden Cherry Cookies?
Keep your cherry cookies inside of an airtight container in the fridge when not being eaten. This will help to maximize the shelf life and keep the cookies nice and fresh. They will last about 5-7 days this way.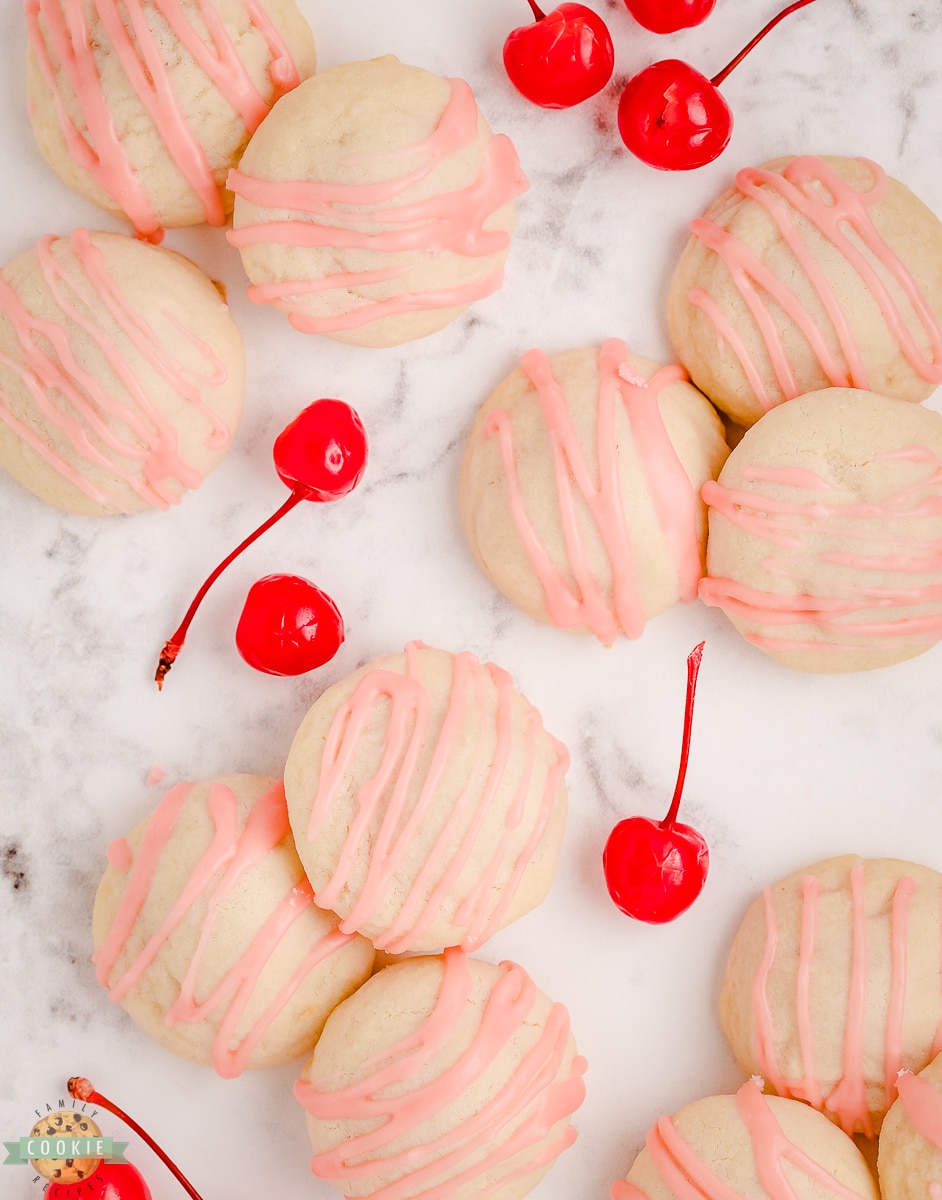 Can you freeze Cherry Cookies?
Yes! These cookies freeze very well, with or without the icing on top. Just keep them stored in an airtight container and let them thaw before eating so that the cherry has a chance to soften up.
What can I use if I don't want icing?
If you do not want to top these cookies with icing, you can always choose to roll them around in powdered sugar instead or even add some festive sprinkles to the top.


We love visiting any place with animals, and this interactive aquarium is a favorite! Here are 2 of my kids getting a bit of a fish cleansing. It feels funny! I love the big smiles!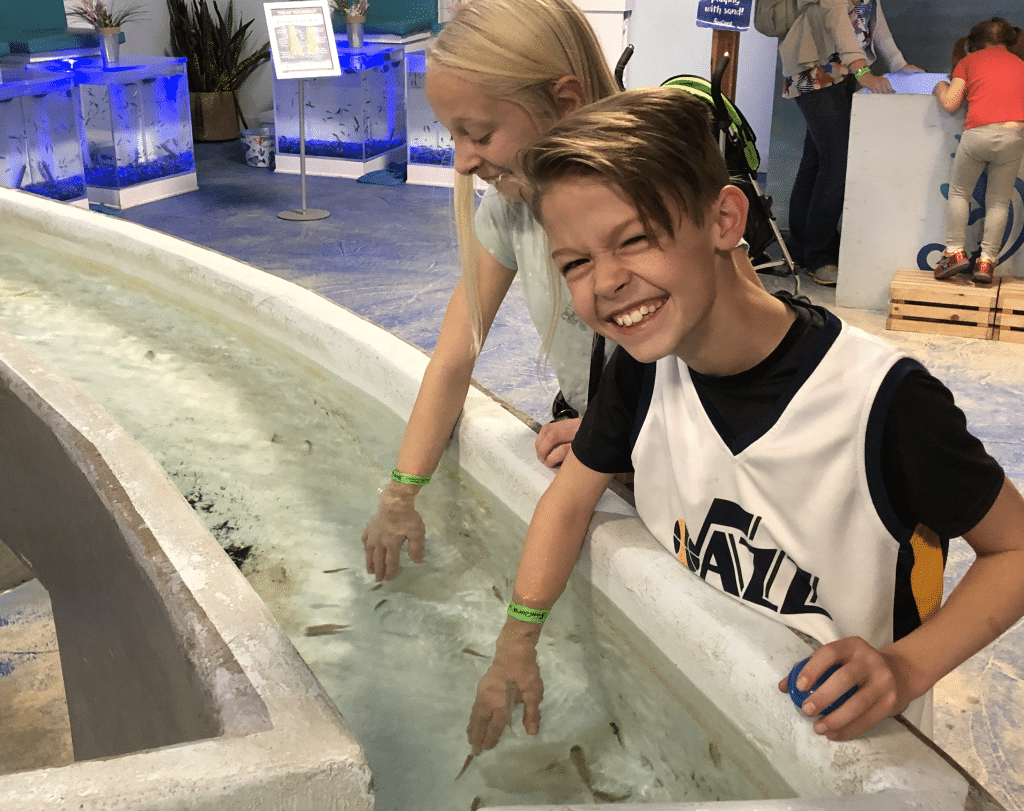 If you love these cherry cookies, then you are going to love these other cherry recipes too!
Making this maraschino cherry shortbread cookie recipe is so easy, whip up a batch and see just how delicious they are!