Chocolate Raspberry Thumbprint Cookies are buttery soft cookies, topped with chocolate fudge & raspberry jam! Our Raspberry Thumbprint cookie recipe has a layer of decadent chocolate!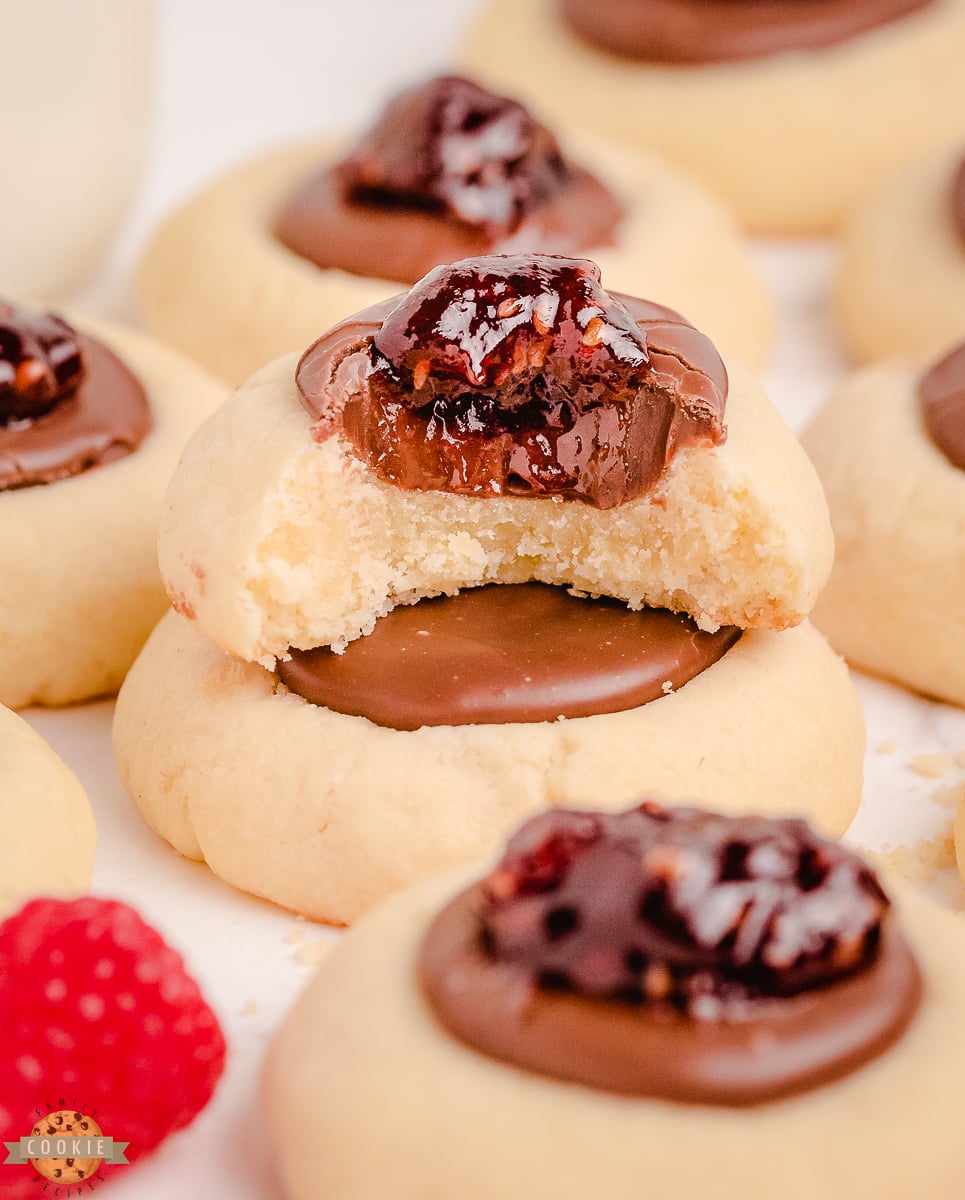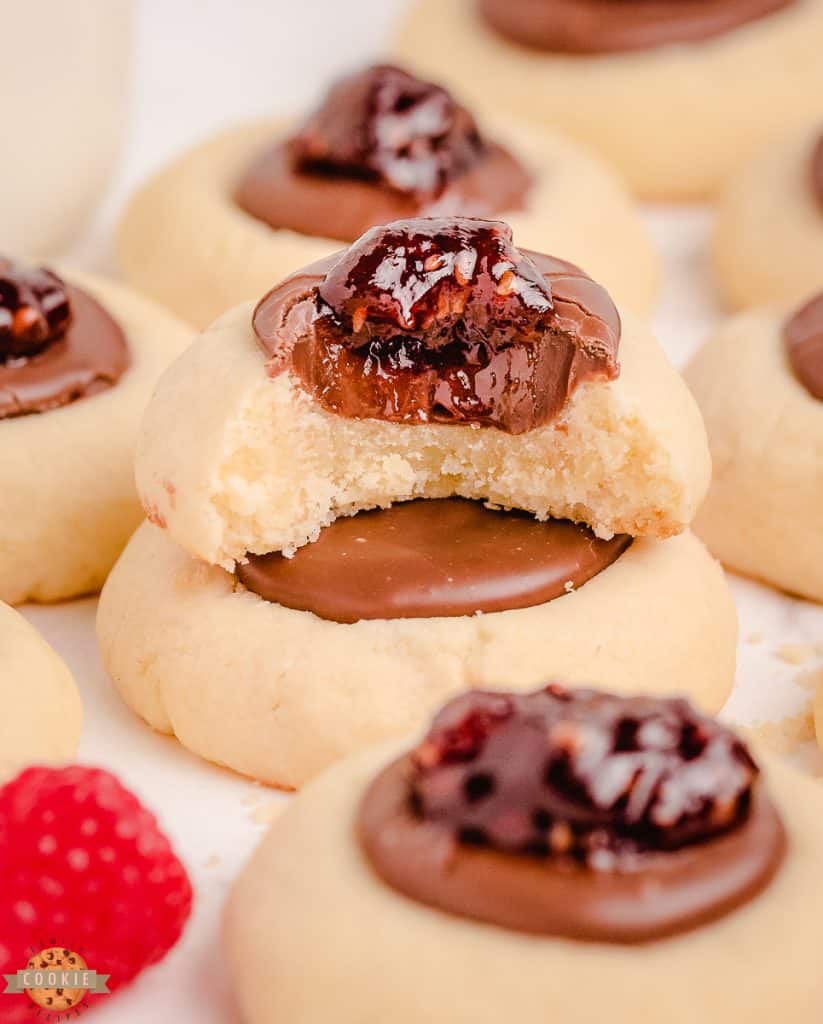 Loaded with delicious flavors in every bite, you will wonder why you haven't tried these raspberry thumbprint cookies sooner. Making these chocolate ganache thumbprint cookies really is so easy and truly a delicious treat.
Raspberry Filled Chocolate Cookies
With a dollop of red raspberry jam in every cookie, these chocolate thumbprint cookies are a decadent treat everyone is sure to enjoy. Serve them up for a special occasion or make them when you just want something sweet to eat. I enjoy making these for holidays, I can play around with the jam flavor and make a couple batches that are slightly different. They make for great treats for holiday cookie exchanges!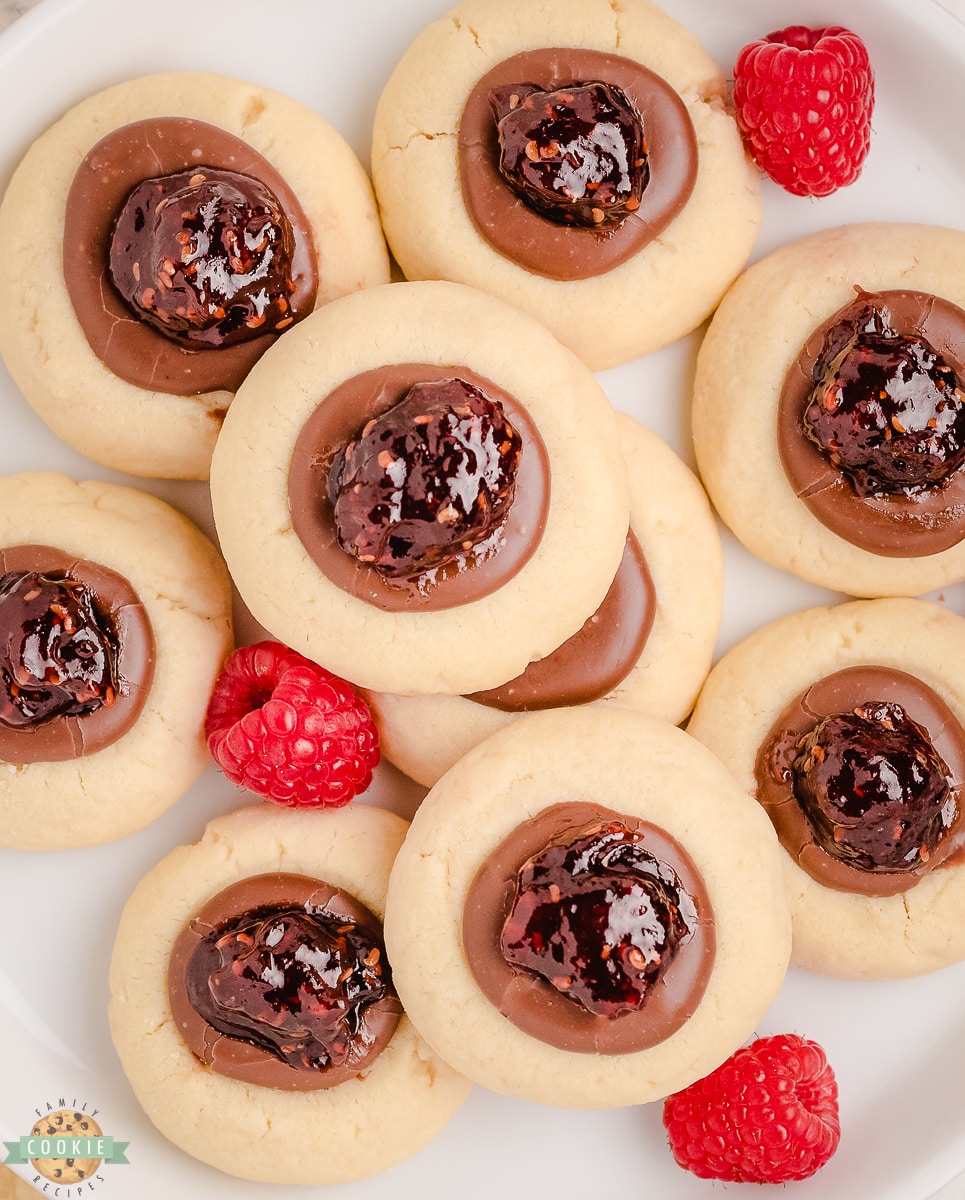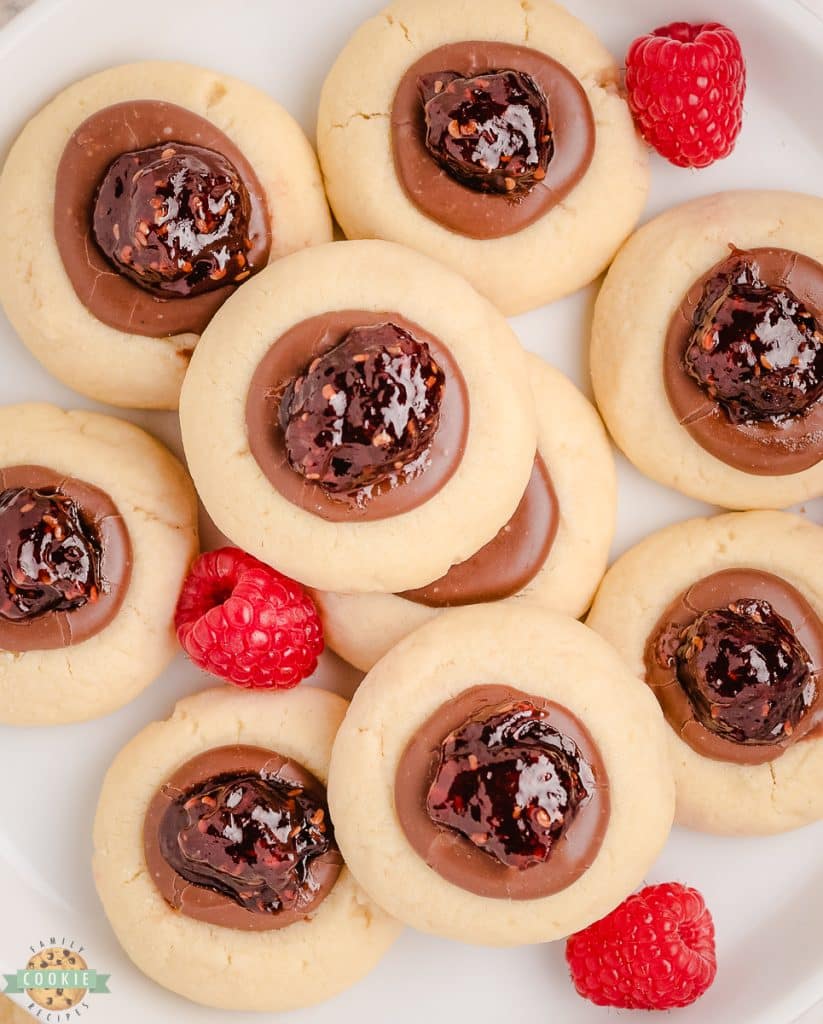 Why we think you will absolutely adore these amazing cookies!
This recipe is one of our latest favorites and here are three reasons why we think you will enjoy it too.
Simple ingredients. Even though we make our cookies and fudge filling from scratch the ingredients are simple and basic. You may even be surprised to find that most (if not all) of them are in your kitchen already.
Easy to follow steps. These easy thumbprint cookies are simple to make and perfect for any chef or home baker. With steps like whisking, chilling, rolling, and baking, there really isn't anything too difficult or time-consuming. It is also a great recipe to let your kids be part of, get the whole family in on the fun!
They taste delicious. From the soft chocolate cookie to the rich and creamy fudge filling and tangy-sweet jam filling, every bite of these cookies is a winning combination of flavors.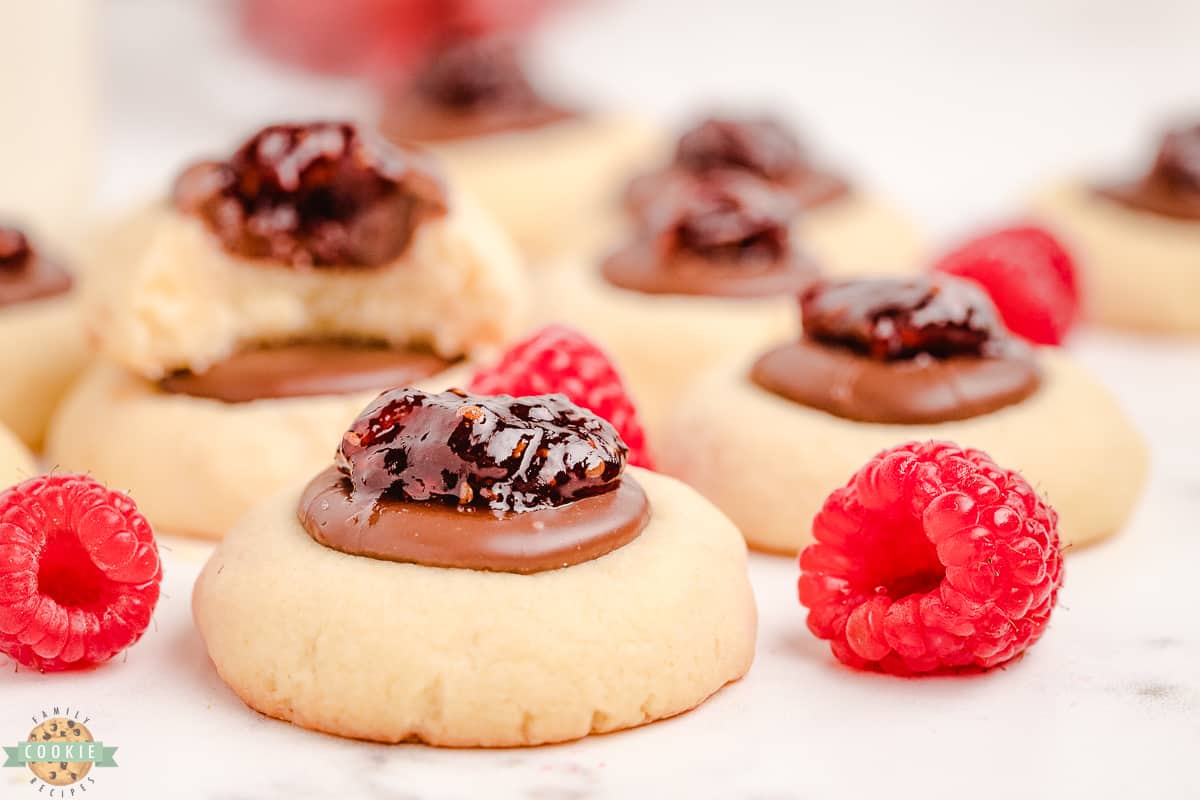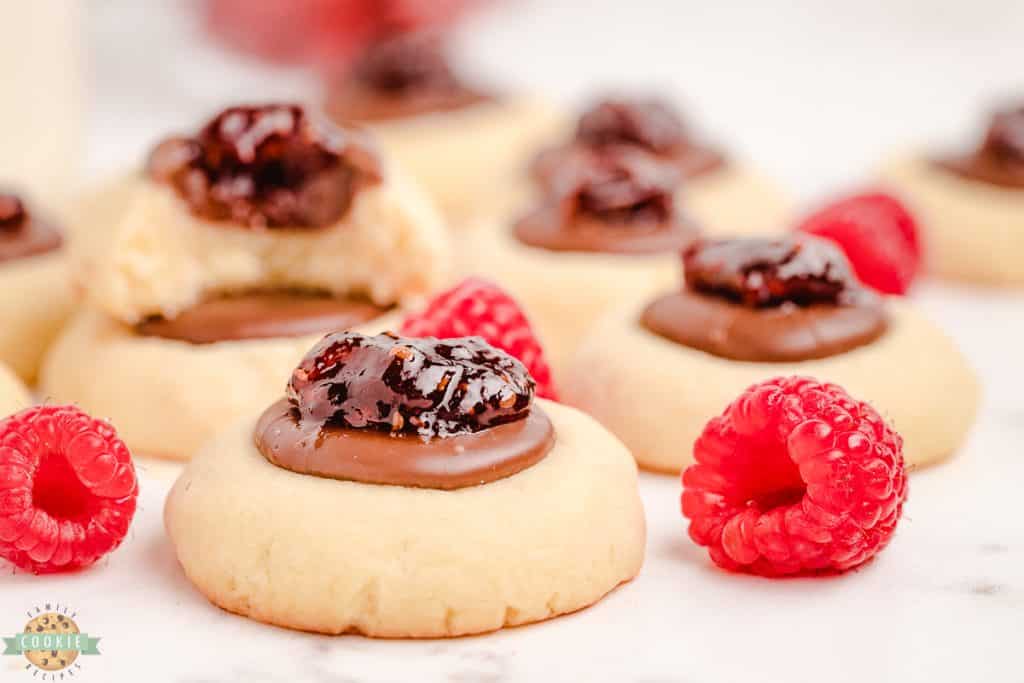 Raspberry Chocolate Thumbprint Cookie Ingredients
Butter: You will need 2 sticks (1 cup) of room temperature butter to make the cookies richer.
Sugar: Use ⅔ cups of granulated sugar to make the cookies sweet and chewy.
Egg yolks: Use 2 egg yolks to bind the dough together and add richness to the cookies.
Vanilla extract: You will want 1 teaspoon of vanilla extract to help enhance the flavors of the dough.
Flour: Use 2 cups of all-purpose flour for the base of the cookie dough.
Salt: Add in ½ teaspoon of salt to help enhance the flavors in the recipe.
Fudge Topping:
Chocolate chips: Use 1 cup of semi-sweet chocolate chips to make the rich fudge filling.
Condensed milk: Add 1 14-ounce-sized can of sweetened condensed milk to thicken and sweeten the fudge.
Almond extract: You will want to add ¼ teaspoon of almond-flavored extract to make the fudge taste even better.
Jam: You will need raspberry jam for filling in the cookies, but the total amount needed will vary.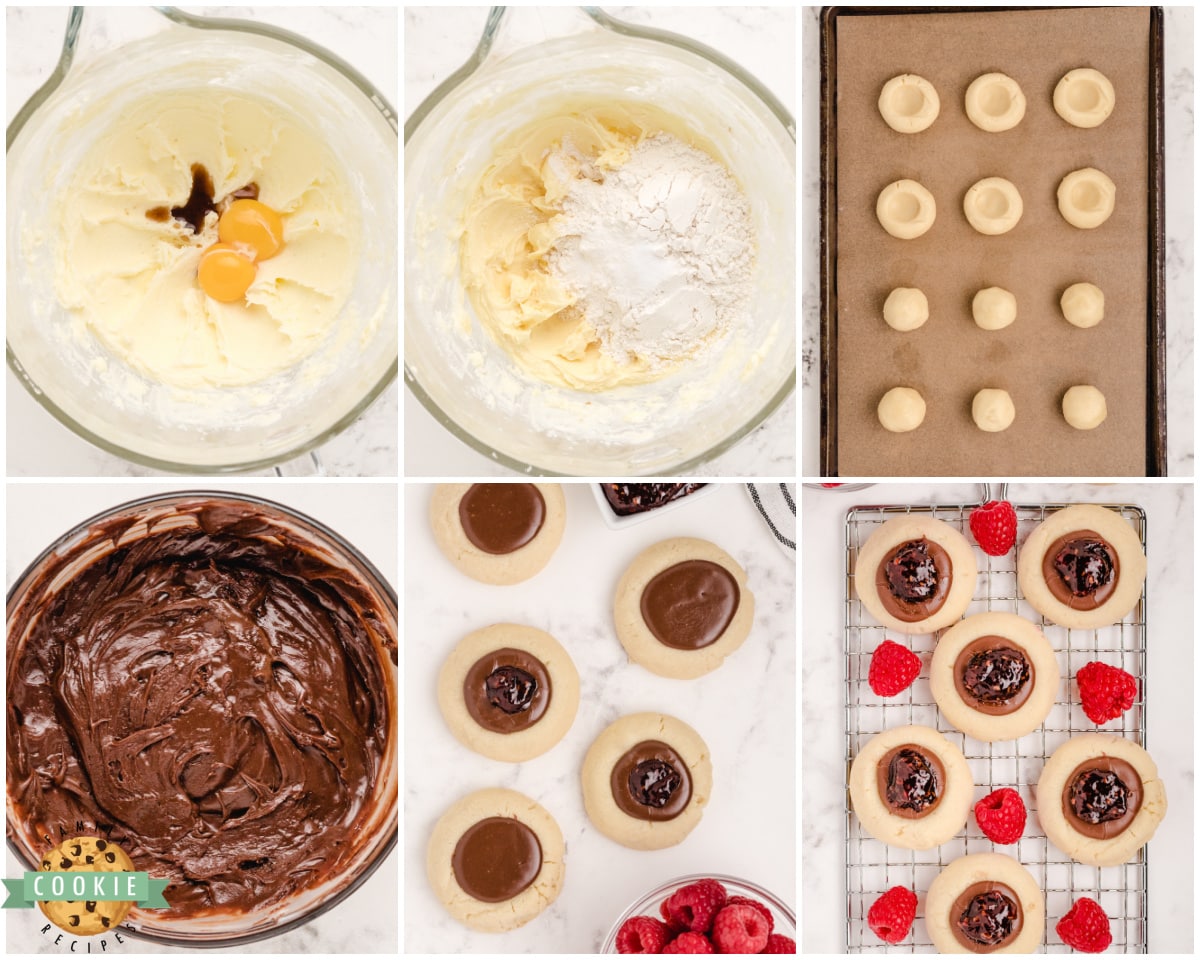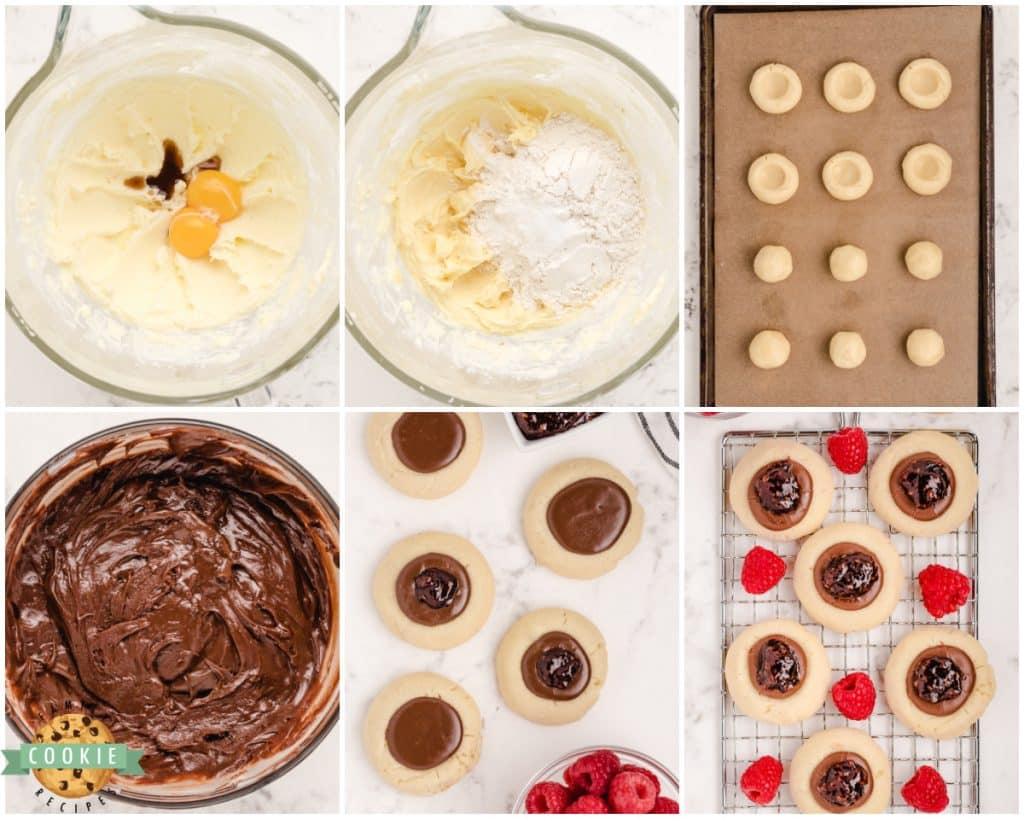 How to Make Chocolate Raspberry Thumbprint Cookies
Prep
Preheat your oven to 375 degrees F.
Line a baking sheet with parchment paper or a silicon baking mat and set it
aside.
Cookie Dough
In a large mixing bowl, cream together the butter and sugar using an electric mixer on medium-high speed. Continue for about 2-3 minutes until the butter mixture is light and fluffy.
Next, mix in the egg yolks and the vanilla extract.
Then, add in the flour and salt and mix until the dough comes together.
If desired you can chill the cookie dough for 30 minutes, but you can skip this step and head straight to baking them.
Scoop the dough into 1-inch-sized balls and roll them with your hands so that they are perfectly round.
Arrange the dough balls onto the prepared cookie sheet.
Use a ½ teaspoon measuring spoon to create a circular crater in the center of the cookie dough balls.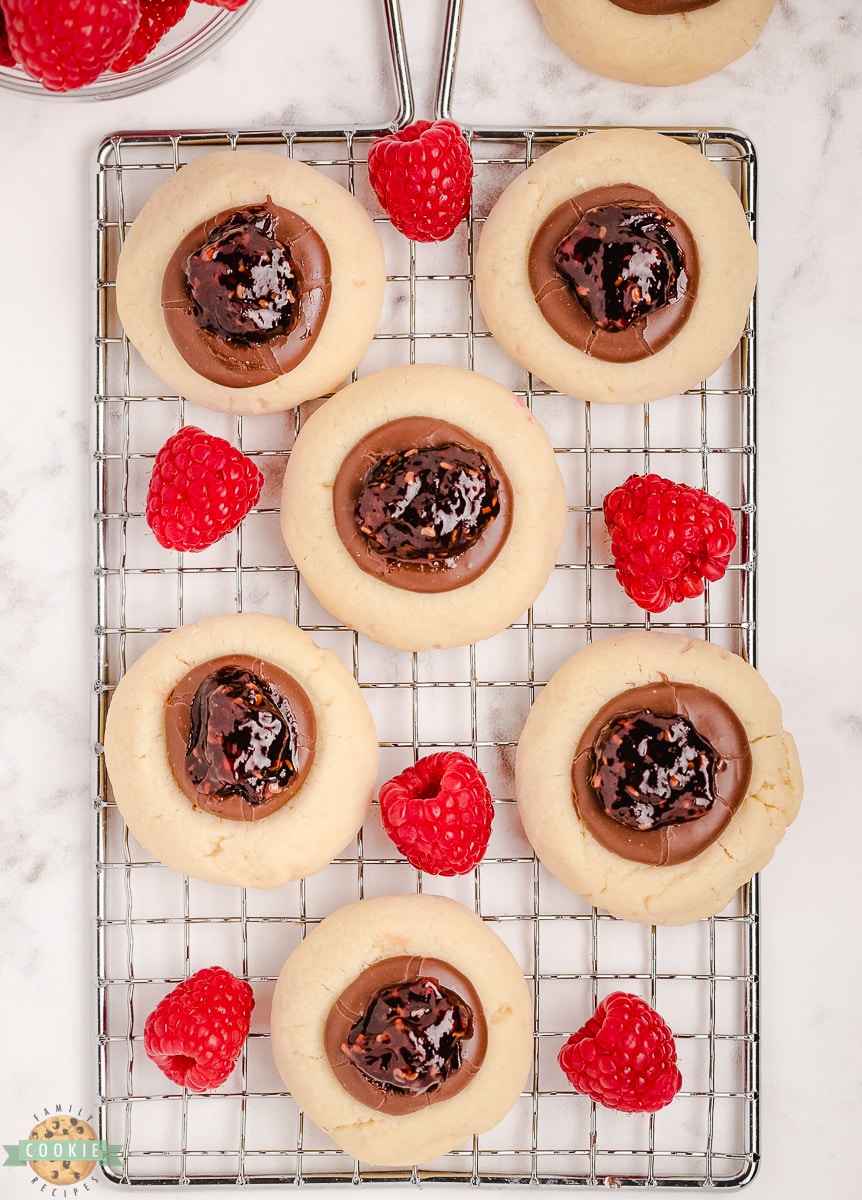 Bake
Proceed to bake the cookies for 8-10 minutes.
Remove them from the oven and if the indents look shallow, press the measuring spoon to further define them again.
Fudge Filling
Melt the chocolate chips, condensed milk, and almond extract in a small pot over low heat until melted.
Continue stirring over low heat for 3-4 minutes or until the mixture has thickened.
Assemble cookies
Spoon about 1 teaspoon of fudge onto each cookie. Let cool until set for about 5 minutes.
Take ½ teaspoon measuring spoon again and slightly press an indent into the chocolate.
Then, fill the indent with strawberry jam over the chocolate fudge topping.
Serve immediately and enjoy.
Do I have to chill my cookie dough?
No, technically you do not have to chill this dough, but you can if you want to. Chilling the dough means that you can firm up any warm dough and keep your cookies from spreading too much. If your dough is too warm or it's a hot day, you may notice your cookies spreading more than they should while on the baking sheet. This can be avoided by chilling the dough.
What are thumbprint cookies?
Thumbprint cookies get their names from the little indent that is purposefully created on every cookie. The shortbread-like dough is shaped to look like a round bowl with a small indentation about the size of your thumb. This center is then filled with any number of items including caramel, fudge, jams, and more.
How long do thumbprint cookies last?
These cookies can last up to a week if kept stored in an airtight container at room temperature.
Can you freeze chocolate thumbprint cookies?
Yes, these cookies can be frozen. To do this, I recommend laying the cookies out onto a baking sheet and then freezing solid for about 2 hours. Then transfer to an airtight container with layers of parchment between the cookies to prevent sticking. Thaw when ready to eat and enjoy.

We have season passes to a local amusement park, so we go often. It's so fun! I don't go on as many rides as my kids do (man my stomach has gotten softer as I've gotten older!) but I can hold my own. Here we are in line for the SCARIEST, TALLEST roller coaster in the whole park. Every single time I go on I think, "why did I do this?!" Then I look beside me to my kid's BEAMING faces and go, oh, that's why I do this! MEMORIES! 

Here are some more great thumbprint cookies you'll love:
Chocolate Raspberry Thumbprint Cookies are a delightful and sweet tantalizing treat! Made with a moist chocolate cookie, topped with chocolate ganache and raspberry jam these thumbprint cookies are an incredible dessert.