Cheesecake Cookies are graham cracker cookies baked with a simple cheesecake filling and topped with your favorite fruit or pie filling.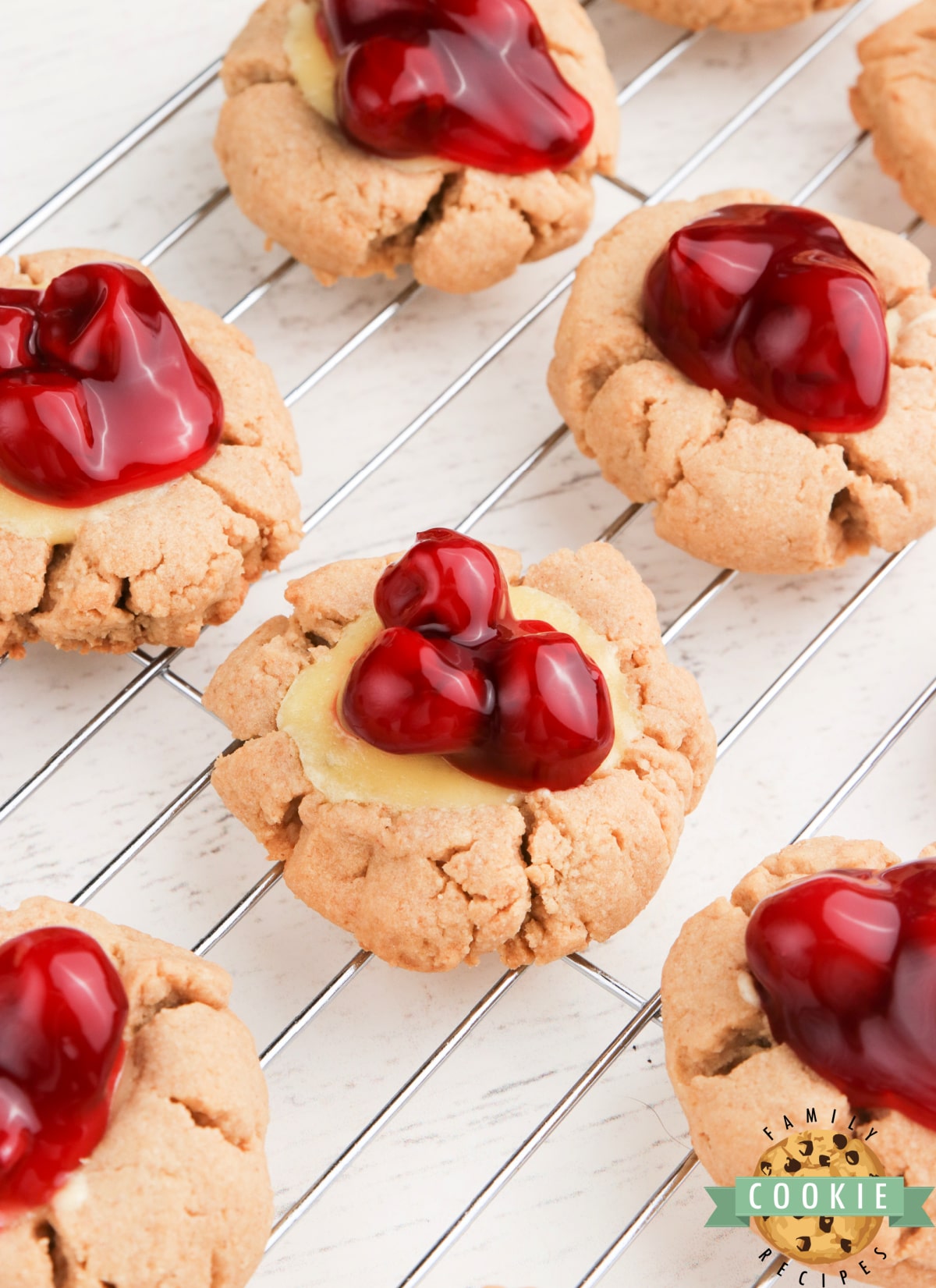 Cheesecake is one of my favorite desserts and now I can enjoy it in cookie form! The graham cracker cookies are so soft and chewy and the cheesecake filling tastes just like cheesecake. I love to top them with cherry pie filling, but you can use any kind of fresh fruit or a different flavor of pie filling if you prefer.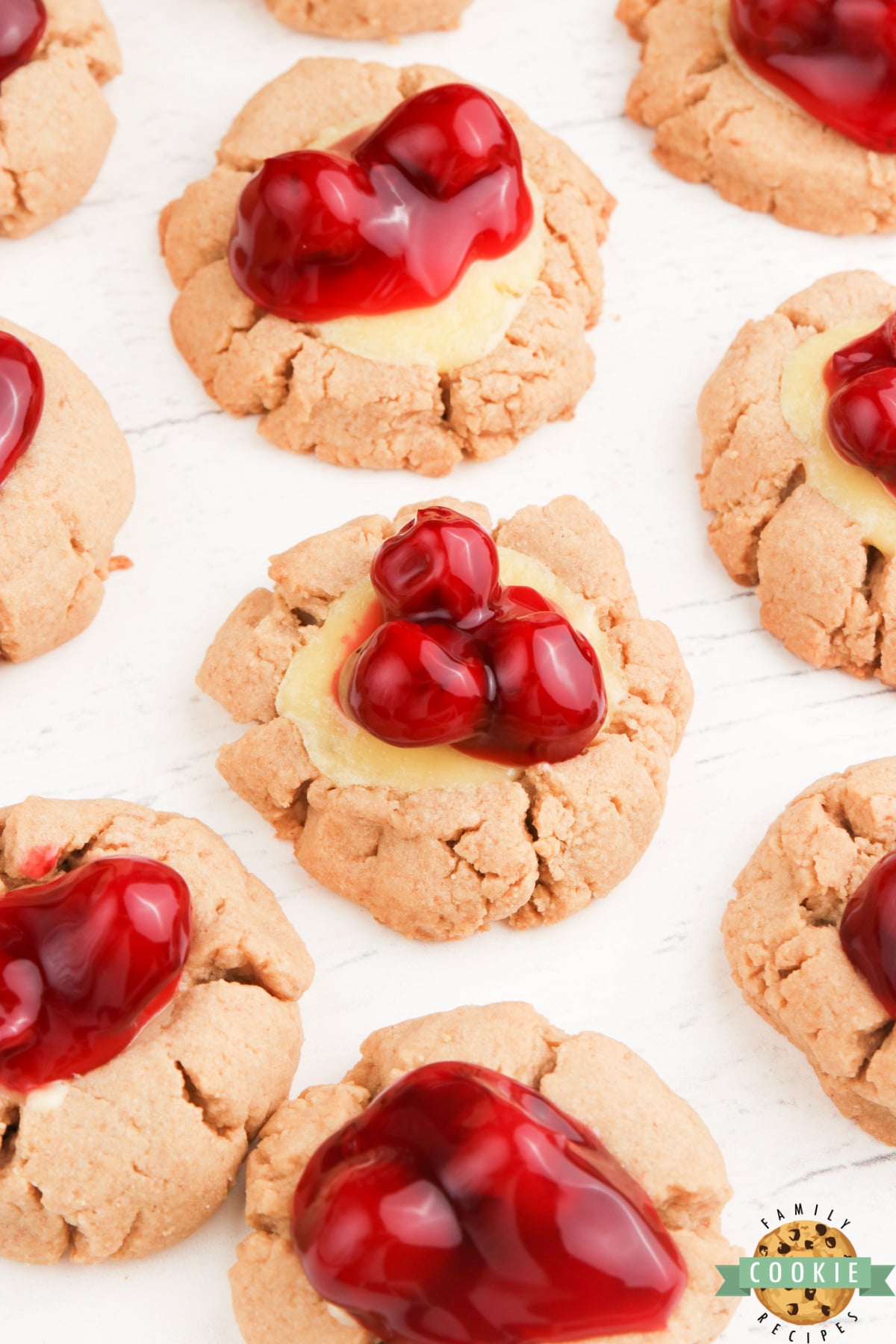 SOME TIPS FOR MAKING THE BEST CHEESECAKE COOKIES:
Make sure your butter is softened, NOT melted! One of the most common errors in cookie making is using butter that is either really cold and hard, or using butter that is too warm and melted. If you have time, just leave butter out on the counter for about 1-2 hours before making your cookies. If you are like me and don't plan your cookie cravings that far in advance, just place the butter in your microwave and soften in 5 second intervals, being very careful to pull it out before it melts. I actually like to use the defrost setting on my microwave to soften butter- I don't know the technical reasons behind it, but it seems to soften the butter more evenly and takes a little bit longer so I'm less likely to start melting it!
Preheat the oven. This will help your cookies turn out right every time!
Use a cookie scoop! If you want all your cookies to be perfectly shaped and have them all be the same size, a cookie scoop is the way to go.
Use parchment paper or a silicone baking mat. Doing this will make it really easy to remove the cookies from your cookie sheet so that you don't have to scrape them off the pan – they will just slide right off in perfect shape!
Don't over bake the cookies – when I take mine out of the oven, they still look slightly under baked but they will continue to bake on the cookie sheet for a couple more minutes so that's ok!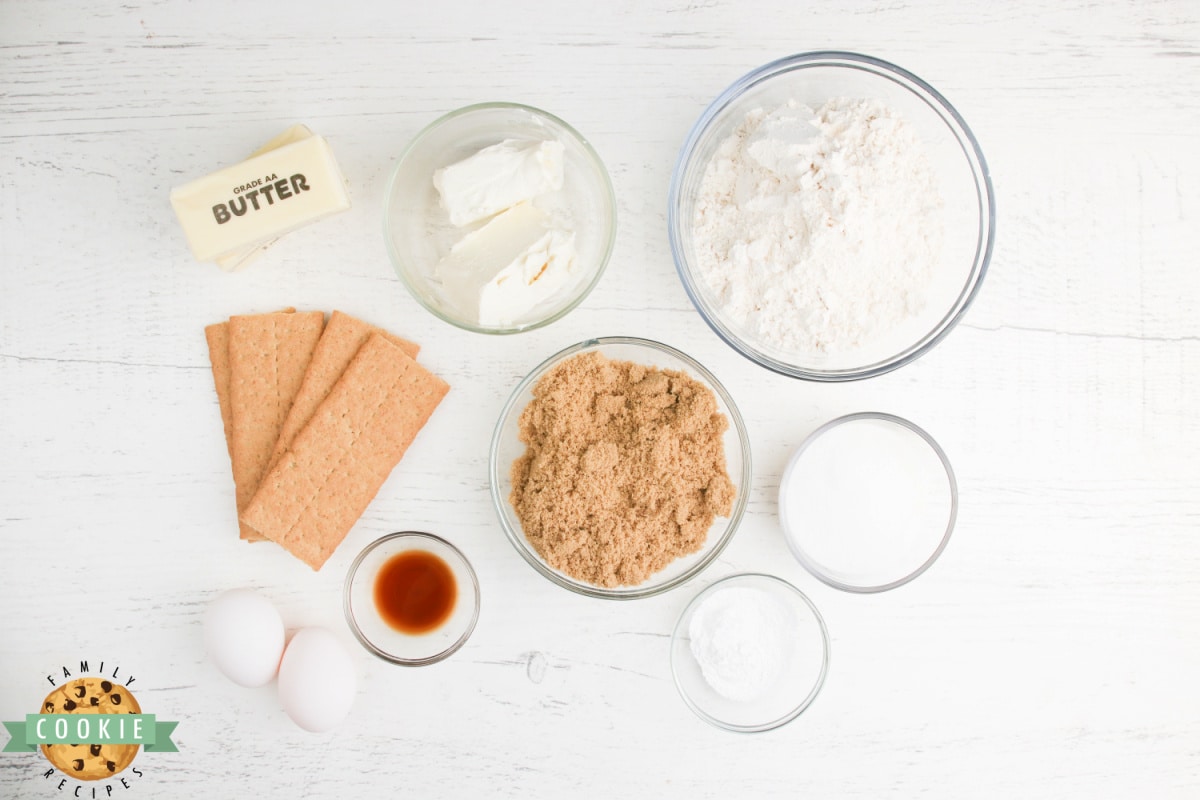 Ingredients in Cheesecake Cookies
Graham cracker crumbs – You will need 2 1/2 cups of graham cracker crumbs for the cookie dough. You can use pre-crushed graham cracker crumbs or you can easily make your own. You will need about 20 full graham crackers. The best way to get uniform crumbs that are fine enough is to crush them in the blender. I like to do about 6-7 graham crackers at a time. If you put too many graham crackers in the blender at once, it will be difficult for the blender to blend them all at once.
Flour – All-purpose flour works best.
Baking powder – This is the leavening agent in the cookies. For best results, make sure your baking powder isn't old or expired.
Butter – You will need 1 cup of softened butter (2 sticks). For best results, use real butter.
Brown sugar – A cup of brown sugar adds the right amount of flavor and sweetness. Fresh brown sugar works best.
Eggs – You will need two eggs for these cookies and the yolks and egg whites need to separated. The egg whites are added to the cookie dough and the yolks to the cheesecake filling.
Cream cheese – The cream cheese needs to be softened to room temperature before mixing with the other ingredients.
Sugar – Just 1/2 cup of granulated sugar will sweeten up the cheesecake filling.
Vanilla extract – This just adds a little bit of flavor to the filling. The higher the quality of vanilla, the better the flavor!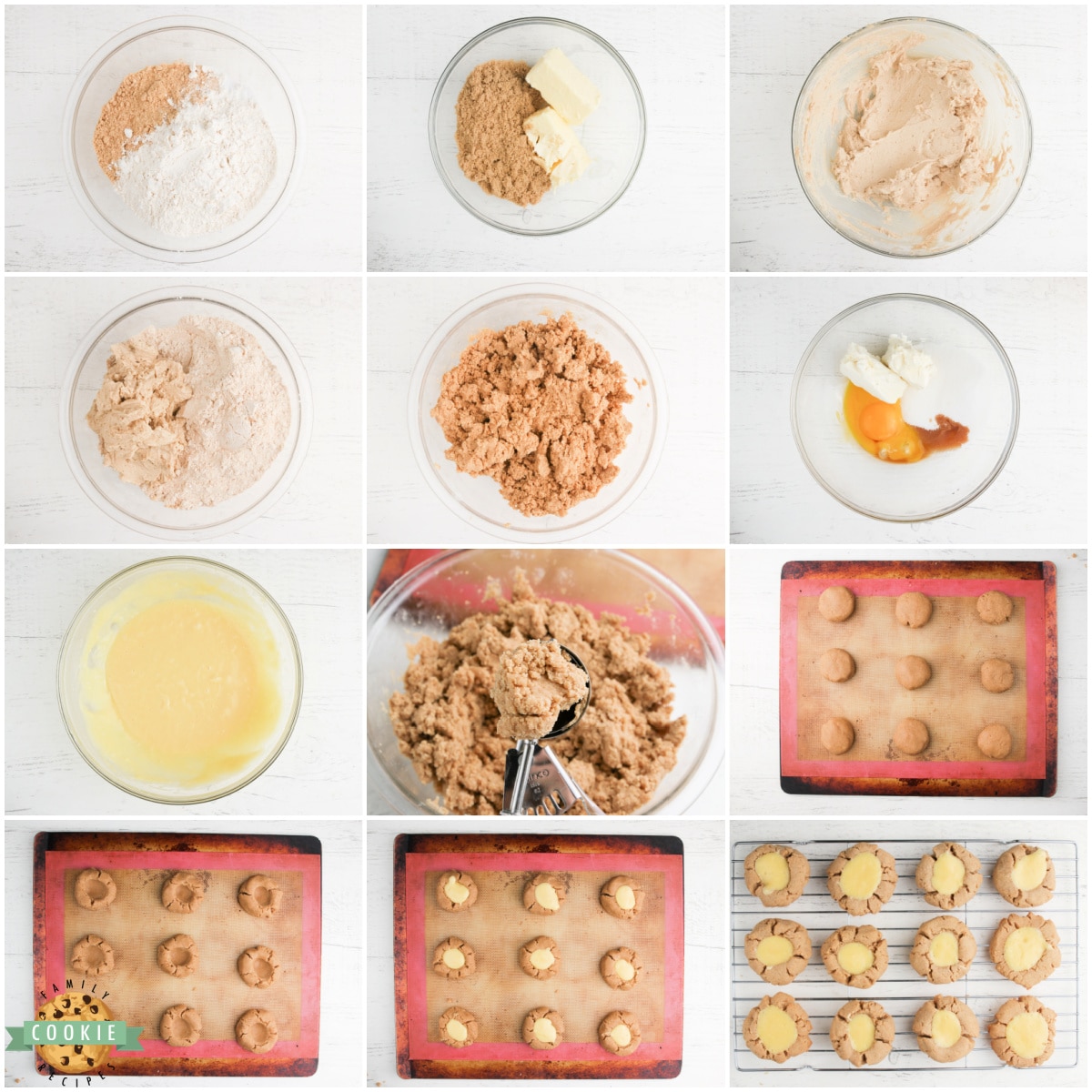 How to make Cheesecake Cookies
Preheat oven to 350°.
In a large bowl, mix together the graham cracker crumbs, flour and baking powder.
In another bowl, use an electric mixer to beat the butter and brown sugar together for 2-3 minutes. Add the egg whites from the two eggs and beat for another 1-2 minutes.
Add the butter mixture to the graham cracker mixture and mix just until combined.
In another bowl, beat the cream cheese, egg yolks, sugar and vanilla together. Mix until smooth and well combined.
Use a large cookie scoop (2 Tbsp) to scoop out the cookie dough. Roll each scoop into a ball and place two inches apart on a greased or parchment paper lined cookie sheet. Use the palm of your hand to flatten each cookie dough ball a little bit (cookies should be about 1/2″ thick). Use your thumb to press an indentation in each cookie. Be careful not to press down too far into the cookie. Use a small spoon to spoon the cheesecake filling into each indentation.
Bake for 12 minutes. Let the cookies cool for about 4-5 minutes before transferring to a wire rack to cool completely.
Once the cookies are cooled, top with your favorite fresh fruit or pie filling. Refrigerate until ready to serve.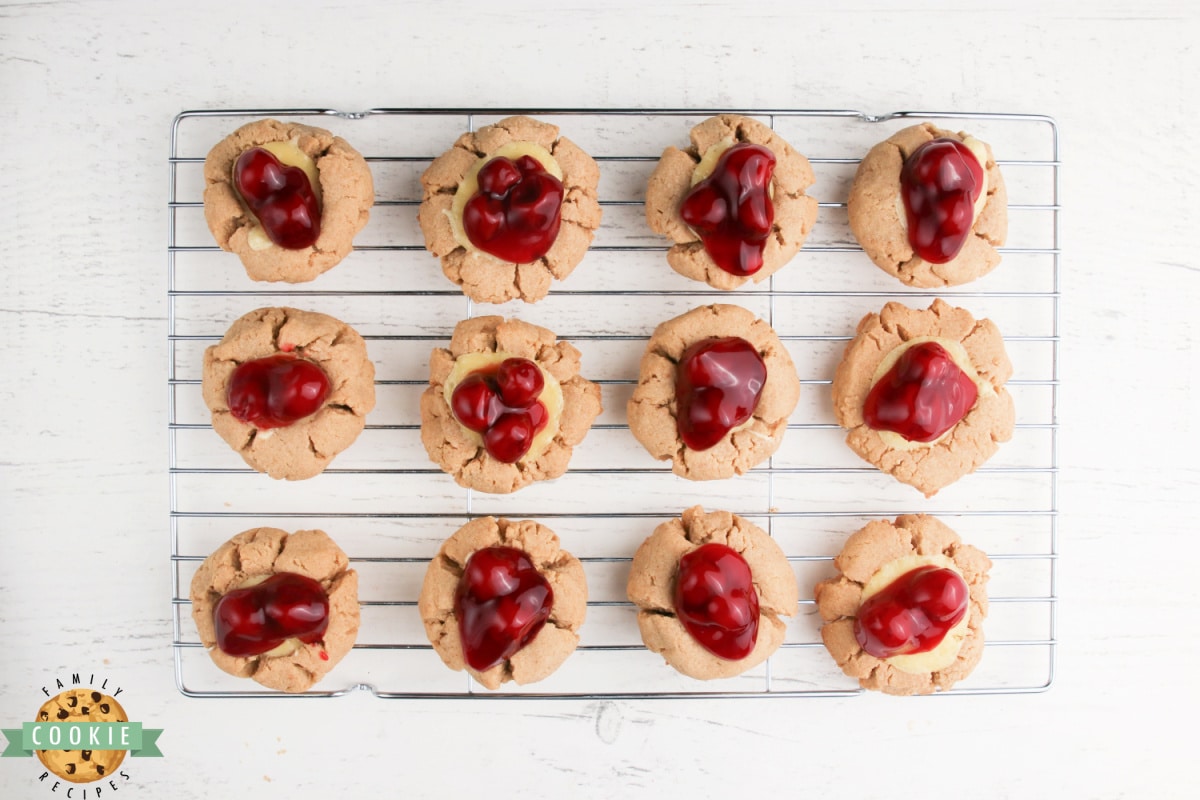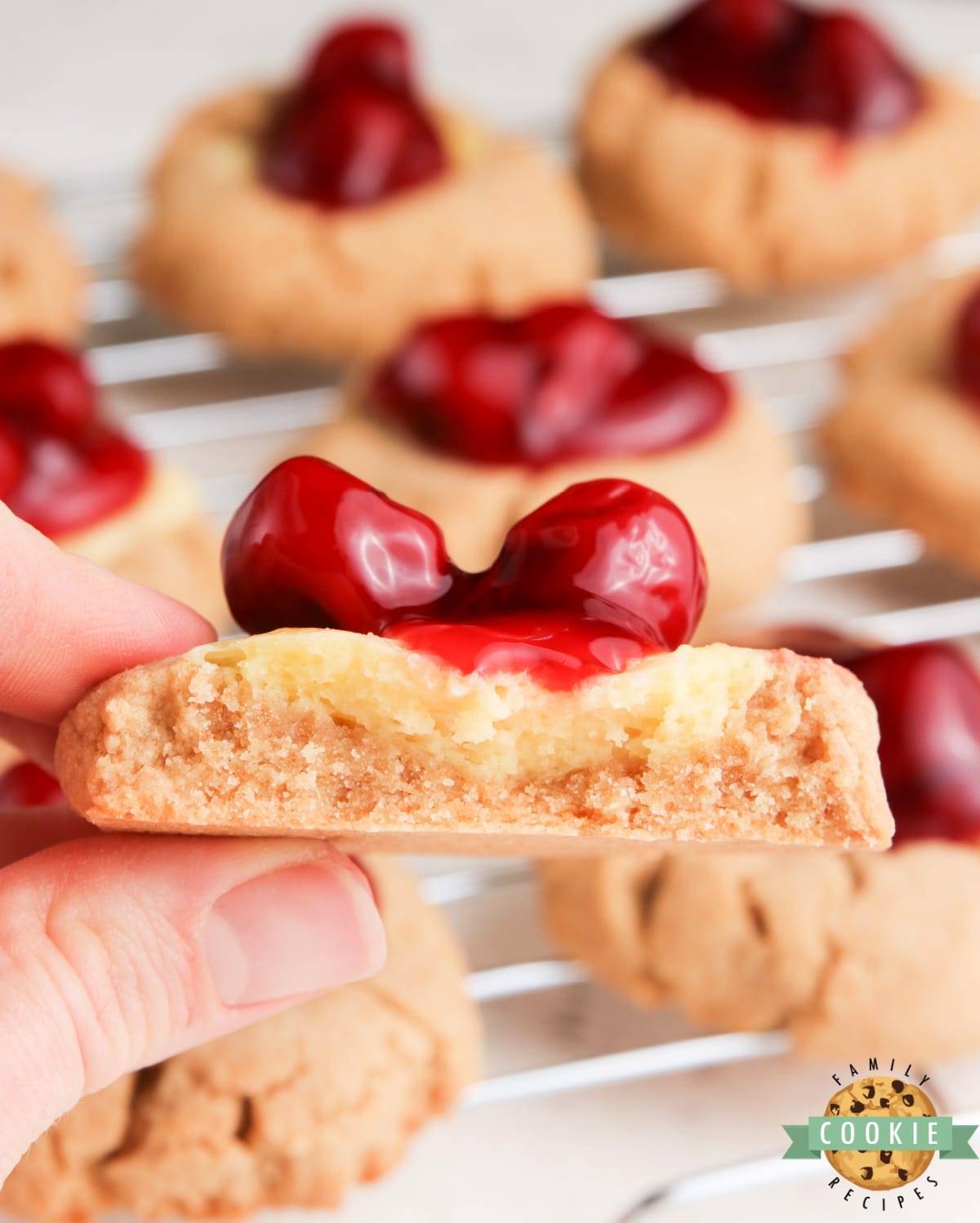 HOW MANY GRAHAM CRACKERS TO MAKE 1 CUP OF CRUMBS?
It takes about 8 full graham cracker sheets to make about 1 cup of crumbs. You'll need 2 1/2 cups of graham cracker crumbs for this recipe, so you will need about 20 graham crackers. My favorite way to make graham cracker crumbs is in the blender – it only takes a few seconds and the crumbs are perfect!
WHAT KIND OF CREAM CHEESE TO USE IN CHEESECAKE FILLING?
I usually use regular cream cheese, but you can also use a low-fat or non-fat variety in cheesecake. Just make sure it is softened to room temperature before adding to the recipe.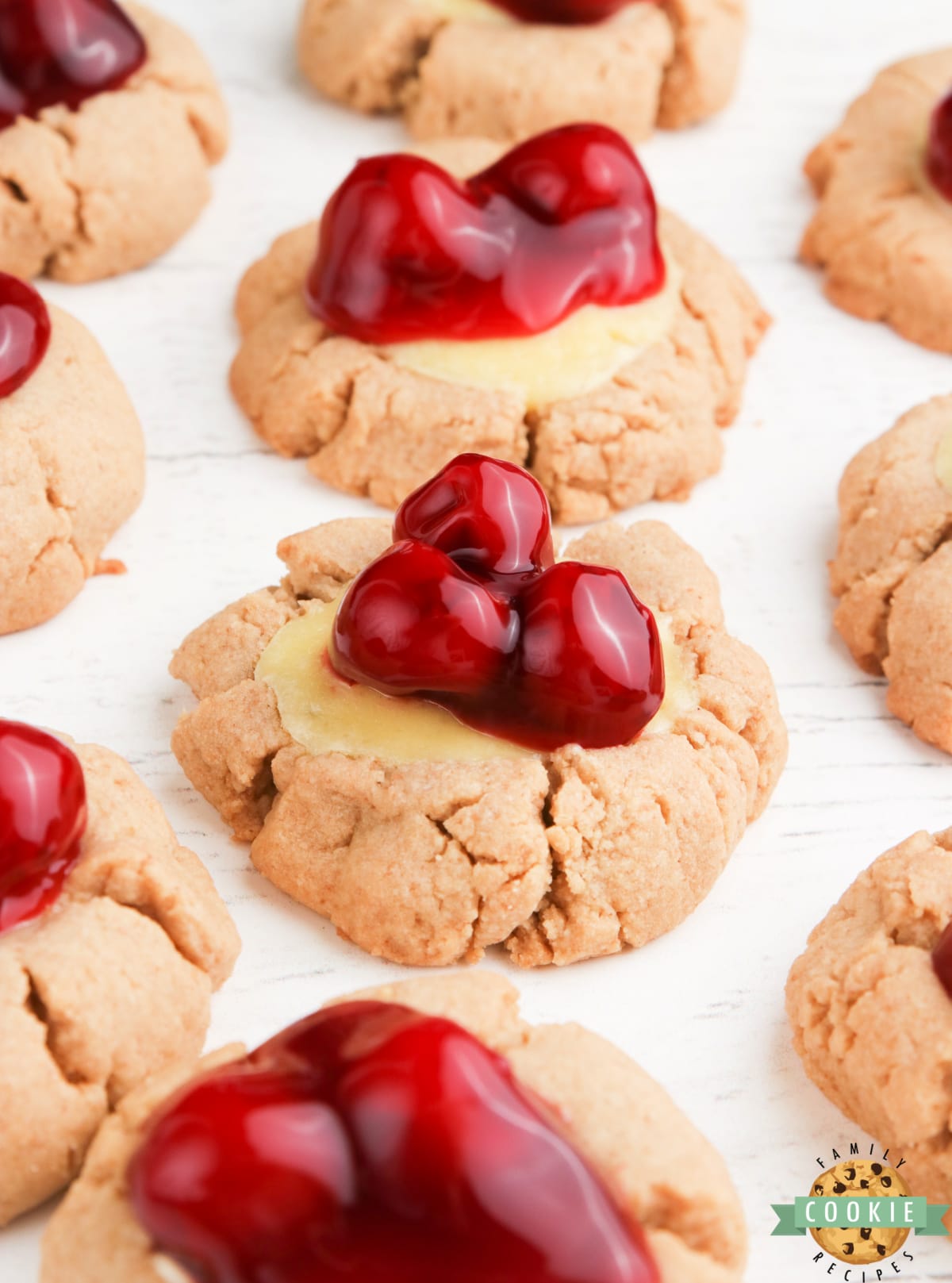 HOW TO SOFTEN CREAM CHEESE
Cream cheese is easy to soften – you can set it out at room temperature or soften it more quickly in the microwave.
-To soften at room temperature more quickly, just set the cream cheese on a plate and cut into smaller pieces. The cream cheese should reach room temperature in about 15-20 minutes with this method.
-To soften the cream cheese in the microwave, remove the foil packaging and set the cream cheese in a small bowl or on a plate. Microwave for about 10-15 seconds. If the cream cheese is still cold and hard, continue to microwave for about 5 seconds at a time until the cream cheese is soft throughout. Just make sure not to microwave it too long or it will start to melt!
What kind of topping to put on cheesecake cookies?
I prefer cherry pie filling, but raspberry or strawberry pie filling is absolutely delicious as well. You can also use fresh berries – strawberries, raspberries and blueberries are all fantastic. Or you could use some type of cookies or candy. Crushed Oreos, crushed Snickers bars, bits of cookie dough – anything that tastes good with cheesecake will be delicious with these cookies.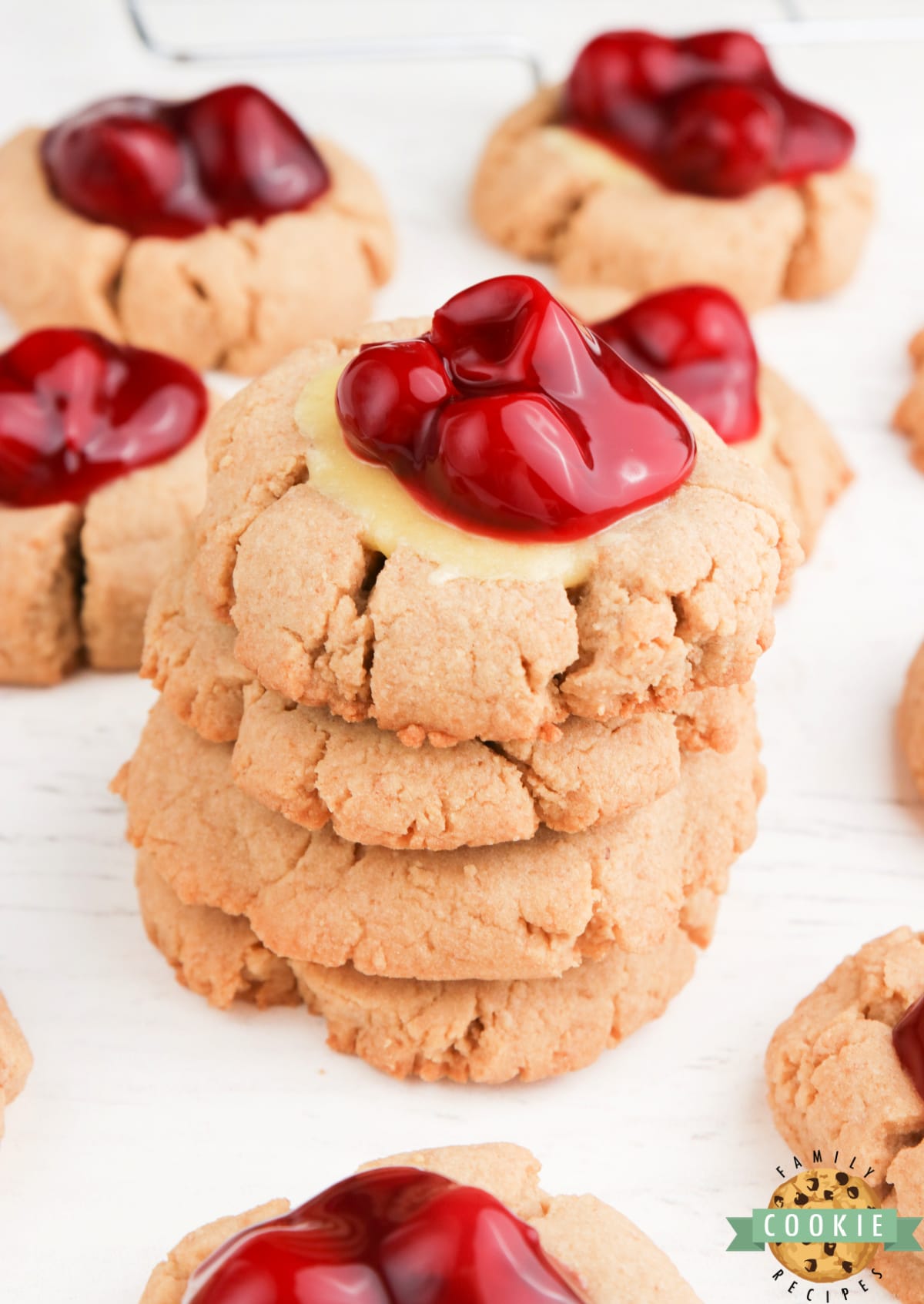 Love cheesecake? So do we! Here are some of our favorite cheesecake cookies and desserts: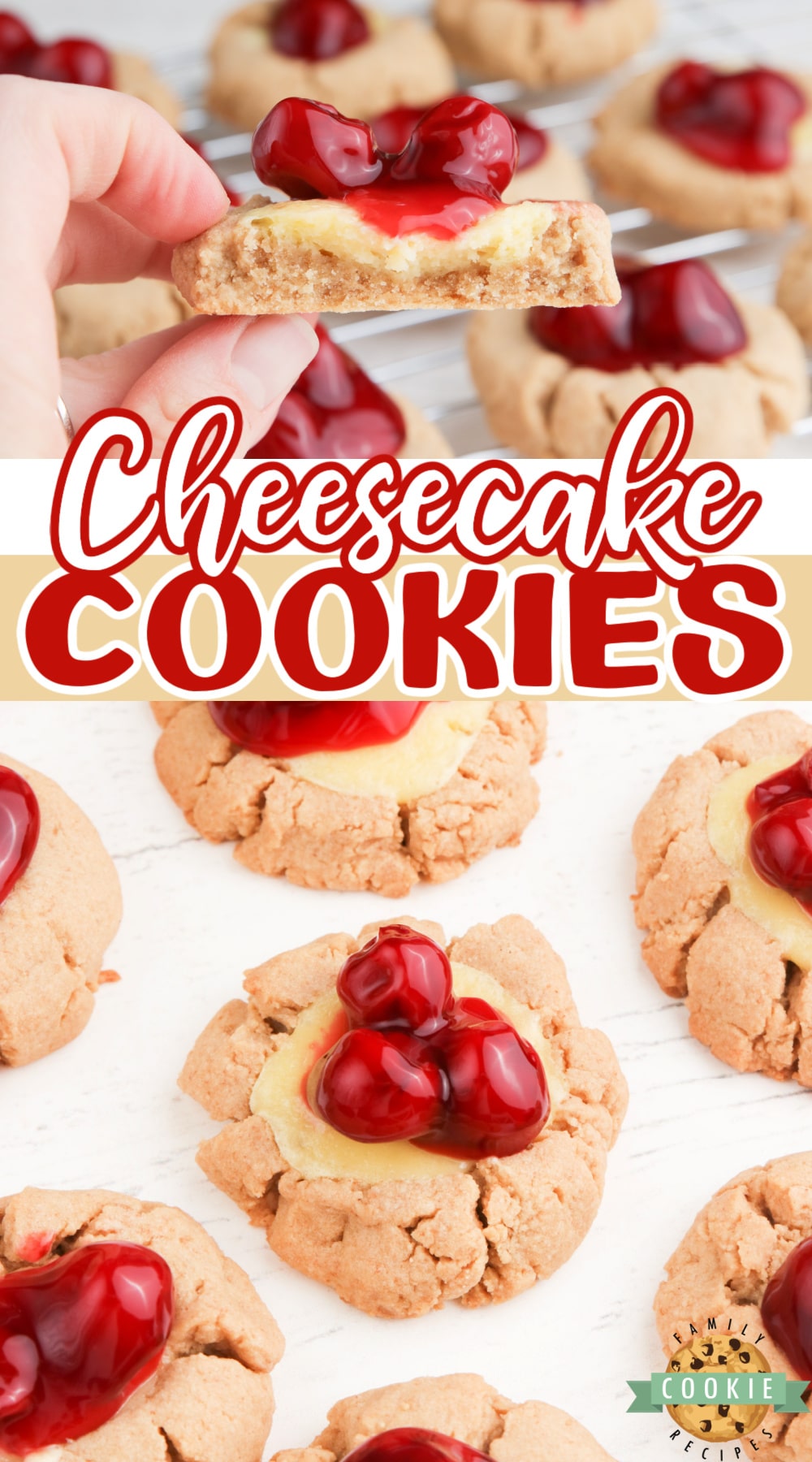 Cheesecake Cookies are graham cracker cookies baked with a simple cheesecake filling and topped with your favorite fruit or pie filling.



Could she be any cuter? This little one is in the midst of being 3, which is sometimes very difficult and frustrating, but she is really just so adorable at the same time. We all still adore her and smile and laugh a lot more because of her. So grateful for this little one and the light that she is in our home and in our lives.