Peppermint cookies are absolutely delicious and are perfect for the holidays! Over the years, we have created some absolutely amazing pumpkin cookie recipes. Each cookie is a little bit different, but all of these cookie recipes are made with peppermint and are absolutely delicious.
Peppermint Vanilla Shortbread Cookies are tender, buttery whipped shortbread with a lovely peppermint vanilla glaze! Delicious Christmas shortbread cookies for holiday trays!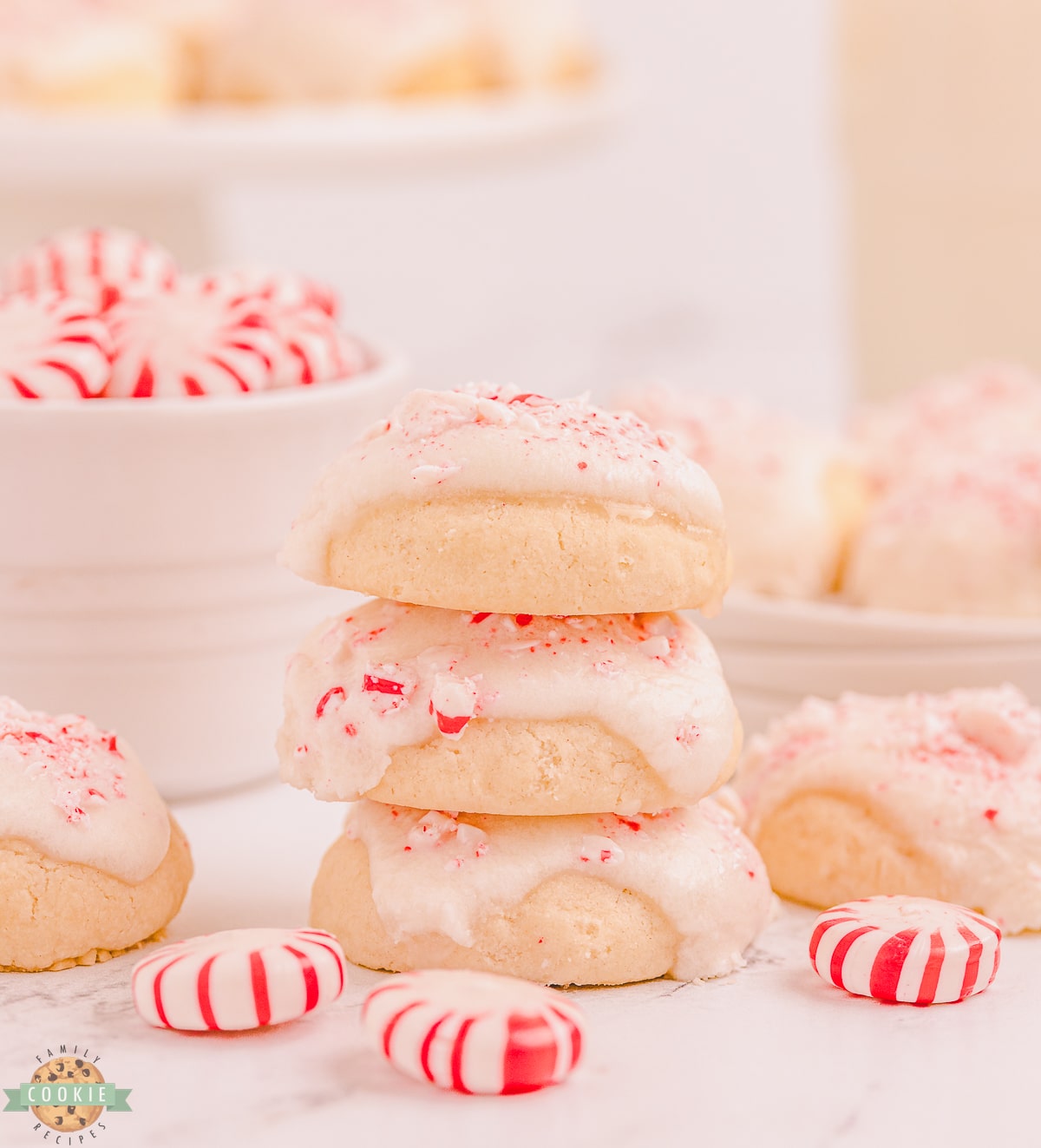 Make these easy shortbread cookies for your next holiday cookie exchange, they have heavenly flavor in every bite. This shortbread cookie recipe is so easy to follow, it calls for simple ingredients and comes together fast to create a wonderful festive holiday treat.
Frosted Peppermint Cookie Bars are festive holiday sugar cookies baked into bars & topped with sweet white chocolate & peppermints! Easy cookie bar recipe with lovely peppermint flavor perfect for Christmas baking.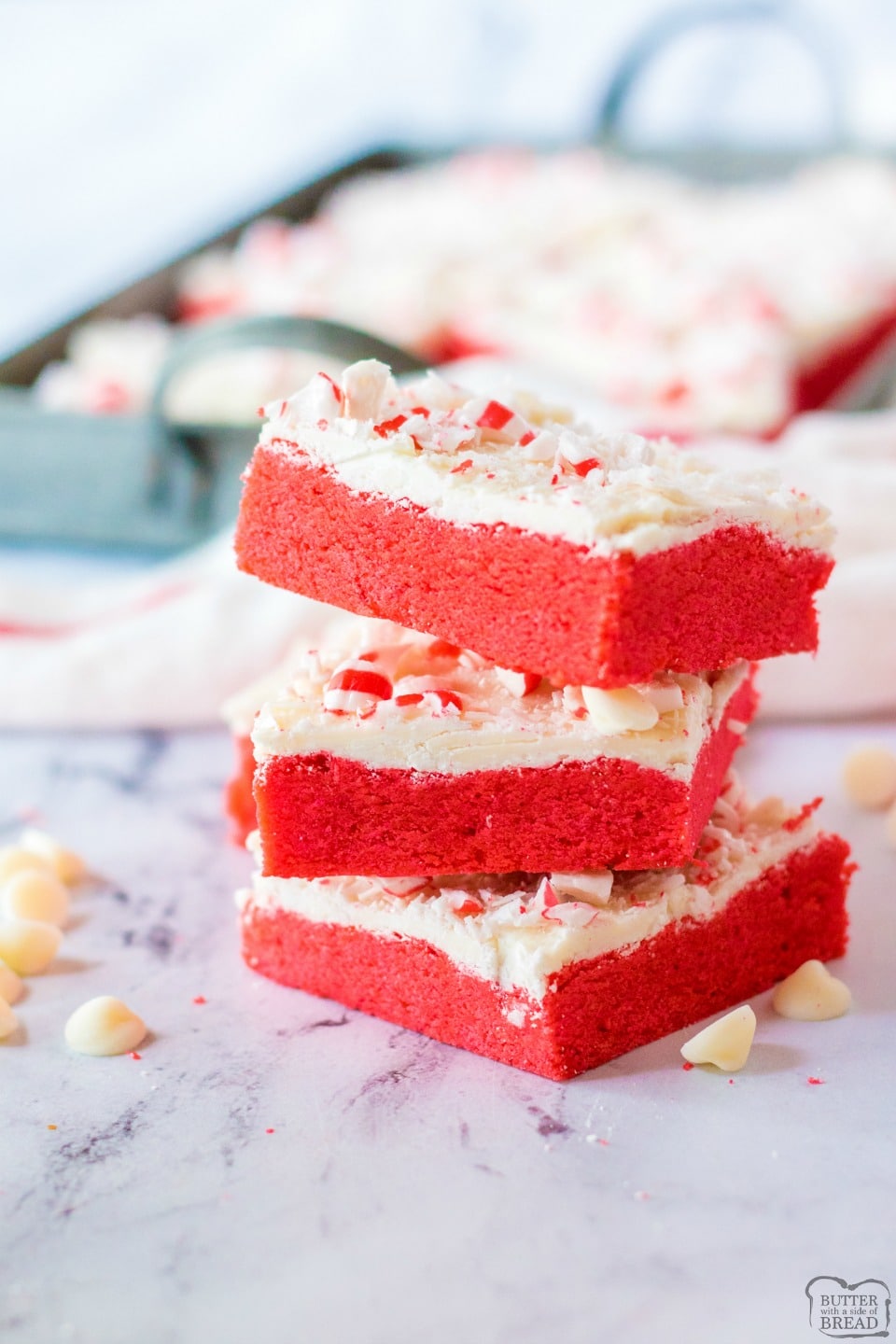 Making these peppermint sugar cookie bars is a great way to make a lot of treats without a lot of effort. Making bar cookies is always easier than rolling out dough balls and cycling pans through the oven. You're going to love these simple peppermint cookie bars, especially with the melted white chocolate and peppermint candies on top!
Chocolate Peppermint Cookies are a delicious double chocolate minty cookie that's dipped in white chocolate! Festive holiday cookie perfect for goodie trays!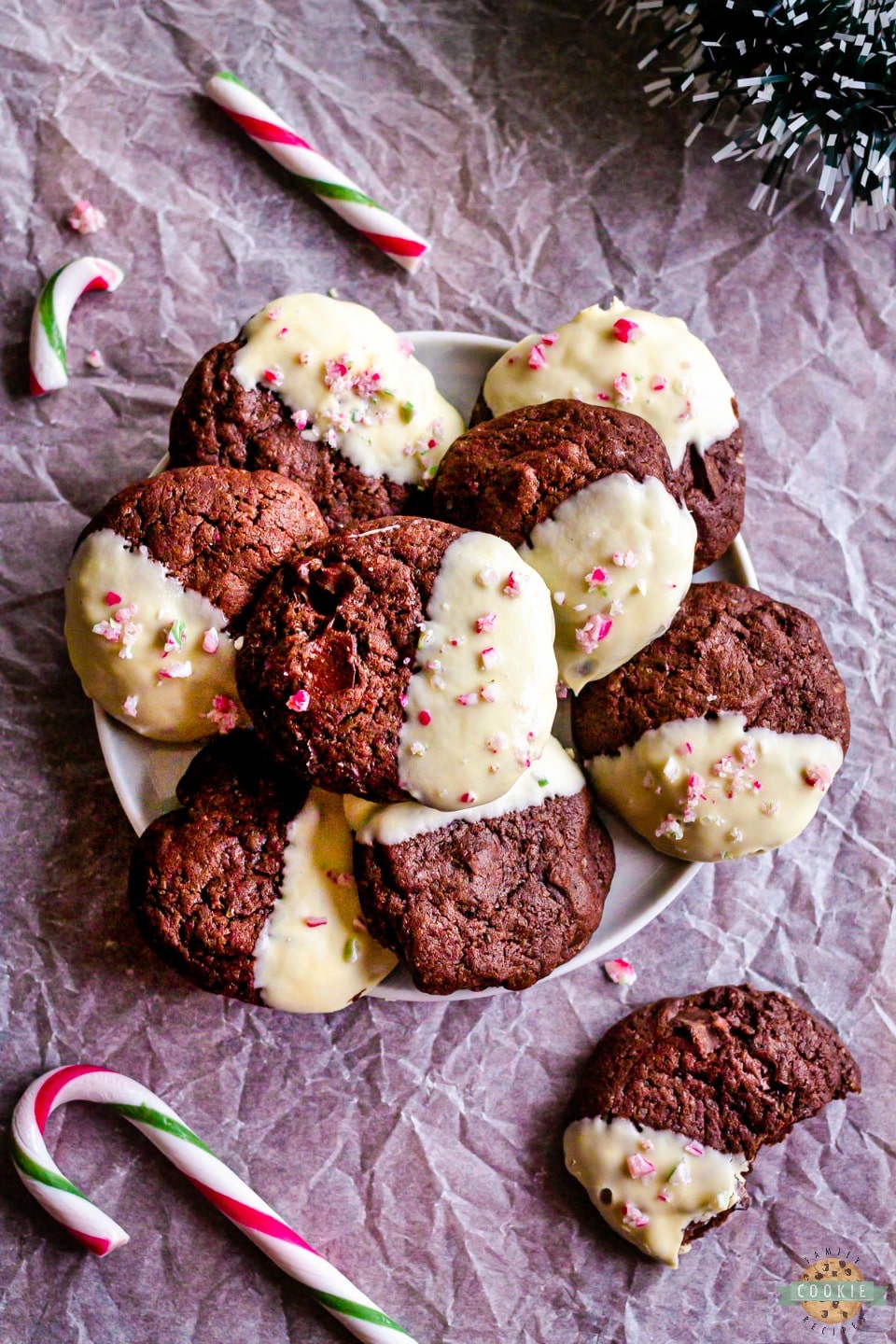 Making double chocolate peppermint cookies is a great way to get into the holiday mood. With chocolate chunk chocolate peppermint cookies you can bet every bite is going to be incredible. Soft chewy, crunch, minty and sweet are all things to look forward to as you devour these cookies, preferably with a side of milk.
Peppermint Chocolate Chip Cookies made with vanilla pudding mix, crushed candy canes and peppermint extract. Soft and chewy cookies that are perfect for the holidays!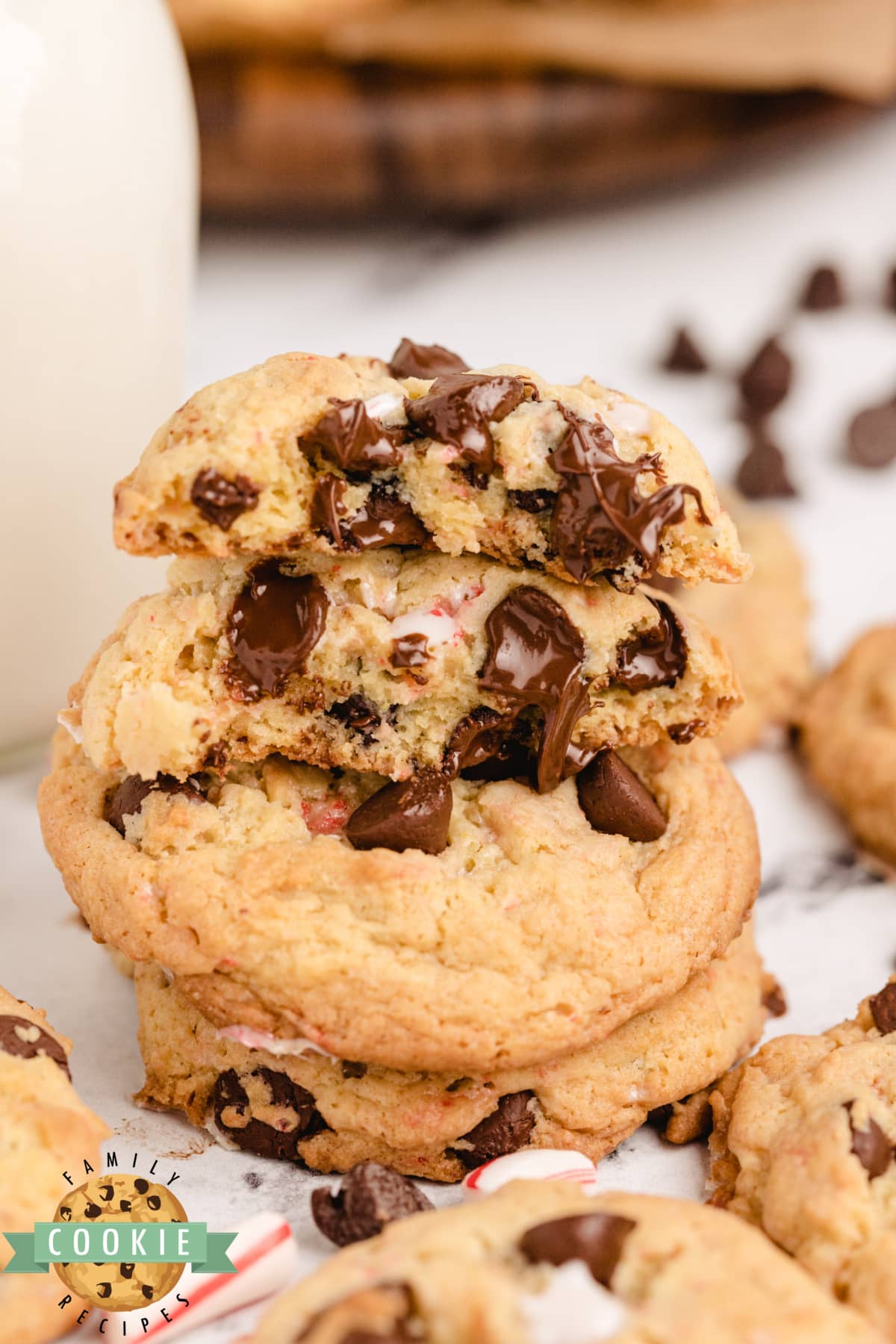 It's no secret that we really like chocolate chip cookies. I make a lot of desserts but nothing seems to hit the spot better than a warm Chocolate Chip cookie. That being said, I love trying variations on this classic favorite. This peppermint version is absolutely incredible and perfect for the holiday season.
Peppermint Cutout cookies made with classic ingredients + crushed candy canes and a simple vanilla glaze! Buttery, festive cut out sugar cookies perfect for Christmas!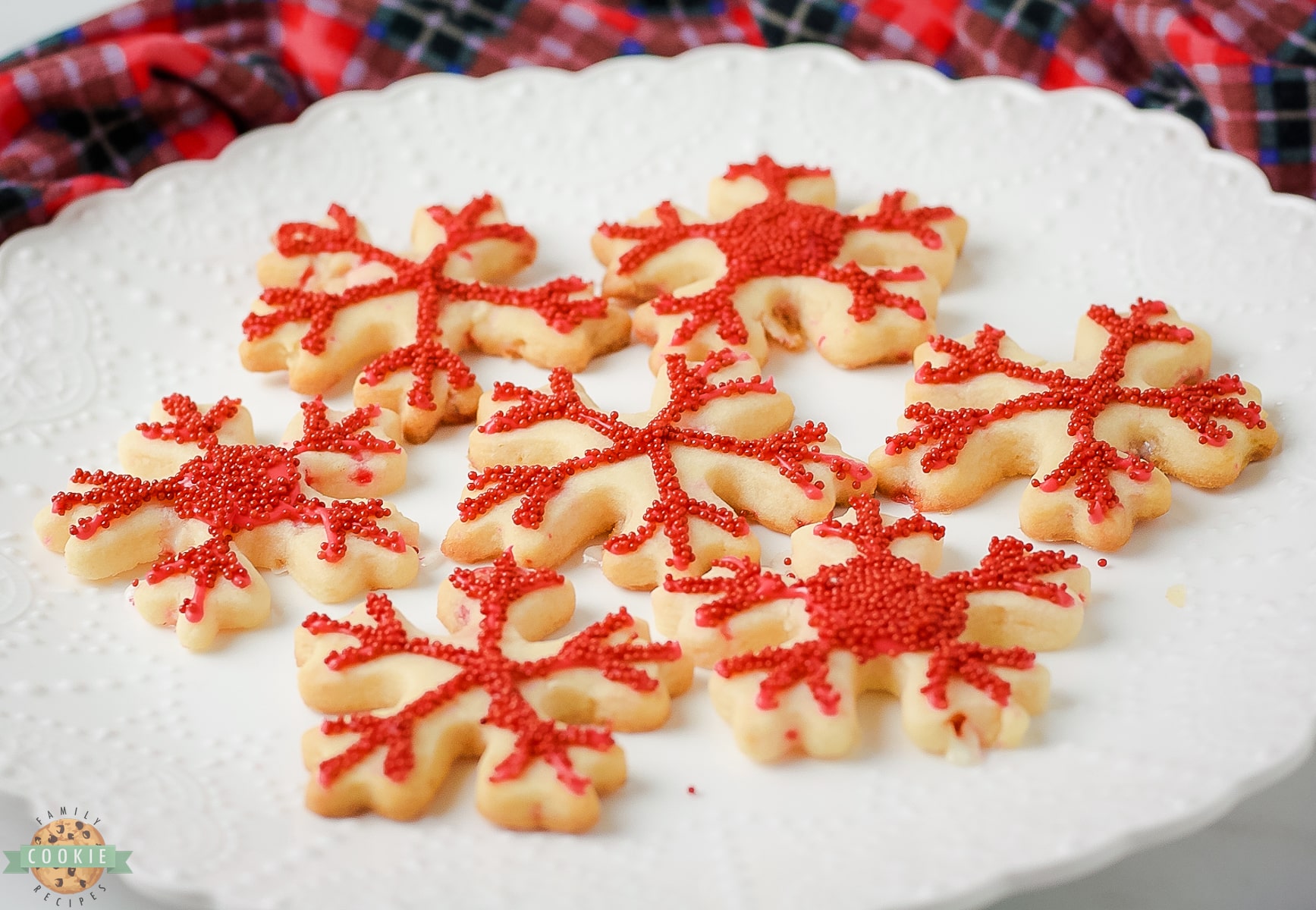 These easy cut out cookies are soft & sweet with a lovely buttery texture. We love cut out cookies around here because it's a chance for the whole family to get creative and have fun decorating cookies together. I'm sure yours will too once you try this fun Christmas cookie recipe!
Peppermint Snowman Cookies a fun and festive wintery treat! Chocolate cookies stuffed with peppermint patties & decorated with a candy-covered snowman, these peppermint cookies are almost too cute to eat.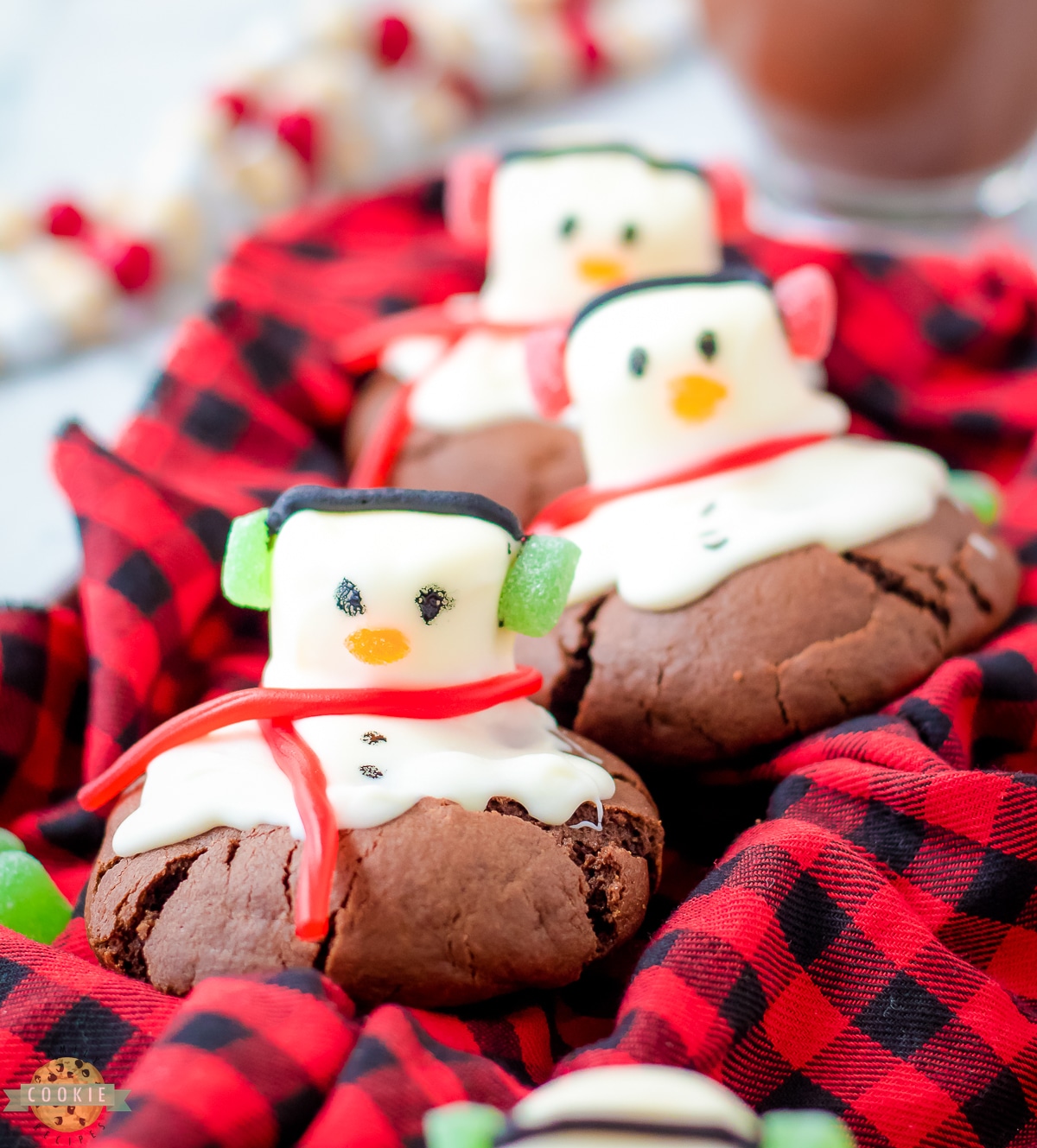 These Peppermint Stuffed Snowman Cookies are the ultimate Christmas cookies. Thick, rich, soft chocolate cookies are stuffed with peppermint patties and then topped with a marshmallow that gets coated in white almond bark to look like a melted snowman.  These are so cute for the holidays and decorated with little gumdrop ear muffs.
Peppermint shortbread cookies are festive buttery cookies topped with white chocolate & candy cane pieces! Shortbread cookies are perfect for Christmas!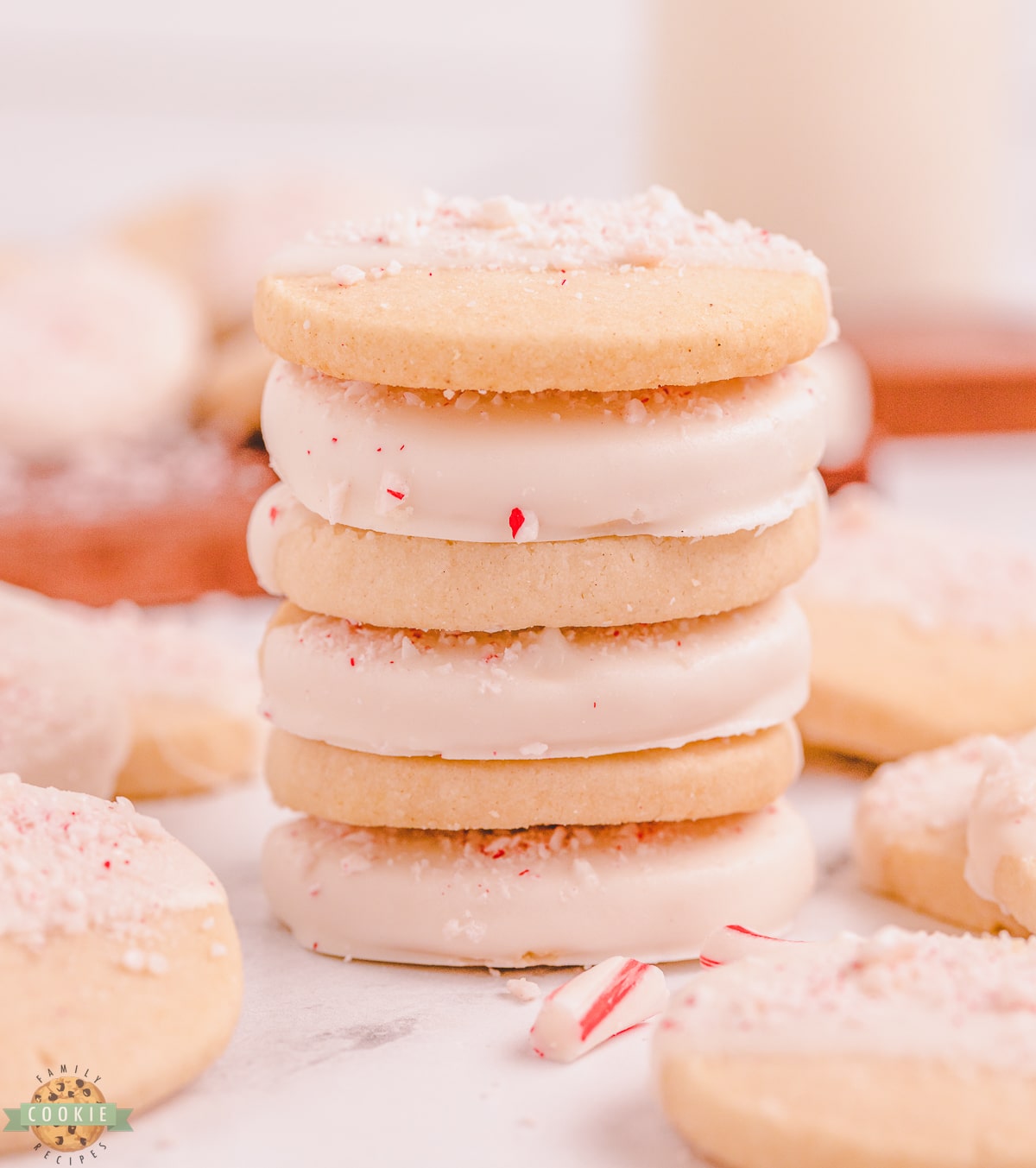 With this peppermint shortbread recipe, you will have options all winter long. Made with the cold weather in mind, these cookies taste great warm, cold, or next to your favorite mug of hot cocoa. Serve them up at a holiday party, or keep them in the cookie jar for daily snacking.
Peppermint Bark Cookies are the ultimate Christmas cookies, a sensational holiday dessert! These peppermint cookies are bakery-style chocolate cookies topped with peppermint buttercream & homemade peppermint bark!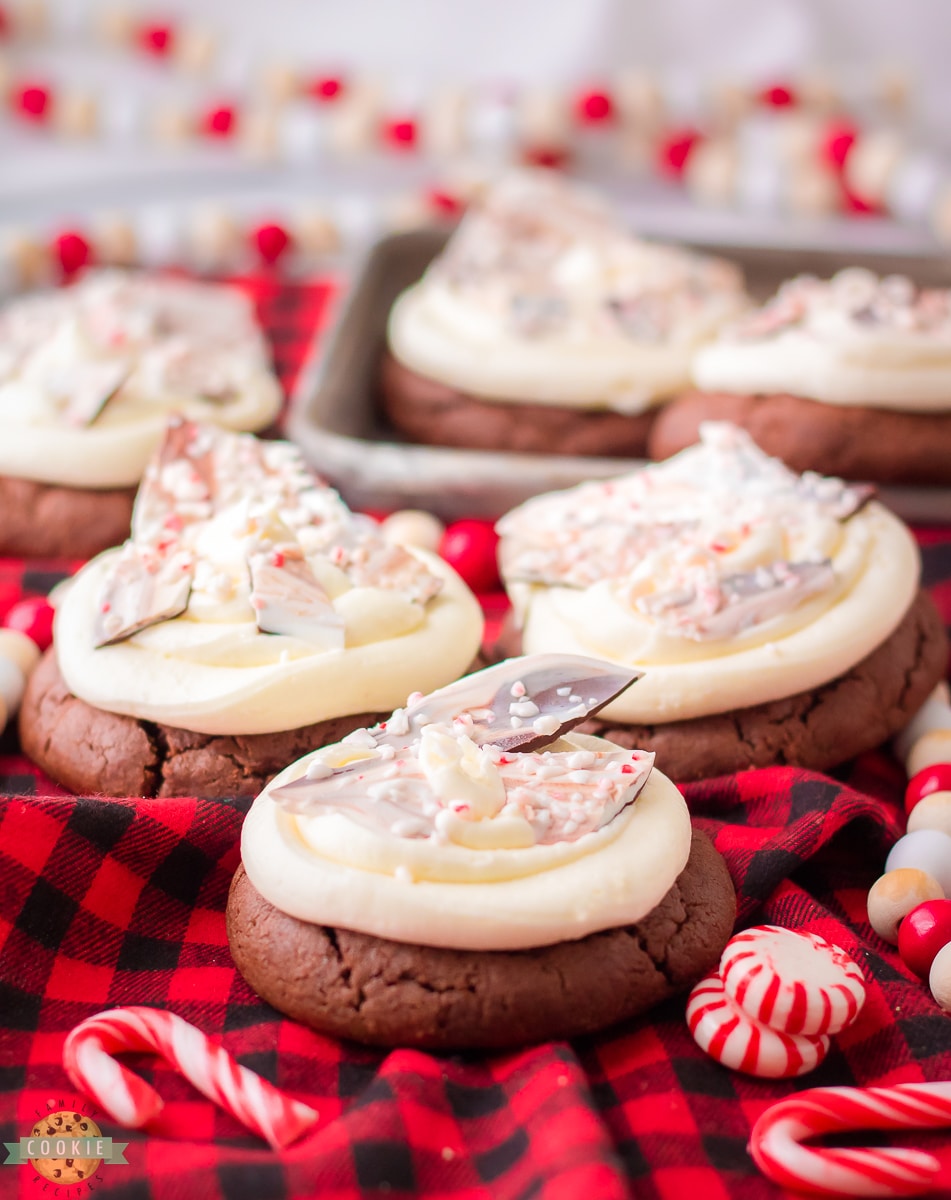 These are the best chocolate cookies! They are thick, soft, rich, and just a little chewy… pretty much everything that makes the perfect cookie. The buttercream is luscious and flavored with peppermint. The homemade peppermint bark is thin, and the perfect blend of semisweet and white chocolate with crushed peppermints really sets these cookies apart. 
Peppermint Fudge Sugar Cookies are two favorites in one! Soft sugar cookies topped with a chocolate peppermint fudge & crushed candy canes for an over-the-top Christmas treat!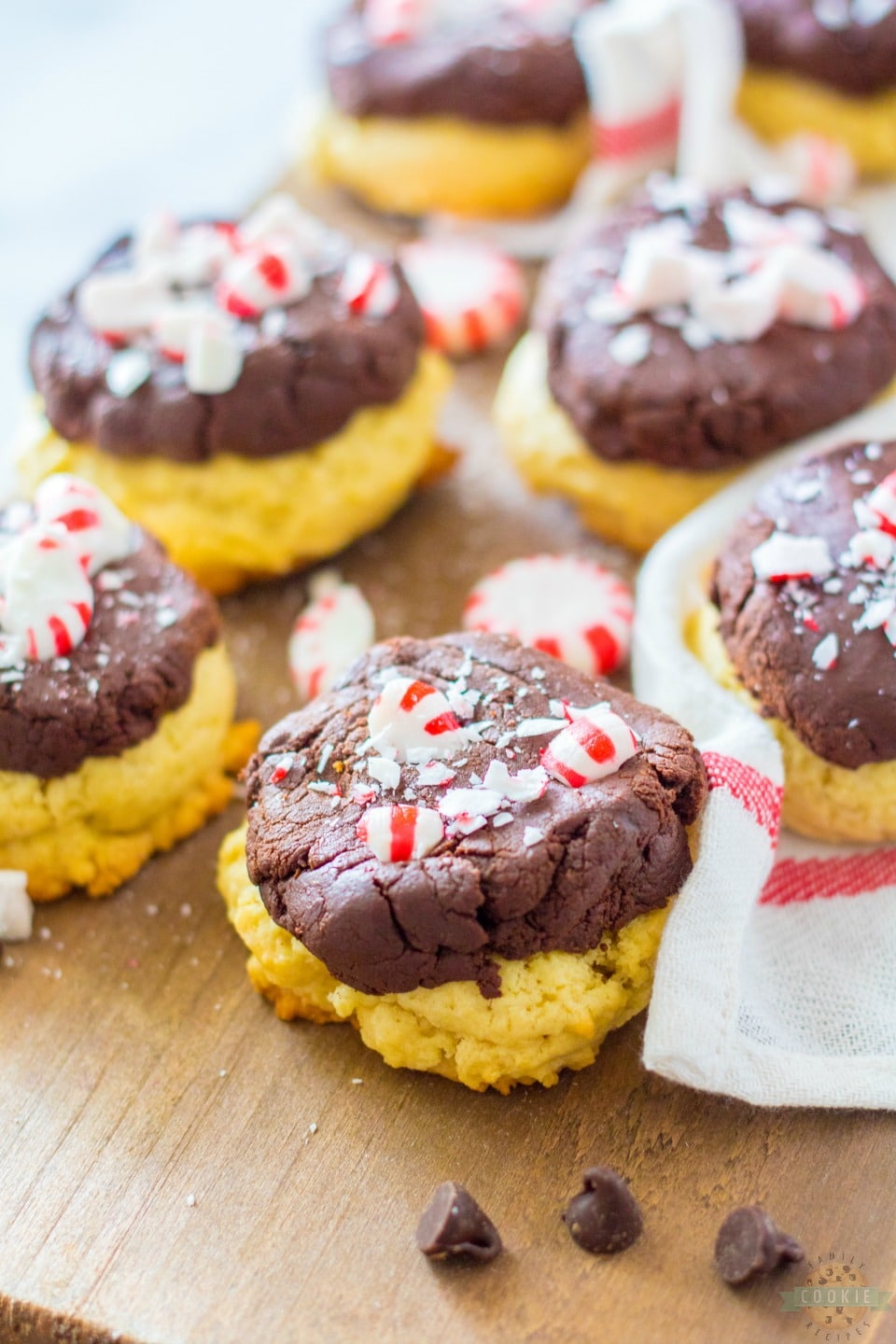 Peppermint Fudge Sugar Cookies are going to be the hit of the party this year. With delicious crushed peppermint, rich fudgy frosting, and a sugar cookie base, these Christmas cookies are simply amazing! This recipe makes 2 dozen large cookies but be prepared for a second or third batch because you'll need backups after this first one disappears. It's too good to resist!
Peppermint butter cookies made easy with classic ingredients, then dipped in chocolate and sprinkled with peppermint! Delicious flavor in these buttery crisp, delicate Christmas cookies!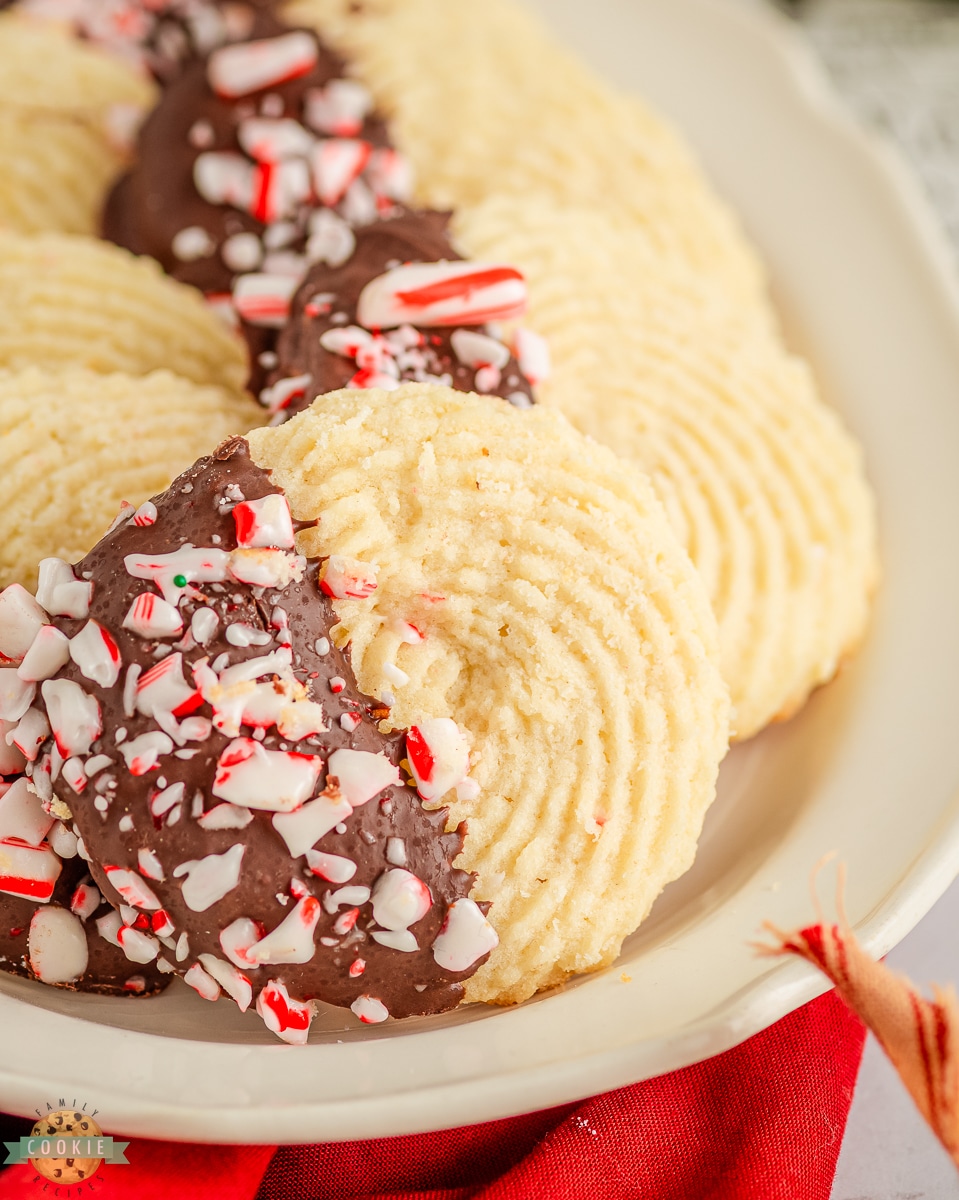 Butter cookies are an easy piped cookie recipe made with soft dough. They look like the old-fashioned danish butter cookies you buy in blue tins from the store (often seen holding grandma's sewing kit after the cookies were eaten). We're taking these buttery crisp cookies and adding a little holiday spirit by dipping them in chocolate and sprinkling candy cane pieces on top. Yum!
Peppermint Chocolate Sandwich Cookies are a lovely holiday treat made with soft chocolate cookies and a peppermint cheesecake filling. Perfect holiday cookies for gift giving and dessert trays!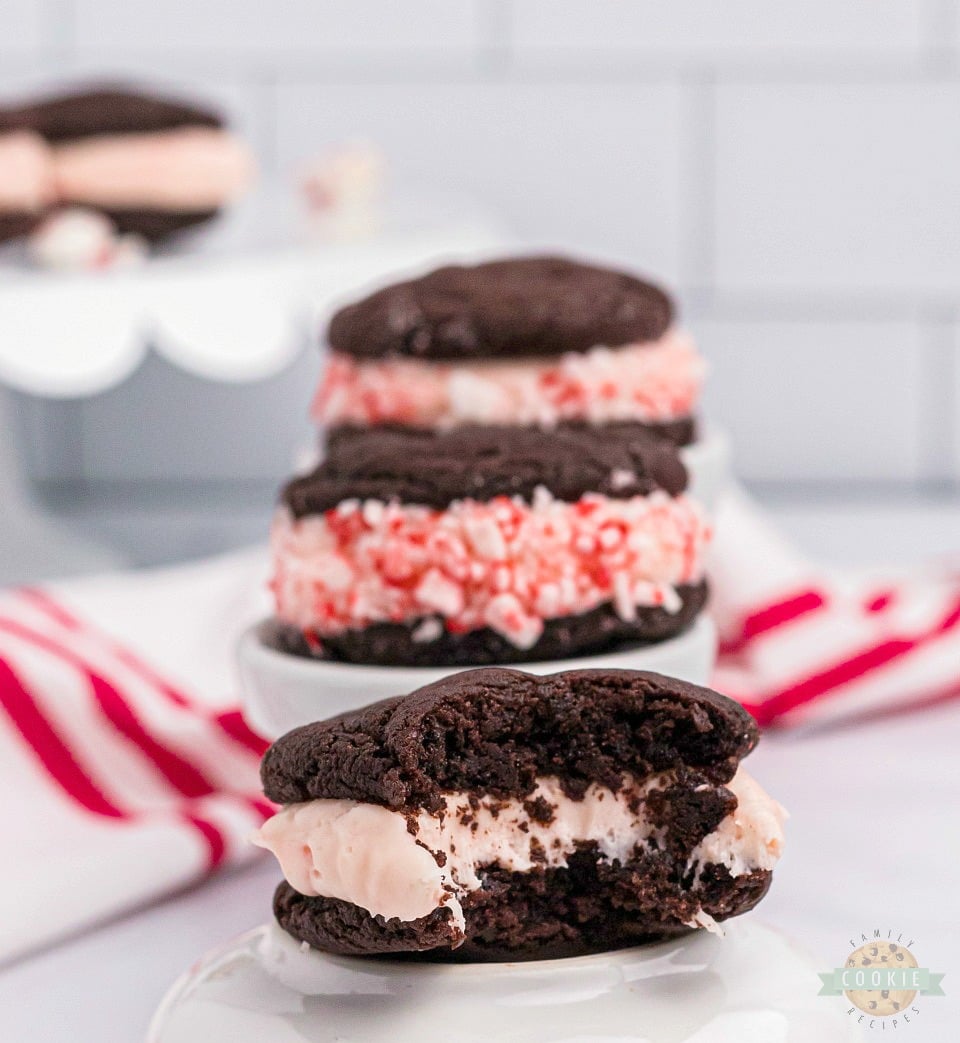 These holiday cookies are a great treat to enjoy this winter. Serve them up at the next cookie exchange or make them for a Christmas party and watch them disappear. This recipe makes a few dozen cookies, so there's plenty to share! With a chocolate cookie and minty marshmallow cheesecake filling, every bite resembles a cup of hot cocoa.
Peppermint Meltaways are a soft, delicate cookies with fantastic peppermint flavor! Made with a simple icing & topped with crushed peppermint, these meltaways are a festive holiday cookie!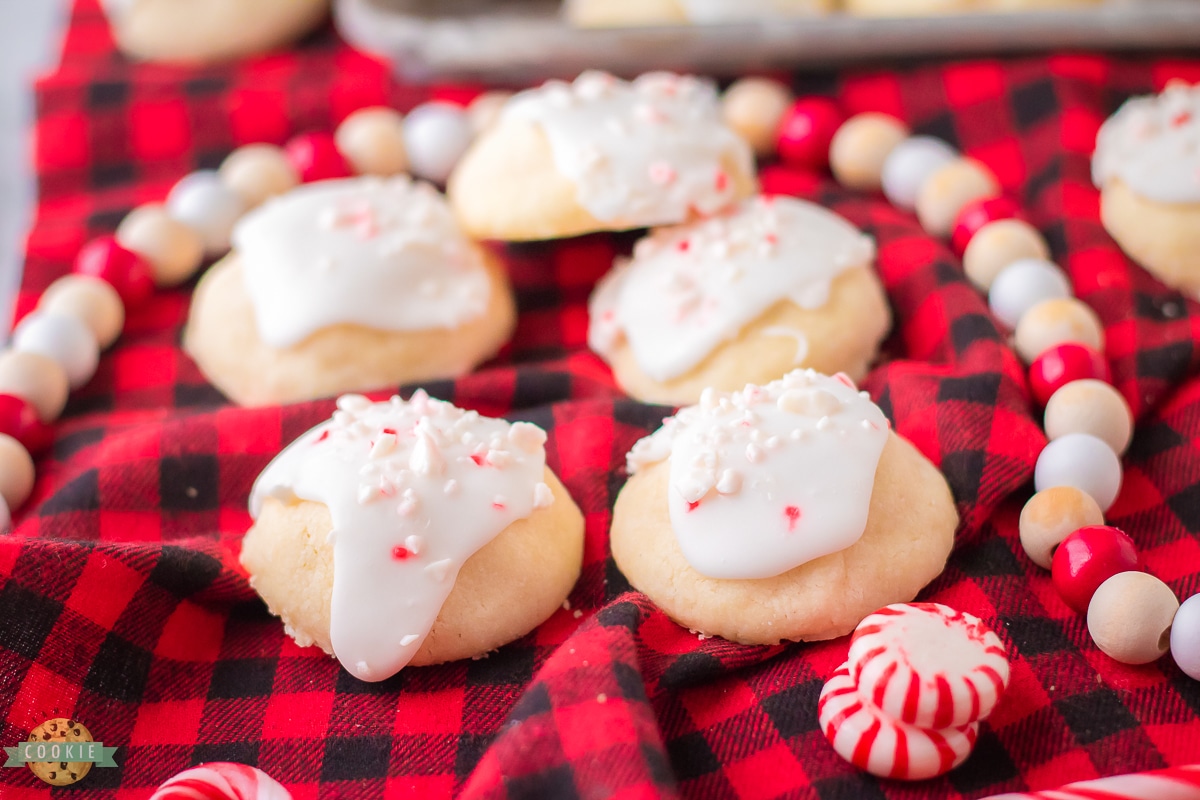 These peppermint meltaway cookies are exactly like their name suggests, they melt away in your mouth.  The cookie itself is sweet and lightly flavored with peppermint, and the glaze is thick, sweet, and topped with even more peppermint with a little crunch. 
Chocolate Peppermint Blossoms are made with a cake mix, eggs, butter, and Hershey's Candy Cane Kisses. This easy cake mix cookie recipe yields soft and chewy chocolate cookies with just the right amount of peppermint!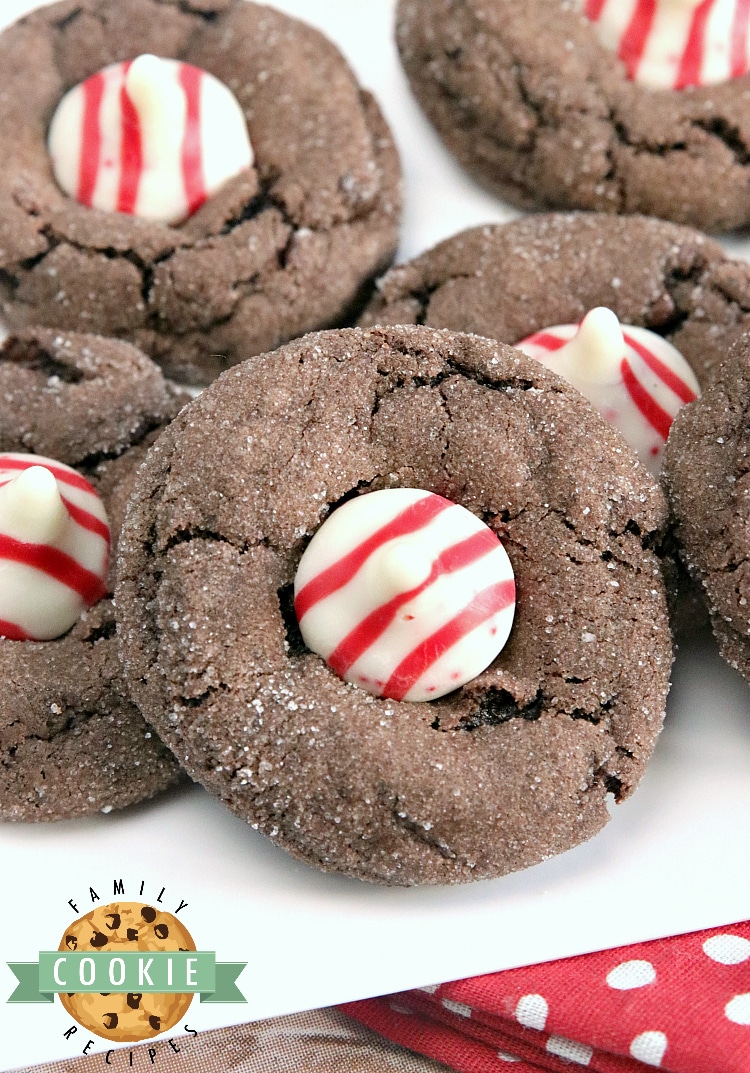 Chocolate Peppermint Blossoms have become my go-to holiday cookie recipe because they are so simple! Only 4 ingredients! Plus, these cookies are so pretty and they look perfect on trays for cookie exchanges and holiday parties – no one will ever guess how easy they are to make.
Peppermint Cookies & Cream Cookies are made with pudding mix, Oreo cookies, crushed candy canes and peppermint extract. This delicious peppermint cookie recipe yields a perfectly soft and chewy cookie that is sure to be a favorite holiday cookie!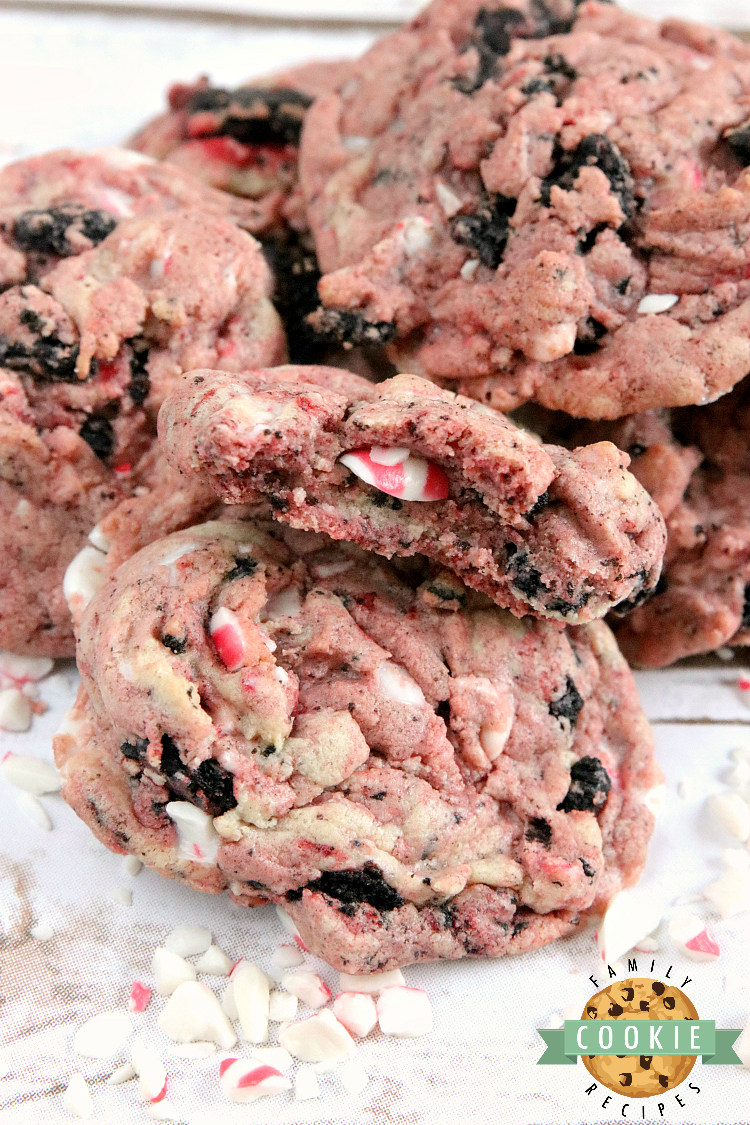 One of my all time favorite cookie recipes ever (and one of our most popular!) is our Cookies & Cream cookies. I decided to add a little bit of a holiday twist to this recipe and it is absolutely amazing!
Frosted Peppermint Cookies are soft, pillowy cookies baked with peppermint candy and topped with peppermint vanilla buttercream and candy cane pieces.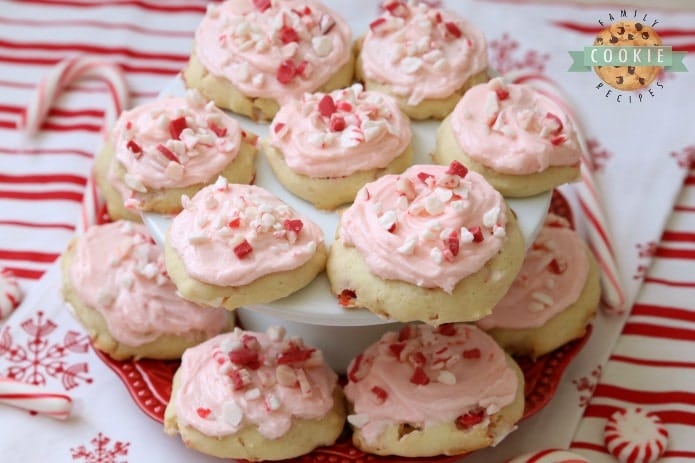 The holidays are upon us and there's nothing I love more than to bake Christmas cookies with my kids. This recipe for Frosted Peppermint Cookies is one of my favorites. The cookies are soft, have great flavor and the peppermint vanilla buttercream is amazing. My kids love to help every step of the way from mixing the dough, scooping onto cookie sheets, frosting, and of course, sprinkling with crushed peppermint pieces.
Peppermint Fudge Cookies are a perfect and delightful treat to make during the holiday season. These easy to make peppermint fudge brownie cookies are covered in a chocolate glaze and crushed peppermint pieces.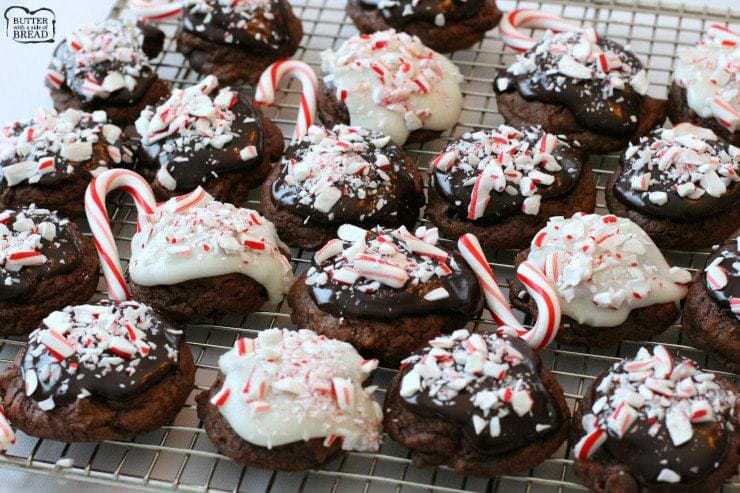 There is truly something magical about the flavor combination in these chocolate fudge peppermint cookies. These peppermint chocolate chip cookies are like small brownie bites, and the chocolate glaze on top is simply amazing!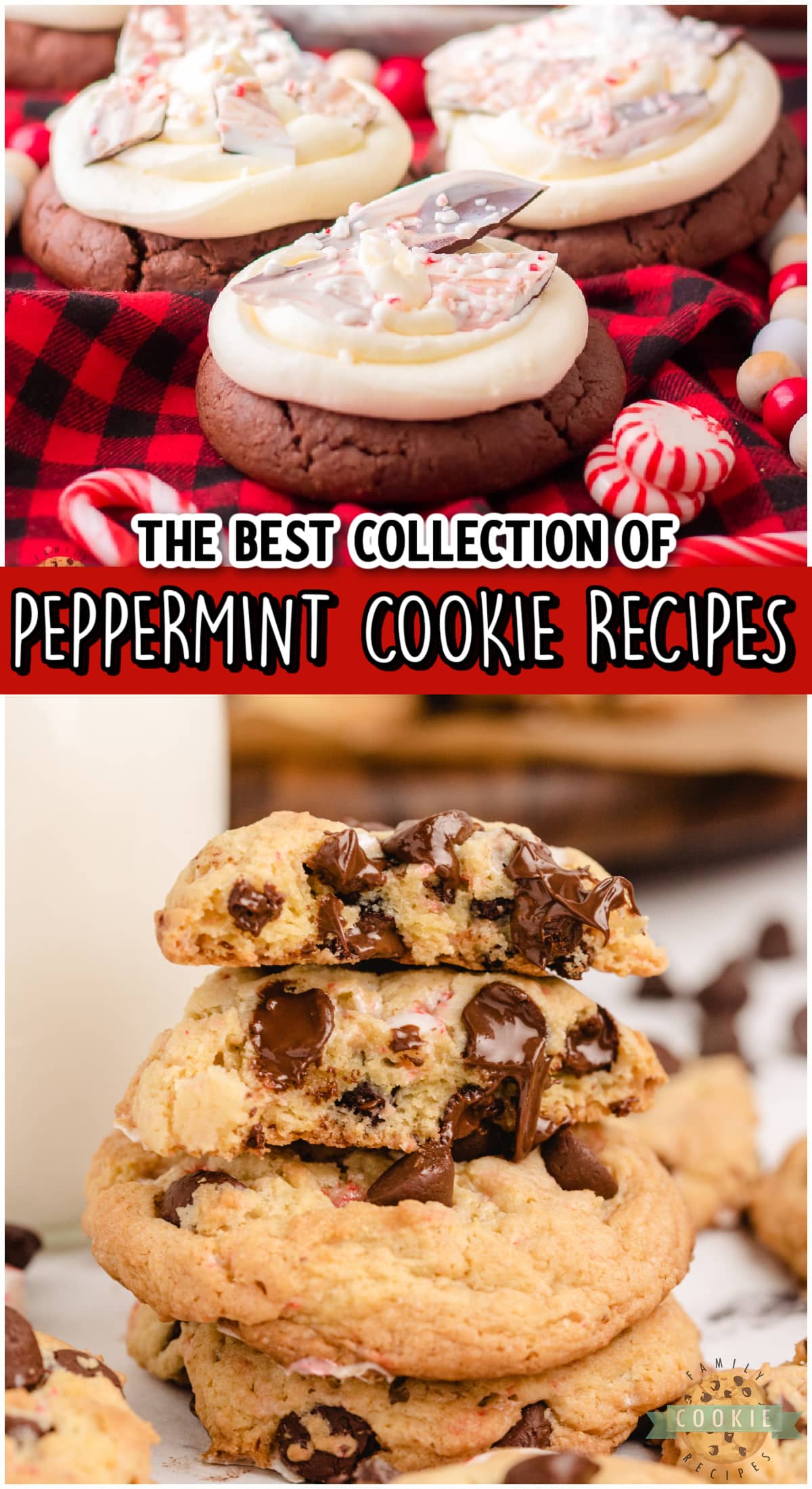 Amazing collection of peppermint cookie recipes! Deliciously soft and chewy cookies that are all so different, but all made with peppermint!