Peppermint Cutout cookies made with classic ingredients + crushed candy canes and a simple vanilla glaze! Buttery, festive cut out sugar cookies perfect for Christmas!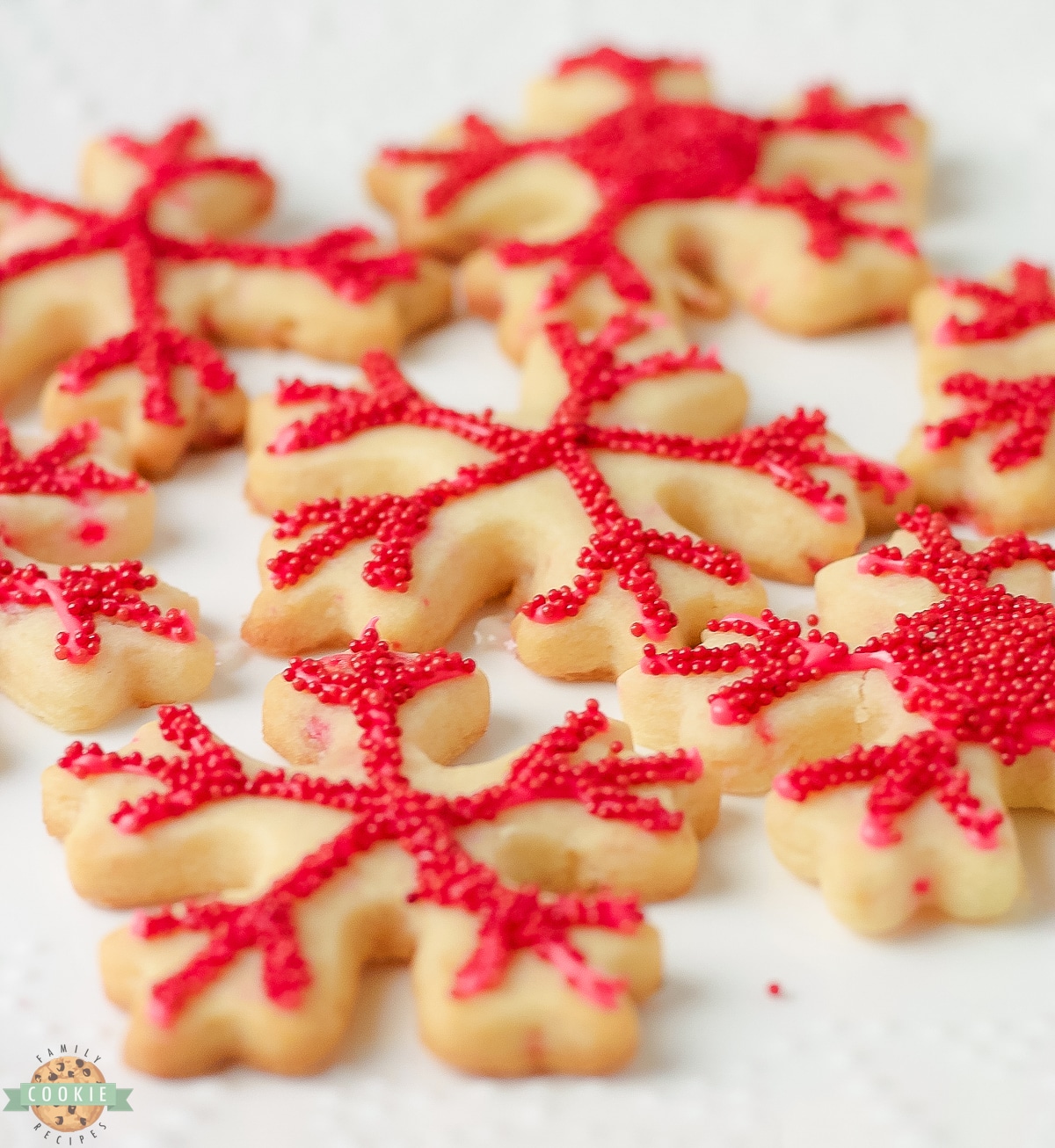 These easy cut out cookies are soft & sweet with a lovely buttery texture. We love cut out cookies around here because it's a chance for the whole family to get creative and have fun decorating cookies together. I'm sure yours will too once you try this fun Christmas cookie recipe!
EASY CUT OUT COOKIES
These are super awesome cut out cookies that hold their shape. Perfect for use with holiday themed cookie cutters, sprinkles, and icing colors. That said, you could just as easily swap out a few sprinkles and cutter shaped to make these any time of the year if desired.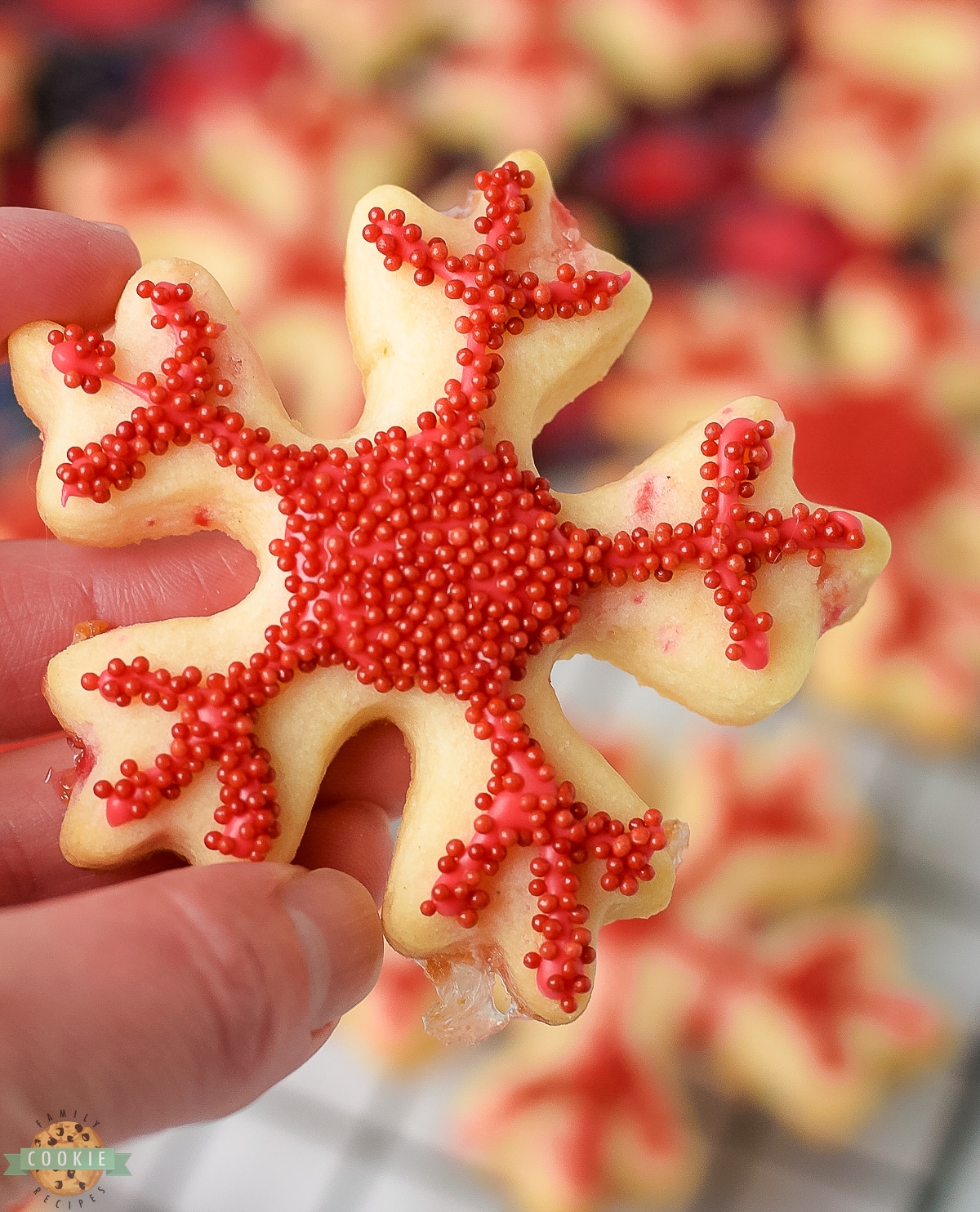 Why You'll Love these Peppermint Sugar Cookies
Festive look & flavors! Peppermint is perfect for the holidays! I love that we have peppermint pieces in the cookies. If you want, you can swap out the sprinkles for more peppermint pieces too.
Cut out sugar cookies that keep their shape! Look at those corners! This is partly due to the recipe not having any leavening agents like baking soda or baking powder. An egg contributes to a softer texture so none are needed.
No chilling necessary! You can be decorating cookies within an hour of making the dough. Amazing!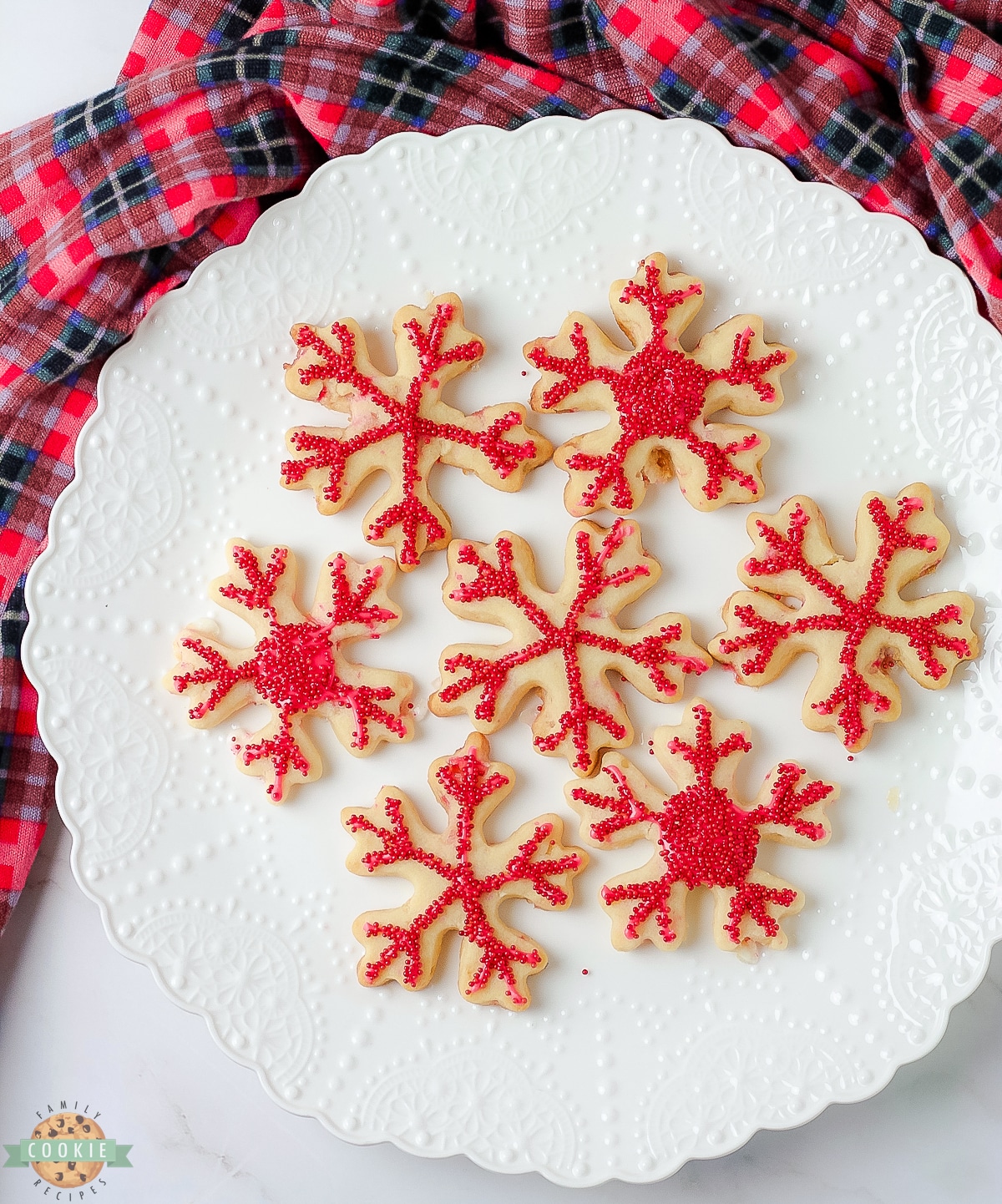 Peppermint Cut Out Cookie Ingredients
— DRY INGREDIENTS: You'll need 3.25 cups all purpose flour, 2 tsp baking powder and .5 tsp salt
— BUTTER: We use 1 cup softened butter. We prefer salted butter, but you can use what you have on hand.
— SUGAR: You'll use 1 cup granulated sugar for the cookie dough.
— EGG: You'll need just 1 egg to help bind the dough together.
— FLAVOR: We add 1/2 tsp vanilla extract and 1/2 cup crushed candy canes to the cookie dough as well.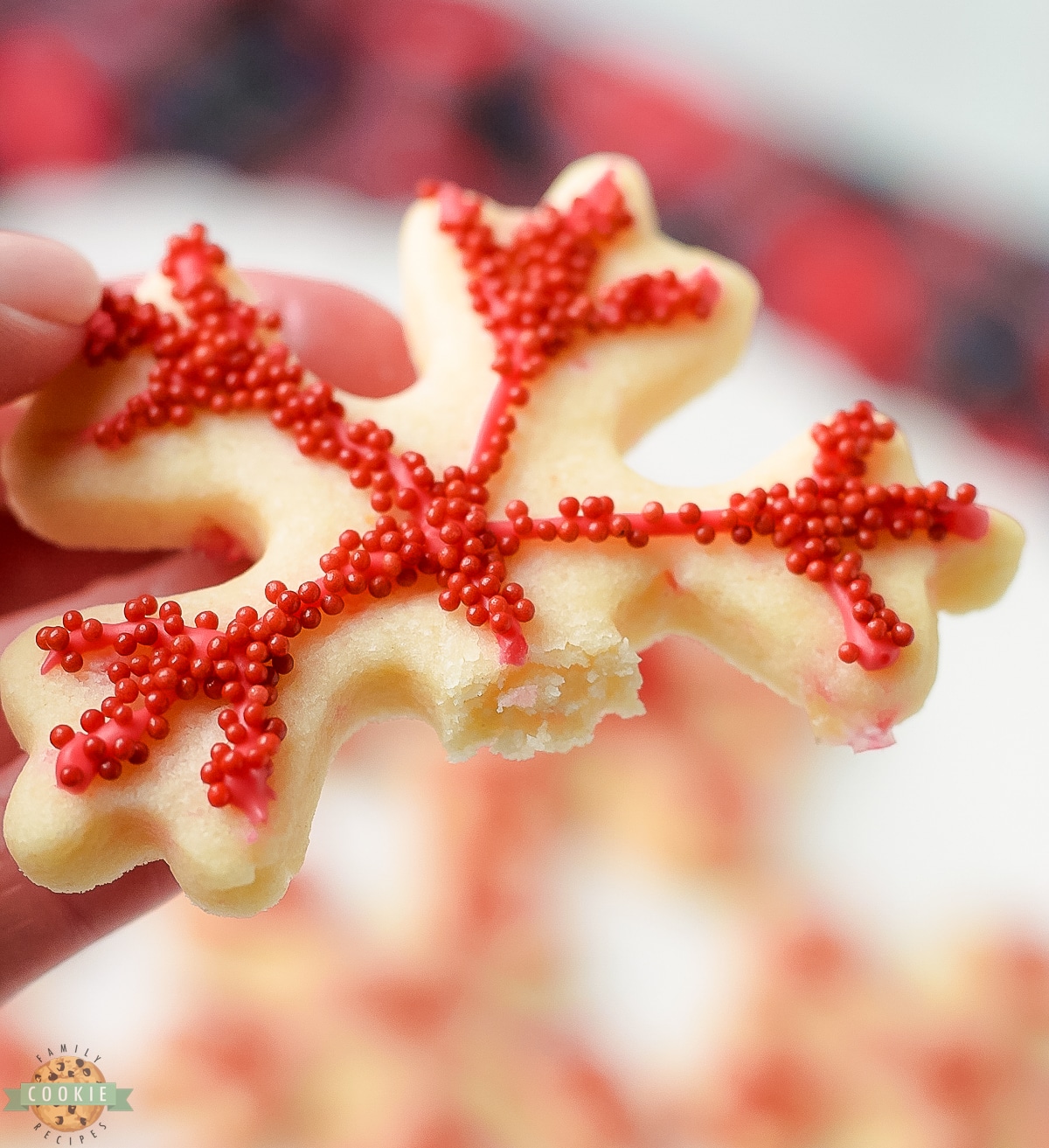 Icing Ingredients:
— We added 1 Tbsp meringue powder to contribute to volume and a silky smooth texture for the icing. You can leave it out if you want, but it's a good item to have on hand for baking! It's found on the cake baking aisle of Walmart, or here on Amazon.
— SUGAR: We added 1 lb powdered sugar, which is about 3 1/2 cups.
— MILK: We used 1/4 cup whole milk for the icing.
— VANILLA: You'll need 1 tsp vanilla extract
— SPRINKLES & SUCH: To add a festive touch, feel free to top the cookies with sprinkles. You can also color the icing red or blue if you'd like.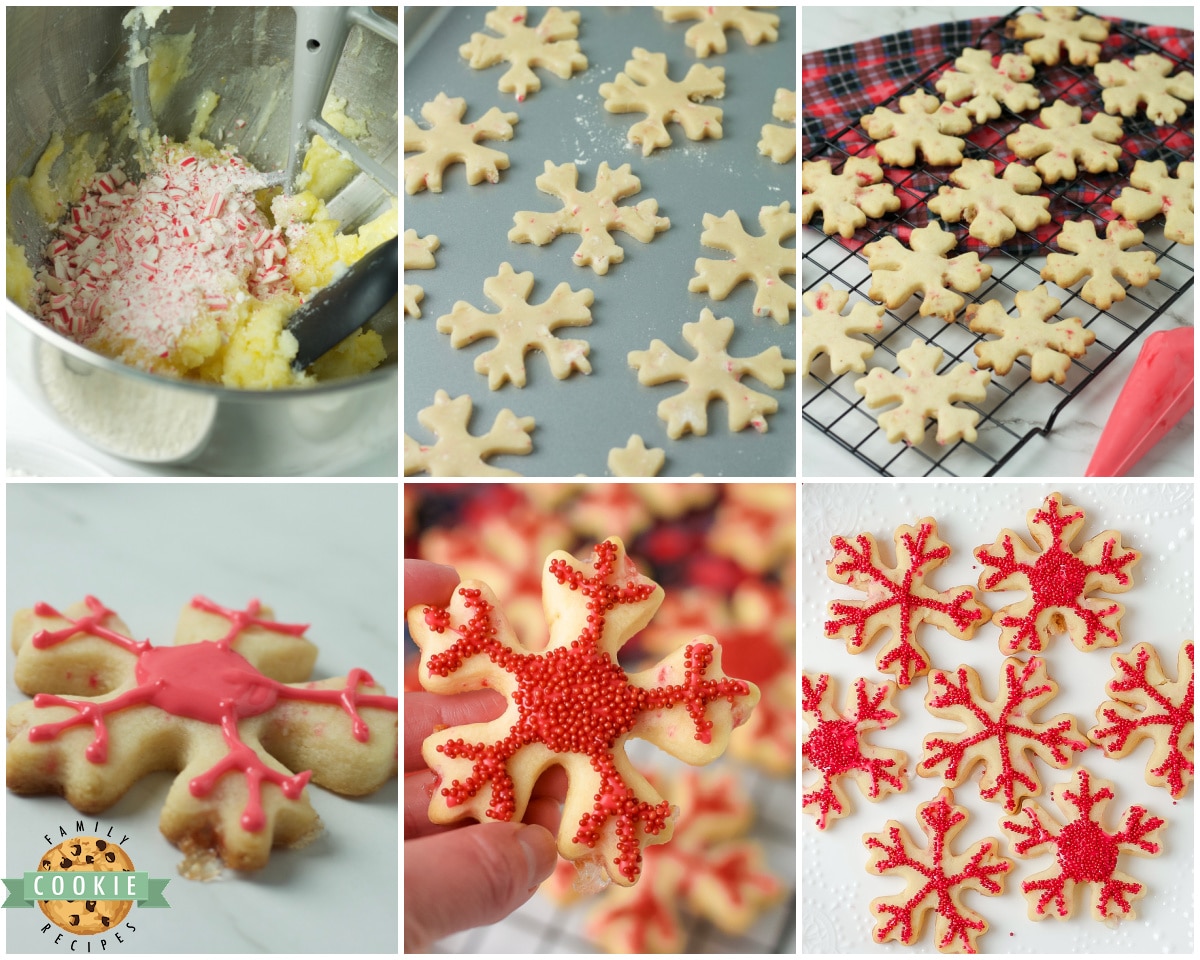 How to Make Peppermint Cut Out Cookies
Preheat the oven to 375 F. Line a baking sheet with parchment paper and set aside.
Make the peppermint dough
In a medium mixing bowl, mix together flour, baking powder, and salt. Set aside.
In a medium mixing bowl, mix together with a stand mixer or hand mixer the butter and sugar until smooth and combined.
Add the egg and vanilla extract to the butter mixture until fully combined.
Add in the dry ingredients and crushed candy canes slowly into the butter mixture. Combine until the dough starts pulling away from the bowl.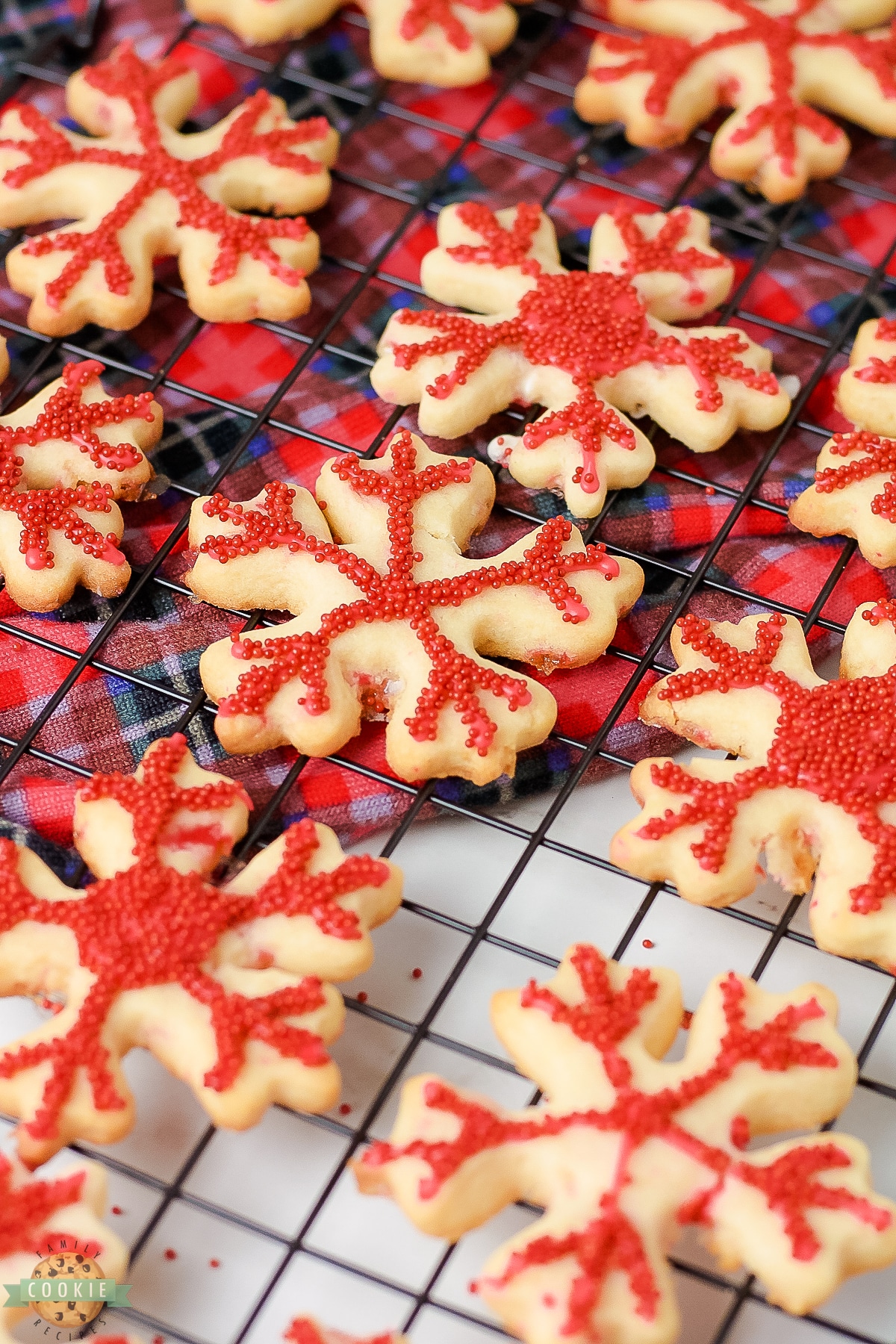 Roll out the cookies
Flour a spot on your countertop, and roll the dough out to about 1/4 " thickness. Be sure to use a light dusting of flour on your rolling pin to prevent sticking.
Cut out your cookies and use a metal spatula to help lift them off the counter onto the baking sheet. Once you have cut as many cookies as you can out of your dough, roll the dough back into a ball and roll out again, repeat cutting cookies.
Bake the Cut Outs
Bake in your preheated oven for 6-8 minutes, the cookies should not be shiny on top anymore and maybe a little brown on the edges.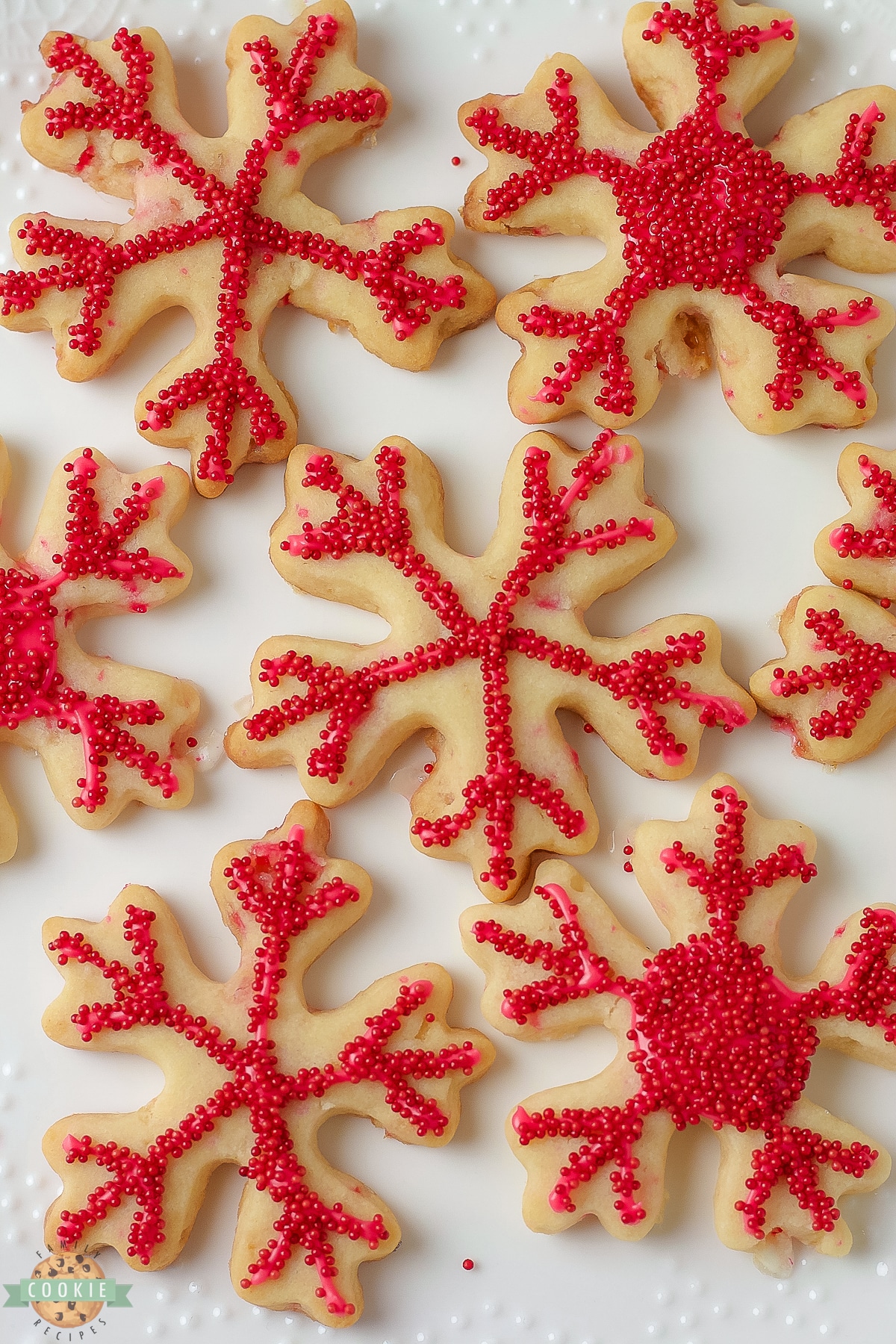 Remove the baking sheet from the oven and let the cookies cool for 2 minutes on the sheet before transferring to a cooling rack to finish cooling.
While the cookies are cooling, mix up your frosting.
Icing and Sprinkles
In a mixing bowl or stand mixer, mix together on medium speed the meringue powder and whole milk. Once frothy, add in the powdered sugar and vanilla extract. Mix until combined.
If you are choosing to use food coloring, hand mix in your desired color and amount.
Place the frosting in a frosting bag or ziplock and cut off a tiny bit of the tip. Frost your cookies & add sprinkles. Serve & enjoy!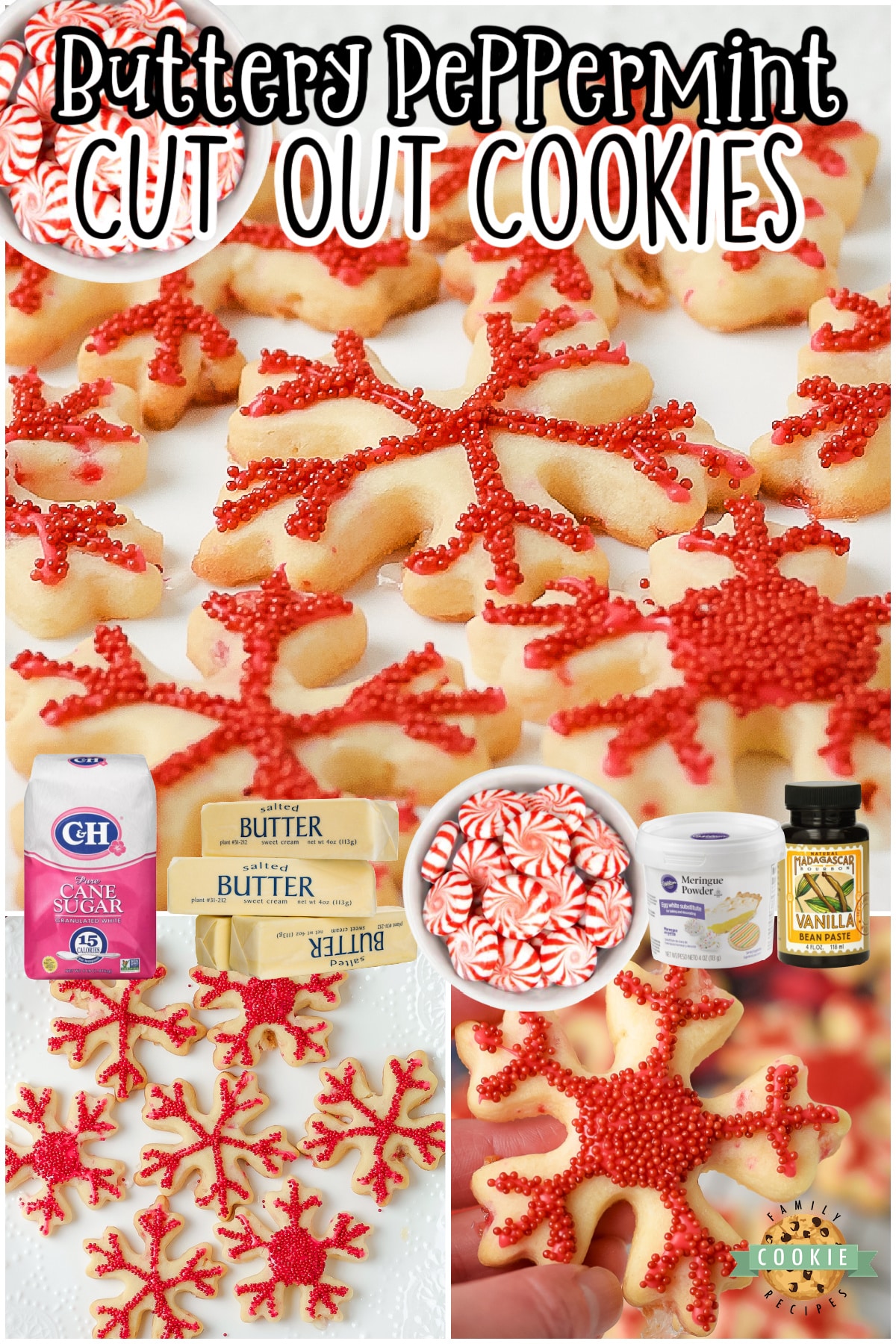 Tips for rolling out sugar cookie dough
Usually when you roll out cookie dough, you'll first sprinkle the countertop with flour or powdered sugar. This method works well, but be sure to only re-roll the dough out twice, or else the flour ratio will be off and the cookies will be hard and crumbly.
Another option is to roll out between two pieces of parchment paper. No flour, no mess! Plus, it's easy to chill the sheets of dough before cutting out cookies!
Can you Freeze Cookies?
I love freezing cookies! There are 2 ways I prefer to freeze them. The first is by freezing the unbaked cookie dough balls. I scoop & shape the balls round with my hands, then freeze them in 1 layer on a cookie sheet. You can position them as close together as possible without touching. Freeze, then once solid, transfer them to a ziplock freezer bag. Then you can pull them out and bake them whenever you want! You'll want to either let them thaw on a cookie sheet while preheating the oven, or add a couple minutes to the bake time to compensate for frozen cookie dough.
The second way is to just freeze the baked cookies. My mother in law does this ALL the time. They turn out pretty well, albeit a tiny bit drier and more crumbly once thawed. Oh and you've got to make sure you thaw them. Frozen cookies are pretty hard to eat. Thankfully, they only take about 20 minutes or so to thaw out.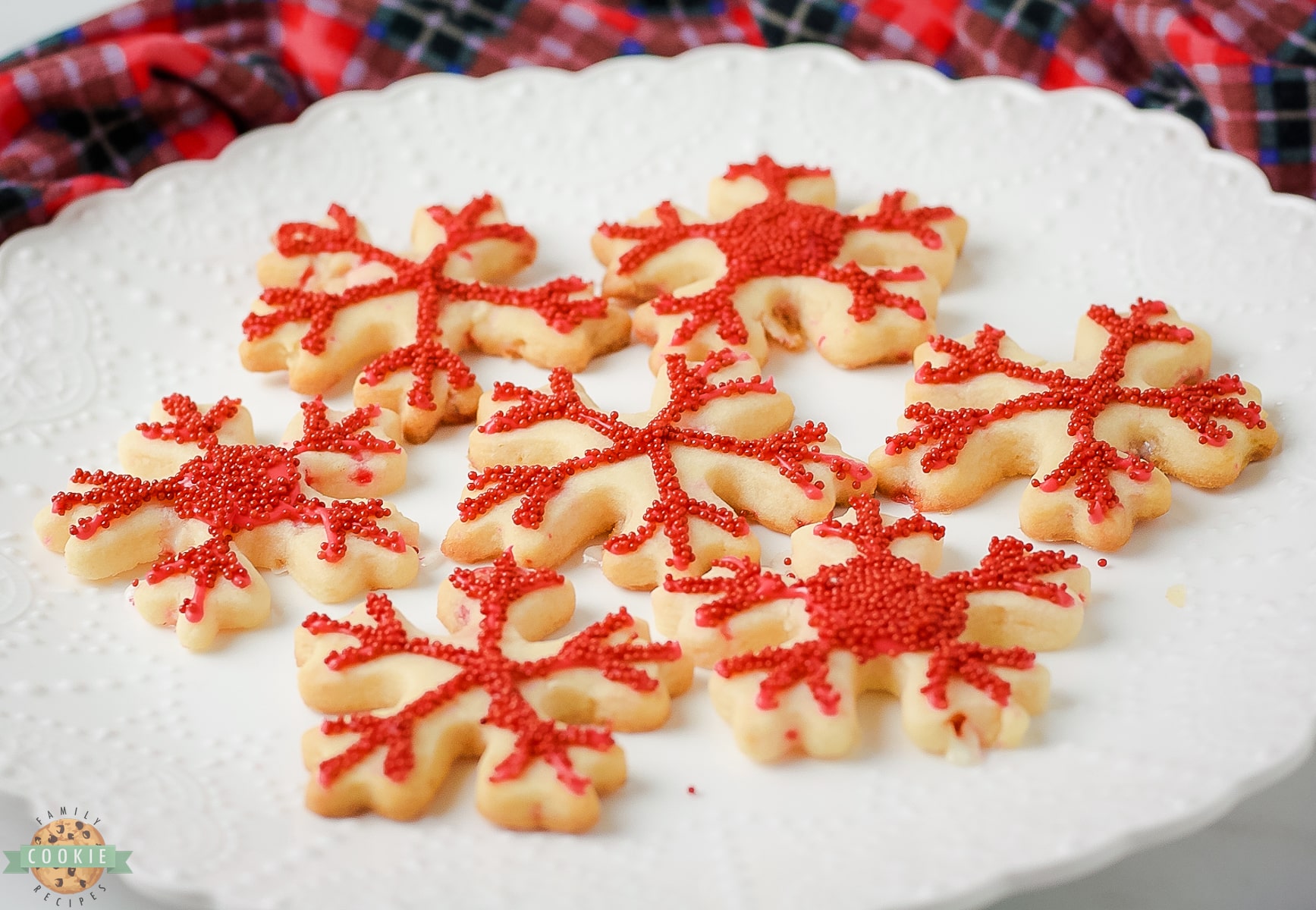 How long are these frosted cookies good for?
These cookies can be kept stored in an airtight container for up to 3-5 days. To keep the cookies nice and chewy I recommend keeping them stored in the fridge.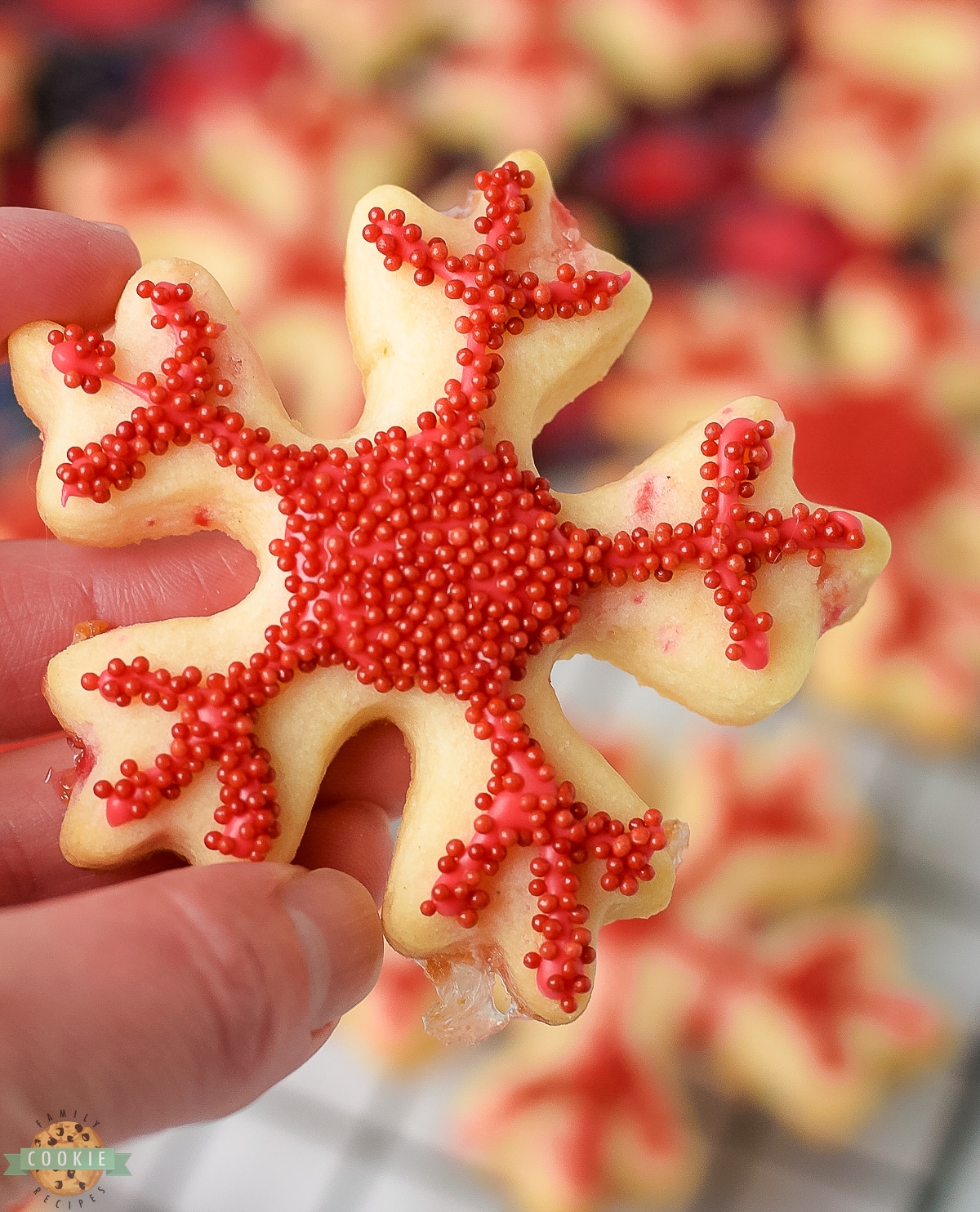 What is the best way to soften butter?
When you want softened or room temperature butter (65 degrees F) and don't have any on hand, follow these simple tips for warming it up quickly without overheating and melting the butter. Softened butter is needed to incorporate with the dough for a seamless smooth consistency so getting your butter to the proper temp is important.
Here are some ways to warm up your cold stick of butter:
Let it sit on the counter for 1 hour prior to making your cookie recipe.
Slice the butter into tablespoon sized pieces and place into a warmed glass for 10-15 minutes. A glass right out of the dishwasher or a measuring glass warmed with water in the microwave (before disposing of the water) are both great options.
Warm a small clean kitchen towel and wrap your sticks of butter (in the wrappers) for a few minutes.
I like to use a warmed tall drinking glass and place the wrapped sticks of butter in the cup before turning it over on the counter for several minutes.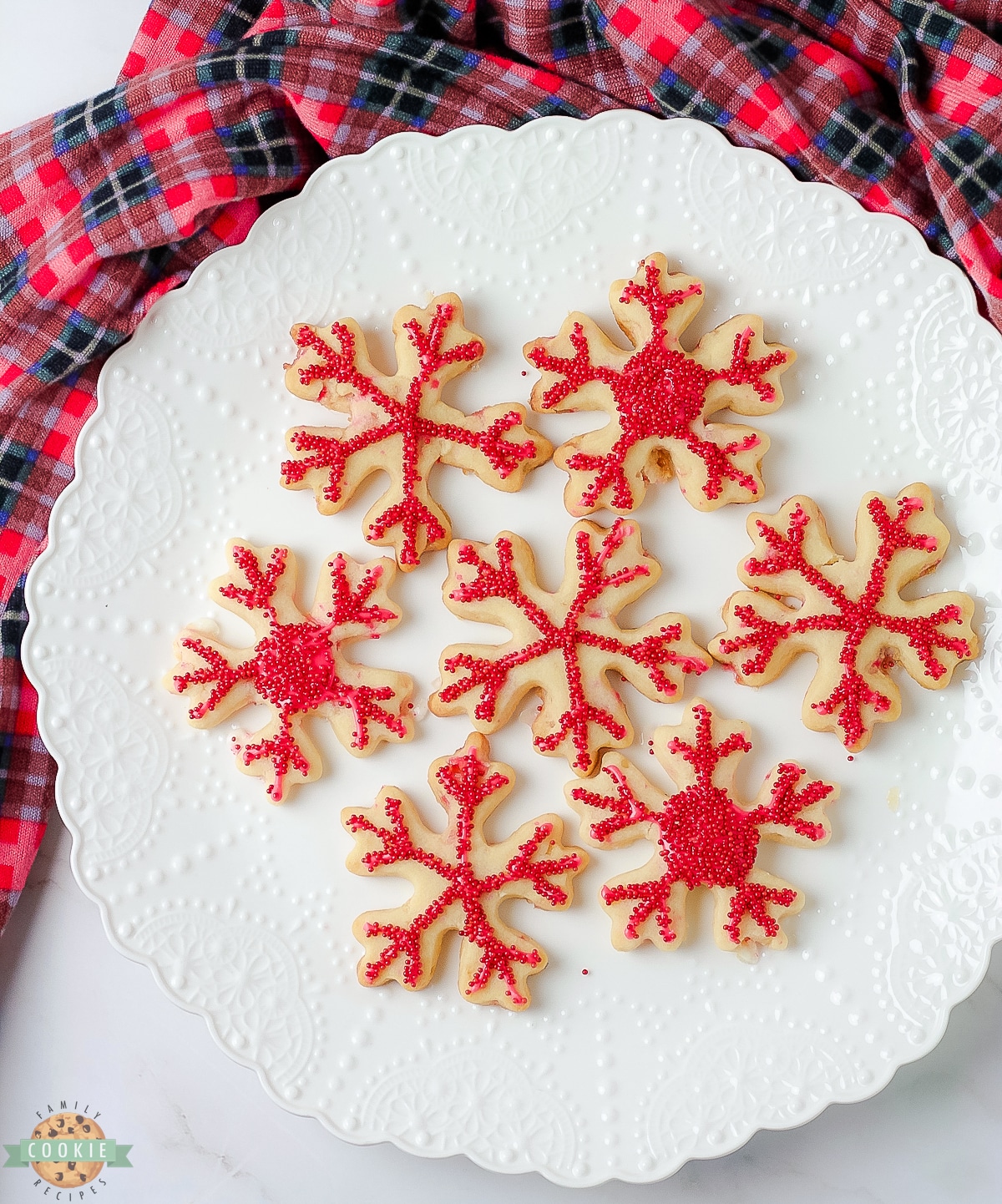 WHAT TYPE OF VANILLA EXTRACT SHOULD I USE?
A few years ago I tested 10 different vanilla extracts and found new favorites! I love using TOTONAC's Mexican Vanilla for everyday use. It's pure vanilla and contains no alcohol, which I like because I don't like the taste of extracts made with alcohol. Each time I try another, I go back to Totonac's quickly afterward; it's so good! I also love using Nielsen Massey Vanilla Bean Paste. Again, this one has the best flavor by far!


The kids and I tagged along to a business trip with my husband… in August… in Las Vegas. We were crazy! It was boiling hot of course, but we also had a lot of fun. My youngest behind me was ready for some gelato, but the others were kind enough to grant me a picture.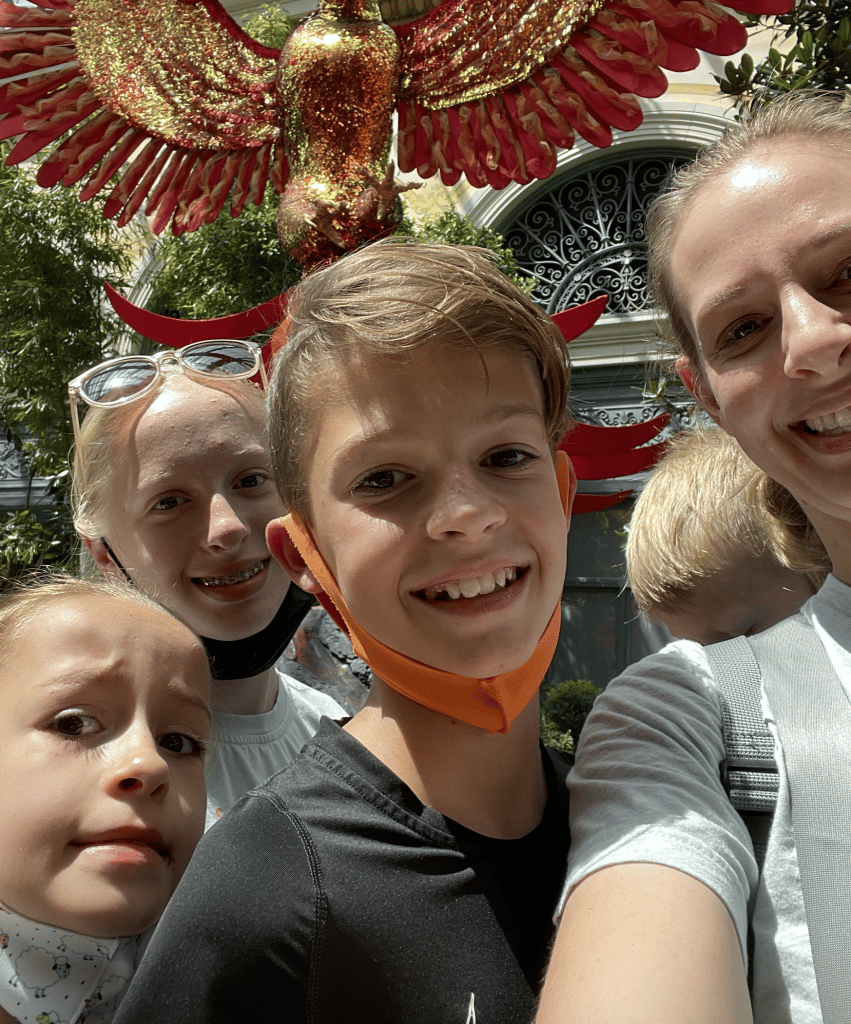 More peppermint cookies to try: