Red Velvet Christmas cookies with the festive red color, rich chocolate taste & cream cheese icing on top, these cookies are sure to be holiday favorites!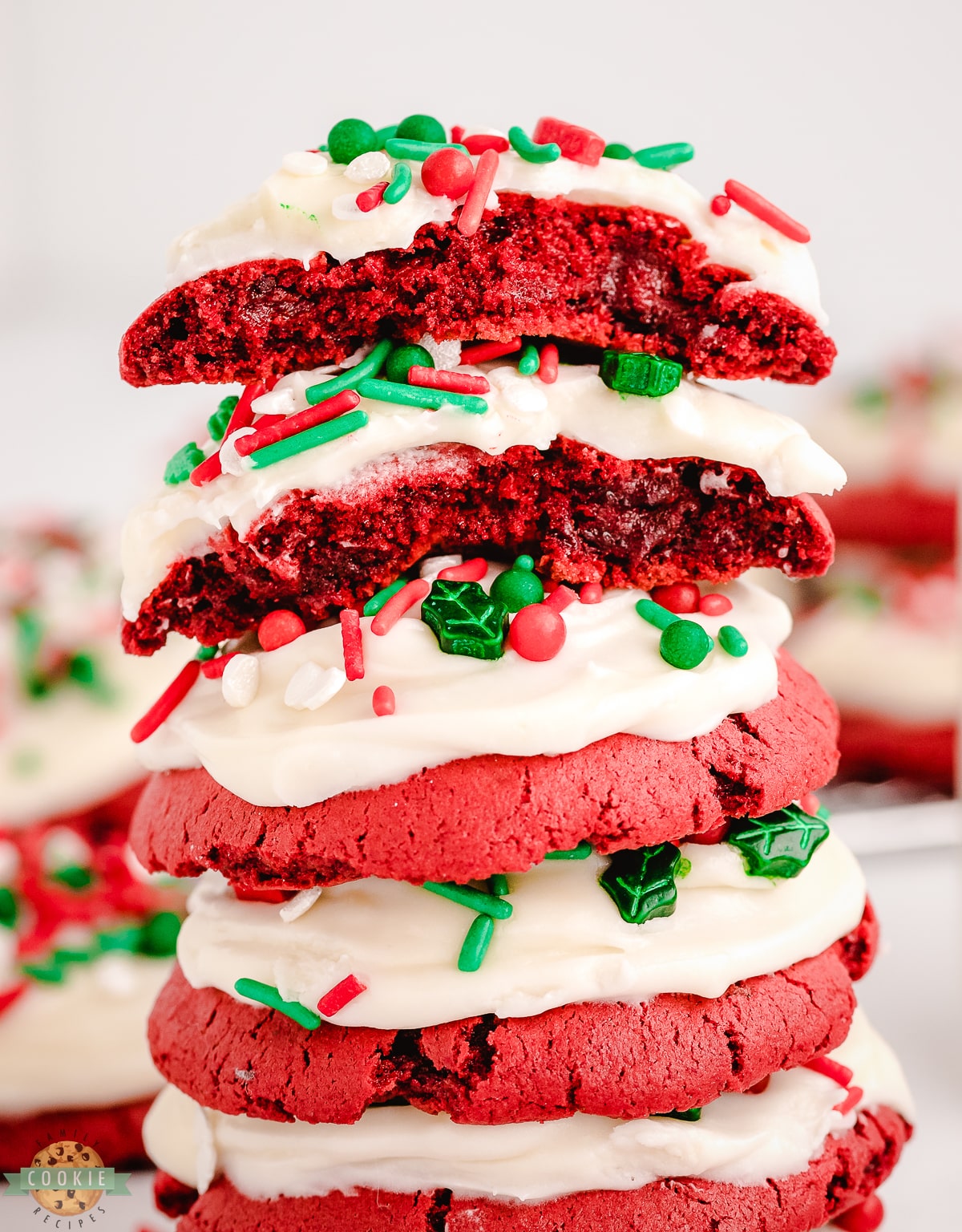 We love the holidays because that means it's socially acceptable to make dozens of cookie recipes per week. Will we actually make that many? Maybe not. But, we do get pretty busy making cookies thanks to all of our holiday gifts and party plans, so making these red velvet Christmas cookies from cake mix is a great "hack" to reduce prep time and yield tasty results every time.
Red Velvet Cookies for Christmas
Red velvet flavored anything is always a great holiday dessert because when you think of festive colors for Christmas, red and green are usually the first two colors to pop into your mind. The bright red color is vibrant and festive on its own, but adding some icing and festive Christmas sprinkles makes them even more inviting.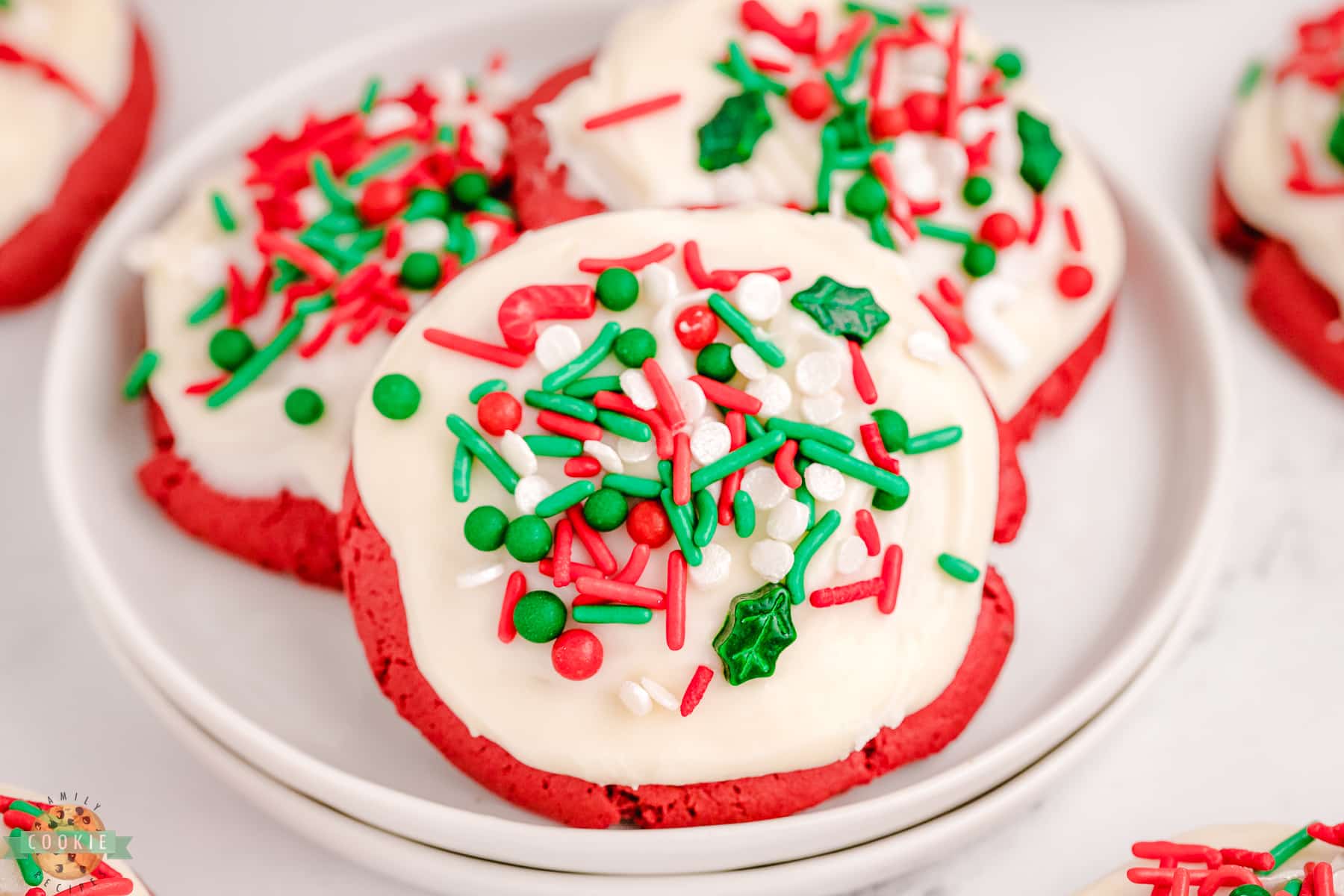 Why You'll Love This Recipe
Minimal ingredients. We use a box cake mix as the base for these cookies, meaning we don't need to measure the flour, baking powder, sugars, etc. Instead, we just need three ingredients for these cookies, plus a few more for the tasty icing on top.
Easy to follow steps. These cookies are simple and easy enough that you can have the kids lend a hand and help. The hardest part is waiting for the dough to chill because you'll be tempted to sample the dough along the way.
They're perfect for parties! Make these

easy red velvet Christmas cookies for your next holiday party, get-together,

cookie exchange, or potluck to share them with everyone you know. Or, you know, just keep them at home to enjoy throughout the day.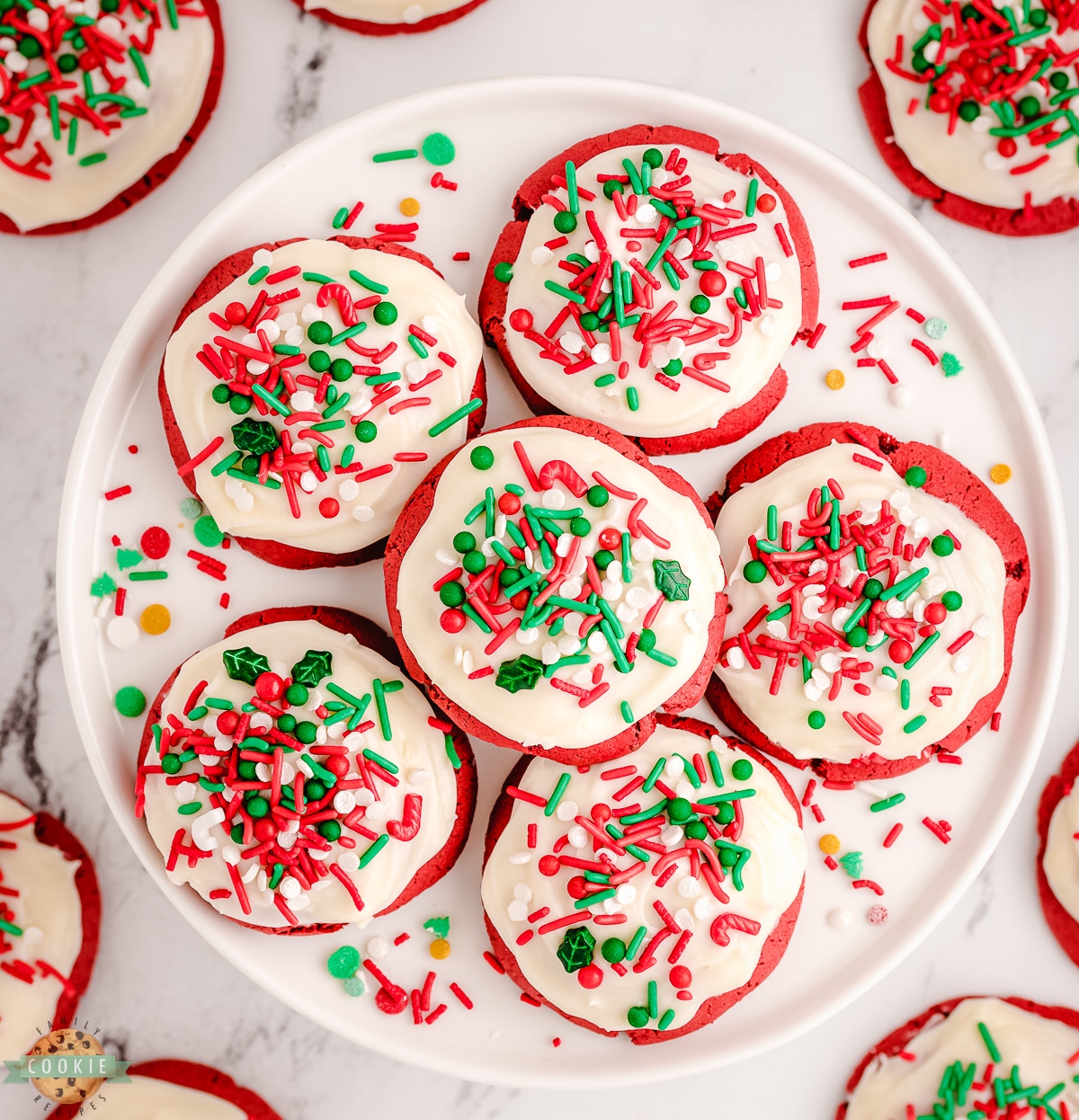 Red Velvet Xmas Cookies Ingredients
For the Cookies, you will need:
Cake mix- You will need a 15.25-ounce-sized box of red velvet cake mix.
Oil– Use 1/3 cup of vegetable oil to moisten the cake mix into a dough.
Eggs– Adding in 2 large eggs will help the consistency correct and help the cookies bind together well.
For the Icing, you will need:
Butter– You will need 1 tablespoon of softened butter to make the icing taste richer.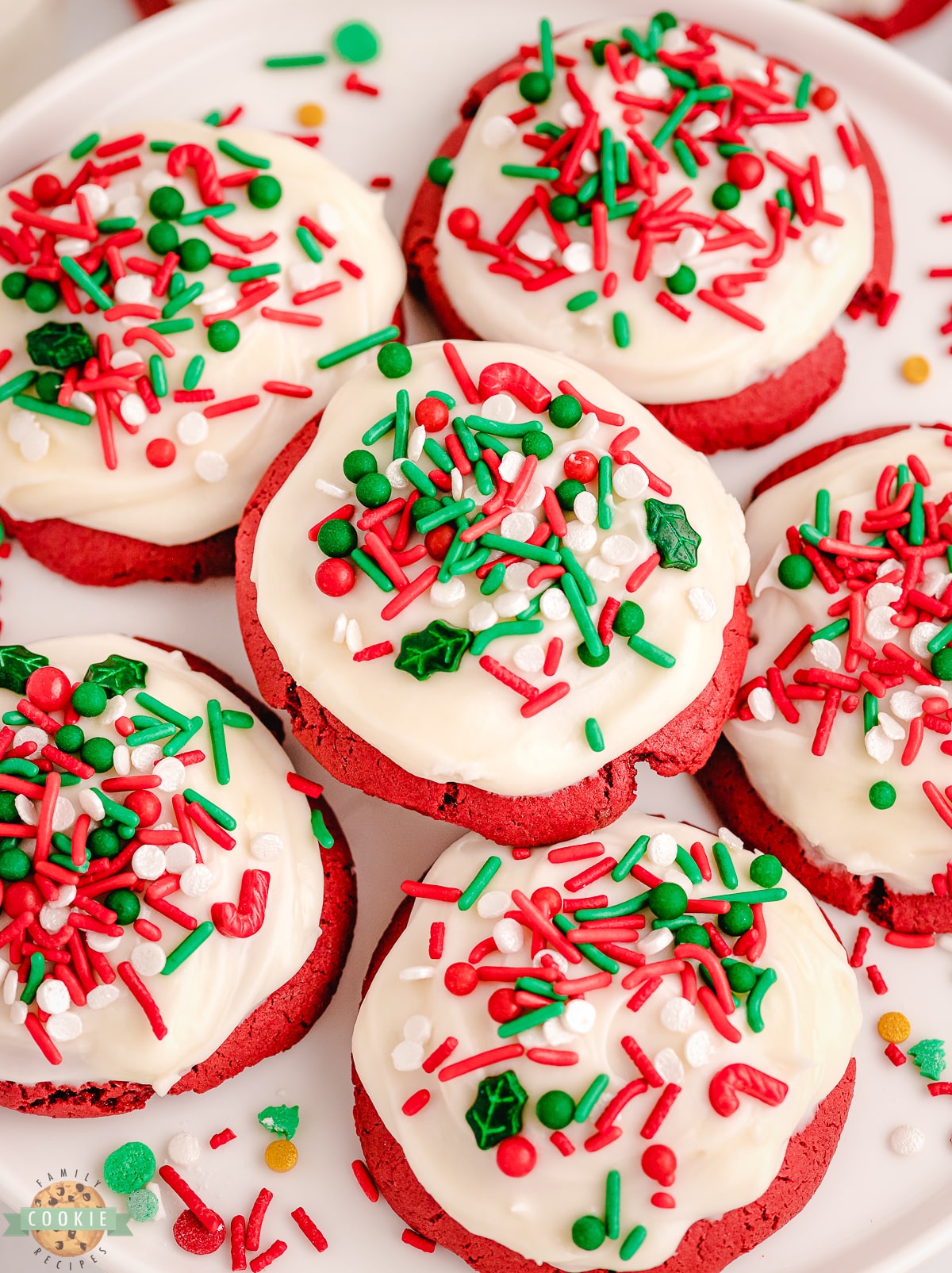 Cream cheese– Use 4 ounces of room temperature cream cheese as the base of the frosting.
Vanilla– For added flavor, add in 1/2 teaspoon of vanilla extract.
Milk– Use 2-3 tablespoons of milk to get the icing to the correct consistency.
Powdered sugar- You'll want to use 1 1/2 cups of powdered sugar to get the icing thick and sweet.
Sprinkles– This is optional, but adding some festive Christmas-colored sprinkles will really make your cookies more seasonal!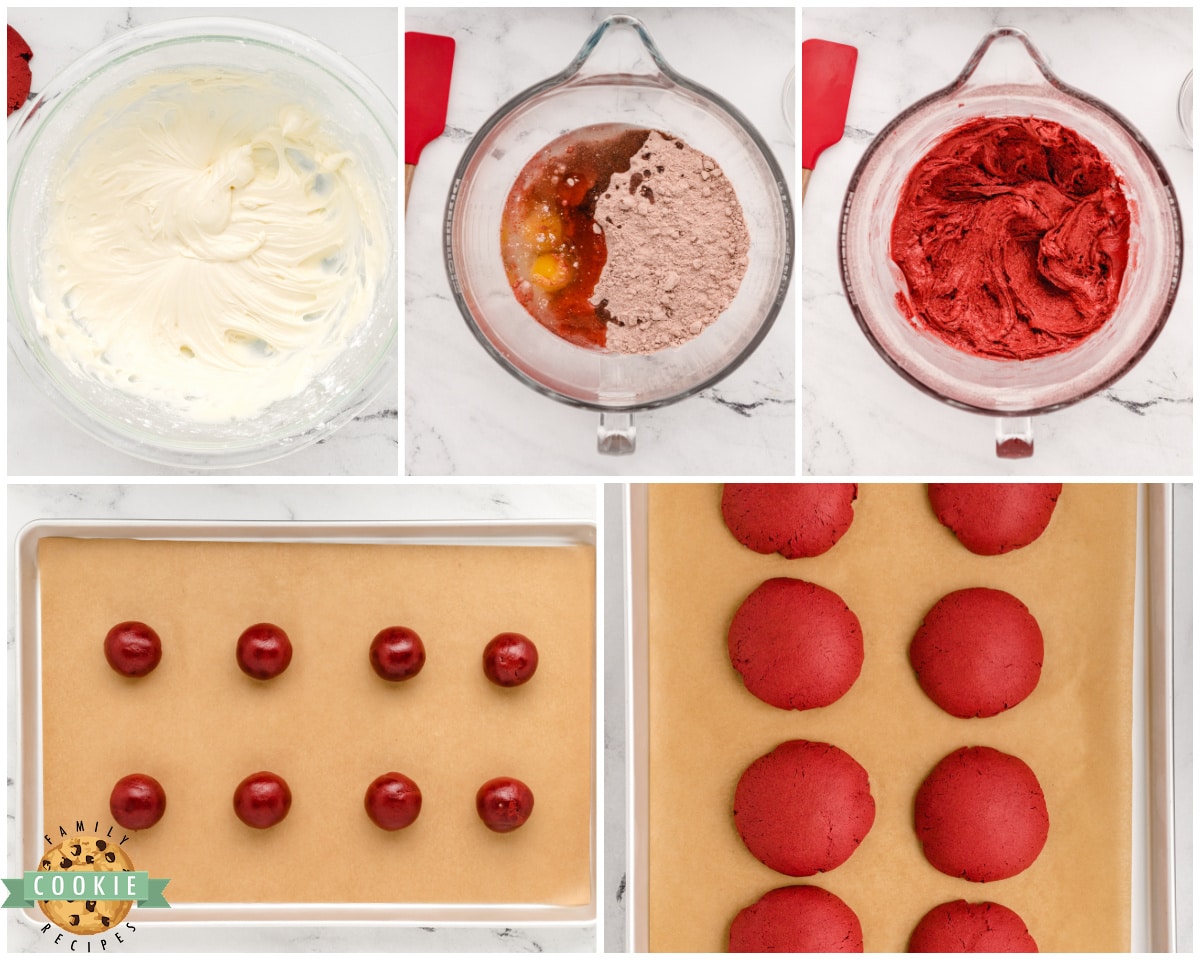 How to Make Red Velvet Christmas Cookies
Cookies
Add the cake mix, vegetable oil, and eggs to a large mixing bowl or a stand mixer that has been fitted with a paddle attachment. Mix together until combined.
Cover and chill the dough for 1 hour. This makes it easier to work with later. Chilling is optional, but recommended.
Preheat the oven to 350F and line a baking sheet with parchment paper.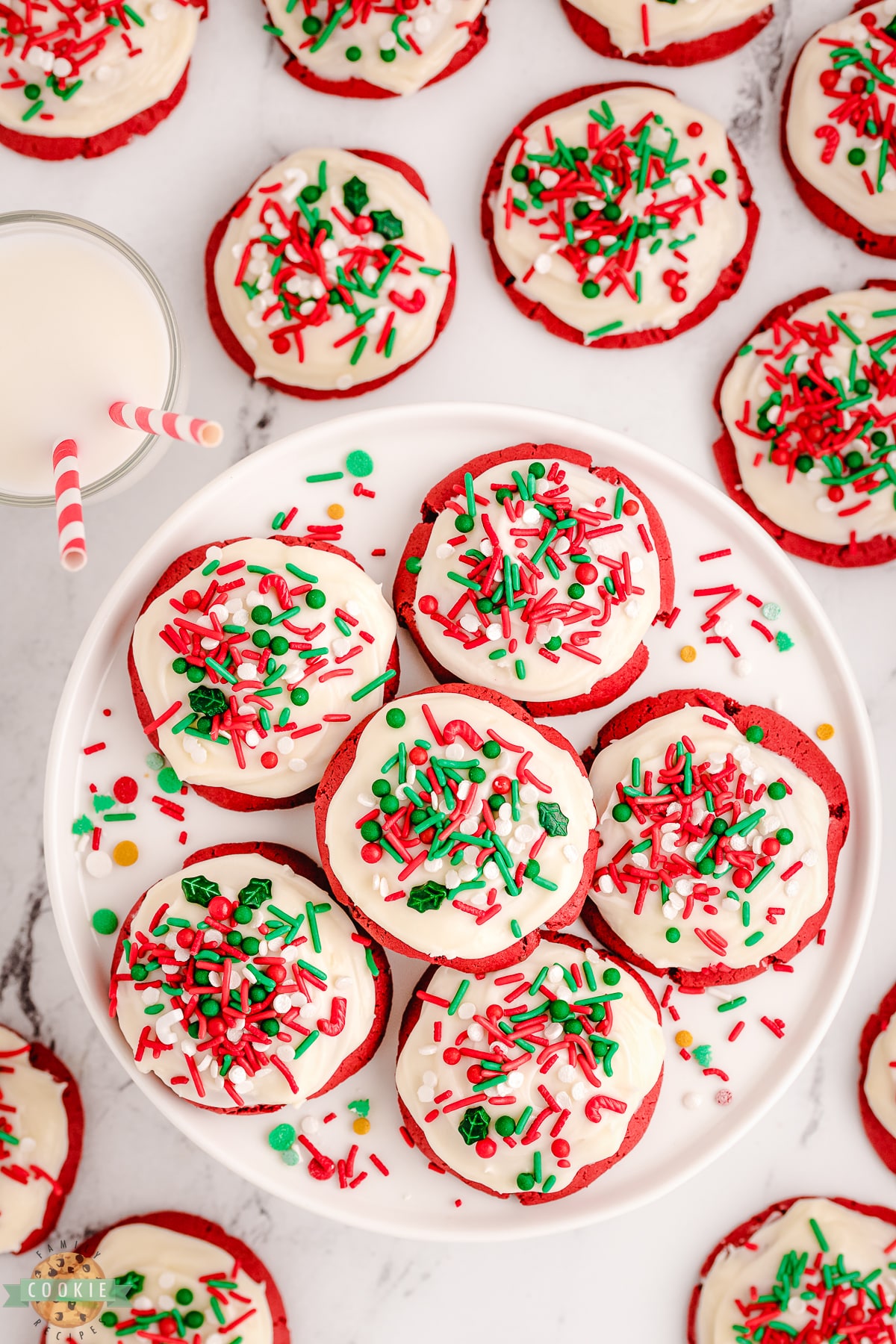 Scoop the dough to portion it out using a medium sized cookie scoop and gently roll the dough into balls. I recommend spraying the scooper with cooking spray about halfway through the process to prevent sticking.
Place the balls down onto the prepared baking sheet at least 2 inches apart.
Bake in the oven for 8-9 minutes. Do not overbake. They will look puffy and underdone.
Allow to rest on the baking sheet for 3-4 minutes before transferring to a wire cooling rack.
Let cool completely before icing.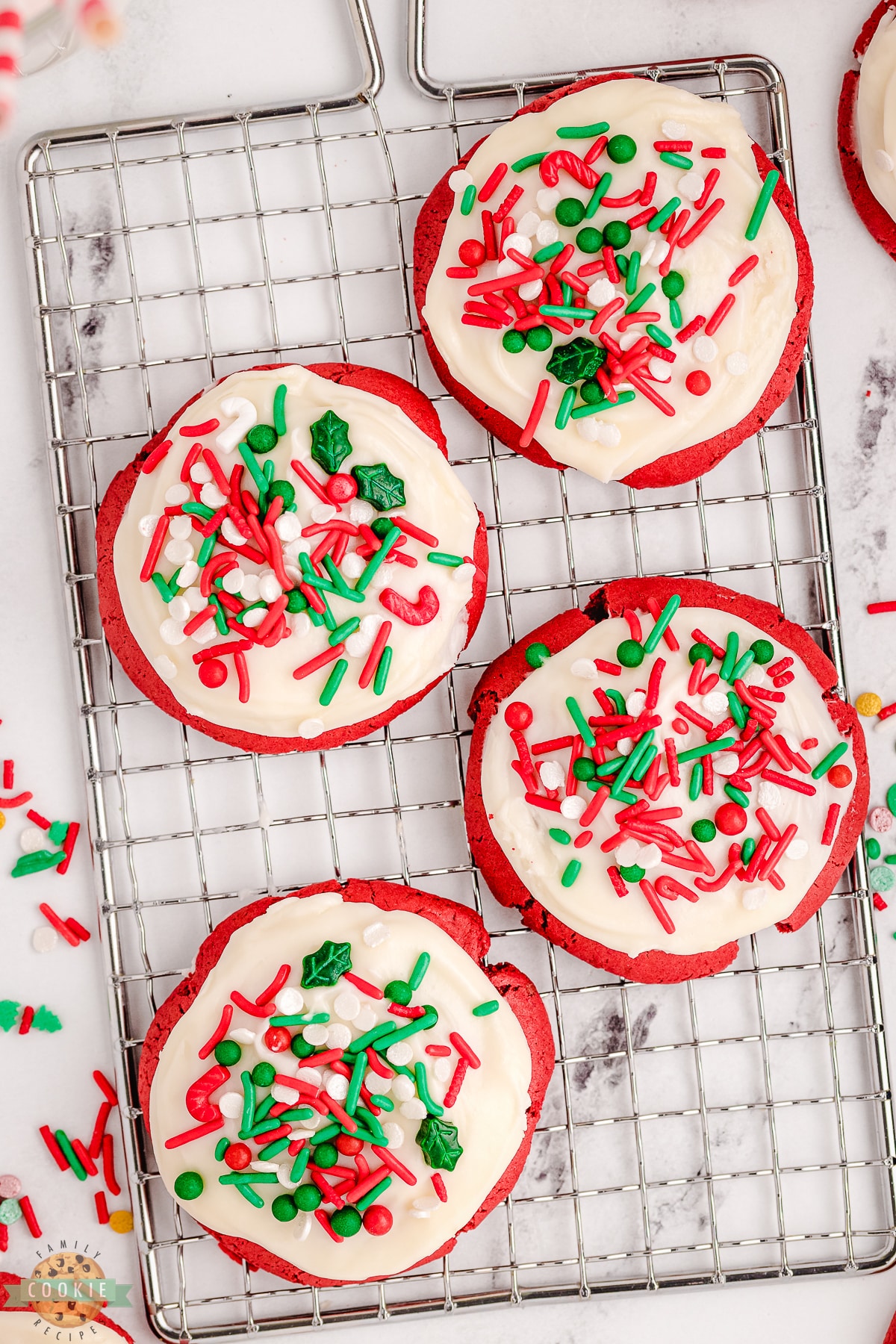 Icing
Place the butter and cream cheese in a medium-sized mixing bowl. Beat together until smooth and creamy.
Add in the vanilla and milk. Mix together until fully incorporated.
Add in the powdered sugar and mix until smooth.
Spoon the icing on top of the cookies.
Top with Christmas sprinkles immediately.
Let cool to set.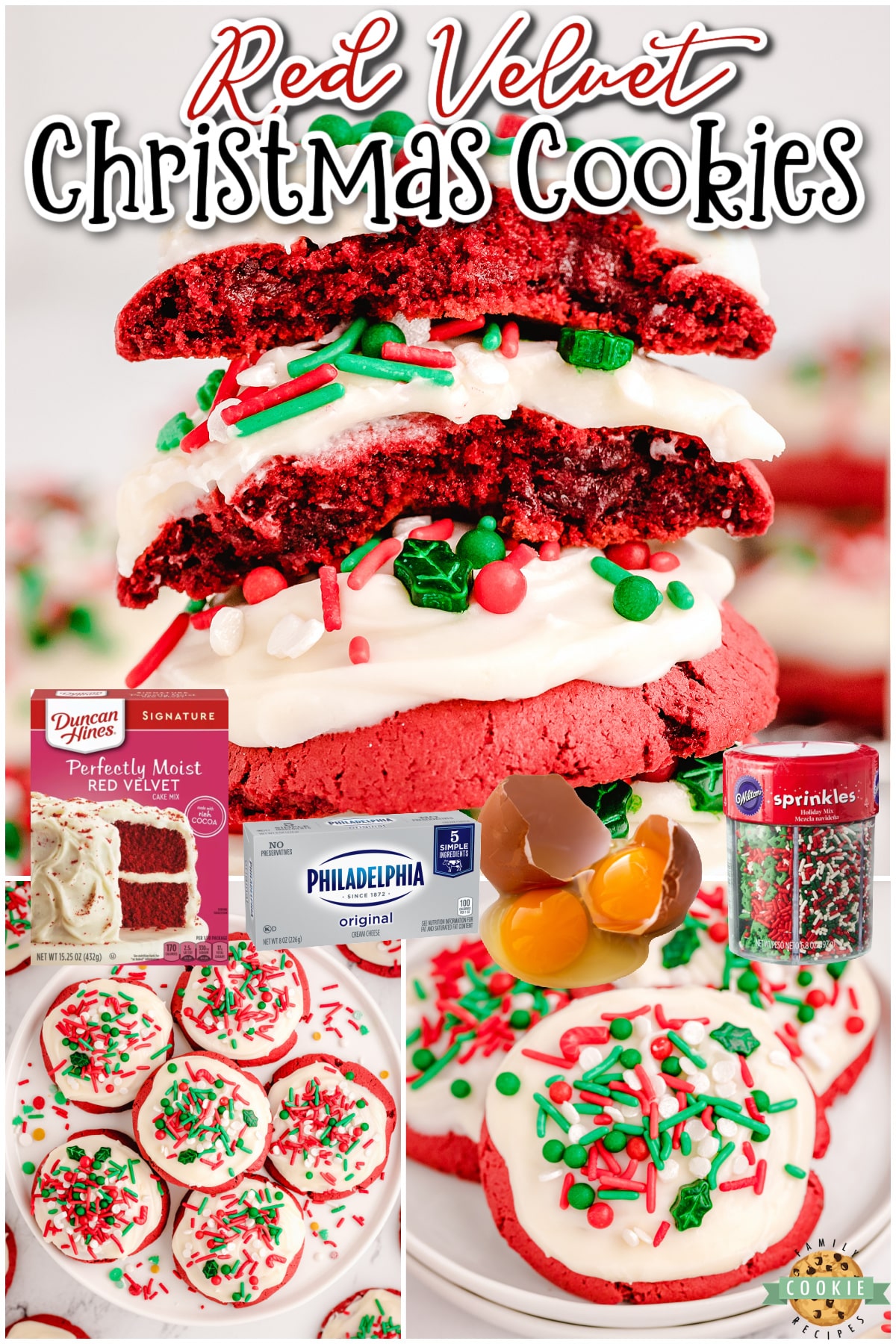 What Can I Add To Cake Mix Cookies?
You can add just about anything to these cookies if you want! Just go ahead and mix in up to 1 measuring cup of any of the following:
Chocolate Chips
M&M's
White Chocolate Chips
Sprinkles
You will want to add these in after mixing the dough together, but before chilling the dough. Then just scoop and bake as directed.
Enjoy!
Can you substitute butter for oil in cake mix cookies?
Yes, you can swap out the vegetable oil for canola oil or even some melted butter if desired. If using butter, make sure that it is melted and cooled before adding so that the butter doesn't accidentally cook the eggs int he dough.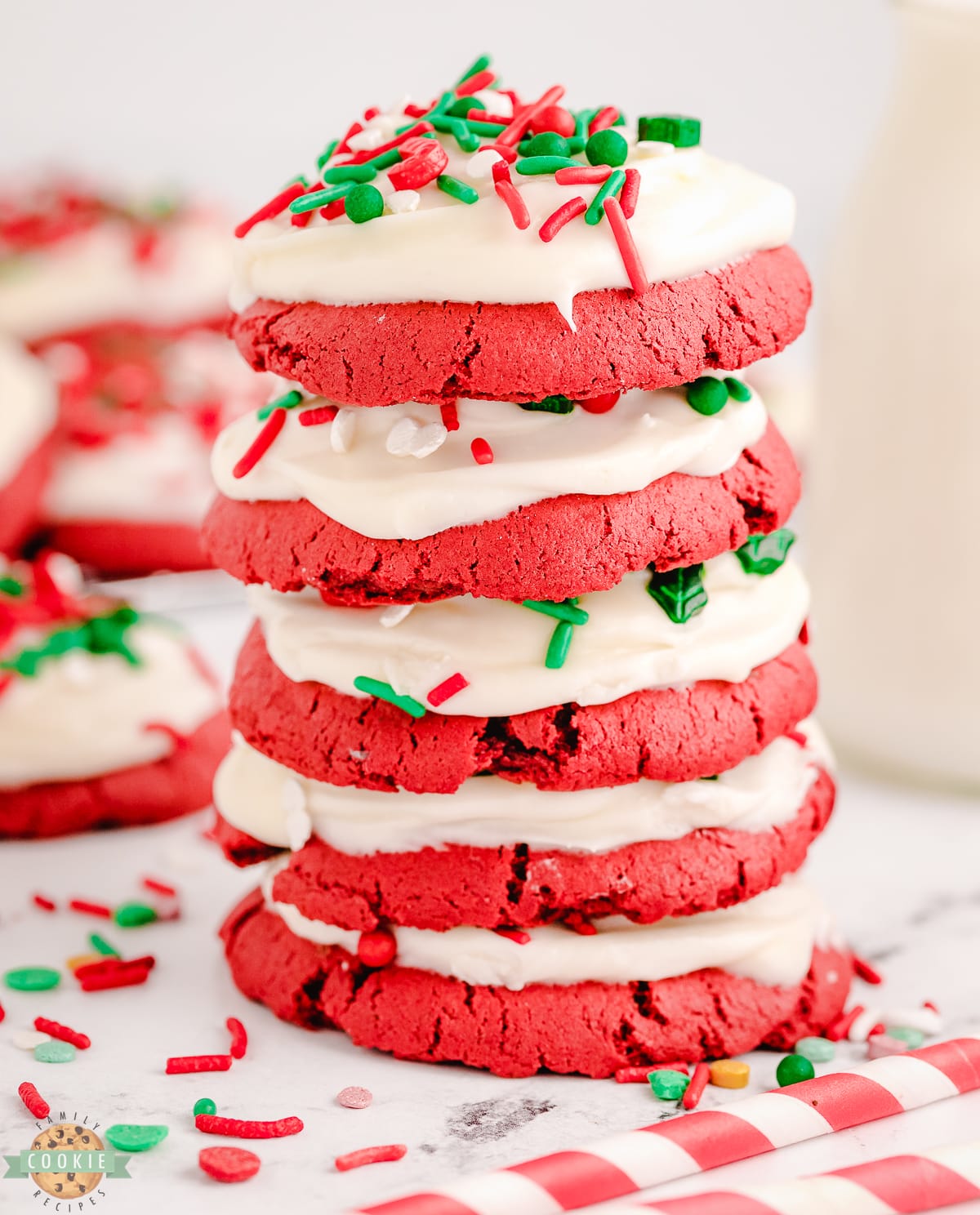 How long do cake mix cookies last?
These cookies are good for up to 5 days in the fridge in an airtight container. If you leave the icing off, you can keep them stored at room temperature.
Can I freeze frosted cake mix cookies?
Yes, these cookies freeze very well! After the icing has set, place the cookies in an airtight container with a layer of parchment paper between the cookies. Keep frozen for up to 3 months before thawing and eating.


As my kids get older, I love seeing them take time to play. Even big kids need to play and hello, everyone loves swings!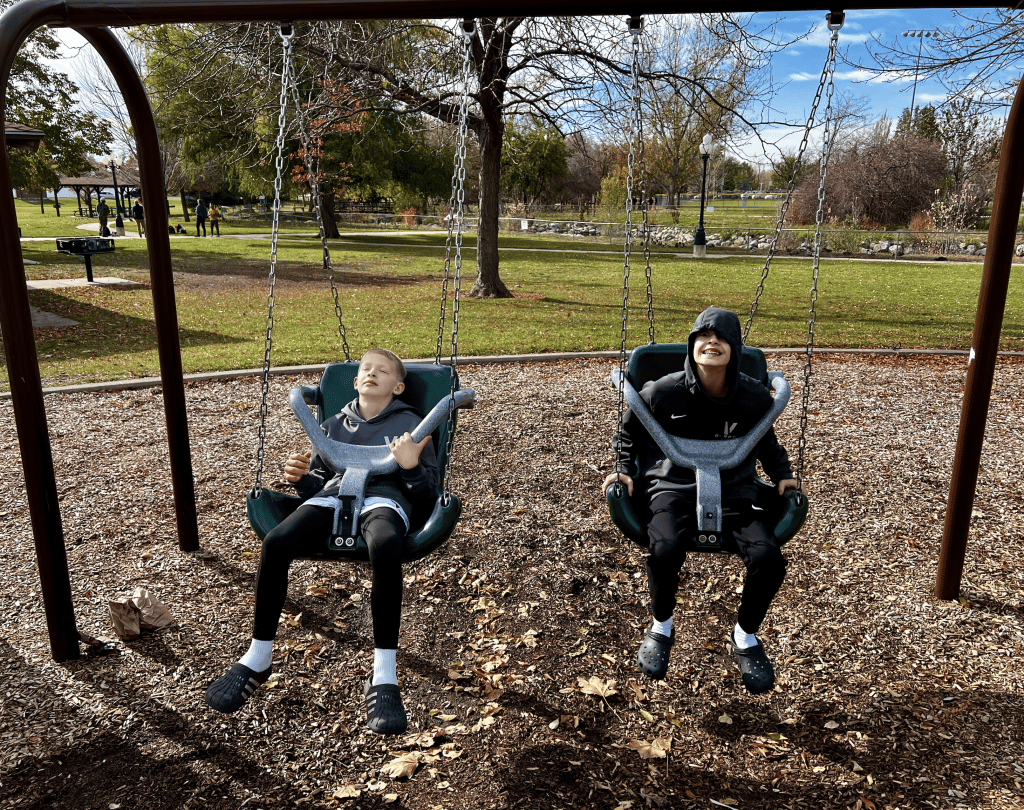 Red velvet Christmas cookies are the ultimate indulgent dessert for the holidays. From the festive red and white appearance to the rich chocolate taste and cream cheese icing on top, these cookies are sure to become a part of your holiday plans!