Chocolate Ritz Cracker Cookies are a simple but delicious Christmas staple! The perfect peanut butter Ritz addition to your cookie platters!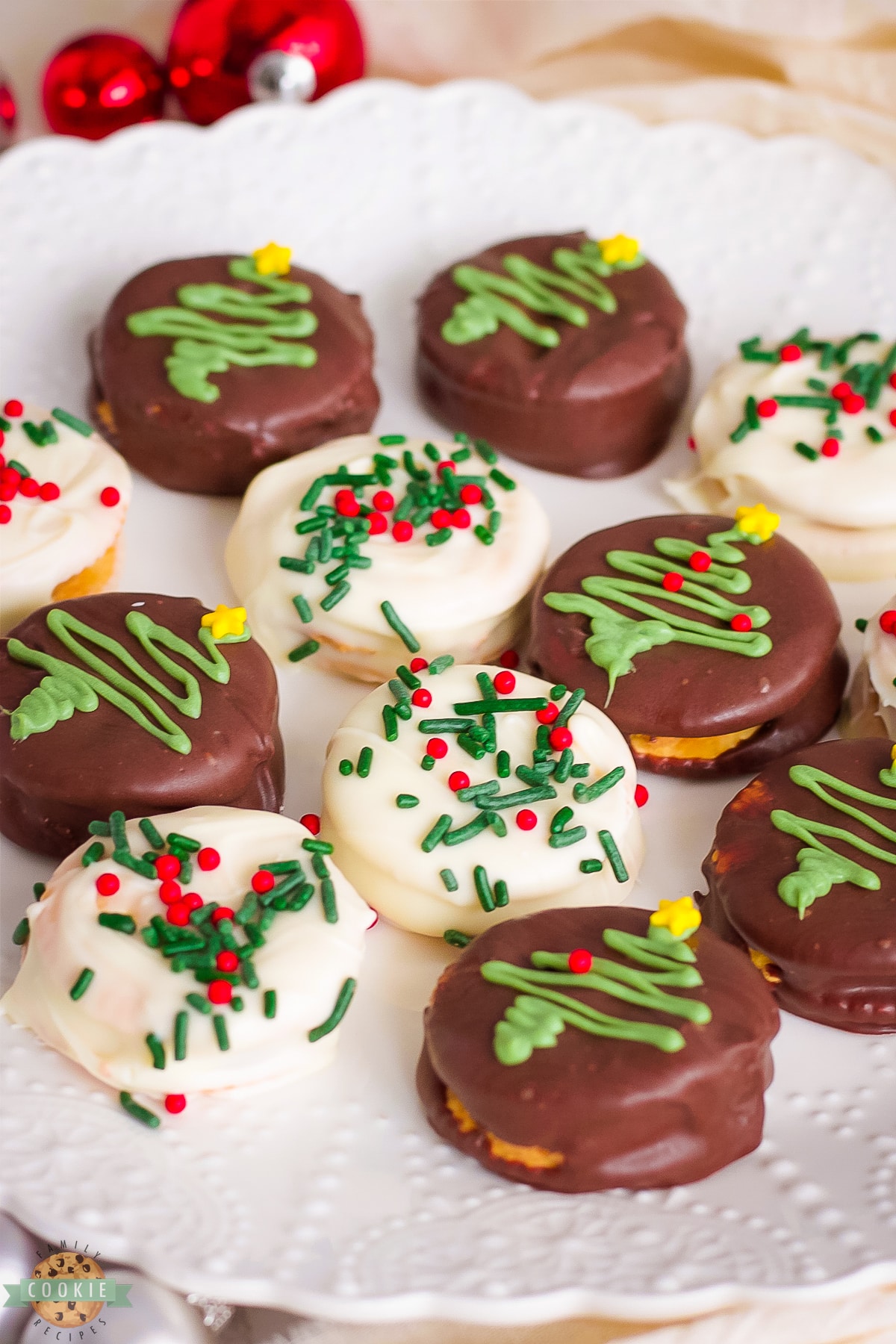 What could make buttery Ritz crackers better? How about chocolate, peanut butter and Christmas trees! They're fun, festive and super simple to make and everyone goes crazy over them each year.
Why you should add Chocolate Ritz Cracker Cookies to your holiday list:
Just 5 ingredients & EASY! Around the holidays, the last thing I need is another time consuming, complicated recipe. These cookies are anything but!
They're NO-BAKE! I run a cookie recipe group on Facebook and some people bake over 20 different types of cookies this time of year. Amazing! For them. I'm all for these no-bake variety that are done, start to finish, in under an hour.
Chocolate + Peanut Butter = ❤️. Enough said.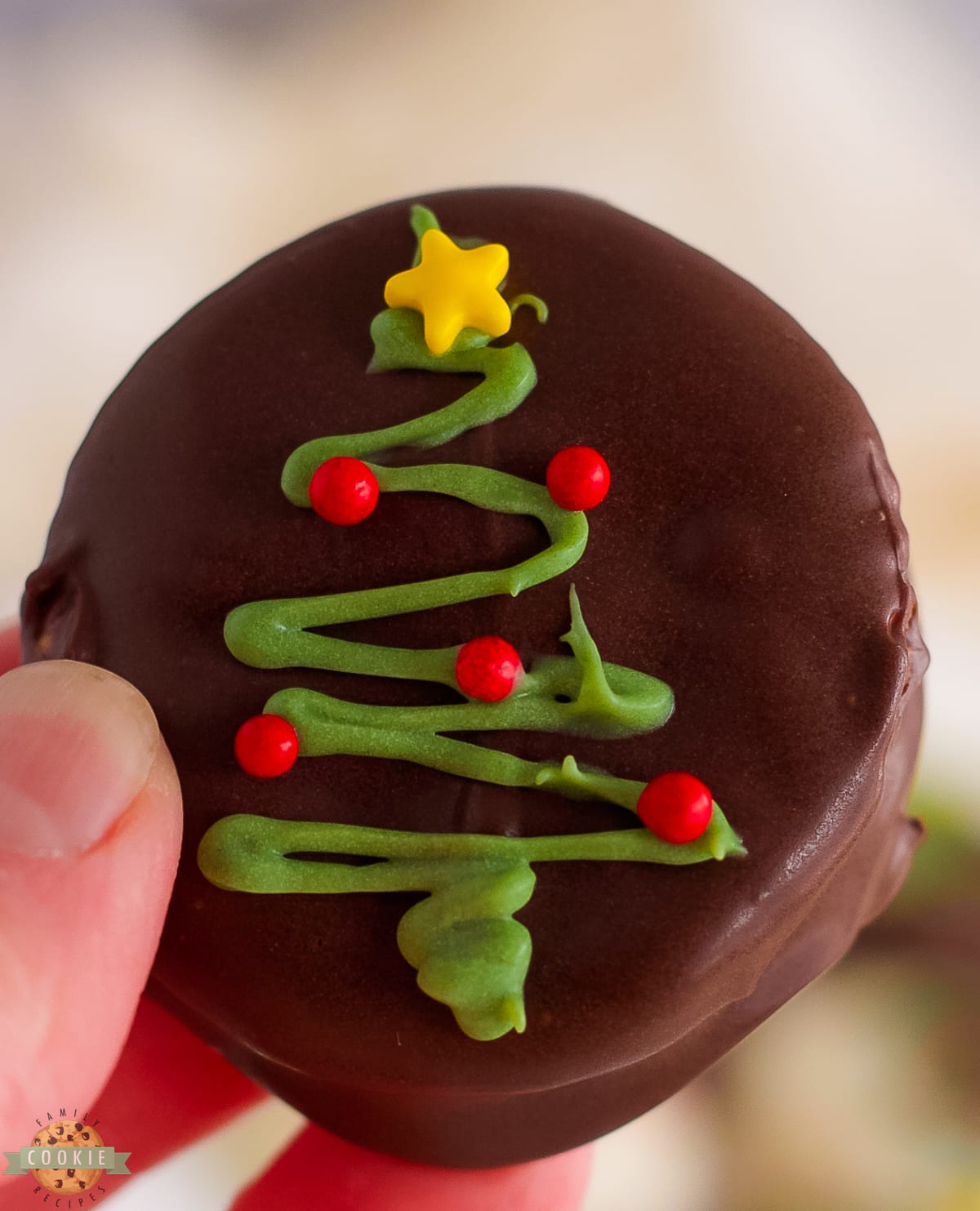 Ingredients for Ritz Cracker Cookies:
— CRACKERS: You'll need 80 Ritz crackers to make 40 cookies. This is about 3 sleeves of crackers.
— PEANUT BUTTER: We used 1.5 cups creamy peanut butter for the cookie filling. You can use whatever type of peanut butter you'd like, chunky, flavored, etc.
— SWEETENER: We sweetened the peanut butter filling with ⅓ cup powdered sugar and 2 TBSP maple syrup. You can use honey if you prefer, but the powdered sugar also thickens the filling, so know that if you opt to swap that out, the consistency will change.
— VANILLA: We add a bit of flavor with 1 tsp vanilla extract.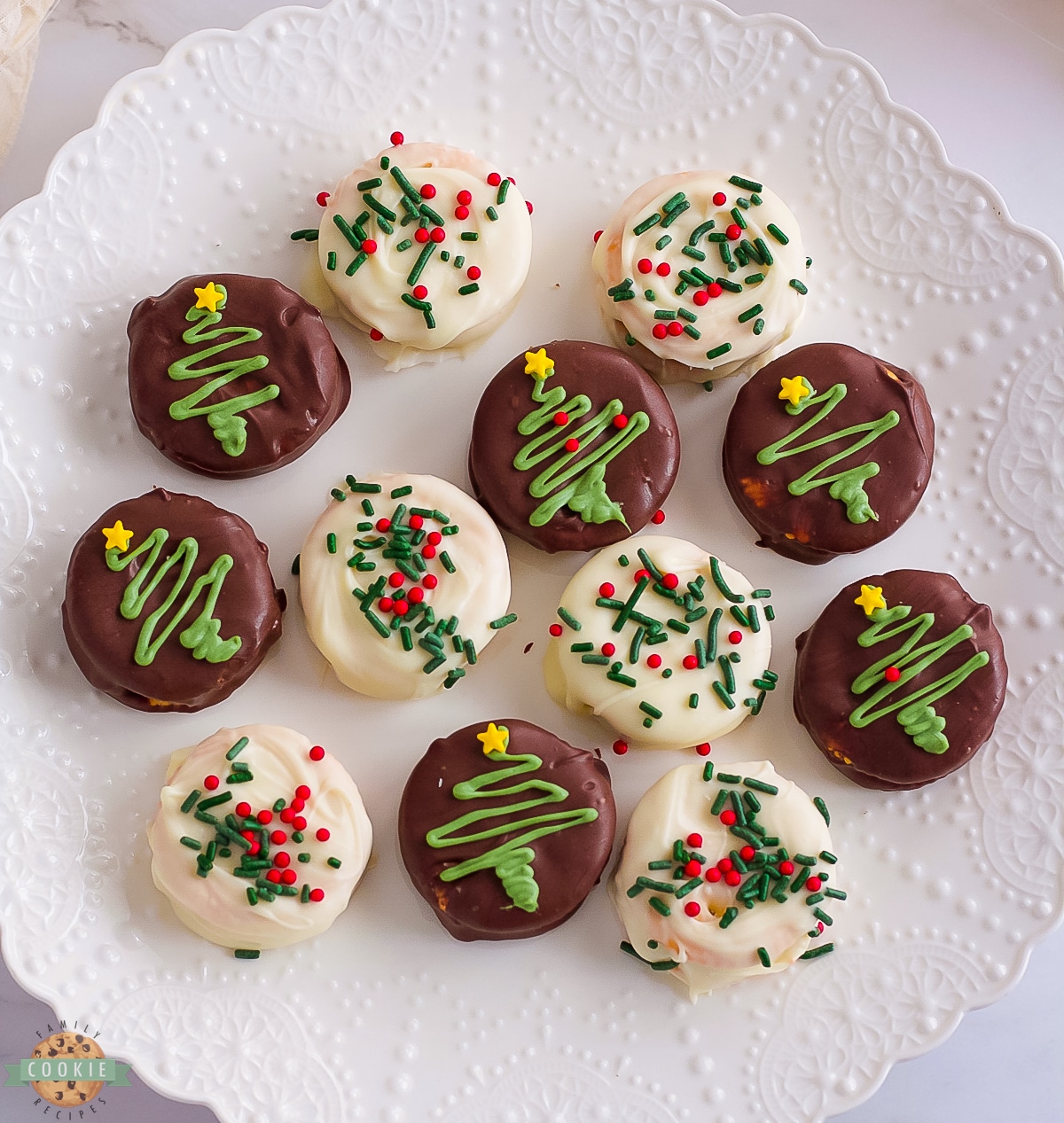 How to Make Chocolate Ritz Cracker Cookies
Prep an area on your counter or baking sheet with parchment paper.
Lay 40 single Ritz crackers upside down.
Using a mixer, combine the peanut butter, powdered sugar, maple syrup, and vanilla extract until creamy.
Place the peanut butter mixture into a piping bag and cut a half inch hole in the bottom of the bag, or using a knife, spread the peanut butter mixture onto the 40 prepped crackers.
Top each cracker with peanut butter with an additional cracker to make a sandwich.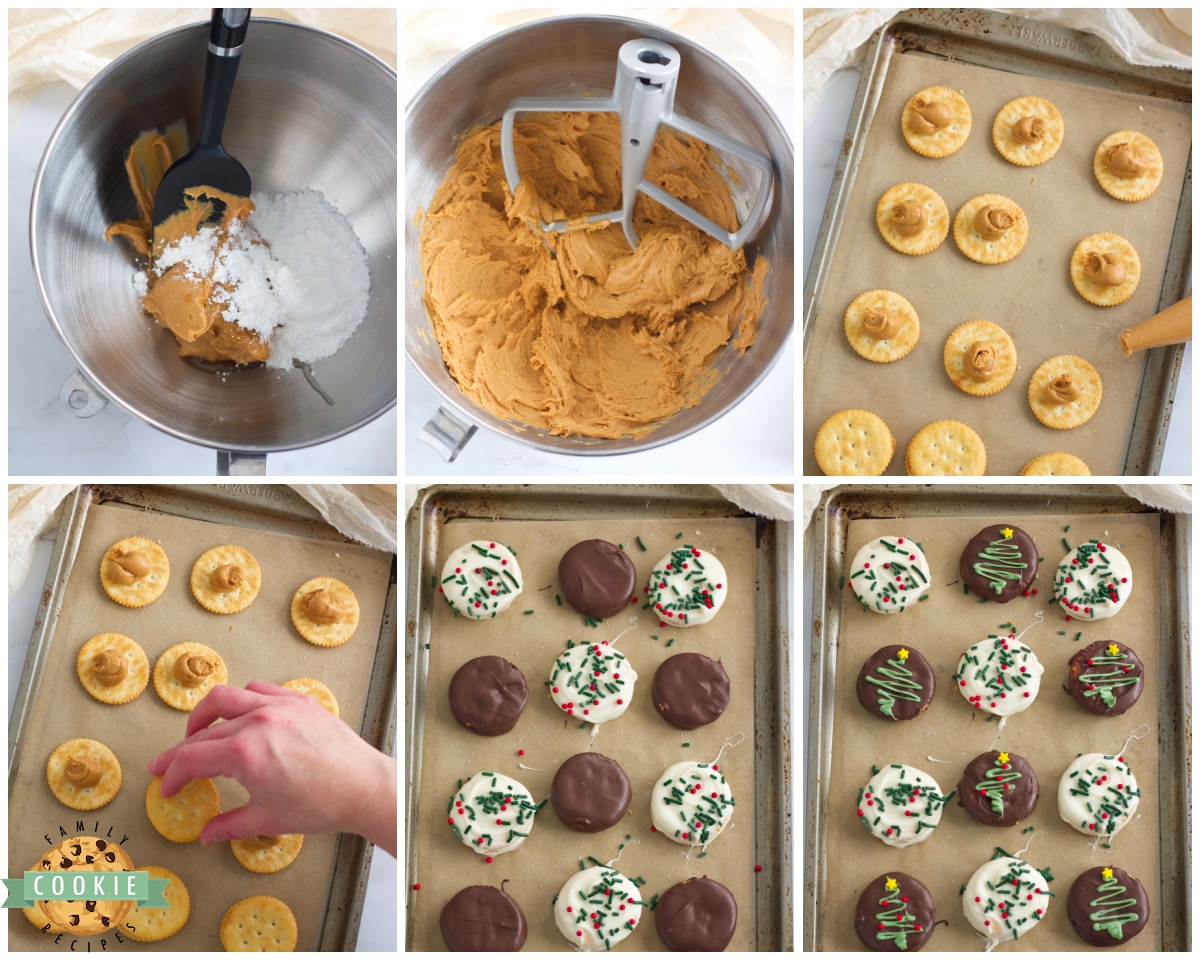 Place your melting chocolates in a microwave safe bowl, and melt them in the microwave. (see notes)
Dip your cracker sandwich into the melting chocolate, using a fork to move them around until they are fully covered. Wipe off any extra chocolate from the bottom using the fork before placing back on the parchment paper. If using sprinkles, put them on while the chocolate is still melted, within 2 minutes of dipping the cracker.
Decorate with additional colored melting chocolate.
Let cool to set. Serve & enjoy!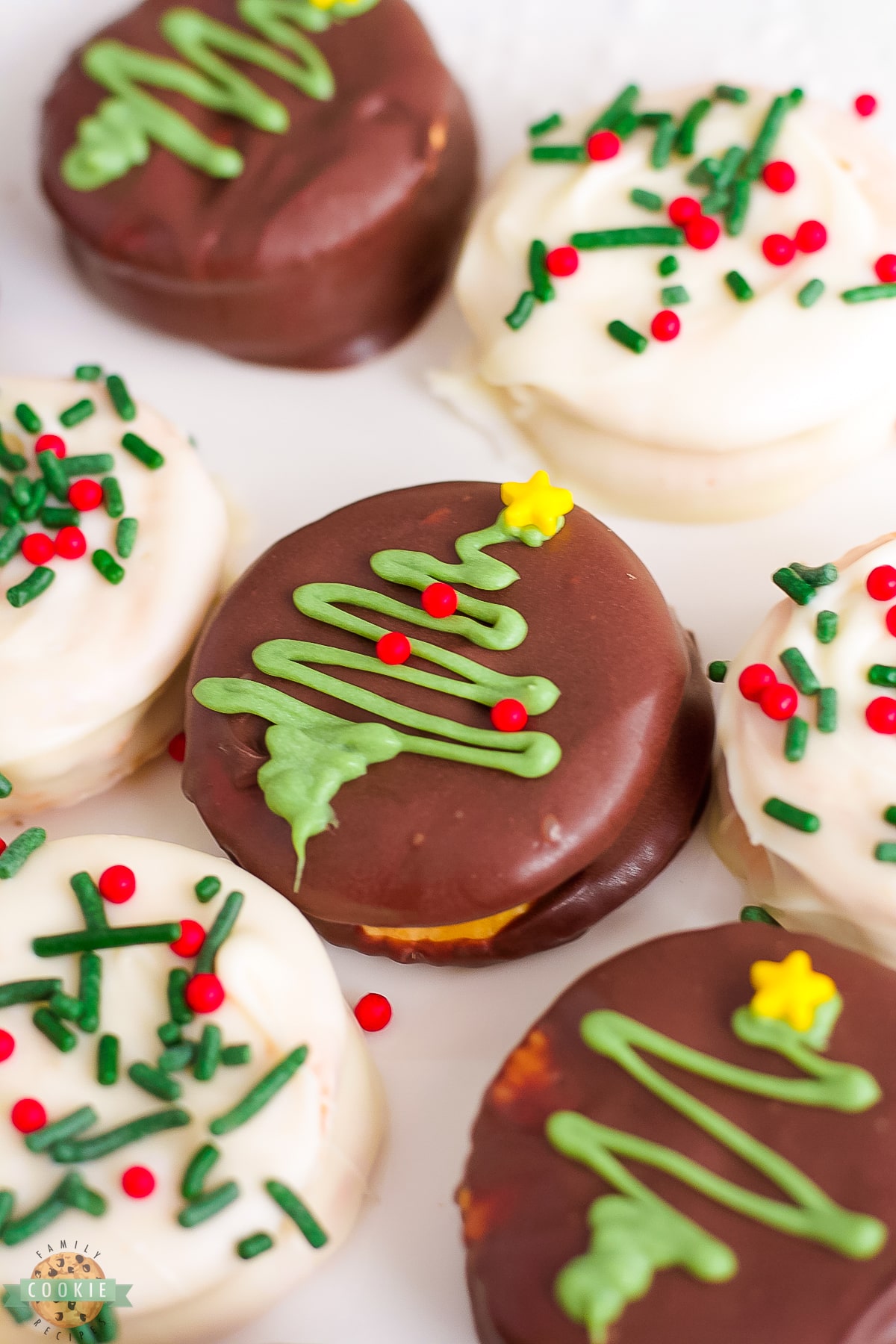 Do you Need Piping Bags?
I used piping bags for the peanut butter application, but you don't necessarily need them! You can use a knife to spread the sweetened peanut butter just as well.
If you do not have piping bags, but want to use something similar, you can use a kitchen ziploc bag in a similar fashion. Just snip a corner and start piping!
Can you Freeze Ritz Cracker Cookies?
These cookies store well in the freezer for up to 2 months, or up to 2 weeks in the fridge in an airtight container.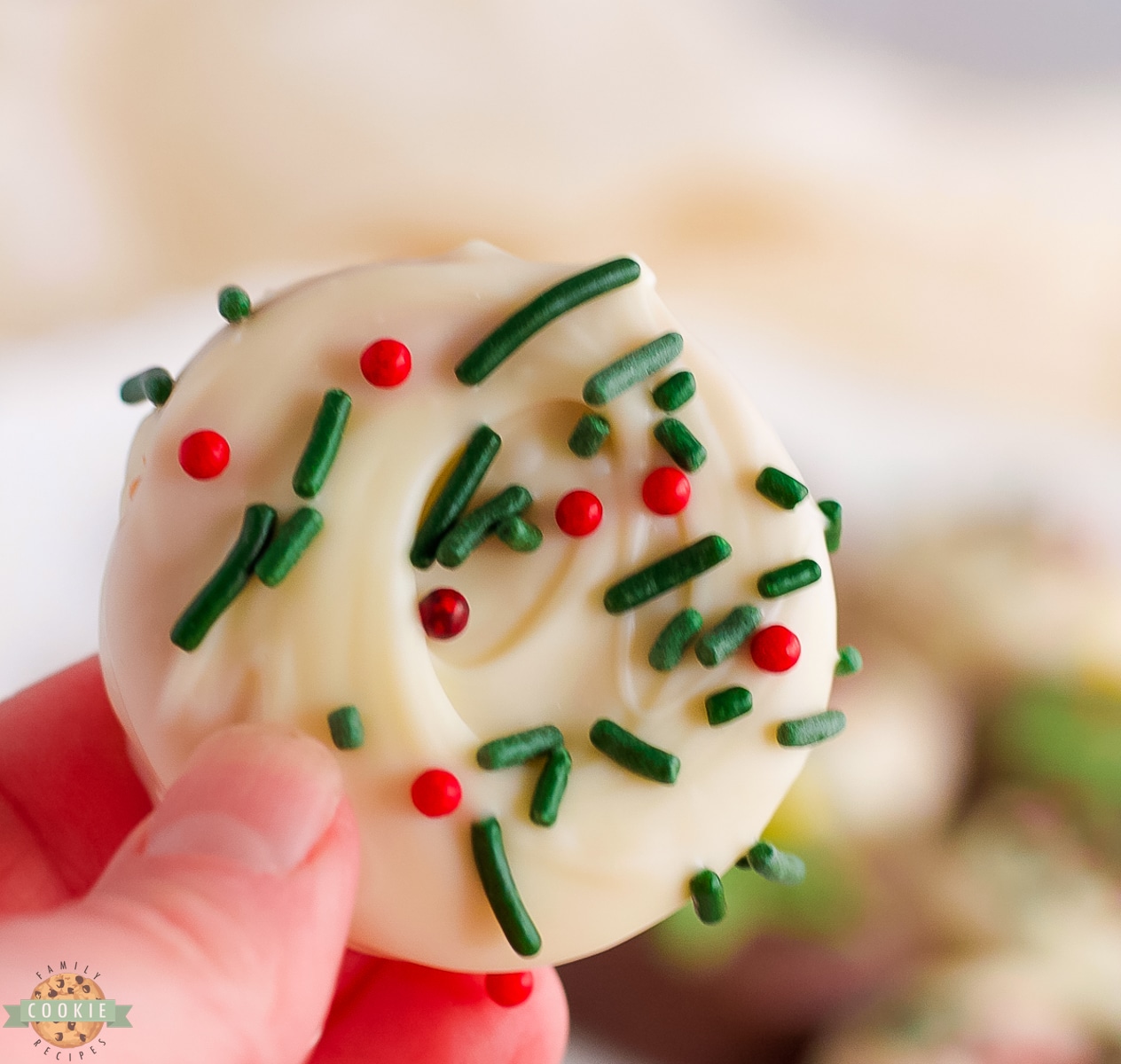 How to Melt Chocolate Correctly
It's important to melt chocolate correctly so that it doesn't seize. Start with a glass or porcelain bowl. The bowl needs to retain heat, so avoid plastic.
The trick to melting chocolate in the microwave is to go slowly and stir gently- and just before you feel like it is completely melted, take it out of the microwave and let it finish melting in the warm bowl.
Start with melting the chocolate for 1 minute per cup of chocolate chips or melting wafers. After the microwave stops, let the bowl sit with the door closed for an additional 2 minutes. Stir gently. Add time in 20-30 second increments, letting the chocolate sit after each interval.
Drizzle, or if you're dipping, use a fork or a handy Winton Dipping tool like I did, which makes the process so much easier! Shake gently to remove any excess. Transfer the chocolate coated treat back to the parchment or wax paper covered baking sheet to cool.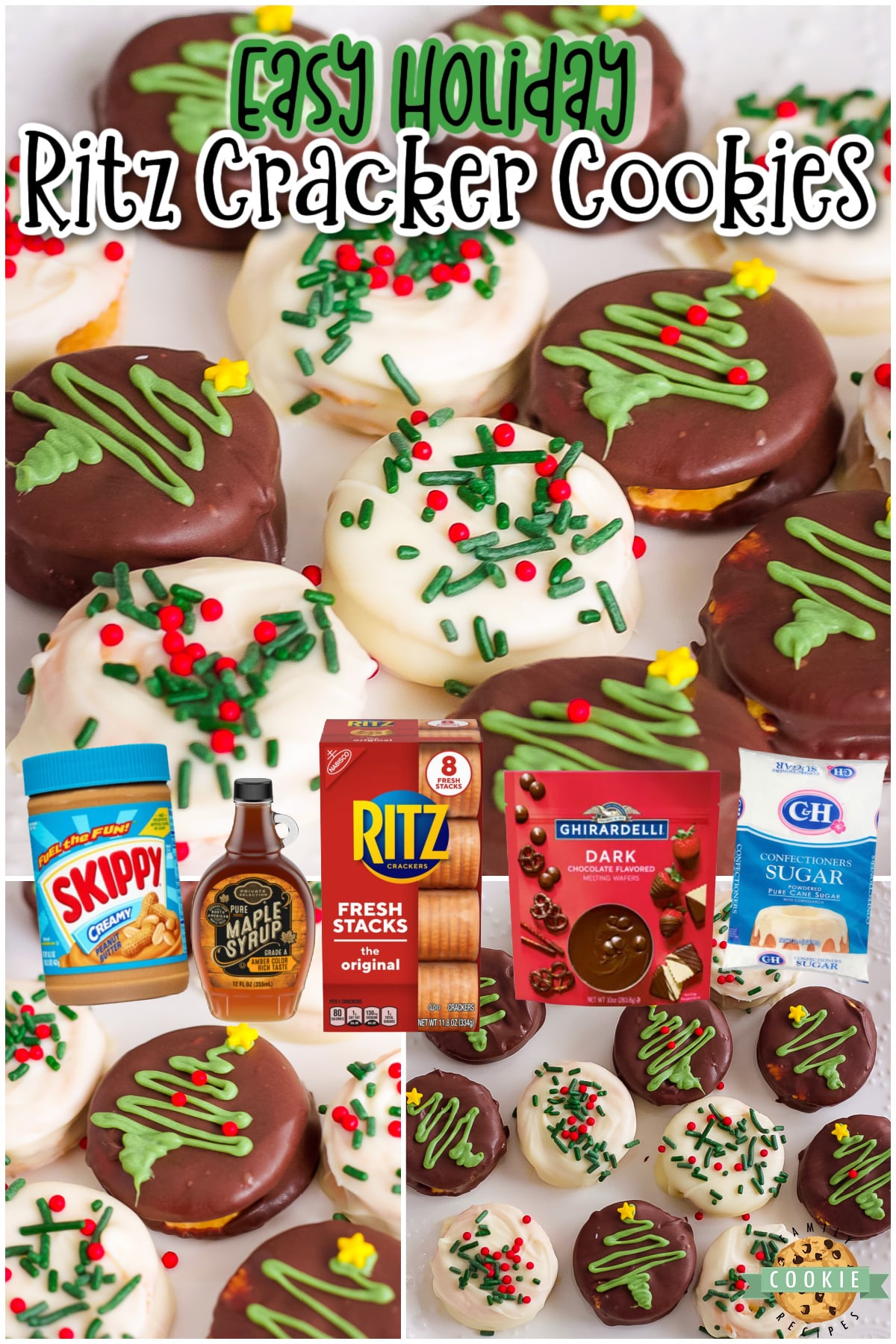 Chocolate Chips or Melting Chocolate?
I prefer melting wafers when dipping treats in chocolate, but you can use chocolate chips just as well. To make dipping and coating treats easier, I suggest adding 1/2 tsp shortening or coconut oil to the chocolate chips before heating. If the chocolate still seems too thick, feel free to add another 1/2 tsp.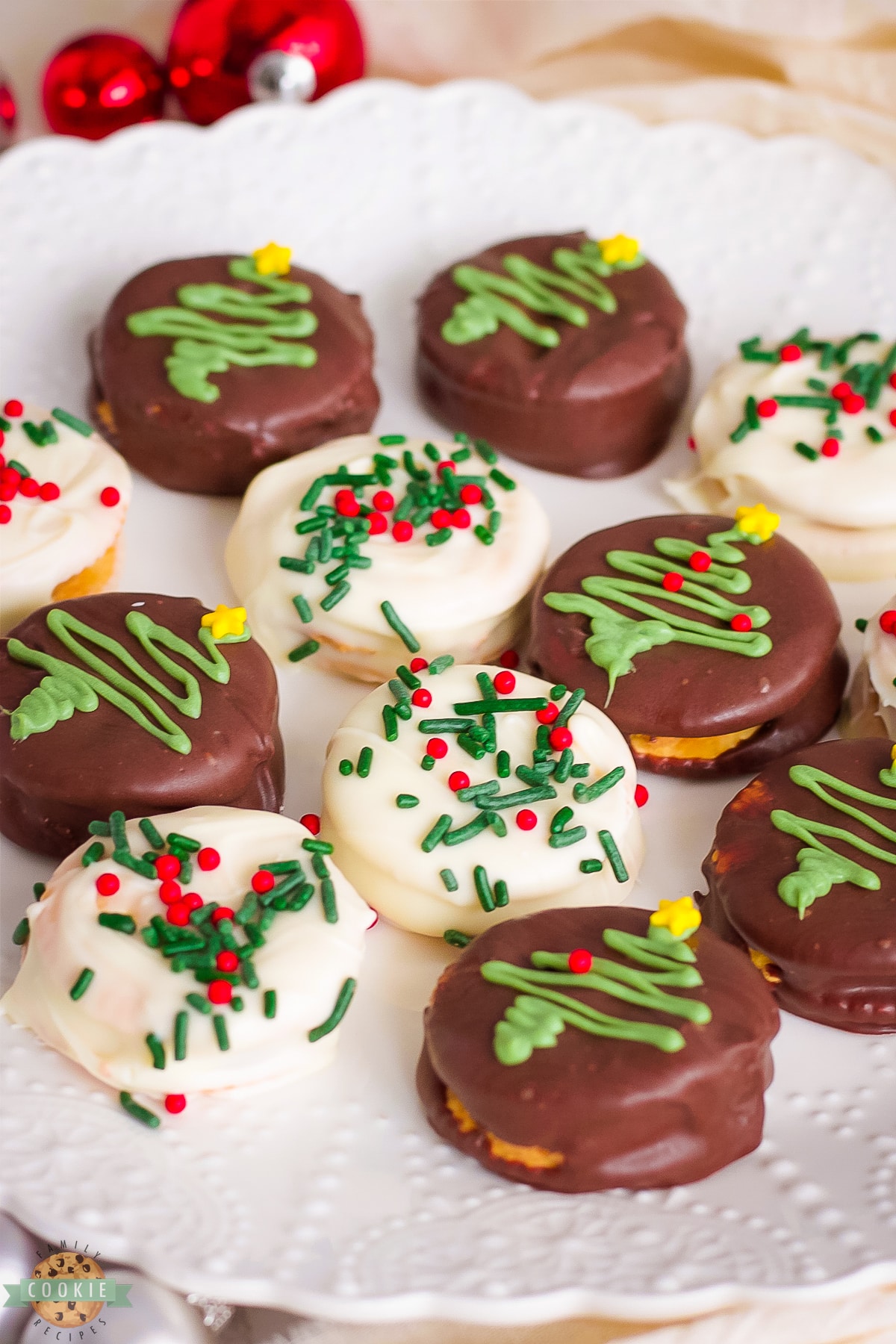 What Does Seized Chocolate Look Like?
When chocolate is overcooked, it seizes. When it's seized, the chocolate seems like it's refusing to melt, it's thick and gritty. Really overcooked chocolate will smell burned, but chocolate can still seize without smelling burned. If you've seized the chocolate, you can gently stir in 1 tsp shortening or coconut oil. I first fold it in the seized chocolate, making sure it's covered. Let it sit to soften, then try and stir the oil into the seized chocolate. Within a minute or so you'll be able to tell if you can use the chocolate. It just depends on how badly it's seized.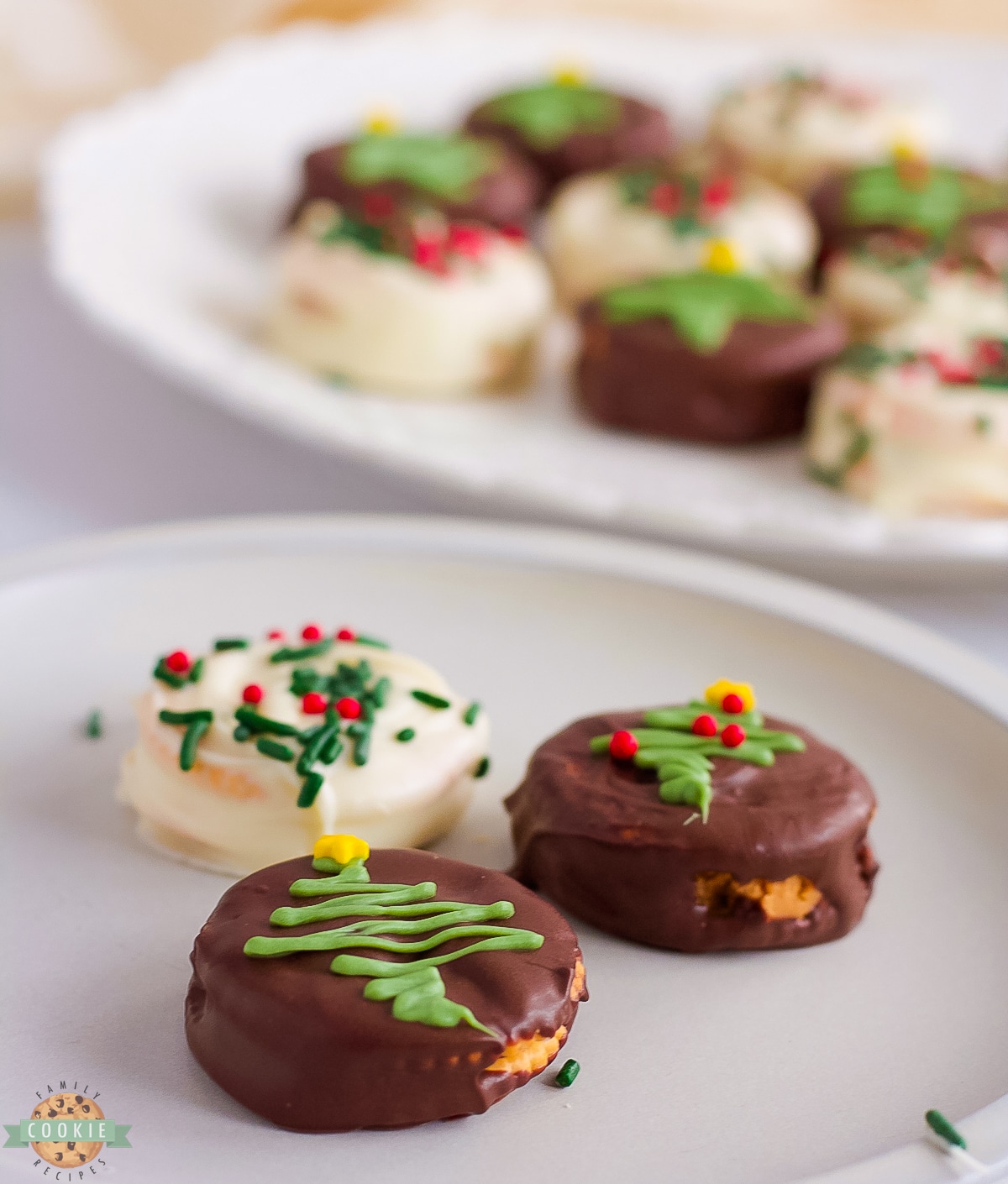 More Peanut Butter Chocolate Cookies:
These Ritz cracker cookies are made with sweetened peanut butter and dipped in chocolate. We made them extra festive with holiday sprinkles and Christmas trees on top!