Homemade Molasses Cookies have incredible flavor & a soft, chewy texture! Simple soft molasses cookies let the molasses flavor shine through; everyone loves them!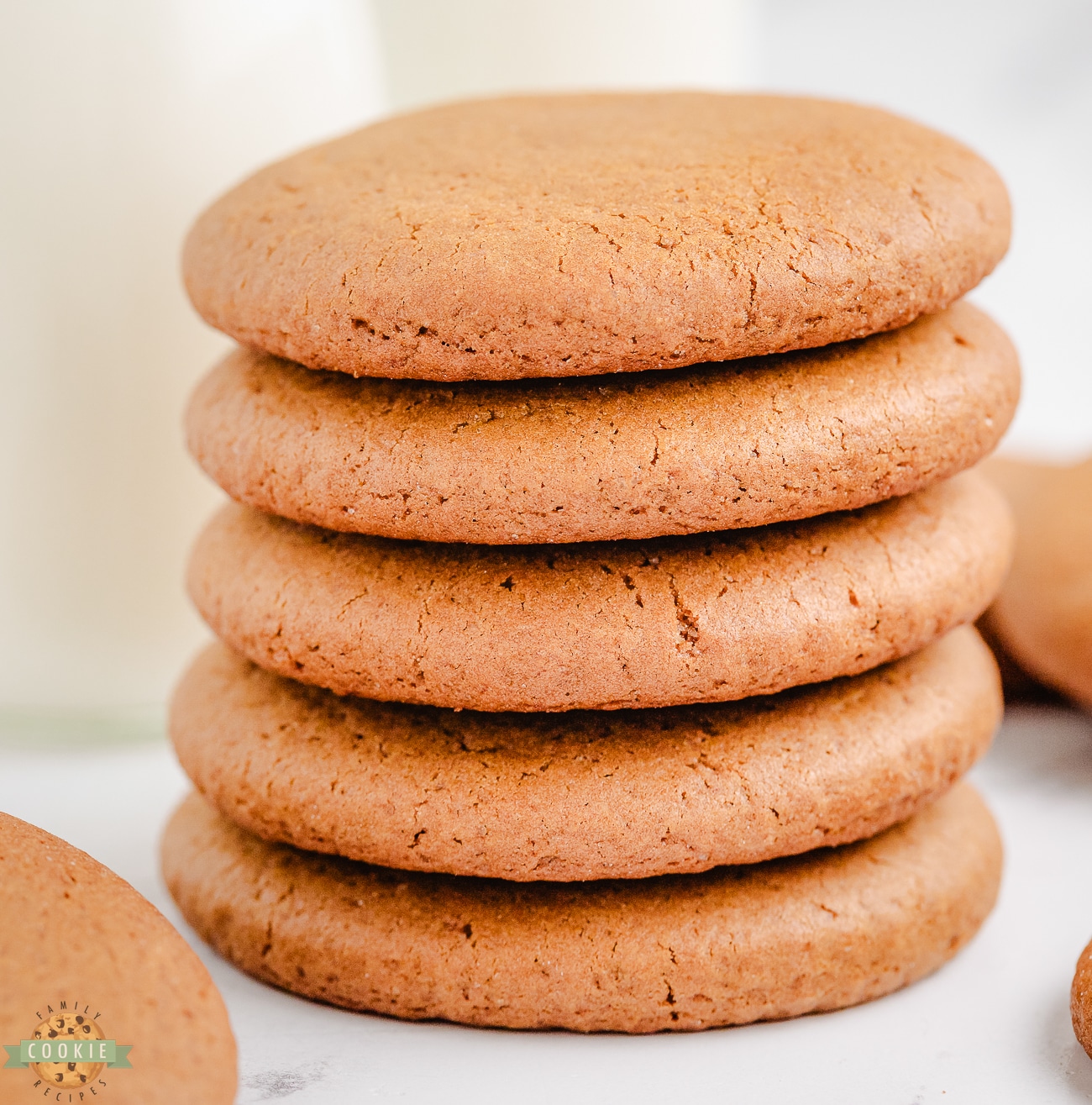 This key ingredient of this molasses cookie recipe is, of course, molasses. It has a distinctive flavor that is both sweet and slightly bitter, and it adds a unique depth of flavor to these chewy molasses cookies.
What are Molasses Cookies?
Molasses is a thick, dark syrup that is made from sugar cane or sugar beets. It has a distinctive flavor that is both sweet and slightly bitter, and it adds a unique depth of flavor to these cookies. Other ingredients in thick molasses cookies typically include flour, sugar, butter, and eggs. These molasses cookies are a great option for those who are looking for a dessert that is not overly sweet. They are also a good choice for those who enjoy the combination of sweet and savory flavors. Whether you are baking them for a special occasion or just for a treat, these cookies are sure to be a hit with anyone who tries them.
Why You Will Love This Molasses Cookie Recipe
Rich Flavor: These cookies are bursting with the sweet and slightly bitter flavor of molasses, which gives them a unique and delicious taste.
Soft and Chewy Texture: The combination of molasses and sugar creates a soft and chewy texture that is sure to satisfy any sweet tooth.
Easy to Make: This recipe is simple and straightforward, making it perfect for novice bakers or those short on time.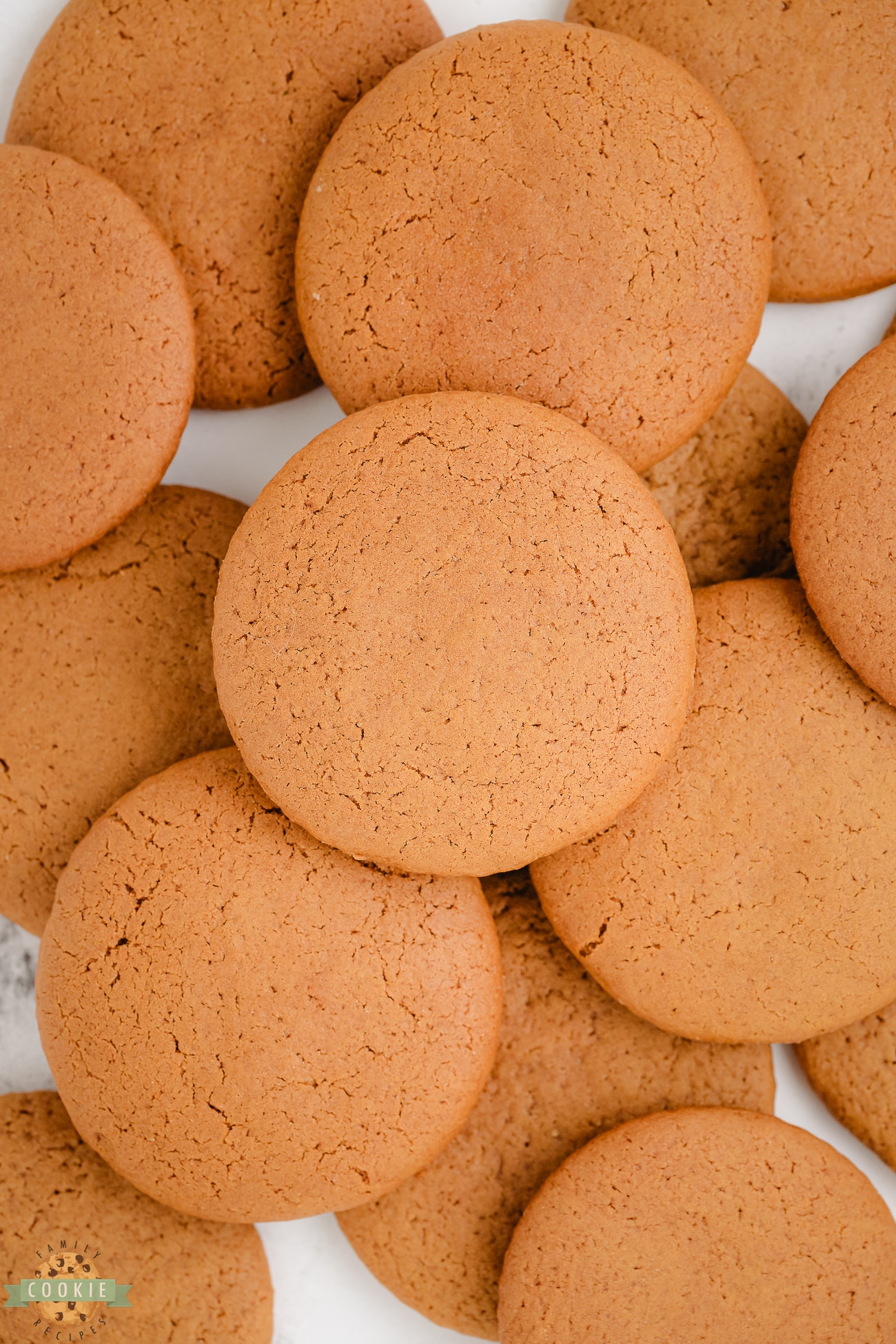 Molasses Cookie Ingredients
Sugar: To make these cookies soft and chewy, add in 1 cup of sugar.
Oil: Give the cookie dough the fats needed to stay nice and moist, use 1 cup of canola oil.
Egg: Adding in 1 large egg will help create a wonderful texture for these cookies.
Molasses: You will need 1 cup of molasses to give these treats a warm and robust depth of flavor.
Milk: Using ½ cup of milk helps create a nice consistency to the dough.
Baking soda: Add in 2 tsp. of baking soda to make the cookies puff up as they bake.
Flour: The base of this amazing cookie dough is to use 5 ½ cups of flour.
Salt: Help balance all the great taste by using ½ tsp. of salt.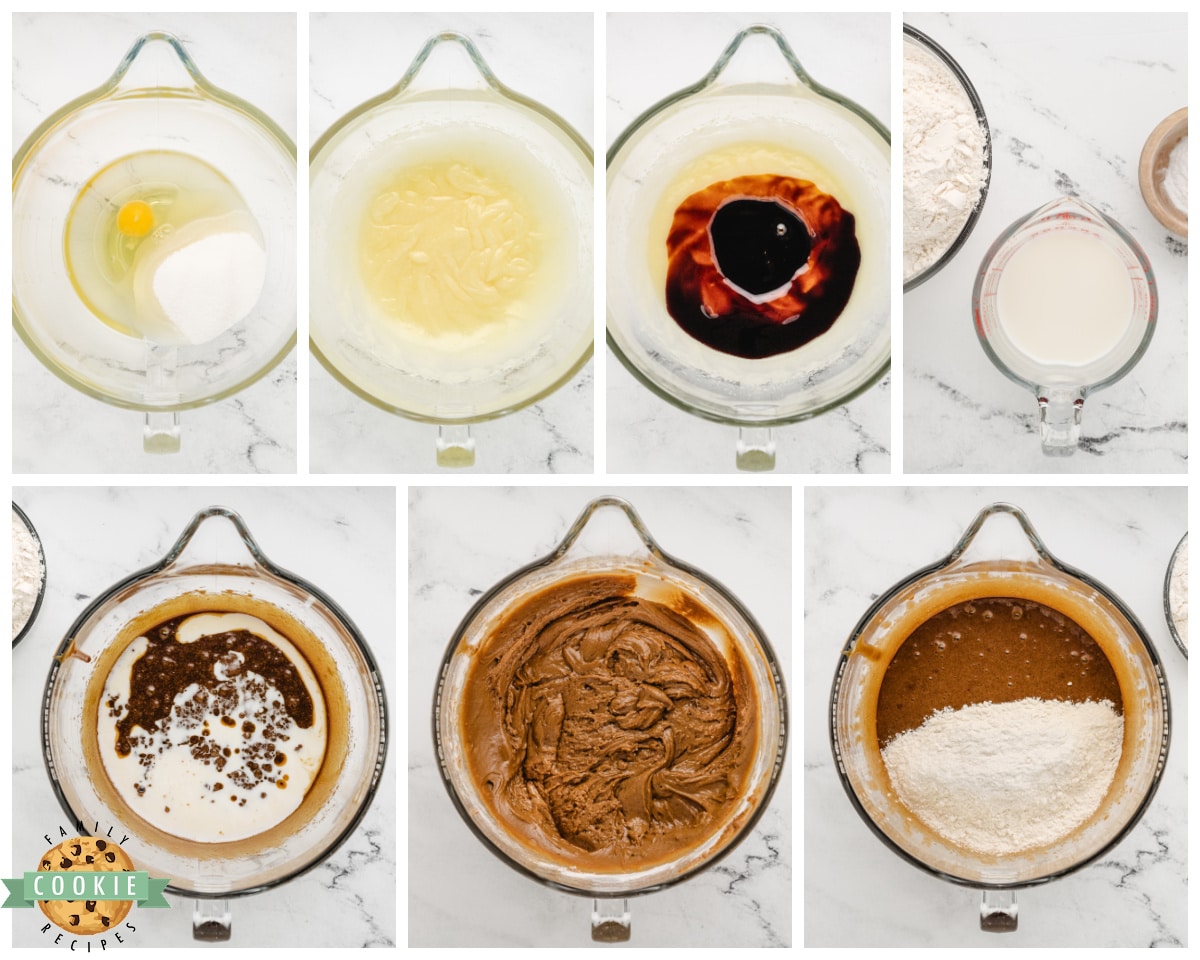 Easy steps on how to make Soft & Chewy Molasses Cookies
Prep
To get started, line a baking sheet with parchment paper and set it aside. Then start preheating the oven to 375°F.
Cookie dough
In a large bowl, beat the sugar, oil and egg until the mixture is thick and pale. Then add in the molasses and beat again well.
Next, in a separate small cup, combine the milk and baking soda, whisk until dissolved. Proceed to add this mixture to the molasses mixture. Beat until smooth.
After that, in a separate bowl, combine the flour and salt. Then add this dry mixture to the molasses mixture in 3 additions, mixing well after each addition, until no dry flour remains.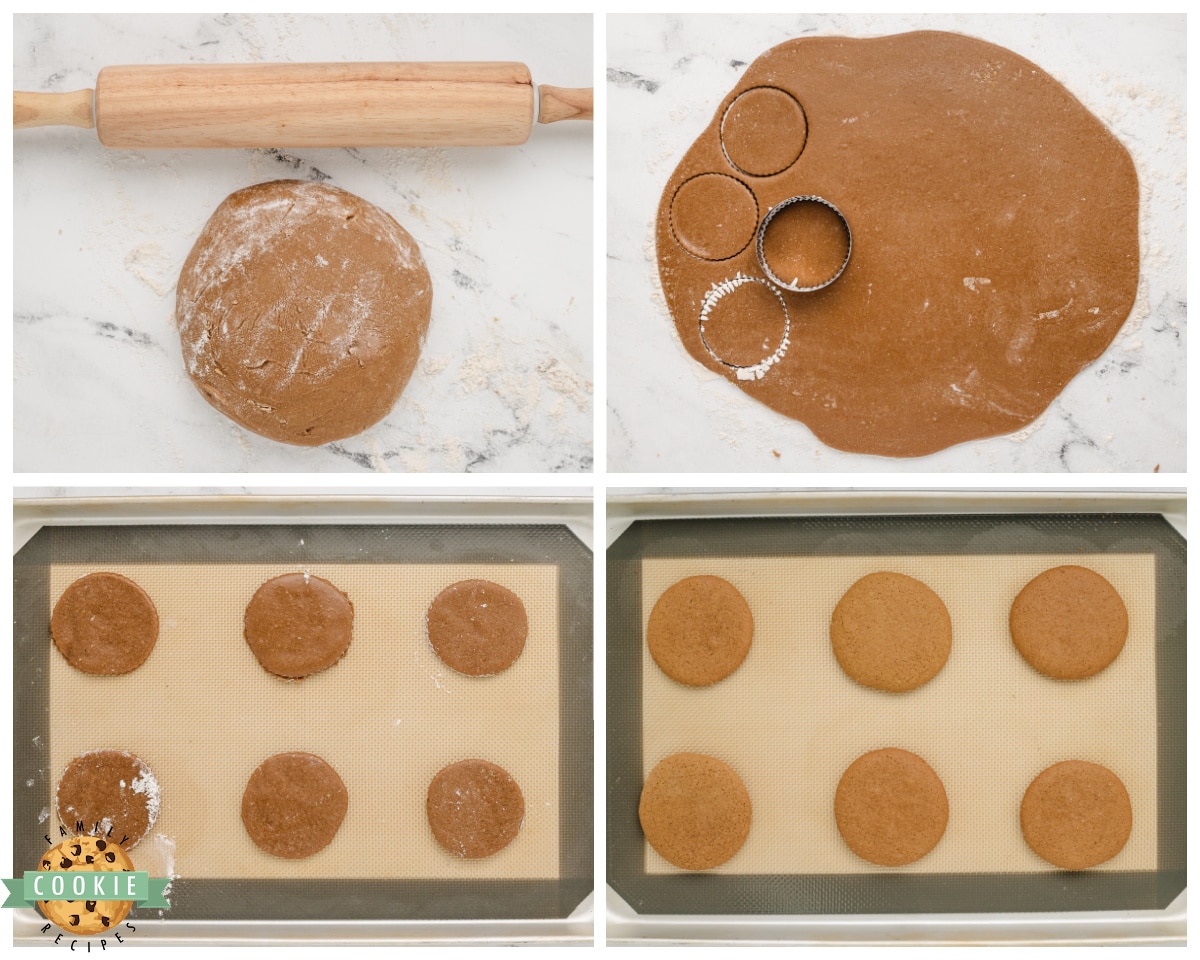 Shape
Continue to divide the dough into 2 equal portions. Roll out 1 portion of dough on a lightly floured surface to ¼ inch thickness.
Now, cut out circles with a lightly floured 2 1/2 inch round cookie cutter. (Use one with a fluted edge if you have it!). Roll out the dough scraps to cut more circles and arrange the cookie dough about 2 inches apart on the prepared cookie sheets.
Bake
Place the cookies in the preheated oven for 8 to 10 minutes, until firm. Let the baked cookies stand on cookie sheets for 5 minutes before transferring to wire racks to cool.
Repeat the cookie cutting and baking process with the remaining dough.
Serve and enjoy!
Variations of Chewy Molasses Cookies
Gluten-Free Version: For those who are gluten intolerant or have celiac disease, there are several options to make thick molasses cookies gluten-free. One option is to use a gluten-free flour blend that contains rice flour, tapioca flour, and potato starch. Another option is to use almond flour or coconut flour instead of wheat flour. It's important to note that gluten-free flours tend to absorb more liquid than wheat flour, so adjustments to the recipe may be necessary.
Vegan Version: To make thick molasses cookies vegan, replace the butter with a vegan butter substitute or coconut oil. Use a flax egg (1 tablespoon of ground flaxseed mixed with 3 tablespoons of water) instead of a regular egg. Also, use a plant-based milk such as almond milk or soy milk instead of regular milk.
Another option is to use applesauce instead of butter and eggs. This will make the cookies more cake-like in texture, but still delicious. It's important to note that vegan butter substitutes and coconut oil tend to melt faster than regular butter, so it's best to chill the dough before baking.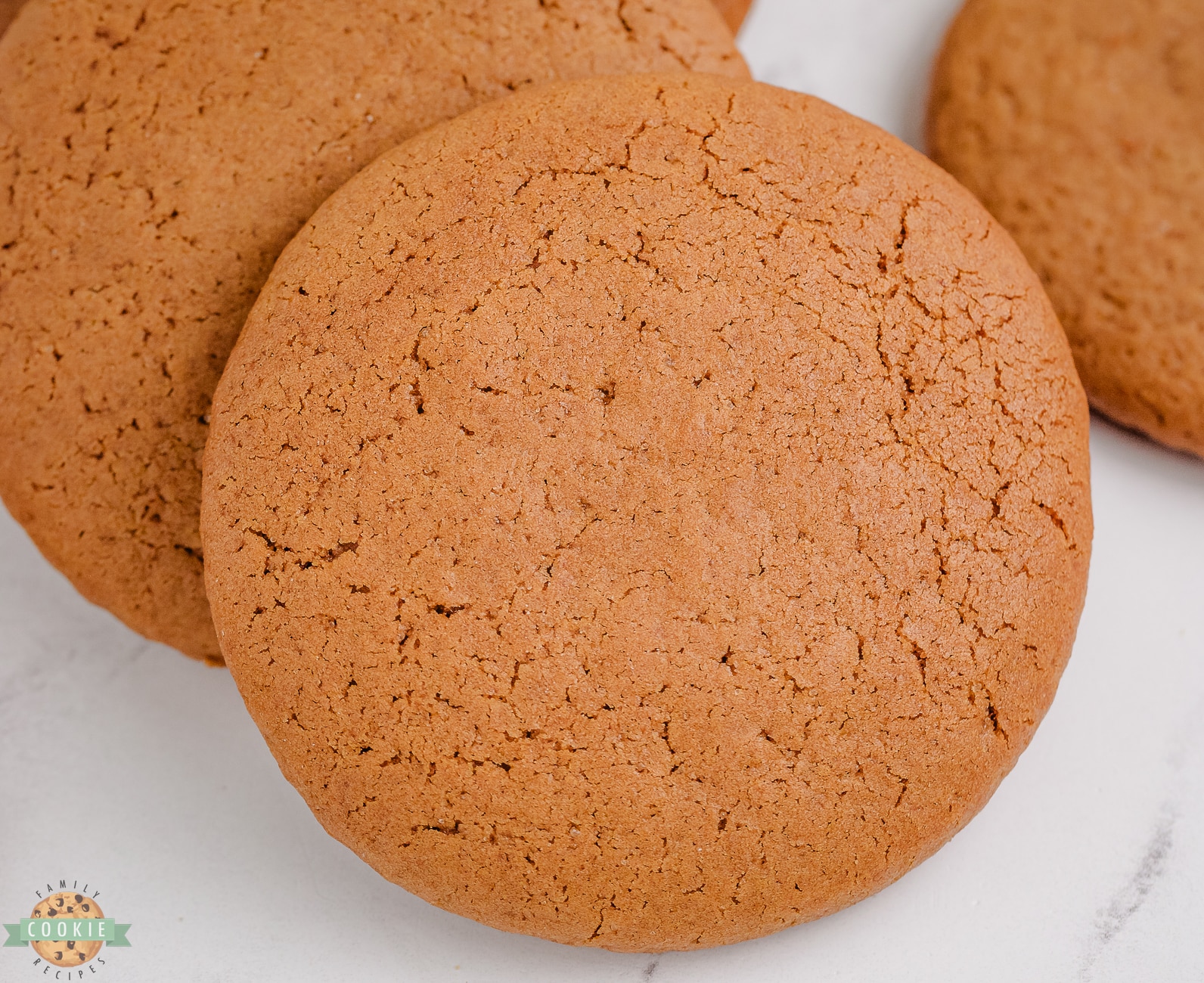 How can I make big cookies like the ones from a bakery?
To make big and soft molasses cookies, it is important to use the right ingredients and follow the recipe carefully. Start by using fresh ingredients and high-quality molasses. Also, make sure to use the right amount of flour and sugar, as too much of either can result in a dry or hard cookie. It is also important to chill the dough before baking, as this will help the cookies retain their shape and texture. Finally, be sure to bake the cookies at the right temperature and for the right amount of time, as overbaking can result in a hard and crunchy cookie.
What's the difference between ginger snaps and molasses cookies?
While both ginger snaps and molasses cookies contain molasses and spices, there are some key differences between the two. Ginger snaps are typically thinner and crunchier than molasses cookies, and they often have a more pronounced ginger flavor. Molasses cookies, on the other hand, are thicker and softer, with a richer and more complex flavor that comes from the molasses and spices. Additionally, molasses cookies often contain more molasses than ginger snaps, which contributes to their darker color and chewy texture.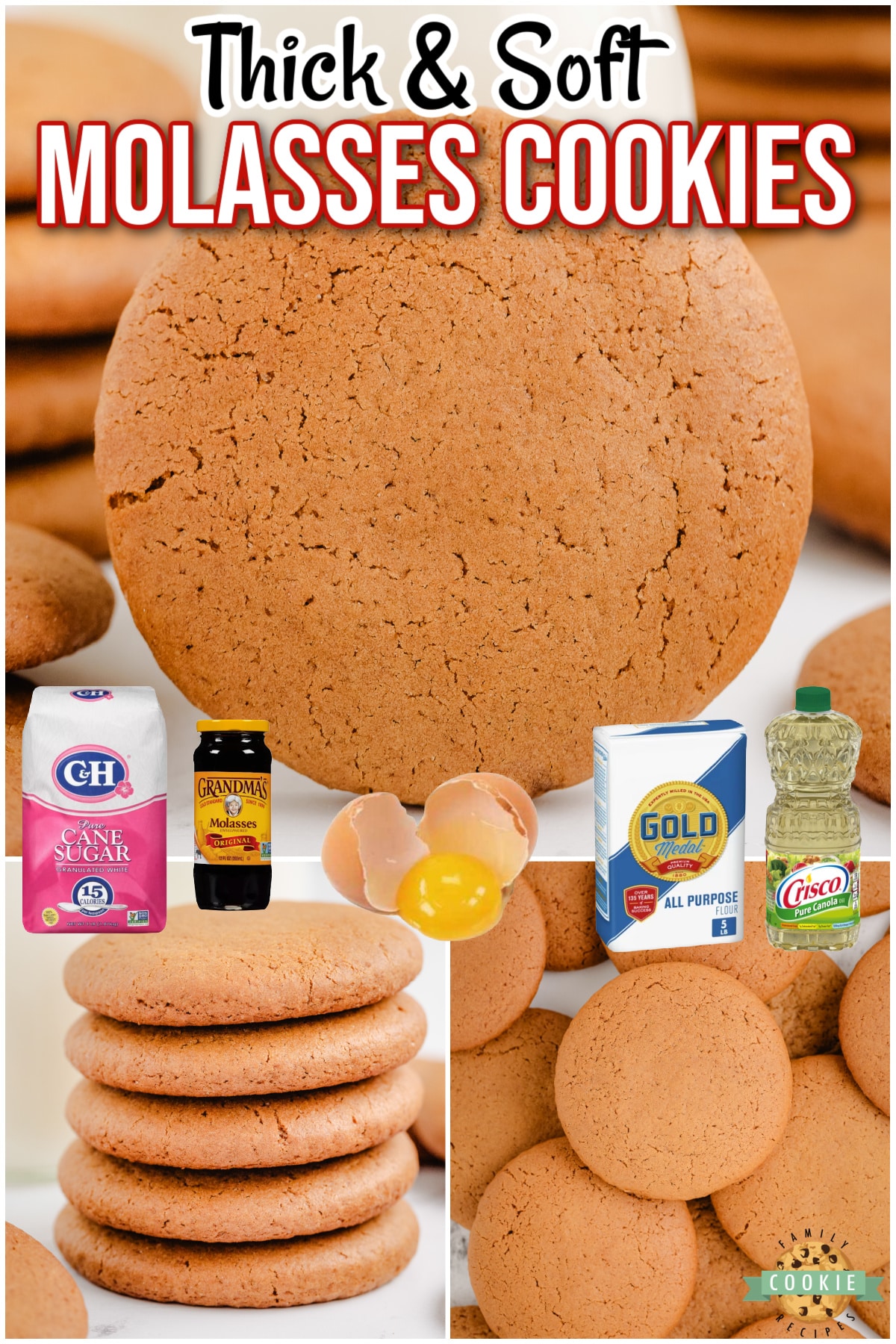 Can I make the cookie dough in advance?
Yes, you can make the dough and keep it in a well-covered bowl in the fridge for up to a day in advance. So make the dough one day and bake it the next. Perfect for parties and occasions where you want fresh cookies but without being in the kitchen for too long.
Storage and Preservation for Molasses Cookies
Storing the Cookies: To keep thick molasses cookies fresh and chewy, it is important to store them properly. Once they have cooled completely, transfer them to an airtight container. If you don't have an airtight container, you can use a resealable plastic bag. Be sure to remove as much air as possible before sealing the bag. Stored in an airtight container or bag, the cookies will stay fresh for up to 5 days.
Freezing and Thawing: If you want to keep the cookies for longer, you can freeze them. Place the cooled cookies in an airtight container or freezer bag. Be sure to label the container or bag with the date so you know when they were frozen. The cookies will keep in the freezer for up to 3 months.
To thaw the cookies, remove them from the freezer and let them come to room temperature in their container. This will take about 1-2 hours. Alternatively, you can microwave the cookies for 10-15 seconds to thaw them quickly. However, be careful not to overheat them, as this can cause them to become tough and dry.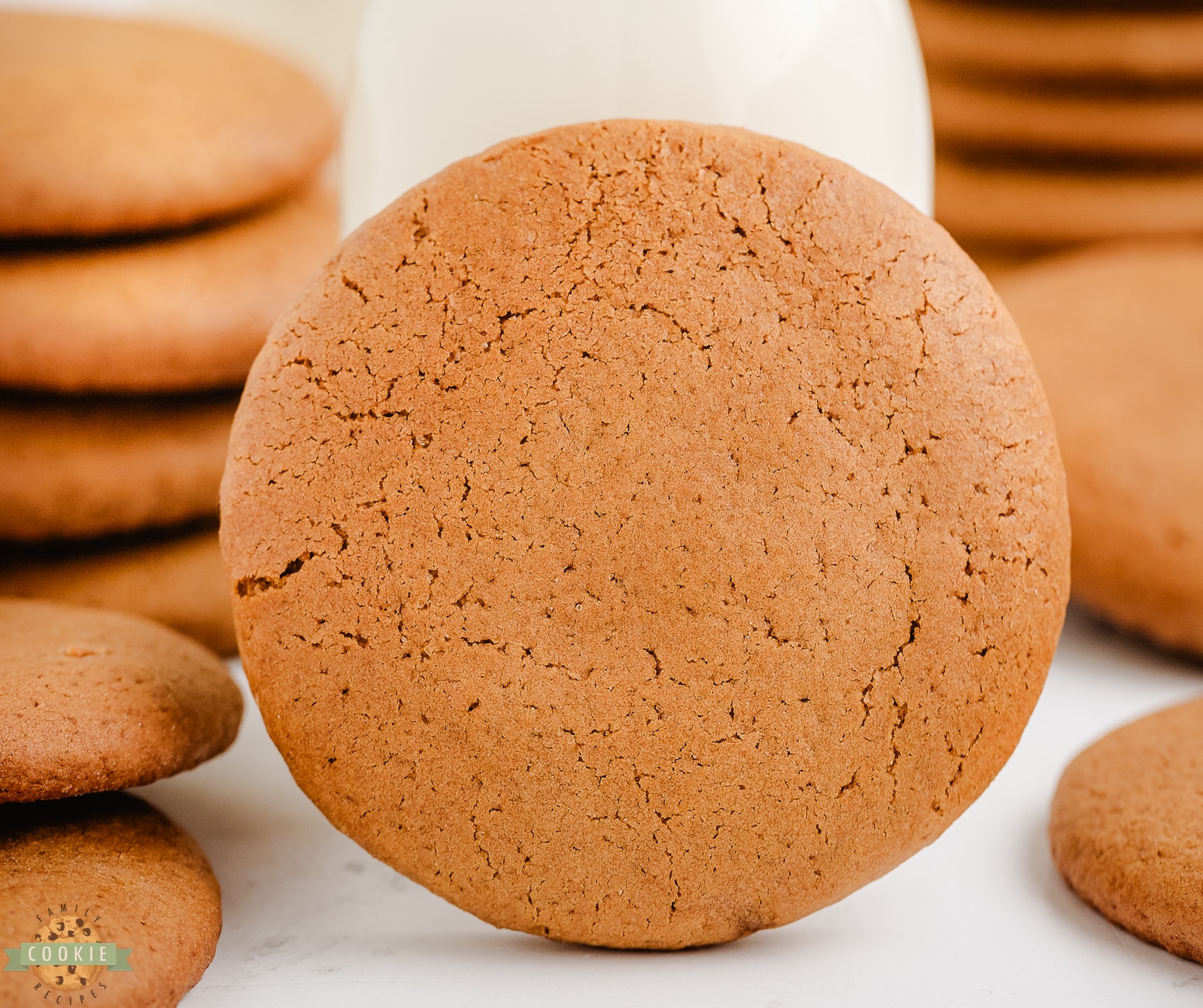 Give more of our favorite cookie recipes a try here:
Thick Molasses Cookies have an amazing depth of flavor and the perfect, thick and soft texture. These soft molasses cookies make a fantastic treat to bring to parties, holiday gatherings or just a casual treat to enjoy at home.