Coconut shortbread cookies are buttery, crisp shortbread cookies with fantastic coconut flavor! They're dipped in chocolate & dusted with more coconut for a delicious cookie combination.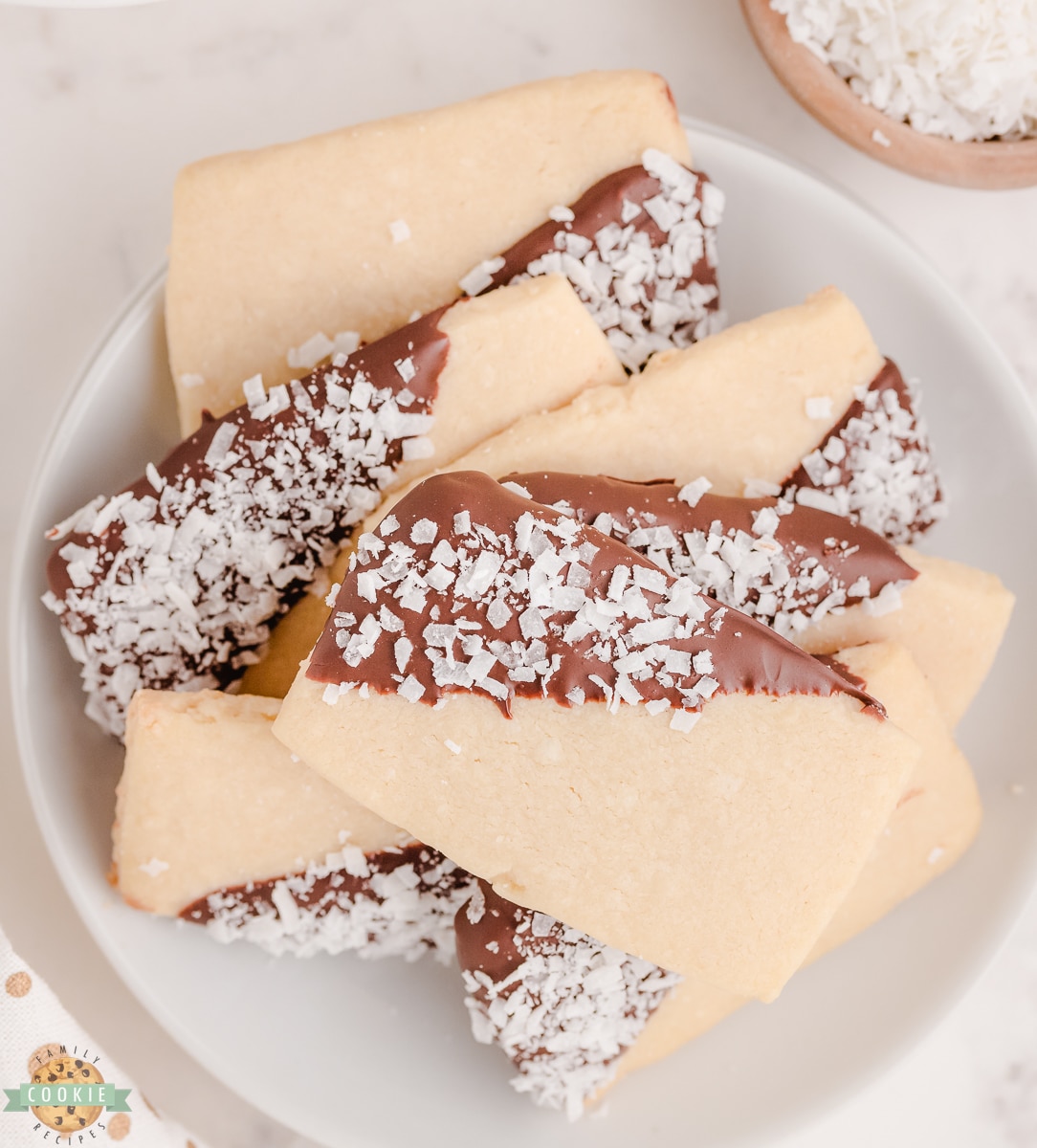 You're going to love these chocolate-dipped shortbread cookies. They're a great cookie for any occasion but would do great at parties and holiday cookie exchanges too. Every batch makes several cookies so there's plenty to share.
What is coconut shortbread?
Made with coconut oil, coconut extract, and coconut flakes, every cookie is full of that delicious flavor you want and love. The semi-sweet chocolate on the outside of these cookies just helps to seal the deal and add in a wonderfully rich flavor that pairs so well together.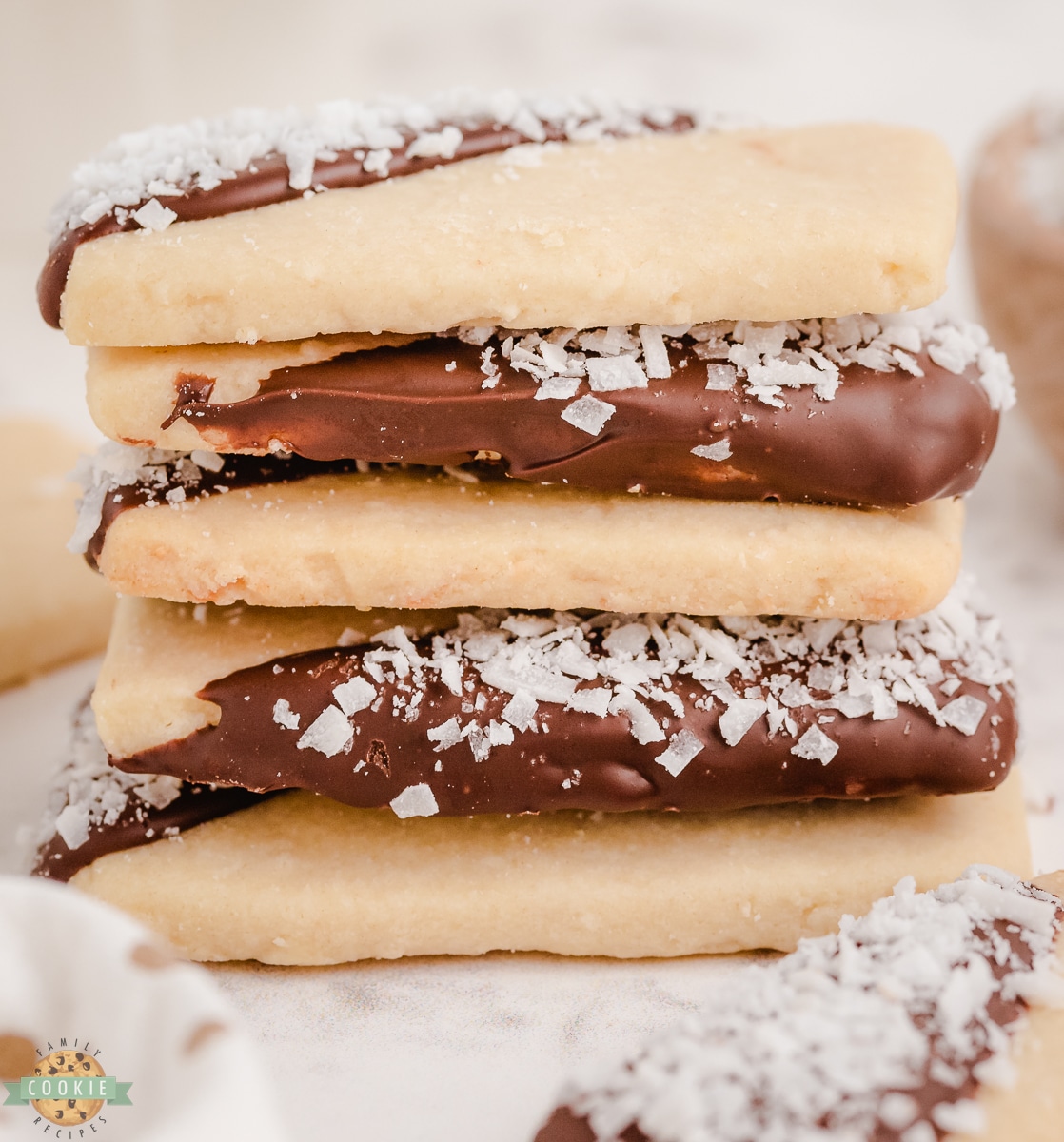 Coconut shortbread cookies ingredients
-Butter: You will need ¾ cups of softened butter to help make these cookies rich and delicious in texture.
-Sugar: Adding in ¼ cup of granulated sugar will make the cookies sweet, but not too sweet.
-Vanilla: Use a teaspoon of vanilla extract to help enhance the flavors in the dough.
-Coconut extract: Using 1 teaspoon of coconut extract will help to give the dough a wonderful coconut flavor.
-Flour: Use 1 ¾ cups of all-purpose flour for the base of this cookie dough.
-Baking powder: You only need ½ teaspoon of baking powder to help these cookies puff up nicely as they bake.
-Salt: Adding in ¼ teaspoon of salt will help to bring out all of the flavors in the cookies.
-Coconut flakes: Use 1 ¼ cups of flaked sweetened coconut to get a real coconut flavor and texture in every bite.
-Chocolate chips: Using 1 ½ cups of semi-sweet chocolate chips as a dip will give the cookies another depth of flavor and richness.
-Coconut oil: You will need 1 tablespoon of coconut oil to help the chocolate melt down into a smooth texture and to give it a slight coconut flavor.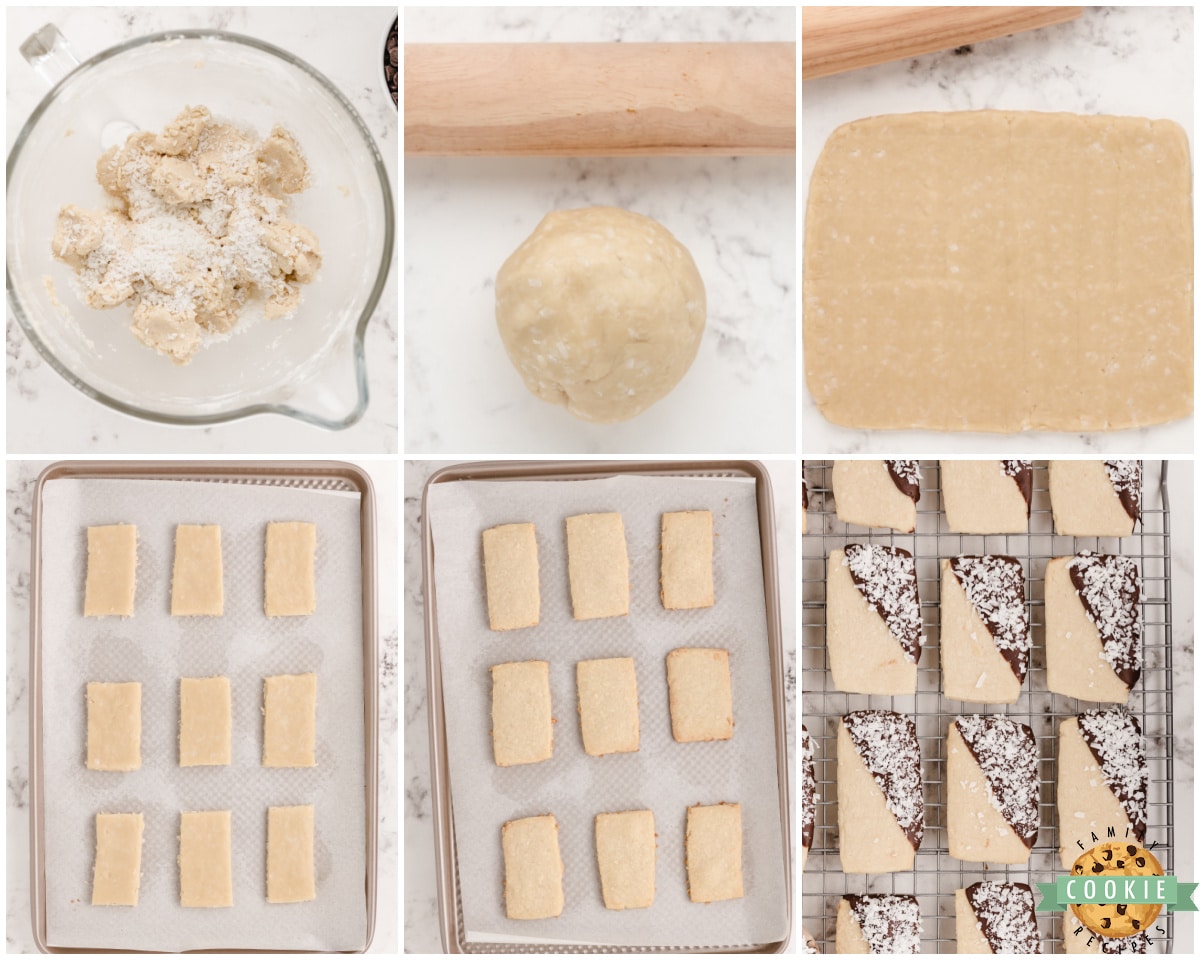 How to make coconut shortbread cookies
Cream together the butter and sugar in a bowl with an electric mixer until light and fluffy. Add in the vanilla extract and the coconut extract and then mix again to combine.
In another bowl, whisk together the flour, baking powder, and salt.
Gradually add your dry ingredients to the butter mixture, mixing until it's well incorporated.
Place the coconut flakes in an electric mixer and pulse a few times to make it finer in texture. Reserve ¼ cup of the flakes and stir the rest into the dough.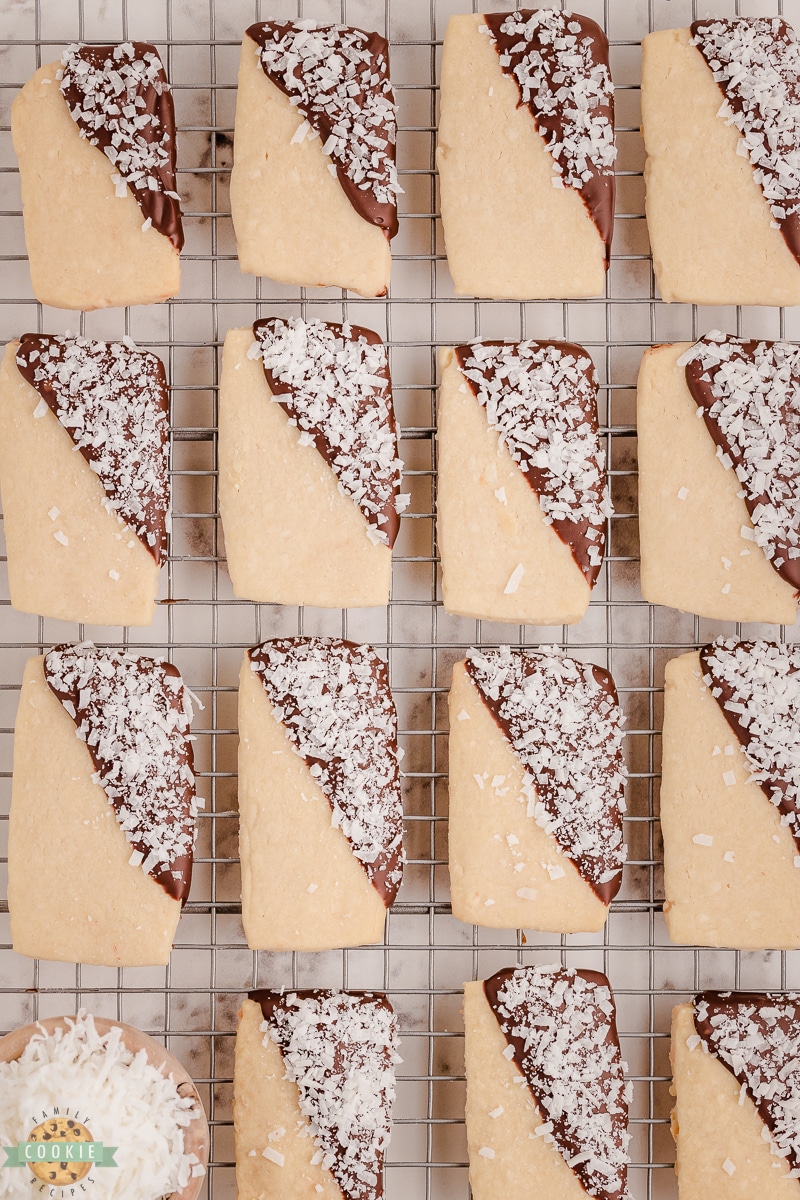 Shape your dough into a ball and cover it. Place in the fridge to chill for at least 1 hour.
Preheat your oven to 300 degrees F. Line your baking sheet with parchment paper.
Roll out the cookie dough until it is ¼ inch thick.
Use a pizza cutter or a sharp knife to cut the dough out into tall rectangles that are about ¾ inch wide by 2 inches tall.
Arrange the slices so that they are 2 inches apart on your prepared baking sheet.
Bake in the oven for 22-24 minutes. Let cool for a few minutes on the baking sheet before transferring to a wire rack to cool completely.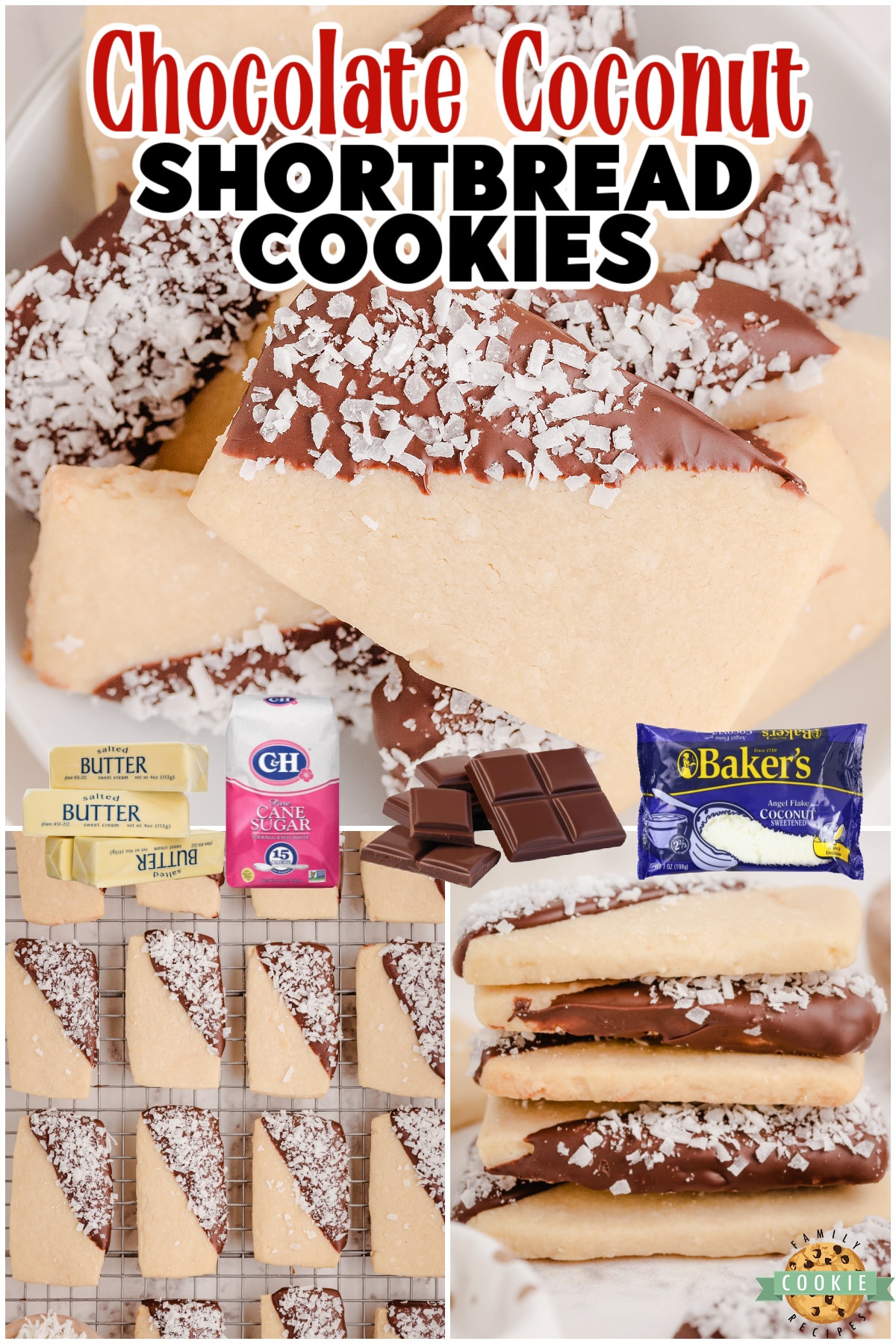 Once the cookies have been cooled, you can dip them in the chocolate.
Melt your chocolate in a bowl in the microwave by heating it for 1 minute with coconut oil. Stir gently and continue cooking in 15-second intervals, stirring well after each until smooth.
Hold the cookies at a slight angle and dip them into the chocolate. You can dip half the cookie or the full cookie depending on what you like.
Set the dipped cookies on parchment paper and sprinkle with the remaining reserved coconut.
Let cool to set.
Enjoy!
How long are coconut shortbread cookies good for?
If you keep these cookies stored in an airtight container at room temperature then you can expect them to stay good for up to a week.
Can I freeze coconut shortbread cookies?
Yes, these cookies can be frozen and do quite well when frozen and can last up to 3 months in an airtight container in the freezer. I do recommend not dipping them in chocolate until after the cookies have thawed because the chocolate will not do well when frozen as it can separate in the cold temps or sweat as it thaws.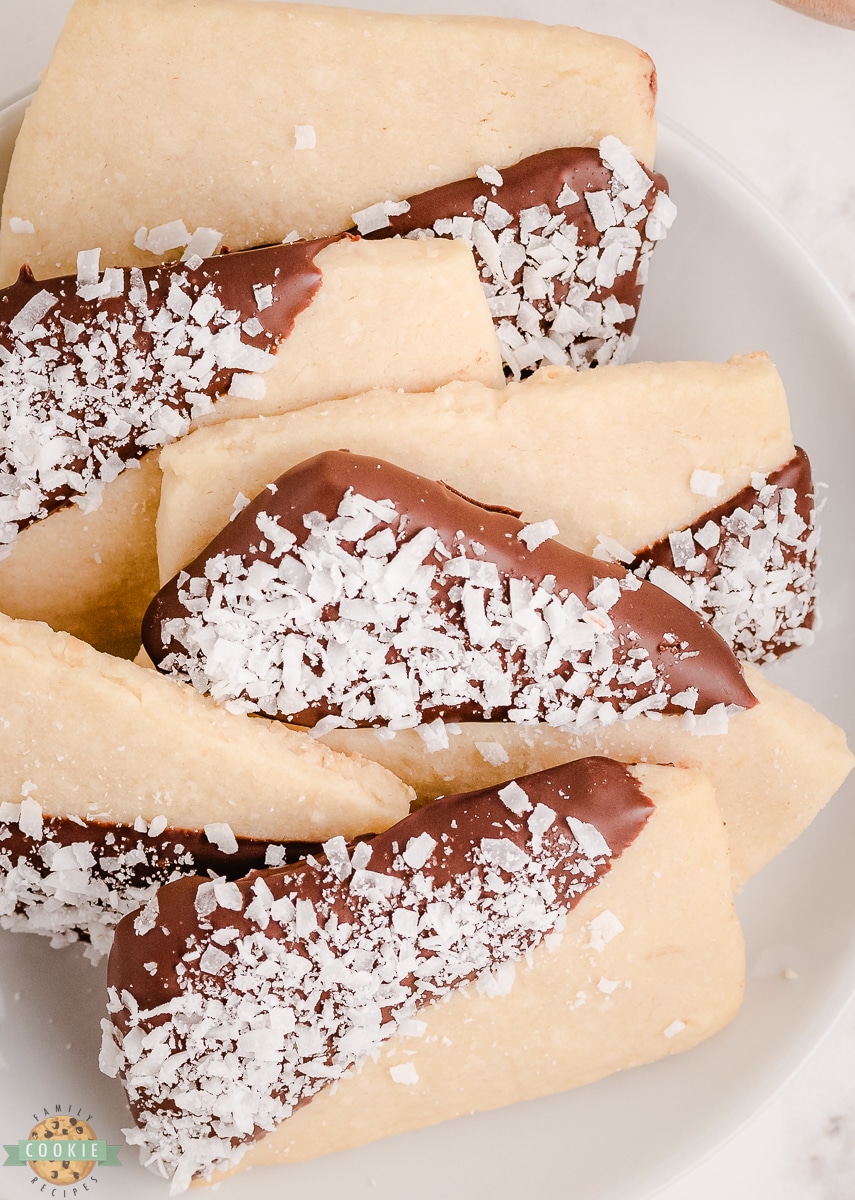 Want more coconut? Check out these great coconut recipes

Let's be honest, we'd all react like this when dished up a giant serving of Ghirardelli ice cream. Am I right?! We adored our cute toddler's reaction to the treat and it certainly made the long wait in line worth it! So cute!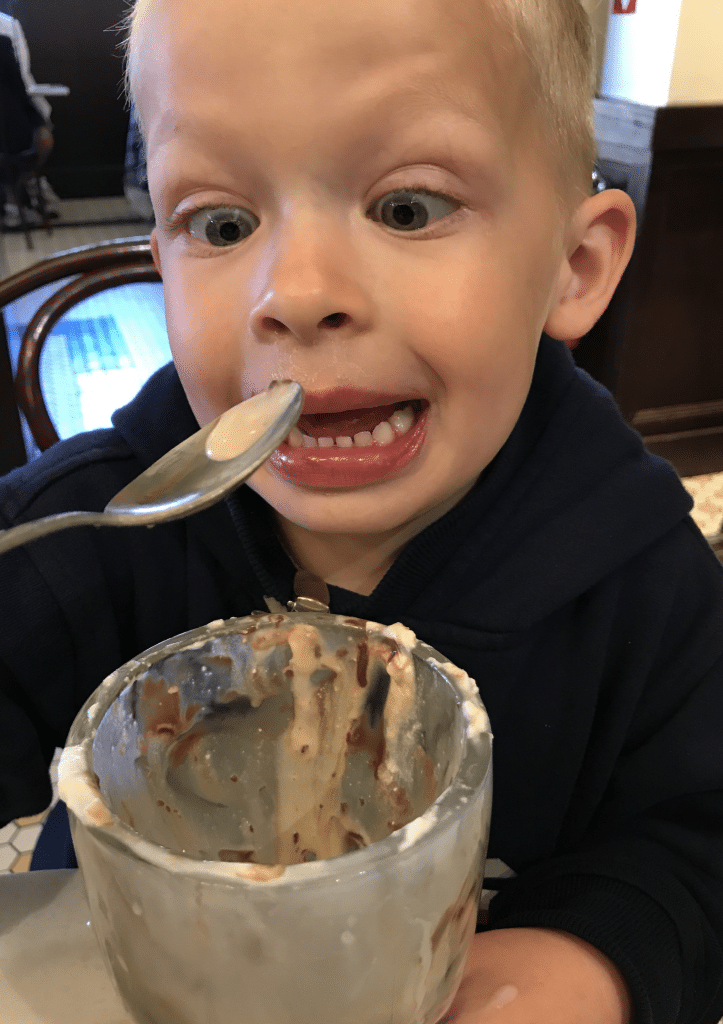 Here are some more shortbread cookie recipes to try soon
This coconut shortbread cookie recipe is a delicious blend of tropical flavors, fresh taste, and rich chocolatey goodness in every bite. You're going to love these easy shortbread cookies!