Almond cinnamon crescent cookies are classic buttery shortbread cookies shaped into crescents & rolled in powdered sugar. Perfect cookies beside a cup of tea in cold winter weather!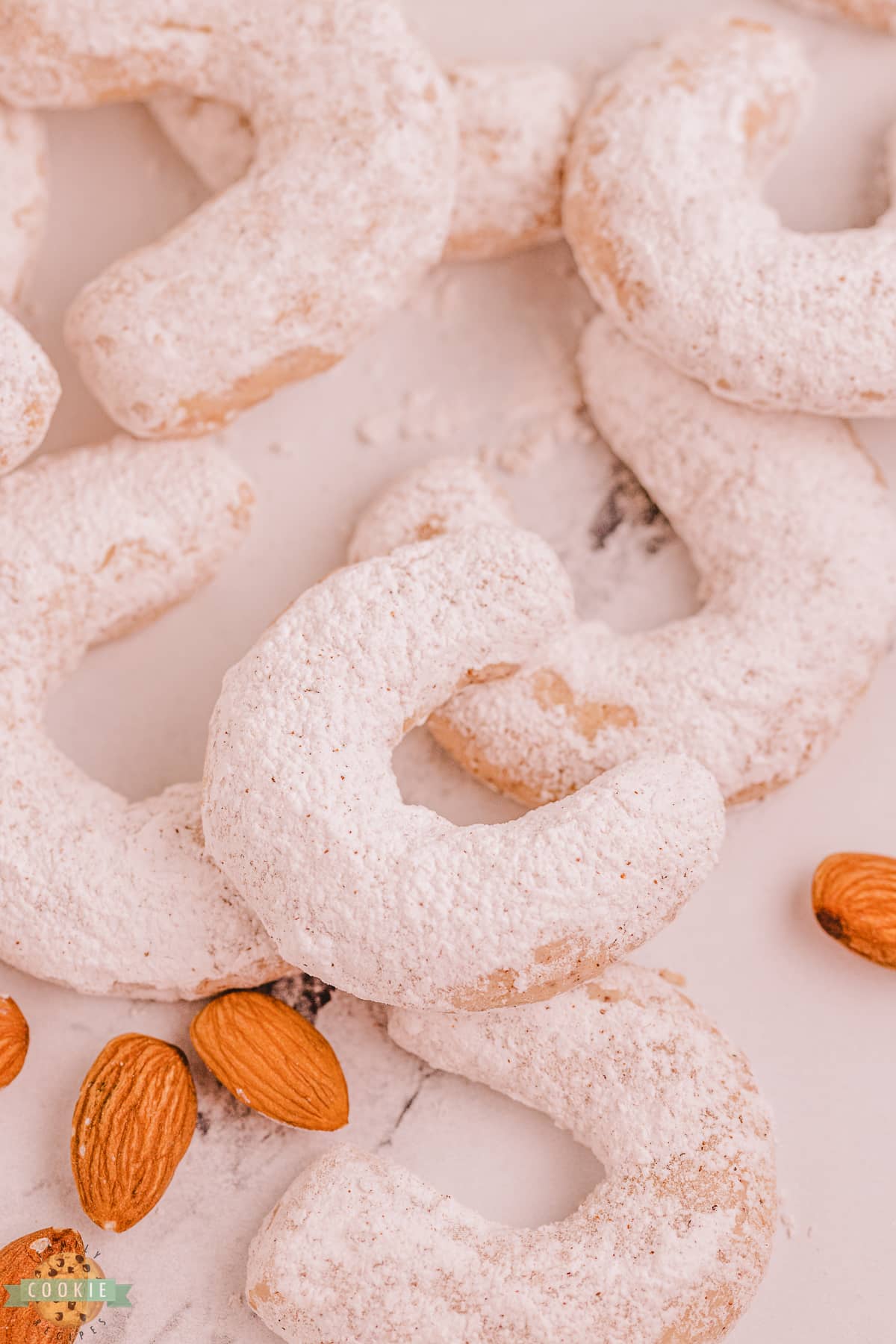 These cinnamon crescent cookies are sweet, spiced, and inviting little morsels of heaven. Beyond the fluffy white powdered sugar coating is a crispy butter cookie filled with chopped almonds. Together the pair works well together to create a seasonal treat that even Santa will want.
Easy Almond Crescent Cookies
One of the best smells and flavors to come around every winter is roasted almonds, especially from the mall vendors. While these almond crescent cookies may not use roasted almonds, you will find that the flavors and smells are pretty close to the cinnamon flavored almonds you already know and love.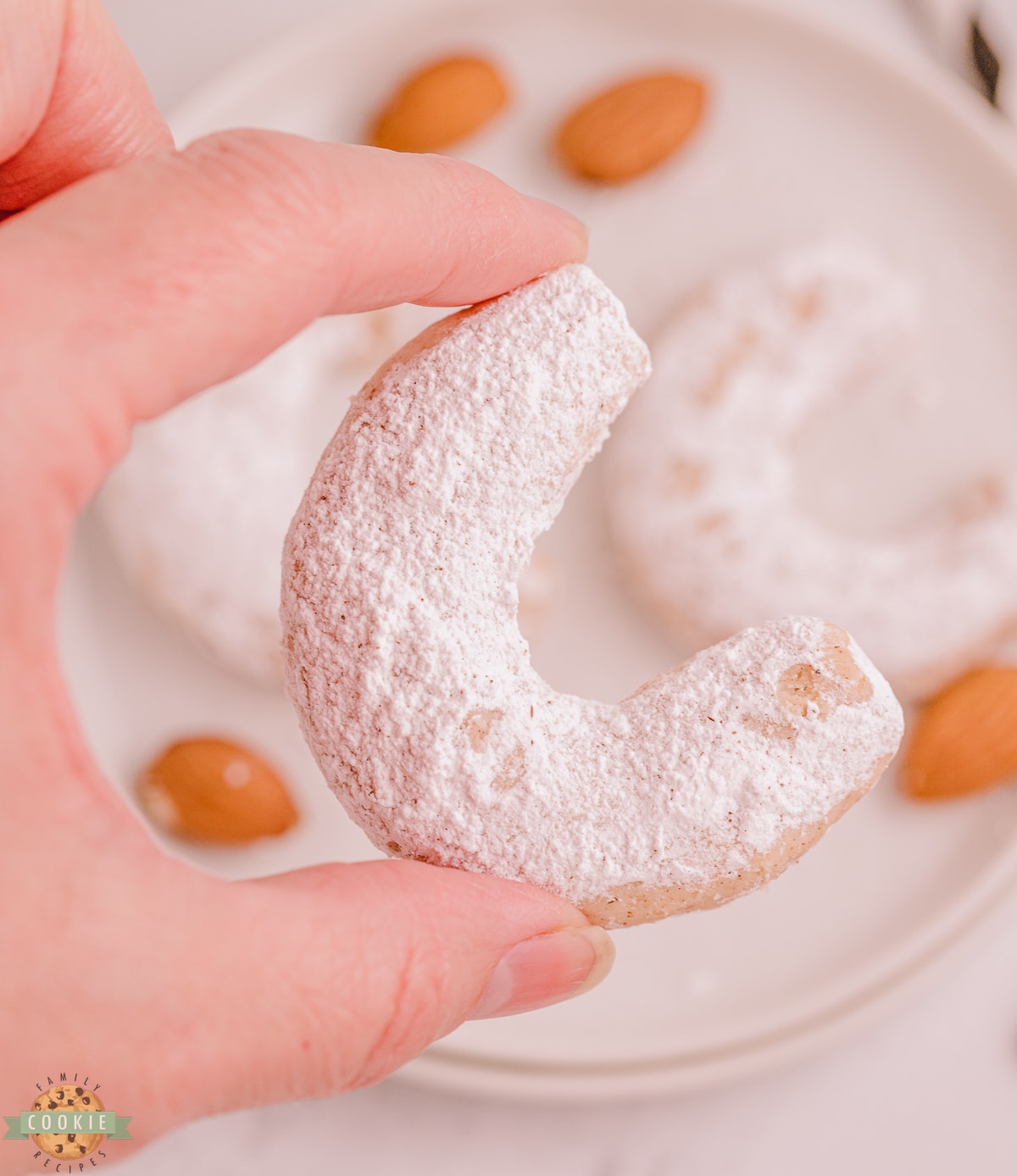 Why You'll Love This Recipe
Minimal ingredients. We only need 5 basic pantry staple-type ingredients for the cookie dough and 2 more ingredients for the coating. All in all, the ingredients are simple and basic, making them much easier to find too. We don't even use baking powder!
Simple steps. From mixing the dough together to chilling and shaping, the steps for this recipe are very easy to follow.
They'll be a seasonal favorite! Just like DANISH WEDDING COOKIES, you'll find a spot for these on the dessert table this year and every year from here on out.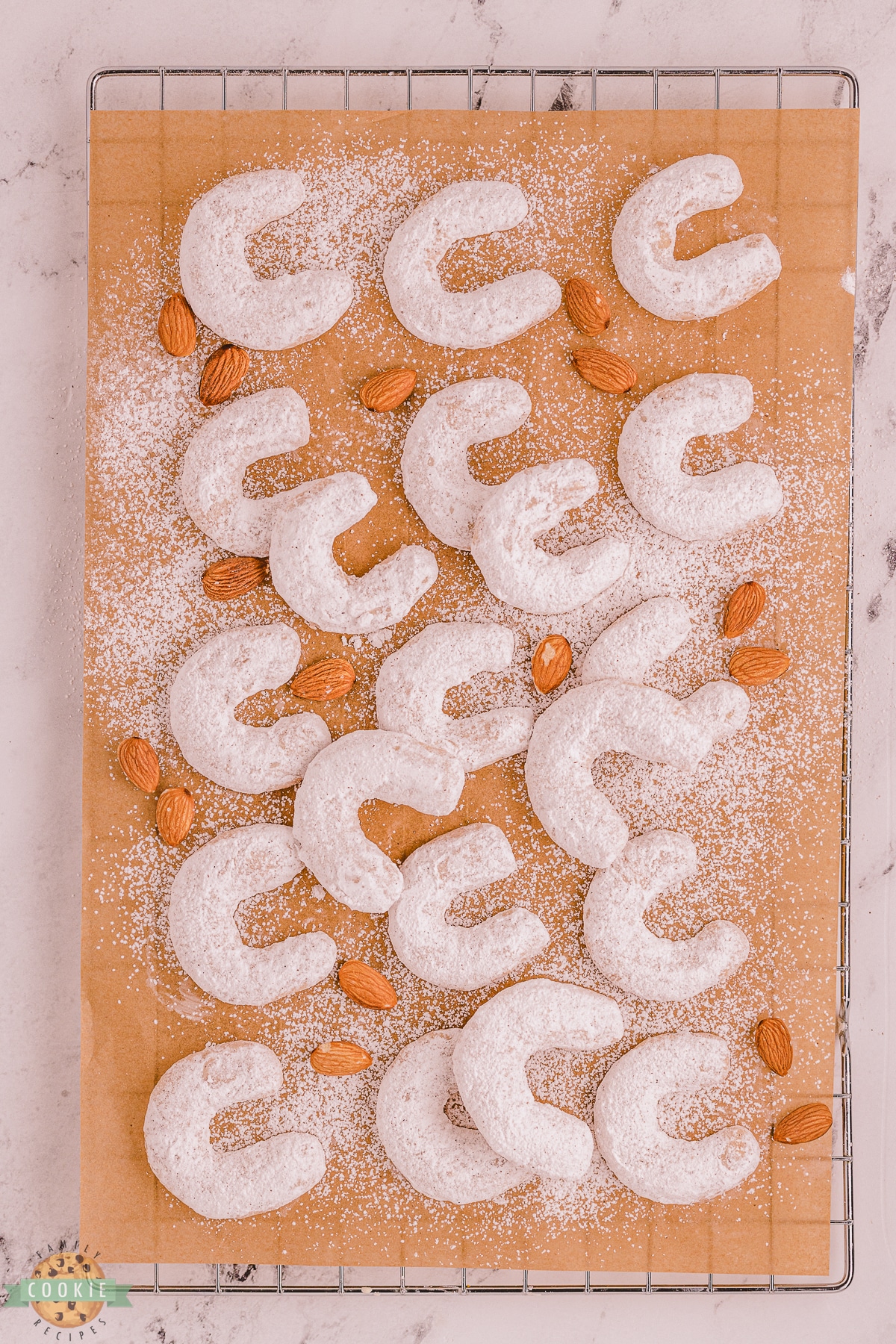 Almond Crescents Ingredients
For the Cookies, you will need:
Butter– Use 1 cup of softened butter to make these cookies moist and rich in taste.
Sugar– You'll only need 1/3 cup of granulated sugar to give the cookies a little sweetness.
Almonds– Use 2/3 cups of finely chopped almonds for a subtle crunch and earthy flavor.
Flour– The base and structure of these cookies will depend upon the 1 2/3 cups of all-purpose flour used.
Salt– Use 1/4 teaspoon of salt to help enhance the flavors in the dough well.
For the Powdered Sugar Topping, you will need:
Powdered sugar– To evenly coat all of the cookies, you'll need 1 cup of powdered sugar.
Cinnamon– Use 1 teaspoon of ground cinnamon to get the coating well spiced, so it's warm and inviting.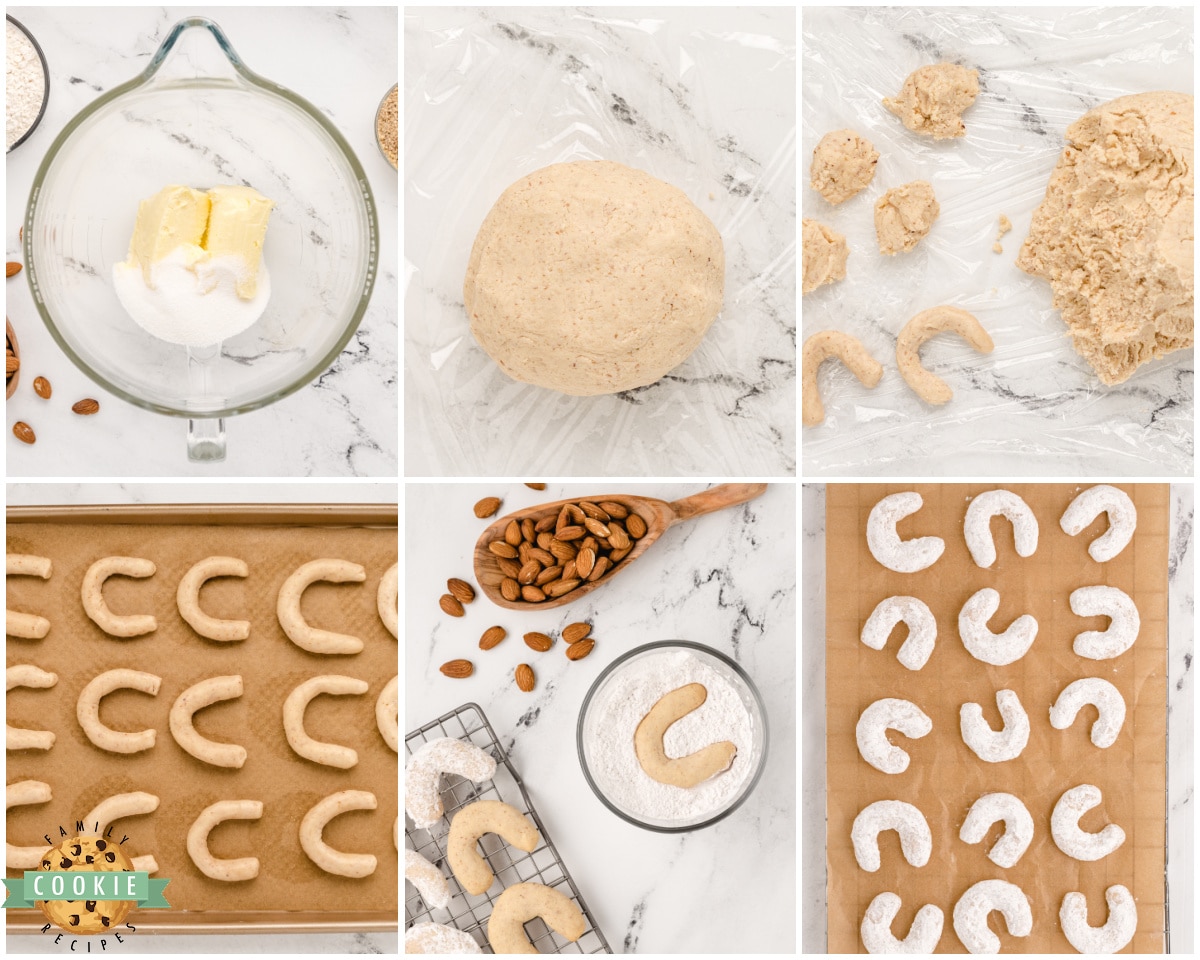 How to Make Almond Cinnamon Crescent Cookies
Make dough
Cream together the butter and sugar in a large mixing bowl.
Add in the chopped almonds and stir together until combined. Do not overmix.
In another bowl, whisk together the flour and the salt until combined.
Add the flour to the butter mixture and mix together until a crumbly dough is formed.
Chill
Use your hands to form the dough into a ball and place it on a piece of plastic wrap before wrapping it up entirely.
Place in the fridge for at least 30 minutes until chilled.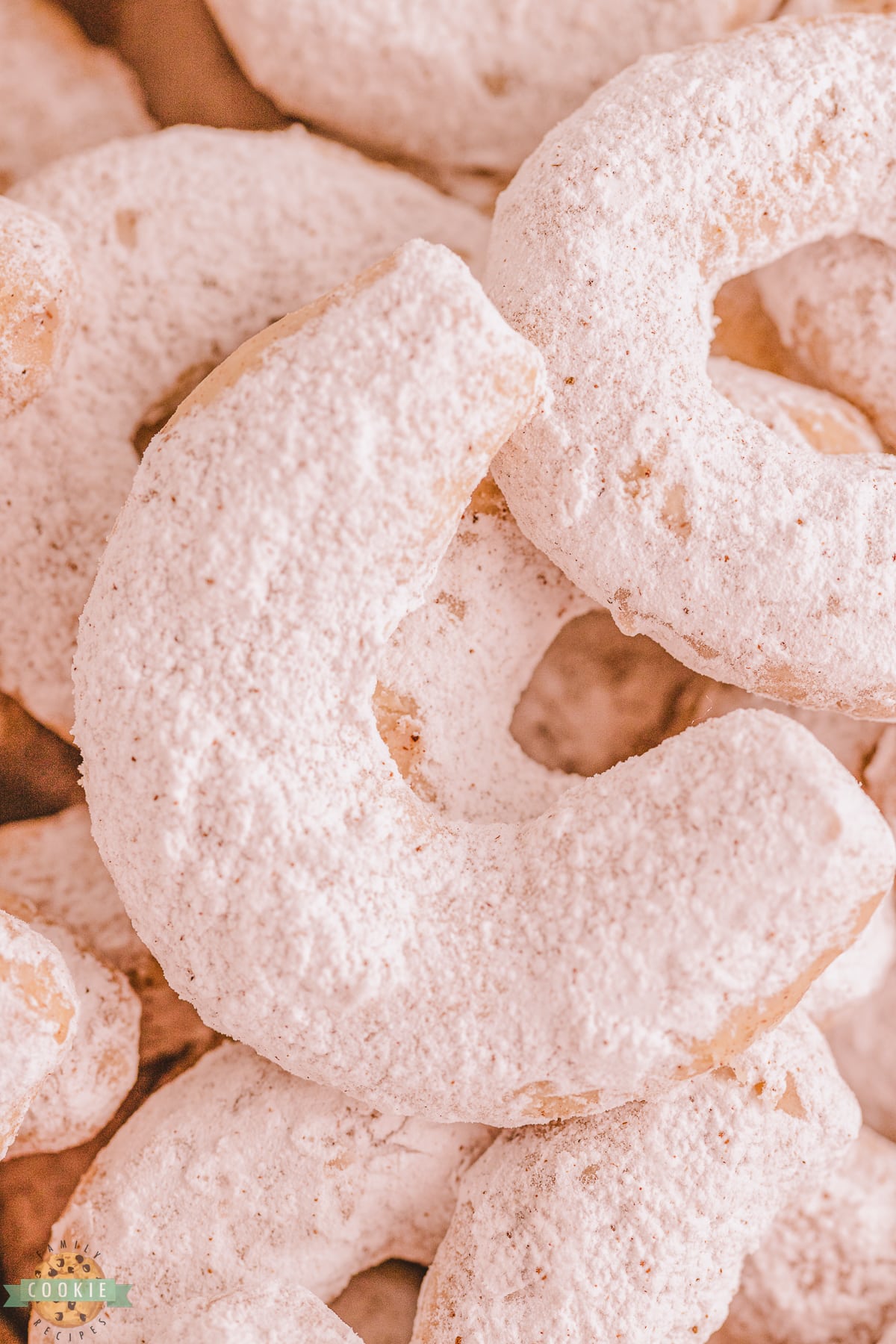 Shaping
Form the dough into crescents by rolling a piece of dough out until it is finger-like in thickness and about 2 inches long.
Form the dough into a crescent or C-shape and place it onto an ungreased baking sheet.
Bake
Bake the cookies in the oven at 325 degrees F for 14-16 minutes or until set.
Remove from the oven and let cool on the baking sheet.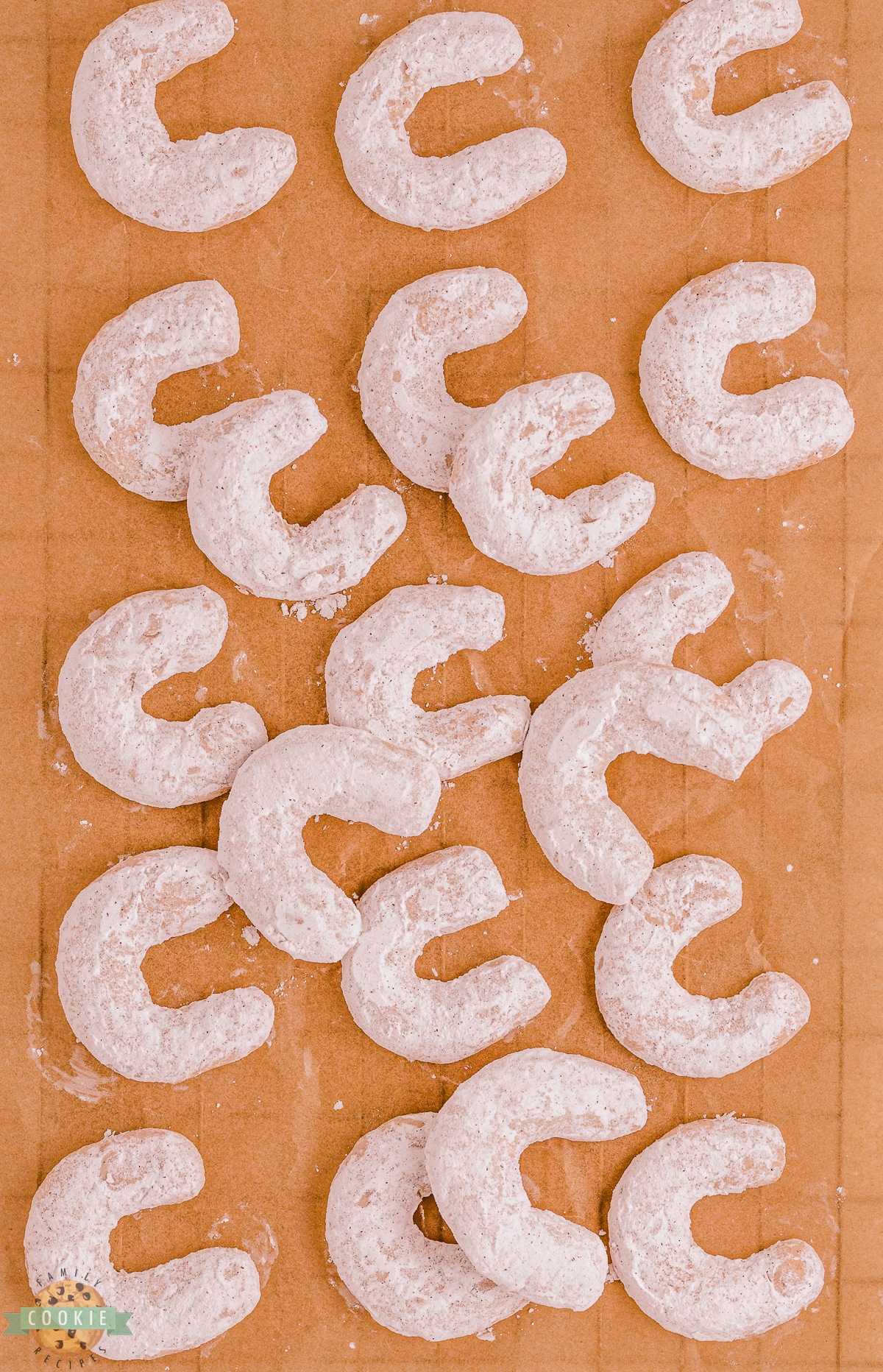 Coating
Prepare the coating by mixing together the powdered sugar and cinnamon in a bowl with a whisk until combined.
While the cookies are still warm, toss them into the powdered sugar mixture and mix until coated. Enjoy!
How long are almond cinnamon crescent cookies good for?
These cookies can be kept stored in an airtight container at room temperature for up to 5 days. This should give you plenty of time to enjoy them.
Can I freeze powdered sugar-coated cookies?
These cookies can be frozen before coating or after coating in powdered sugar. Just note that as the cookies thaw, the powdered sugar might dissolve, so you may wish to give them another coating before serving so that they look fresh. Keep frozen in an airtight container for up to 3 months.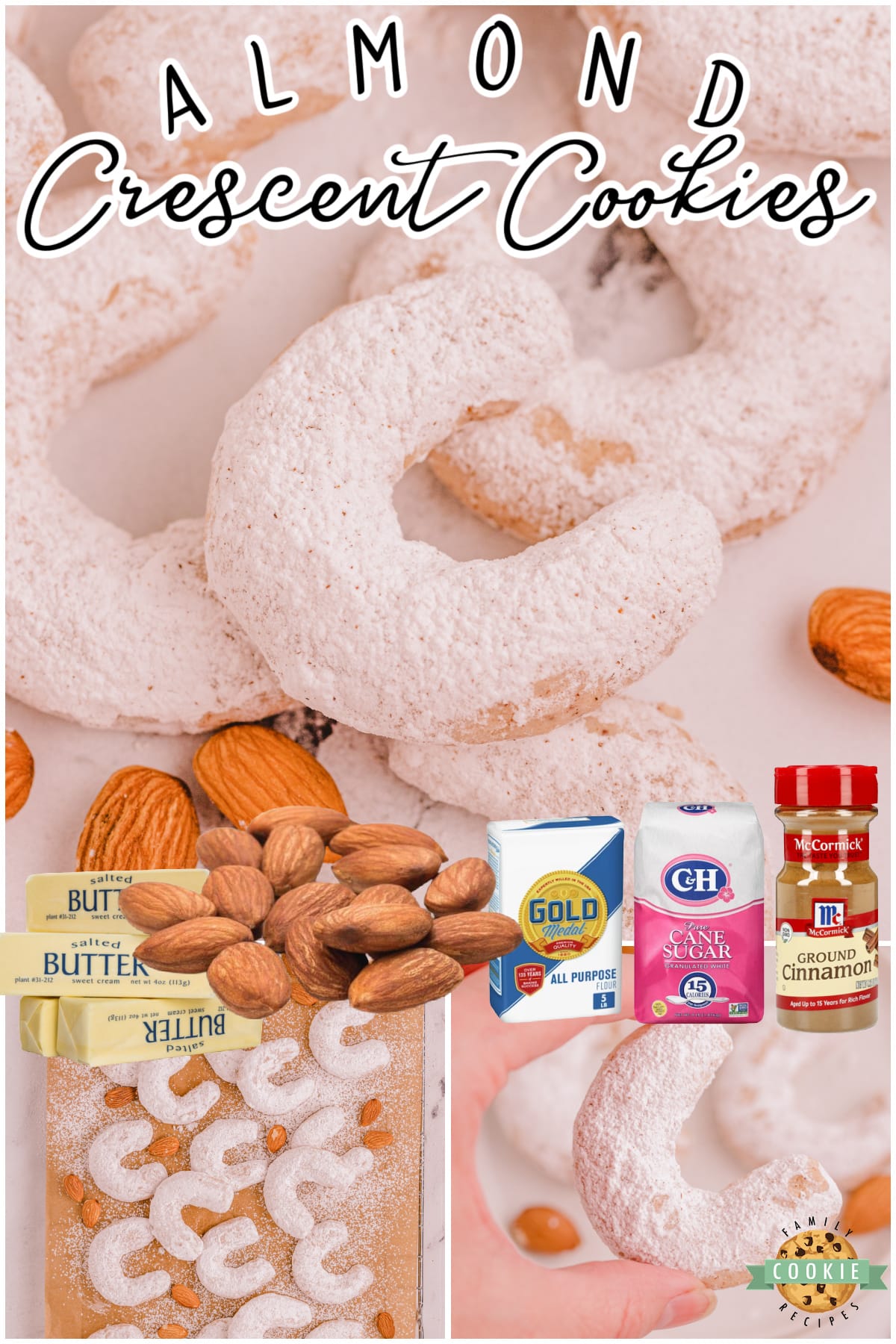 Do I have to chill the cookie dough?
When recipes request that you chill your cookie dough it is usually for a good reason. That reason is that the flavor gets a bit more time to develop and the cookies taste even more incredible. But the biggest reason is because of the butter/fats in the dough. By chilling the dough we allow the fats to solidify which means your cookies will not spread out as much while baking, so the texture turns out perfectly. This is especially important on warmer days or when your butter is warm or softened.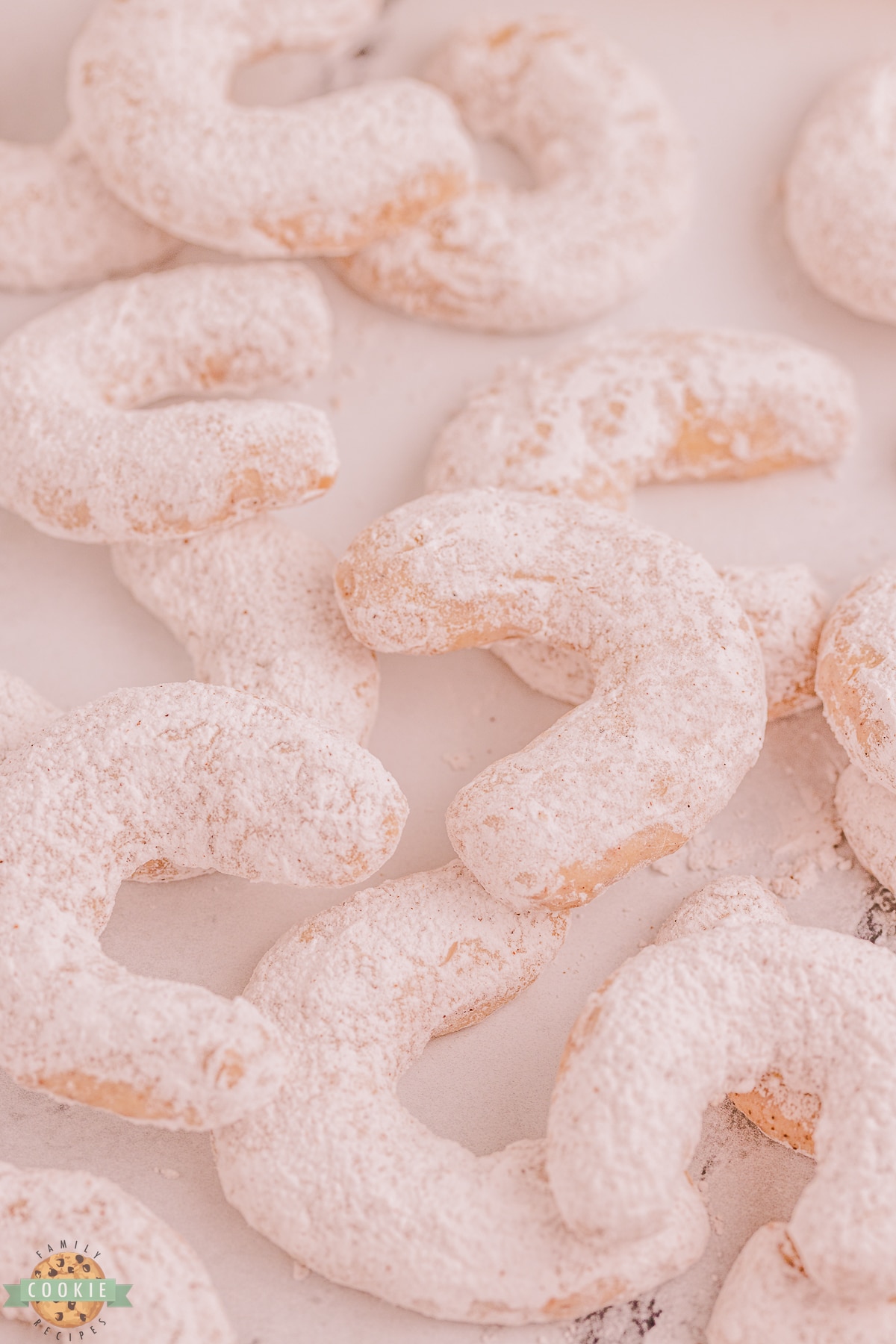 What is the best way to soften butter?
When you want softened or room temperature butter (65 degrees F) and don't have any on hand, follow these simple tips for warming it up quickly without overheating and melting the butter. Softened butter is needed to incorporate with the dough for a seamless smooth consistency so getting your butter to the proper temp is important.
Here are some ways to warm up your cold stick of butter:
Let it sit on the counter for 1 hour prior to making your cookie recipe.
Slice the butter into tablespoon sized pieces and place into a warmed glass for 10-15 minutes. A glass right out of the dishwasher or a measuring glass warmed with water in the microwave (before disposing of the water) are both great options.
Warm a small clean kitchen towel and wrap your sticks of butter (in the wrappers) for a few minutes.
I like to use a warmed tall drinking glass and place the wrapped sticks of butter in the cup before turning it over on the counter for several minutes.


These two cuties braved the cold & trick-or-treated to some of the scariest houses in our neighborhood this last year! Maybe next year they'll both actually make it up to all the porches. Ha!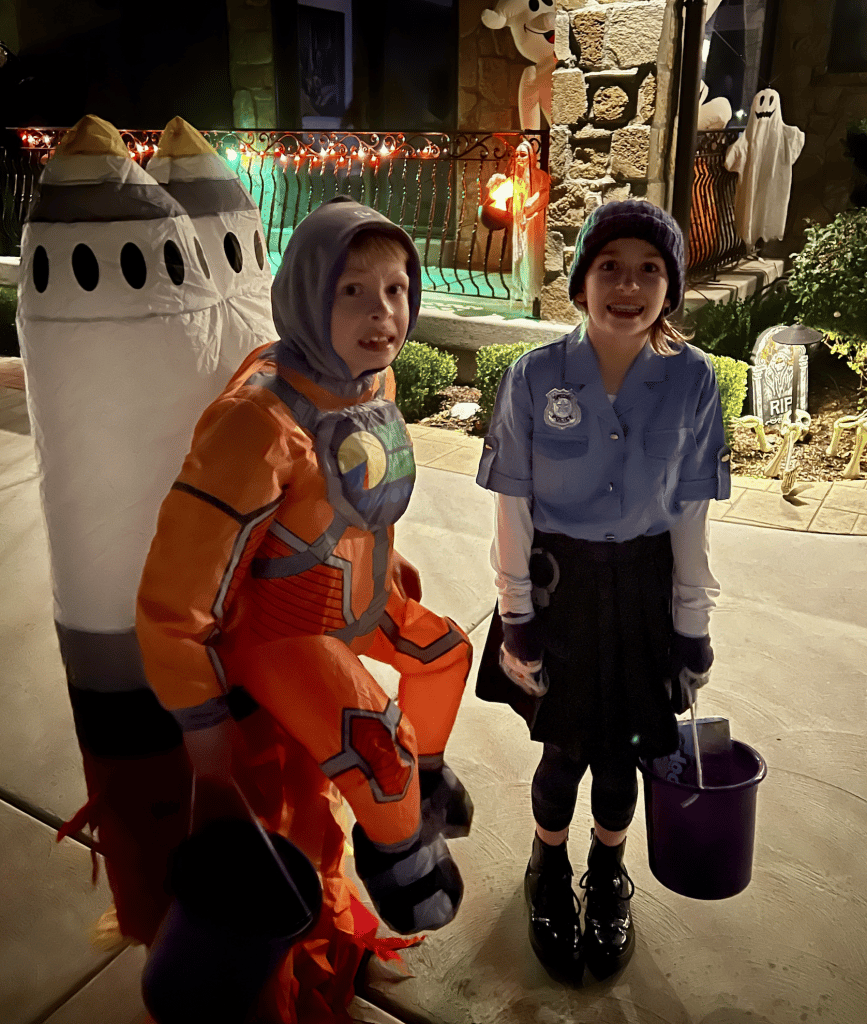 Almond cinnamon crescent cookies are tasty shortbread cookies made with finely chopped almonds and covered in a cinnamon-spiced powdered sugar coating. These cookies are perfect for chilly weather and are always welcome.