Homemade Butter Cookie Box complete with a basic butter cookie recipe and 4 delicious variations! Tender, buttery cookies in a lovely festive box perfect for holiday gifts!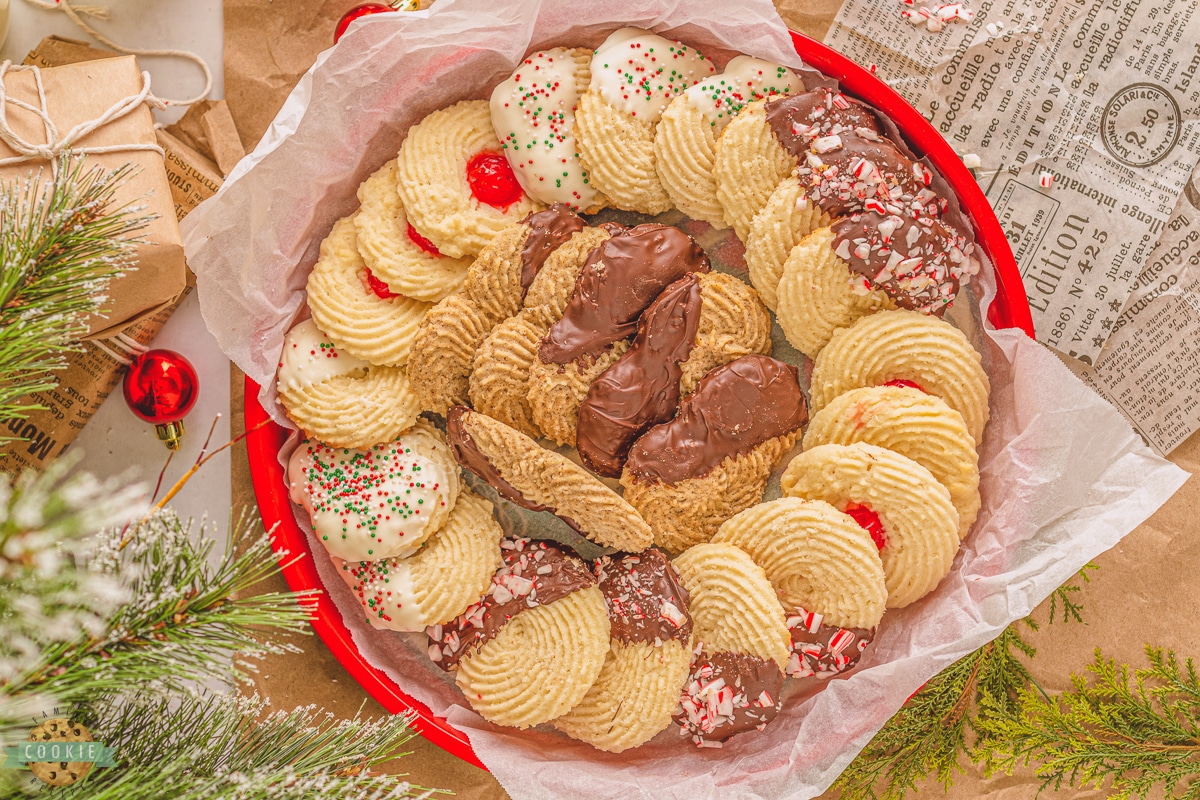 You're going to love these easy piped butter cookies because they are such a holiday classic. This variation of a Danish butter cookies recipe is super simple and only requires a handful of ingredients to make, (and you probably already have them in your home). Whip up a batch of these old-fashioned butter cookies and see how fast they disappear. They're simply irresistible!
What are butter cookies?
They're similar to a shortbread cookie when you look at the ingredients but the similarities sort of end there. While a shortbread cookie will have you chilling the dough and slicing it into shapes, we are instead piping cookie dough through fitted pastry bag tips to make shapes. The end results are a soft, slightly crisp cookie that embodies the sweetness of the holidays.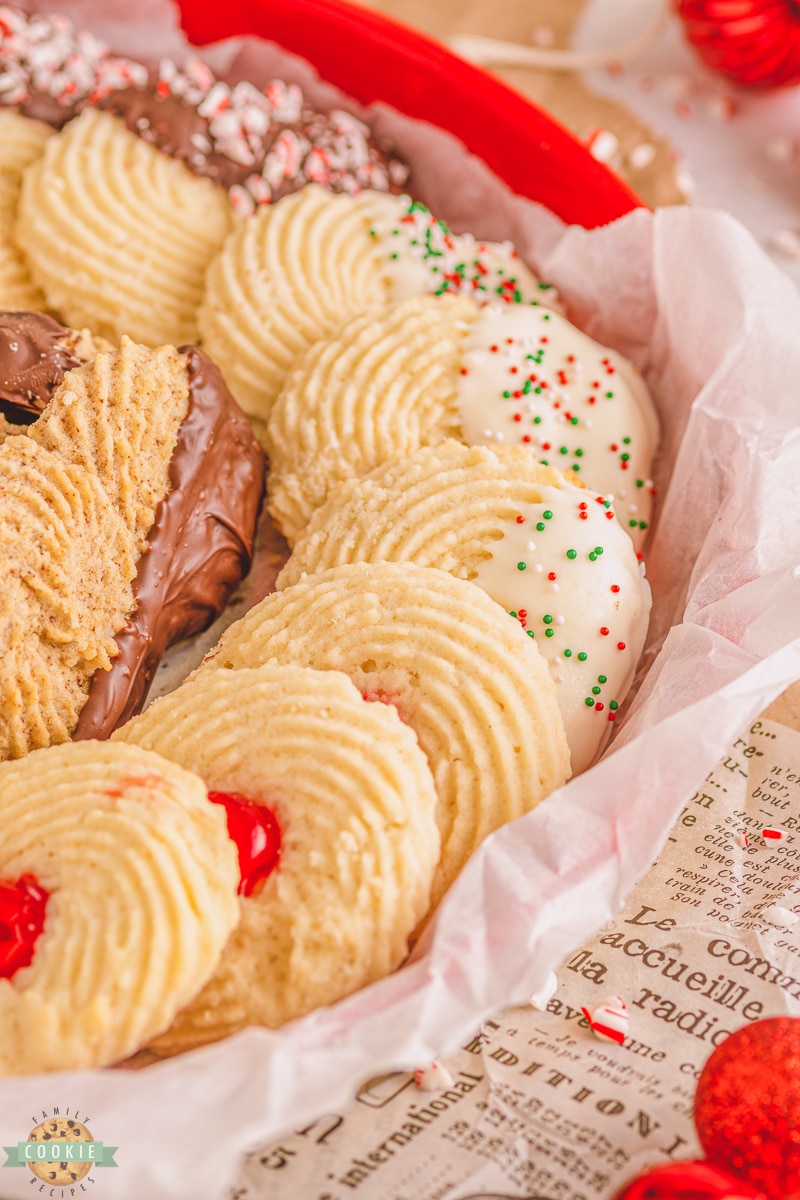 Butter cookie box ingredients
-Butter: You will need 2 cups of room temperature butter to make these cookies rich and tasty. This is 4 sticks of butter.
-Sugar: Use 1 ⅓ cups of granulated sugar to make the cookies turn out sweet and crisp.
-Eggs: You will need 2 eggs plus an egg yolk to get the cookies to the right consistency and richness.
-Milk: 4 tablespoons of milk will help to moisten the dough to the right texture.
-Salt: Enhance the flavors in the dough by using 1 teaspoon of salt.
-Vanilla: Make the cookies taste even better with a teaspoon of vanilla extract. You can use almond extract if you want to change up the flavor.
-Flour: The base of the cookie recipe is 4 ⅔ cups of all-purpose flour.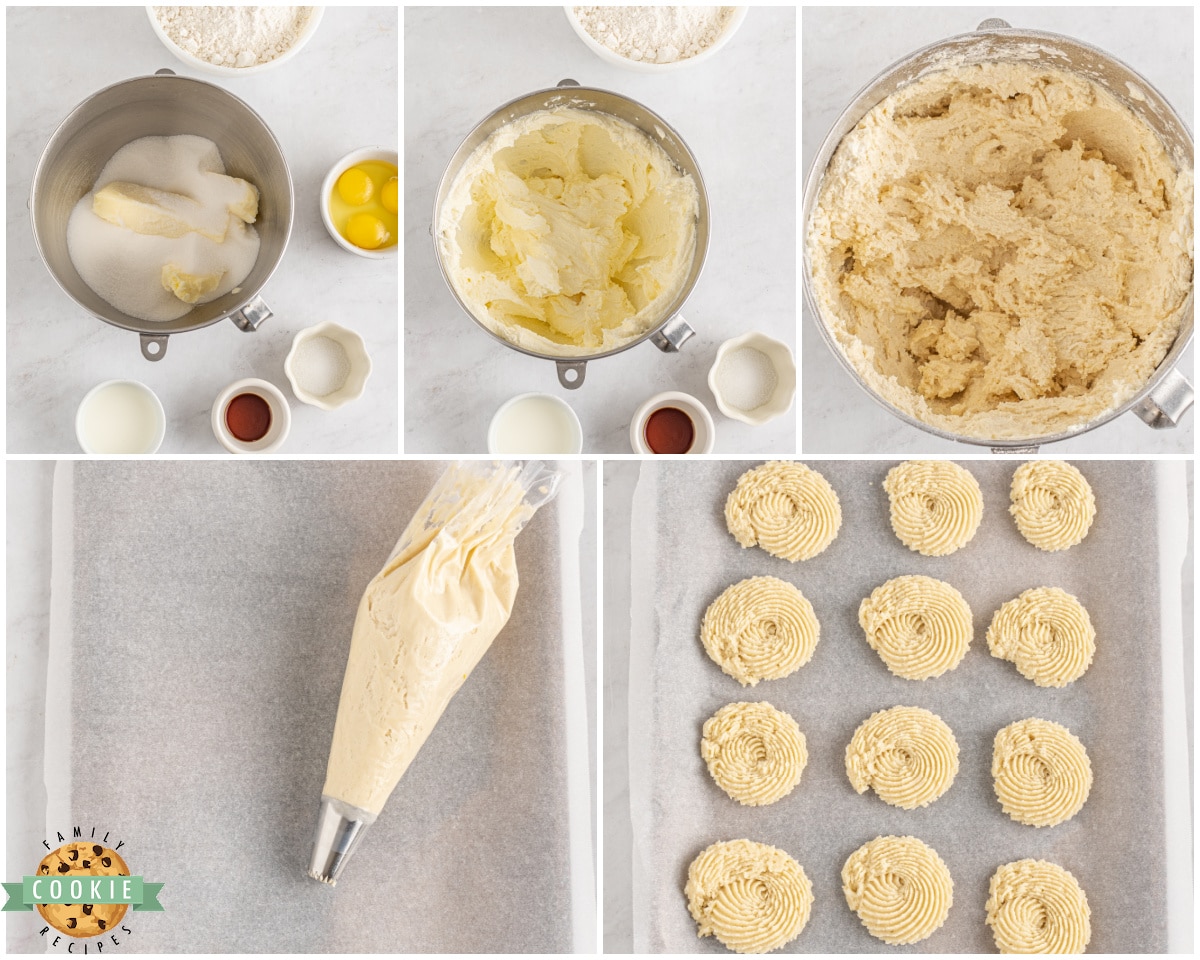 What Kinds of Butter Cookies Can I Make?
This is a basic butter cookie recipe. I also love adding a tiny twist and making different kinds of butter cookies! Here are my favorites: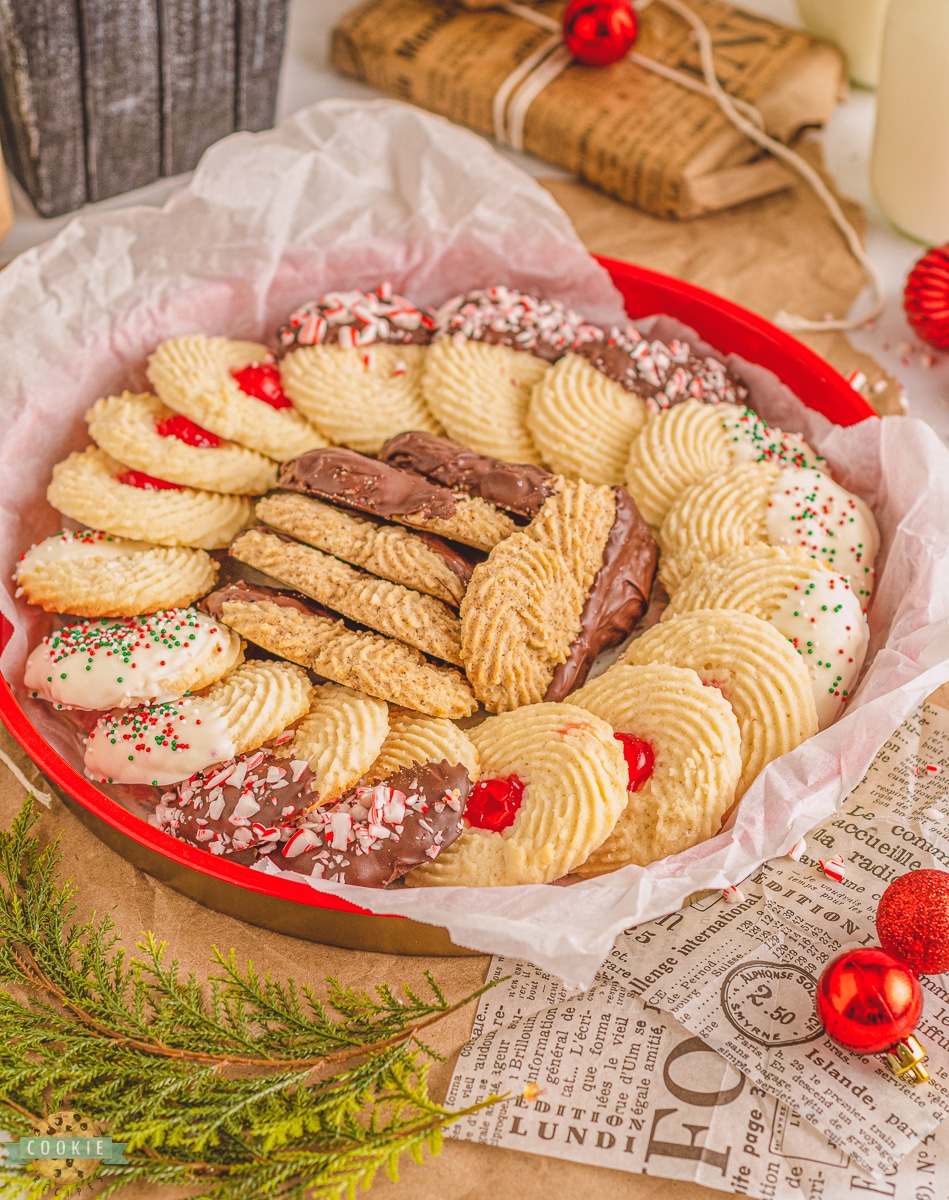 How to make a butter cookies box recipe
In the bowl of a stand mixer fitted with the paddle attachment beat together the butter and sugar on high speed for 2 minutes until it's creamy and fluffy.
Add in the eggs, and beat again for 15 seconds.
Add in the milk, salt, and vanilla, and beat together again to combine.
Add in the flour and mix until incorporated.
Spoon your dough out and into a piping bag with a fitted large star tip.
Hold the bag at a 90-degree angle above a parchment-lined baking sheet.
Pipe the cookies into circles in a counterclockwise motion and do not let any of the cookies touch or overlap.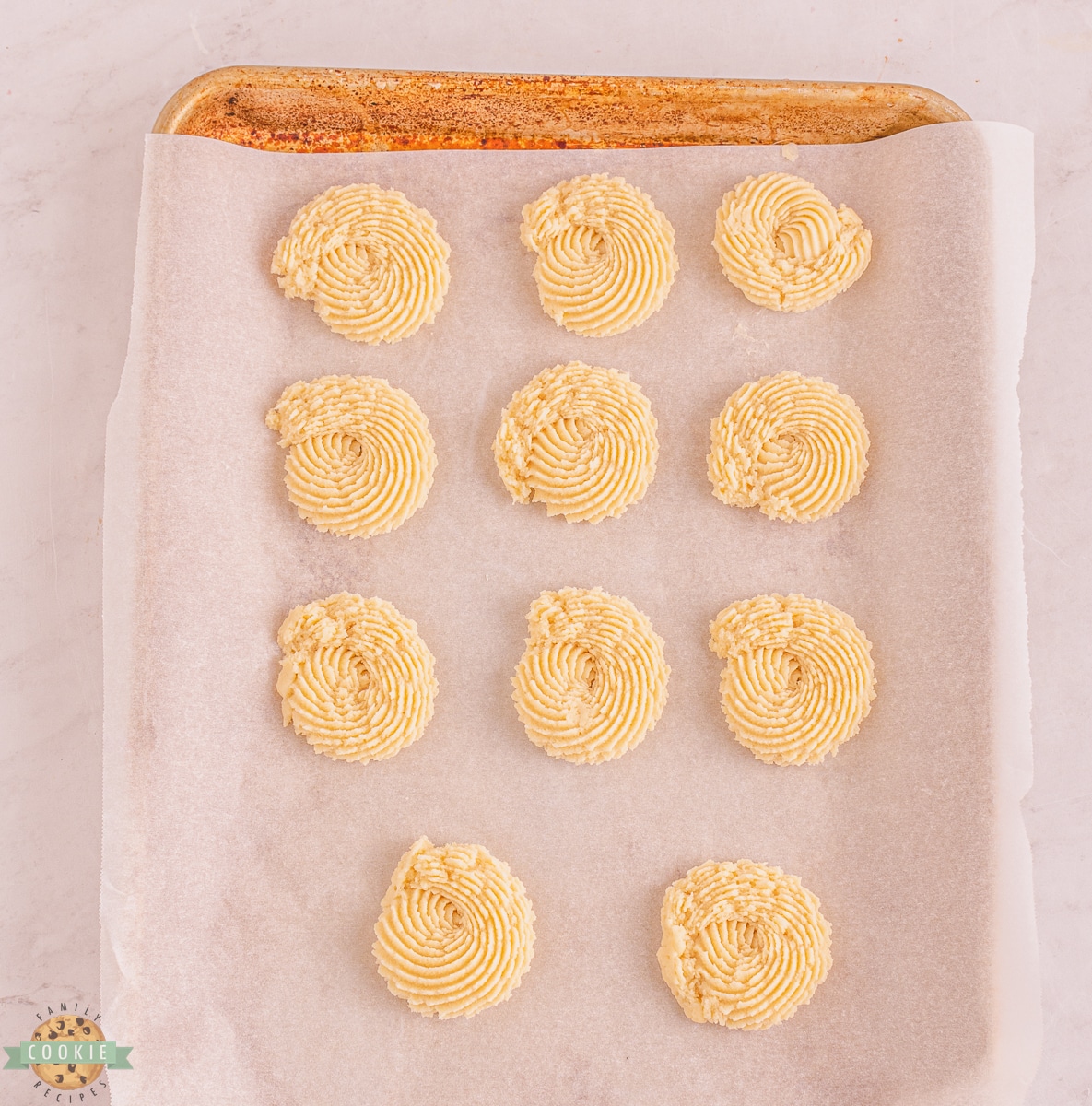 Use a clean finger to smooth out the tail end of the cookies.
Place the baking sheet into the fridge to chill for at least one hour.
Once the cookies have chilled, preheat your oven to 350 degrees F and place the cookies into the oven and bake for 12 minutes.
Remove from oven and place onto a cooling rack to cool completely. Enjoy!
How long are butter cookies good for?
These cookies can last in an airtight container at room temperature for up to 2 days or in the fridge for up to a week. This should give you plenty of time to enjoy these buttery-rich sweets.
Can I freeze butter cookies?
Yes, these cookies are freezer-friendly. Simply place them into an airtight container in the freezer for up to 3 months.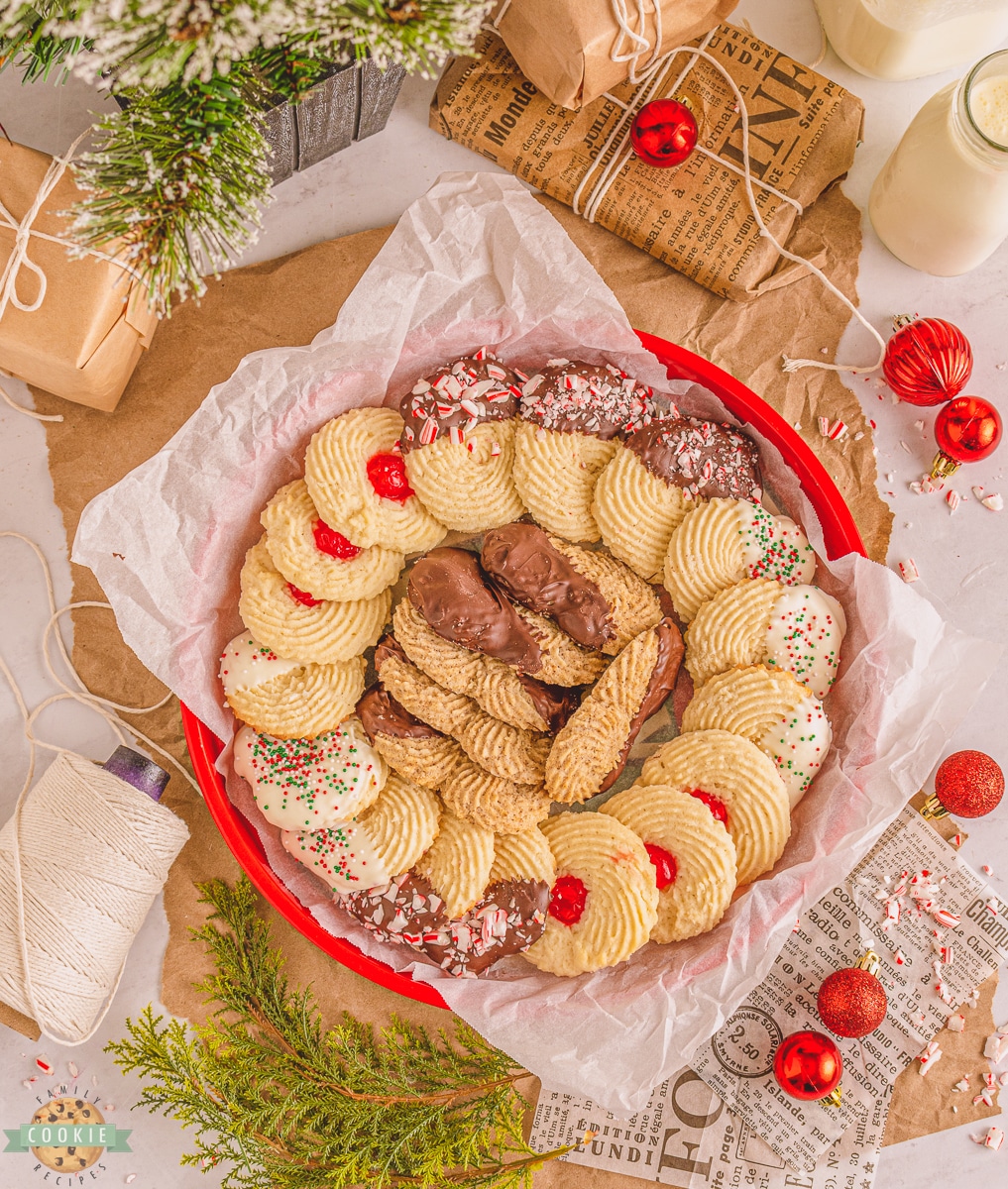 Check out these other great butter cookie recipes:

Flashback to when our family traveled to see my sister get married! It was a gorgeous but FREEZING day. I never knew the Bay Area could have such a wind chill, ha! Despite the cold, it was so fun seeing family and spending time together.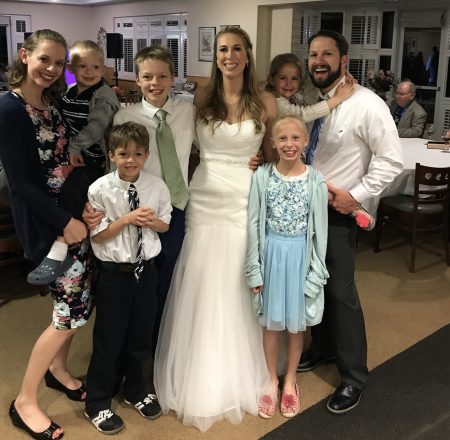 These butter cookies are an easy piped cookie recipe that is perfect for sharing during the holidays. Serve yours up at a cookie exchange, party, or enjoy them throughout the year!