Butterscotch Pudding Cookies are a delightful cookie with great butterscotch flavor! This butterscotch cookie recipe is so simple to make & the pudding gives them the best texture & taste.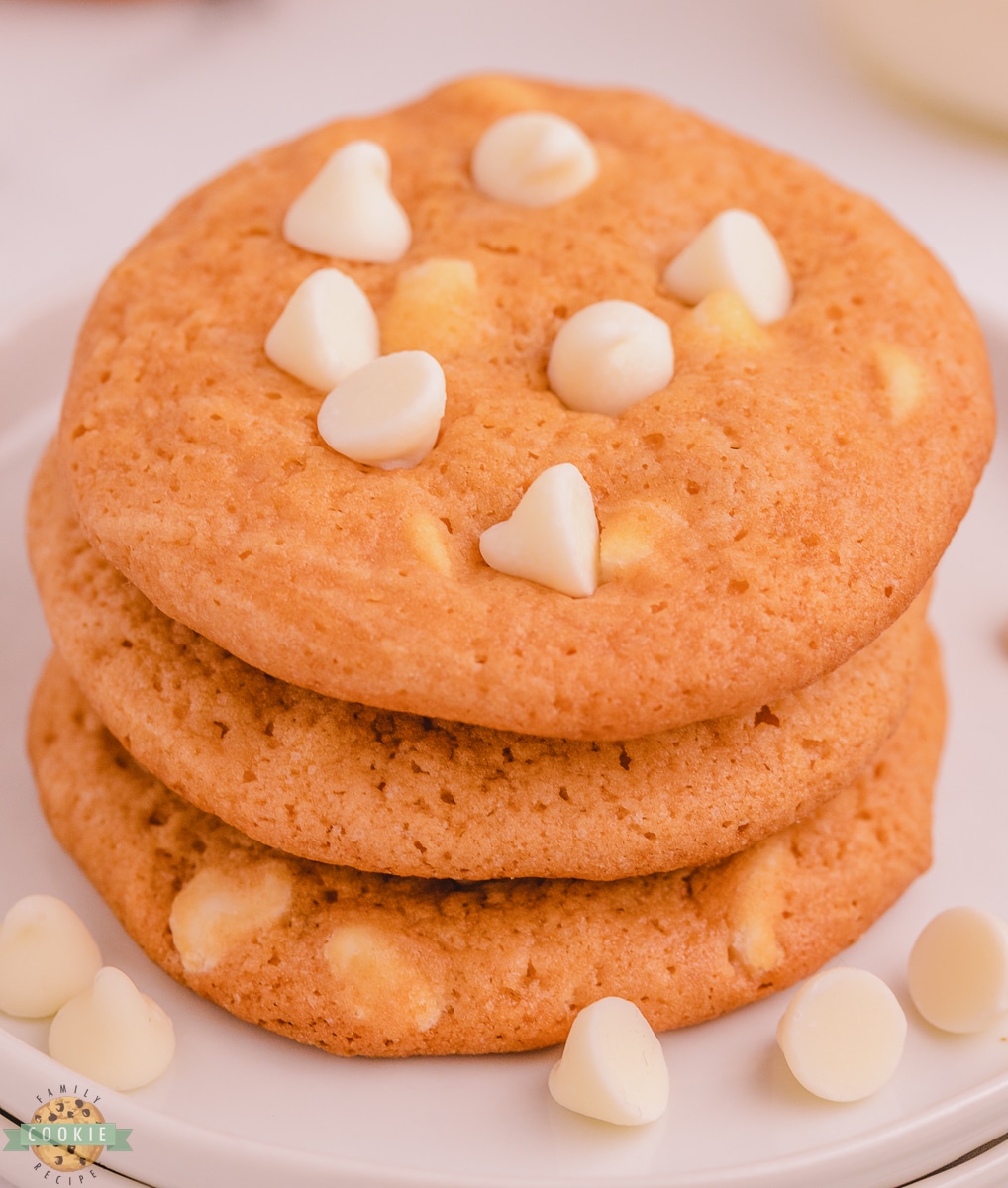 Making these cookies with butterscotch pudding is so easy, using basic ingredients in your kitchen and less than 30 minutes, you will have a tasty treat to enjoy! This butterscotch cookies recipe creates cookies that are a soft, sweet, with amazing flavor.
Chocolate Chip Butterscotch Cookies
Butterscotch pudding cookies are a lovely treat with great butterscotch flavor. The flavor comes from the white chocolate chips as well as the box of instant butterscotch pudding mix. These cookies are super simple to make and are always a huge hit with my family and friends. I used white chocolate chips but I think you could also use semi sweet chocolate chips or even butterscotch chips would taste absolutely amazing! Feel free to get creative and enjoy this butterscotch pudding cookie recipe!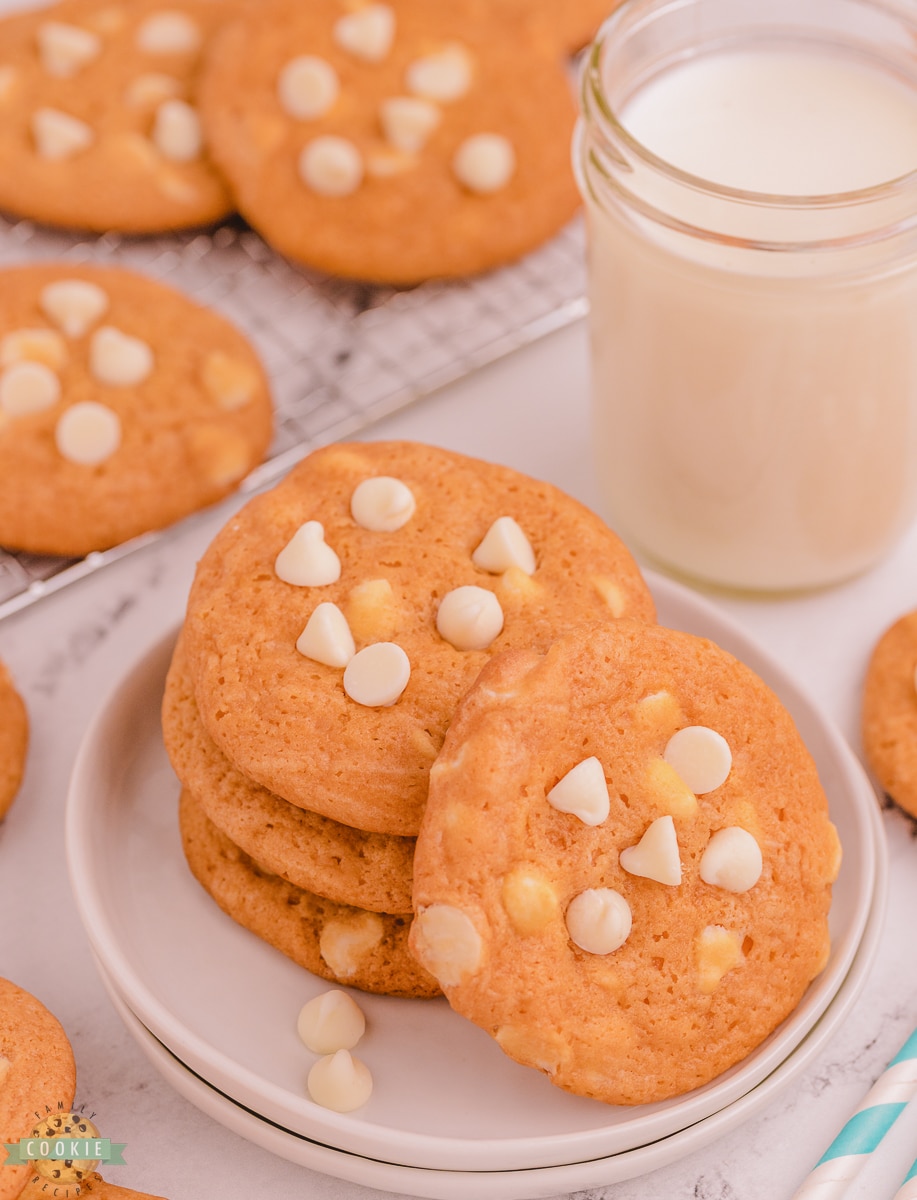 Tips for making the BEST cookies every time!
Three kitchen items make these cookies come together really fast. I actually use these items in nearly every cookie recipe I make, so they're quite versatile. First, I line my cookie sheets with a piece of parchment paper. They're sold in sizes that fit a 12×16 cookie sheet perfectly and enable to cookies to bake well without sticking- and no mess from spraying oil on the cookie sheets!
The second item is a KitchenAid mixer. I love mine! I have a Bosch as well but I find I use my KitchenAid for cookies. There is a cookie paddle that comes with every mixer that you attach to the top of the mixer. They're easy to use and help you mix the ingredients uniformly. I also use the metal whisk attachment in this recipe to make the frosting. It whips it up super fast! Add this to your wish list because it's one of my all-time used small appliances ever!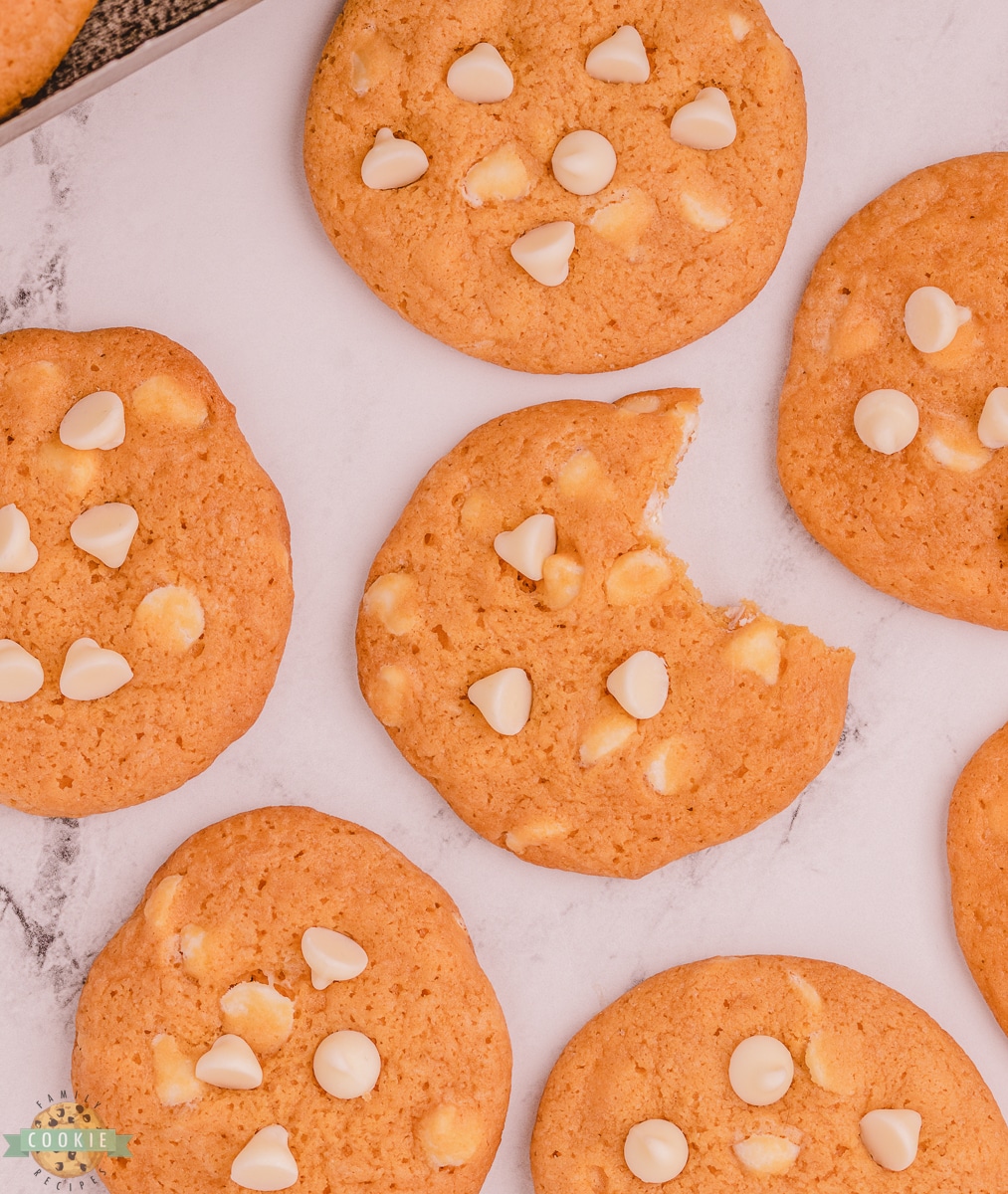 The third item is a cookie scoop! Years and years ago I used to use 2 spoons to measure and scrape cookie dough onto the pans. It wasn't a perfect process and I often ended up with oblong cookies in various sizes. A friend of mine brought cookies to a party and I noticed each and every one of her cookies looked PERFECT. Her secret? A cookie scoop! They come in three sizes- 1/2 tablespoon, 1.5 tablespoon and 3 tablespoon scoops. I used the middle size- 1.5 tablespoon for these, and most other cookies. (Although when I'm serving a large crowd, I use the small cookie scoop. People love having a smaller cookie, especially at an event with several other desserts. For this Banana Cookie recipe, I used the middle scoop.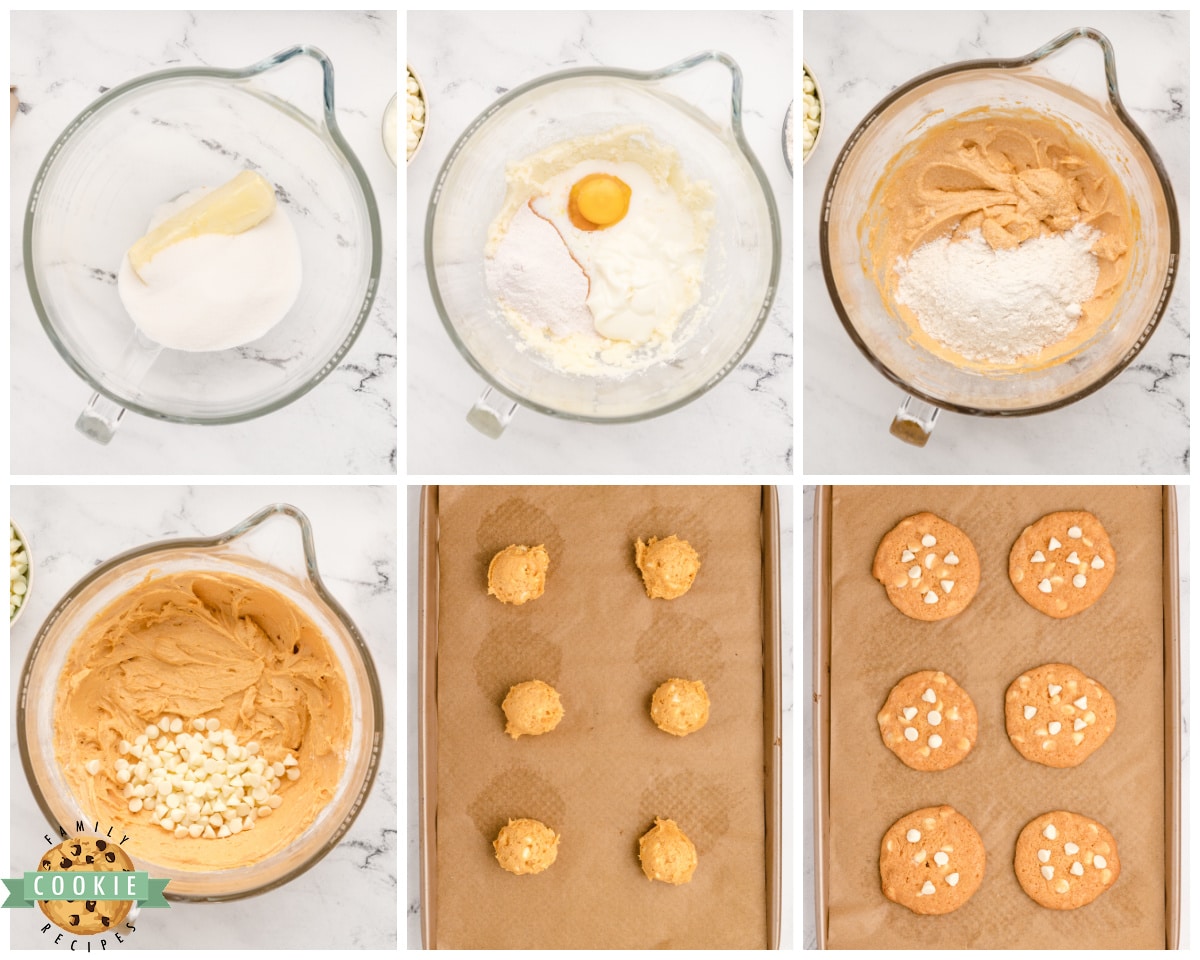 Butterscotch Pudding Cookie Ingredients
Sugar: You will need 1 cup of sugar to create a nice crisp sweet cookie.
Butter: Adding in 1/2 cup of softened butter will help make these nice and rich in taste.
Egg: Use 1 egg to give the cookies great texture and flavor.
Vanilla yogurt: For amazing consistency, add in 1/2 cup of vanilla yogurt.
Milk: You need 2 tablespoons of milk for this recipe.
Pudding mix: The extra special ingredient in this recipe is (1) 3.4-ounce box of butterscotch pudding mix.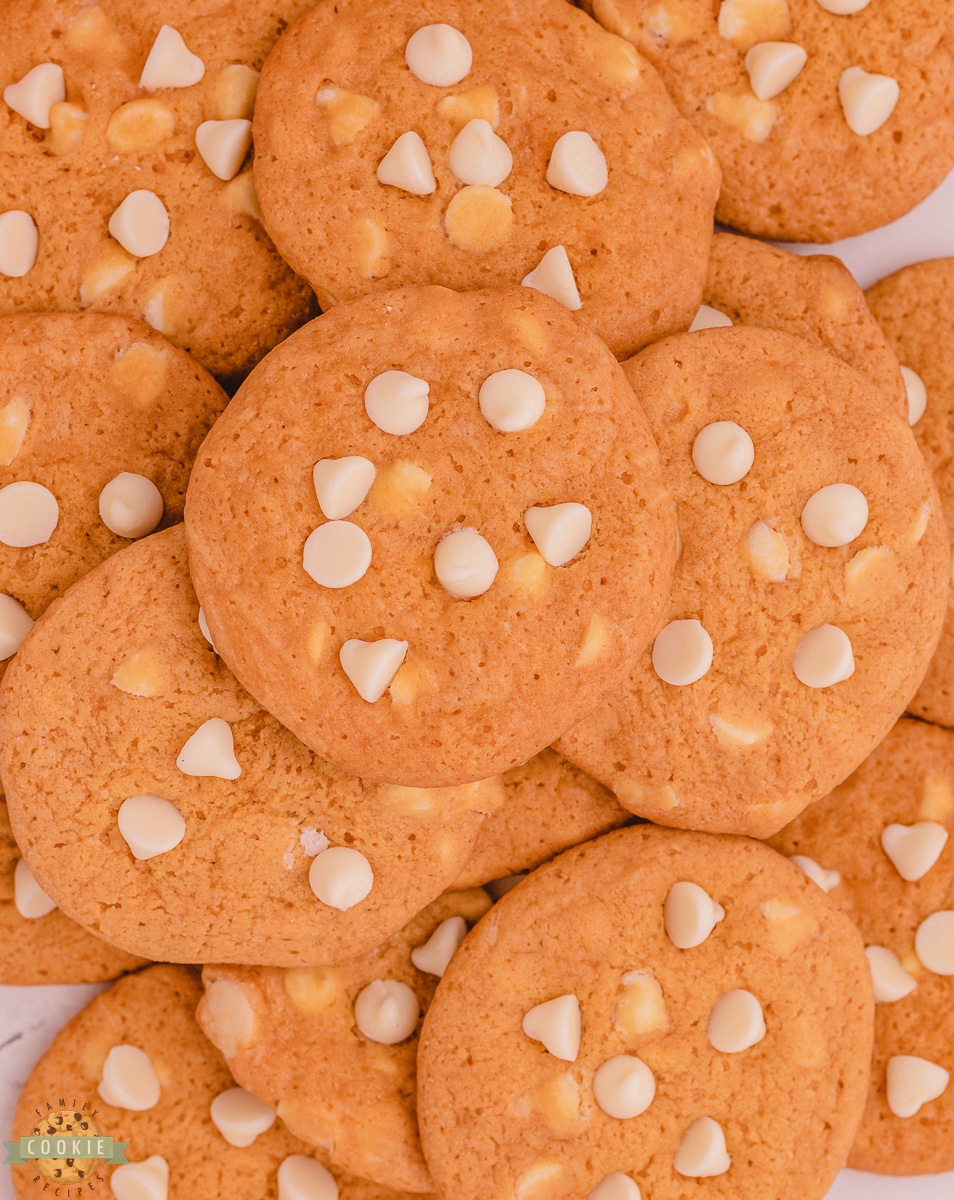 Salt: To enhance all the wonderful flavors, use 1/2 teaspoon of salt.
Baking soda: You will want to add in 1/2 teaspoon of baking soda to help these cookies rise as they bake.
Flour: The base of this cookie recipe and to provide structure, add in 2 cups of flour.
Chocolate chips: For more amazing flavor, use (1) 12-ounce bag of white chocolate chips (or butterscotch, if you really want to amp up the flavor!)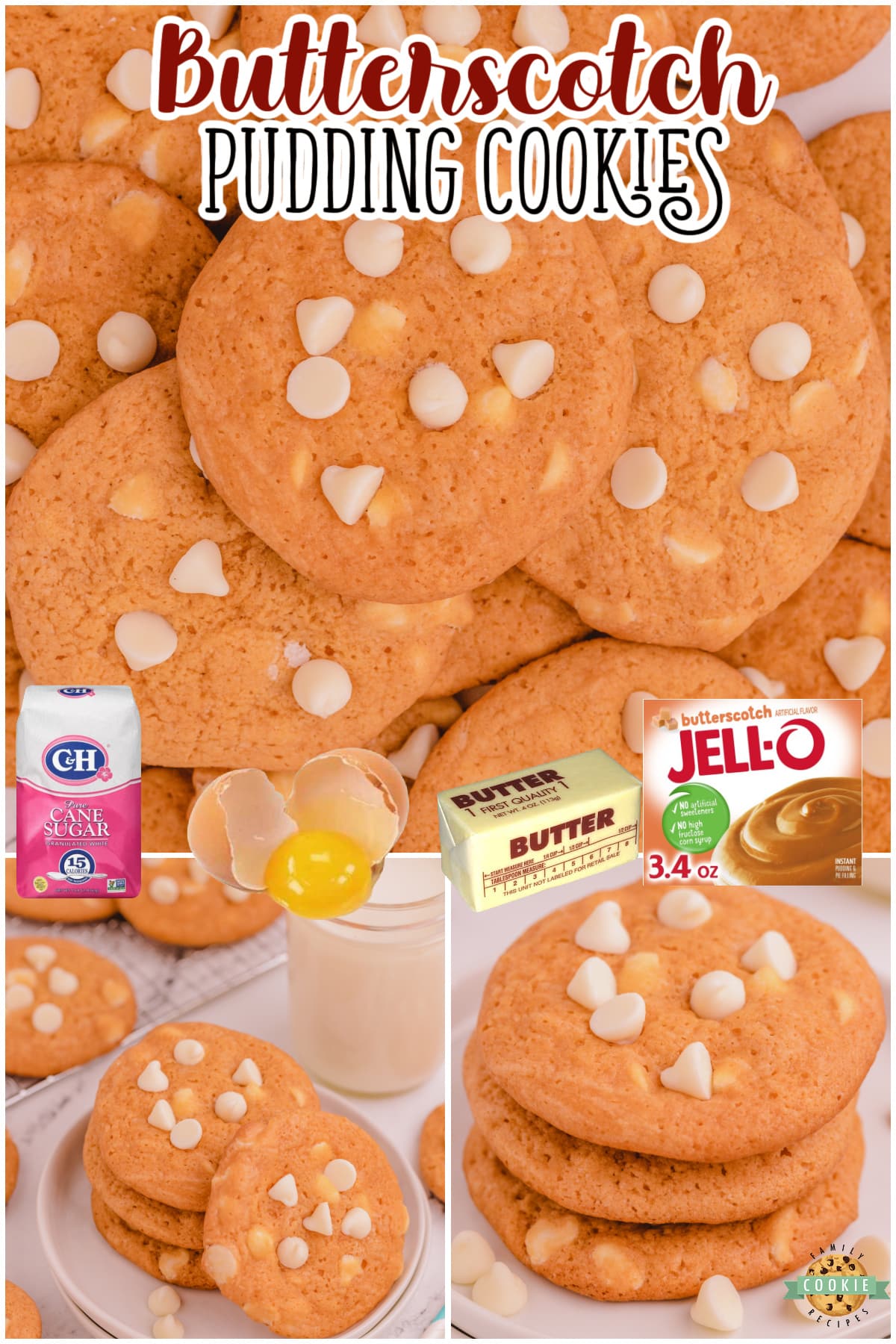 How to make Butterscotch Pudding Cookies
Prep
Begin by preheating the oven to 375°F. The, line two baking sheets with parchment paper or a silicon mat and set them aside.
Cookie dough
Next, in a large bowl, cream together the sugar and softened butter. After that, add in the egg, vanilla yogurt, milk and dry pudding mix. Stir well to combine.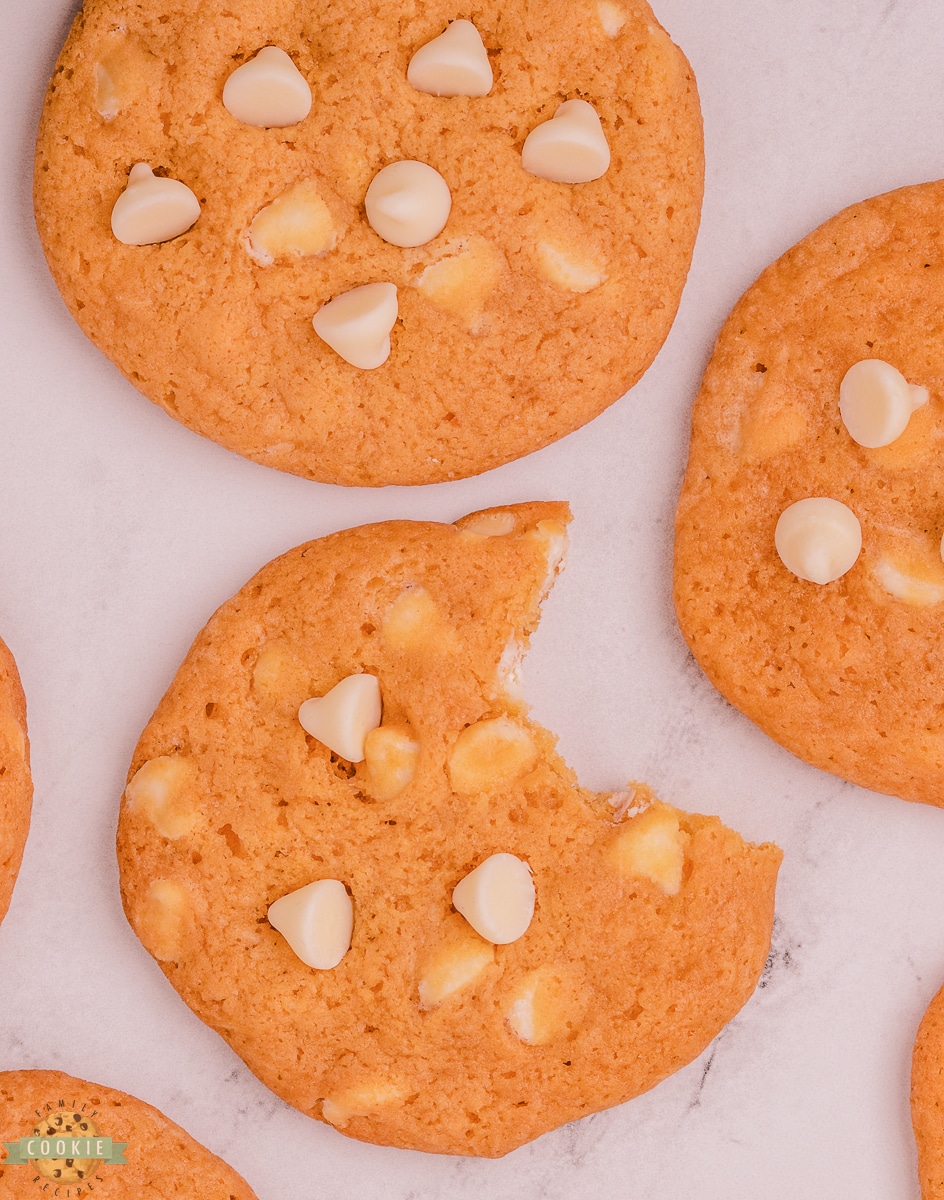 Then, add the flour, salt and baking soda to the mixture, stir until smooth. Proceed to fold in the white chocolate chips.
Bake
Continue to drop the cookie dough by the rounded tablespoonfuls onto the prepared cookie sheets.
Place them in the preheated oven and bake for 10 minutes. Let them cool on the baking sheet for about 5 minutes, then transfer the cookies to a cooling rack to cool completely.
Serve immediately and enjoy!
How long do chocolate chip pudding cookies last?
When stored in an airtight container, at room temperature, these cookies can last about 3-5 days and still taste great.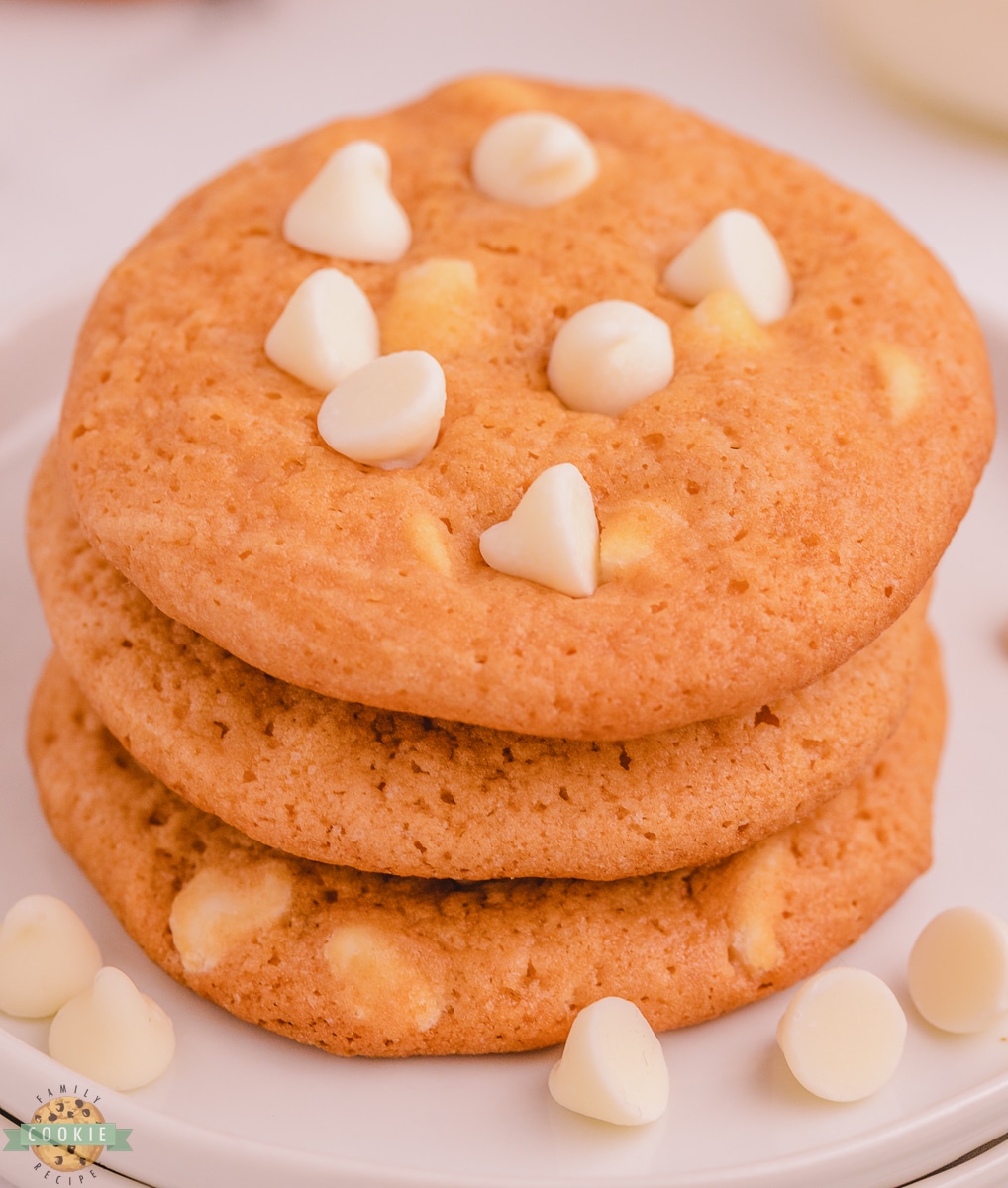 Can I add other ingredients to this cookie recipe?
If desired, adding in some chopped walnuts or pecans would taste great. If you wanted to make them pretty to match a party theme, add some fun and festive sprinkles to the dough before cooking and it will add a pop of color.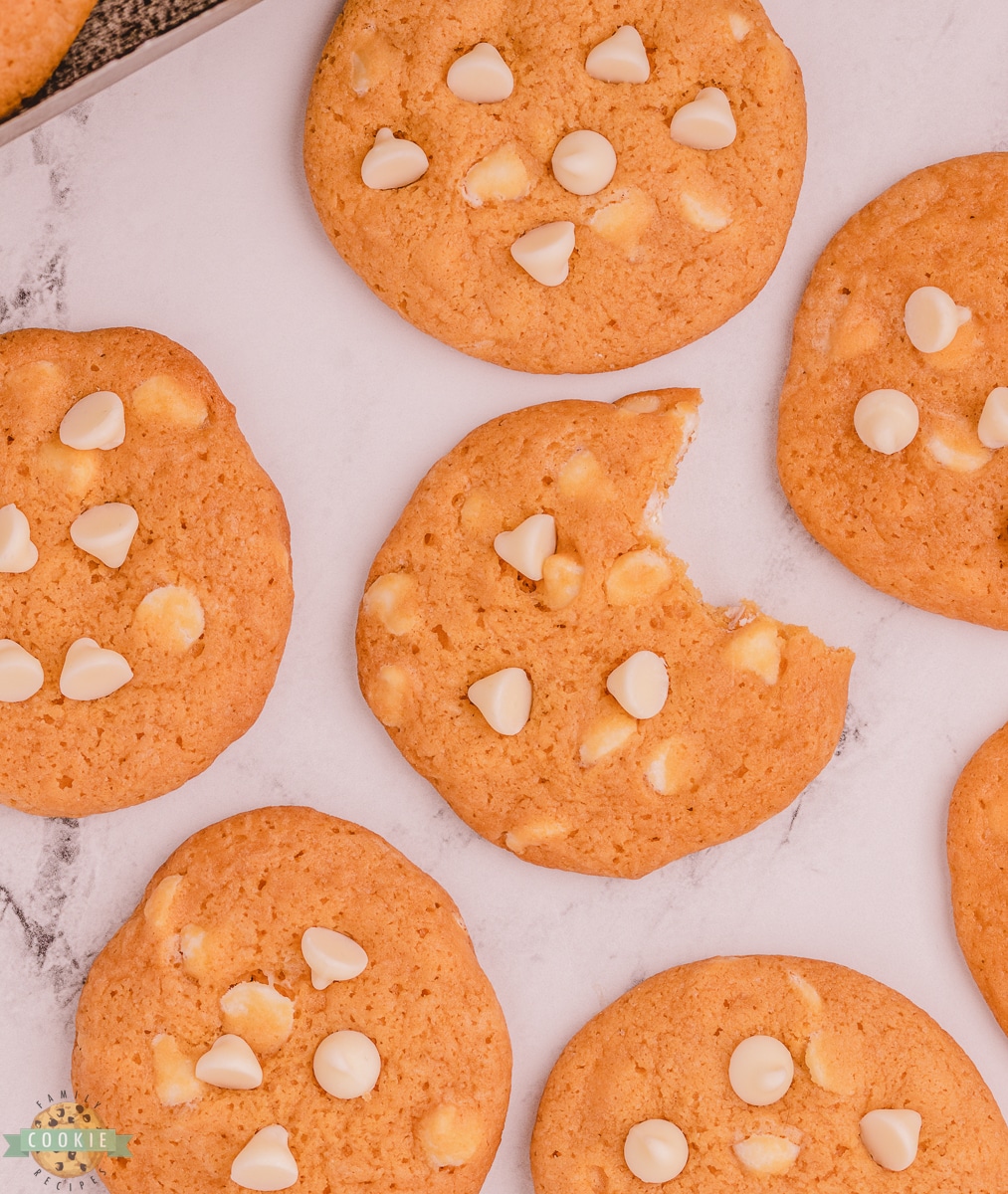 How do you soften butter to room temperature?
The best way to soften butter is to set it out for a few hours before you make your cookies. Since most of us (or maybe just me!) aren't that prepared or don't think that far in advance, there are a few tricks to softening butter perfectly in just a matter of minutes. My favorite way to soften butter is in the microwave. It's definitely fast, but you do have to be very careful not to melt it. Just put the whole stick of butter in the microwave (as long as it isn't wrapped in foil!) and microwave for about 6-7 seconds. If the butter is still really cold, try another 5-7 seconds and check it again. You may need a few intervals, and if the butter is starting to feel soft, you can shorten the final interval to just a few seconds to make sure it doesn't start melting.
I actually prefer to use the defrost setting on my microwave – I don't know exactly what that mode does differently, and it takes a little bit longer (closer to 30 seconds), but it seems to be easier to get the butter to soften without melting.


This happens often when walking two crazy pups!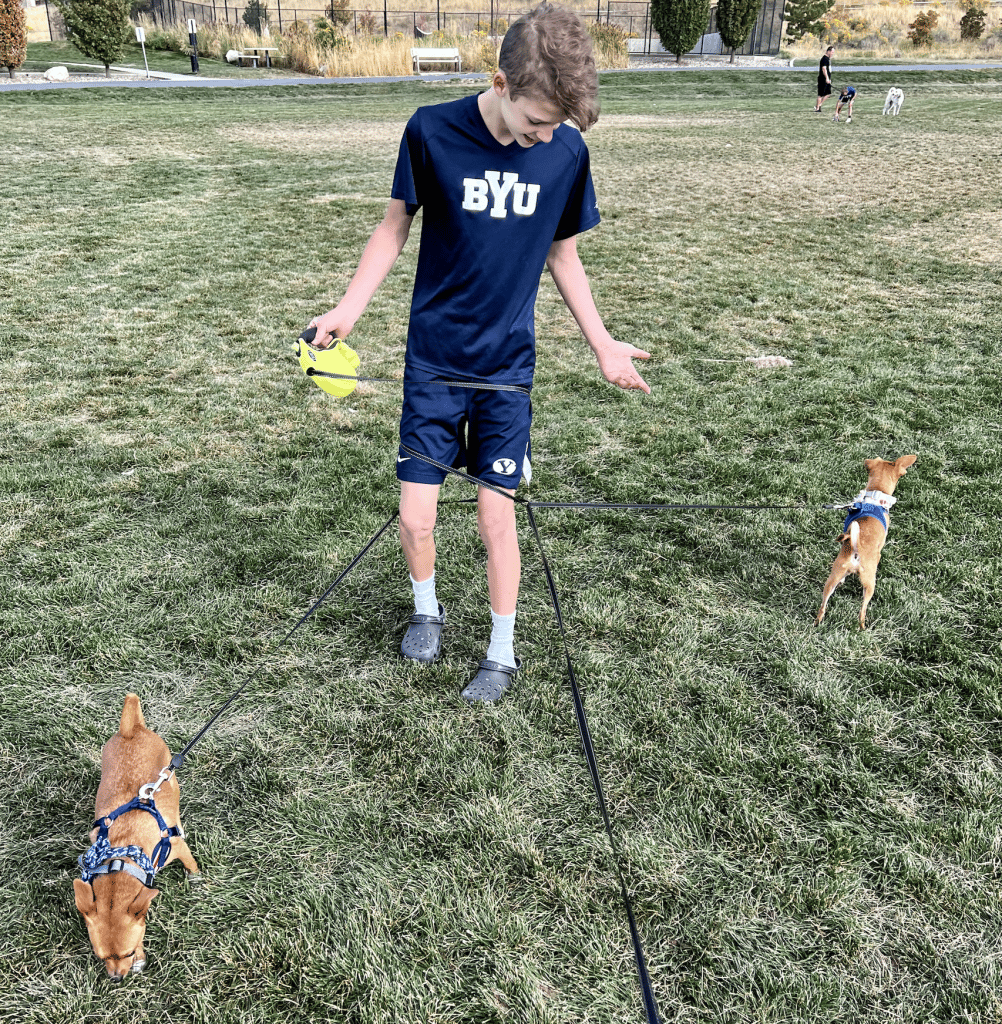 Try more amazing pudding cookie recipes here!
Butterscotch Pudding Cookies are a wonderfully soft and delicious treat. This white chocolate chip cookie recipe is easy to make and the addition of the pudding gives these cookies the best texture and taste.