Mini Chocolate Chip Cookies are teeny tiny cookies about the size of a quarter! Soft, chewy, snack size chocolate cookies that are perfect for parties.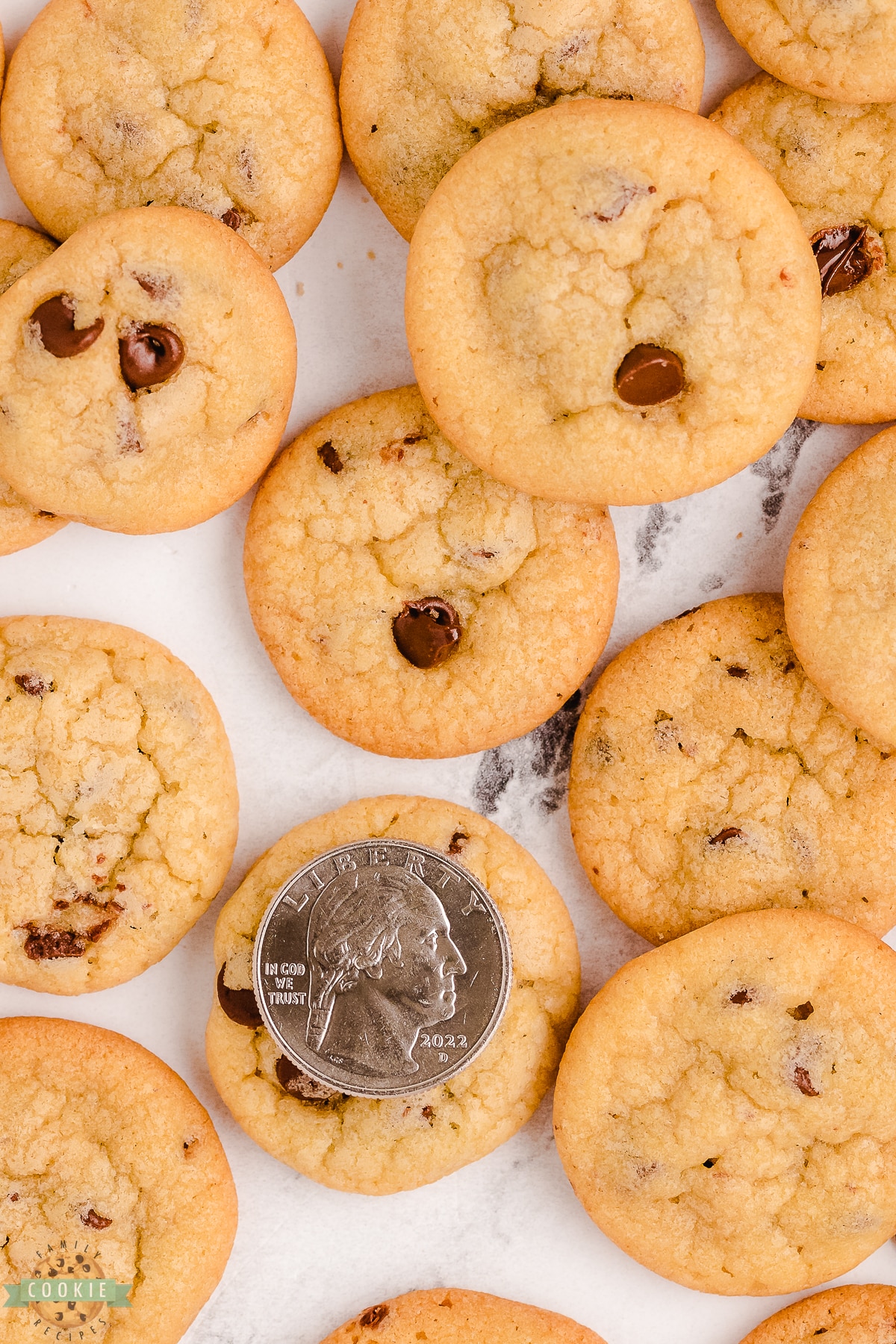 This is the perfect chocolate chip cookie recipe that you've been looking for all your life! Make these mini cookies for your next family gathering, everyone will enjoy these tasty little treats!
Snack Size Chocolate Chip Cookies
Mini Chocolate Chip Cookies are so fun to make and eat. I've had the idea for these cookies for months now and I finally got around to recipe testing and baking. I'm so happy to report, they turned out amazing! And they were so much easier to make than I thought they'd be. I worried it'd take forever to roll 85 teeny tiny cookies, but I recruited a couple of my kids to help and we were done in 15 minutes. So grab some helpers and save this recipe. Everyone loved the pop-able nature of them too, they are perfect for parties or casual get togethers.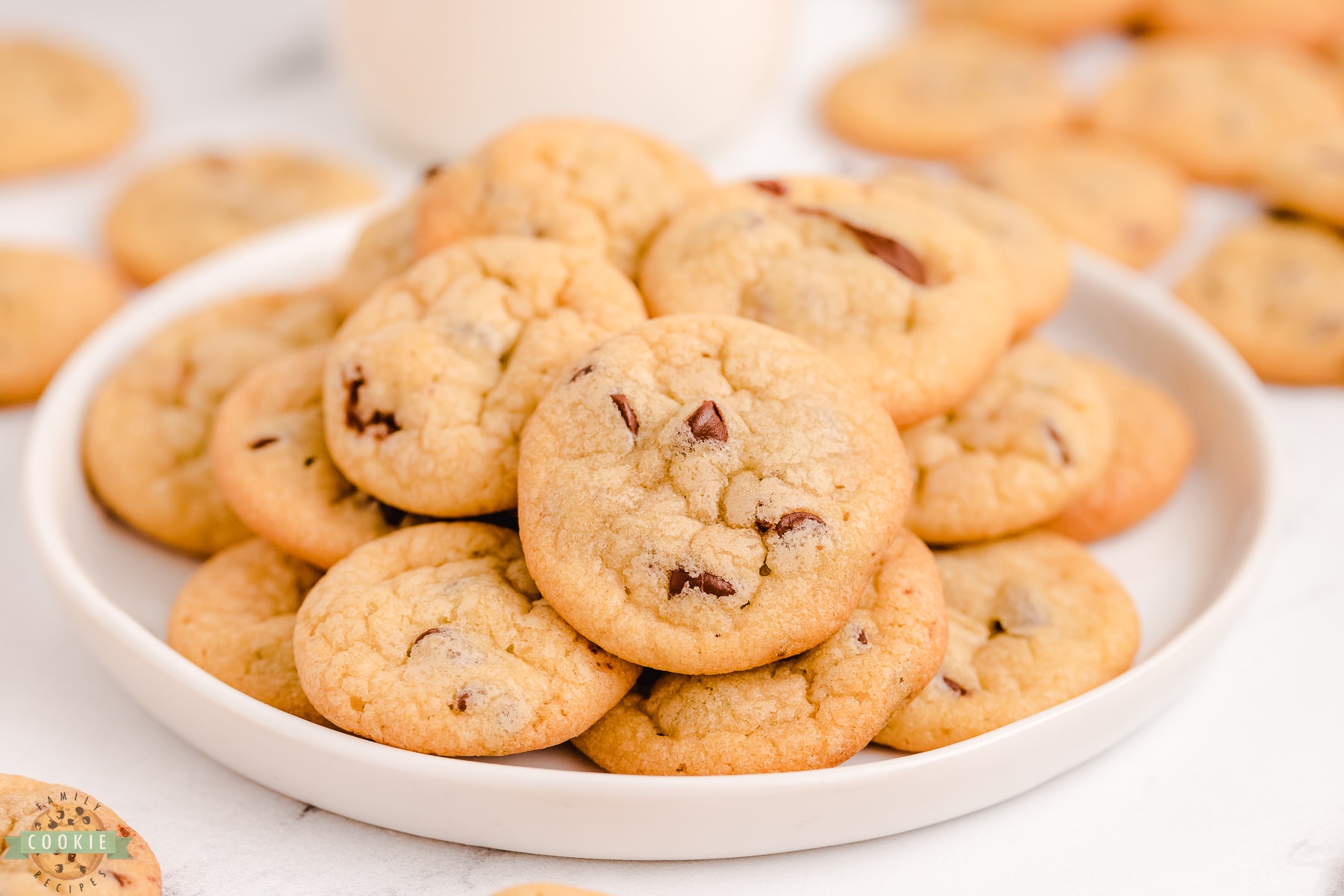 3 Tips to get the PERFECT Mini Chocolate Chip Cookies:
Three kitchen items make these cookies come together really fast. I actually use these items in nearly every cookie recipe I make, so they're quite versatile.
First, I line my cookie sheets with a piece of parchment paper. They're sold in sizes that fit a 12×16 cookie sheet perfectly and enable to cookies to bake well without sticking- and no mess from spraying oil on the cookie sheets!
The second item is a KitchenAid mixer. I love mine! I have a Bosch as well but I find I use my KitchenAid for cookies. There is a cookie paddle that comes with every mixer that you attach to the top of the mixer. They're easy to use and help you mix the ingredients uniformly.
The third item is a cookie scoop! Years and years ago I used to use 2 spoons to measure and scrape cookie dough onto the pans. It wasn't a perfect process and I often ended up with oblong cookies in various sizes. My solution? A cookie scoop! They come in three sizes- 1/2 tablespoon, 1.5 tablespoon and 3 tablespoon scoops. I used the small size- 1/2 tablespoon for these and I divided them into smaller pieces!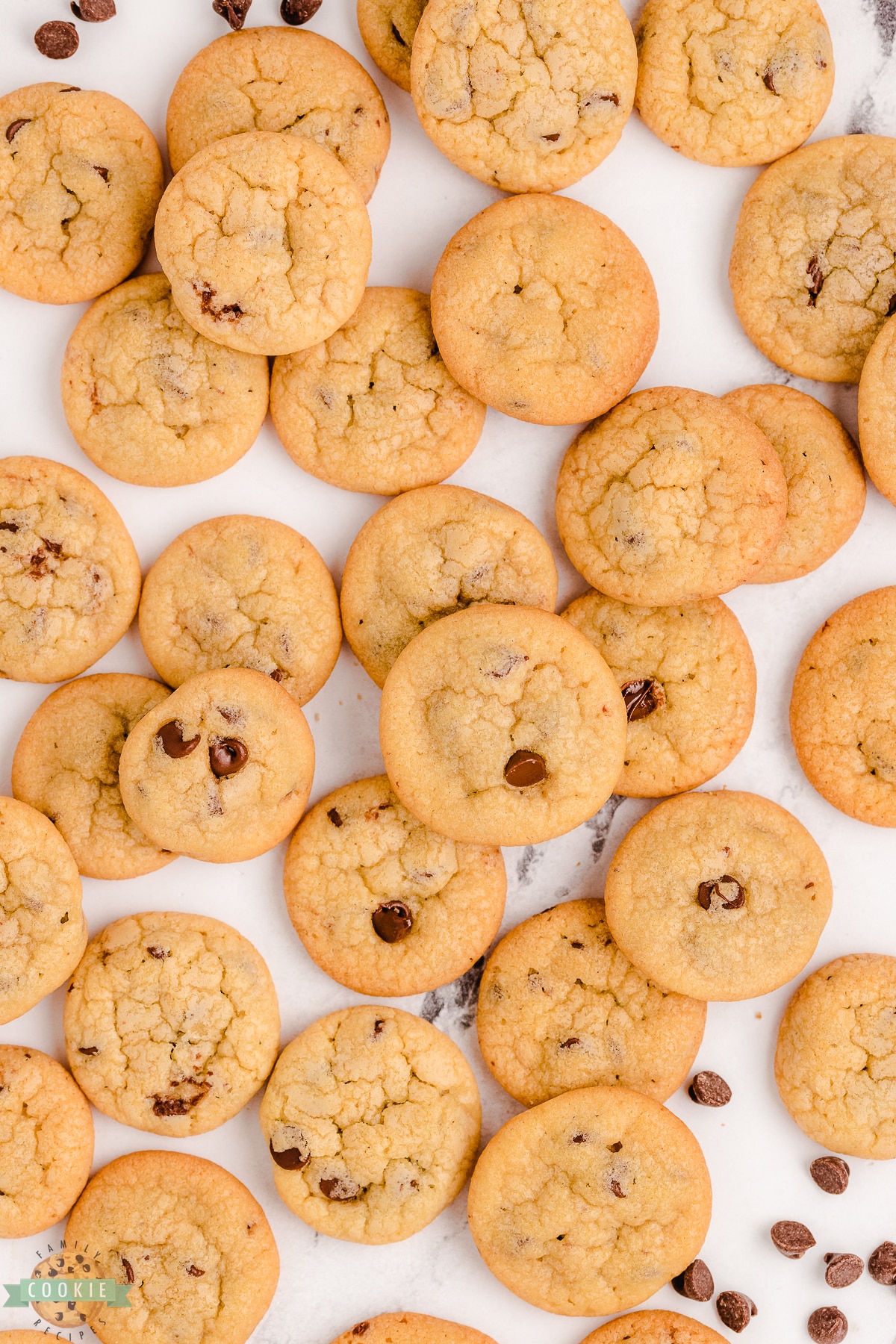 Mini Chocolate Chip Cookie Ingredients
Butter: You need ½ cup of butter, softened, to create wonderfully rich tasting cookies.
Shortening: Using ½ cup of butter flavored shortening will give these cookies more great flavor and moist texture too.
Brown sugar: Add in ¾ cup of brown sugar to give the cookies an amazing depth of flavor.
Sugar: To make these cookies sweet and chewy, use ¾ cup of granulated sugar.
Eggs: Use 2 eggs in this cookie dough to create a lovely cookie texture.
Flour: The base of this dough is 2 ½ cups of flour.
Baking soda: To help the cookies rise as they bake, add in 2 tsp of baking soda.
Baking powder: The second leavening agent in this recipe is ½ tsp of baking powder.
Salt: Balance all the flavors in this recipe by adding in 1 tsp of salt.
Chocolate chip cookies: For sweet chunks in every bite, add in 1 ¼ cup of mini chocolate chips.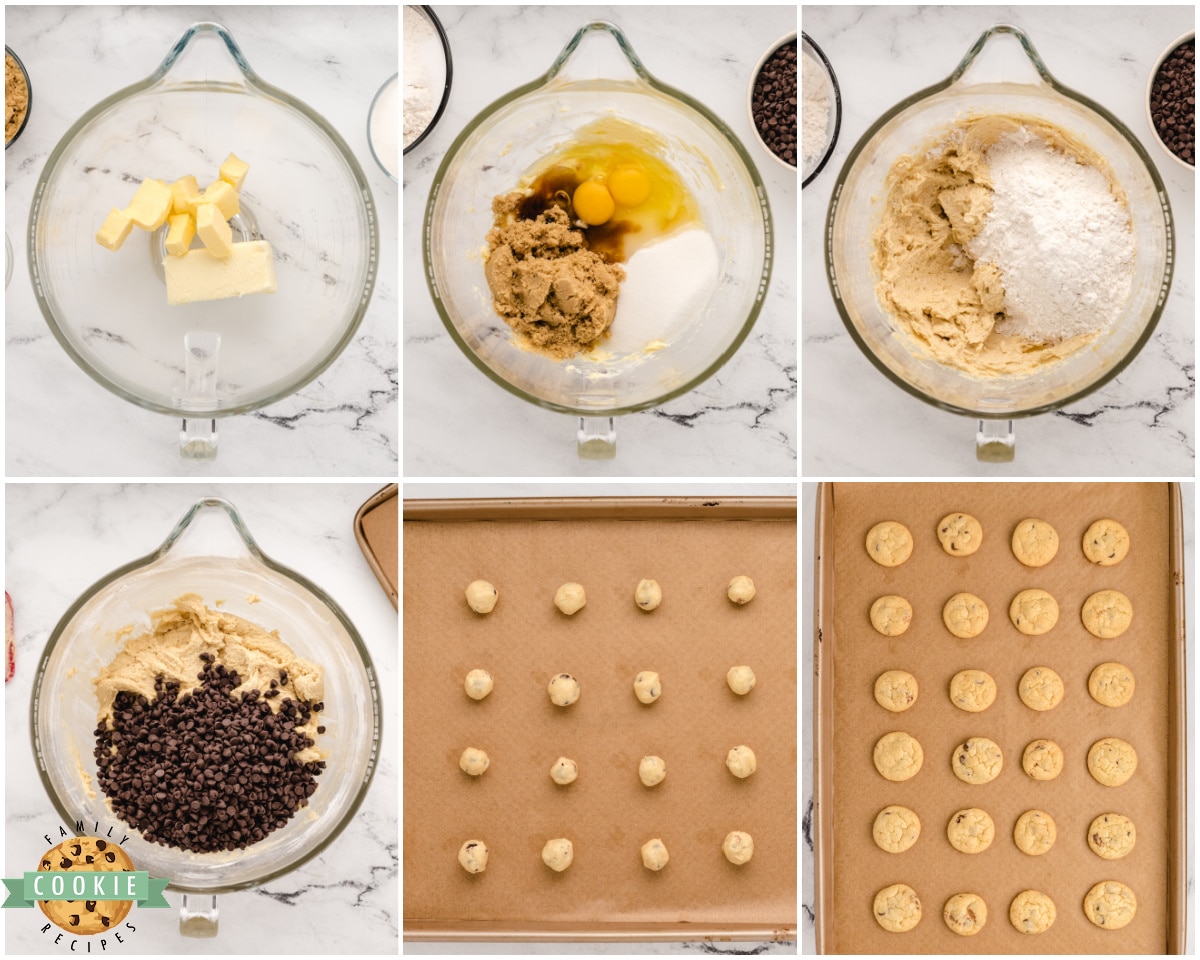 How to make Mini Chocolate Chip Cookies
Prep
Get started by preheating the oven to 325 degrees. Then, line a cookie sheet with parchment paper (I use these parchment sheets– love them!) or a silicon mat, set aside.
Dough
Next, using an electric mixer, cream together the butter and shortening. After that, add in the white and brown sugar and eggs, mix once more. Now, add in ½ the flour, the baking soda, baking powder and salt, mix well. Proceed to add in the remaining flour and mix until combined. Then stir in the chocolate chips.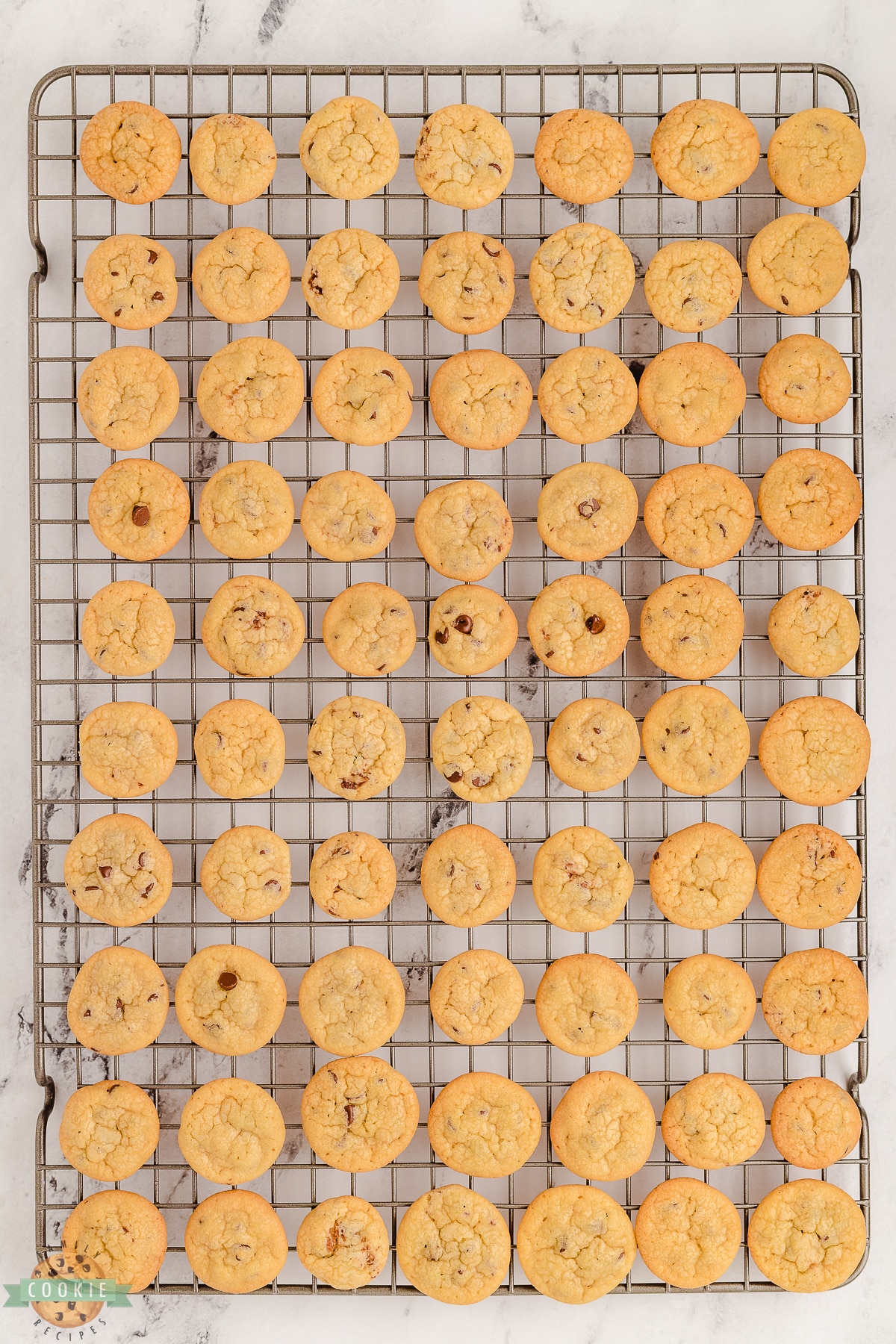 Roll dough
Making the tiny cookies: I tested out sizes and to make the mini cookies like the ones in my photos, you need only ½ teaspoon of dough for each cookie. Yep- just that small amount! There are 2 ways I found you can easily do this: The first is to spray a 1 tsp measuring spoon with non-stick spray and scoop out dough, then divide it in half. This actually works pretty well, you'll just have to re-spray the spoon after 4 or 5 scoops. The second way is to scoop out dough using a regular 1.5 TBSP cookie scoop, I use this cookie scoop here. Then divide that scoop of dough in half, then divide those 2 halves in half (so now you have 4 mounds of dough). Now divide all those dough mounds in half- you'll end up with 8 pieces of dough.
This recipe yields about 85-90 mini cookies, when you use ½ tsp of dough. I highly suggest having a family or friend help with the dough rolling process. It will speed things up greatly!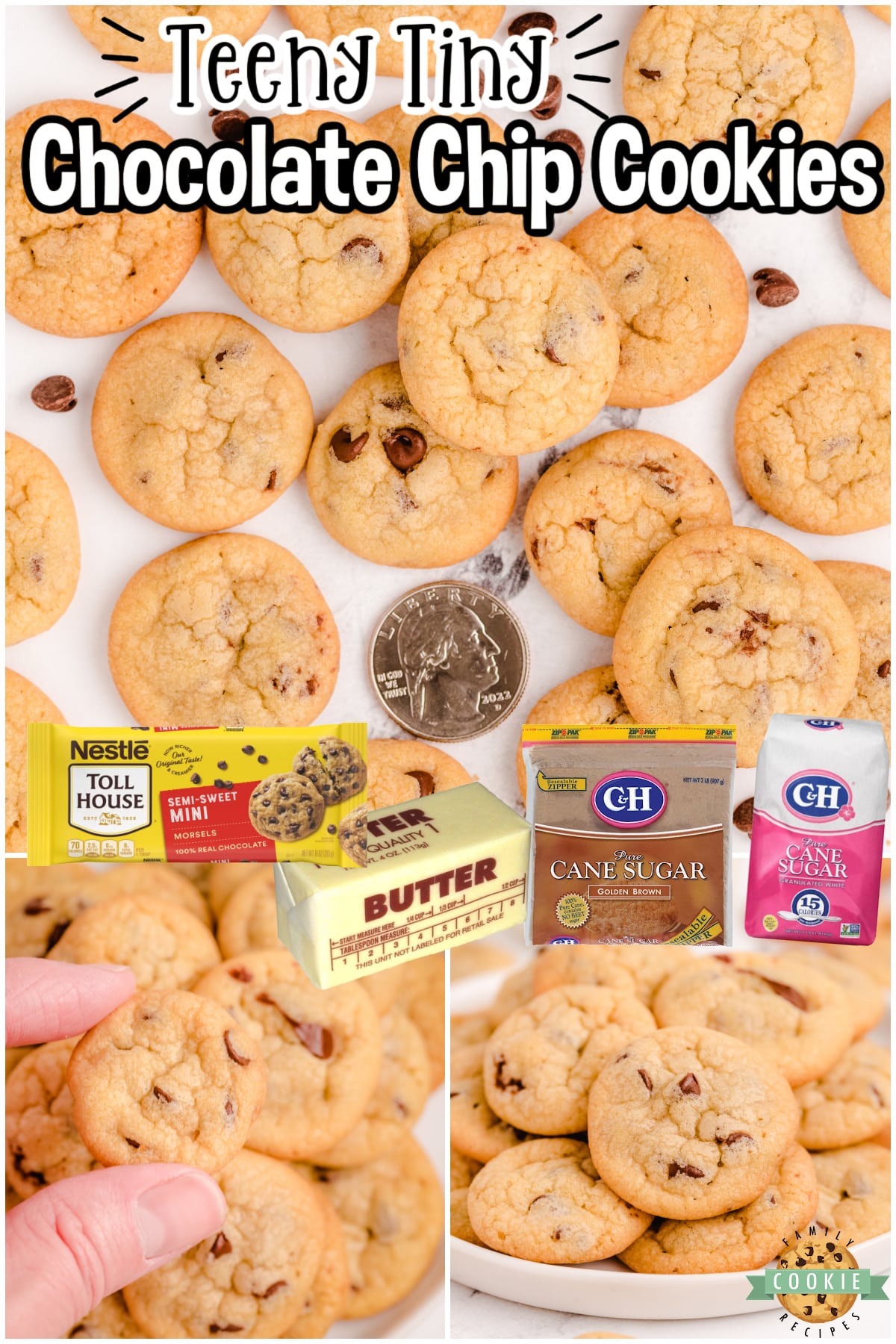 Bake
Once all the dough has been rolled, place them on the prepared baking sheets and bake for 6-8 minutes.
Let the cookies cool on the baking sheet for 3-4 minutes, then transfer to a cooling rack to cool completely.
Serve and enjoy these snack sized treats!
How long are these cookies good for?
These cookies can be kept stored in an airtight container for up to 3-5 days. To keep the cookies nice and chewy I recommend keeping them stored in the fridge.
How Long to Let Cookies Cool
Cookies are best left to cool on the baking sheet they're cooked on for 3-4 minutes, then you can transfer them to a cooling rack to cool further. This way, they don't fall apart as cookies are pretty soft still when they're pulled out of the oven. After a couple minutes on a cooling rack, cooking are usually cool enough to eat! Warm cookies are the best!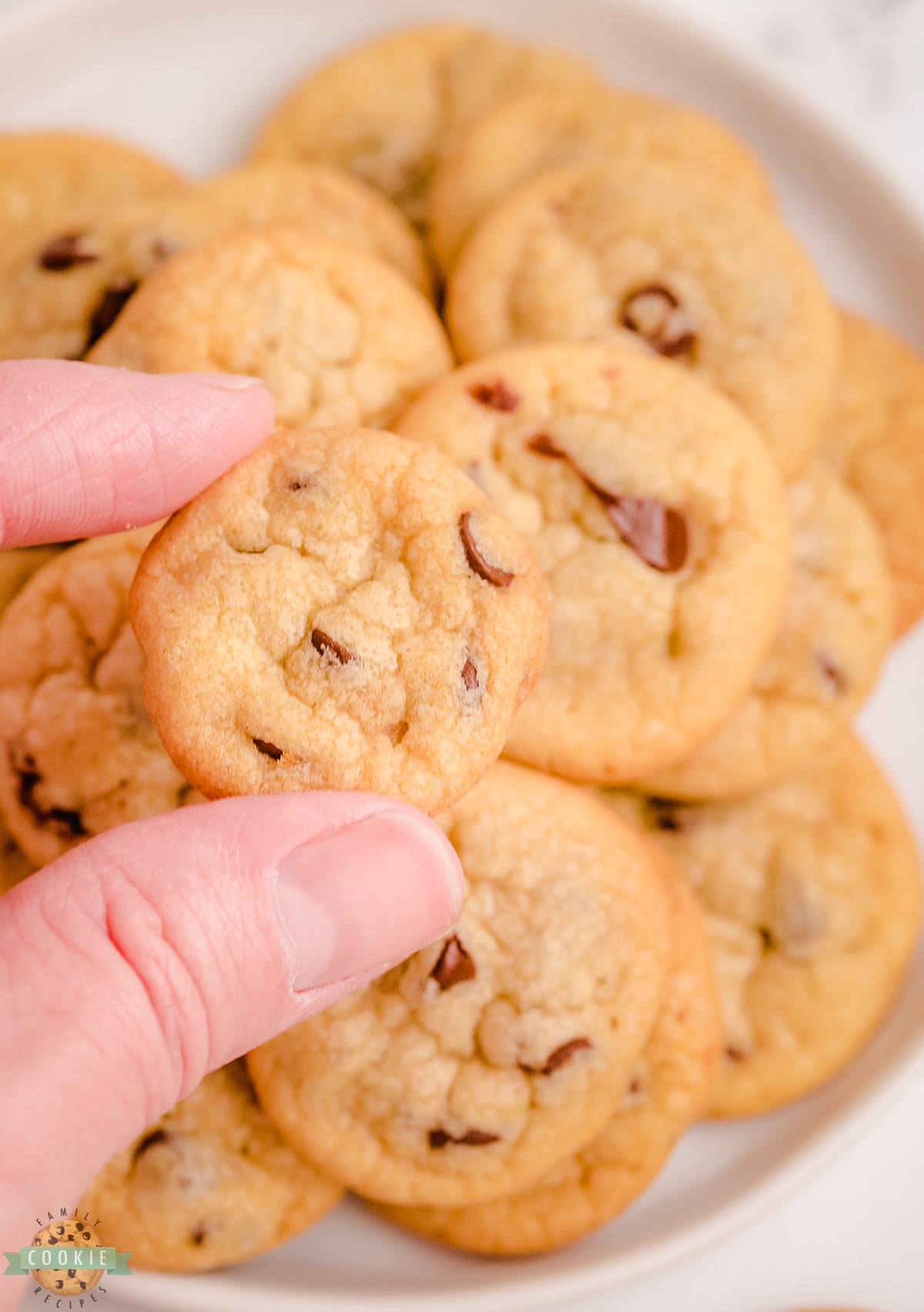 Try a few of our other tasty chocolate chip cookie recipes: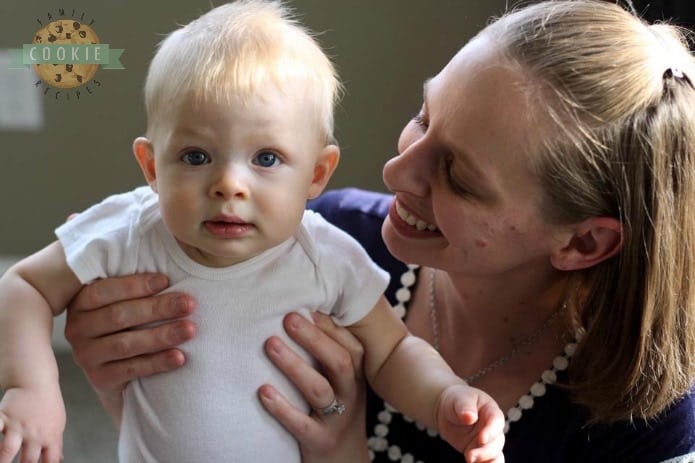 Flashback to when my baby A was, well, a baby! He's BIG now. Not GIGANTIC like my teenager, but still much bigger than he should be for his age. I love the wispy white hair he had as a little one. They grow up too fast!
Mini Chocolate Chip Cookies are snack size treats that taste incredible and are so fun to eat too! These chewy chocolate cookies that are great for family gatherings or parties.