Simple 4 ingredient recipe for Vegan Chocolate Chip Cookies that's made with bananas, oats, peanut butter & chocolate chips! Healthy no bake cookies that you can feel good about eating!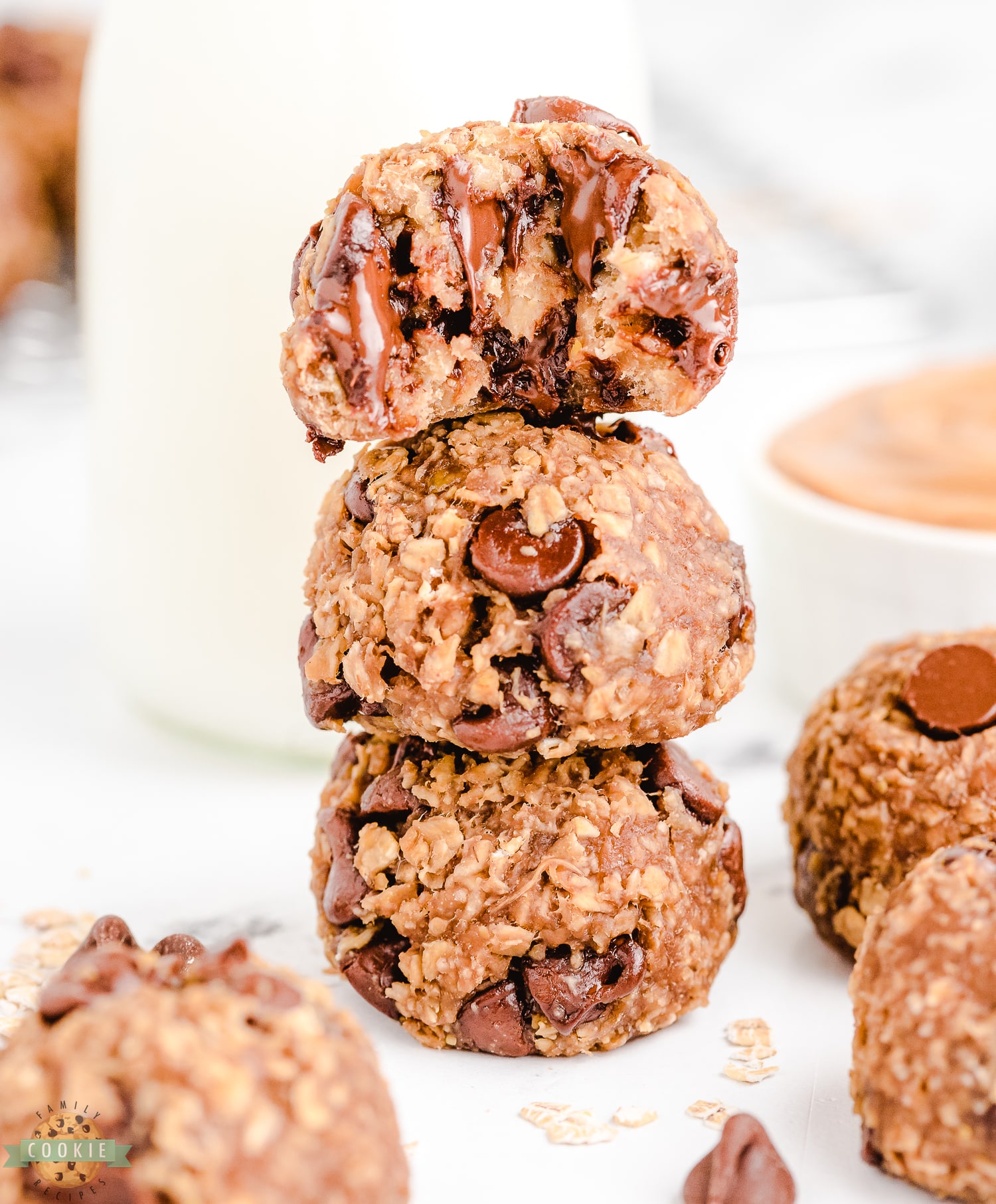 Make this Vegan Chocolate Chip Cookies recipe for a quick and healthy treat that comes together fast! These vegan gluten free cookies can be baked or eaten raw; they are absolutely delectable both ways.
Vegan No-Bake Chocolate Chip Cookies
It is not hard to believe how quick and easy these vegan cookies are to make, with only 4 ingredients and less than 10 minutes, you will have delicious treats ready to eat. These cookies are a great way to use up ripe bananas! Also, you can eat the dough raw or bake for a gooey treat that is sure to hit the spot. Packed with chewy oats, chocolate pieces, and peanut butter, these vegan banana chocolate chip cookies are a perfect blend of salty and sweet.
While the cookie dough tastes great raw, there is a strong "ripe banana" flavor that some may prefer to tone down, baking will help with this. Once baked, the milk chocolate chips help add sweetness and holds the cookie together very well. Give these amazing cookies a try for a guilt free sweet treat!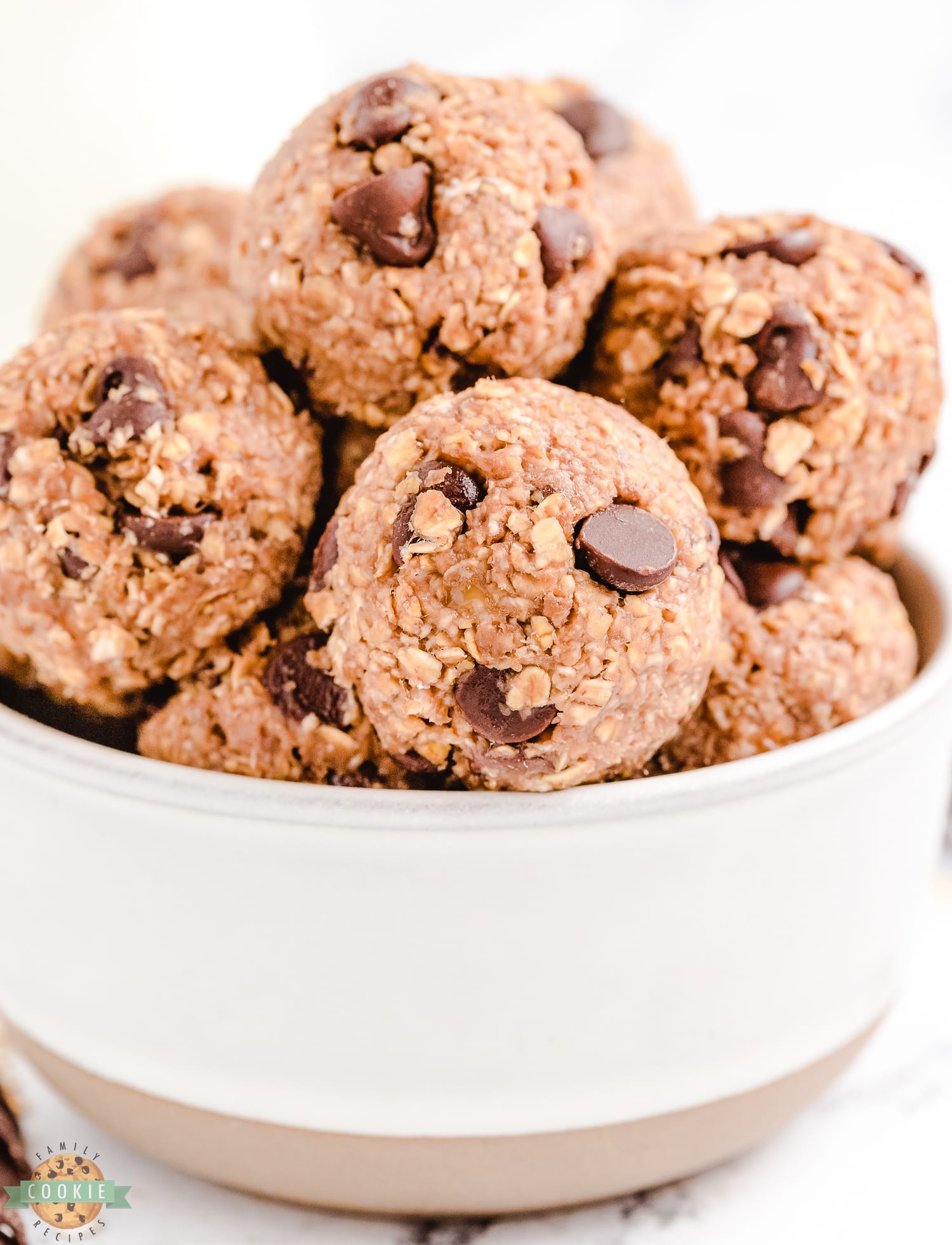 WHY YOU'LL LOVE THESE EASY VEGAN COOKIES
Basic ingredients. I love a great recipe that calls for very few and very simple ingredients. With only 4 ingredients and most of them being staple kitchen and pantry items, the chances are strong you can whip up this recipe fast.
Quick no-bake treat. This recipe is a great one to make when you want a quick treat but don't have a lot of time. And they are a great dessert for the warm spring and summer months too, you don't have to add any more heat to your house to make them.
Simple recipe. I know I am not the only one who loves a simple recipe that involves the least amount of effort as possible. With these no-bake cookies you can have a delicious and healthy treat with very little work.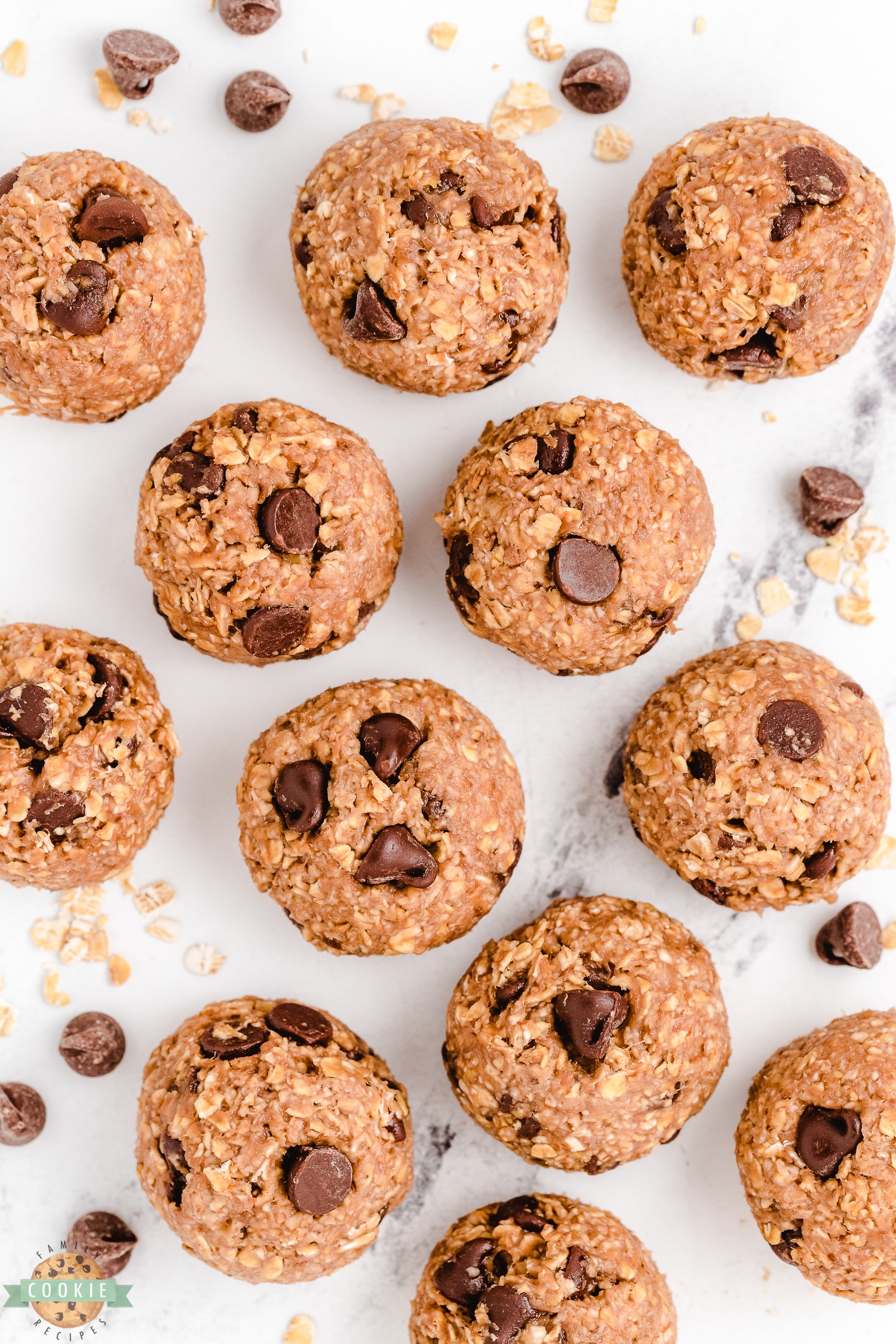 4-Ingredient Vegan Chocolate Chip Cookie Ingredients
Bananas: You will need 2 ripe bananas for the binding agent in these no-bake cookies.
Oats: Add in 1 cups of oats to create delicious chewy treats.
Chocolate chips: To add in wonderful flavor, use ½ cups of chocolate chips in this cookie recipe.
Peanut butter: To help bind all the ingredients together well, add in 1 heaping spoonful of natural peanut butter.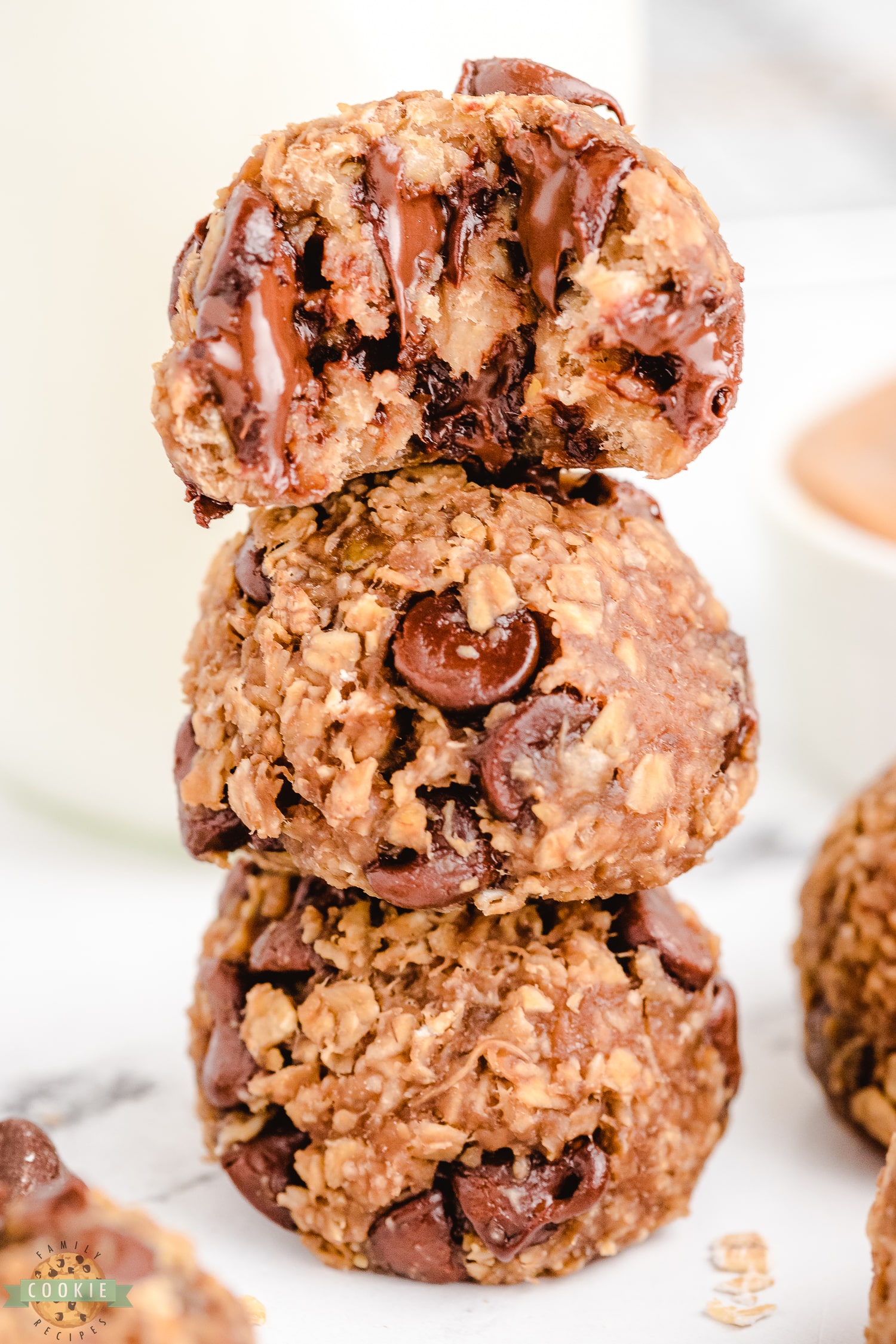 How to make Easy No-Bake Vegan Chocolate Chip Cookies
Prep
Start by lining a baking sheet with parchment paper or a silicon mat, set aside.
In a medium size bowl, mash the ripe bananas well using a fork or potato masher. Then, add in the oats and stir to combine.
After that, add in the peanut butter and stir again to combine well. Lastly, fold in the chocolate chips to distribute them well throughout the mixture.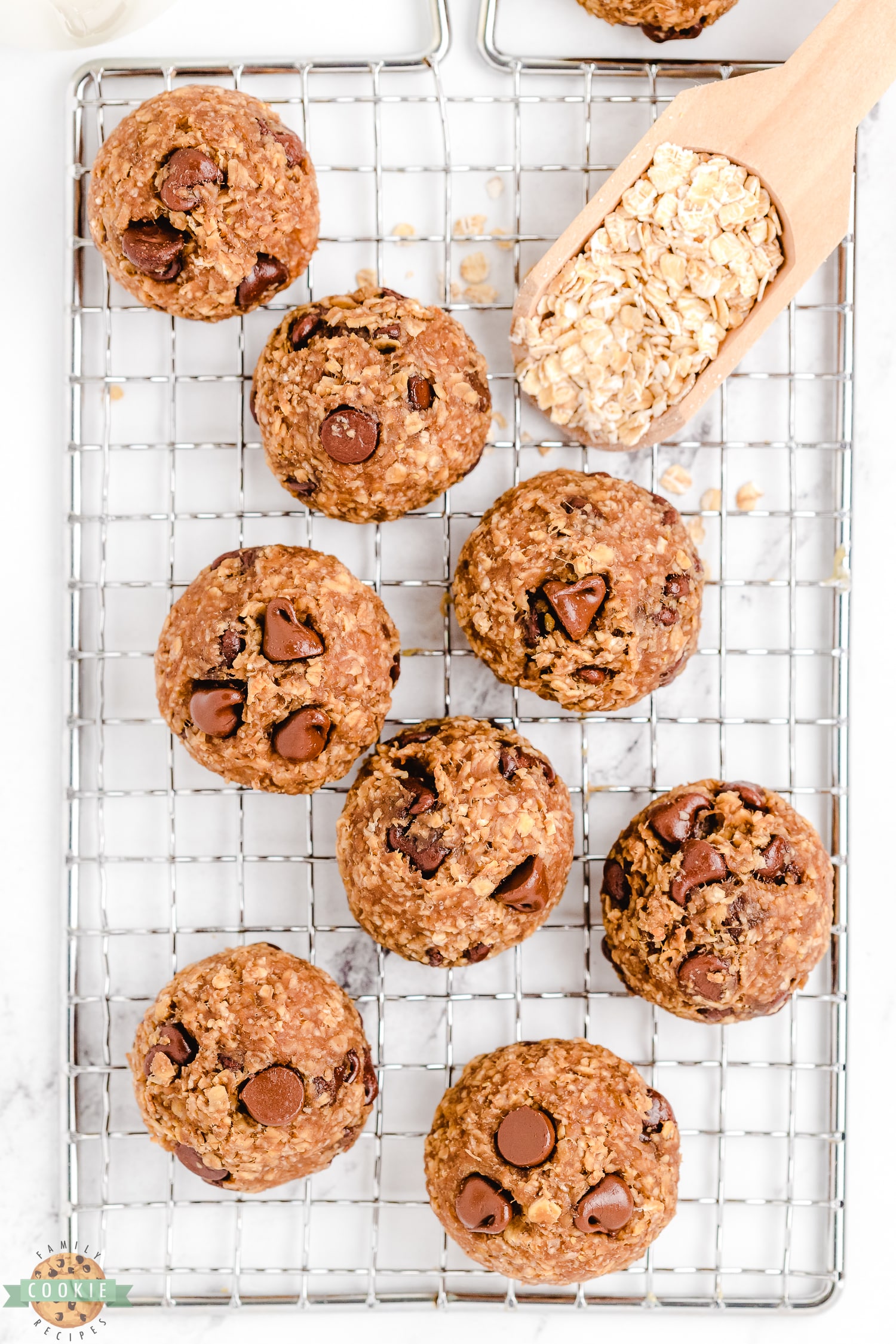 Assemble
Proceed to scoop the cookie dough by the rounded spoonful's onto the prepared baking sheet.
Chill (optional) 
If you are going to enjoy these cookies raw, I suggest putting them in the refrigerator to chill and set for 1-2 hours.
Bake (optional)
If you prefer to enjoy these cookies baked, get your oven preheated to 350 degrees F and then bake them for 15 minutes. Let them cool on the baking sheet for about 10 minutes. Serve and enjoy!
CAN THIS RECIPE ALSO BE GLUTEN FREE?
This recipe is vegan free but if you are trying to make it gluten allergy friendly then make sure to use oats that are certified as gluten free. Some oats are grown on fields where wheat is also grown and can lead to cross contamination, so certified oats are a much safer choice when it comes to allergies.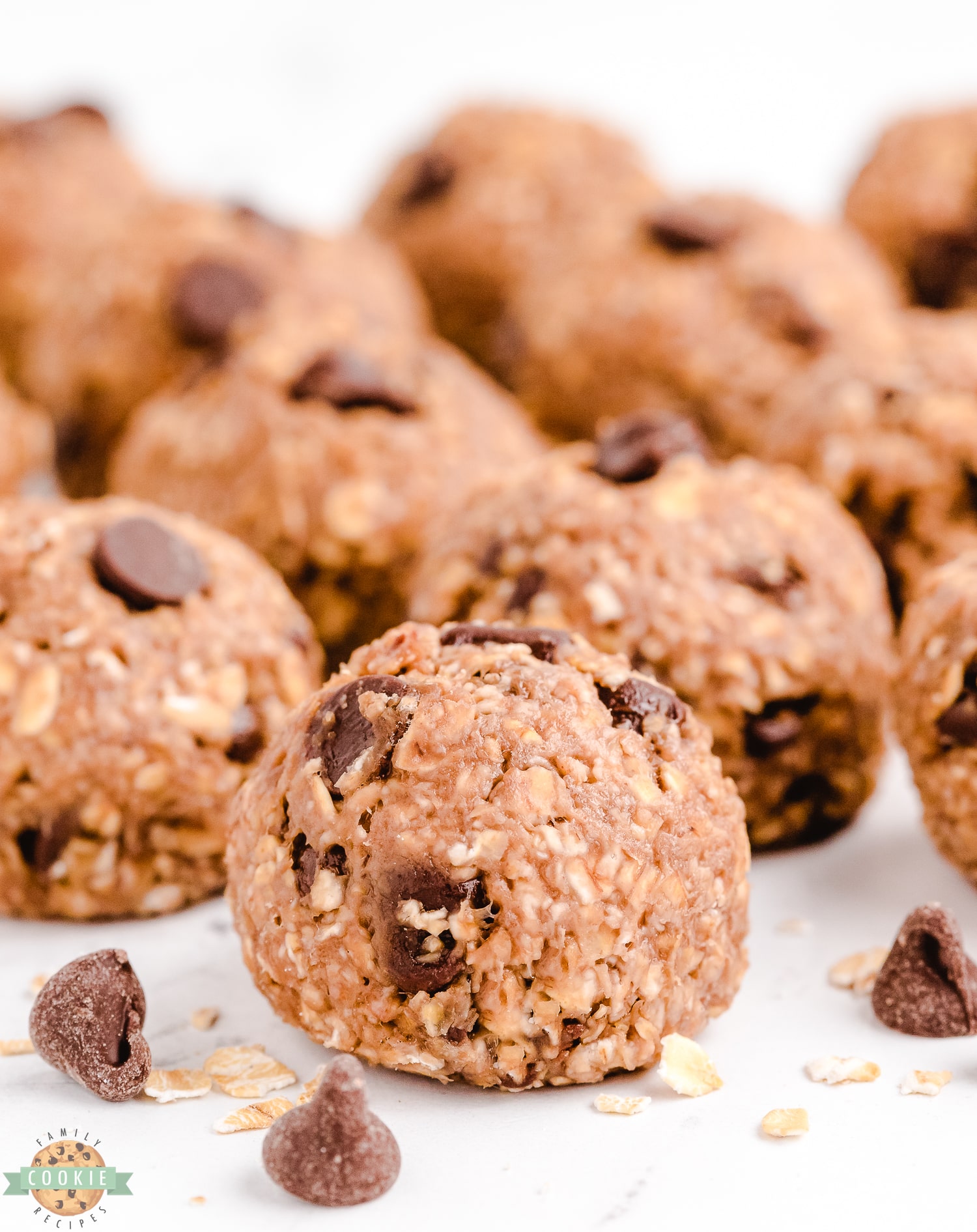 CAN I FREEZE RAW VEGAN COOKIE DOUGH?
Yes, you can freeze cookie dough balls in an airtight container for up to 3 months. I recommend laying a piece of parchment paper between the dough balls to help prevent them from sticking.
Which oats are best for no bake cookies?
Different recipes will call for different kinds of oats, but to make the best No Bake Cookies, you should use quick cooking oats. Using different kinds of oats will change the texture of the cookies, and they may not set up quite right. As this recipe's main ingredient, it's important to get the right kind of oats.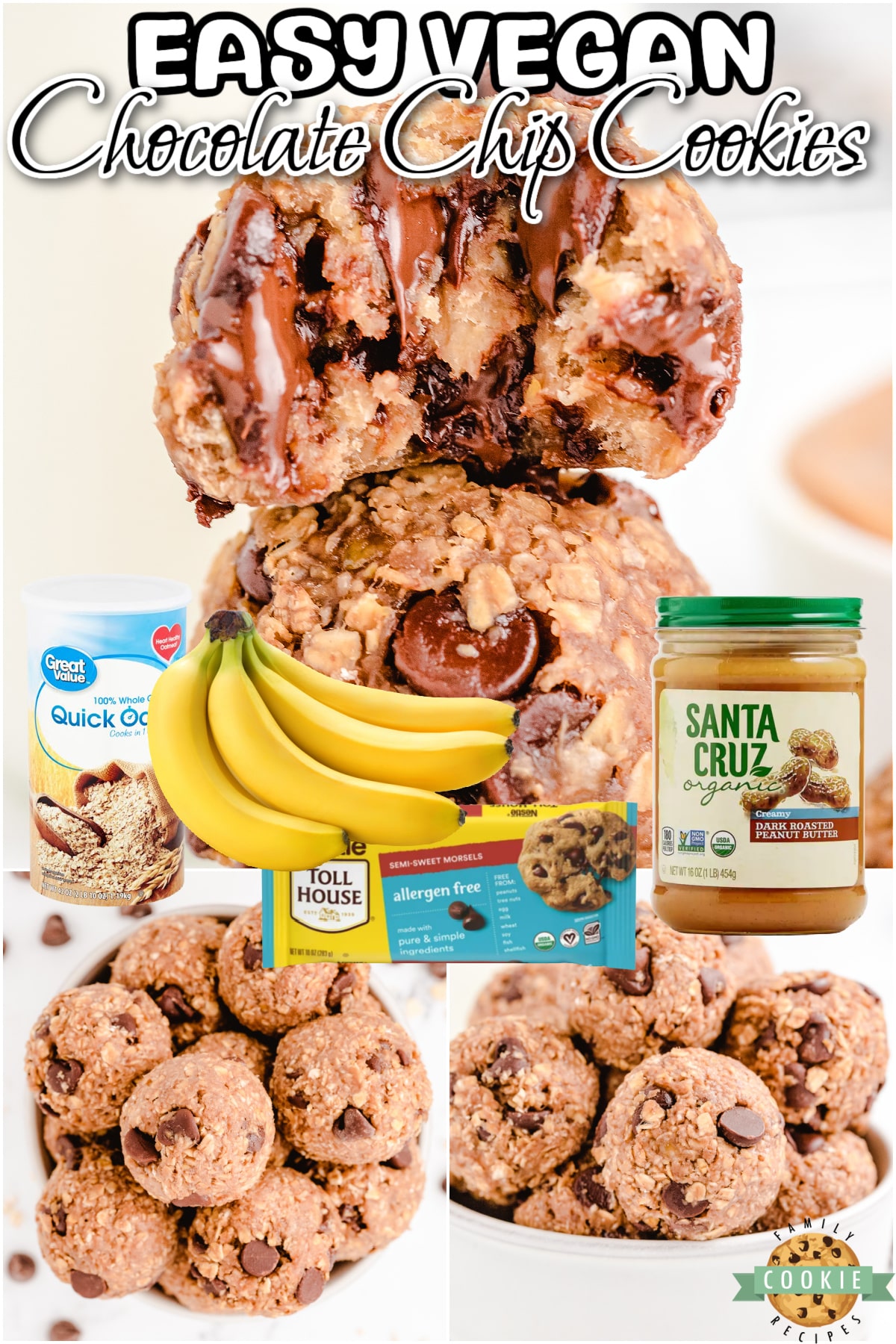 DO NO BAKE COOKIES NEED TO BE REFRIGERATED?
Putting No Bakes in the fridge will help the cookies to hold a firmer shape. They also will last longer if you keep them in the fridge. However, they technically don't need to be refrigerated. You can store them in an airtight container in room temperature and they will be fine.


Sometimes moms have to get away! Here I am with a good friend in Vegas… best seat in the whole restaurant! Such fun memories of this delicious meal!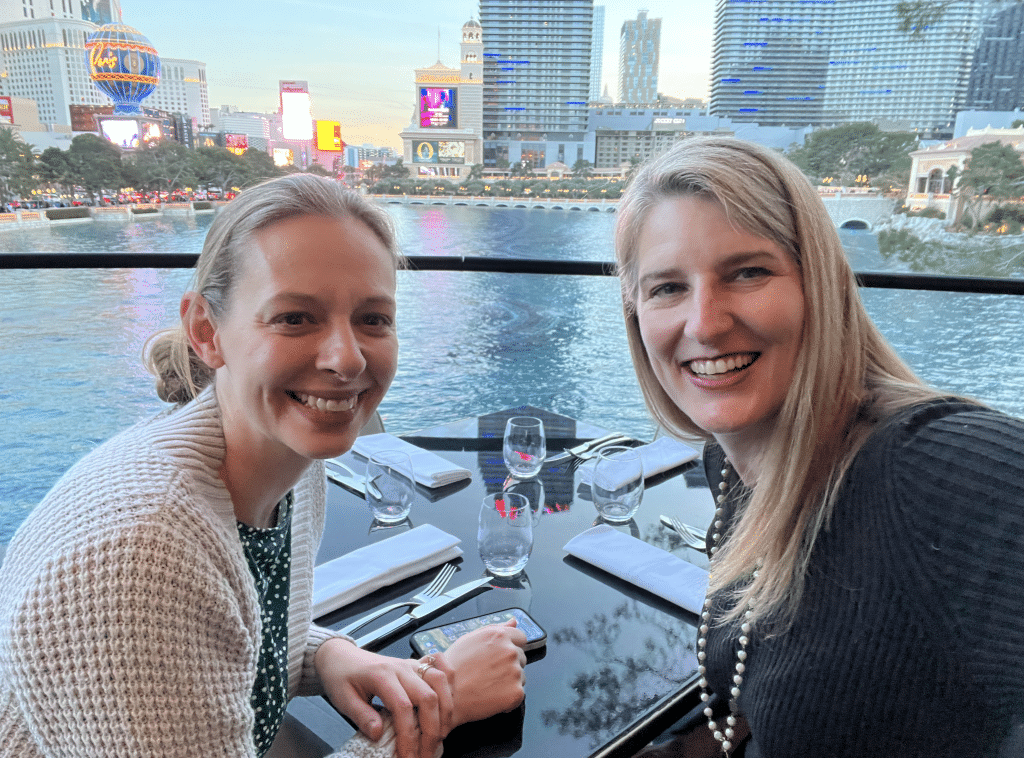 Try more amazing recipes with bananas here:
These Vegan Chocolate Chip Cookies are made with just 4 simple ingredients, ripe bananas, chewy oats, peanut butter & chocolate chips! Healthy no bake cookies that you can feel great about eating!