Caramel Banana Cream Pie Cookies are a scrumptious dessert that combines the classic flavors of banana cream pie with the sweet, buttery taste of caramel in a soft cookie cup. These banana pudding cookies are perfect for any occasion, whether it be a family gathering or a potluck with friends.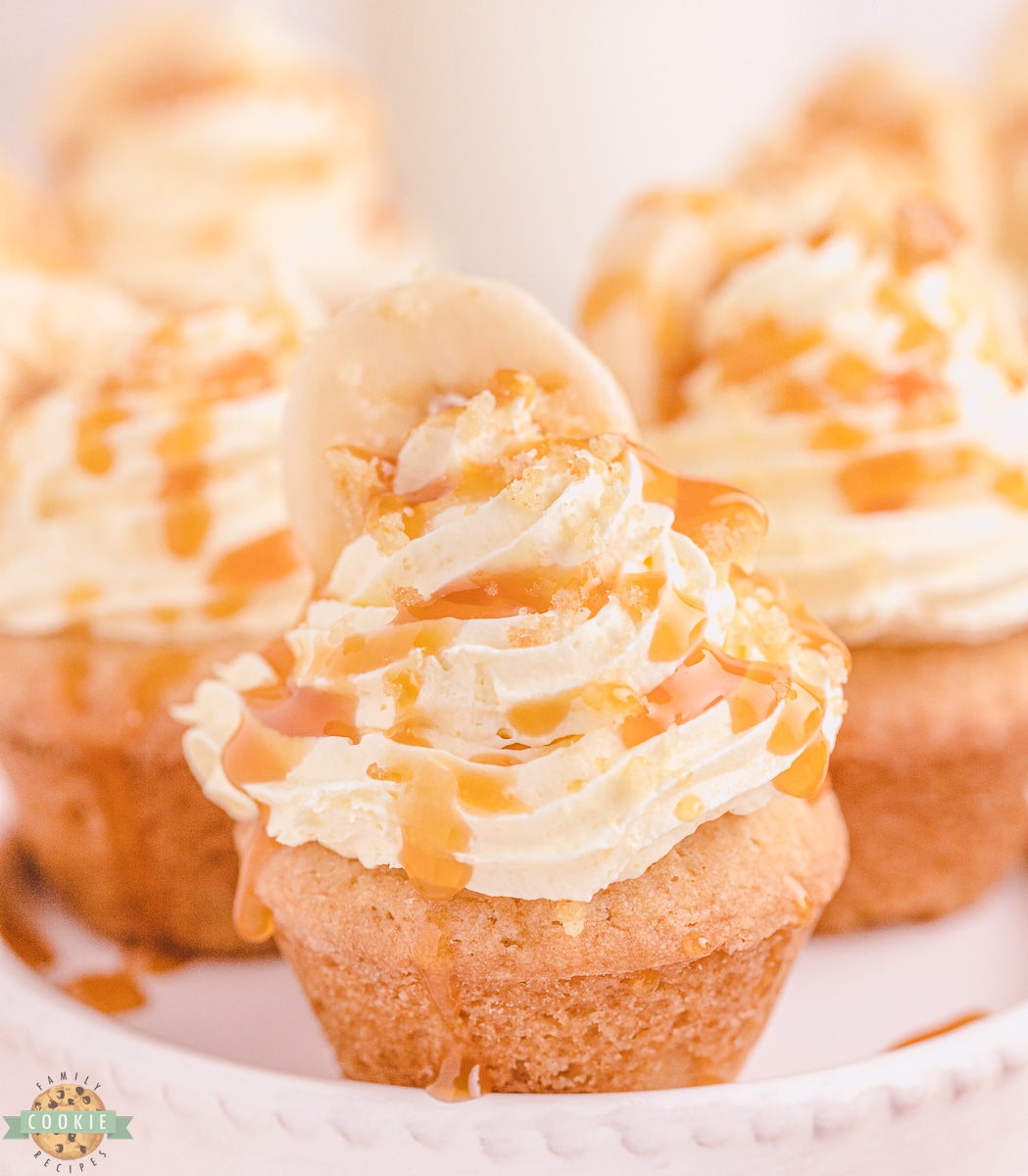 To make banana cookies, you only need a few simple ingredients such as flour, sugar, butter, bananas, and caramel sauce. This caramel cookie will easily become an instant favorite for both you and your family because they are just so delicious and versatile!
What are Cookie Cups?
These cookies are a unique twist on the classic banana cream pie and are sure to be a hit with anyone who tries them. They are perfect for those who love the taste of banana cream pie but want something a little different. Whether you are a seasoned baker or a beginner, Caramel Banana Cream Pie Cookies are a fun and easy dessert to make that will impress your family and friends.
This fantastic treat is a cookie that is baked into a muffin pan, or mini muffin pan, before having the center pushed down to create a cookie-shaped bowl. Then they are then filled with various delightful ingredients to create a pie-like cookie experience. You can have fun creating new ways to fill your cookie cup, bring the whole family in on the excitement and make it a family affair!
Why You Will Love This Banana Cream Pie Cookie Recipe
The combination of flavors is perfect: The sweetness of the caramel, the creaminess of the banana cream, and the crunchiness of the cookie all come together to create a delightful treat.
Easy to make: With only a few ingredients, this recipe is simple and quick to prepare. Even if you are not an experienced baker, you can make these cookies with ease.
They are a crowd-pleaser: These cookies are sure to impress your guests. They are unique and delicious, and everyone will love them.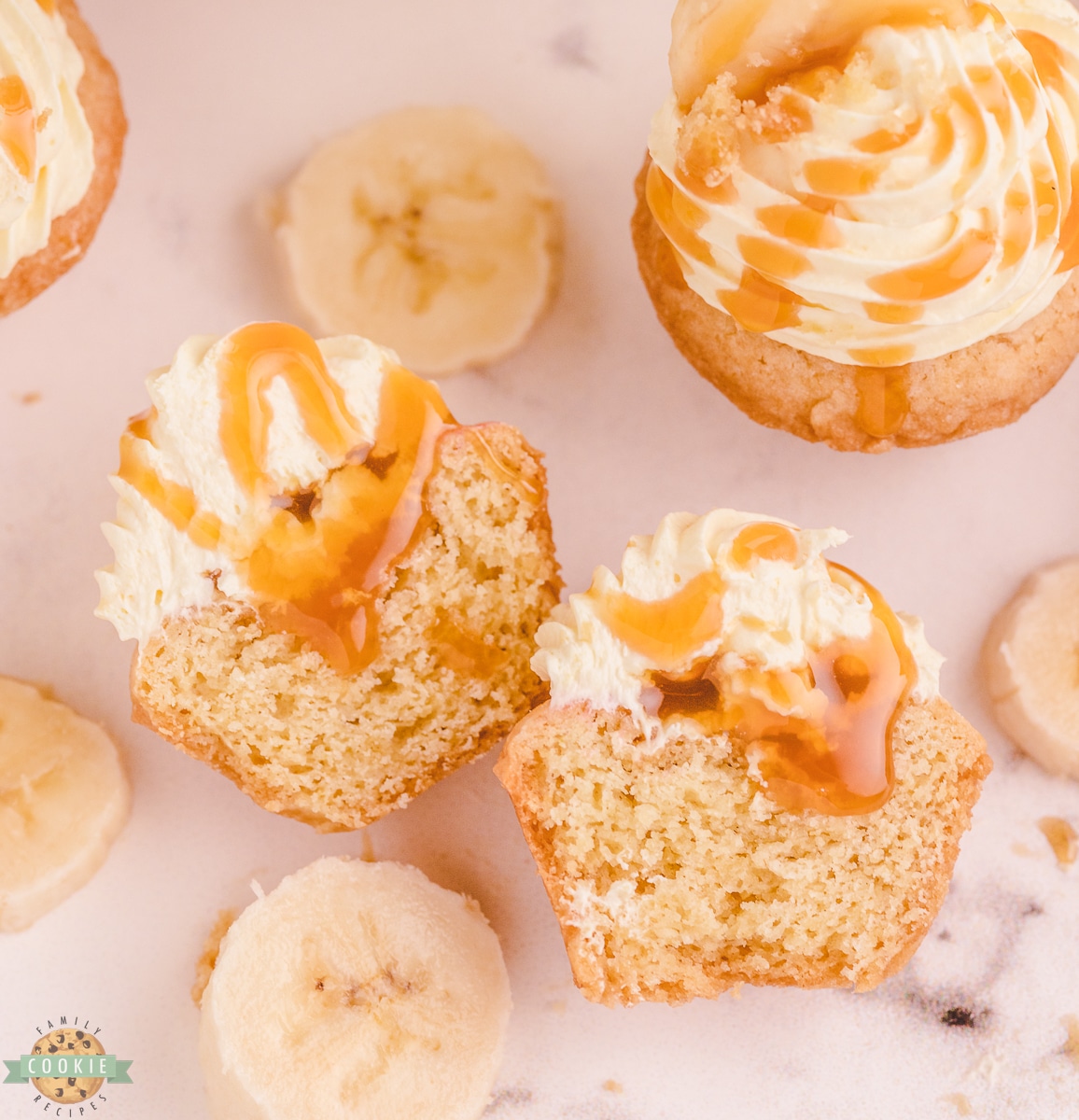 Banana Caramel Cookie Cups Ingredients
Sugar: Use 1 cup of granulated sugar to help these cookies become chewy and sweet.
Butter: You will need 1 stick (½ cup) of softened butter to make the cookie dough rich in taste.
Egg: Using 1 egg will help the dough bind together well and create wonderful texture.
Vanilla: Add in 1 teaspoon of vanilla extract to enhance the flavors in the cookies.
Sour cream: By adding in ⅓ cup of sour cream we can give the cookies some much-needed fats to keep the cookies nice and moist.
Salt: Add in ½ teaspoon of salt to help strengthen the dough for a nice chewy consistency.
Baking soda: Use ½ teaspoon of baking soda to get the cookies to puff up nicely as they bake.
Flour: You will need 2 cups of all-purpose flour to use as the base of this cookie dough recipe.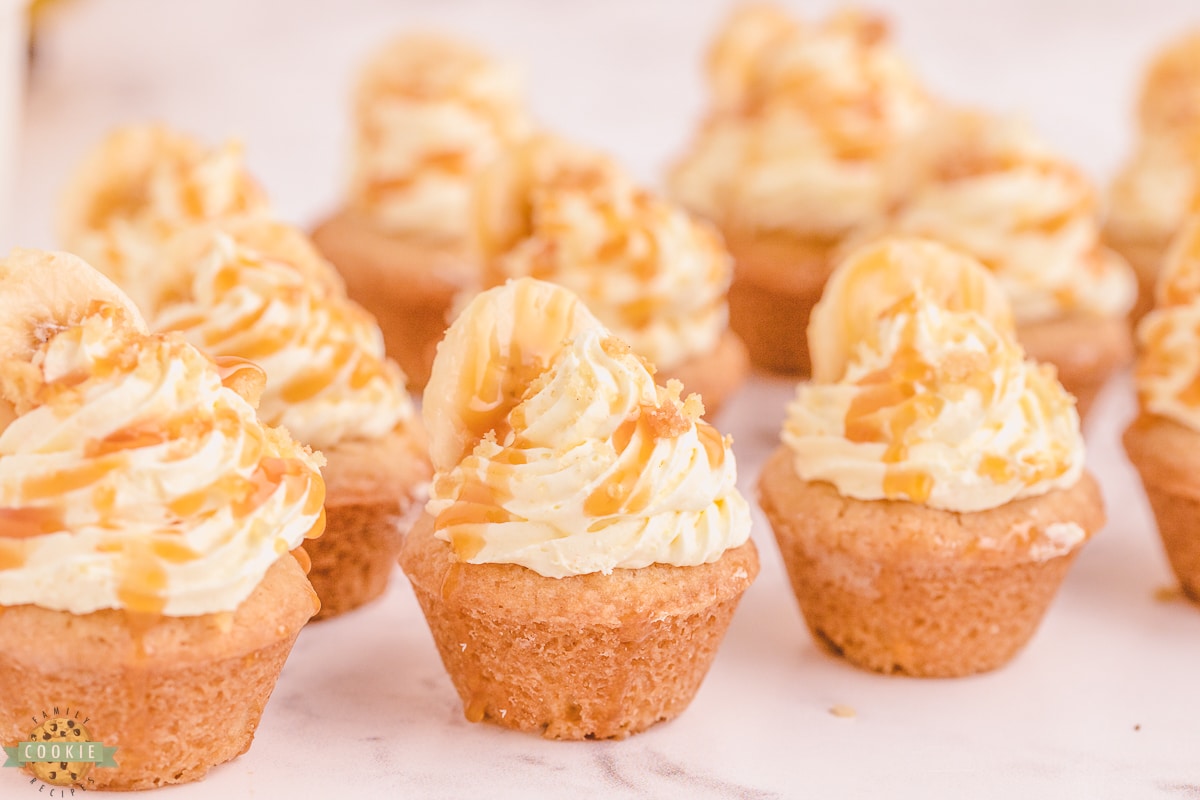 Banana Cream Pie filling
Banana pudding: Use one small 3.4-ounce box of banana cream instant pudding for the perfect filling.
Milk: To help dissolve the pudding mix you will need ½ cup of milk.
Whipped topping: Use one 8-ounce tub of thawed whipped topping to make the filling fluffy and light.
Caramel syrup: You will need about ⅓ cup of caramel syrup to use in the filling. You can also use our EASY HOMEMADE CARAMEL SAUCE recipe if you want to make it from scratch.
Fresh bananas: You will want about 1 or 2 sliced bananas to use as a garnish for these cookies.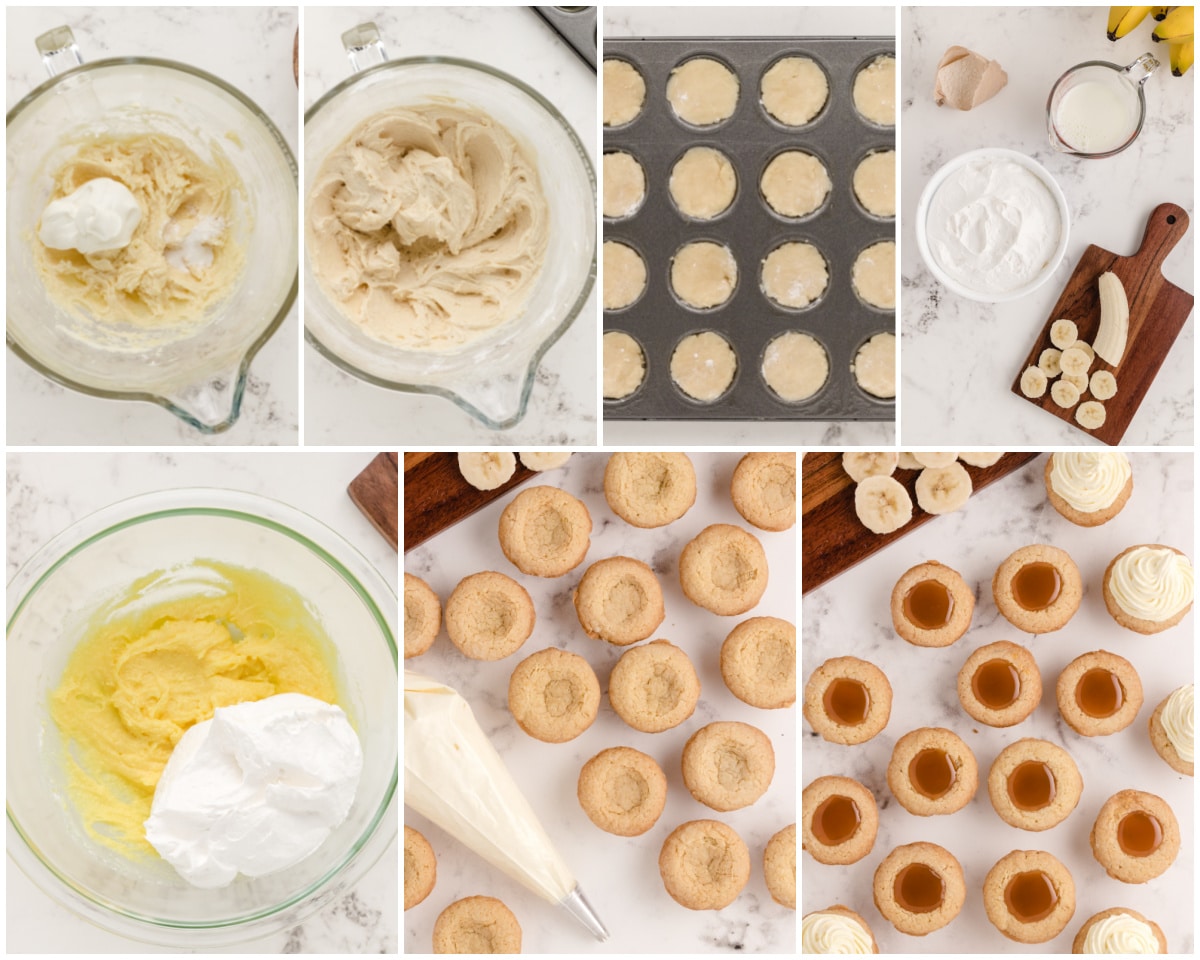 How to Make Caramel banana cream pie cookie
Prep
Get started by preheating the oven to 325 degrees F.
Then, grease the inside of a mini muffin pan with nonstick cooking spray, set it aside.
Cookie dough
In a large mixing bowl, cream together the butter and sugar using a handheld mixer. If you do not have an electric mixer just use a spoon and some elbow grease to cream the ingredients together well.
Next, stir in the egg and vanilla extract until fully combined.
Then, add in the sour cream, salt, and baking soda, until all ingredients are evenly distributed.
After that, mix in the flour until all the flour is combined and the mixture is a nice, smooth texture.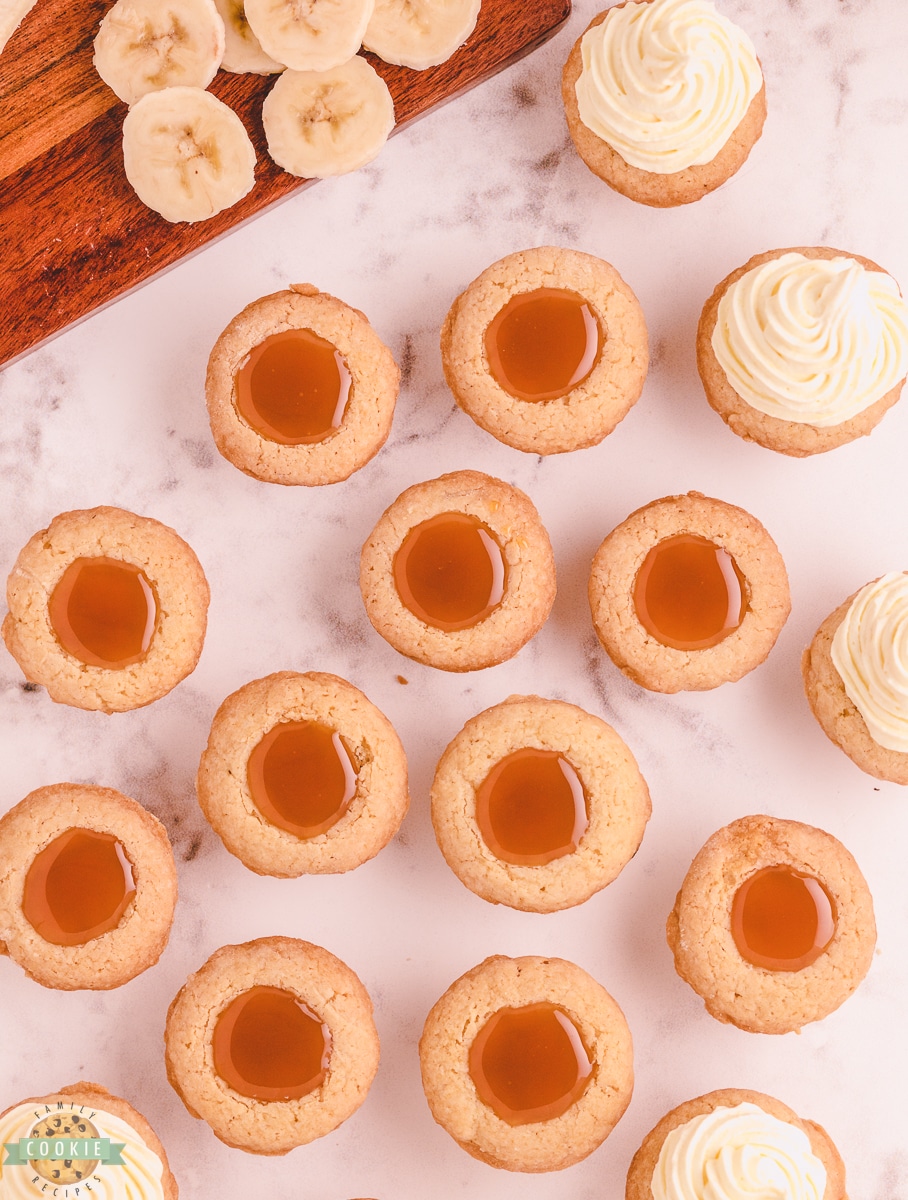 Bake
Now, scoop the dough in 1 tablespoon-sized portion into the prepared muffin pan. I like to use a small cookie scoop to make this process easier.
Proceed to place the cookies in the preheated oven and bake for 17-18 minutes.
Turn the oven off after 17-18 minutes and let the cookies rest for 1-2 minutes before removing from the oven.
Shape cookie cups
Next, spray cooking spray onto the backside of a teaspoon measuring spoon and immediately press it down into the center of each cookie cup to create a well in the center of each. This is creating the cookie cup that you are going to fill with yummy creamy filling.
You want to allow the cookies to cool completely before adding the filling, give it 20-30 minutes or so. If you are in a rush you can pop the tray of cookie cups into the freezer for about 15-20 minutes.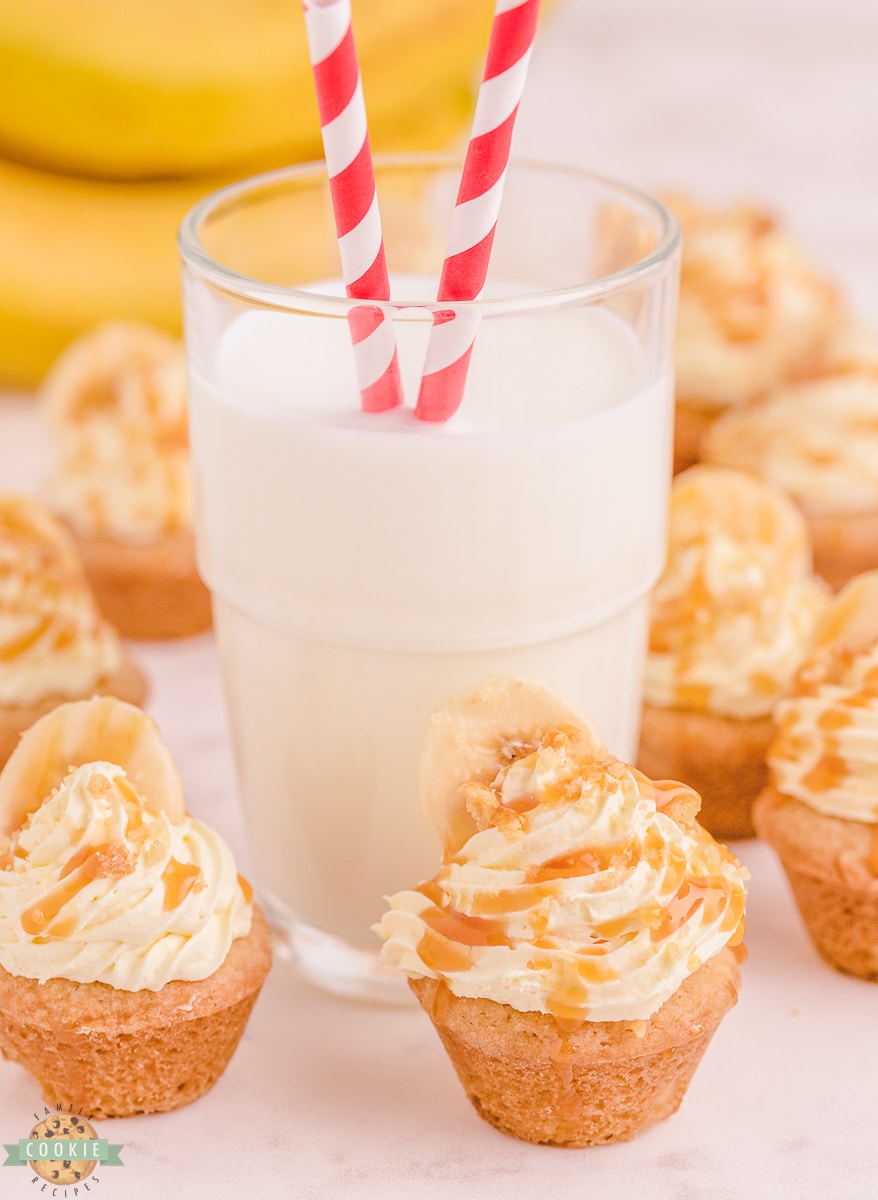 Filling & prep
In a medium size bowl, start by whisking together the dry pudding mix and the milk.
Then, gently stir in the whipped topping until fully combined.
After that is complete, transfer the filling mixture to a ziplocked bag or pastry bag and set it in the fridge until needed and the cookie cups have cooled.
Pull out your caramel sauce and let it come to room temperature while the cookies cool as well.
Also, take this time to slice your fresh bananas for the cookie garnish.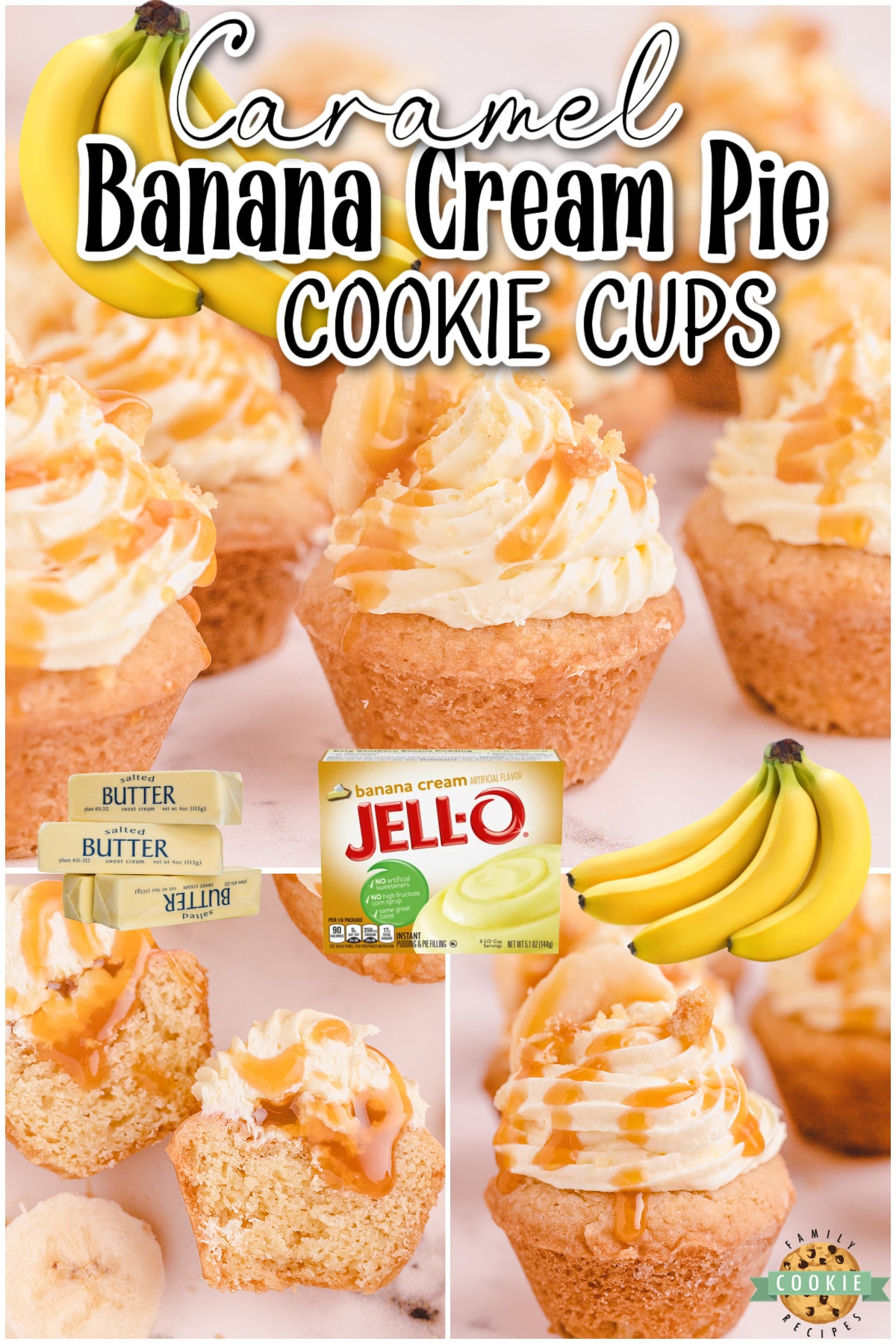 Assemble
Remove the cookies from the muffin tin. I like to run a knife along the outside of the cookies to help them pop out. If a cookie breaks, set it aside and we will crumble it for a topping garnish later.
Then, spoon one teaspoon of caramel sauce into each cookie cup.
Next, pipe the whipped pudding mixture on top of the caramel just enough to fill the cookie cup.
Now, add a slice of banana on top for a tasty garnish.
If you have some broken cookie cups, crumble and sprinkle the crumbs over the tops of the finished cookies.
Keep the cookies in the fridge until ready to serve. Enjoy!
How long are caramel banana pie cups good for?
To keep the cookies fresh and delicious, follow these storage tips:
Room temperature: Store the cookies in an airtight container at room temperature for up to 3 days.
Refrigerator: For longer storage, place the cookies in an airtight container and store them in the refrigerator for up to 1 week. Be aware the longer the cookies are stored the softer/soggier the cookie crust will become.
Freezer: The cookies can also be frozen for up to 2 months. Place them in a freezer-safe container or bag and thaw them at room temperature before serving.
By following these pairing recommendations and storage tips, you can ensure that your Caramel Banana Cream Pie Cookies are enjoyed to the fullest.
Can I make banana cookie cups in advance?
These cookies can be made up to 8-12 hours in advance, I don't recommend assembling them any sooner than that. If you want them made further in advance make the cookies and the filling and keep them separate until closer to serving time. This will help to keep the cookies from becoming soggy.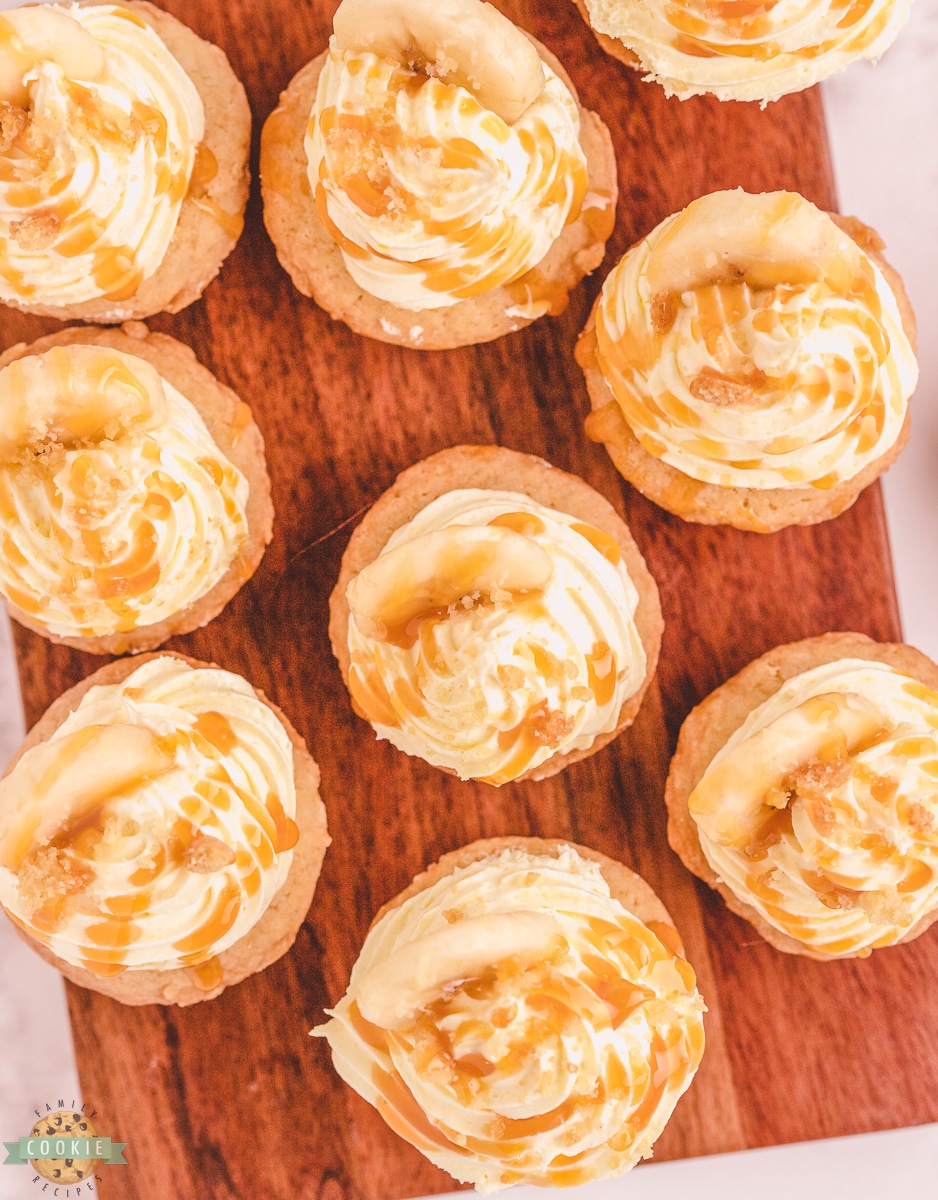 Pairing Suggestions for Caramel Banana Cream Cookies
Caramel Banana Cream Pie Cookies are a versatile dessert that can be enjoyed on their own or paired with a variety of drinks and snacks. Here are a few pairing recommendations to enhance the flavor of these cookies:
Coffee: The rich flavor of coffee complements the sweetness of the cookies. A cup of hot coffee or an iced latte makes a perfect pairing.
Milk: A glass of cold milk is a classic pairing with cookies. The creamy texture of milk balances the sweetness of the cookies.
Tea: A cup of tea, such as Earl Grey or English Breakfast, is a great option for those who prefer a less sweet pairing.
Ice Cream: For a decadent dessert, serve the cookies with a scoop of vanilla ice cream. The combination of warm cookies and cold ice cream is sure to satisfy any sweet tooth.

Sometimes brothers are just the worst! Ha! My little guy didn't see how trying to drive his remote control car on his sister's head could go wrong. Poor girl! Yes, we got it out. Yes we had to cut some hair. Sigh.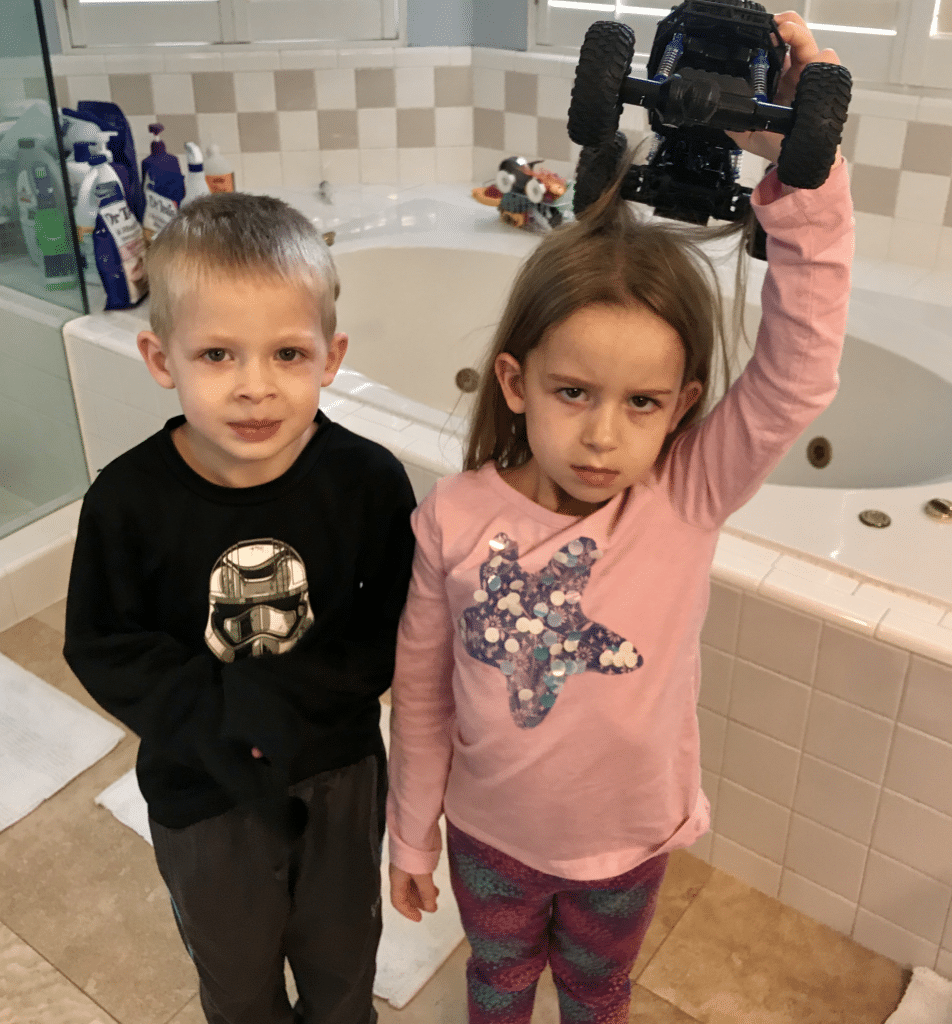 Caramel Banana Cream Pie Cookies are made with a fluffy banana filling, caramel syrup, and a homemade sugar cookie crust these are bite-sized pieces of heaven! Make banana pudding cookies for any occasion, a family gathering, birthday parties or potlucks with friends.