Nutella Stuffed Chocolate Chip Cookies take a classic chocolate chip cookie recipe to the next level. The only thing better than a chocolate chip cookie is one with Nutella in the middle!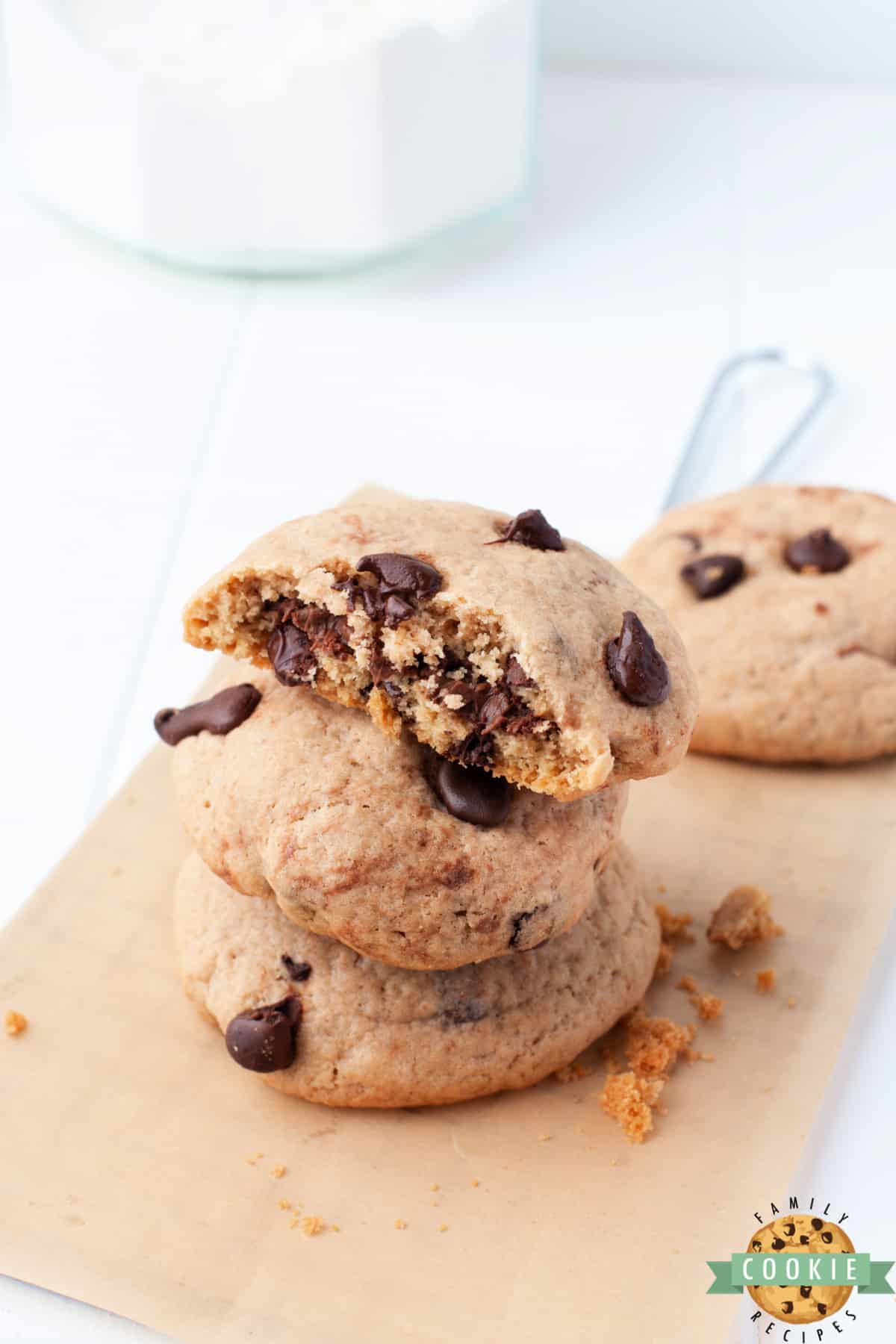 It's no secret that we love chocolate chip cookies. There are so many ways to make them, and they are all delicious. Though I'm not sure it can get much better than having some gooey, creamy Nutella in the center of each cookie!
NUTELLA STUFFED CHOCOLATE CHIP COOKIES
Each Nutella Stuffed Chocolate Chip Cookie has Nutella sandwiched in the middle. To get the Nutella in the middle of each cookie, you have to freeze it first. Once each "Nutella patty" is frozen, it's easy to place between two scoops of homemade chocolate chip cookie dough. Once the cookies are assembled, bake them to perfection and make sure to eat one while it's warm!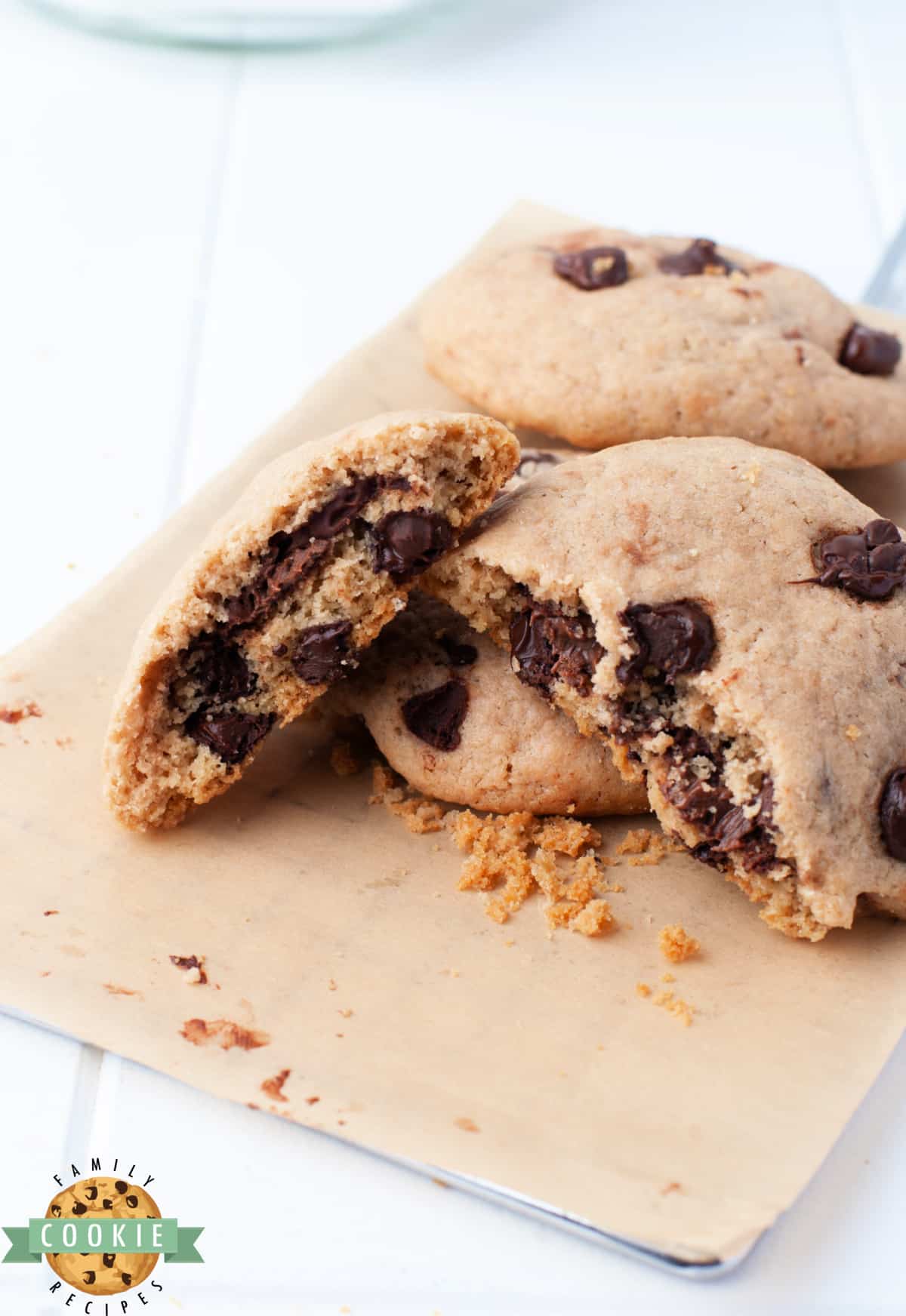 TIPS FOR MAKING THE BEST COOKIES
Three kitchen items really help you make the best cookies ever! I actually use these items in nearly every cookie recipe I make, as well as several other types of recipes, so they're quite versatile.
First, I line my cookie sheets with a piece of parchment paper or a silicone baking mat. They're sold in sizes that fit a 12×16 cookie sheet perfectly and enable to cookies to bake well without sticking- and no mess from spraying oil on the cookie sheets!
The second item is a KitchenAid mixer. I love mine! I have a Bosch as well but I find I use my KitchenAid for cookies. There is a cookie paddle that comes with every mixer that you attach to the top of the mixer. They're easy to use and help you mix the ingredients uniformly. Add this to your wish list because it's one of my all-time used small appliances ever!
The third item is a cookie scoop! Years and years ago I used to use 2 spoons to measure and scrape cookie dough onto the pans. It wasn't a perfect process and I often ended up with oblong cookies in various sizes. A friend of mine brought cookies to a party and I noticed each and every one of her cookies looked PERFECT. Her secret? A cookie scoop! They come in three sizes- 1/2 tablespoon, 1.5 tablespoon and 3 tablespoon scoops. I usually use the medium one for these cookies.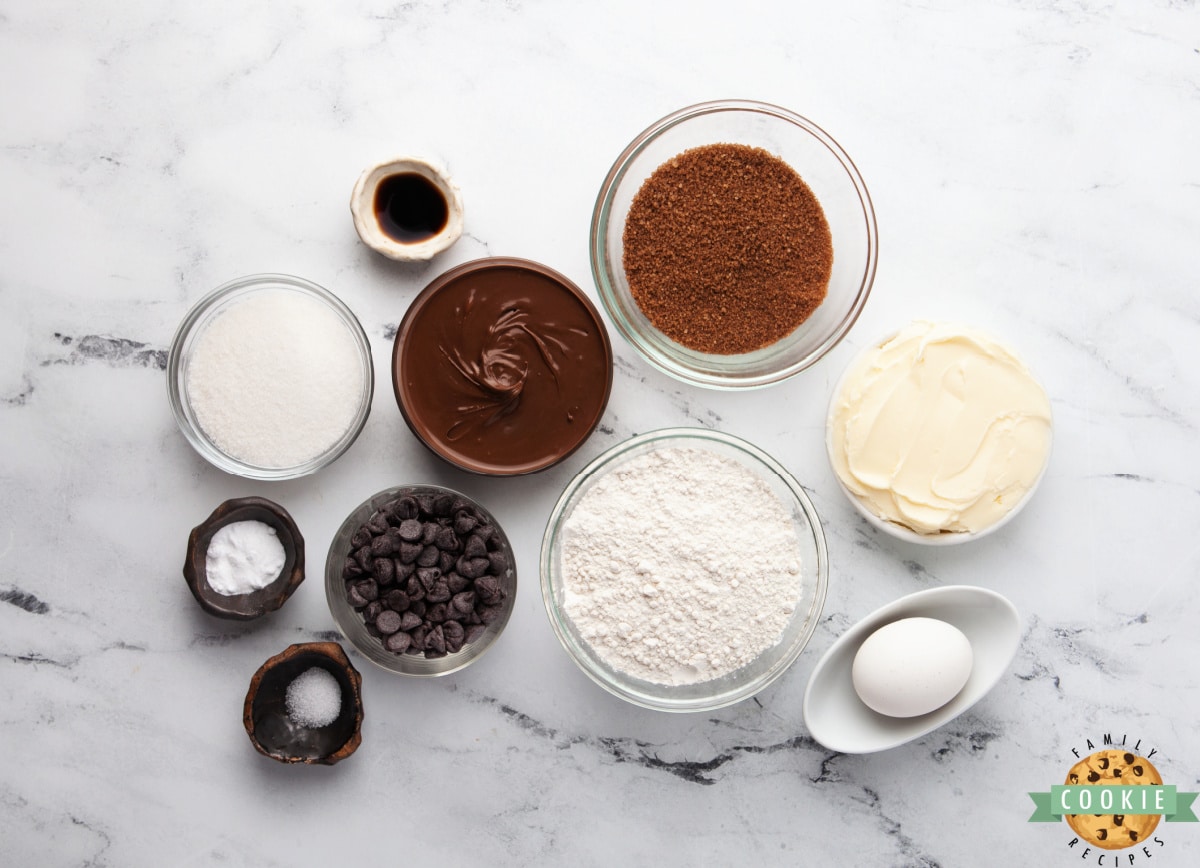 Ingredients in Nutella Stuffed Chocolate Chip Cookies
Butter – The recipe calls for 14 tablespoons of butter, which is just less than 2 full sticks. Make sure that the butter is softened to room temperature before mixing with the other ingredients.
Brown Sugar – For best results, make sure your brown sugar is fresh.
Sugar – You will need 1/4 cup of granulated sugar to add the rest of the sweetness to the cookies.
Eggs – Just 1 large eggs is needed to bind the cookie dough together.
Vanilla extract – The higher the quality of the vanilla, the better.
Flour – All-purpose flour works best in the recipe, but you can use a gluten-free substitute if needed.
Salt – Just a little bit of salt helps to bring out all of the other flavors in the cookies.
Baking soda – 1 teaspoon of baking soda acts as the leavening agent in the cookies, so make sure that your baking soda isn't expired.
Chocolate chips – I prefer semi-sweet chocolate chips in cookies, but you can use milk chocolate chips or even dark chocolate chips!
Nutella – You will need a total of 3/4 cup Nutella. That way, there will be a teaspoon to place in the center of each cookie. You can add a little extra, but don't go overboard or the Nutella may not stay contained during baking!
How to make Nutella Stuffed Chocolate Chip Cookies
These cookies are simple to make, but you do have to freeze the Nutella filling before "stuffing" the cookies.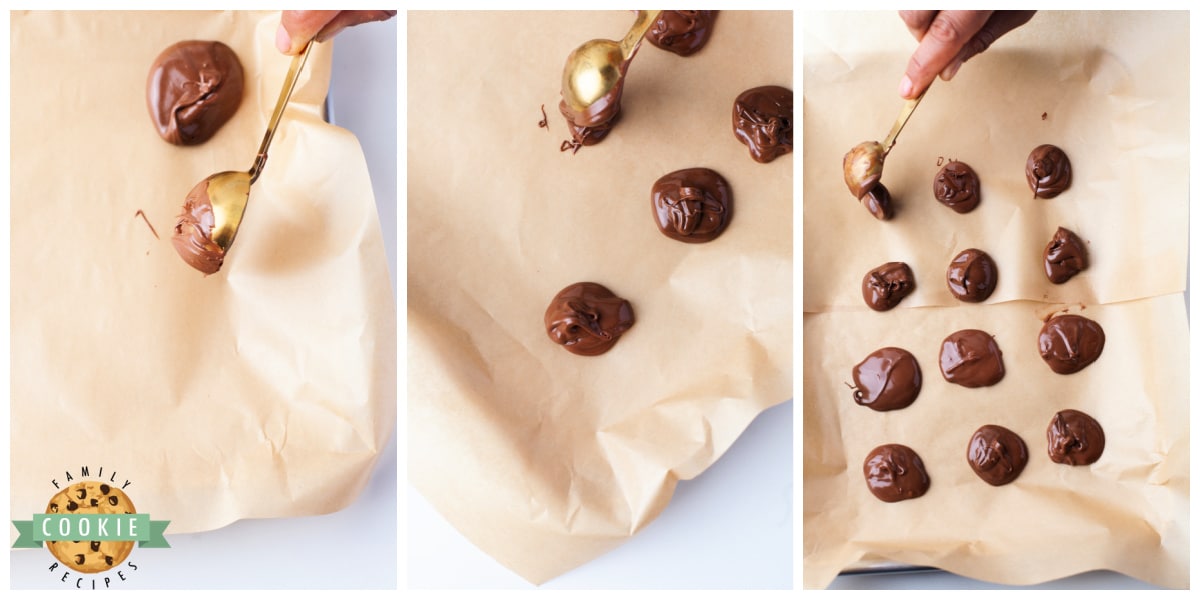 PREPARE THE NUTELLA FILLING
Line a small baking tray or plate with baking or parchment paper. Dollop 12 teaspoons of Nutella on the tray, ensuring they are an inch or two apart. Pop them in the freezer for at least 30 minutes.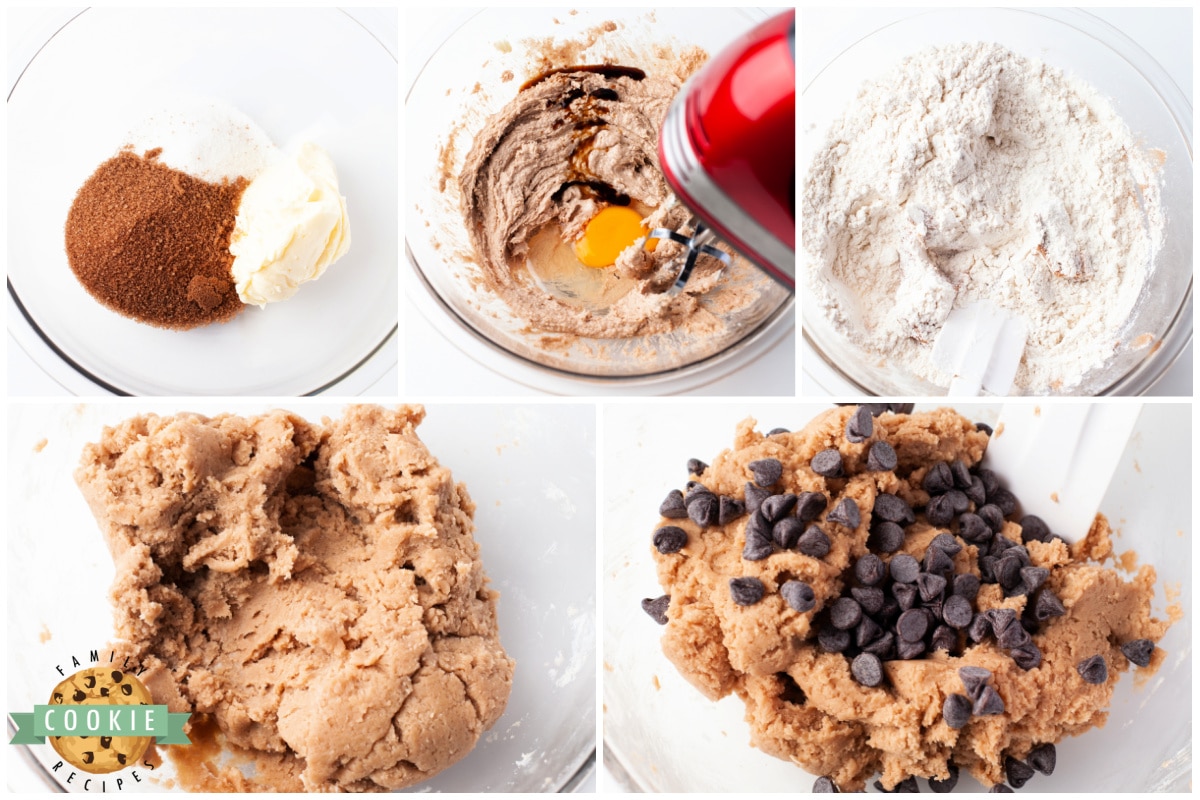 MAKE THE CHOCOLATE CHIP COOKIE DOUGH
With an electric hand mixer, mix the butter and sugars for a 2-3 minutes.
Mix in the egg and vanilla and mix for another 2-3 minutes.
Sift flour, salt, and baking soda together, then fold the flour mixture into the wet ingredients using a rubber spatula just until combined. Do not overmix.
Fold in the chocolate chips until evenly combined.
Prepare 2 baking pans with parchment paper.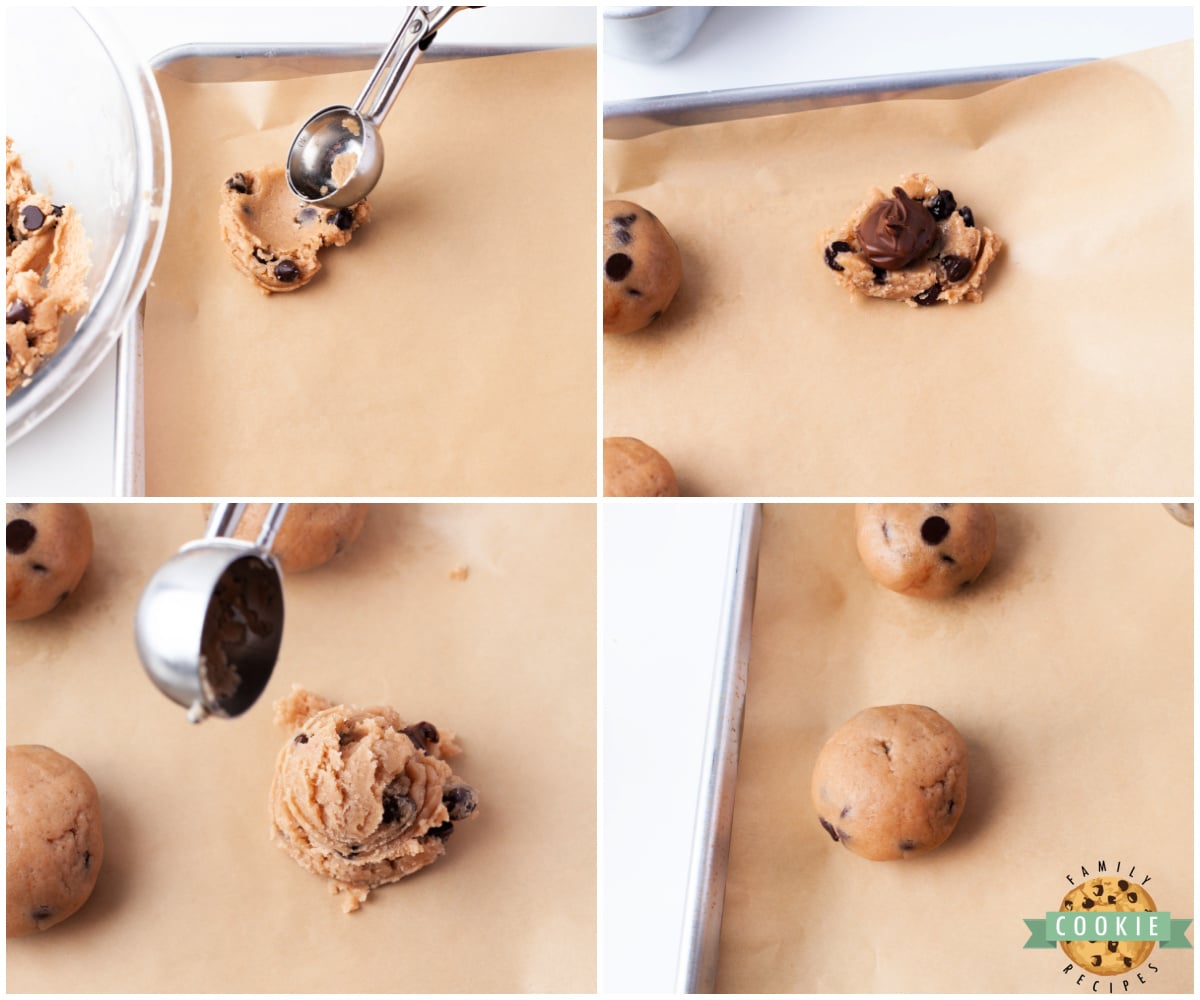 ASSEMBLE THE COOKIES
Use a medium or large cookie scoop to add a scoop per cookie onto the baking pan. Press down with the bottom of the cookie scooper, so you can make the center flat to place the Nutella onto the cookie. The diameter of the cookie dough should be bigger than the diameter of the frozen Nutella filling.
Take one frozen Nutella filling and place it on top of the cookie dough. Take another scoop of cookie dough and gently but firmly seal the filling inside with the bottom piece of cookie dough, encasing it in the dough making a ball.
Continue with the rest, until you have your 12 filled cookies. If you'd like, you can place a few more chocolate chips on top.
BAKE THE COOKIES
Preheat the oven to 350° F.
Let the shaped cookies rest in the refrigerator for 20 minutes and then bake for about 14 – 16 minutes, or until golden brown. These are best served warm!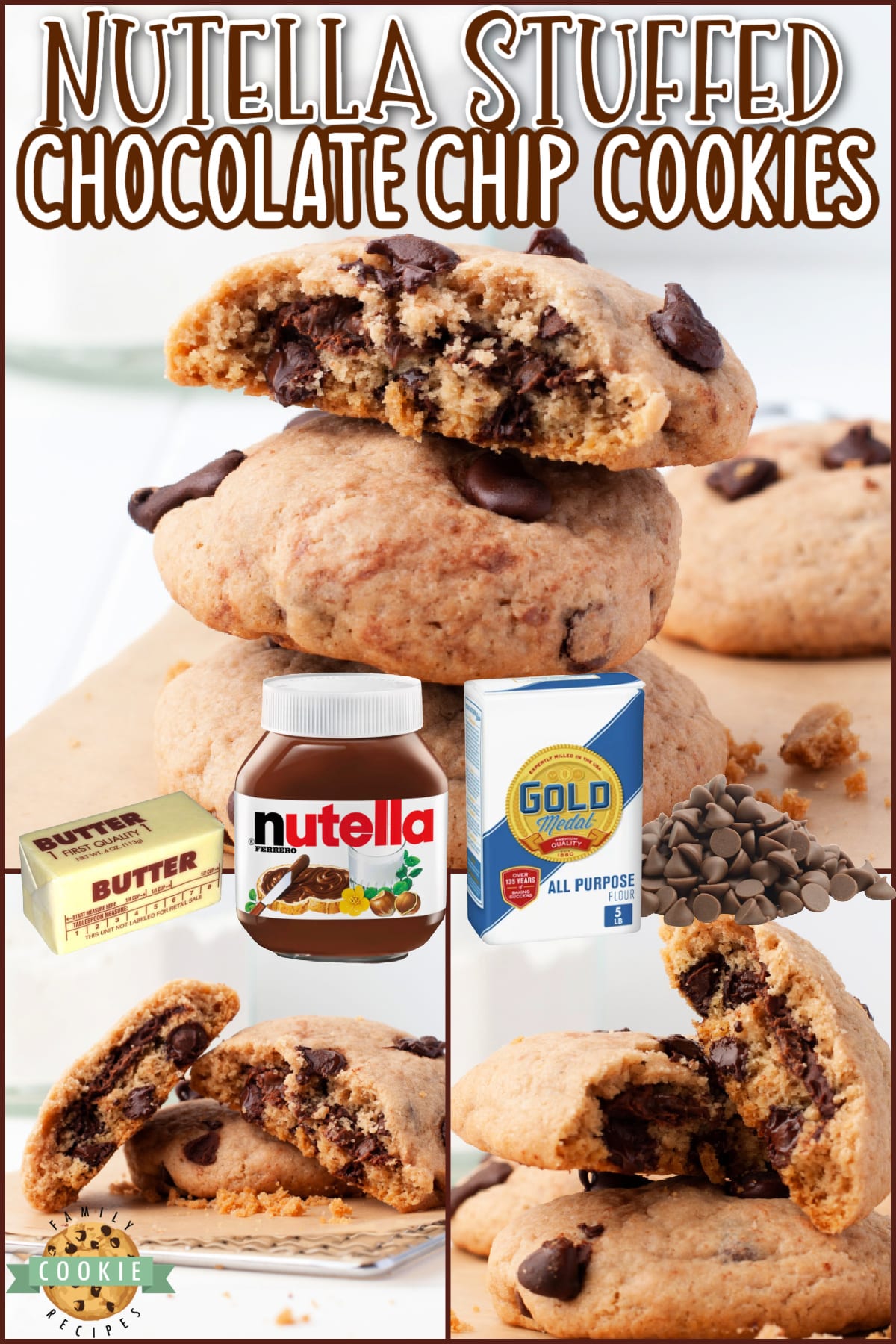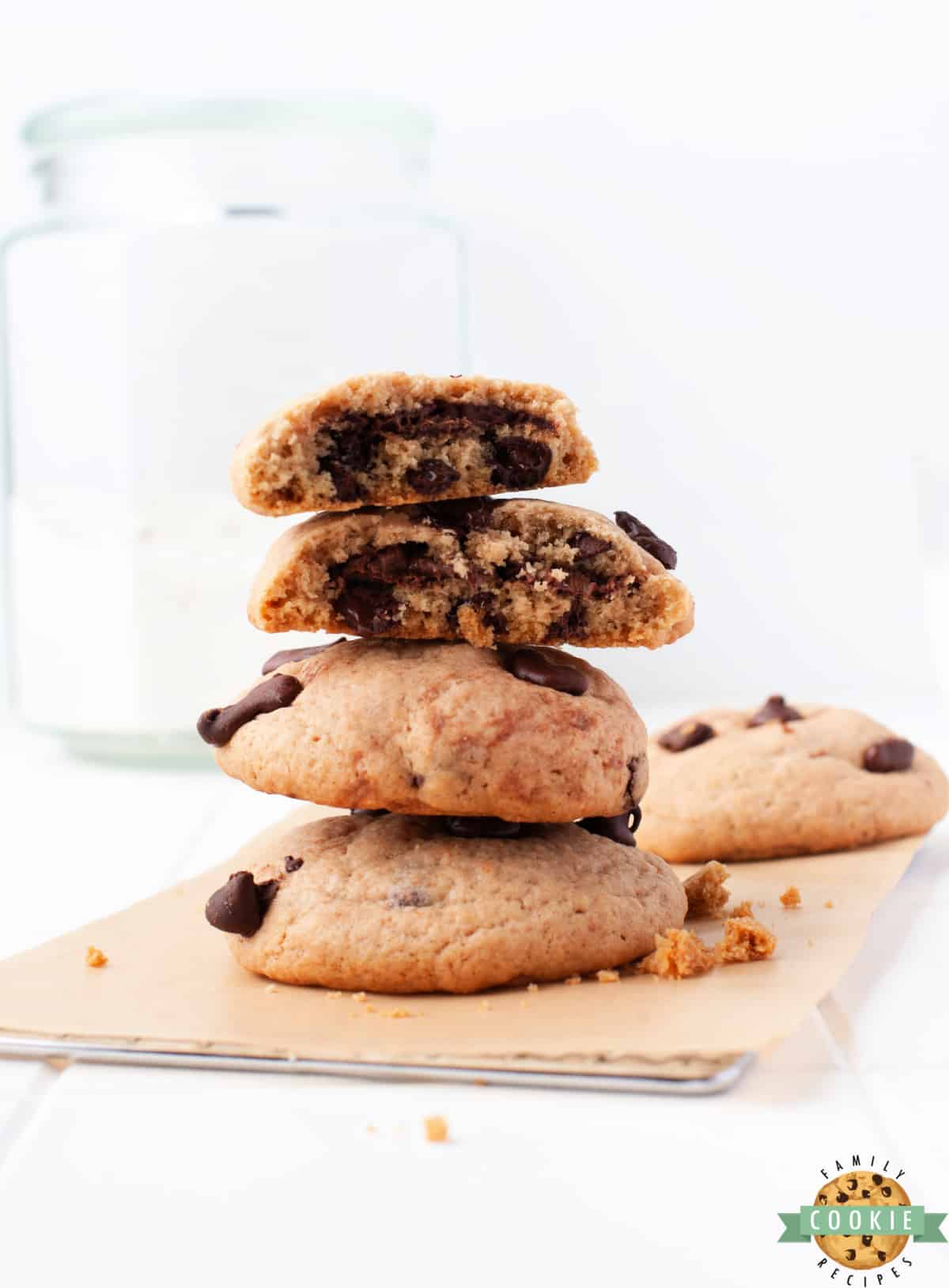 HOW LONG TO LET COOKIES COOL
Cookies are best left to cool on the baking sheet they're cooked on for 3-4 minutes, then you can transfer them to a cooling rack to cool further. This way, they don't fall apart as cookies are pretty soft still when they're pulled out of the oven. After a couple minutes on a cooling rack, cooking are usually cool enough to eat! Warm cookies are the best! Especially with a scoop of vanilla ice cream.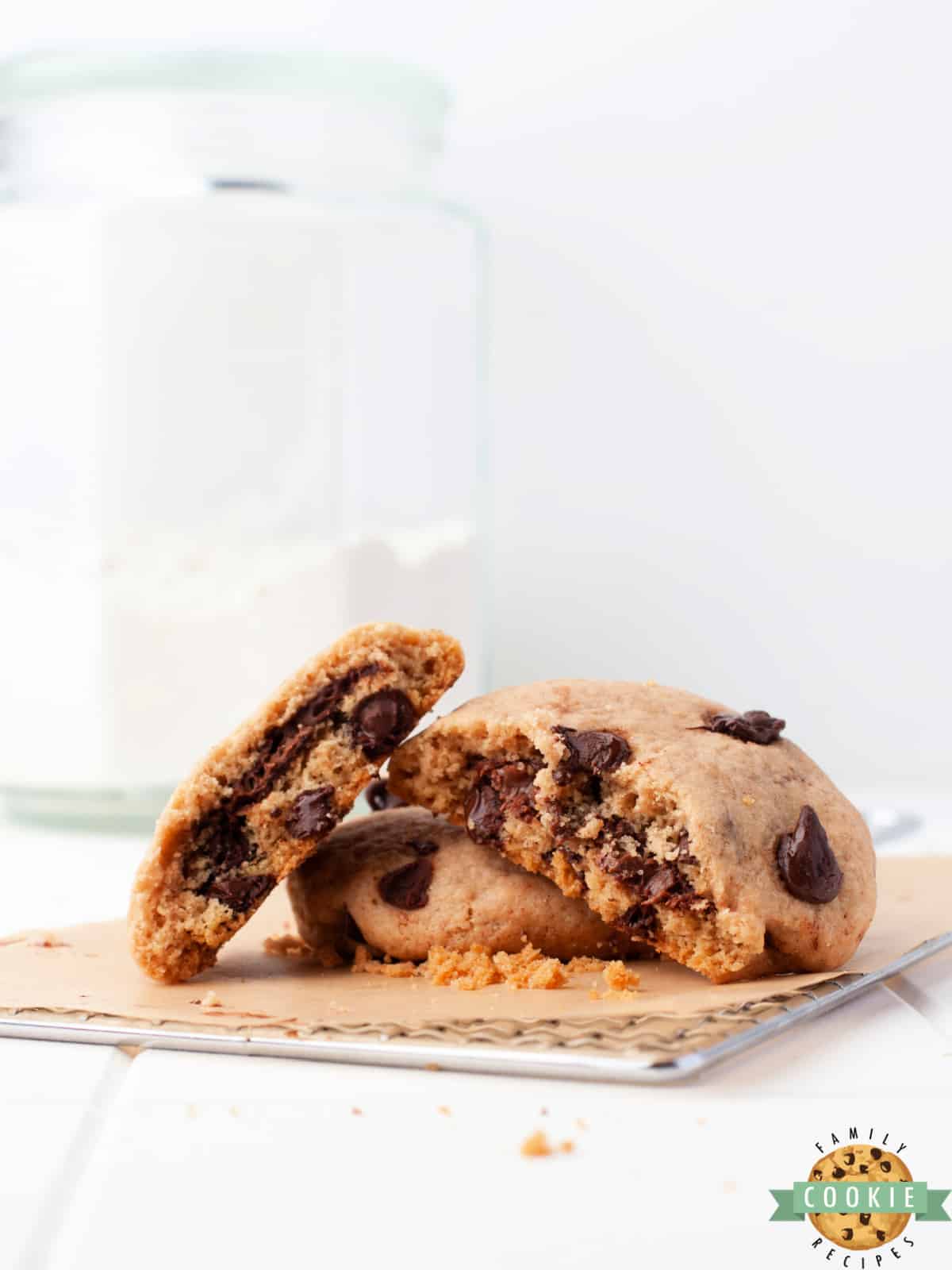 HOW DO YOU MAKE PERFECT CHOCOLATE CHIP COOKIES?
Making Chocolate Chip cookies is easy! Here are a few tips to getting perfect cookies every time!
Make sure you use softened butter – DON'T melt it! One of the most common errors in cookie making is using butter that is either really cold and hard, or using butter that is too warm and melted. If you have time, just leave butter out on the counter for about 1-2 hours before making your cookies. If you are like me and don't plan your cookie cravings that far in advance, just place the butter in your microwave and soften in 5 second intervals, being very careful to pull it out before it melts. I actually like to use the defrost setting on my microwave to soften butter- I don't know the technical reasons behind it, but it seems to soften the butter more evenly and takes a little bit longer so I'm less likely to start melting it! 
Spend a little extra time when you mix the butter and sugars. Creaming them together for 2-3 minutes will improve the consistency of your cookies.
Preheat the oven. This will help your cookies turn out right every time!
Use a cookie scoop! If you want all your cookies to be perfectly shaped and have them all be the same size, a cookie scoop is the way to go.
Use parchment paper or a silicone baking mat. Doing this will make it really easy to remove the cookies from your cookie sheet so that you don't have to scrape them off the pan – they will just slide right off in perfect shape!
Don't over bake the cookies – when I take mine out of the oven, they still look slightly under baked but they will continue to bake on the cookie sheet for a couple more minutes so that's ok!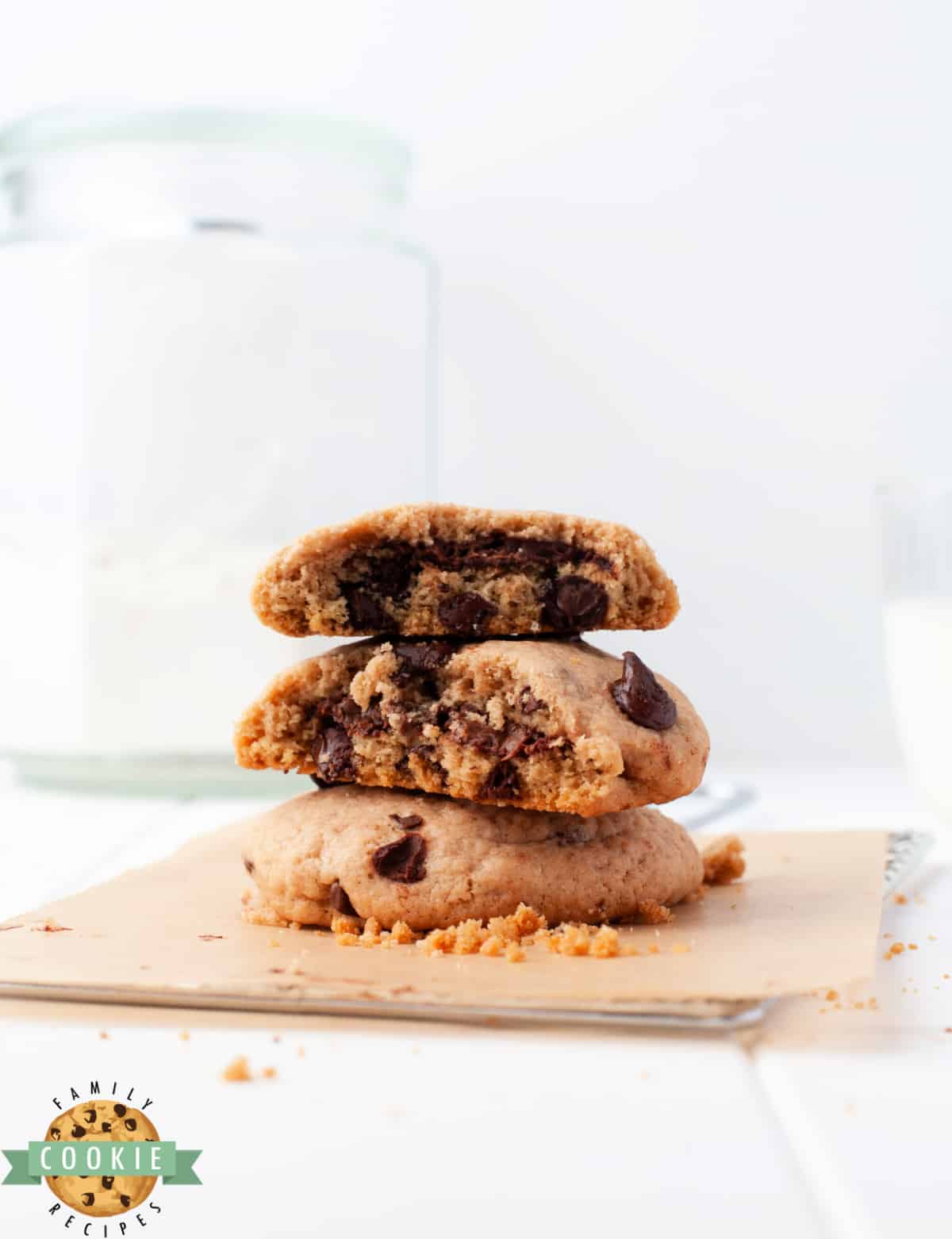 I know I post a lot about this little girl, but isn't she the absolute cutest?! She absolutely loves preschool and has thrived there this year even though it's only a couple times a week. She's my 4th girl, but the first that has wanted to wear a dress every single day. I've worried all winter that she was going to freeze because she doesn't like coats either, but even when it was really cold, she didn't want to wear long sleeves or pants. She definitely marches to the beat of her own little drum, but we absolutely love this little girl so much.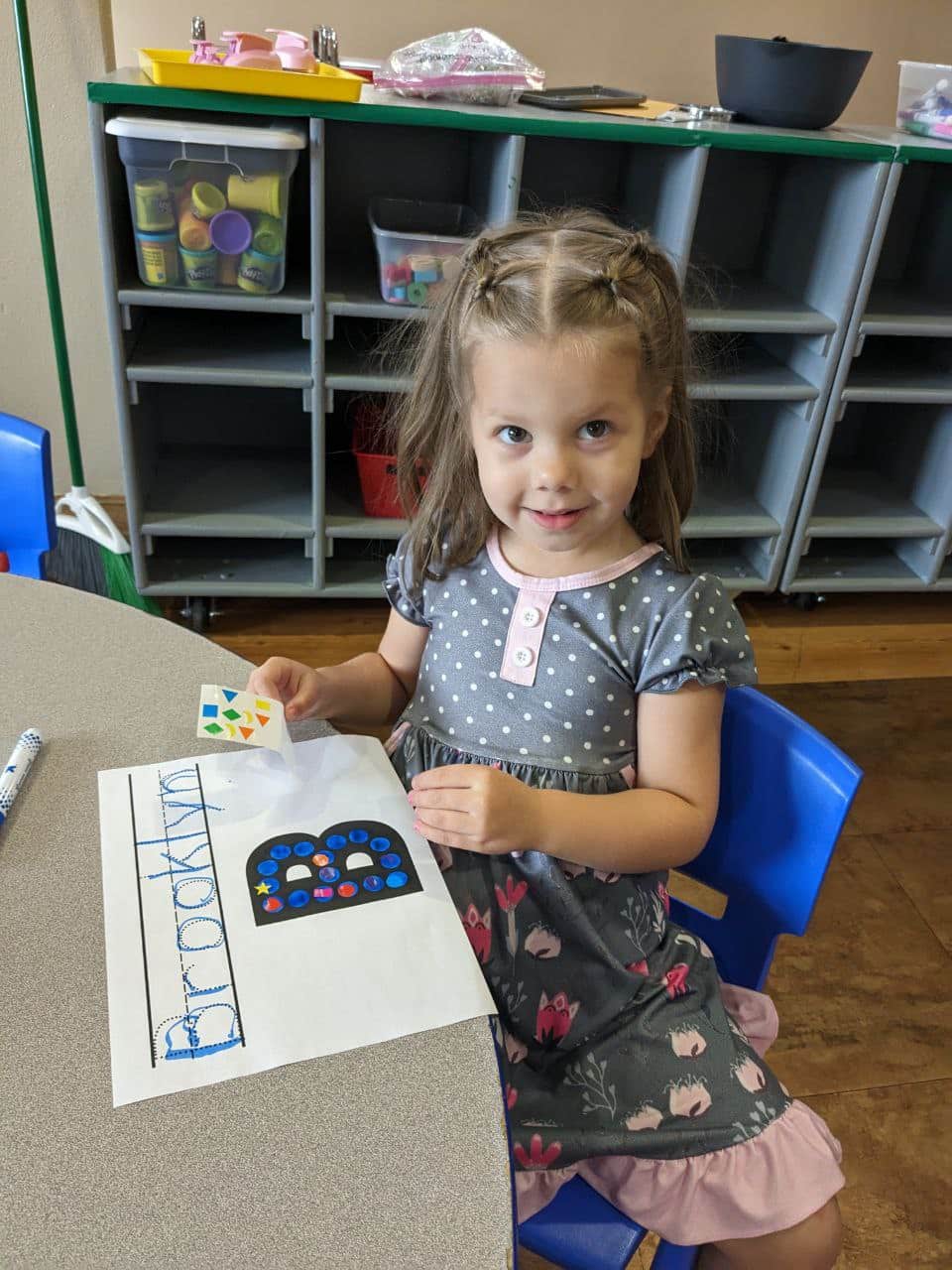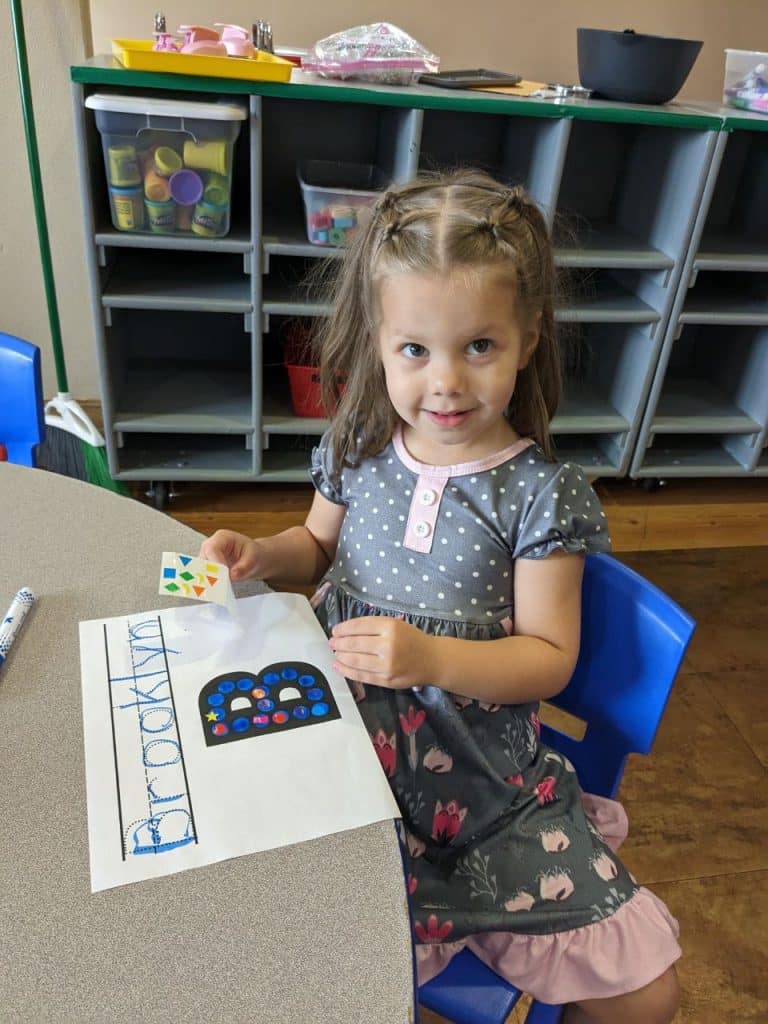 LOVE CHOCOLATE CHIP COOKIES? SO DO WE! HERE ARE SOME OF OUR FAVORITE CHOCOLATE CHIP COOKIE RECIPES!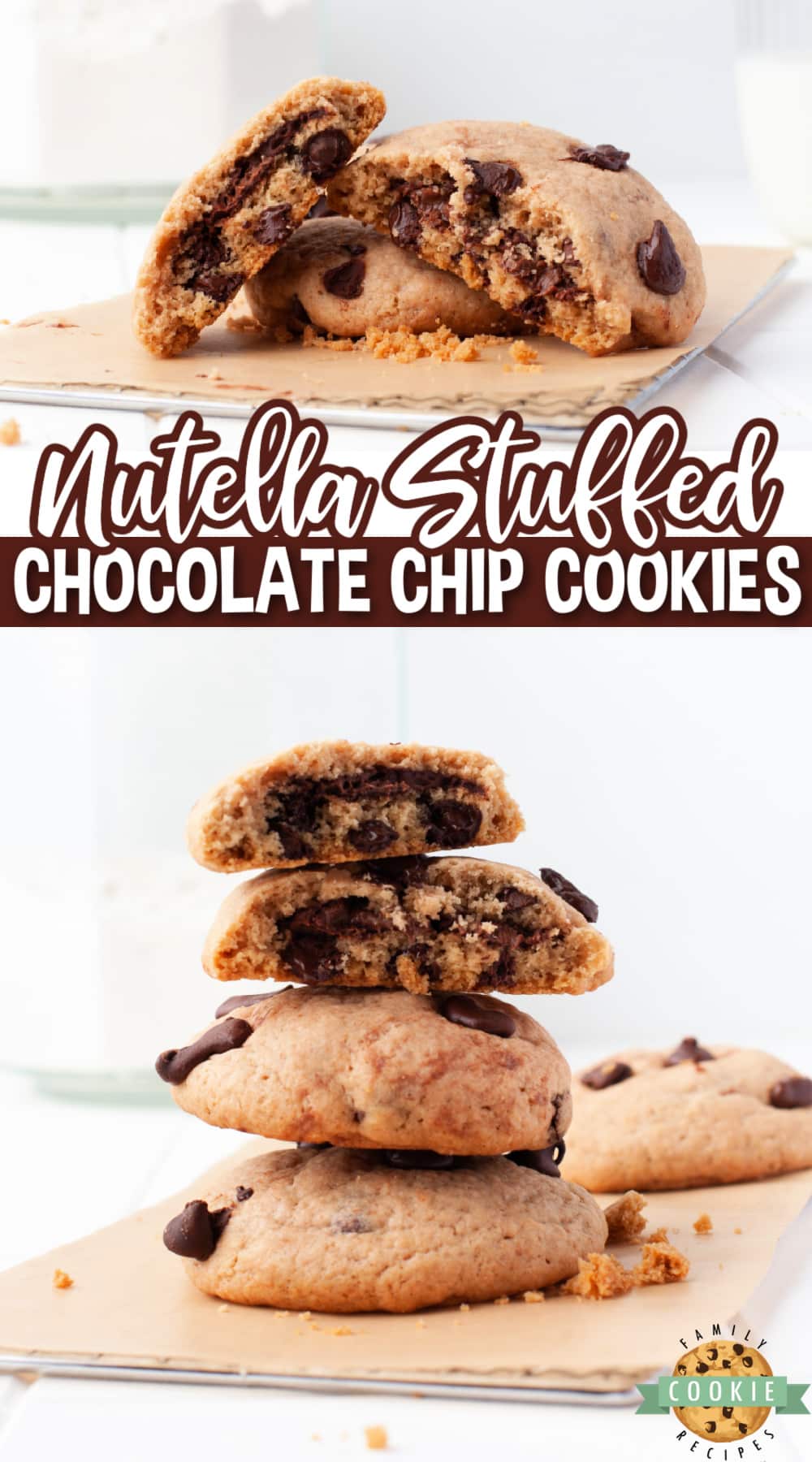 Nutella Stuffed Chocolate Chip Cookies take a classic chocolate chip cookie recipe to the next level. The only thing better than a chocolate chip cookie is one with Nutella in the middle!