Soft Glazed Lemon Cookies are a perfectly sweet & tart lemon cookie! This Soft Lemon Cookie recipe is made with fresh lemon with a tangy lemon glaze on top for a lovely zing!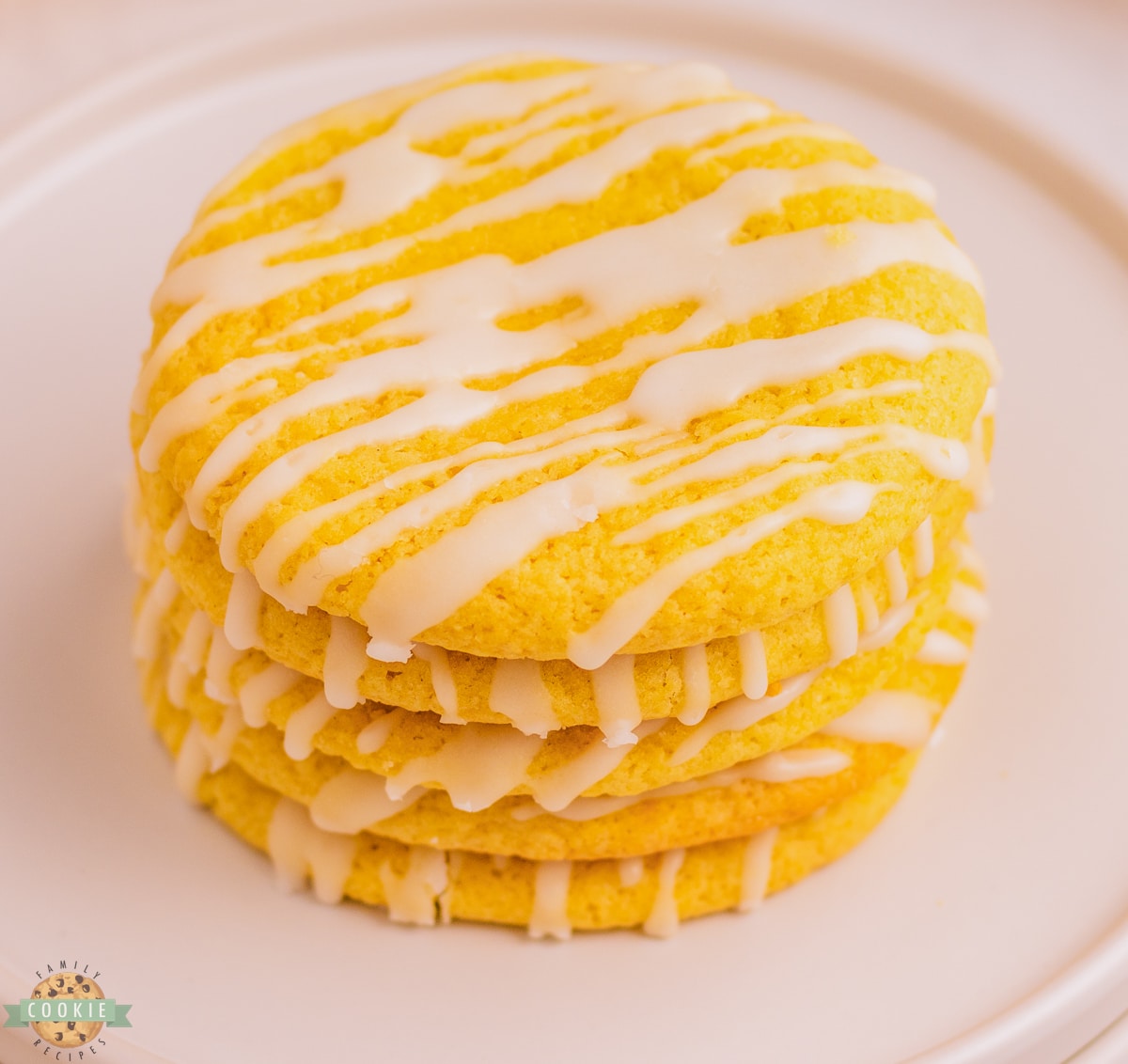 This may possibly be the best lemon cookie recipe ever and once you try it I am sure you will agree. Making these easy lemon cookies with glaze takes hardly any effort at all and the short wait time needed for the dough to chill is always worth it. The added wait time really helps give these cookies a stronger flavor for a better experience. Once you have tasted them I am sure you understand how important that is.
Lemon cookies with lemon glaze
These cookies really pack a punch with their sweet and tart burst of flavor in every bite. The soft buttery lemon cookie paired with the tangy-sweet lemon icing on top makes every bite of these cookies feels like summer. You are going to love the explosion of flavor in every bite. These are perfect for any occasion, from family gatherings, to baby showers, to bridal showers, everyone will be asking for this recipe once they have had a bite.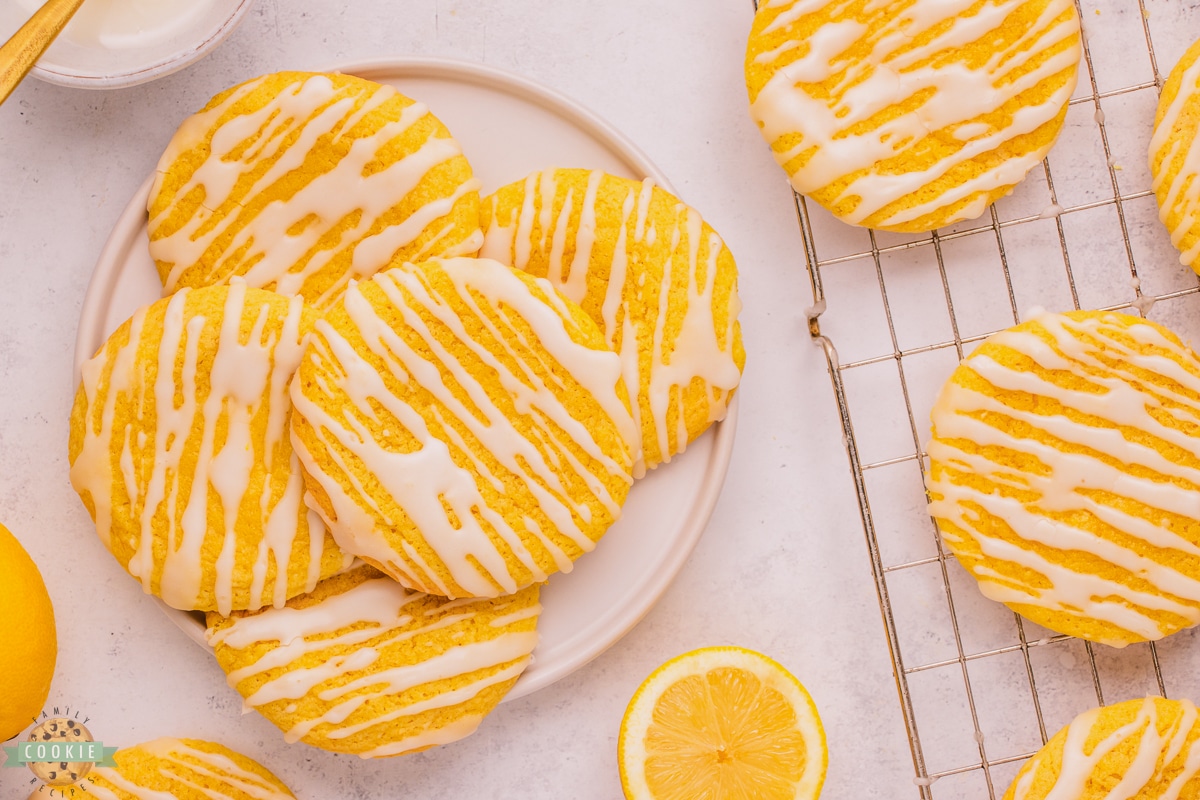 Soft Glazed Lemon Cookie Ingredients
For the cookies you will need:
-Butter: You need ½ cup (one stick) of room temperature butter.
-Sugar: Use 1 cup of granulated sugar to get a sweet batch of cookies.
-Egg: Adding 1 egg to the mix will bind the dough together and make for a nice rich flavor.
-Vanilla: Use ½ teaspoon of vanilla extract to enhance the flavors in the cookies.
-Lemon juice: You will need 2 ½ tablespoons of lemon juice to give a robust lemon flavor add.
-Lemon zest: Adding in the zest of 1 lemon will give more refreshing lemon taste in every bite.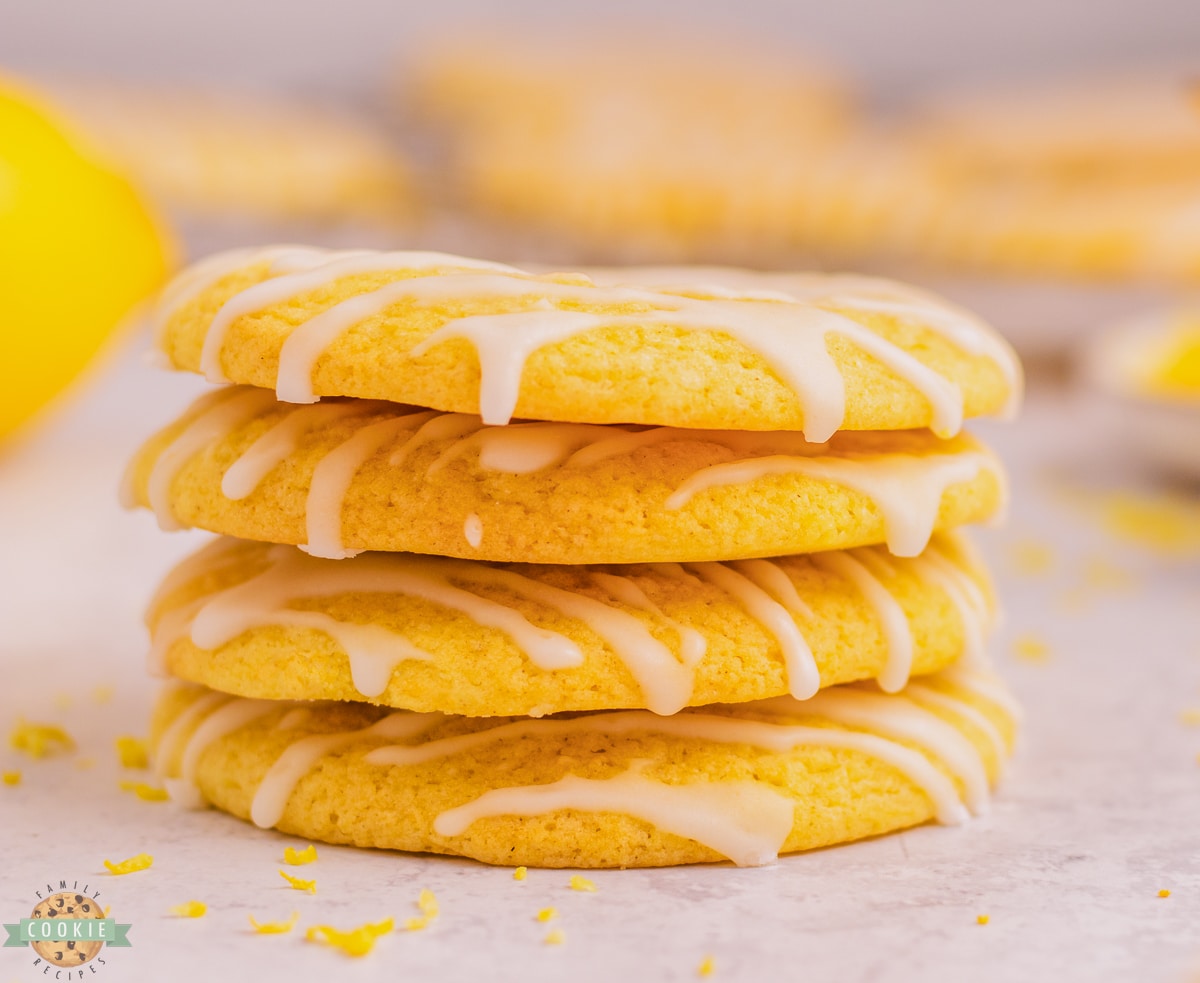 -Flour: 2 cups of all-purpose flour is used for the base of the cookie dough.
-Baking soda: You will need ½ teaspoon of baking soda to help these cookies puff up nicely as they bake.
-Food coloring: Add in a few drops of yellow food coloring to make these cookies yellow like lemons if desired.
For the Lemon glaze, you will need:
-Powdered sugar: Use 1 cup of powdered sugar to make the icing smooth and sweet.
-Lemon juice: Add in about 2-3 tablespoons of fresh lemon juice to get the icing to the perfect consistency while adding to the lovely flavor.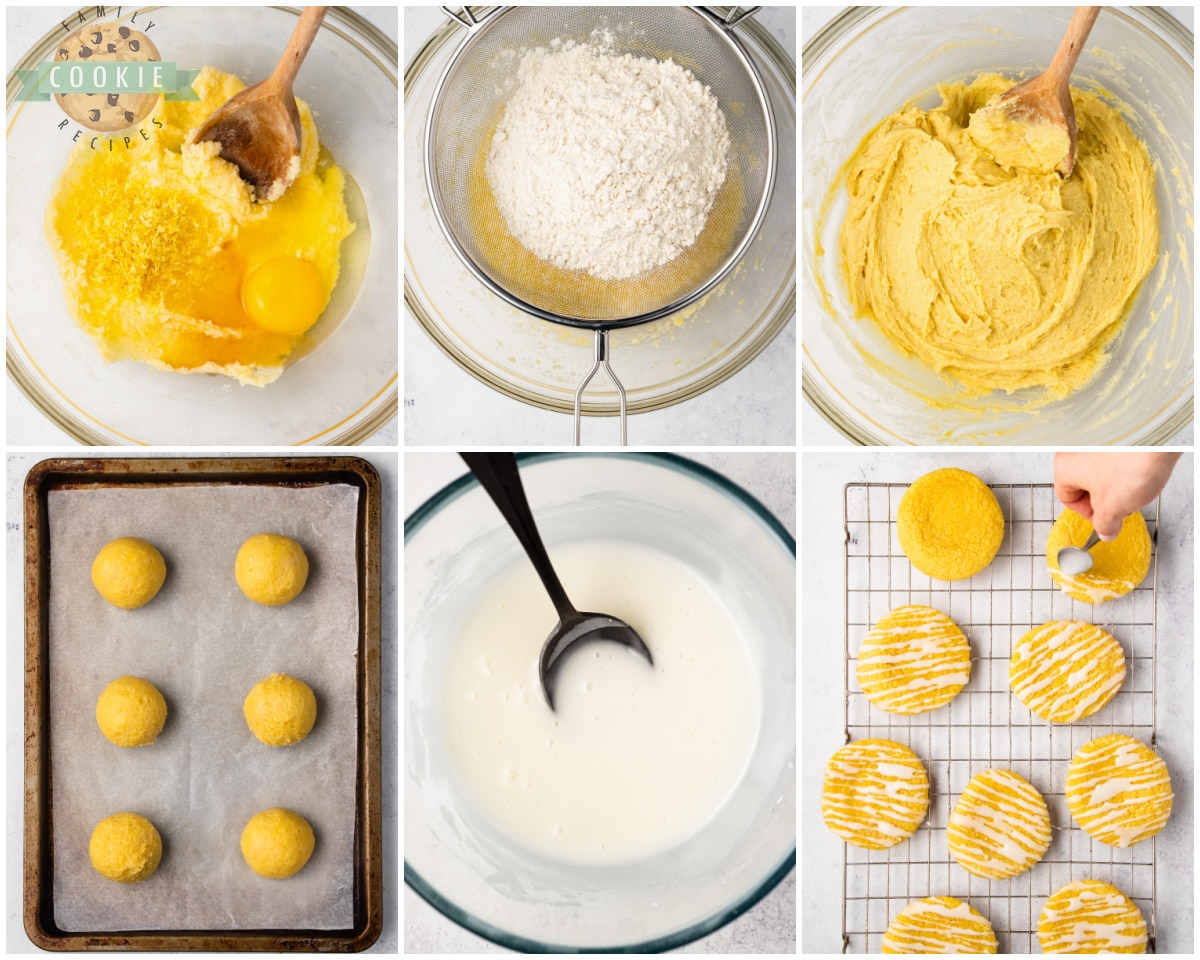 Step by step on how to make Soft Glazed Lemon Cookies
Prep
Preheat your oven to 350 degrees F. Line two baking sheets with parchment paper and set aside.
Making the cookie dough
Grab a large mixing bowl and beat together the butter and sugar until smooth. You can use an electric hand mixer or a spoon, whichever you prefer.
Then you will add in the egg, vanilla, lemon juice, and lemon zest. Mix to combine.
Next you will stir in the flour and the baking soda and fold together until well mixed.
You can then add in a few drops of yellow food coloring, if desired. This step is not required but it really makes the cookies eye catching when displayed on a dessert table.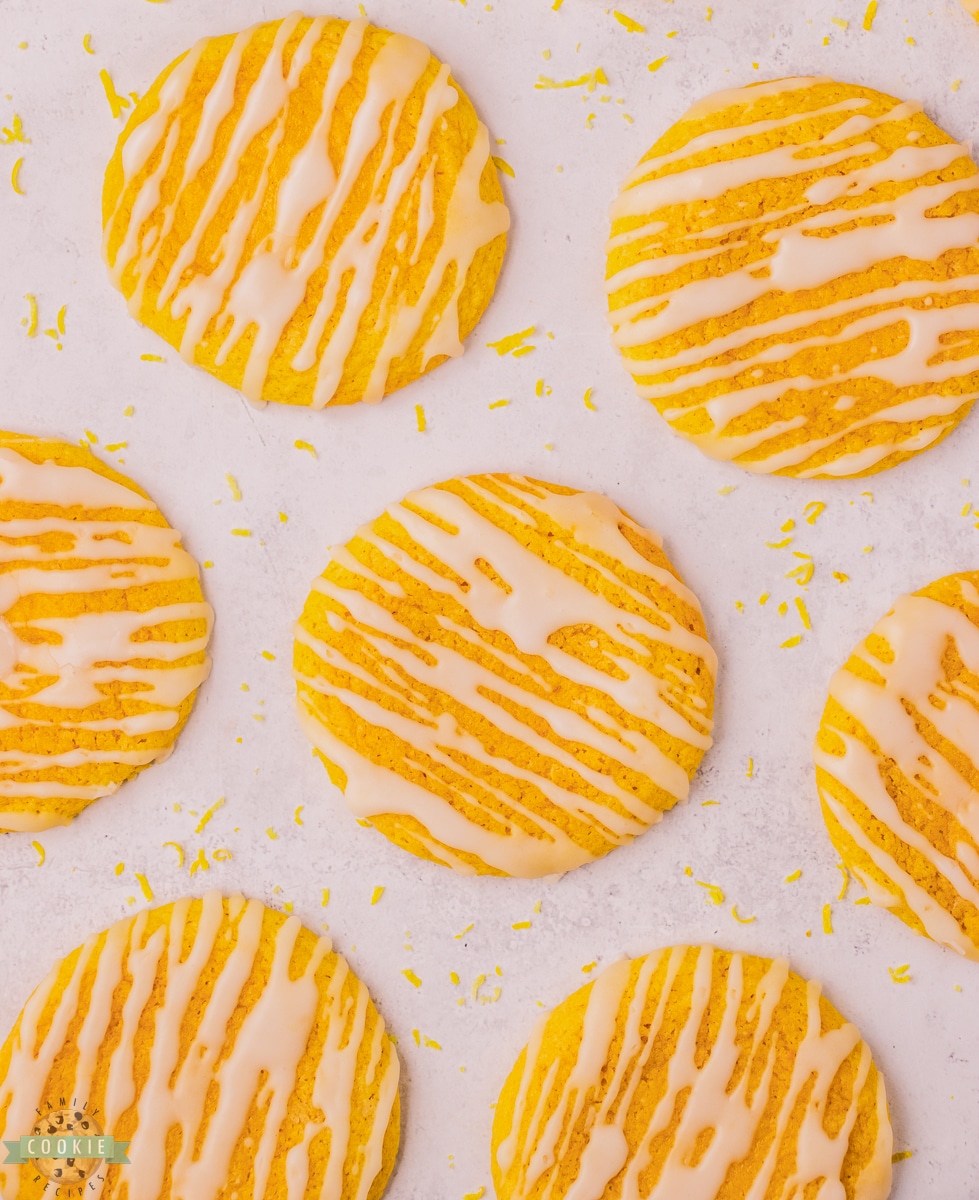 Time to chill
Cover the bowl with the cookie down and place in the fridge for about an hour to chill.
After the hour is up, take the dough by the handfuls and roll them into balls that are about 1.8 ounces in size.
Bake
Proceed to place the cookie dough onto the prepared baking sheets and leave enough space between them for the cookies to spread as they bake.
Bake in the oven for 11-13 minutes.
Once cookies are baked, let the cookies cool on the baking sheet for about 10 minutes.
Use a spatula to move them to a wire rack to cool completely as your prep the icing.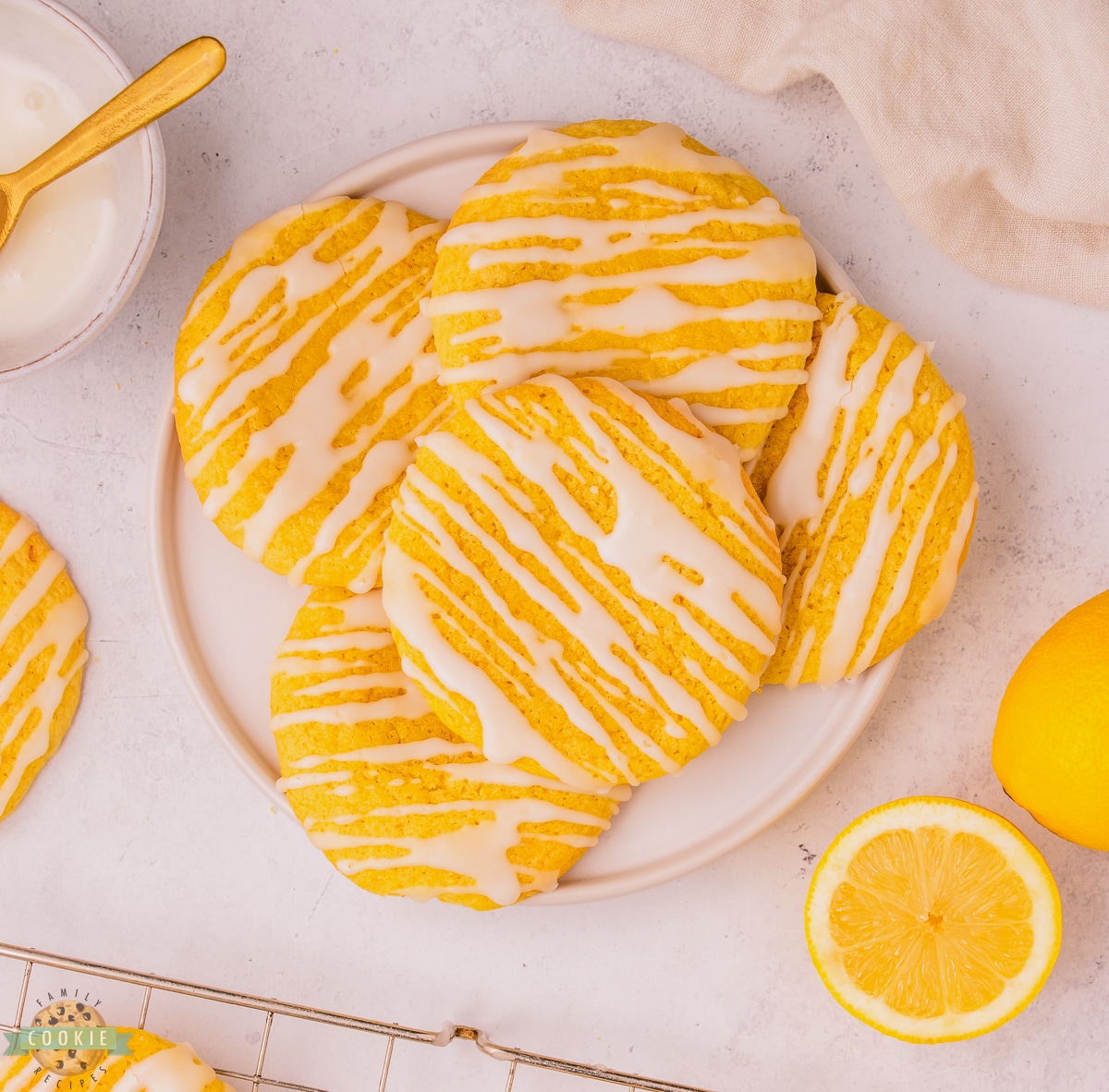 Icing
In a small bowl mix together the powdered sugar and lemon juice using a whisk or fork, until smooth and thick.
Carefully drizzle the icing over the top of each lemon cookie and allow time to firm before serving. Place on your favorite serving tray and enjoy!
How long are soft lemon cookies good for?
These lemon cookies will be good for about 4 days if kept stored in an airtight container at room temperature. If you have a container large enough be sure not to stack the cookies, the lemon glaze could transfer to the bottom of the other cookie.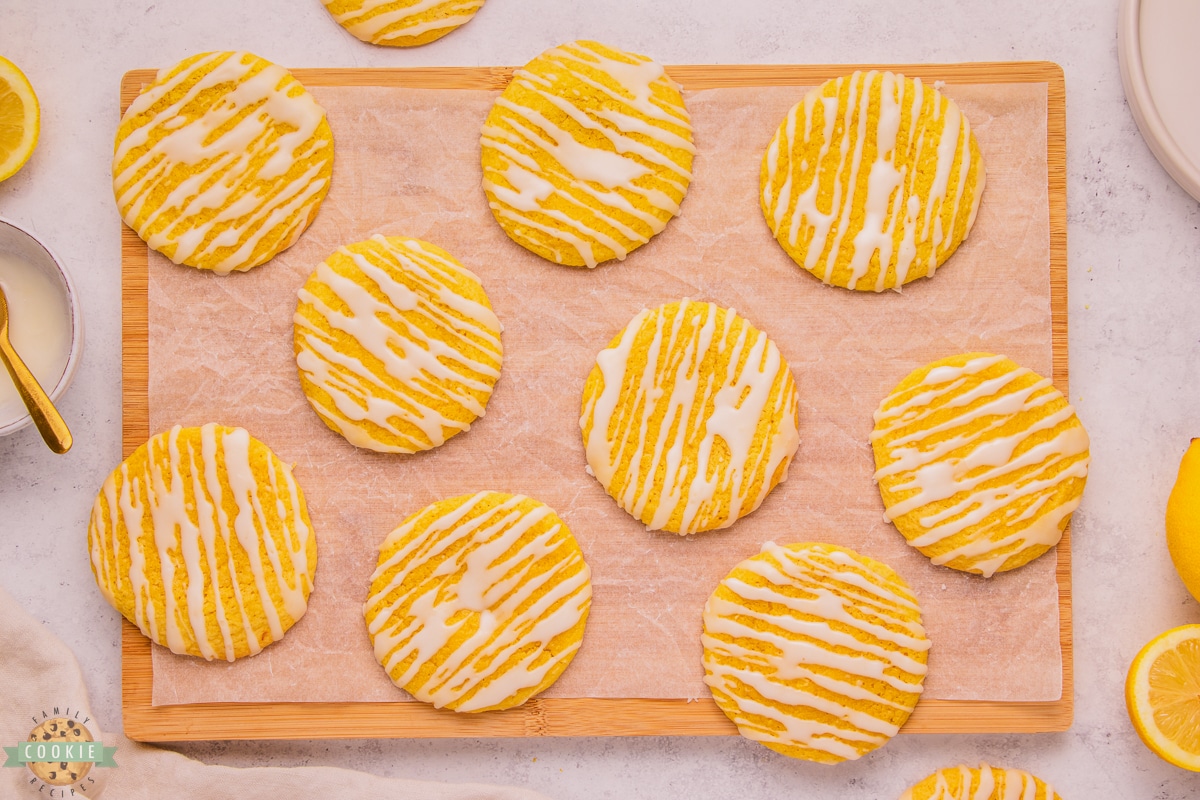 Can I freeze glazed lemon cookies?
I do not recommend freezing the cookies after they have been glazed as the icing will sweat and melt off of the cookie creating a mess as the cookies come to room temperature. If you plan on freezing these cookies, wait until ready to serve before icing them. In the freezer, they can last about 3 months in an airtight container.
Do these glazed cookies need to be stored in the fridge?
These cookies do not need to be stored in the refrigerator, they can be stored at room temperate in an air tight container. If you like your glaze and cookies cool you are welcome to put them in the fridge, however you prefer will be fine.

I've decided the more kids you have, the more challenging it is to take family pictures. I aim for a decent family photo every year, but we usually end up with professional pictures every other year. I'm ok with that! This is our latest one; aren't we all so cute?! I love, love, love more candid family photos. Everyone is smiling and clearly, my youngest is just having a fun time. And whew- I'm off the hook for another year and a half!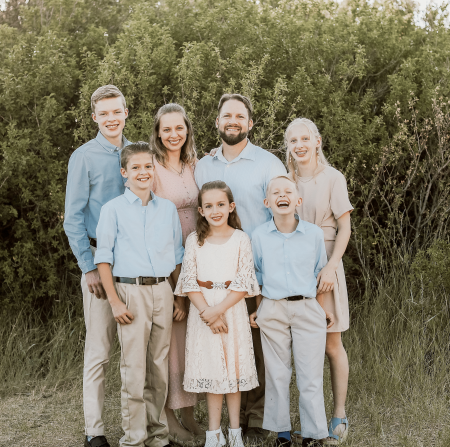 You're going to love these other lemon-flavored cookie recipes that we have to share!
This glazed soft lemon cookies recipe is one to hold on to and treasure for years to come. With so much tangy goodness and flavor in every bite these cookies are a burst of sunshine and happiness.