Jumbo Lemon Easter Cookies are so soft and tangy, the lemon buttercream on top makes them as festive as they are tasty. The light pastel-colored frosting makes this lemon cookie perfect for this Spring holiday.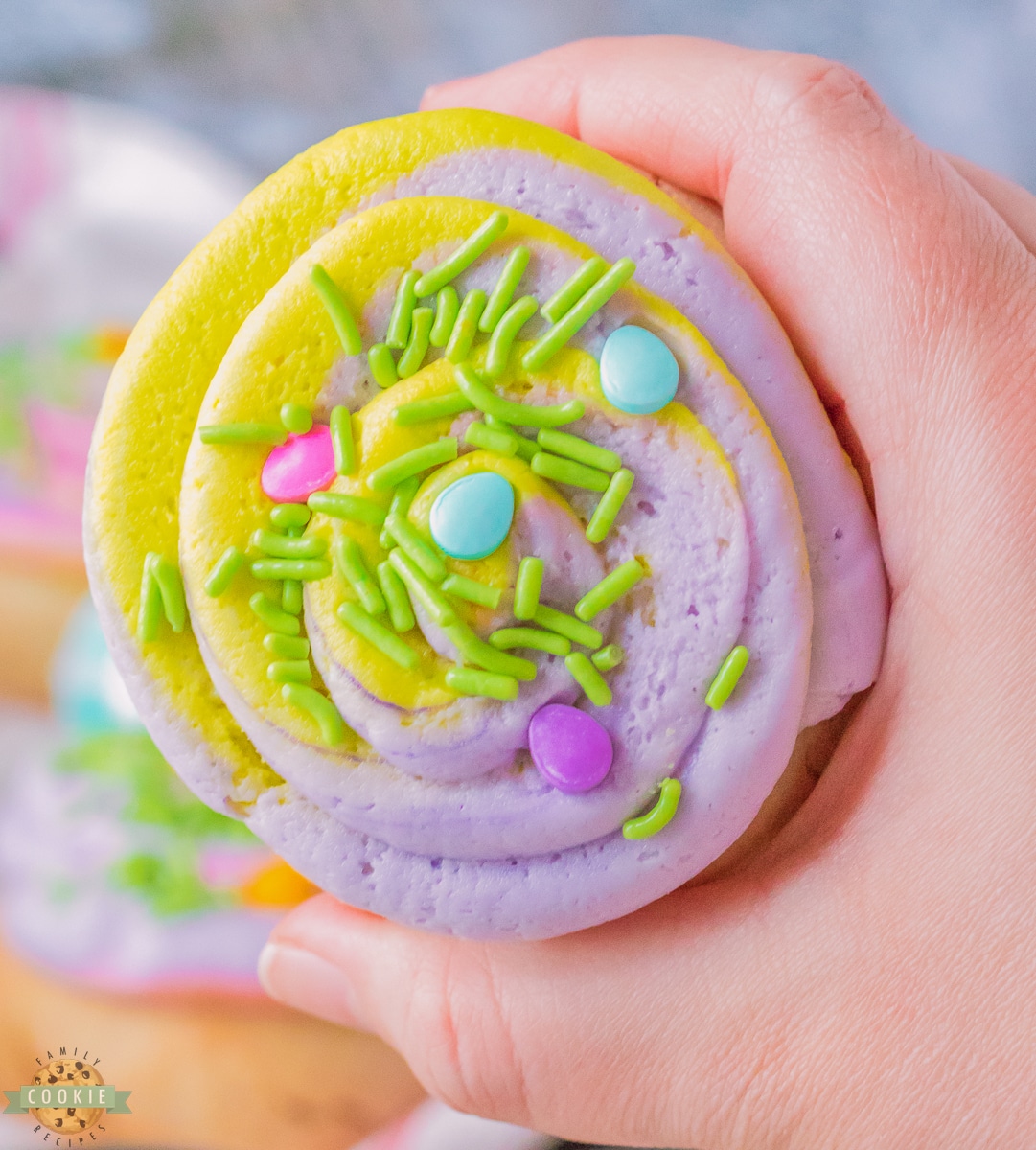 These lemon sugar cookies will be a huge hit with the family and not just because of their massive size but because they are so delicious! This soft lemon cookie and the buttercream frosting both have just the right amount of citrus flavor to create a light and refreshing taste in every bite, making these cookies a pretty addicting treat!
The BEST Frosted Lemon Cookies
These frosted lemon sugar cookies are both made from scratch and also use simple and easy ingredients making them very user-friendly. The end results are a fabulously soft and buttery lemon cookie topped with a tangy-sweet buttercream that can only be described as "heavenly." These impressive lemon cookies with frosting are practically a meal with their large size making them incredibly hard to resist. This is one buttercream frosted cookie recipe that the whole family is going to go nuts over. With just the right amount of lemon flavor to counterbalance the sweetness, every bite is a perfect blend of harmony of light and refreshing flavors.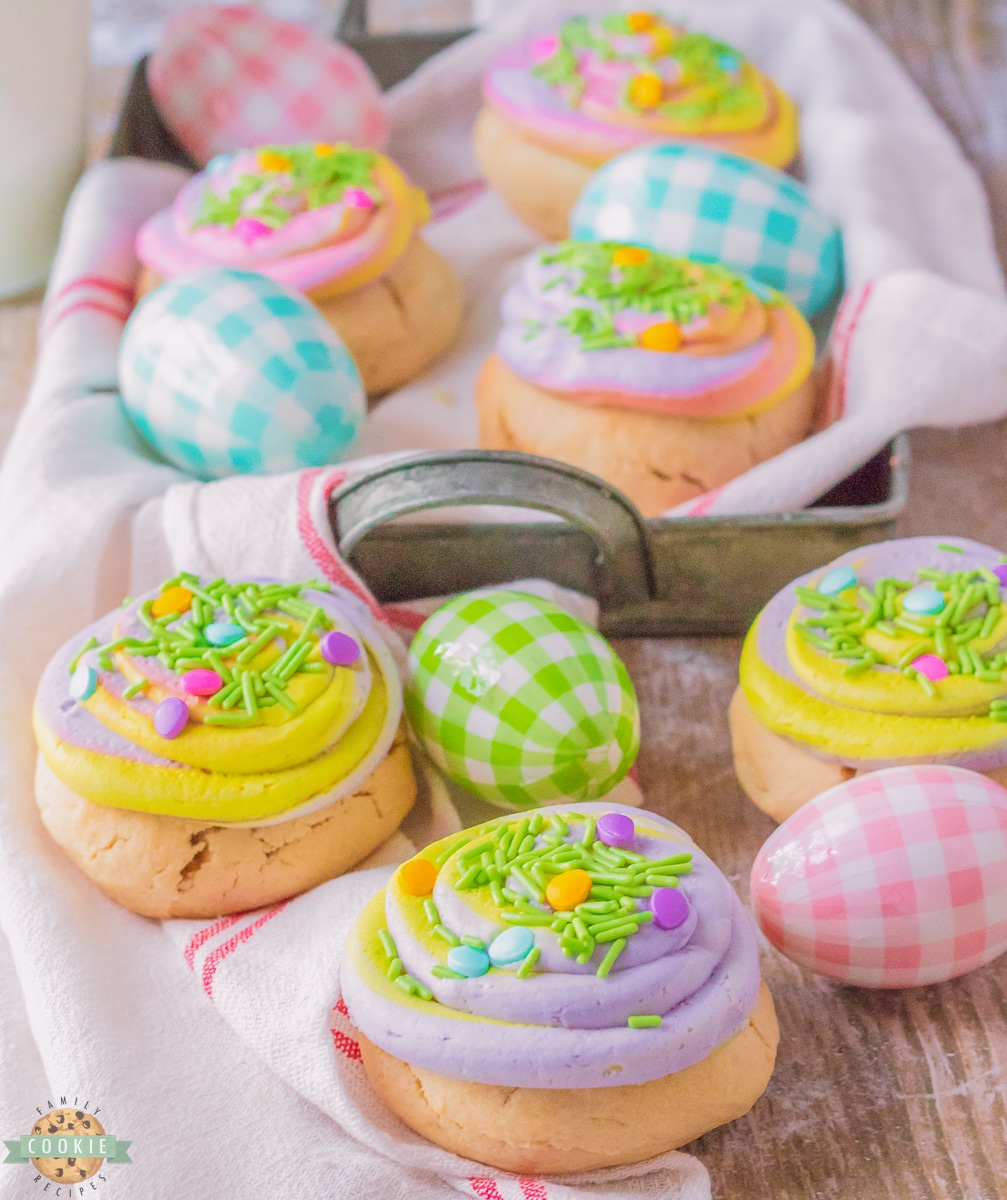 Why you are going to love this recipe!
They are really delicious. When I say that these cookies are addictingly good, I'm not exaggerating. From the soft and buttery lemon cookie to the tangy buttercream on top, every bite will have you craving another.
The steps are simple and basic. We don't have to do much more than a little mixing, rolling, chilling, and baking. These steps are super simple and don't require too much time either. the chill time for these cookies is also pretty minimal.
You can customize the cookies. If you want to leave the buttercream frosting white feel free to go ahead and do so! We love the pastel colors because it adds a festive touch, but white can give it a nice clean look that is also eye-catching and pretty.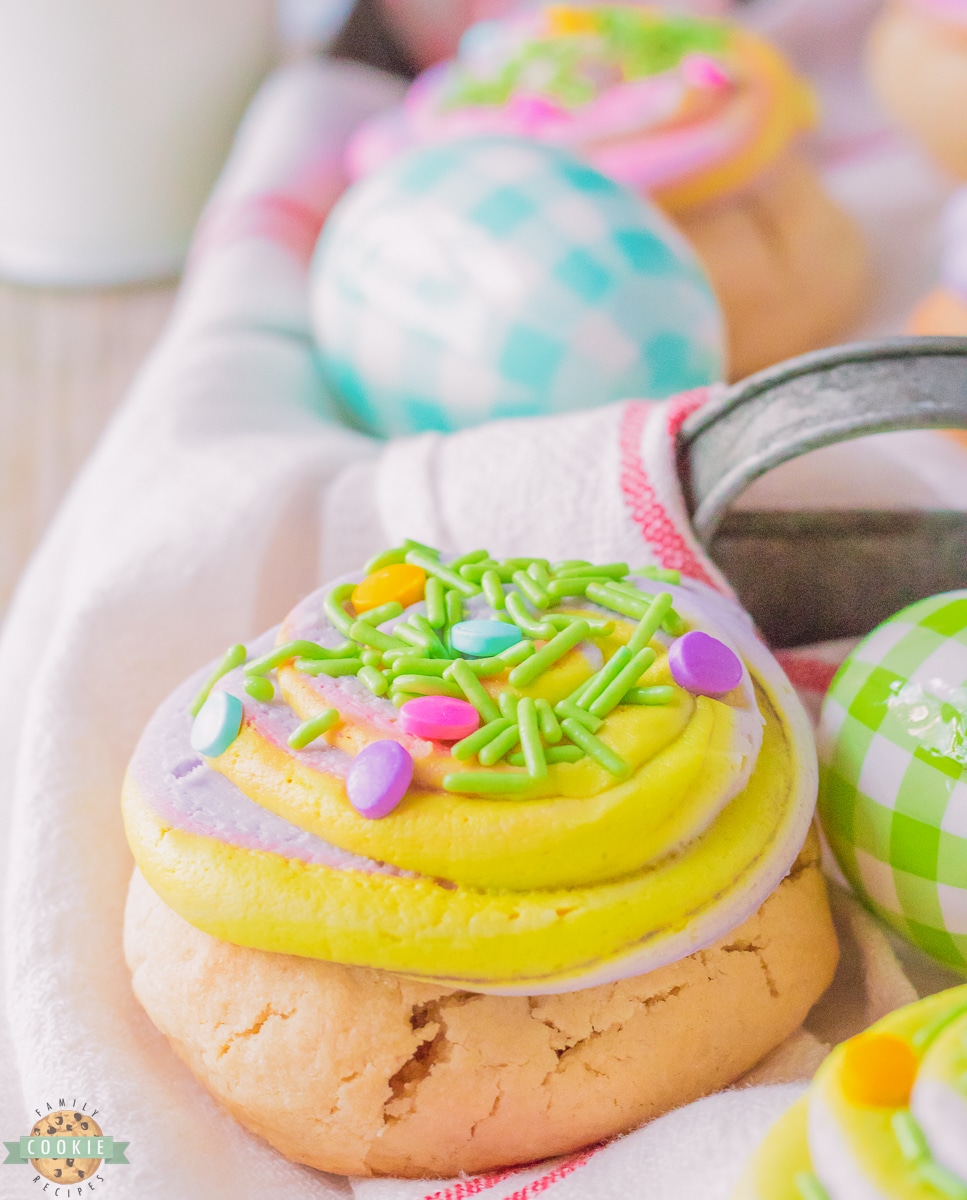 Lemon Sugar Cookies Ingredients
For the Cookies, You will need:
Butter: You will need 1 stick (½ cup) of softened unsalted butter for the cookie dough to make the cookies nice and rich in taste.
Sugars: You will need ¾ cups of brown sugar and ¼ cup of granulated sugar to make the cookies sweet and chewy with a great depth of flavor.
Egg: You will need 1 large egg to help bind the dough together.
Vanilla: Use 1 teaspoon of vanilla extract to help enhance the flavors in the dough.
Lemon juice: Add in 1 tablespoon of lemon juice for a robust lemon flavor and freshness.
Lemon zest: By adding in 1 tablespoon of lemon zest we can get a lot of great lemon flavor in every bite. Adjust the zest amount to strengthen or weaken the lemon flavor as desired.
Flour: Use 2 cups of all-purpose flour for the base of this cookie dough.
Salt: Add in ½ teaspoon of salt to help bring out the flavors in these cookies. Salt is a natural flavor enhancer.
Baking powder: You will need ½ teaspoon of baking powder will help the cookies to rise nicely as they bake.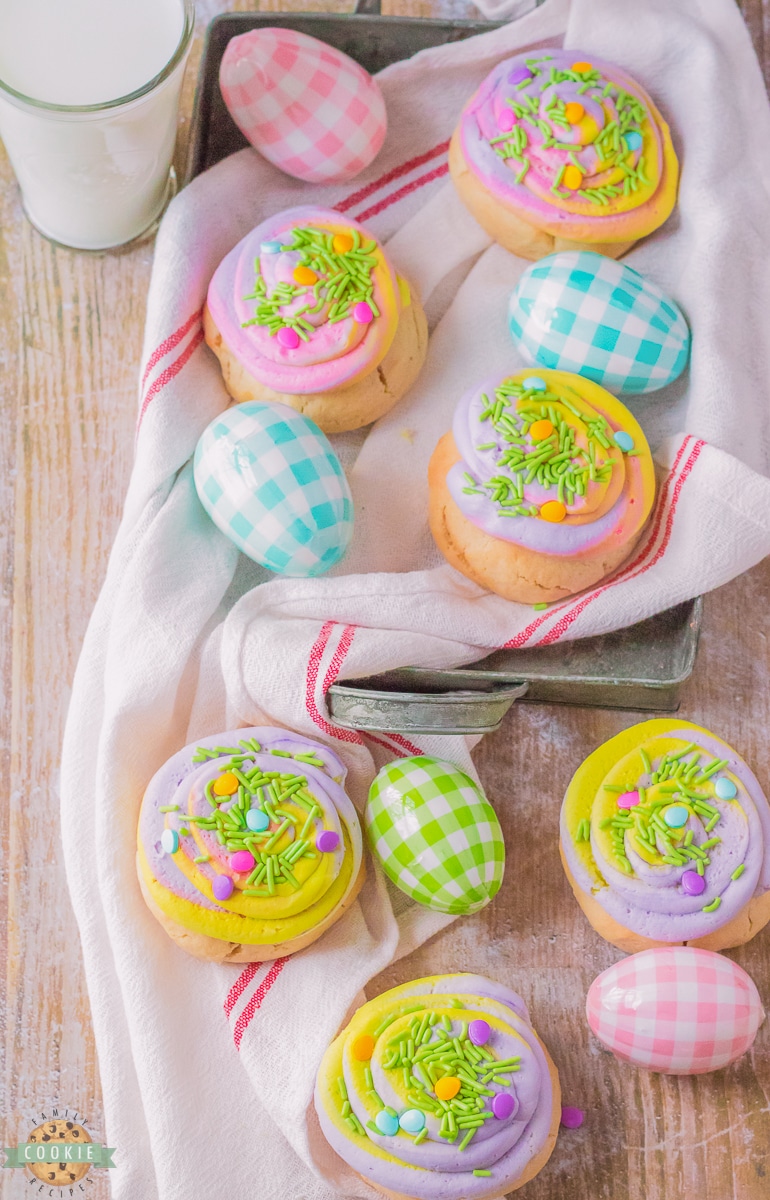 For the Buttercream Frosting, You will need:
Butter: Use ½ cup (1 stick) of softened butter for the frosting to make it rich and creamy.
Powdered sugar: You will need 4-5 cups of powdered sugar for the frosting. The actual amount of sugar needed will vary based on the desired consistency you want.
Lemon juice: Use 1 tablespoon of lemon juice to give this frosting a fresh and tangy lemon flavor.
Vanilla: You will need 1 teaspoon of vanilla extract to help enhance the flavors in the buttercream.
Sprinkles: To decorate your cookies, use some festive Easter-themed sprinkles.
Food coloring: If desired, use some pastel-colored food coloring to make the frosting more festive.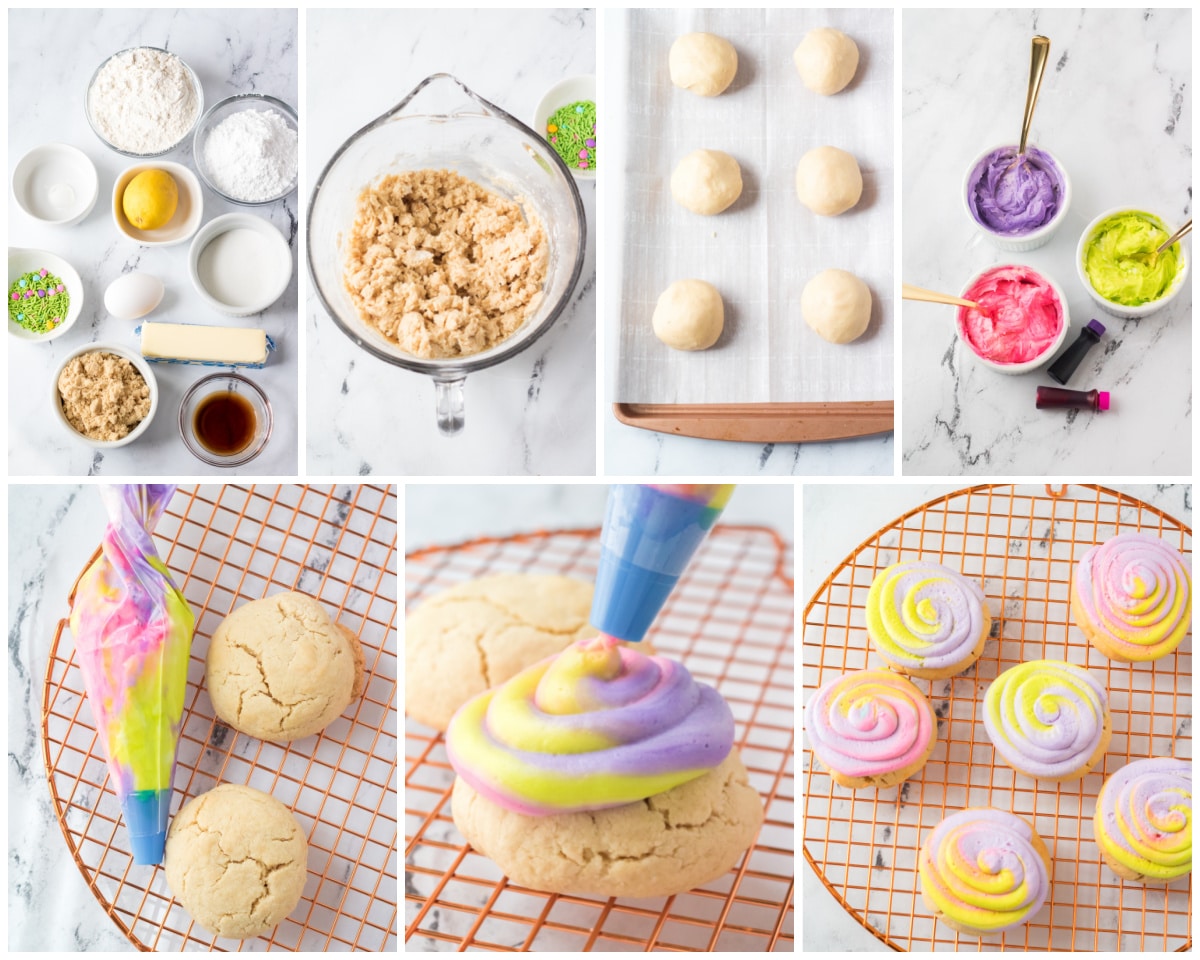 How to Make Jumbo Lemon Easter Cookies
Wet Ingredients
Start by creaming together the butter and both sugars in a large mixing bowl with an electric mixer until fluffy.
Then, add in and beat the egg, vanilla extract, lemon juice, and lemon zest until fully combined.
Dry Ingredients
Next, add in the flour, baking powder, and salt. Mix until just combined, do not overmix. The dough will be very crumbly.
Portion and Roll
Portion out the dough into 6 equal-sized pieces, these will be the jumbo cookie size.
Form each portion into a ball by pressing the dough together just until the dough comes together to form a ball.
Place onto a baking sheet and place into the fridge for at least 30 minutes to chill.
Bake
Preheat the oven to 350 degrees F while the dough balls are chilling.
Once the dough has chilled, place them in the oven and bake the cookies for 15-18 minutes. The edges should look golden brown when finished.
Let the cookies cool on the baking sheet for 5 minutes before transferring to a rack to cool completely.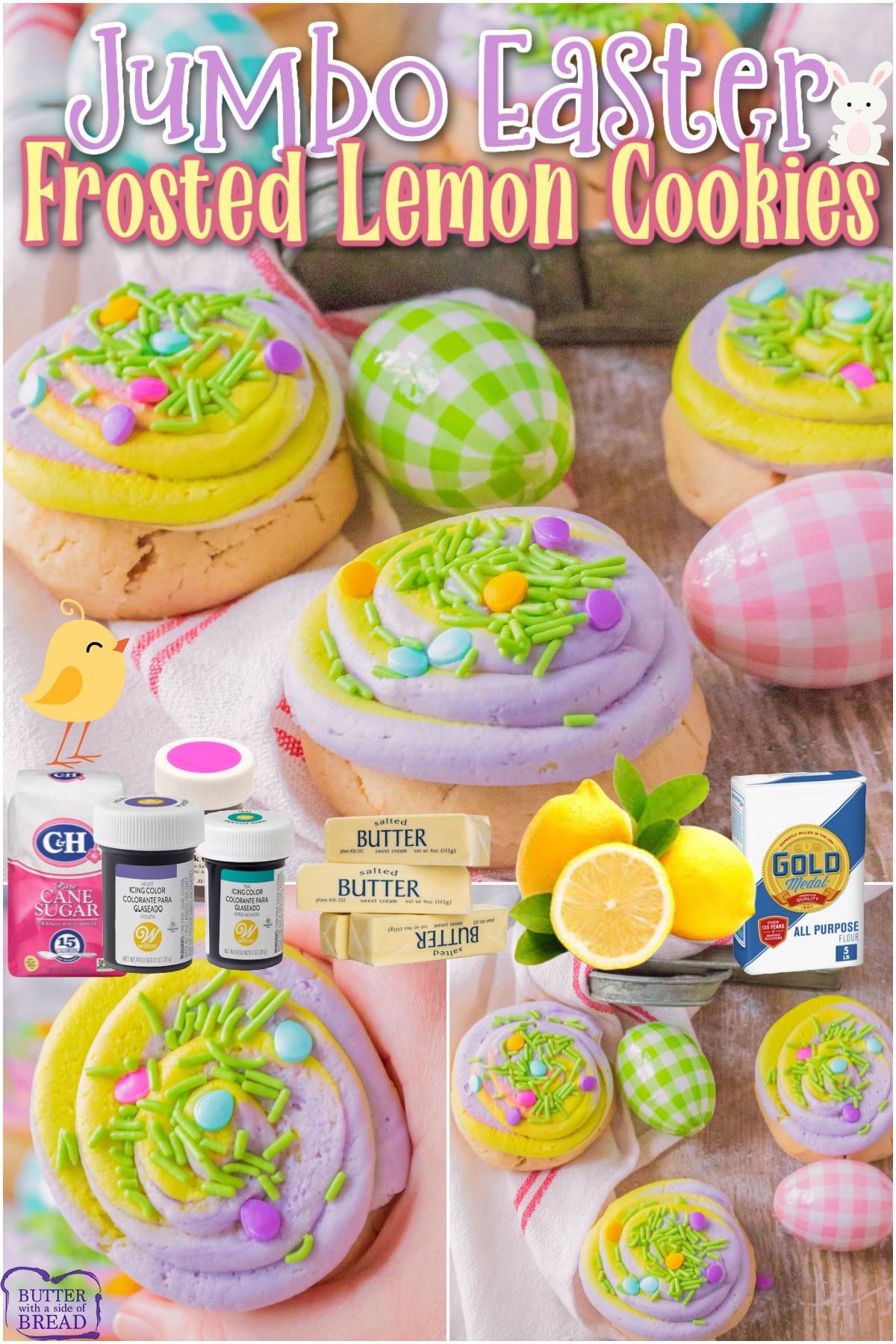 Prepare the Frosting
Whip the butter in a large mixing bowl or in the bowl of a stand mixer, until fluffy.
Then, add in the powdered sugar and beat to combine.
Next, add in 1 tablespoon of lemon juice and the vanilla extract, continue to blend until combined.
Color the Buttercream
After that, divide the buttercream into 3 or 4 bowls and add food coloring
to each one.
Blend together until you have achieved the colors you want.
Assemble Frosting Bag
Unroll a large 18-inch piece of plastic wrap. Spread each color of frosting in a line down the plastic wrap leaving a 3-4 inch space on each end. You should have about 3 or 4 lines of frosting, and it's okay if they touch, but make sure that you don't place them on top of each other.
Grasp the top and bottom of the plastic wrap (where the blank spaces at the ends are) and roll the plastic closed. The frosting will now be rolled together and look like a log.
Twist both ends of the plastic wrap together to create a tootsie-roll-like package of frosting.
Insert the rolled frosting into a frosting piping bag. Pull it all the way down so that one end of the frosting meets the bottom of the bag where the frosting tip is. The other end will extend out of the bag from the wider end.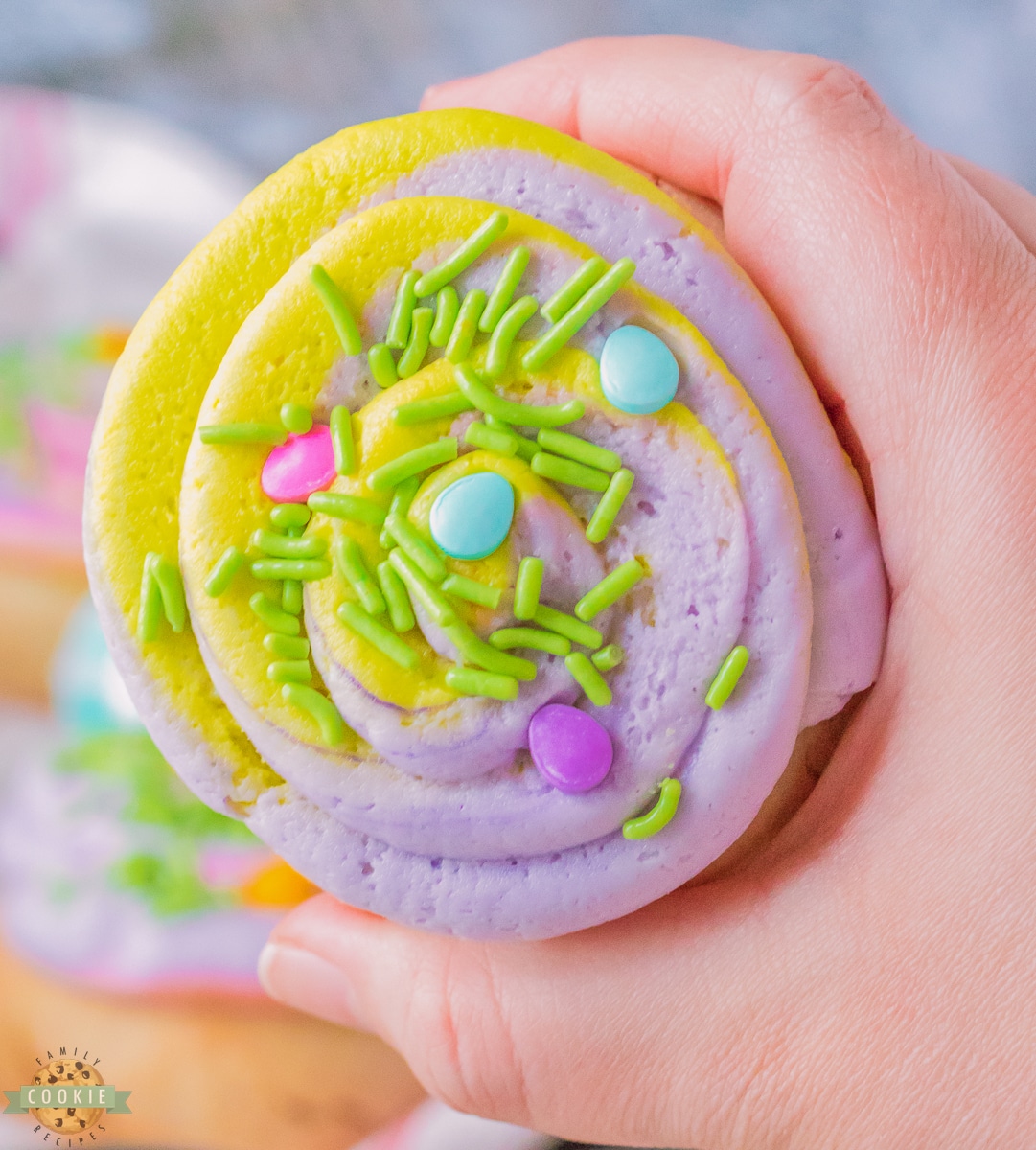 Decorate
Snip the plastic wrap off where it meets the frosting tip.
Press the frosting down into the tip and pipe the frosting onto your cookies.
Top each cookie with some Easter-colored sprinkles.
Serve and enjoy!
How to Decorate Without Piping Bag
piping bag, but if you don't have a piping bag handy, you can also simply use a gallon-sized Ziploc bag. Just snip one bottom corner of the bag and it will work just fine. Alternatively, you can also just spread the frosting onto the cookies using a butter knife as well.
How Long Are Frosted Lemon Cookies Good For?
These cookies can be kept stored in an airtight container for up to 3 days. They can be stored at room temperature or in the fridge but I like keeping them in the fridge because it keeps the cookies nice and chewy. If you happen to have any frosting for lemon cookies leftover you can keep it stored in an airtight container in the fridge for up to one week.
Do I Have To Chill My Cookie Dough?
Yes. When recipes request that you chill your cookie dough it's usually for a good reason. A good reason is that the flavor gets a little longer to develop and make the cookies taste even more incredible but the biggest reason is because of the butter/fats in the dough.
By chilling the dough we allow the fats to solidify which means your cookies won't spread out as much while baking so the texture turns out perfectly. This is especially important on warmer days or when your butter is warm or softened.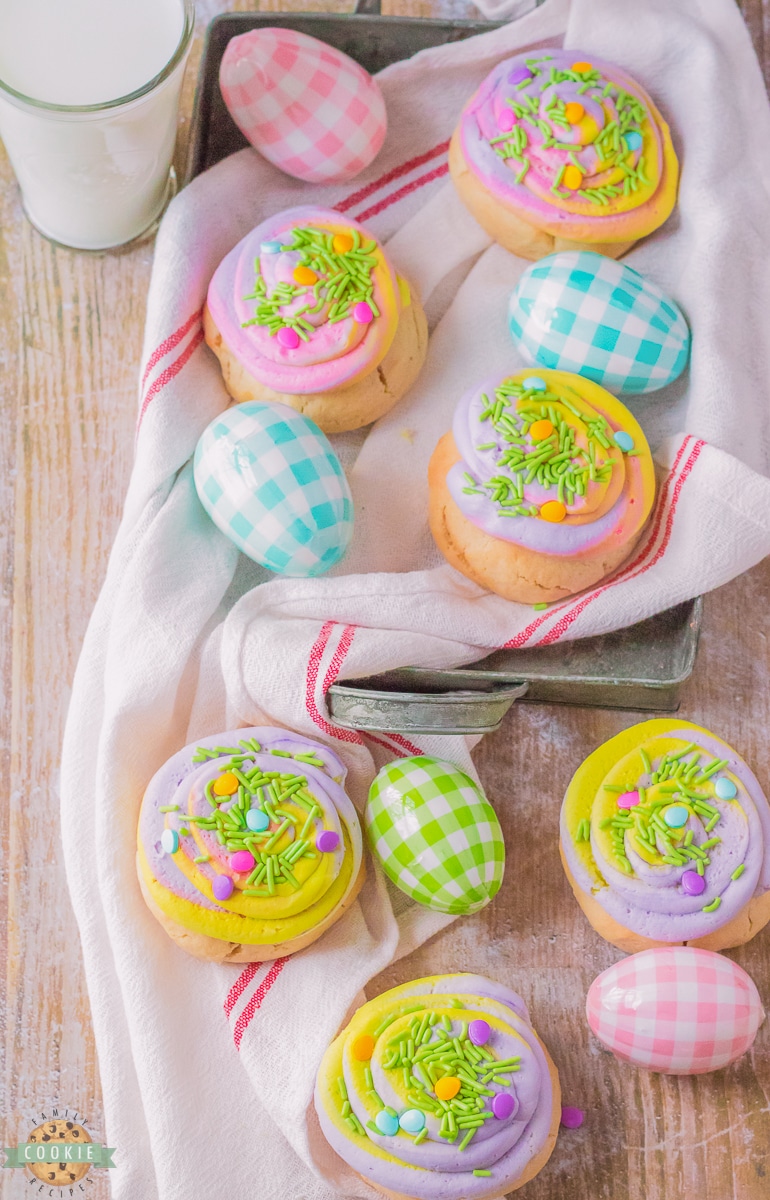 Can I Freeze Frosted Cookies?
Yes, you can freeze these cookies! They will last up to 3 months this way. To freeze them, place your frosted cookies onto a baking sheet and freeze for about 2 hours until the frosting is solid. Then transfer to an airtight container with a piece of parchment paper or wax paper between the cookies to prevent sticking.
How to Zest a Lemon
The easiest way to zest a lemon is to use a citrus zester. By rubbing the peel of a washed lemon along the grated edges we get tiny shredded pieces perfect for your baked goods and recipes. If you do not have a citrus zester you can use a vegetable peeler to remove the outermost layer of peel (not the white part under the colored peel). Then chop the peel into very tiny pieces, like minced garlic, and use as desired.


Can I just tell you that these 2 teenagers are the luckiest EVER?! Here they are lounging on a beach in Mexico. MEXICO! It's a good thing they're both very down to earth and aware of how blessed they are!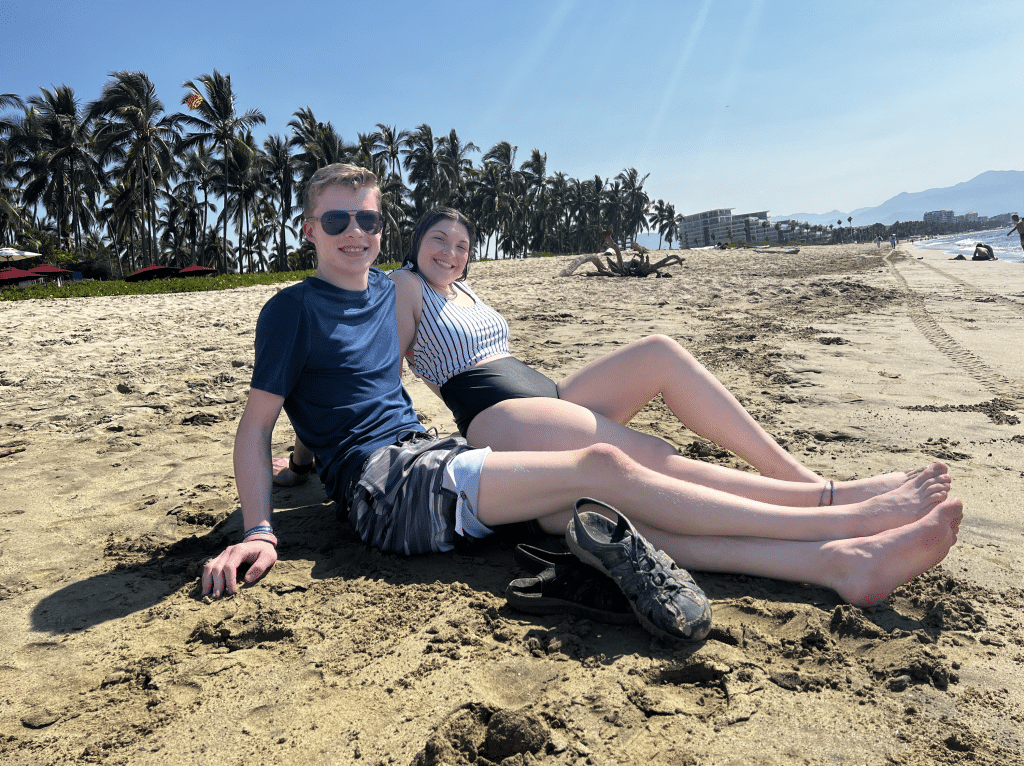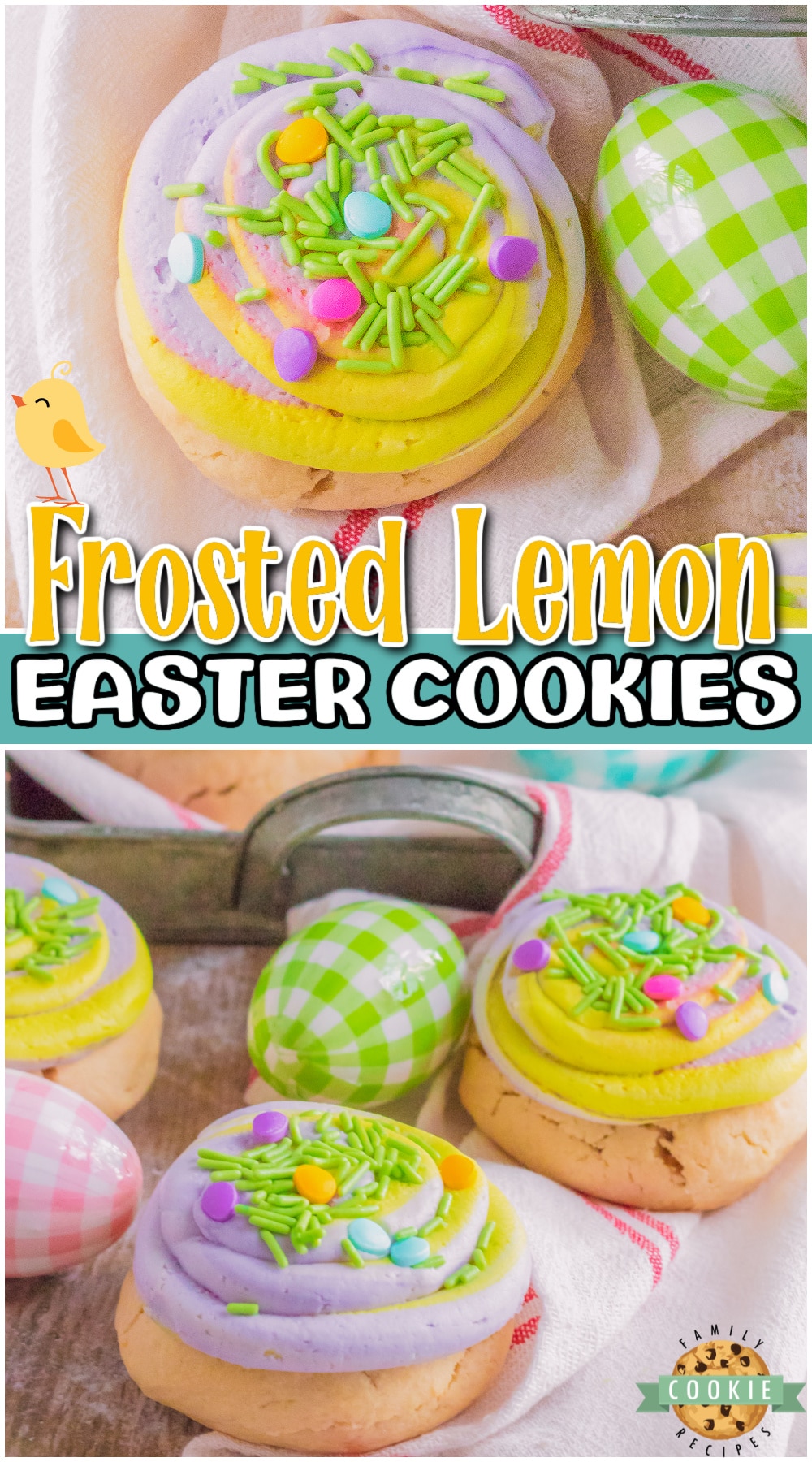 These frosted lemon Easter cookies are a pastel colored treat perfect for celebrating with on Easter. From the massive cookies to the big punch of fresh lemon flavors these cookies are a perfect Springtime treat.