Easter Egg Sugar Cookies delicious & lightly frosted cookies perfect for Easter! Made from scratch with simple ingredients, these Spring cookies are an incredible addition to your holiday dessert table.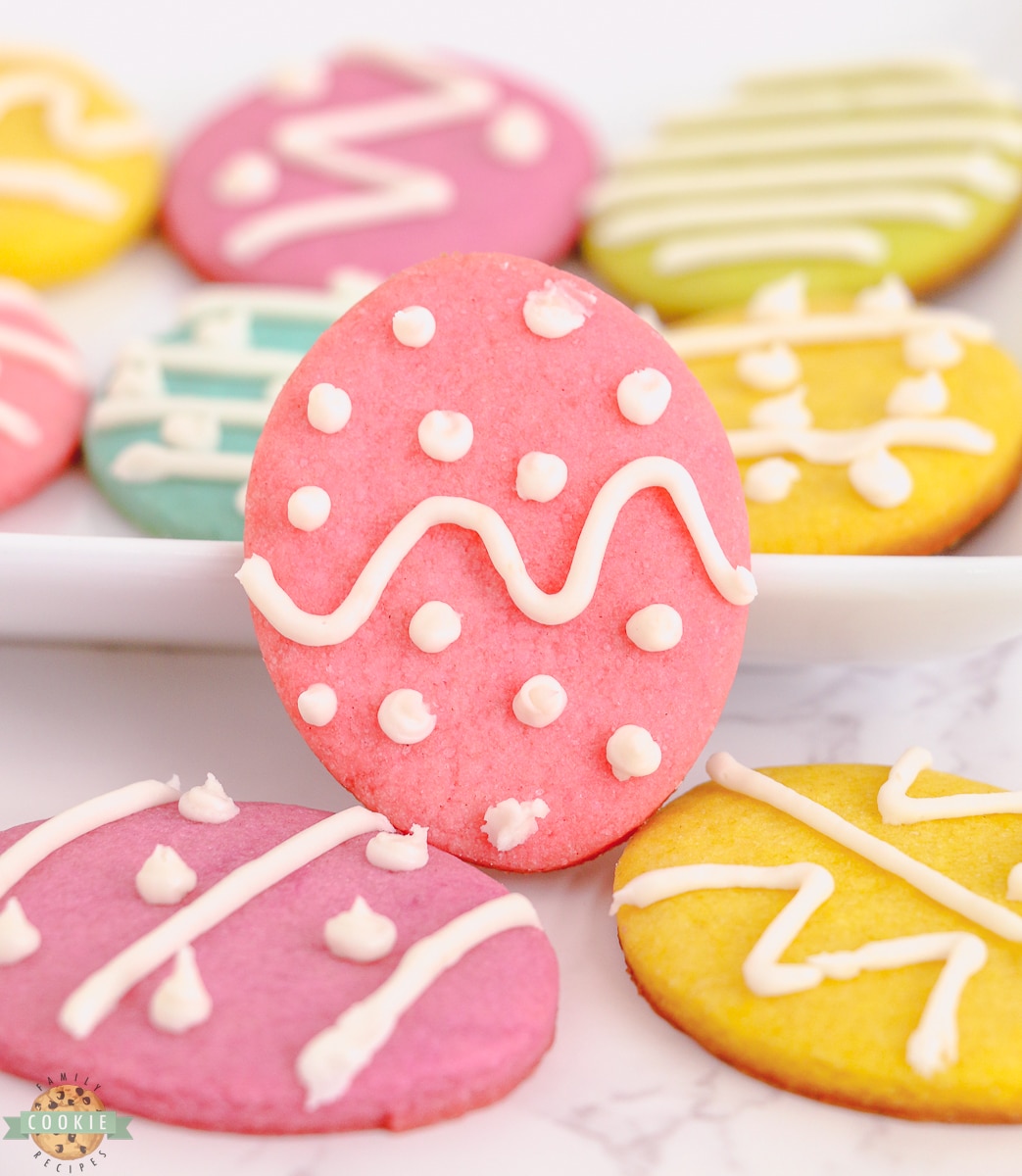 Making Easter sugar cookies is fun for the whole family, from the colorful cookie dough, to the simple vanilla frosting on top, everything about these cookies is sweet and easy. Grab the kids and have them join the baking party, Easter egg cookies are a task the you can enjoy together!
Easter Cookies
Making Easter egg-shaped sugar cookies is only part of the fun, eating them is just as fun! From the simple steps to the final appearance, these cookies are truly a great way to incorporate spring colors and a tasty treat. Take it one step further by lightly blending the cookie doughs together for a marbled easter egg sugar cookie experience or modify this recipe for other holidays so you can enjoy the same great tastes all year long!
Why you'll love this Easter Cookie Recipe
Basic ingredients. To make these cute Easter treats, you only need 10 basic ingredients. Which means the trip to the store will be inexpensive or non-existent. It's likely you have all the ingredient in your kitchen already!
Simple steps. These festive cookies don't take long to make at all, from start to finish you will need about 30 minutes of your time. I love a nice simple recipe that produces amazing treats with little effort!
Festive and pretty. These sugar cookies are such a great way to celebrate the Easter holiday. They taste delicious and are fun too! A great addition to any holiday dessert table.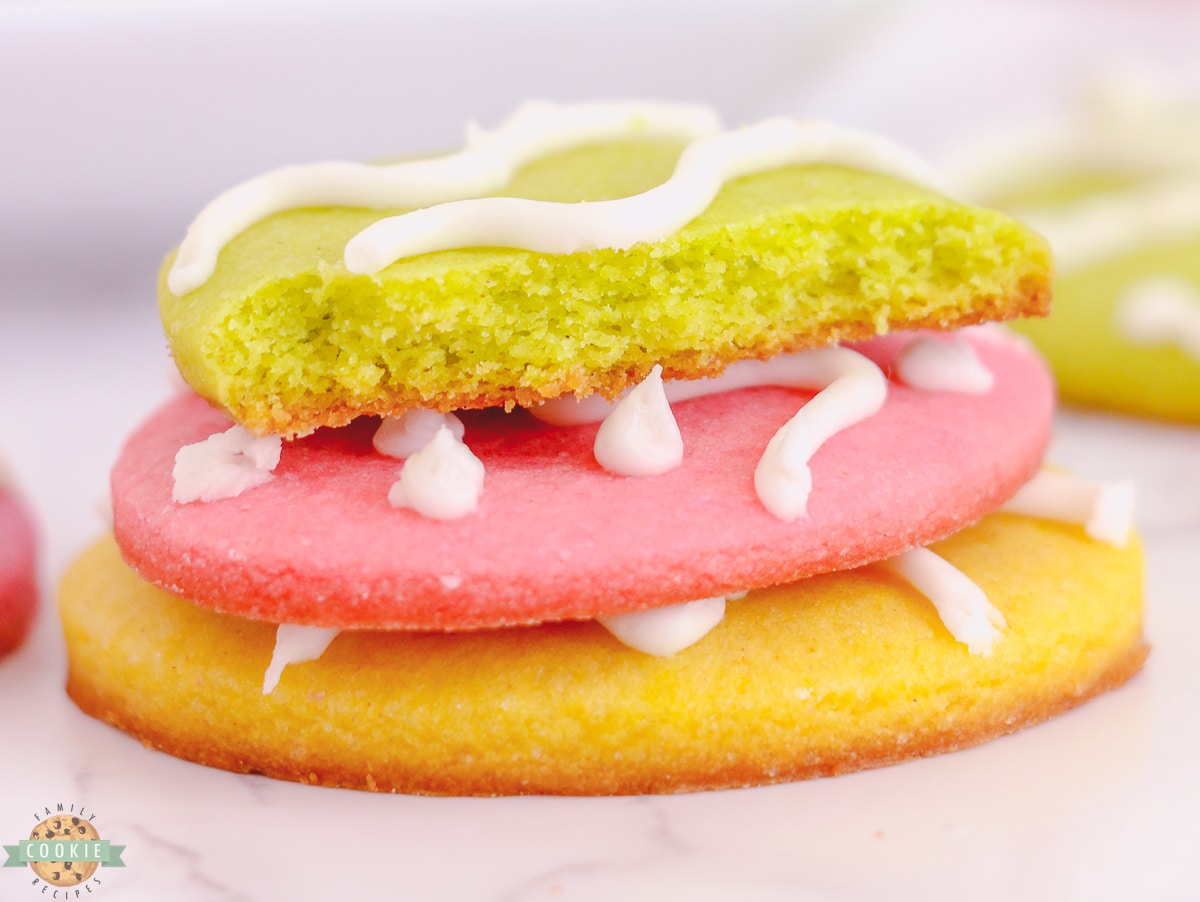 Easy Easter Sugar Cookies Ingredients:
Butter: You will need 2 sticks (1 cup) of butter, softened, for these cookies to be rich in taste.
Vanilla extract: Use ½ teaspoon of vanilla extract to help enhance all the wonderful flavors.
Powdered sugar: Adding ½ cup of powdered sugar will make these cookies sweet and tasty.
Flour: 2 ¼ cups of all-purpose flour is needed for the base of the cookie dough.
Sugar: For more sweetness and a little chewiness in every cookie, add ½ cup of granulated sugar.
Cream of tartar: You will need ½ teaspoon of cream of tartar to help the cookies rise as they bake.
Egg: 1 egg will help to help bind the cookie dough together well.
Baking soda: To get the cookies to puff up nicely as they bake, use 1 teaspoon of baking soda.
Food coloring: Use a mixture of colors including yellow, purple, blue, green, and pink to give the cookies a great variety of colors.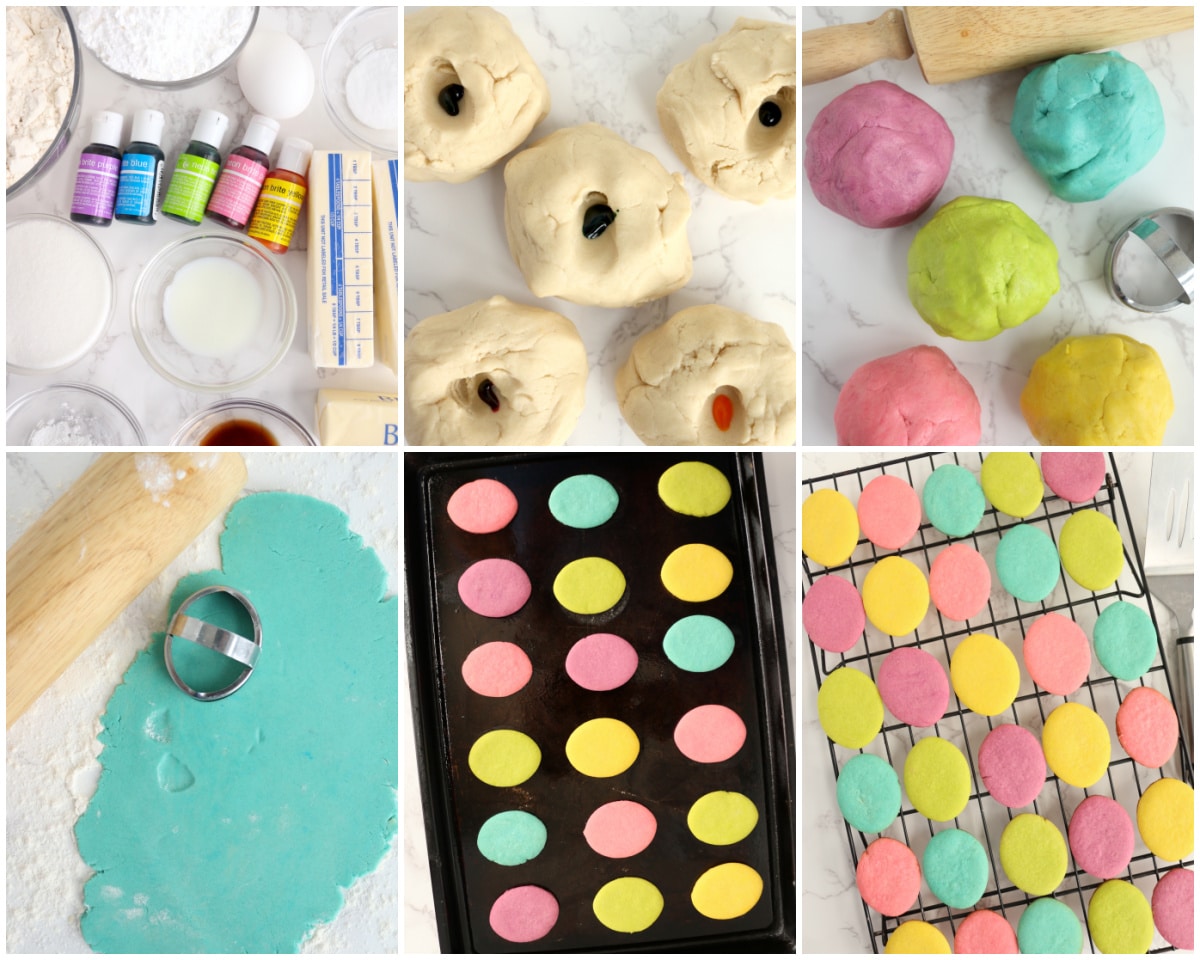 Frosting
Butter: Use ¼ cup of butter, softened, to make the frosting rich in taste.
Powdered sugar: Make the glaze smooth and sweet by using 2 cups of powdered sugar.
Vanilla extract: 1 teaspoon of vanilla extract will give a good flavor to your icing. Use clear vanilla to keep the icing white if desired.
Milk: You will need 1-2 tablespoons of milk, the total amount needed will depend on the desired consistency of the icing.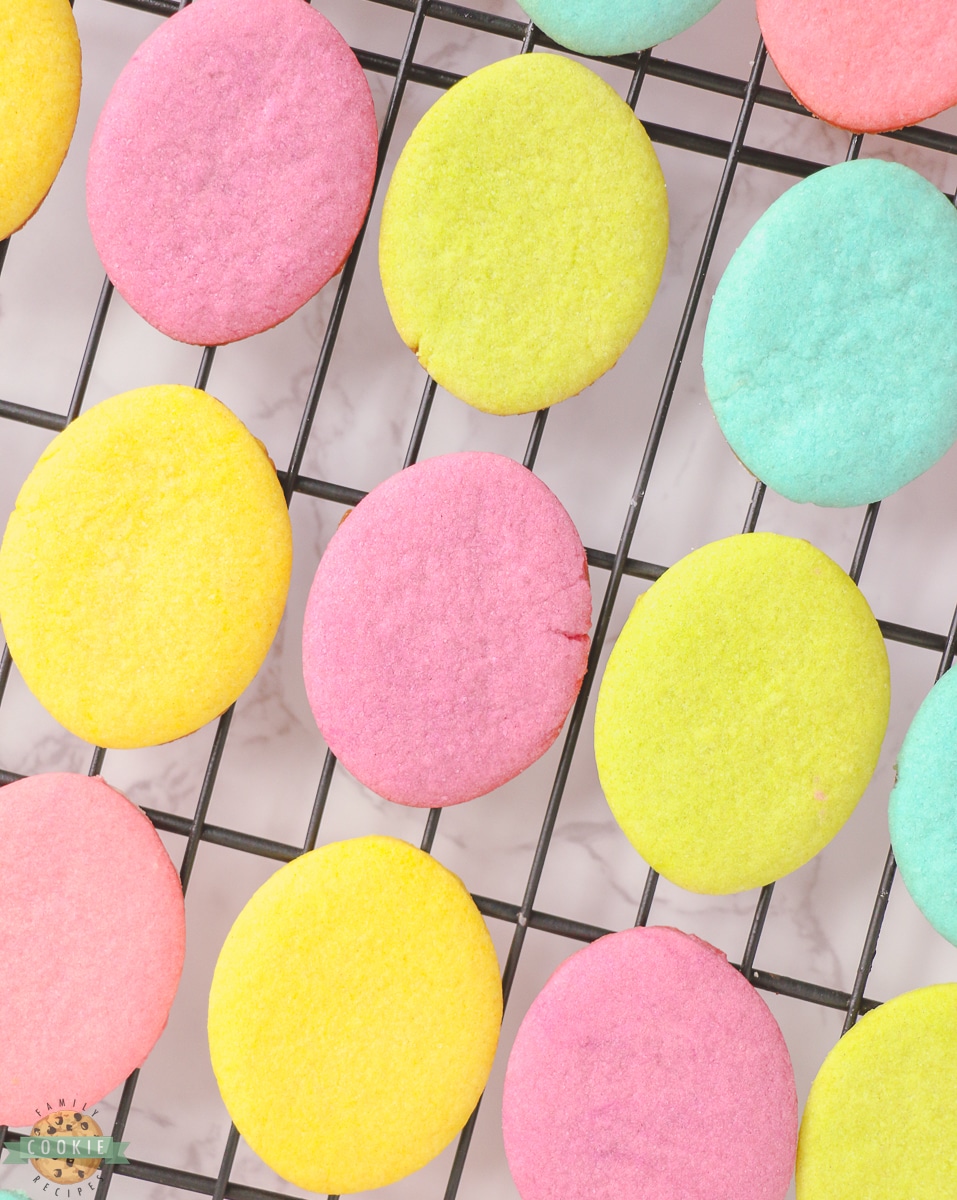 How to Make Easy Easter Sugar Cookies
Prep
Get started by preheating the oven to 375 degrees F. Then, line two cookie sheets with parchment paper or silicon mats and set them aside.
Cookie dough
In a large bowl, using a whisk or electric handheld mixer, beat together the softened butter, powder sugar and granulated sugar until light and creamy.
Next, add in the egg and vanilla extract, mix well to combine.
After that, add in the flour, cream of tartar, and baking soda, stir flour is distributed and no white streaks are showing.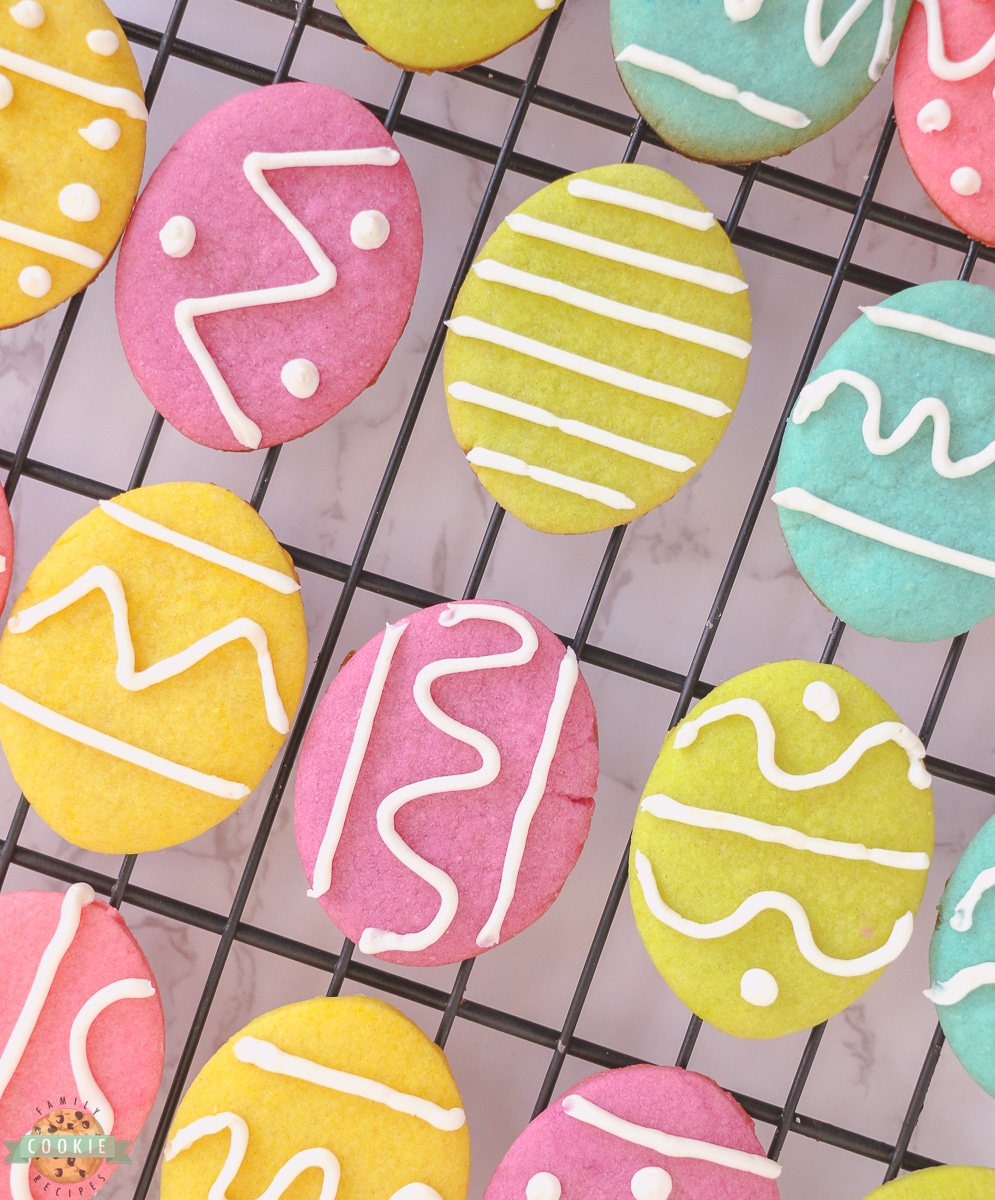 Color and Shape
Proceed to divide the dough into 5 separate bowls, or as many different colors you want to create.
Add a few drops of food coloring (one color per bowl) to each bowl of dough and then mix together until the color is uniformly distributed throughout the dough.
Now, roll each color of dough separately onto a floured surface until it is 1/4 inch thick.
Continue to use an egg-shaped cookie cutter to cut out the dough and then place them at least 2 inches apart on your baking sheet. Reroll the dough and cut more eggs until all the dough is used.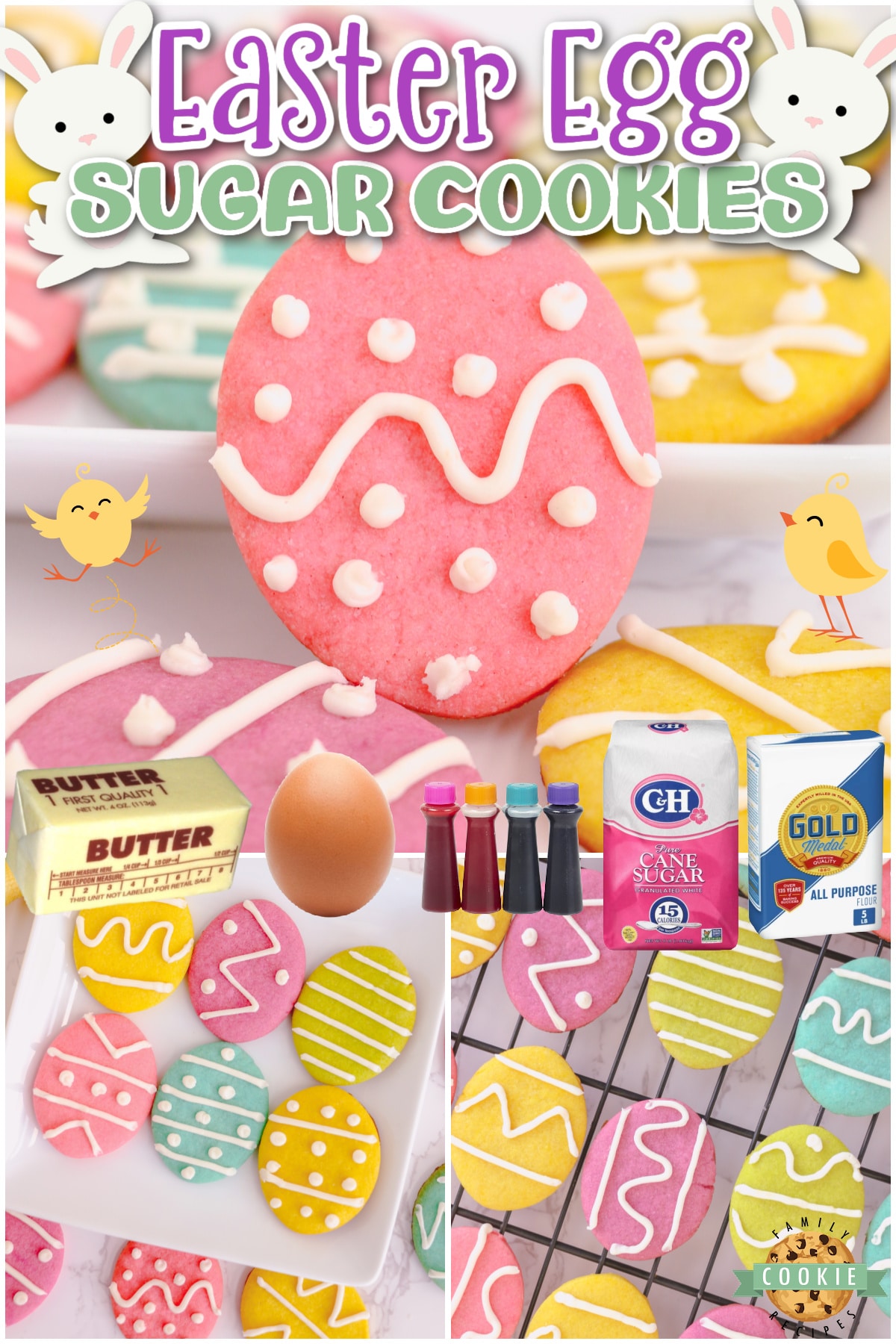 Bake
Place the cookies in the preheated oven and bake for 6-7 minutes or until the edges of the cookies are just beginning to brown.
Allow the cookies to cool completely on the baking sheet before decorating.
Frosting
While the cookies are cooling, cream together the softened butter and powdered sugar in a medium-sized mixing bowl.
Then add in one tablespoon of milk and the vanilla extract. Mix until incorporated.
If the frosting is too thick, add in a little more milk. If the icing becomes too thin, add in more powdered sugar.
Assembly
After that, transfer your frosting to a large Ziploc bag and cut off a small corner of the bag. Use the bag to pipe the decorations onto the colorful egg cookies.
Serve and enjoy!
Can I freeze frosted cookies?
These cookies are great for freezing for later but I recommend waiting to frost them until after the cookies have thawed. If you frost the cookies before freezing the storage becomes harder with layers of baking paper to prevent sticking and the icing may melt or sweat as they thaw, looking less appetizing in the process.
How to store iced Easter cookies
Keep these cookies stored in an airtight container at room temperature for up to 1 week. For the best tasting results enjoy them within a few days.
What is the best way to soften butter?
When you want softened or room temperature butter (65 degrees F) and don't have any on hand, follow these simple tips for warming it up quickly without overheating and melting the butter. Softened butter is needed to incorporate with the dough for a seamless smooth consistency so getting your butter to the proper temp is important.
Here are some ways to warm up your cold stick of butter:
Let it sit on the counter for 1 hour prior to making your cookie recipe.
Slice the butter into tablespoon sized pieces and place into a warmed glass for 10-15 minutes. A glass right out of the dishwasher or a measuring glass warmed with water in the microwave (before disposing of the water) are both great options.
Warm a small clean kitchen towel and wrap your sticks of butter (in the wrappers) for a few minutes.
I like to use a warmed tall drinking glass and place the wrapped sticks of butter in the cup before turning it over on the counter for several minutes.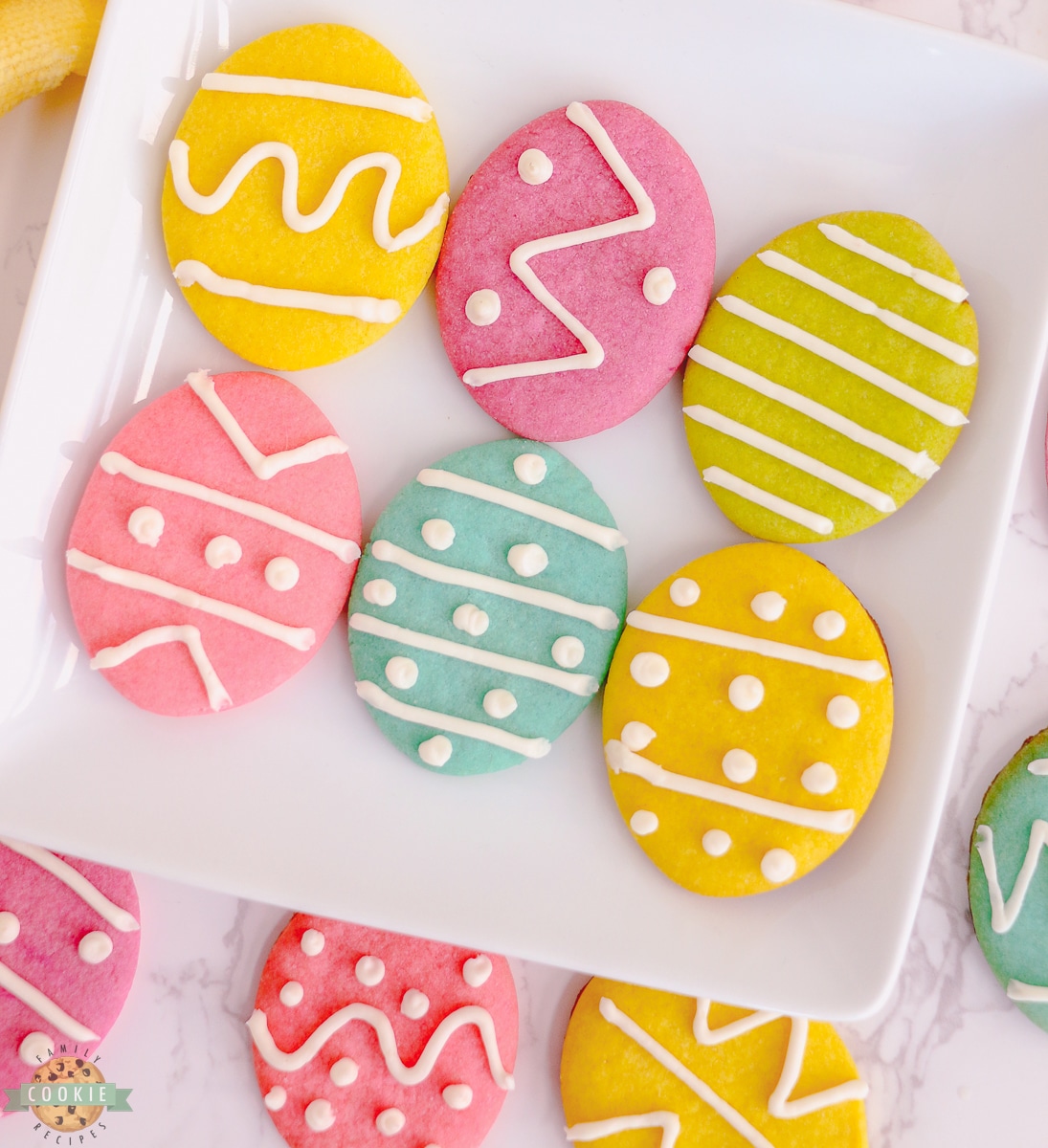 If you loved these cookies, check out more great Easter Recipes!
Easter Egg Sugar Cookies are lightly frosted cookies that are absolutely perfect for your next Easter celebration! Homemade with simple ingredients, these Spring cookies are a tasty addition to your dessert table.

Our family LOVES the zoo. When the kids were little, we likely visited every month! Kids got to run around and get some energy out and hello, cute animals are always fun! This picture just makes me laugh.