Easter Egg Sugar Cookies made with classic ingredients for festive, colorful Easter Egg cookies! Pastel Easter cookies with a vanilla icing everyone loves!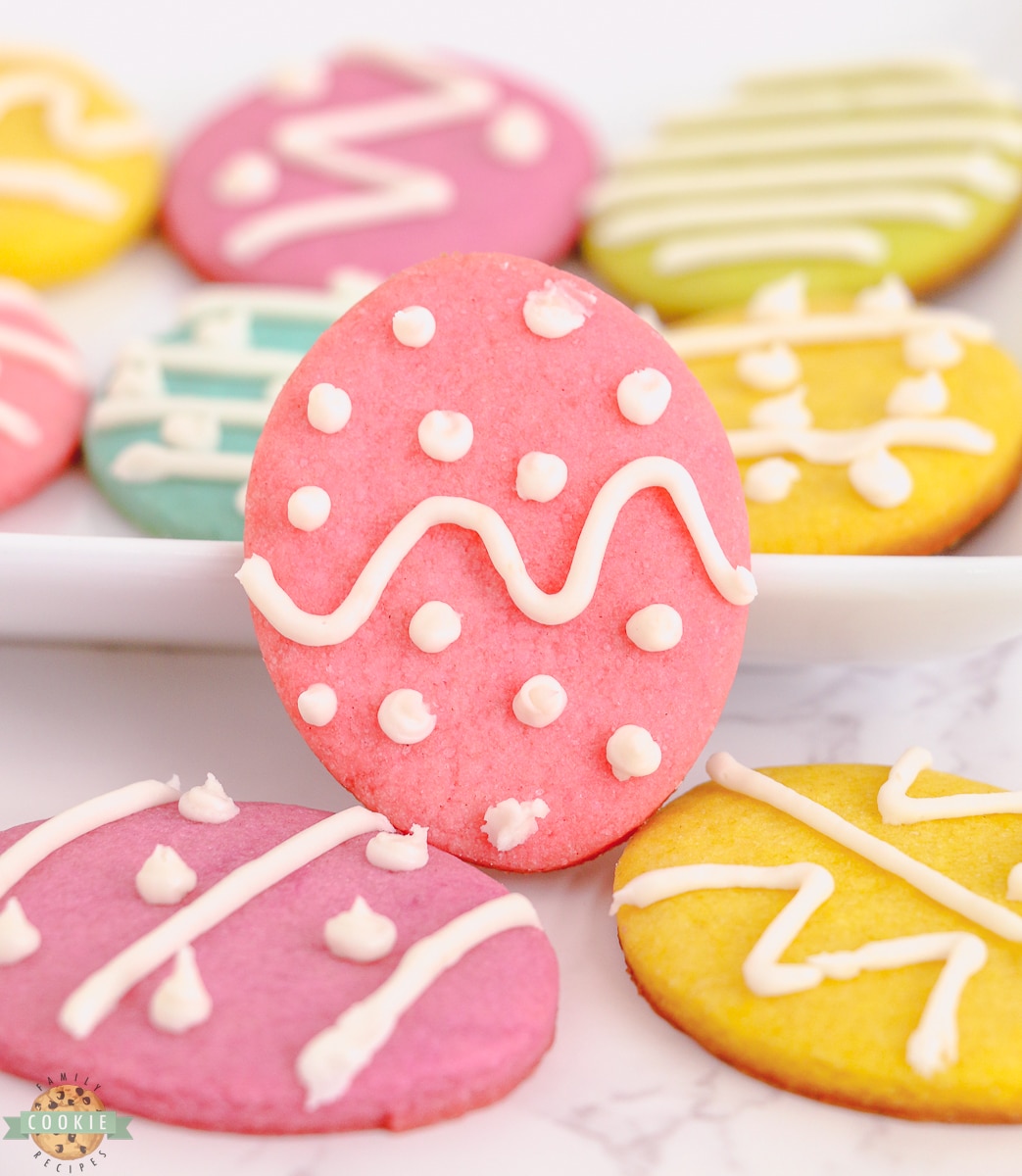 With these simple Easter egg sugar cookies, you can have the kids help almost every step of the way. From the colorful made-from-scratch cookie dough to the simple icing decorations on top. These Easter egg iced cookies are so much fun and always a huge hit around the holidays!
Easter Cookies
Making Easter egg-shaped sugar cookies is only part of the fun because eating them is the other half. From the soft and tender sugar cookie nestled beneath a sweet layer of icing, every bite of these cookies is perfectly addicting. This Easter cookies recipe is one that you'll want to keep close by year after year, but don't forget you can easily modify it to fit different holidays too! Why enjoy these Easter egg cookies once a year when a simple swap of color and cookie cutters can treat you all year long?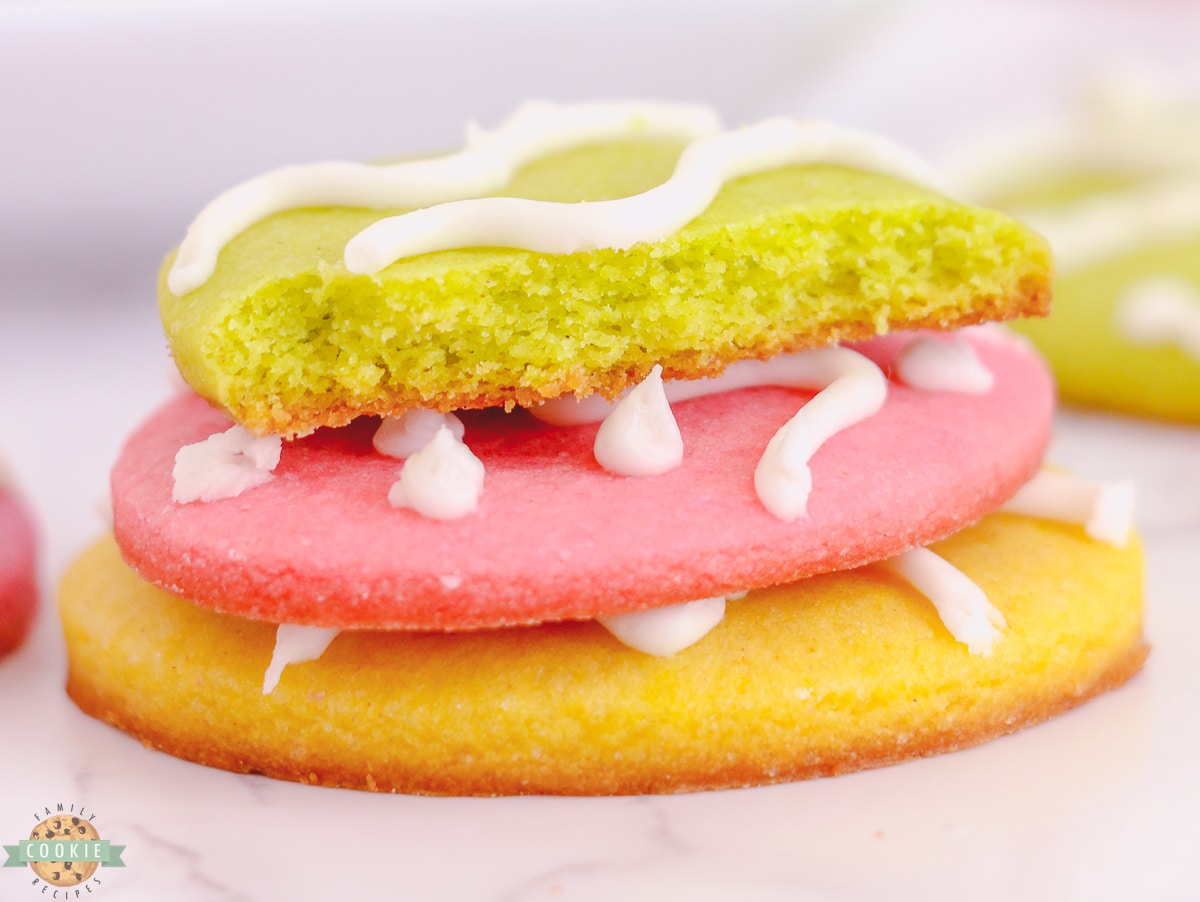 Easy Easter Sugar Cookies Ingredients:
-Butter: You will need 1 cup of butter for these cookies. This is two sticks.
-Vanilla: Use 1/2 teaspoon of vanilla extract to help create a base for the flavors to branch off of.
-Powdered sugar: You will need 1/2 cup of powdered sugar to make these cookies sweet and tasty.
-Flour: The base of the cookie dough recipe is 2 1/4 cups of all-purpose flour.
-Sugar: Use 1/2 cup of granulated white sugar to give the cookies more sweetness and a little chewiness.
-Cream of tartar: By adding in 1/2 teaspoon of cream of tartar we can give these cookies a little extra rise as they bake.
-Egg: You will need 1 egg to help bind the dough together well.
-Baking soda: Using 1 teaspoon of baking soda we can get the cookies to puff up nicely when they bake.
-Food coloring: For colored cookies, you will want a mixture of colors including yellow, purple, blue, green, and pink.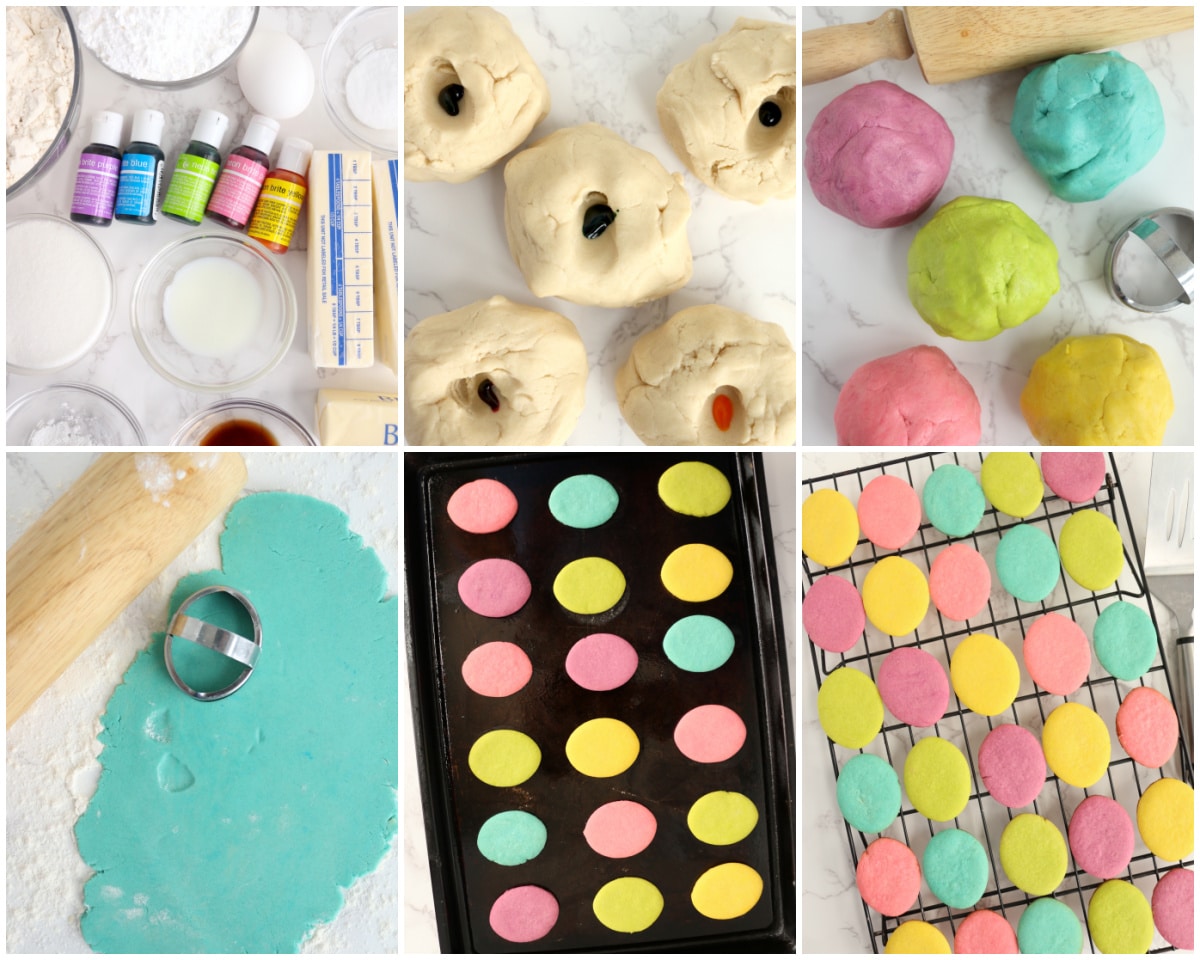 For the frosting, you will need:
-Butter: To make the frosting rich in taste use 1/4 cup of softened butter.
-Powdered sugar: 2 cups of powdered sugar will make the glaze smooth and sweet.
-Vanilla: Use 1 teaspoon of vanilla extract to get a good flavor from your icing. Using clear vanilla will keep the icing white.
-Milk: You will need between 1-2 tablespoons of milk, depending on the desired consistency of the icing.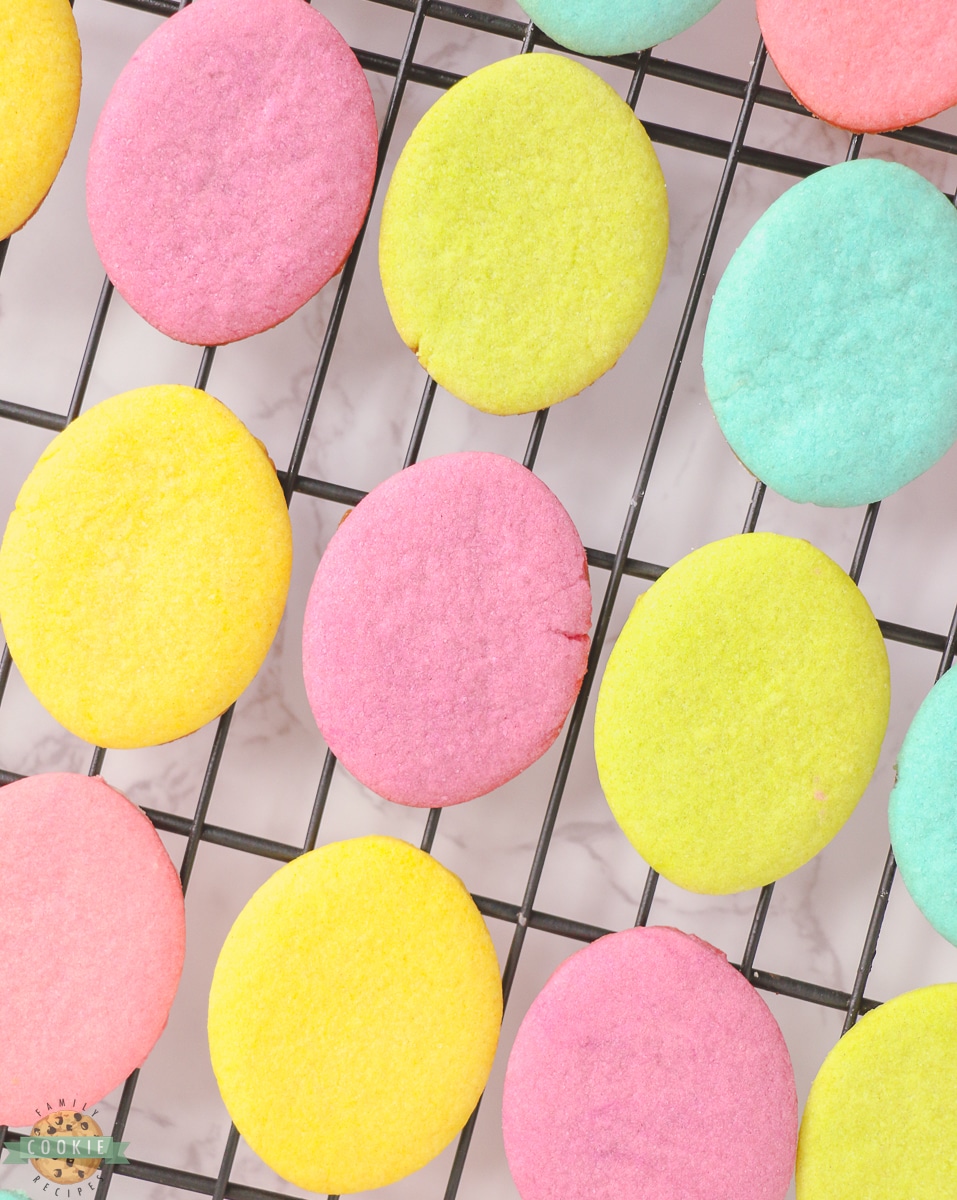 How to Make Easy Easter Sugar Cookies
Prep
Preheat your oven to 375 degrees F.
Grease a cookie sheet and set it aside.
Cookie dough
Combine the butter and sugars in a mixing bowl and beat until they are nice and creamy.
Add in the egg and vanilla and mix again to combine.
Add in the flour, cream of tartar, and baking soda. Mix well.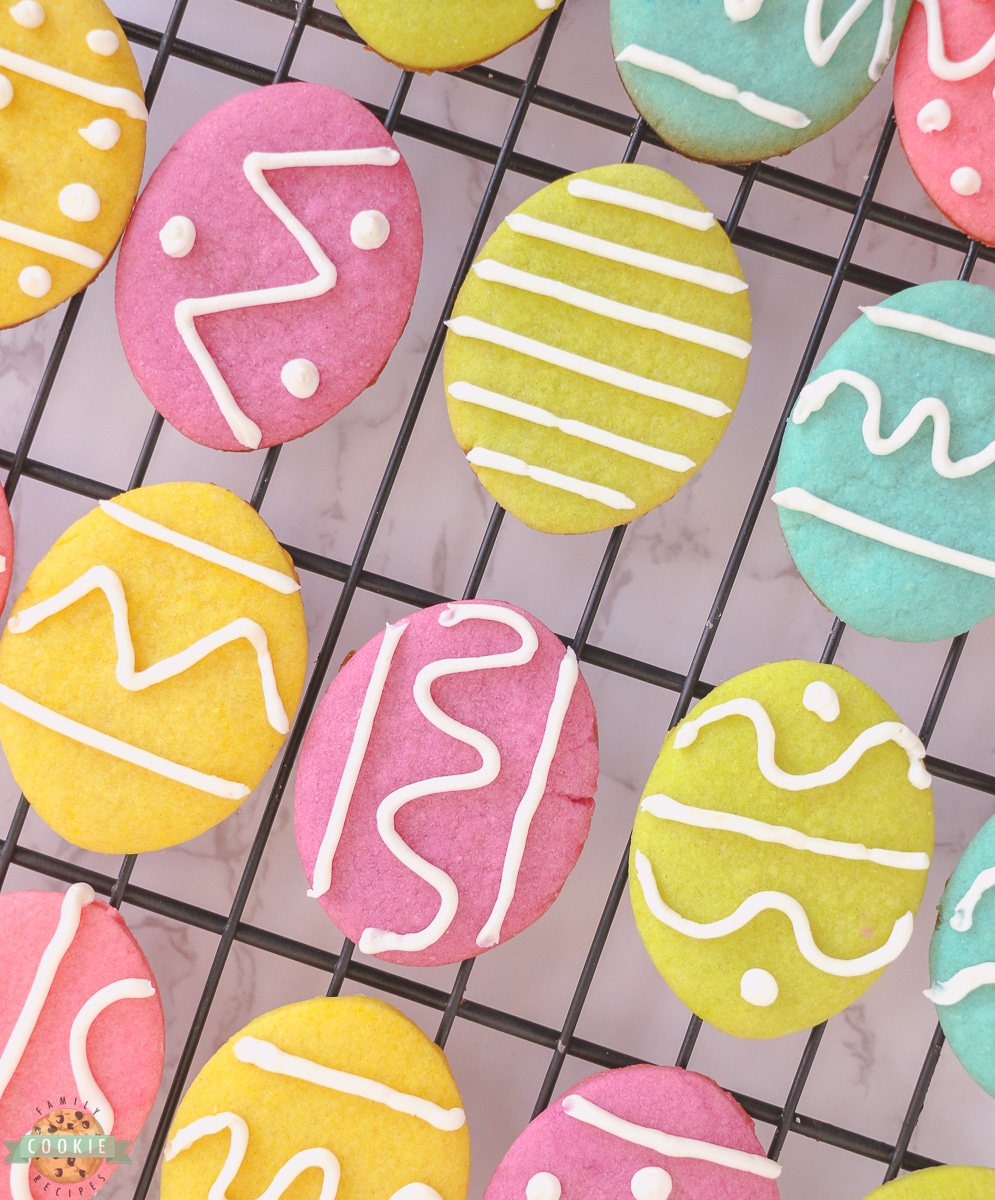 Color and Shape
Separate the dough into 5 separate bowls and add a different color to each one. Mix together to evenly distribute the coloring throughout the dough.
Roll your dough out onto a floured surface until it is 1/4 of an inch thick.
Cut out the egg shapes and place them 2 inches apart on your baking sheet.
Reroll and cut new eggs as needed.
Bake
Bake the cookies in the oven for 6-7 minutes or until the edges of the cookies have begun to turn a brown color.
Allow the cookies to cool completely.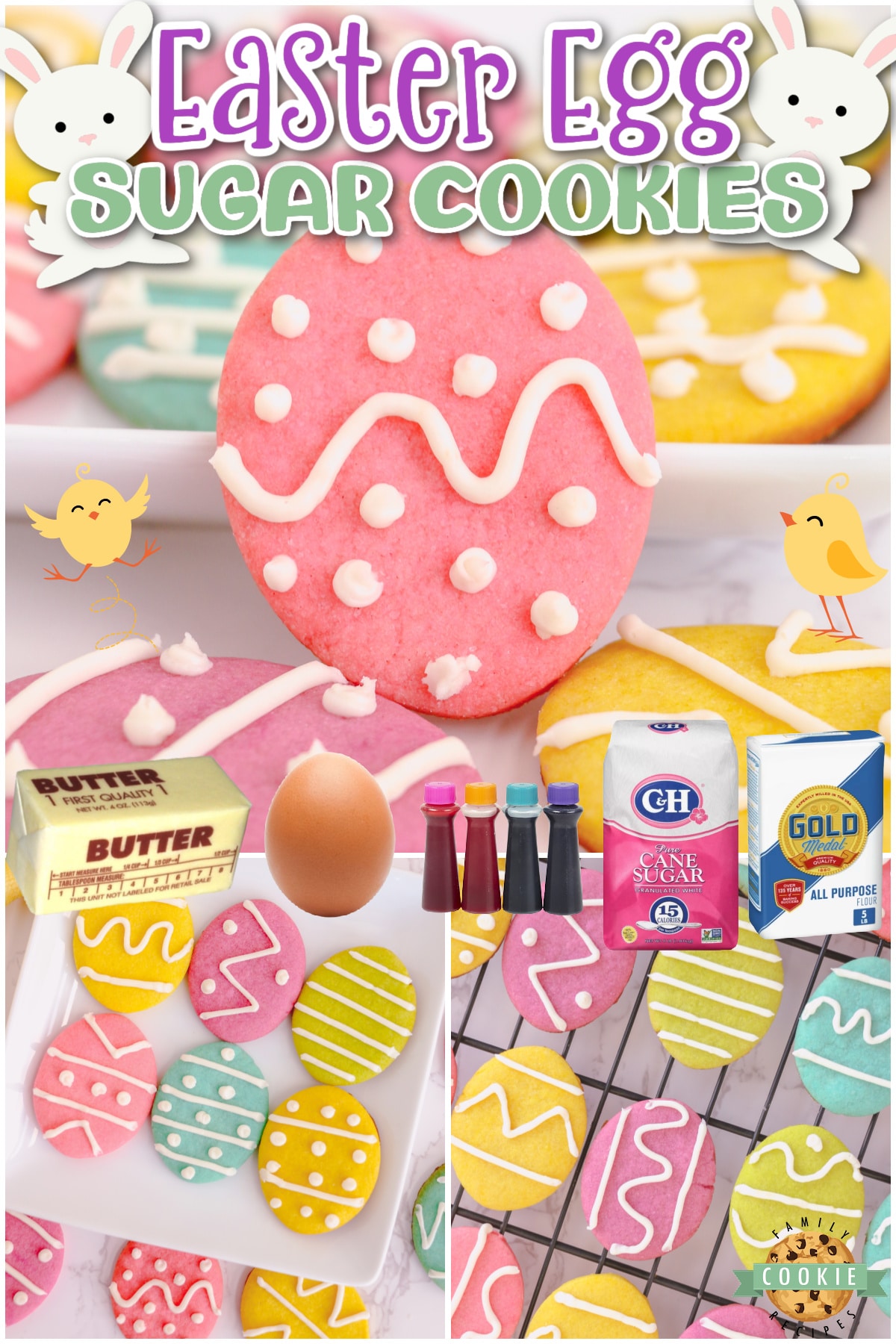 Frosting
Cream together the butter and powdered sugar in a medium-sized mixing bowl.
Add in one tablespoon of milk and vanilla. beat well to combined.
If the icing is too thin, add in more powdered sugar. If the frosting is too thick, add in a little more milk.
Assembly
Transfer the frosting to a large Ziploc bag and snip a small corner of the bag to pipe decorations onto your cooled cookies.
Enjoy!
Can I freeze frosted cookies?
These cookies are great for freezing for later but I recommend waiting to frost them until after the cookies have thawed. If you frost the cookies before freezing the storage becomes harder with layers of baking paper to prevent sticking and the icing may melt or sweat as they thaw, looking less appetizing in the process.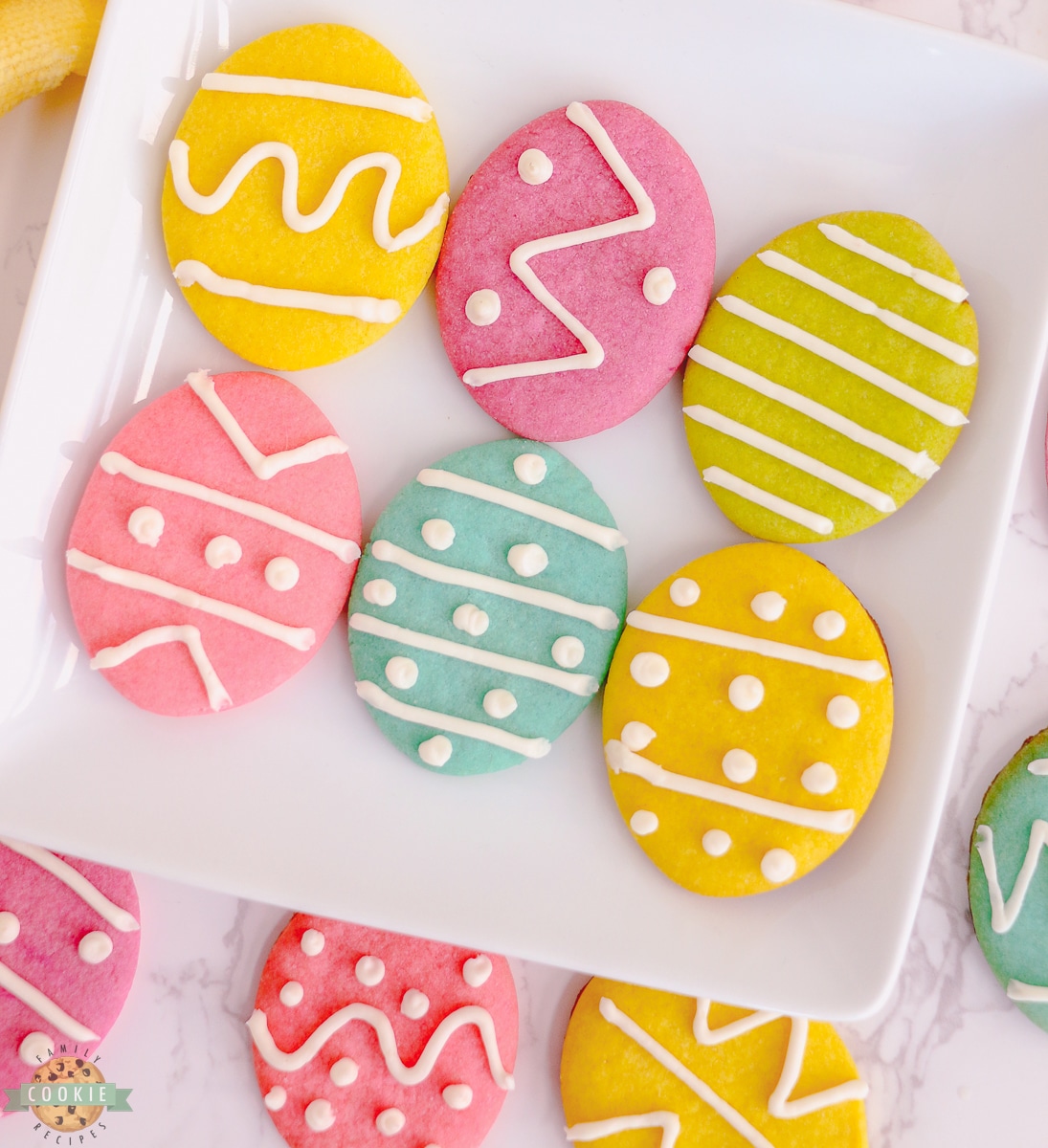 How to store iced Easter cookies
Keep these cookies stored in an airtight container at room temperature for up to 1 week. For the best tasting results enjoy them within a few days.
Looking for more Easter cookie recipes? Check out these sweet suggestions!

Our family LOVES the zoo. When the kids were little, we likely visited every month! Kids got to run around and get some energy out and hello, cute animals are always fun! This picture just makes me laugh.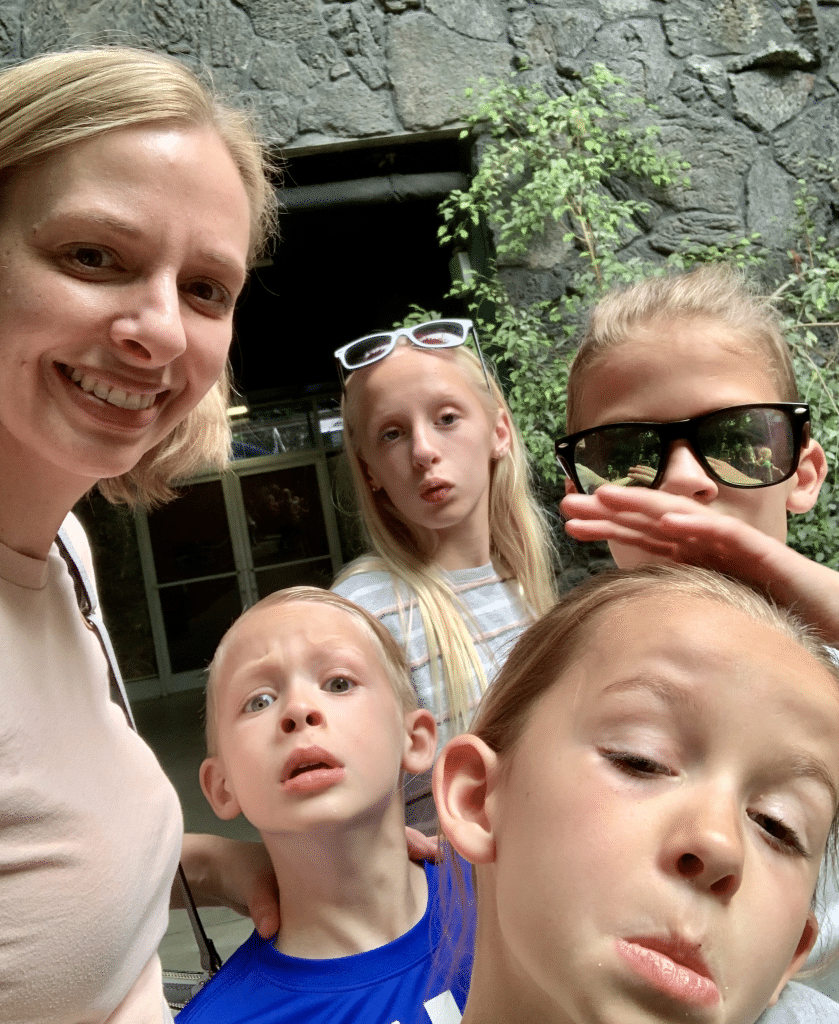 From the basic ingredients and simple steps, there is nothing you won't love about making these Easter egg sugar cookies, but the only thing better is eating them! They're perfectly soft and sweet and such a colorful treat. Add them to your holiday dessert table and watch them disappear!