Strawberry Cream Cheese Sugar Cookie are soft & chewy with lovely, bright strawberry flavor! Perfectly sweet, tender sugar cookies perfect for springtime!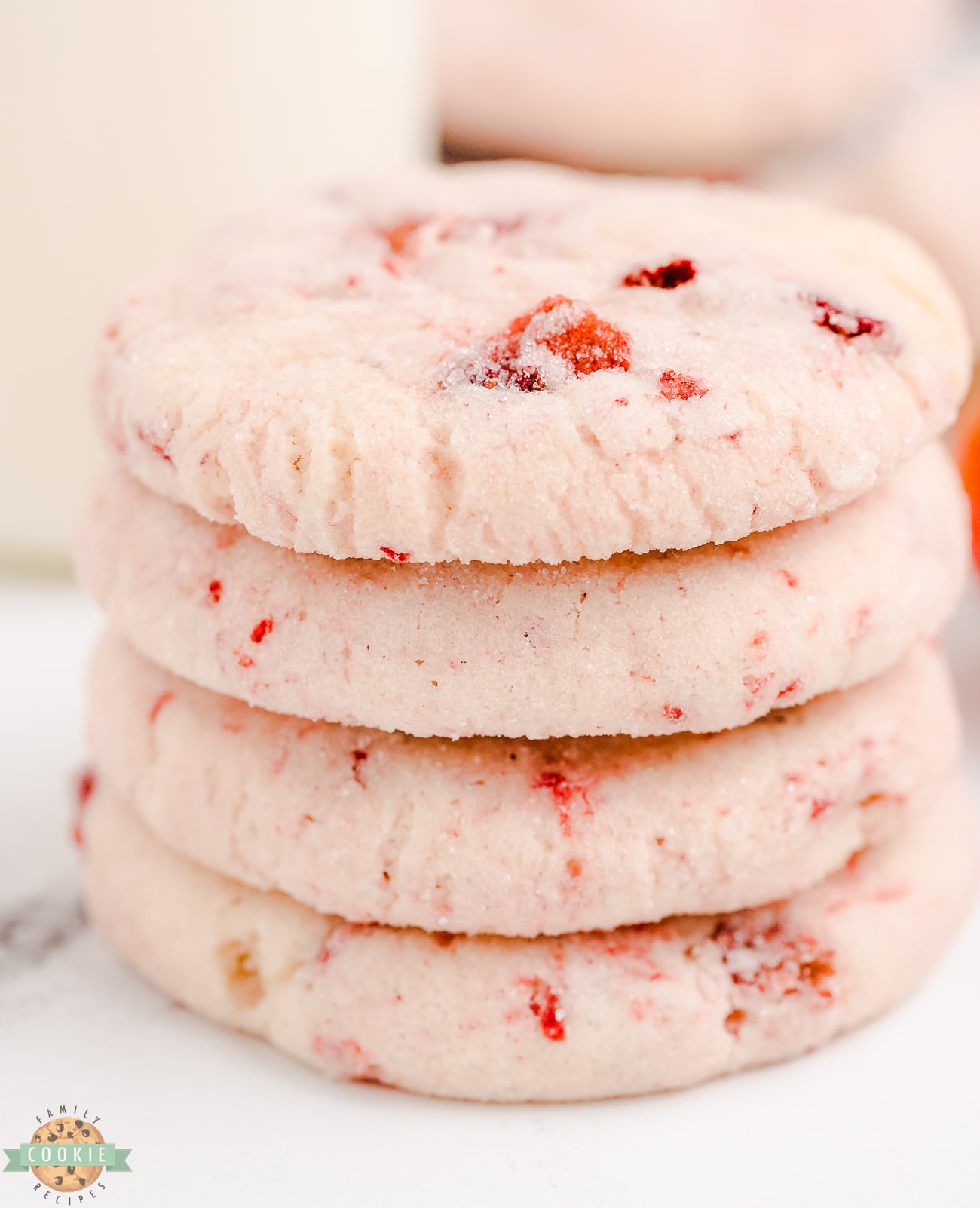 These strawberry cheesecake cookies are perfect for any occasion, take them to your next family gathering and watch how quickly they disappear. Making this cream cheese sugar cookie recipe is so simple, most of the ingredients are likely already in your kitchen and the results are absolutely amazing!
Cream Cheese Cookies
Our family adores strawberries, any reason to eat them is good enough for us. Whether they are fresh, dried or otherwise, we devour strawberries quickly. So naturally, adding them to a cookie recipe was a logical choice. Using freeze dried strawberries in these sugar cookies resulted in a perfectly soft, chewy and sweet treat. They are so simple to make too, other than the strawberries, it is likely you have everything you need to make these in your kitchen. Give this simple and delicious recipe a try today, see just how amazing they are!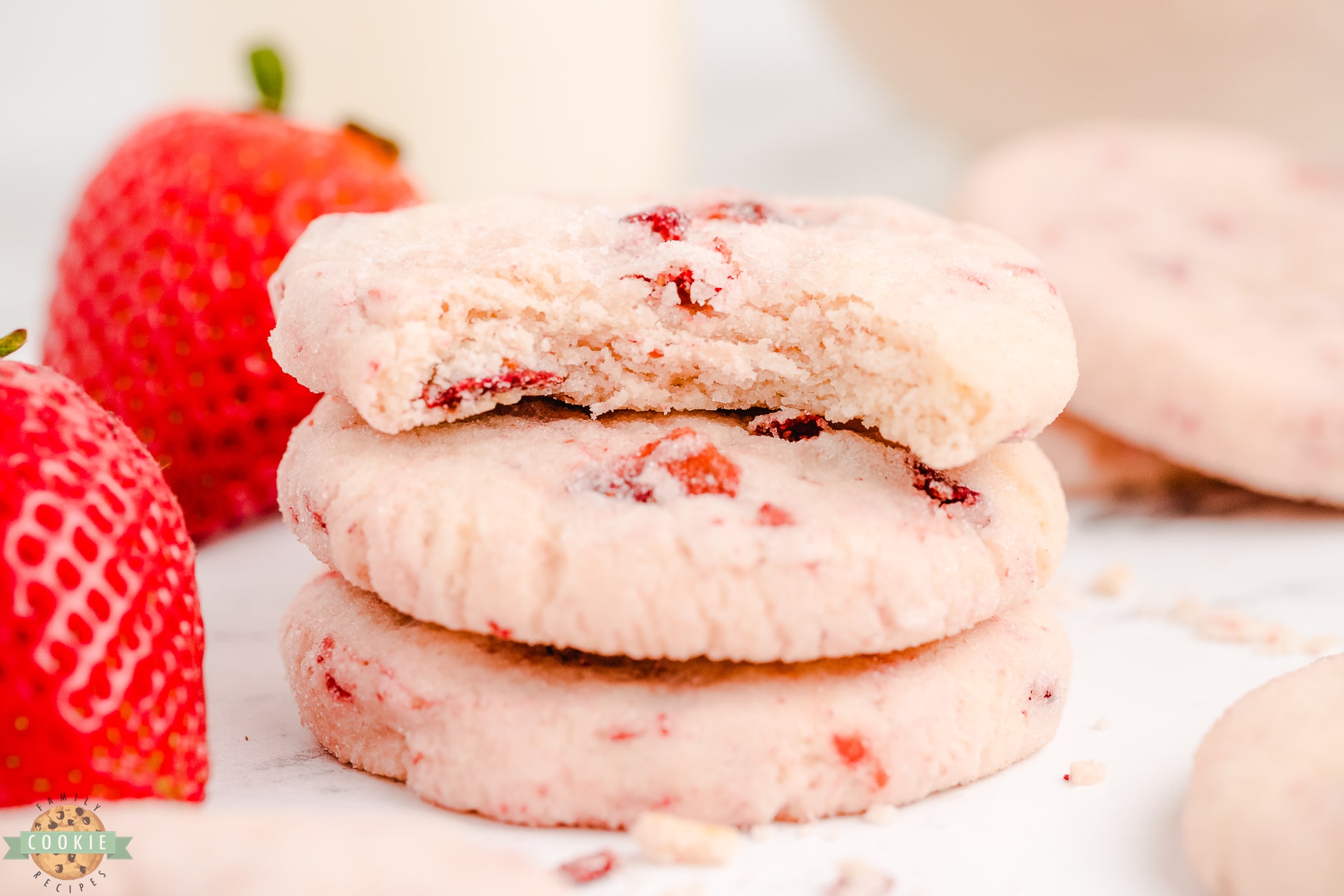 Why you'll adore these Pink Strawberry Sugar Cookies
Amazing flavor. The flavors in these cookies are one you will not soon forget. The sweet sugar cookie dough, mixed with the cream cheese and strawberries, makes for an incredibly satisfying treat.
Simple to make. This recipe is SO easy to make, the dough comes together quickly and only 10 minutes of baking. You have no reason not to give this delightful cookie recipe a try.
Strawberry blast! These amazing berries are great by themselves, but when added to this cream cheese cookie dough they really elevate this recipe to the next level.
Ingredients for Strawberry Sugar Cookies
Sugar: You will need 1 ½ cups of sugar to make these cookies sweet and chewy.
Butter: Adding in 1 cup of butter, softened to room temp, will give these cookies amazing rich flavor.
Cream cheese: Use one 8-oz block of strawberry cream cheese to make these cookies so creamy and delicious.
Egg: Add 1 egg to this cookie dough mixture for more great taste and texture too.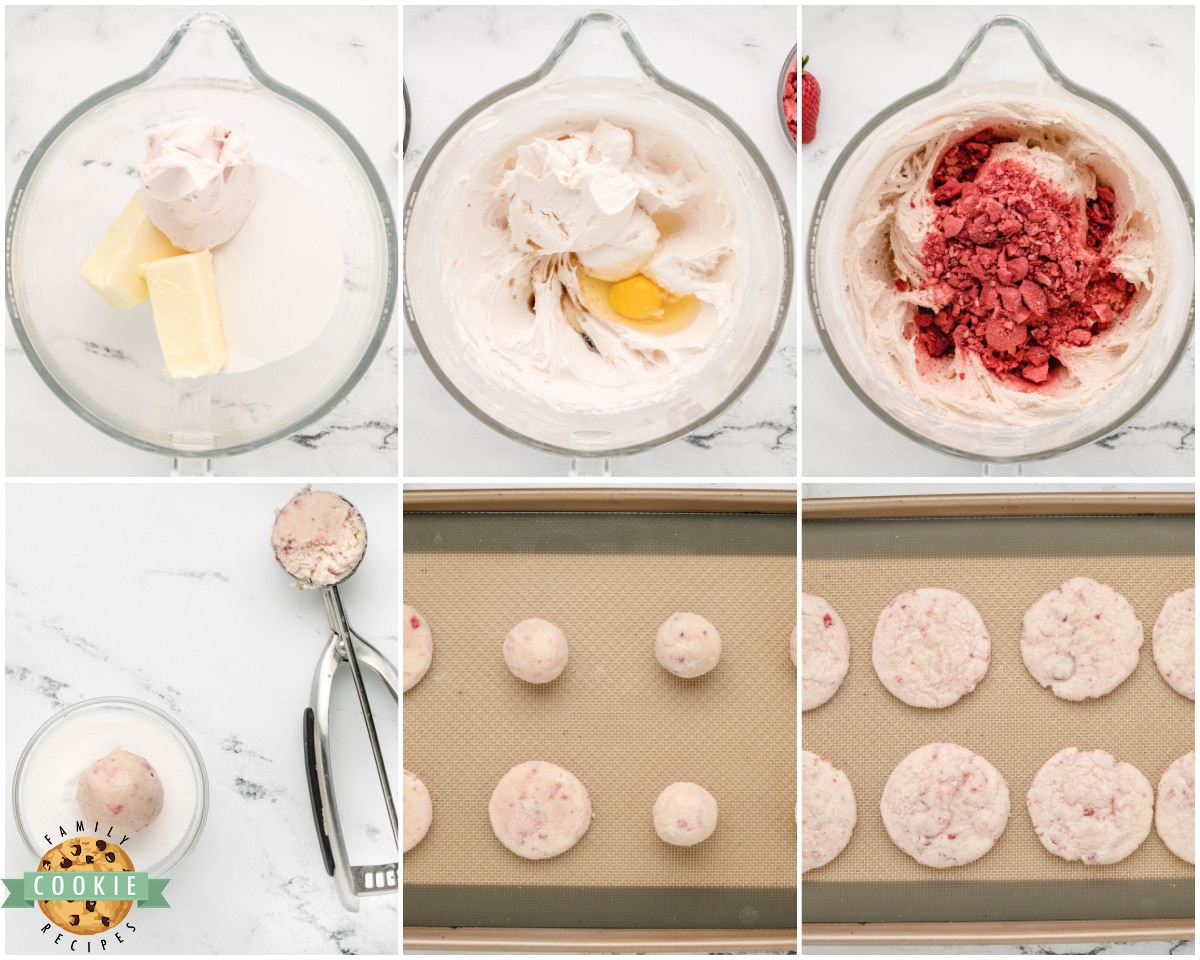 Vanilla extract: Using 1 tsp of vanilla extract will help enhance all the wonderful flavors in this cookie dough.
Almond extract: For even more great taste, add in ½ tsp of almond extract. If you don't have this on hand, you can leave it out and the cookies will still be amazing.
Flour: The structural base of this cookie dough is 3 ½ cups of flour.
Baking powder: Adding in 1 tsp of baking powder will help these cookies puff up nicely as they bake.
Freeze dried strawberries: For even more amazing fruity flavor, add in 1 cup of freeze dried strawberries, blended.
Sugar: Put 3 TBSP of granulated sugar in a small bowl to roll the cookie dough in before baking, you will not regret taking this step.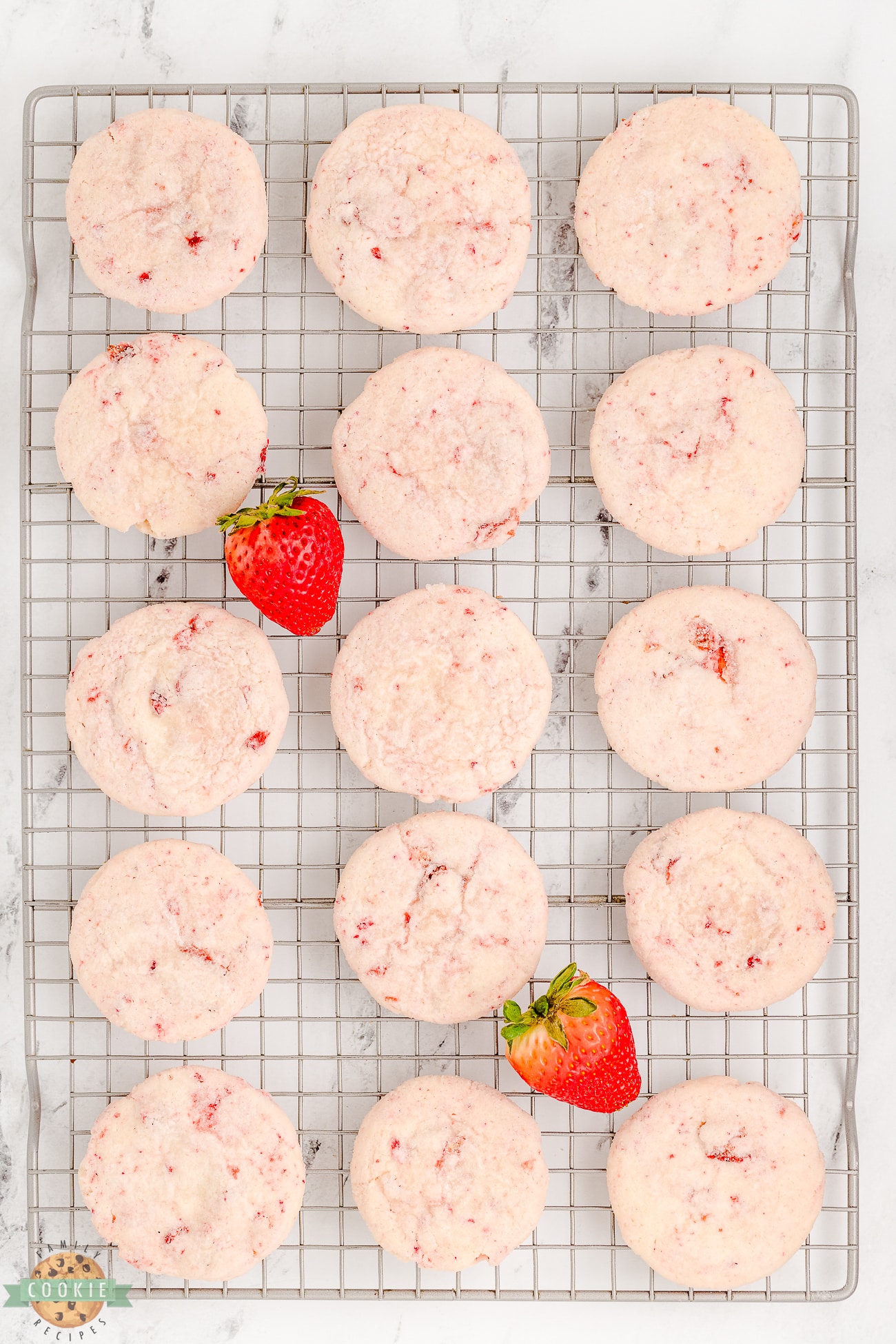 How to make Strawberry Cream Cheese Cookies
Prep
Get started by lining two baking sheets with parchment paper or a silicon mat and set aside.
Also, using a blender or food processor, blend the freeze-dried strawberries until they are a fine mixture. Set aside for later use.
Dough
In a large bowl, mix the sugar, butter, and cream cheese together for about 2-3 minutes with an electric mixer.
Then, add in the egg, vanilla and almond extract and mix for another 1-2 minutes on medium speed. After that, add the flour, baking powder and blended strawberries, mix until dough is evenly combined.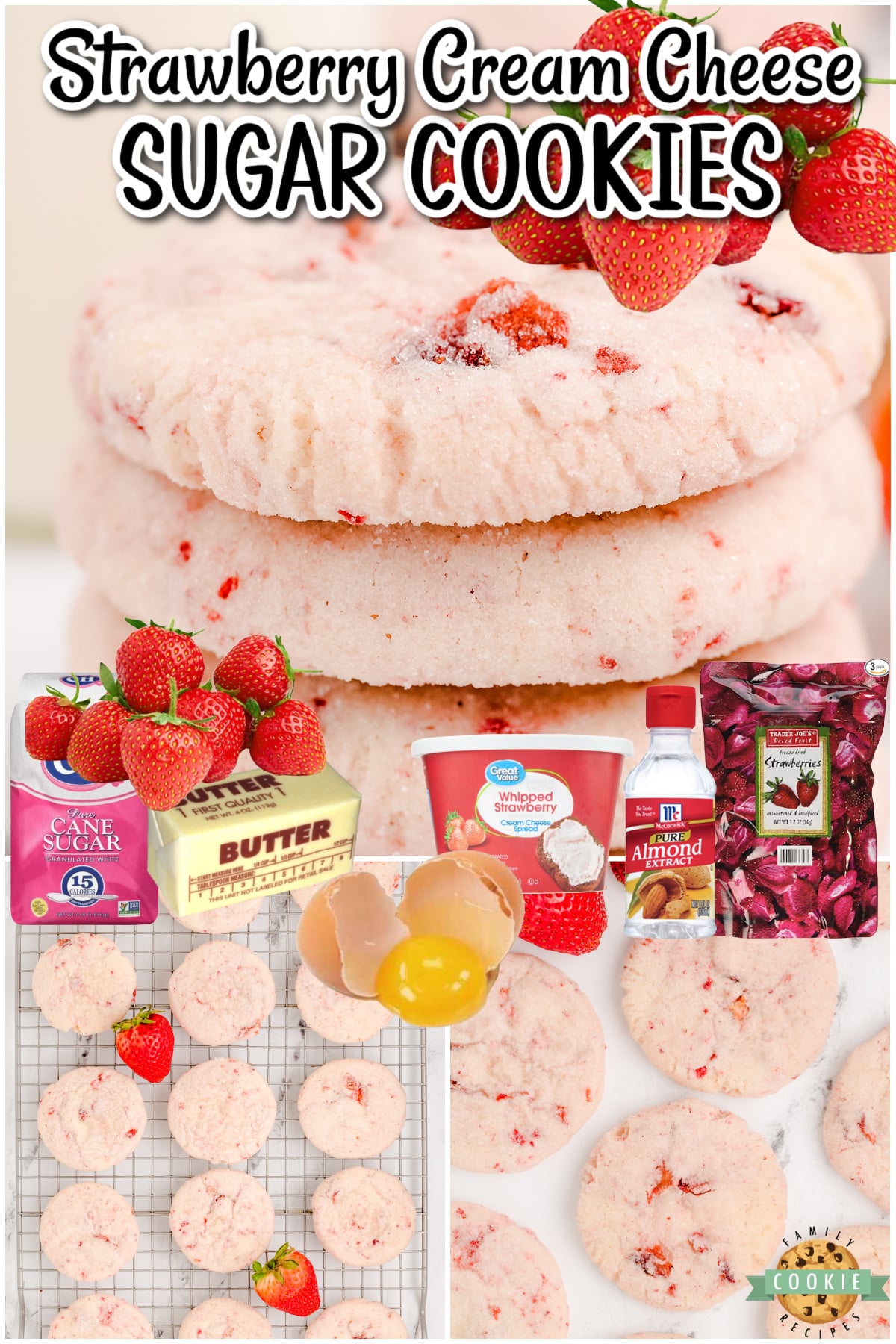 Chill
Proceed to cover the dough with plastic wrap and put in the refrigerator to chill for at least 2 hours.
Bake
When you are ready to make the cookies, get the oven preheating to 375°F.
Then, scoop out tablespoons of dough and roll it into a ball. Roll in the 3 TBSP of sugar, then place on the cookie sheet and use the bottom of a measuring cup or glass to flatten the ball to a 1/4″ thickness.
Place the cookies in the oven and bake for 8-10 minutes…just until they are barely turning golden on edges. Cool on the cookie sheets for about 5-10 minutes before transferring them to a wire rack to cool completely.
Serve immediately and enjoy these tasty treats!
Do I have to chill the cookie dough?
When recipes request that you chill your cookie dough it is usually for a good reason. That reason is that the flavor gets a bit more time to develop and the cookies taste even more incredible. But the biggest reason is because of the butter/fats in the dough. By chilling the dough we allow the fats to solidify which means your cookies will not spread out as much while baking, so the texture turns out perfectly. This is especially important on warmer days or when your butter is warm or softened.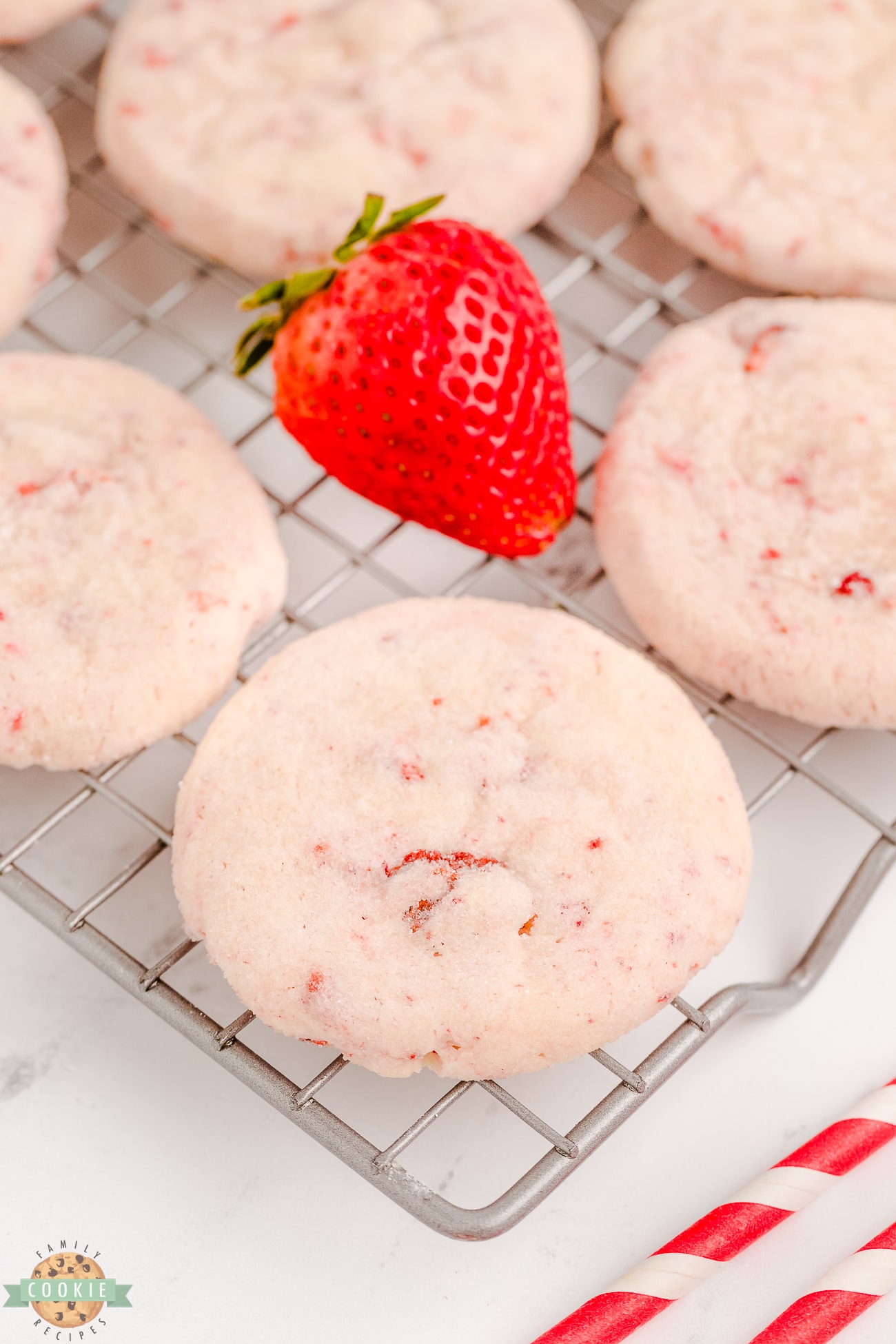 How long are these cookies good for?
These cookies can be kept stored in an airtight container for up to 3-5 days. To keep the cookies nice and chewy I recommend keeping them stored in the fridge.
Can I freeze these cookies?
Yes, you can freeze these cookies easily. They will last up to 3 months if store properly. To freeze them, place your cookies on a baking sheet and freeze for about 2 hours until they are solid. Then transfer them to an airtight container with a piece of parchment paper or wax paper between the cookies to prevent sticking. You can also put them each in individual ziplocked bags after the initial freezing process, for quick access to a sweet treat. Yum!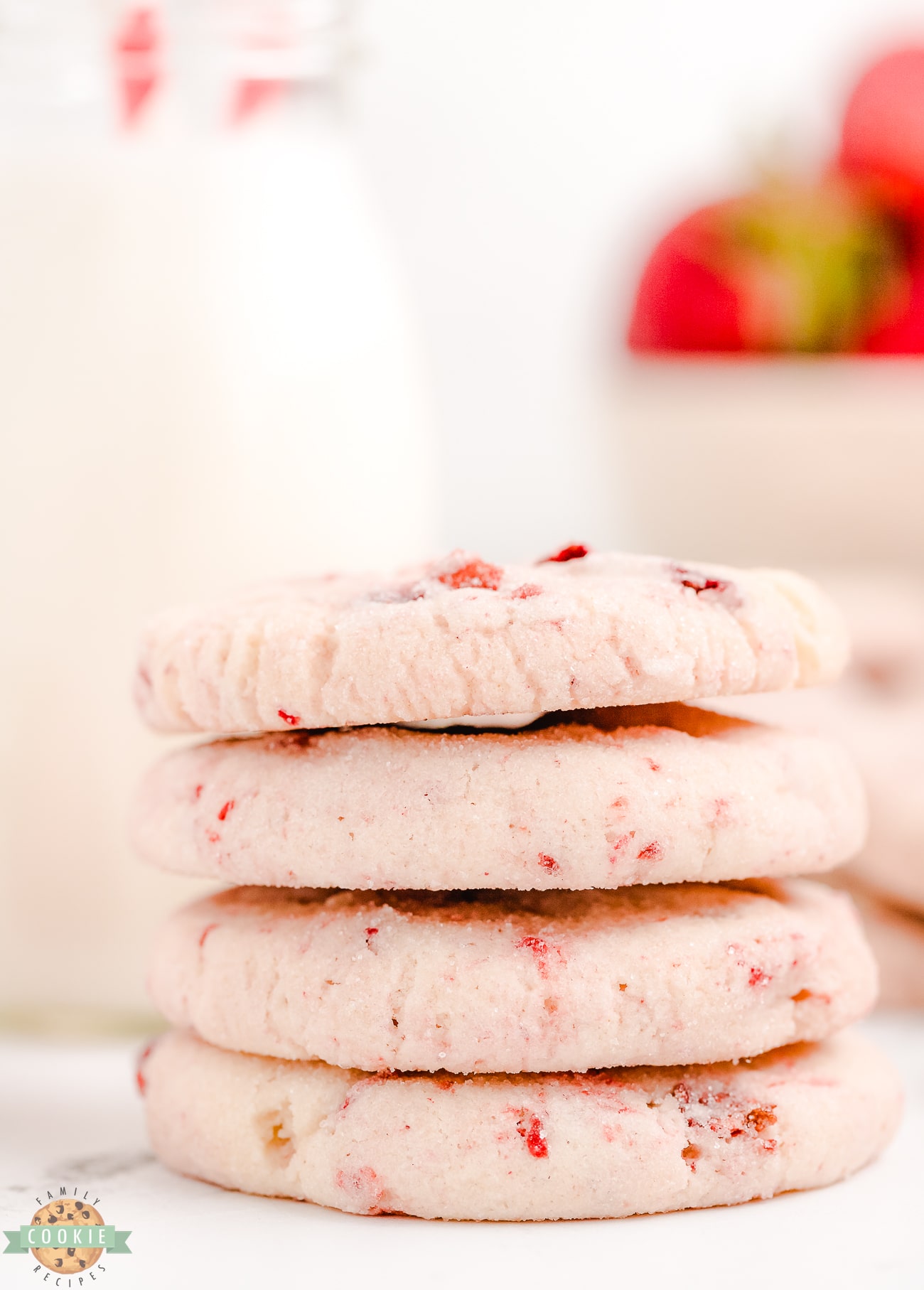 Love fruit in cookies? Try more amazing recipes here:
Strawberry Cream Cheese Sugar Cookie are tender & sweet with delicious strawberry flavor! Amazing soft sugar cookies that are perfect for springtime treats.