Lemon Raspberry Cookies are soft, chewy cookies made with lemon pudding mix & raspberries! Great flavor and texture to this lemon raspberry cookie with white chocolate chips.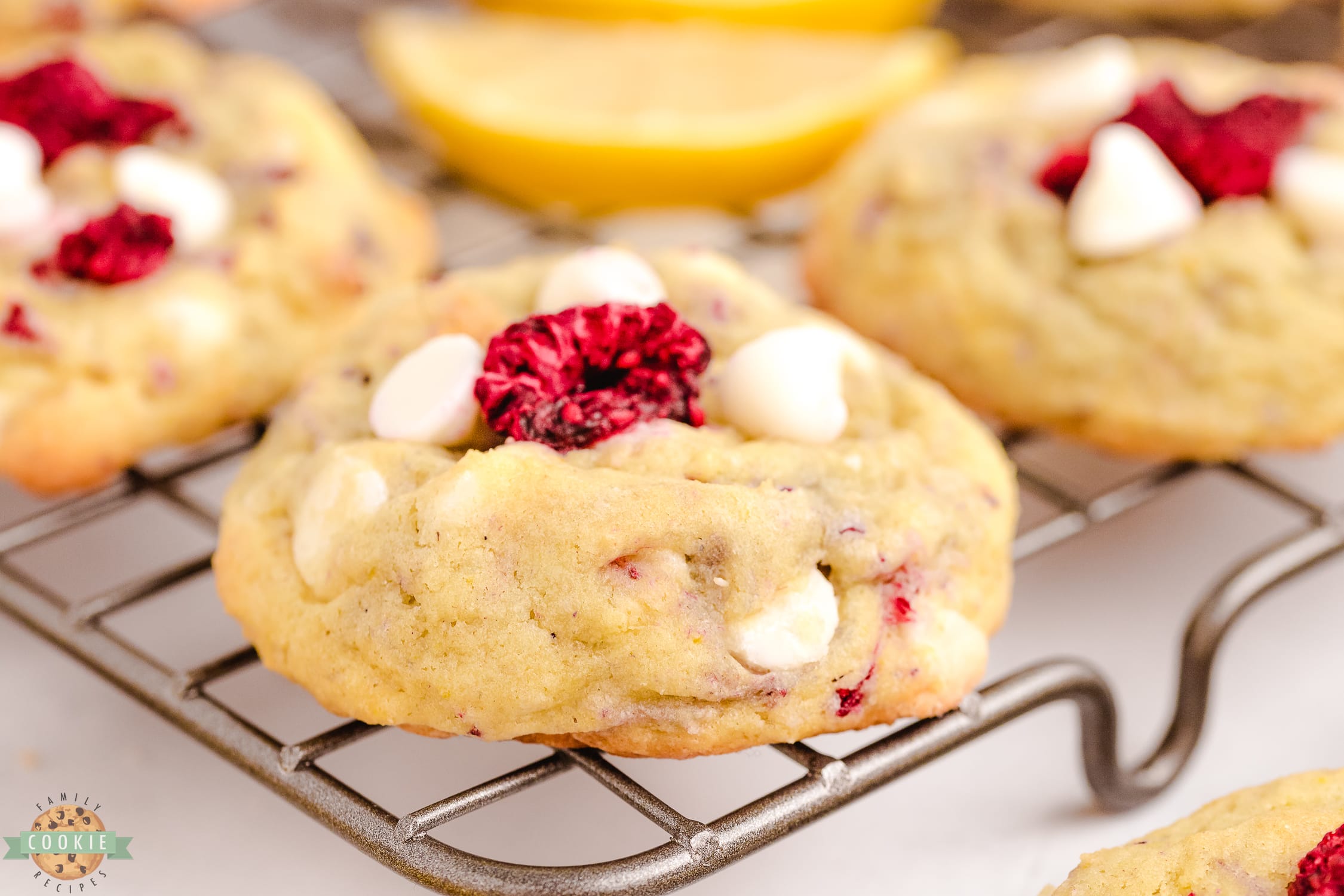 These Raspberry lemon cookies are so delicate and fluffy, packed with exquisite flavors, this cookie does not disappoint! Making this lemon cookie recipe is so easy, with minimal prep work and only 10 minutes to bake, you will have a delightful dessert in no time.
LEMON COOKIES WITH RASPBERRY & WHITE CHOCOLATE CHIPS
These chocolate chip lemon cookies are a perfect fix to my craving for anything and everything lemon flavor this time of year. I added lemon zest to these soft and chewy pudding cookies because it strengthens the flavors beautifully. The white chocolate chips and dried raspberries in them pair so well with the lemon flavor too. Making these cookies in the Spring time is a great idea, Meyer lemons are ripe and ready to eat. These enjoyable cookies are great to take to potlucks or family gatherings, they are so pretty and tasty too, a fantastic cookie recipe to try today!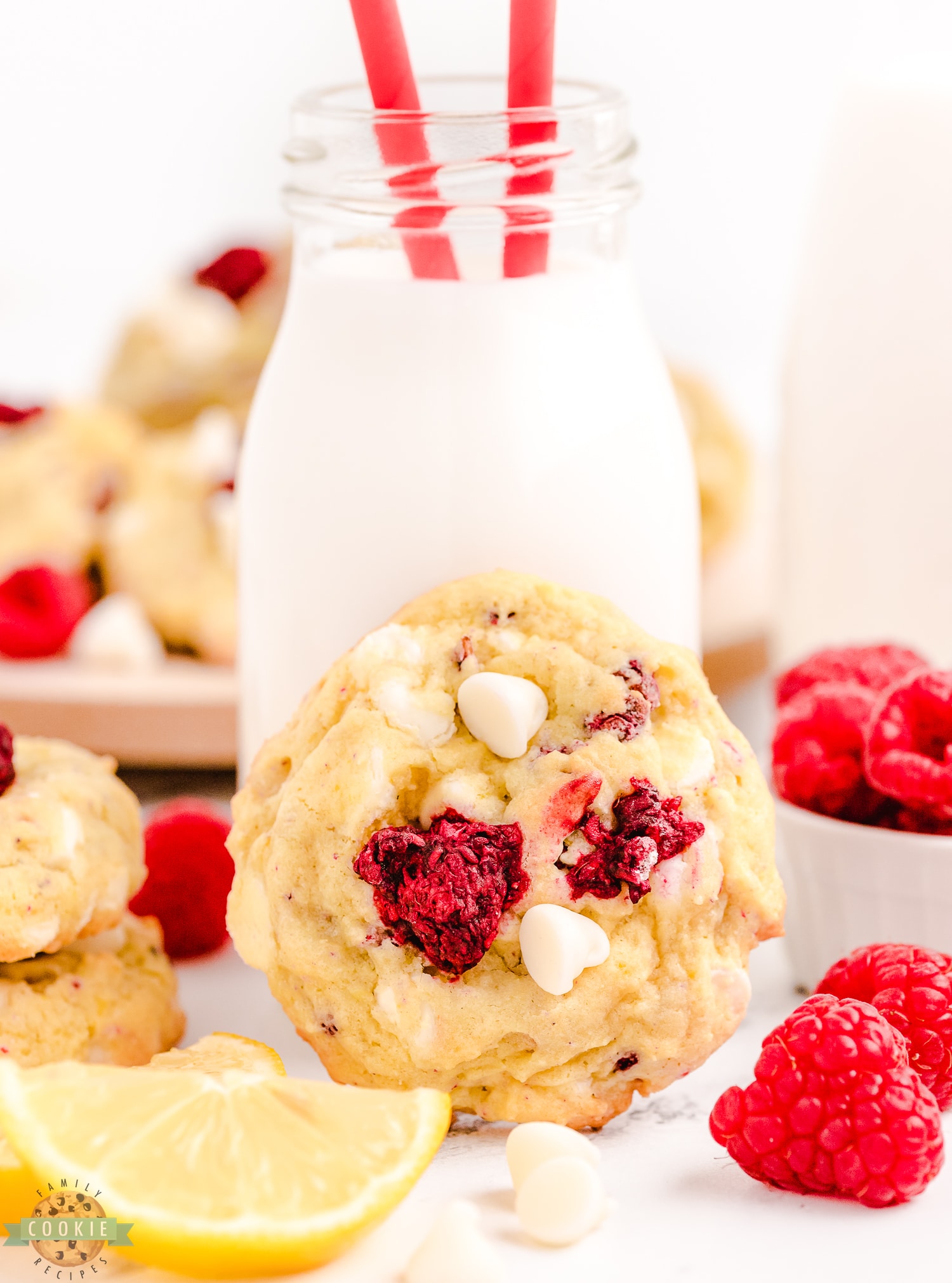 WHY YOU'LL LOVE THIS EASY COOKIE RECIPE
Simple ingredients. This cookie dough calls for some basic kitchen staple ingredients, so you may already have everything (or almost everything) on hand. If a grocery trip is needed, it would most likely be very minimal.
Easy to make. This recipe is as simple as measuring and mixing, scooping and baking. This cookie recipe is great for beginner chefs or kid helpers!
Use those lemons! Do you have a lemon tree that produces more fruit than you know what to do with? This cookie recipe is one simple way to use them up.
Easy Lemon Raspberry Cookie Ingredients
Sugar: Adding in 1 cup of sugar will help make these cookies sweet and chewy.
Butter: You need ½ cup of butter, softened, to give the dough a lovely rich taste.
Egg: To help bind the dough together well, use 1 egg.
Sour cream: Using ⅓ cup of sour cream will make these cookies incredibly moist and soft.
Milk: You will need 2 TBSP of milk to create the right dough texture and add some creamy flavor.
Salt: To help balance all the wonderful flavors in this dough, add in ½ tsp. of salt.
Baking soda: For the leavening agent in this recipe, use ½ tsp. of baking soda.
Flour: The base and structure of this cookie recipe is 2 cups of flour.
White chocolate chips: Add in one 12-oz package of white chocolate chips for every bite to be loaded with tasty chocolatey bits.
Pudding: Use one 3.4-oz box of lemon pudding mix (1 small box), just the dry mix, to create incredibly soft and flavorful cookies.
Lemon zest: For more amazing flavor, add in 2 tsp. of lemon zest (from 1 small lemon).
Raspberries: You will need 1 cup of freeze dried raspberries for this delicious cookie recipe.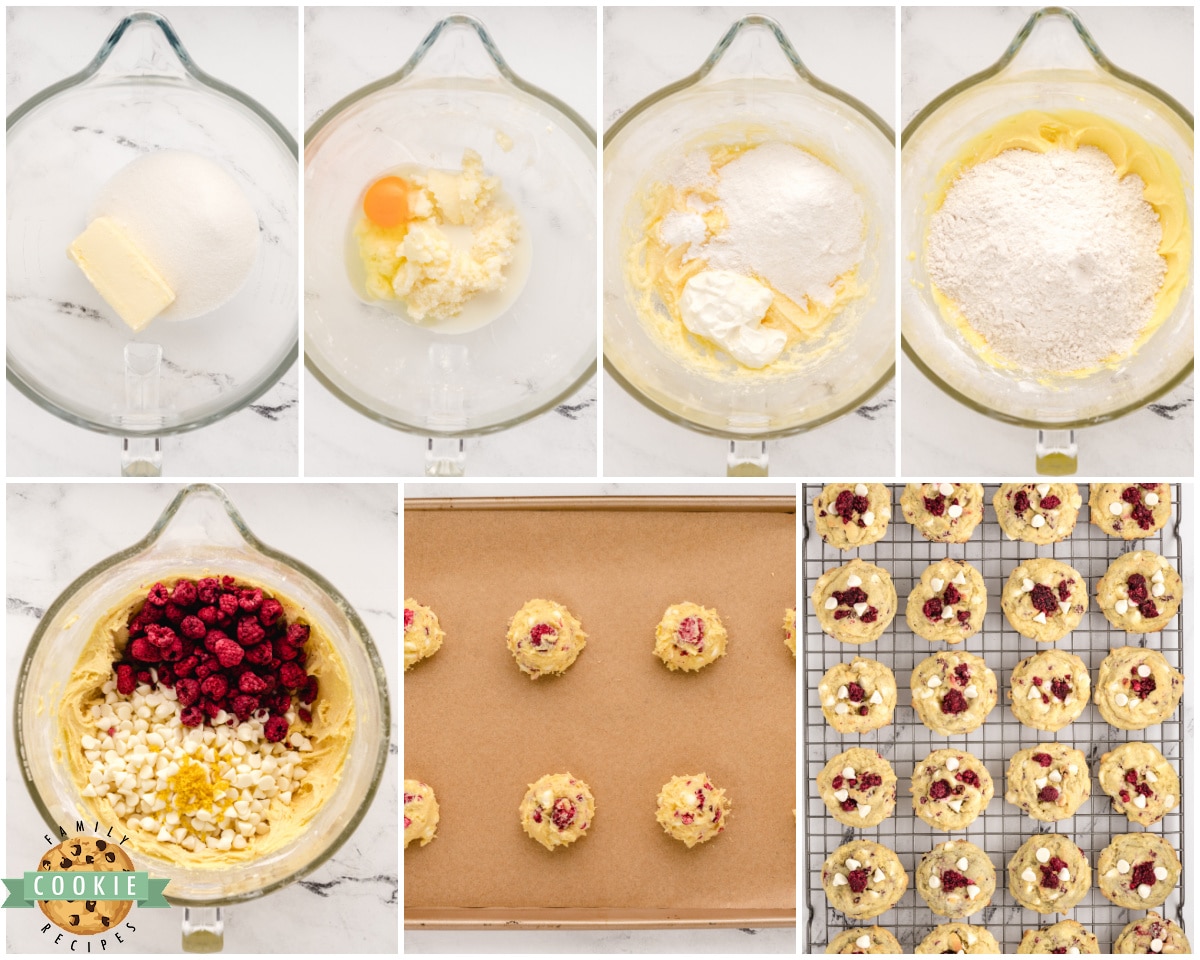 How to make Raspberry Lemon Cookies
Prep
Start by preheating the oven to 375°F. Next, line a baking sheet with parchment and set aside.
Also, zest the lemon and set aside the required amount.
Dough
In a large bowl, cream together the sugar and softened butter. Then, add in the egg and milk, and stir to combine well.
After that, add in the sour cream, dry pudding mix, salt and baking soda. Mix all ingredients together until smooth.
Next, add the flour and mix until all the ingredients are well incorporated.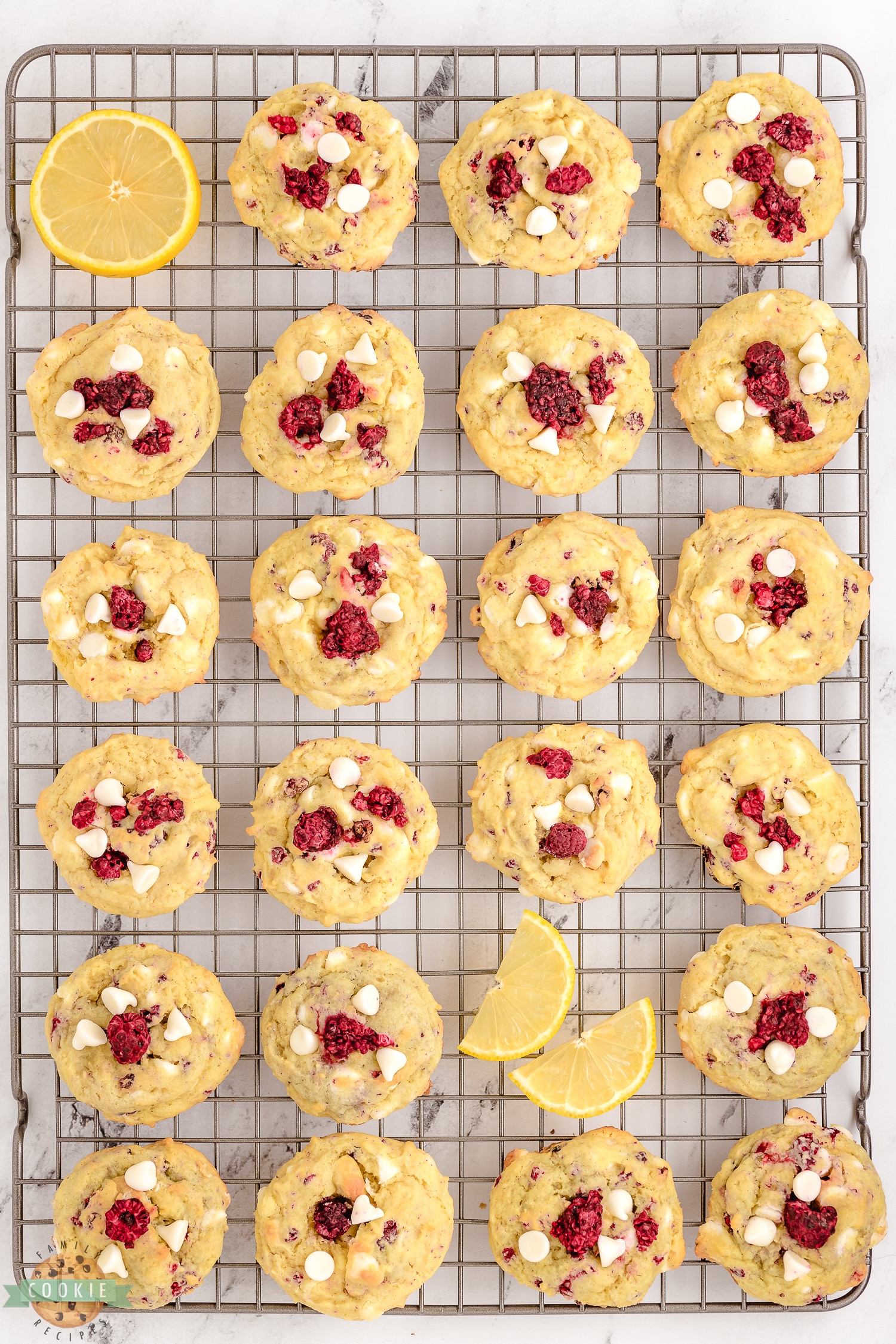 If you want to give the cookies a POP of color, add 1 drop of yellow food coloring and mix again well.
Lastly, fold in white chocolate chips, lemon zest and dried raspberries, until just combined.
Bake
Proceed to drop the cookie dough by rounded tablespoonfuls onto the parchment lined cookie sheet. If desired, you can add a few more white chocolate chips and pieces of raspberry to the top of the cookies, to make them extra pretty.
Place the cookies in the preheated oven and bake for 8-10 minutes. Once baking is complete, transfer them to a cooling rack and let cool for 10 minutes.
Serve and enjoy!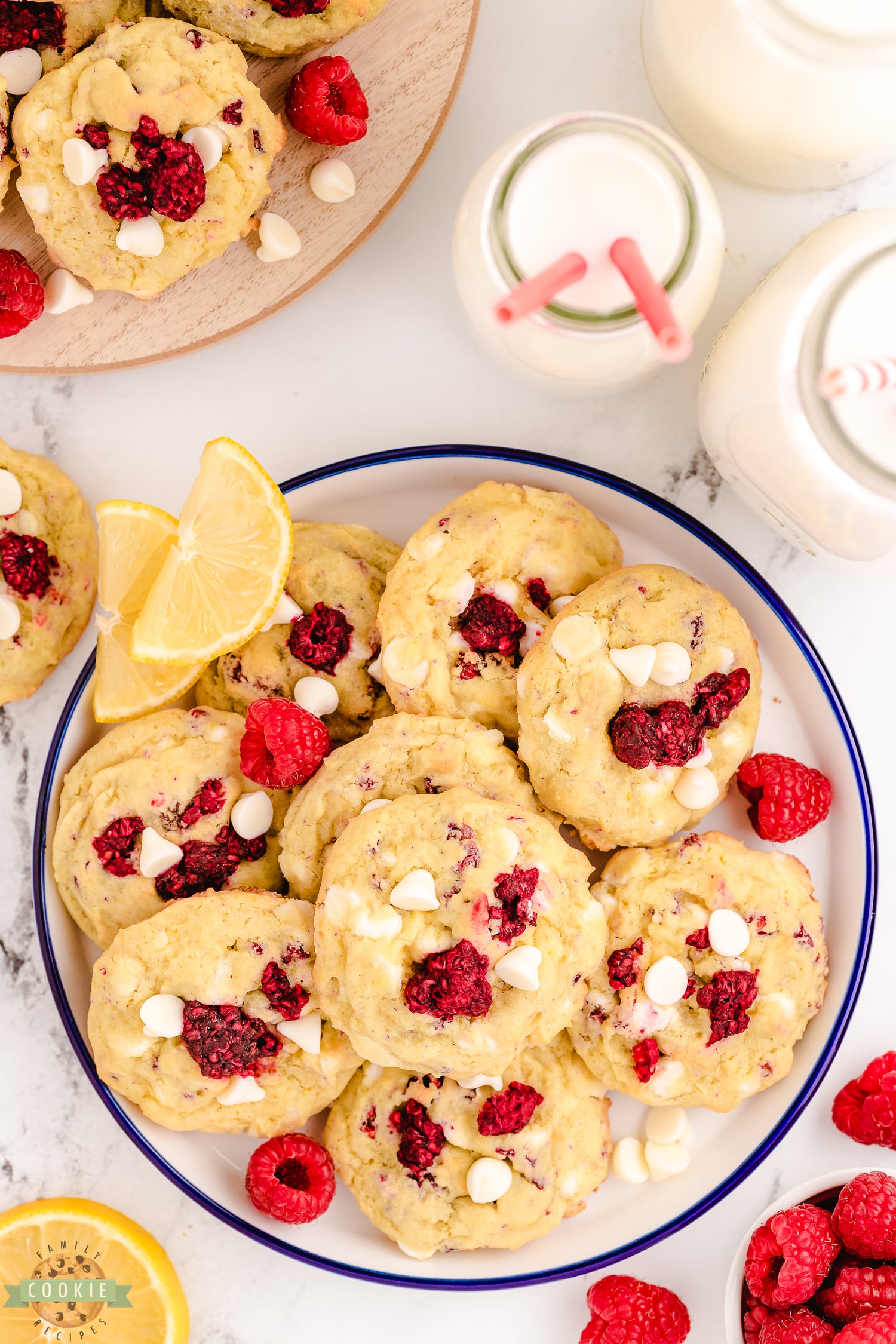 HOW LONG ARE THESE LEMON COOKIES GOOD FOR?
I recommend eating these cookies within 3-5 days for the best tasting results. You can keep them stored in an airtight container at room temperature for maximum freshness.
HOW LONG SHOULD I LET THE COOKIES COOL?
Cookies are best left to cool on the baking sheet they're cooked on for 5-10 minutes, then you can transfer them to a cooling rack to cool further. This way, they don't fall apart as cookies are pretty soft still when they're pulled out of the oven. After a couple minutes on a cooling rack, cooking are usually cool enough to eat. Warm cookies are the best!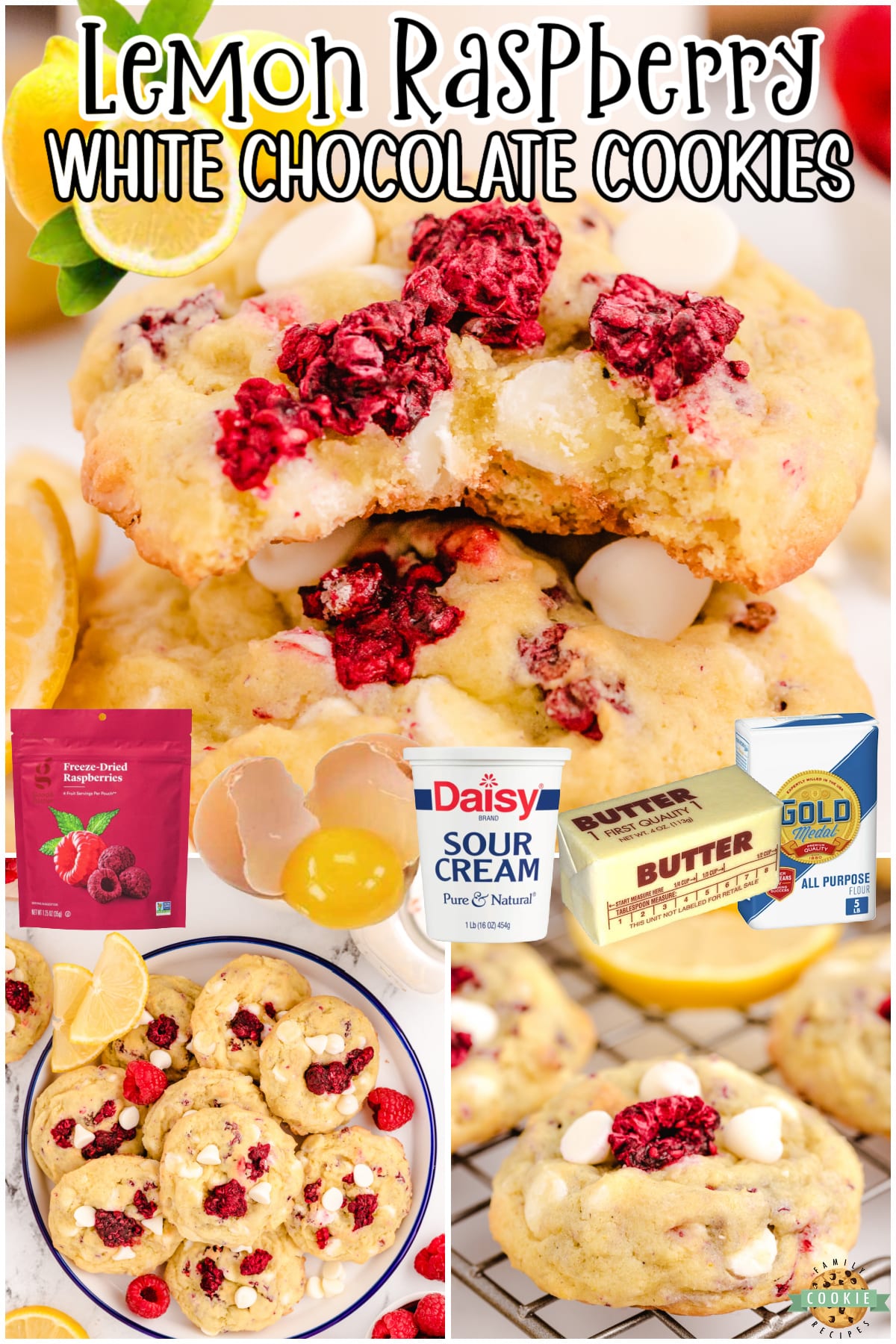 HOW DO YOU SOFTEN BUTTER?
I like to soften butter by using the defrost function on my microwave. If you need the full 1/2 cup cube of butter, you can leave it in the paper wrapper, otherwise, place the amount of butter you need in a glass or porcelain bowl. I use the lowest defrost setting on my microwave and just let it run for 20 seconds. Check the butter and see how soft it is by pressing it with a rubber scraper. If it is still not soft to the touch, meaning it doesn't indent when you press into it, let it warm for another 5-10 seconds. Watch it closely! Butter softens very quickly.
WHAT IS LEMON ZEST?
Lemon zest is small bits of the outside rind of lemons. It is used in recipes to add a stronger lemon flavor. You can get lemon zest by grating the rind off a lemon using a fine cheese grater or lemon zester. Grate zest into a bowl, then measure it out as needed using measuring spoons.


Say hello to my husband's new toy! He and his Dad went in on it together and are fixing it up. Wish me luck, hahahaha!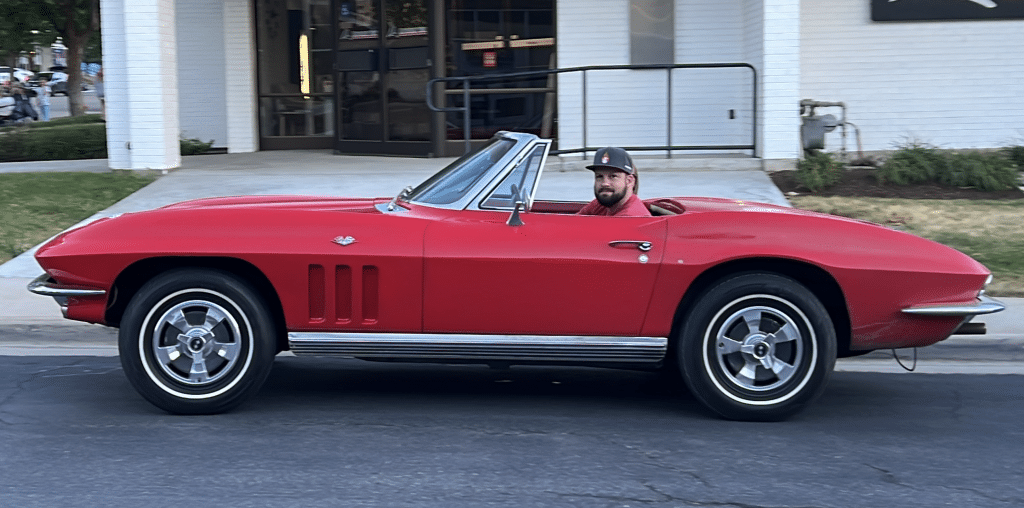 Try more amazing recipes for cookies with fruit in them here:
Lemon Raspberry Cookies are sweet and delicious cookies made with dried raspberries & lemon pudding mix! Great texture and taste for these lemon raspberry cookie with white chocolate chips.