Key lime pie cookies made with a sugar cookie base & topped with key lime filling and a lime buttercream! Tangy, sweet lime cookies that are perfect for summer.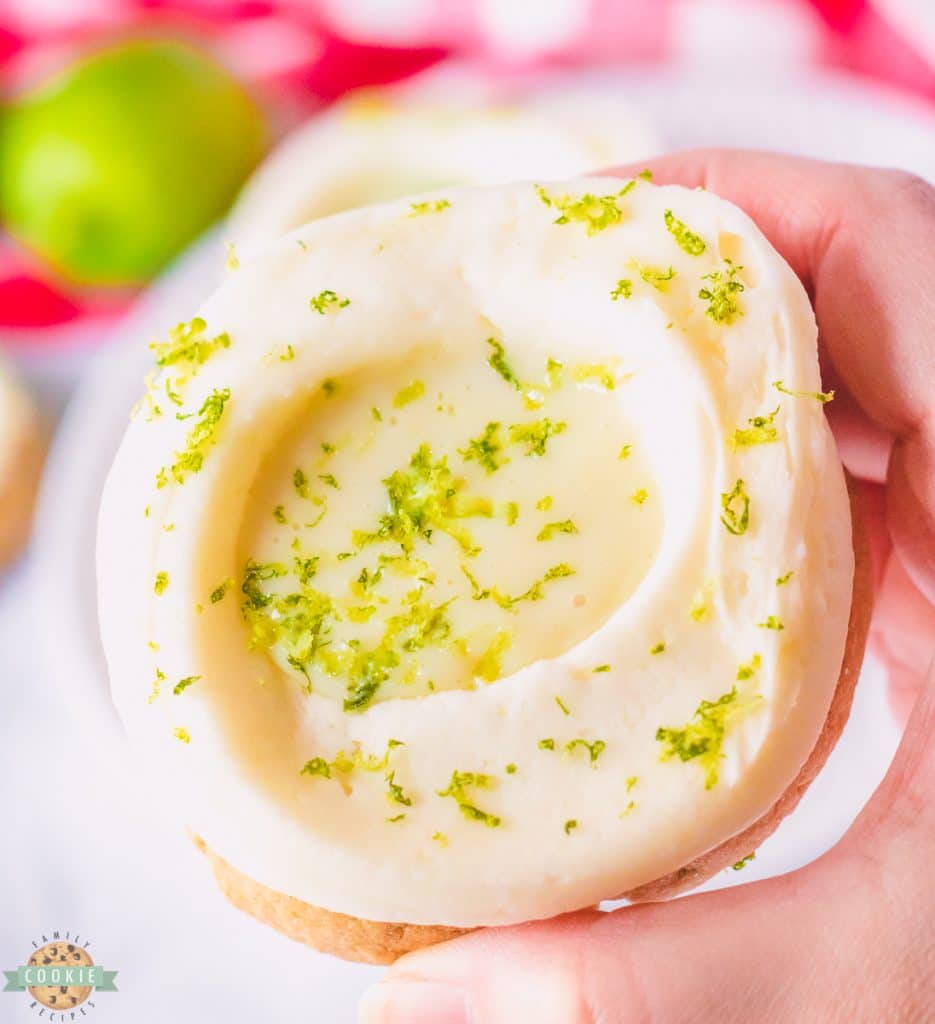 Key lime cookies are the perfect cookie for the upcoming warmer weather. While they made be made with simple ingredients and steps, there's nothing simple about the way these cookies taste. Every bite will remind you of a delicious slice of key lime pie but in the form of a gourmet cookie.
The BEST Key Lime Cookies Recipe
Making key lime flavored cookies should be a more common thing than it is because it truly rivals that of other citrus cookies (like lemon cookies). Key limes are sweet, tangy, and very flavorful when compared to your average green lime, and using them in baked goods is something we look forward to every year.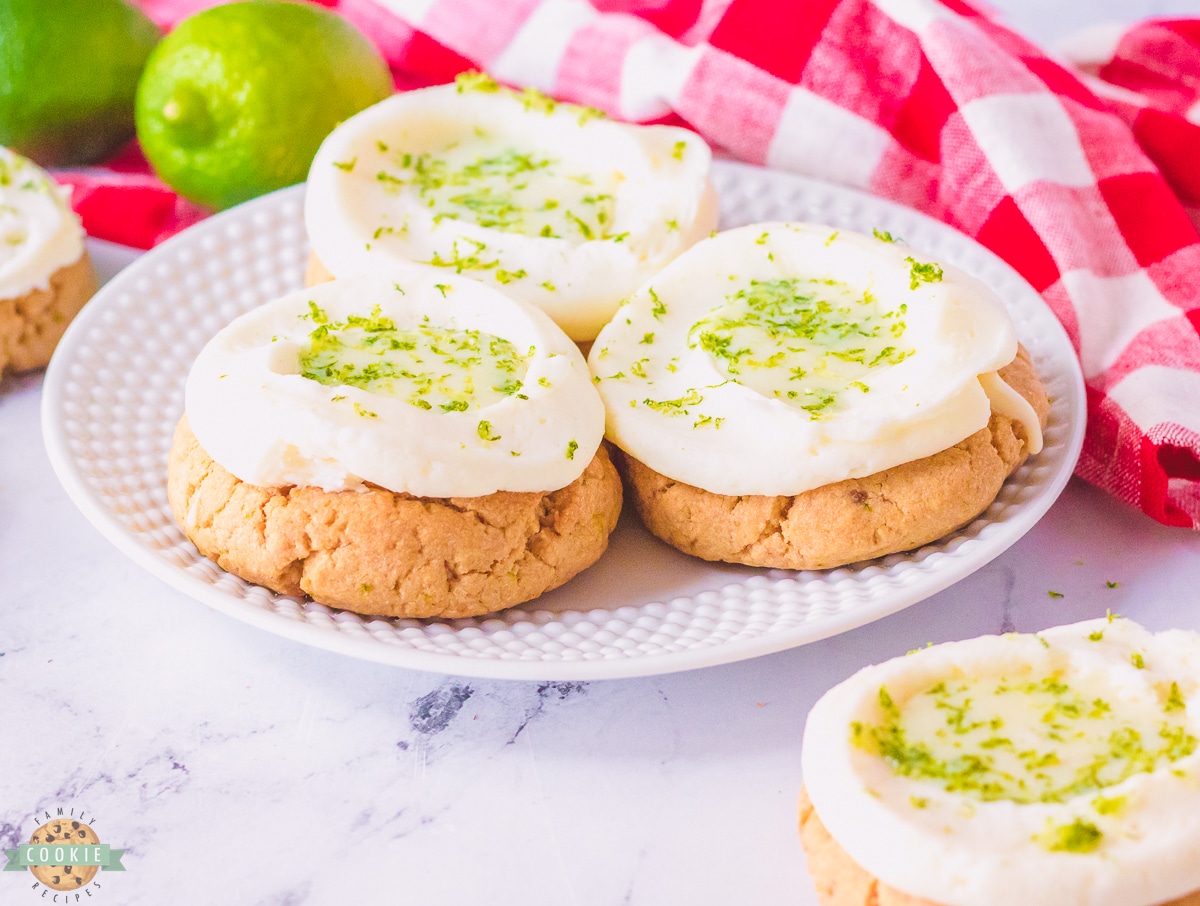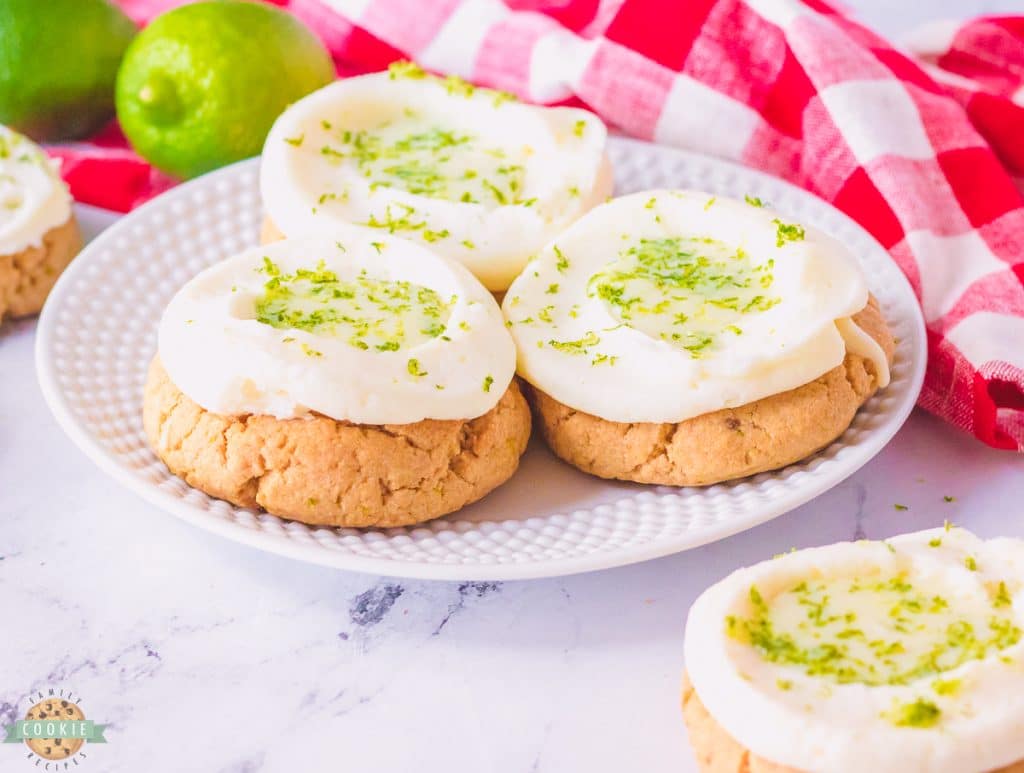 Why This Recipe Works
The recipe is more simple than you'd think. While the cookies look and sound like something you'd purchase from a gourmet cookie bakery, they're actually made using very simple ingredients and easy to follow steps, making them perfect for the at home chef.
The chill time is minimal. Chilling the dough lets the flavors develop and gives us the best cookie texture when baked. We only need about 30 minutes to chill our dough. This will give us the perfect cookie base that won't spread when baked.
Make a few or make a few more. You can follow this recipe to make 6 large cookies perfect for a family or if desired you can make your cookies smaller so that there are a dozen to share. You may even be able to divide the dough up into 18 smaller cookies if desired.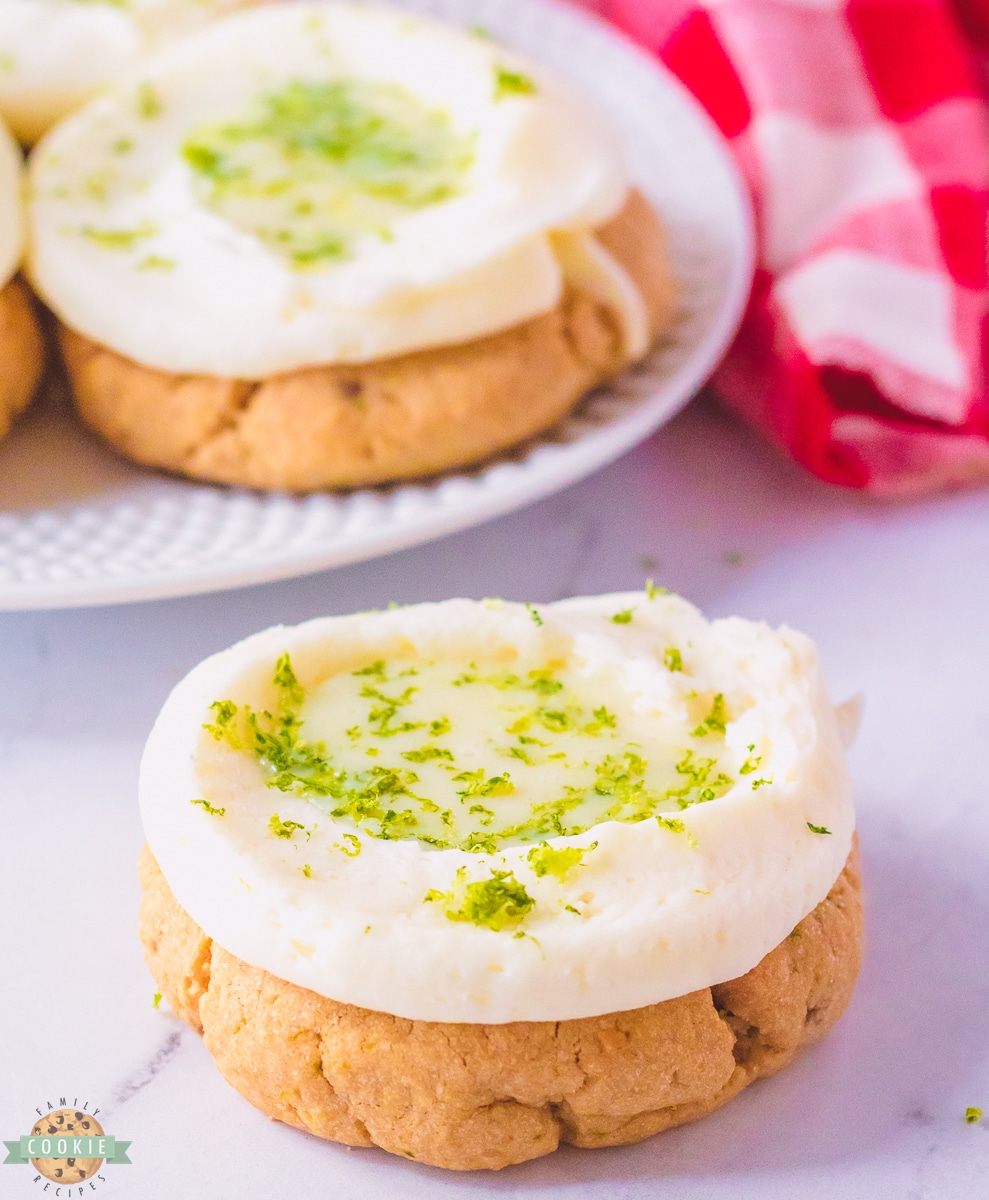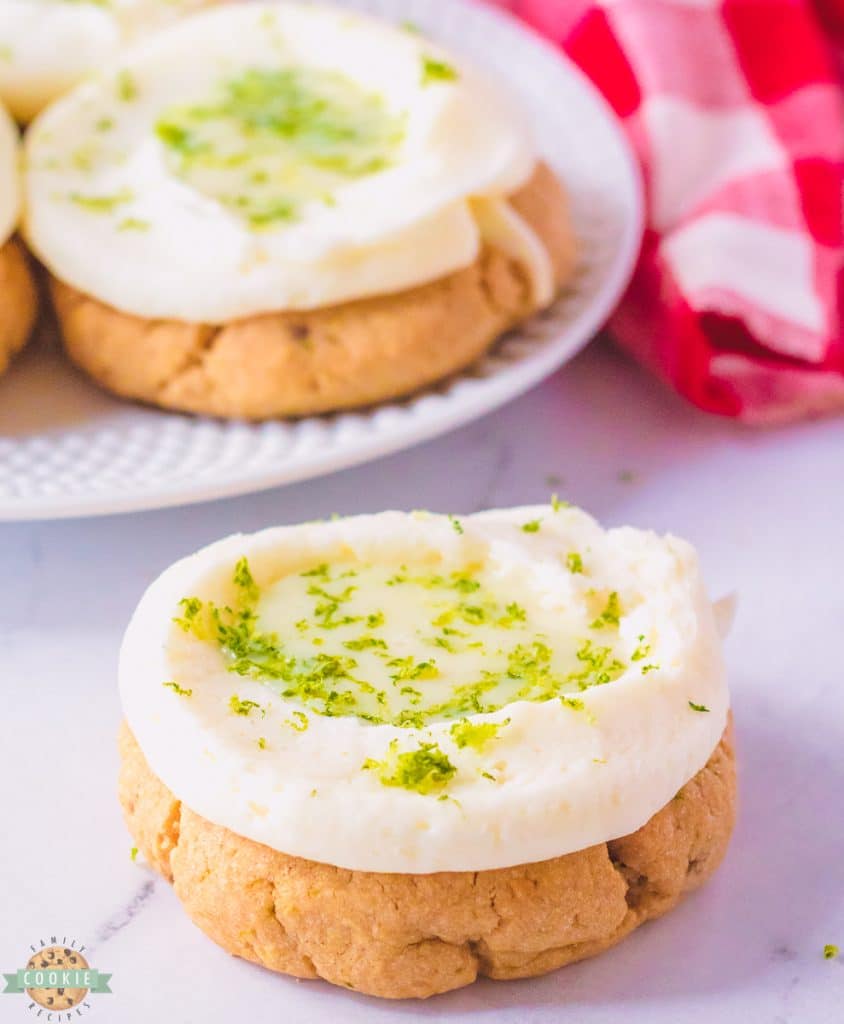 Key Lime Cookie Ingredients
For the cookies, you will need:
Butter: You will need 1/2 cup (one stick) of unsalted softened butter for the cookies.
Sugars: Use 3/4 cups of dark brown sugar and 1/4 cup of granulated white sugar to make these cookies sweet and flavorful.
Egg: You will want one large egg to bind the dough together well and add richness to every bite.
Lime zest: The est from one lime will add little green specks of flavor to every cookie.
Flour: Use 2 cups of all-purpose flour for the base of the cookie dough.
Salt: 1/2 teaspoon of salt will help to enhance the flavors.
Baking powder: Use 1/2 teaspoon of baking powder to make the cookies puff up and rise nicely as they bake.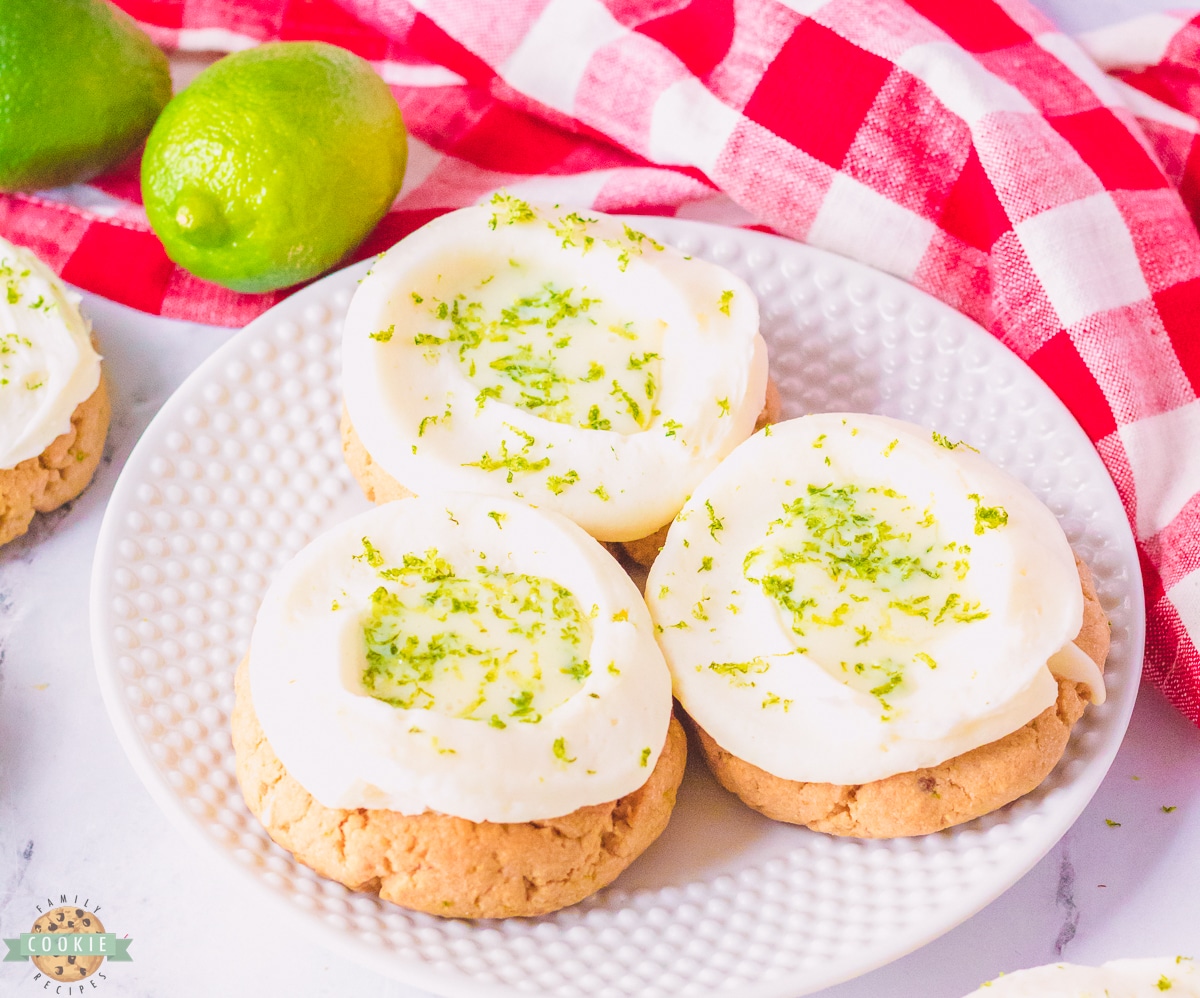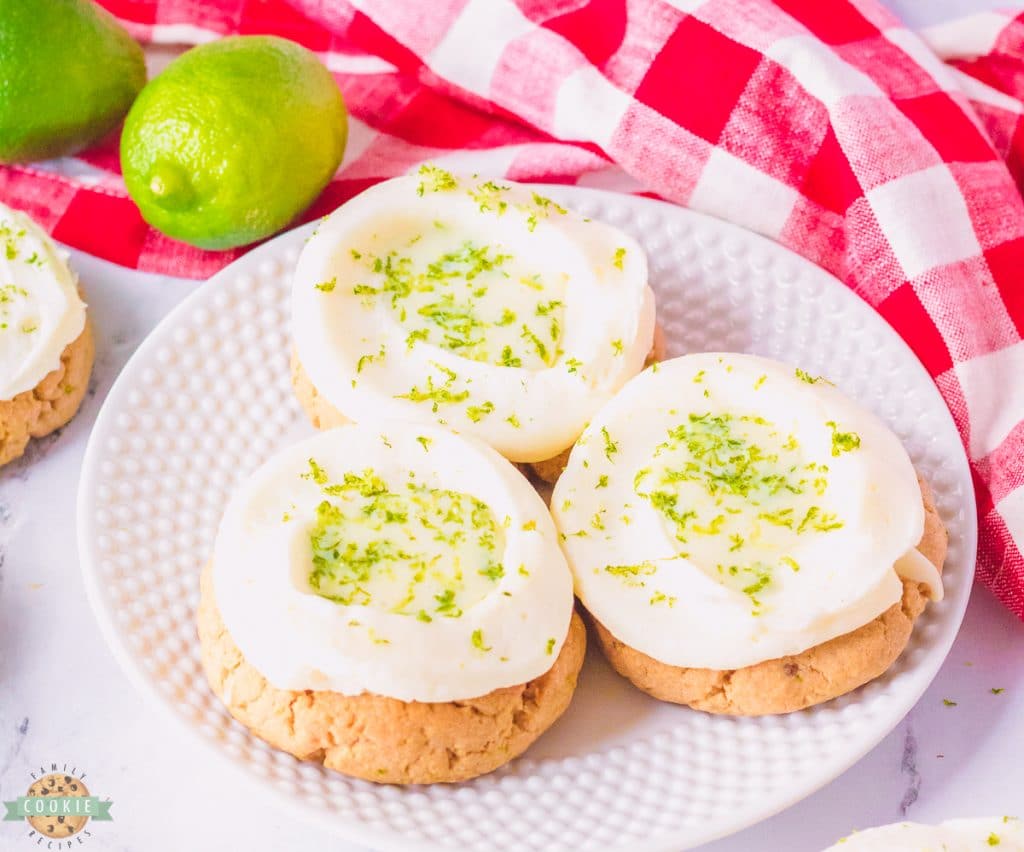 For the Lime Filling, you will need:
Lime juice: You will need half of the juice you get from one squeezed lime. This is roughly 1 tablespoon.
Condensed milk: Use 1 14-ounce-sized can of sweetened condensed milk to make the filling thick and sweet.
For the Lime Frosting, you will need:
Butter: Use 1/2 cup of softened butter (one stick) to make the frosting rich and flavorful.
Powdered sugar: You will need 4-5 cups of powdered sugar to make the frosting smooth and sweet.
Lime juice: Adding in 1/2 cup of lime juice will get the frosting to the right consistency while making it very flavorful and delicious.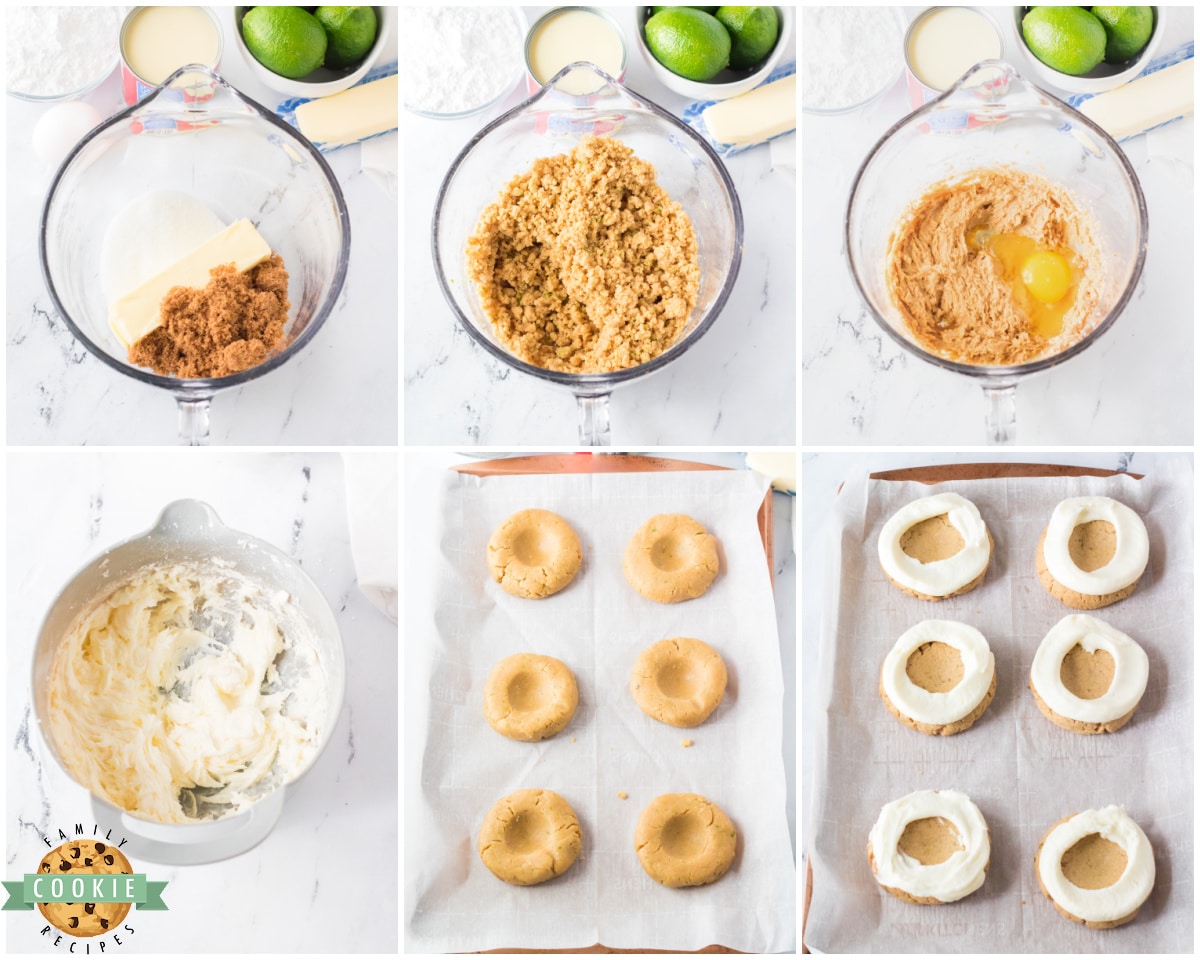 How to Make Key Lime Cookies
Make cookie dough
Cream together the butter and both sugars in a large mixing bowl until fluffy.
Beat in the egg, vanilla, and lime zest and mix until combined.
Add in the flour, baking powder, and salt, mixing until just combined. The dough will be very crumbly.
Divide the dough into 6 equal-sized portions (or 12 portions for smaller cookies).
Flatten the balls slightly and place them onto a parchment paper-lined baking sheet. Press and indent into the center of each dough ball. I like to use my large cookie scoop for this.
Place the baking sheet into the oven for 30 minutes.
Prep filling
Prepare the lime filling so that it has a chance to rest in the fridge before use.
In a small bowl, whip together the condensed milk and lime juice with an electric mixer or whisk, and then cover the bowl.
Place into the fridge to chill until needed.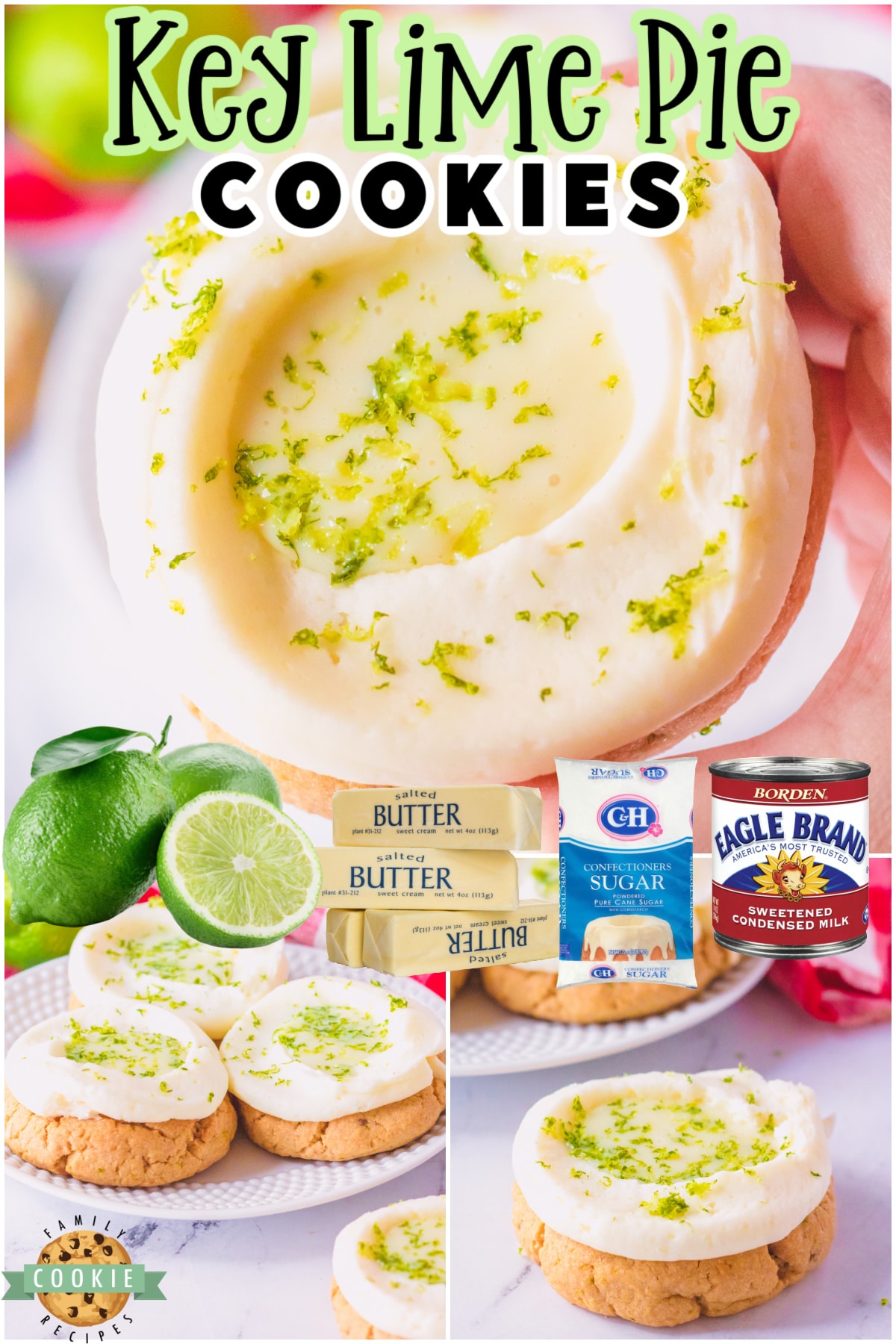 Bake
Preheat the oven to 350 degrees F.
Bake the cookies for 15-18 minutes. The edges should be just barely golden brown. For smaller cookies, you'll need to bake for 9-12 minutes depending on the size of the cookies.
Let the cookies cool on the baking sheet for 5 minutes and transfer them to a wire cooling rack.
Make buttercream
Prepare the buttercream frosting by mixing the butter with an electric mixer until fluffy.
Add in the powdered sugar and beat to combine.
Add in the lime juice and transfer the frosting into a piping or a Ziploc baggie with the corner snipped off.
Pipe the frosting around the edges of each cookie and spoon some of the lime filling into the middle of each frosting circle.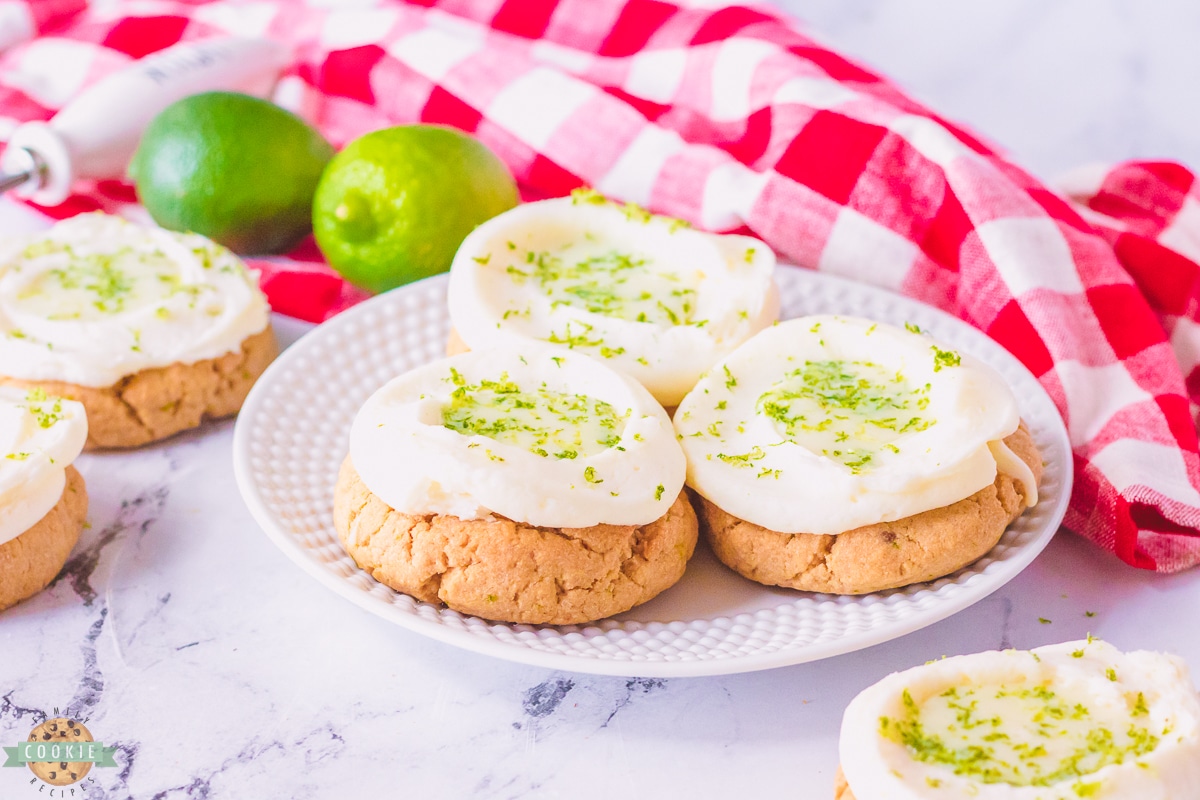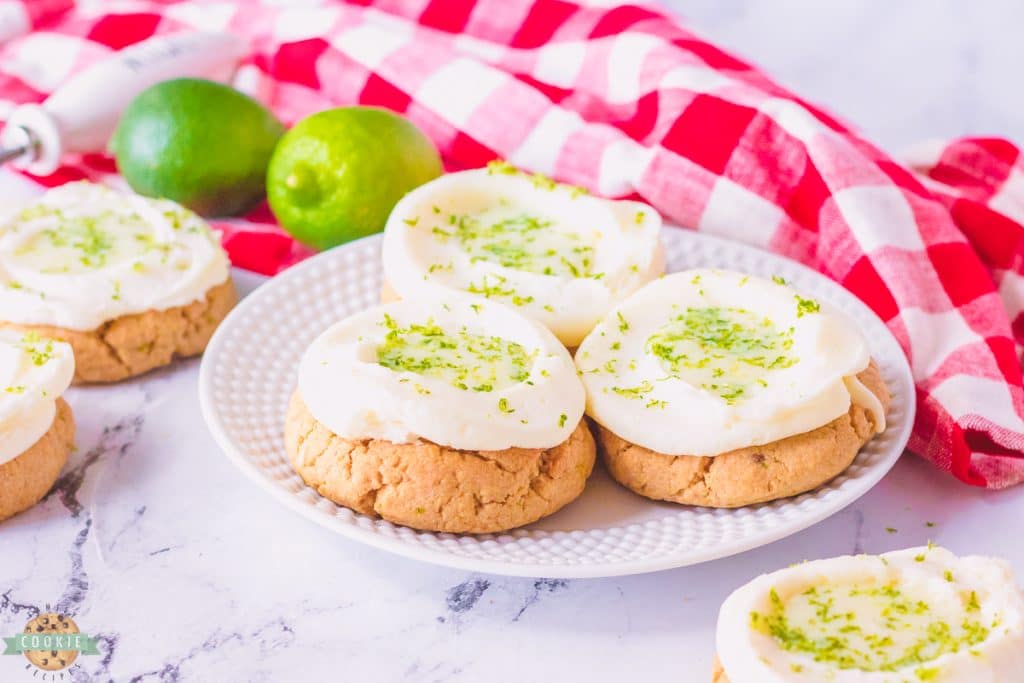 Garnish with more lime zest if desired.
Place into the fridge for 20 minutes to set.
Serve and enjoy!
What are Key Limes?
Key limes are a green lime that turns yellow when ripe. They're actually much smaller than a standard lime, meaning you'll need a lot more of them to get the job done but it is well worth it. Every little key lime is packed with a sweet lime citrus flavor you can't get anywhere else. Key limes are grown on trees in Asia (not the Florida keys) and they're a seasonal fruit worth trying. You can usually find them available from June-September.
How long are key lime pie cookies good for?
These cookies can be kept stored in an airtight container for up to 3 days. I recommend keeping them stored in the fridge because that will help to keep the filling from softening.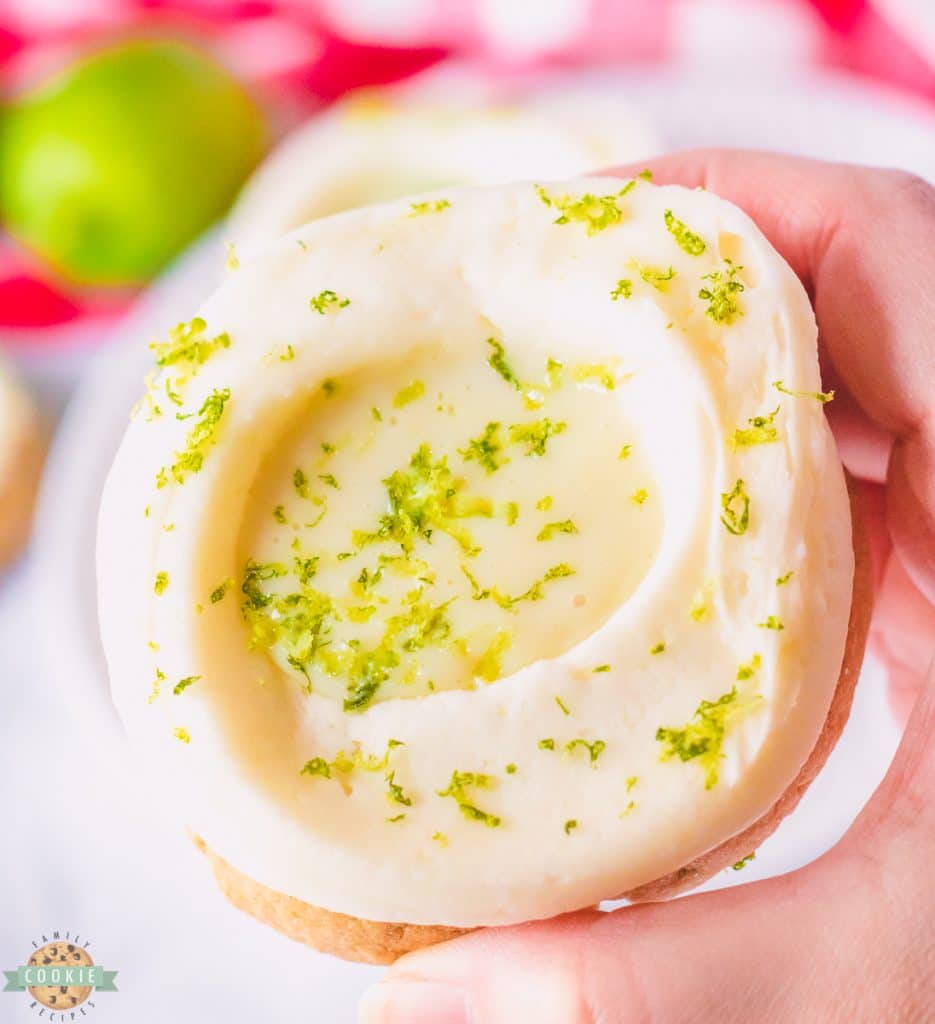 What do I do if my filling is still runny?
If you find that your lime filling is still too soft or runny and hasn't properly set, then you will need to stir in one tablespoon of powdered sugar at a time until the filling has thickened.
Can I use regular limes?
You can use either key limes or regular limes but make sure you are using fresh lime not bottled lime juice. There is a pretty large flavor difference and fresh limes will taste much better than the bottled concentrates.


Several summers ago I tried to do a bubble photo shoot with my kids. 99% of the pictures turned out to be absolute duds, ha! But I got a few great ones, including this one! I love it so much! My daughter's face is perfect, her eyes crossed and everything. And yes, her hair color is really that blonde!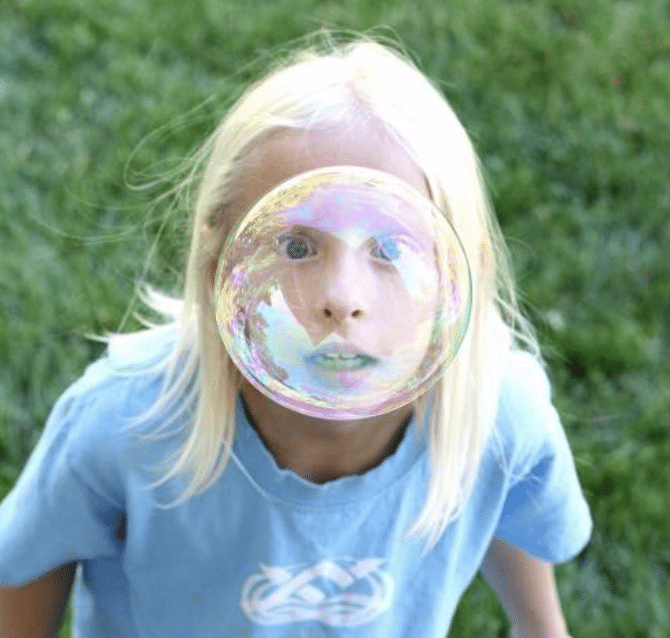 Looking for more cookies with fruit? We've got you covered!
This jumbo key lime pie cookie recipe is a wonderful and almost gourmet tasting treat you can make in your own kitchen. You're going to love this citrus packed frosted cookie recipe!