Chocolate Chip Cookie Pizza is a fabulous fruit-topped dessert pizza that's so simple to make! Chocolate Chip cookie crust topped with cream cheese frosting & fresh berries that everyone loves!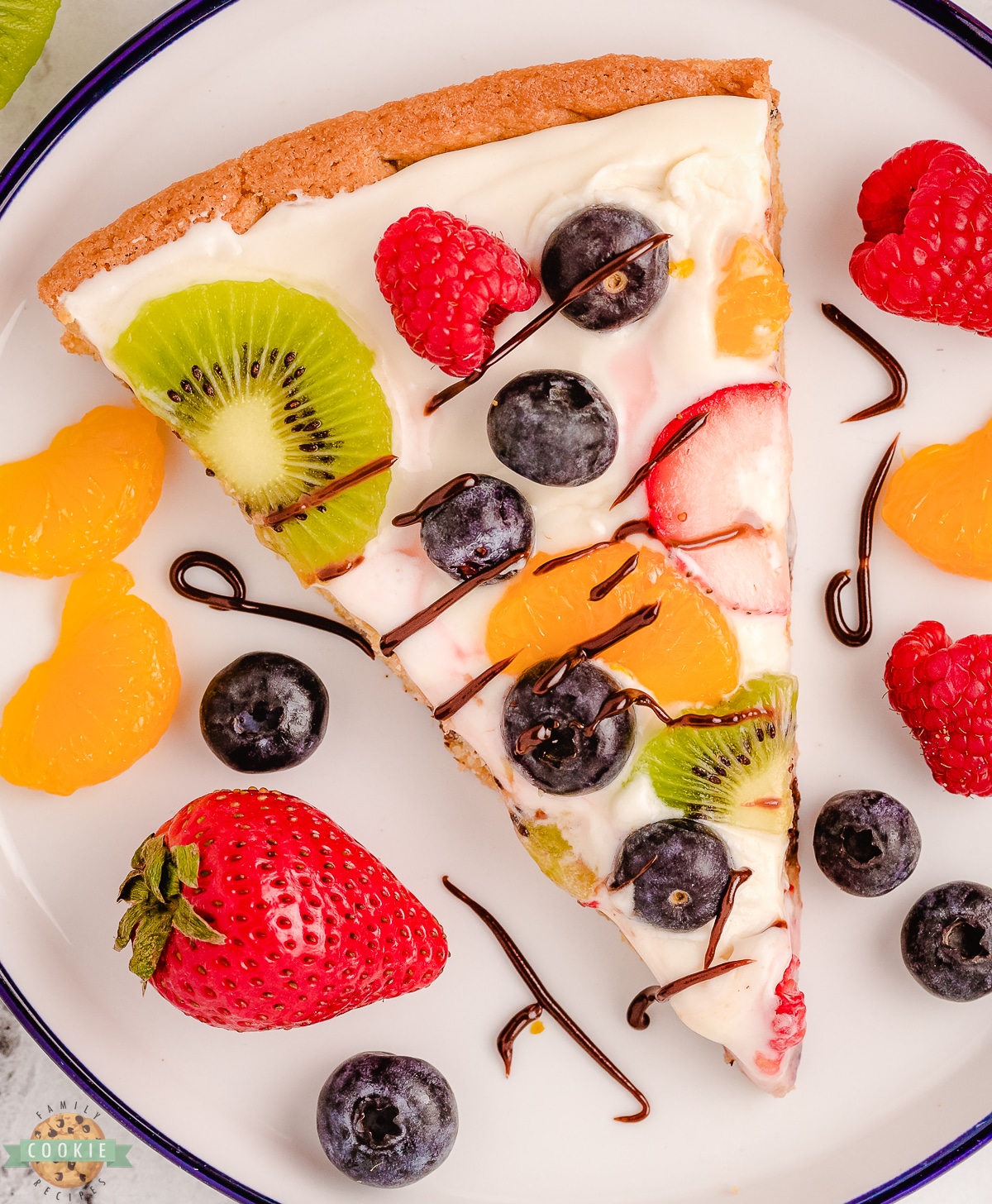 Make this chocolate chip pizza cookie easily, with some basic prep work and less than 15 minutes of baking, you can enjoy this dessert in no time. The cream cheese frosting for fruit pizza is a smooth, creamy and delightful frosting that is simply divine.
Chocolate Chip Cookie Pizza with Fruit
I wanted to make a special treat for my kids today but didn't want to do anything too involved, so I whipped up this fun cookie pizza, and we all enjoyed it! I mean, triple chocolate chip cookie crust, cream cheese frosting, and fresh fruit- all drizzled with hot fudge. What's not to love?! This fruit pizza is made easily with the help of a packaged cookie mix. Top it off with a homemade cream cheese frosting, fresh fruit and it is so delicious. This is definitely one of our favorite family treats and one the kids look forward to every chance they get.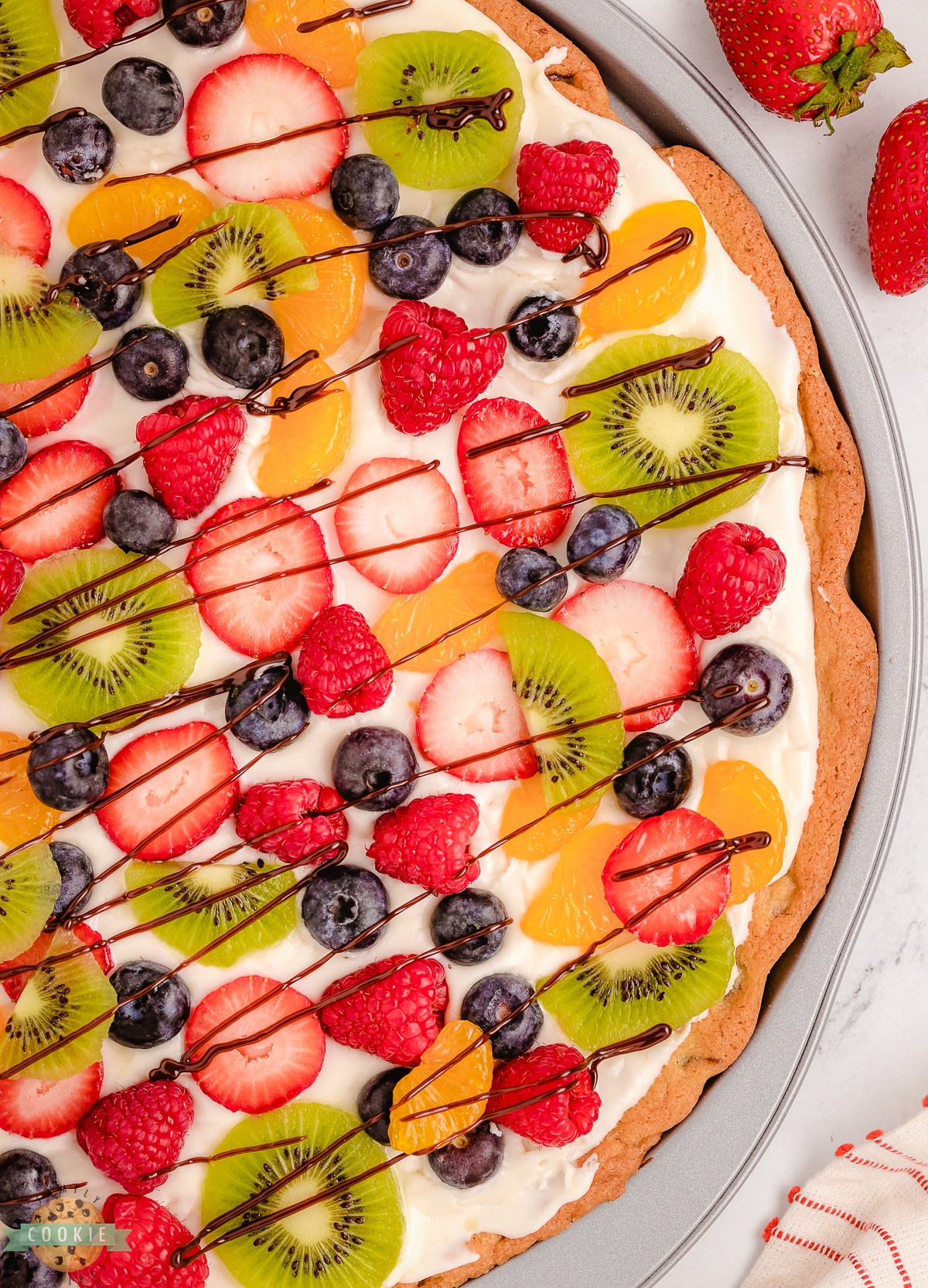 Why You'll Love This Cookie Pizza Recipe
It's simple. We love recipes when they are simplified and this one is about as easy as it gets. From the 3 ingredient cookie dough crust, to the basic cream cheese frosting, this recipe uses less than a dozen or so ingredients to make.
It's customizable. Use any of your favorite fruits and berries or make a fun picture with the toppings. You can really make this pizza look incredible and feel unique every time.
You can make your own cookie dough. If you don't want to use packaged cookie dough mix, feel free to use our chocolate chip cookie recipe here.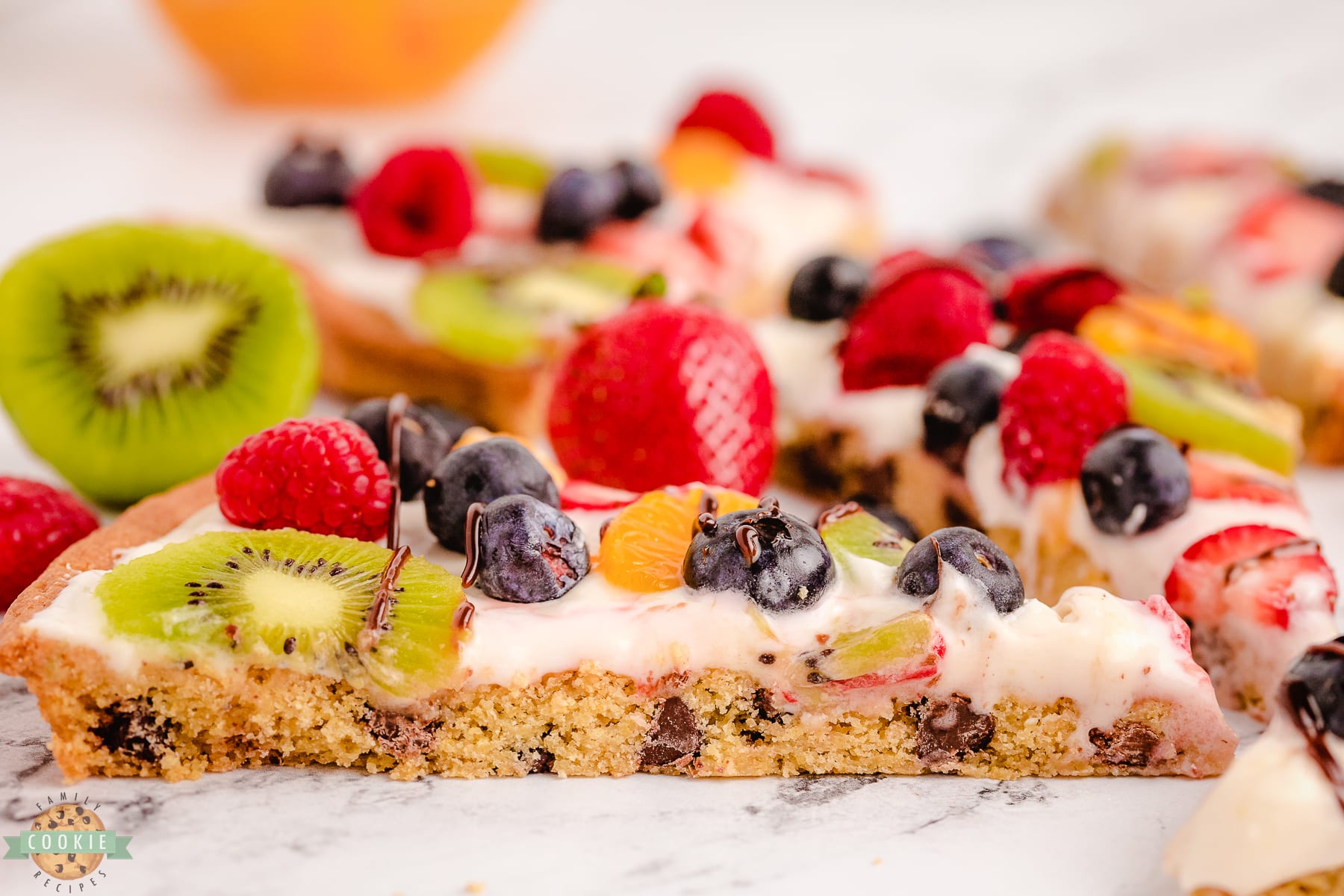 Chocolate Chip Cookie Pizza Ingredients
Cookie crust
Cookie mix– You will need a 16-ounce package of Chocolate Chip Cookie mix. You are welcome to use this chocolate chip cookie recipe as well. Halve it for this cookie pizza recipe, or just use half the dough for the pizza and make cookies with the remaining dough.
Butter– Use 1 stick of softened butter to make the cookie dough nice and rich in taste.
Egg– Add in 1 egg to bind the dough together well, so it holds up to the weight of the pizza.
Cream Cheese Frosting
Cream cheese– You will need 4 ounces of softened cream cheese for the base of this frosting mixture.
Butter– Using 2 tablespoons of softened butter will give the frosting wonderful flavor.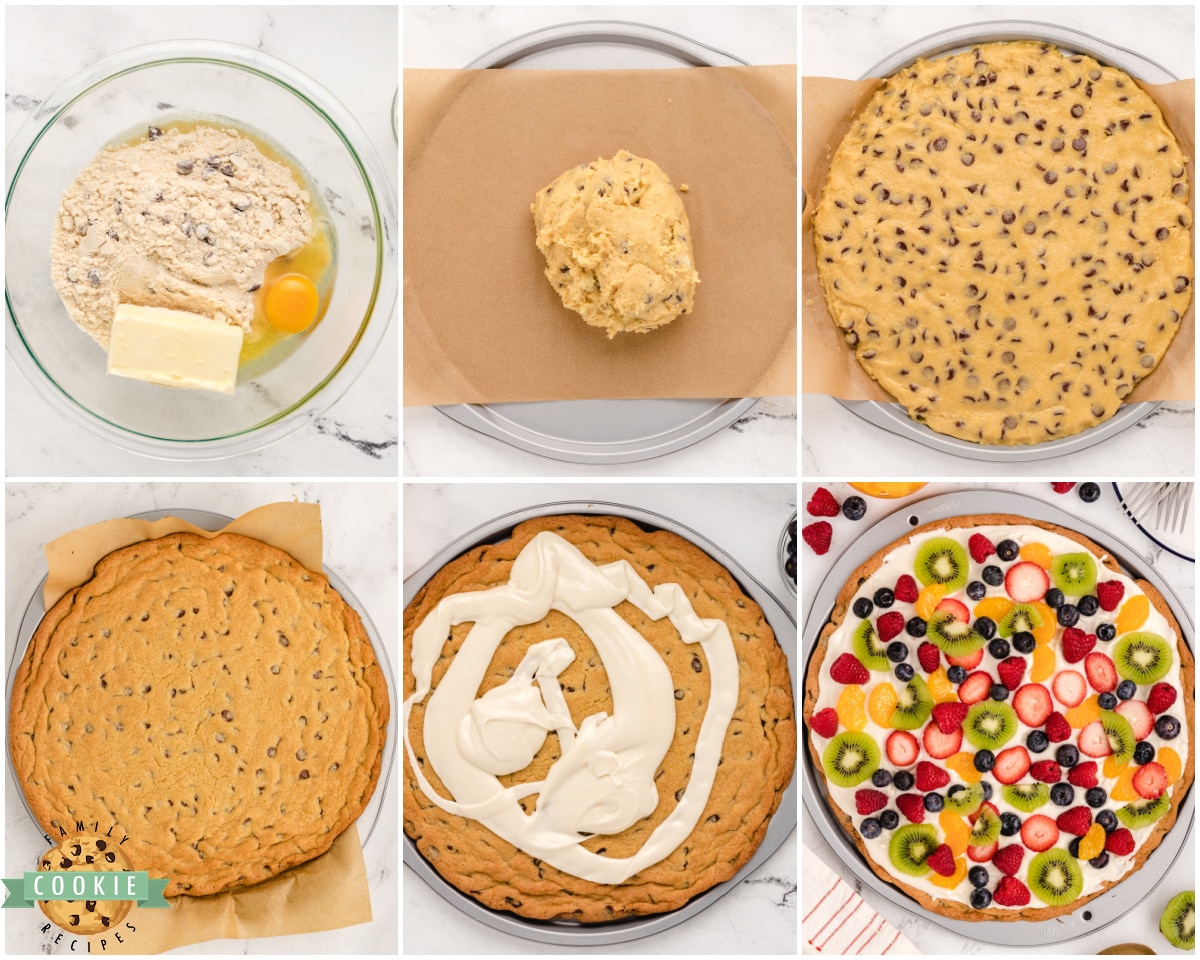 Powdered sugar– Make the frosting smooth and sweet by adding in 2 cups of powdered sugar.
Milk– You will need 2-3 tablespoons of milk to get the frosting to the right consistency.
Vanilla extract– Use 1 teaspoon of vanilla extract to enhance all the wonderful flavors well.
Toppings
Berries & fruit: You'll top the cookie pizza with about 2-3 cups fresh or canned fruit and berries. Strawberries, blueberries, mandarin oranges, raspberries, banana, kiwi and cherries are all good choices.
Hot fudge– You'll definitely want to take this pizza to the next level by drizzling some hot fudge over the top.
How to make a Fruit Cookie Pizza
Get started by preheating the oven to 350 degrees F. Then, line a cookie sheet with parchment paper and set aside.
Cookie crust
In a medium size bowl, combine the cookie mix, butter, and egg. Stir ingredients together until a dough forms. Then transfer the dough to the prepared cookie sheet.
Push down on the dough using a rubber scraper to spread out into a large circle that is about 1/2 to 1/2 inch thick. I like to place my hand in a sandwich baggie that's been sprayed with nonstick cooking spray to help with this process. My uncooked pizza was about 11 inches in diameter.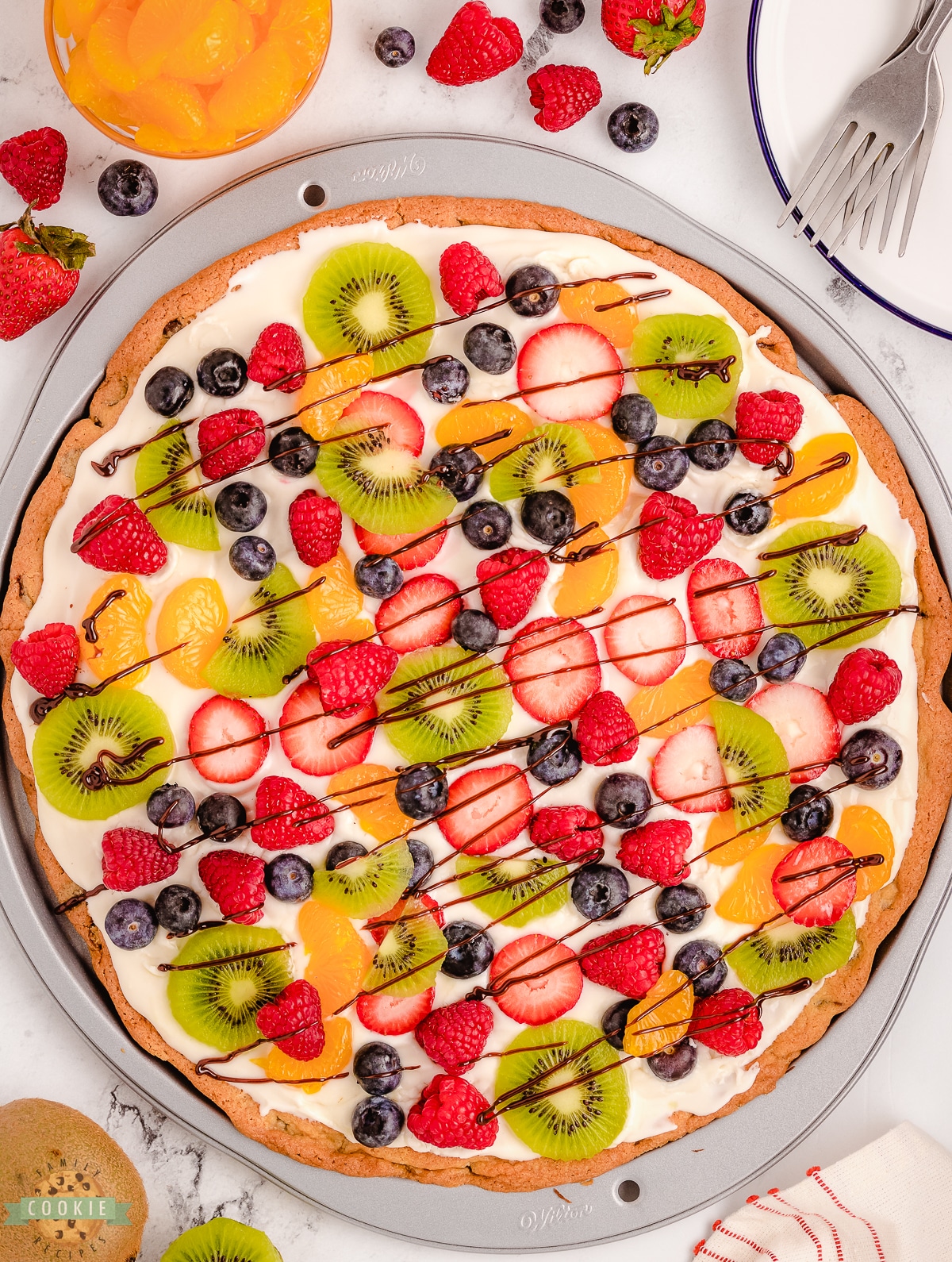 Bake
Place the cookie in the preheated oven and bake for 11-12 minutes. Let the cookie cool completely before assembling the pizza.
Frosting
While the cookie is cooling, get the frosting made. In a mixing bowl, using an electric mixer, cream together the cream cheese and butter until smooth. Then add in the milk and powdered sugar, adding the sugar 1 cup at a time, until it is creamy and smooth.
Assemble
Proceed to spread the frosting over the top of the cooled cookie.
Next, wash and slice the chosen fruit topping, then arrange the fresh fruit on top of the frosted cookie.
If desired, drizzle the whole cookie pizza with hot fudge as the ultimate and final topping.
Slice the pizza into triangles, serve and enjoy!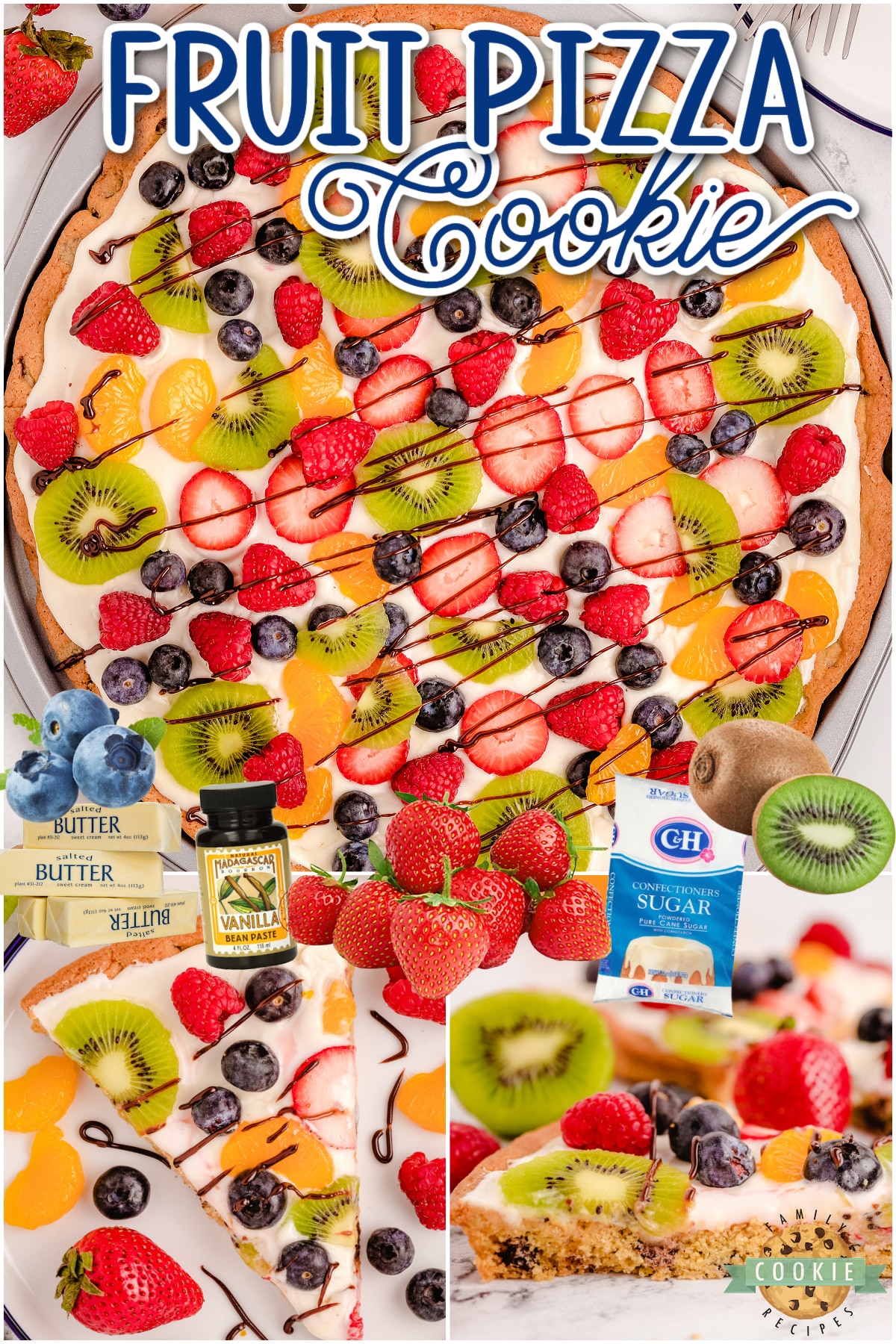 What is the best fruit to put on a cookie pizza?
A wide variety of fresh and canned fruits are perfect on a cookie pizza! We used sliced strawberries, blueberries, raspberries, sliced kiwi and mandarin oranges. You can also top the pizza with blackberries, sliced banana, cherries, and even thinly sliced apple.
Can You Make Chocolate Chip Cookie Pizza with Fruit Ahead of Time?
You can make the recipe in advance and assemble just before serving. To do this, make the cooked pizza crust and have it cooled and stored well covered. You can even make the frosting in advance and keep it in an air-tight container in the fridge until ready to use. Another great time saver for prepping is to slice the fruits so they're ready to go and keep them in the fridge. Now all you have to do is put everything together and serve.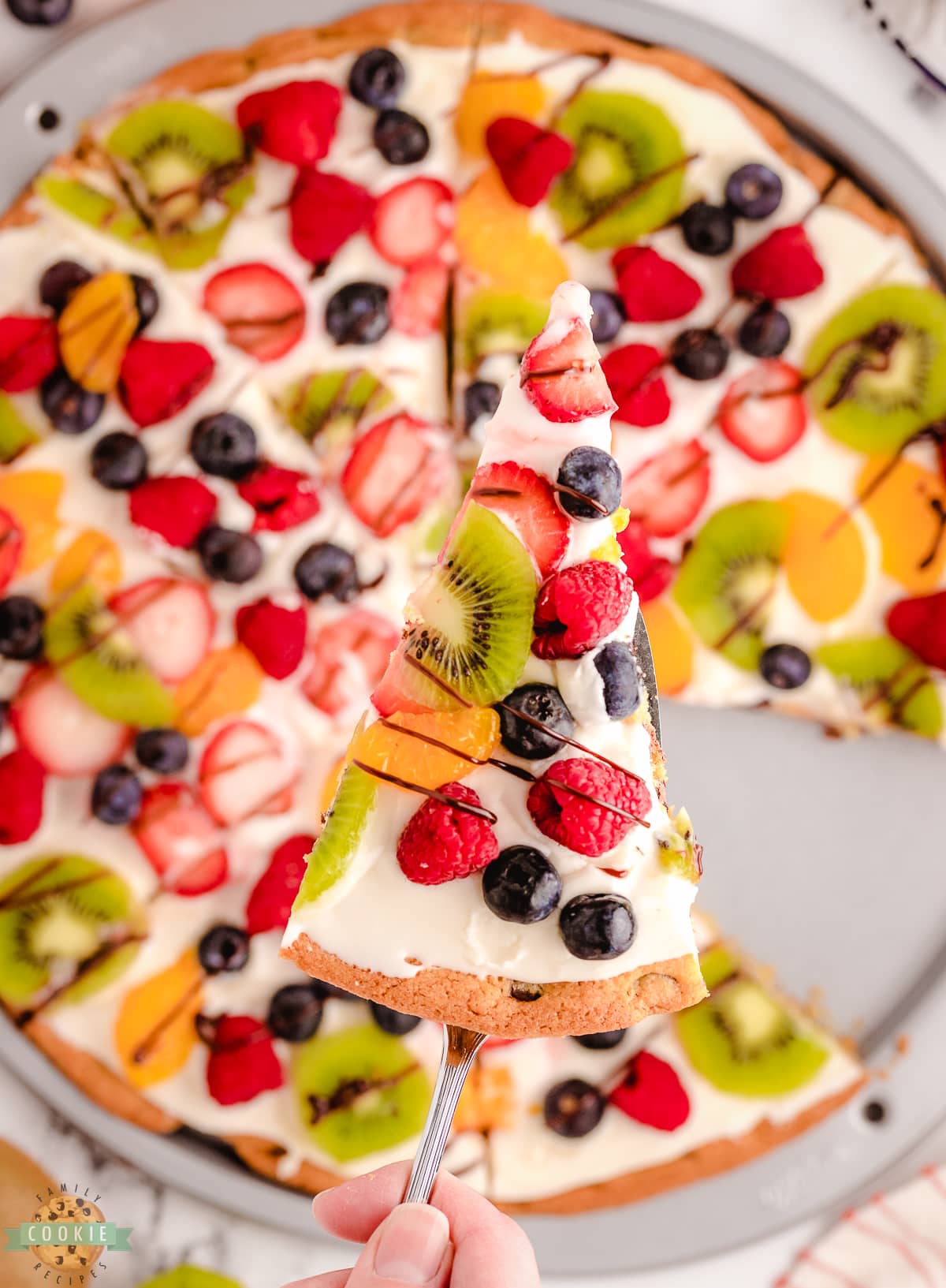 How do I store leftover fruit pizza?
Fruit pizza is best enjoyed the day that it is assembled because that is when it is the freshest. After a time the crust will soften and become soggy thanks to the moisture in the frosting and berries. That said, you can keep it covered in plastic wrap and stored in the fridge for up to 2 days.


We awoke the first day of Spring break to find THIS! HA! Happy Spring everyone. Hope the snow melts soon.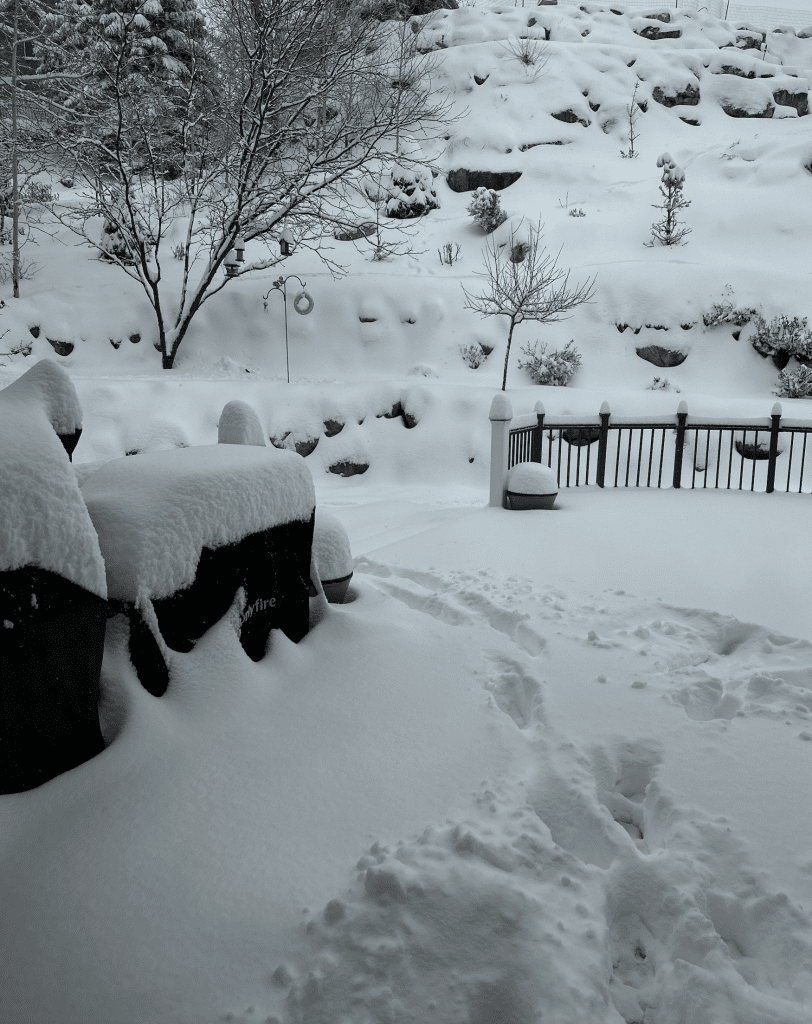 Cookie cakes, pizzas and more:
Chocolate Chip Cookie Pizza is a fabulous dessert pizza that's so simple to make & topped with fresh berries & drizzled with chocolate!