Festive St. Patrick's Day Cookie Cake that's soft, chewy & studded with chocolate chips & green M&M's!  Green buttercream frosting rings the edges of this delicious cookies that's perfect for all your little leprechauns!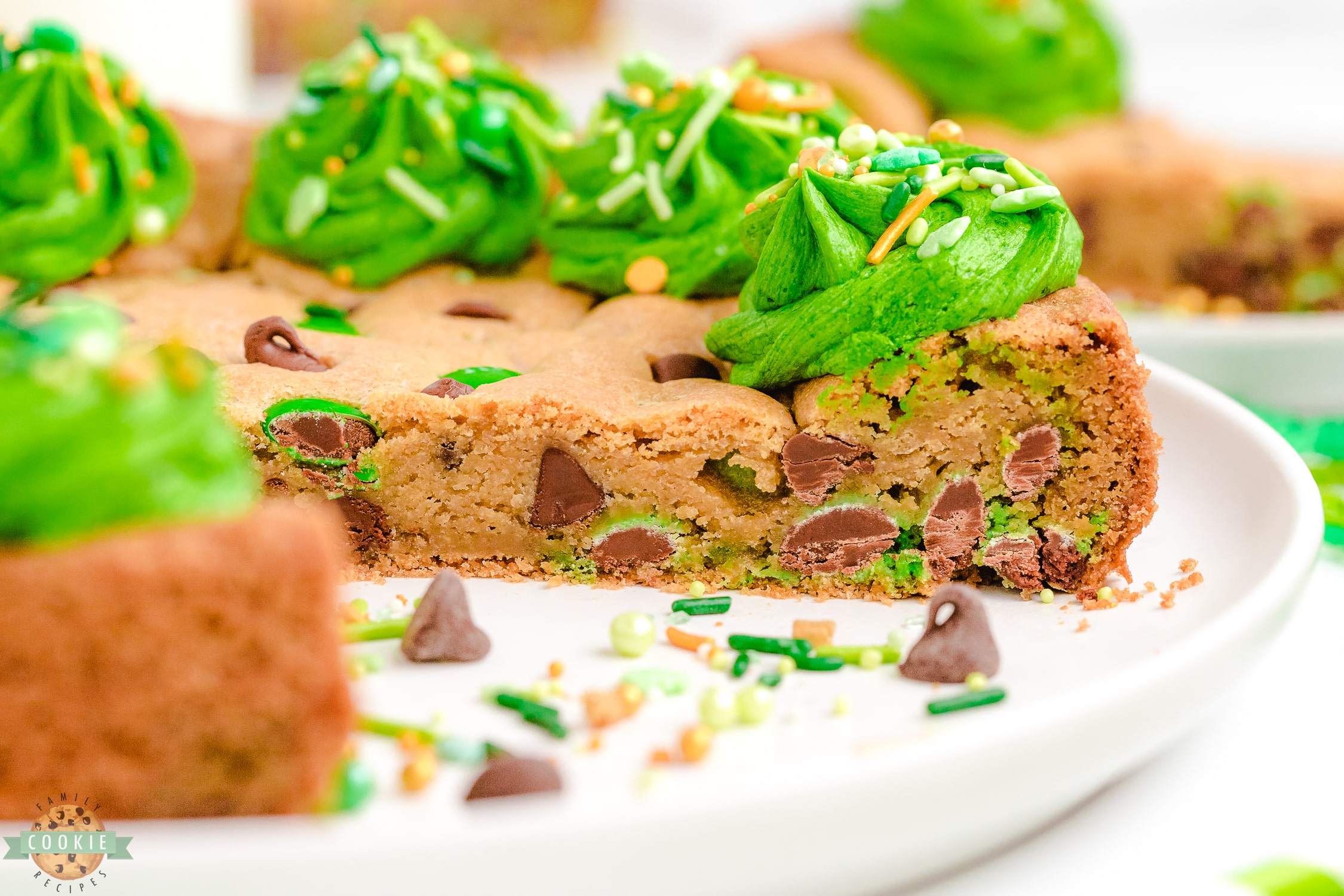 The vibrant green frosting makes this cookie cake an amazing dessert for this fun holiday. Make this St. Patrick's Day Cake for a wonderful and delightful treat to enjoy with friends and family!
Cookie Cake for St. Patrick's Day
This tasty treat is a perfect combination of cookie and cake, bringing together two amazing treats that every is sure to enjoy! The base of this dessert is a cookie dough, then topped with a fluffy, rich frosting and sprinkled with festive colors for a delicious touch. The frosting and cookie base are both made from scratch, with simple ingredients that are most likely already in your kitchen. You will not be disappointed with the end results, an incredibly buttery and soft cookie cake with sweet buttercream frosting. Truly a heavenly treat!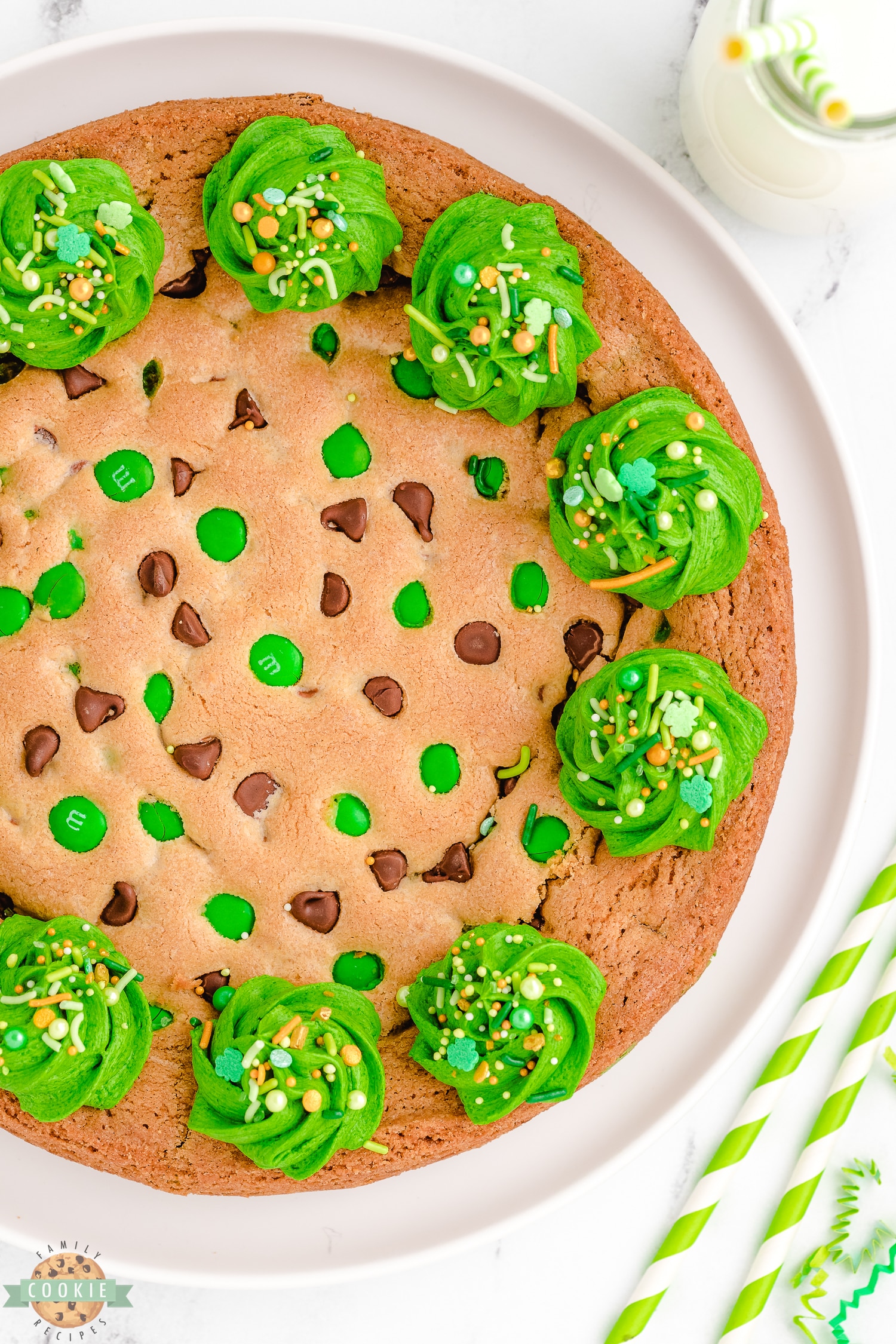 WHY YOU'LL LOVE THIS FESTIVE COOKIE CAKE:
One slice is so satisfying. While it can usually be hard to stop at "just one" cookie, this cookie cake is rich and heavenly, one piece will be enough to satisfy your sweet tooth.
No rolling pin or hassle. This cookie dough come together easily and without a lot of equipment. You don't need to roll out the dough or cut shapes, just press it into a cake pan and bake. So easy!
Simple ingredients. With the exception of green food coloring or St. Patrick's Day themed sprinkles, it is very likely you have most or all the ingredients for this recipe in your kitchen. You can use what you have to make this fun and delicious holiday treat!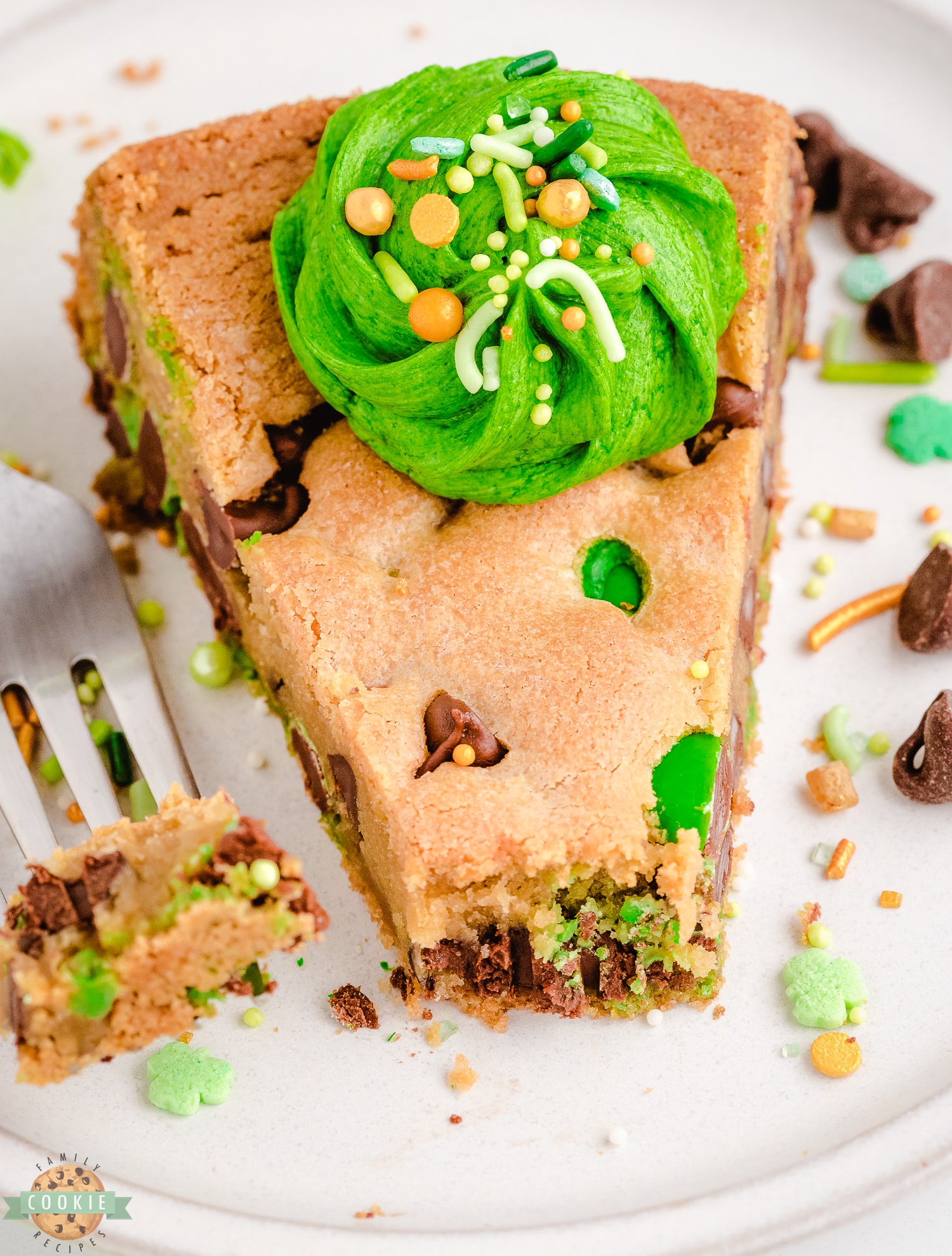 St. Patrick's Day Cookie Cake Ingredients
Butter: Add in 12 tablespoons of butter, softened, to make the dough rich and buttery.
Brown sugar: To add an amazing depth of flavor to this cookie dough, add 1 cup of brown sugar.
Sugar: You will need ¼ cup of sugar to make the cookie cake wonderfully chewy and soft.
Egg: Create the perfect texture by adding in 1 whole egg.
Egg yolk: By also adding in 1 egg yolk, will contribute to additional richness in this cookie cake.
Vanilla extract: To enhance all the great flavors in this dough, use 2 teaspoons of vanilla extract.
Flour: For the base of this cookie dough, use 1 ¾ cup of flour.
Cornstarch: Adding in 1 teaspoon of cornstarch will help make a nice thick cake cookie.
Baking soda: Using 1 teaspoon of baking soda will help this cookie rise as it bakes.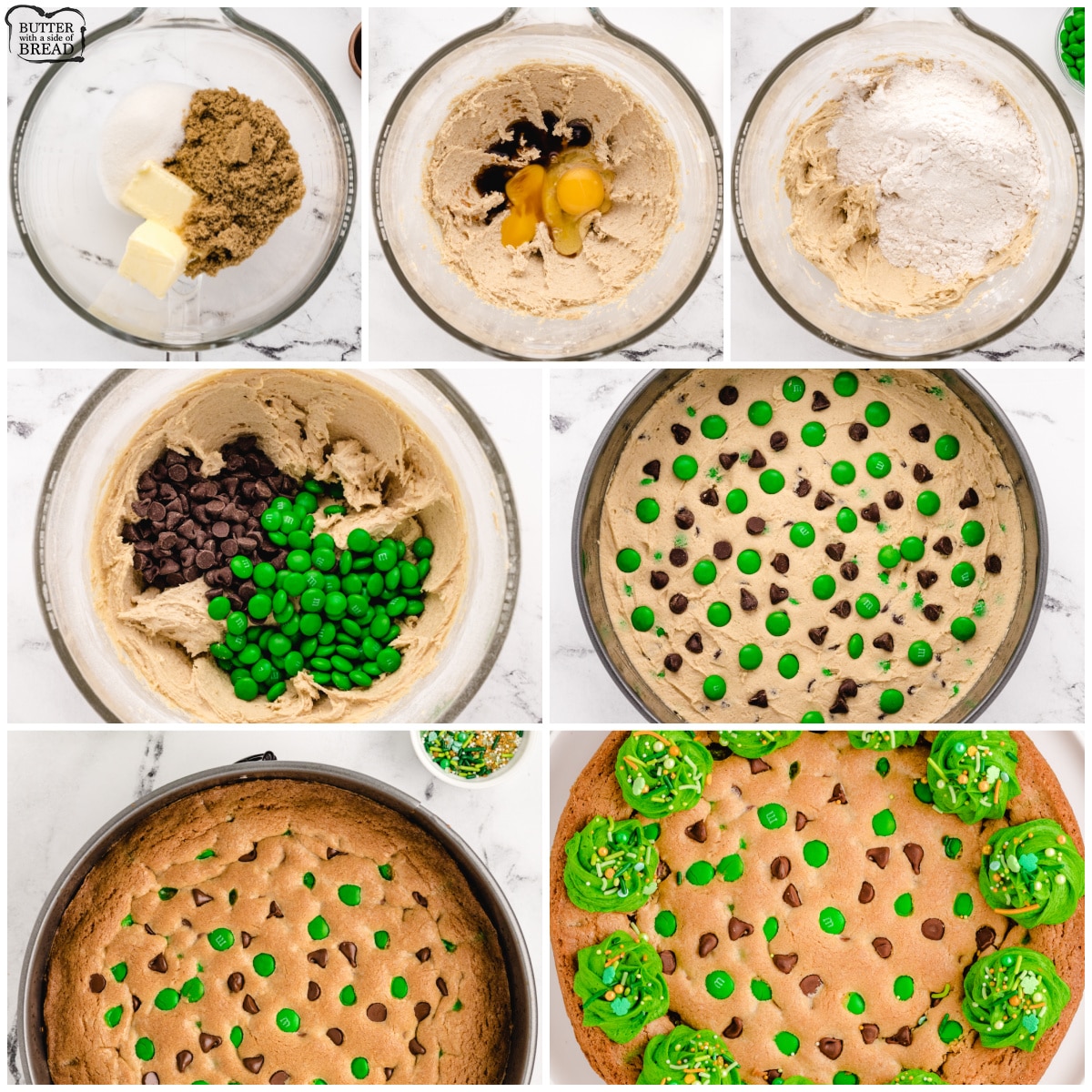 Chocolate chips: To add even more amazing flavor, you will want to add in ¾ cups of chocolate chips.
Candies: You need ½ cup of green M&M candies to decorate the cake and add a nice festive touch!
Icing
Butter: For a rich and delicious frosting, add in ½ cup of butter, softened.
Sugar: The base of this frosting is 2 cups of powdered sugar.
Vanilla extract: You need 1 teaspoon of vanilla extract to give this icing wonderful flavor.
Food coloring: To make this cookie cake extra festive, you will need a few drops of green food coloring.
St. Patrick's Day sprinkles: Add even more fun to this dessert with some St. Patrick's Day colored or themed sprinkles.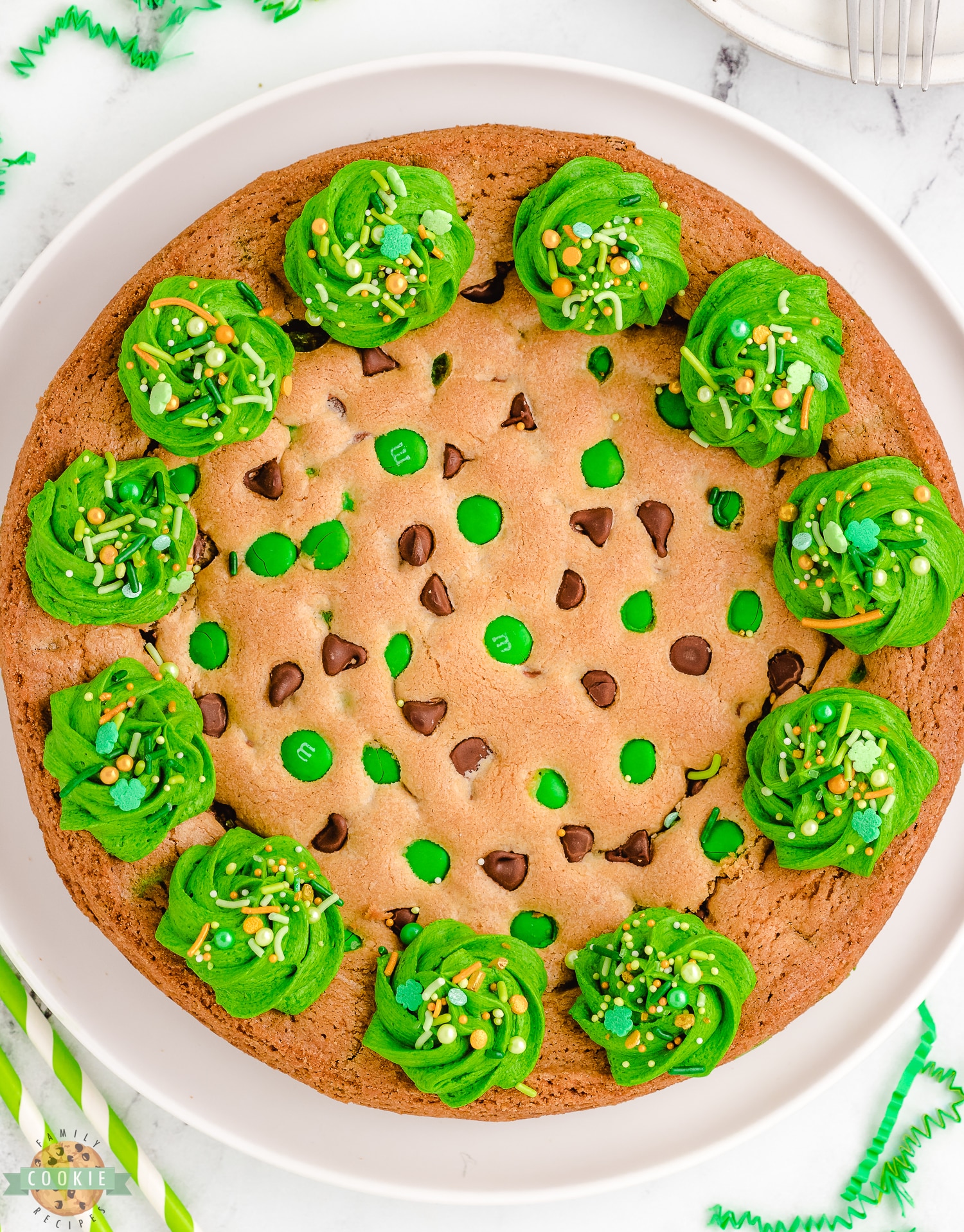 How to make a Festive Cookie Cake
Prep
Start by getting the oven preheating to 350°F. Then, spray an 8-inch springform pan with nonstick spray and set aside.
Batter
Next, in a large mixing bowl, beat the butter, brown sugar, and sugar until light and creamy. I find this easiest to do with an electric mixer or Kitchen Aid mixer.
After that, add in the egg, egg yolk, and vanilla extract; continue to mix for 1 minute.
Proceed to stir in the flour, cornstarch, and baking soda and mix again until combined.
Then stir in the chocolate chips and M&M candies until just combined, be careful not to overmix.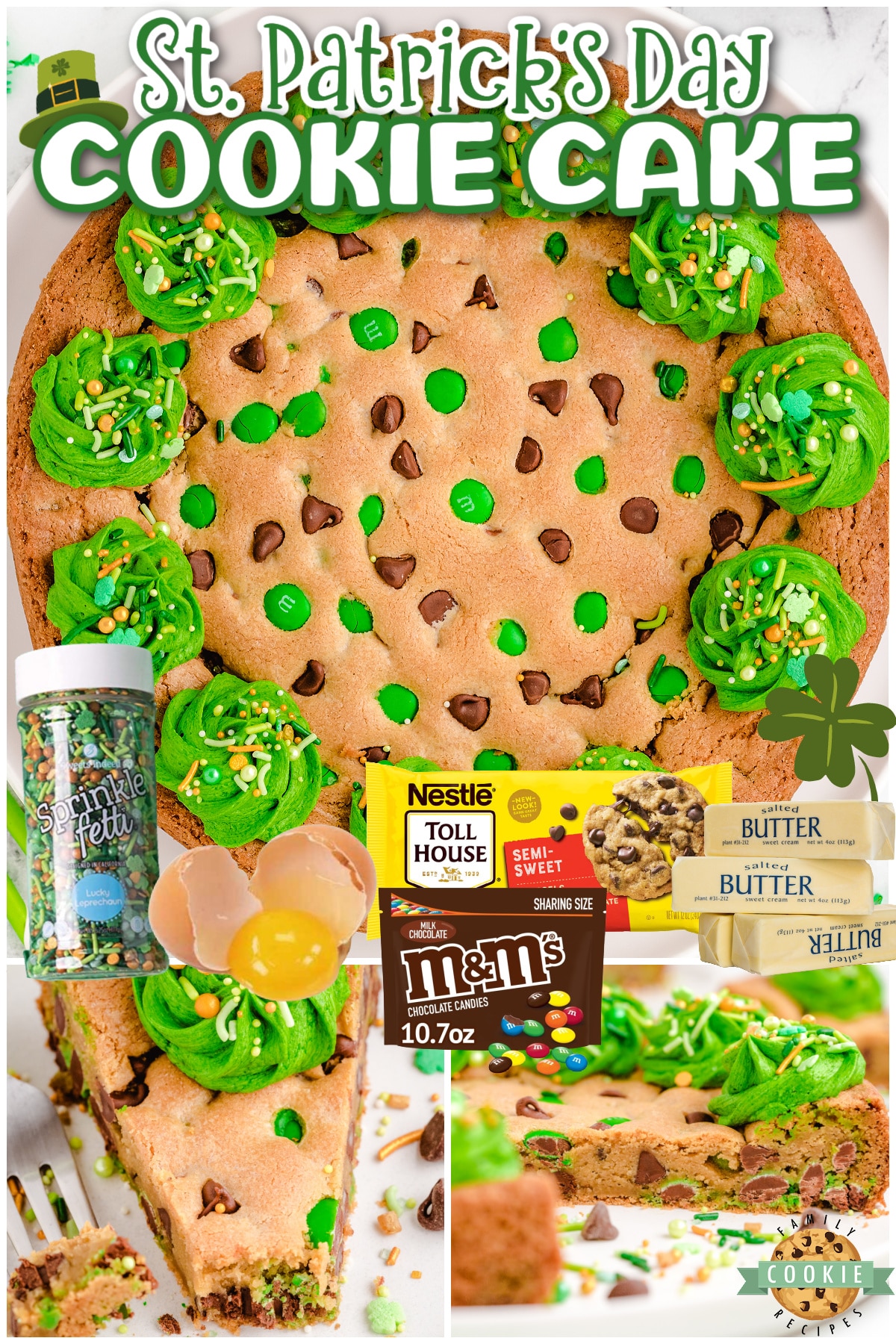 Bake
Continue to spread the cookie dough into the prepared springform cake pan and place in the preheated oven to bake for 20-25 minutes, until golden brown.
Let the cookie cool for about 20 minutes, then run a knife around the edge and release the springform pan.
Frosting
Prepare the icing by combining the butter, vanilla extract, and powdered sugar, mixing until the mixture is light and fluffy. Again, using an electric mixer helps greatly with this step.
Next, add in 2-4 drops green food coloring and stir well until no white streaks are seen.
Then pipe the frosting around the edges of the cake and top with sprinkles.
Slice into wedges, serve and enjoy!
HOW LONG IS THIS COOKIE CAKE GOOD FOR?
This delicious cookie cake will last up to 3-5 days, if kept stored in an airtight container. I recommend keeping any leftovers stored in the fridge once frosted, but they will be fine at room temperature too.
CAN I FREEZE FROSTED COOKIES?
This cookie cake is great for freezing for later, but I recommend waiting to frost it until after the cookie has thawed. If you frost the cookie before freezing the storage becomes harder with layers of baking paper to prevent sticking and the icing may melt or sweat as it thaws, looking less appetizing in the process.
Piping Frosting Tips & Tricks
If you have a piping bag and tips, transfer the frosting to it and pipe the buttercream around the top of the cookie in a swirl pattern. Use whichever tip you'd like for the pattern of your choice.
What do you do if you do not have a piping bag or associated tips? You can use a Ziploc bag with the corner snipped off instead! Even without a tip, you can still achieve a nice look with just a baggie.
While piping the frosting on top of the cookies adds a nice clean look, there is nothing wrong with taking another simple route of simply spreading the frosting on top of the cookies. I like to use a butter knife or small rubber scraper to get frosting nice and smooth on my cookies but just about any small surface could work, including the backside of a spoon.
Try even more great St. Patrick's Day recipes here:
Festive St. Patrick's Day Cookie Cake that's chewy, soft & loaded with chocolate chips & green candies!  A thick buttercream frosting around the cake edge and then topped with sprinkles, a delicious treat for all your little leprechauns!