Strawberry Cake Mix Sandwich Cookies are made with freeze dried strawberries and a simple cream cheese filling. Easy cookie sandwiches that are packed with strawberry flavor!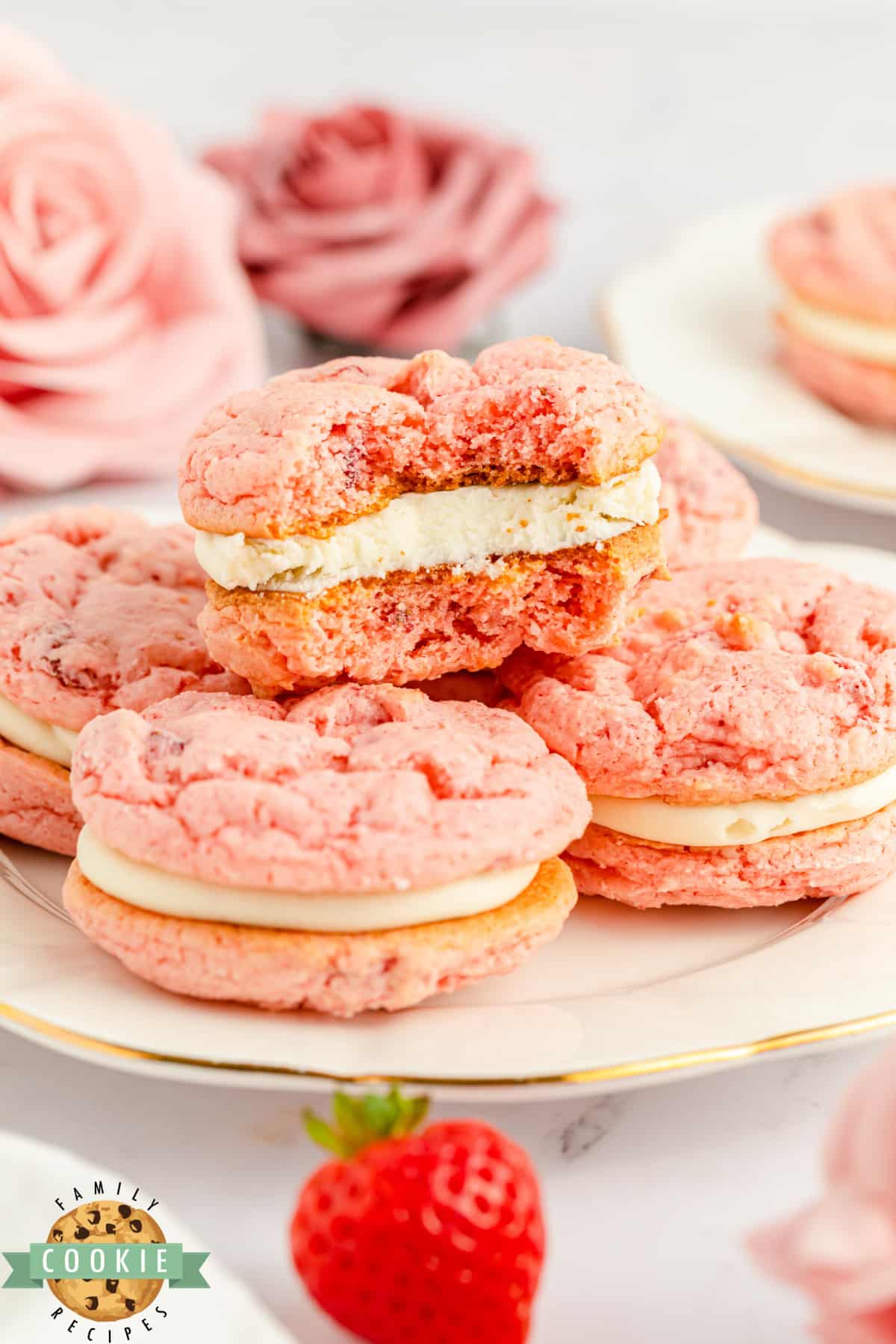 Sandwich Cookies are so fun for several reasons. They provide a great excuse to eat two cookies in one sitting, the frosting filling kinda makes you feel like you're getting cake and a cookie in one dessert, and it's fun for kids to help assemble them too!
STRAWBERRY CAKE MIX SANDWICH COOKIES
These sandwich cookies begin by making cookies with a strawberry cake mix that is mixed with baking powder, eggs, butter, strawberry extract and chopped freeze dried strawberries. The cookies are so soft, chewy and have TONS of strawberry flavor. A simple cream cheese frosting is made and placed in between two cooled cookies to make a deliciously sweet cookie sandwich. Cream cheese and strawberries taste so good together!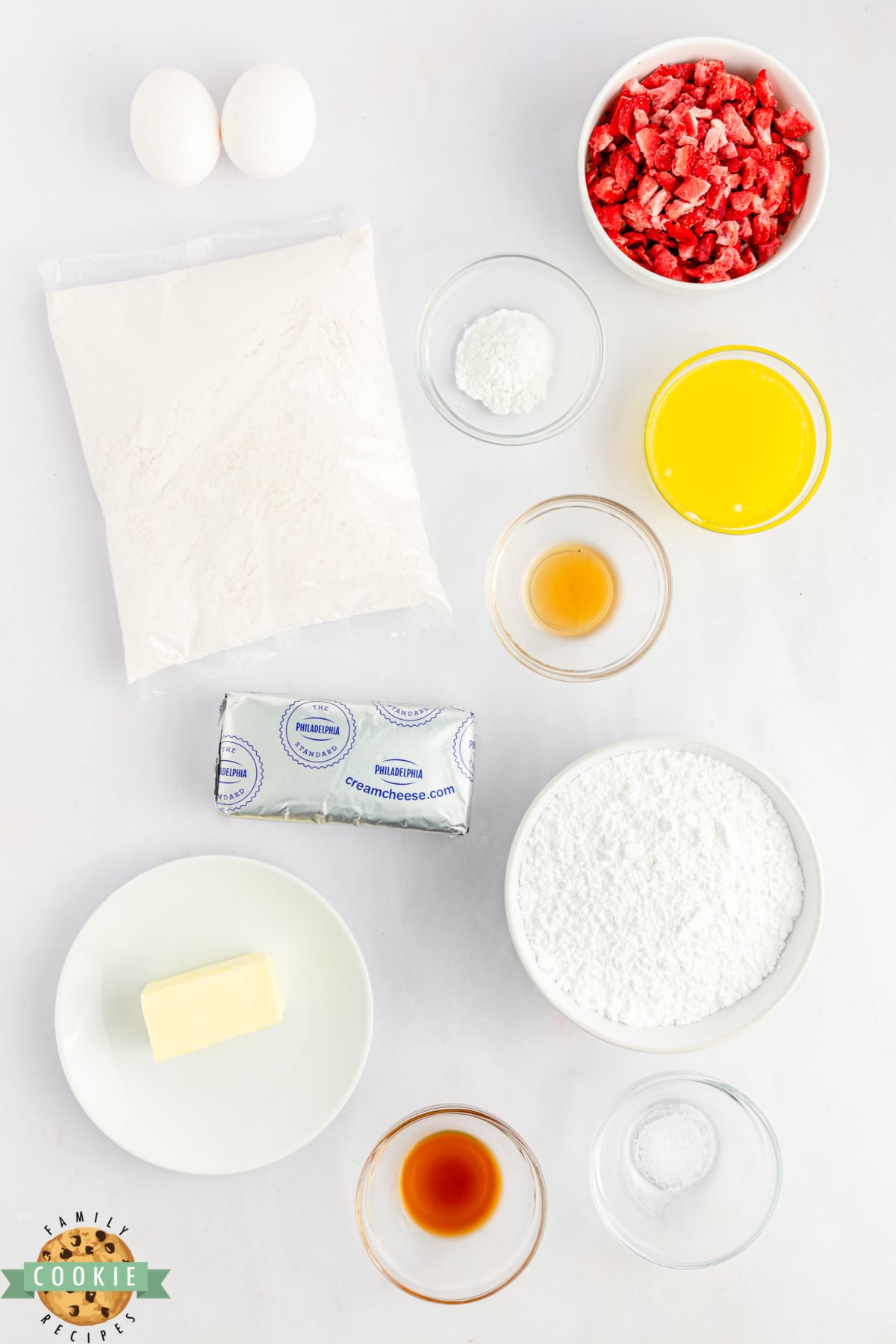 INGREDIENTS IN STRAWBERRY CAKE MIX SANDWICH COOKIES
Strawberry cake mix – You will need a box of strawberry cake mix. Any brand is fine, but just make sure the cake mix is about 15 ounces.
Baking powder – Adding a little bit of baking powder makes these cookies softer and chewier.
Eggs – The recipe calls for 2 eggs. The cookies turn out even better if you let the eggs sit out for about 15-20 minutes so they can come to room temperature before adding to the other ingredients.
Butter – Real butter works best. Melt the butter and let it sit for a few minutes to cool before adding to the recipe.
Strawberry extract – Just a tiny bit of strawberry extract intensifies the strawberry flavor of the cookies. It's optional, but if you love the strawberry flavor, go ahead and add it.
Freeze dried strawberries – Adding a cup of chopped freeze dried strawberries will add some texture and flavor to the cookies.
CREAM CHEESE FROSTING
Butter – Again, real butter works best, but this time don't melt it! Bring the butter to room temperature so that it will be soft enough to mix with the cream cheese for the filling.
Cream cheese – You will need half a block of full fat cream cheese, softened to room temperature.
Vanilla extract – Just a teaspoon of vanilla extract adds a little flavor to the frosting.
Powdered sugar – Two cups of powdered sugar adds the perfect consistency and amount of sweetness to the cream cheese.
HOW TO MAKE STRAWBERRY CAKE MIX SANDWICH COOKIES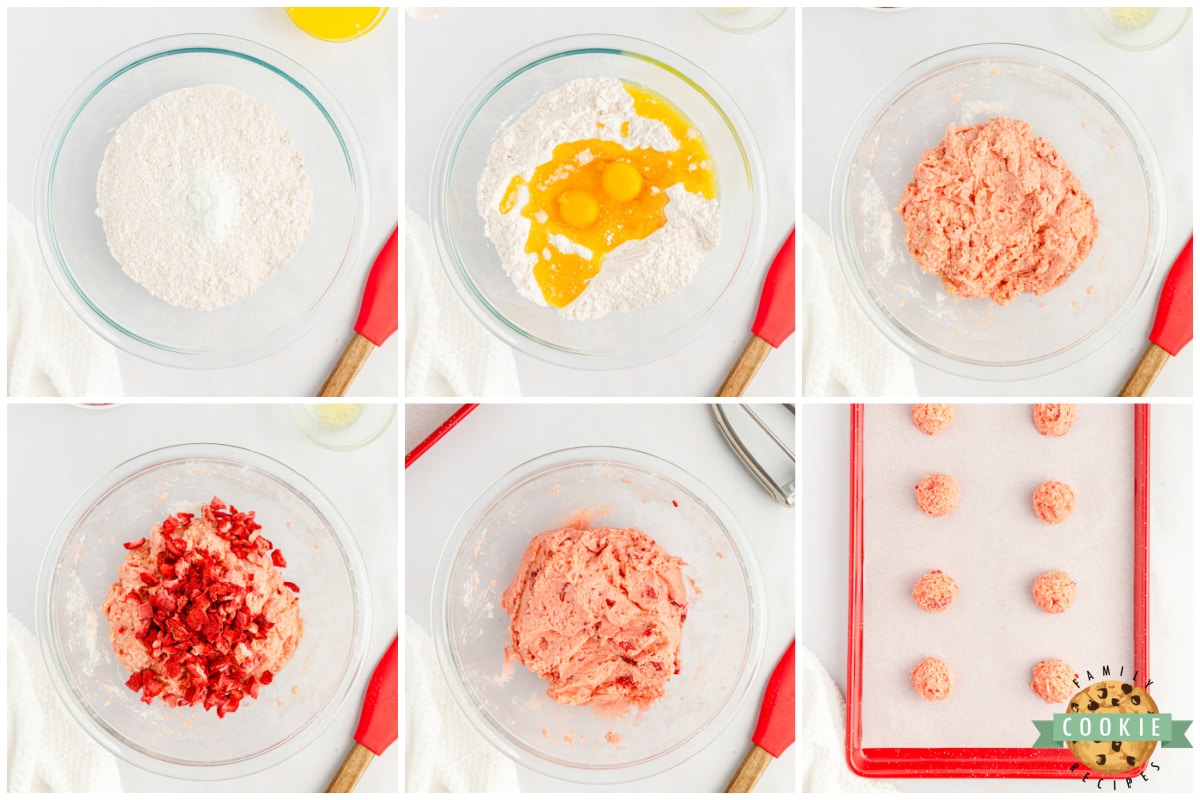 MAKE THE COOKIES
Preheat the oven to 350℉ and line two baking sheets with parchment paper or silicone mats and set aside.
In a large mixing bowl, mix together the strawberry cake mix and baking powder.
Add the melted butter, eggs, and strawberry extract to the bowl and use a hand mixer on low to beat everything together.
Fold in the freeze dried strawberries.
Cover and chill in the fridge for 30 minutes. This is an optional step, but it helps to keep the cookies from spreading too much.
Once chilled, use a small cookie scoop or a spoon to drop 1 ½ tablespoon sized balls onto the baking sheets. Space them a few inches apart to leave room for the cookies to spread.
Bake for 8-10 minutes, or until the edges just barely begin to brown.
Allow the cookies to cool in the pan for about 5 minutes before transferring to a wire cooling rack to cool completely.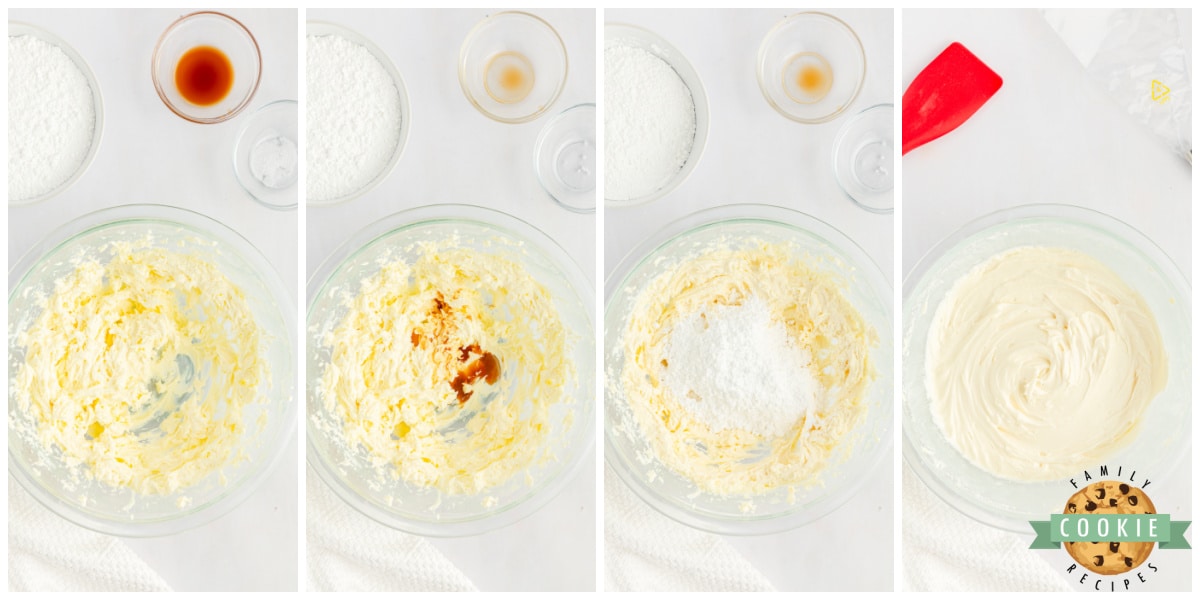 MAKE THE CREAM CHEESE FROSTING
While the cookies bake, you can prepare the frosting. In a medium mixing bowl using a hand mixer, beat the butter and cream cheese until smooth and creamy. Add the vanilla extract and mix until well combined.
Add the powdered sugar a little at a time and mix again until all the sugar has been added and the frosting is smooth.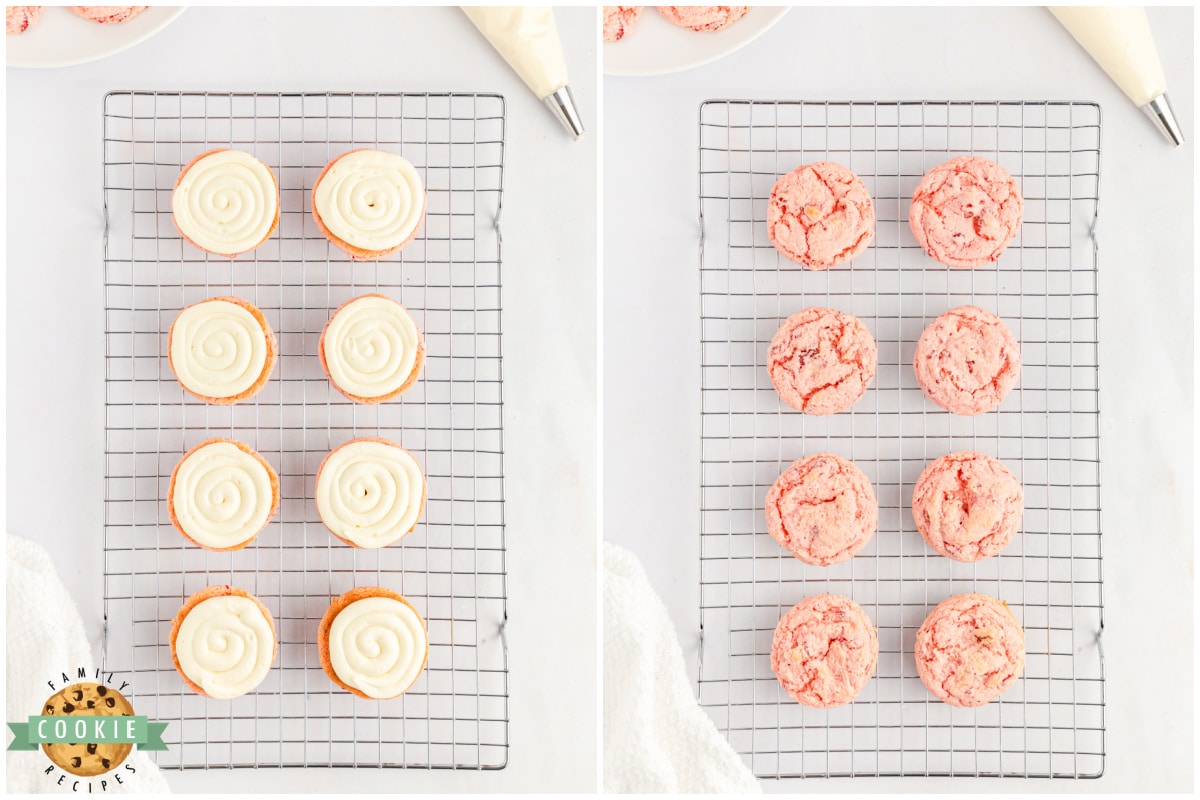 PUT THE COOKIE SANDWICHES TOGETHER
Once the cookies have cooled, you can use a piping bag or an icing spatula and put the icing on the bottom of a cookie. Then grab another cookie to place on top and you have a cookie sandwich! Repeat with the rest of the cookies.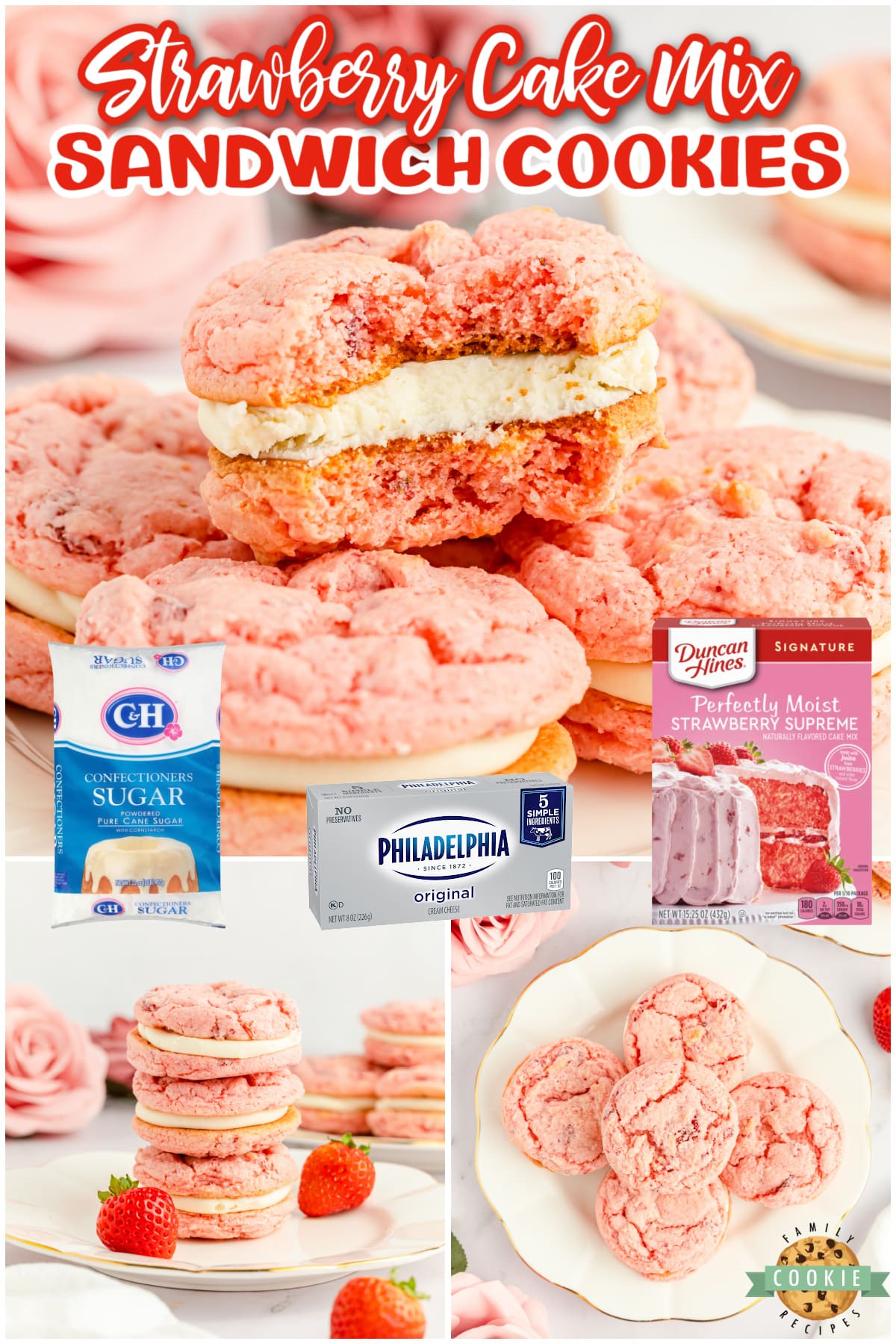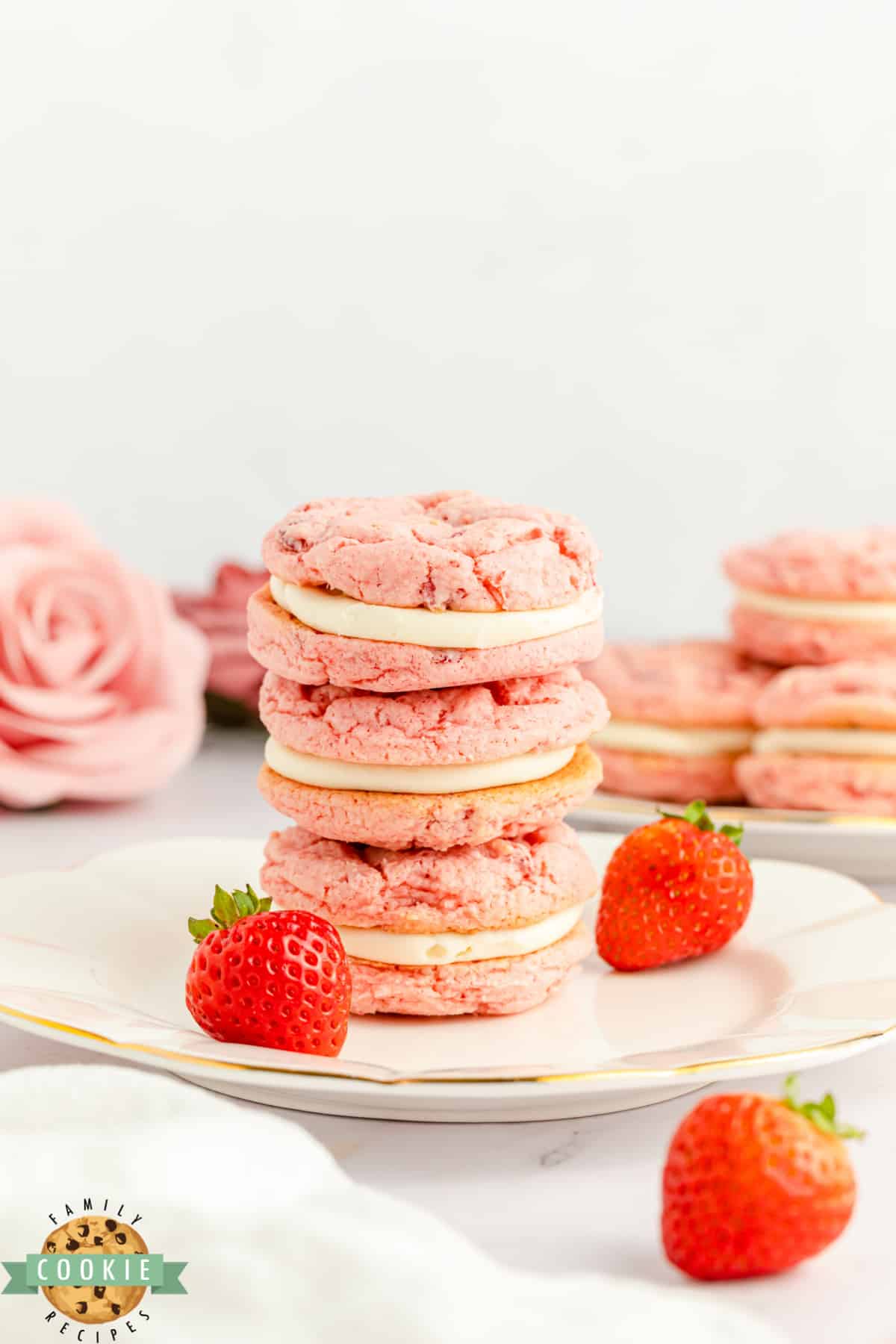 VARIATIONS ON COOKIE SANDWICHES
USE A DIFFERENT CAKE MIX: You can use any boxed cake mix flavor you'd like! Lemon and chocolate are both delicious!
USE YOUR FAVORITE COOKIE RECIPE: Have a favorite homemade cookie recipe? Use that! You can use any cookies you'd like and then just add the cream cheese frosting to the centers.
SKIP THE SANDWICH PART: Instead of making cookie sandwiches, you can pipe frosting on individual cookies and just eat one at a time.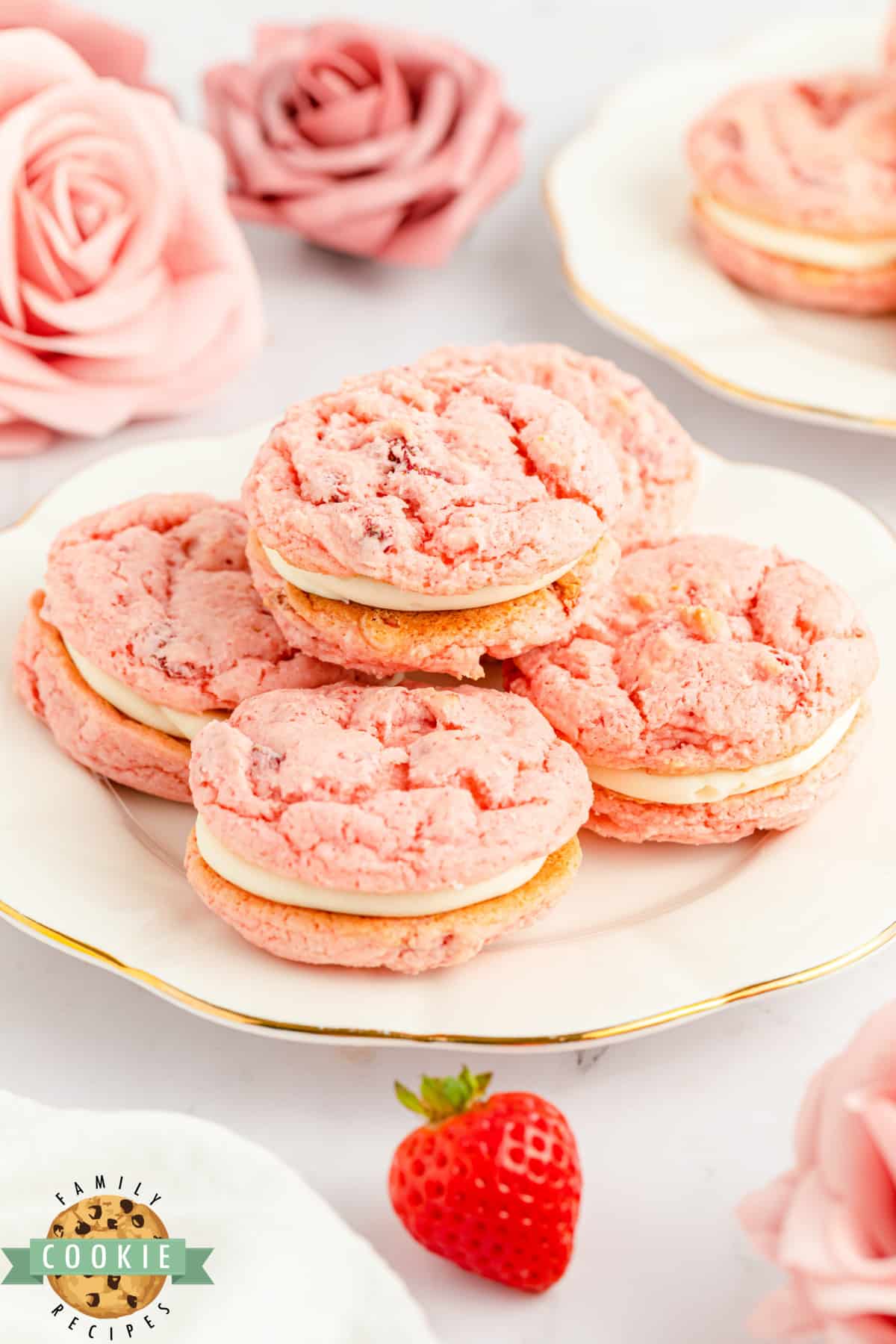 TIPS FOR MAKING THE BEST COOKIES
Preheat the oven. This will help your cookies turn out right every time!
Use a cookie scoop! If you want all your cookies to be perfectly shaped and have them all be the same size, a cookie scoop is the way to go. This is particularly important for making sandwich cookies, because they are a lot less messy and look much better if the cookies are all the same size!
Use parchment paper or a silicone baking mat. Doing this will make it really easy to remove the cookies from your cookie sheet so that you don't have to scrape them off the pan – they will just slide right off in perfect shape!
Don't overbake the cookies. When I take mine out of the oven, they still look slightly underbaked but they will continue to bake on the cookie sheet for a couple more minutes so that's ok!
HOW TO SOFTEN CREAM CHEESE
Cream cheese is easy to soften – you can set it out at room temperature or soften it more quickly in the microwave.
-To soften at room temperature more quickly, just set the cream cheese on a plate and cut into smaller pieces. The cream cheese should reach room temperature in about 15-20 minutes with this method.
-To soften the cream cheese in the microwave, remove the foil packaging and set the cream cheese in a small bowl or on a plate. Microwave for about 10-15 seconds. If the cream cheese is still cold and hard, continue to microwave for about 5 seconds at a time until the cream cheese is soft throughout. Just make sure not to microwave it too long or it will start to melt!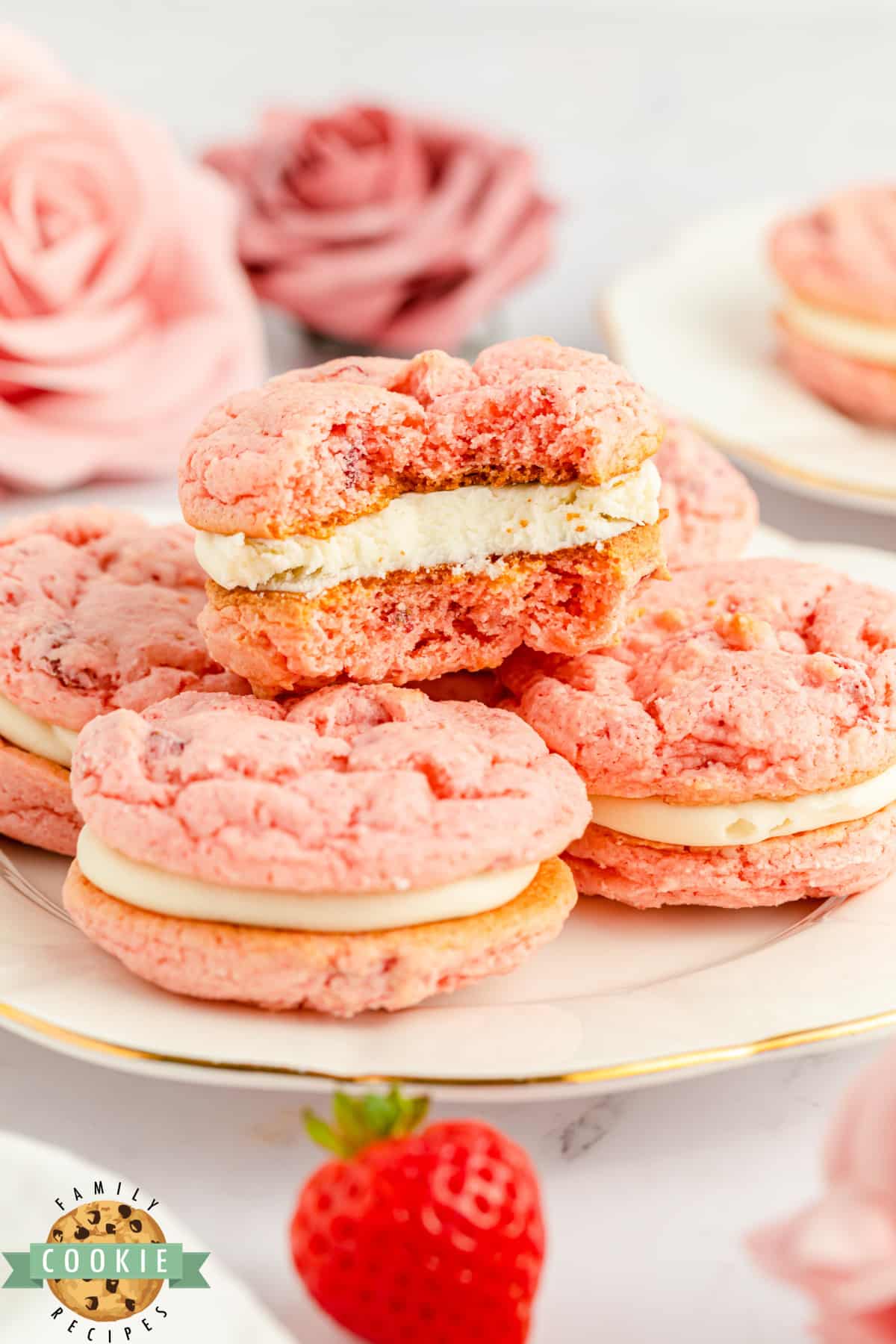 HOW LONG DO SANDWICH COOKIES LAST?
Sandwich cookies are best eaten the same day, but you can store leftovers in an airtight container in the fridge for up to 3 days.



Little Miss B turned 4 last month and I kept asking her what she wanted to eat for all of her birthday meals since that's a tradition in our house. She couldn't really think of anything she wanted, so I just kept improvising all day. She loves scrambled eggs and I figured it would work to stick a candle in her Cutie and she absolutely loved it. She thought it was so funny! I can't believe this little girl is already 4!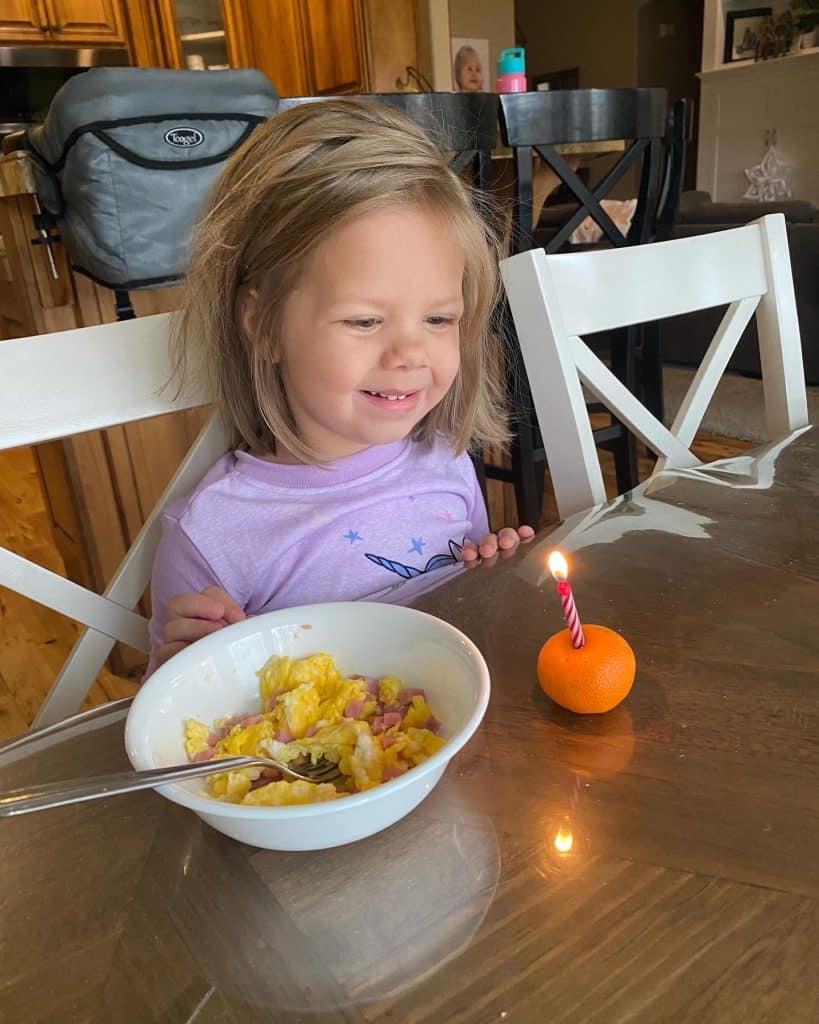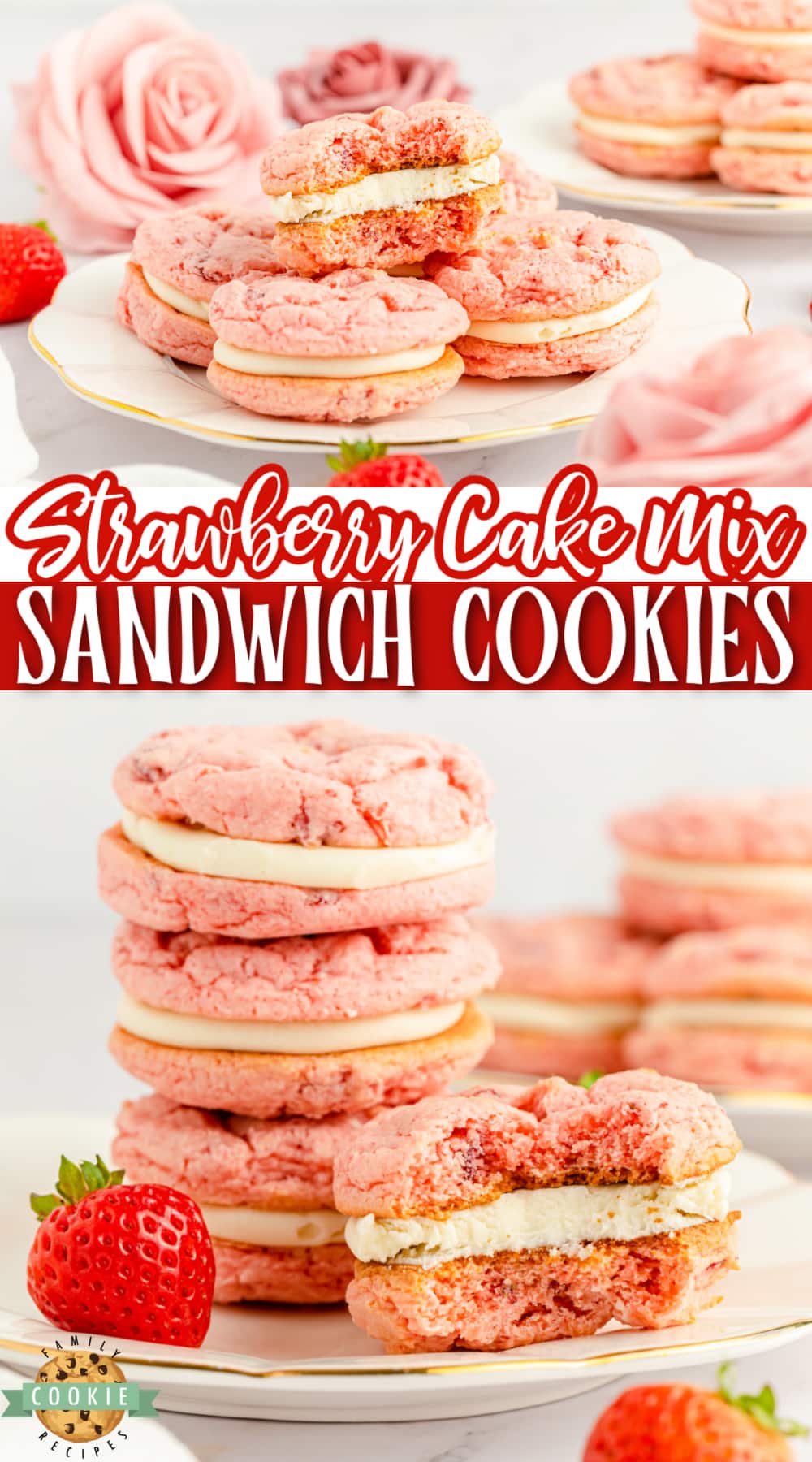 Strawberry Cake Mix Sandwich Cookies are made with freeze dried strawberries and a simple cream cheese filling. Easy cookie sandwiches that are packed with strawberry flavor!