Simple recipe for Homemade Golden Oreo Cookies made with a yellow cake mix! Soft, perfectly sweet sandwich cookies that everyone goes crazy over!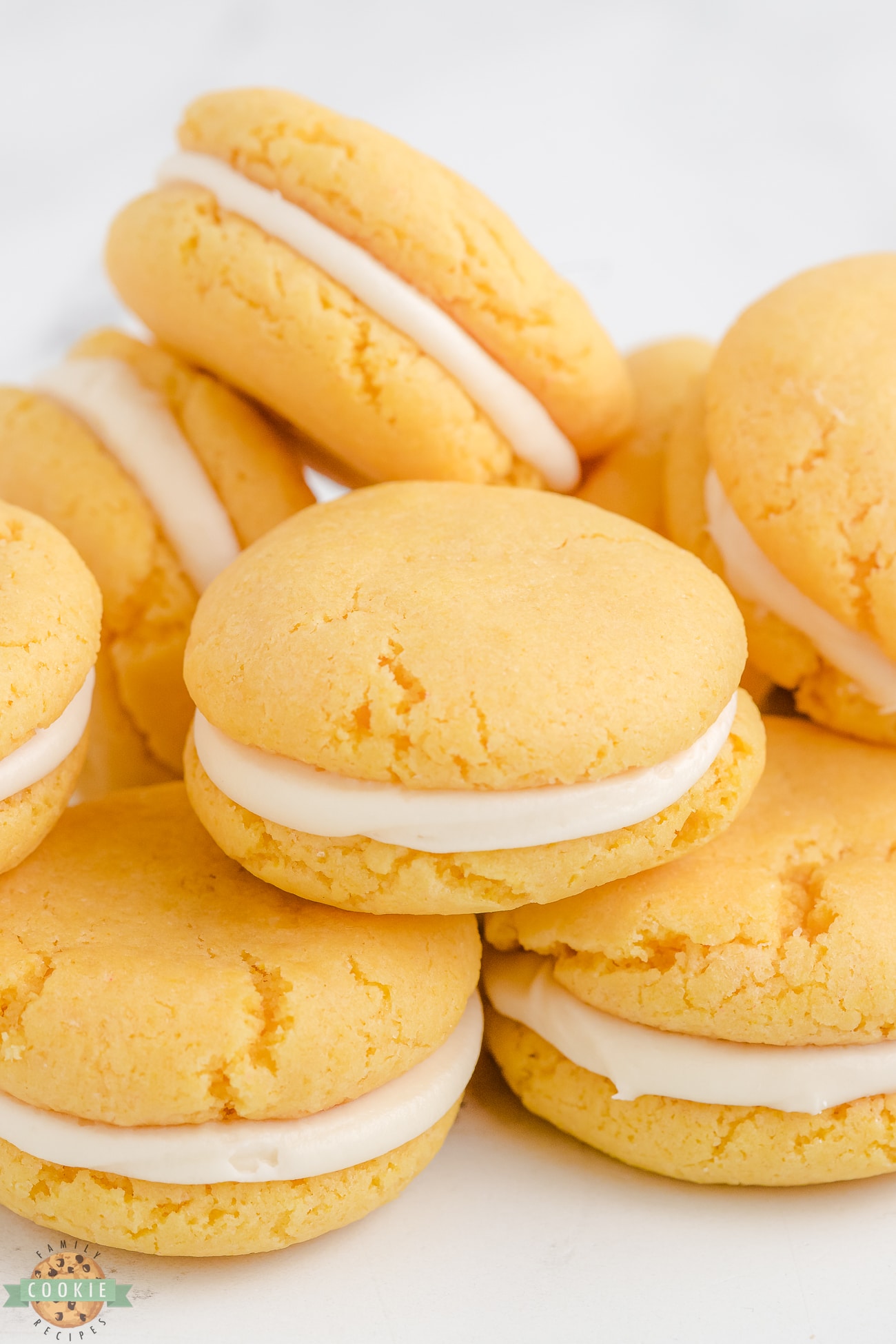 This Oreo cookie recipe is so easy to make thanks to the boxed cake mix and simple cream cheese frosting! Enjoy these Oreos homemade any day of the week, they come together quick!
Oreo's made AT HOME!
My family and I are HUGE fans of Oreo cookies, they are a common staple in the pantry (or freezer- if you haven't tried frozen Oreos, you should!). I like to believe my love for Oreos was passed down to me from my grandpa, these are his favorite after dinner treats. I have vivid memories of visiting him and my grandma and Oreos were always passed around after dinner.
Of course, as an avid baker and lover of all baked goods, it was my mission to create a homemade Oreo cookie recipe. It had to be something simple, these cookies are too easy to devour so it cannot be a complicated recipe. By using a boxed cake mix for the cookie dough it simplifies the process so much, making this a great easy cookie recipe. Give them a try today, see how delicious these homemade Oreos are!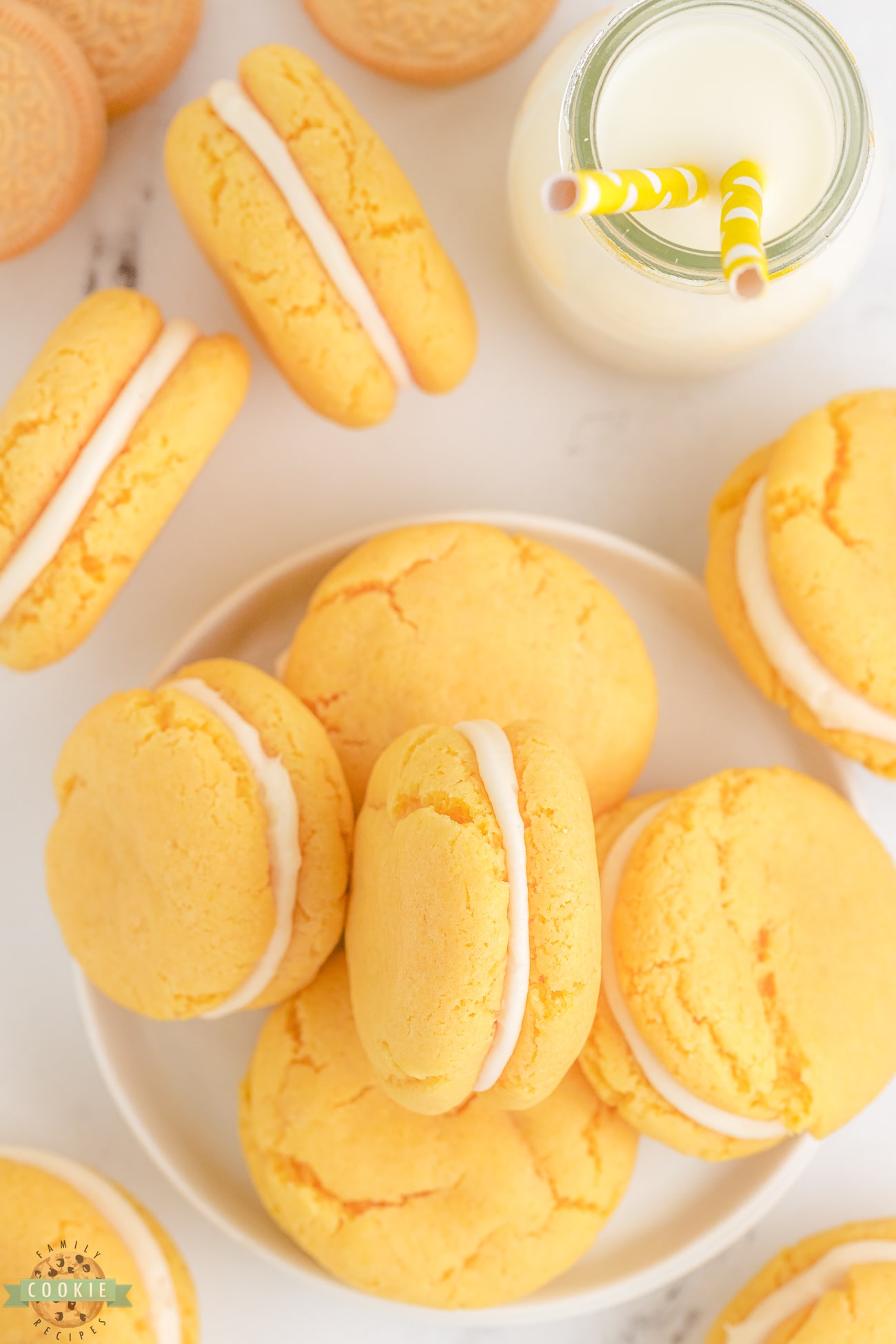 Tips for making PERFECT cookies every time!
Use an Electric Mixer for Even Mixing. It's worth it to use an electric mixer! You can use a handheld one or a stand mixer; I prefer a stand mixer but use what you have on hand.
Cream the Butter & Sugars for Longer. Spend a little extra time when you mix the butter and sugars. Creaming them together for 2-3 minutes will improve the consistency of your cookies.
Preheat the oven. This will help your cookies bake right every time!
Cookie Scoops for Perfect Cookies. Use a cookie scoop! If you want all your cookies to be perfectly shaped and have them all be the same size, a cookie scoop is the way to go.
Make Sure your Cookies don't Stick to the Pan! Use parchment paper or a silicone baking mat. Doing this will make it really easy to remove the cookies from your cookie sheet so that you don't have to scrape them off the pan – they will just slide right off in perfect shape!
Take them out of the oven earlier. Make sure not to overbake your cookies. They may not even look totally done on the tops, but if the bottoms start to brown, I take mine out and they are perfect!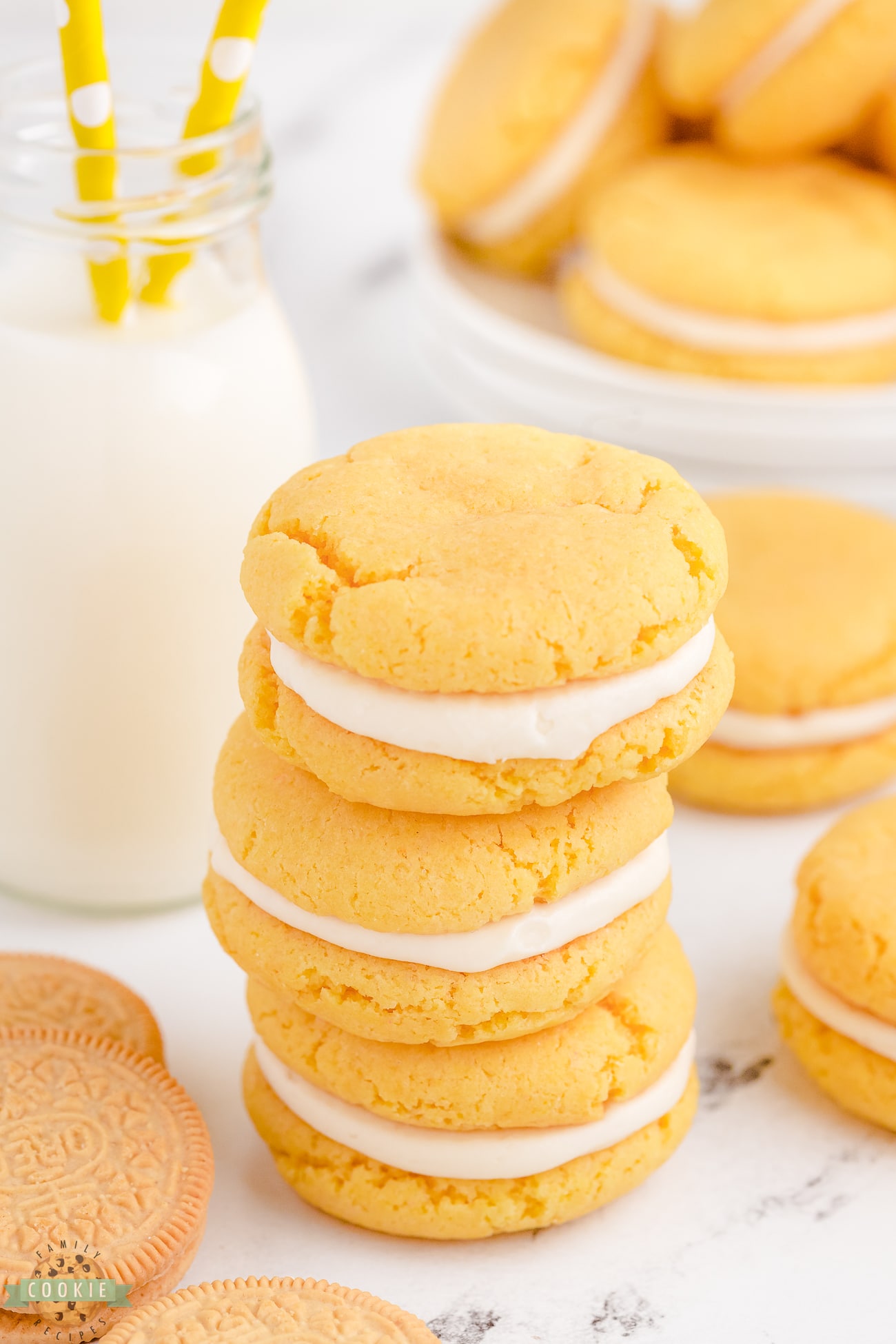 Golden Oreo Ingredients
Cake mix: For a great shortcut to this dough, you need one 15.25-oz box of butter yellow cake mix. Any brand will work well and taste great.
Eggs: Add in 2 eggs, room temperature, to bind the cookie dough together well.
Oil: Using ½ cup of vegetable oil will give the dough a wonderful moisture texture.
Cream Cheese Frosting
Butter: You will need ¼ cup of butter, softened to room temperature, to make the filling nice and rich.
Cream cheese: Adding in 4 oz of cream cheese, softened to room temperature, will help make the frosting perfectly creamy and delicious.
Vanilla extract: To enhance the amazing flavors in this frosting, add in 1 tsp of vanilla extract.
Powder sugar: You will need 2 cups of powdered sugar to make the frosting sweet and tasty!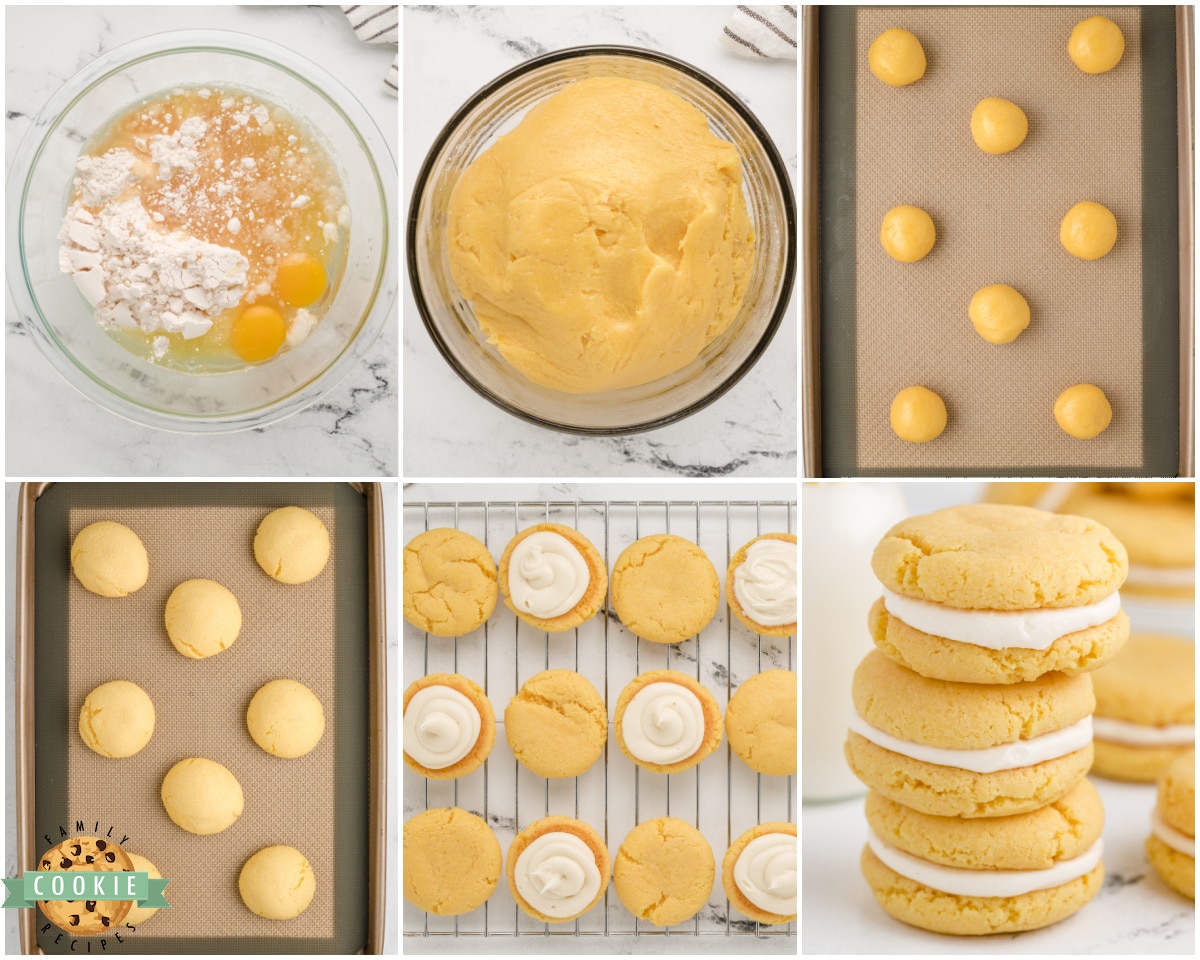 How to make Golden Oreos with a Cake Mix
Cookie dough
Begin by preheating the oven to 350℉ and line two baking sheets with parchment paper or silicone mats and set aside.
Next, in a large mixing bowl, mix the cake mix, oil and eggs thoroughly.
Proceed to cover and chill the dough in the fridge for 30 minutes. This is an optional step, but it helps to keep the cookies from spreading too much while baking.
Bake
Once chilled, use a small cookie scoop or a spoon to drop 1 tablespoon sized balls onto the baking sheets. Space them a few inches apart to leave room for the cookies to spread.
Place in the preheated oven and bake for 8-9 minutes. Allow the cookies to cool on the baking sheet for about 5 minutes before transferring to a wire cooling rack to cool completely.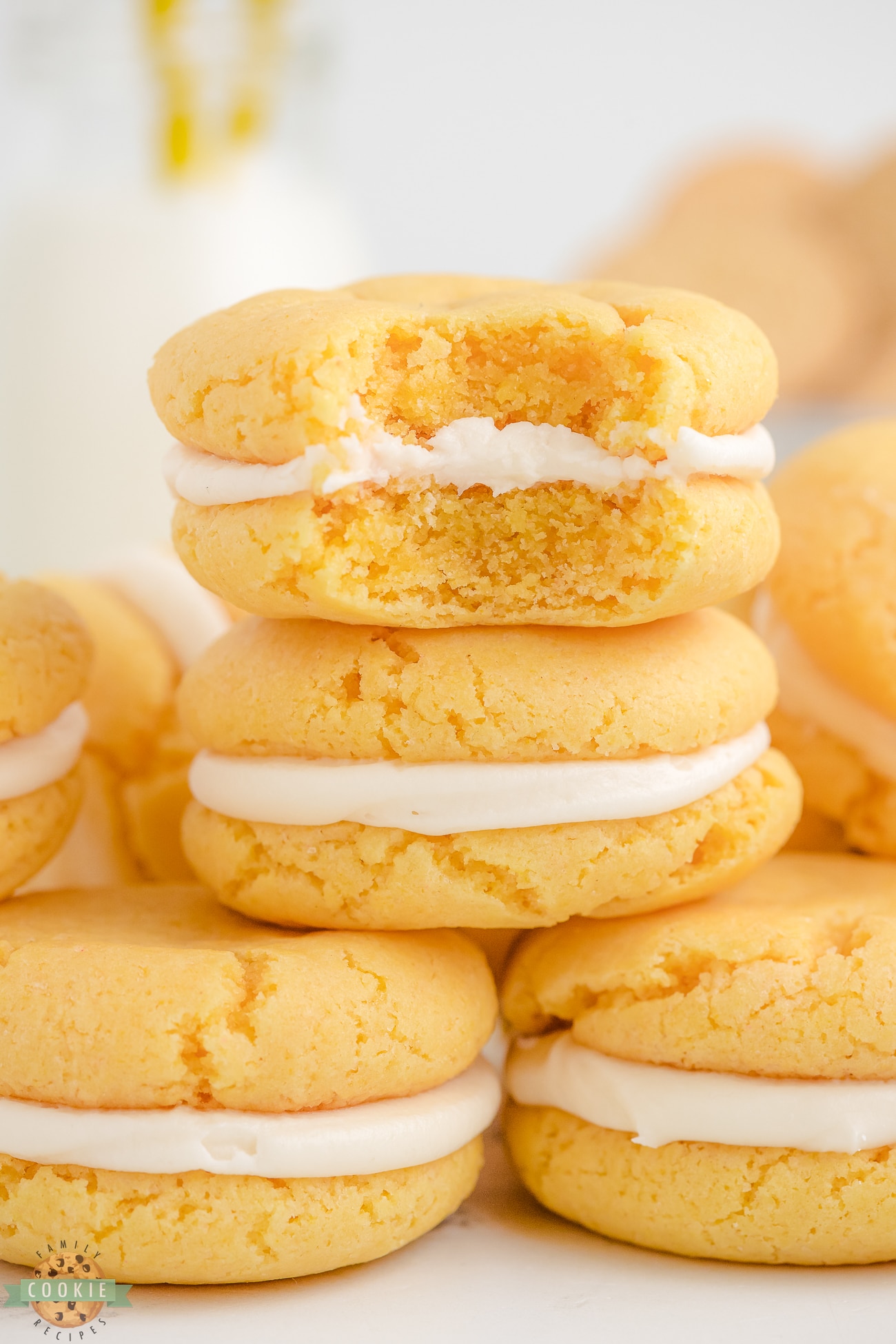 Cream Cheese Frosting Filling
While the cookies bake, you can prepare the frosting. In a medium mixing bowl using a hand mixer, beat the butter and cream cheese until smooth and creamy. Then add the vanilla extract and mix until well combined.
After that, add the powdered sugar, a little at a time, and mix again until all the sugar has been added and the frosting is smooth.
Put the Halves Together
Once the cookies have cooled, you can use a piping bag or an icing spatula and put the icing on the bottom of a cookie. Then grab another cookie to place on top and you have a cookie sandwich! Repeat with the rest of the cookies.
Serve immediately and enjoy!
HOW LONG ARE THESE COOKIES GOOD FOR?
These cookies will be good for 3-5 days, if stored properly. To keep your treats as fresh as possible they should be kept in an airtight container or a ziplocked bag. A trick I learned to keep them extra fresh and soft is to put a piece of bread in with the cookies. The cookies absorb the moisture from the bread and stay soft and chewy a couple of days longer. Try it, you will be amazed!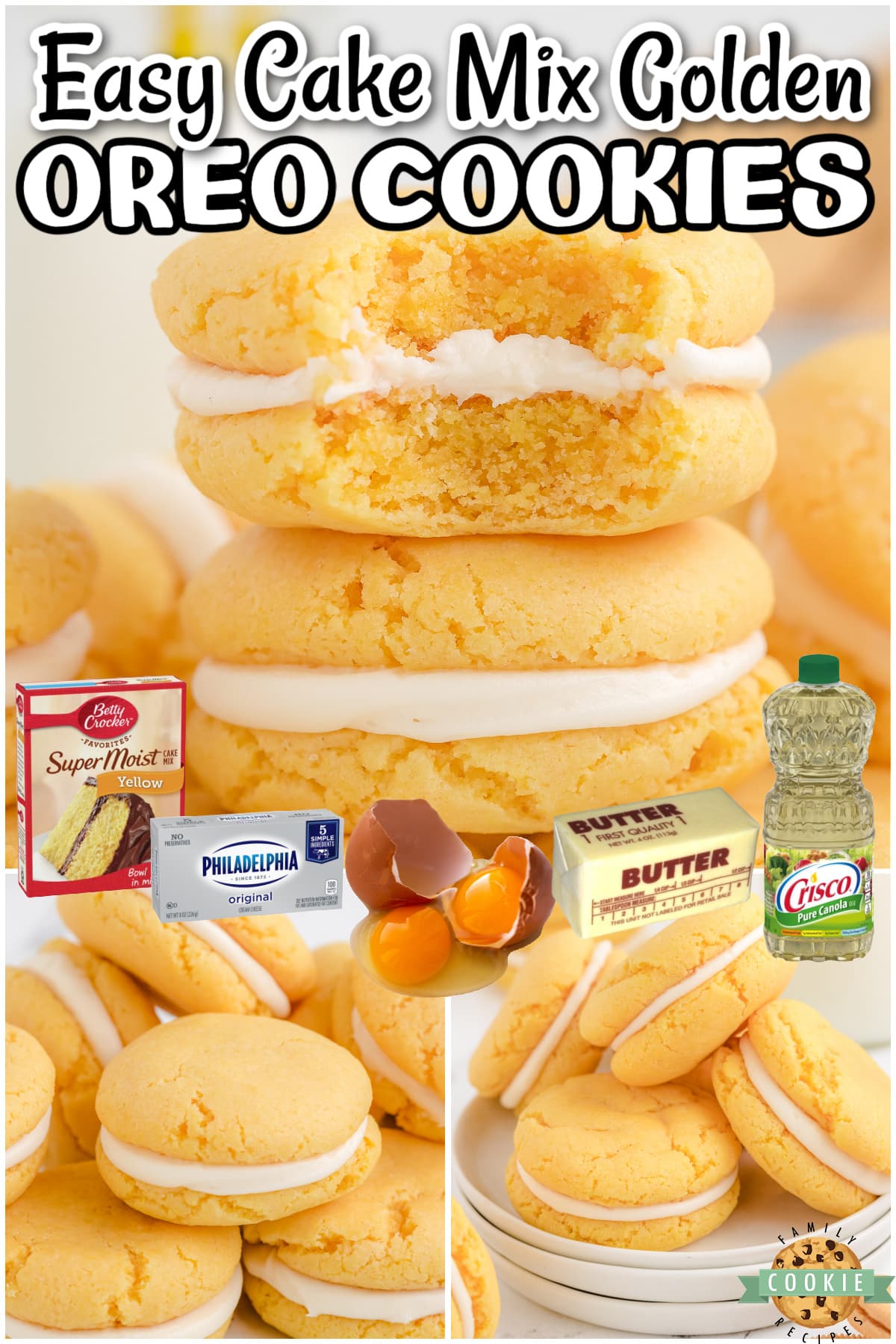 HOW DO YOU SOFTEN BUTTER?
I like to soften butter by using the defrost function on my microwave. If you need the full 1/2 cup cube of butter, you can leave it in the paper wrapper, otherwise, place the amount of butter you need in a glass or porcelain bowl. I use the lowest defrost setting on my microwave and just let it run for 20 seconds. Check the butter and see how soft it is by pressing it with a rubber scraper. If it is still not soft to the touch, meaning it doesn't indent when you press into it, let it warm for another 5-10 seconds. Watch it closely! Butter softens very quickly.


My daughter and I in one of my favorite places- a gorgeous canyon here in Utah, up at about, oh 8k-9k elevation, riding a ski chair lift in summer! It's so peaceful and gorgeous. And sometimes a little cold- there's snow on the ground year round in some places here!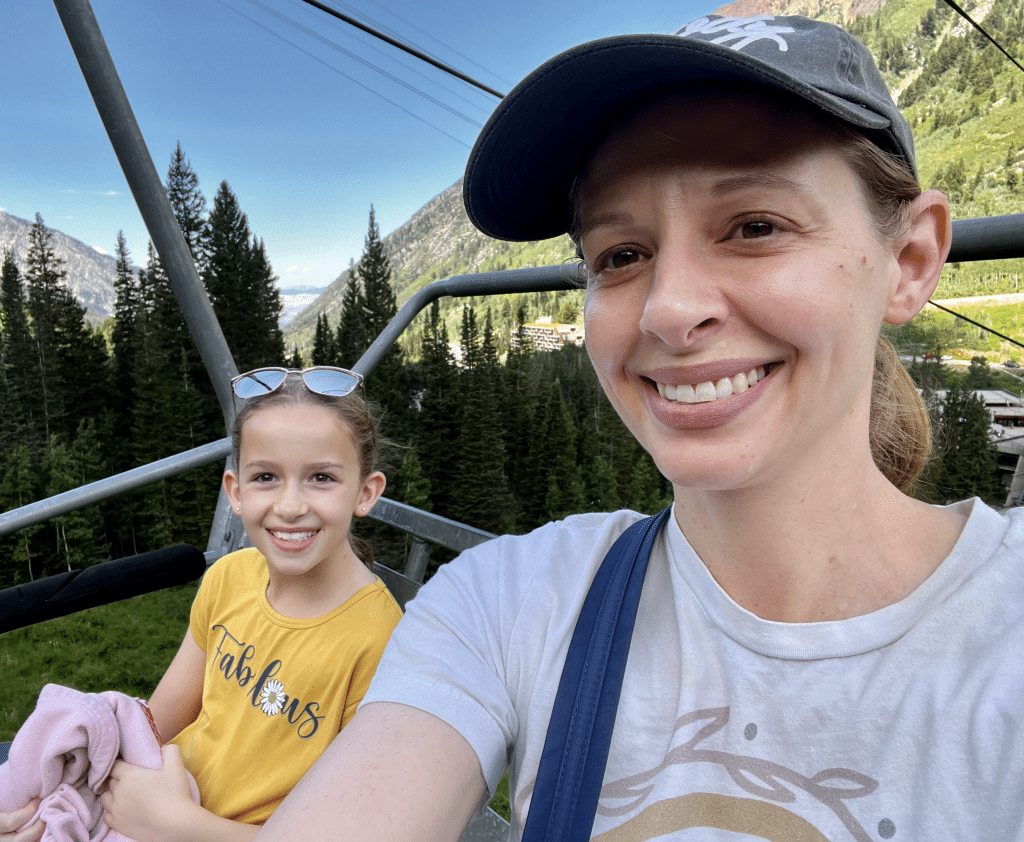 Need more amazing cookie recipes? Try some of these!
This simple recipe for Homemade Golden Oreo Cookies is made with a boxed yellow cake mix! Tender, sweet sandwich cookies are sure to be a hit with family and friends!