Bacon Wrapped Oreos are a sweet, salty and oh so tasty snack everyone loves! These oreos wrapped in bacon are so easy to make & satisfy a craving you never knew you had!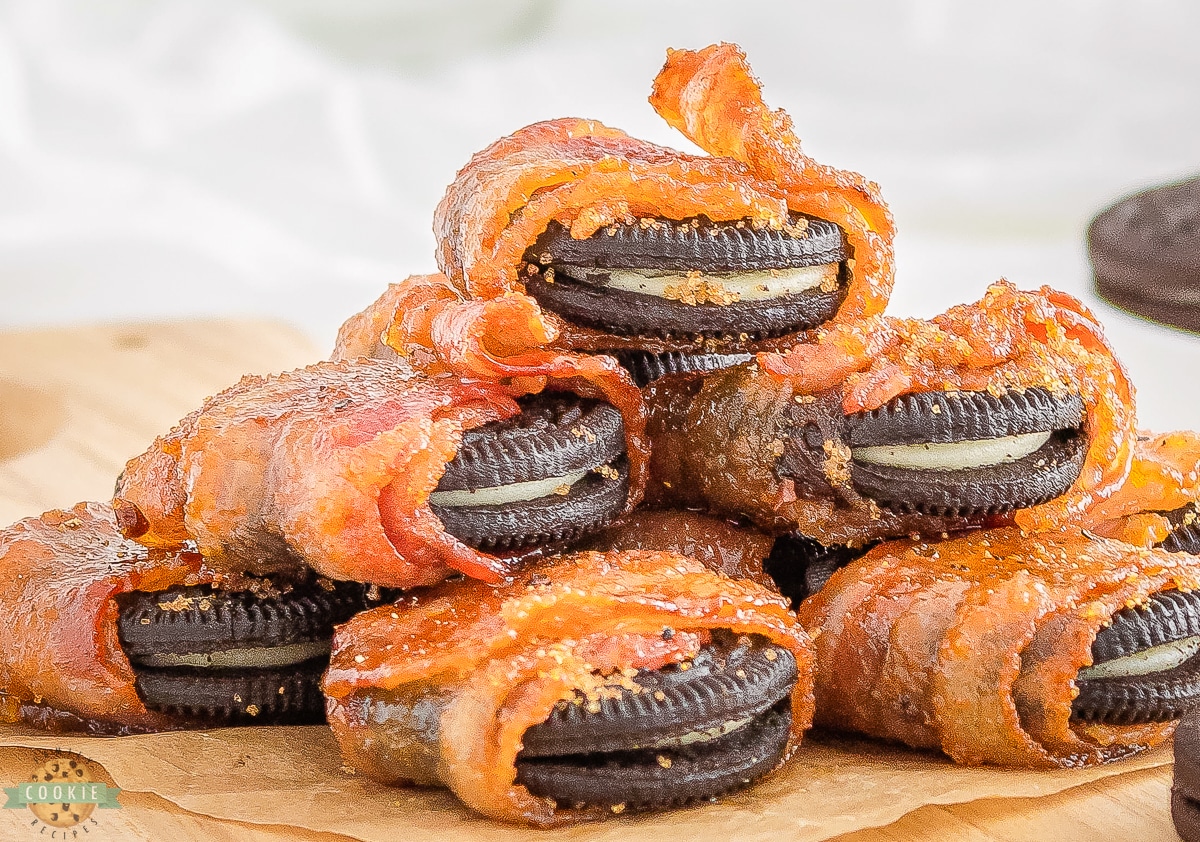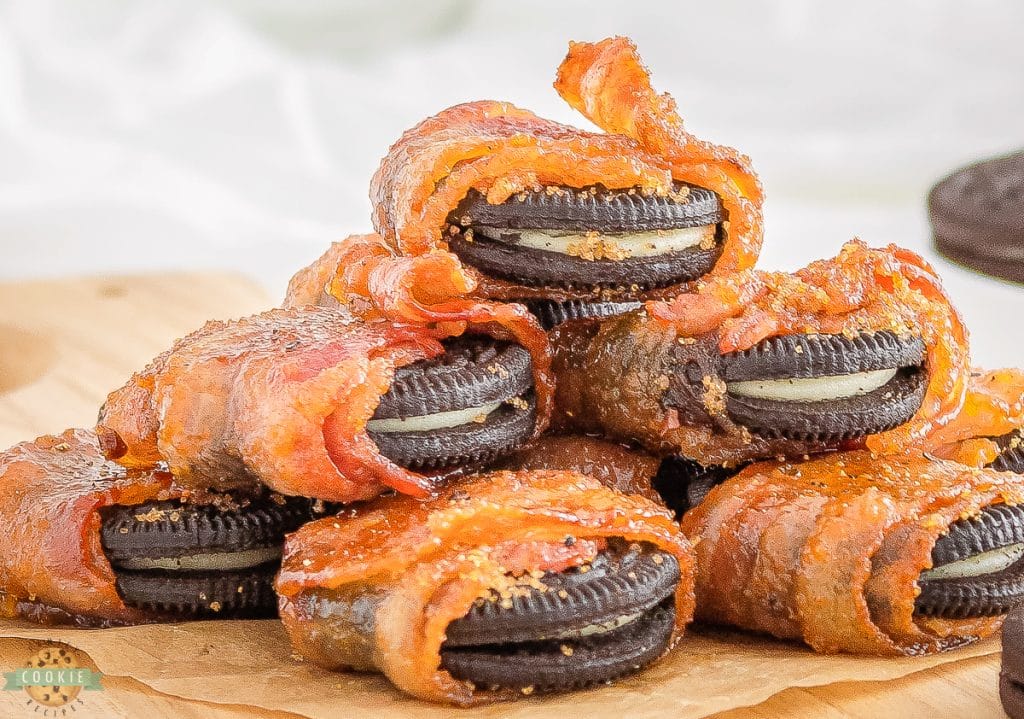 The combination of flavors in these bacon wrapped oreos in air fryer is a wonderful and surprising delight. Make this recipe for bacon wrapped oreos for your next party or family gathering, everyone will love these tasty appetizers.
Air Fryer Bacon Oreos
These sweet cookies wrapped in seasoned bacon are one of the most amazing appetizers to serve at your next gathering or event. This easy recipe is so fantastic, it requires very little effort and can be made quickly. The air fryer makes this appetizer so simple to make and the bacon turns out nice and crispy, it is incredibly delicious. It is no wonder why we cannot stop raving about these bacon-covered cookies, they are just so savory and decadent!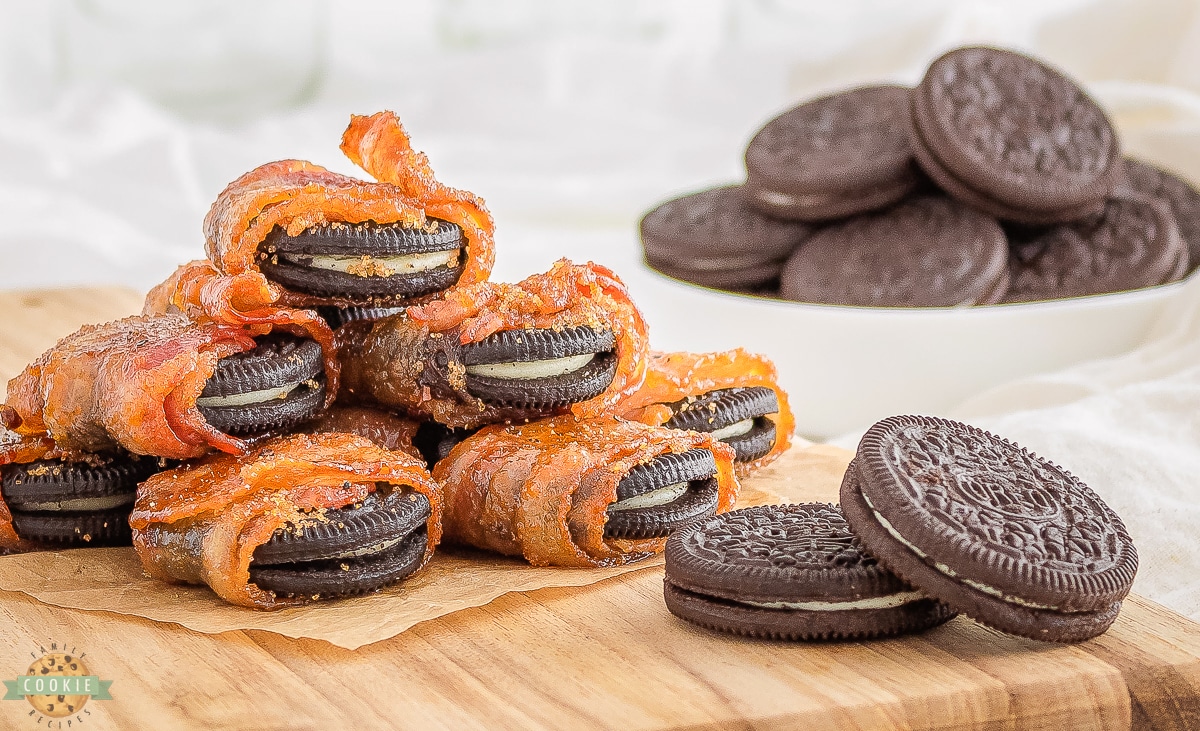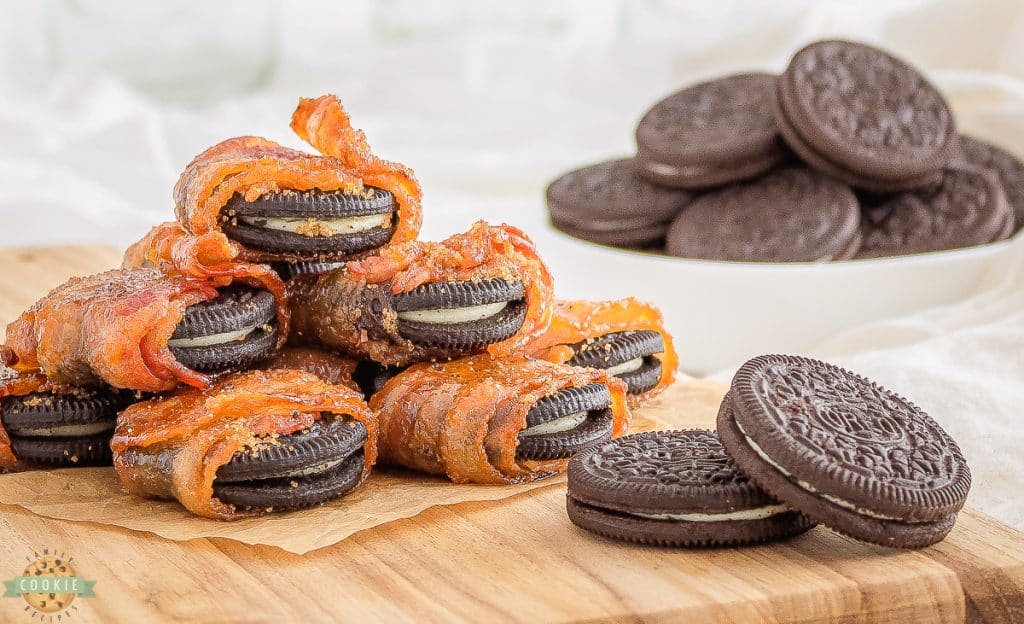 Why we think you will love this cookie wrapped in bacon
It is no secret that we love this recipe, but here are three reasons why we think you will too.
Great for a variety of events. Anything from a weekend BBQ, to your child's graduation, is a perfect setting. Even tailgating and baby showers work wonderfully for these sweet bacon appetizers.
Minimal ingredients. You only need 2 main ingredients, plus some seasonings, to make this recipe. These simple ingredients means small shopping trips and quick prep.
Make them in advance. Just prep and set in the fridge until party time. Then, quickly bake them in the air fryer and serve warm. Yum!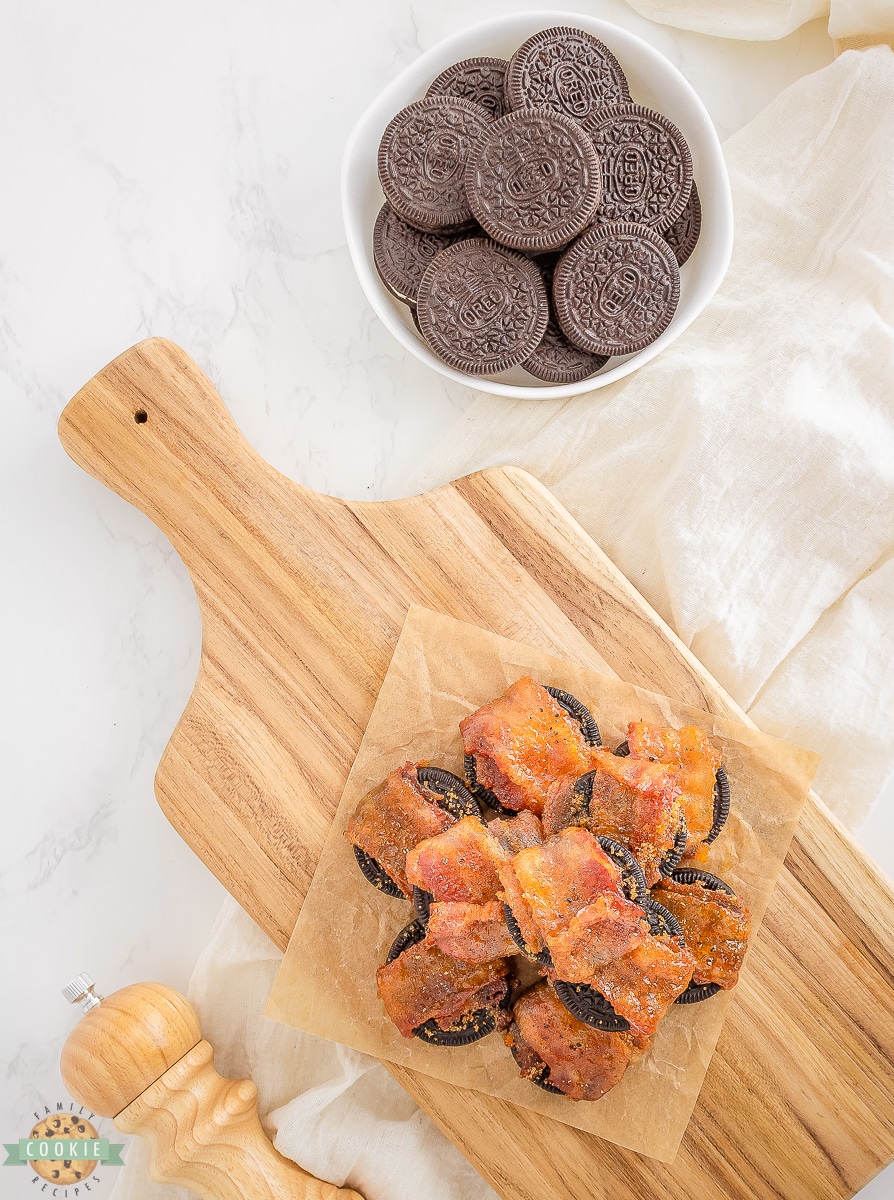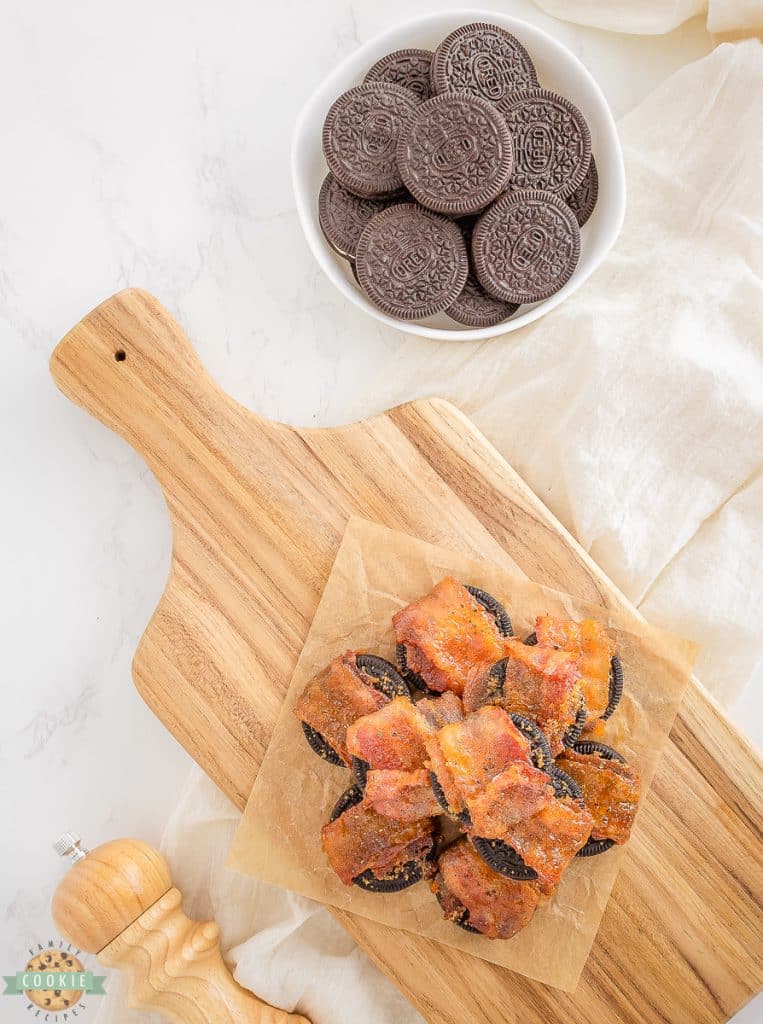 Bacon Wrapped Oreo Ingredients
Brown sugar: For a wonderful depth of flavor, use 4 tablespoons of brown sugar.
Garlic powder: Add in some great taste by using ¼ teaspoon of garlic powder.
Onion powder: You will need ¼ teaspoon of onion powder for this tasty treat.
Paprika: Use ¼ teaspoon of paprika for a great punch of flavor.
Salt: To enhance the flavors in this appetizer, add ¼ teaspoon of fine salt.
Pepper: Adding ⅛ teaspoon of ground black pepper will give this dish a lovely earthy taste.
Oreo cookies: For the sweet crunchy part of this appetizer, use 12 Oreo Cookies.
Bacon: Using 12 whole bacon strips will be a great addition to this treat.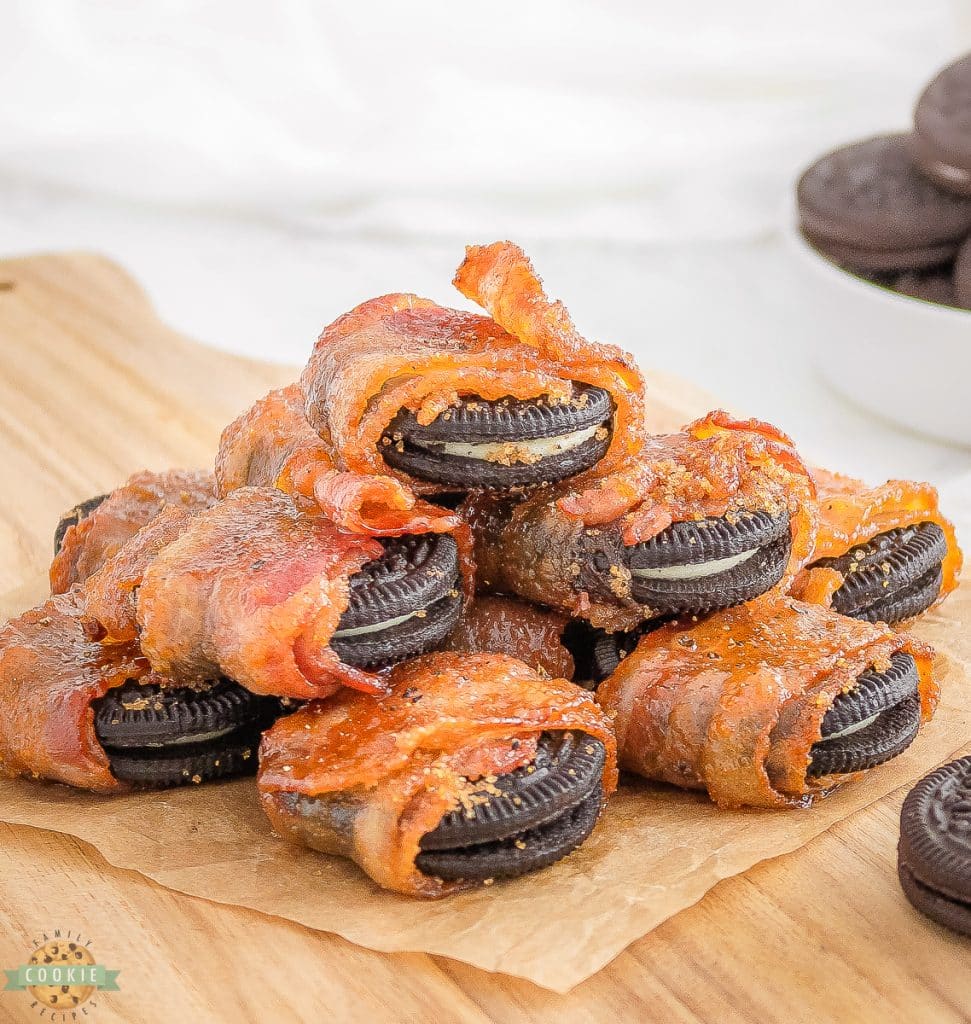 Kitchen Tools needed for this recipe
Measuring Spoons: Basic measuring spoons are needed for measuring the seasonings needed for this recipe.
Small Mixing Bowl: Only one simple bowl is needed to make this appetizer, easy peasy!
Air Fryer: The model used in this recipe is a GoWISE USA 5.8 Quart 1700 Watt 8-in-1 Digital Air Fryer. But whatever model you have will work great.
Kitchen Tongs: To grab the tasty treats from the air fryer when they are done you need a pair of kitchen tongs.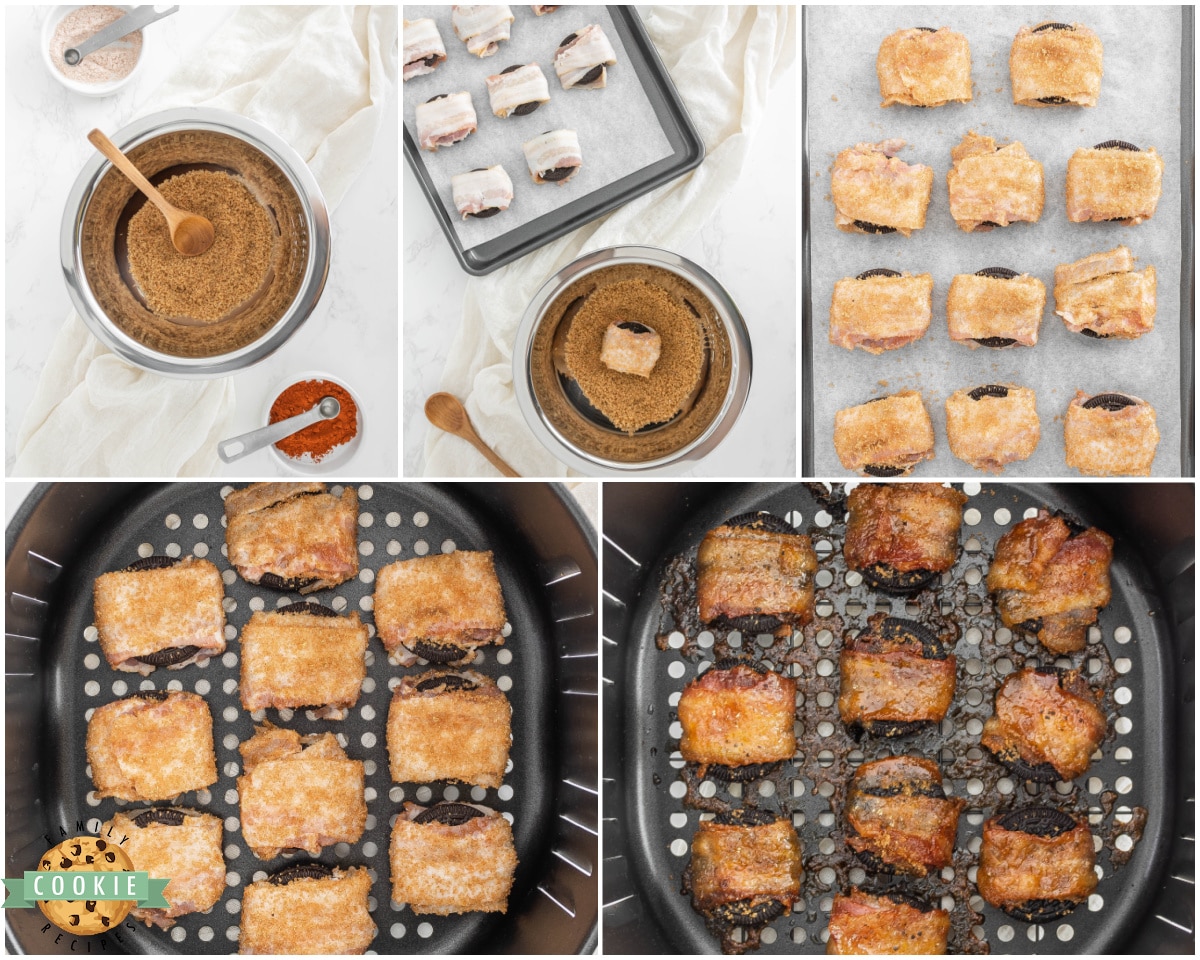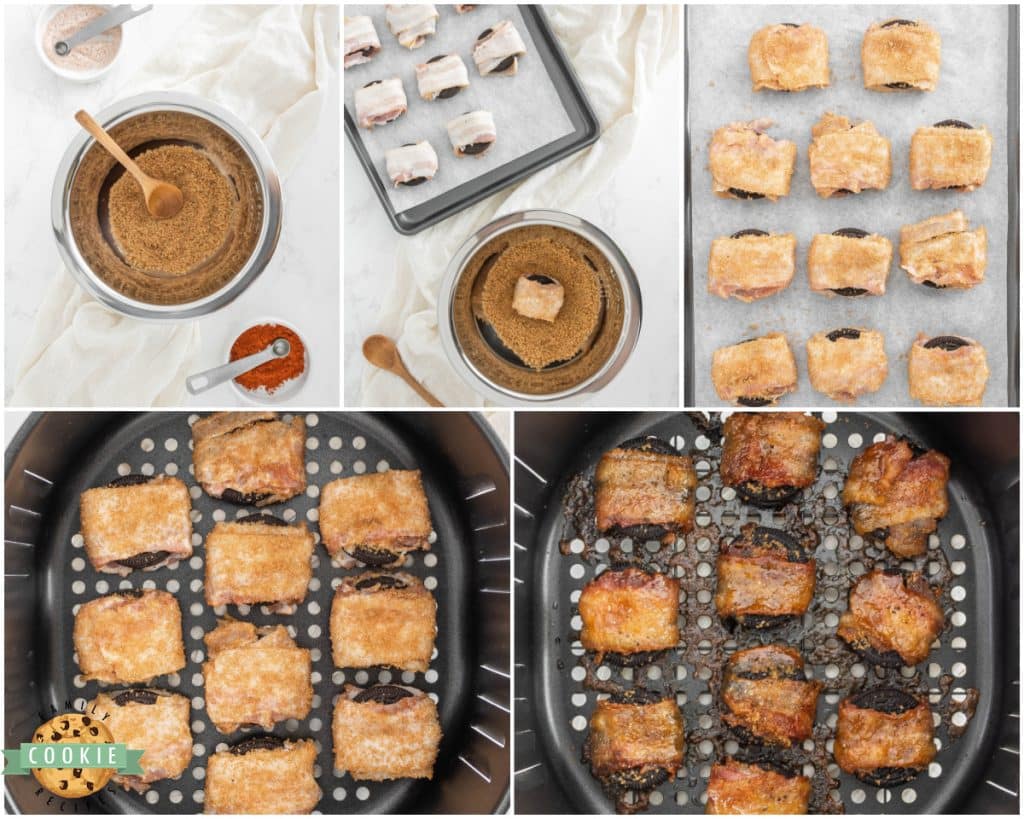 How to make Air Fried Bacon Wrapped Oreo's
Prep
In a small mixing bowl, combine the brown sugar, garlic powder, onion powder, paprika, fine salt, and ground black pepper. Make sure all the ingredients are well mixed.
Assemble
Then, take one Oreo cookie and wrap it with one piece of bacon. The bacon will stay wrapped in place if it is a whole strip.
Next, place the bacon-wrapped Oreo in the bowl of seasoning mixture and press to cover all the bacon with the sugary seasoning mixture. Turn it over and press on all the bacon surfaces.
Place the bacon-wrapped Oreos inside the air fryer basket, make sure there is a space between the cookies.
Proceed to cook at 300ºF for 8 minutes, remove when done and let cool for 5 minutes.
Note: Depending on the size of your air fryer, you may need to work in batches.
Serve warm and enjoy!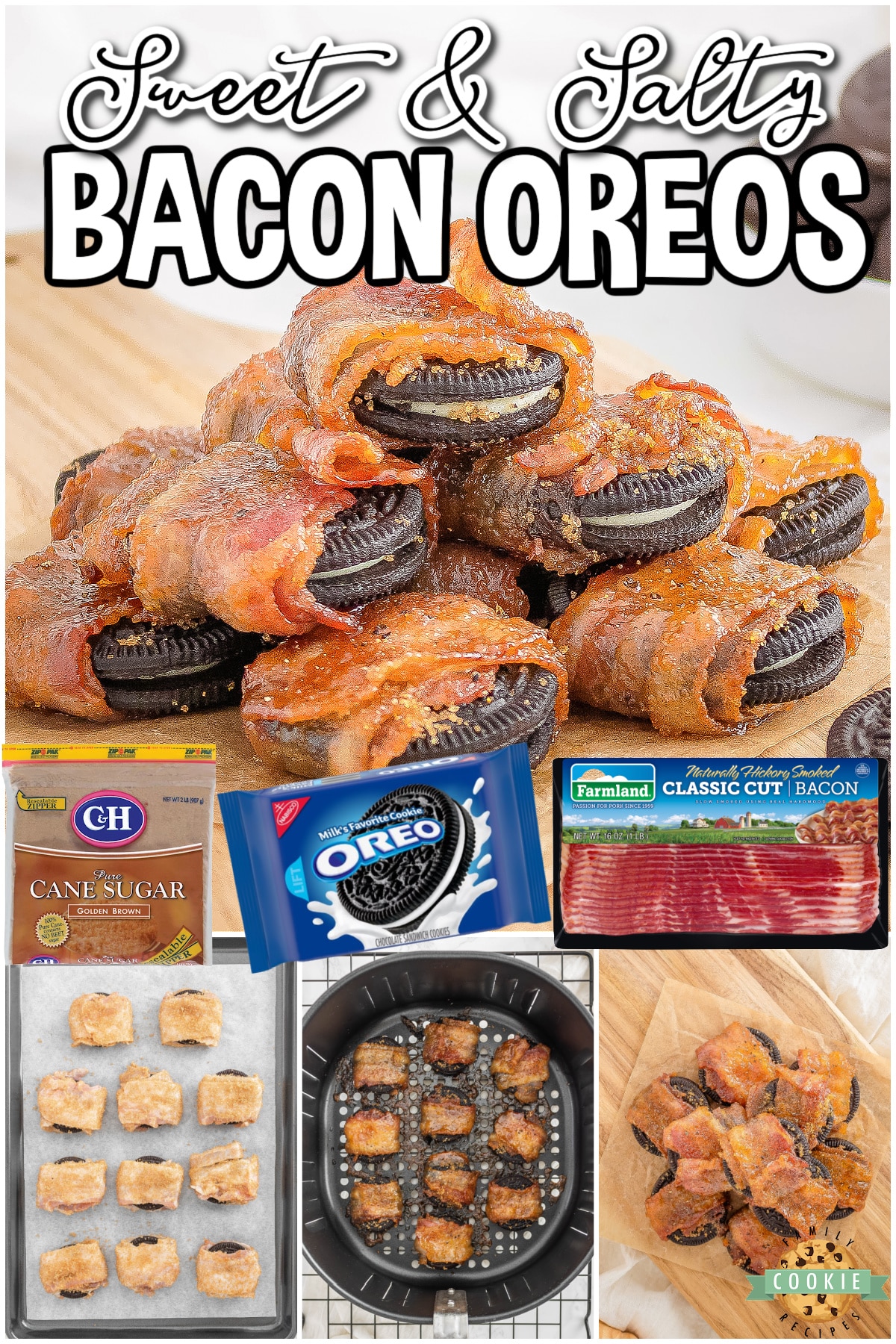 Cooking with Air Fryer Tips
It is essential to remember that every air fryer brand and model cooks differently. Depending on the size and design of your air fryer, it might take longer or less time to cook. If you use the same air fryer settings, you might have different results. If the same settings are applied and the results are not the expected, please adjust the time to get your desired result.
Note for all our Air Fryer Recipes: This recipe requires an Air Fryer to cook, and it is important to clarify from the beginning that some air fryer models require pre-heating, but the air fryer model used in this recipe works without pre-heating. For more information regarding the use of your air fryer in particular, please check the user manual of your air fryer before cooking any recipe.
When to serve bacon wrapped cookies?
This recipe makes for perfect finger food at a party thanks to their one or two bite-sized portions, but you can also serve them up after a simple weeknight dinner. These make a tasty treat that the whole family will enjoy.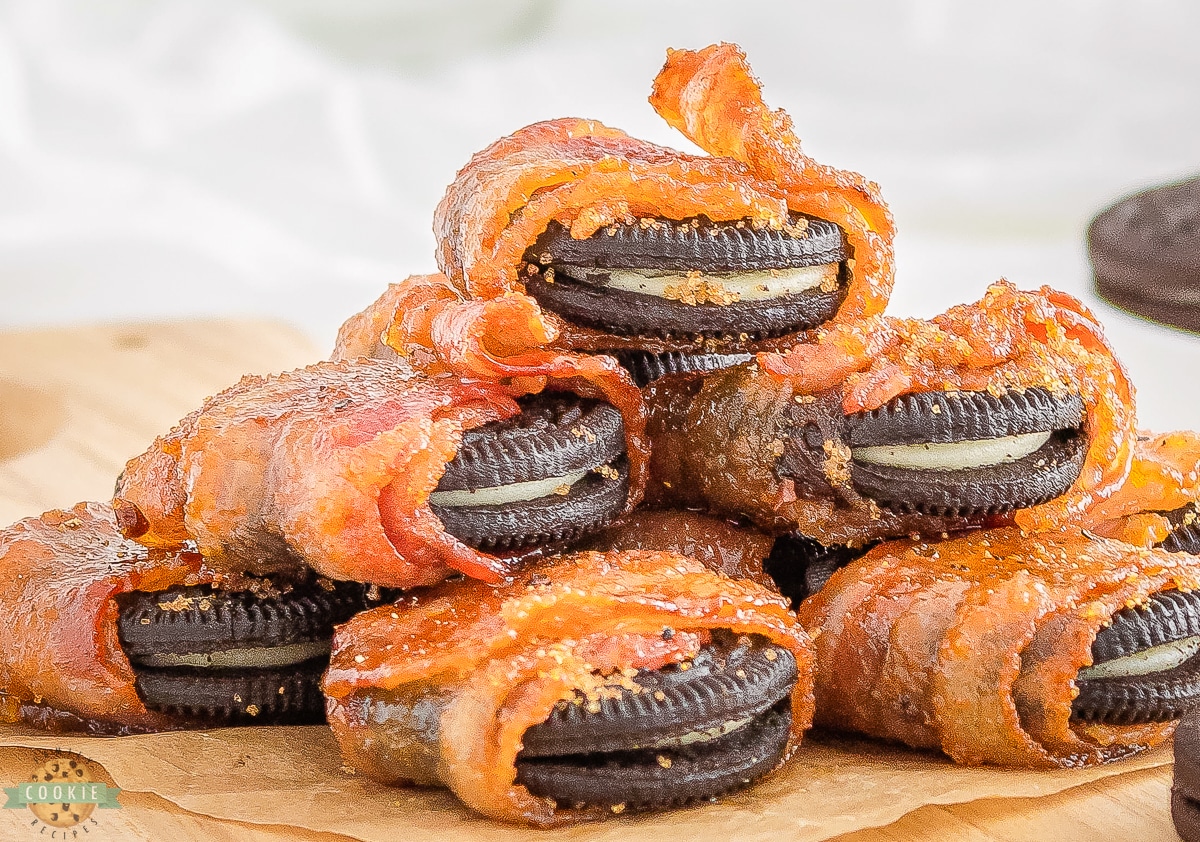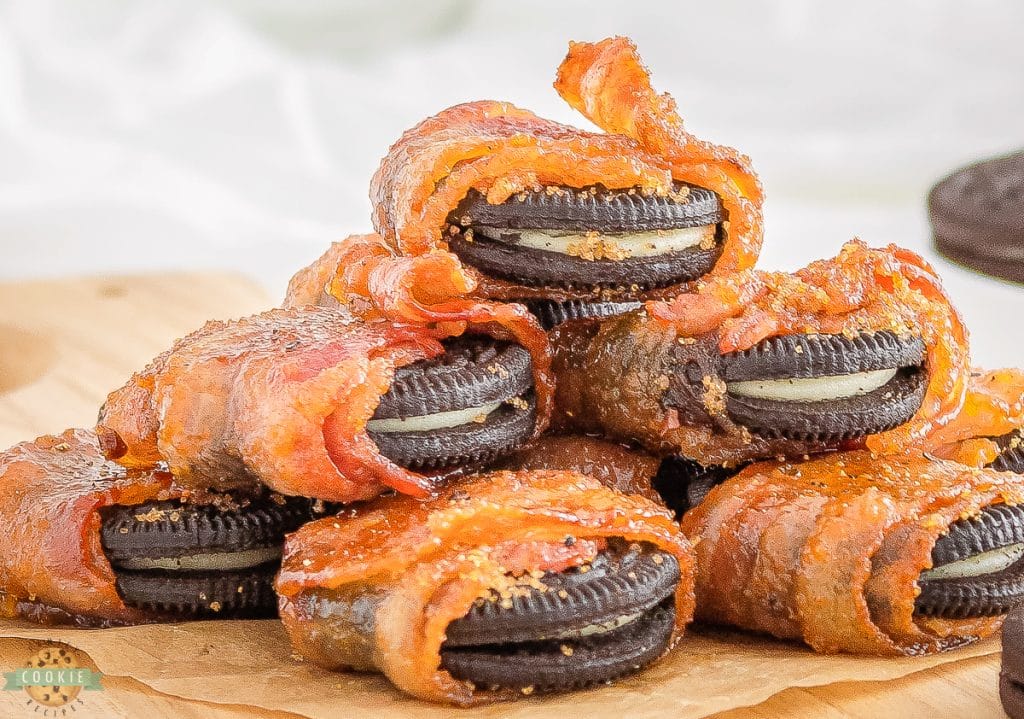 Can these bacon wrapped oreos be made in advance?
Yes, you can prep these in advance! Simply make the bacon wrapped cookies all the way up to the baking portion, and then instead of baking, cover and place in the fridge for up to 2 days. When ready to make, just transfer them to the air fryer and cook.
How long are bacon wrapped cookies good for?
You will want to store any leftovers in an airtight container in the fridge for up to 3-5 days. Reheat them again before serving so that you can enjoy them warm. That is when they truly taste their best.


I love taking candid pictures of my kids! Shots that show each of their unique personalities are my favorites. This one just makes me crack up. 2/5 have their eyes closed and are barely jumping. But the other 3 make up for it. I love it!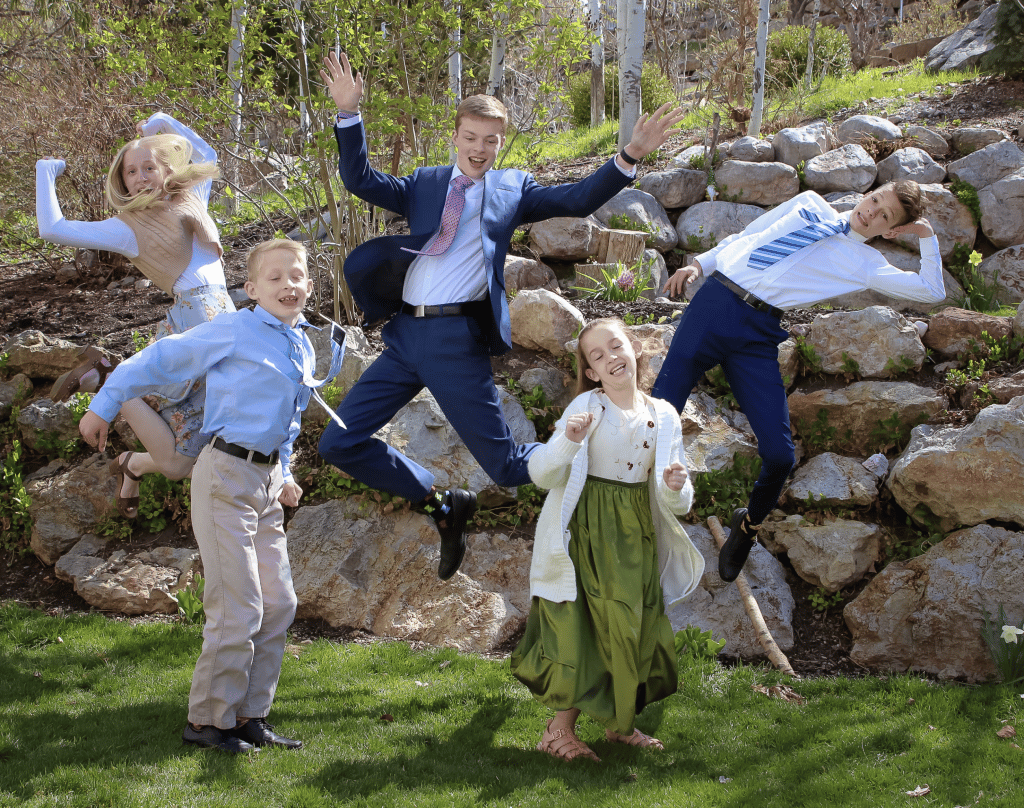 For more unique cookie recipes, try more of our favorites here!
Bacon Wrapped Oreos are a salty, sweet and savory treat that you will absolutely love. These oreos wrapped in bacon are so simple to make and they satisfy a craving you never knew you had!