Strawberry Cookies made completely from scratch with fresh strawberries and white chocolate chips! Delicious strawberry cookie recipe made with simple ingredients.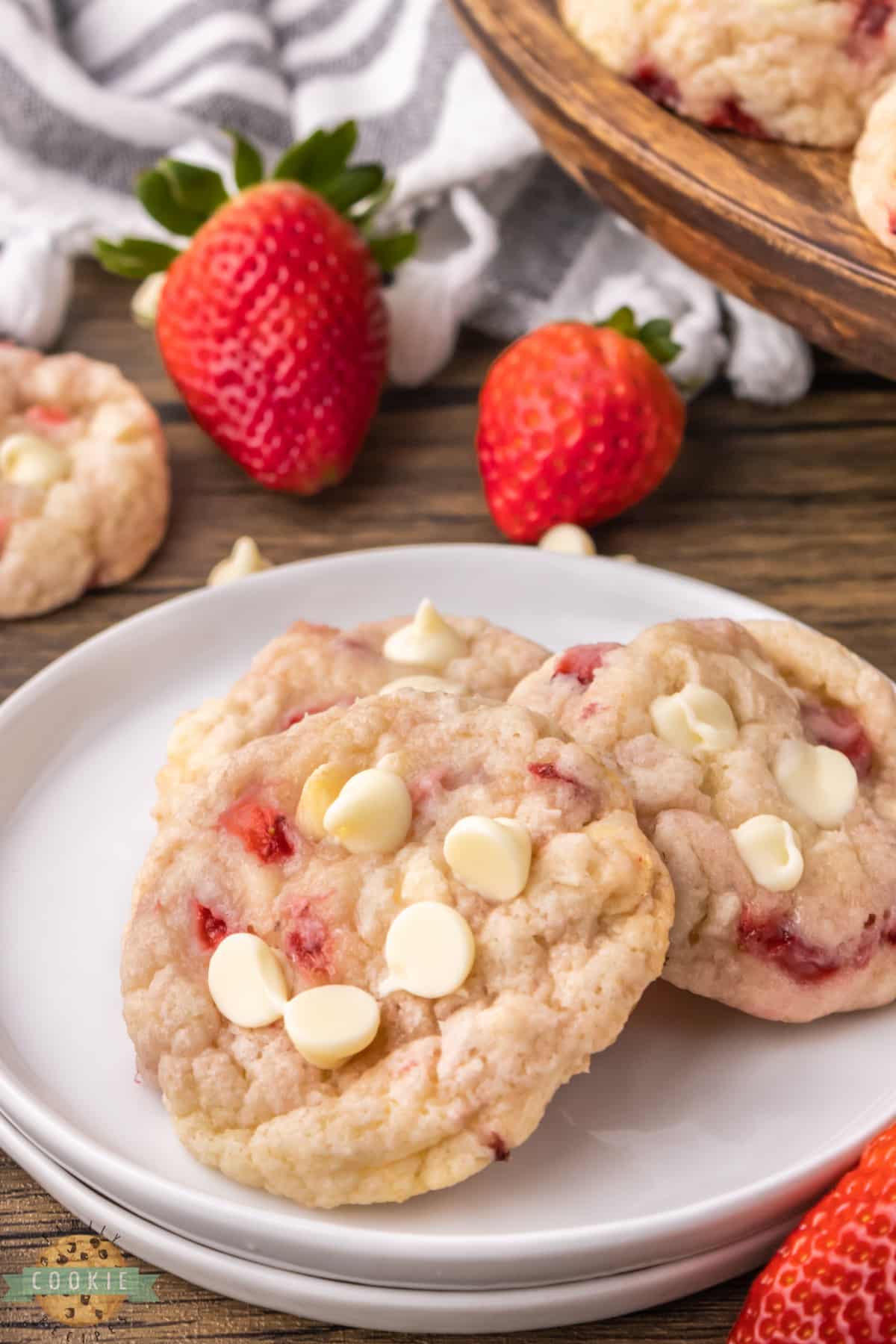 We love adding fruit to cookies, and I think this might be my new favorite! The strawberries and white chocolate chips give this cookie a bit of a "Strawberries and Cream" flavor that is absolutely amazing!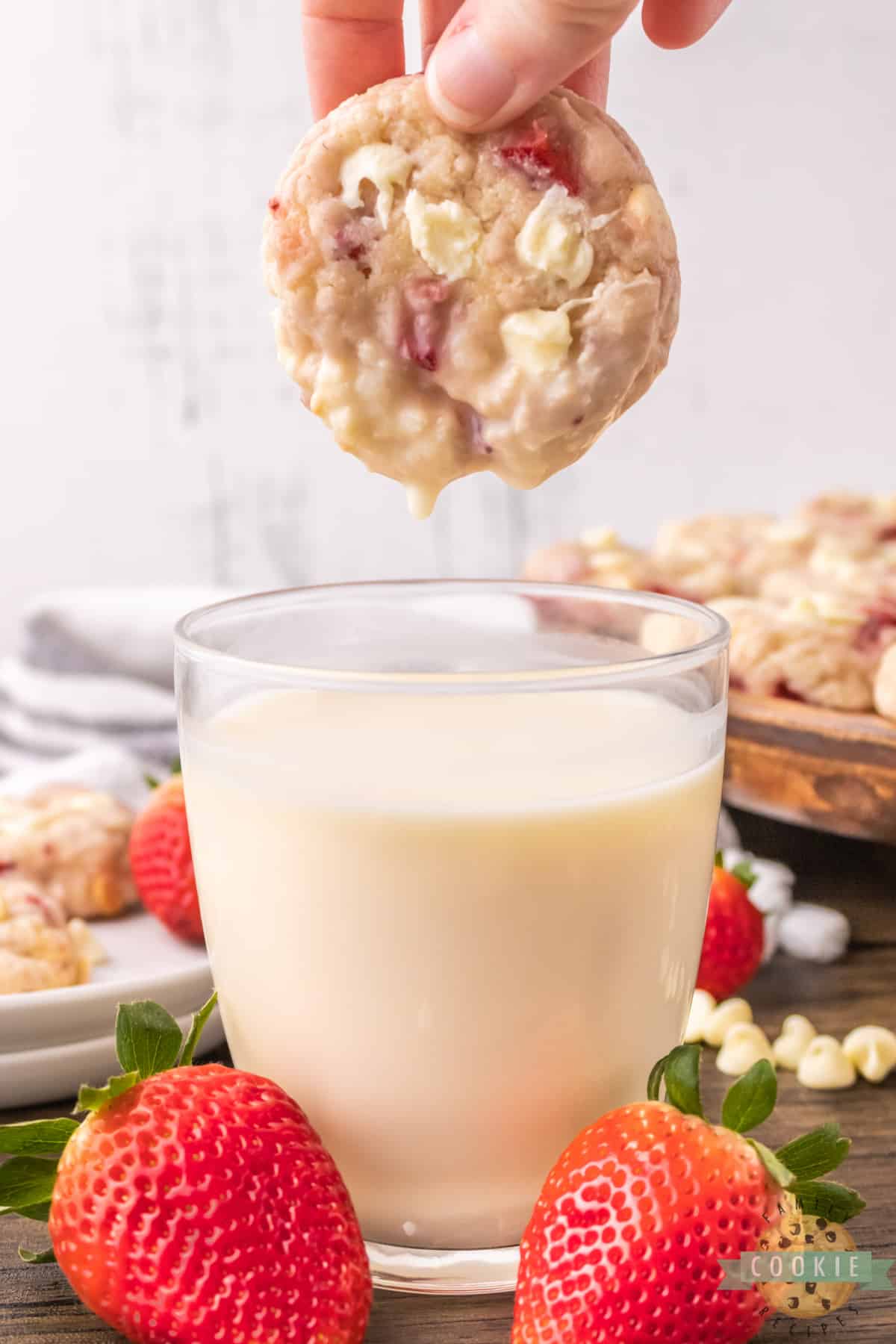 WHAT ARE STRAWBERRY COOKIES?
Strawberry cookies are made with butter, sugar, flour and a few other simple ingredients. One thing that is unique about this recipe is that no eggs are needed! Once the dough is made, diced strawberries and white chocolate chips are folded in. Once the cookies are scooped and baked, they are ready to eat!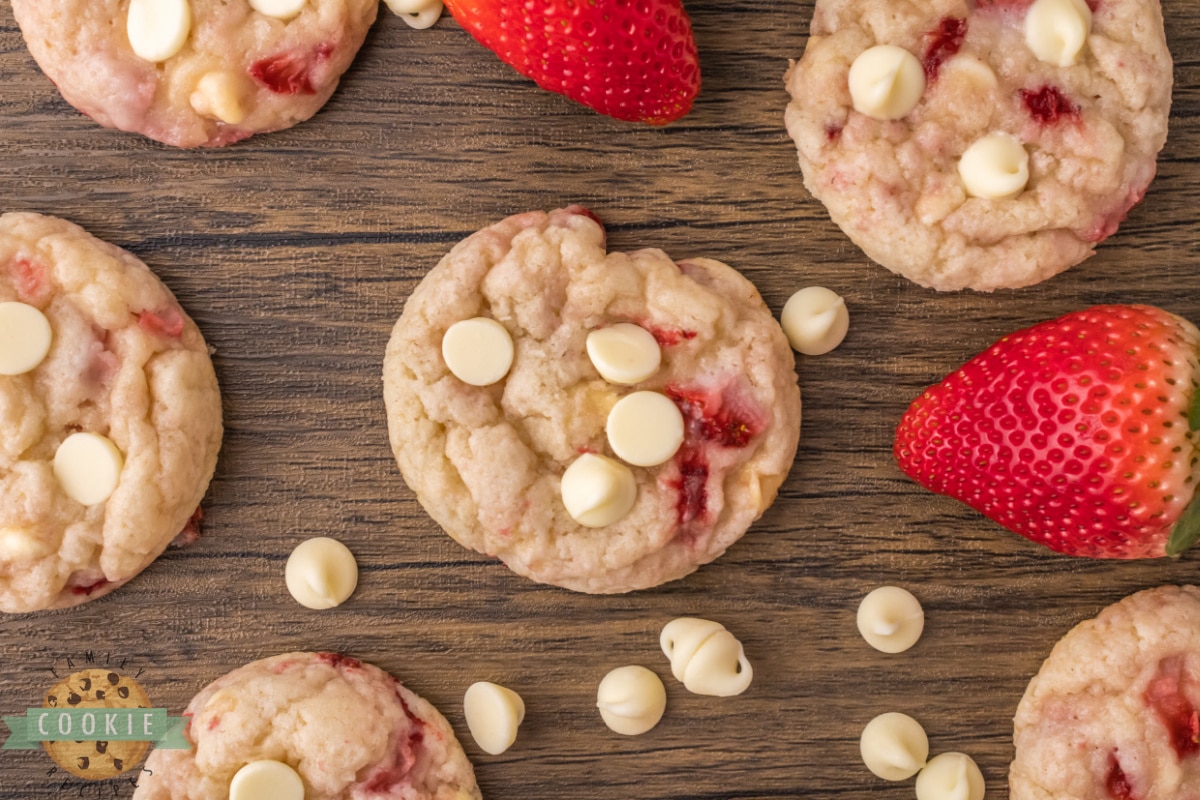 TIPS FOR MAKING THE BEST STRAWBERRY COOKIES
Do not melt the butter! The butter needs to be softened (at room temperature). Using melted butter will ruin the cookies.
Spend a little extra time when you mix the butter and sugar. Creaming them together for 2-3 minutes will improve the consistency of your cookies.
Preheat the oven. This will help your cookies turn out right every time!
The dough may feel slightly tough, but that is needed so the fresh strawberries do not make the dough too 'wet' after being folded in.
This dough does not need to be chilled, but if you won't be scooping and baking the dough immediately, then make sure to place it in the refrigerator until ready to use. For best results, use within 24 hours.
Use parchment paper or a silicone baking mat. Doing this will make it really easy to remove the cookies from your cookie sheet so that you don't have to scrape them off the pan. They will just slide right off in perfect shape!
Make sure not to over bake your cookies. They may not even look totally done on the top, but if the bottoms start to brown, I take mine out and they are perfect!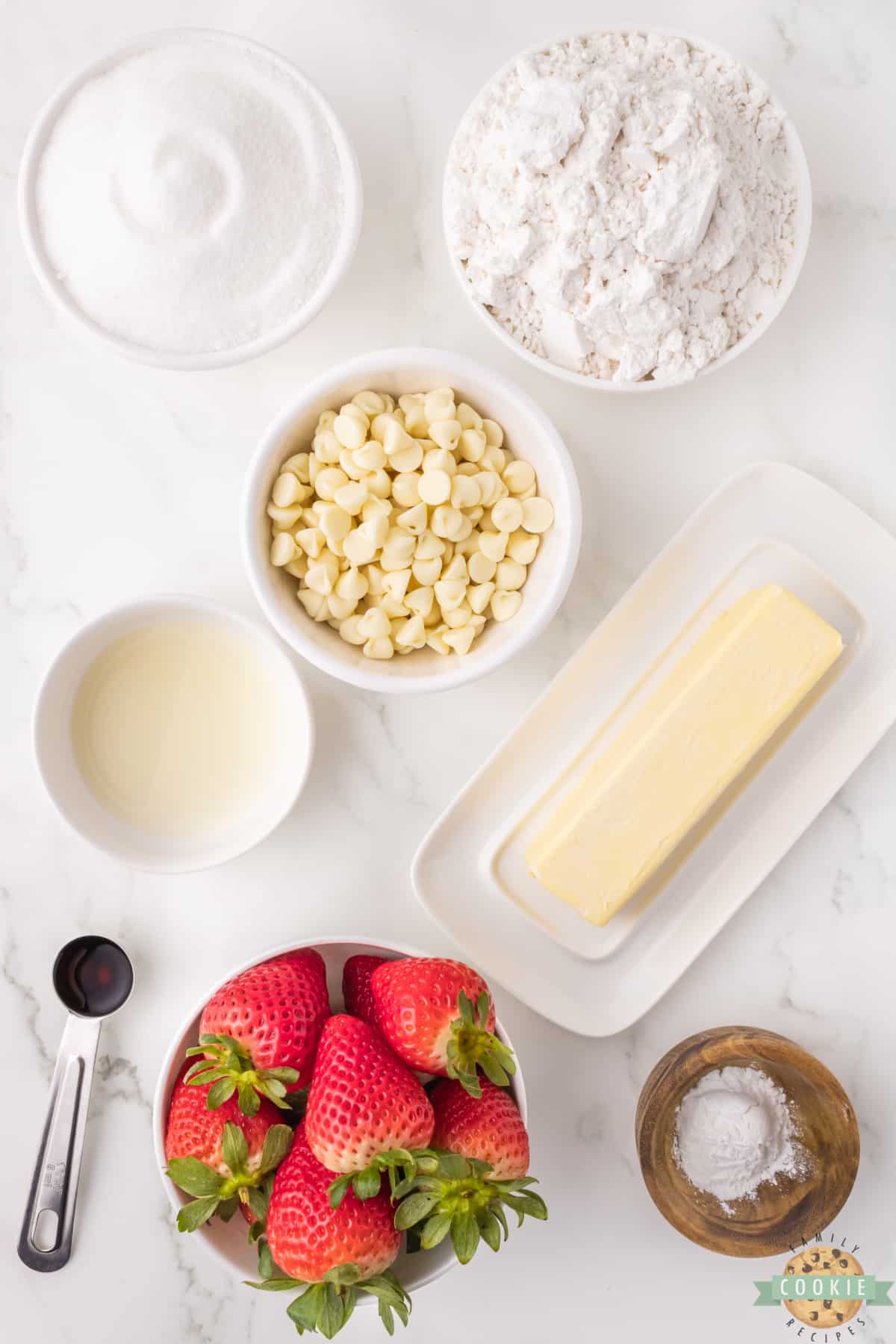 Ingredients in Strawberry Cookies
Butter – The recipe calls for ½ cup of butter. Make sure the butter is softened to room temperature before making the cookies. For best results, use real butter.
Sugar – Most of the sweetness in the cookies comes from white sugar.
Lemon juice – Two teaspoons of lemon juice add a little bit of flavor and liquid to the cookies. You can use fresh squeezed lemon juice or the kind from a bottle – both work great!
Vanilla extract – A teaspoon of vanilla extract is needed. The higher the quality of the vanilla, the better.
Pink food dye – You don't need to add any dye to the cookies, but if you want them to be pink, you can easily add pink food coloring!
Flour – Use all-purpose flour for best results.
Baking powder – Baking powder acts as the leavening agent in the cookies, so make sure your baking powder isn't old or expired!
Strawberries – The strawberries are the star ingredient in the cookies. Wash them, pat them dry with paper towels and then dice them up. The strawberries should be diced quite small, as to fit properly in the cookies without looking awkward. You should aim for about ¼ inch wide pieces, but a little bigger or smaller is fine.
White Chocolate Chips – You will add some of the white chocolate chips to the cookies, but you will save a few to add on top after baking. You could regular chocolate chips if you'd like to change up the flavor a little bit!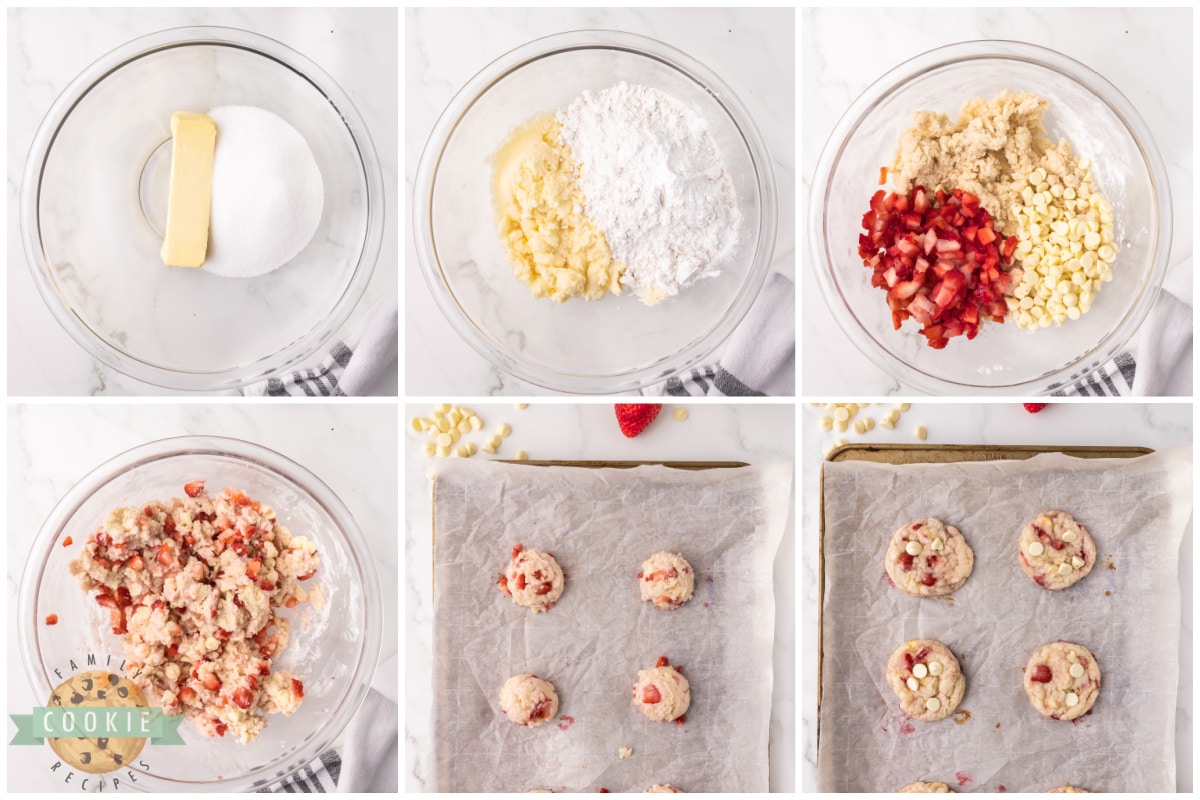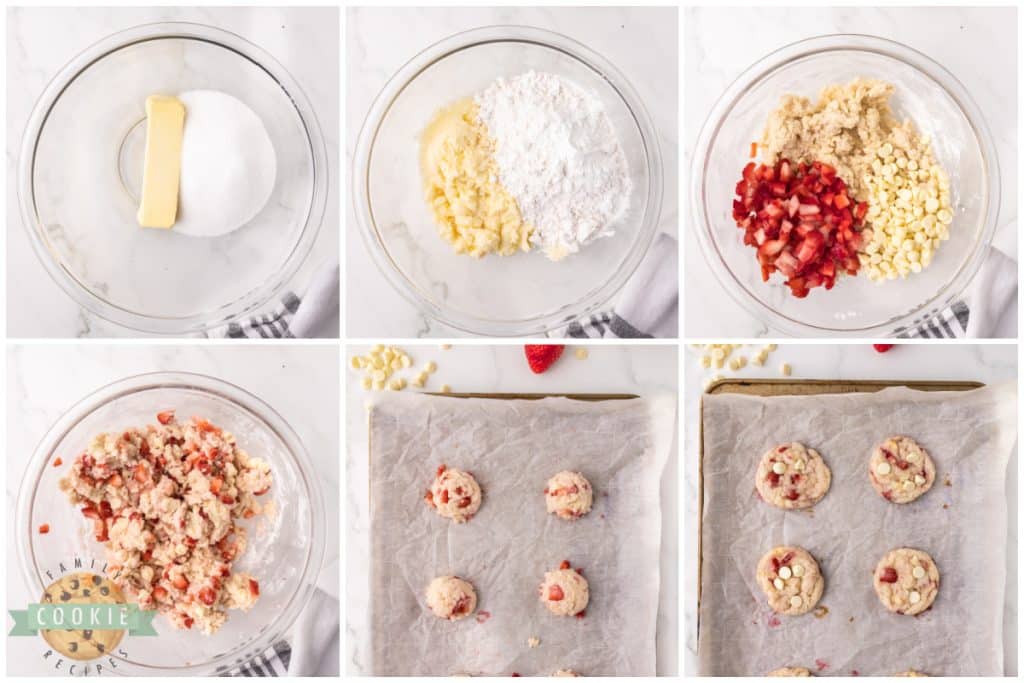 How to make Strawberry Cookies from scratch
Preheat the oven to 350℉ and line the cookie sheet with parchment paper or a silicone baking mat.
Cream together the butter and sugar for at least 2-3 minutes. Add the lemon juice, vanilla, and food dye and mix for another 1-2 minutes.
Next, stir in the flour and baking powder until a dough forms.
Gently fold in the diced strawberries and half a cup of the white chocolate chips.
Scoop the dough onto the parchment lined cookie sheet, either using a 2 tablespoon cookie scoop, or rolling about 2 tablespoons of the dough into balls.
Bake for 12-14 minutes or until the bottom of the cookies are just very slightly golden.
Add a few more white chocolate chips on top of each cookie as soon as they are removed from the oven. Allow the cookies to cool for a few minutes on the cookie sheet before transferring to a wire rack to cool completely.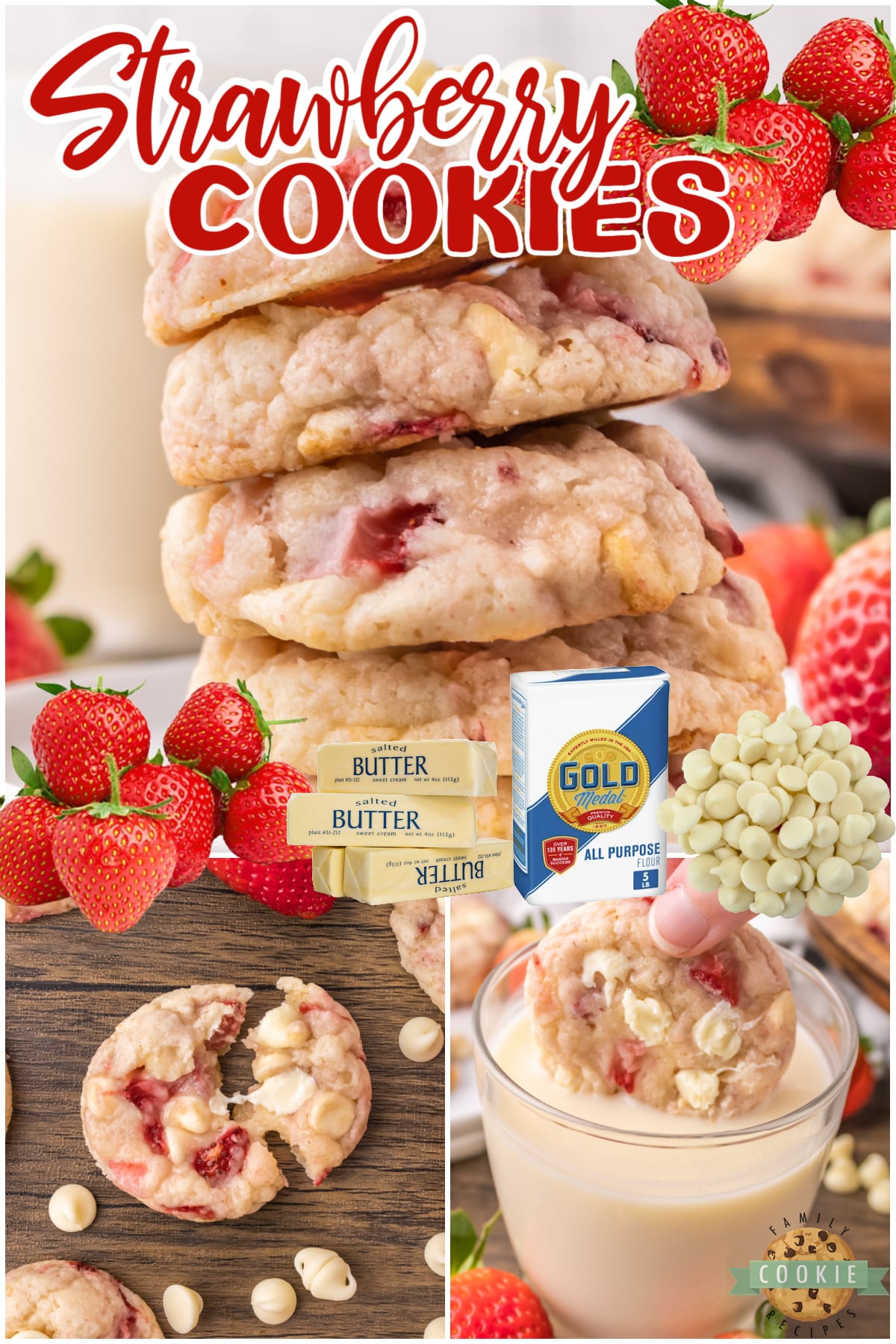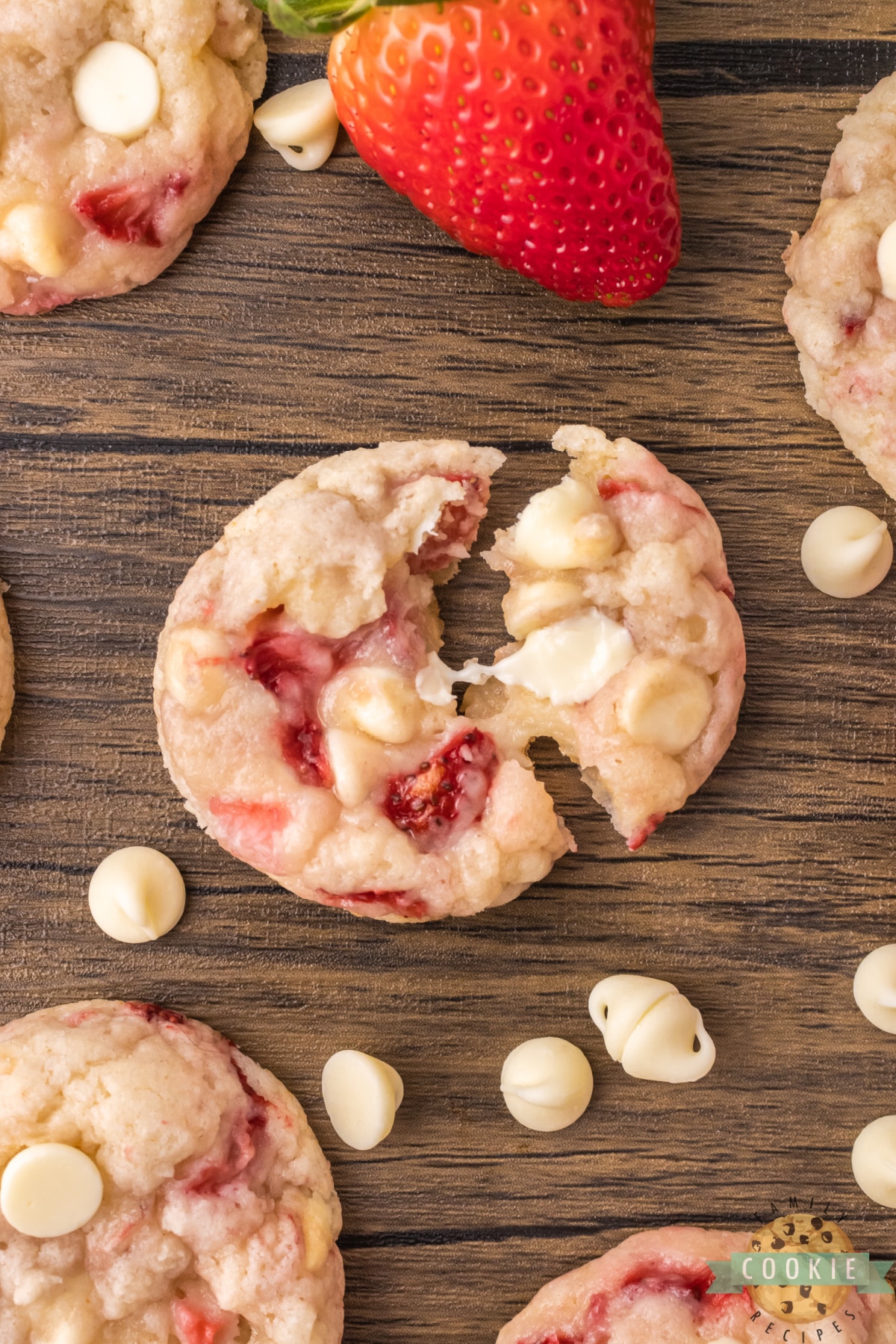 HOW DO YOU SOFTEN BUTTER?
I like to soften butter by using the defrost function on my microwave. If you need the full 1/2 cup cube of butter, you can leave it in the paper wrapper, otherwise, place the amount of butter you need in a glass or porcelain bowl. I use the lowest defrost setting on my microwave and just let it run for 20 seconds. Check the butter and see how soft it is by pressing it with a rubber scraper. If it is still not soft to the touch, meaning it doesn't indent when you press into it, let it warm for another 5-10 seconds. Watch it closely! Butter softens very quickly.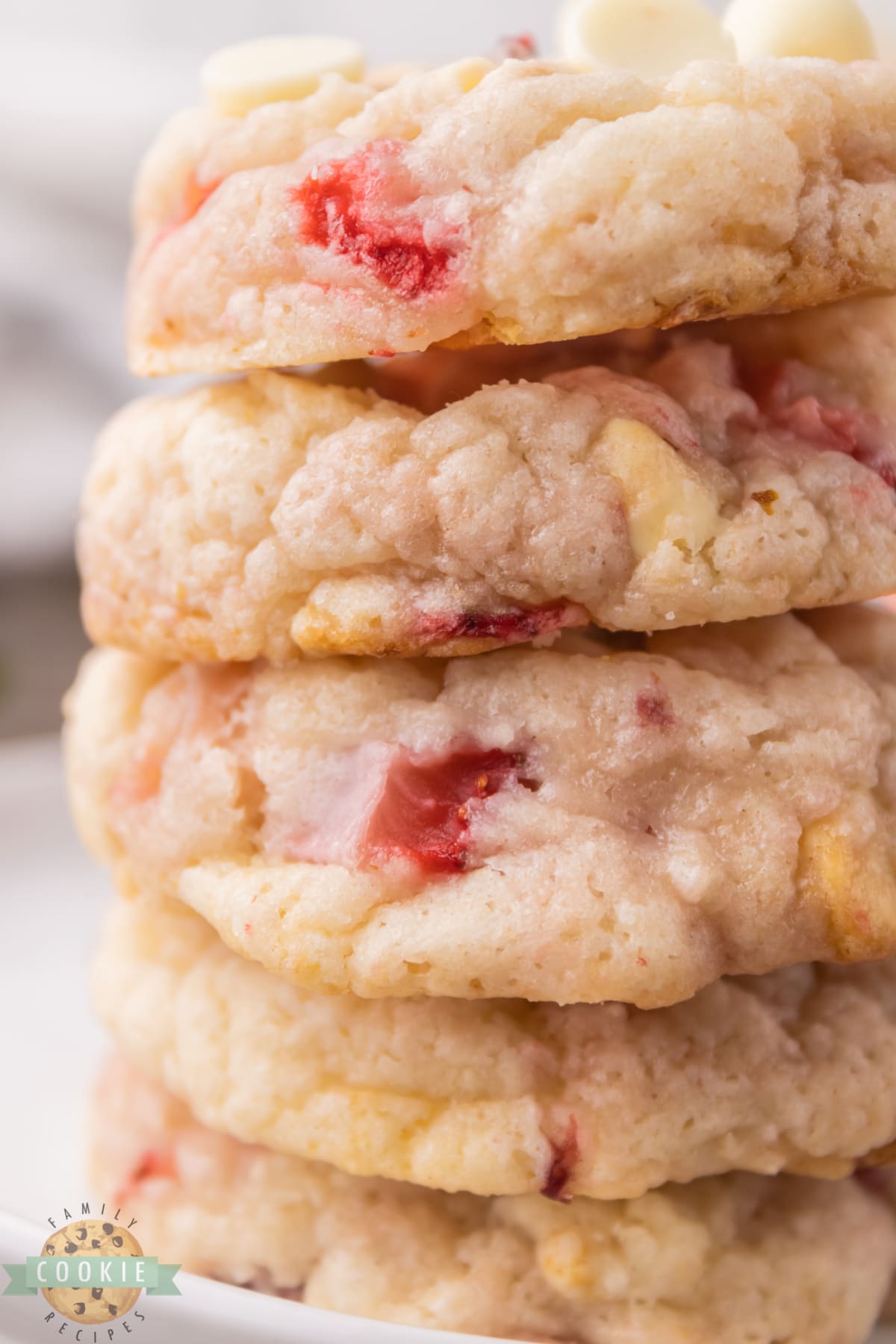 CAN I USE FROZEN BERRIES IN STRAWBERRY COOKIES?
This recipe has only been tested with fresh strawberries. Frozen berries are likely to have too much liquid which will have an impact on the dough, and will likely result in flat cookies. You can definitely swap in other kinds of berries if you'd like though. Raspberries, blueberries and blackberries (or a combination of all of them!) would be delicious!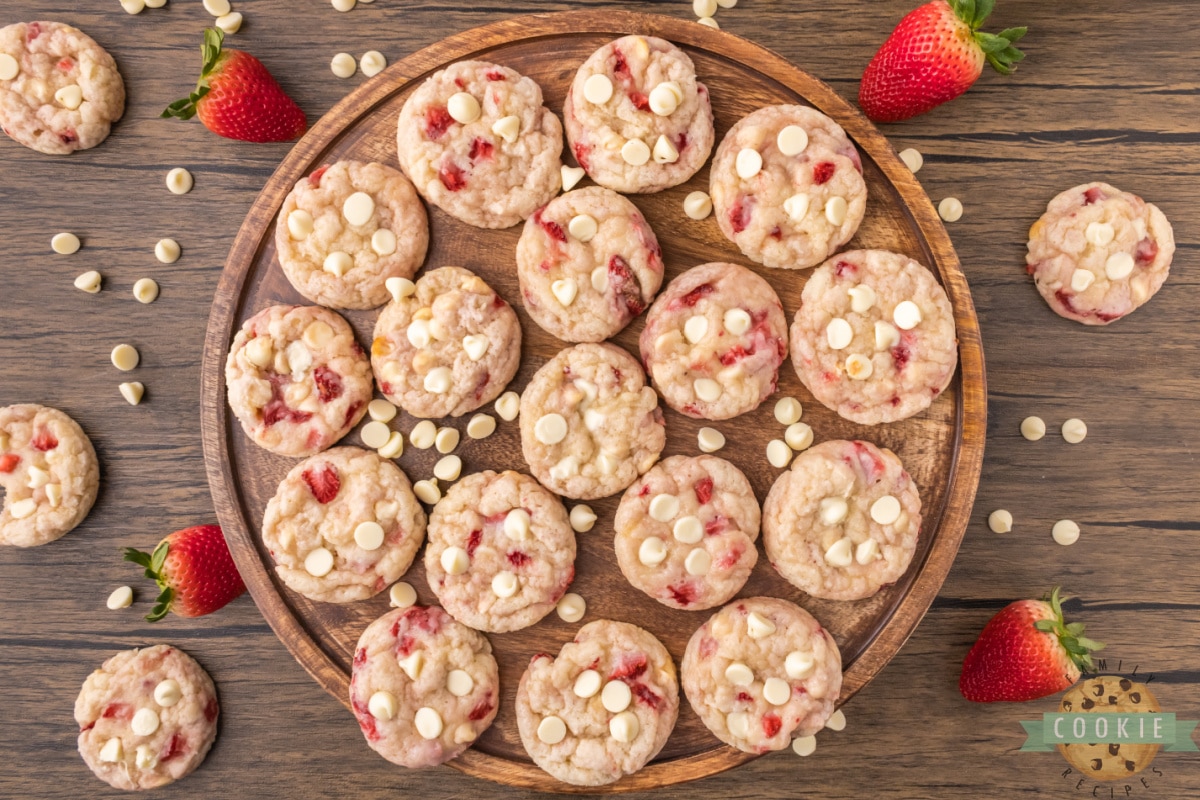 I haven't been very good at taking pictures lately, but I did manage to get a few shots on Easter Sunday. We finally had a taste of spring weather just in time for Easter, which worked out perfectly. These kids are my world. Looking at pictures like these makes me realize how old they are all getting. I think it's so funny how my middle 3 kids are all almost exactly the same height even though their ages vary across a 5 year span!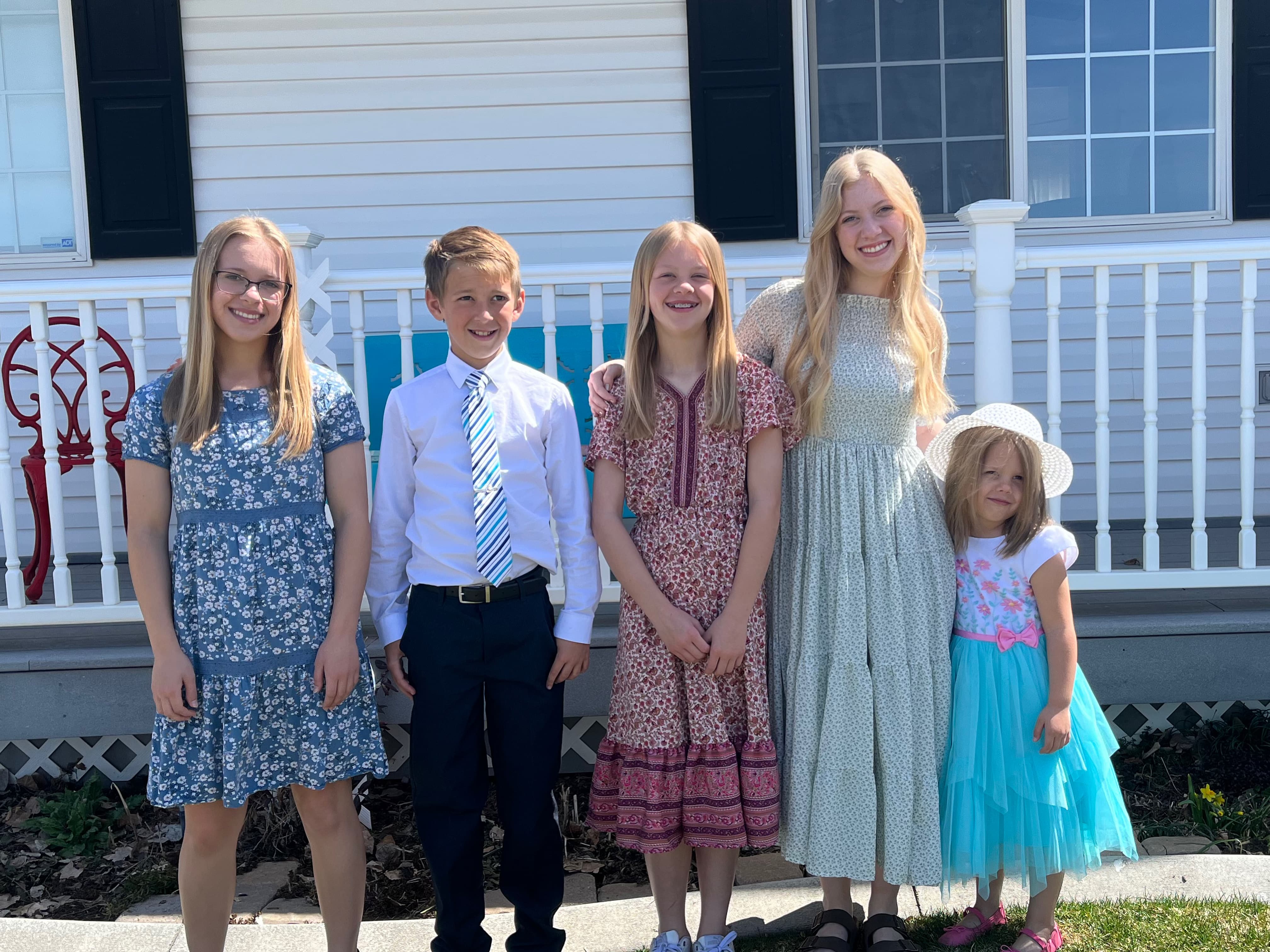 MORE DELICIOUS STRAWBERRY COOKIE RECIPES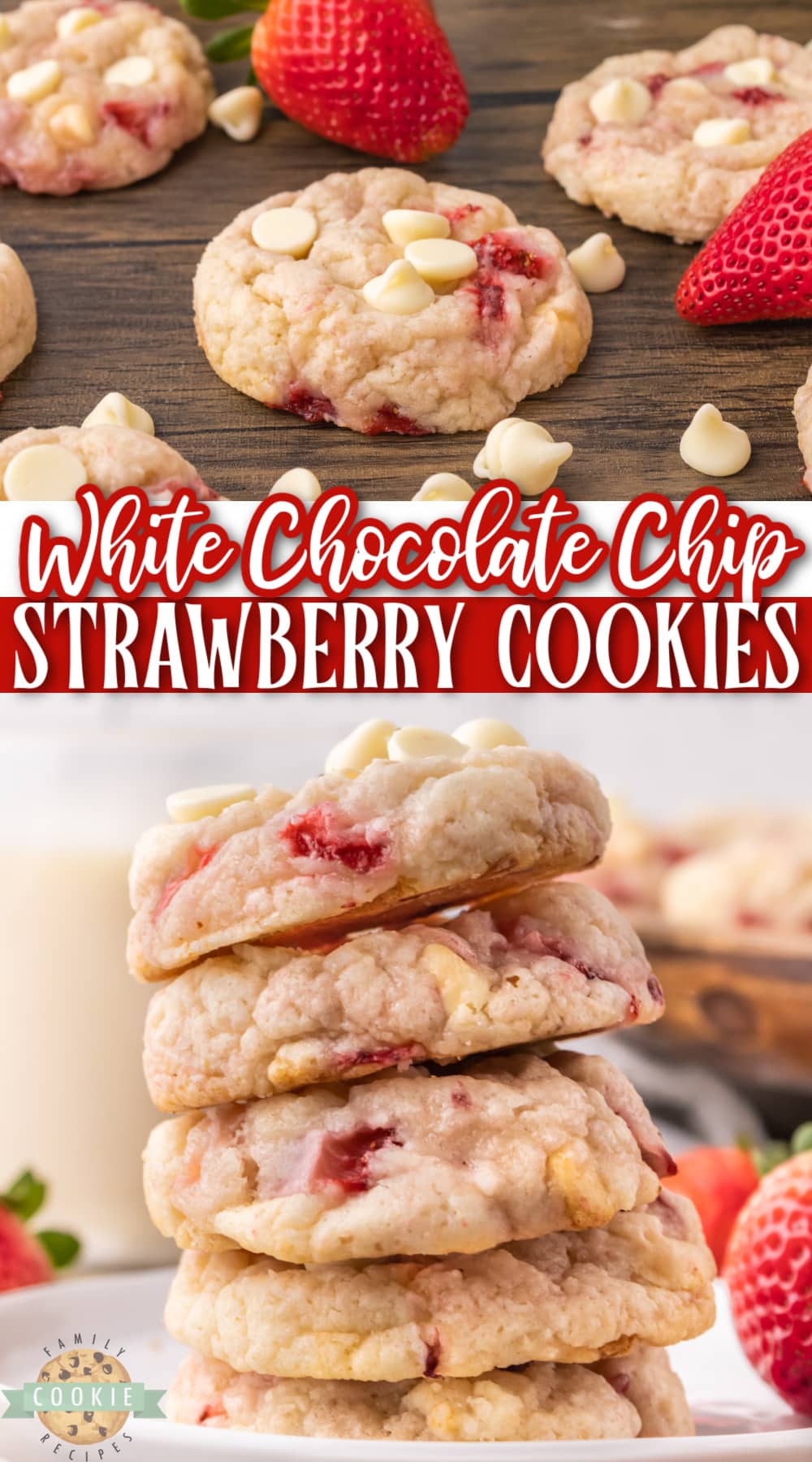 Strawberry Cookies made completely from scratch with fresh strawberries and white chocolate chips! Delicious strawberry cookie recipe made with simple ingredients.