Oreo S'mores are gooey, sweet, crunchy & super chocolatey! These oven baked S'mores are sure to be your new summertime go-to dessert!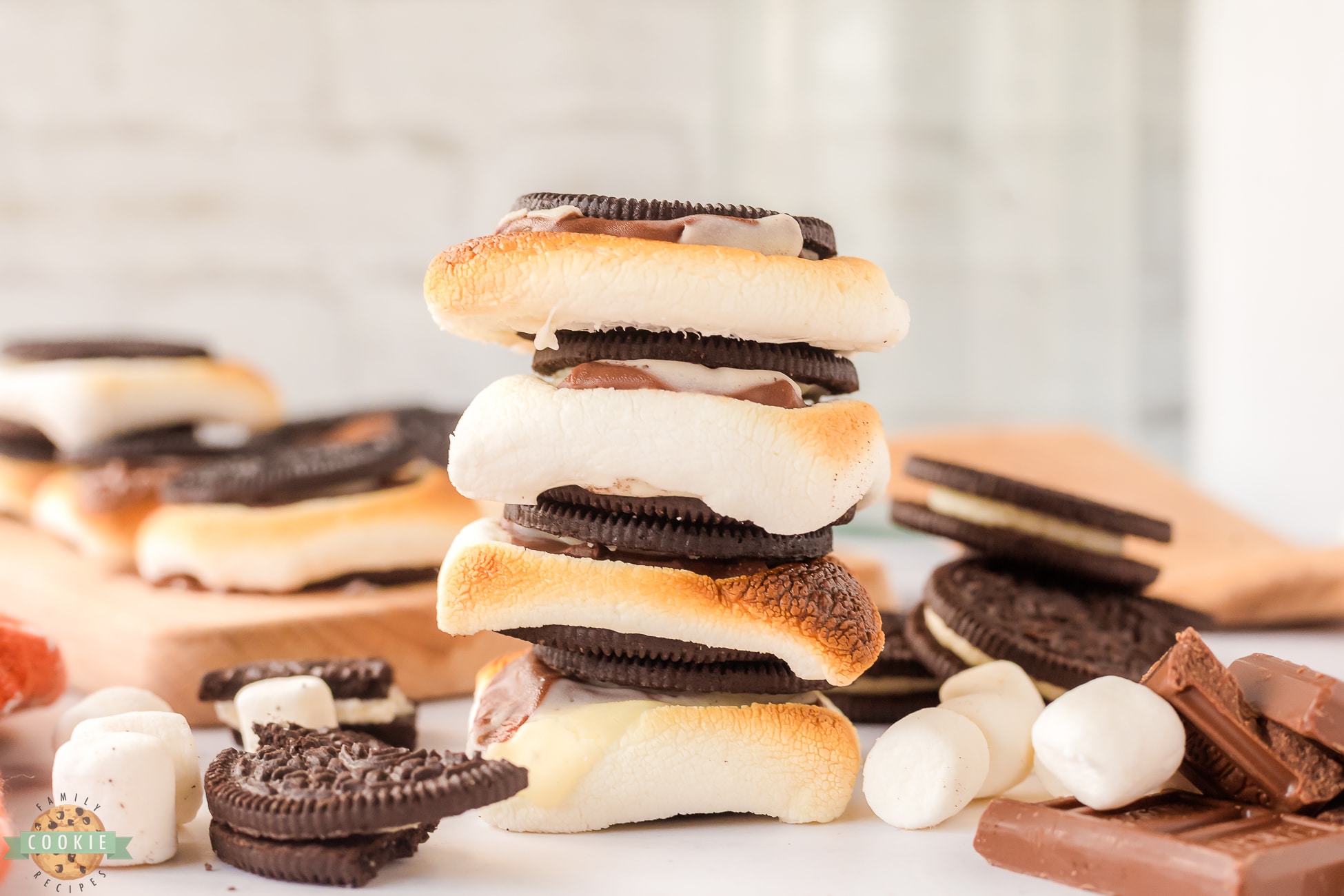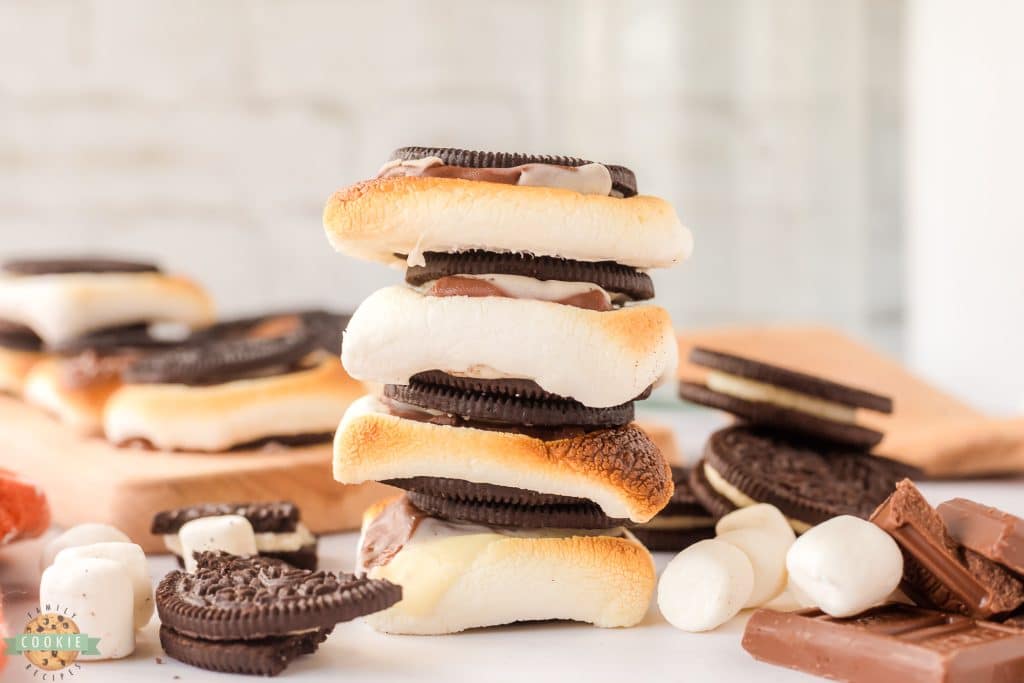 These decadent indoor smores combine the delicious flavors of classic Oreos cookies, with sweet marshmallows and chocolatey goodness. While traditional s'mores require an open flame, this smores cookie recipe can be made right from your own kitchen!
Oven Baked S'mores
Nothing screams "It's summertime!" quite like a perfectly roasted marshmallow inside of an ooey gooey s'more. This classic American treat is the perfect addition to barbecues, pool parties, and camping trips. However, by your third or fourth s'more of the year, you might be looking for ways to switch up the flavors. That's where my quick and easy Oreo s'mores come in! Made with Oreo cookies instead of graham crackers, these oven baked s'mores are crunchy, rich, and super chocolatey.
Because you make these Oreo s'mores in the oven, they can be enjoyed year-round! Broil up a batch for your next movie night, dinner with friends, or kid's birthday party. They're tasty on their own or doctored up with some whipped cream or homemade caramel sauce. You can even pop these Oreo s'mores in the freezer and enjoy them as a chilly summertime treat. This versatile recipe is sure to become one of your new go-to desserts!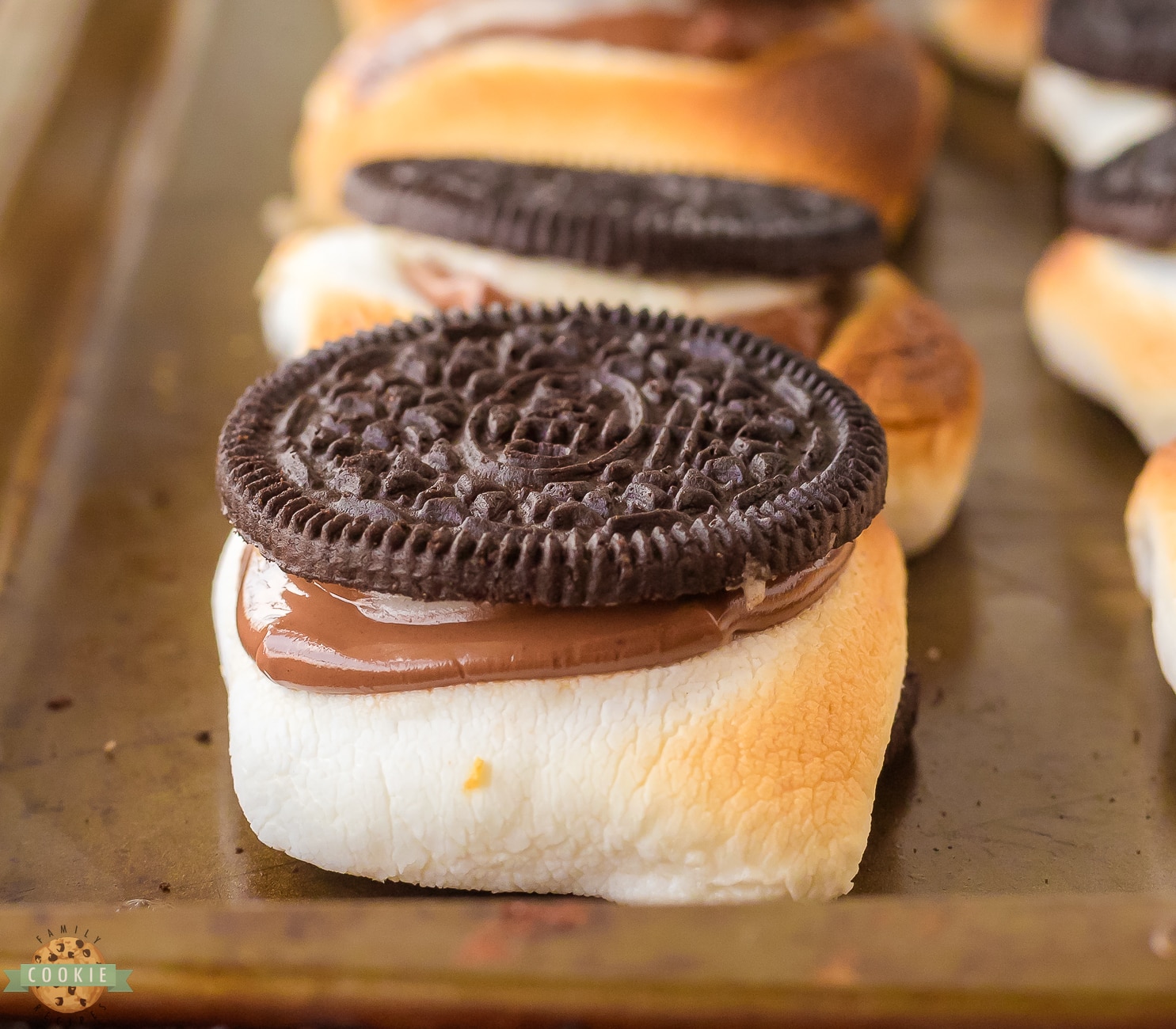 You'll Love This Oreo S'mores Recipe Because It's…
Made entirely in the oven—no need for an outdoor fire pit
Sweet, gooey, and super chocolatey
A great alternative for when you don't have any graham crackers
Loved by kids and adults alike
An easy way to enjoy s'mores year-round
Oreo S'mores Ingredients
Oreo cookies: 16 Oreos are the base of the s'mores and provide some amazing texture and flavor too.
Marshmallows: You will need 8 large marshmallows, cut in half, to make this treat gooey and delicious.
Chocolate bar: Using 8 snack size Hershey bars is the ingredient that really brings the s'mores together.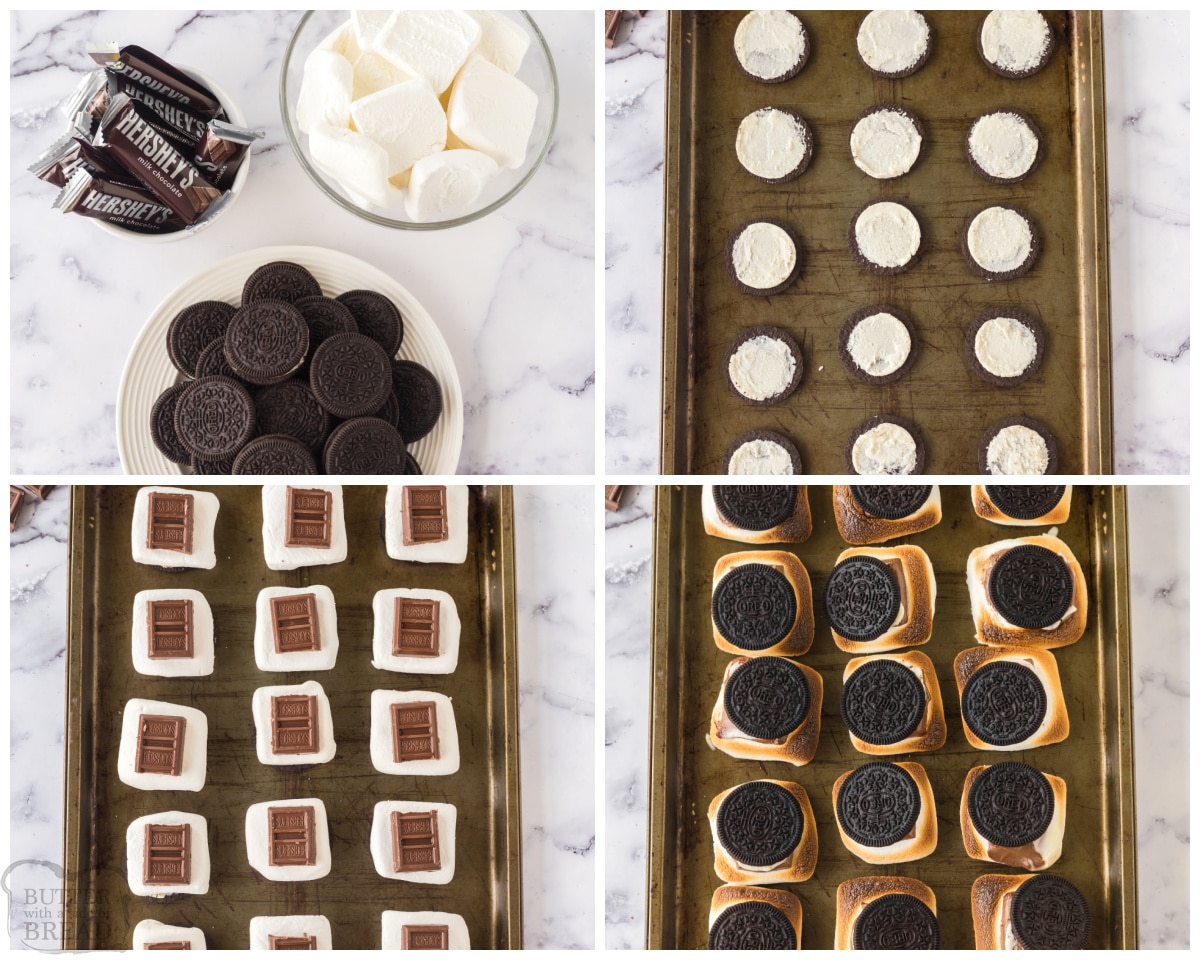 How to make Easy S'mores made with Oreo Cookies
Prep
Get started by turning on your oven broiler and setting it to a high temperature. Then, line a baking sheet with a piece of parchment paper to make clean up a bit easier.
Now, separate the Oreos from each other and place half of them on the prepared baking sheet (cream side facing up).
After that, cut each large marshmallow in half and place one half on each of the cookies on the baking sheet.
Proceed to top each marshmallow with one square of Hershey chocolate and then add the other half of the cookie to the top.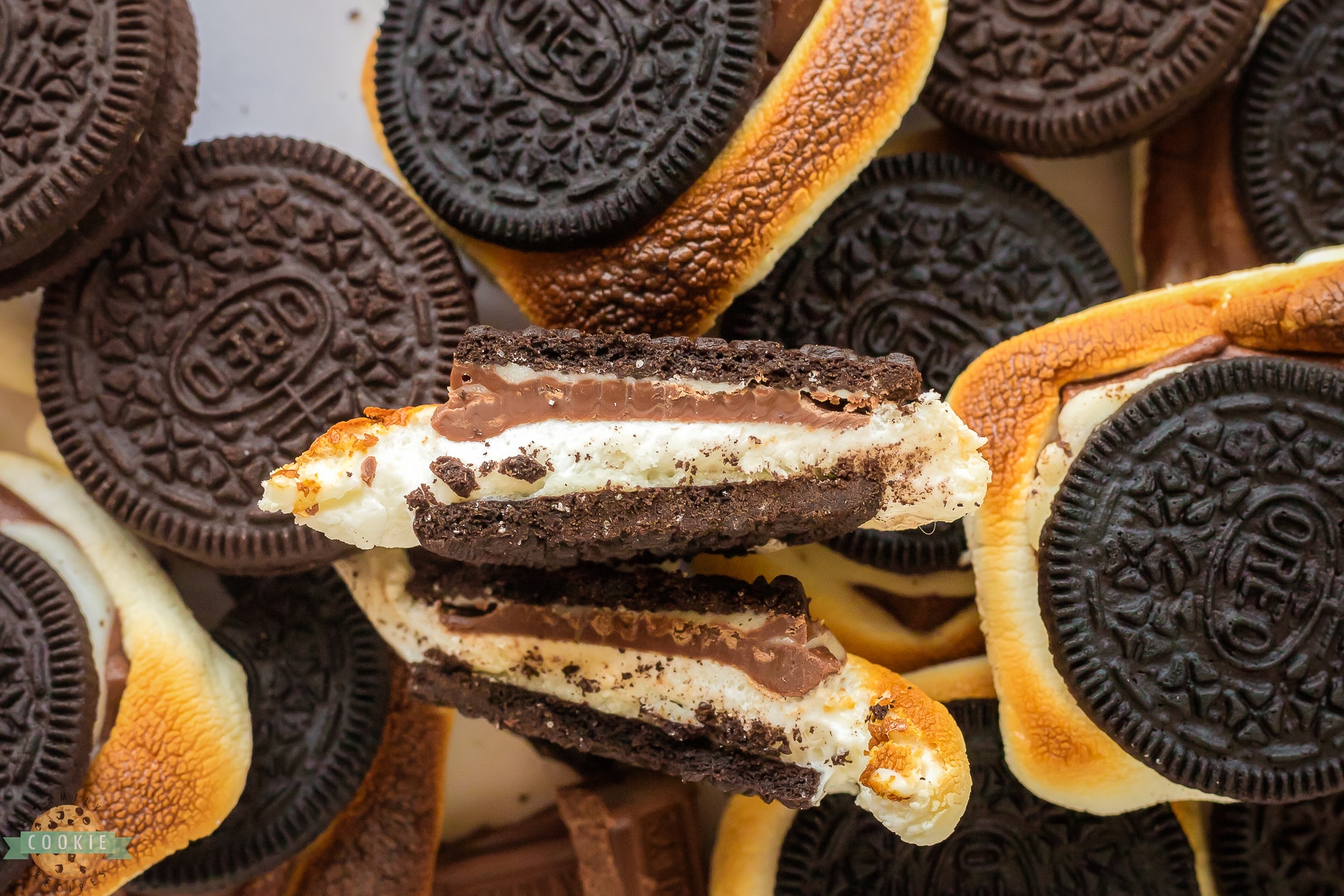 Bake
Place the baking sheet in the oven and allow the s'mores to cook for about 5 minutes, or until the marshmallows begin to brown.
Remove the baking sheet from the oven and use a spatula to transfer the s'mores to a cooling rack. Allow the s'mores to cool for about 10 minutes.
Serve and enjoy!
Expert Tips and Tricks For Oven S'mores
Cutting the marshmallows in half helps them to lie flat against the Oreos and brown evenly in the oven.
Use the square s'more marshmallows, but the large cylindrical ones work great too. Cutting the marshmallows in half helps them stick to the Oreo and keep the s'more from falling apart.
As your Oreos heat up in the oven, they might turn a bit soft. Don't worry! They will regain their crunch as they cool back down.
You can use this same broiler technique to make regular S'mores! Follow all the same recipe steps but replace the Oreo halves with graham crackers.
Try making this recipe with different flavors of Oreo! Double chocolate, mint, peanut butter, and golden Oreos are a few of my favorites.
For a fun cold treat, throw these s'mores in the freezer for about 30 minutes. If they freeze too hard, you can thaw them on the counter for a few minutes. This is a great way to enjoy a delicious s'more treat and still beat the heat.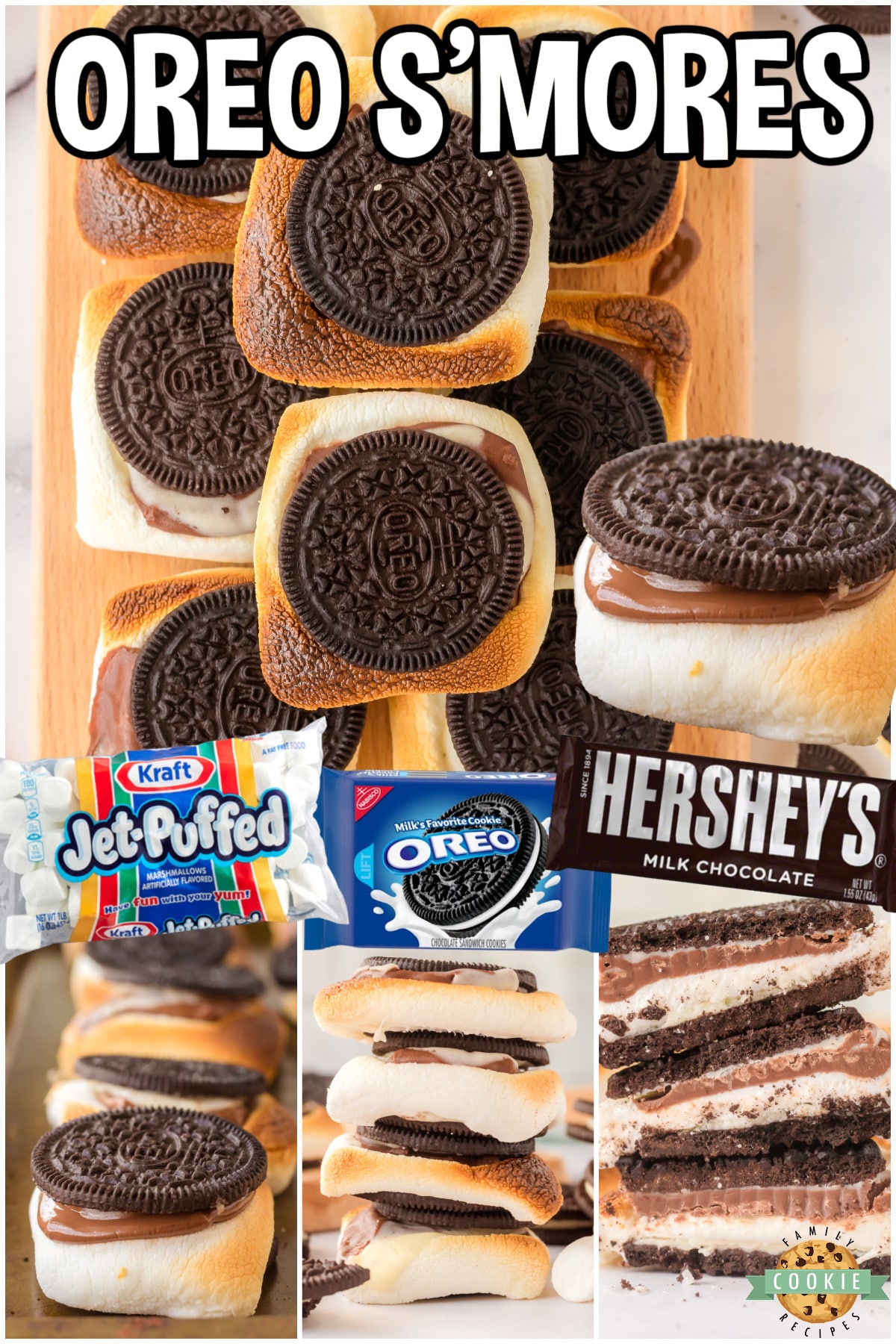 How do you Store and Serve S'moreos?
These Oreo s'mores are best enjoyed fresh out of the oven. However, if you have a few of these sandwich cookie concoctions left over, you can store them in an airtight container on the counter for up to 2 days or in the freezer for up to 2 months. Enjoy them at room temperature, reheated in the microwave, or straight out of the freezer as a cool summer treat!
My favorite way to enjoy these Oreo s'mores is with a glass of milk, but you can also garnish them with a scoop of vanilla ice cream, a drizzle of chocolate sauce, or a sprinkling of flakey sea salt. You can't go wrong enjoying these oven s'mores with a fork or with your hands—just be aware that the melted chocolate can get a bit messy!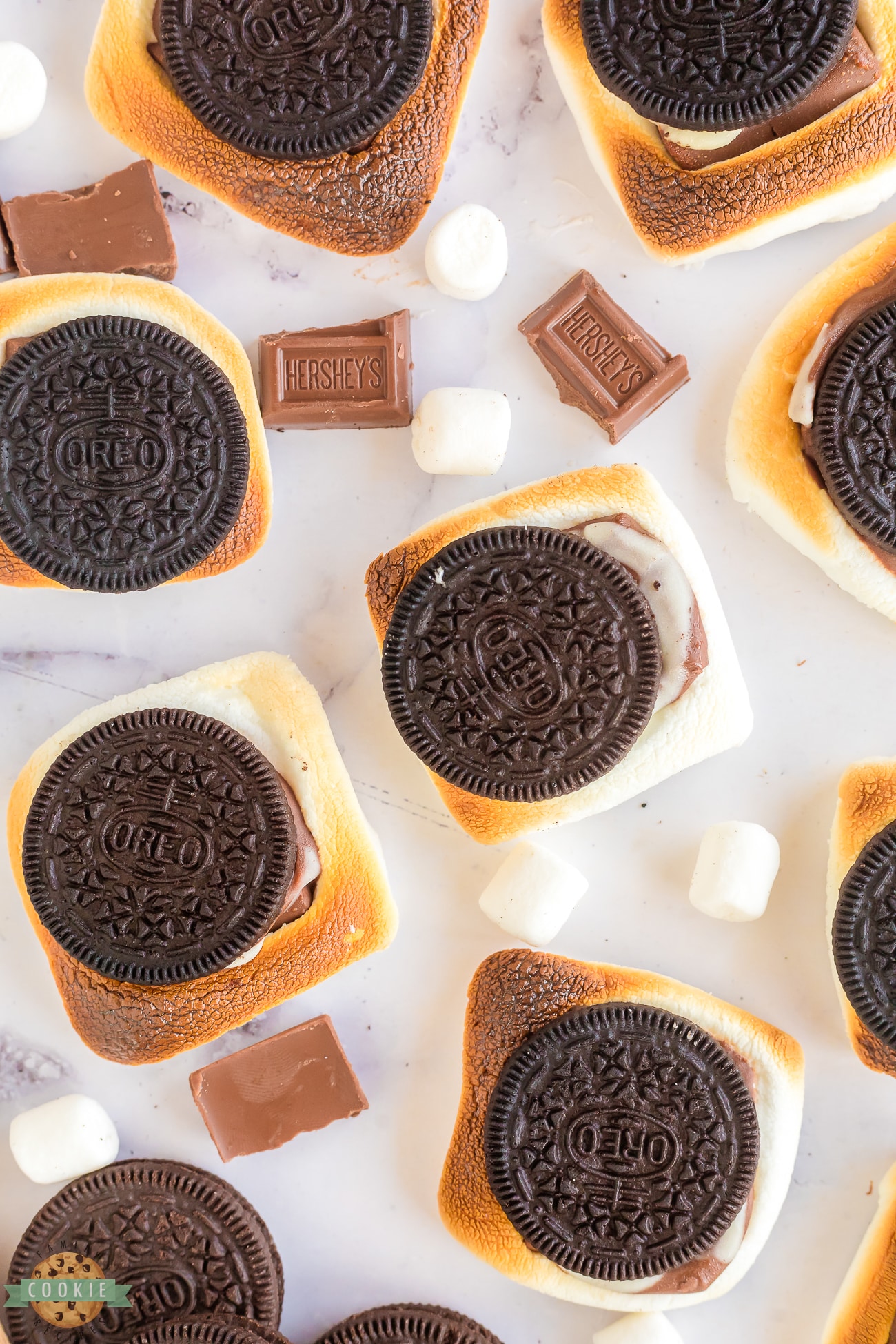 Do I need any special equipment to make Oven Oreo Smores?
No, you don't need any special equipment to make these sweet treats. You can make Oven Oreo Smores using a regular oven and a baking sheet. So simple!
Can Oreos go in the oven?
Absolutely! Oreos are often baked into cheesecake and pie crusts, so you should have no trouble popping them in the oven to make these s'mores. Just be sure to keep an eye on them since the broiler is known for browning food rather quickly.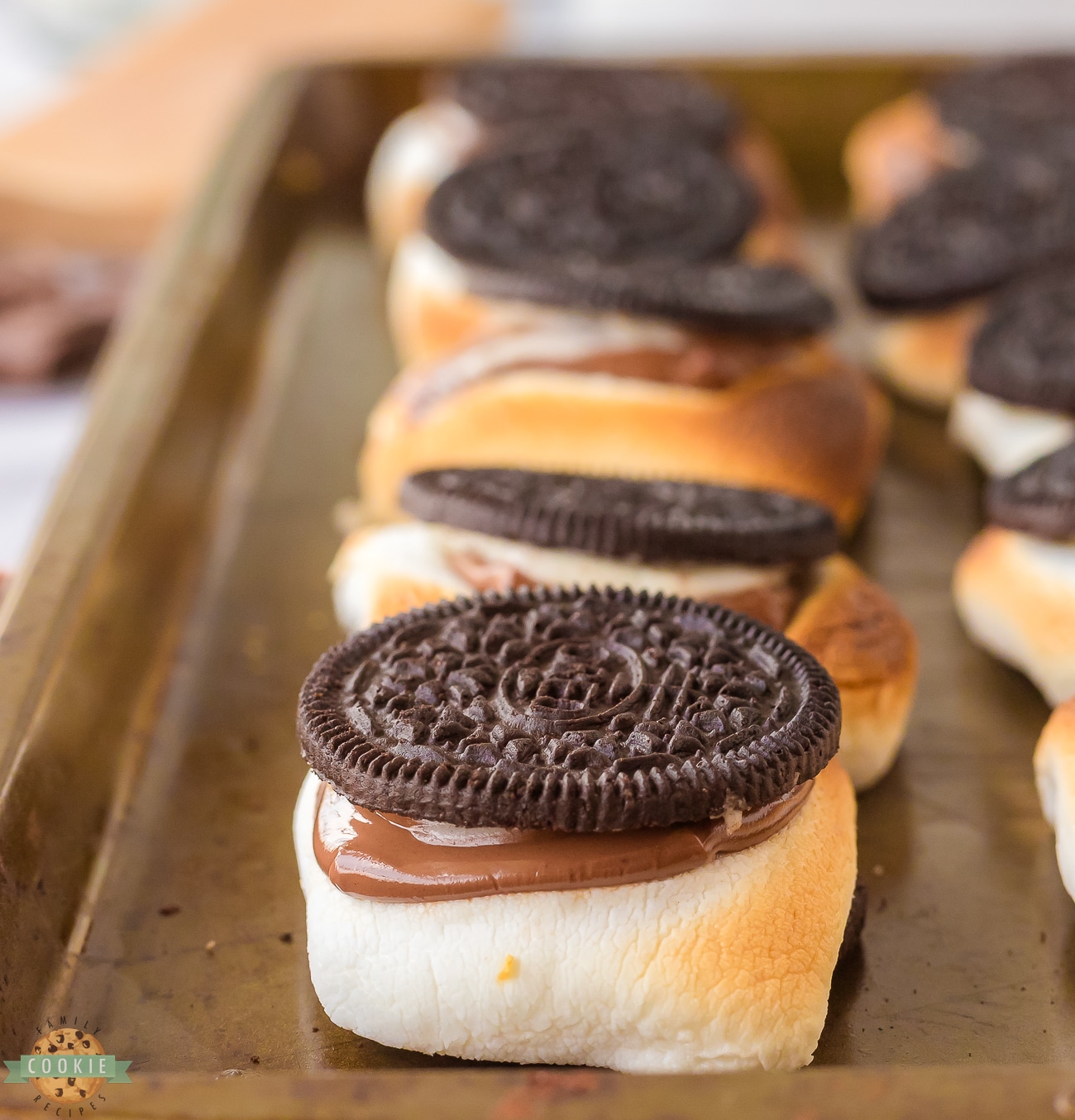 What Can I use Instead of marshmallow in s'mores?
If you don't like marshmallows, there are lots of other sweet treats that you can stuff inside your Oreo s'mores instead. And better yet, many of these substitution options are low in sugar and vegan friendly! Try swapping out the marshmallows for marshmallow fluff, peanut butter, fresh fruit, honey, or sugar-free marshmallows.
Love all things S'mores? Give more incredible recipes a try here:
Oreo S'mores are a delightful, sweet and decadent dessert that is sure to be loved by all! These oven baked S'mores come together quickly, in under 15 minutes you can be on your way to enjoying a chocolatey treat.