Copycat Samoa Cookies taste just like the Girl Scout cookie version! Delicious cookies made with chocolate, caramel and coconut.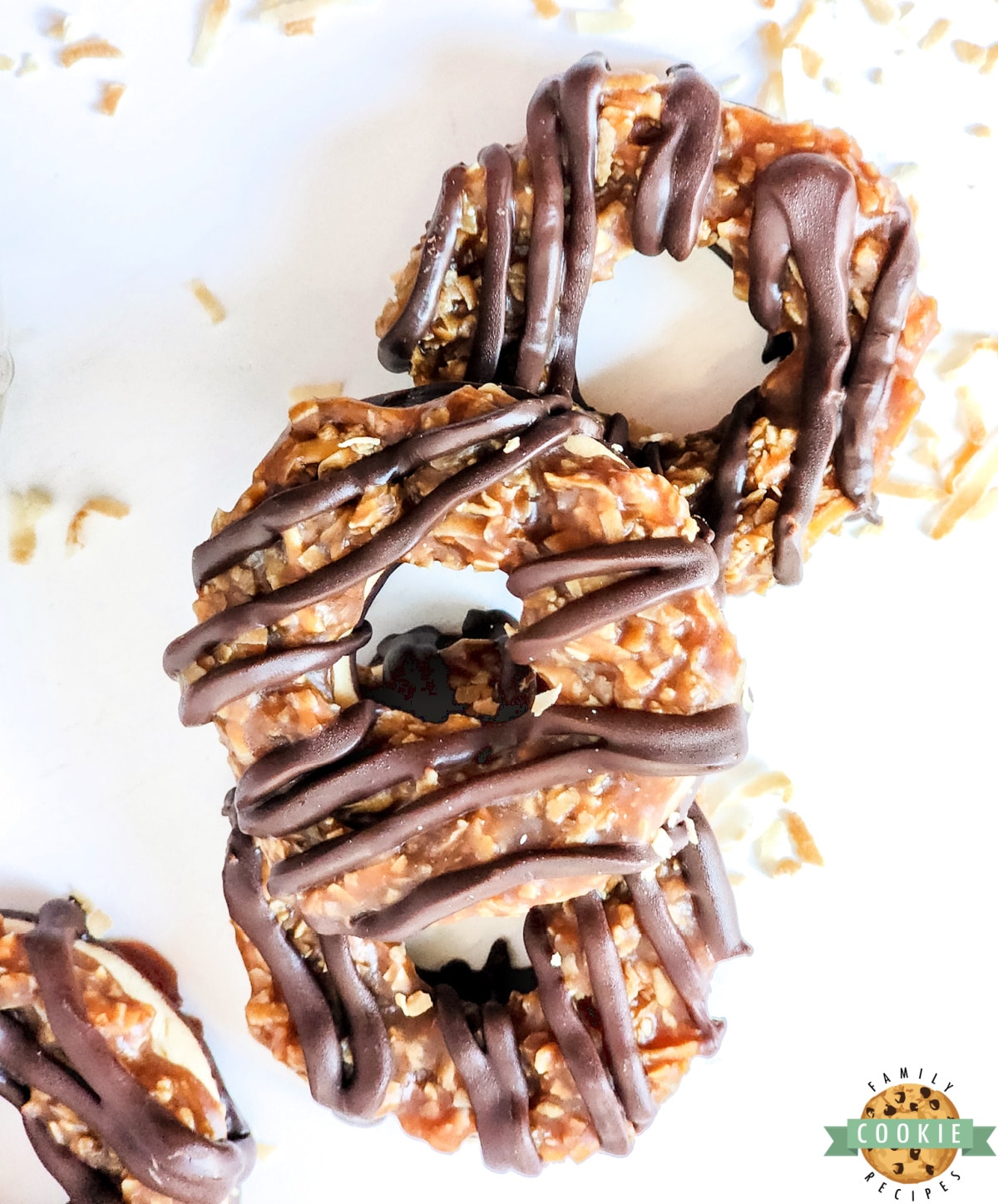 Anyone else get really excited around this time of year when you start seeing Girl Scout cookies available? I remember selling them as a kid and there are a few kinds that are just so good, even though they have gotten so expensive!
Samoa Cookies have always been a favorite of mine, and it's been so fun to be able to make them myself so that I don't have to be limited to only being able to buy them once a year!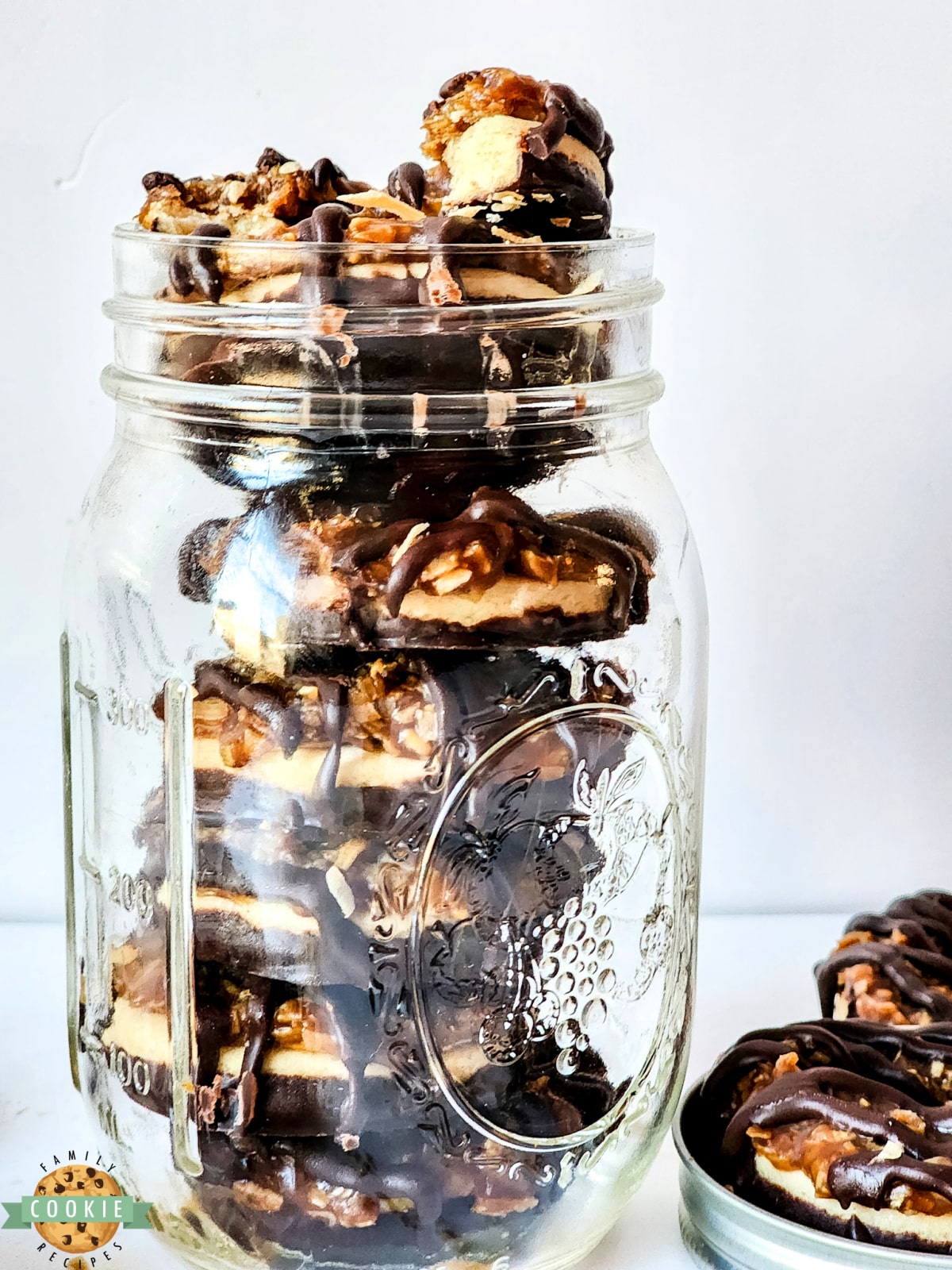 COPYCAT SAMOA COOKIES
Samoa Cookies are made by making a simple shortbread cookie first with butter, sugar, flour and a few other basic ingredients. Once the cookies are shaped and baked, they are coated in chocolate and then coated with a coconut caramel mixture. Drizzle some more chocolate on top and you'll have a cookie that looks just like the ones in the package! I know that the instructions look long, but they really are very simple and it only takes a few minutes to put these cookies together.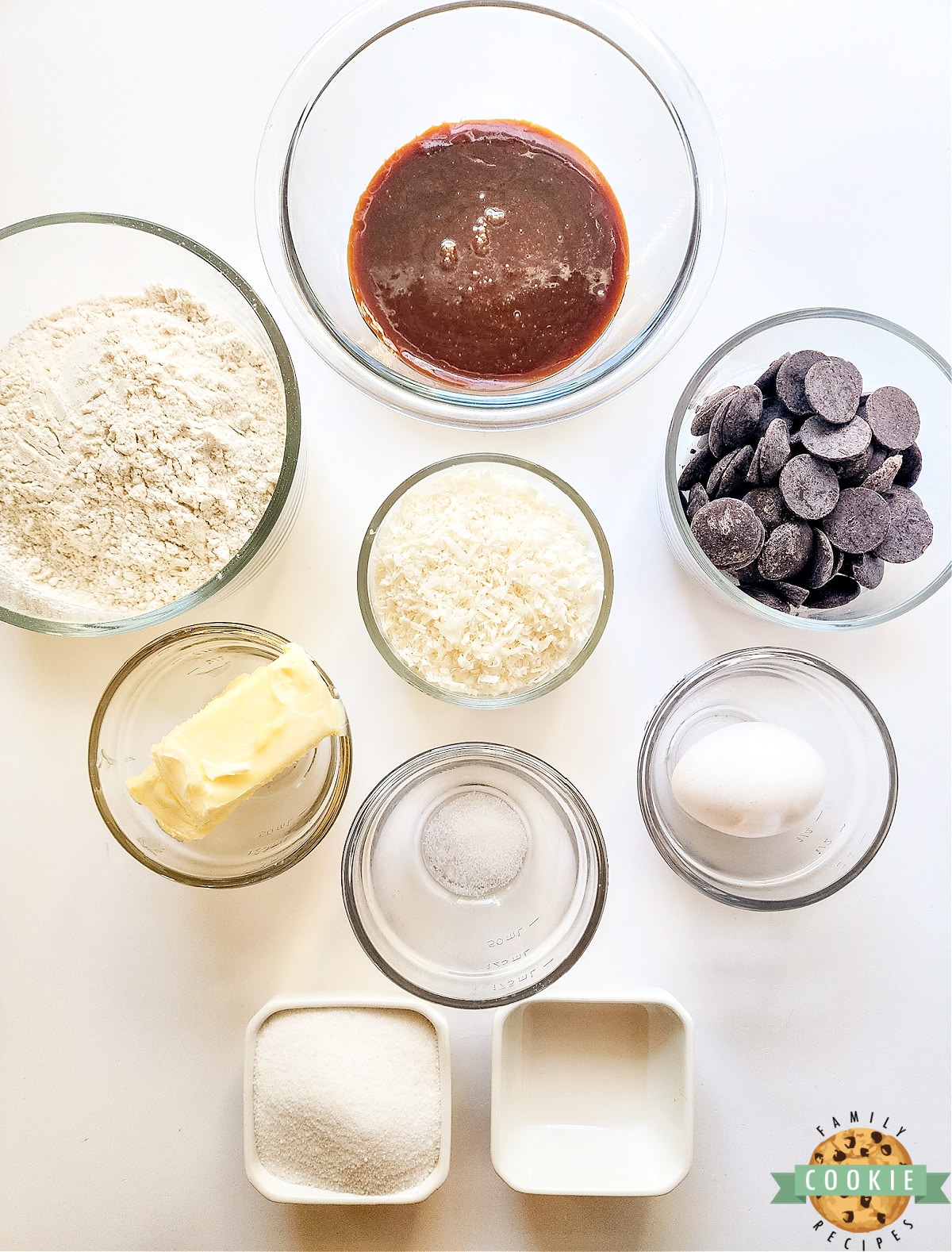 Ingredients in Copycat Samoa Cookies
COOKIE INGREDIENTS
Butter – You will need 1 stick of butter, softened to room temperature.
Salt – Just a half teaspoon of salt will help all of the other flavors to stand out.
Sugar – You can't make cookies without sugar, so definitely don't leave this one out.
Egg – Just one large egg will help to bind all of the other ingredients together.
Vanilla extract – The higher the quality of vanilla, the better.
Flour – This recipe works best with all-purpose flour. You can use a gluten-free substitute if needed.
TOPPING INGREDIENTS
Coconut – You will need 2 cups of shredded coconut. You can find this in bags in the baking aisle at the grocery store.
Caramel sauce – The thicker the better! You can usually find caramel sauce near other ice cream toppings at the store. The varieties that are in jars tend to be thicker than the ones in squeeze bottles.
Semi sweet chocolate – You can use squares of semi-sweet chocolate or even semi-sweet chocolate chips. Melting wafers work great too! If the chocolate doesn't thin out as much as you'd like when you melt it, you can add a teaspoon of shortening.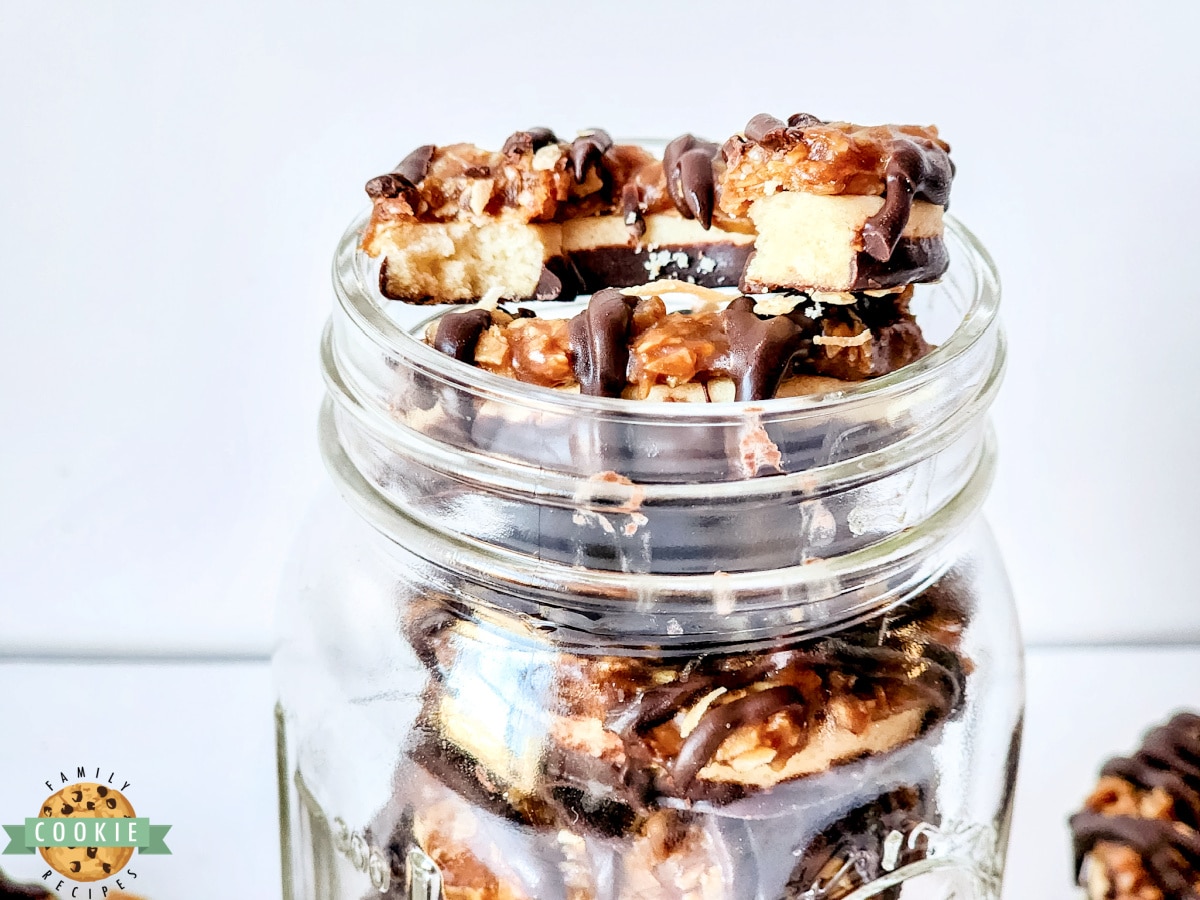 How to make Copycat Samoa Cookies
MAKE THE COOKIE DOUGH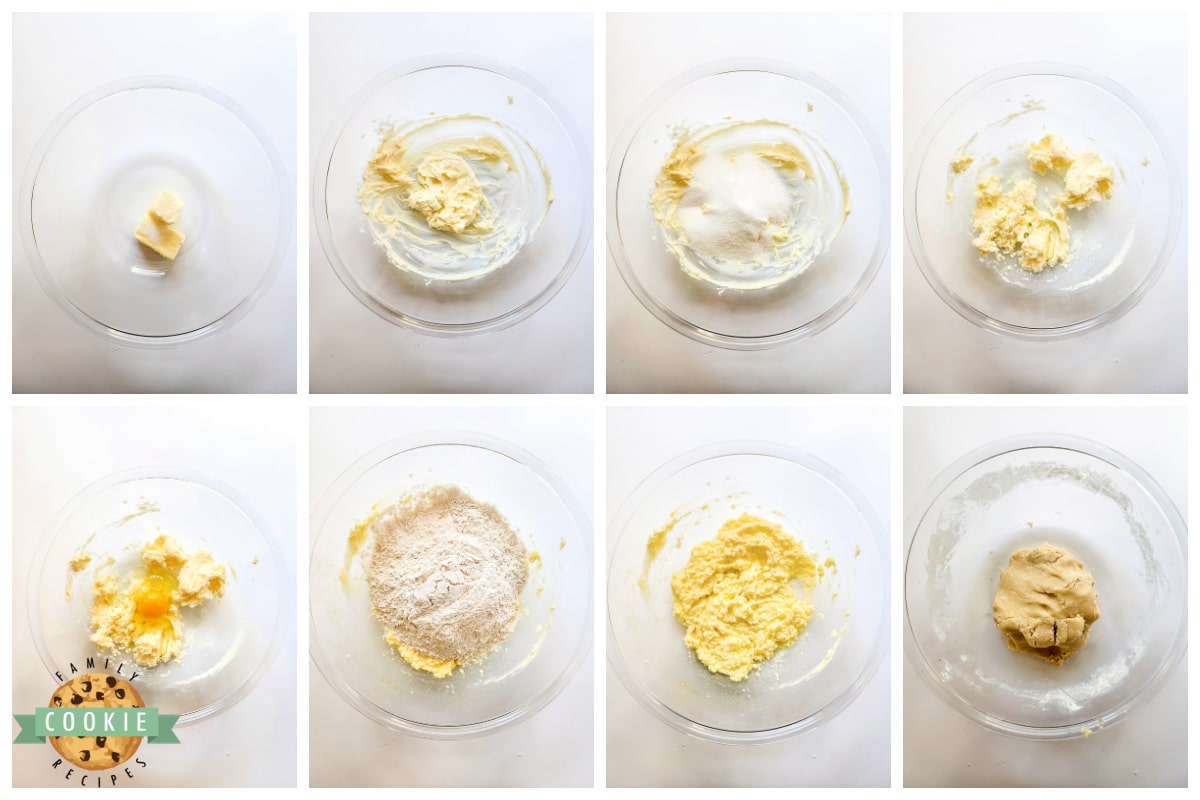 Preheat the oven to 350° F and prepare a baking sheet by lining it with parchment paper or a silicone baking mat.
In a mixing bowl blend, combine the butter and salt and beat together for about one minute.
Add the sugar and mix for another 1-2 minutes.
Add the egg and vanilla extract to the mixture and mix for 1-2 more minutes.
Measure the flour into the bowl and mix together until a dough forms. It shouldn't be super stiff, but also should not be sticky at all.
SHAPE THE COOKIES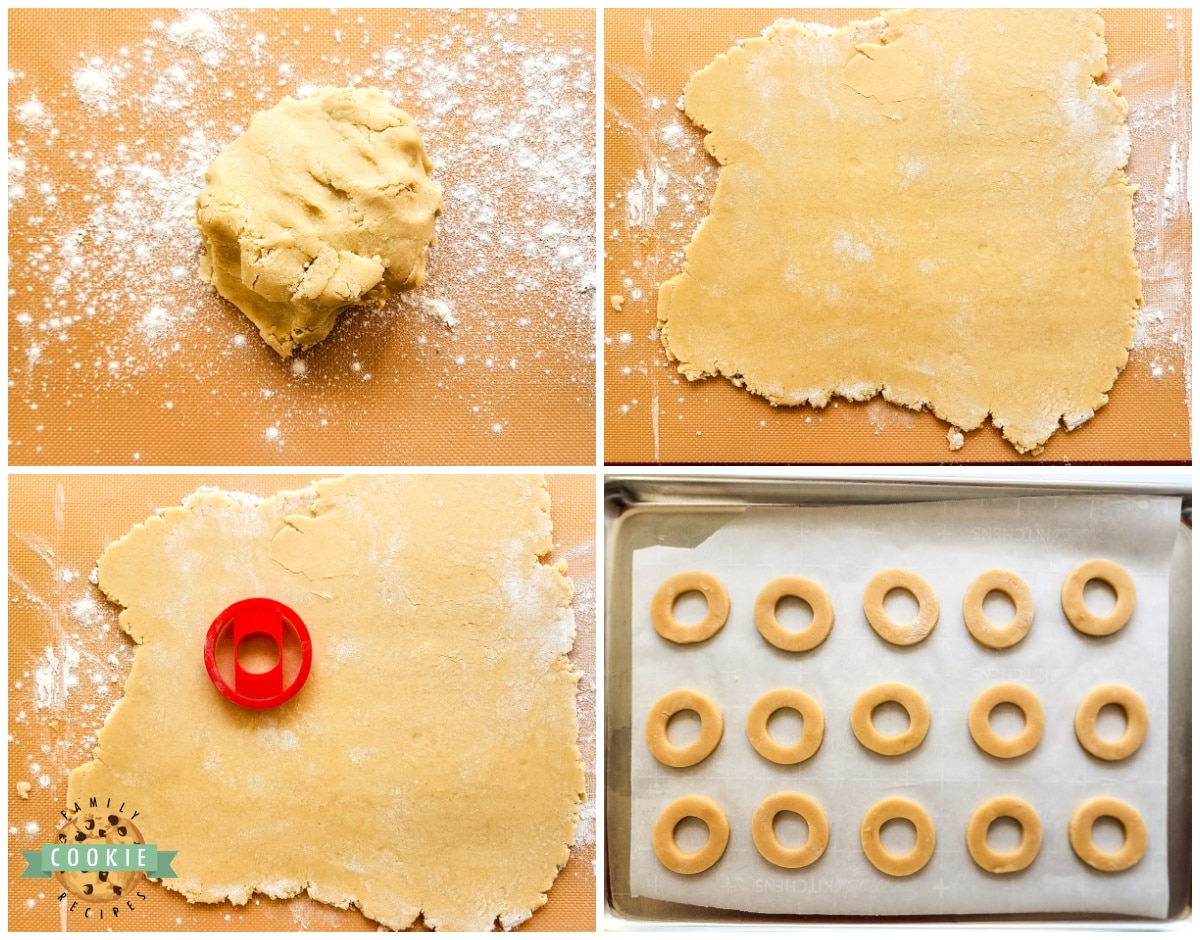 Roll out the dough until it is about 1/4″ thick. Take a letter O circle cookie cutter or a donut cutter and cut out as many cookies as you can.
Place the cut out dough on the prepared baking sheet. Take away the excess and repeat the rolling out process to finish cutting out the rest of the cookies.
BAKE THE COOKIES
Place the pan in the oven for 10 minutes or until the edges are slightly browned.
MAKE THE CARAMEL COCONUT TOPPING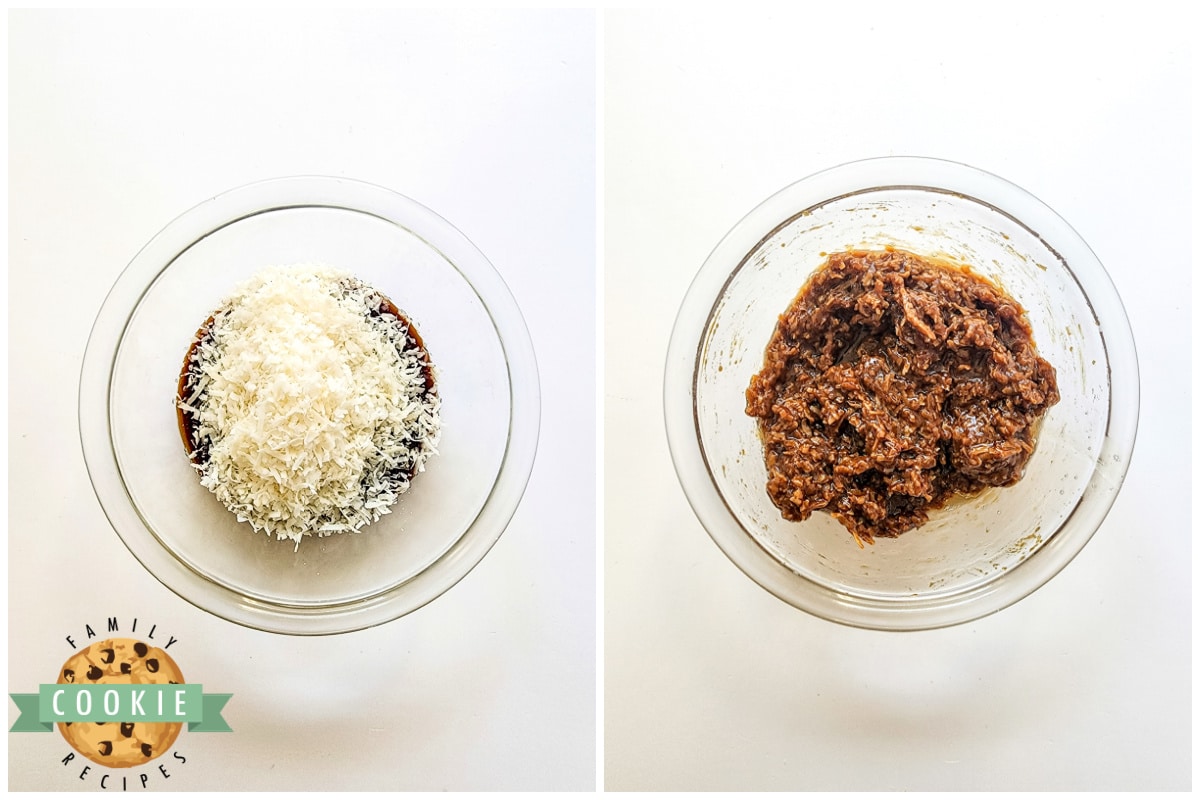 While the cookies are baking, mix the caramel sauce and shredded coconut until the coconut is completely coated and combined.
Transfer the mixture into a piping bag.
MELT THE CHOCOLATE
Heat the melting chocolates in a bowl in the microwave at 30 second intervals until completely melted. Place ½ in a small bowl and ½ in a piping bag for drizzling.
Once the cookies are out of the oven, let cool for about 10 minutes.
ASSEMBLE THE COOKIES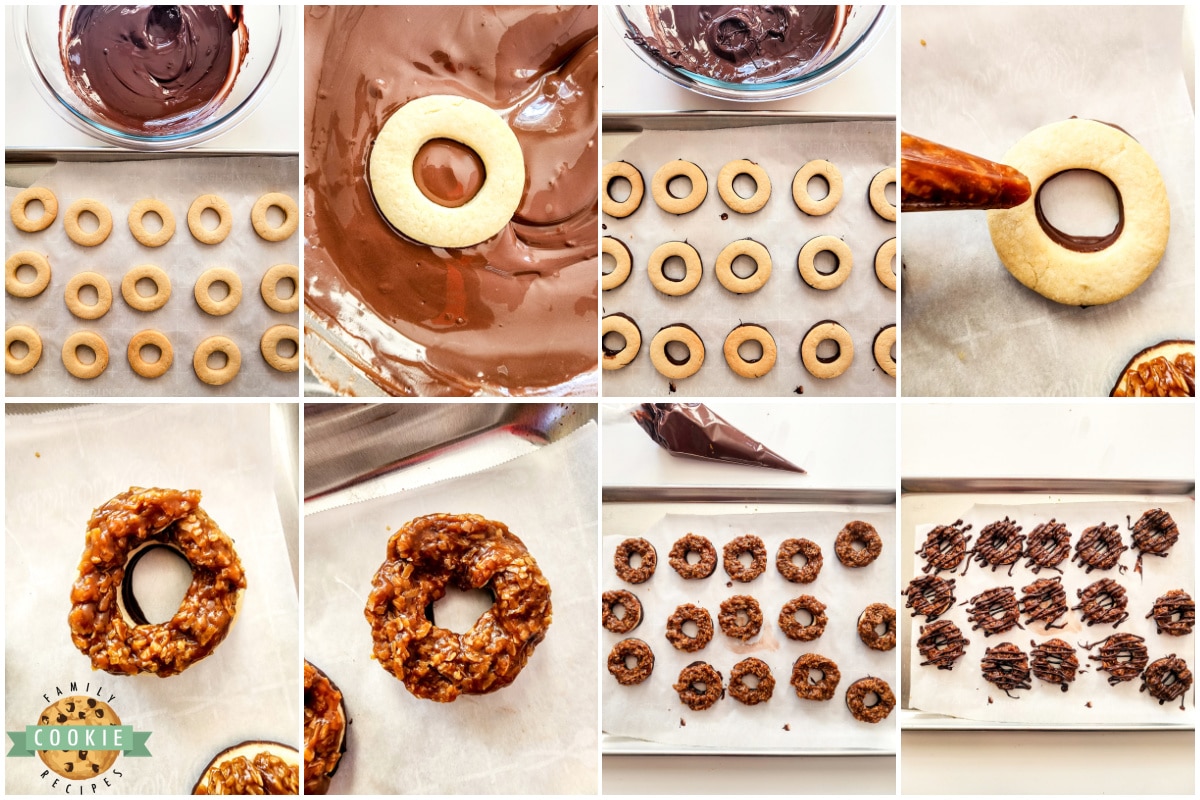 Gently drop each cookie into the melted chocolate, just so the bottom halves are coated with chocolate, then place back on the parchment paper.
Place the pan in the refrigerator for 5 minutes to harden.
Then pipe the caramel coconut mixture, covering the top of the circle of each cookie. Slightly press down with clean hands to mold the topping to cover the face of the cookie completely.
Lastly, cut the tip of the chocolate filled piping bag and drizzle chocolate over the tops of the coconut caramel topping.
Transfer the cookies to a new baking sheet covered with parchment paper so that you can get rid of the excess drizzle.
Refrigerate for 5 minutes or until the chocolate is hardened before serving.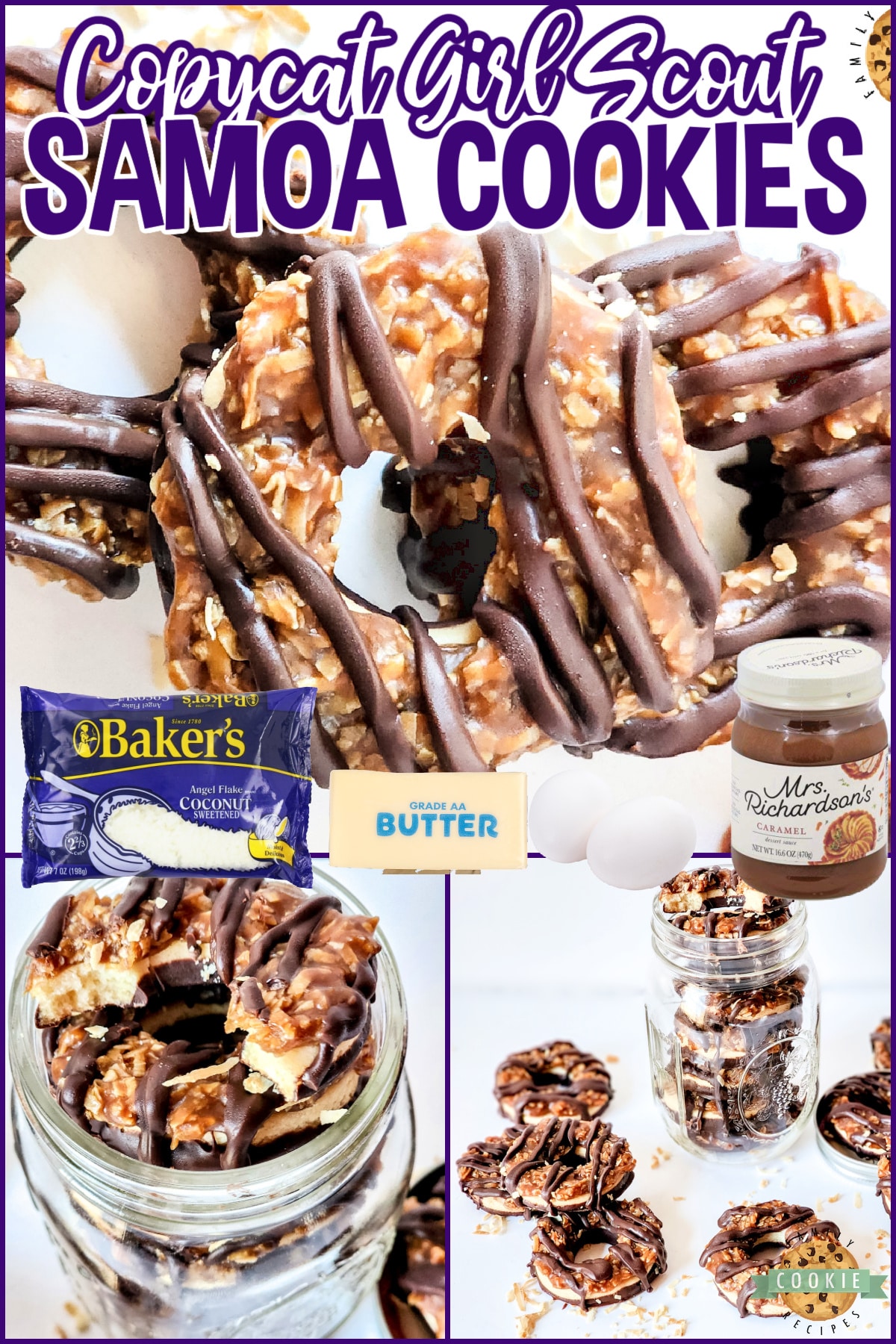 HOW TO SOFTEN BUTTER?
I like to soften butter by using the defrost function on my microwave. If you need the full 1/2 cup cube of butter, you can leave it in the paper wrapper, otherwise, place the amount of butter you need in a glass or porcelain bowl. I use the lowest defrost setting on my microwave and just let it run for 20 seconds. Check the butter and see how soft it is by pressing it with a rubber scraper. If it is still not soft to the touch, meaning it doesn't indent when you press into it, let it warm for another 5-10 seconds. Watch it closely! Butter softens very quickly.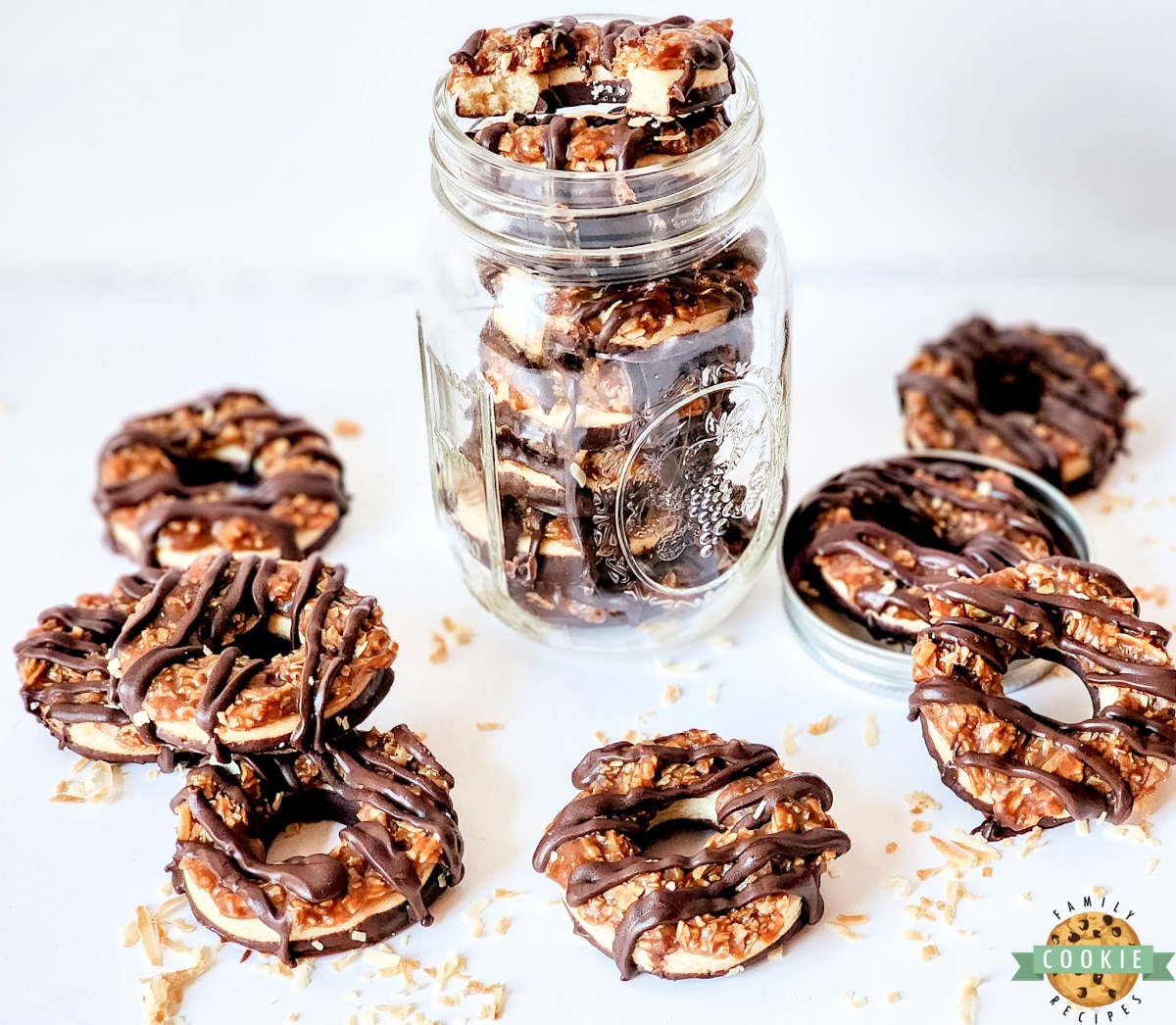 HOW TO ROLL OUT COOKIE DOUGH
Rolling out cookie dough is easy if you know a couple simple tricks.
Keep the dough from sticking. For many years, I always sprinkled flour on the counter to keep the dough from sticking. Then I discovered that non-stick cooking spray was a little less messy. And now, I roll dough out on a silicone baking mat because there is no mess at all and it works perfectly. If the dough is sticking to your rolling pin, you can coat it with flour or cooking spray. Or you can even place another silicone baking mat or wax paper on top of the dough!
Don't roll the dough too thin. Most cookie dough needs to be rolled out to about 1/4″ thick. If you roll the cookies too thin, they will burn easily and be too thin and fragile. If the cookie dough is too thick, they may not bake all the way through to the middle.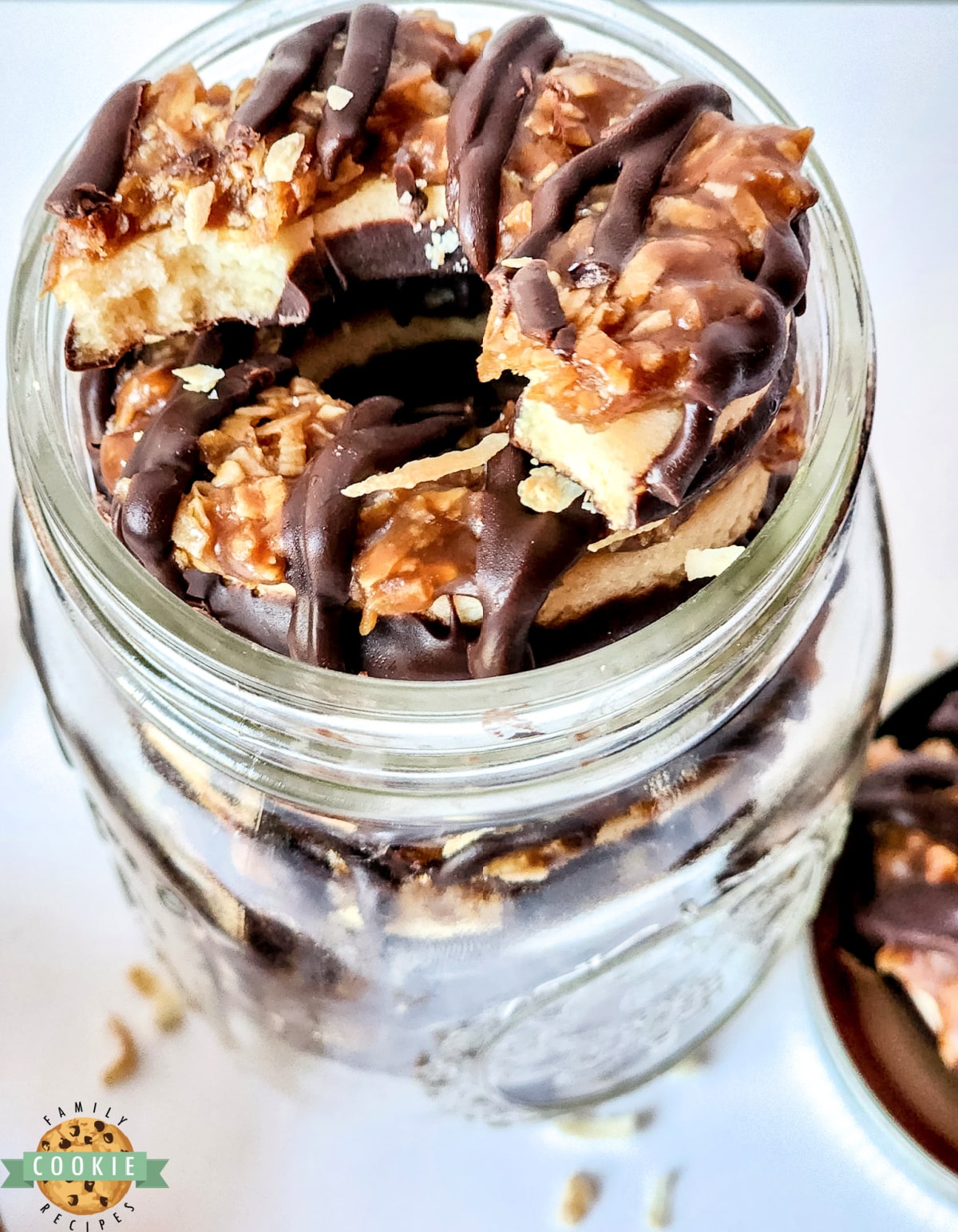 Isn't this one the cutest? She is most of the way done with her first year of preschool and she has absolutely loved it. She wasn't so sure about it at first, but it didn't take long before it became one of her favorite places to go. She has the sweetest teachers and they do all kinds of fun stuff – soccer, basketball, dancing, swimming and lots of fun parties and field trips too!
Anyone else have a little girl who wants to wear dresses every single day? She's my 4th girl, but none of my other ones liked dresses much so this is all new to me too!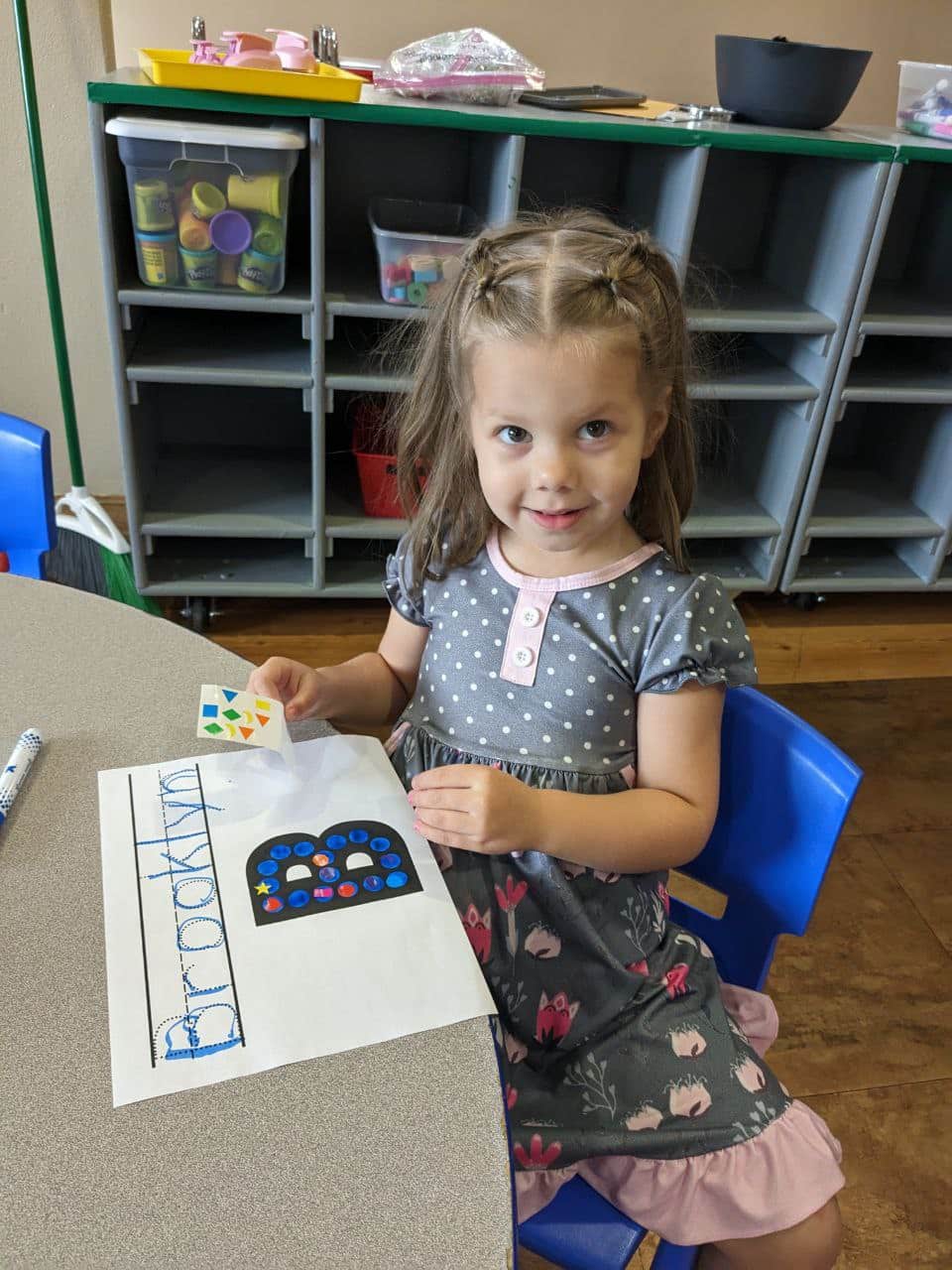 MORE CHOCOLATE AND CARAMEL RECIPES WE LOVE: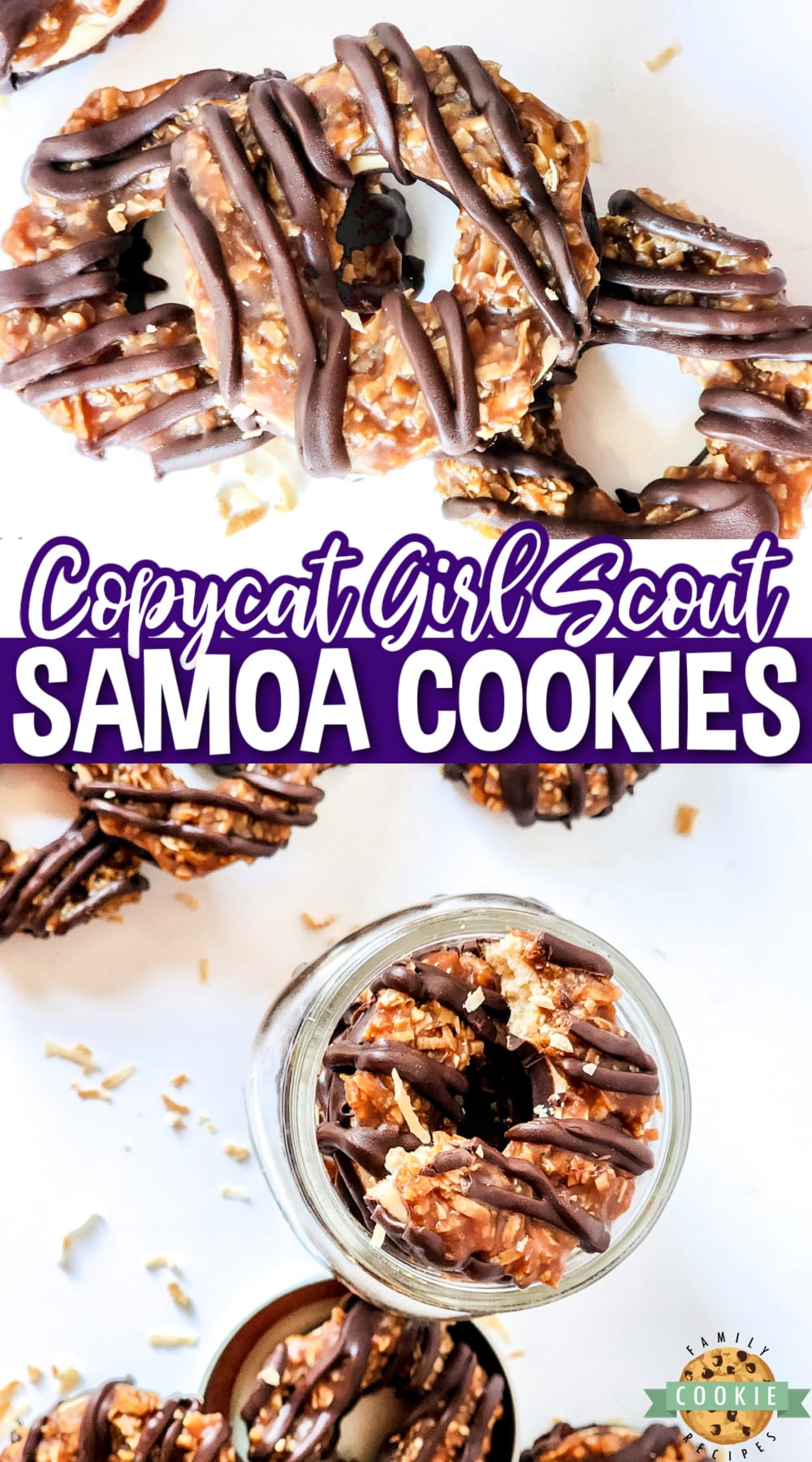 Copycat Samoa Cookies taste just like the Girl Scout cookies! Delicious cookies made with chocolate, caramel and coconut.